With 2 days in Gdansk, you have just enough time to explore the old town, try some of the best restaurants in the city, and even visit two excellent museums. But what if you want to skip one of the museums and go on a day trip instead? You can do that, too.
Here are three different ways to spend two days in Gdansk.
2 Days in Gdansk
Itinerary #1: The Best of Gdansk
Two days gives you enough time to explore the city without feeling rushed. You won't go on any day trips in this itinerary (those come later) so this is the perfect itinerary if you want to explore Gdansk at a leisurely pace without the "hassle" of organizing a day trip.
Make sure you read our article about the Best Things to do in Gdansk, which covers the best things to do in Gdansk in greater detail than this post. Plus, it gives you a few more spots to consider visiting on your trip to Gdansk.
Day 1: Explore the Historic Old Town
Dlugi Targ
The historic old town is small and compact, perfect for exploring on your own two feet. If you stay near the city center, everything on this first day is clustered together, so there is no need to figure out how to use public transportation.
Start with a stroll down Dlugi Targ, also known as the Long Market or the Royal Way. This is the main thoroughfare through the heart of Gdansk. You can walk from one end to the other in just ten minutes, but there are several spots to visit along the way.
I recommend starting at the Golden Gate and walking towards the waterfront. Along the way, climb the tower of the Main Hall for one of the best views of Gdansk, see the famous Neptune Fountain, and if you are interested, visit the museum in Artus Court.
Dlugi Targ ends at the Green Gate near the Motlawa River.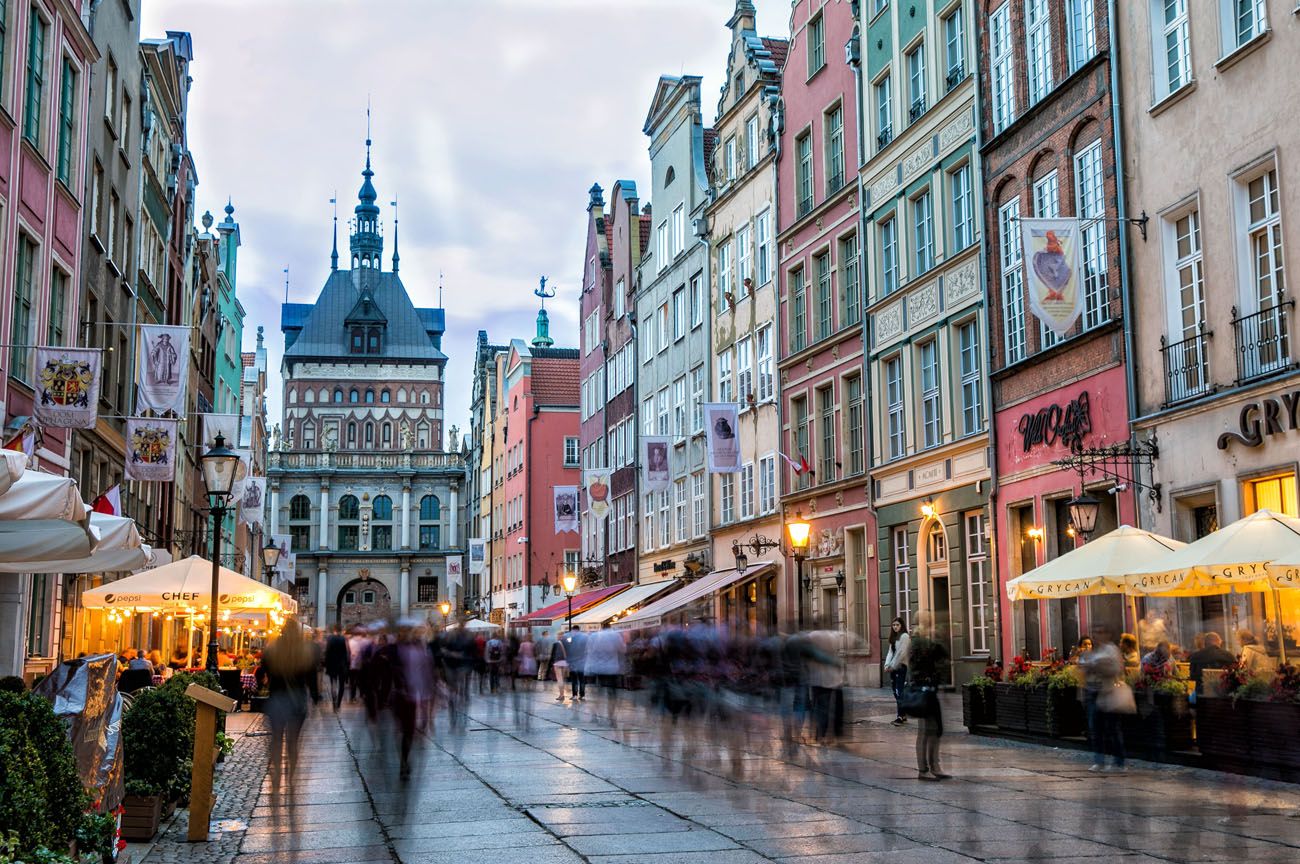 The Golden Gate and Dlugi Targ (the Long Market) at twilight. | 2 days in Gdansk itinerary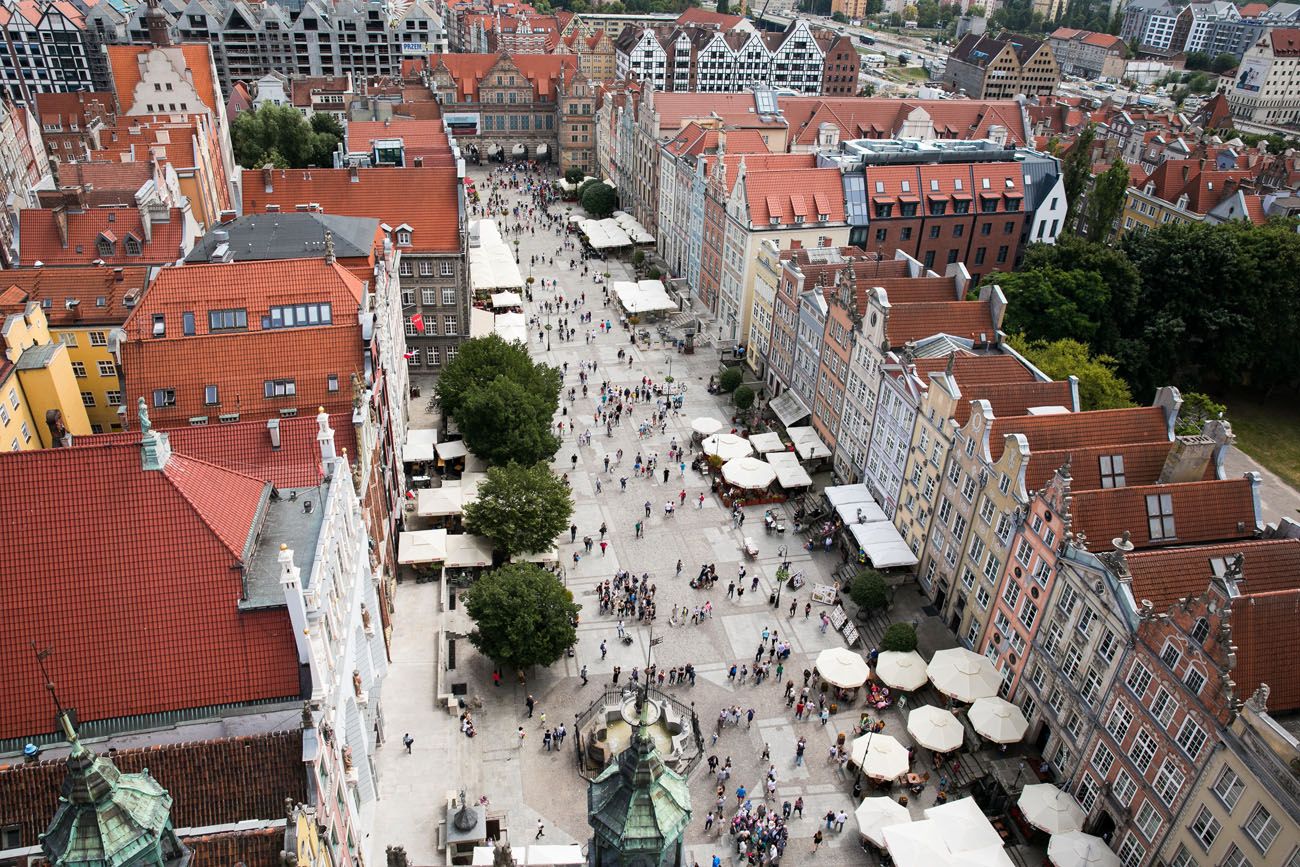 The view of Gdansk from the Town Hall tower. | 2 days in Gdansk Itinerary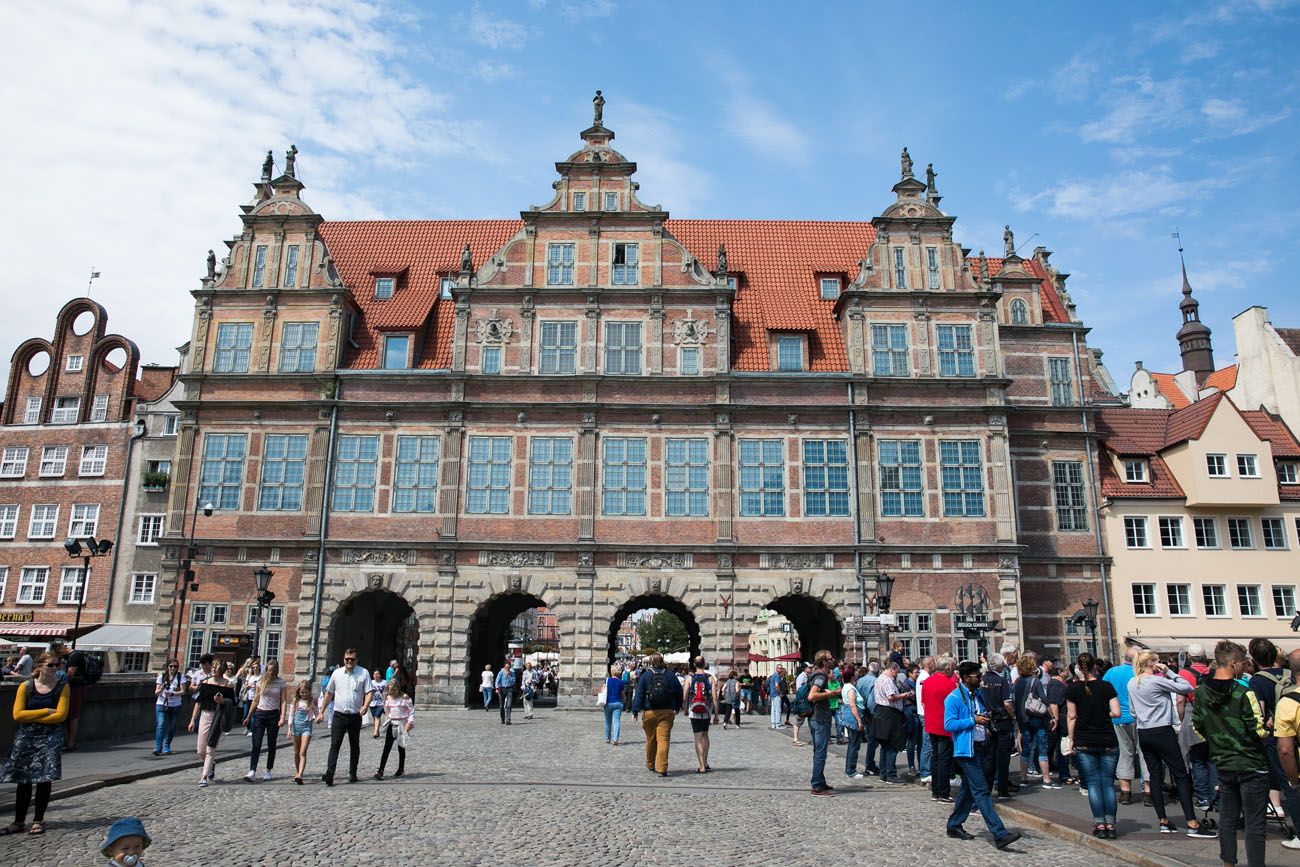 The Green Gate | 2 Days in Gdansk Itinerary
Lunch Break
This may be a good time for a lunch break. Avoid the cafes and restaurants on Dlugi Targ. They are usually overpriced and mediocre tourist traps. Here are two spots to try:
Chleb i Wino. Translated from Polish, "Bread and Wine" is a gastropub/pizza bar. It is part of the same property that also offers hotel accommodations in Gdansk (which we recommend as a place to stay in our Where to Stay in Gdansk article). They offer pizza, pasta, soup, and salad at reasonable prices. We did not eat here but the restaurant gets rave reviews. It is located on Granary Island just a few minutes from the Green Gate.
Restauracja Bazar. We did eat here and it was fantastic. If you want to try authentic Polish food, this is one of the best places to do so in Gdansk. The food is not expensive but it might cost a little more than you would pay for lunch, so check the menu before you to. They offer pierogies, soup, salads, and main dishes. The wild boar was our favorite dish here. They are located right on the Motlawa River opposite the crane (Szafarnia 6). This is also a great place to go for dinner.
The Motlawa River and Waterfront
Spend some time exploring the waterfront along the Motlawa River. This is just as nice as Dlugi Targ to go for a stroll. For the best views, I recommend walking along both sides of the river.
Take a walk on the waterfront of Granary Island. From here, you get one of the best views of the waterfront, including the giant crane (Zuraw). This crane was used hundreds of years ago to load cargo into ships. The hulking mass is a symbol of Gdansk's days as an important trading city. If you are interested, you can take a tour of the crane.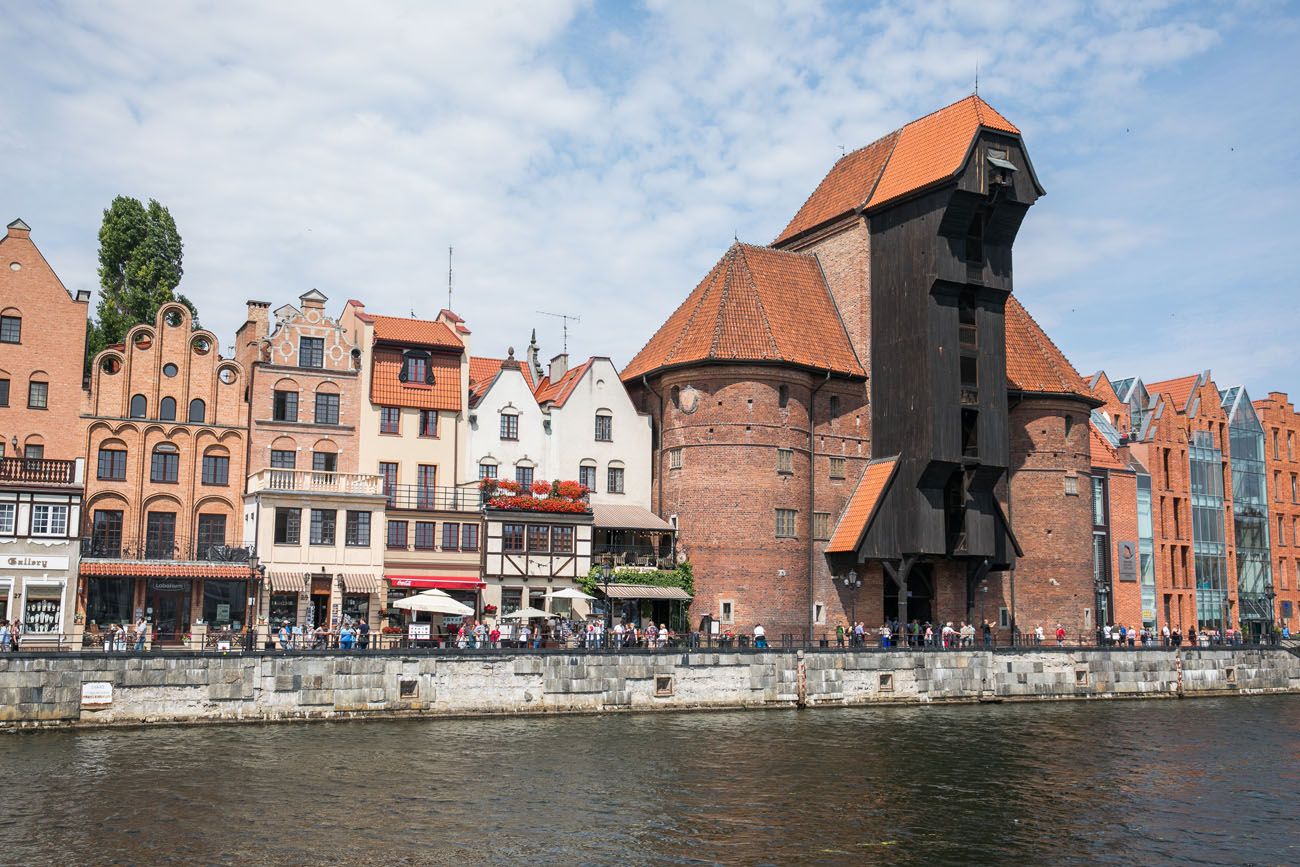 Cross back over the river and walk down Dlugie Pobrzeze, the street that runs along the brick buildings. This walk takes you past some very nice restaurants and shops. If you continue on, you can cross the pedestrian drawbridge and take a photo at the Gdansk sign.
Mariacka Street
Next, walk up Mariacka Street, one of the most unique streets in Gdansk. This street retains some of Gdansk's old architecture, with oversized porches spilling out onto the street. Look for the gargoyle heads, called "pukers," that spray out water during rainstorms.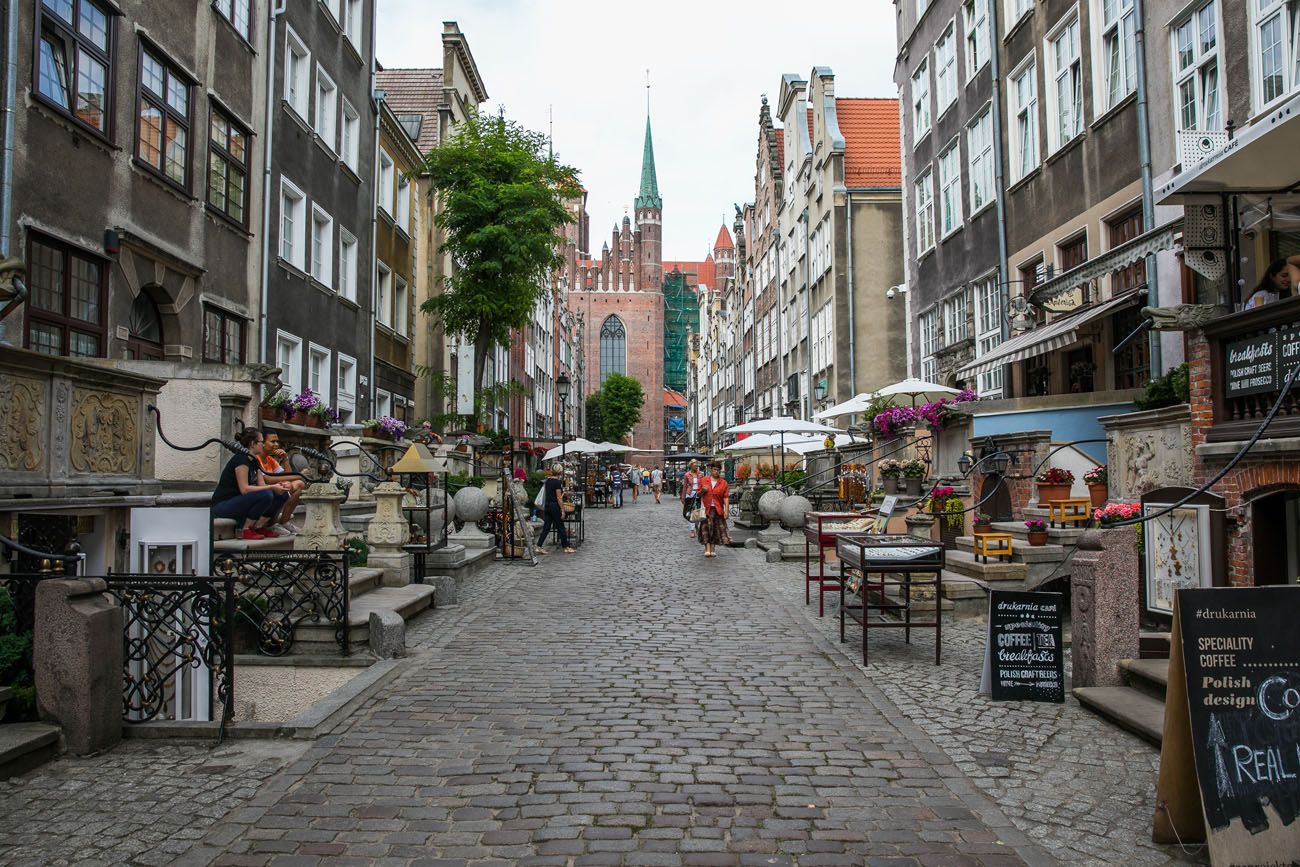 Mariacka Street | 2 Days in Gdansk Itinerary
Mariacka Street will end near St. Mary's Church. Step inside one of the largest brick churches in Europe and if you have the energy, climb the 408 steps to the top of the bell tower for another view over Gdansk.
Wine Bar Literacka
Take a break at one of the best wine bars in town, Wine Bar Literacka. Have a glass of wine, have a snack, and linger here as long as you like.
For the rest of the afternoon, you have free time to explore the side streets in the old town.
Dinner
For dinner, we recommend Goldwasser. Located right on the Motlawa River, Goldwasser is an upscale restaurant that serves Polish and European food. The service is excellent and the restaurant is gorgeous. I recommend making a reservation in advance for a table at the balcony if you want to sit outside and have a view of the waterfront.
Day 2: History Lessons in Gdansk
Museum of the Second World War
This is one of the best museums in Poland and it is a must-visit, even if you are not a museum lover. World War II deeply affected Poland and this museum does an excellent job educating visitors about this very important piece of Polish history.
Almost brand new (it just recently opened in 2017), this museum covers the events that led up to WWII and the impact the war had on Poland.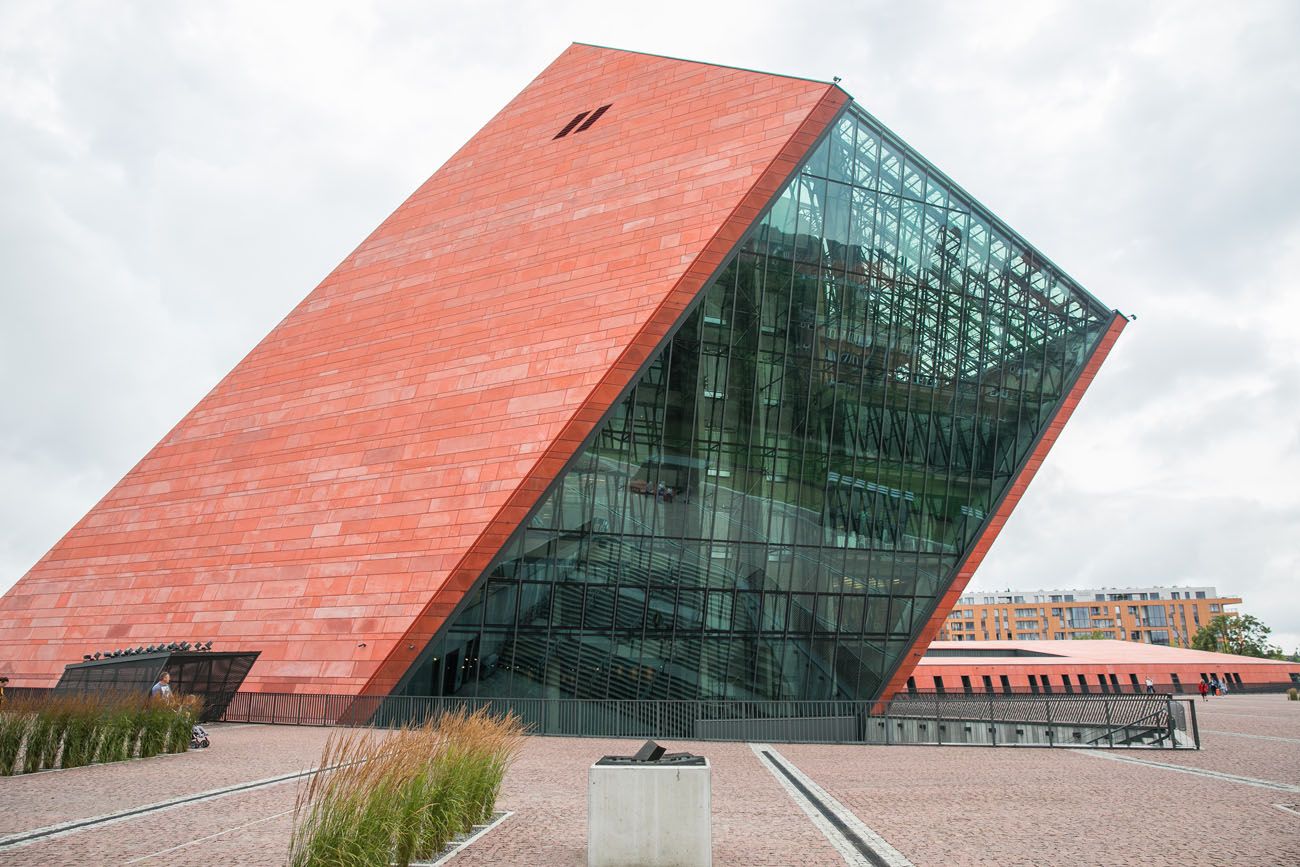 On average a visit lasts about three hours. For the best experience, get here right at opening time, before the museum fills with visitors. You can book your tickets online in advance to save you from having to wait in the ticket line. During our visit in July, we arrived at 9:30 am, when the ticket line opens, and had no problems getting tickets.
Website: Get updated pricing and hours on the official website.
Note: Expect larger than normal crowds on Sunday and Tuesday, the day before and after Monday, when the museum is closed.
Lunch
There are several restaurants and cafes in and around the Museum of the Second World War. You can choose one of these but if you don't mind a 15-minute walk, you can have lunch at one of the best pierogi restaurants in Gdansk. Pierogarnia Mandu Centrum is one of Gdansk's must-visit spots especially if you want to sample one of Poland's most famous foods.
European Solidarity Center
Spend the afternoon in this nearly brand new, well laid out museum, and learn about the historical events of the Polish opposition to communist rule.
First you will see the Monument of the Fallen Shipyard Workers of 1970, which commemorates the 42 people who were killed in 1970.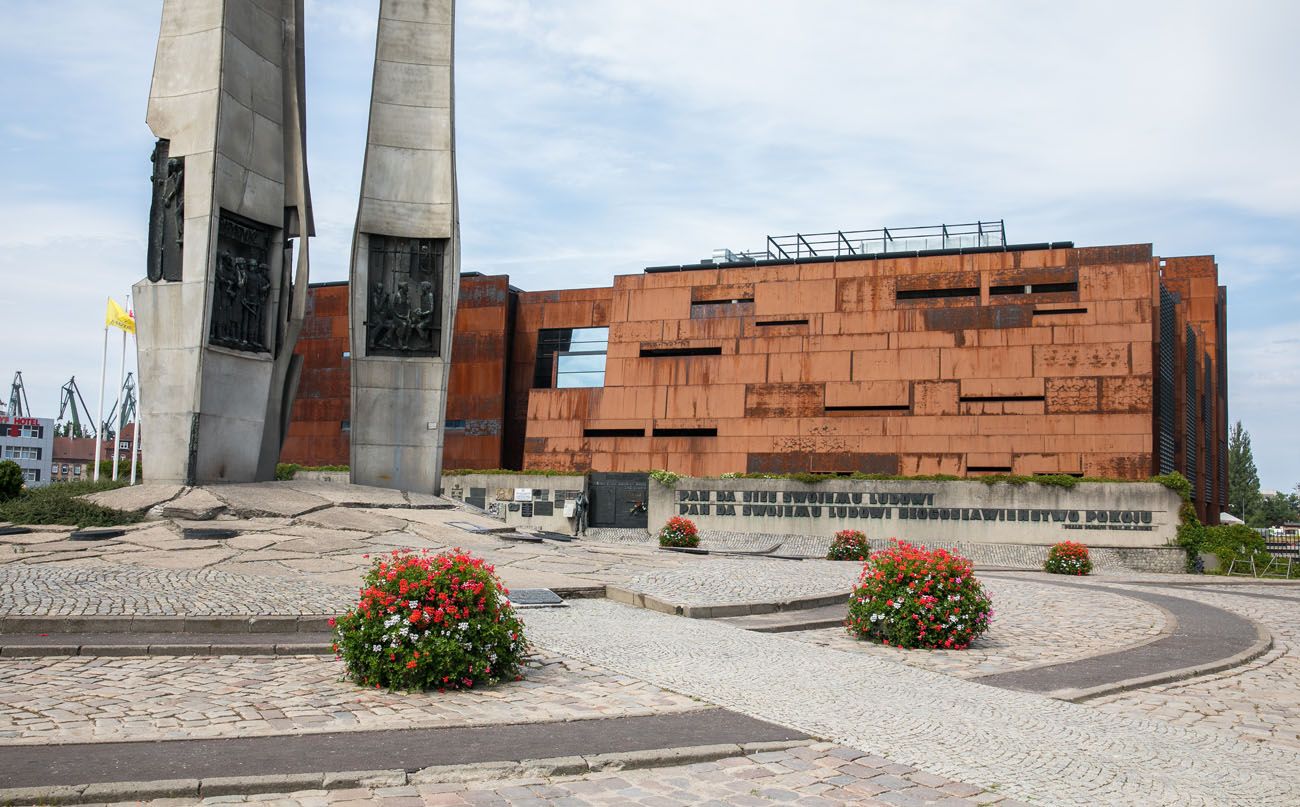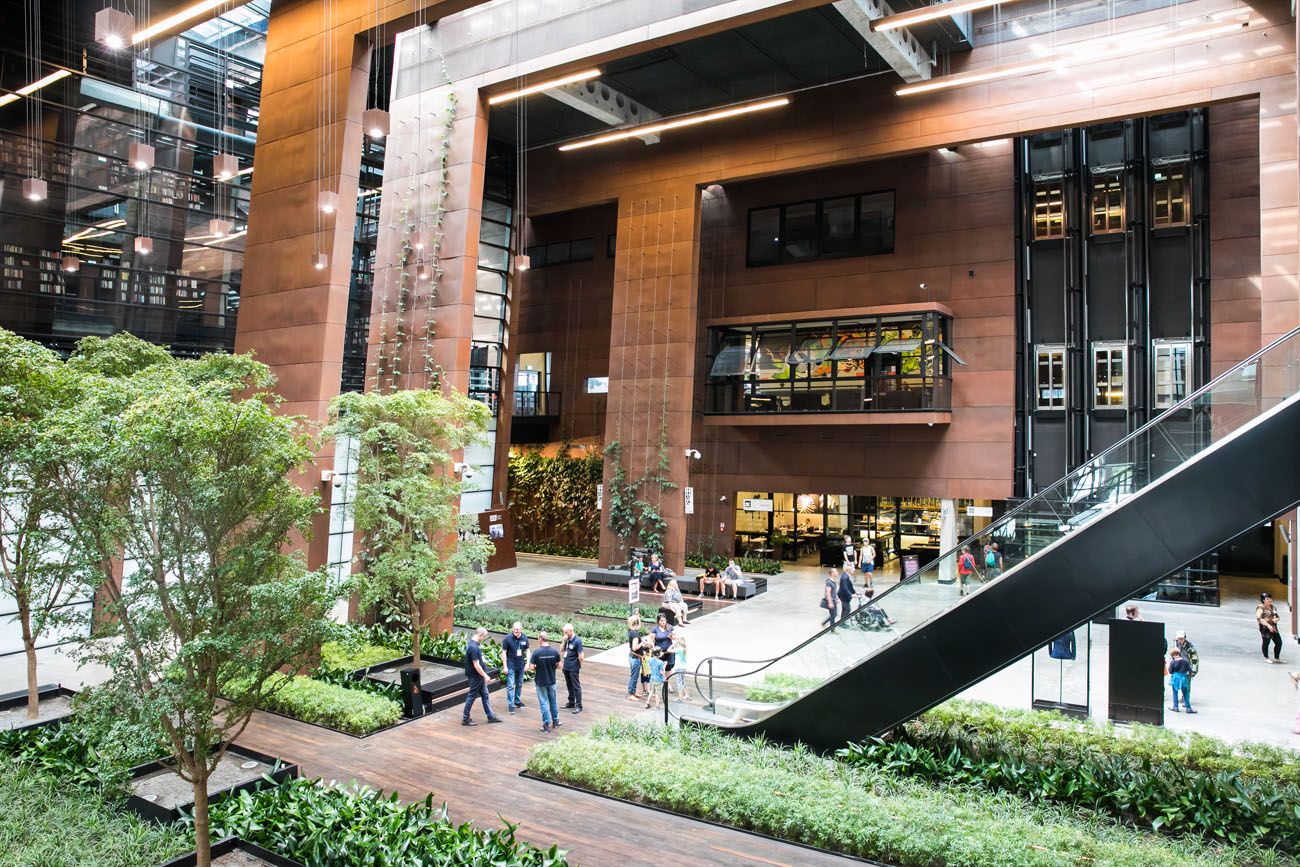 Once inside of the museum, step back in time and learn about the events that led to the solidarity movement and how this peaceful process helped to change Poland from a communist state to a democratic one. Solidarnosc was one of the important factors that led to the fall of communism, not only in Poland, but in other central and eastern European countries.
Website: Get updated pricing and hours on the official website.
Dinner
For dinner, we have two more recommendations.
Familia Bistro. This small, cozy restaurant serves authentic Lithuanian food. It's similar to Polish food, featuring hearty foods like potato pancakes, dumplings, pork loin, and beef. Our favorite dish was the roasted pork loin.
OSTRO. This restaurant serves Italian food and is located on the waterfront. People rave about the Neopolitan pizza.
Itinerary #2: Gdansk and Malbork Castle
On this itinerary you give up some of your time in Gdansk to visit Malbork Castle, one of the largest castles in the world. You still have enough time to see the best of Gdansk, but you will have to move at a faster pace.
Day 1: Museum of the Second World War and the Old Town
Start the day at the Museum of the Second World War. By going here first, you will avoid the larger crowds that fill the museum midday.
Have lunch at the museum or visit one of our recommended lunch spots (Pierogarnia Mandu Centrum, Restauracja Bazar, or Chleb i Wino).
Spend the afternoon exploring Dlugi Targ, the Motlawa River waterfront, and Mariacka Street. Don't miss St. Mary's Church and consider climbing the Town Hall Tower for the best view of Gdansk.
End the day with dinner at one of our recommended dinner spots: Prologue Restaurant, Goldwasser, Familia Bistro, or Glowne Miasta Pasta and Wine.
Day 2: Day Trip to Malbork Castle
Malbork Castle is one of the largest castles in the world and it is located just a short distance from Gdansk.
To travel to Malbork Castle by train, it takes 30 to 60 minutes, depending on the train you choose. Once at Malbork Castle, a typical visit lasts about three and half hours. An audio guide is included with your entrance fee and this does an excellent job guiding you through the castle.
You can have lunch in the castle. We ate at the Gothic Café and it was excellent. Get here by noon or make a reservation in advance to make sure you get a table.
Once you are finished at Malbork Castle, return to Gdansk by train. If you started your tour of Malbork Castle at 9 am, most likely you will be back in Gdansk by mid-afternoon. You can spend the rest of the day exploring more of the old town, at the European Solidarity Center, or at the Literacka Wine Bar.
Get all of the details on how to visit Malbork Castle on a day trip from Gdansk (and to decide if it's worth your time) in our article:
Itinerary #3: Gdansk and Sopot
This itinerary is similar to option #2. Instead of visiting Malbork Castle, on this itinerary you will spend the afternoon in the ritzy beach town of Sopot. This is a great option if you are visiting Gdansk during the summer months and want to visit a Baltic coastal town.
Day 1: Museum of the Second World War and the Old Town
This day is the same as day 1 in Itinerary #2. Spend the morning at the Museum of the Second World War and the afternoon exploring the old town.
Day 2: Gdansk and Sopot
In the morning you have several options. You can either visit the European Solidarity Museum or you can spend more time in the old town.
In the afternoon, take the train to Sopot and spend the afternoon here.
Once in Sopot, you can join the crowds at the beach, walk on the longest wooden pier in Europe, take in the view from the top of the lighthouse, and wander through the pretty city streets. Sopot is also famous for its nightlife, so you can stay all night if you like.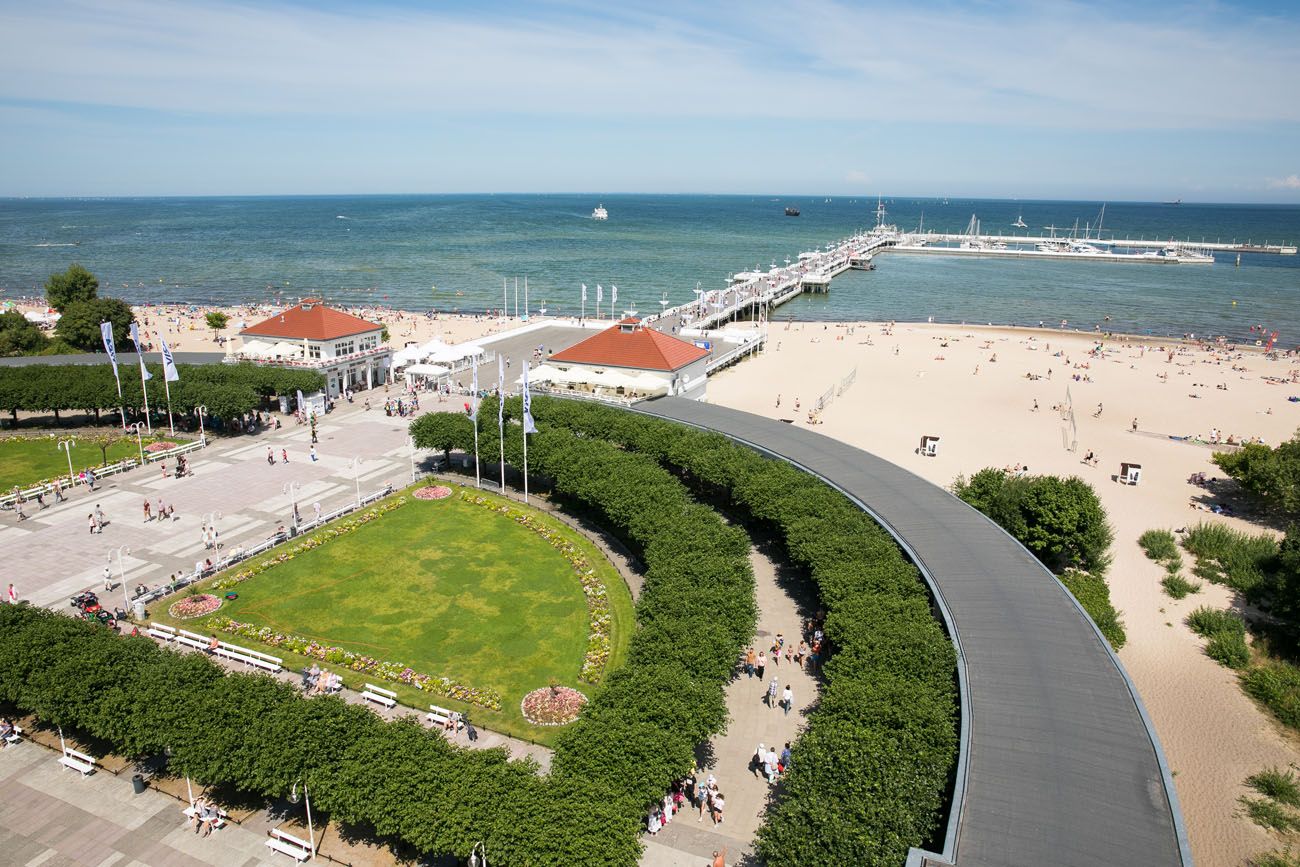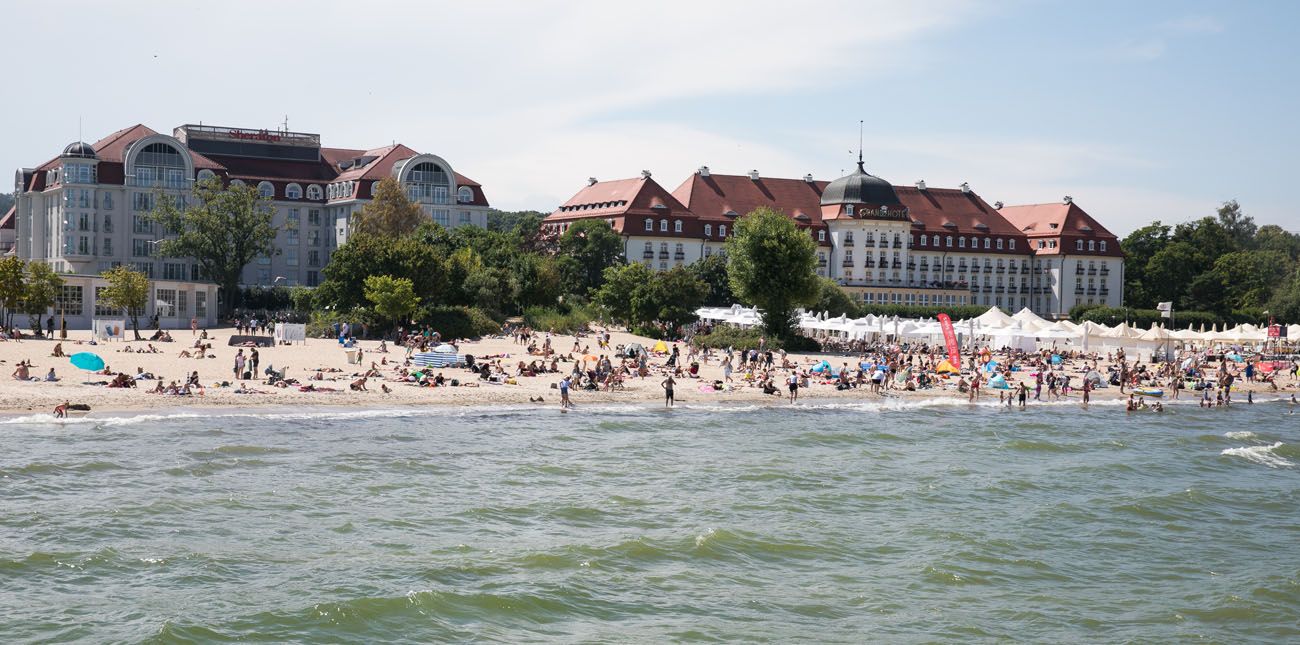 Many people combine a trip to Sopot with Gdynia. Together with Gdansk, these three towns make up what is called the Tri-City. Gdynia is nice; it's a small town with several unique museums, but we all liked Sopot more. With just two days in Gdansk, I think it's better to have the time in the morning of day 2 to explore Gdansk, rather than including Gdynia.
With More Time in Gdansk
If you have more than two days, here is how I recommend you spend your time:
Day 1 & 2: follow itinerary #1
Day 3: Day trip to Malbork Castle, dinner in Gdansk
Day 4: Tri-City Day Trip: Gdynia and Sopot
---
Do you have any questions about this 2 Days Gdansk itinerary? Let us know in the comment section below.
More Information about Poland
GDANSK: Start off with our list of the Best Things to Do in Gdansk. We also have a Gdansk Hotel Guide and information on how to day trip to Malbork Castle and how to day trip to Sopot and Gdynia.
POLAND ITINERARY: In our 10 day Poland Itinerary, visit Gdansk, Warsaw, and Krakow.
KRAKOW: Discover what there is to do in our article Best Things to Do in Krakow. Plan your visit with our 3 Day Krakow Itinerary and get hotel recommendations in our guide on Where to Stay in Krakow.
AUSCHWITZ-BIRKENAU: Learn how to plan your visit to Auschwitz-Birkenau on a day trip from Krakow.
WARSAW: For a list of the top experiences, take a look at our guide to the Best Things to Do in Warsaw and learn how to plan your time with our 2 Day Warsaw Itinerary.
EUROPE ITINERARIES: If you have 10 days for a trip to Europe, check out our 10 Days in Europe Itinerary, which lists 10 itineraries for your next trip to Europe. If you have less time, we also have an article that lists 25 different ways to spend one week in Europe.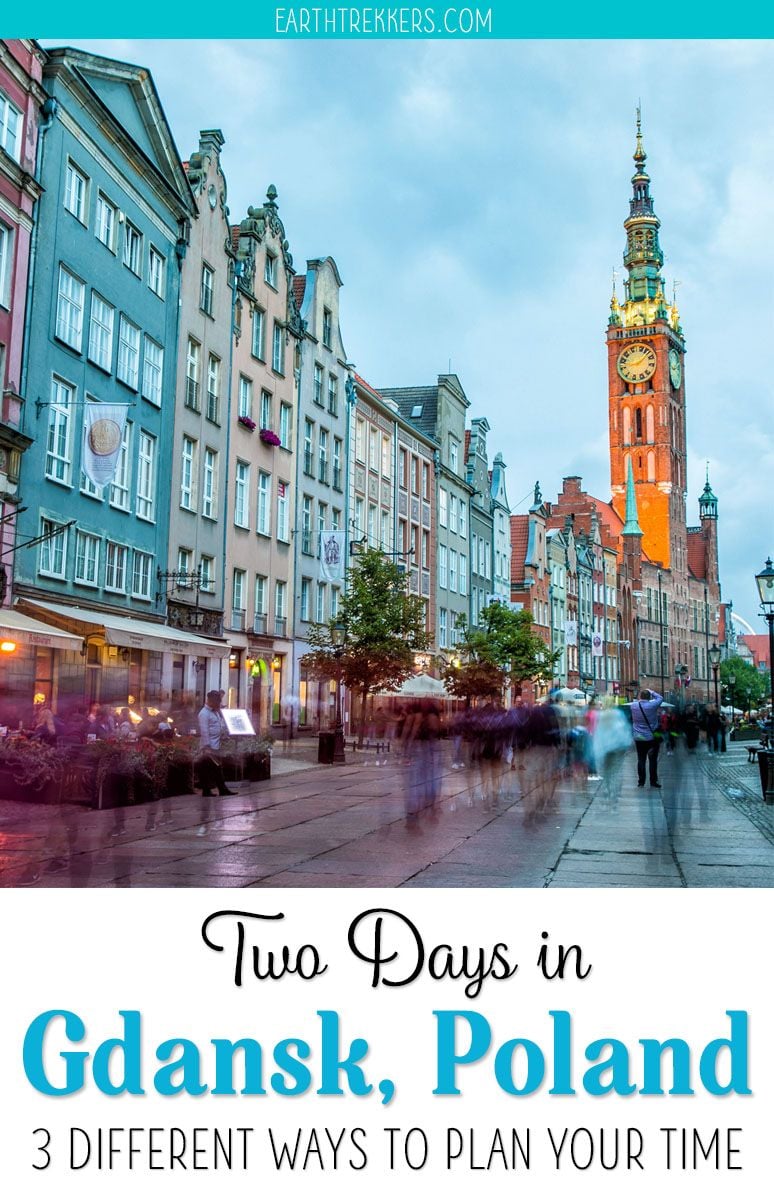 All rights reserved © Earth Trekkers. Republishing this article and/or any of its contents (text, photography, etc.), in whole or in part, is strictly prohibited.