Kyoto is the cultural heart of Japan. Visiting the shrines and temples, with their perfectly landscaped gardens and views over the city, top the list for most visitors to Kyoto. But there are also bamboo groves and small neighborhoods to explore, food markets and shopping streets to visit, and some very cool day trips that you can take. The list of things to do in Kyoto is long. So long, in fact, that it would take you weeks to thoroughly explore this extraordinary city.
In this post, we narrow down the long list of things to do in Kyoto to 18 unforgettable experiences. If this is your first time in Kyoto, this is a great starting point for having the best holiday here.
Interesting Facts about Kyoto
For over 1,000 years Kyoto was the capital city of Japan. Tokyo took over this title in 1868.
Kyoto is one of the best-preserved cities in Japan. In World War II, it escaped bombing at the intervention of Secretary of War Henry Stimson, and has remained Japan's cultural center.
Kyoto has one of the world's largest collections of UNESCO World Heritage Sites. There are 17 UNESCO Sites, several of which make our list of the best things to do in Kyoto.
Kyoto has a massive network of trains and subways. Trying to get from one place to another can be mind-boggling at first, as they are not all operated by the same company. Occasionally, you will have to purchase more than one ticket to travel from point A to point B.
Kyoto is unlike many other cities in the world, where the top sights are clustered in the historic city center. In Kyoto, the shrines and temples sit on the outskirts of the city, on the lush hillsides and mountains that surround the city. When you visit these temples, the experience is more than just visiting and photographing the main hall or pavilion. Strolling the paths and wandering through the tranquil gardens is the best part of the experience, in my opinion.
Temples vs. Shrines
Kyoto is filled with temples and shrines. So, how do you know the difference between the two?
Shinto and Buddhism are Japan's two major religions. The temples are Buddhist and the shrines are Shinto.
There are over 1600 Buddhist temples in Kyoto. At the temples, you will see a Buddha statue, burning incense, and beautiful buildings surrounded by manicured gardens.
Shrines are characterized by bright red torii gates. You know you are entering a Shinto shrine when you enter through a bright red gate. There are over 400 Shinto shrines in Kyoto.
Map of Things to Do in Kyoto
How to Use This Map: Click the icons on the map to get more information about each point of interest. Click the star next to the title of the map to add this map to your Google Maps account. To view it on your phone or computer, open Google Maps, click the menu button, go to "Your Places," click Maps, and you will see this map on your list.
Best Things to do in Kyoto
1. Fushimi Inari Taisha
The Fushimi Inari Shrine is one of the most important and iconic shrines in Kyoto. Fushimi Inari honors the Shinto god of rice.
There are thousands of torii here, each donated by a company giving thanks for its prosperity and hopes for a prosperous future. The name of each company is labeled on the torii.
For us, it was magical, walking through these tunnels of torii. Walking through thousands of these gates, in the quiet forests on the outskirts of Kyoto, felt peaceful and even a little bit mysterious.
Fushimi Inari Taisha | Best Things to Do in Kyoto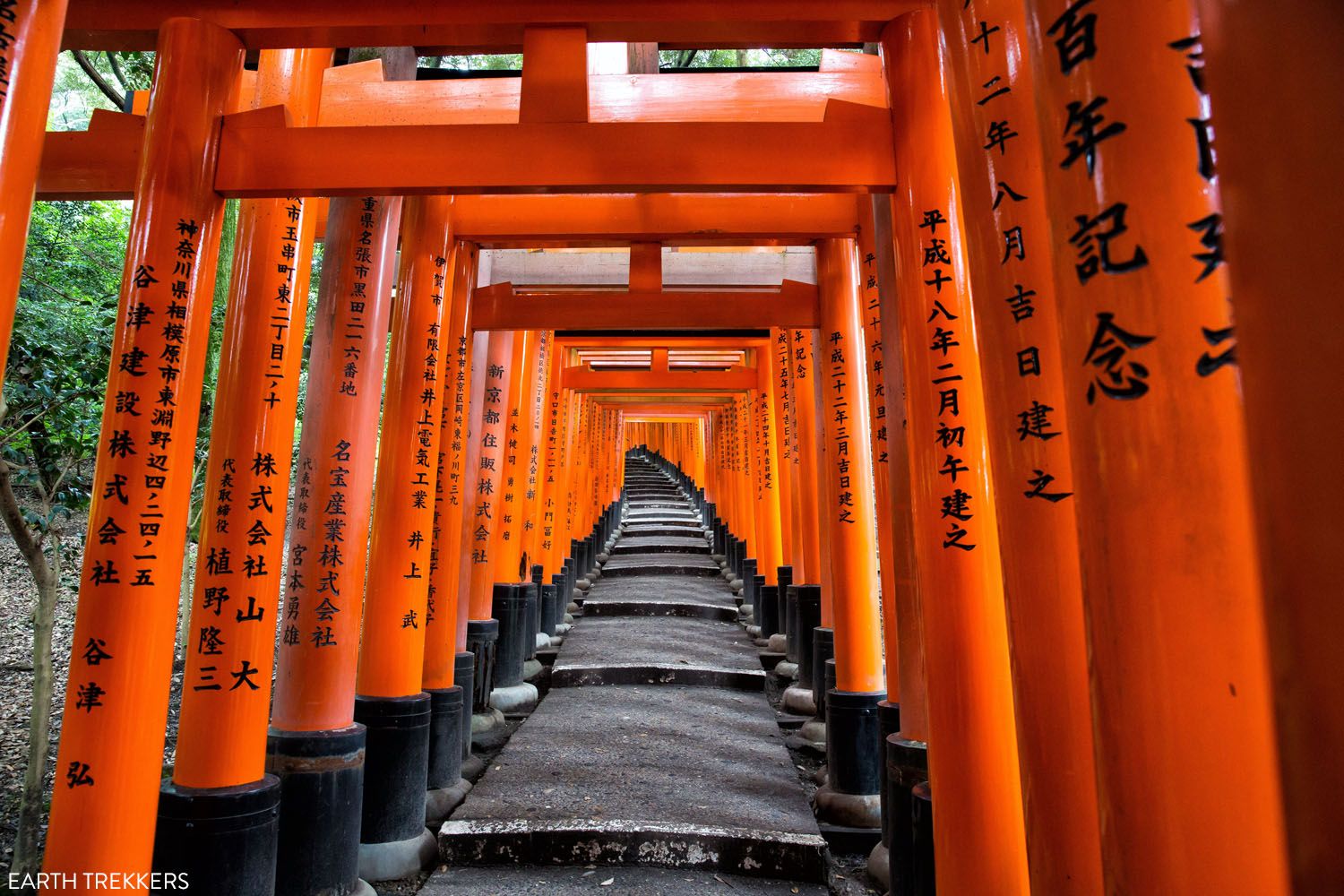 Torri gates at Fushi Inari Taisha | Best Things to Do in Kyoto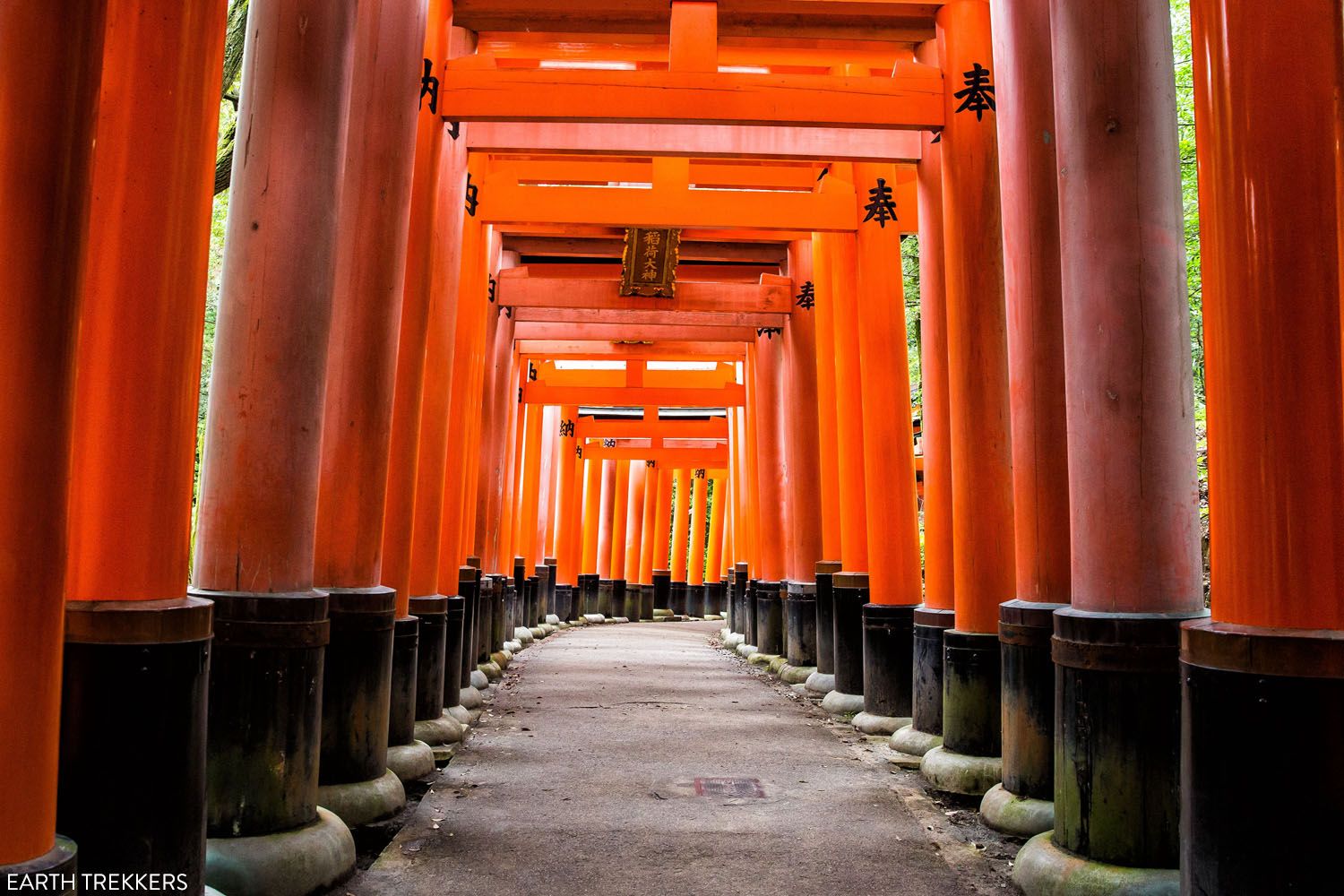 As you climb up the hillside, you will see many sub-shrines. You will also frequently see the fox, the messenger of the Inari shrine.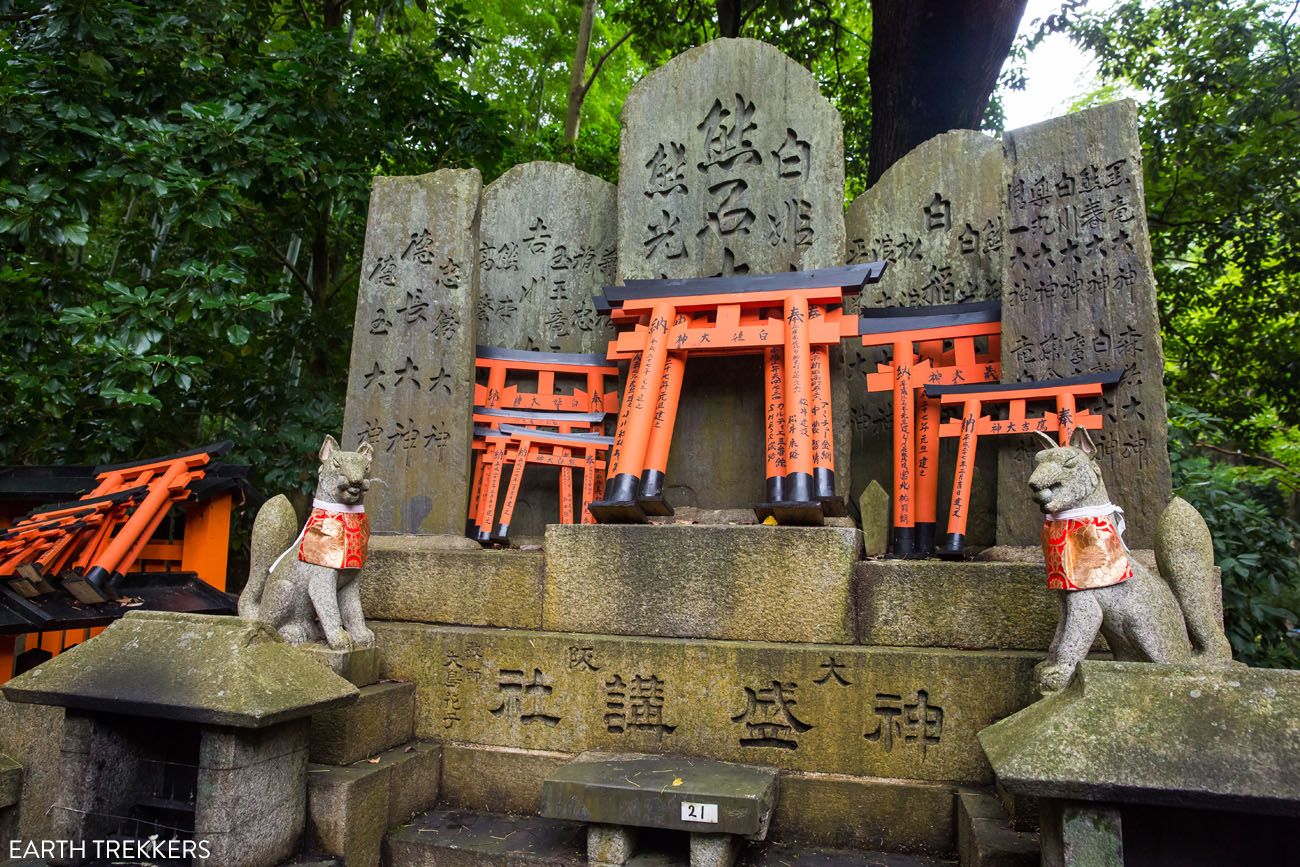 The farther you walk up the hillside, the fewer people you will see. You can actually turn this walk into a short hike to the summit of Mt. Inari-san. This takes about 3 hours and you can learn more here.
Getting Here: Inari Station on the JR Nara Line; Fushimi-Inari Station on the Keihan Line
2. Kiyomizu-dera Temple
Kiyomizu-dera Temple, the "Pure Water Temple," is one of Kyoto's most popular temples to visit. It feels more touristy and more commercial than many other shrines and temples in town, but even so, it's worth a visit.
This huge complex is a UNESCO World Heritage Site.
From the Kiyomizu stage of the Main Hall (a large, wooden balcony), enjoy gorgeous views over the city of Kyoto. In autumn, the view is spectacular when the maples turn brilliant shades of yellow, orange, and red.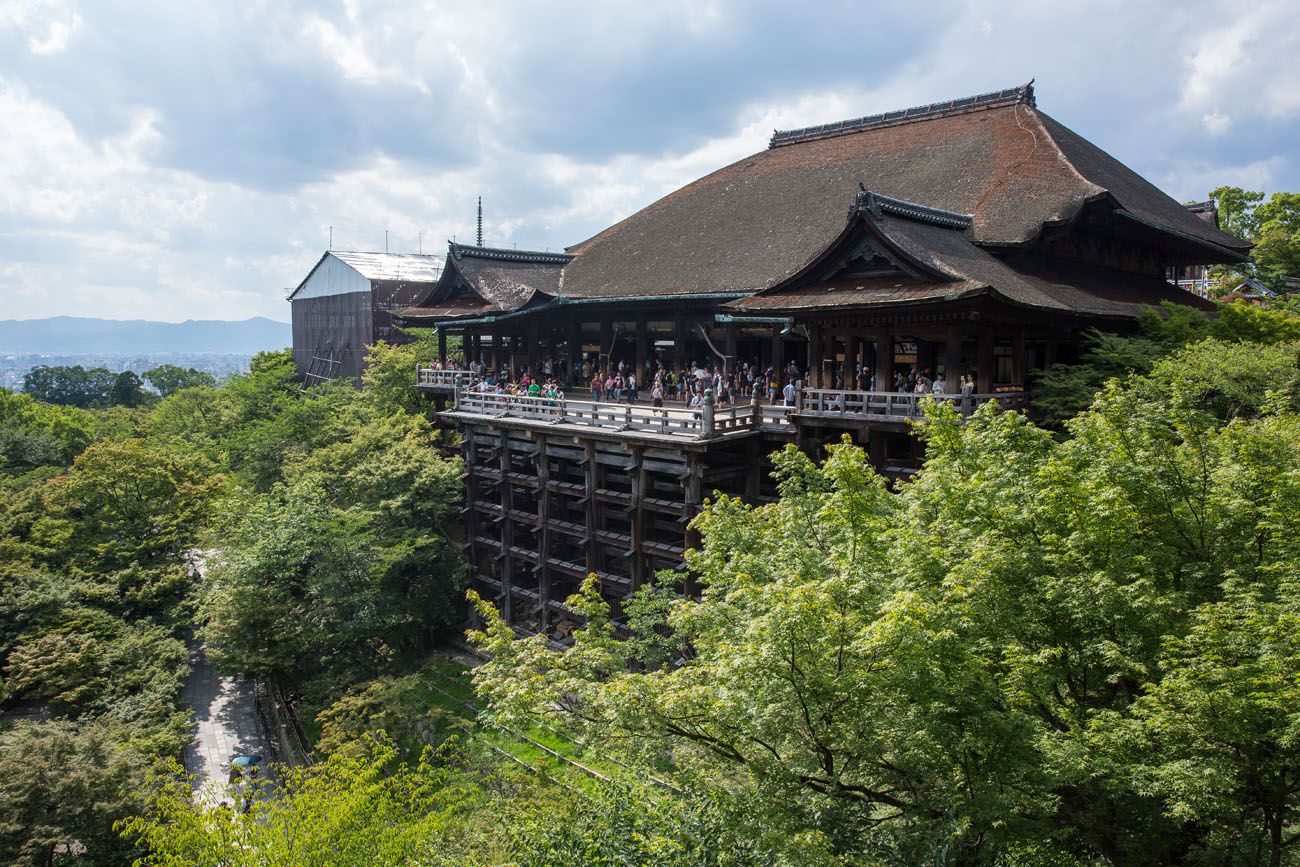 Kiyomizu Stage | Best Things to Do in Kyoto
At the base of the main hall is the Otowa waterfall. Using ladles, visitors can drink water from the three streams. Each of these streams can help fulfill a wish: longevity, good luck in love, or success in school. Drinking from one or two of these streams is acceptable, but never drink from all three.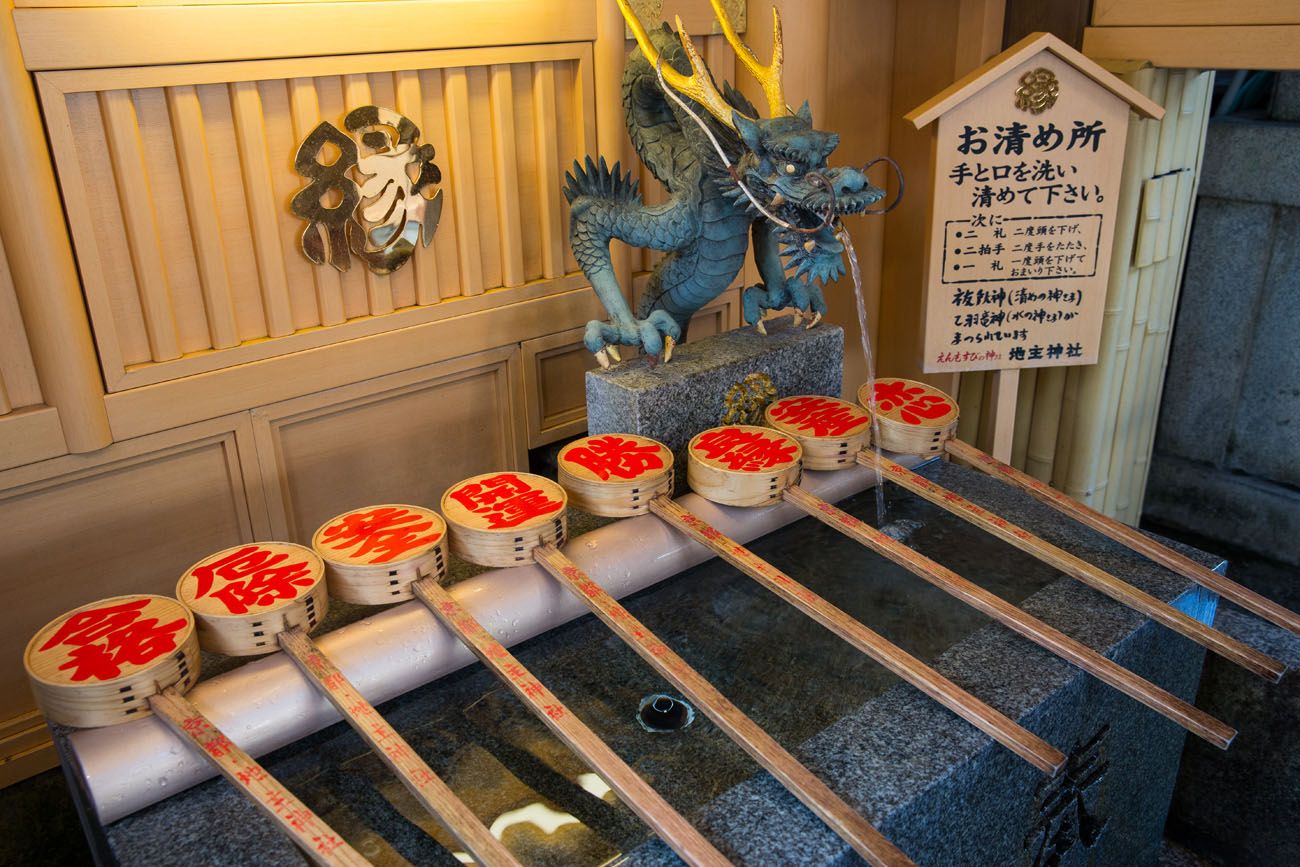 Other places to visit are the Jishu Shrine, Koyasu Pagoda, and Okunoin Hall. There are small shops selling good luck charms for love, wealth, happiness, and good health.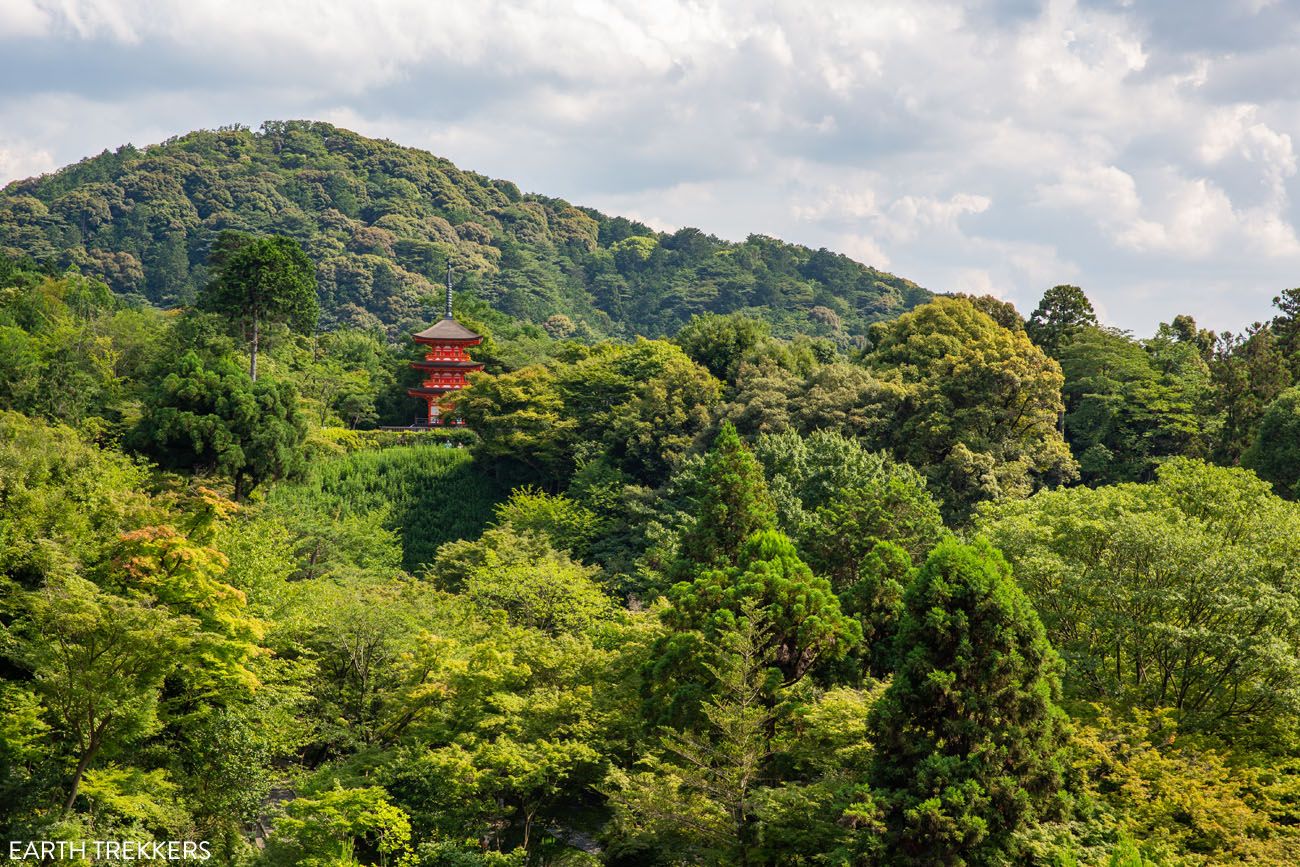 Koyasu Pagoda | Best Things to Do in Kyoto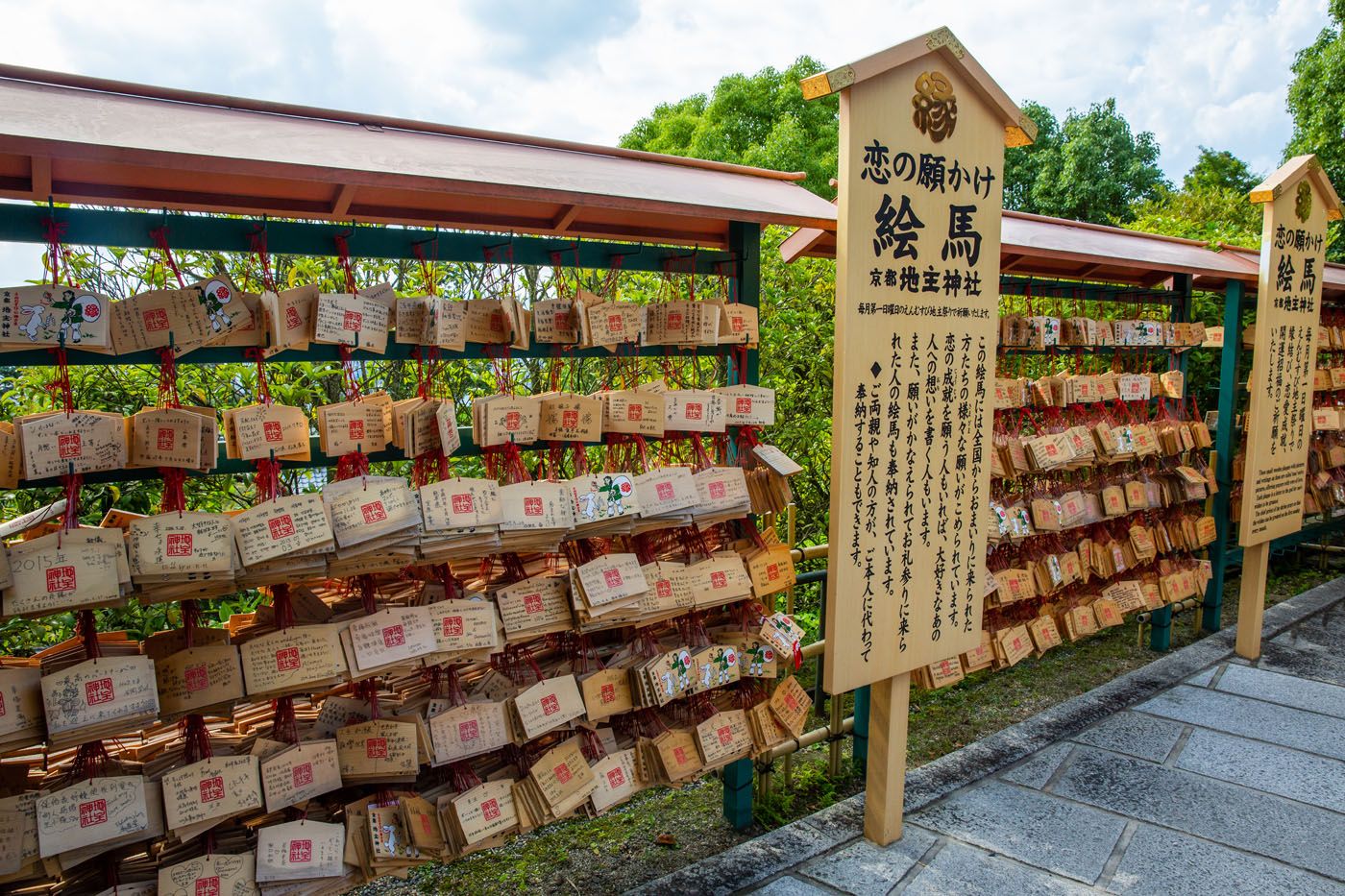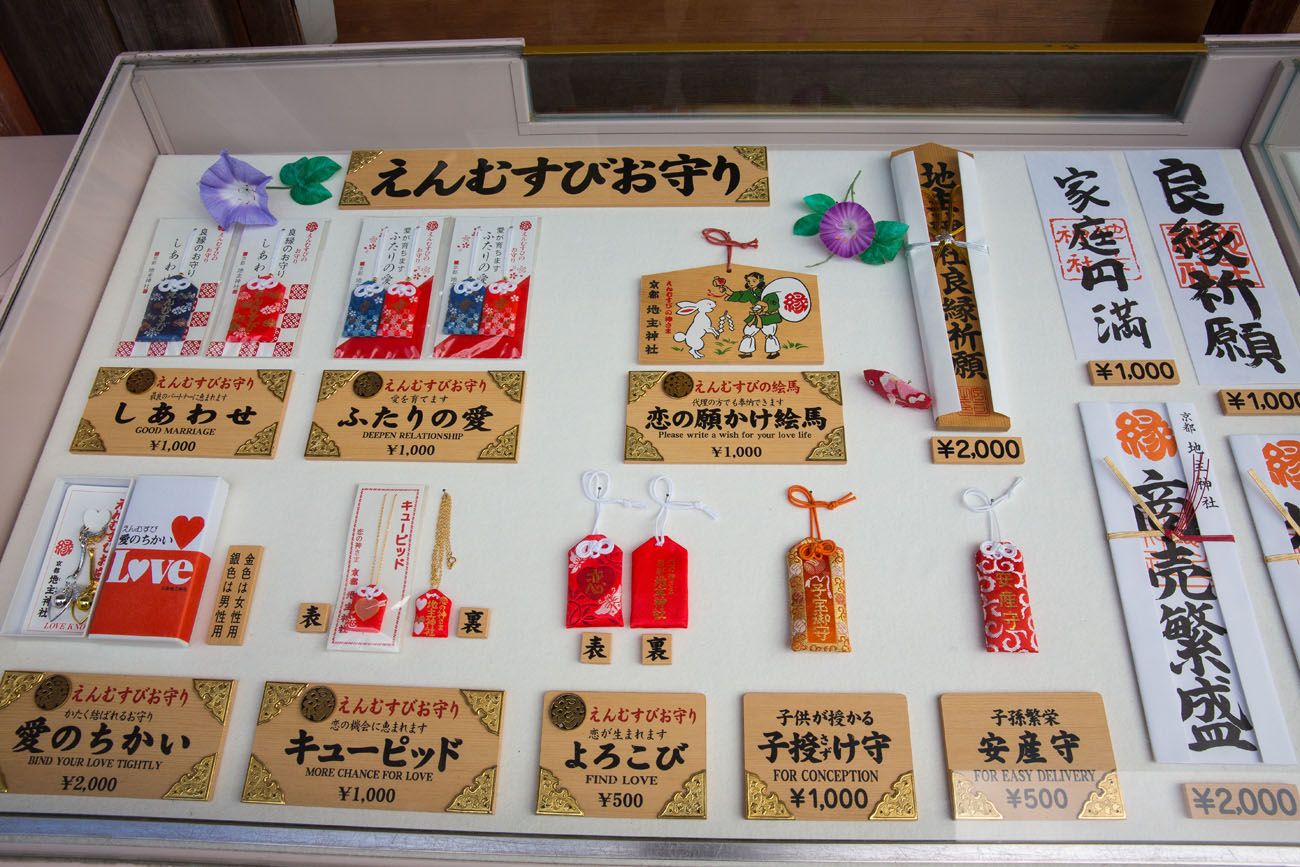 Getting Here: Take the Keihan Railway Line to Kiyomizu-Gojo and it is a 20 minute walk to the temple. Or, take bus 100 or 206 to Gojo-zaka or Kiyomizu-michi stop and it is a 10-minute walk to the temple.
3. Stroll through the Higashiyama District
This historic district is a maze of narrow, paved streets and traditional wooden buildings. The Higashiyama District is the perfect place to visit if you like wandering picturesque streets, shopping, and hopping from café to café. This part of Kyoto feels more traditional than some of the other districts in the city.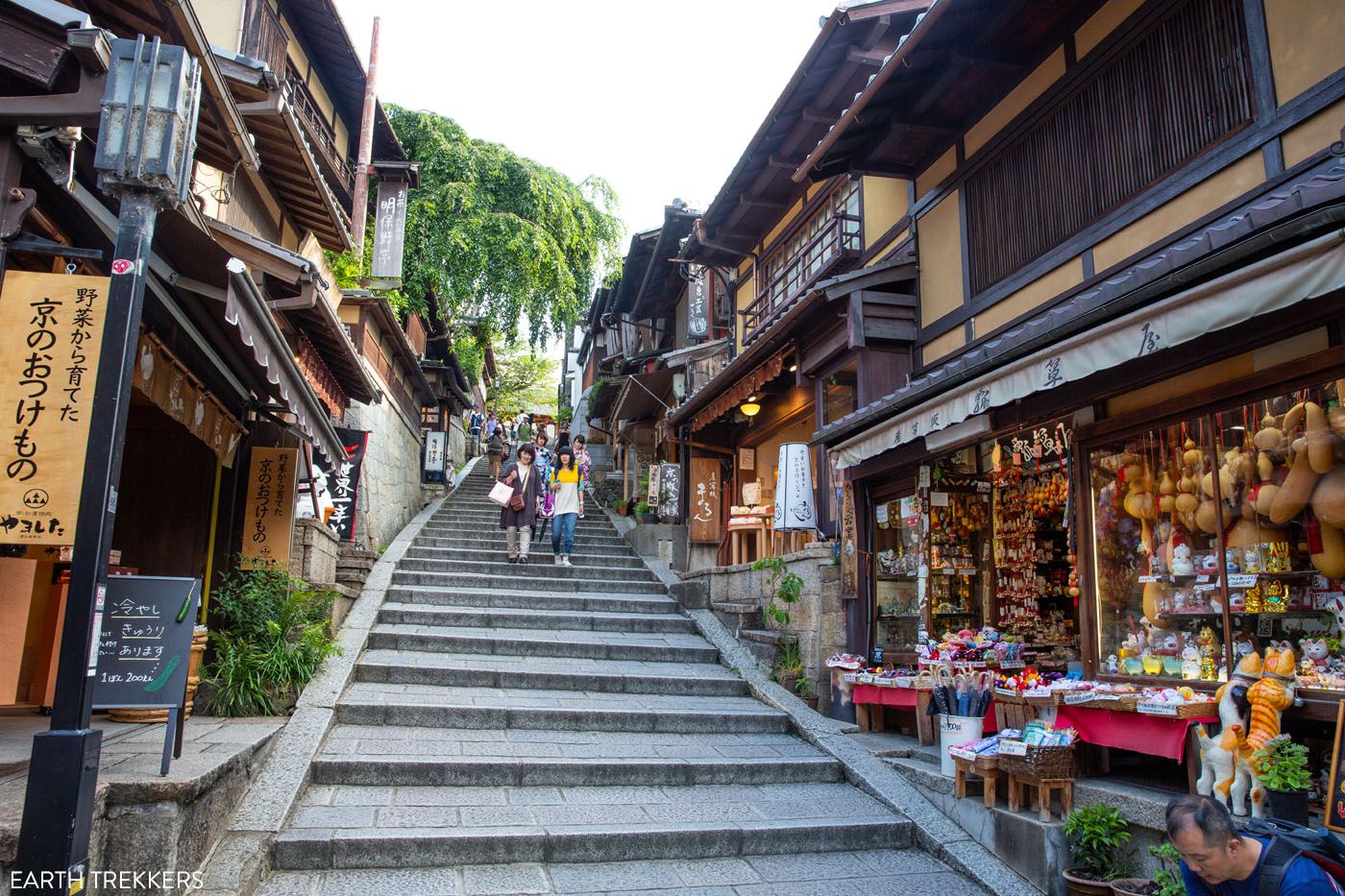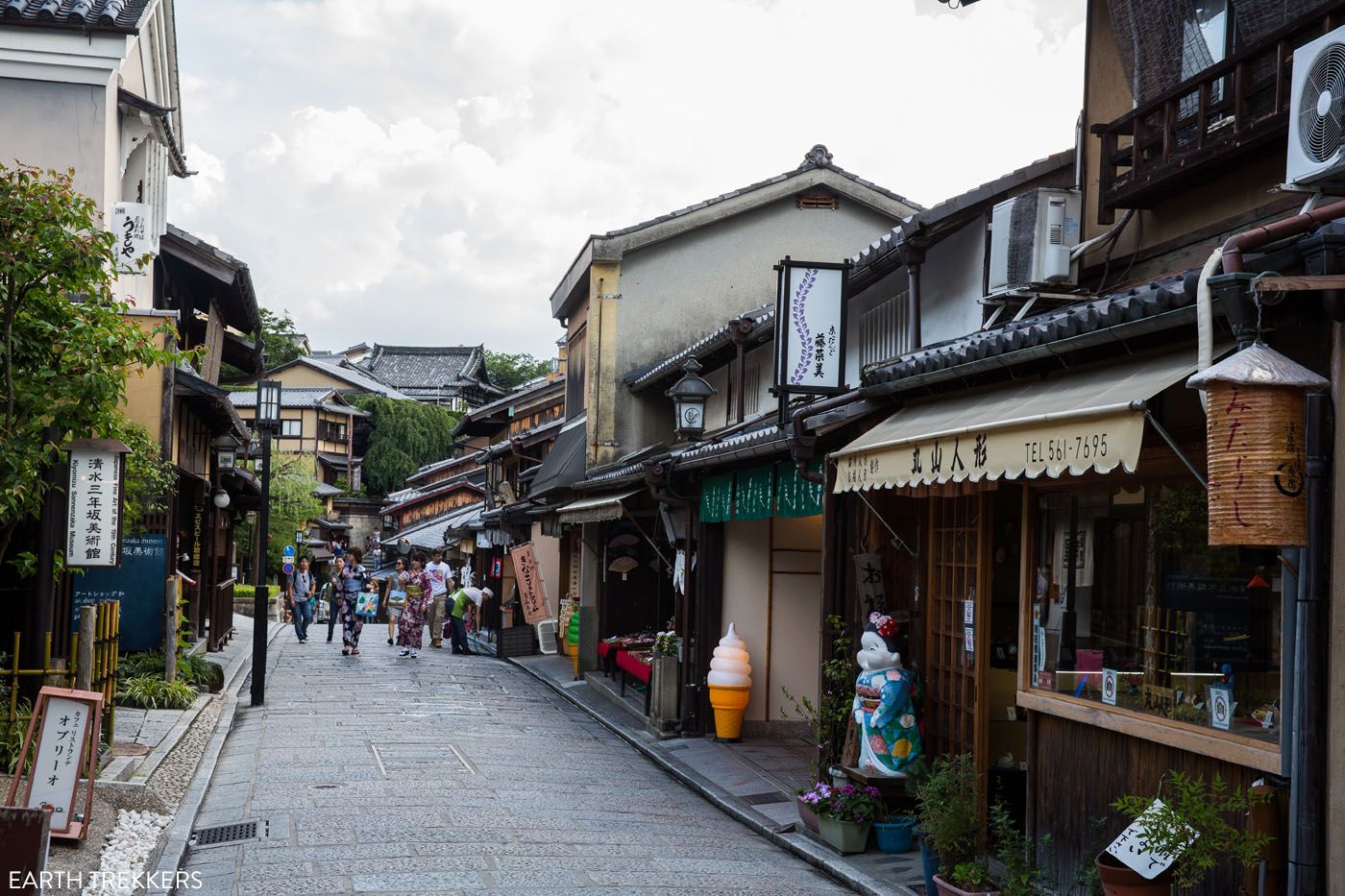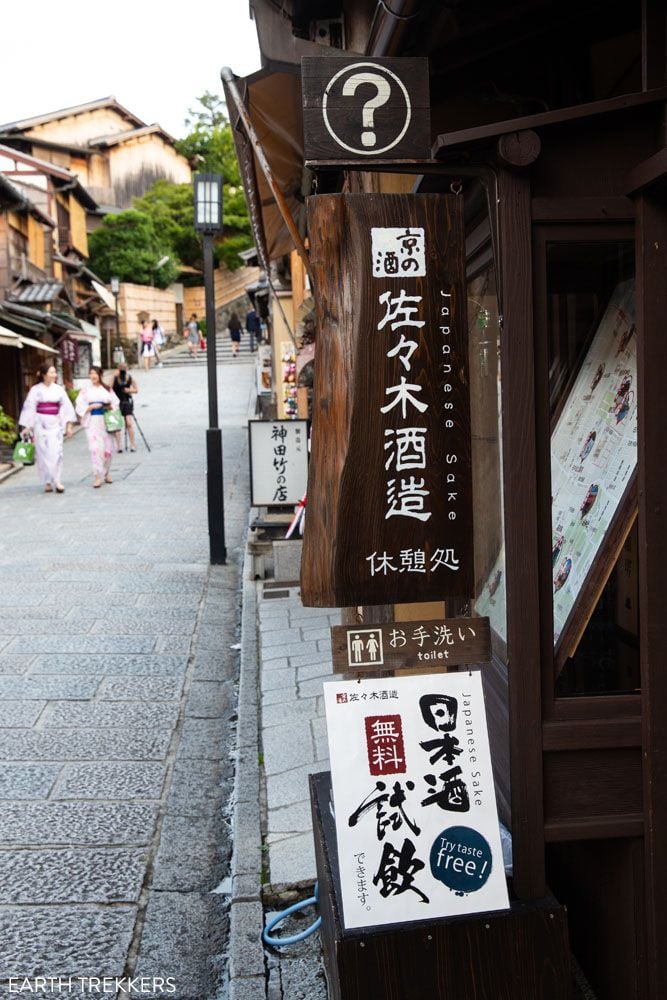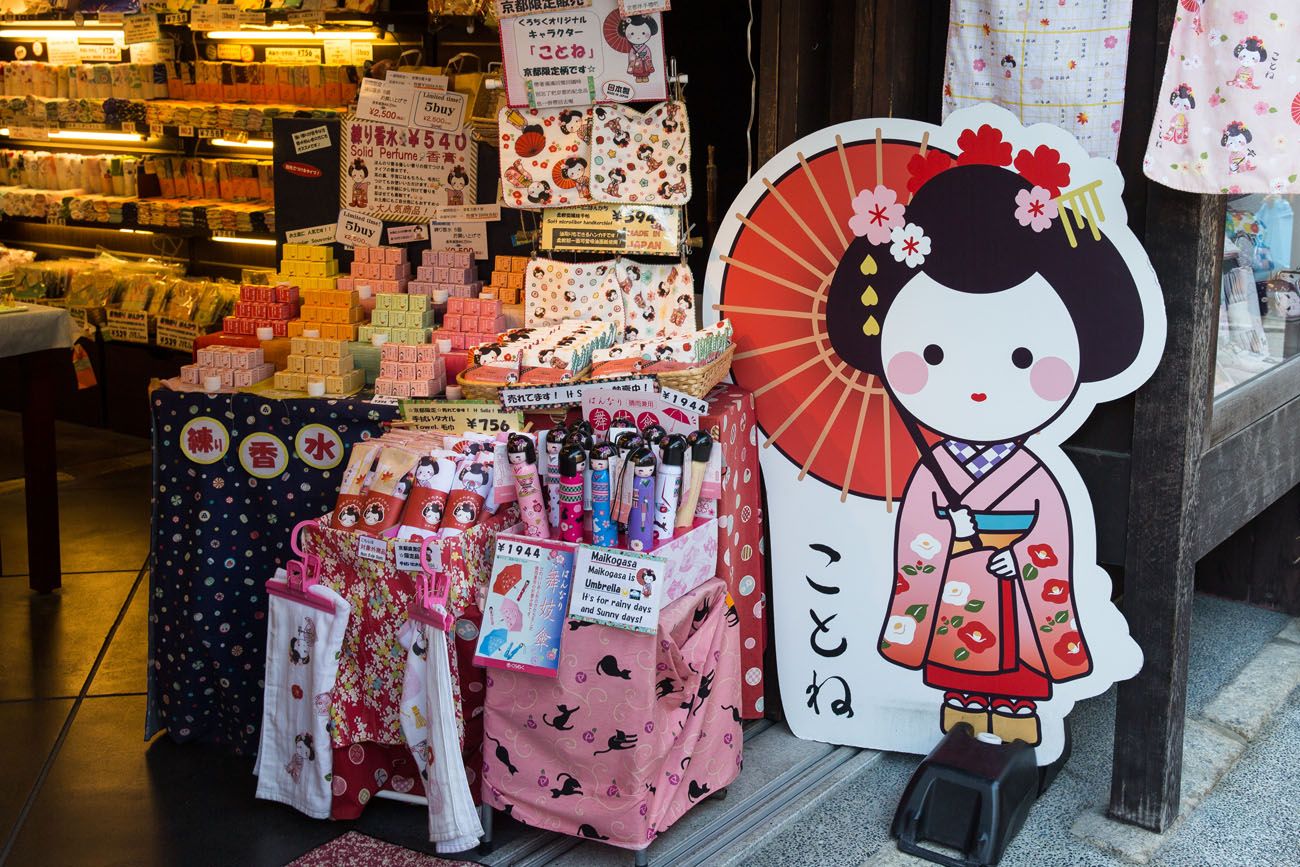 Kiyomizu-dera Temple, the Yasaka Shrine, the Yasaka Pagoda, and Kodai-ji Temple are all found in the Higashiyama District. Strolling these narrow lanes is a great way to connect Kiyomizu-dera Temple with the Yasaka Shrine and Kodaiji Temple, if these are also on your list to visit. In our map above, we provide a walking route that connects Kiyomizu-dera Temple with the Yasaka Pagoda, Kodai-ji Temple, and the Yasaka Shrine, and ends in Gion.
Gion, which I talk about next, is also located in the Higashiyama District.
4. Wander through Gion
Gion is a small neighborhood in the Higashiyama District. These narrow lanes are lined with teahouses, as well as bars, clubs, and pachinko parlors. If you stroll the streets in the evening, there is a chance that you might spot a geisha as she enters one of the teahouses.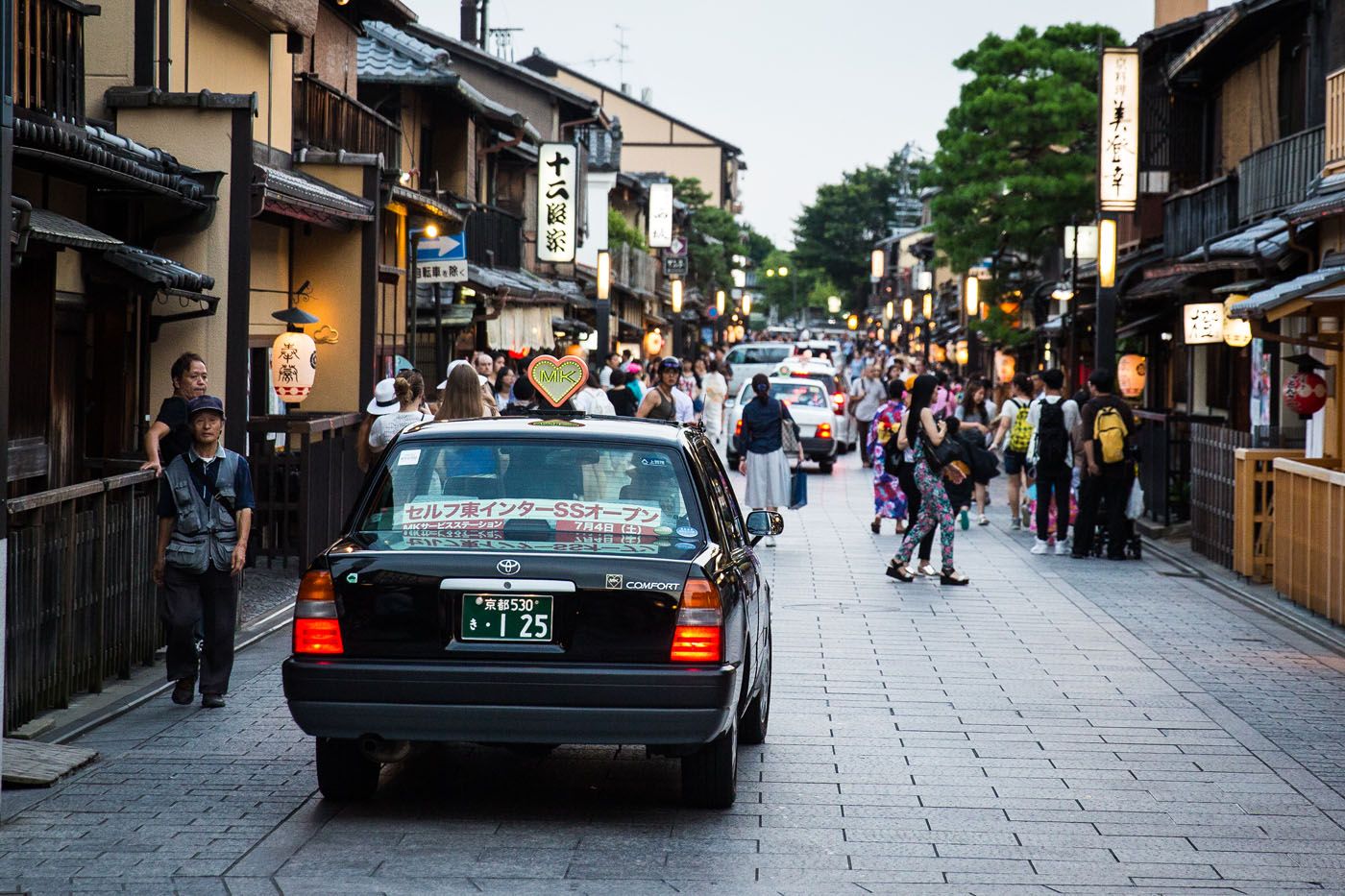 Gion | Best Things to Do in Kyoto
On your visit here, don't miss Hanami-koji, one of the most famous streets in Gion.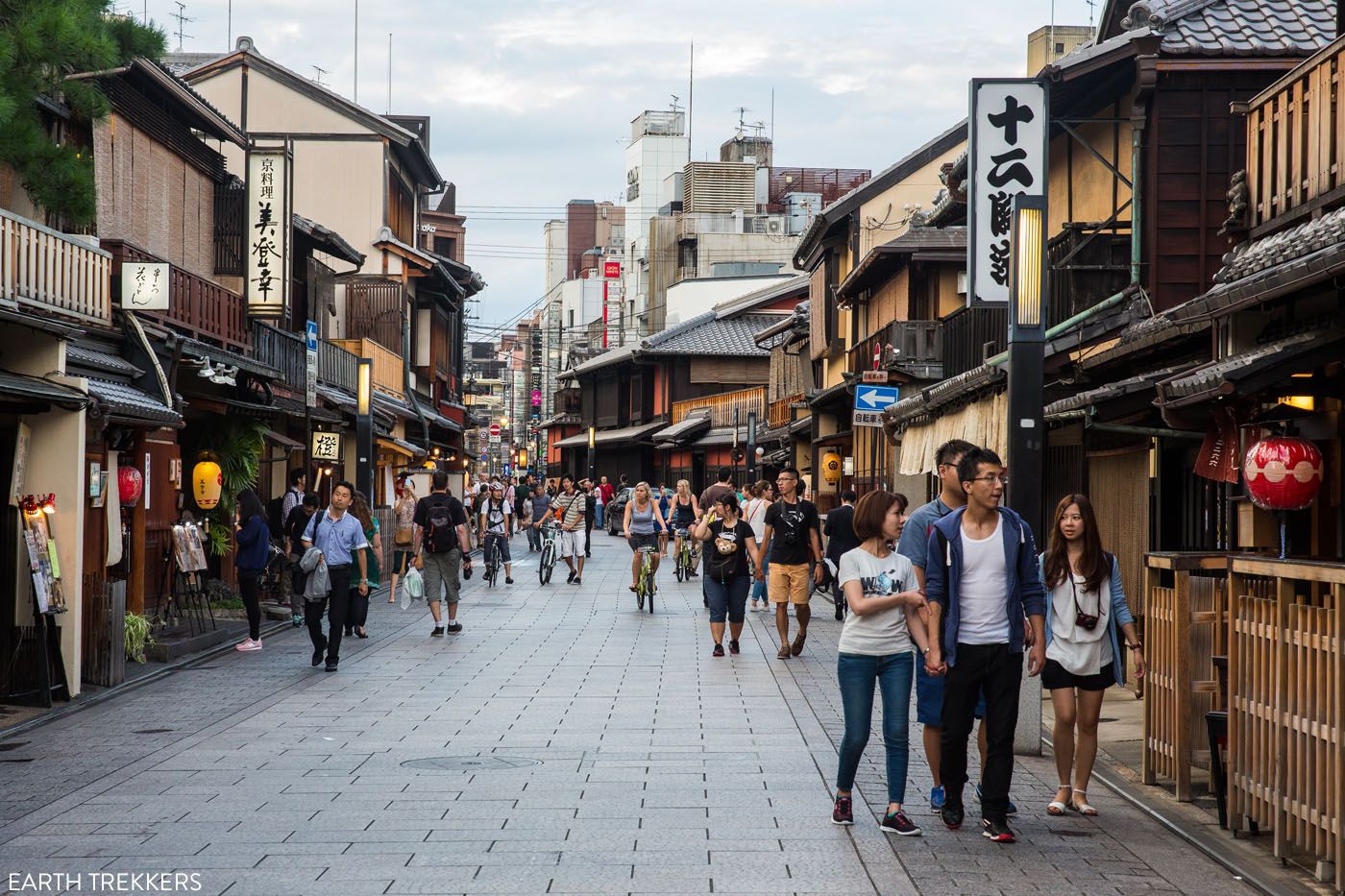 Hanami-koji | Best Things to Do in Kyoto
Note: In response to the recent explosion in tourist levels in Kyoto, a new rule has been put into effect. Photography on the private streets in Gion is no longer allowed. Please be respectful of the geisha and do not act like a crazy paparazzi in order to photograph them.
5. Visit Kodai-ji Temple
Kodai-ji Temple is located in the Higashiyama district. This temple, which dates back to 1606, is a temple dedicated to Zen Buddhism. Walk the path through the rock garden, follow it up to the tea houses and mausoleum, and circle back to the main complex through the bamboo grove.
Our favorite experience was sitting on the tatami mats inside of the main temple and looking out over the gardens.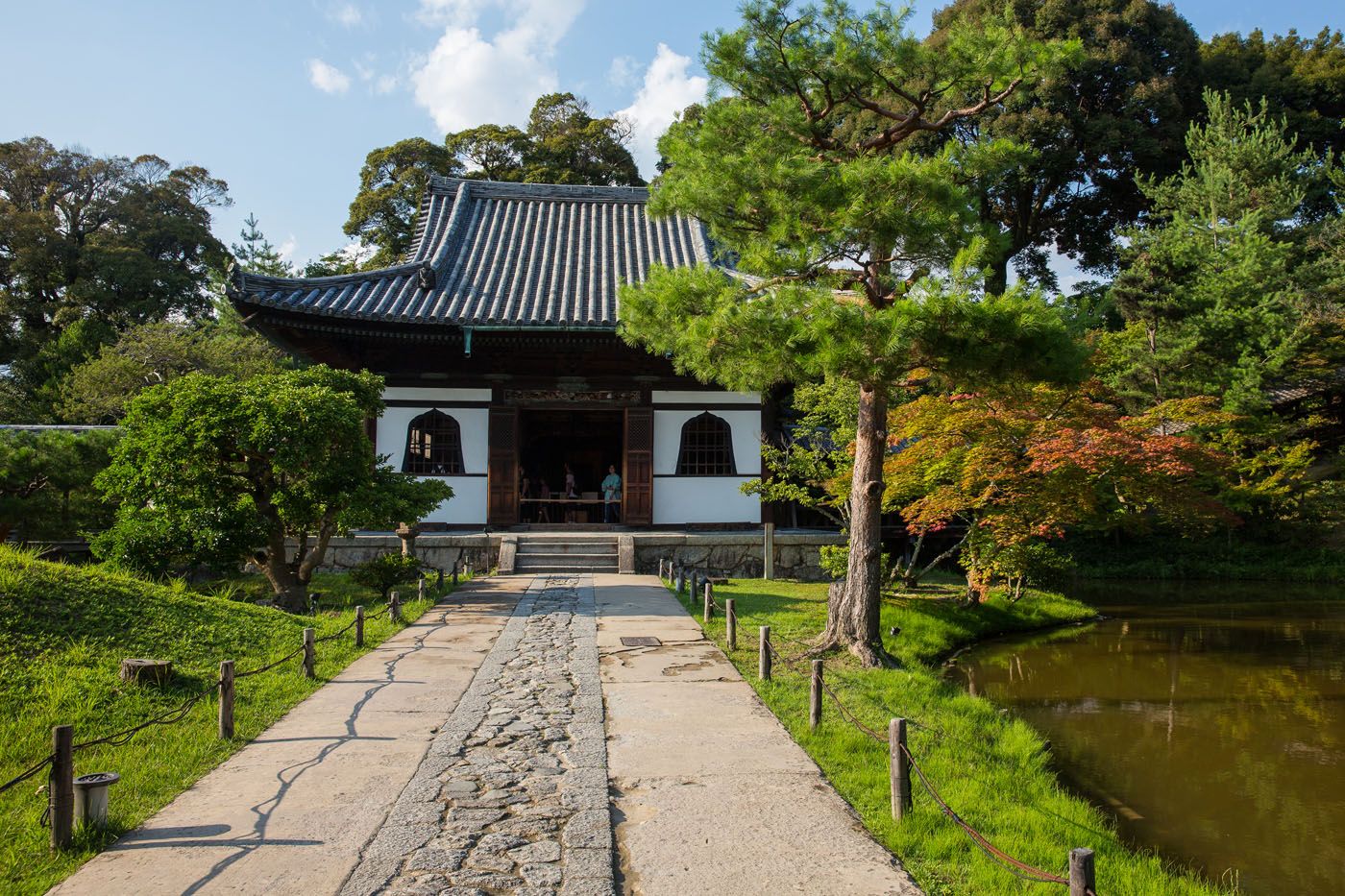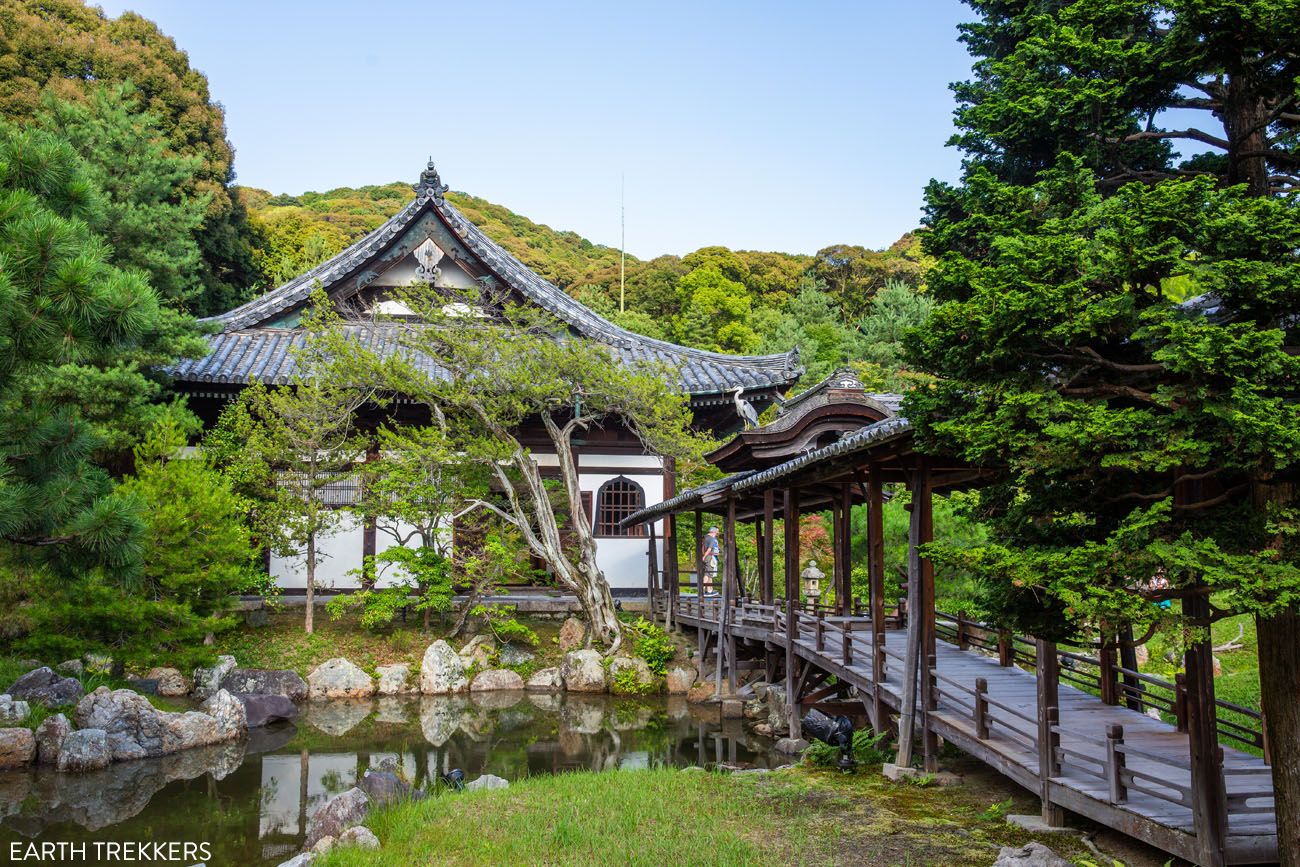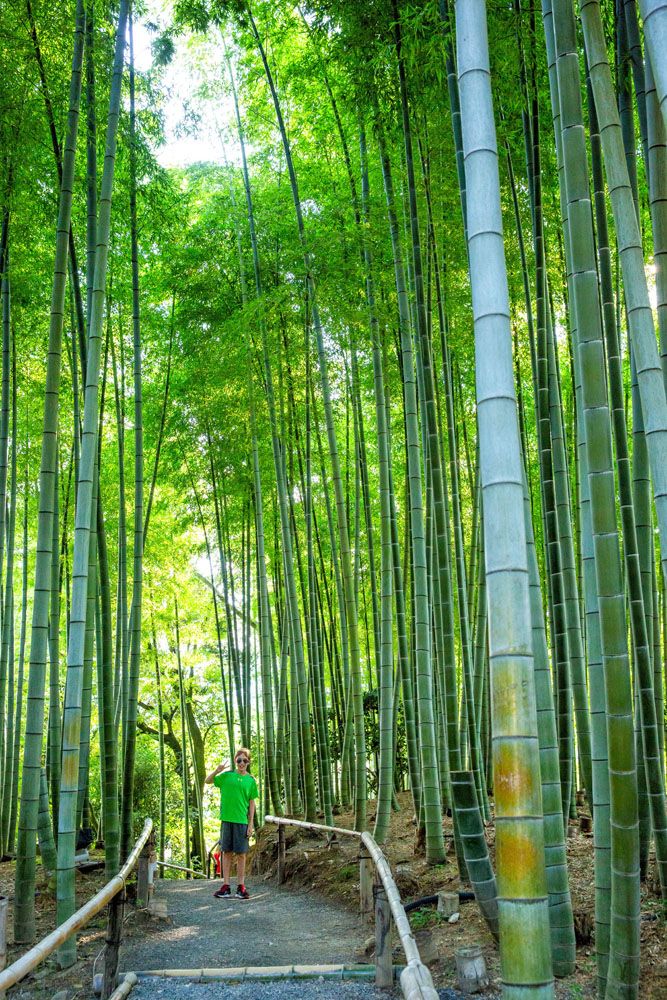 Bamboo grove at Todai-ji Temple | Best Things to Do in Kyoto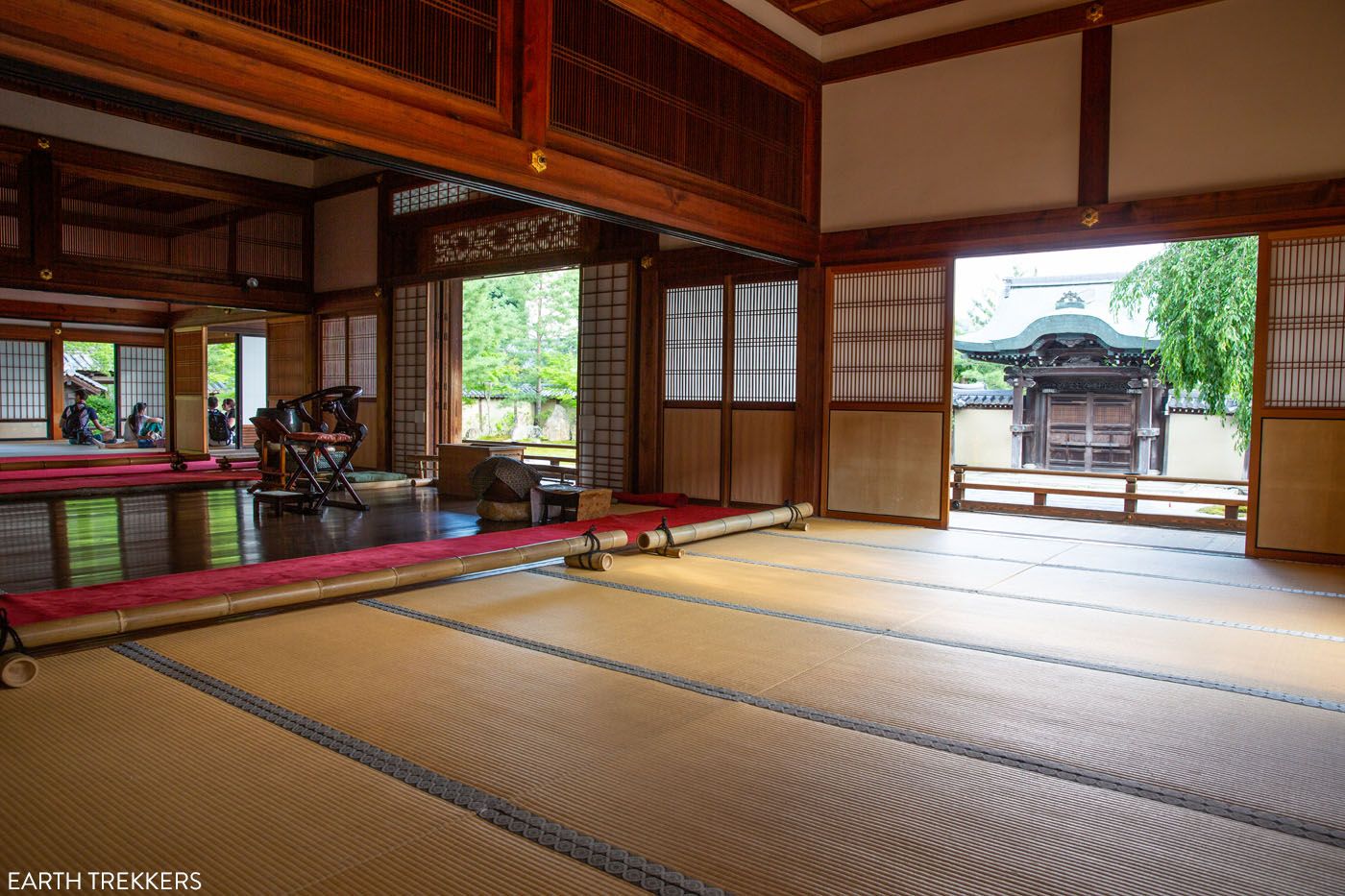 Getting Here: Gion-Shijo is the closest metro station to the temple (1 km walk, about 12 minutes). Many people visit Kodai-ji Temple when strolling through the Higashiyama district.
6. Photograph Yasaka Pagoda
Kyoto has a long list of stunning photography locations and the Yasaka Pagoda is one of our favorites. Located in southern Higashiyama, this pagoda towers over the twisting lanes and traditional wooden houses. We got extremely lucky with our timing, as there was a photography session with a young Japanese couple during our visit.
If you want this same photo, take a stroll down Yasaka Kamimachi. I took this photo here: 34°59'53.4″N 135°46'48.1″E
7. See the Cherry Blossoms at Maruyama Park
In April, Maruyama Park is the place to see the cherry blossoms. The centerpiece of the park is the large weeping cherry tree which is lit up at night. To get here, you will enter the park through the Yasaka Shrine.
8. Enjoy the Fall Colors at Eikan-do Temple
Eikan-do Temple, which was once called Zenrin-ji Temple, is known for being one of the best spots to see the fall colors in Kyoto.
This temple dates back to 853. Since that time, several halls and chambers have been added to the temple complex. Inside of Amida Hall you can see the unusual statue of the Amida Buddha, which looks over its shoulder rather than straight ahead.
Getting Here: Eikan-do Temple is located in northeast Kyoto. Keage Station is the closest metro stop (1 km, 15 minute walk). Nanzenji-Eikando-michi is the closest bus stop (5 minute walk). Or, take a taxi.
9. Take a Stroll on the Philosopher's Path
The Philosopher's Path is stone path that follows beside a canal. It is lined with cherry trees and during the spring months, this is one of the most popular places to visit in Kyoto, in order to see the blooms.
The Philosopher's Path starts near Ginkaku-ji Temple. It is about 2 kilometers long, ending in Nanzen-ji neighborhood.
You can walk part or all of the path. Crowds are at their largest midday, especially when the cherry trees are blooming.
10. Visit Ginkaku-ji Temple (Silver Pavilion)
Ginkaku-ji Temple is a Zen temple in northeast Kyoto. The main temple is an understated wooden building, but its setting amongst the trees and gardens is what makes this temple special.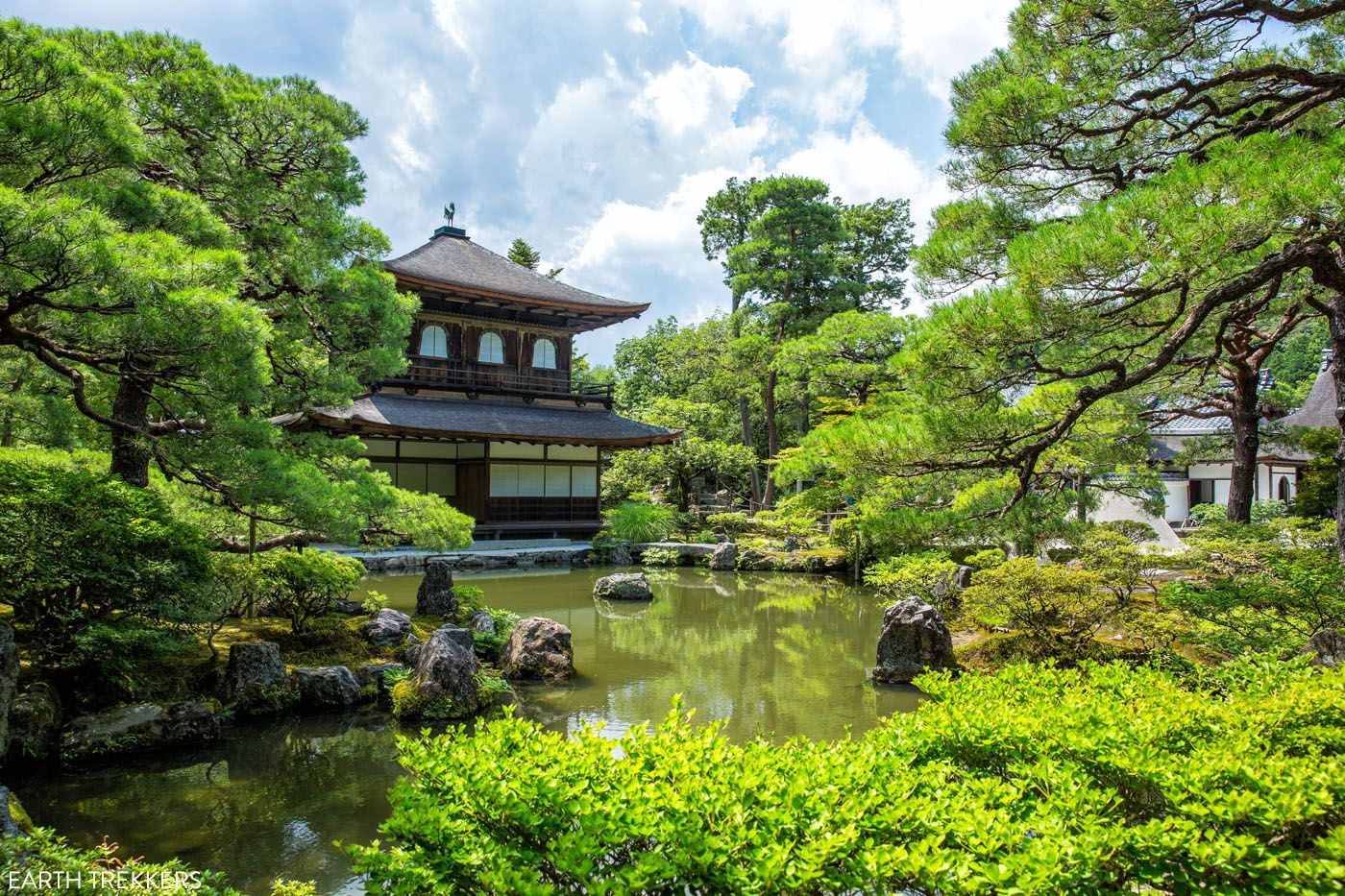 Ginkaku-ji | Best Things to Do in Kyoto
In front of the pavilion is the "Sea of Silver Sand," a large sand garden that features a giant cone of sand that resembles Mount Fuji. This is a beautiful place to go for a stroll, with paths that meander through the gardens, over small bridges, and up to a viewpoint over the pavilion.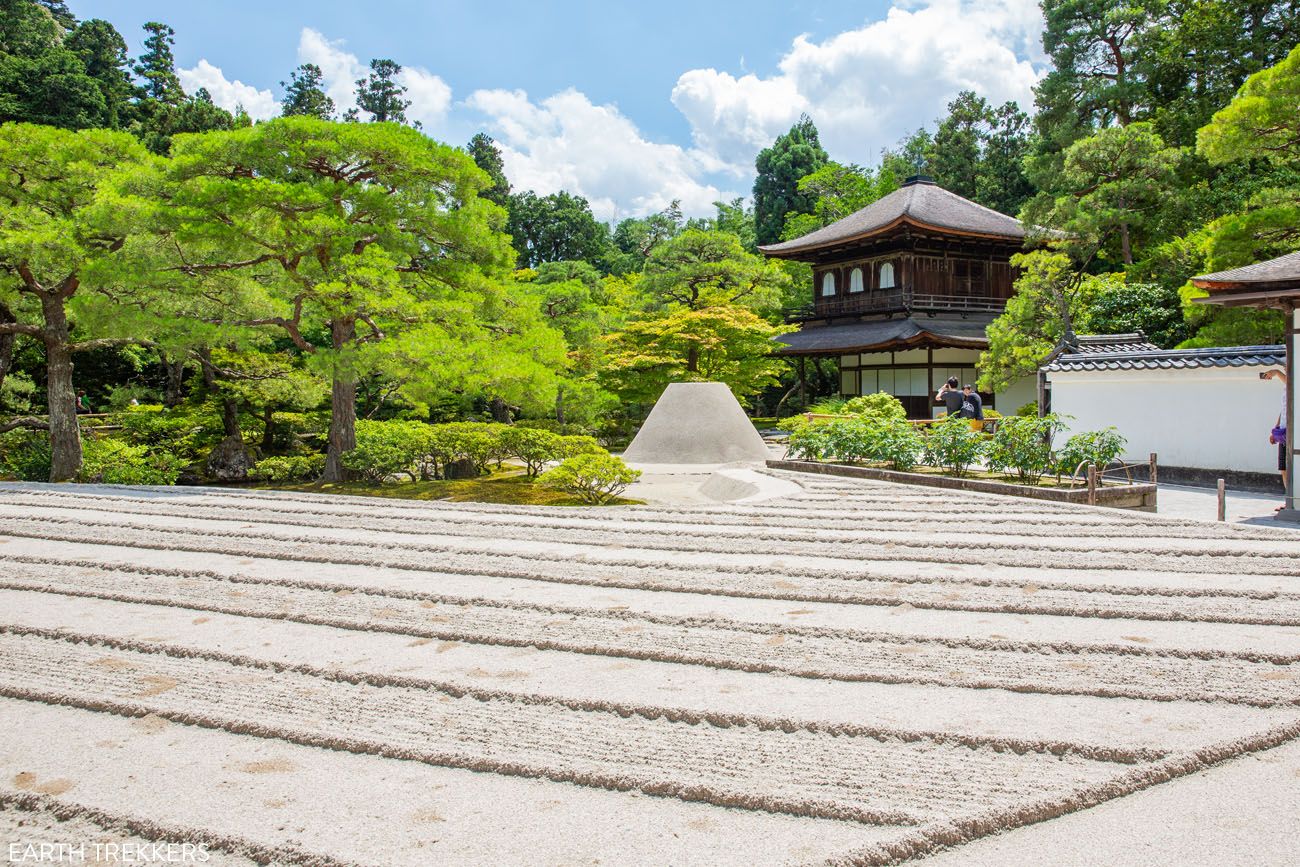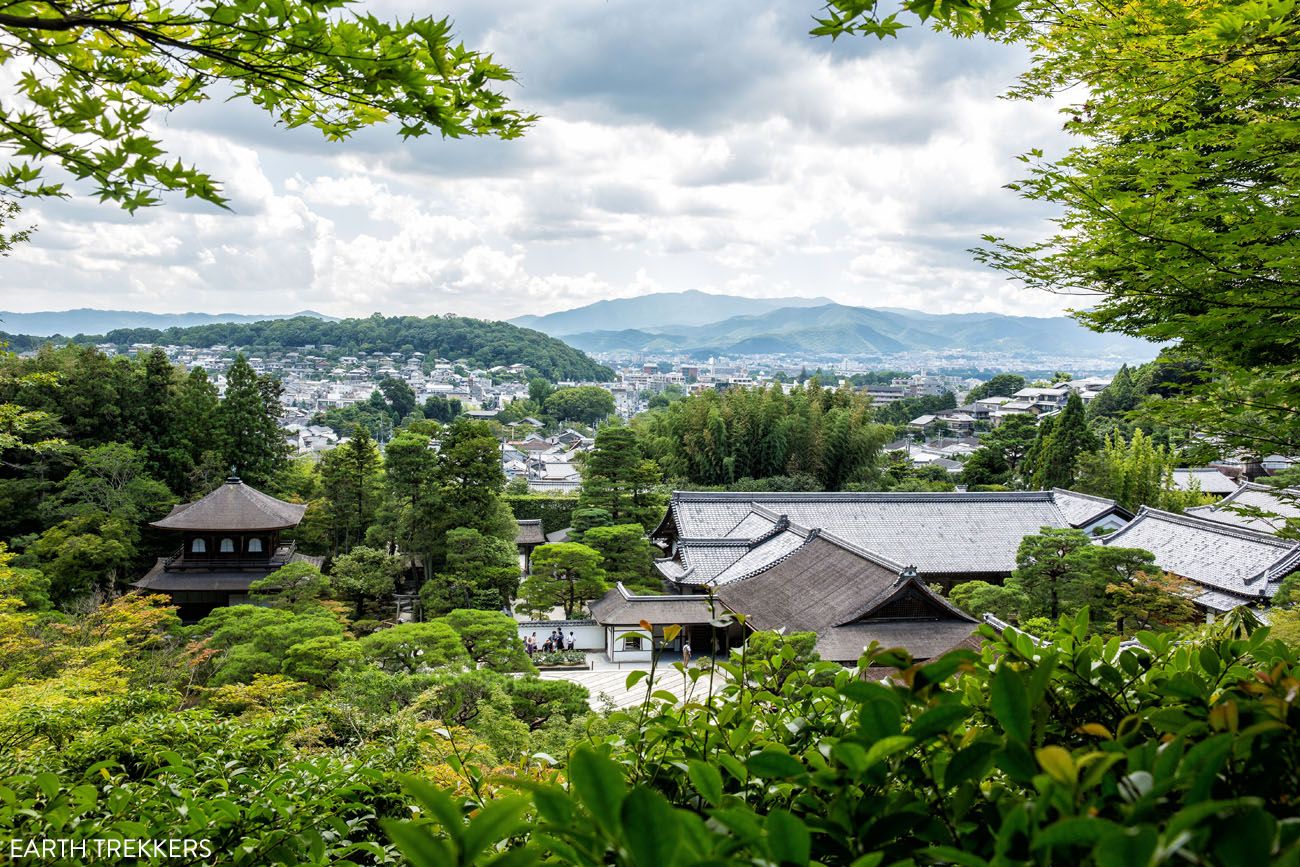 There are several theories as to why it is called the Silver Pavilion. One theory is that it was to be covered in silver once construction was completed, but shogun Ashikaga Yoshimasa died before the temple was constructed. On a clear night, the moonlight hitting the temple creates a silver reflection, so this another possible origin of the name.
Getting Here: Take a stroll on the Philosopher's Path, starting in the Eikan-do Temple and ending at Ginkaku-ji Temple (2 km, 30 minute walk).
11. Feed the Monkeys at Iwatayama Monkey Park
There are several different reasons why you should visit Arashiyama Monkey Park. Sure, feeding the monkeys is fun, especially if you are visiting Kyoto with kids, but the views from the park are beautiful. Not only do you have great views over the city, but if you look to the northwest, all you see are green mountains stretching off in the distance.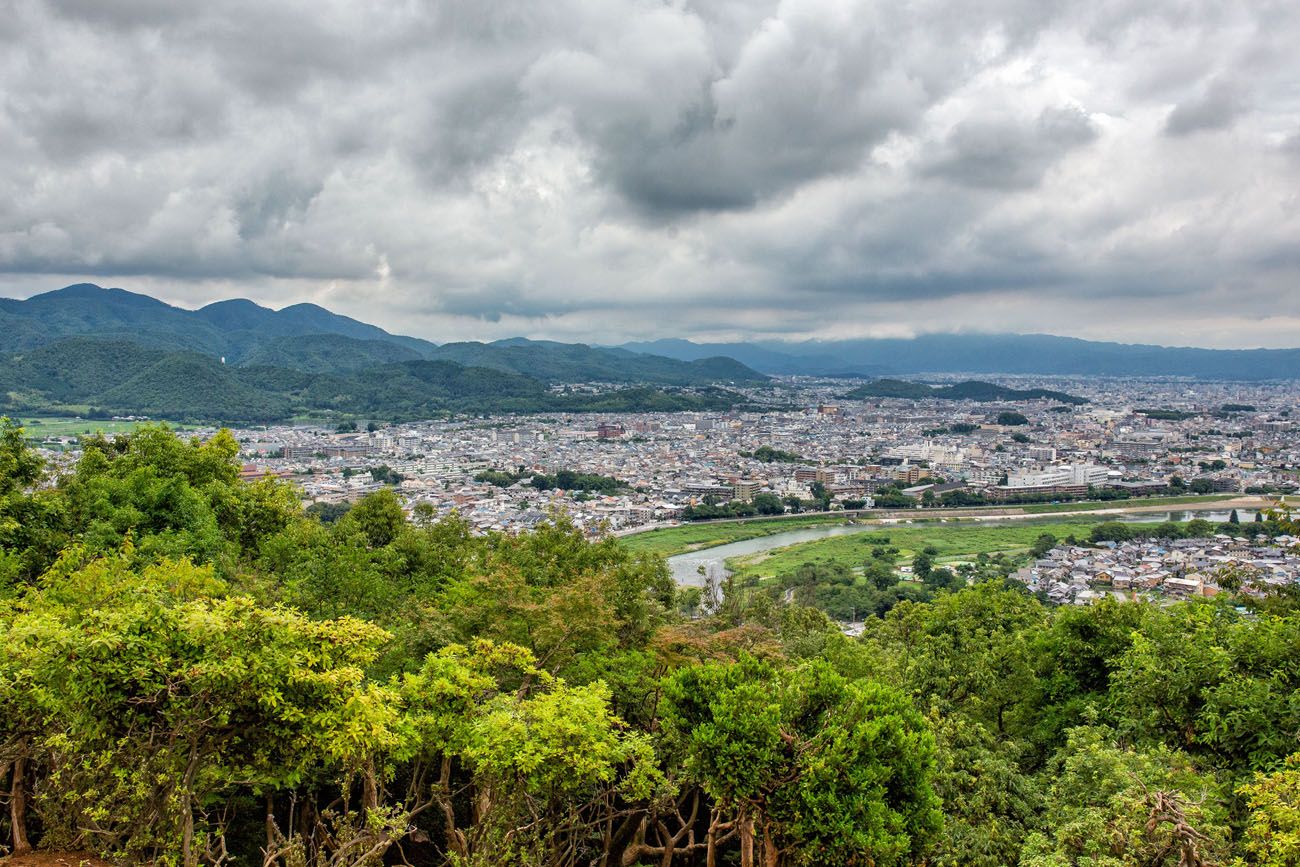 View over Kyoto | Best Things to Do in Kyoto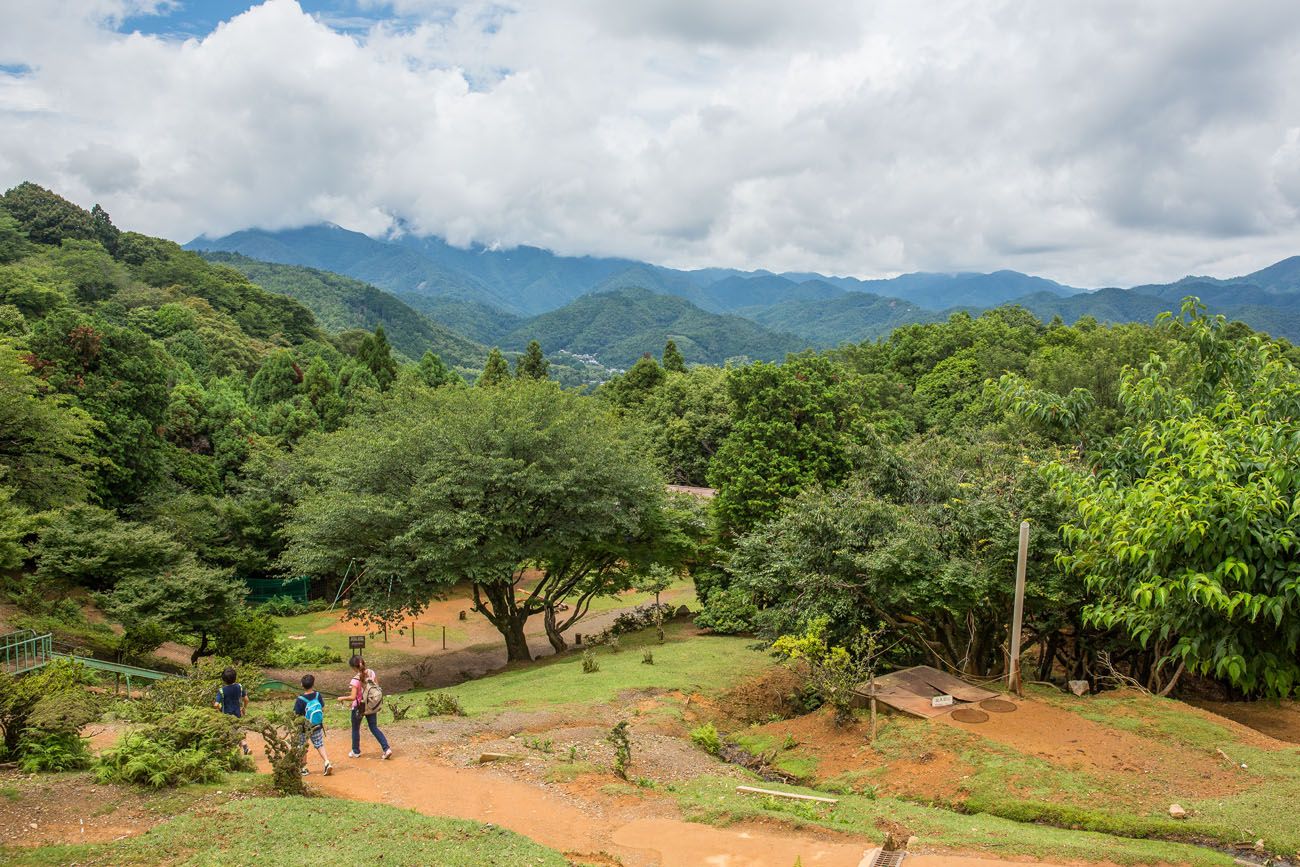 Another view from the Monkey Park | Best Things to Do in Kyoto
To get to the Monkey Park, it is a 20 to 30 minute hike to the top of Mount Arashiyama. Over 120 Japanese macaque monkeys live here. They are wild but you can feed them, if you follow several rules. Don't look the monkeys in the eye, do not touch them, and only feed them when you are inside of the building.
Once inside the building, purchase your monkey food and you can feed them once you are behind the metal grates.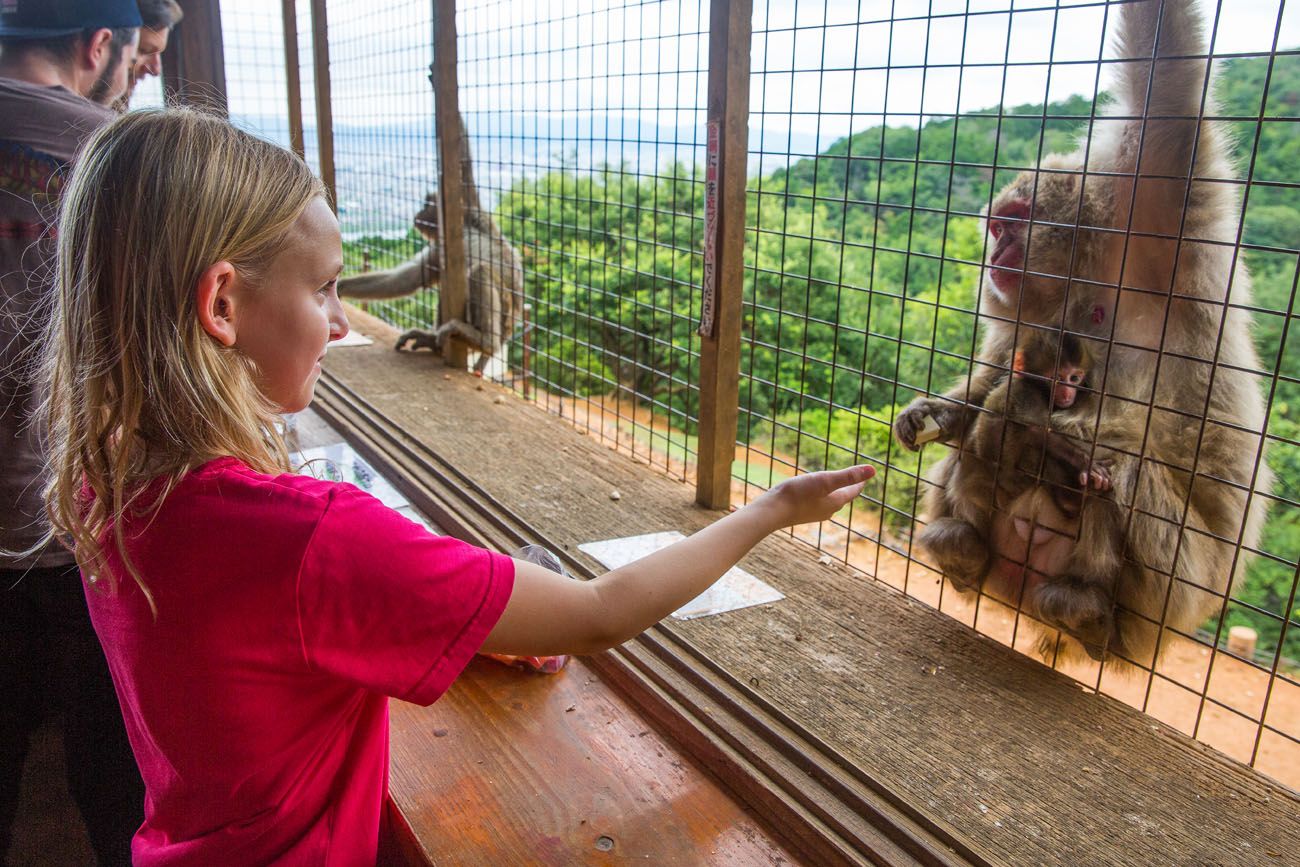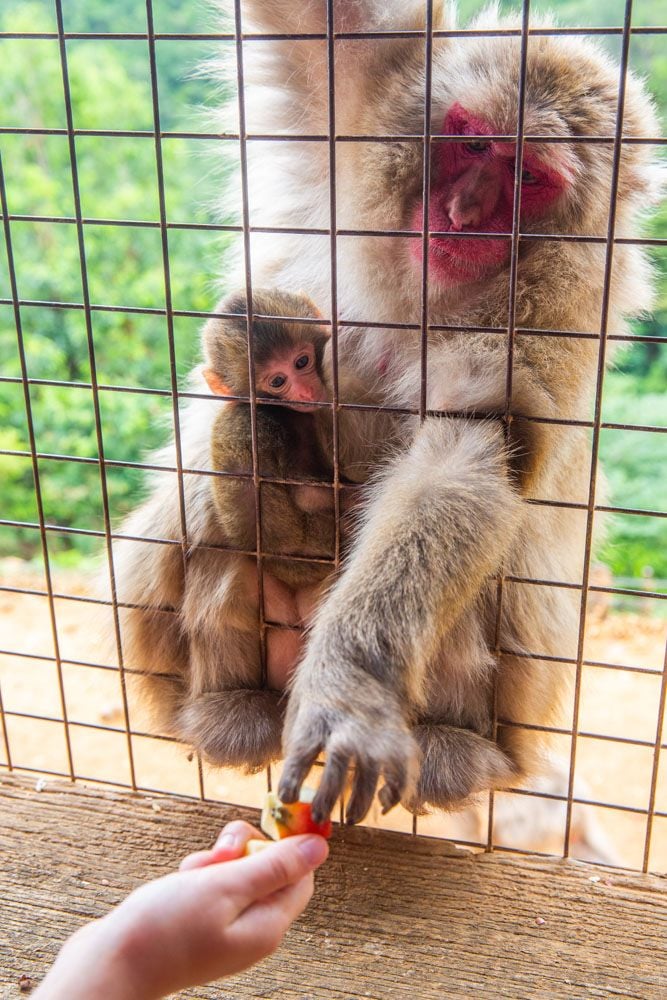 We really enjoyed this experience, despite its rather remote location. But maybe that is exactly why we liked it so much. This is a nice break from visiting the temples and shrines, and this rural area of Kyoto is beautiful. Even if you have no plans to feed the monkeys, I still think it is worth it to journey out this way.
Plus, you can add this visit on to the Arashiyama Bamboo Forest and Tenryu-ji Temple.
Getting Here: The closest metro stop is the Hankyu Arashiyama station (5 minute walk). It is a 15-minute walk from the JR Arashiyama station. This is a very nice walk, as you get to cross the Oi River to get to the park entrance.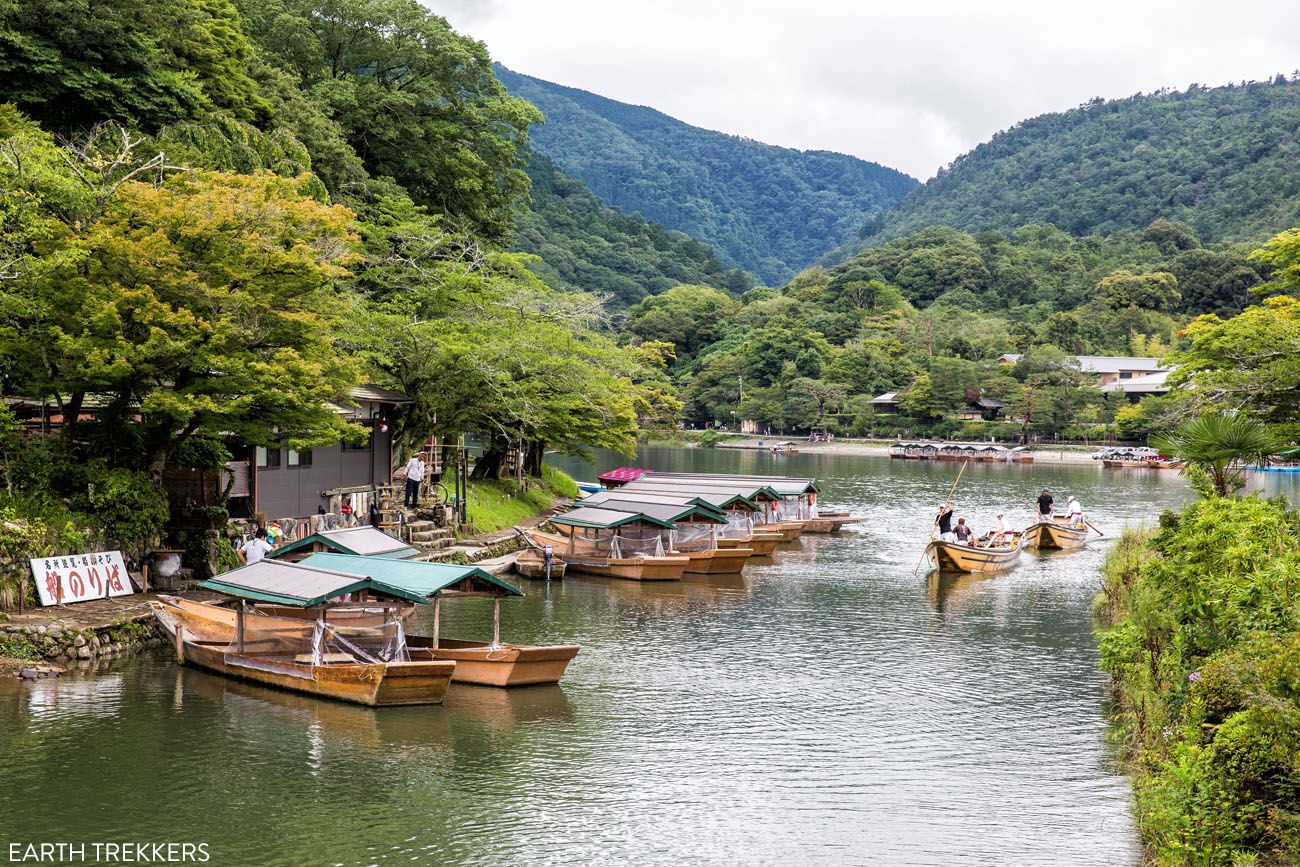 Oi River | Best Things to Do in Kyoto
12. Visit Tenryu-ji Temple
This temple is located just a short walk from the Monkey Park (about 1 km, 10 to 15 minutes).
This temple was founded in 1339 by shogun Ashikaga Takauji to venerate Gautama Buddha. It was also dedicated to Emperor Go-Daigo, who had died the year after Ashikaga became shogun.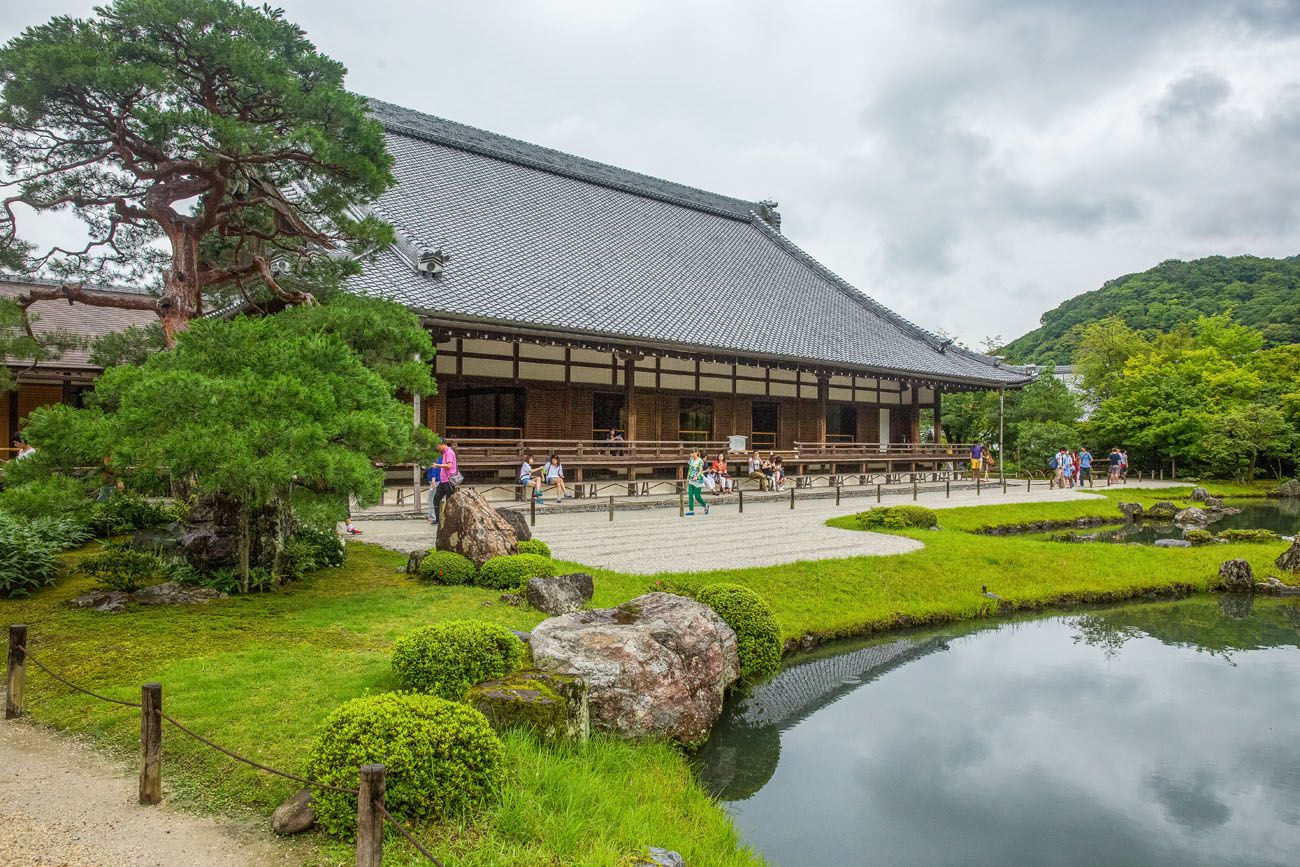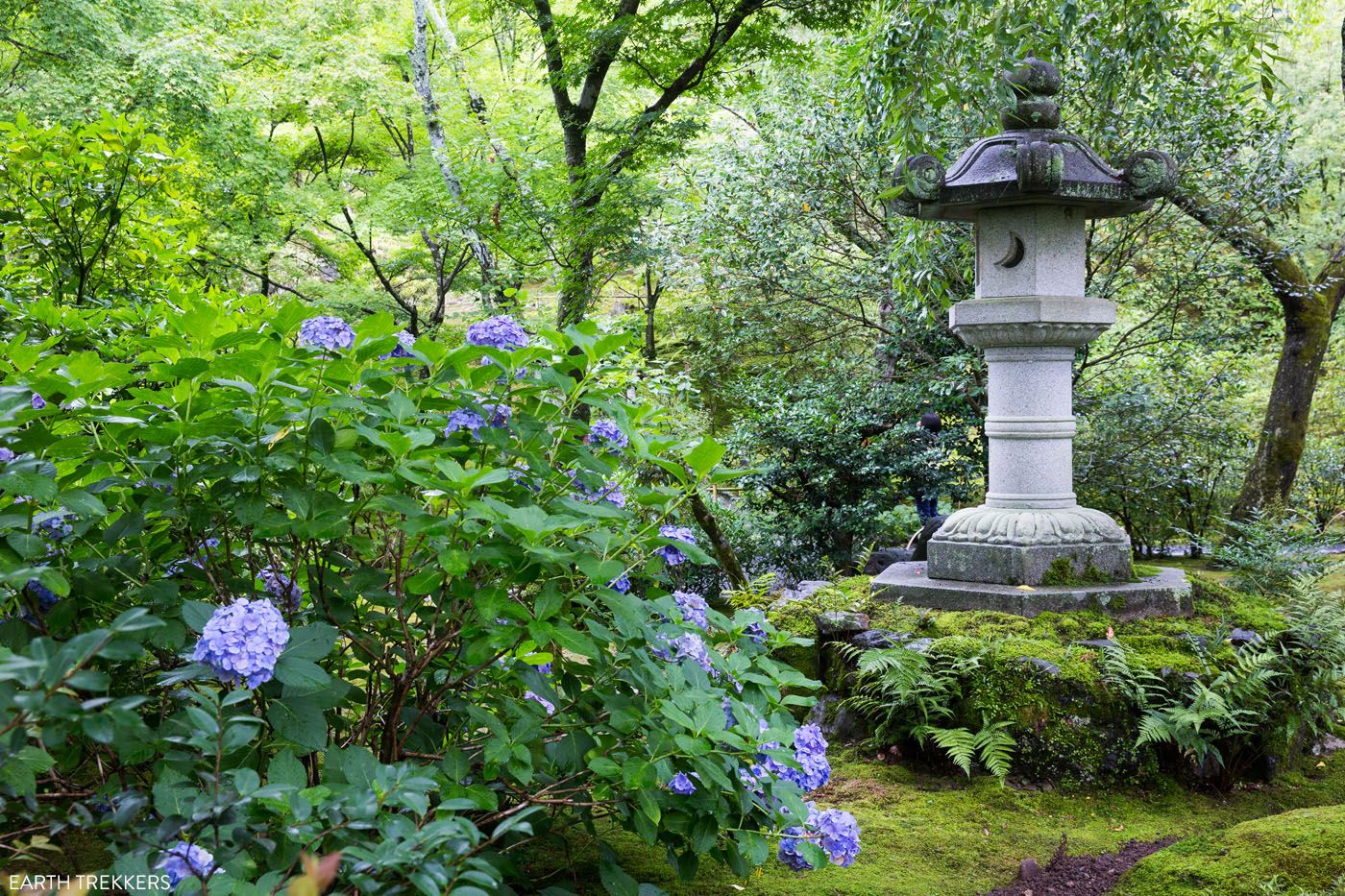 Most of the buildings and halls are relatively new. They date back to the late 1800's and early 1900's, having been destroyed by fires or wars. The centerpiece of this complex is the large pond that is surrounded by manicured gardens, with the Arashiyama Mountains forming the backdrop.
Getting Here: It is five minute walk from the JR Saga-Arashiyama station.
13. Visit the Arashiyama Bamboo Grove
You have no doubt seen photos of the Arashiyama Bamboo Grove…a long, snaking pathway that is lined with hundreds of bamboo trees.
This is one of the most visited sights in Kyoto. So, expect to share it with many, many other people.
The Arashiyama Bamboo Grove is often described as being a mystical, serene experience. Yes, that can be true, but you have to get your timing right. Midday this short path can be swarmed with visitors, which is hardly a Zen experience.
We planned our visit for the early morning and it paid off (we were here at 9 am in July). We were one of only a few groups of visitors. Even so, it lacked the mystical nature we read so much about before our visit.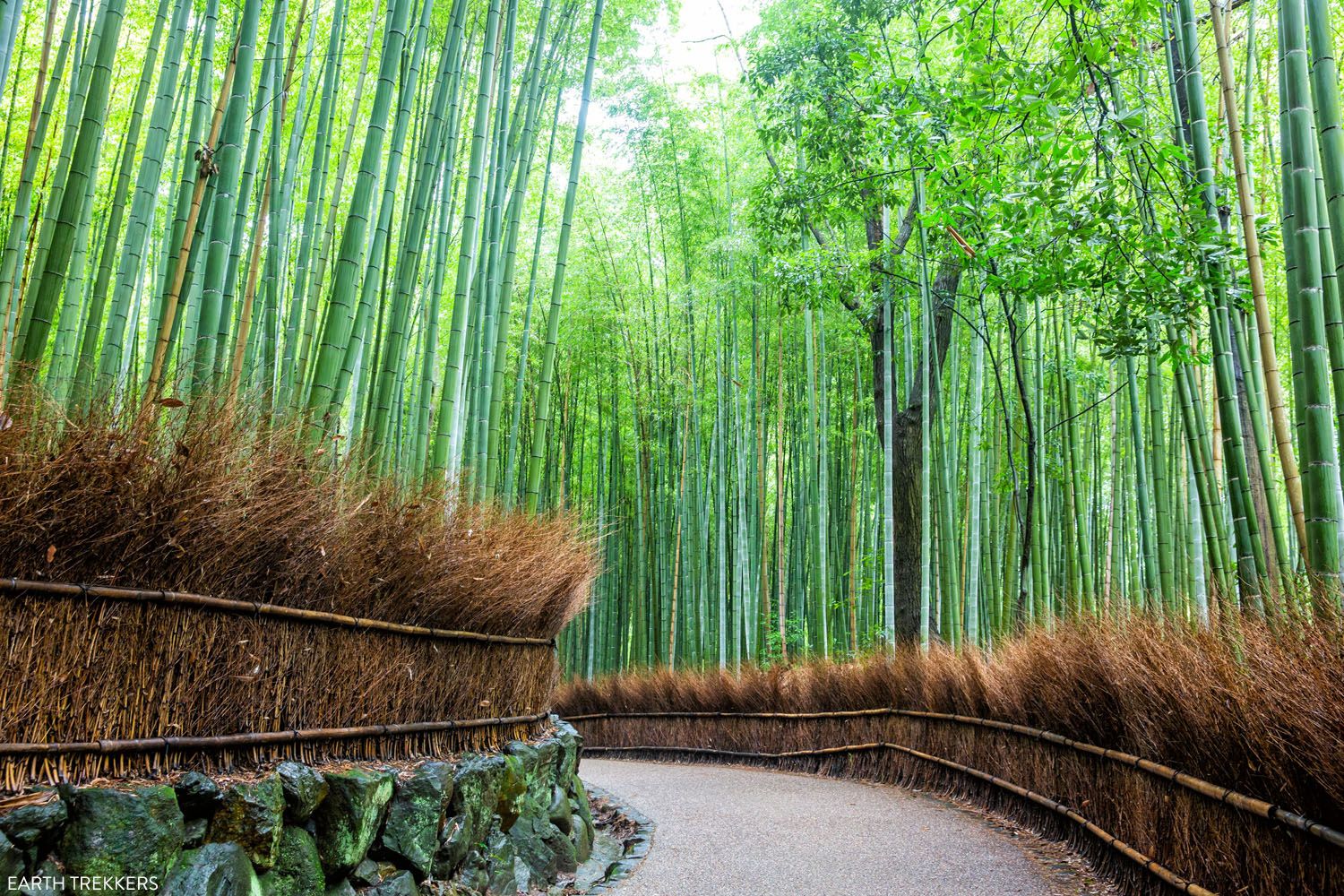 Arashiyama Bamboo Grove | Best Things to Do in Kyoto
The pathway is relatively short, about 500 meters long, so it only takes a few minutes to walk the entire distance. However, it can take much longer, depending on how often you stop and take photos.
In my opinion, the Arashiyama Bamboo Grove is worth visiting, just try to go early so you can avoid the crowds.
14. Kinkaku-ji Temple (the Golden Pavilion)
Without a doubt, a visit to Kinkaku-ji Temple is one of the best things to do in Kyoto.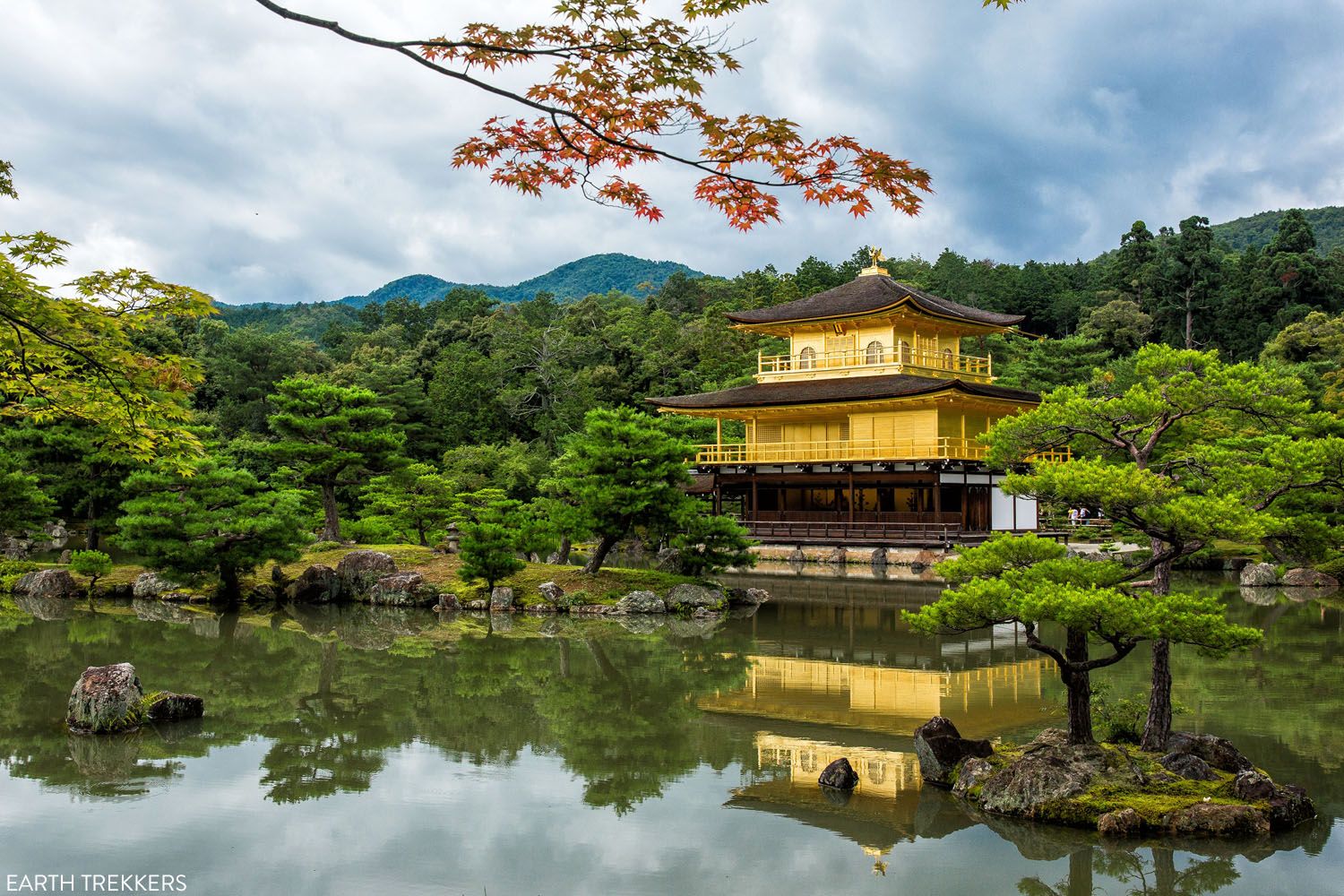 Kinkaku-ji | Best Things to Do in Kyoto
This brilliant golden temple attracts huge numbers of tourists and photographers. The prime spot to take a photo is directly across the Kyoko-chi Pond from the pavilion, which will be one of the first places that you visit when touring the temple complex. This can be a very busy spot midday.
The top two levels of the pavilion are covered with pure gold leaf. Ginkaku-ji, the Silver Pavilion, was modeled after this temple.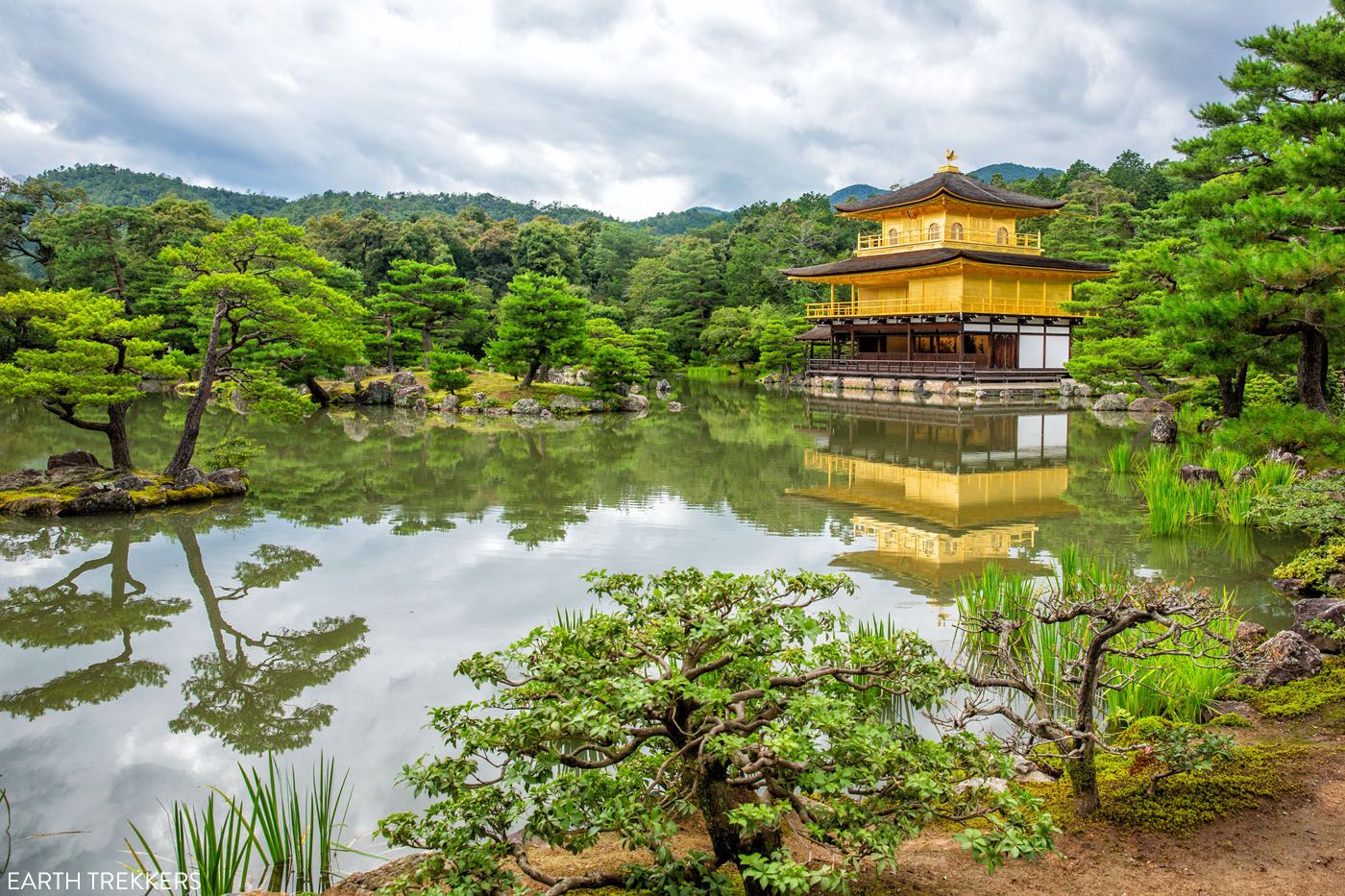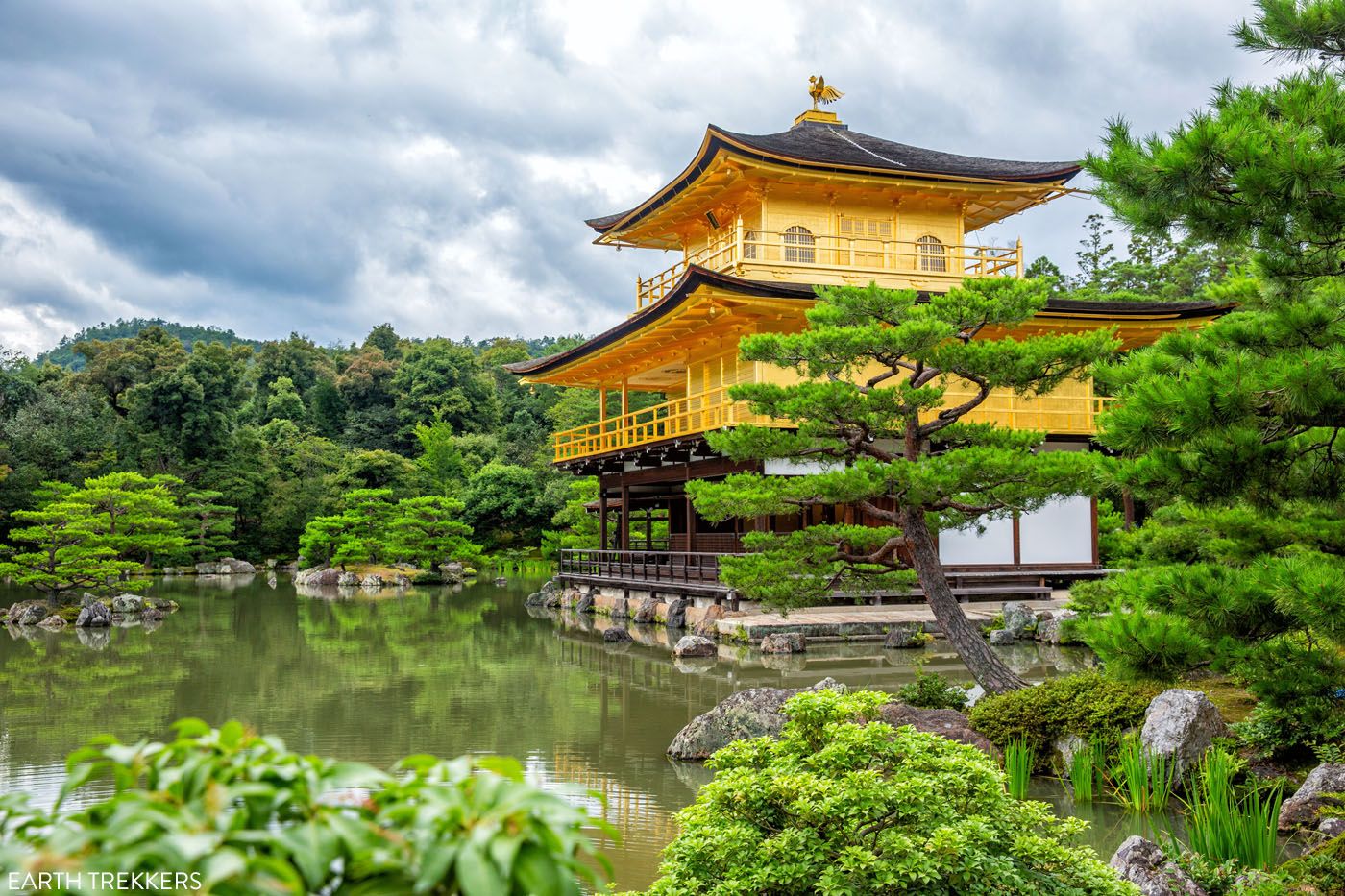 Interesting Fact: The pavilion that you see today dates back to 1955. In 1950, a young monk set fire to the pavilion and then attempted suicide. The pavilion was rebuilt in 1955.
Getting Here: Kinkaku-ji is located in northern Kyoto. The closest metro stop is Kita-Oji (3 km, 35 minute walk). We got here by taxi and had no problems catching another taxi once we finished our visit.
15. Nijo Castle
Did you know that you can tour an actual castle in downtown Kyoto?
Nijo Castle is over 400 years old. With stone walls, a five story castle keep, and a moat, this castle seems almost out of place with its location near the city center.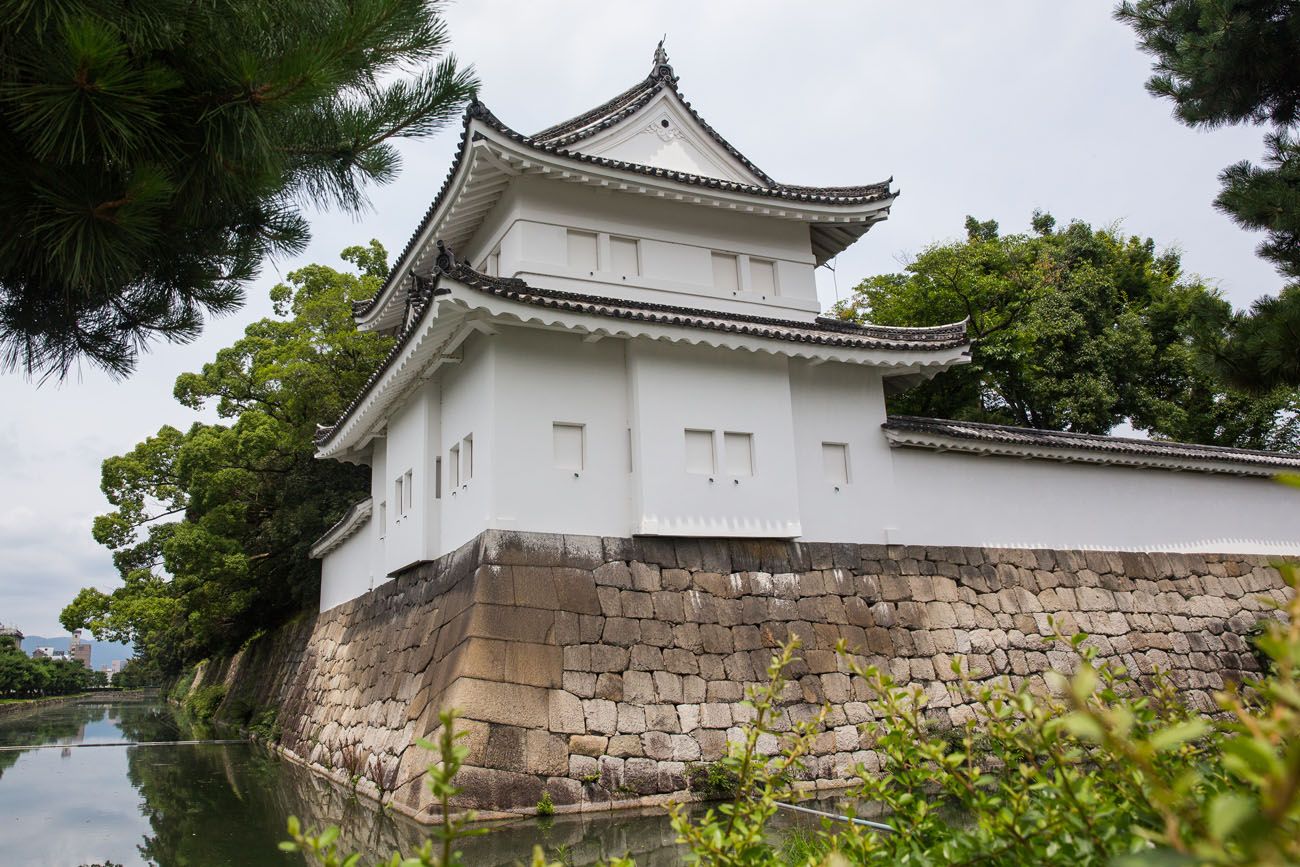 Nijo Castle | Best Things to Do in Kyoto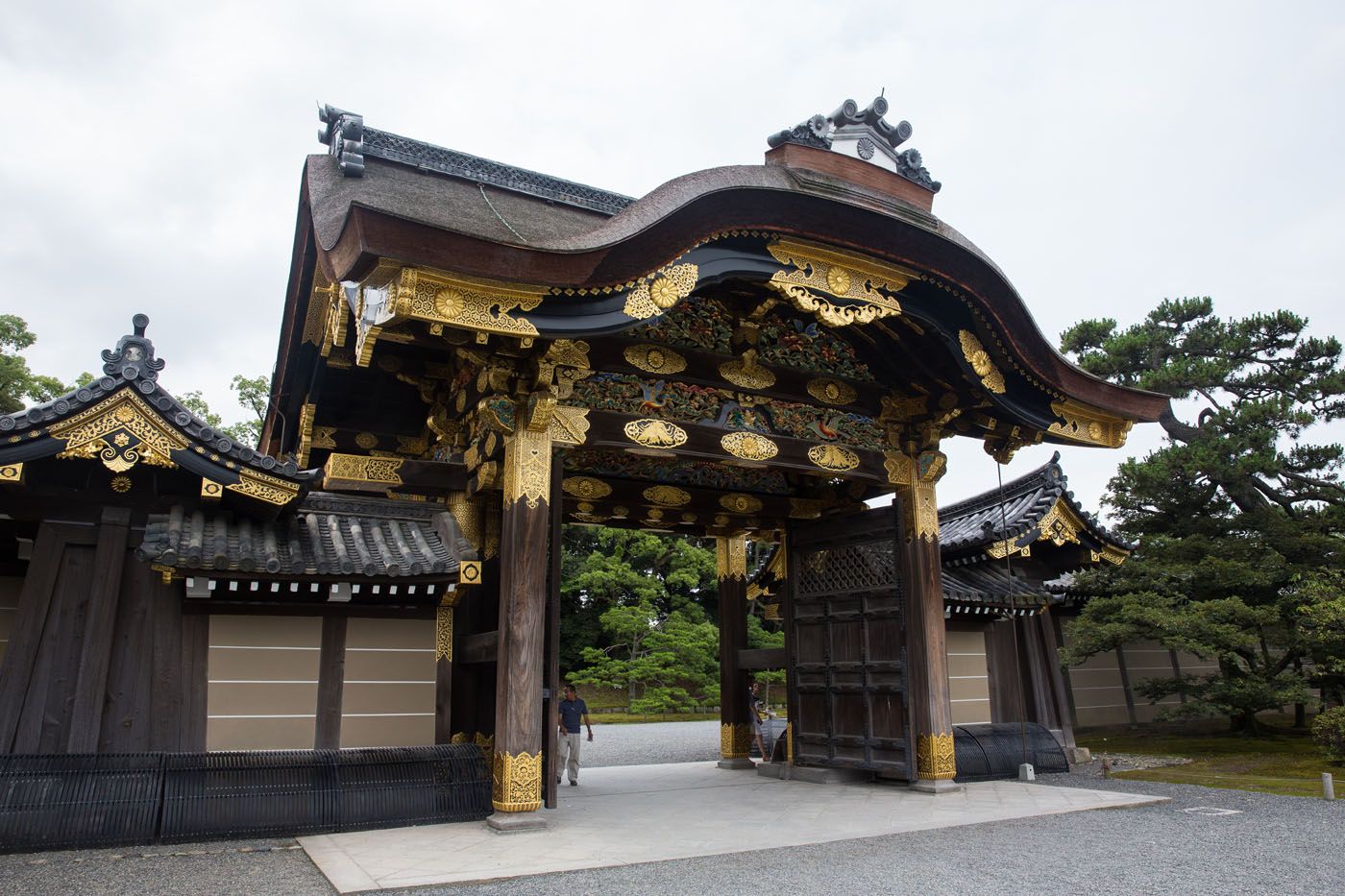 It was built in 1603 as a residence for Tokugawa lesayu, the founder and first shogun of the Tokugawa shogunate of Japan. Later, it was used as a palace and then eventually it was turned over to the city and opened as a historic site. It became a UNESCO World Heritage Site in 1994.
What is a Shogun? A shogun is a military dictator. The title of "shogun" was granted by the Emperor. The shogun was the ruler of the country and the Emperor was a figurehead. This period of military dictators spanned from 1185 to 1868. In 1868, power was returned to the Emperor.
On a visit to Nijo Castle, you can stroll through the gardens, rent an audio guide to learn more about the history of the castle, and, the best part, visit Ninomaru Palace. This is ancient Japan as I imagined it…large, open rooms, tatami mats covering the floors, and screens painted with dragons, Japanese maples, and evergreen trees.
Getting Here: Nijojo-mae station is the closest station to Nijo Castle.
16. Nishiki Market
Nishiki Market is a long, narrow shopping street that is lined with over 100 small shops and restaurants.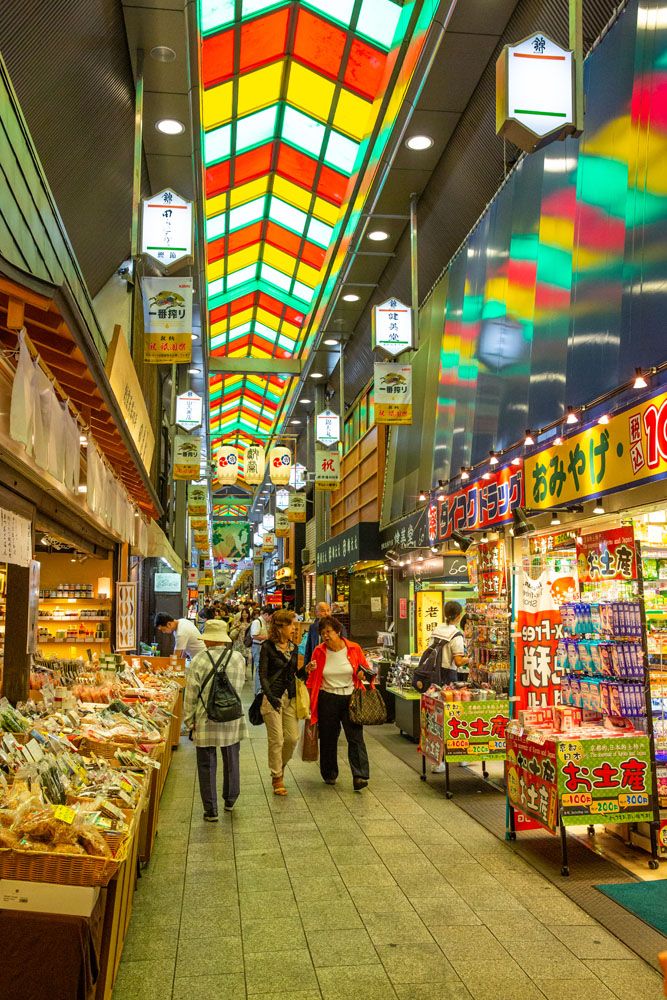 Nishiki Market | Best Things to Do in Kyoto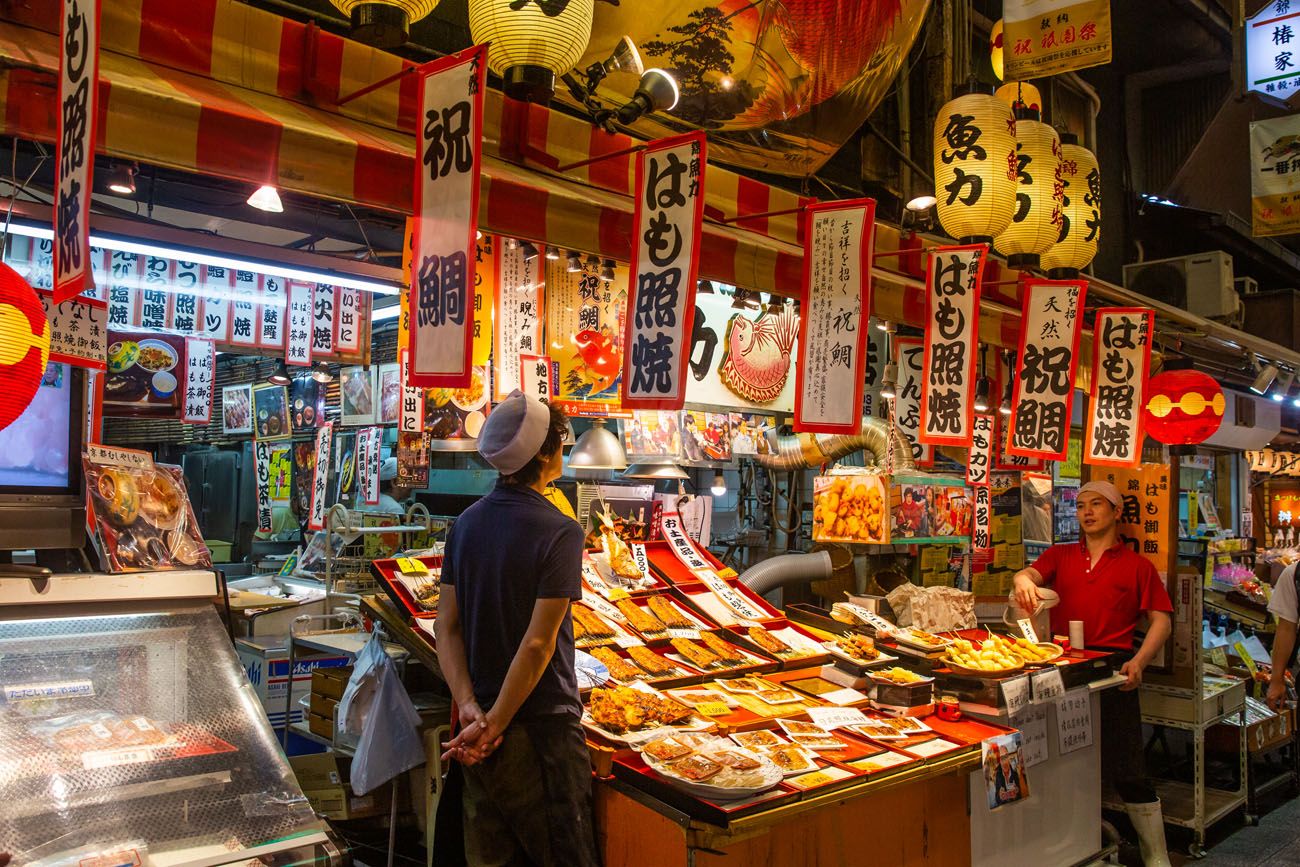 We loved our visit here. Some foods we recognized but many we didn't. All the signs are in Japanese but we had a lot of fun purchasing "mystery foods" as we walked through the market.
We have never seen a market this clean. Fish, seafood, and meat make up the majority of what is for sale in Nishiki Market, but the floors were spotless and everything was very orderly.
Getting Here: Shijo station is the closest metro stop (about a 5 minute walk).
17. Participate in a Tea Ceremony
One of the best things to do in Kyoto is to participate in a traditional tea ceremony. This is a great cultural activity and a nice break from touring the temples.
A Japanese tea ceremony involves the ceremonial preparation and presentation of matcha, which is powdered green tea.
Numerous tea ceremonies are offered throughout Kyoto. In this experience, you sit on tatami mats while your host carries out the ceremonial preparation of the matcha green tea.
18. Eat Sushi
This may be a bit cliché, but you can't visit Kyoto without eating sushi.
There are hundreds of restaurants to choose from. One of the best places to go is Pontocho Alley. Not only is this sometimes called the most beautiful street in Kyoto, but this street is lined with restaurants, making this one of the best spots in Kyoto to grab a bite to eat (not just sushi but many different types of Japanese food). The restaurants on the east side of Pontocho Alley have outdoor decks where you can overlook the Kamogawa River.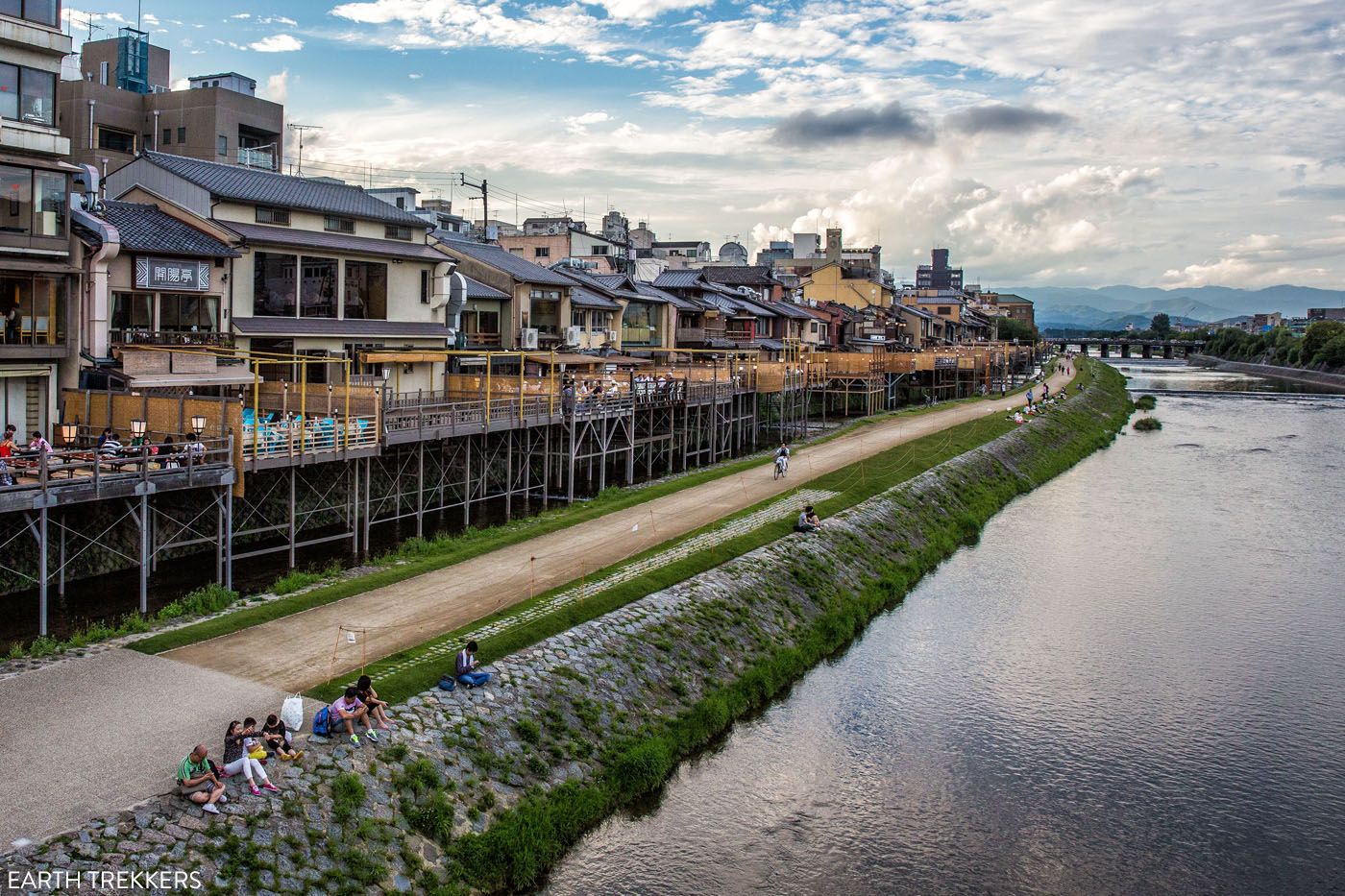 Outdoor decks off the Pontocho Alley restaurants along the Kamogawa River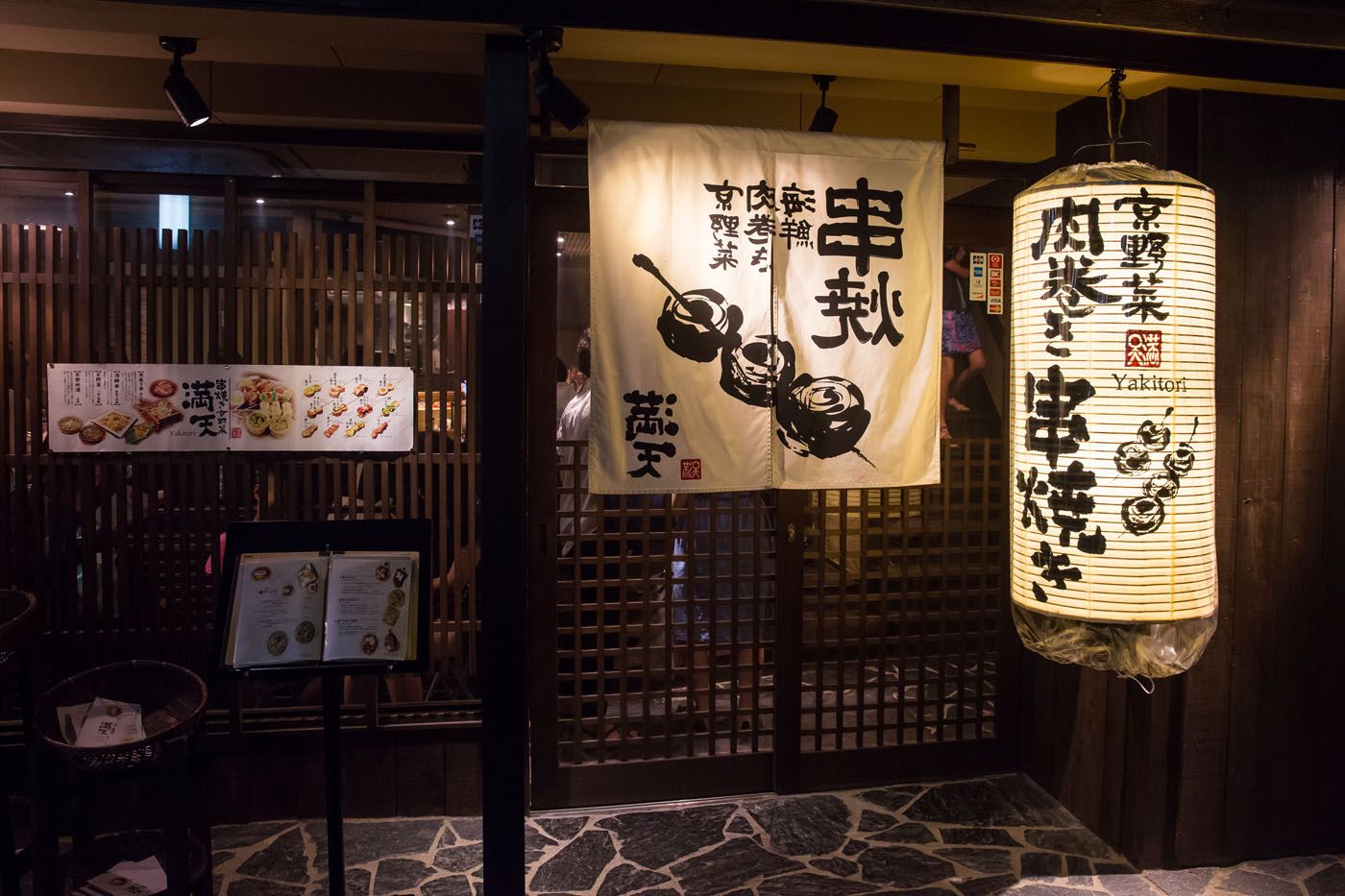 Restaurant on Pontocho Alley | Best Things to Do in Kyoto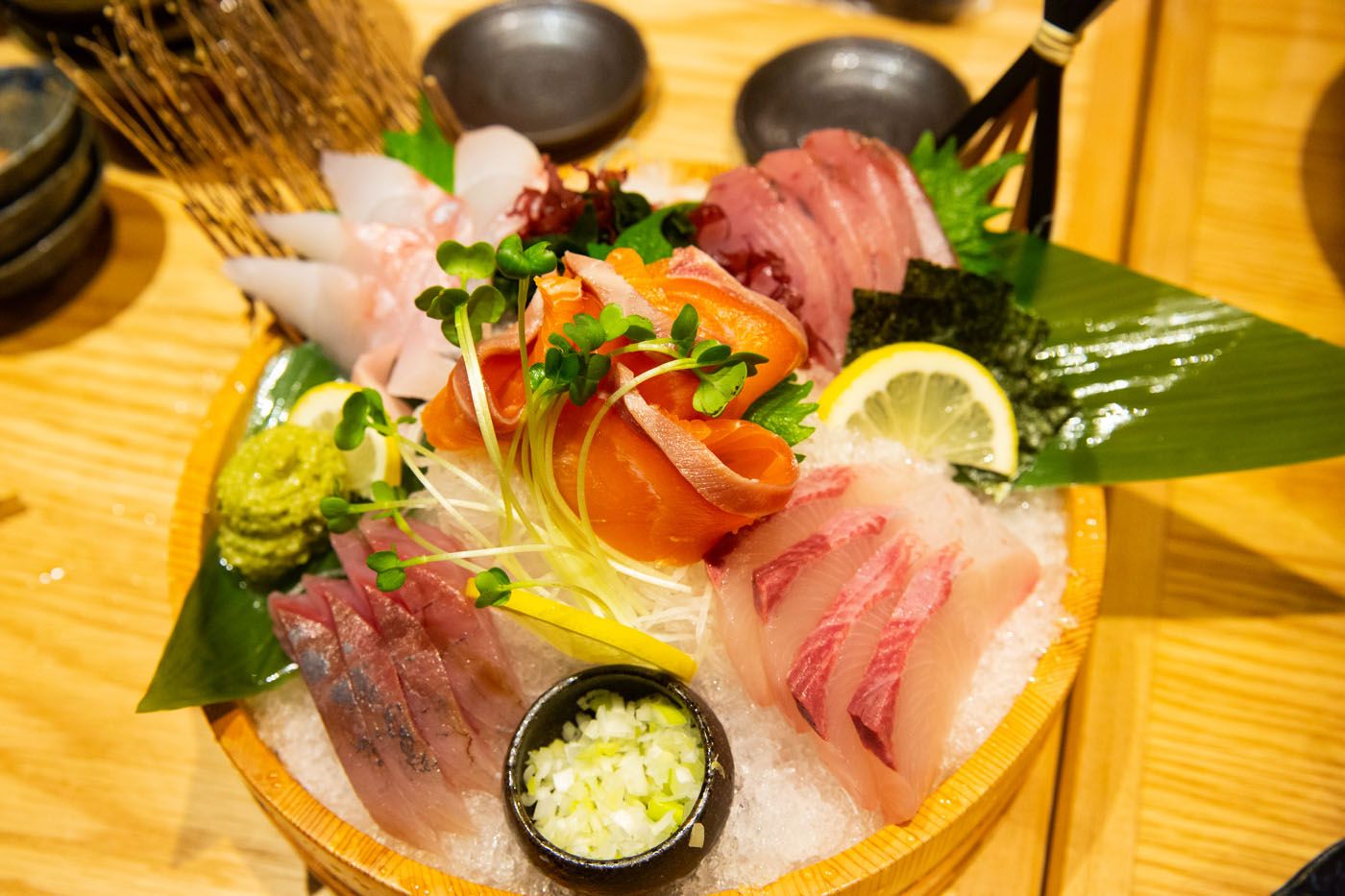 Sashimi | Best Things to Do in Kyoto
We were HUGE fans of kaiten sushi (kaitenzushi). Kaiten sushi is one of the most innovative ways to have dinner. As plates of sushi drift by your table on a conveyor belt, you can pick and choose what looks good. If you want something special, place your order on the touch screen computer at your table.
Kaiten sushi is cheap, fast, and lots of fun. It's great if you are new to eating sushi, because you can just pick out what looks good as it glides past your table. This type of sushi lacks the high quality of what you will get in other restaurants in Kyoto, but it is still absolutely delicious. If you are on a budget, this is a great option to dine on sushi without spending a lot of money.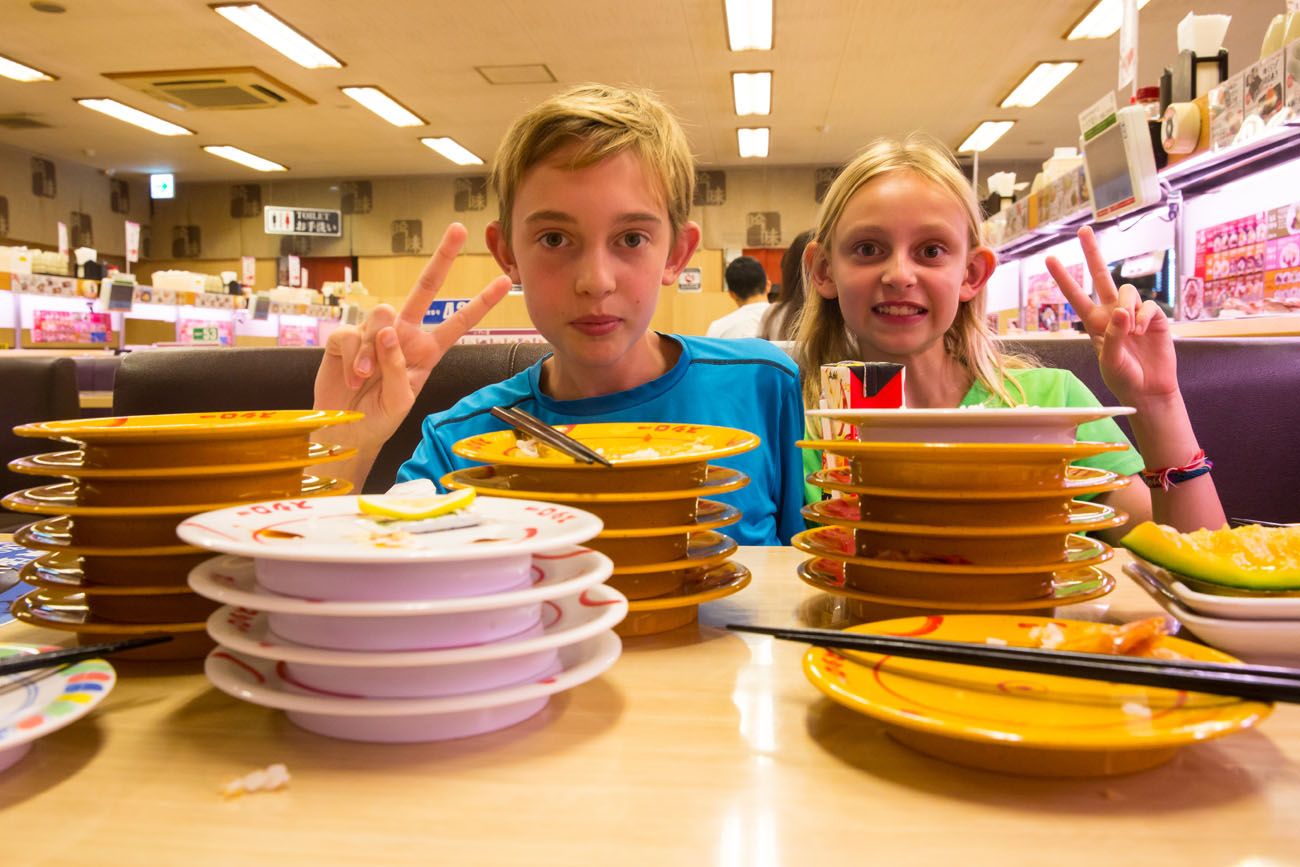 Our favorite kaiten sushi restaurant in Kyoto was Sushiro. Yum!
If you want to see more, check out our video from our first visit to Sushiro, when we were newbs at kaiten sushi restaurants. But by the end of our visit we were pros.
List of UNESCO World Heritage Sites in Kyoto
Here is the list of the 17 UNESCO World Heritage Sites in Kyoto.
Kinkaku-ji Temple
Ginkaku-ji Temple
Kiyomizu-dera Temple
Tenryu-ji Temple
Ninna-ji Temple
Nijo Castle
Nishi-Hongan-ji Temple
Ryoan-ji Temple
To-ji Temple
Daigo-ji Temple
Saiho-ji Temple
Enryaku-ji Temple
Byodo-in Temple
Kozan-ji Temple
Shimogamo-jinja Shrine
Kamigamo-jinja Shrine
Ujigami-jinja Shrine
Day Trip Ideas from Kyoto
Nara
Nara makes an excellent day trip destination from Kyoto. Feed the deer, visit Kasuga-taisha, and tour Todai-ji Temple. Until 1998, the main hall of Todai-ji Temple was the world's largest wooden building, having been bumped from the top of the list by a baseball stadium in Japan as well as other buildings.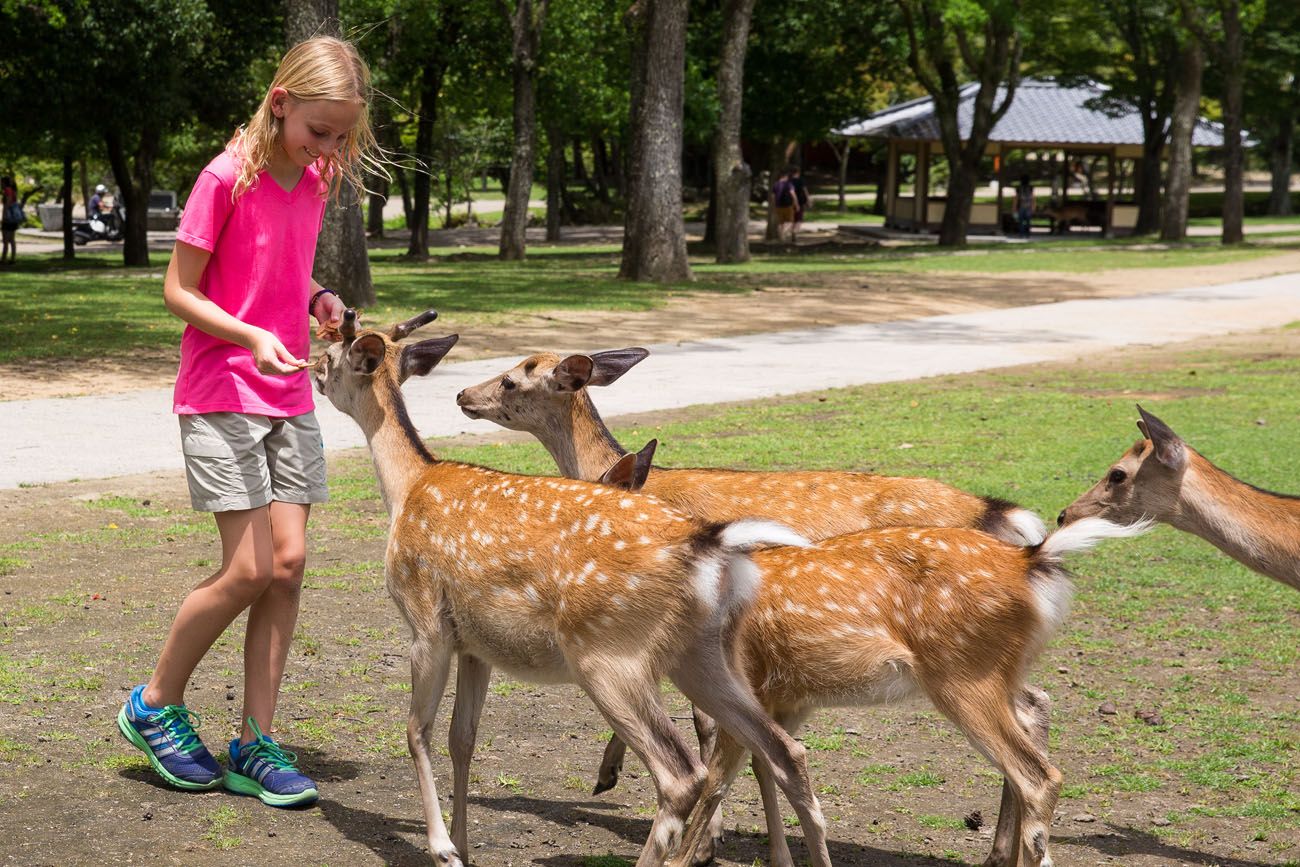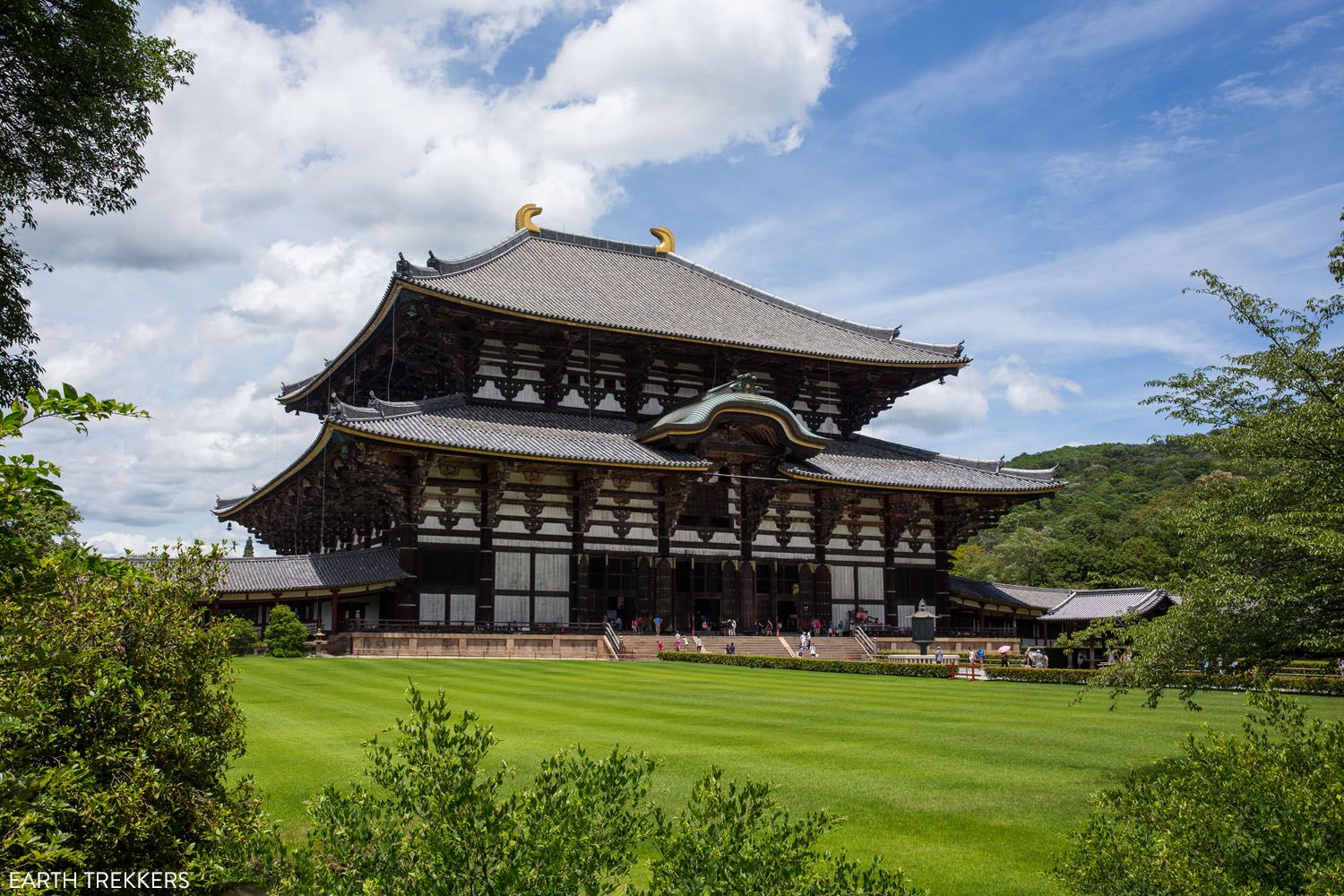 Todai-ji Temple
Hiroshima
Hiroshima is the site where the first of two atomic bombs were dropped on Japan during World War II.
A day trip to Hiroshima is very easy to do from Kyoto. By Shinkansen, it takes just over two hours to travel from Kyoto to Hiroshima. Spend the day at Hiroshima, visiting the Hiroshima Peace Memorial Museum, the Cenotaph, and the Atomic Bomb Dome, and more. You also have the option to add on Miyajima to this day trip.
Hiroshima Victims Memorial Cenotaph
Himeji Castle
Himeji Castle is the largest and most visited castle in Japan. It is called Hakuro-jo or Shirasagi-jo ("White Egret Castle" or "White Heron Castle") for its white exterior and appearance of a bird taking flight. It takes about an hour to get here from Kyoto.
How Many Days Do You Need in Kyoto?
To visit the highlights in Kyoto, you will need a minimum of 3 days. This gives you just enough time to visit most of the temples and sites listed in this post. More time is better, because it allows you to slow down, spend more time exploring the neighborhoods and temples, and soak up the culture.
For each day trip we list, you will need an additional day.
On our visit, we had 7 days. That gave us three days for day trips and four days to explore Kyoto. That was the perfect amount of time for our first visit but I can't wait to come back and explore some more.
---
If you have any questions about the best things to do in Kyoto, let us know in the comment section below:
More Information about Japan
TOKYO: Journey through Tokyo in photos and learn how to plan a day trip to Kamakura.
KYOTO: Travel through Kyoto in Photos and read about our first impressions of Osaka and Kyoto.
SUMO WRESTLING: Watching Sumo wrestling is one of the best things to do in Japan. We write about our experience and get tips on how you can do the same in our article How to Watch Sumo Wrestling in Japan.
TRAVEL INSPIRATION: For more travel ideas, here are 10 unique destinations to put on your travel wish list and 10 bucket list destinations from around the world.
TRAVEL ADVICE: Here is our list of tips to help you maximize your time while traveling. We also have tips on traveling with kids plus a massive list of 101 travel tips we learned while traveling around the world.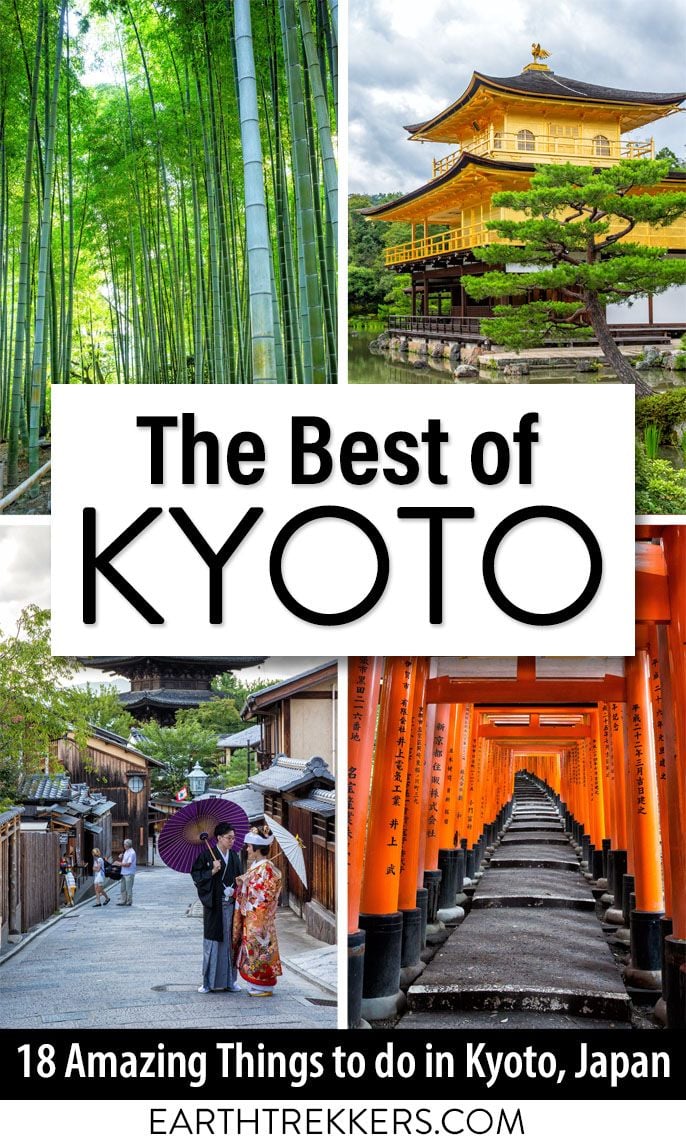 All rights reserved © Earth Trekkers. Republishing this article and/or any of its contents (text, photography, etc.), in whole or in part, is strictly prohibited.