Our most anticipated day in Japan came on July 17…we had tickets to watch sumo wrestling in Japan, something we have been talking about for months now.
I have to say, we have become lackadaisical travelers…rarely planning anything in advance anymore, showing up to new countries and cities having no idea what to see, do, or how to get around. We have hotels and flights booked, but that is about it. I have heard that long-term travel changes everyone. Well, we have become go-with-the-flow, everything-always-seems-to-work-itself-out travelers.
Until Japan.
When we learned that the Grand Sumo Tournament would be taking place while we were in Japan, we did not want to miss out our chance to see this. For this, we booked our tickets in advance and counted down the days until it was time to watch some sumo wrestling!!
How to Watch Sumo Wresting in Japan
There are six Grand Tournaments per year, occurring on the odd months. For fifteen days, starting and ending on a Sunday, wrestling matches are held everyday, starting in the morning and lasting until 6 pm at night. While we were in Japan, the July tournament was in Nagoya. We were staying in Tokyo, so we had to take yet another round-trip journey on the Shinkansen, something none of us were complaining about. Only this time we did not have a view of Mt. Fuji out the window as Japan was getting hit by a typhoon.
In Nagoya, the sumo wrestling tournament is held at the Aichi Prefectural Gymnasium. The first match of the day begins at 8:30 am. During the morning hours the gymnasium is at its quietest, when the lowest ranking wrestlers are having their matches.
Most people arrive between 2 and 4 pm, just before the highest ranking Sumo wrestlers begin their matches. We arrived at 1:30 pm, for two reasons. We paid a lot for our seats and wanted to enjoy the experience as long as possible. More importantly, arriving early allowed us to get better photos as we could sneak down into the better seats and right up to the action.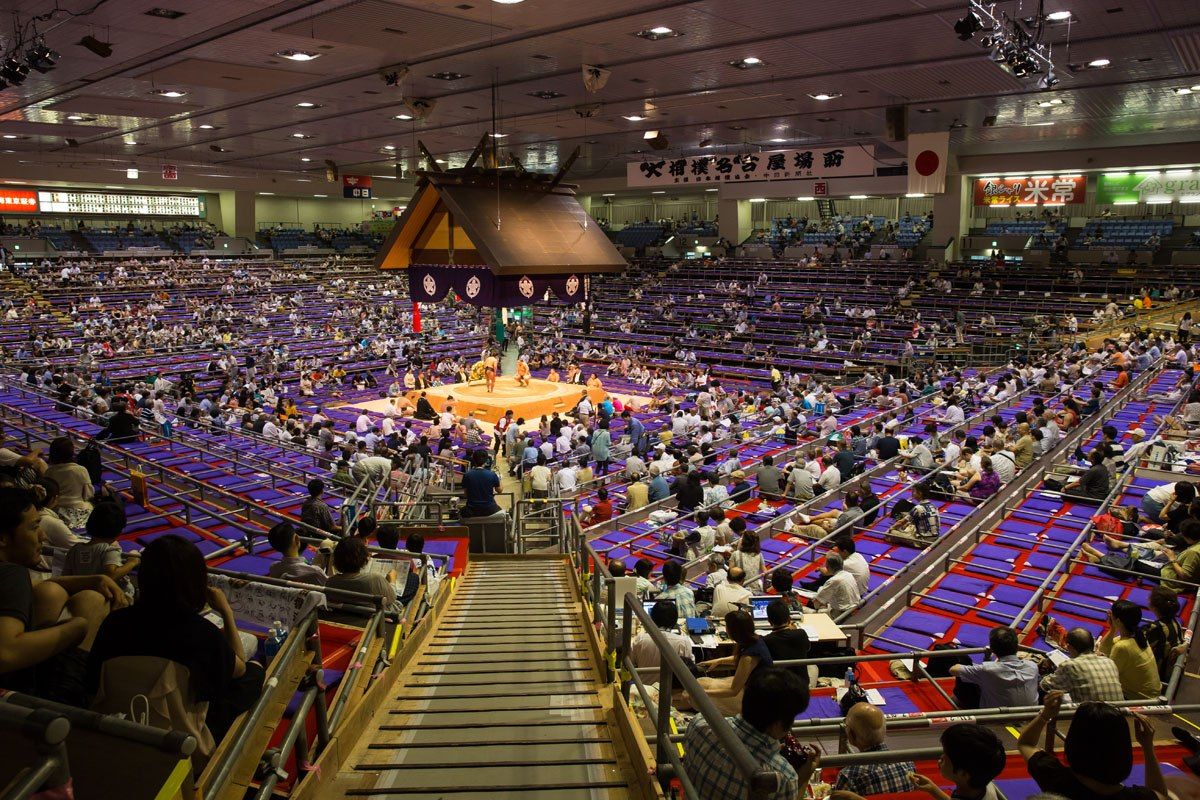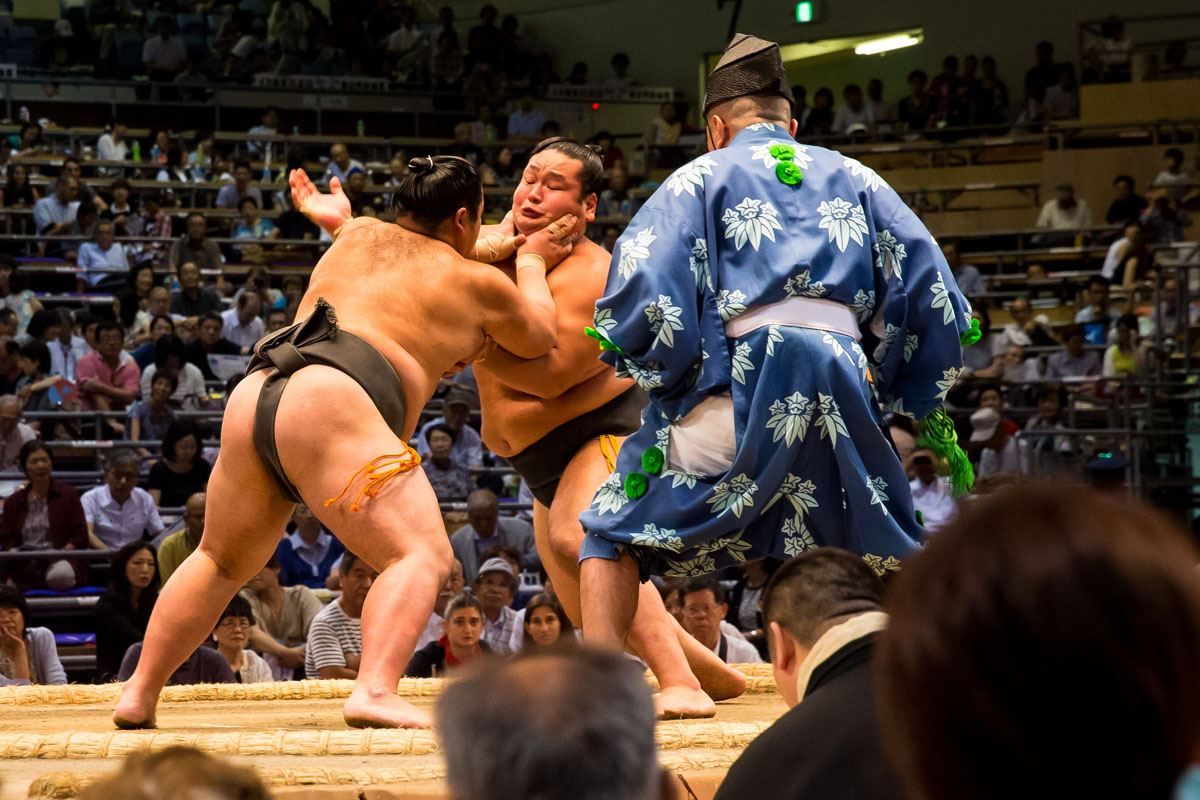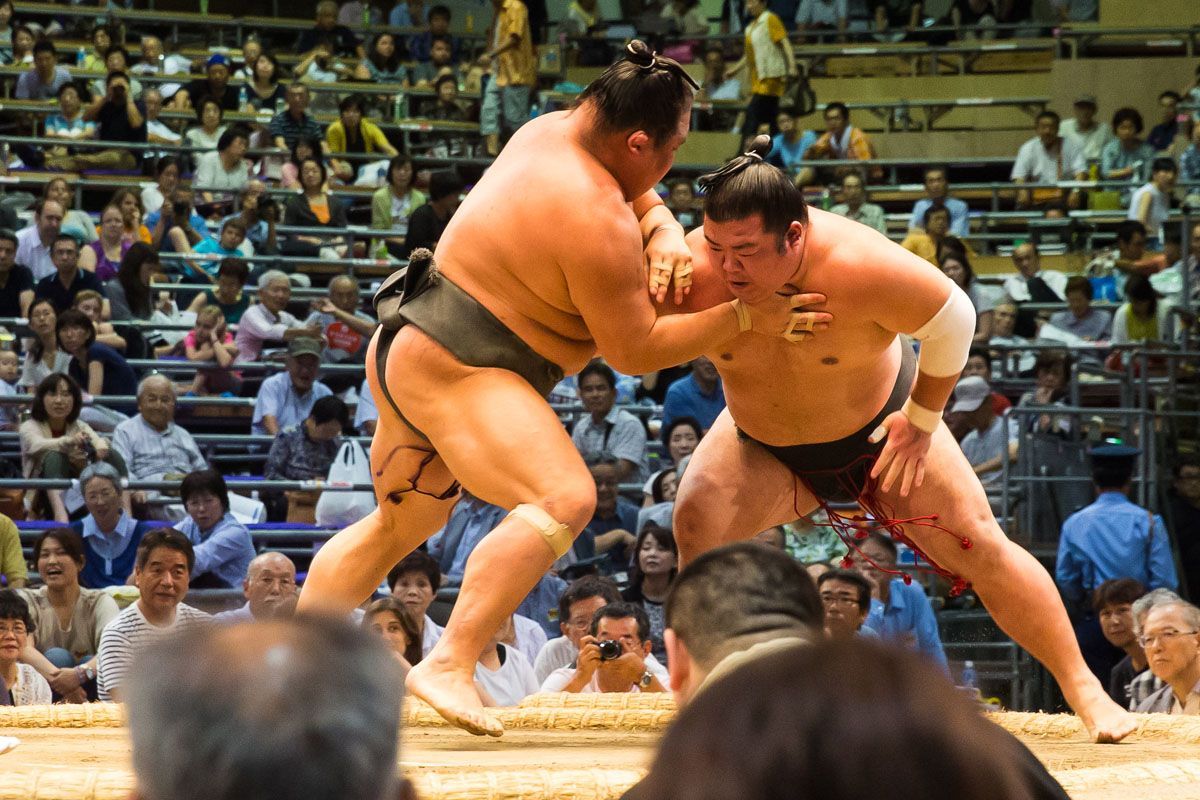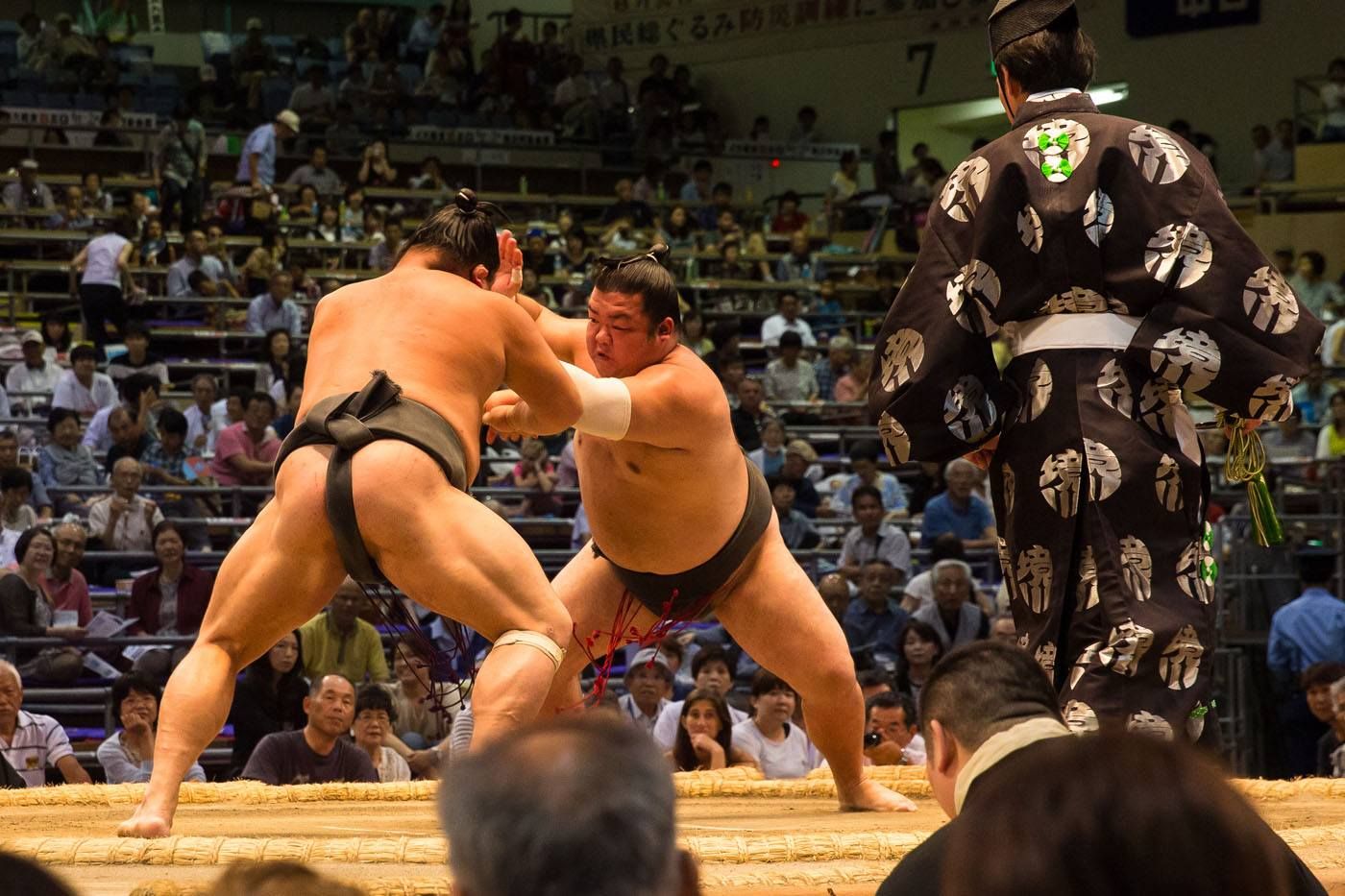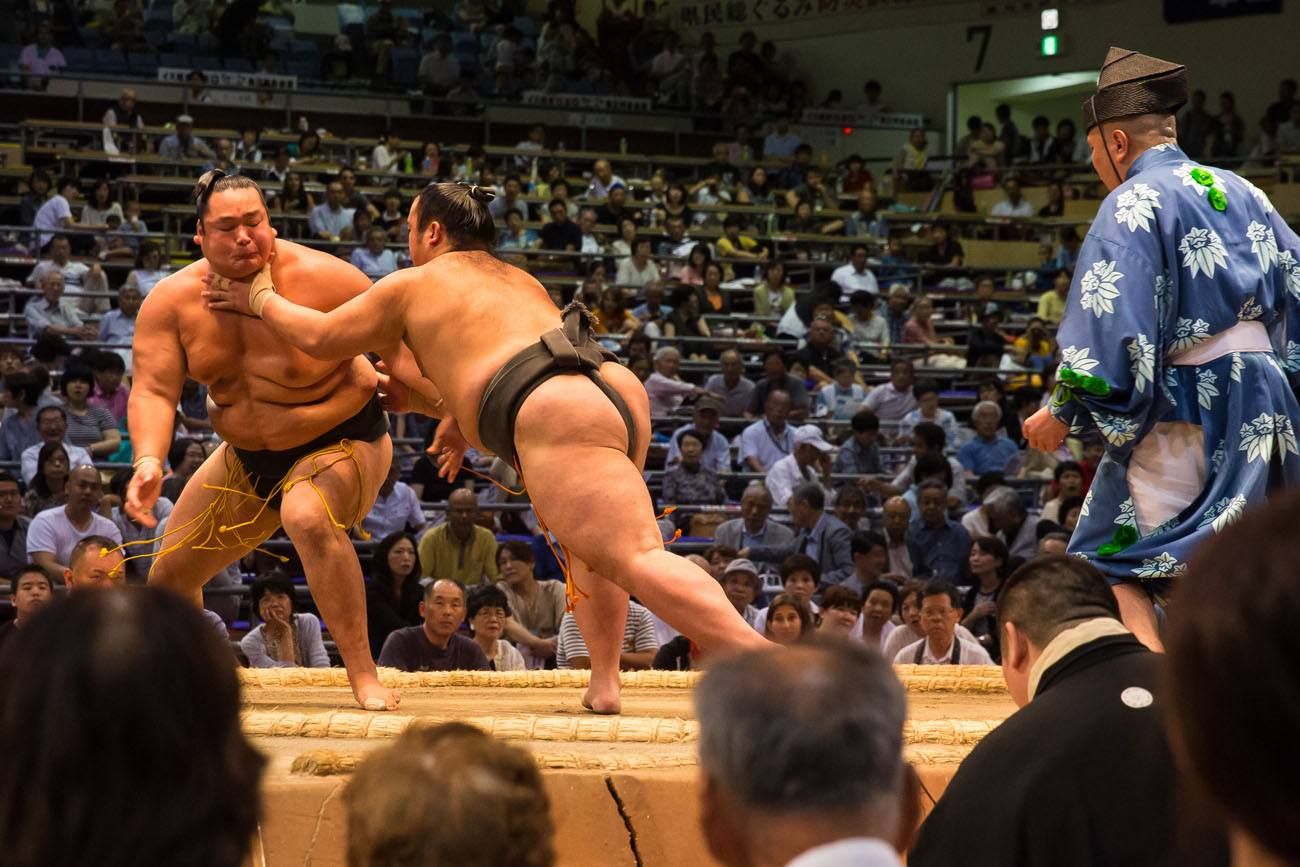 Where To Sit
There are three tiers of seats available for purchase. The ringside seats, those down on the floor right in front of the ring, are the highest priced and most exclusive. I have heard that these seats are only available for Japanese citizens although I do not know if this is true.
The next level are box seats, with A, B, and C divisions, A being the best. Box seats are approximately a 4 foot by 4 foot section where spectators sit on the floor on seat cushions. Shoes are removed and stored off to the side. This is traditional Japanese seating. Tickets are sold for the entire box regardless of how many people use it but up to four people are allowed to share the box.
We purchased A level box seats. We had excellent views of the ring but things did get uncomfortable for us after awhile. With two adults and 2 children we barely fit inside of our box. We saw plenty of groups of four Japanese people sitting in boxes, making it look so easy. Before choosing these seats, take a look at the pictures and make sure you will be comfortable sitting like this for several hours.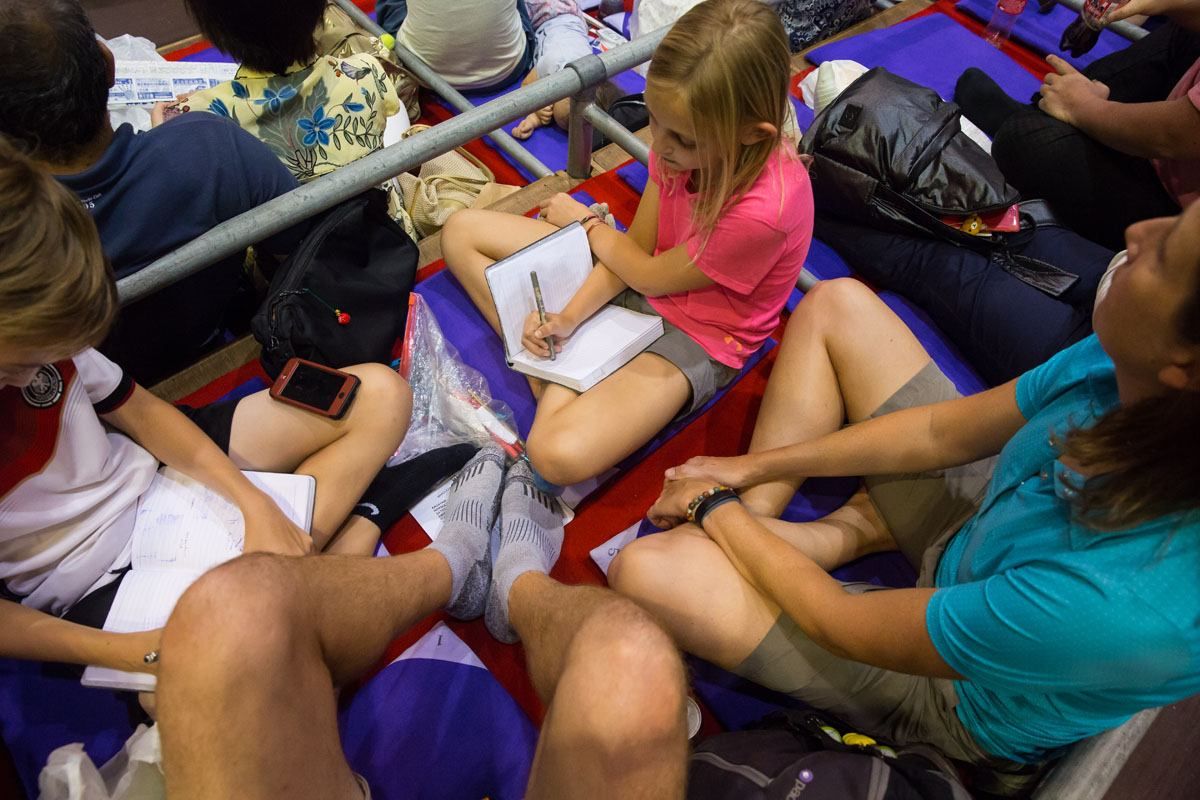 The third tier of seats are western style stadium seats. These were much higher up than the traditional Japanese box seating but for some may be more comfortable. At the Aichi Prefectural Gymnasium, this higher part of the stadium seemed to be kept cooler by the air conditioners than down by the ring, another thing to consider.
Sumo Wrestling Pre-Bout Preparation
As we watched the matches we quickly learned that sumo wrestling is much more about than just throwing your opponent out of the ring…there is a lengthy pre-competition ritual that is enacted every time two new wrestlers step into the ring. Here is what happens, step by step.
Before the opponents enter the ring, the yodibashi announces the names of the two wrestlers.
The two sumo wrestlers enter the ring, look each other in the eye, then turn to their corner of the ring. At the corner, they squat, rise, raise one leg and then slam it back down on the ground, followed by the other leg. They make a great show of this as it is supposed to intimidate their opponent. While in their corner they rinse their mouths with a ladleful of water and then wipe their faces with a piece of paper.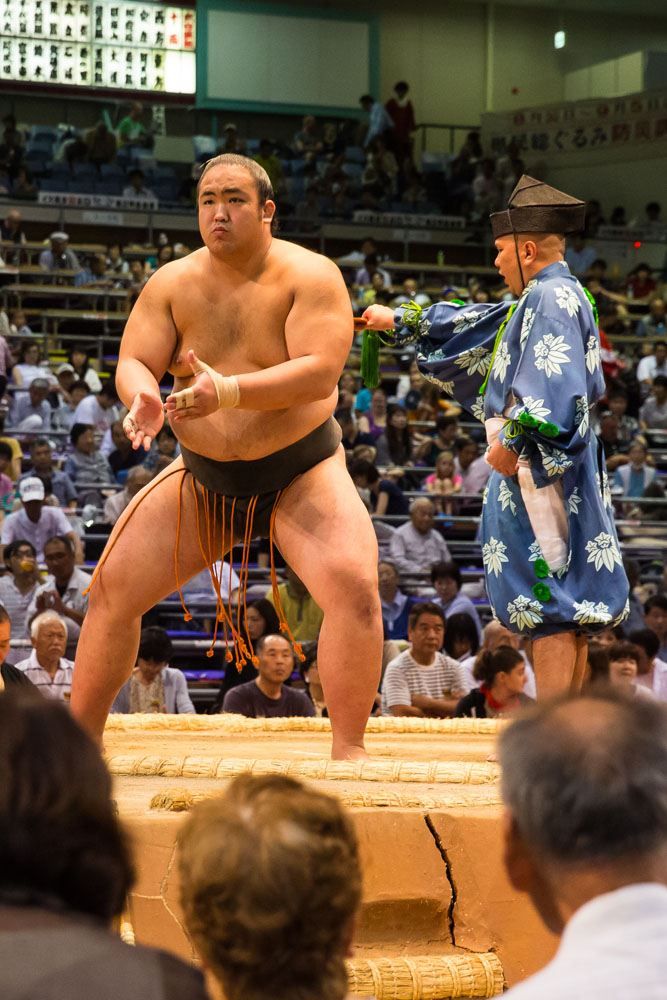 After this procedure, they rejoin in the ring. Here, they squat down, clap their hands one time, and then raise their hands to show that they are not carrying a weapon.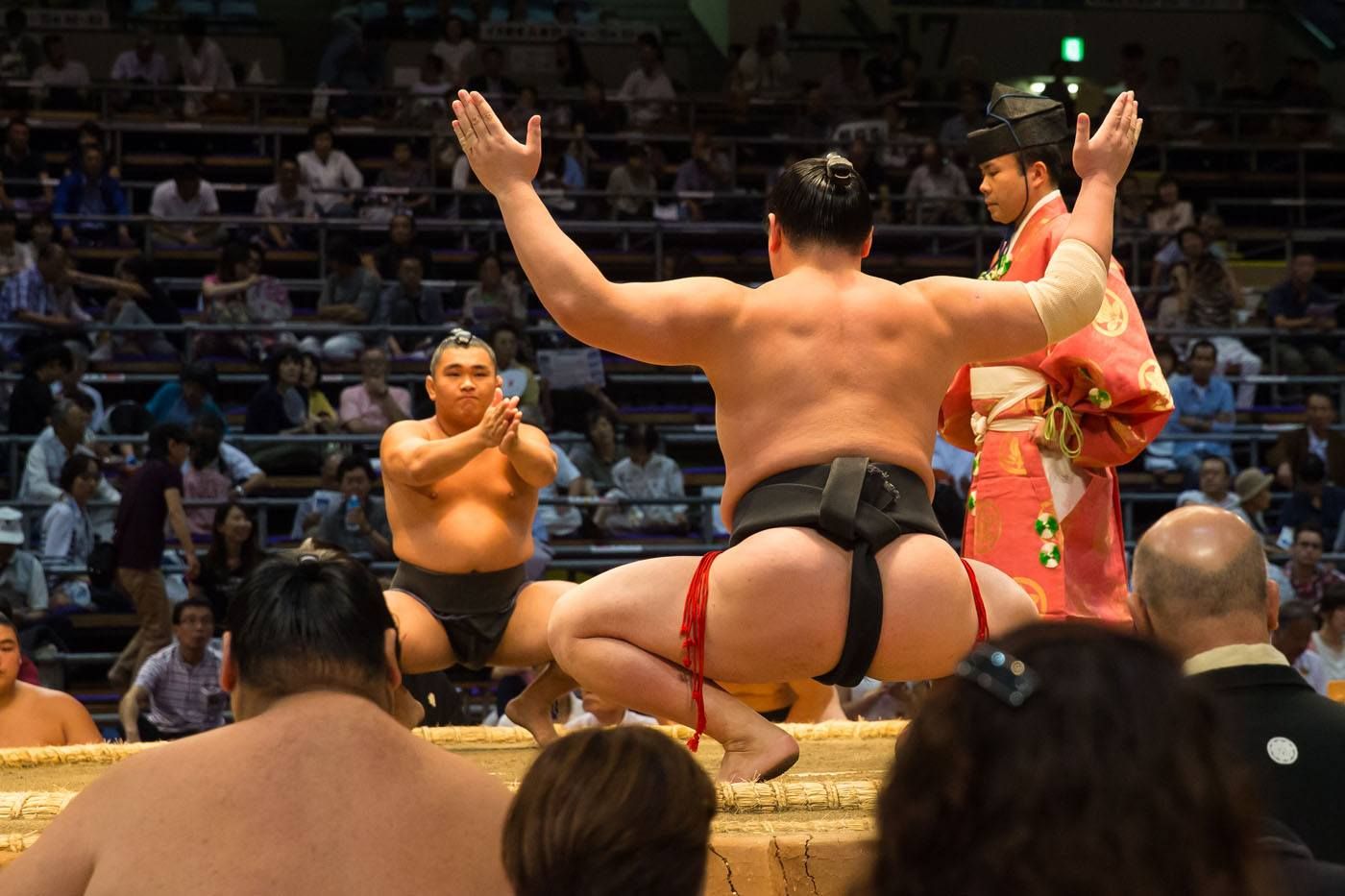 Once again, they return to their corners. This is when banners are displayed, symbolizing the prize money to be won for the match.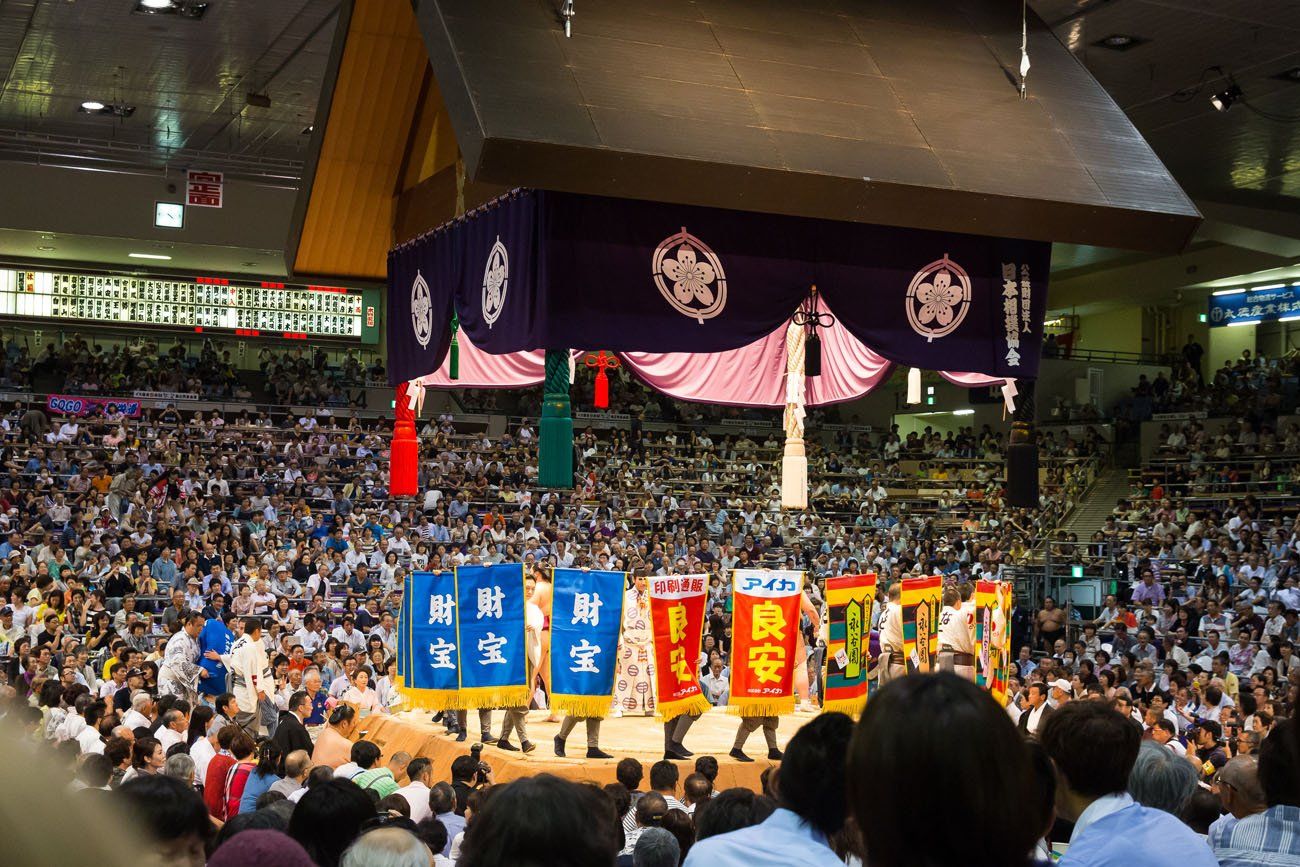 Before re-entering the ring, salt is thrown as part of the purification ritual. Some sumo wrestlers grabbed huge fistfuls of the salt, throwing it high into the air, eliciting cheers and shouts of approval from the audience.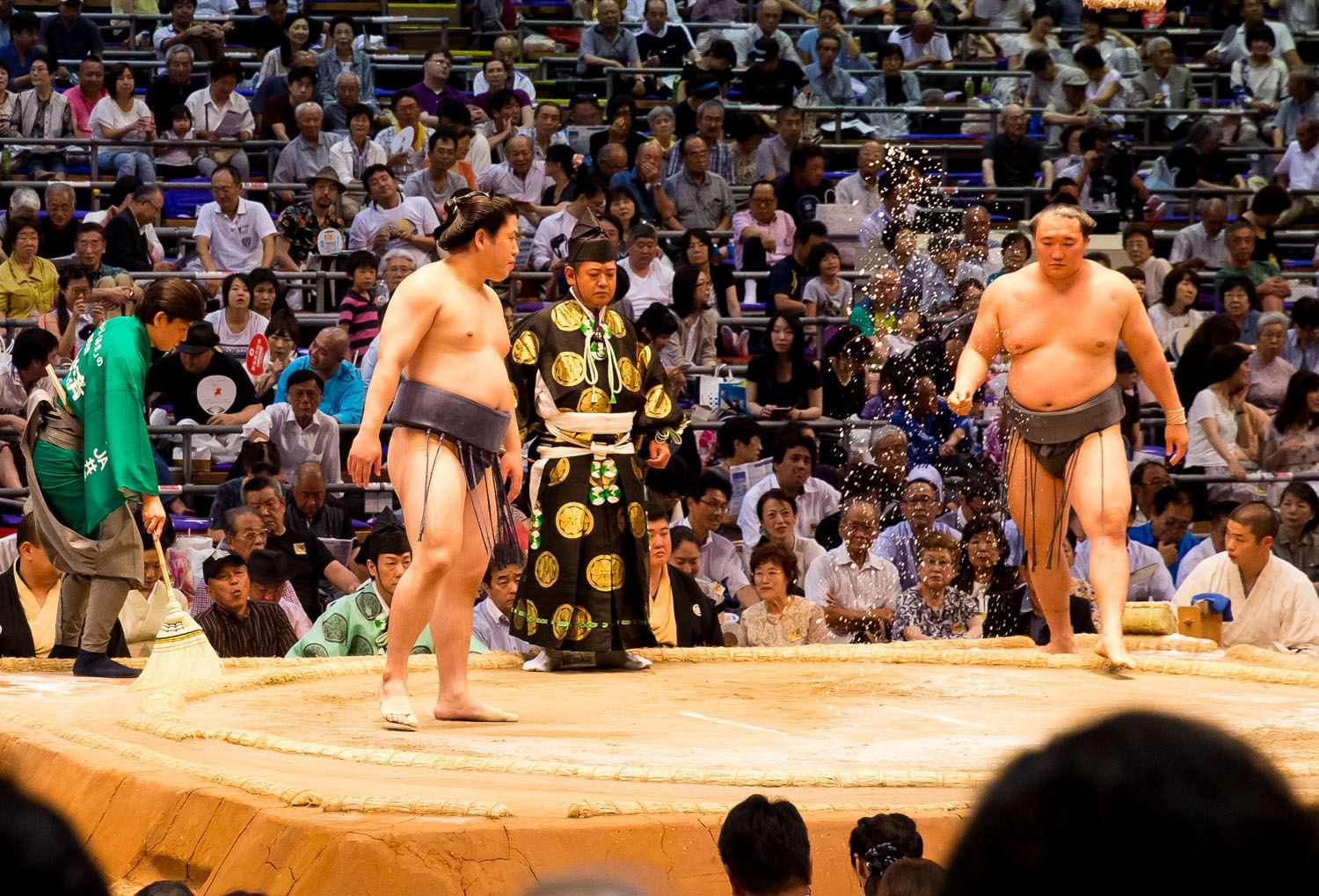 The wrestlers enter the center of the ring, look each other in the eye, then raise one leg and then the other.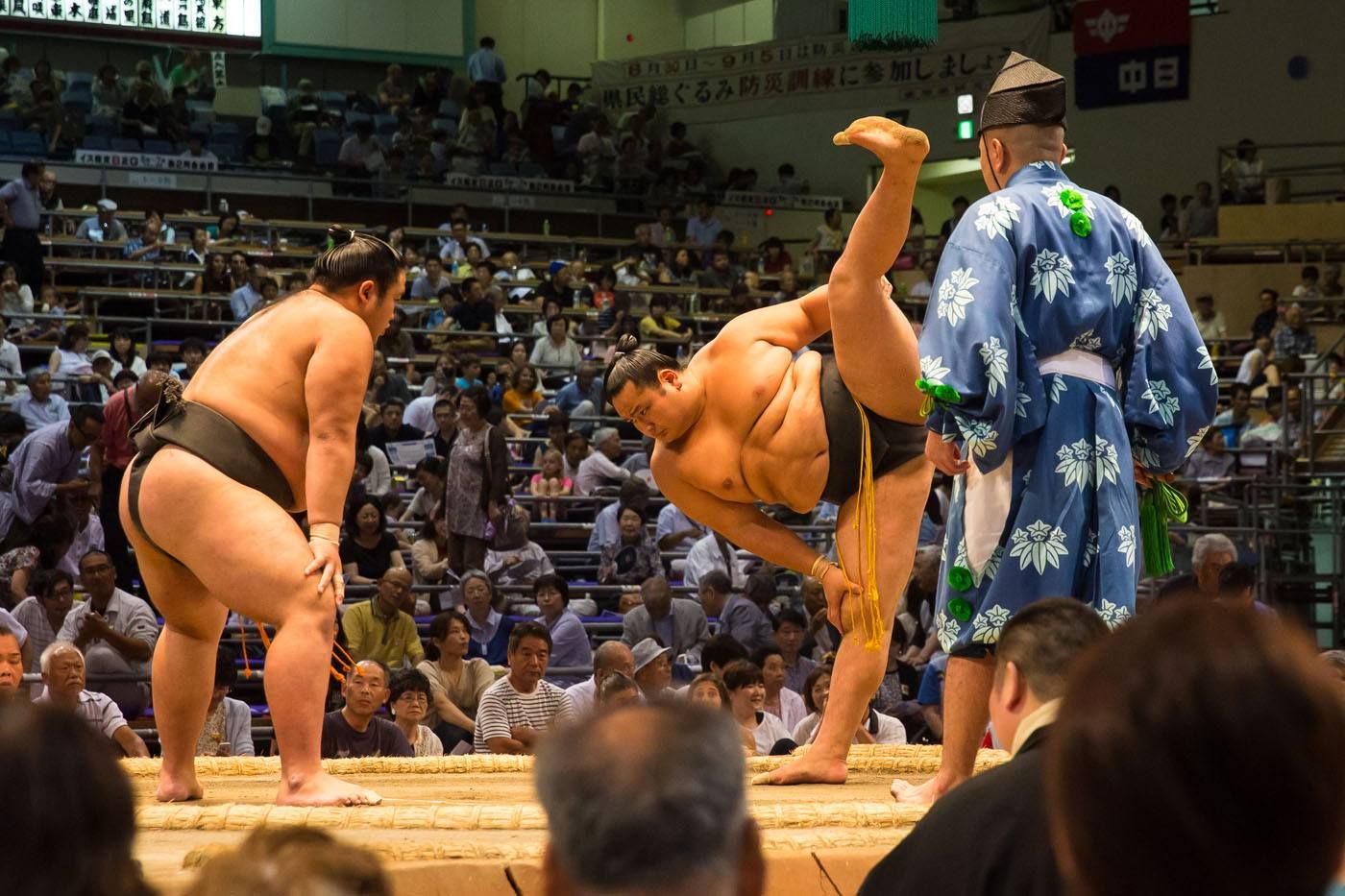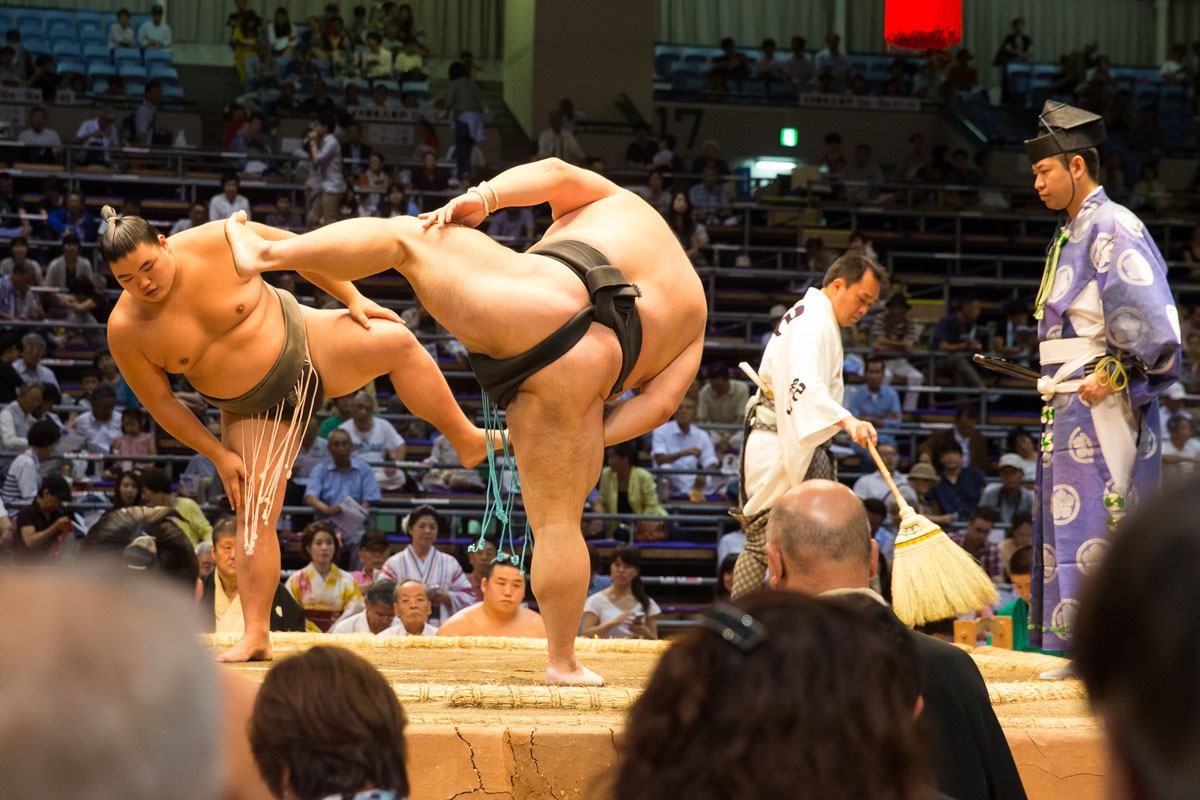 From this point, they usually return to their corner one more time, for more mouth rinsing and salt throwing. Some wrestlers even repeated this entire sequence three times before actually starting the wrestling match. This entire ritual can last as long as five minutes, but the resulting match may only last a few seconds.
Rules of Sumo Wrestling
Bouts can last anywhere from a few seconds to a few minutes. After five minutes of preparation and psychological battle, we were always hoping for a long, drawn out match.
There are really two basic rules to winning a sumo wrestling match:
1. Force their opponent out of the ring, or
2. Force their opponent to touch the ground with anything other than the soles of their feet.
Afterwards, the gyogi (referee) announces the winner to the audience, although this was usually obvious.
Here is a step-by-step progression of a match lasting under fifteen seconds: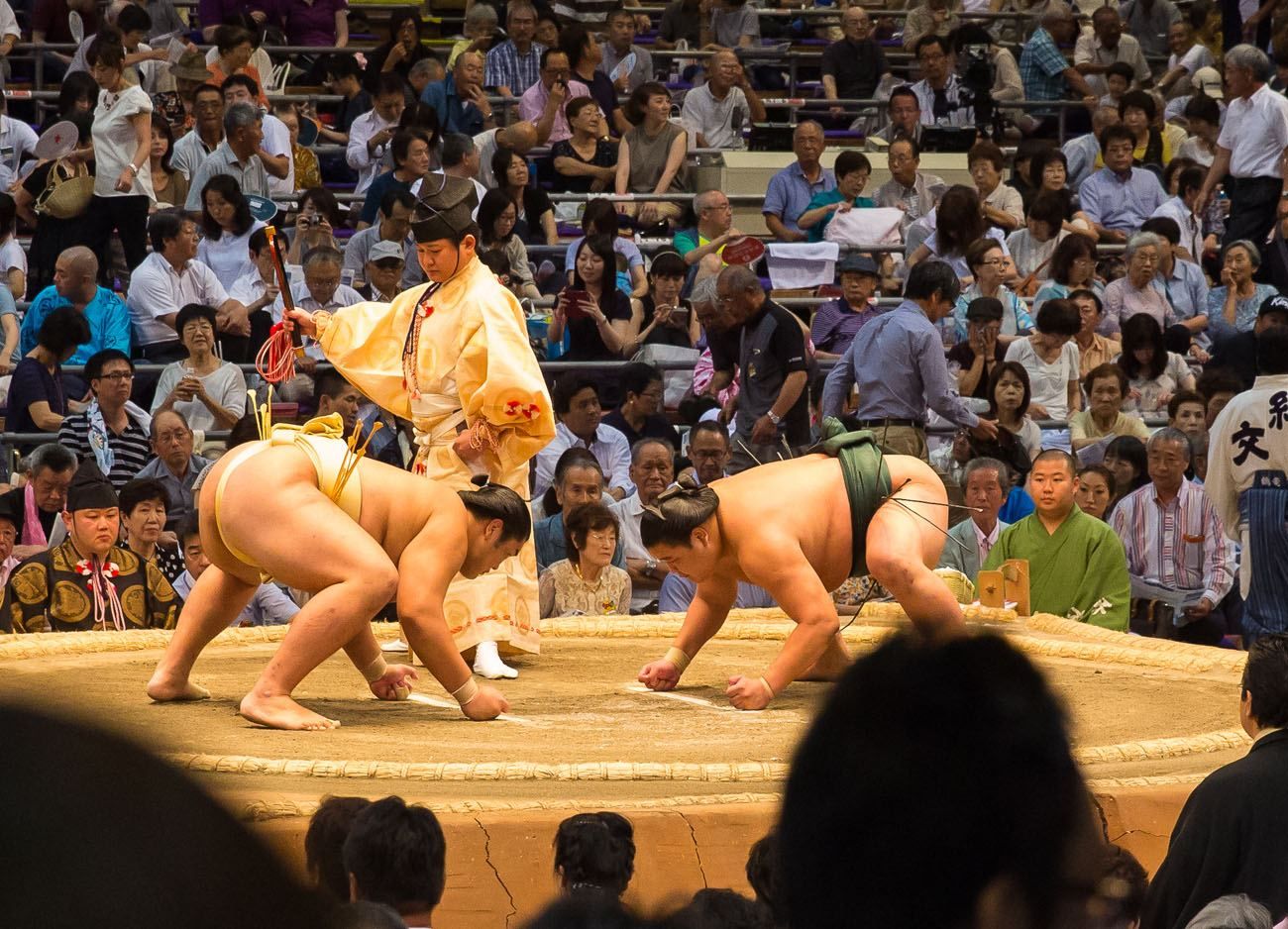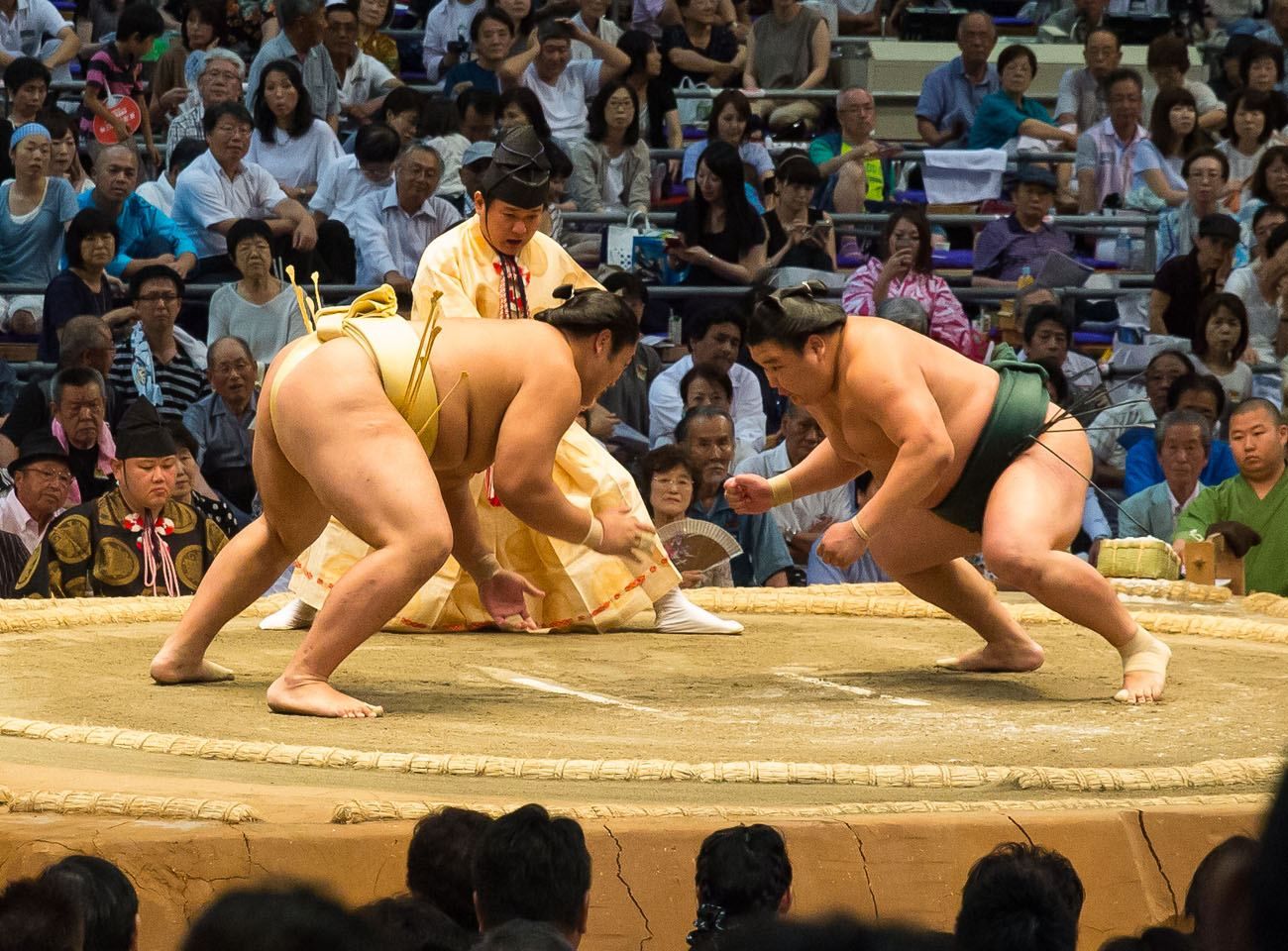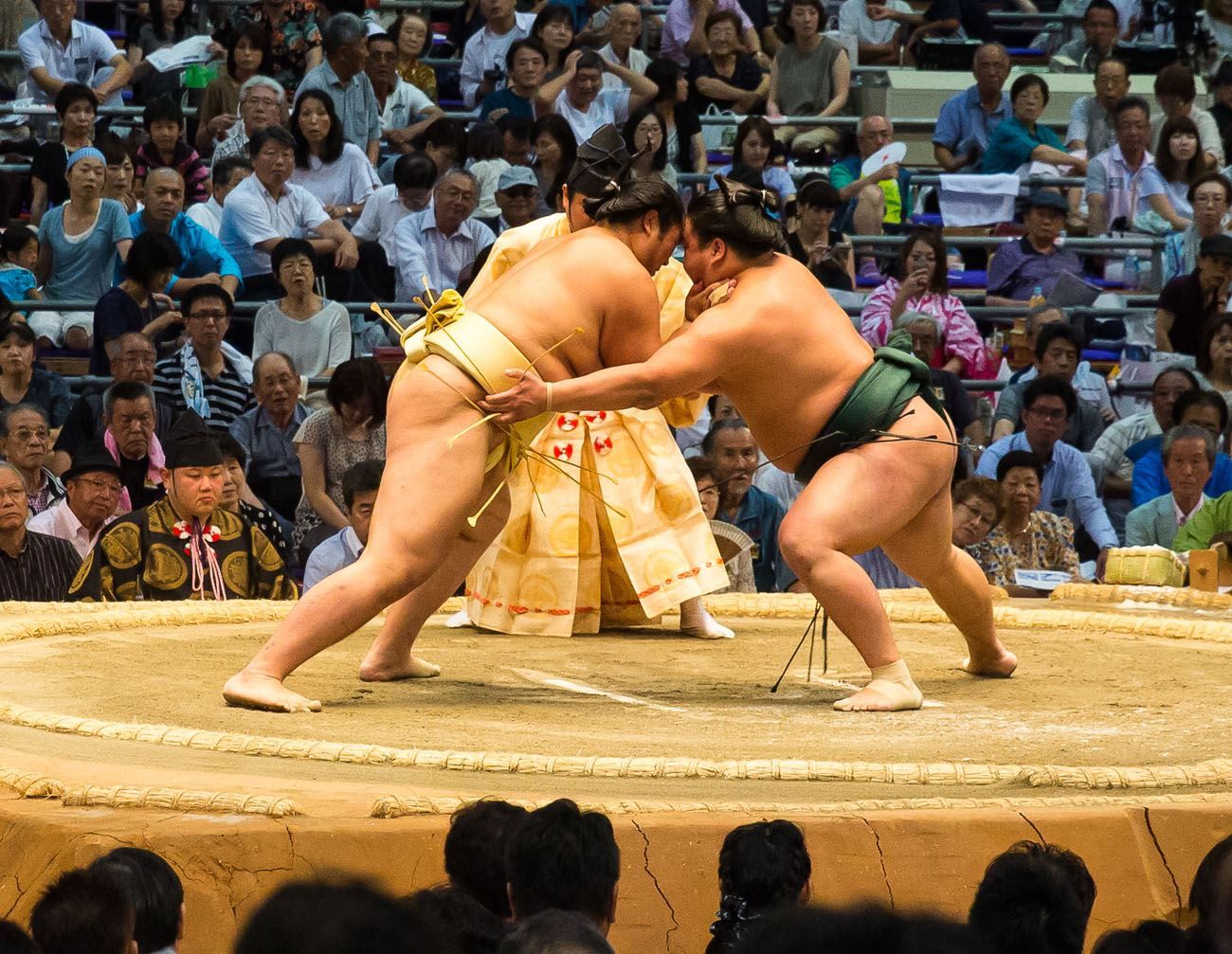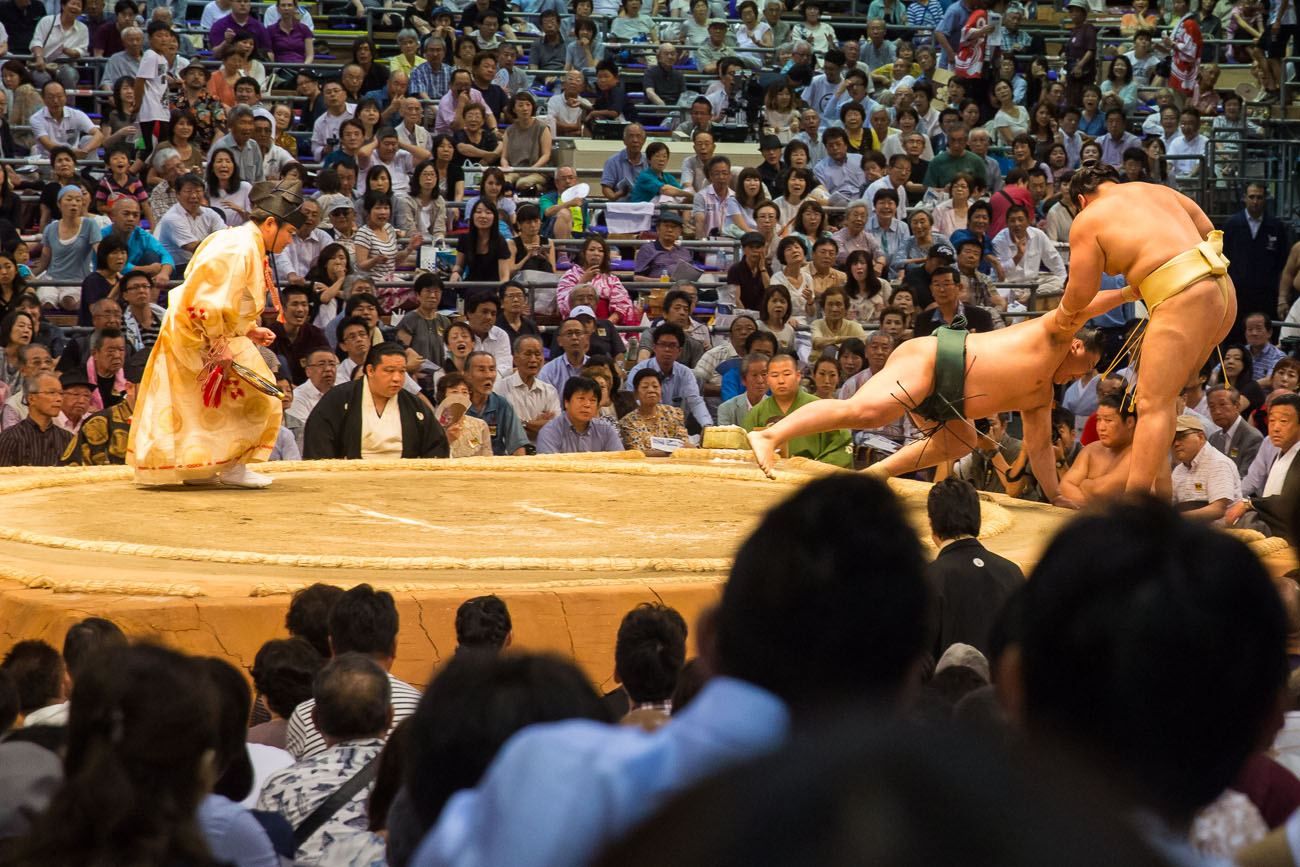 The best matches were those when the crowd really got into it. Some of the sumo wrestlers were greeted with a lot of enthusiasm, unknown to us but celebrities in the Japanese world of sumo wrestling. The crowd is the highlight of this photo: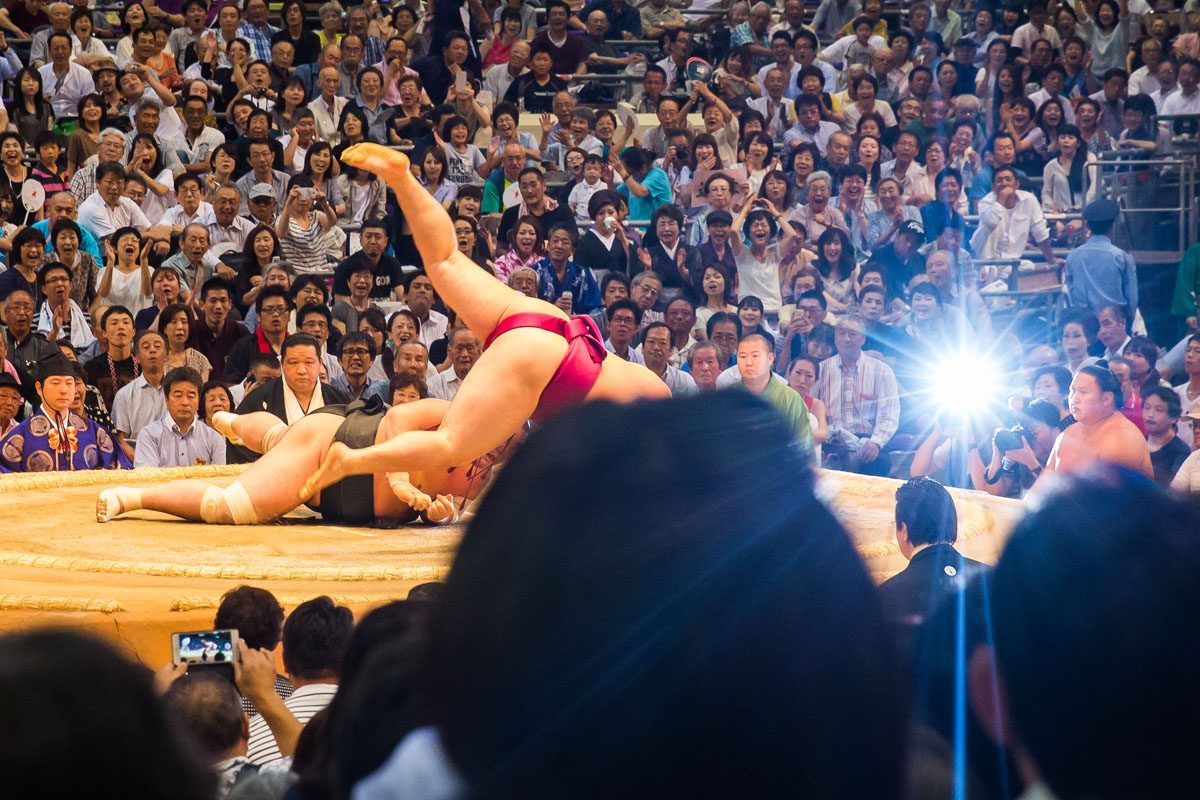 By 5 pm, the gymnasium had gone from being mostly empty to packed with tons of spectators.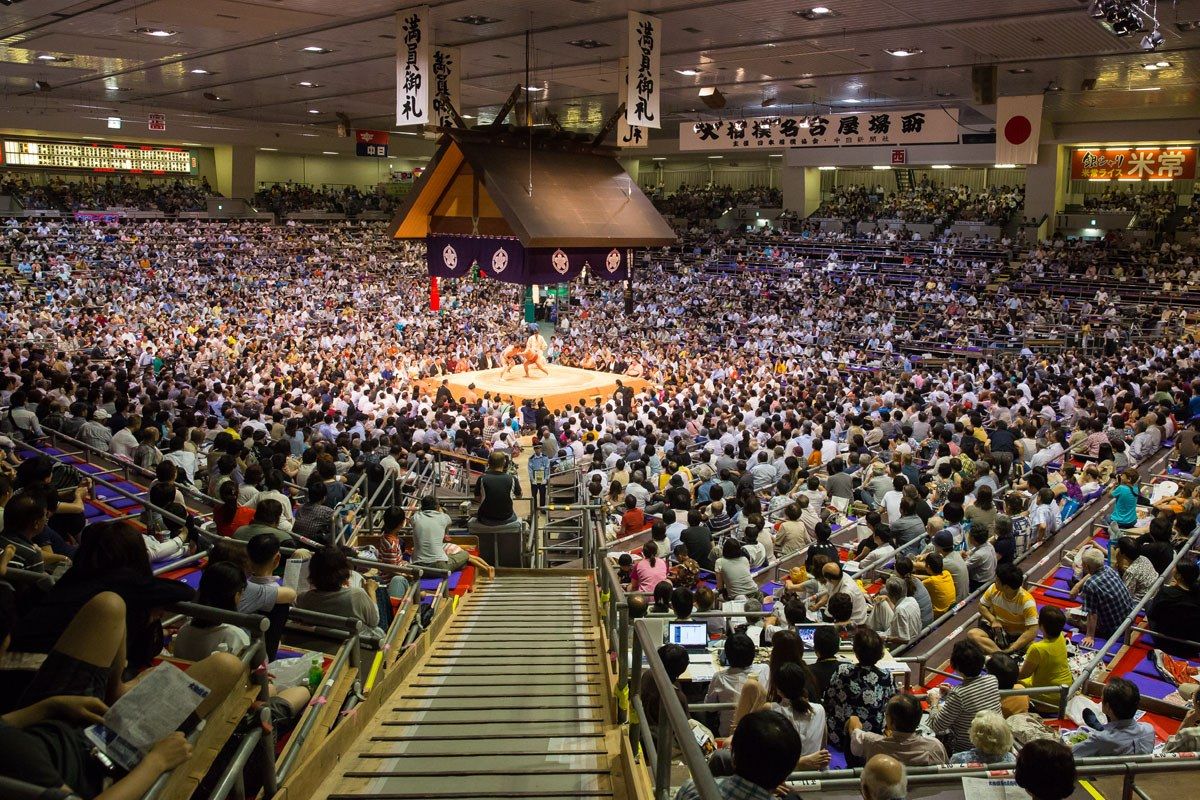 Believe It Or Not…
Not all Sumo wrestlers are Japanese. Some are gaijin, or foreigners. We saw several non-Japanese men in the mix, surprising us at first. Can you find any here? A reader recently wrote in a list of the non-Japanese Sumo wrestlers, so scroll to the comment section to learn more.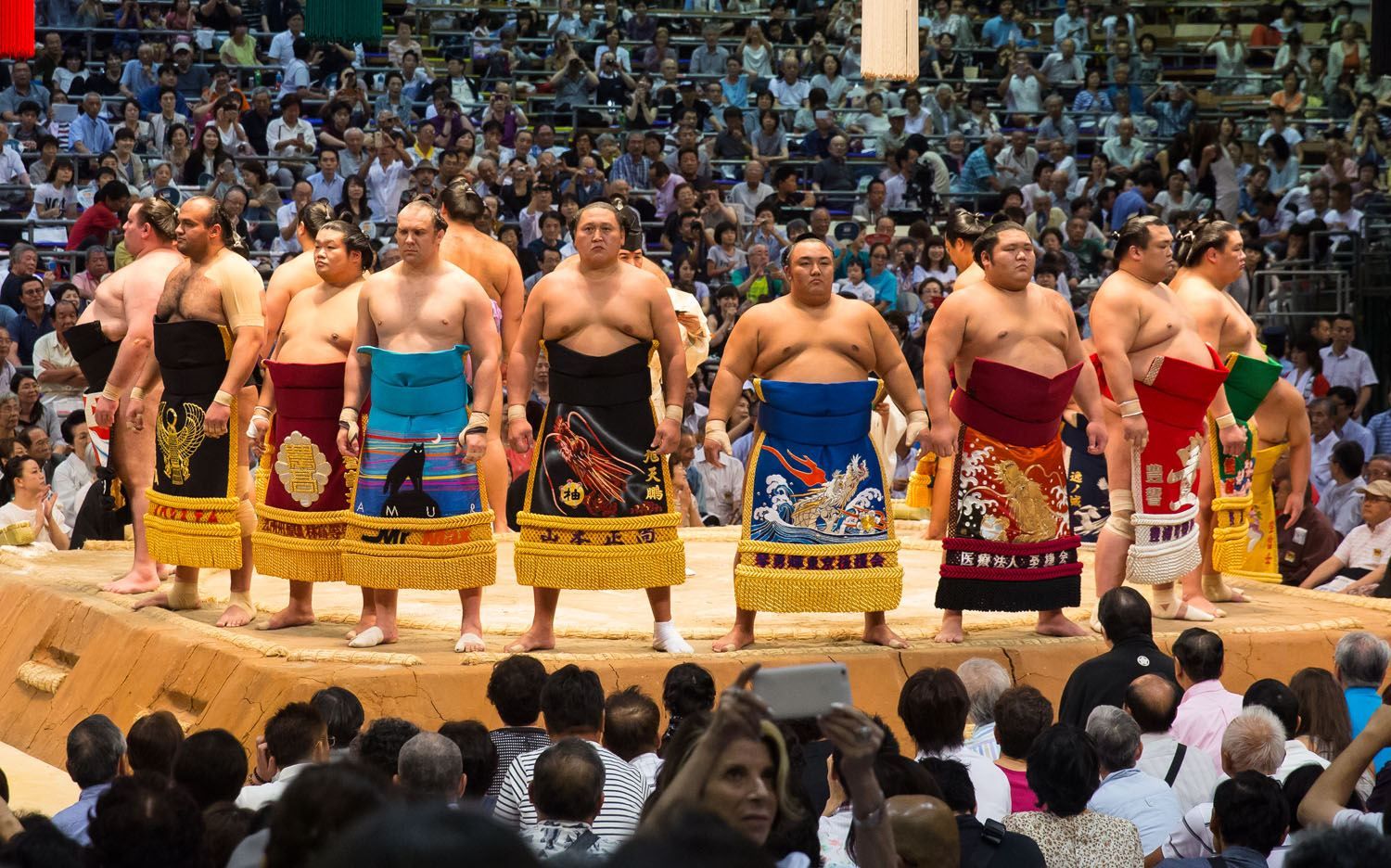 How to Have the Best Experience
When To Watch Sumo Wrestling
The Grand Sumo Tournaments are held on the odd months, lasting for fifteen days each: in Tokyo in January, May, and September, in Osaka in March, in Nagoya in July, and in Fukuoka in November.
What if you are not in Japan during a Grand Sumo Tournament? See if there is an amateur tournament taking place during your visit or visit a sumo stable (where sumo wrestlers live and train) while in Tokyo.
Here is a link to the upcoming schedules.
How To Purchase Tickets
Tickets can be purchased up to five weeks before the start of the tournament. I highly recommend buying your tickets at least a month in advance as seats sell out very quickly. If you plan on attending during a weekend or on the final day of the tournament, pre-order your tickets as early as possible.
You can purchase your tickets online using this link.
Tickets can be mailed directly to your residence or can be picked up at 7-Elevens in Japan. We picked up our tickets at 7-Eleven and it was very easy and straightforward.
Tickets can also be purchased through the vendor or at convenience stores (like 7-Eleven) but Japanese is almost necessary in these circumstances.
How To Get Photos From Ringside Seats
Arrive early enough and, for the most part, you will be able to access all seating areas of the gymnasium.
After being shown to our real seats, Tim and I left Tyler and Kara and went off to see if we could get some close up photos. This meant walking through the narrow hallways under the bleachers.
In here, we passed many sumo wrestlers awaiting their turn to enter the ring. They were standing around nervously, slapping their bellies and thighs, making a big show of their might and toughness. It was a little intimidating walking past them, especially since they were wearing barely anything, but we learned something very surprising…sumo wrestlers smell like baby powder. No joke! Their feet may be dirty with the sand on the floor but they smell surprisingly fresh and babylike!
From these hallways under the bleachers we walked out onto the main floor, Tim leading the way, and we took a seat down at the ringside seats. We had to walk past a stern looking security guard but were not stopped to check tickets. It was from here that we got our best photos and videos.
The key is to make it look like you belong there and most likely you will not get stopped. If the real owners to the seats arrive, just get up and find a new place!
To make this work, get here before most people arrive. The best time to try this is before 2 pm.
What To Buy
There is a small amount of food for sale, usual Japanese snacks, popcorn, and ice cream. There was a restaurant selling "sumo stew" but they sold out rather quickly. Also for sale is plenty of beer as well as sumo related souvenirs. Eat a big meal before you arrive and bring along some snacks just in case nothing here looks appetizing.
What To Wear
Comfortable, lightweight clothing, at least in the summertime. The gymnasium was air-conditioned but it still got very warm towards the end of the tournament. Fans are handed out to the spectators, which helped, but cool, comfortable clothing is advised.
Plus, if you have shoes that are easy to take on and off, wear these, particularly if you are staying in the box seats.
---
Do you have plans to watch Sumo wrestling in Japan? If you have any questions or suggestions, comment below!
More Information for Your Trip to Japan
TOKYO: Journey through Tokyo in photos and learn how to plan a day trip to Kamakura.
KYOTO: Travel through Kyoto in Photos, learn about the best things to do in Kyoto, and read about our first impressions of Osaka and Kyoto.
DAY TRIPS FROM KYOTO: There are several great day trips you can take from Kyoto, including Himeji Castle, Hiroshima, and beautiful Nara, Japan.
AROUND THE WORLD TRAVEL: Do you dream of traveling around the world? Check out our Guide to Traveling Around the World, where you can get information on how to plan your big adventure, what to expect while traveling, and what it is like to finally come home.
TRAVEL INSPIRATION: Here are 30 great travel books and a list of the best travel movies to feed your wanderlust.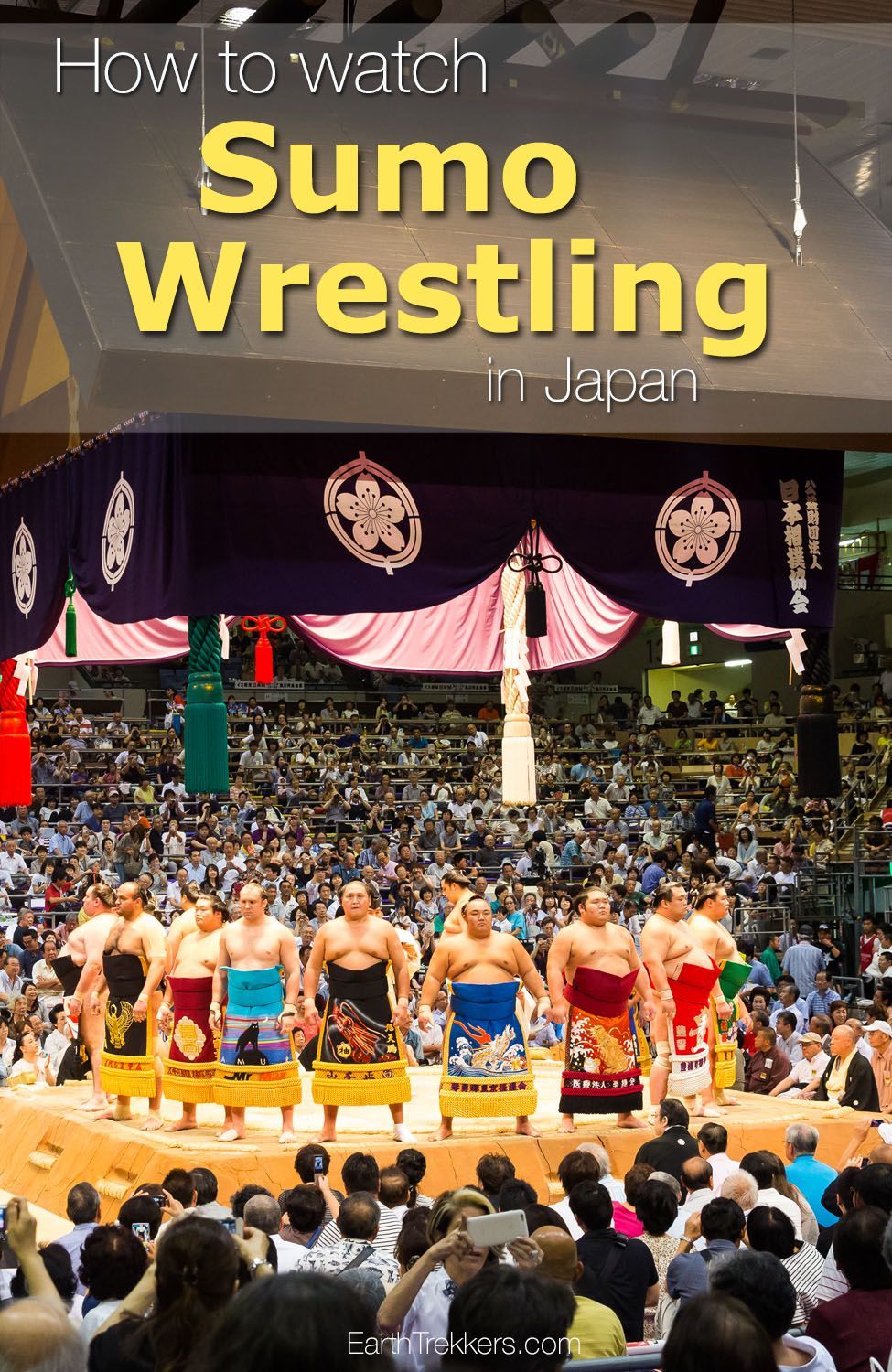 All rights reserved © Earth Trekkers. Republishing this article and/or any of its contents (text, photography, etc.), in whole or in part, is strictly prohibited.