Himeji Castle is the largest and most visited castle in Japan. If you are staying in Kyoto or Osaka, Himeji is easily accessible, making this a fantastic day trip to consider.
What is Himeji Castle?
Himeji Castle is a brilliantly white castle located in Himeji, Japan. It is called Hakuro-jo or Shirasagi-jo ("White Egret Castle" or "White Heron Castle") for its white exterior and appearance of a bird taking flight.
Himeji Castle started off as a fort in 1333. Since then, it has been enlarged and reconstructed several times. During World War II, it somehow survived repeated bombings to the city of Himeji.
In 1993, Himeji Castle was named one of the first UNESCO World Heritage Sites in Japan. The castle is also a National Treasure of Japan.
Most recently, it reopened in 2015 after a renovation project. Now, Himeji Castle is literally gleaming because of its perfectly clean, polished exterior.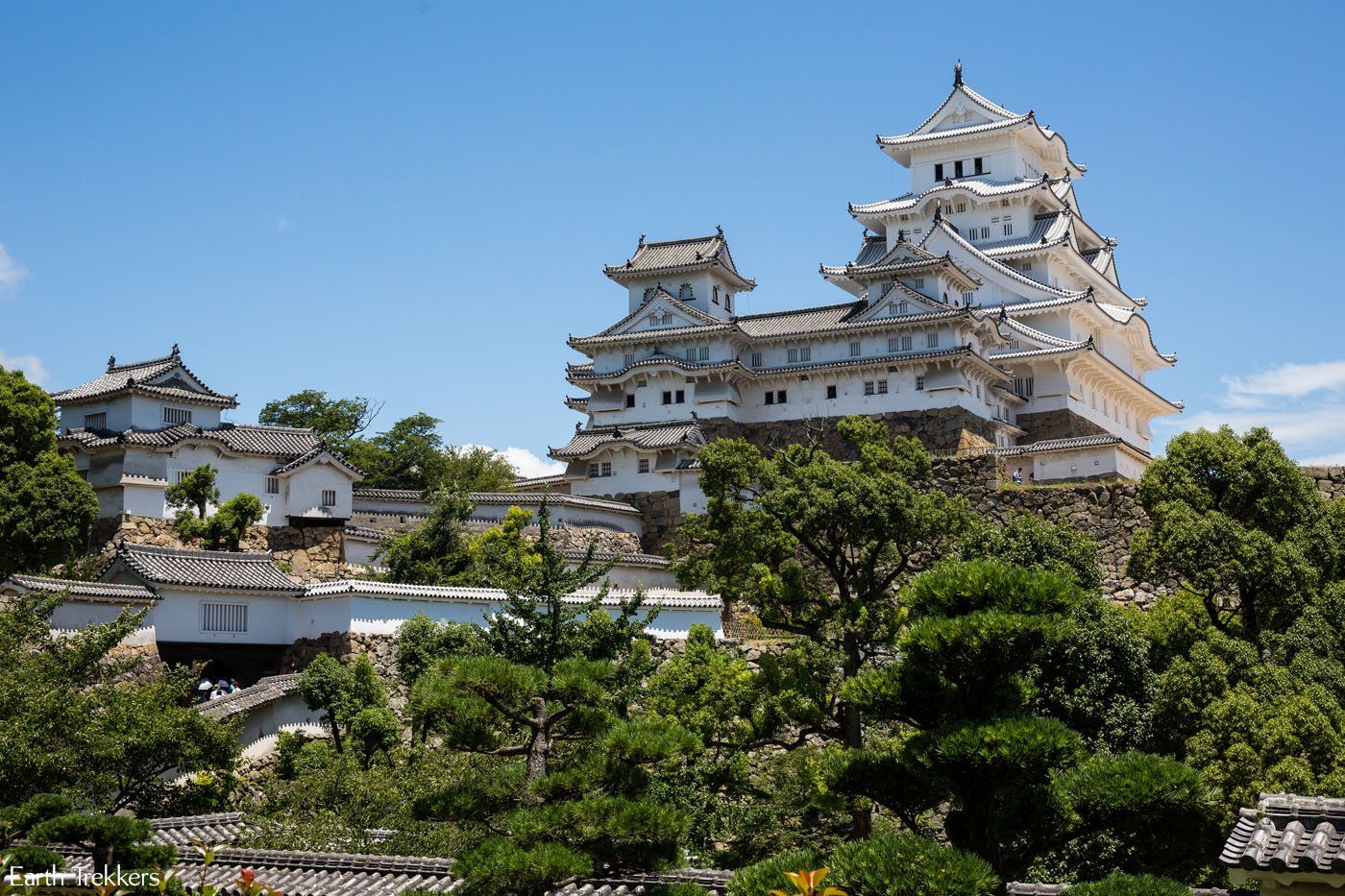 How to Get to Himeji Castle
From Kyoto
Shinkansen: Kyoto and Himeji are connected via the JR Tokaido/Sanyo Shinkansen. With the Hikari shinkansen, the journey takes 55 minutes (you can use your Japan Rail Pass if you have one). Nozomi trains take 45 minutes (but you cannot use the Japan Rail Pass).
JR Special Rapid Train: Local trains take 90 minutes on JR Special Rapid Trains (Shin-kaisoku).
From Osaka
Shinkansen: From Shin-Osaka, the journey takes 30-40 minutes by Hikari, Sakura, or Kodama trains. This is the fastest way to Himeji and if you have a Japan Rail Pass it is valid for this trip.
JR Special Rapid Train: Average trip time is one hour. If you do not have a Japan Rail Pass, this is the best option.
From Tokyo
It is possible to visit Himeji Castle from Tokyo, but it will be a long day trip. The Hikari Shinkansen connects Himeji and Tokyo and the journey lasts just under four hours. It can be done, but you will spend 8 hours on the train to do this.
Getting from Himeji Station to the Castle
Once in Himeji, exit the north side of the Himeji Station. Walk approximately 1 km on Otemae-dori Street to the castle. If you are not up for walking, hire a taxi or take the local bus from the train station.
Visiting Himeji Castle
Enter through the Otemon Gate. This is a great spot to photograph the castle and view the cherry blossoms, if you are lucky enough to see them.
Purchase your ticket and then proceed towards the Main Keep. The Main Keep is the largest structure of the castle, the six levels that dominates the view.
Once in the Main Keep, you will climb up all six levels. The staircases are very steep and seem to get steeper the higher you climb. Along the way, gaze out at the city and take note of the sloopholes used by archers to defend the castle.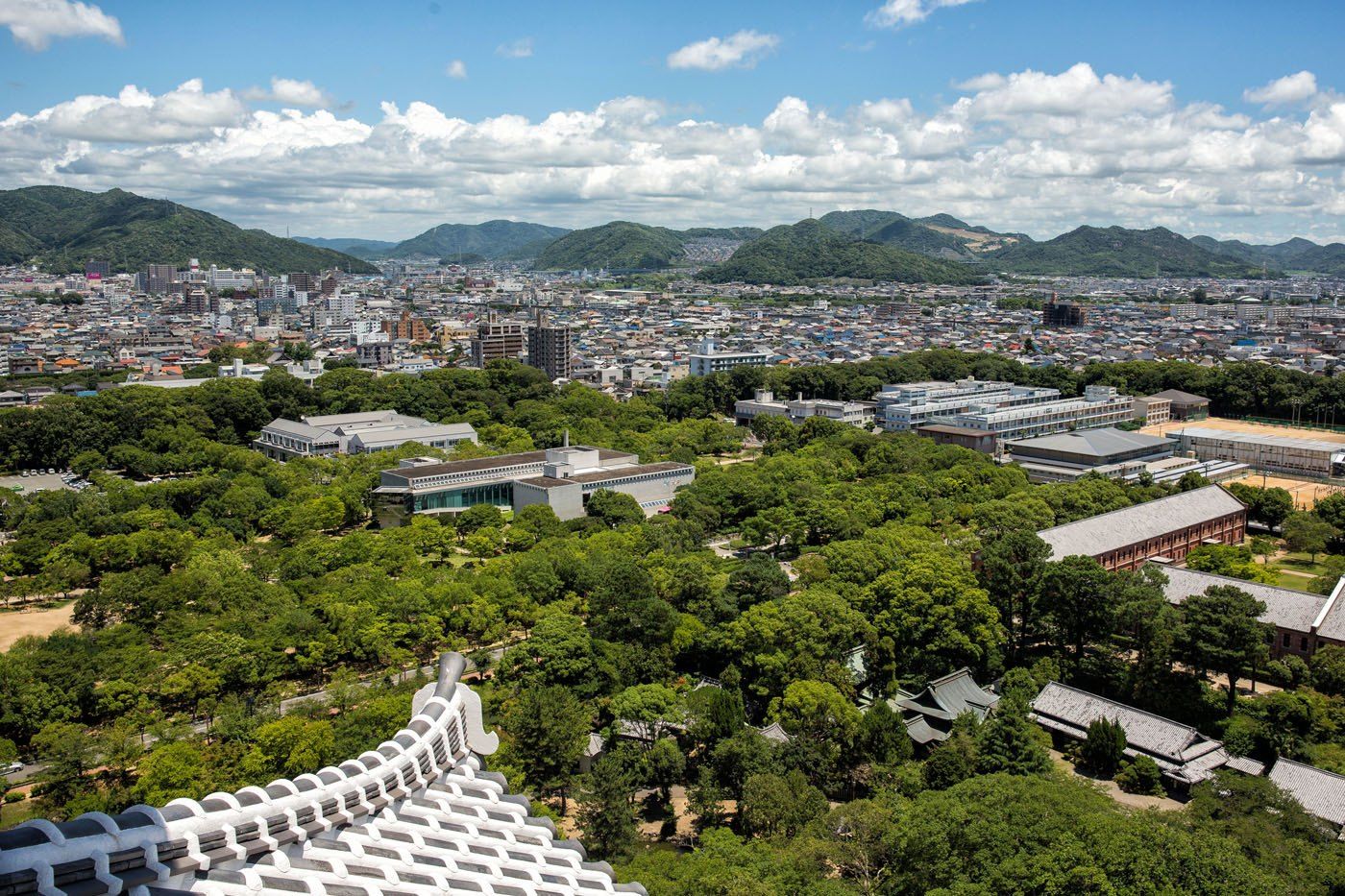 The view from Himeji Castle | Himeji Castle day trip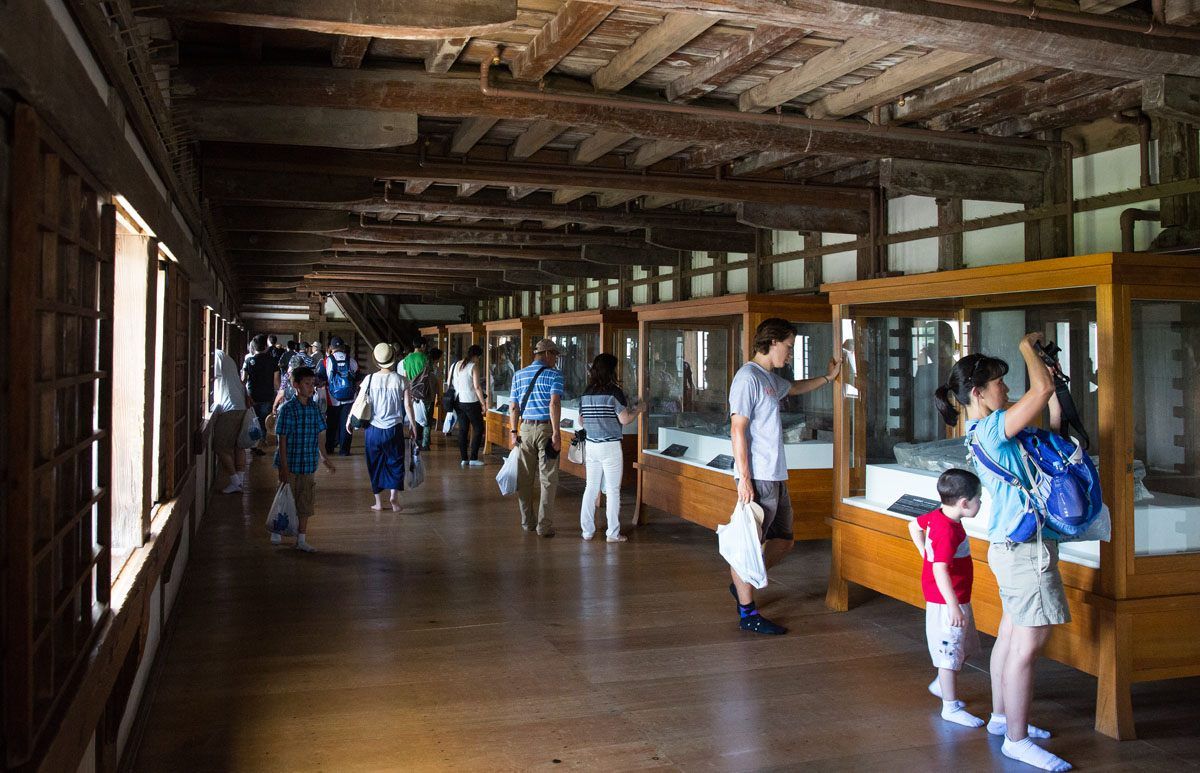 Inside Himeji Castle | Himeji Castle day trip
On a crowded day, this journey through the Main Keep can be one long queue as you slowly but steadily climb to the top floor.
After touring the Main Keep, explore the gardens around the castle. There are some great photo opportunities here.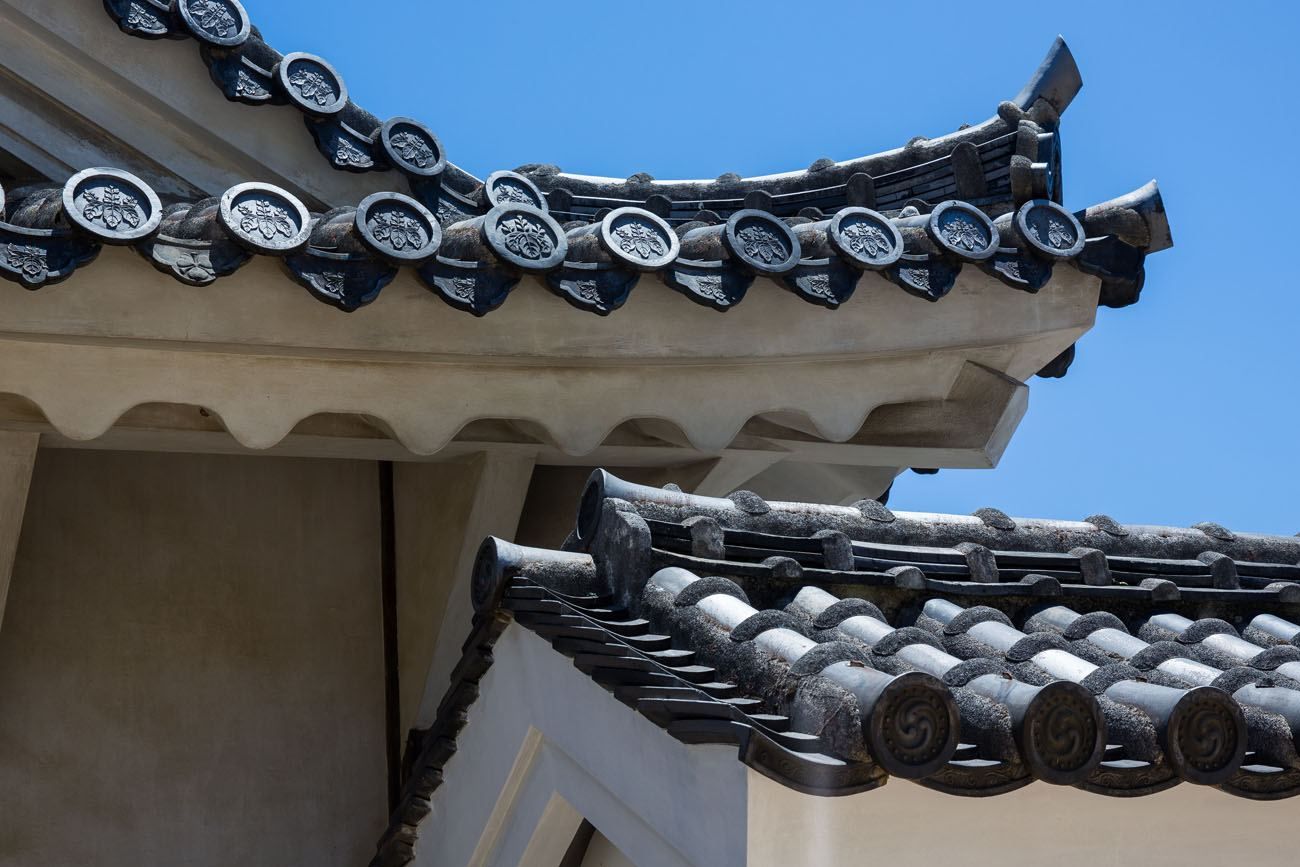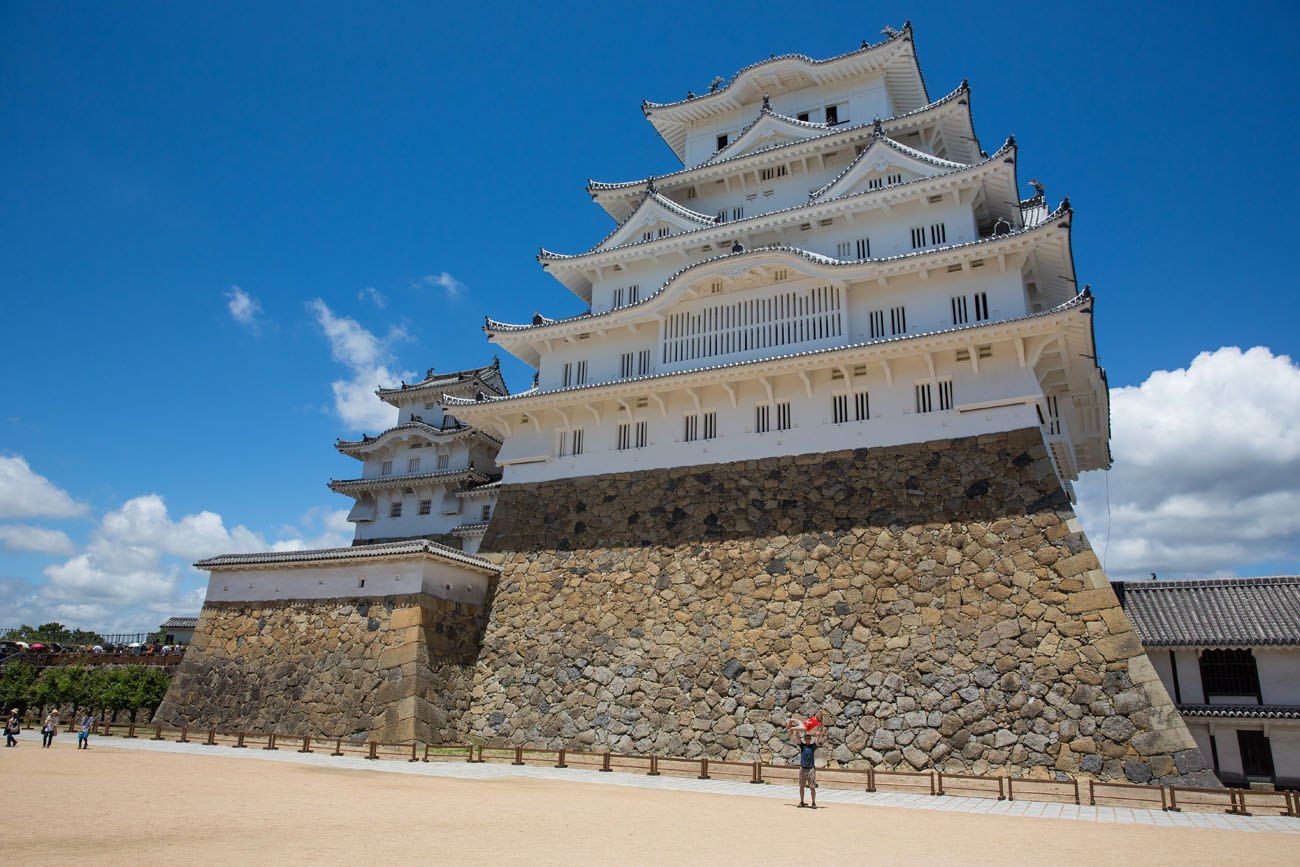 Tim and Kara in front of Himeji Castle | Himeji Castle day trip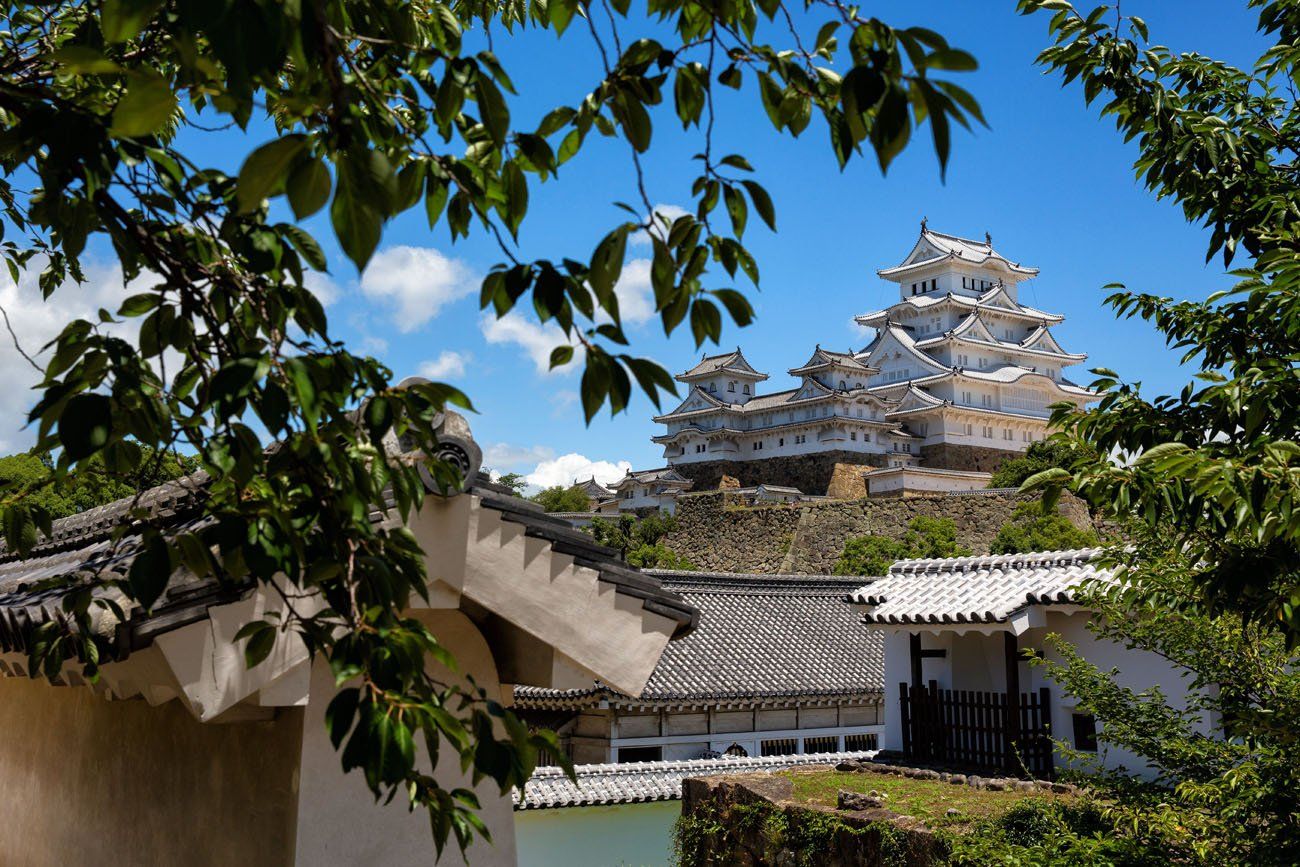 Himeji Castle | Himeji Castle day trip
Important Things To Know
When to Go
The busiest and most crowded times to visit are during cherry blossom season (late March through early April), Golden Week (end of April into early May), and the summer months.
During these busy days, numbered tickets are handed out. The number of visitors are limited to 15,000 per day. If you will be here during peak season, get here early in the morning to make sure you get one of these tickets.
The Himeji Castle website has an excellent congestion forecast. Definitely take a look at this when planning your trip.
How Long Does it Take to Visit Himeji Castle?
It can take between 1.5 hours and 4 hours to visit Himeji Castle, depending on crowd levels. If you are visiting from Kyoto or Osaka, there will still be plenty of time in the day for more sightseeing.
Entrance Fees and Hours
Entrance Fee
Adults: ¥1000
Students: ¥300
Hours
9 am to 5 pm; last entry at 4 pm
During the summer: 9 am to 6 pm; last entry at 5 pm
Himeji Castle is open daily except for December 29 and 30.
You cannot purchase tickets in advance. Tickets are sold only for the current day.
The Main Keep is not wheelchair accessible. However, you can still visit the grounds surrounding the castle.
More Things to do in Himeji
Kokoen Garden. This is a beautiful walled garden located next to Himeji Castle.
Engyo-ji Temple. This temple was used in the filming of the Last Samurai starring Tom Cruise. It is 30 minutes from Himeji Castle by bus.
---
Planning a Himeji Castle day trip? Comment below if you have questions.
More Information for Your Trip to Japan
KYOTO: Travel through Kyoto in Photos, learn about the best things to do in Kyoto, and read about our first impressions of Osaka and Kyoto.
DAY TRIPS FROM KYOTO: There are several great day trips you can take from Kyoto, including Hiroshima and beautiful Nara, Japan.
TOKYO: Journey through Tokyo in photos and learn how to plan a day trip to Kamakura.
AROUND THE WORLD TRAVEL: Do you dream of traveling around the world? Check out our Guide to Traveling Around the World, where you can get information on how to plan your big adventure, what to expect while traveling, and what it is like to finally come home.
TRAVEL QUOTES: Here are 60 travel quotes to feed your wanderlust.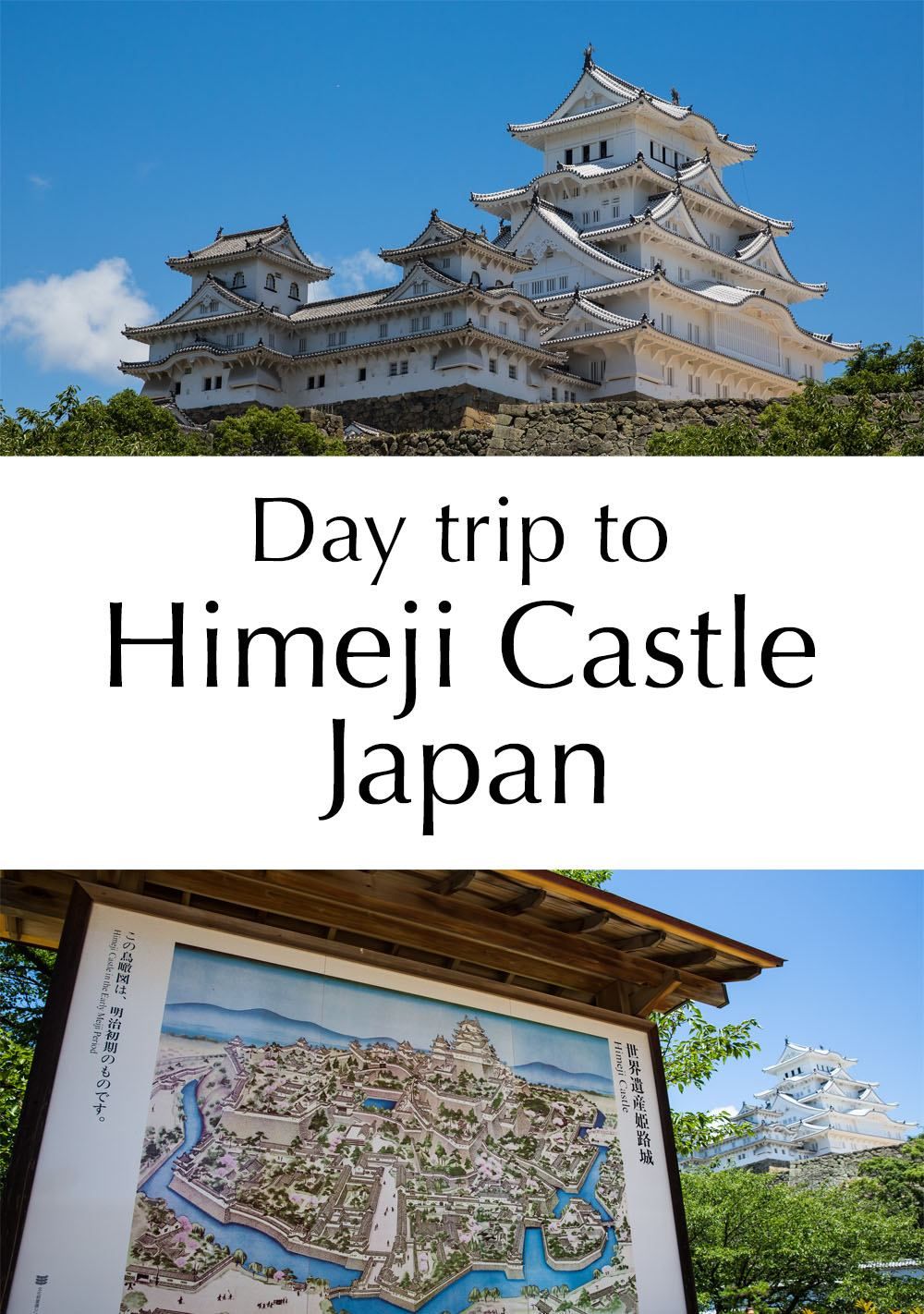 All rights reserved © Earth Trekkers. Republishing this article and/or any of its contents (text, photography, etc.), in whole or in part, is strictly prohibited.