While getting ready in the morning, I was greeted with Tyler's typical question, "Mom, what are we doing today?" When I asked them if they wanted to feed deer in Nara, I got a half-hearted yes from both Tyler and Kara. When I asked if they wanted to see more temples, I got an emphatic "No!" from both kids.
If only they knew just how many temples we would visit on this year long trip, I don't know if they would have boarded that first plane with the same amount of enthusiasm. Yes, Tyler and Kara are suffering from some major temple fatigue that may take years to recover from, but we couldn't visit Nara without also seeing some of its temples.
I honestly have to say that none of us were all that excited about this day trip from Kyoto. We were only doing it because it sounded like something we should do. I am happy to report that we were pleasantly surprised. Despite high temperatures, muggy weather, and one kid in particular (guess who!) who did not want to set foot in a temple ever again, visiting Nara was a fantastic experience. Now we know why Nara is such a popular destination on the typical tourist circuit.
Kyoto to Nara
From Kyoto Station, we took the Nara Line to Nara, a trip that takes forty-five minutes. We arrived at 10:15 am and today was going to be one of our hottest days yet, with temperatures in the mid-90's.
Kofuku-ji Temple
From Nara Station we walked up Sanjo Dori to our first temple of the day, Kofuku-ji. Parts of Kofuku-ji were under renovation but the pagoda was available for viewing. The highlight here was our first encounter with Nara's famous deer. The deer are smaller than those we have on the east coast of the US and are trained to eat from the hands of visitors. In the shade of some evergreen trees a small group of male deer were eating crackers and popcorn right from people's hands. Kara was very interested in getting in on the action.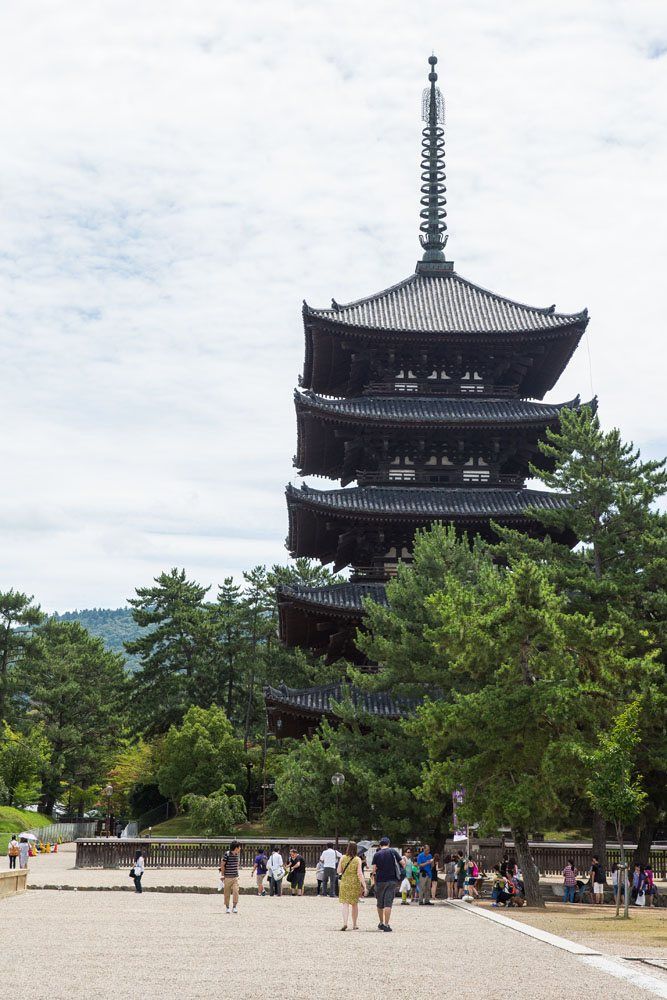 Feeding Deer in Nara: How to Do It
A Japanese man with a supply of crackers approached us and taught Kara the "proper way" of feeding deer in Nara. Before taking the cracker from your hand, the deer will bow its head, if you know how to ask them to do so. By holding the cracker overhead, the deer bows its head one time. Next, put the cracker behind your back, getting the deer to bow a second time. Our Japanese teacher told us that having the deer bow three times is ideal. To do this, hold the cracker overhead one last time, getting that third bow, and then reward the deer with the cracker.
Even the Japanese deer are well trained and know their manners. Who taught them how to do this?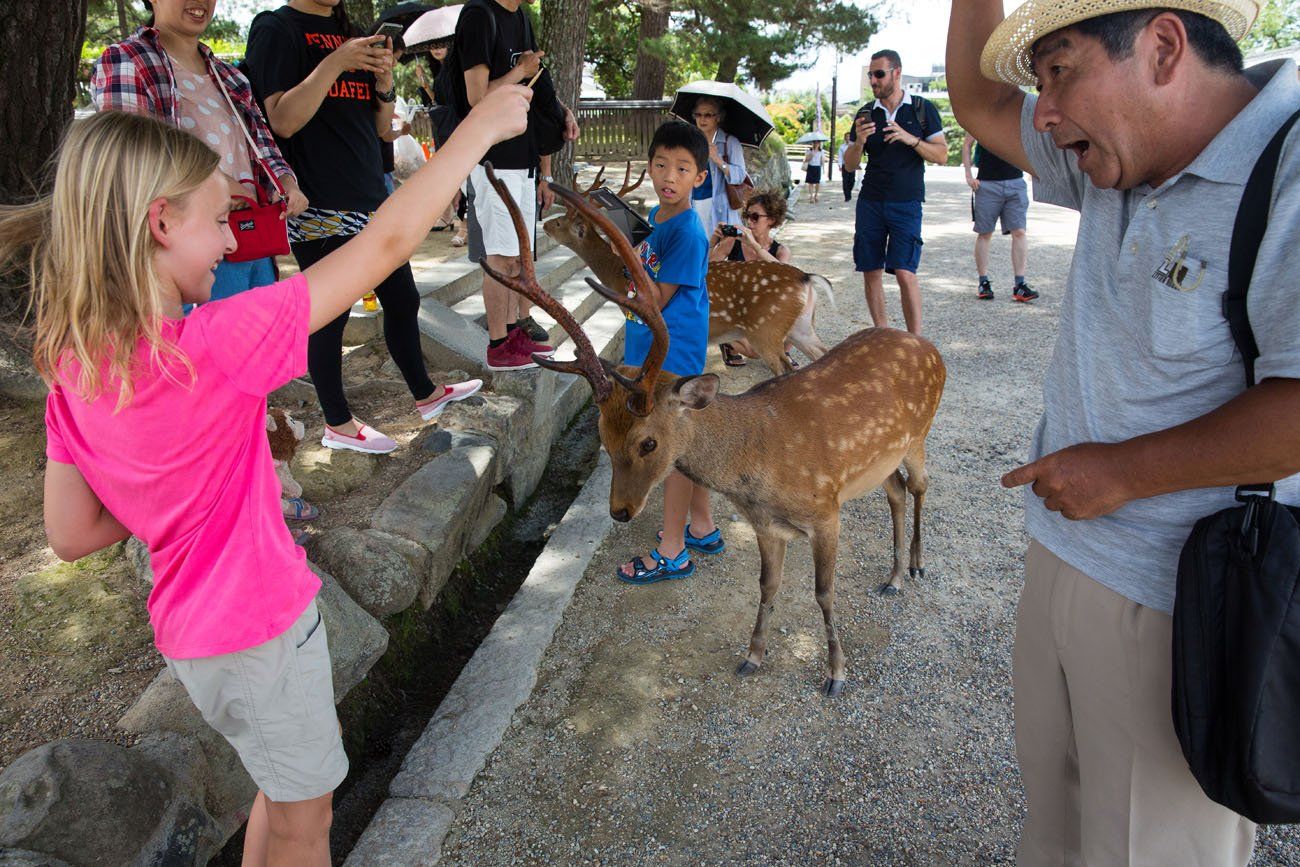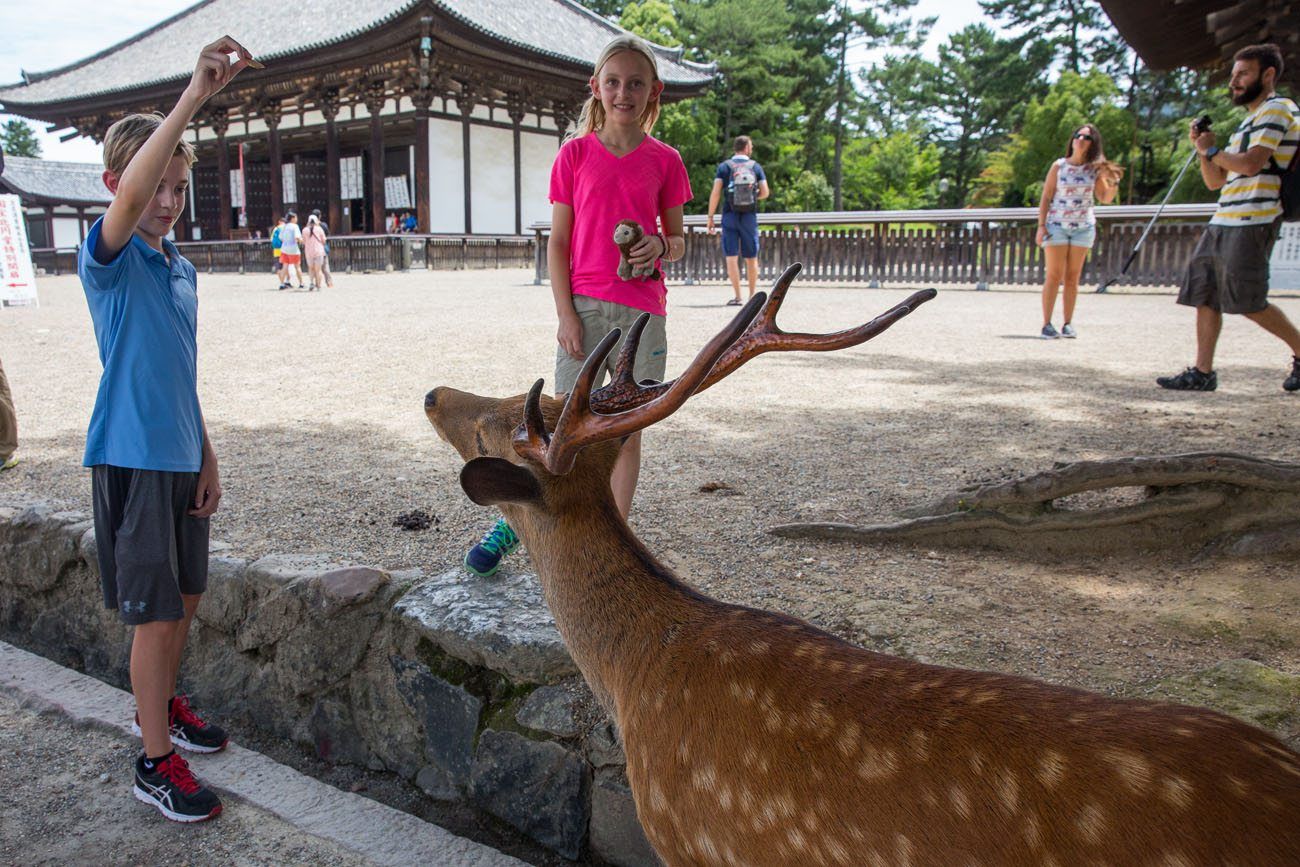 Tyler, Kara, and I had fun feeding the deer and scratching them behind their antlers. As we traveled through the park, we learned that the older deer are the most well-mannered deer in the park. The younger deer rarely bowed before taking their treat and some younger deer would get a little aggressive, nipping at clothing and trying to snatch the crackers out of our hands. Some deer seemed to prefer the maps that people were carrying over crackers, as we saw several deer happily munching on maps of Nara.
Kasuga-taisha
Even while standing in the shade, the sweat was dripping off of us. To get a break from the heat we hired a taxi to take us the short distance to Kasuga-taisha, another Japanese shrine.
It was here that we walked along a long pathway, under the shade of tall trees, flanked on both sides by moss-covered, ancient stone lanterns. This place reminded us of Fushimi Inaria Taisha, only here we were seeing stone lanterns instead of red torii gates. At the top of the hill was another temple and shrine but for us the highlight was the pathway through the stone lanterns.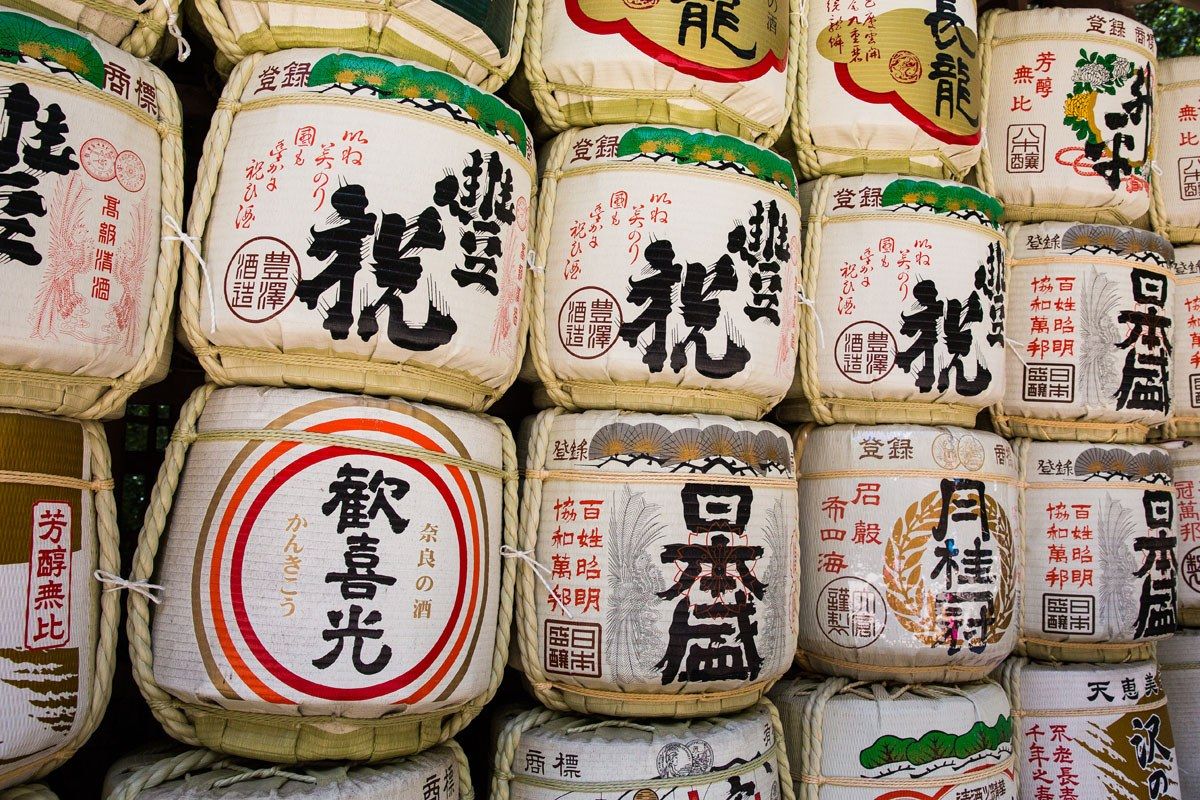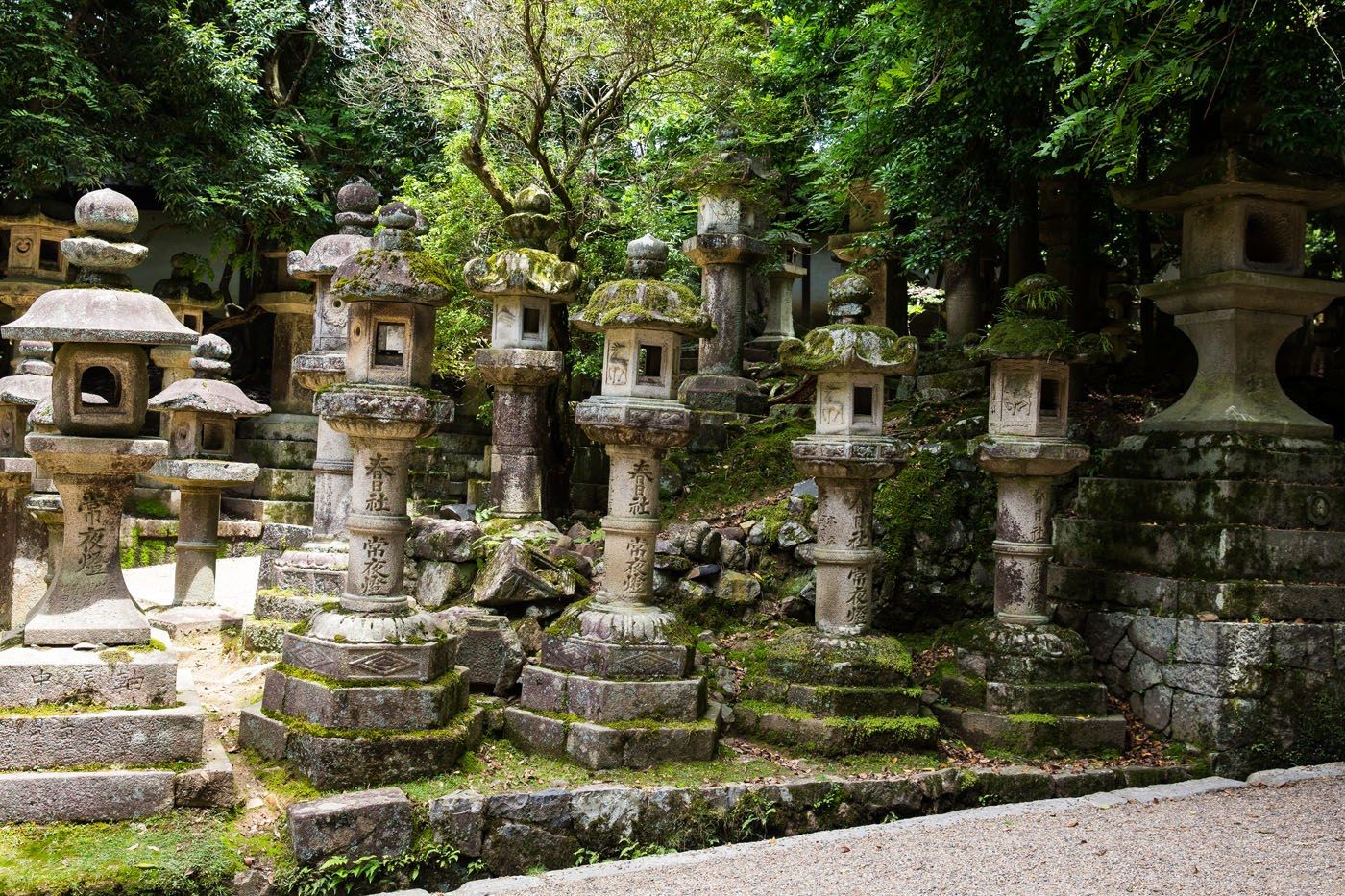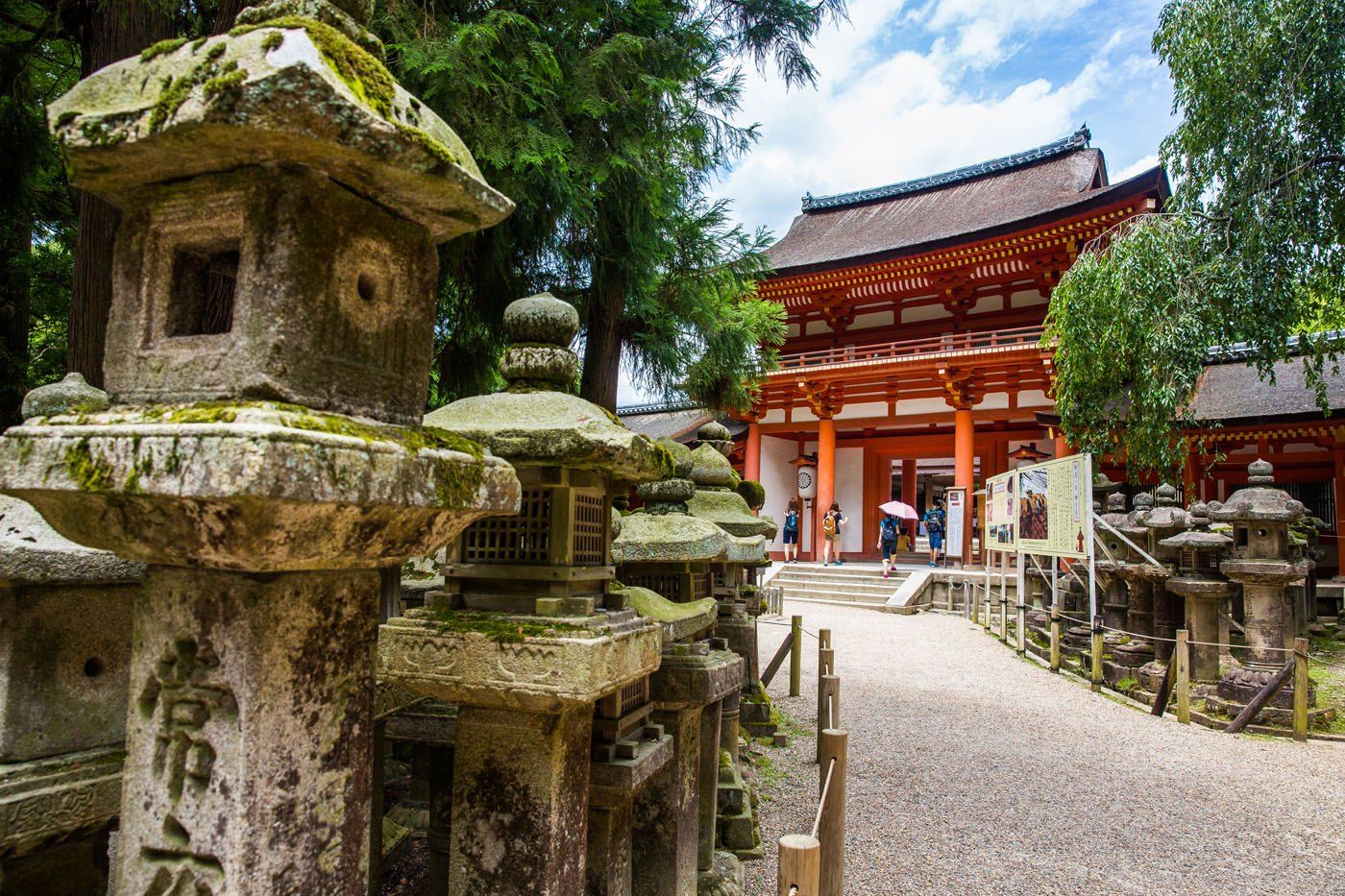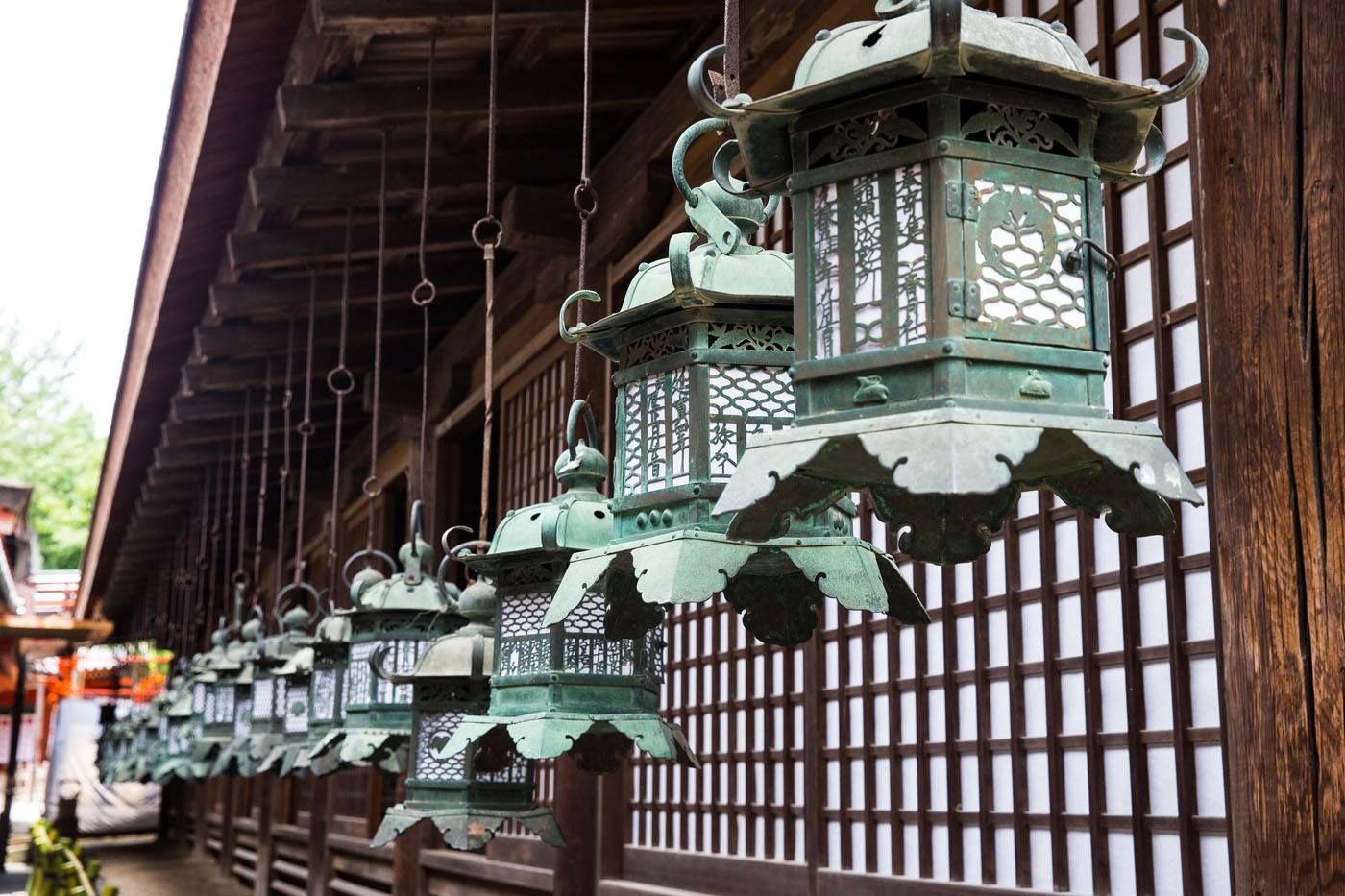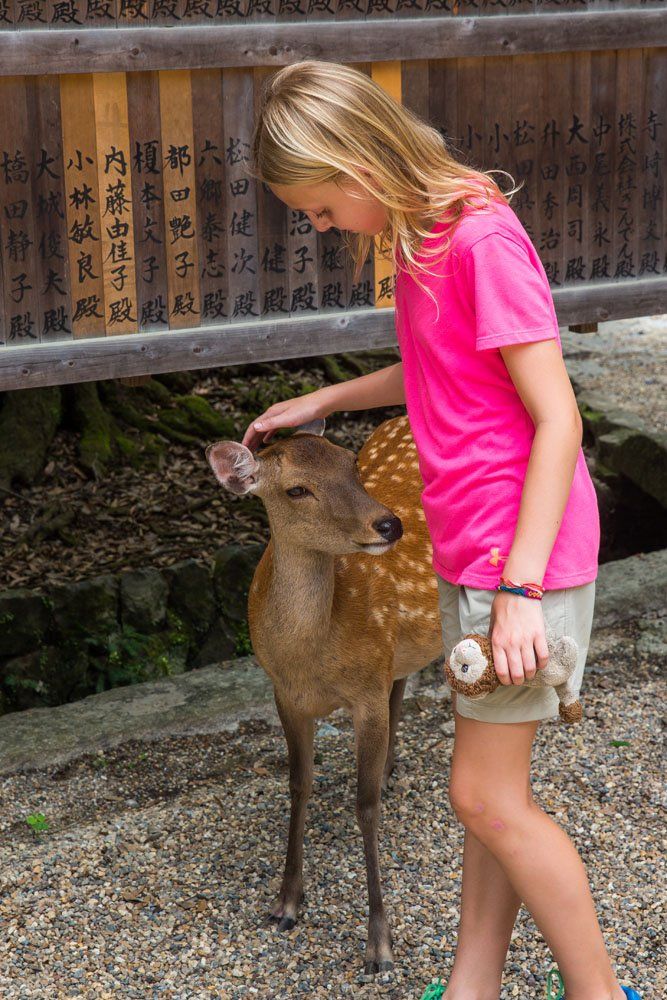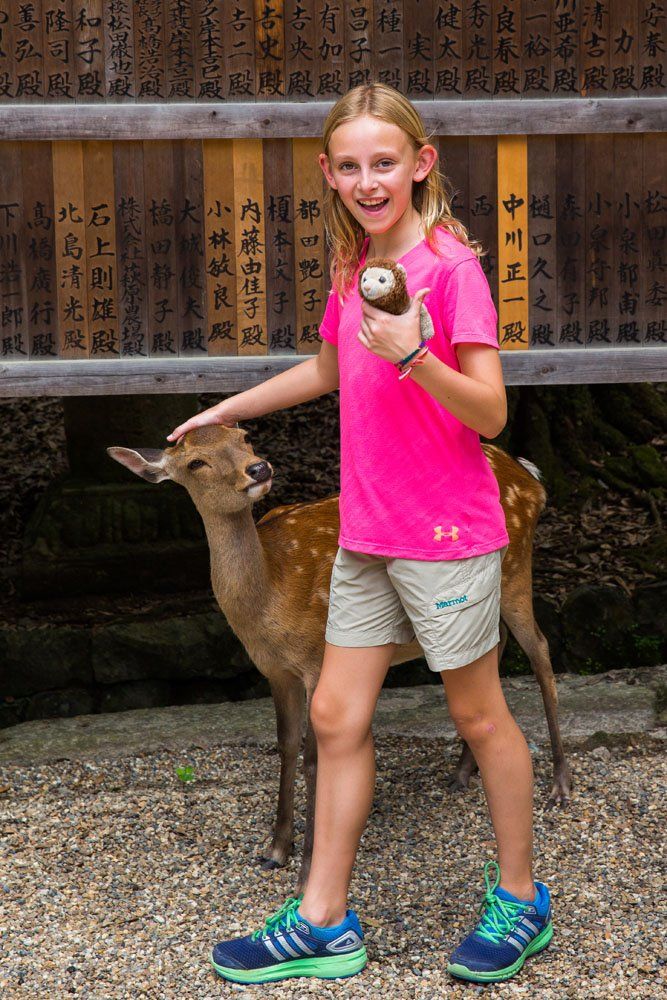 Todai-ji Temple
As we walked towards our third and final temple of the day, the Todai-ji Temple, we passed more deer. Most of these deer were young and a bit feisty, as they were practically chasing Kara to eat her crackers.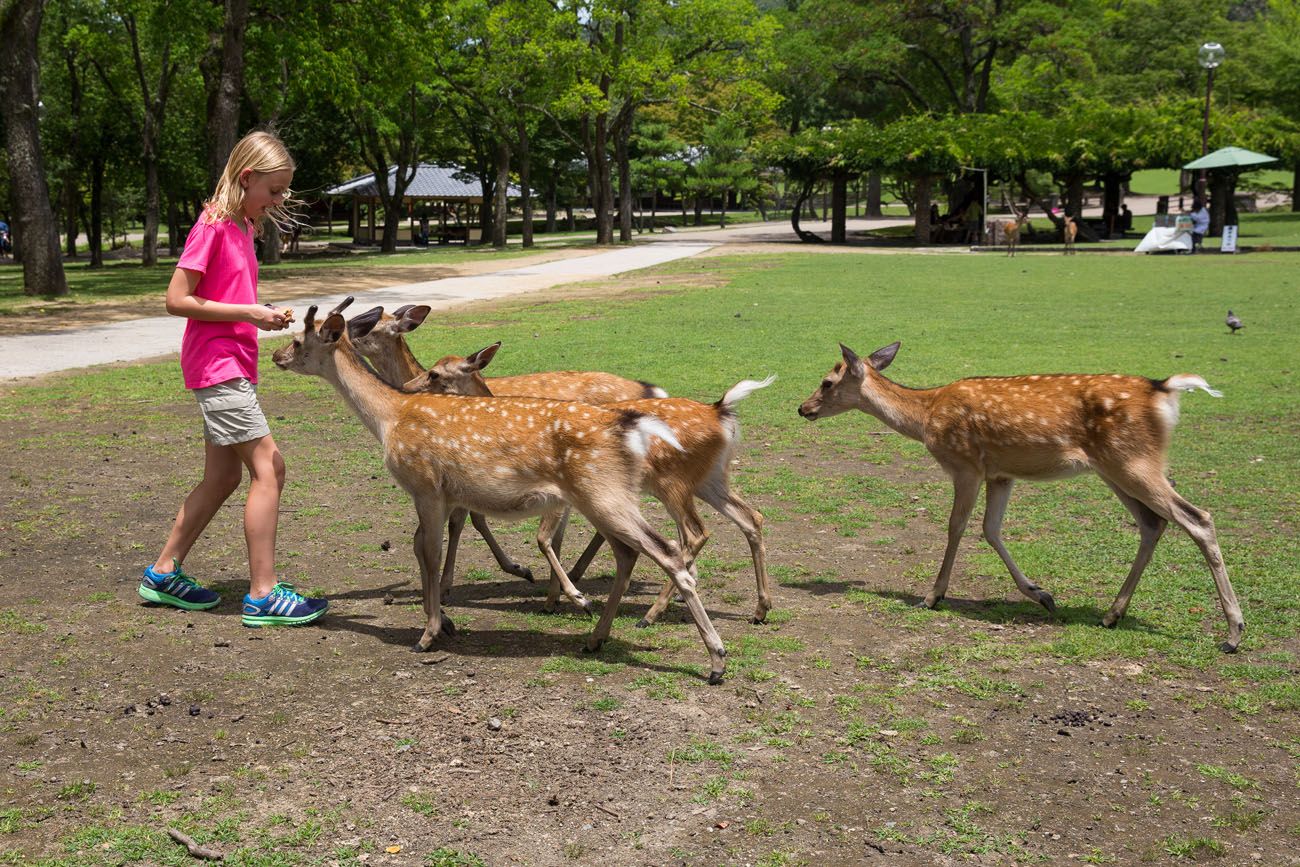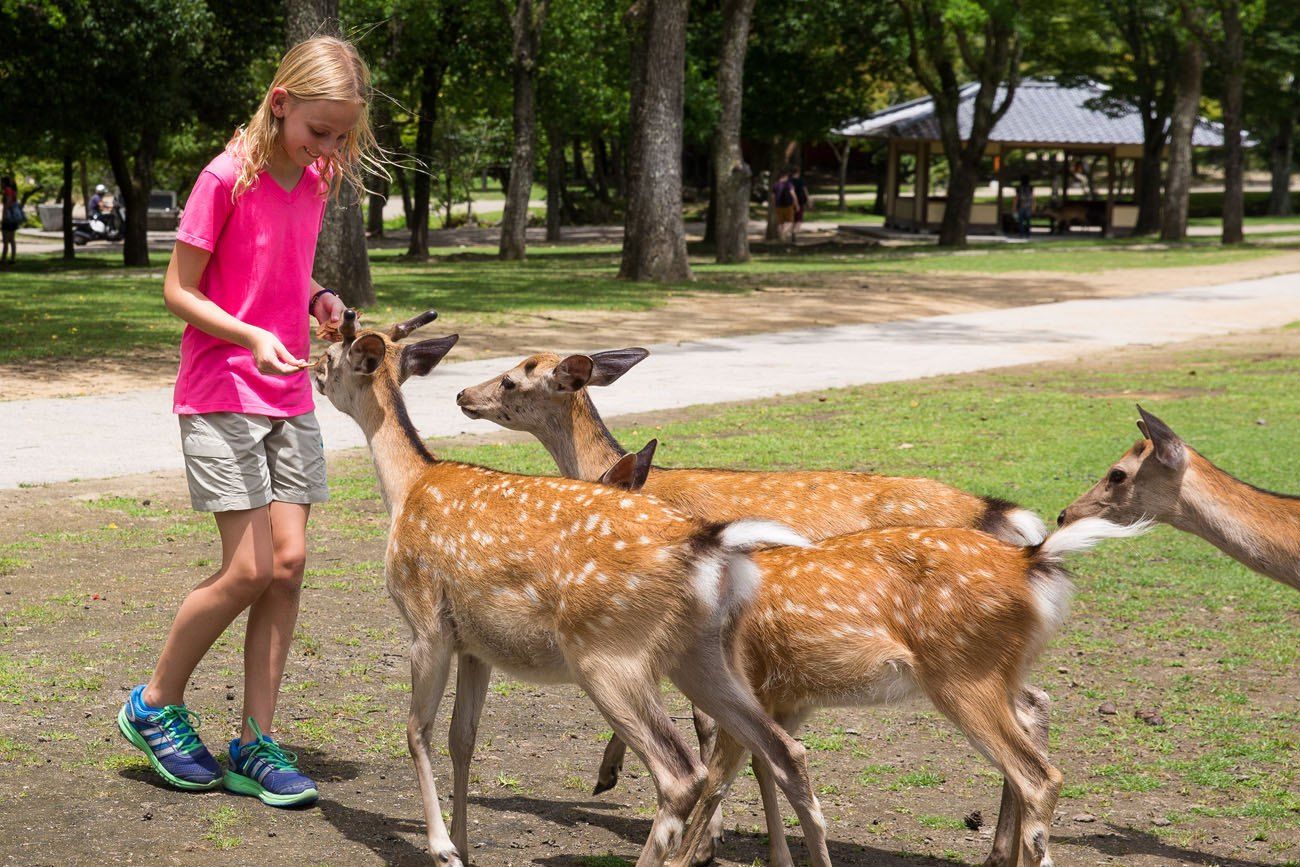 The final temple of the day, Todai-ji, was in our opinion the best temple we saw in all of Japan. Todai-ji is a UNESCO World Heritage site. Until 1998, it was the world's largest wooden building, having been bumped from the top of the list by a baseball stadium in Japan as well as other buildings.
The entrance gate was massive, built using huge tree trunks for columns, large stone steps, and housing what look like two gigantic samurai warriors but are actually 28 foot tall Japanese guardians.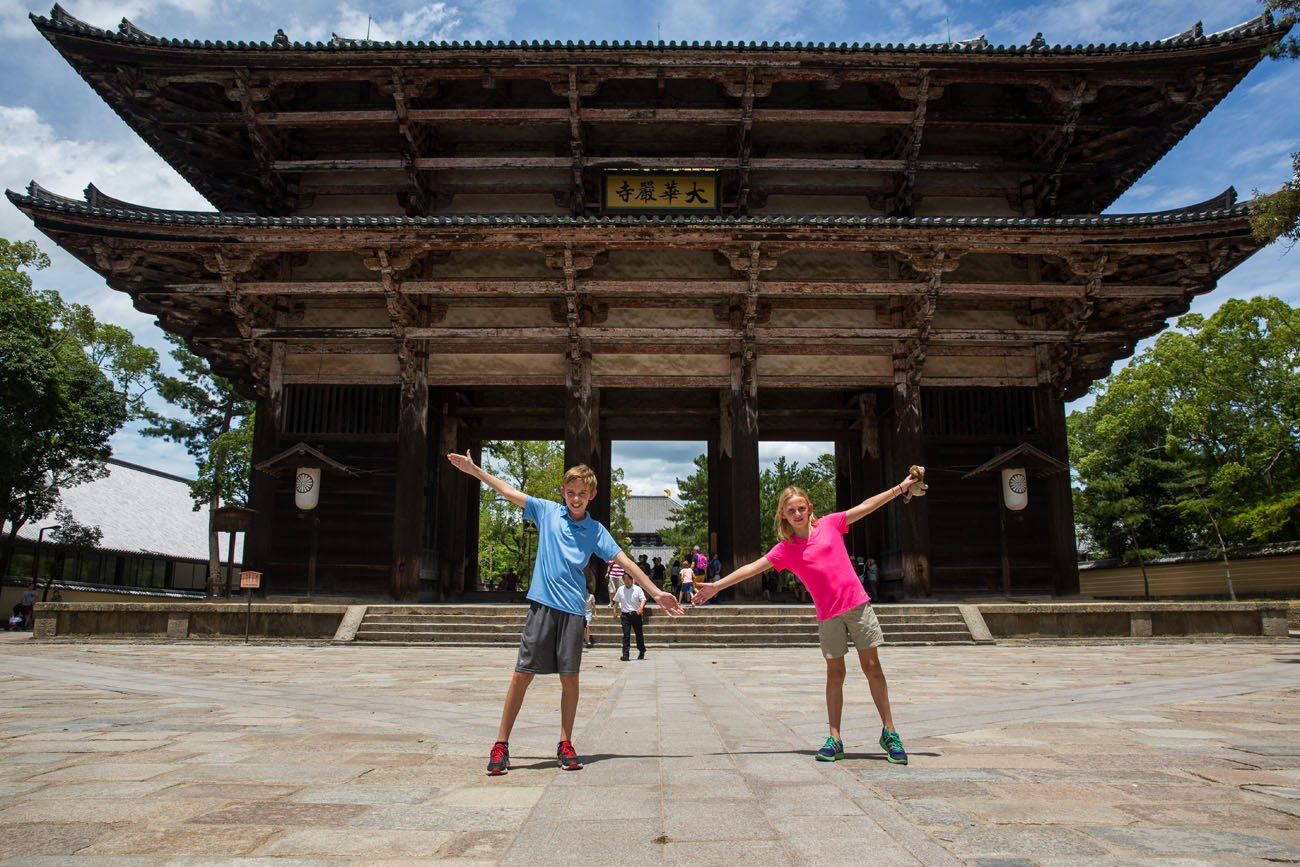 The Great Buddha Hall was even better. It, too, was massive. Inside was one of the largest Buddha statues we have seen yet, serenely sitting in quiet meditation.
Seeing Buddha statues like these is something that I have yet to get tired of. Being here is like taking a step back into time in a far off land. Nara blew away our expectations with the deer and with temples like these. And even though she may not admit it, I think that Kara liked the temples almost as much as the rest of us did!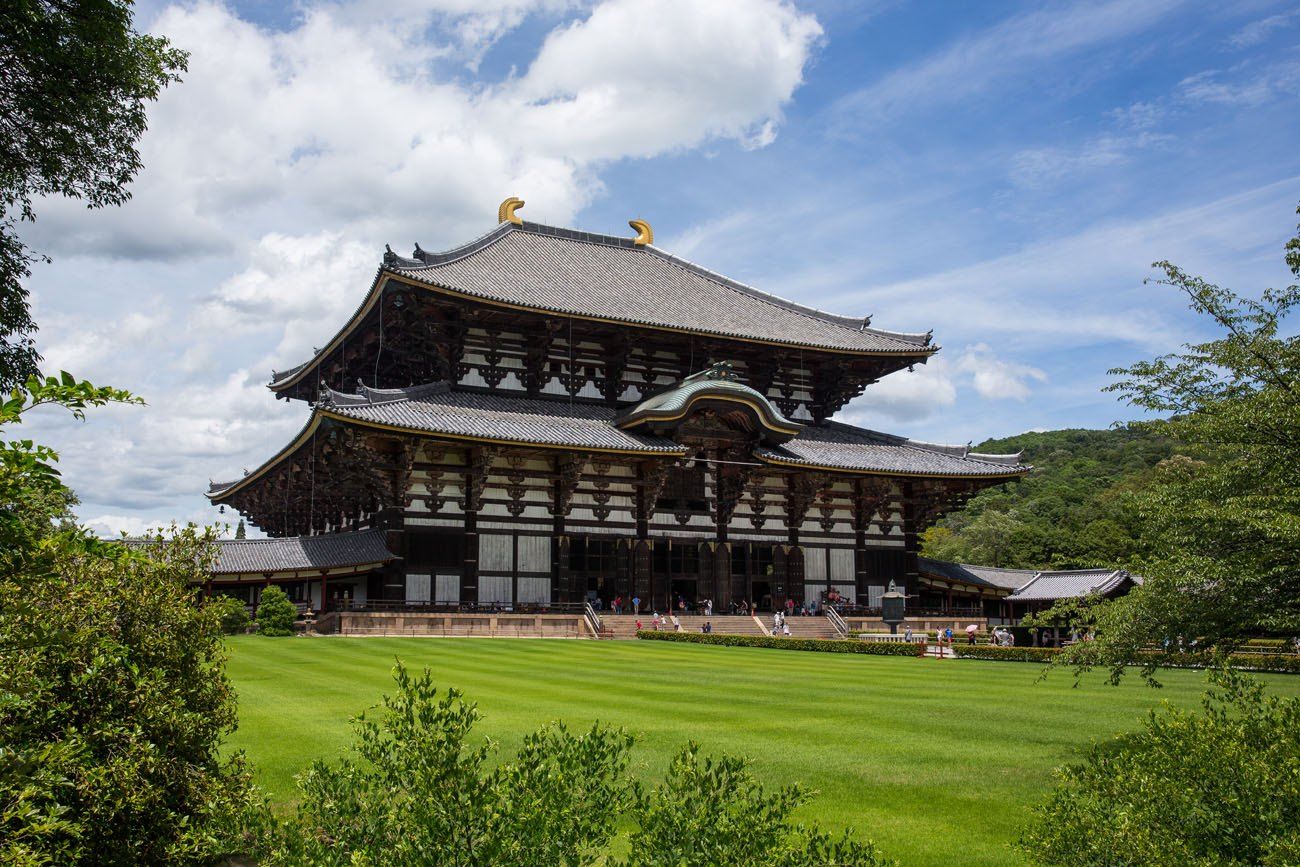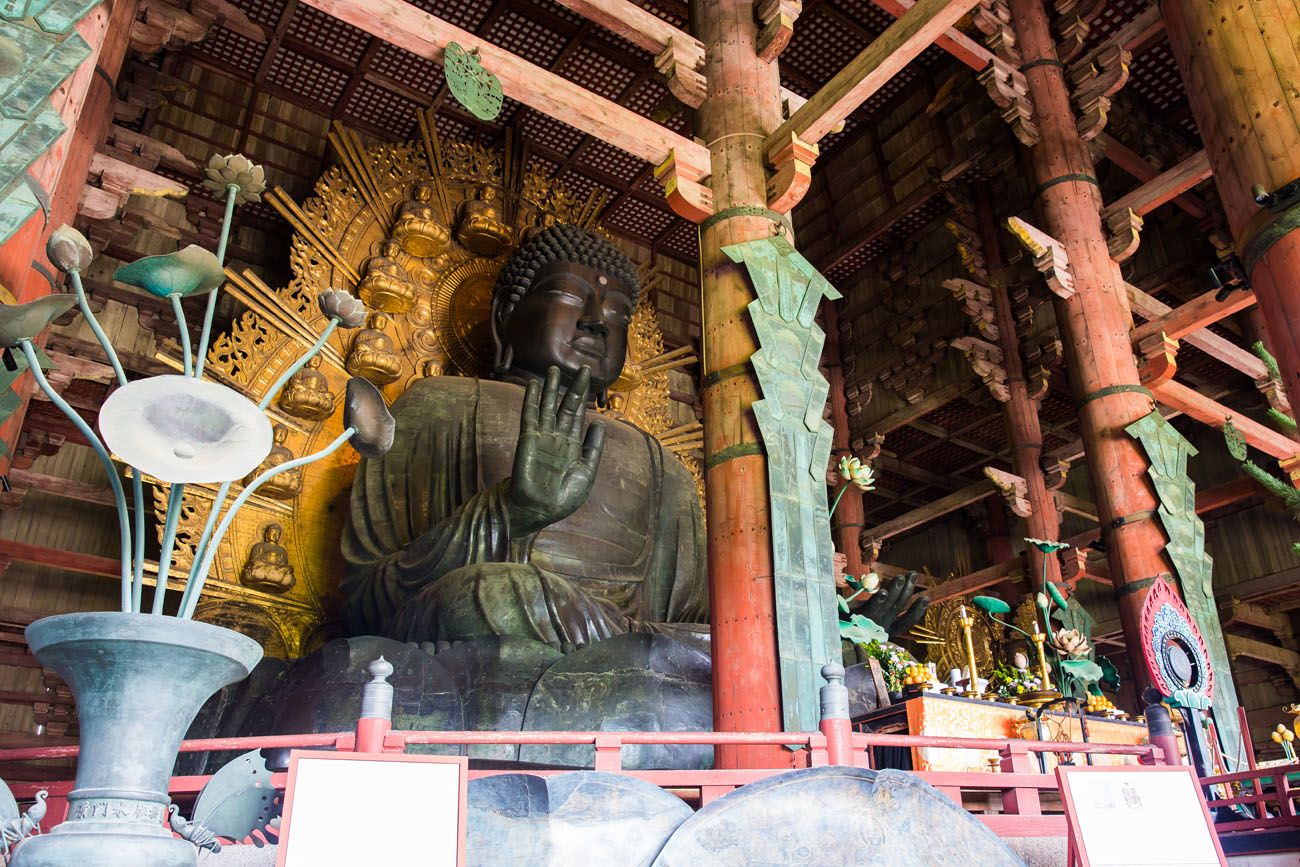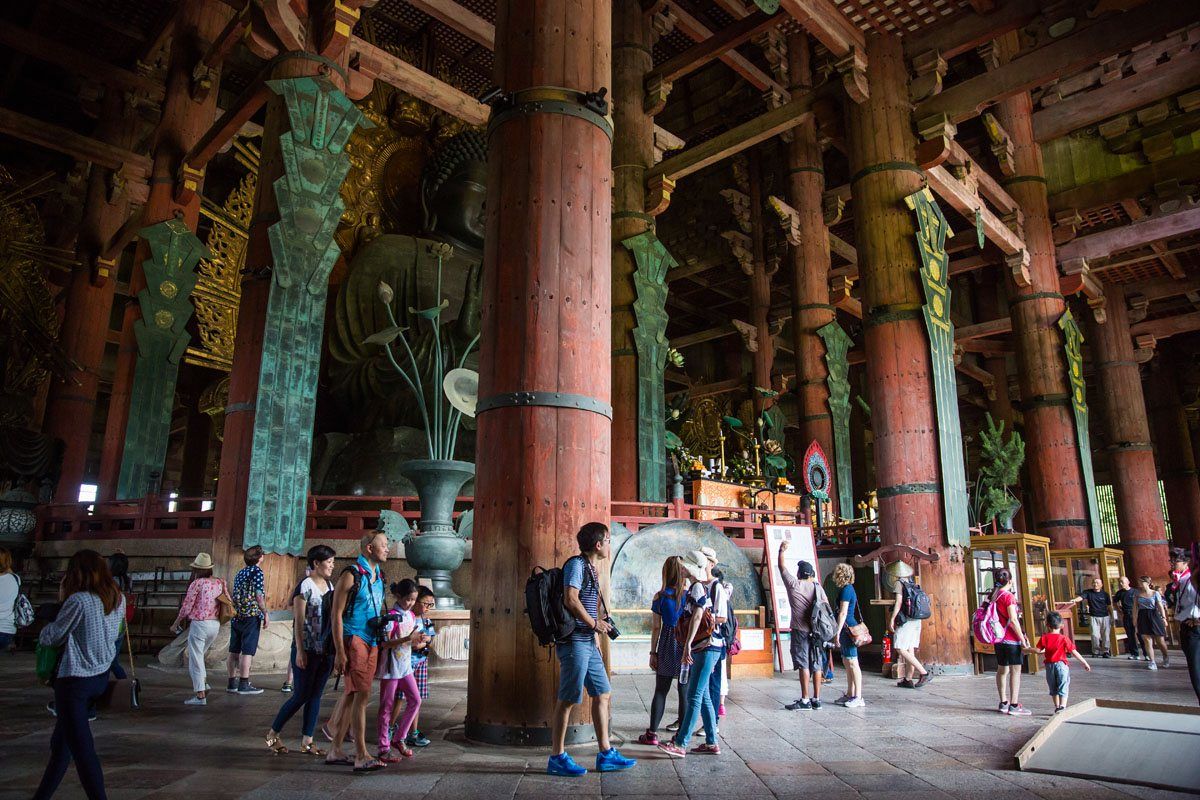 Feeding Deer in Nara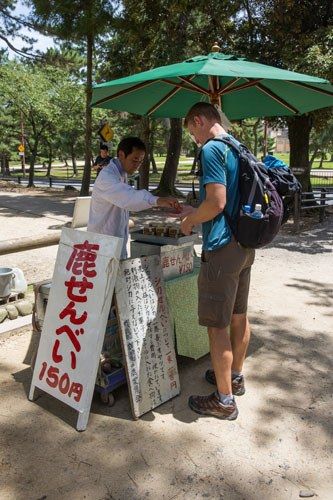 The deer roam freely throughout Nara Park. You do not have to go far to find the deer. In fact, they will most likely find you.
The crackers are for sale throughout the park, just look for umbrellas with the 150 yen signs. For 150 yen you will be given a stack of approximately ten round crackers. The deer will happily take the entire cracker from your hand, but if you want to make your stash last as long as possible, break the crackers into quarters and feed the deer the smaller pieces.
To get the deer to bow three times, hold the cracker overhead, then behind your back, and then overhead again. The older deer were much more cooperative; the younger deer just stared at us when we held the cracker overhead.
Take note of the warning signs posted in the park. The deer have been known to get aggressive and even though we didn't witness any threatening behavior it has been known to happen. The most aggressive behavior we witnessed were some nipping at people's clothing and the stealing and eating of people's maps.
---