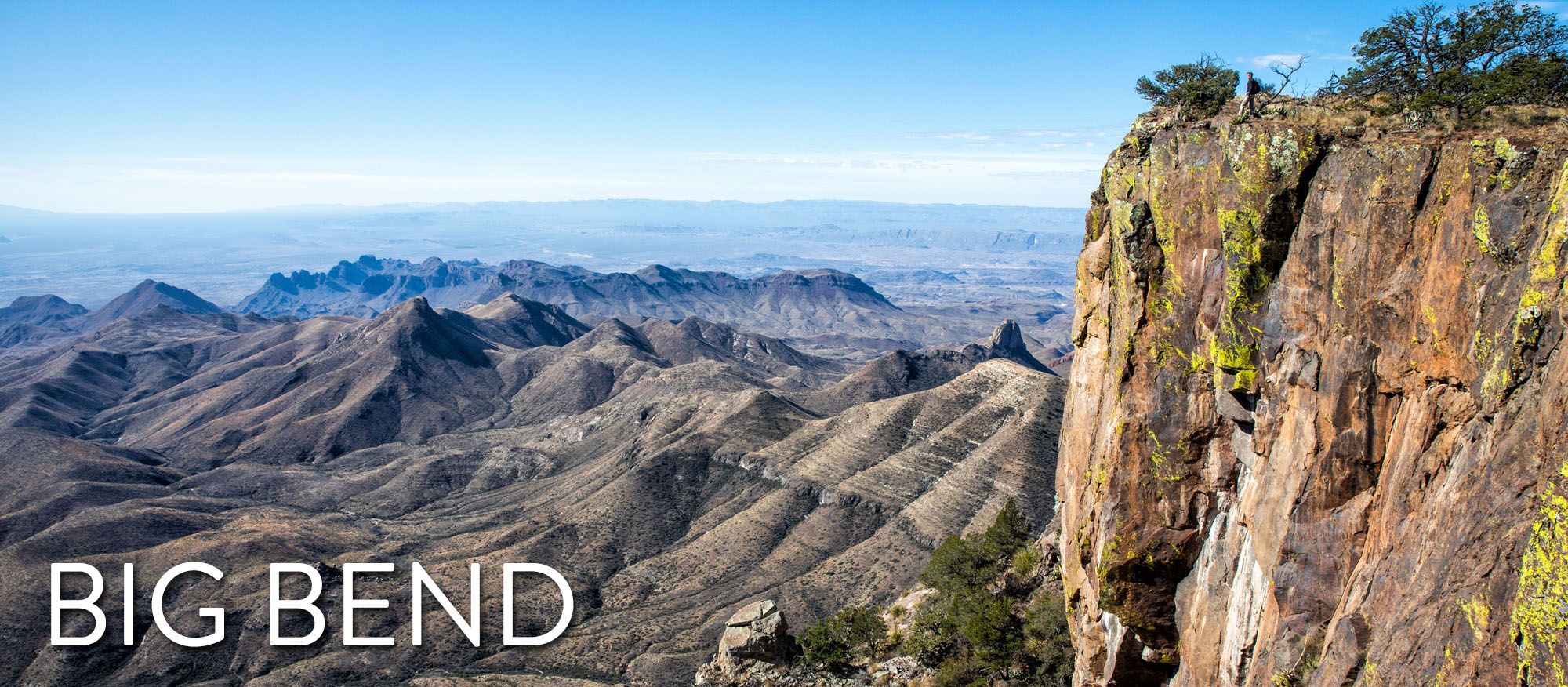 Located on the southwestern corner of Texas, within the Chihuahuan Desert, is an extraordinary national park that is a haven for hikers, backpackers, and outdoor enthusiasts. 
Go hiking in the Chisos Mountains, go canoeing on the Rio Grande, cross the border into Mexico and spend the afternoon at Boquillas del Carmen, and explore hidden canyons…this is just a short list of the things you can do in Big Bend National Park.
This is one of the most remote national parks in the contiguous United States, but its remote location is also an advantage. Crowd levels are lower here than many other national parks, so even when it is at its busiest, Big Bend still feels rather quiet.
BIG BEND NATIONAL PARK STATS
Founded: June 12, 1944
Annual Visitors: 510,000 in 2022
Size: 800,000 acres
Location: Texas
Entrance Fee: $30 per vehicle, valid for 7 days
Notable Fact: Big Bend National Park is also a UNESCO Biosphere Reserve.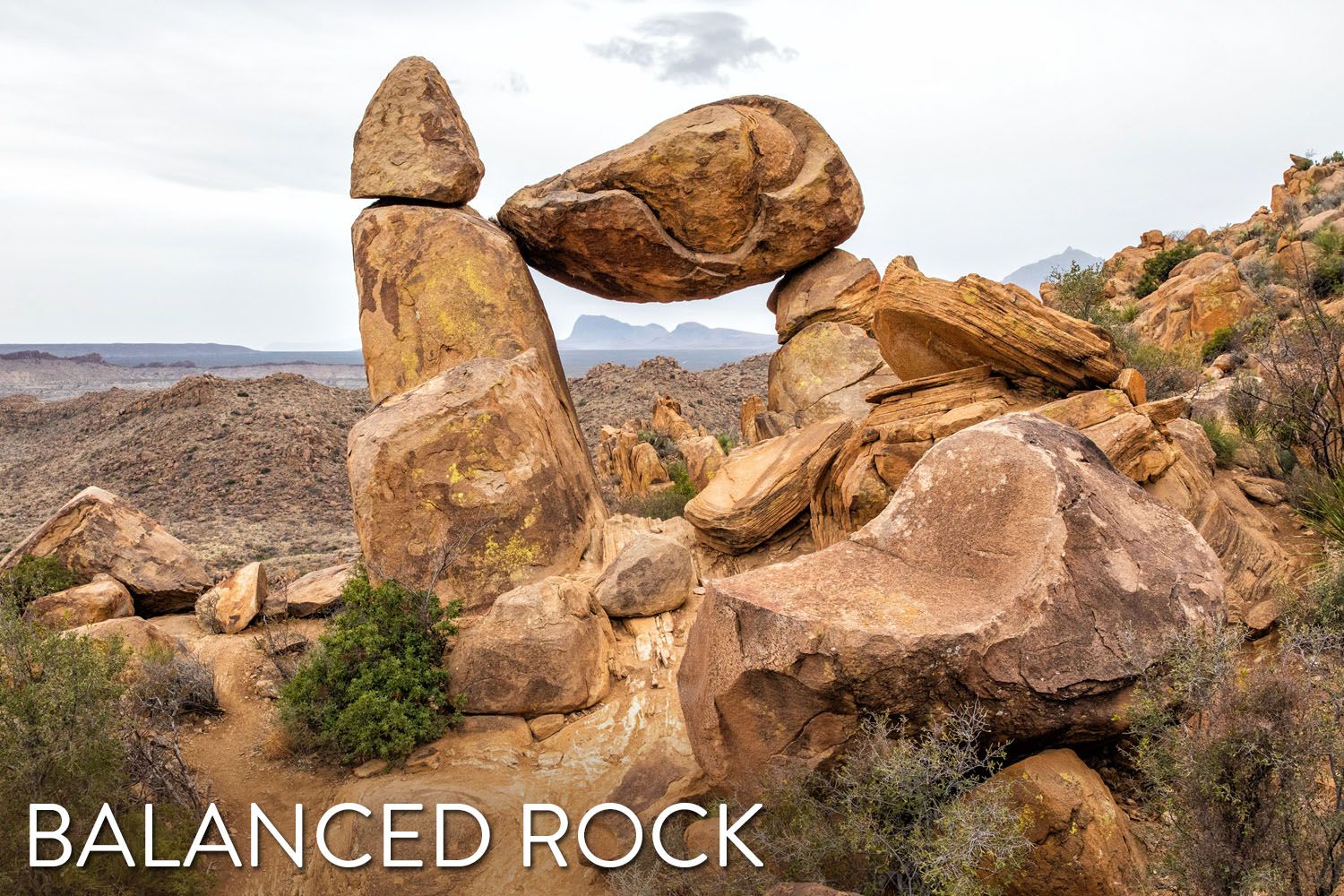 Top Experiences in Big Bend
Go for a drive on Maxwell Scenic Drive. Ross Maxwell Scenic Drive is a 30-mile road through some of the most beautiful landscapes in Big Bend National Park. Take your pick from the scenic overlooks, hiking trails, and short strolls that start along this road.
Hike to Emory Peak. Emory Peak is the highest peak in the Chisos Mountains and Big Bend National Park. To get here, hike the South Rim Trail. It's a long, tough hike but the views are unbeatable.
Hike the Lost Mine Trail. The Lost Mine Trail is one of the best and most popular hikes in Big Bend National Park. The trail takes you to a spectacular viewpoint where you will look out over the Chisos Mountain Range.
Go Star Gazing. Big Bend has the darkest skies out of any national park in the contiguous United States. Enjoy the views of the constellations and the Milky Way.
Hike the Ernst Tinaja Trail. This is one of the best off-the-beaten-path adventures in the park. To get to the trailhead, you will need a 4x4. Then it is just a short, easy hike past waterholes and colorful layers of limestone rock to get to the slot canyon. Hiking the Ernst Tinaja Trail was our favorite experience in Big Bend National Park.
Hike Santa Elena Canyon. This is an essential hike to do in Big Bend National Park. It's short, it's easy, and this is the best up-close experience with the Rio Grande, other than taking a canoeing trip.
Visit the Rio Grande Hot Springs. Soaking in the hot springs is one of the best things to do in Big Bend National Park. To get here, hike the Hot Springs Historic Trail, a short, easy trail that takes you to 105°F hot springs.
Hike to Balanced Rock. Hiking to Balanced Rock is one of the best short hikes to do in Big Bend. It takes just an hour or two of your time, features some fun rock scrambling, and you get to see one of the most unique rock formations in the park.
Visit Boquillas del Carmen. Cross the Rio Grande into Mexico and visit the small town Boquillas del Carmen. To do this, you will need your passport, some money (for the boat ride across the river and for margaritas and shopping in town) and an afternoon of your time.
Visit Big Bend Ranch State Park. With short hiking trails, slot canyons, and another gorgeous scenic drive, this is worth at least a few hours of your time. Big Bend Ranch State Park is a short drive from the national park.
Did You Know?
Big Bend National Park is located in southwestern Texas right along the border with Mexico. For 118 miles, the Rio Grande forms the boundary between Mexico and Big Bend National Park.
Big Bend National Park gets its name from the prominent bend in the Rio Grande on this border.
This park also protects and preserves the largest area of the Chihuahuan Desert in the United States.
The Chisos Mountains run through the center of Big Bend National Park. This is the only mountain range in the USA to be completely located inside of a national park.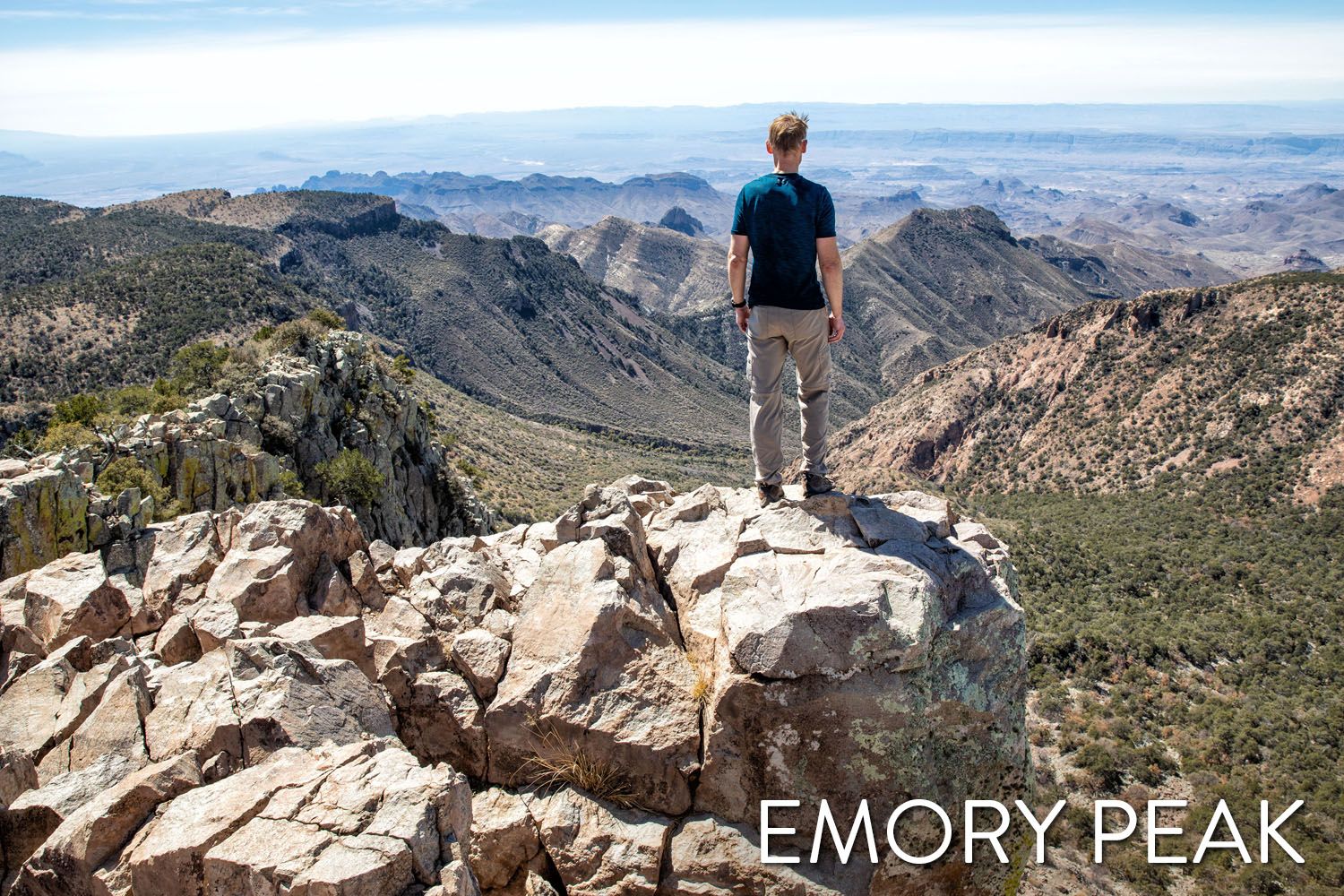 Learn More about Big Bend
How to Get to Big Bend National Park
Big Bend is very remote. To get here, expect to do a lot of driving.
The closest airport is Midland International Air and Space Port in Midland-Odessa, Texas. It takes between 3.5 and 4 hours to drive to Big Bend, with a distance of 220 miles.
El Paso is a farther away but might be a better option, since it is a larger airport with more flight options. It takes 5 hours to drive to Big Bend, with a distance of 315 miles.
We flew into El Paso and drove to Big Bend National Park. It is somewhat of a monotonous drive, on a mix of multi-lane highways and two-lane roads. The speed limit is high (usually around 70 mph) so you can cover a lot of distance quickly.
San Antonio is another option. From here, it takes just over 6 hours to drive to Big Bend National Park.
Best Time to Visit Big Bend
Fall and spring are the best times to visit Big Bend National Park. Temperatures are mild during the day and cool at night. March is one of the busiest months in the park, because of the great weather conditions and the influx of spring break travelers. There is more rainfall during the autumn months, so if you want clear skies, spring is a slightly better time to visit Big Bend.
Summer and winter are the off seasons in the park. From May through September, it can get very hot in Big Bend National Park. During the winter months, expect cold temperatures with near freezing conditions at night.
Big Bend National Park appears in our Best US National Parks Month-By-Month series as a great park to visit in March, April, and November.
How Many Days Do You Need in Big Bend?
Due to its large size and multiple areas to explore, you need at least two to three days to explore Big Bend National Park. Because of its remote location, it can't be visited on a day trip.
Ideally, plan on spending at least three days in Big Bend National park. This gives you a day to explore the three main areas of the park (Chisos Basin, Rio Grande Village, and along the Ross Maxwell Scenic Drive) and spend an afternoon in Boquillas del Carmen.
With more time, add on longer hikes, visit Big Bend Ranch State Park, and thoroughly explore the park without feeling too rushed.
Where to Stay
Inside of the park, you can stay at the Chisos Mountain Lodge or one of the campgrounds at Rio Grande Village, Chisos Basin, or the Cottonwood Campground on Ross Maxwell Scenic Drive.
In and around the town of Terlingua is the best place to stay outside of Big Bend National Park. This small town has several hotels and restaurants to choose from. You can also visit the ghost town here, if you have spare time.
Near Terlingua, we stayed in two different properties. Lajitas Golf Resort is a 4-star hotel with a golf course, restaurants, and equestrian center. The Local Chapter is a collection of three yurts, each secluded from its neighbors, with beautiful views of Big Bend National Park. We highly recommend both of these.
Marathon is a small town that is a 45-minute drive north of Big Bend. If you can't find accommodations in the park or Terlingua, this is the next best place to stay.
Road Trip Idea
Visit four national parks in one great road trip. In our
10 day Texas New Mexico itinerary,
learn how to combine Big Bend, White Sands, Guadalupe Mountains, and Carlsbad Caverns into one epic road trip.
Map of Big Bend National Park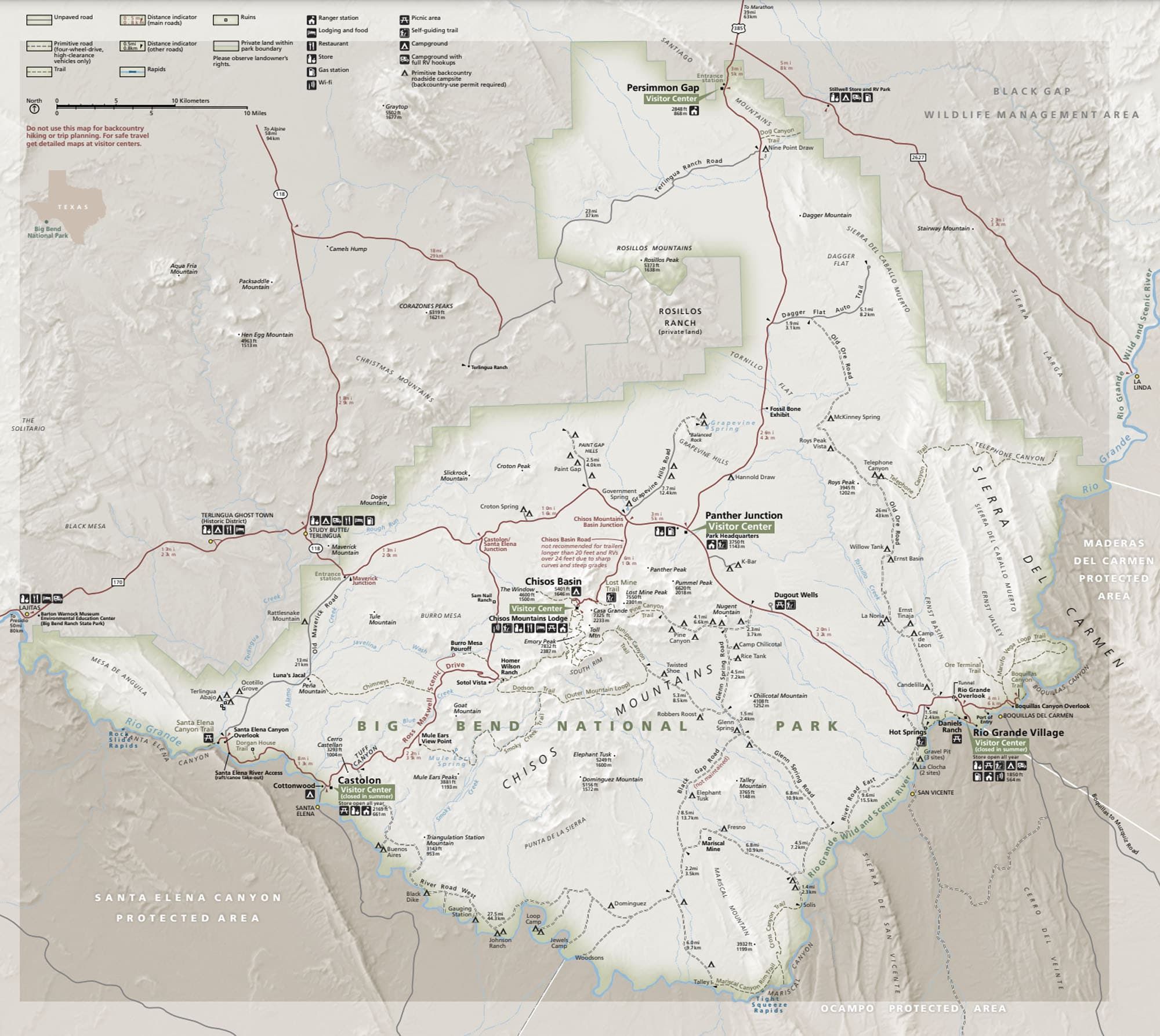 In our US National Parks List, get information on all of the US national parks, including interesting facts, the most and least visited national parks, and a FREE printable national parks checklist with map.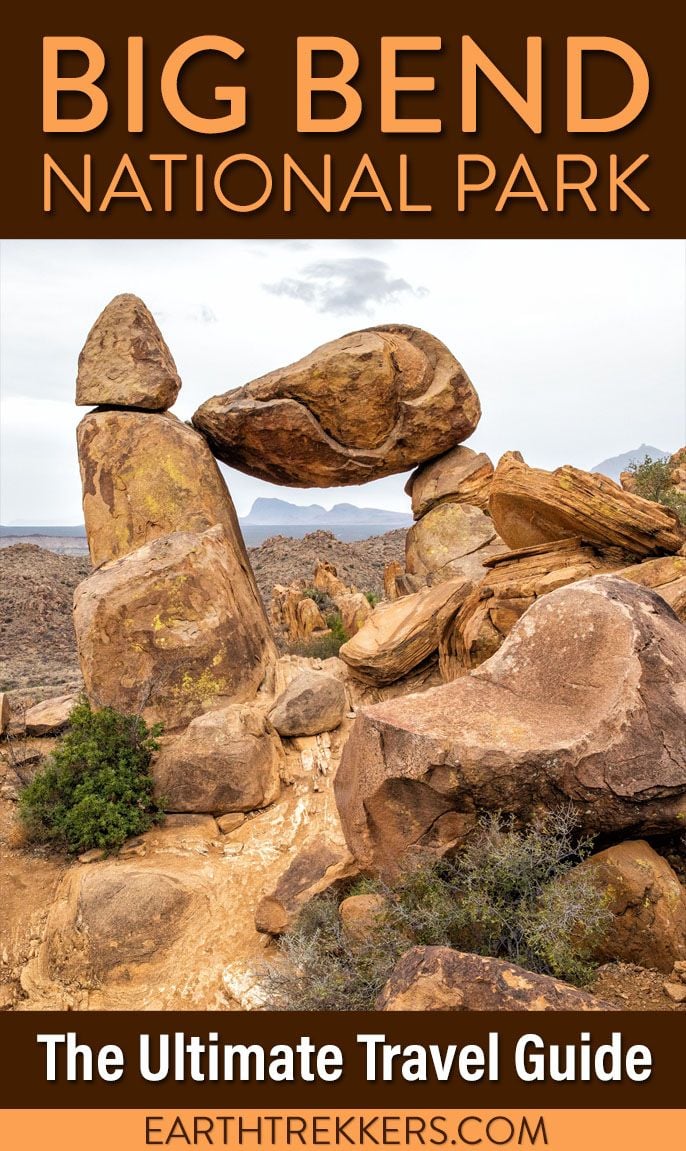 Note: This page contains affiliate links. When you make a purchase using one of these affiliate links, we get paid a small commission at no extra cost to you.
Visit More National Parks