Every year, millions of tourists travel to Siem Reap, Cambodia to tour famous Angkor Wat. But did you know that there is so much more to see than Angkor Wat? There is ancient Ta Prohm, a temple that was swallowed up by the jungle and now has enormous tree roots snaking along the walls and towers. There is Preah Kahn, with long hallways to explore and bats nesting in the towers of the temple. And then there is Bayon, with its faces in the stone, smiling down at its visitors.
We fell in love with Bayon. This place is so unique, with its enormous faces carved in the stone, each with just the tiniest of a grin. Bayon feels serene, mysterious, and even a little bit bizarre. It is the unexpected strangeness of this place that we fell in love with.
What is Bayon?
Bayon was constructed in the 12th and 13th centuries by King Jayavarman VII, one of the rulers of the Khmer Empire. After defeating the Cham people, King Jayavarman embarked on constructing numerous monuments near Angkor Wat. These monuments include Bayon, Ta Prohm, and the temples of Angkor Thom.
Bayon is a Buddhist shrine. 216 smiling, serene faces were carved onto gigantic towers. The faces were carved to look like Jayavarman VII. Since the construction of the temple, several of these towers have toppled. Now, it is estimated that about 200 faces remain.
Carved into the walls surrounding the temple are bas-reliefs, illustrating the life and times of the Khmer people.
Bayon in Photos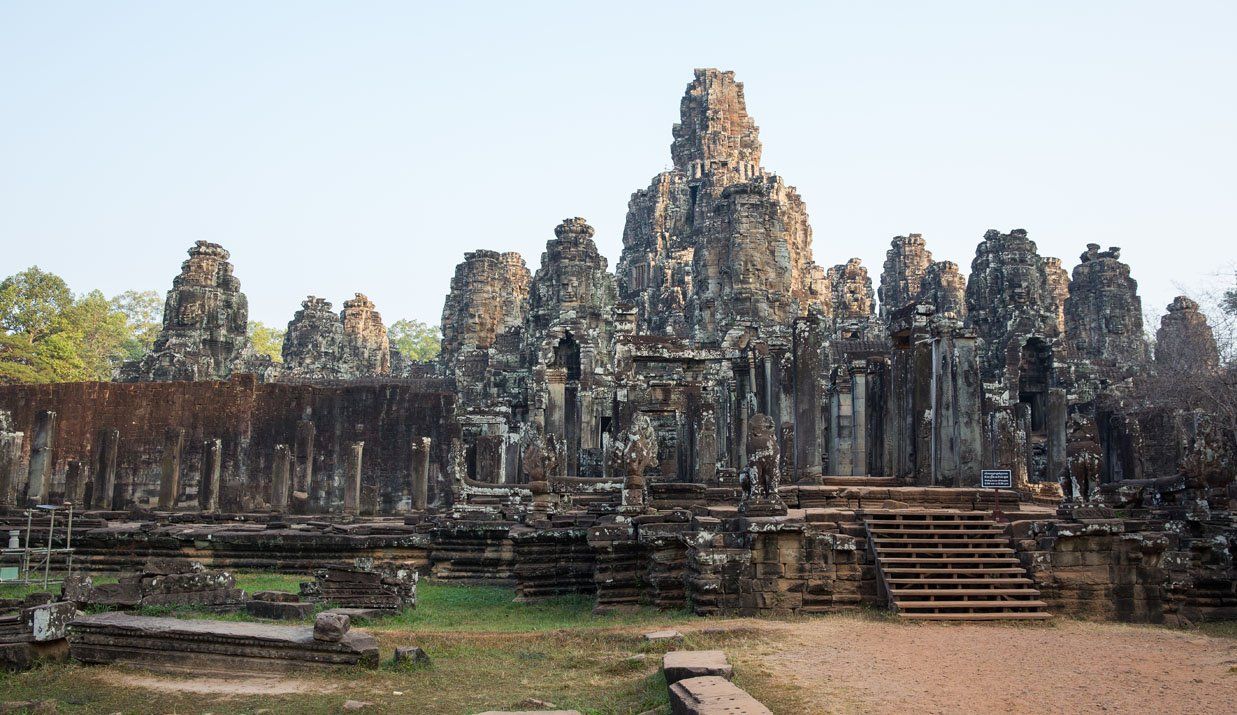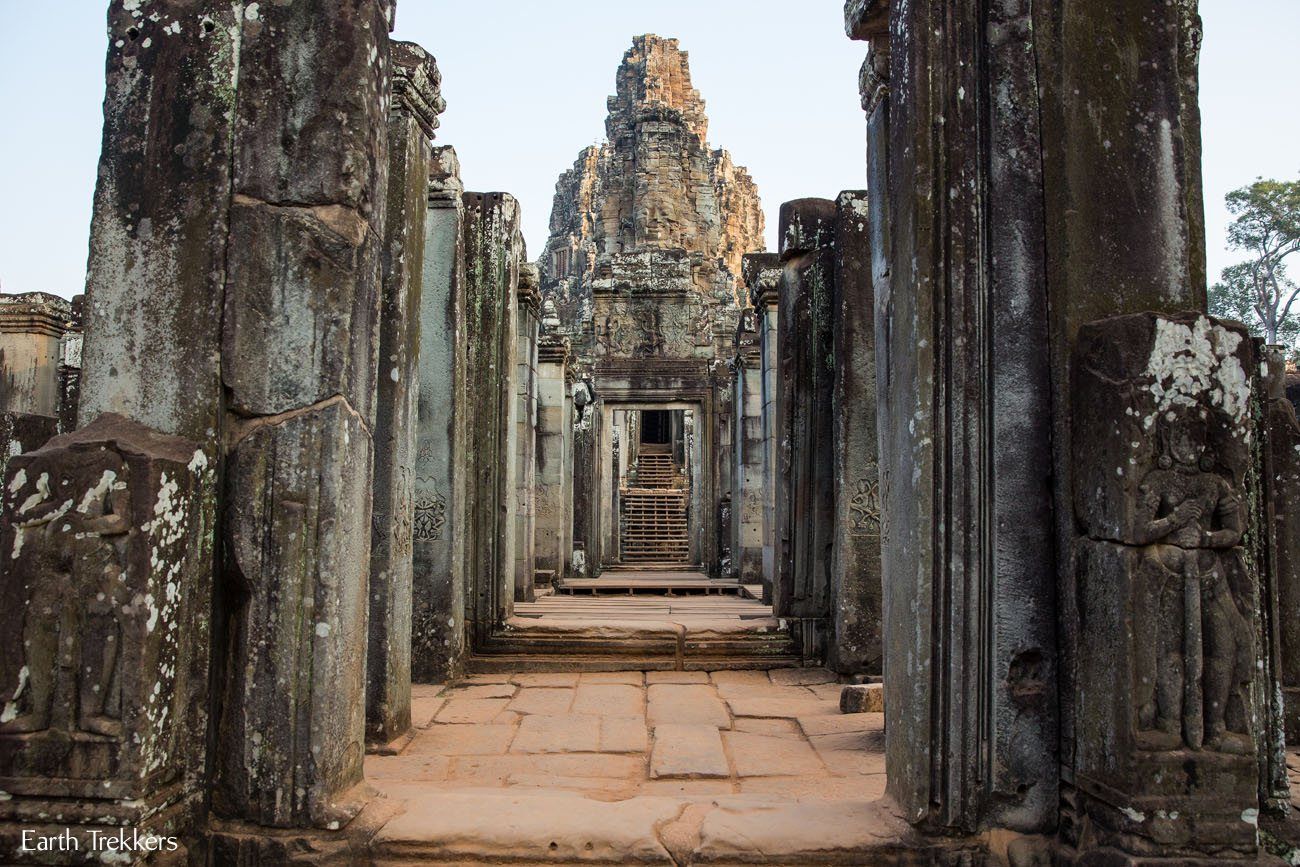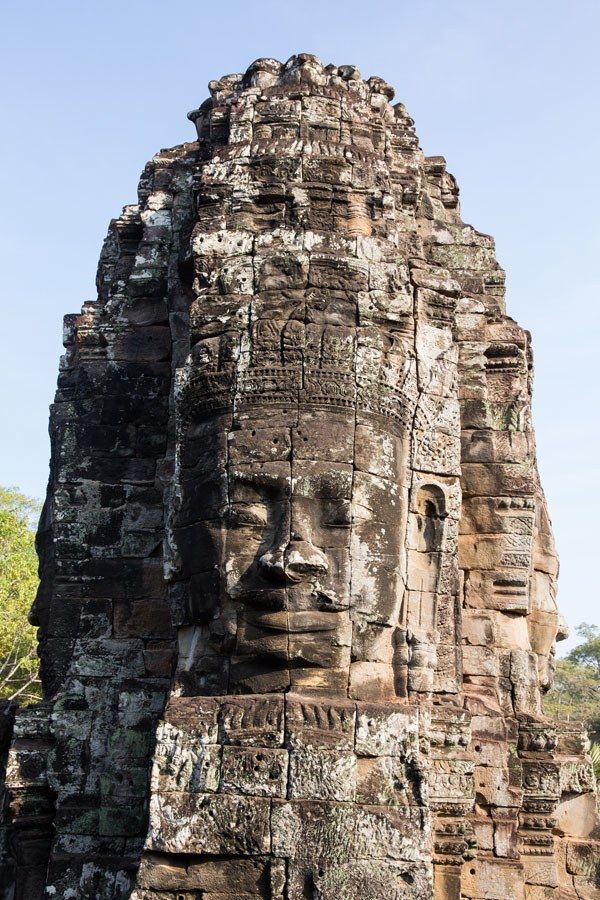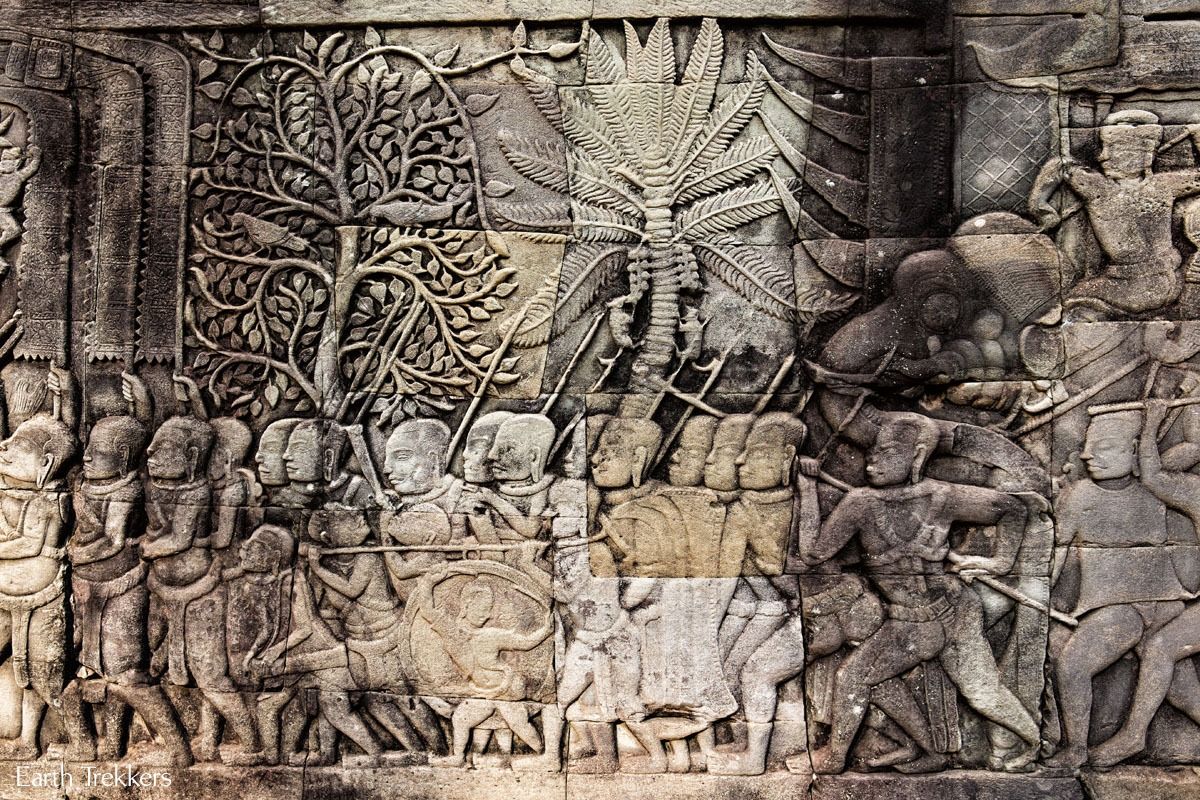 Mid-morning crowds of tourists.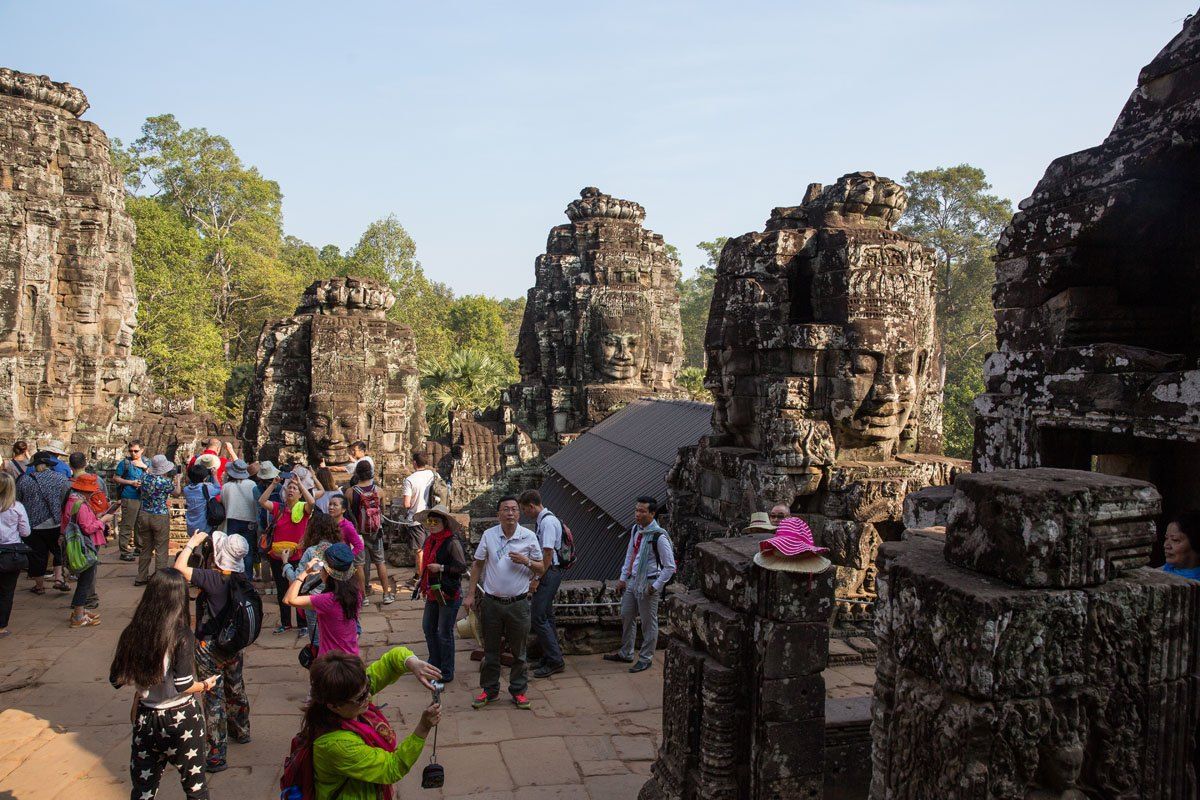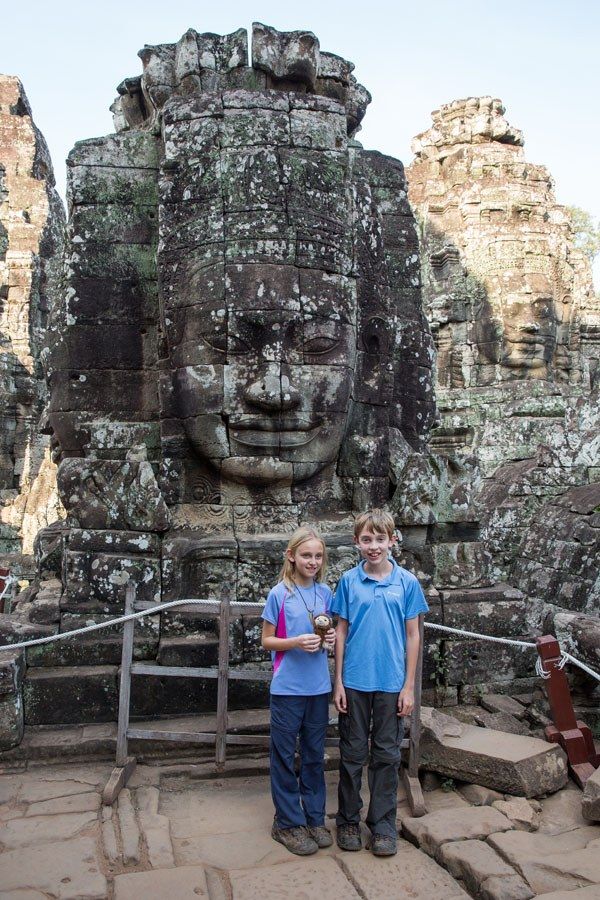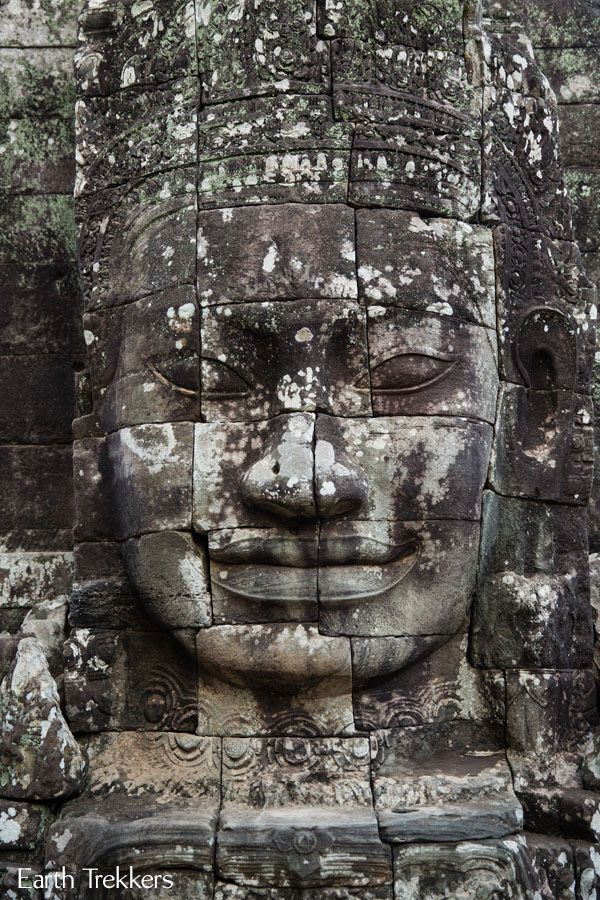 Sunrise, without the crowds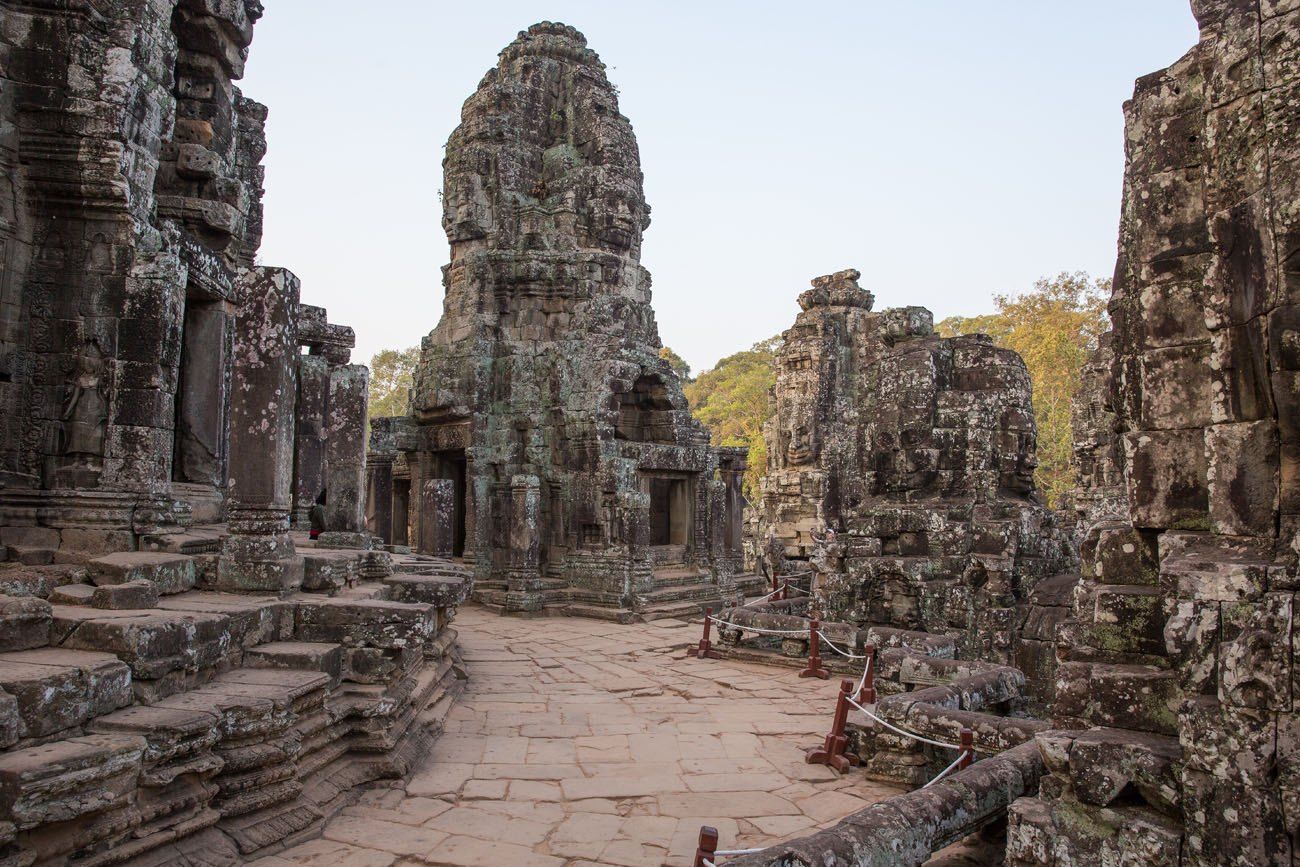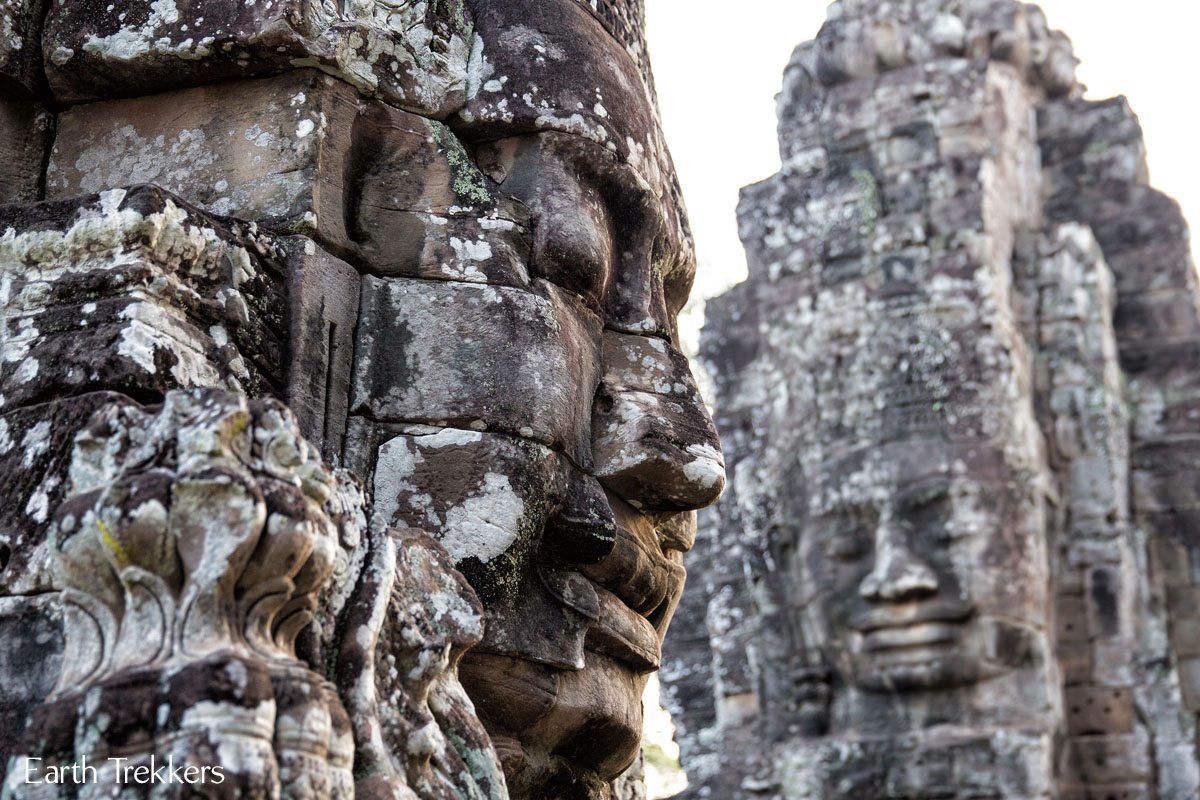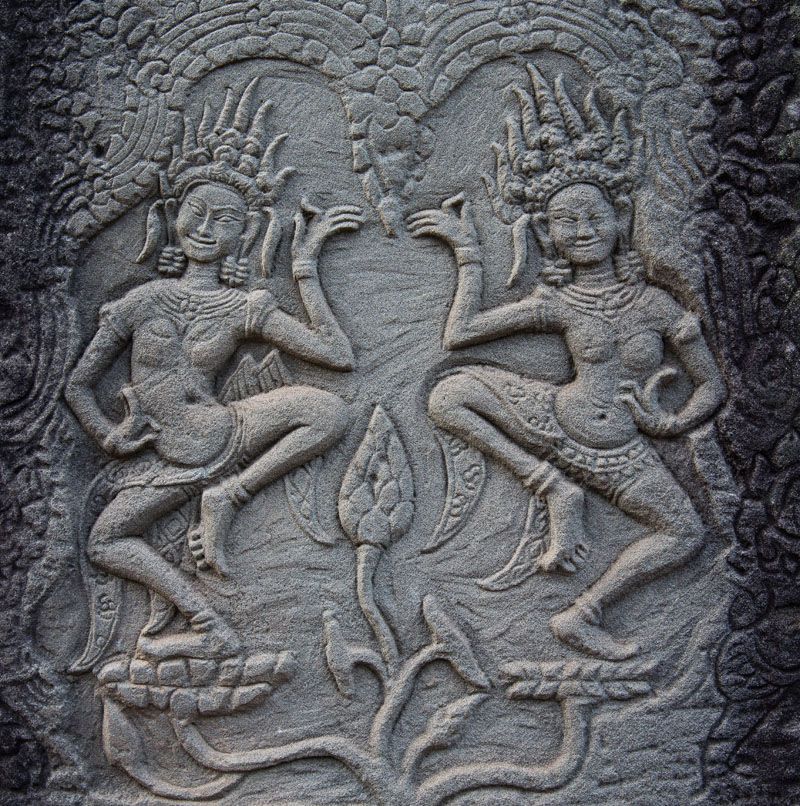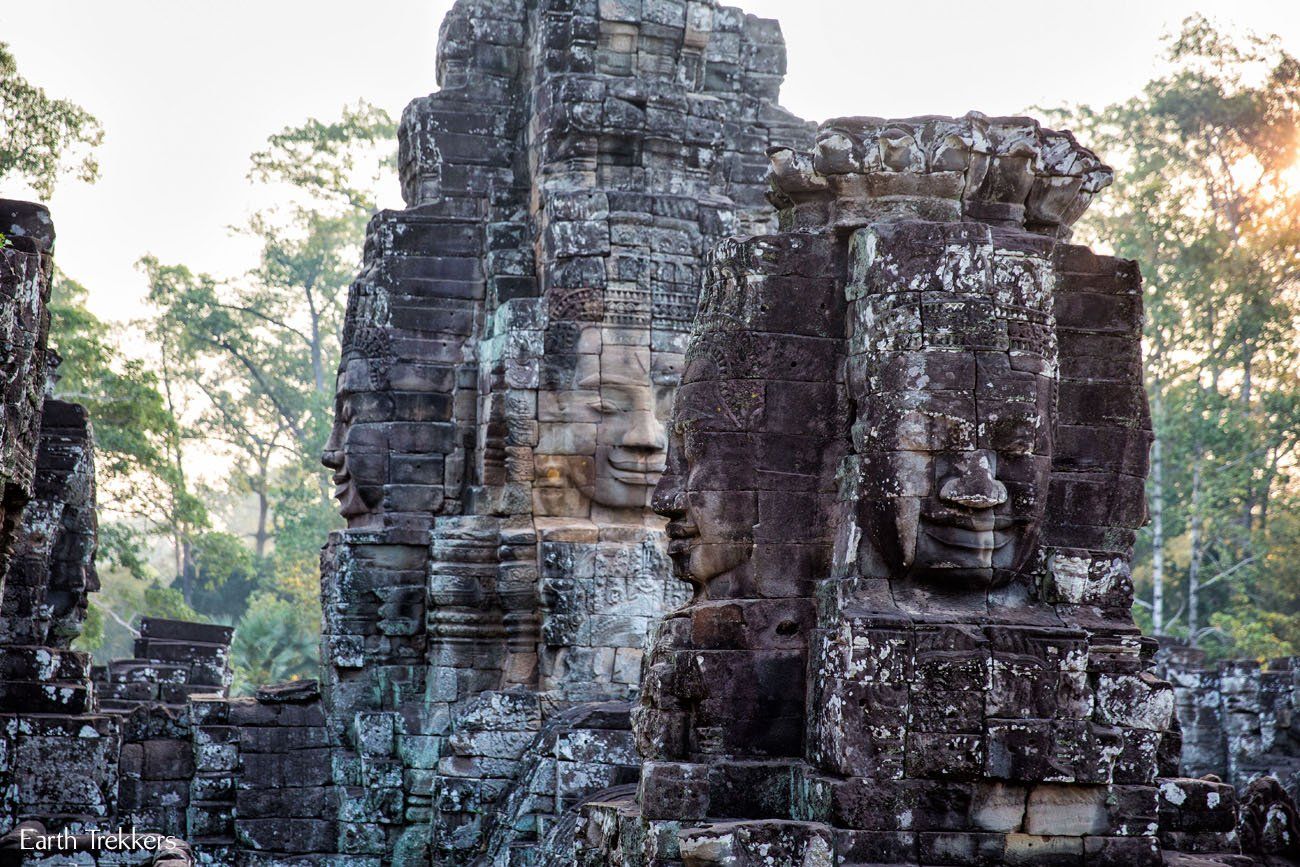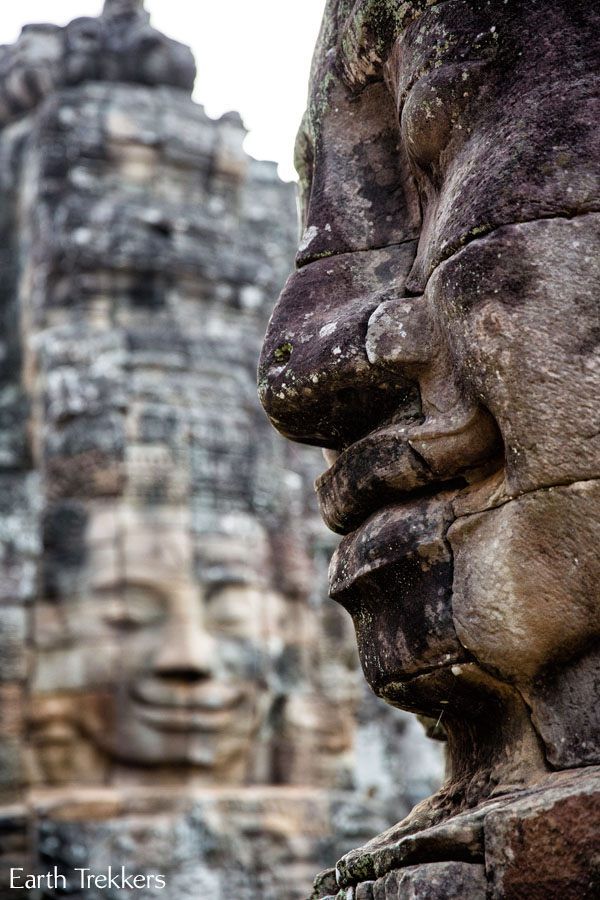 How to Visit Bayon
Most people hire a tuk-tuk to take them on a tour of the temples near Siem Reap. This can be organized through your hotel. A typical day starts with a sunrise view of Angkor Wat, a tour of Angkor Wat, and then a circuit through the temples of Bayon, Ta Prohm, and numerous other temples in the area.
This is the easiest way to tour the temples, but not necessarily the best way. By touring the temples in this order, you are constantly with large groups of people, especially if you are here during the peak season winter months.
How to beat the crowds: While everyone is viewing Angkor Wat at sunrise, go to Bayon. There will be very few people here, and in the early morning hours, this place feels almost mystical.
The first time we saw Bayon it was mid-morning and there were huge crowds of people. Tim and I enjoyed Bayon so much that we decided to return on another day. Around 5 am, the two of us rented bikes and cycled from Siem Reap out to Bayon in the dark, in order to see it first thing in the morning. It was worth the early morning wake up to have this experience.
When to go: The best months to visit Siem Reap are November through February, when it is cooler and drier. However, this is also peak season so expect large crowds. It is hot and steamy in April and May. If you want to skip most of the crowds, travel here June through October but expect to have wet, warm weather.
What to do Next
From Bayon, we cycled over to Ta Prohm and also got to see this before it got too crowded with tourists. Read about it here:
Exploring Ta Prohm: A Photojourney
---
More Information about Cambodia & Southeast Asia
PLACES TO GO IN CAMBODIA: In Cambodia, explore the temples in Siem Reap, spend some in Kampot, and visit Phnom Penh.
SOUTHEAST ASIA ITINERARY: If your visit to Thailand is part of a bigger trip through Southeast Asia, don't miss our 3-month Southeast Asia itinerary and travel planner.
ADVENTURE TRAVEL: Here are 50 adventures to turn your next trip into an epic travel experience.
TRAVEL PHOTOGRAPHY: For more information about the camera gear we carry, check out our Travel Photography Gear Guide. And tips and tricks for taking great photos in our article How to Take Better Photos while Traveling.
DESTINATIONS AROUND THE WORLD: For more places to visit around the world, check out our Destinations page.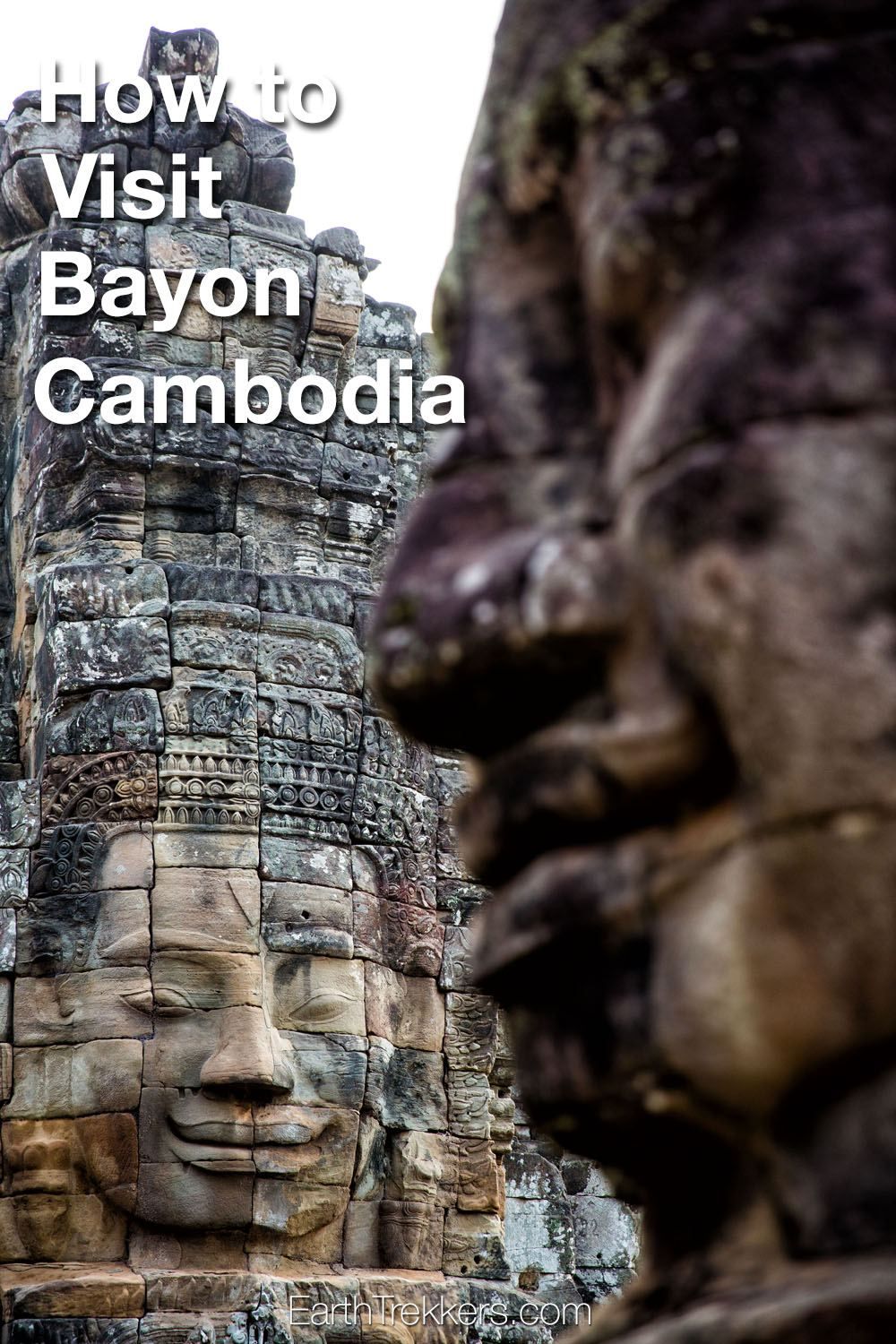 All rights reserved © Earth Trekkers. Republishing this article and/or any of its contents (text, photography, etc.), in whole or in part, is strictly prohibited.