Laos was a total surprise for us…unexpected beauty, exceptionally good food, incredibly friendly people. We only spent one week in this amazing country and it stole my heart.
We arrived in Laos from Thailand, taking the slow boat down the Mekong River to Luang Prabang. Luang Prabang…a small town with a goofy name, is also one of the prettiest small towns in Southeast Asia. Laos was once a French colony and it's the French influences that make Luang Prabang so enjoyable.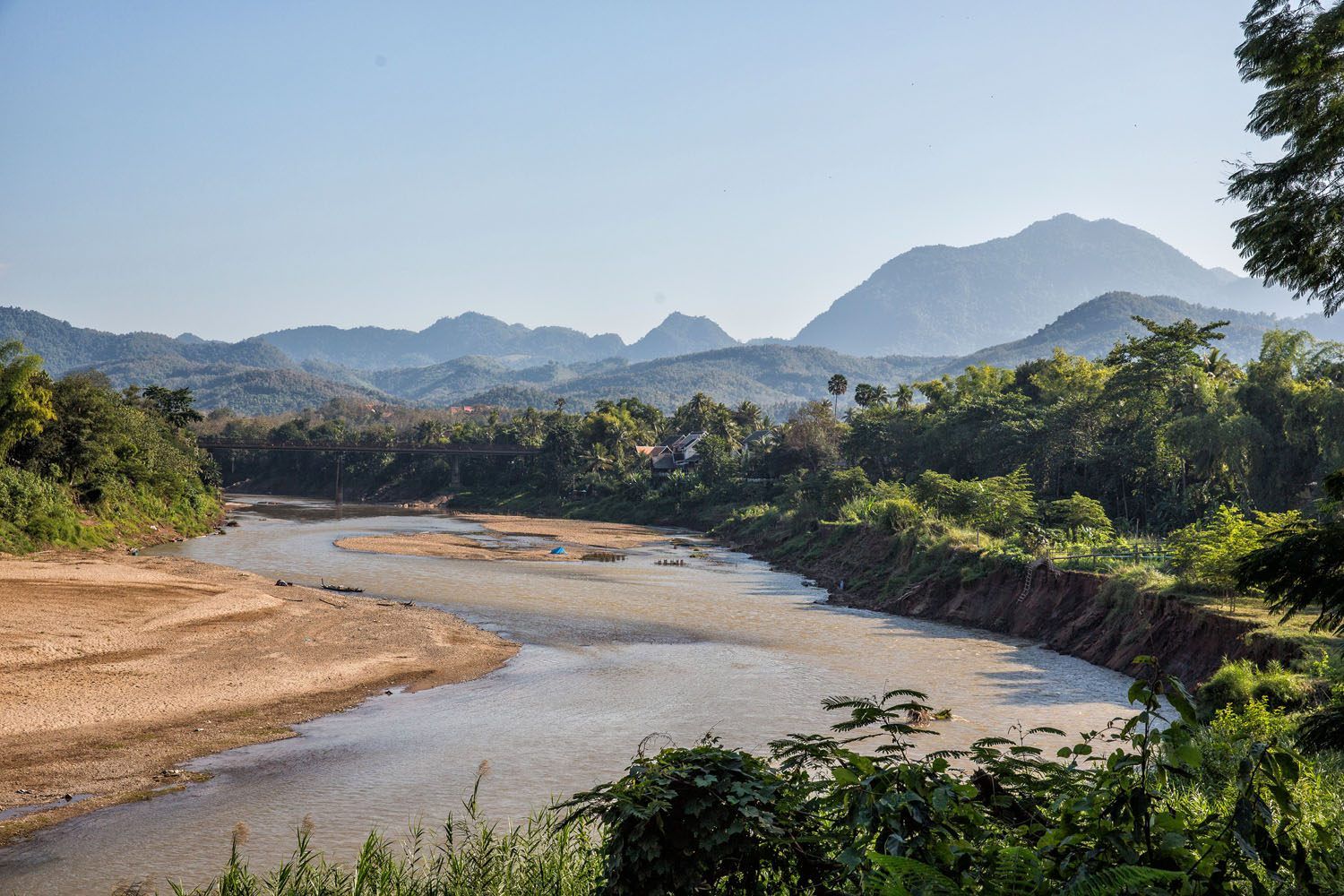 Thongbay Guesthouse
We spent six nights at the Thongbay Guest House, which we all liked for the views from our bungalow over the river. The grounds of the guesthouse property were beautiful, filled with palm trees and other tropical plants, small thatched bungalows, and orchids growing everywhere.
Every morning we would be served breakfast on our deck, definitely the best breakfast of the trip so far. Breakfast was huge! We could choose from eggs, pancakes, and noodle soup, and we were also served yogurt with muesli, fresh fruit, warm French bread, tea or coffee, and orange juice. It was amazing!
But it couldn't all be perfect.
While we were staying here, Laos was experiencing colder than normal weather. During the day it pleasantly reached the mid to upper seventies, but at night temperatures would go as low as 50 degrees. Our bungalows did not have heaters and it got quite cold at night.
To make matters worse, it was very noisy during the night. Laos is a Buddhist country, like many other countries we have visited recently, but this is the first place where we were awoken by bells at 3:30 am.
3:30 am!
Every morning, not even close to the crack of dawn, a Buddhist monk would start playing these bells, and it was loud. The poor guy must have been so miserable having to get up so early on the cold, dark mornings that he took his frustration out on these bells, because he played them like he wanted to wake everyone else up as well. These bells would then wake up the stray dogs in the area, as well as Luang Prabang's record setting number of roosters, and all the animals would start howling away.
Just when things began to quiet down, at 4:30 am, a second monk would play the drums. This would stir up the roosters and the dogs again. It was insane! Somehow, Tyler and Kara were able to sleep through the cacophony of sounds every night but Tim and I weren't so lucky.
The view across the river from our bungalow.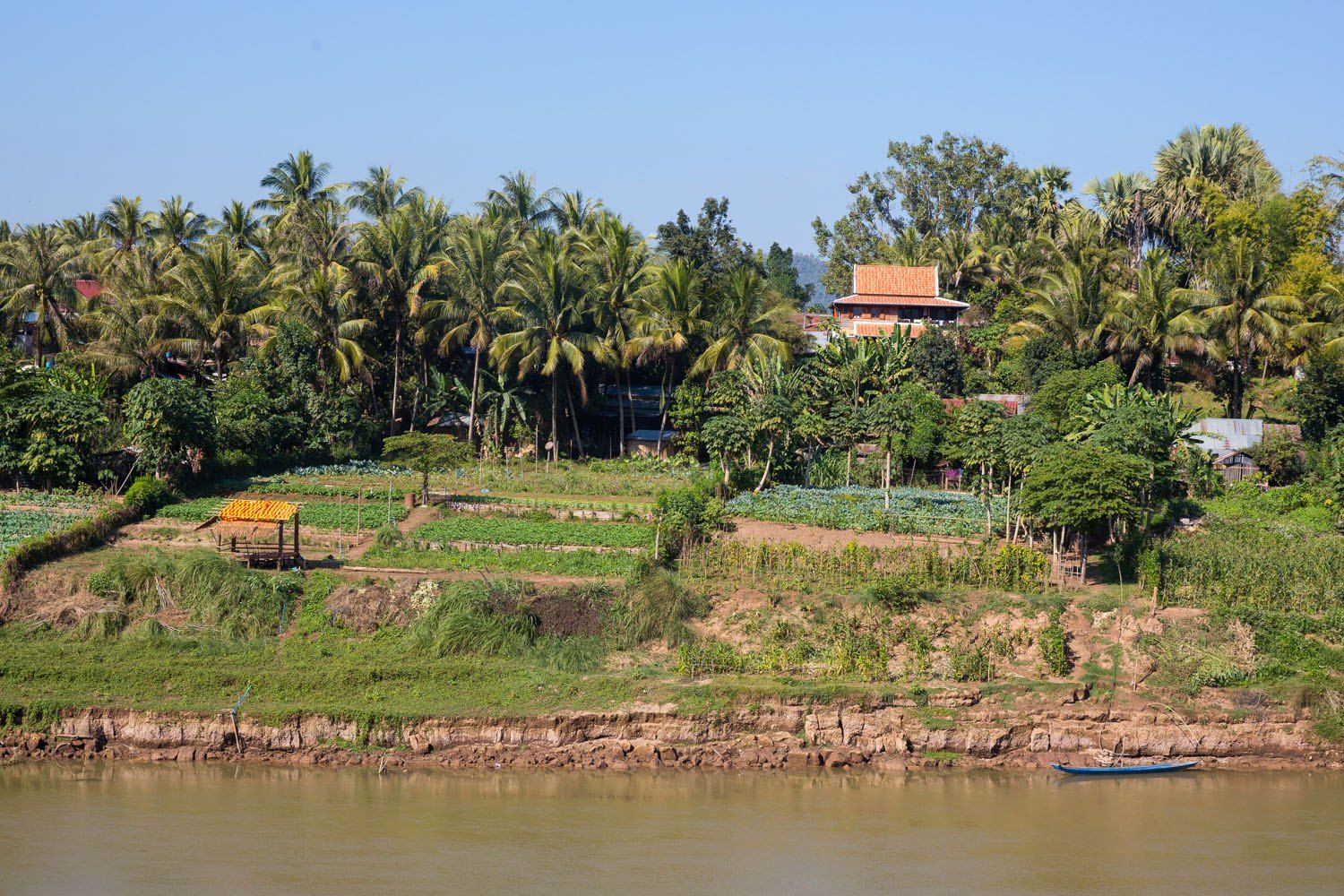 Walking from Thongbay Guesthouse into town.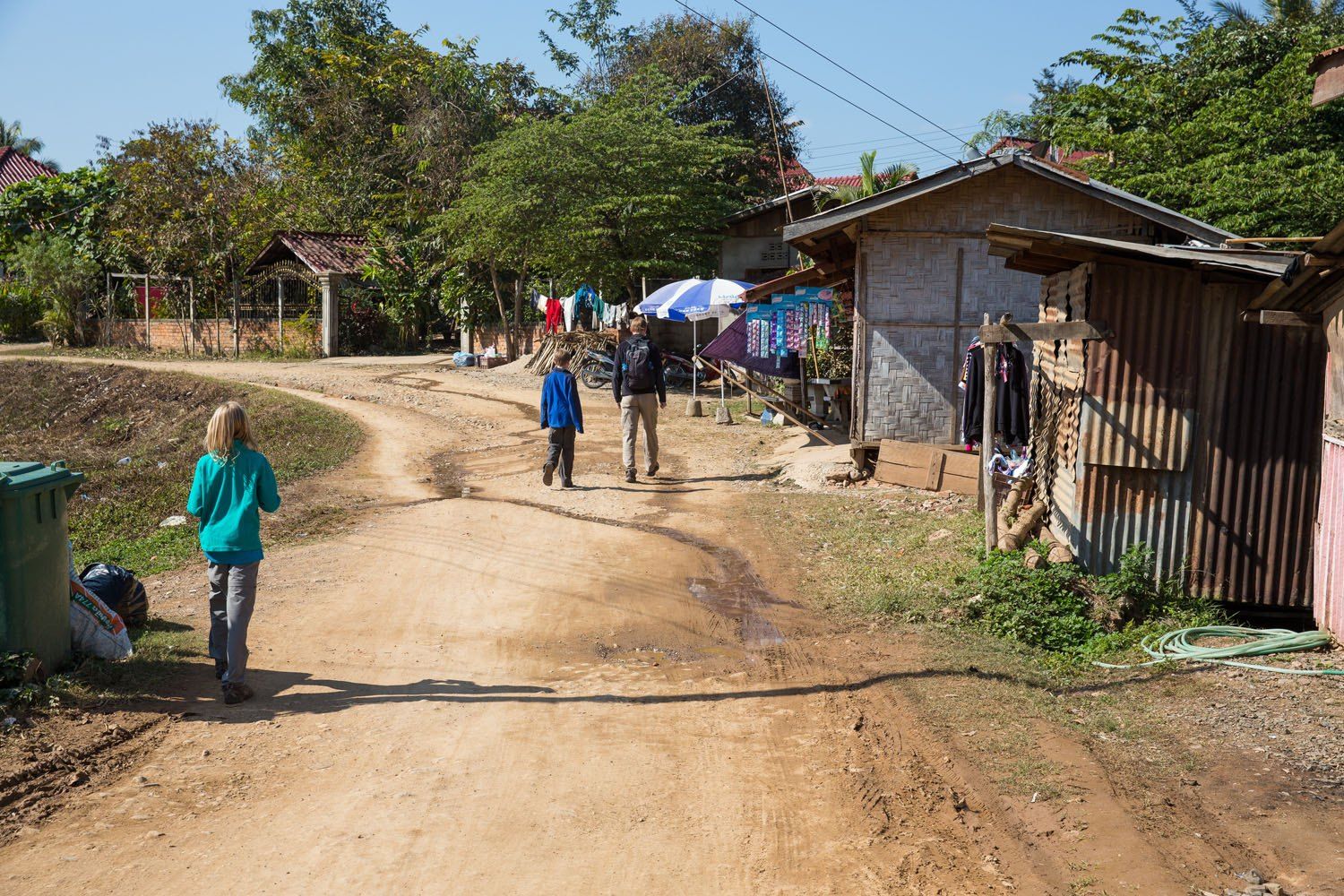 We usually spent the mornings at the hotel, doing homework and trip planning. And surprise, surprise again…Laos had one of the fastest internet connections of the trip yet. Who knew that in little Luang Prabang, in a developing, communist country, Tyler would be able to upload a month's worth of his videos to YouTube! The wifi hasn't been this good since Dubai.
Luang Prabang
The afternoons were spent exploring the town of Luang Prabang. It is a beautiful city, with its French architecture accented with palm trees and tuk-tuks. Most signs are written in Laotian and French, although we saw a fair amount of English and Chinese as well. The four of us have been learning how to read Chinese characters in preparation for China and we love trying to decipher the signs.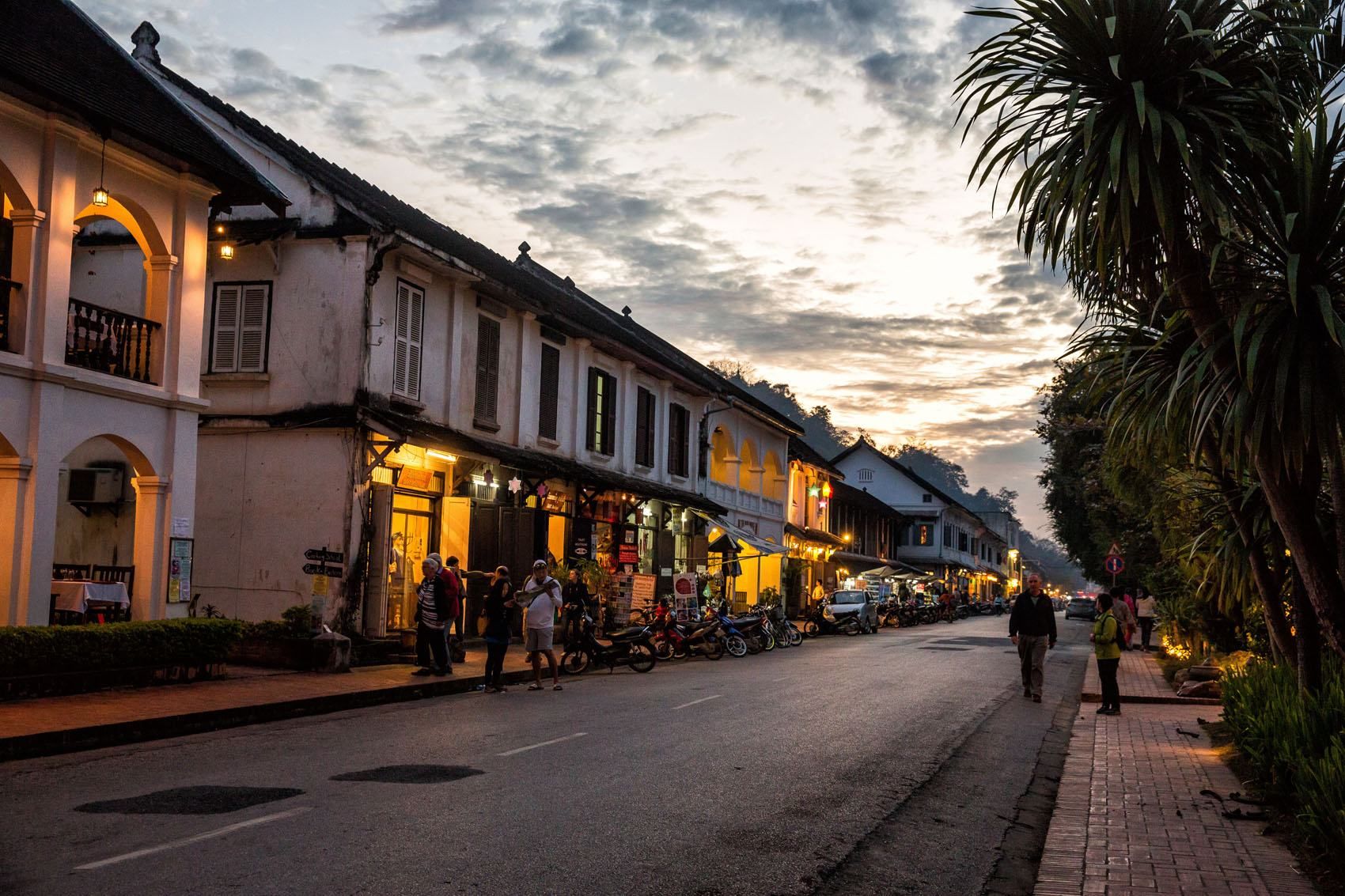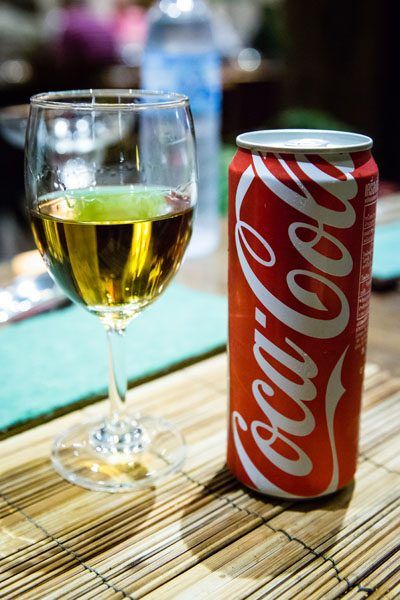 Our Favorite Spot in Luang Prabang
As with any town with French influences, the food was excellent, as were the coffee and the drinks.
While we were in Luang Prabang, we tried several restaurants, but the one we kept coming back to was Un Petit Nid Biblio Bistro, a small restaurant with a waiter we loved. He was a very friendly Laotian man who spoke decent English and always had a smile on his face. He greeted Tyler as "boy," a typical greeting in this part of the world. It's a big step up from being greeted as "babies," what Tyler and Kara have been referred to since entering Nepal. For an almost twelve year boy, hearing "what would you like, boy?" is much better than being called a baby. The kids have not been thrilled with being referred to as babies but Tim and I think it's hysterical.
Anyway, the food here was good, but what we really kept coming back for were the drinks. We just loved how things were different here. Tim's rum and coke was served as rum in a wine glass with a can of coke, which he would mix together. I ordered Blue Hawaiians, a great mixed drink that I loved.
Luang Prabang Night Market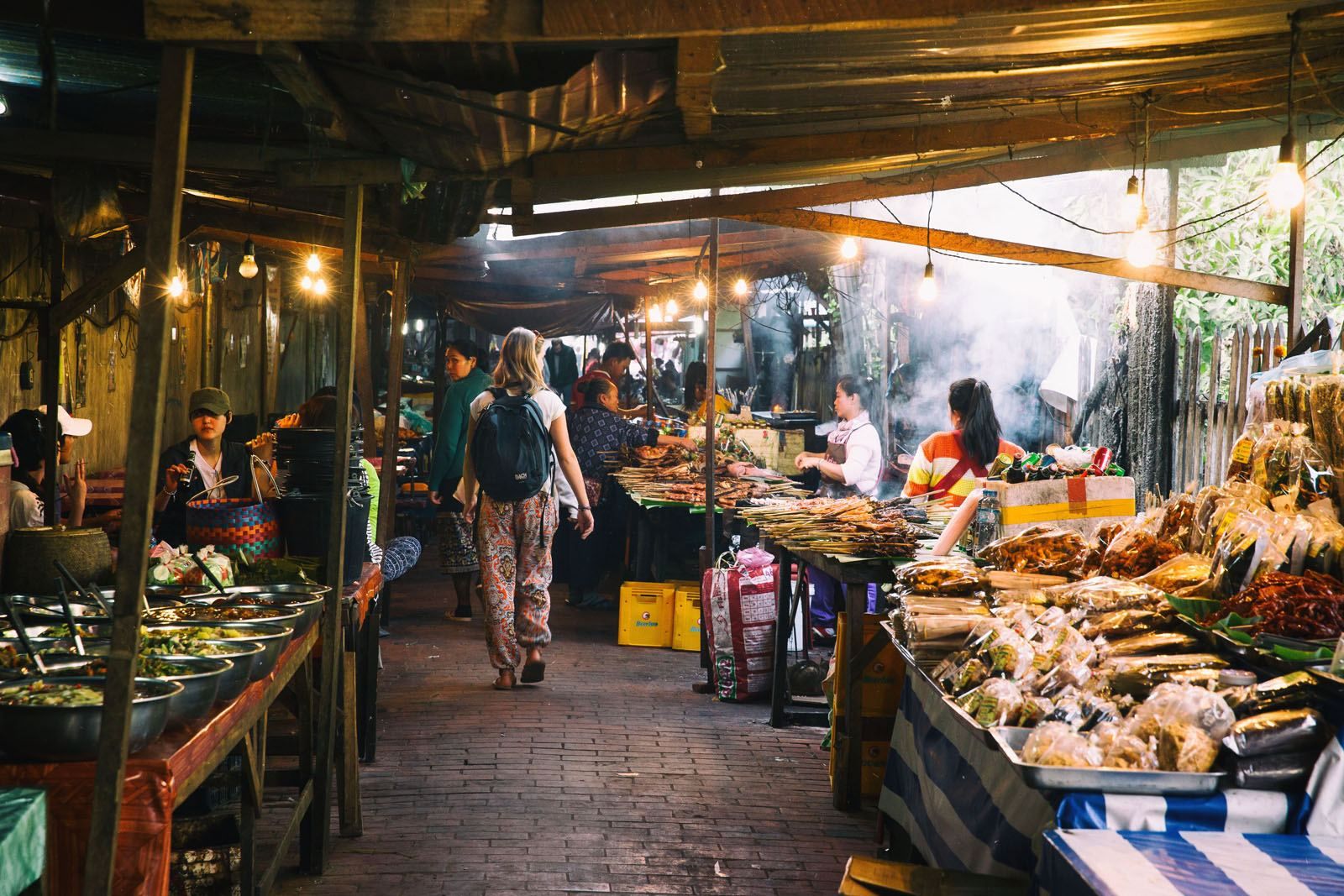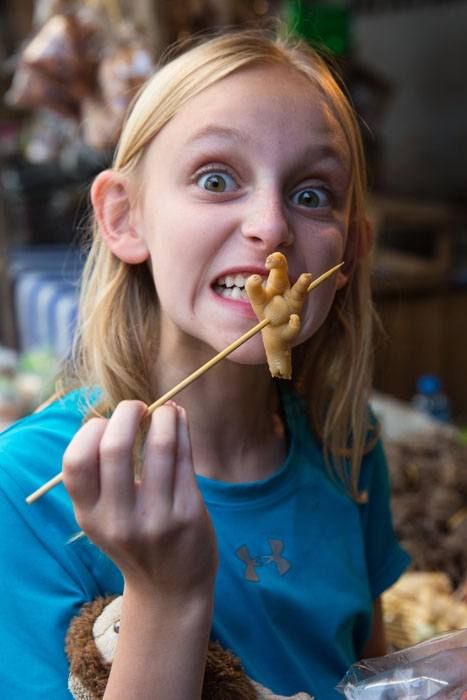 Almost every night we walked through the night market. Night markets are very popular in Southeast Asia. Every afternoon, truckloads of souvenirs would be dropped off in town, the roads would be closed to cars, and people would erect tents and set up their goods to sell. It was mostly souvenirs which were very repetitive, with people selling silk scarves, silver jewelry, journals, bags, paintings, and other souvenirs. Everything was dirt cheap, making shopping that much more fun.
We sampled some street food, as well. Tim was a big fan of the grilled chicken breasts on a stick, which were also dirt cheap. Kara, Tim, and I tried chicken feet but we were not impressed. They tasted fine, but if you've ever seen a chicken's foot you would know that there is very little meat on them.
Touring the Temples
To the delight of Tyler and Kara we kept temple visiting to a minimum while in Luang Prabang. We visited only one temple while spending an afternoon touring by bicycle, and only took a minute or two to peek inside.
In conclusion, we all really enjoyed Laos. Luang Prabang is a great city to visit and it is much different from many of the other towns we have seen in Southeast Asia, partly due to its French influences. The highlight of Laos was the slow boat down the Mekong River, which was an unforgettable experience. I love it when places and activities turn out to be so much better than we were expecting.
Next up is Cambodia…back to the heat, back to exploring temples!
---
More Information about Laos & Southeast Asia
SOUTHEAST ASIA ITINERARY: If your visit to Laos is part of a bigger trip through Southeast Asia, don't miss our 3-month Southeast Asia itinerary and travel planner.
CAMBODIA: In Cambodia, explore the temples in Siem Reap, spend some in Kampot, and visit Phnom Penh.
BANGKOK: For a list of top experiences, check out our article Best Things to Do in Bangkok. We also have an article about where we ate and drank in Bangkok.
PLACES TO GO IN VIETNAM: Hoi An is our favorite city in Vietnam but Hanoi is a close second. Cruising Ha Long Bay is a wonderful experience as is taking a boat trip on the Mekong Delta. For a bigger list of things to do, read our article Best Things to Do in Vietnam.
AROUND THE WORLD TRAVEL: Do you dream of traveling around the world? Check out our Guide to Traveling Around the World, where you can get information on how to plan your big adventure, what to expect while traveling, and what it is like to finally come home.
Note: This post contains affiliate links. When you make a purchase using one of these affiliate links, we get paid a small commission at no extra cost to you.
All rights reserved © Earth Trekkers. Republishing this article and/or any of its contents (text, photography, links, etc.), in whole or in part, is strictly prohibited.