The Mekong River is the lifeline of Laos. This river originates in the Yunnan Province of China, travels south, forming the boundary between Laos and other countries such as Myanmar and Thailand. The path of the Mekong crosses Cambodia and then ends in southern Vietnam, forming the famous Mekong Delta. One of the most popular things to do in Laos is to take a slow boat down a portion of the Mekong River.
The usual trip starts at the Thai-Laos border in the Laos town Huay-Xai, and from here it is a two day trip, ending in Luang Prabang, Laos (which I think is the coolest name ever for a town!).
Knowing my family and how we can't sit still for long periods of time, I wasn't sure if I should include this in our itinerary. Still, it seemed like one of those "must do" activities in Laos and if we skipped it, we would be missing out on something.
So, the slow boat down the Mekong River got added to the itinerary.
Slow Boat Down the Mekong River
Our Experience on the Mekong River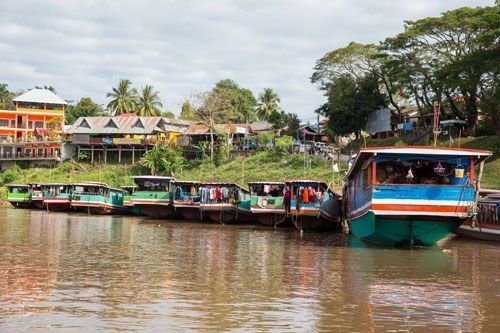 For our slow boat tour we used the tour operator Nagi of Mekong and we had a fabulous experience. We did this trip in January 2015.
In Huay-Xai, we boarded our boat with approximately ten other travelers. The advantage of using Nagi was that we were able to make the journey in a much more comfortable boat, hot lunch was served both days, and they booked our accommodations in Pakbeng, Laos, the halfway point down the river.
Many slow boats, especially during peak season (December through February), can get very crowded and uncomfortable. We wanted a quieter, more enjoyable experience, so we spent a little extra for comfort and nicer accommodations.
So, What Is a Slow Boat?
A slow boat is a very long, narrow boat that floats right on the surface of the water. The driver sits up in the front and the engine is in the back. Bench seating from vehicles are attached to the boat, with seating for four centered around a small, wooden table. There was plenty of seating for our small group of people, and since the boat was not filled to capacity, we had plenty of room to spread out.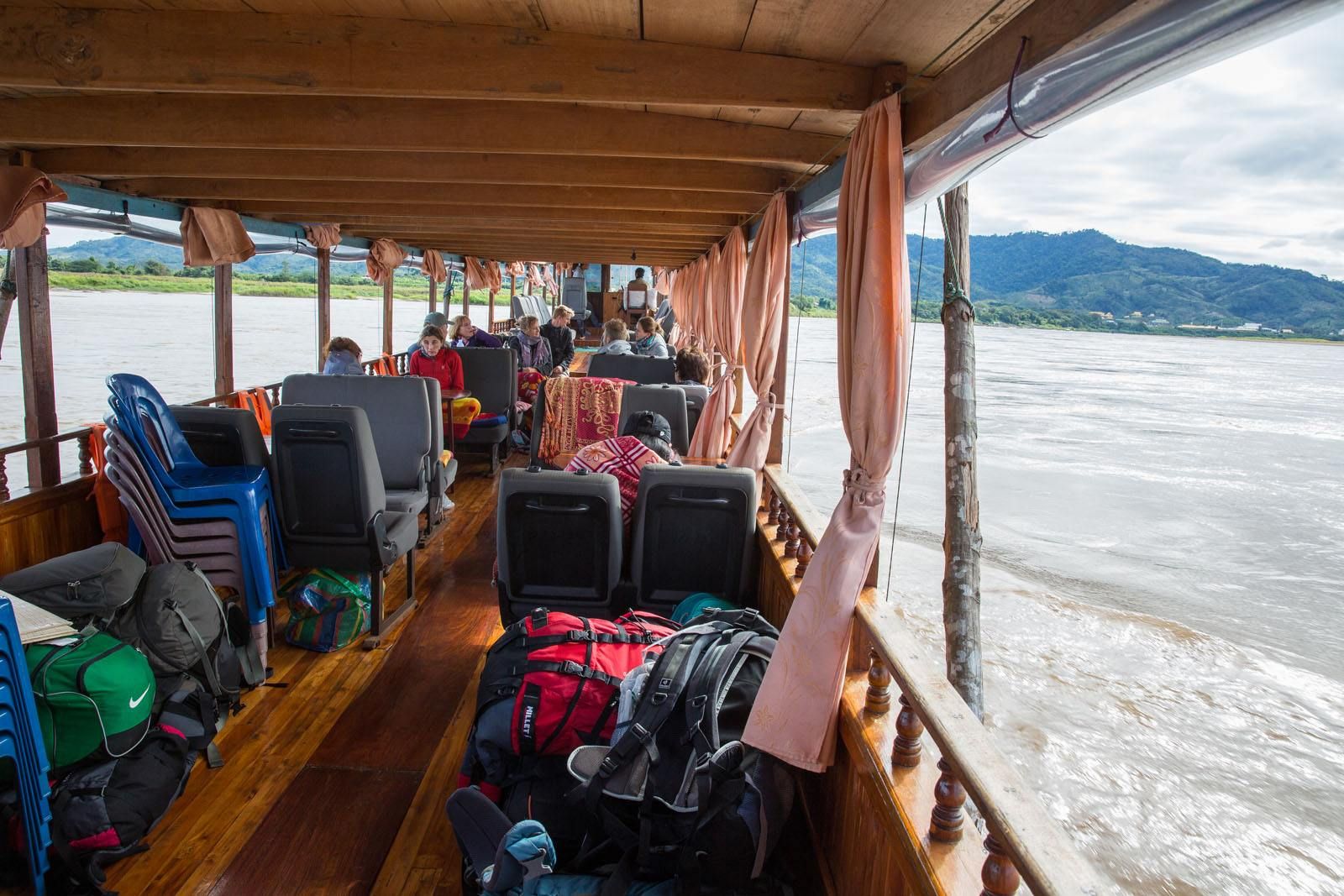 Tea, coffee, water, and fruit were served. We also had a relatively clean bathroom on board. We were ready to travel down the Mekong River in comfort! I am so glad we did this!
Chiang Rai to Chiang Khong
Our day started very early on a Sunday morning. We hired a driver to take us the two hours northeast from Chiang Rai, Thailand to Chiang Khong on the Thai-Laos border. Here, we stamped out of Thailand, easily obtained our Laos visas on arrival, and then entered another new country for the Earth Trekkers. Hello, Laos!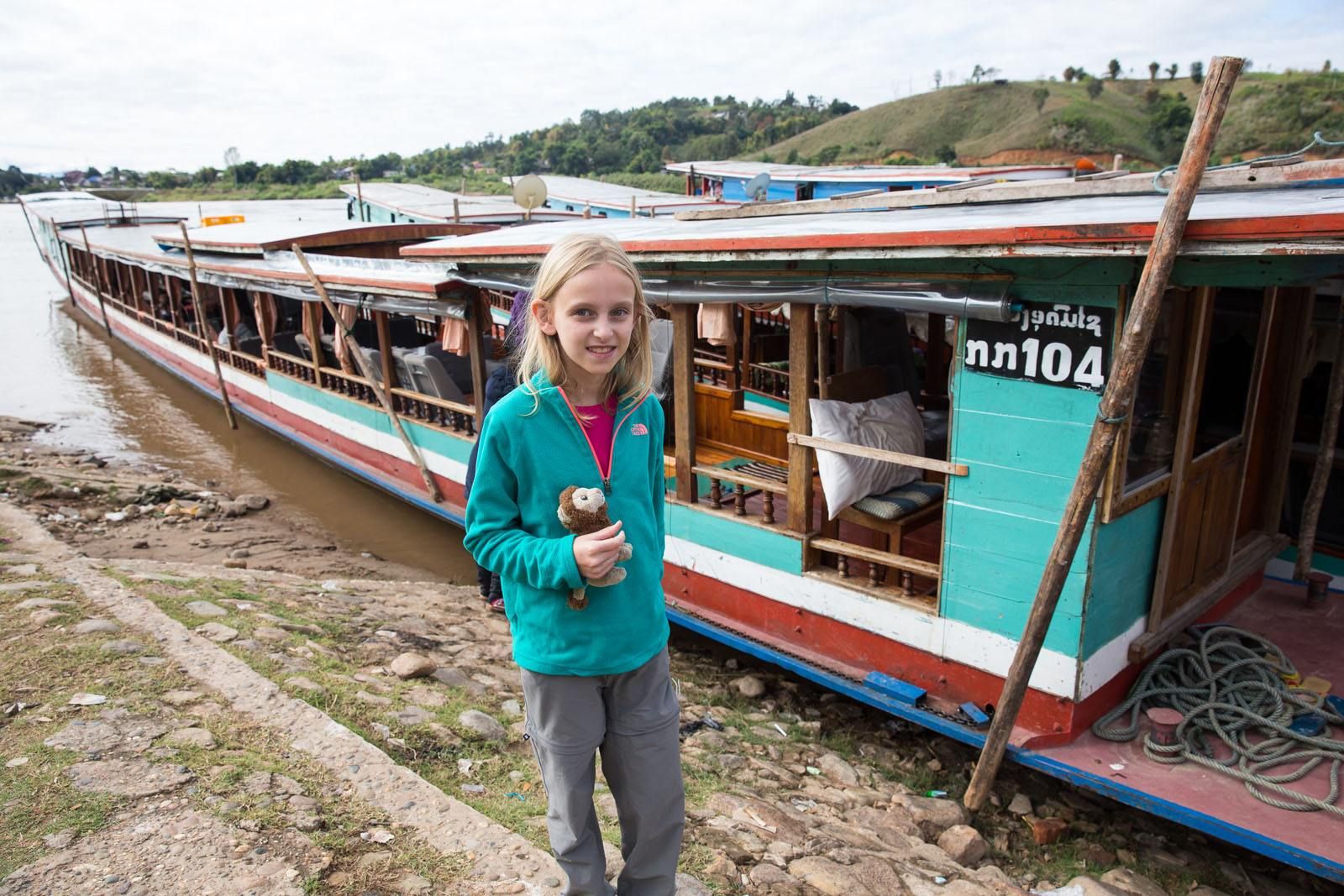 Views from our Boat
It was a beautiful day. The skies were partly cloudy and the temperatures were only in the high 60's. A cool front had recently moved in, making the air much cooler than normal. Once we got moving, it was quite chilly.
At 10 am we started our journey down the Mekong River. This part of the world is so gorgeous. On either side of the large, lazy river were small mountains covered with lush vegetation. We saw lots of palm trees, banana trees, and even corn. For the first hour, Thailand was off to our right and Laos was to our left. Then, the river turned east and we were heading directly into Laos.
Tim and I were so happy to be doing this! One of the activities that we were dreading turned out to be one of our favorite experiences in Southeast Asia.
As we drifted down the river, Tyler and Kara did a lesson of homeschooling. I drank cup after cup of 3-in-1 instant coffee, which has been very popular since arriving in Myanmar. Tim and I enjoyed the amazing views. I took tons of photos, wanting to capture these views so that I could see them forever.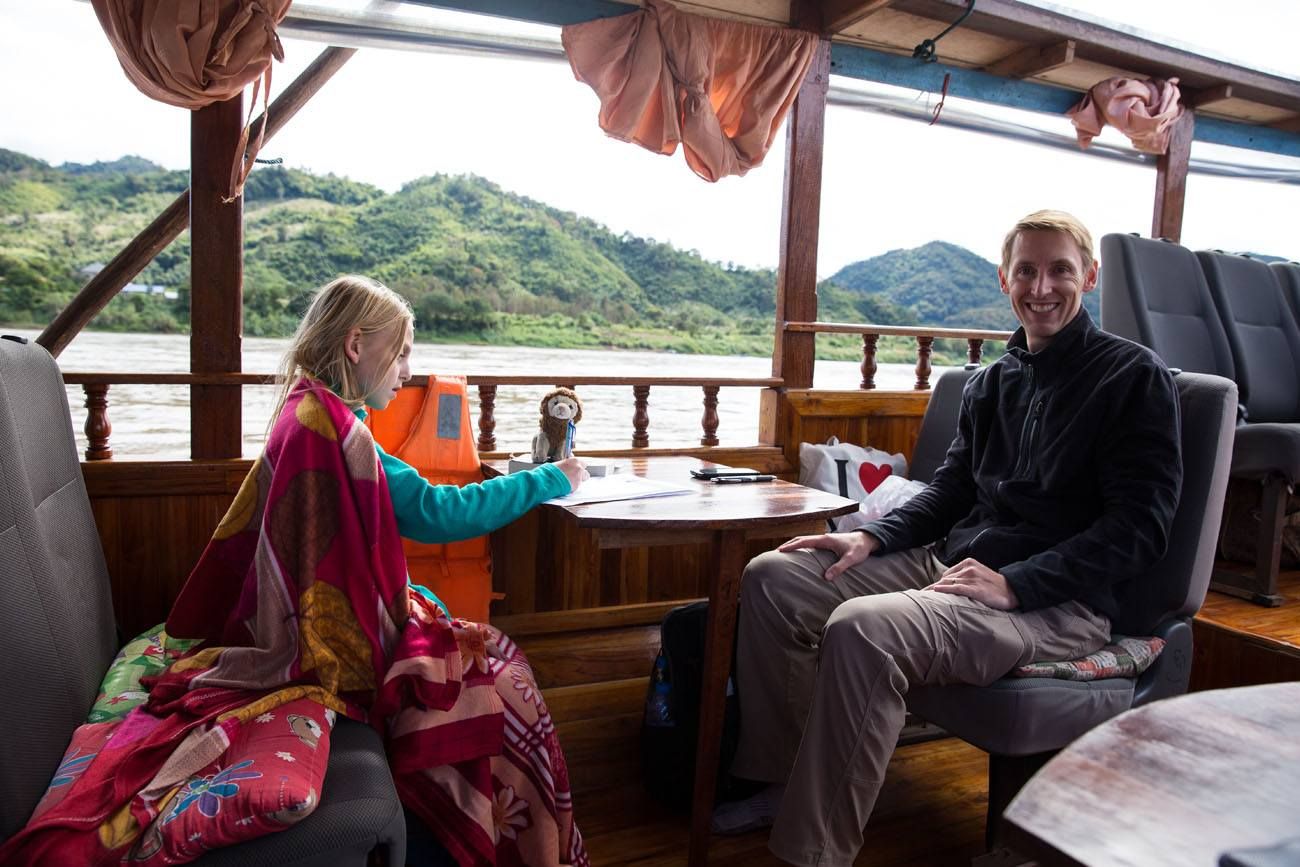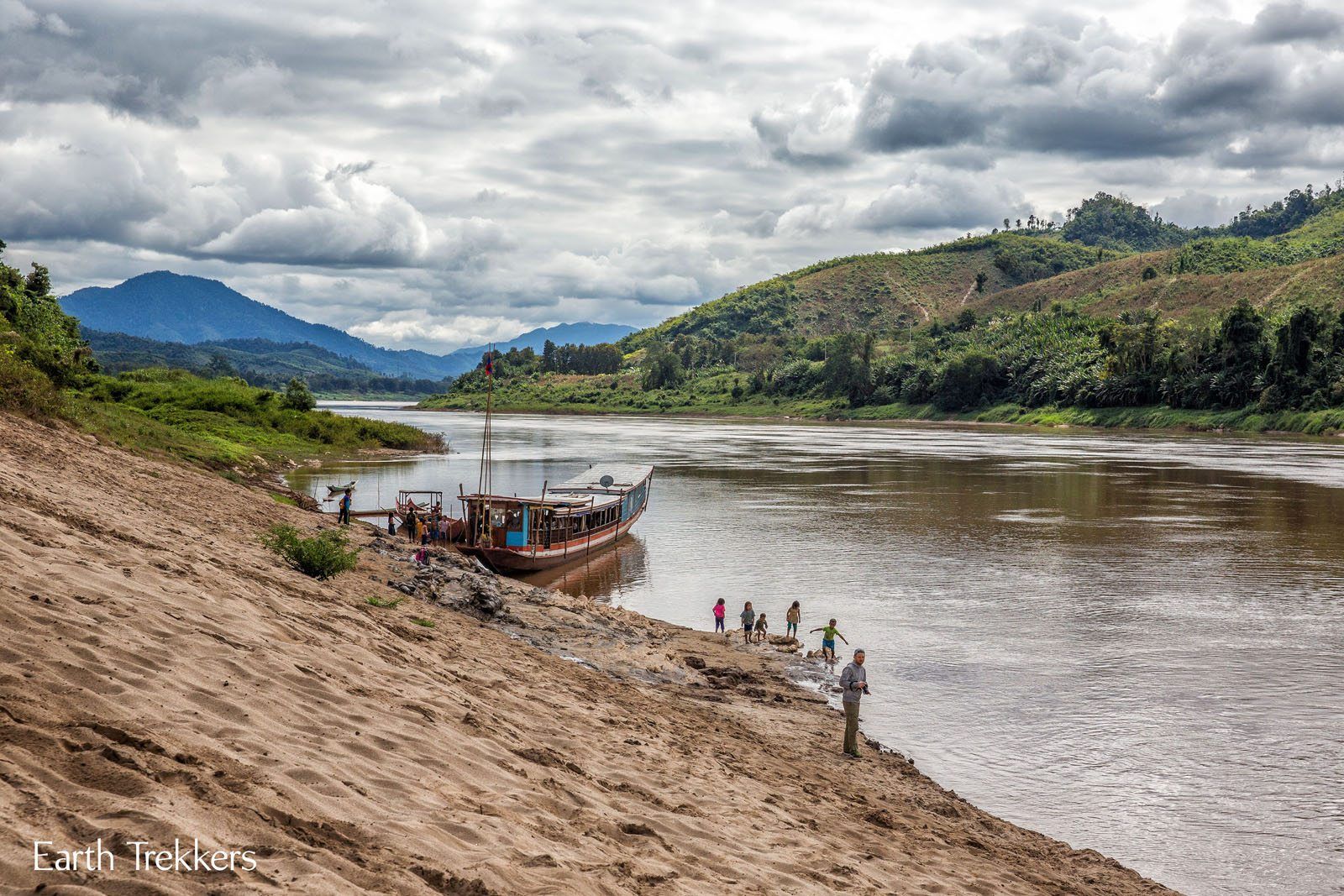 A Visit to a Laos Village
At noon, we made a short stop at a local village. Normally, we dislike visiting villages. I feel a little voyeuristic and intrusive. It was no different this time, but the people seemed to enjoy having us here. Plus, I felt like I was looking at a National Geographic magazine, with barefoot kids playing in the streets, chickens clucking, and thatched houses on stilts everywhere.
In the village, we saw a group of kids playing volleyball. Instead of a volleyball they were using a piece of plastic that had been wound up to make a ball. More kids were running around playing and some were riding bicycles. These children were able to be happy and to entertain themselves without TV's, computers, or other gadgets…or even a real ball, for that matter. This was great for Tyler and Kara to see.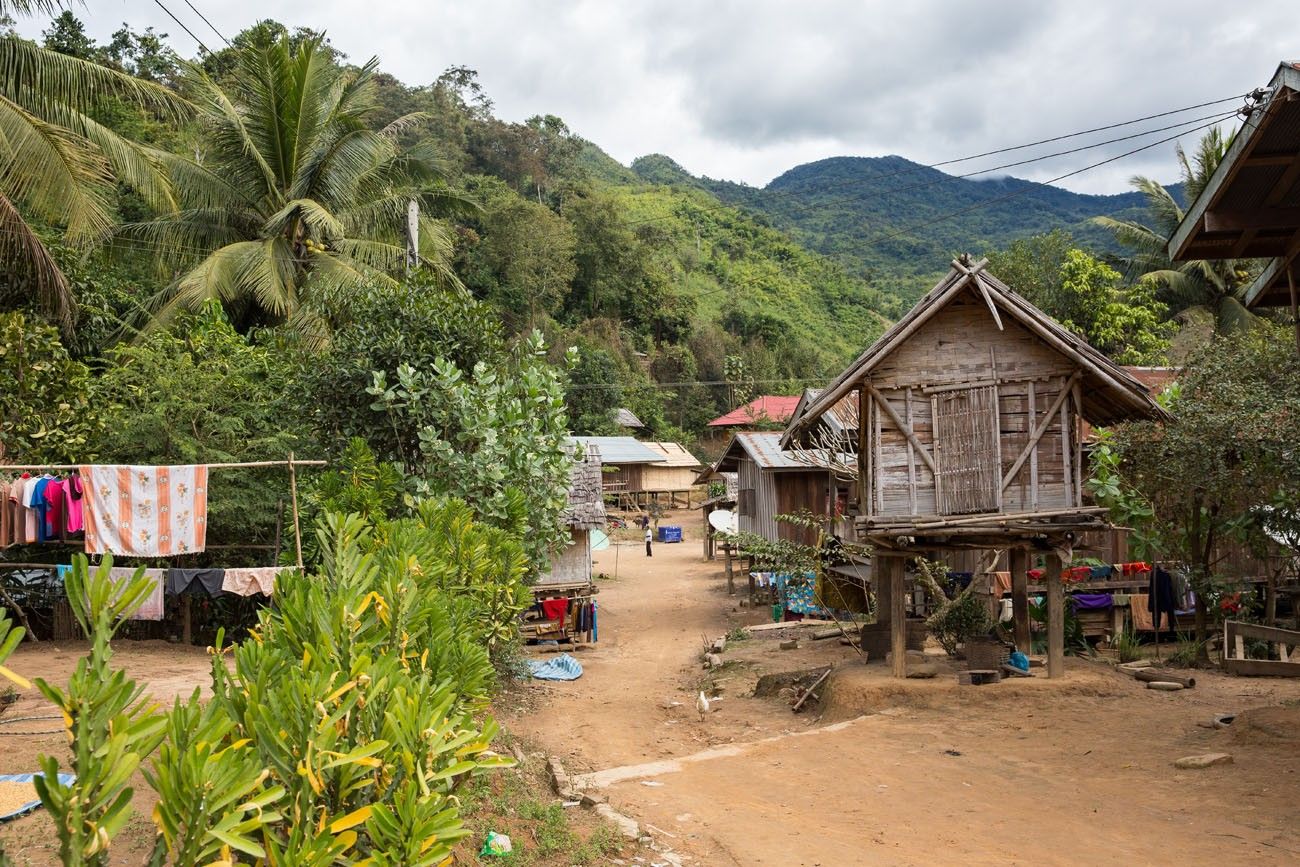 After our village visit, we boarded the slow boat and then were served lunch. Rice, vegetables, and soup…it was warm and delicious.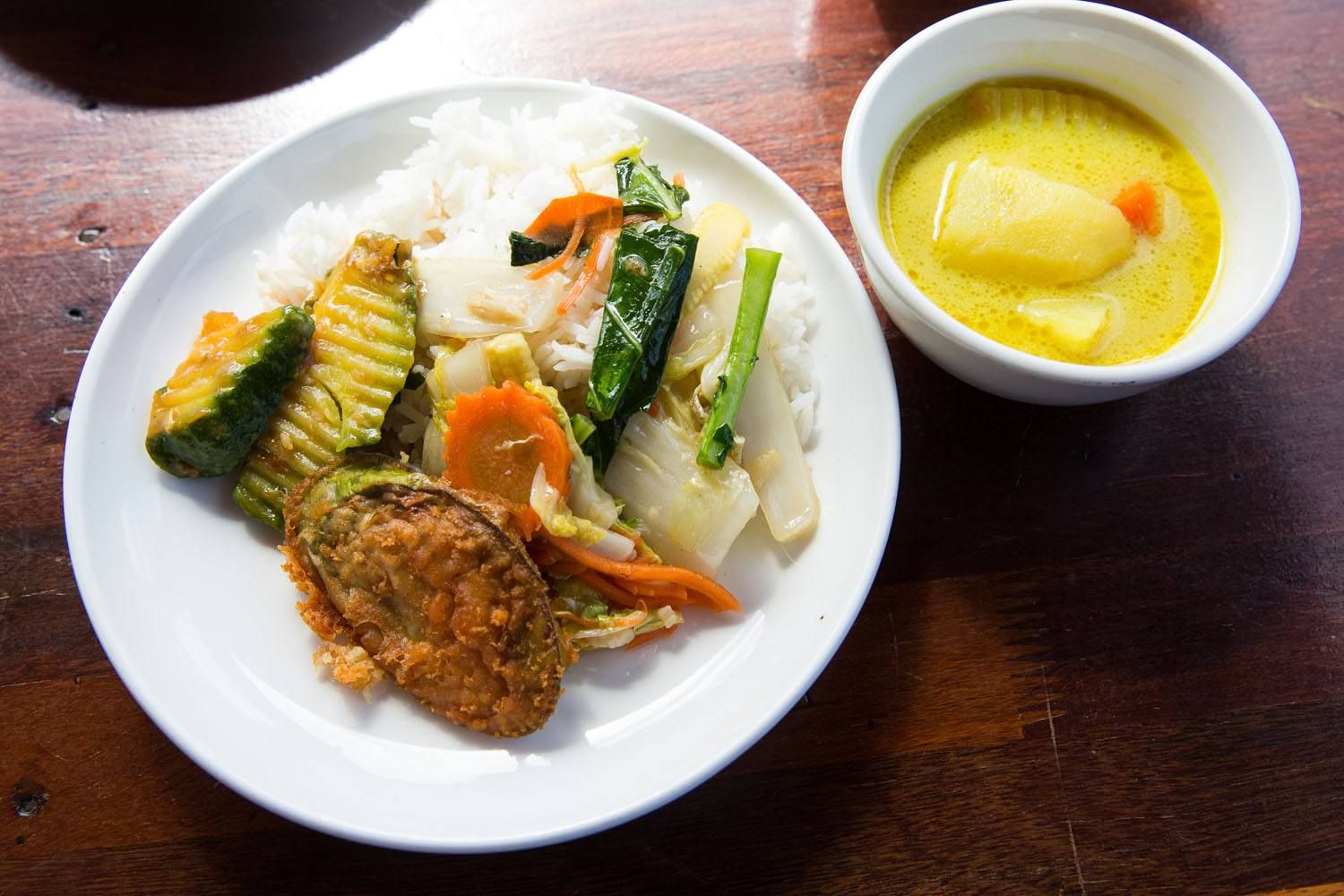 Afternoon on the Slow Boat
We rode for approximately four more hours. As the day stretched on, the cloud cover became thicker, causing the temperatures to drop. The constant breeze on the boat made us all very chilly. We started huddling under the provided blankets, searching out places to sit to keep the wind off of our heads. It wasn't so bad; the amazing views made being a little cold worth it. Later, we will forget about how cold we were, but hopefully we will always remember these views.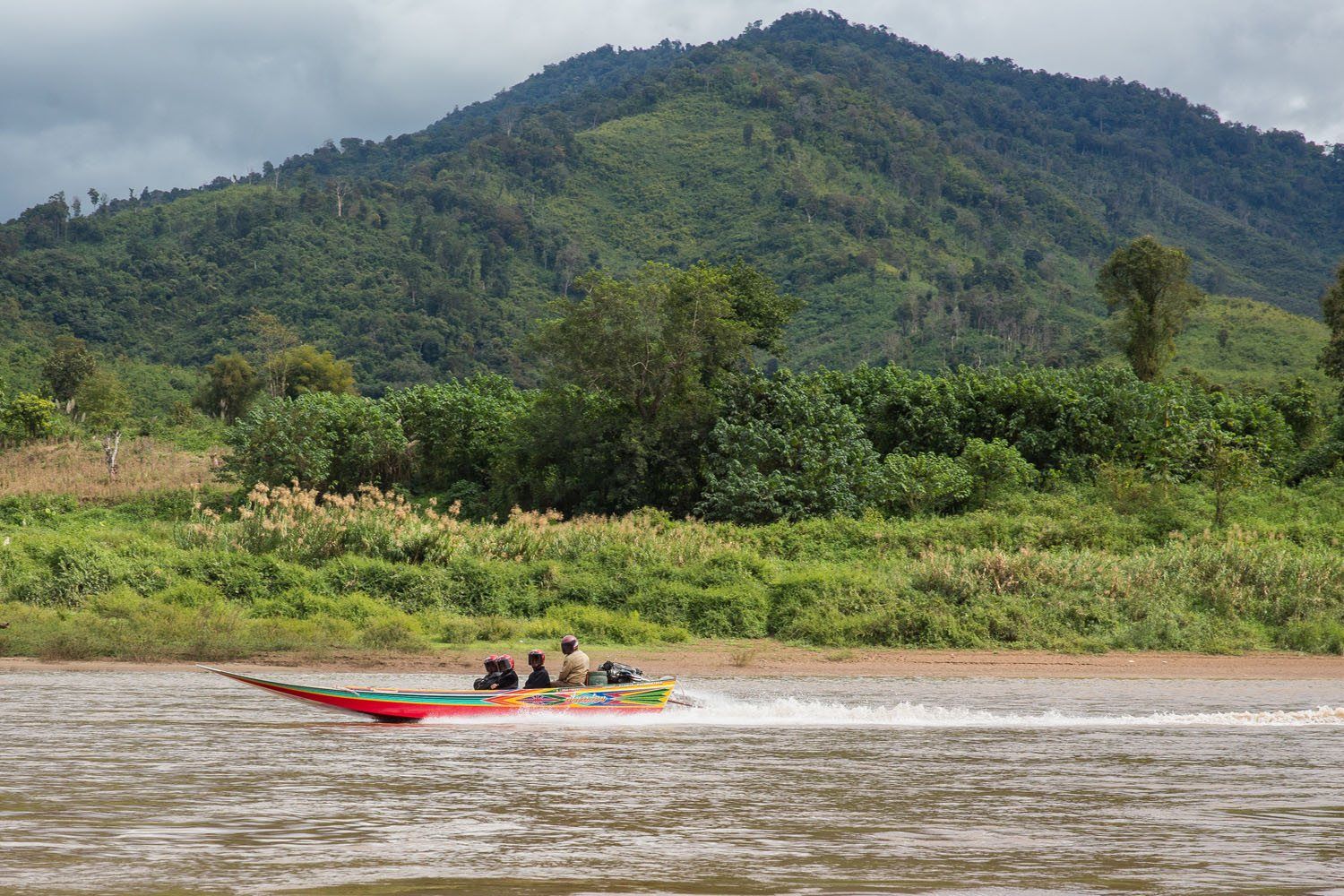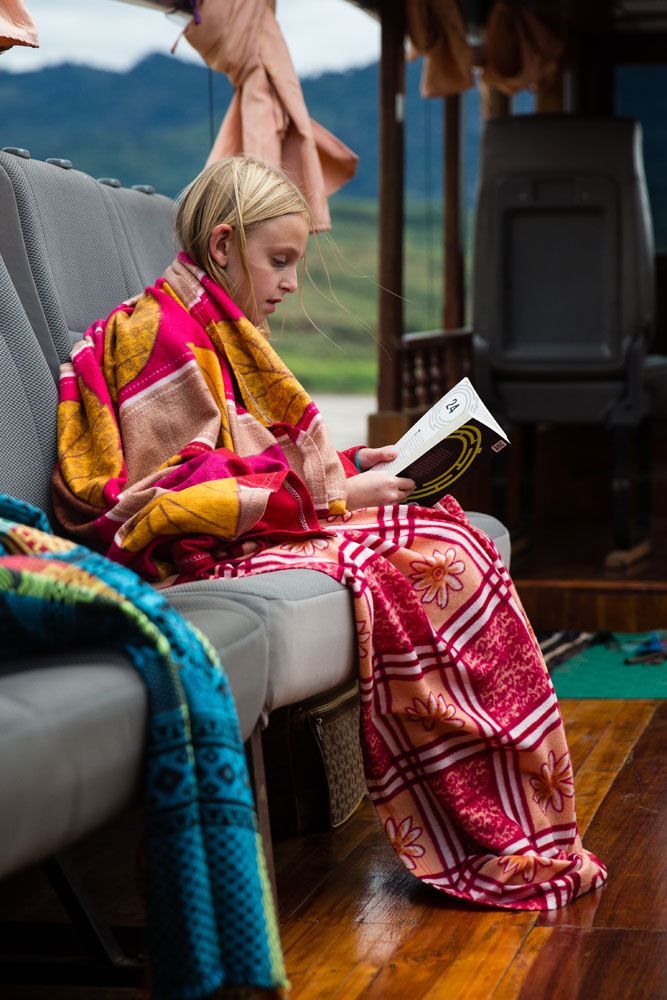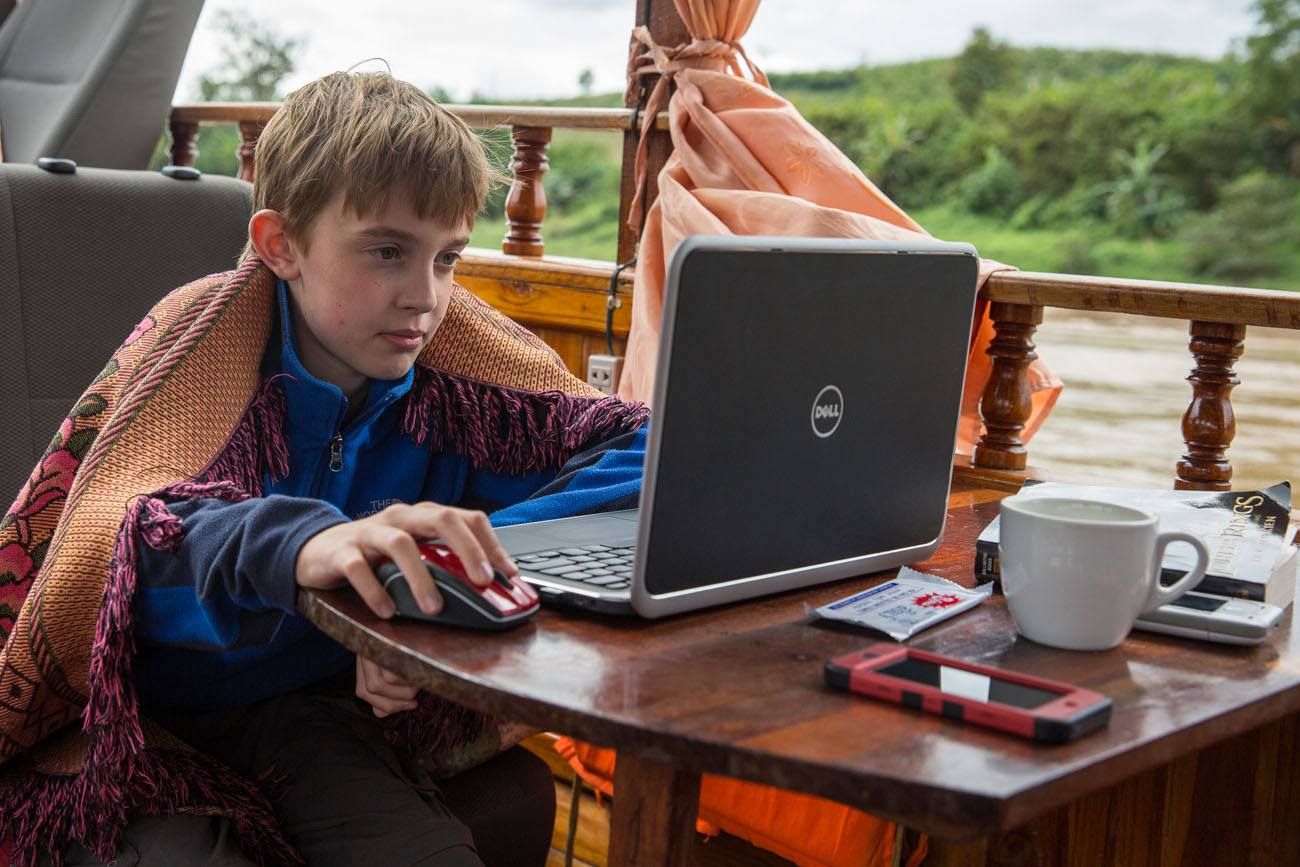 Pakbeng, Laos
It was close to 5 pm when we docked in Pakbeng. This is a tiny town on the Mekong River. Loaded down with our backpacks and bags of snack food, we scrambled up the sandy steps into town.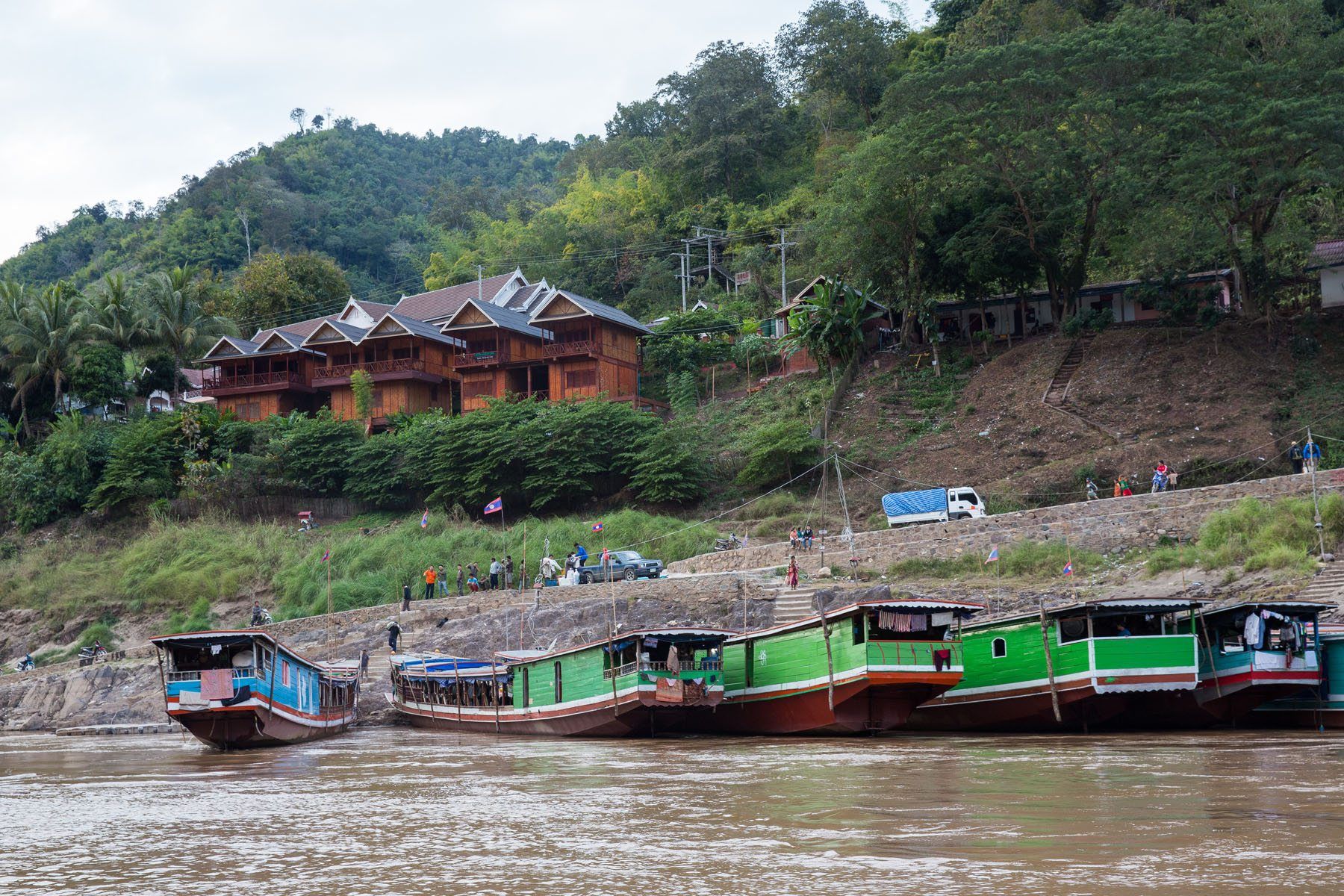 We spent one night at the Mekong Riverside Lodge. This was a very cool place. We had two bungalows with large decks overlooking the river. The views were awesome and the rooms were fairly clean. Tonight we would be sleeping under mosquito nets. We ate dinner at the hotel's restaurant and then went to bed early.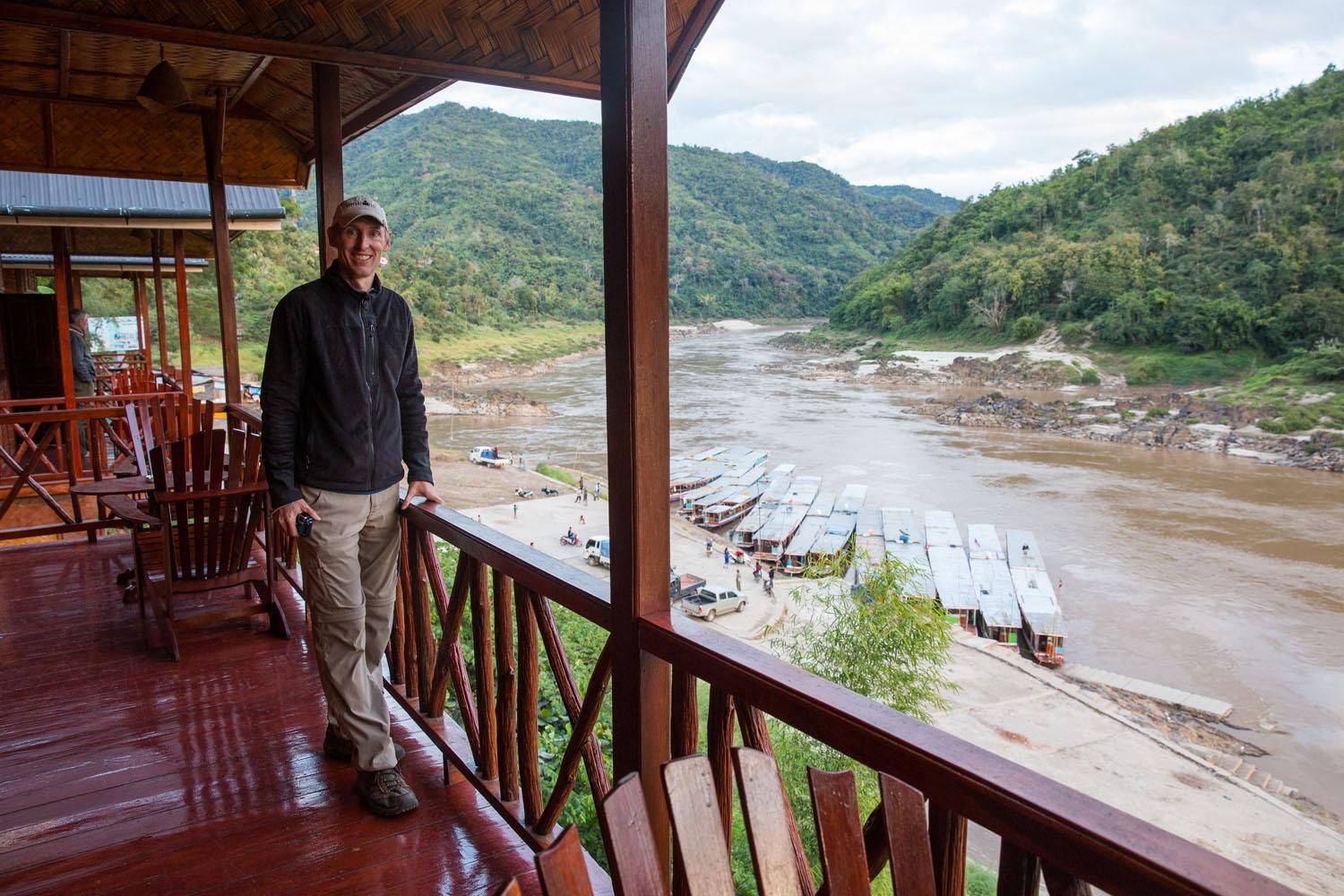 It was a chilly night, with temperatures dipping down into the low 50's. We did not have heat in our rooms so it was very chilly getting dressed the next morning. After breakfast at the hotel, we boarded the slow boat, and at 7:30 our journey down the Mekong River resumed.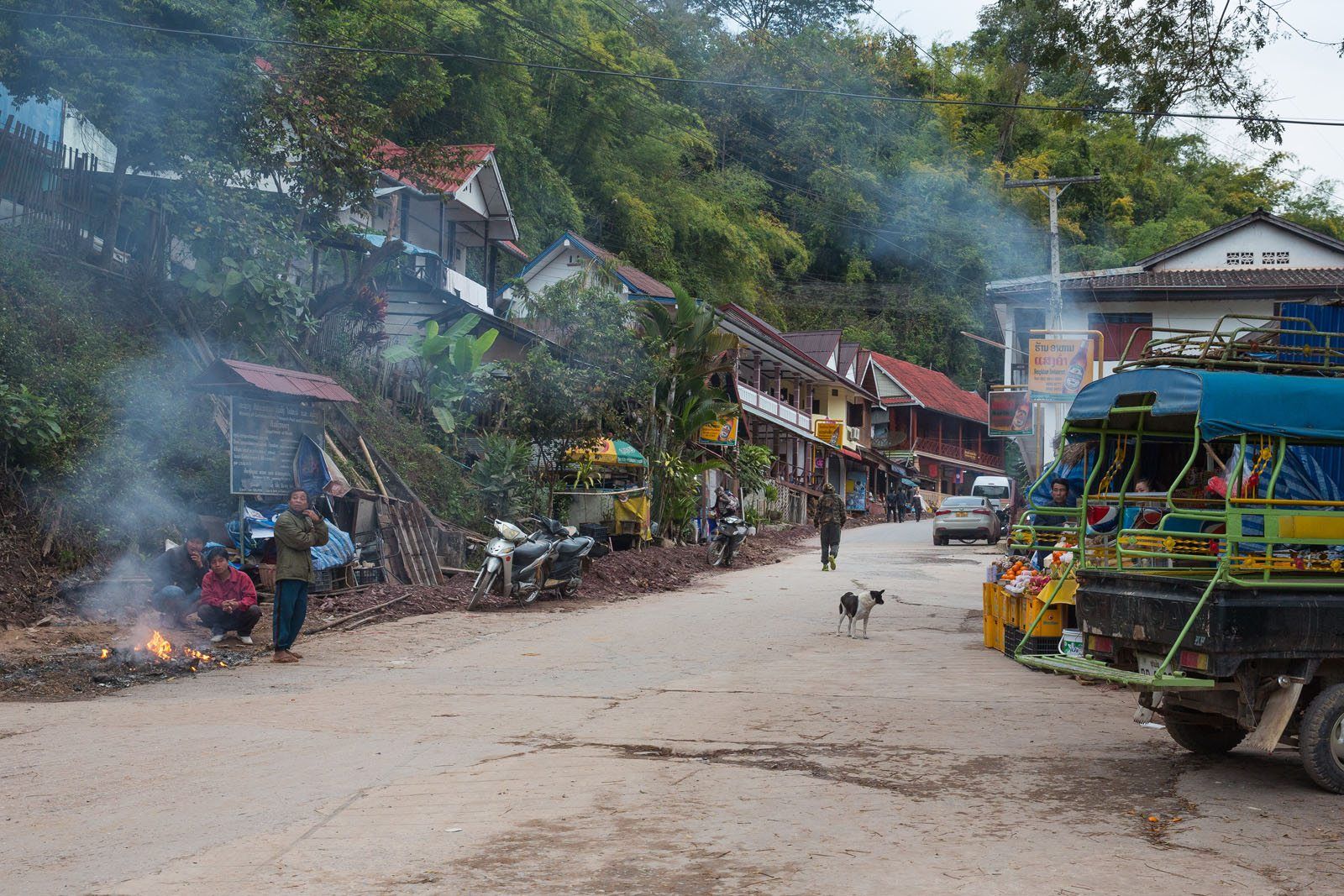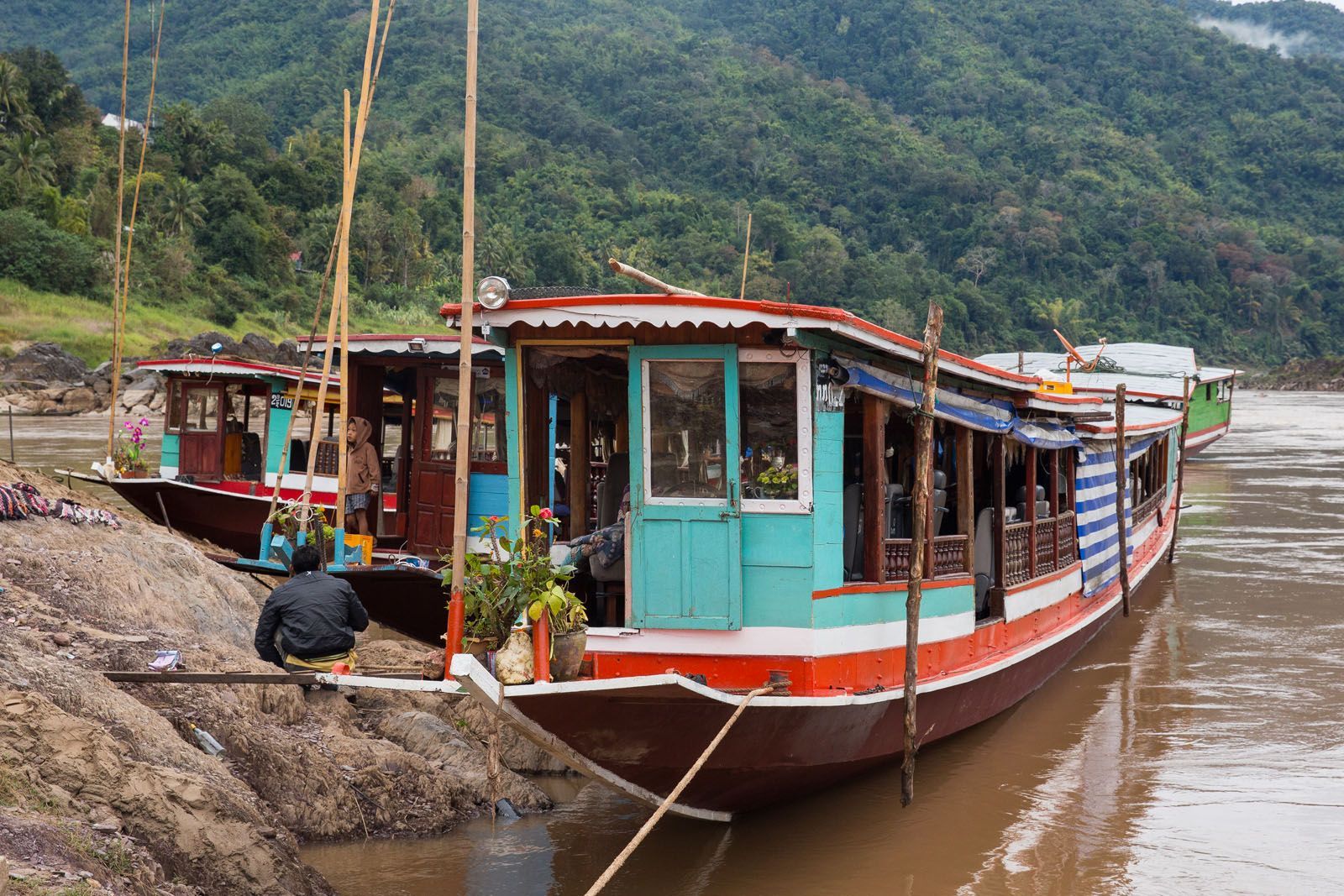 Day 2 on the Slow Boat
The skies were very overcast and once the boat got moving we got even colder. We all huddled under blankets and tried to position ourselves out of the wind as much as possible. I drank lots of coffee, which helped, too.
For hours we drifted down the river, enjoying almost identical scenery as yesterday. The biggest change is that the closer we got to Luang Prabang, the taller the mountains became. Around lunchtime the sun began peeking out from around the clouds, warming things up for us.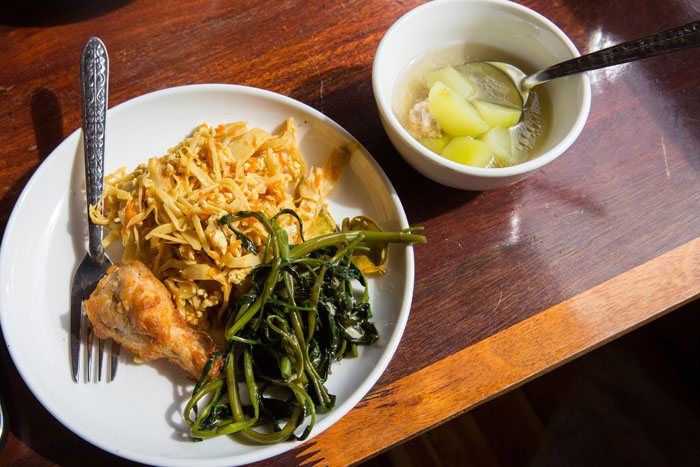 Lunch on the boat was not as good as yesterday's. We ate a dish made from lemongrass, more vegetables, and more soup. After lunch we ate dessert, eating our stash of Nutella on bread.
The captain of our boat was a tiny Laotian man who would sit up on his stool, with a pillow at his back, steering us down the Mekong River. I was amazed at how well he negotiated this long boat to shore, pulling into a tight spot amidst the other long boats. He was also intrigued by us, walking by and smiling at Tyler and Kara, talking to us in Laotian with a huge smile on his face. We, of course, did not understand him at all, but Tyler and Kara enjoyed the attention.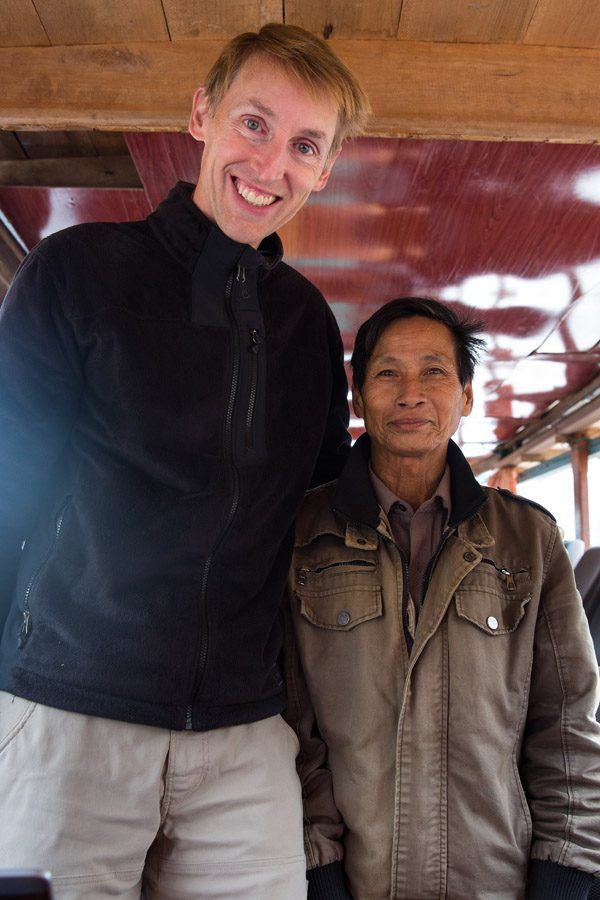 Pak Ou Cave
At 1 pm we arrived at Pak Ou Cave. This is a large cave, located on the Mekong River, that has been converted into a Buddhist temple. We stared at more Buddhist shrines as well as hundreds of dusty Buddha statues.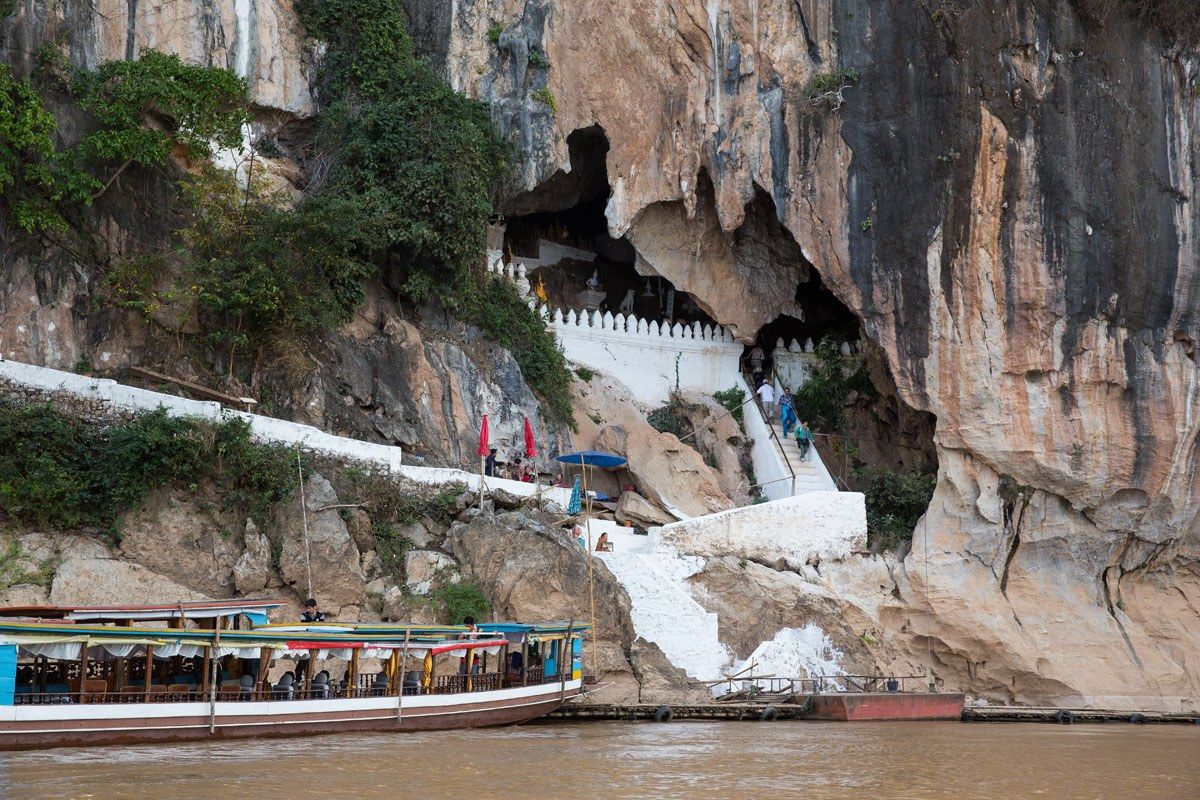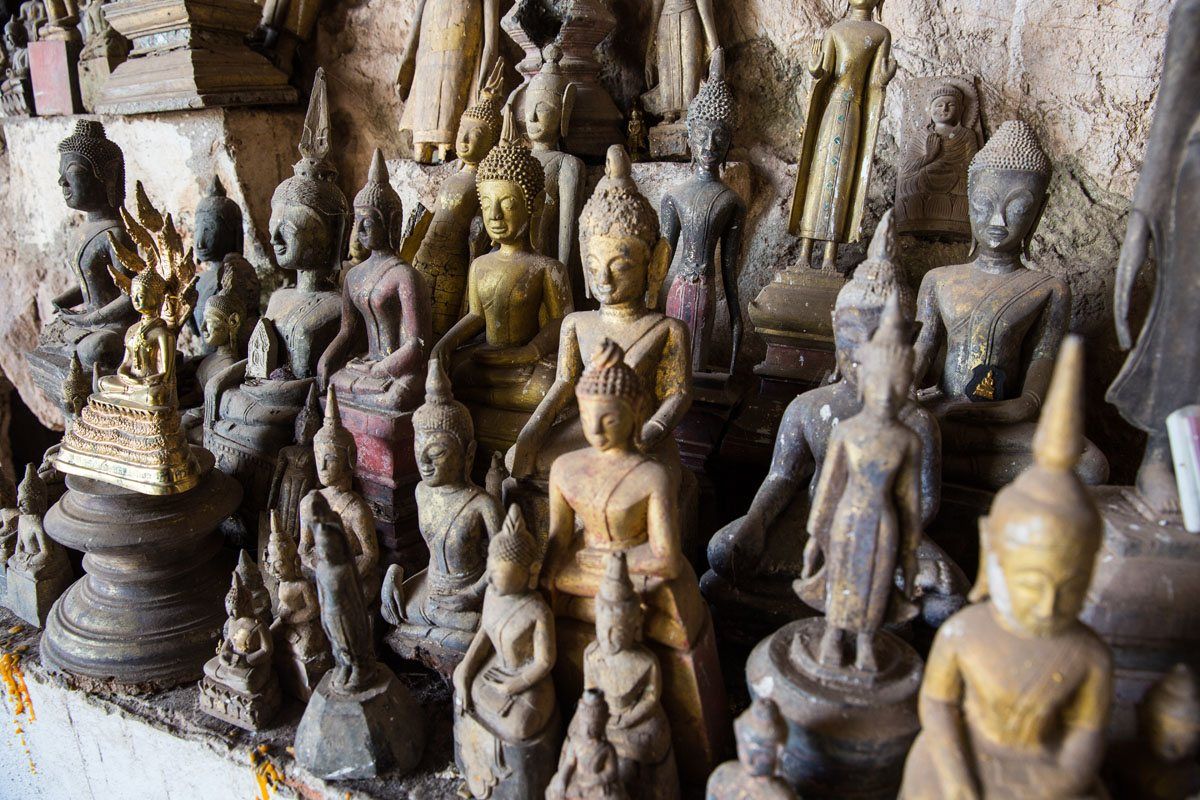 Arrival in Luang Prabang
One hour later we were in Luang Prabang. Our slow boat trip turned out to be an amazing two days. It was an incredibly scenic trip. I loved the laziness of floating down the river, reading my Kindle, and just relaxing. The two days were better than I expected and were not boring at all.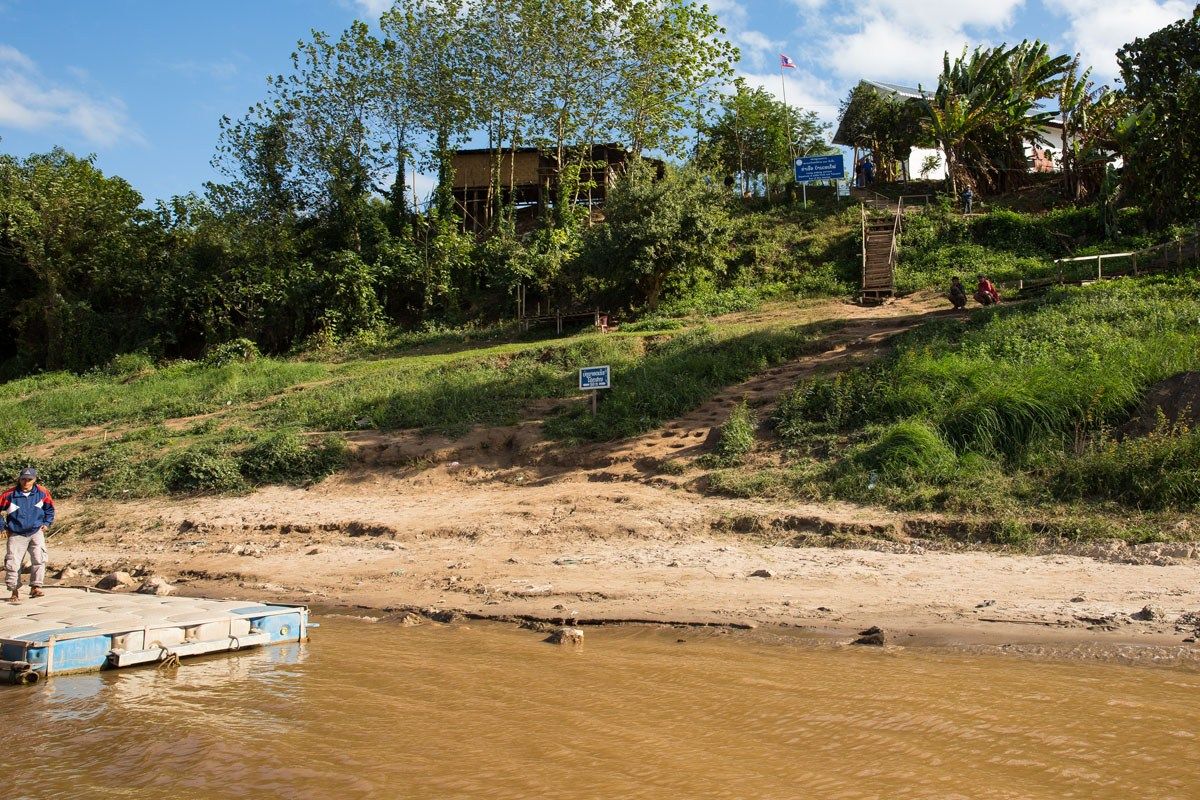 Luang Prabang "dock"
Taking the slow boat down the Mekong River really is a "must do" activity in Laos and it also makes for very convenient transportation for anyone traveling overland from Thailand into Laos.
More Information
We used Nagi of Mekong for the slow boat trip. They make the trip three times a week, connecting Huay-Xai with Luang Prabang. The journey can be made in either direction, although the Huay-Xai to Luang Prabang trip is much more popular. In the boats traveling to Huay-Xai, there were very few people on board. If you want the boat to yourselves, start in Luang Prabang.
In Pakbeng we spent one night at the Mekong Riverside Lodge. This looked to be one of the nicer places to stay in town and the views of the Mekong River can't be beat from here. All four us really liked our stay here and it was much better than we were expecting from a small Laotian town.
Tyler's Video, Day 1 of the Mekong River:
---
If you have any questions about taking a slow boat down the Mekong River, or if you would like to share your experience, let us know in the comment section below.
More Information about Laos & Southeast Asia
LAOS: Learn more about how we spent one week in Luang Prabang, Laos.
THAILAND: Cycling to the White Temple is one of the best things to do in Chiang Rai. We also have information about the best things to do in Bangkok and things to do in Chiang Mai.
CAMBODIA: Visiting the temples in Siem Reap is one of the best things to do on a visit to Cambodia, but you can also spend some time in Kampot or Phnom Penh.
SOUTHEAST ASIA ITINERARY: If you are planning a trip to Southeast Asia, read our 3 Month Southeast Asia Itinerary for travel ideas and important planning information.
TRAVEL PHOTOGRAPHY: For more information about the camera gear we carry, check out our Travel Photography Gear Guide.
Note: This post contains affiliate links. When you make a purchase using one of these affiliate links, we get paid a small commission at no extra cost to you.
All rights reserved © Earth Trekkers. Republishing this article and/or any of its contents (text, photography, links, etc.), in whole or in part, is strictly prohibited.