Deer Mountain is one of the easier hikes in Rocky Mountain National Park that offers high mountain views.
To get to the peak, it's an almost constant uphill walk through an evergreen forest. You will get occasional glimpses of Longs Peak early on during the hike, but for the most part, you will have to wait until you reach the summit for the best views. From the summit of Deer Mountain, enjoy views over Moraine Valley and out to Longs Peak and the surrounding mountains.
This is a nice hike but it it lacks some of the excitement you get from other hikes in Rocky Mountain National Park. Yes, the views from the summit are beautiful, but this hike is a bit boring at times, since it is an almost constant uphill climb through a forest.
However, if you want to hike a lower-traffic trail that is just a short drive from Estes Park, this is a nice one to consider.
Deer Mountain is also a great hike for newbie hikers who want to summit a mountain in Rocky Mountain National Park. It also makes a nice acclimatization hike if you just arrived in Colorado and want to warm up your legs and cardio system, before tackling hikes like Chasm Lake, Flattop Mountain, or Mt. Ida.
Facts About the Hike
Distance: 6.2 miles round-trip
Starting Elevation (trailhead): 8,977 feet
Highest Elevation (Deer Mountain summit): 10,006 feet
Total Elevation Gain: 1,482 feet
Difficulty: Moderate
Length of Time: 2.5 to 4 hours
When to Go: The best time to do this hike is from June through September, when the trail is free of snow. Snow can linger on trail into July. Get updates on trail conditions on the National Park Service website.

Deer Mountain Elevation Profile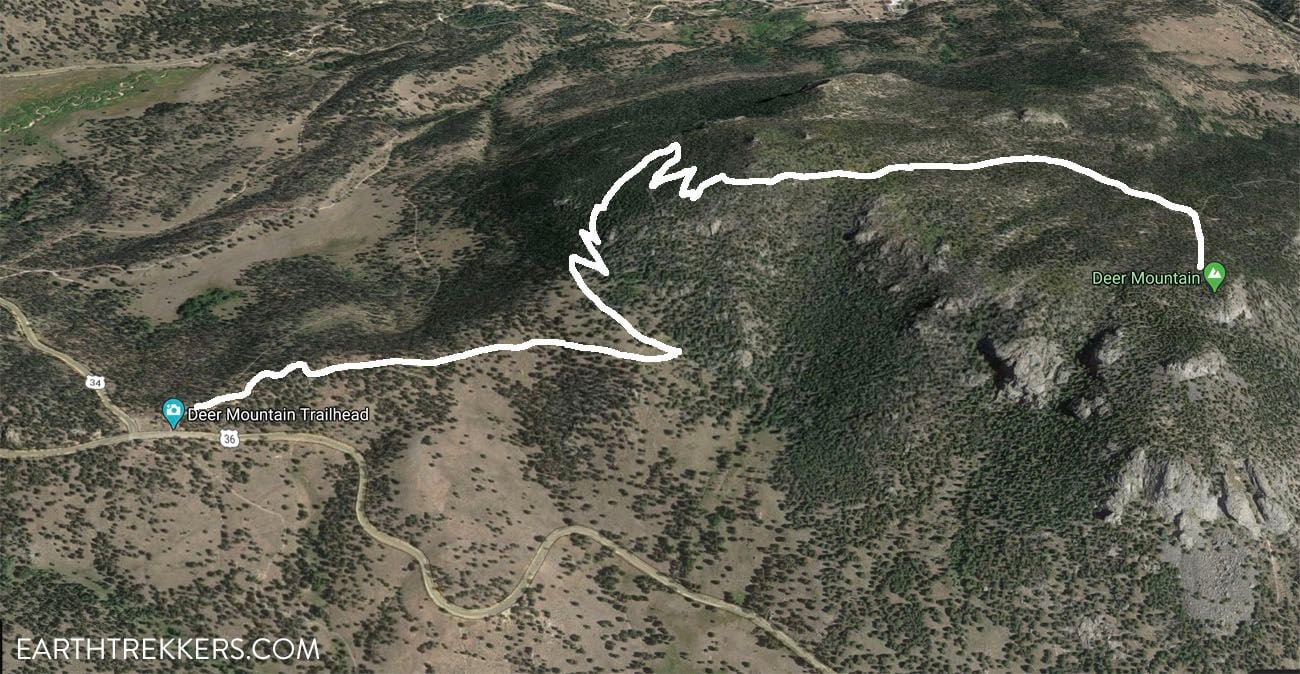 Please practice the seven principles of Leave No Trace: plan ahead, stay on the trail, pack out what you bring to the hiking trail, properly dispose of waste, leave areas as you found them, minimize campfire impacts, be considerate of other hikers, and do not approach or feed wildlife.
Deer Mountain Hike
Getting to the Trailhead
The Deer Mountain Trailhead is located on Trail Ridge Road, 3 miles west of the Beaver Meadows entrance. If you are staying in Estes Park, it is a 20-minute drive to get here.
Parking is limited, with approximately 8 spaces on either side of Trail Ridge Road. There are a few additional spaces on Fall River Road. To get a spot, plan to get here early, ideally no later than 7:30 am during the busy summer months.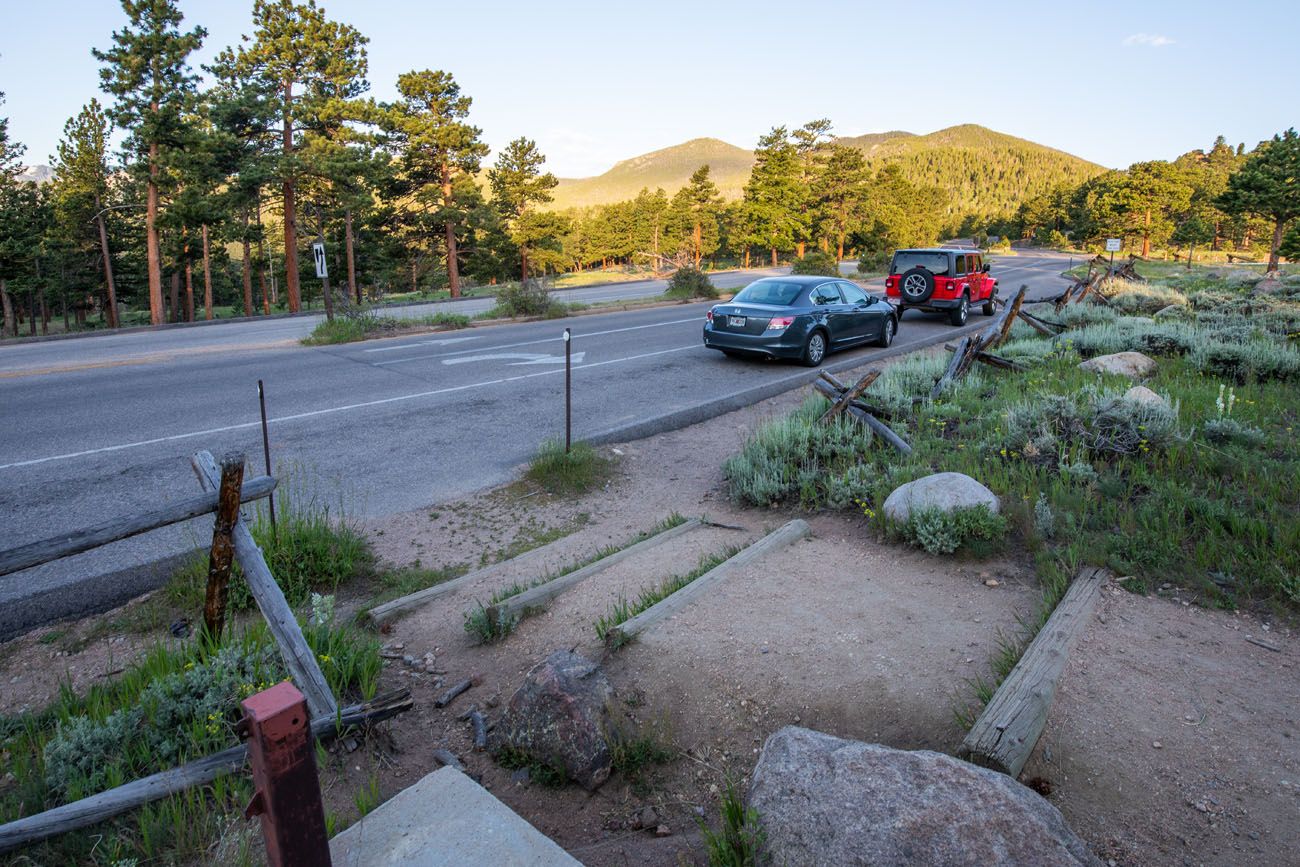 Hiking Deer Mountain
The trail to the summit of Deer Mountain is well marked and easy to follow. Just a few minutes into the hike the trail will come to a fork. Stay to the right to continue on the South Deer Mountain Trail. There will be a sign here pointing you in the correct direction.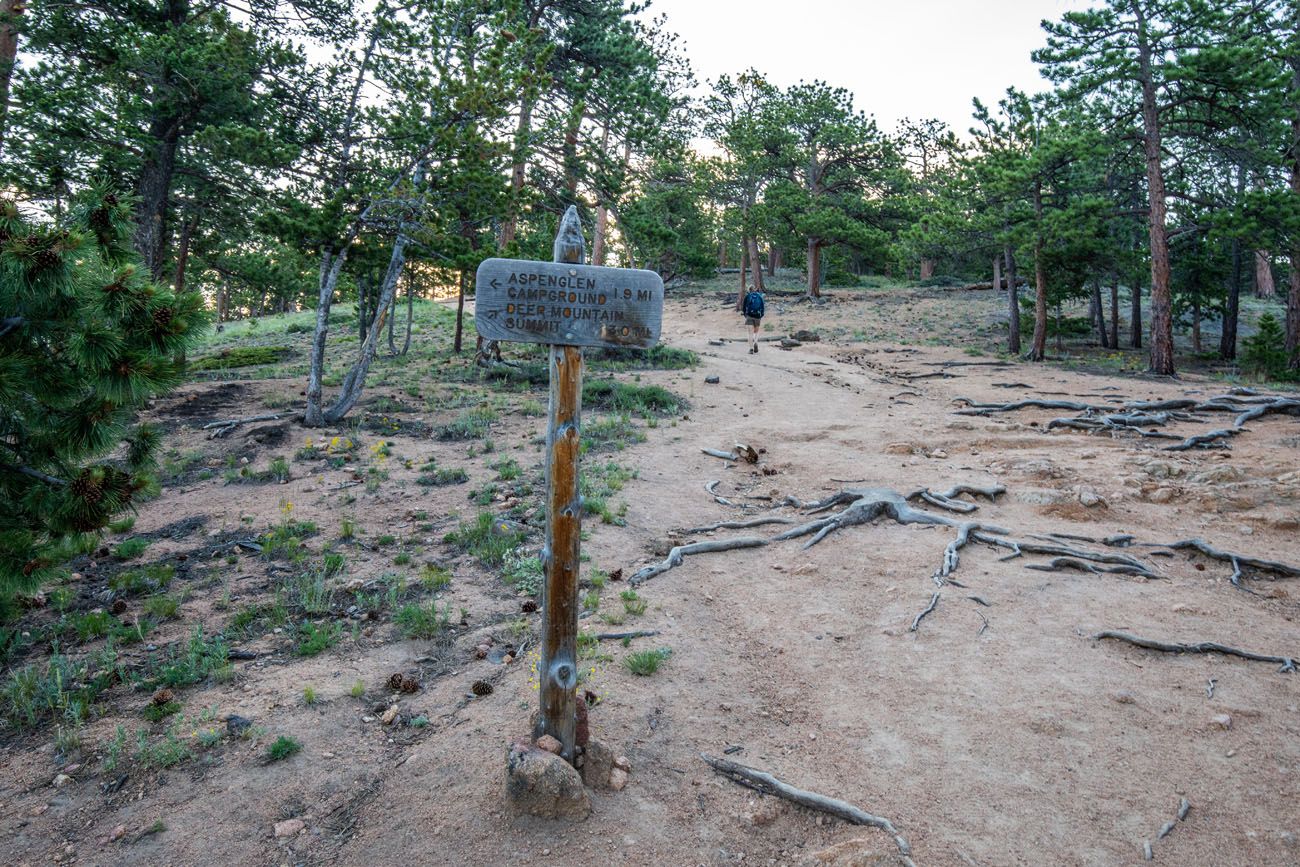 For the first quarter of the hike, it's a leisurely uphill walk. Occasionally, you will have a nice view out to Long's Peak.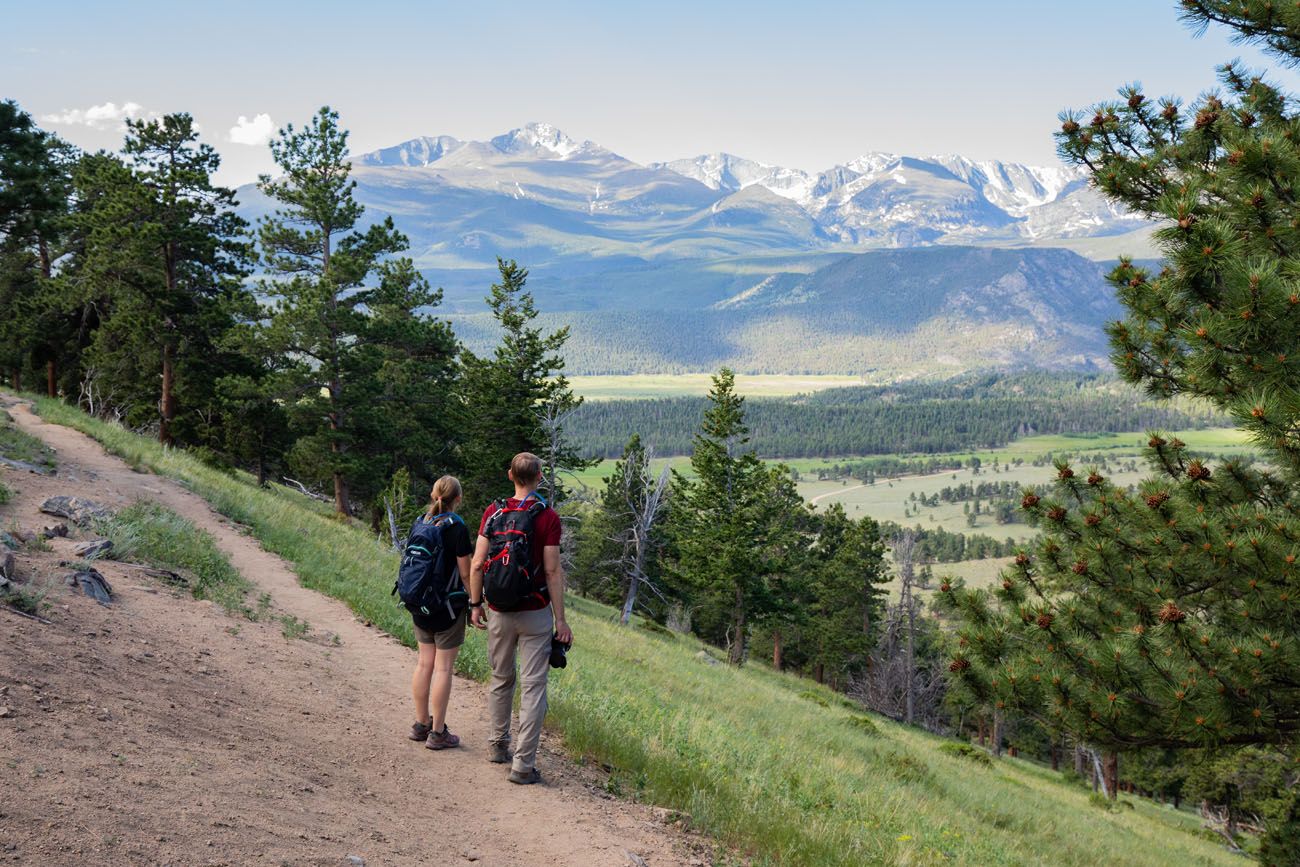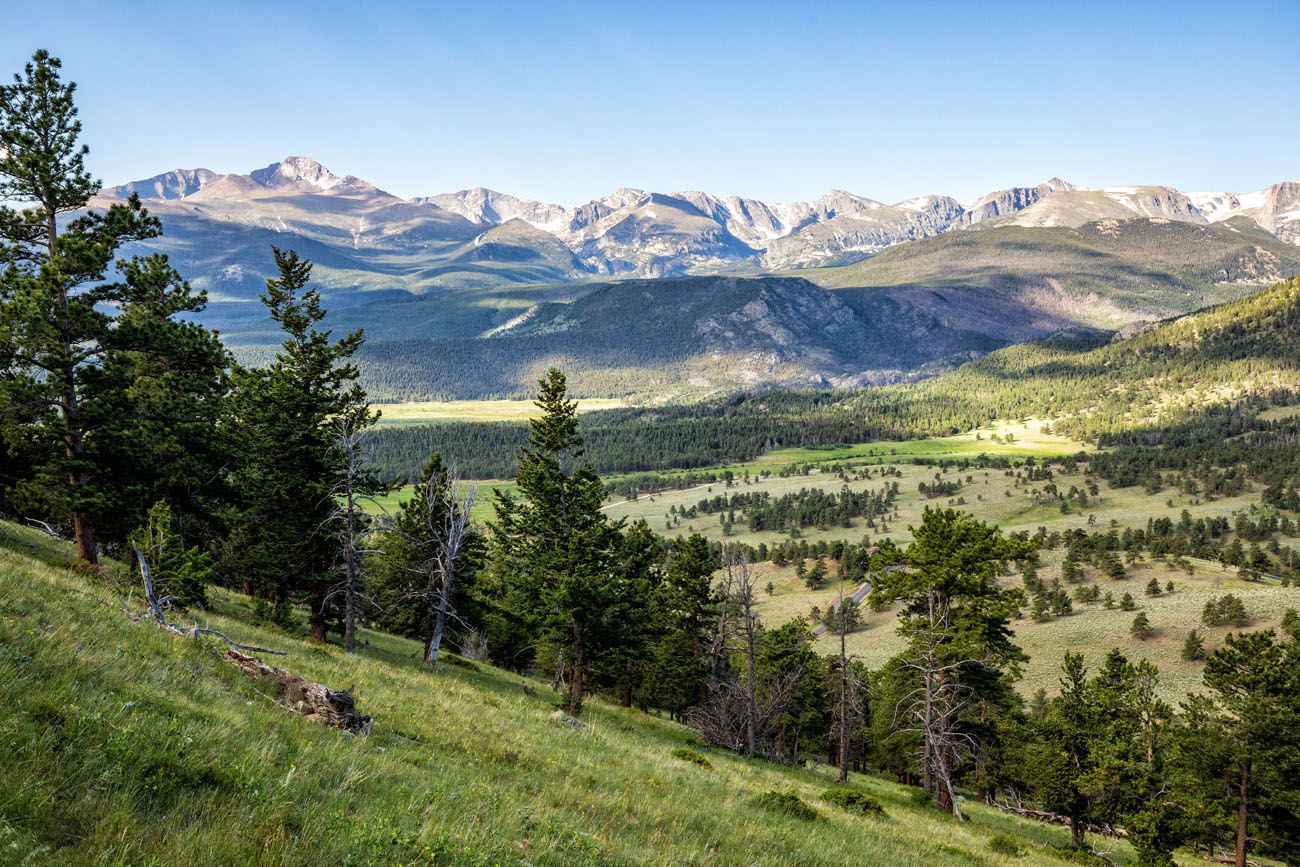 Once you hit the first switchback, the hike gets to be more strenuous. This is the hardest and most monotonous section of the hike, since this part of the trail is all about getting you up to the summit. During this section of the hike, the beautiful views of Longs Peak are gone. But not to worry, it will all be worth it once you get to the summit.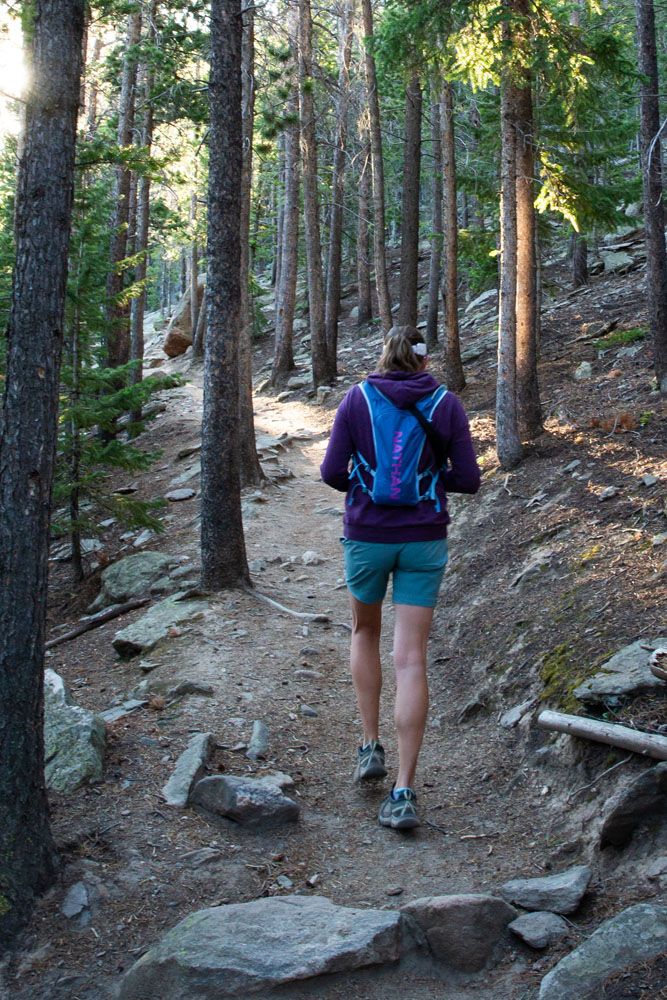 Near the summit, the trail flattens out for a little bit, and even goes downhill briefly, a nice break for your legs. Then it's just one final uphill climb to the summit.
Once on the summit, there are several trails that take you to different viewpoints. From the top of Deer Mountain, you will look out over Estes Park, Moraine Park, Longs Peak, and Trail Ridge Road.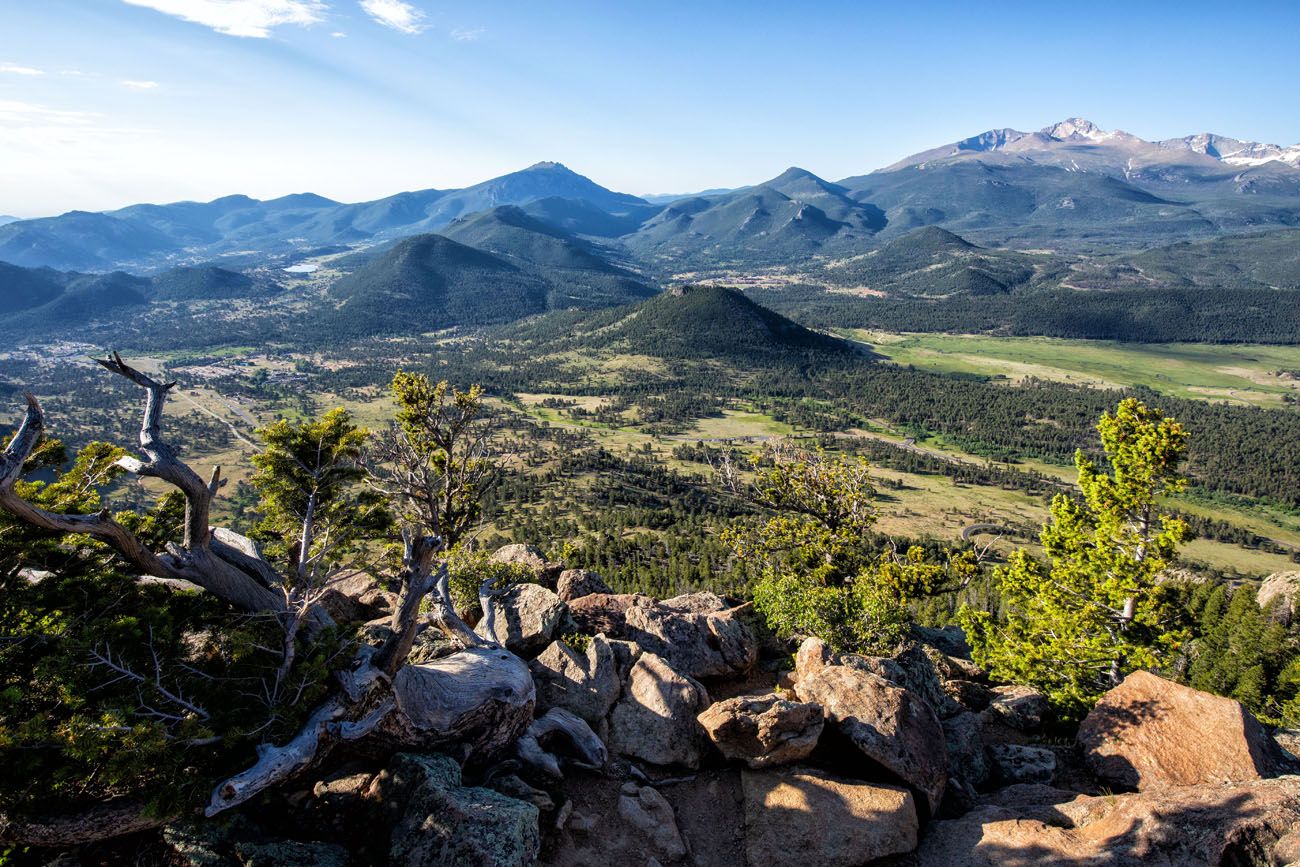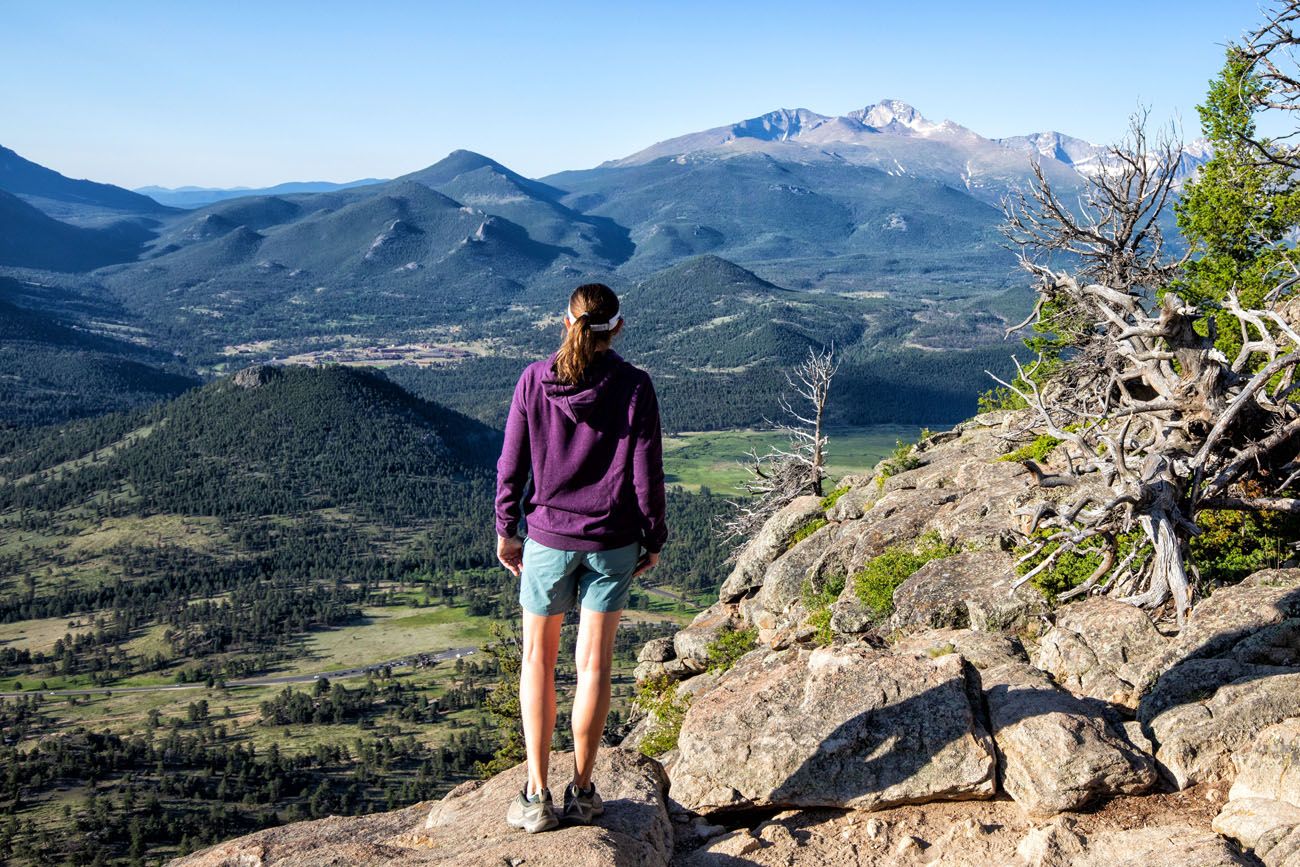 To complete the hike, retrace your steps back down the same trail.
Tips to Have the Best Experience
Start the hike early, ideally by 7:30 am. You need to get here early in order to get a parking space. Also, during the summer months, afternoon thunderstorms are common, typically occurring by 2 pm. To avoid the storms, return to the parking lot by 2 pm.
If you plan to visit Rocky Mountain National Park during the summer and early fall, you will need a Timed Entry Permit. Learn more here.
Trail updates. As you plan your trip to Rocky Mountain National Park, and just before doing this hike, check the National Park Service website for updates on trail and road closures.
Wear hiking shoes or a good pair of walking shoes. As long as there is no snow on the ground, a good pair of walking shoes or running shoes are sufficient. The trail is rocky and uneven but hiking shoes are not necessary for this hike.
If you are new to hiking or are curious about what you should bring on a hike, check out our Hiking Gear Guide. Find out what we carry in our day packs and what we wear on the trails.
---
If you have any questions about hiking Deer Mountain, let us know in the comment section below. Happy Hiking!!
More Information about RMNP
You Might Also Like: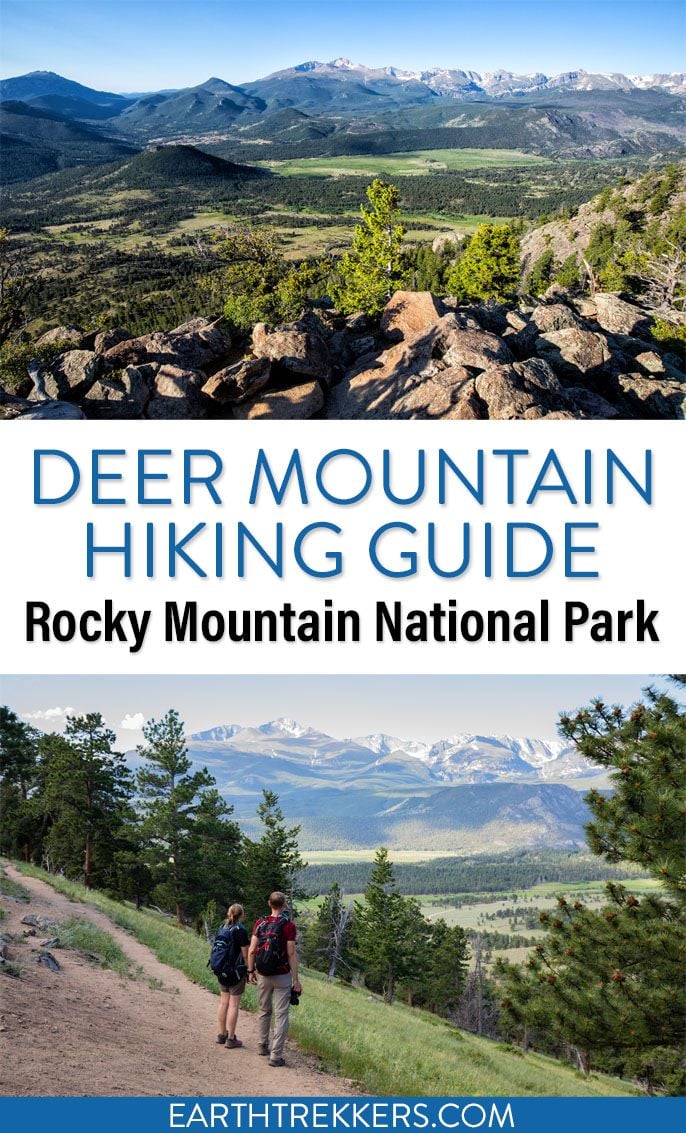 All rights reserved © Earth Trekkers. Republishing this article and/or any of its contents (text, photography, etc.), in whole or in part, is strictly prohibited.