Breathtaking, adventurous, rugged, inspiring, photogenic, extraordinary…these are all words that can be used to describe Norway. It is hard to look at photos of Norway without saying "Wow!" over and over again. Norway is the land of fjords, quaint coastal towns, the Northern Lights, Vikings, trolls, dramatic photo spots, scenic drives, and some of the best hiking in the world. Whether you are coming here for a relaxing cruise through the fjords, an epic hiking adventure, or a trip to the Arctic Circle, Norway will not disappoint. 
Language

The official language is Norwegian but most people are fluent in English.

Power

220 V 50 Hz, Europlug (Type C and F)

Currency

Norwegian Krone (plural – kroner), NOK. Symbol – kr.  $1 USD rougly equals 8.7 kr.

Visas

Citizens of the United States, Canada, Europe, Australia, and Japan can enter Norway for up to 90 days without a Visa.
Norway is expensive

Norway is one of the most expensive countries to visit in the world. Food, accommodations, and fuel are the most pricey items. It is not unusual for a cheeseburger to cost $20 USD and a beer to cost $12 USD. Norway is not a budget destination but there are ways to save money. Shop at supermarkets and bakeries rather than dining at restaurants. Good, clean hotels at reasonable prices can be found, as accommodation prices are not as shockingly high as the price for food. Rental car prices are average and we took several in-country flights that were very economical. I believe you get what you pay for. That cheeseburger may be expensive but the views you will have of the fjords are priceless.

Best Time To Go to Norway

Summer is brief in Norway. For outdoor activities such as hiking and camping, the best months are June through August. Before and after these months, snow is possible, especially as you travel north. The summer months also get the most tourists, so expect larger crowds at most of the popular sights. Norway was the birthplace of skiing, so visiting Norway during the winter months can also make for a great trip. If you want to see the Northern Lights, visit Norway between November and March.

Tipping

Service charges are already included in your bill. There is no need to add an extra 10 or 15% to your restaurant bill.
Hike to Trolltunga.  Nowadays, almost everyone has seen the photos of people posing on a narrow outcropping of rock, with the dramatic scenery of Norway in the background. You can hike, bike, and climb to Trolltunga, this being one of the epic hikes possible to do in Norway.
Kjeragbolten. Quickly becoming another Norwegian icon, Kjeragbolten is a large boulder wedged between two cliffs. Do you dare step out onto this rock? Even if you don't, the hike to get there is packed with breathtaking scenery.
The Northern Lights.  Northern Norway is one of the best places in the world to view the Northern Lights. The best chances to see the Northern Lights are during the winter months from the Lofoten Islands and Tromso.
Geirangerfjord. A UNESCO World Heritage Site, Geirangerfjord is labeled is one of the most beautiful fjords in Norway. View it from land, cruise ship, ferry, or kayak.
Trollstigen.  Also called the Troll's Footpath, this dramatic road is one of Norway's most visited sites. This winding road provides more dramatic views and a chance to drive on one of Europe's "most dangerous roads," although we found it to be quite safe.
Svalbard.  The Svalbard Islands are located between Norway and the North Pole. Visit polar bears, historic mining towns, and the town Longyearbyen.
Bergen.  Bergen is the second largest city in Norway. Eat fish caught fresh from the ocean, visit Bryggen, the Hanseatic houses that dominate the harbor, and get a bird's eye view of the city from the funicular.
Pulpit Rock.  This is the most popular hike in Norway. Easily accessible from Stavanger, expect large crowds of people during the summer months.
Lofoten Islands.  Located in the Arctic Circle, these islands are one of Norway's most beautiful and off the beaten track destinations. Known for its quaint fishing villages, the Lofoten Islands are also spot to go surfing. Who knew?
Ålesund.  This coastal town is one of the prettiest in Norway. It's quick to visit and don't miss the short uphill climb to a viewpoint over the city.
Tromso.  Tromso is considered to be the northernmost city in the world and one of the best places to witness the Northern Lights.
Oslo.  Oslo is Norway's capital. Things to do include seeing the Holmenkollen Ski Jump, the Viking Ship Museum, the Norwegian National Opera, and Akershus Castle.
10 days in Norway…the options are endless for the best way to explore this gorgeous country. We have been to Norway twice and after each trip we wrote a 10-day Norway itinerary. One itinerary onl...
12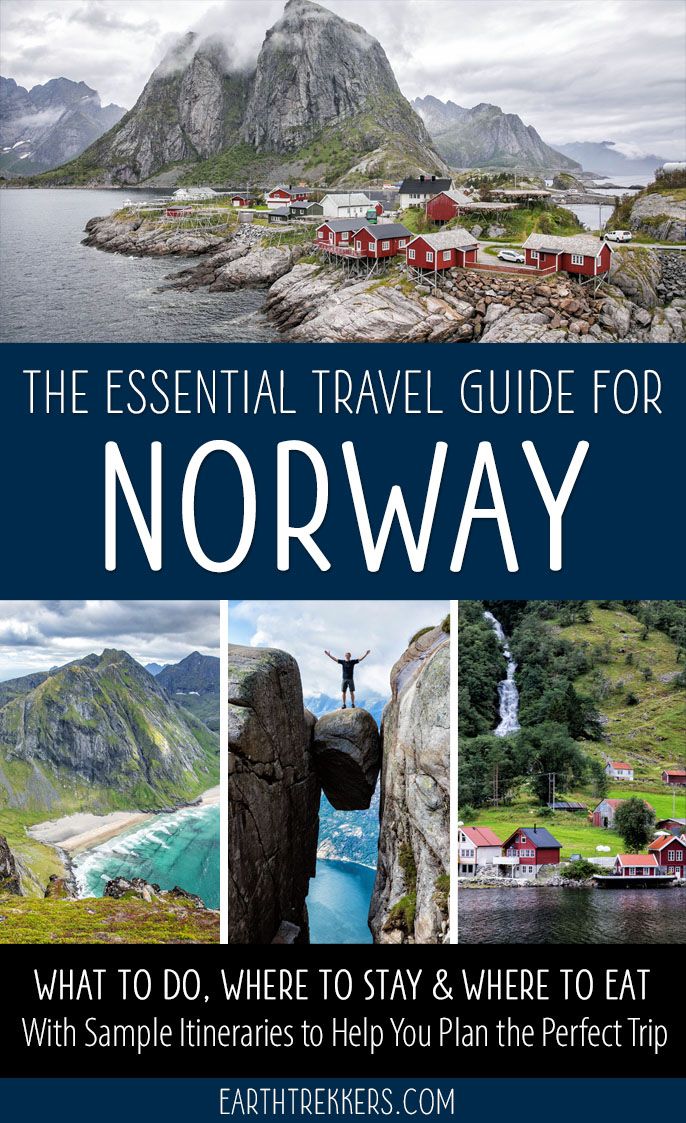 Note: This post contains affiliate links. When you make a purchase using one of these affiliate links, we get paid a small commission at no extra cost to you.