Planning a trip to Greece can be very exciting. This country offers a wonderful mix of ancient, historical sites, breathtaking scenery, and of course, those amazing Greek islands. While you are in the planning phase, there are some things you should know before you go. Here are our Greece travel tips, tips to help you have the best experience in Greece.
We spent 10 days in Greece during the Easter holiday in April. During that time, we visited Athens, Mykonos, Naxos, and Santorini. I know that our time was very limited, but we learned a lot of valuable tips to share with you.
Greece Travel Tips
SIM Cards
If you arrive at the international airport in Athens, you can purchase a SIM card in the airport. Cosmote and Vodafone are the main carriers. We used Cosmote and it worked well every place we visited.
How Much Time Should You Spend in Athens?
Plan to spend two days in Athens, if you can. Yes, I know that you are anxious to explore the Greek islands, but Athens is filled with historical treasures and two days gives you enough time to visit them.
Consider visiting Athens at the end of your itinerary, after you hop through the islands. Ferry and flight cancellations can and do happen. If you end your trip in Athens, you don't have to worry about flight or ferry delays/cancellations to cause you to miss your departing flight home.
Using the Ferries
The easiest way to get between islands is by ferry, so most likely, you will get to experience this at least once on your trip to Greece.
Ferries are notoriously late. They tend to leave the first port on time and then run late for the rest of the day. We rode three ferries and each one was late, sometimes up to an hour late. Unfortunately, you will still have to arrive at the port at the scheduled time, in the slim chance that the ferry arrives on time. But be prepared to wait, and wait, and wait some more.
During very windy weather, flights and ferries can be cancelled. I read online that this happens several times a year. The windiest months are January, February, July and August. The smaller, faster ferries (like the Seajet catamarans) tend to be cancelled first. The larger ferries (Blue Star and Hellenic Seaways) can operate in windy conditions but even they can be cancelled in extreme weather. During our visit, we had several days of 35 mph winds but flights and ferries were still running.
If you are prone to motion sickness, don't forget your Dramamine and Sea Bands. Despite both of these, Kara still got seasick when we sailed from Athens to Mykonos. We were on a Seajet ferry, which is small and much faster than the Blue Star ferries, so it also rocks and rolls a lot more in the water. If you tend to get seasick easily, consider taking one of the larger, slower ferries.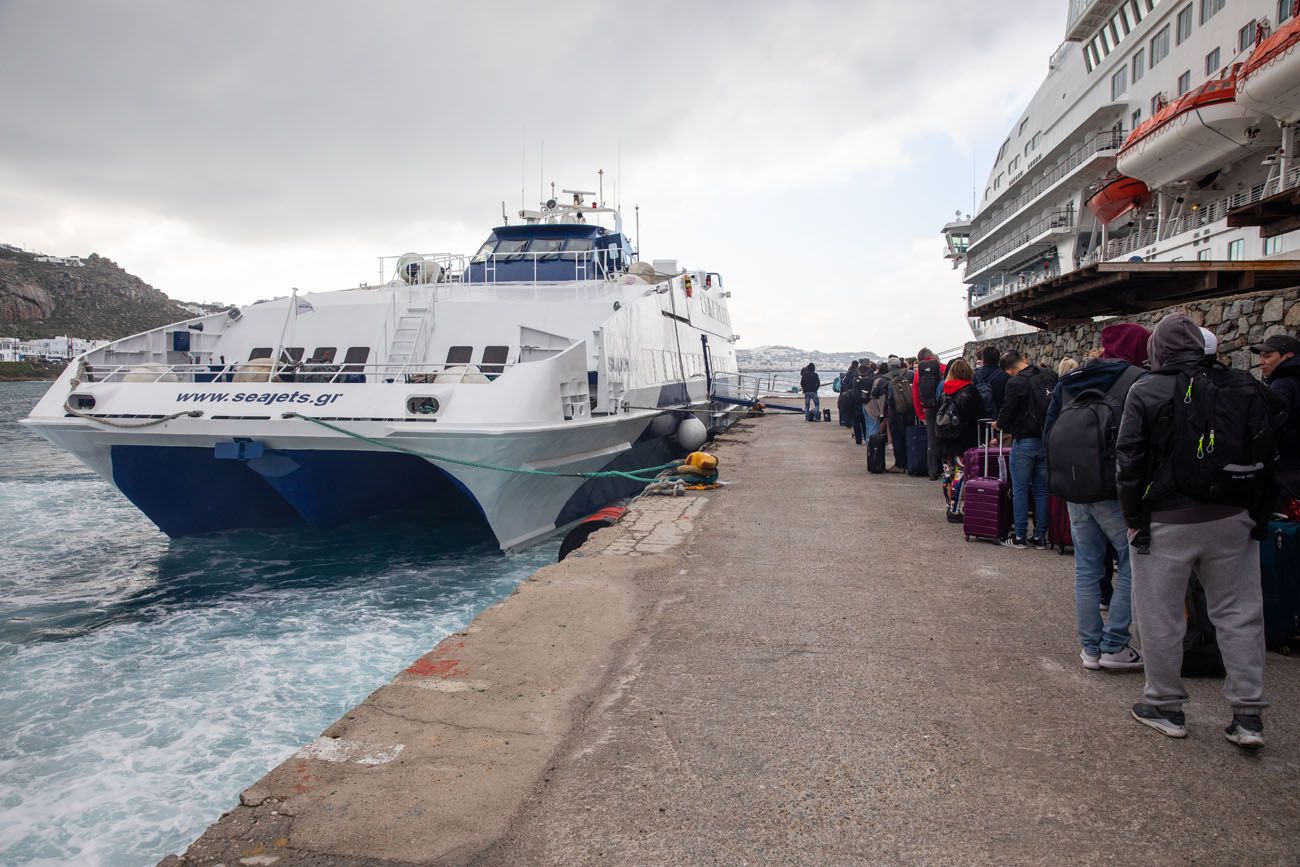 Line to board the ferry in Mykonos | Greece Travel Tips
Tips Related to Seajet Ferries
Seajet can overbook their ferries
They did so during our visit. They were operating two ferries from Athens to Mykonos to Santorini. One of these ferries also made a stop in Naxos. There was a large tour group of over 50 people that did not make it onto the direct ferry from Mykonos to Santorini. They got bumped onto our ferry, which made a stop in Naxos, before continuing on to Santorini. If you're in this situation, there's nothing you can do about it, it's just something to be aware of.
The Name of the Ferry on Your Ticket May Not Match the Name on the Side of the Ferry
Before boarding the ferry, confirm with the ticket attendant that you are getting on the correct one.
We booked our tickets on the Champion Jet 2 ferry. However, it was replaced by the Superjet ferry during our visit.
In Athens, two Seajet ferries were at the Piraeus port, the Superjet and the Seajet 2. Champion Jet 2 was printed on our ticket, however, it wasn't at the port. So, we assumed that we would be on the Seajet 2.
The ticket attendant took our tickets, we stowed our bags, and we took our seats. Then, on the overhead PA system, we were notified to talk to an attendant. Apparently, we were supposed to be on the Superjet ferry, but it still baffles me why the ticket attendant even allowed us to board the wrong ferry. We grabbed our stuff and made it onto the Superjet just before it departed.
Standard, Business, or VIP Seats?
Seajet offers three classes of seats: standard (silver), business (club class), and VIP (platinum).
On the Superjet and Seajet 2 ferries, there was little difference in the seats but a huge difference in the price. The standard seats are located on the lower level. The business and VIP class seats are located in the smaller upper level. These seats were minimally larger than the standard seats. We paid for VIP seats for the journey between Athens and Mykonos, since it was our longest trip by ferry, but it was a waste of money.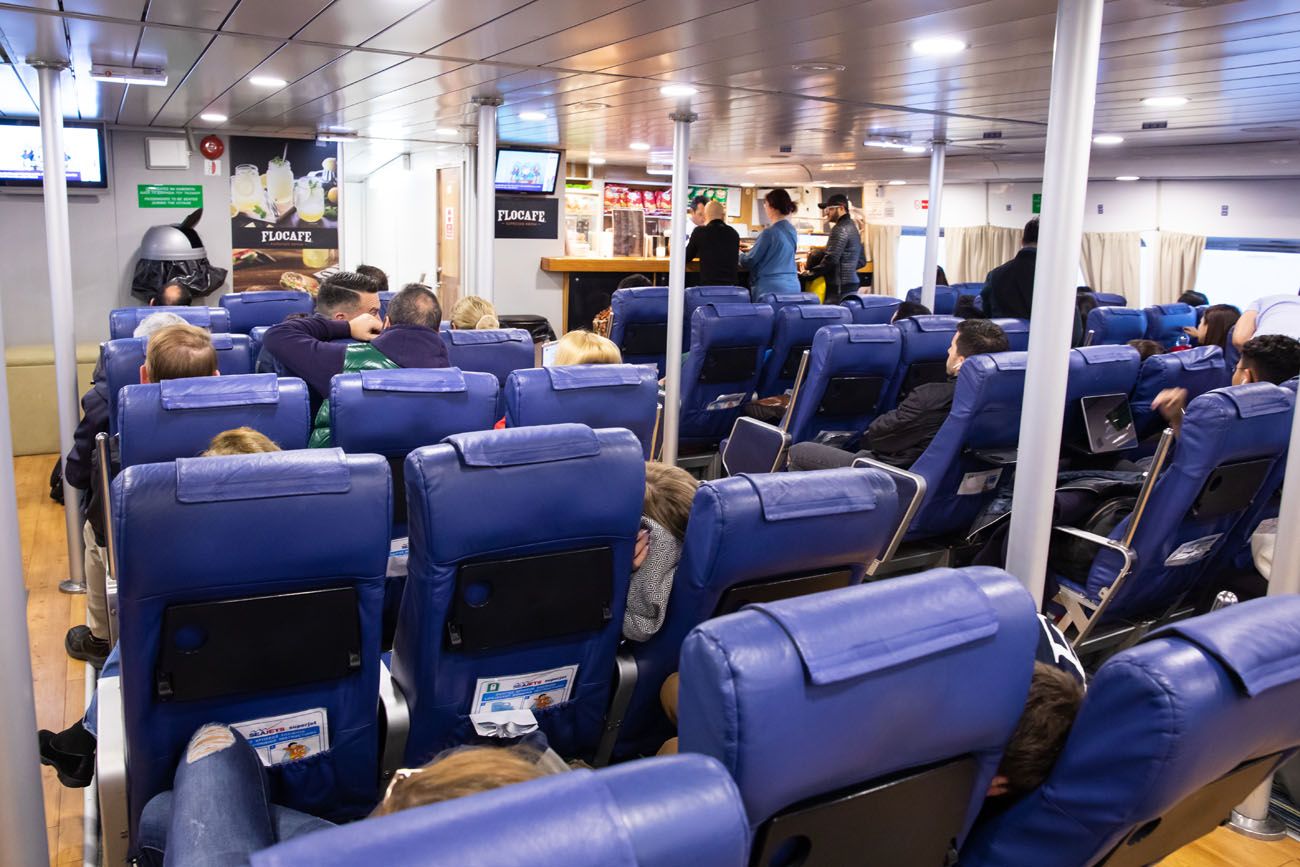 VIP/business class section | Greece Travel Tips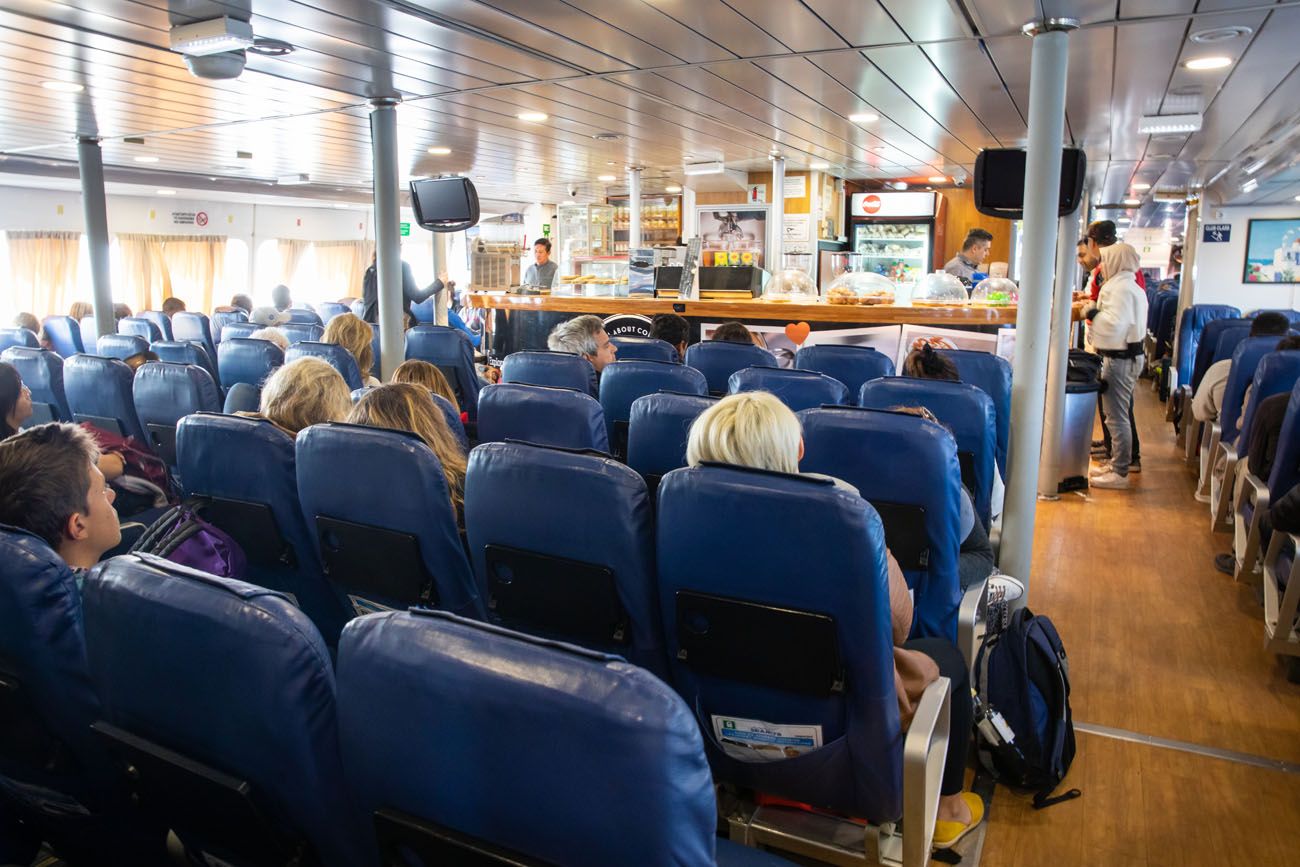 Standard seats | Greece Travel Tips
Plus, being on the second level offered a big disadvantage. When disembarking, we had to wait for the enormous lower level of people to get off of the ferry before we could get down the stairs. And things tend to bounce and roll a little more on the upper level, which may have contributed to Kara's seasickness.
I can only speak for the Superjet and Seajet 2 ferries, since we saw the insides of both of these. The Champion Jet 2 is a much larger catamaran. Maybe the VIP and business class seats are worth it? Since they switched our boat, we'll never know.
Booking Your Ferry Tickets
Book your ferry tickets in advance, no matter what else you might read online. In our experience, the Seajet ferries were fully booked and this wasn't even during the peak summer months.
You can book your tickets online in advance directly on the ferry company's website or you can use FerryHopper.com. We used Ferry Hopper and highly recommend it. Their website is easy to use and there is no additional booking fee for using their service.
Plus, they now offer e-tickets. If you book your tickets on the Seajet, Blue Star, or Hellenic Seaways website, you will still have to pick up your tickets at the port before you board the ferry. These companies do not offer electronic tickets.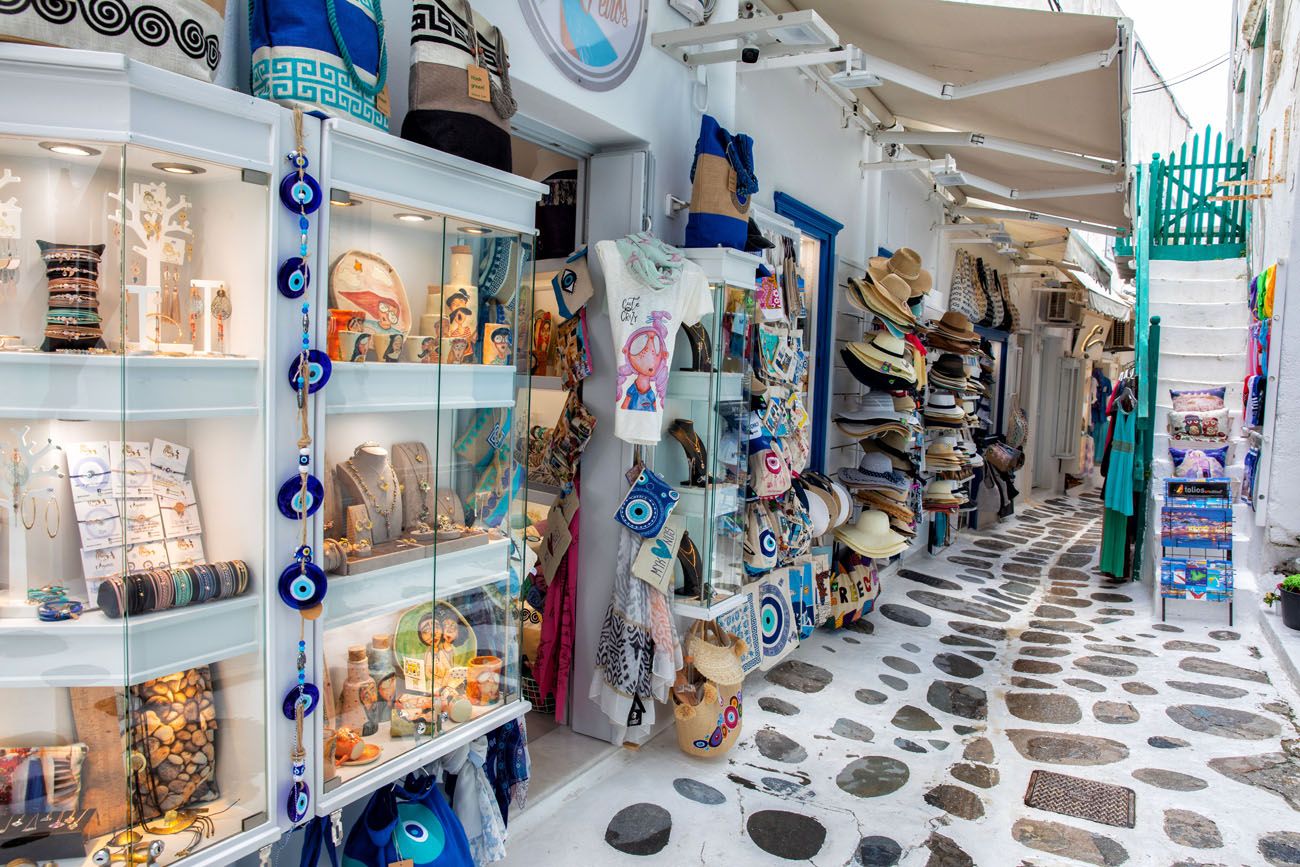 Mykonos | Greece Travel Tips
Arrange Your Hotel Transfers in Advance
Getting off of the ferry can be a chaotic, frustrating experience. And then once back on solid ground, it's a mad scramble for taxis and spots on the public buses. These islands have a limited number of taxis so I wouldn't count on them being available, especially if you are at the end of the line getting off of the ferry.
Most hotels will arrange a driver to meet you at the port for free or for a fee. It's worth it, especially in Santorini and Mykonos.
In Santorini, we planned to take the bus from the port to the airport, where we were then going to pick up our rental car. However, that bus was not yet running in mid-April. The taxis were long gone. So, we then had to take an "express" bus to the airport. In this large van, the driver crammed in 15 passengers and luggage. Luckily, we were the second group off of the shuttle, but the last people on the shuttle probably got a scenic tour of the island before finally arriving at their hotel.
It's worth the money to pre-arrange your transfer from the port to the hotel.
In Naxos, you can walk right from the port to the Hertz rental car agency and pick up a rental here, so no transfer is necessary if you plan to rent a car.
The Mykonos port is not located near anything, so don't expect to walk to Mykonos town. We had arranged a hotel transfer but we noticed that there were a very limited number of taxis.
Renting a Car, Is it a Good Idea?
We rented a car on Mykonos, Naxos, and Santorini. Was it a good idea? That depends on the island.
Driving on Mykonos
We were surprised at the terrible condition of the roads in Mykonos. The roads are pockmarked with tons of potholes and the roads that lead to the beaches are either dirt roads or narrow, paved roughs in rough condition.
We rented our car from Avis, located right next to the old harbor.
Our experience with Avis was not great. On their website, they list their hours of operation from 9 am to 10 pm. When we picked up the car, they told us that they are only open until 8 pm, but today, they were closing at 6:30 pm. I think it's just because they felt like it. When we returned the car at our agreed upon time, no one was at the office. Tim called them and the agent was at the beach. We had to wait 10 minutes for the agent to arrive so we could complete the rental.
Unless you really want to explore the beaches, renting a car on Mykonos is not worth it. If we did it again, we'd spend our time in wonderful Mykonos town and day tripping to Delos. Take a taxi or use the bus if you want to spend some time at the beach.
Driving on Naxos
Renting a car on Naxos is a must-do. This island is perfect for a road trip. The roads are in great condition and touring the interior of the island and its villages is tons of fun.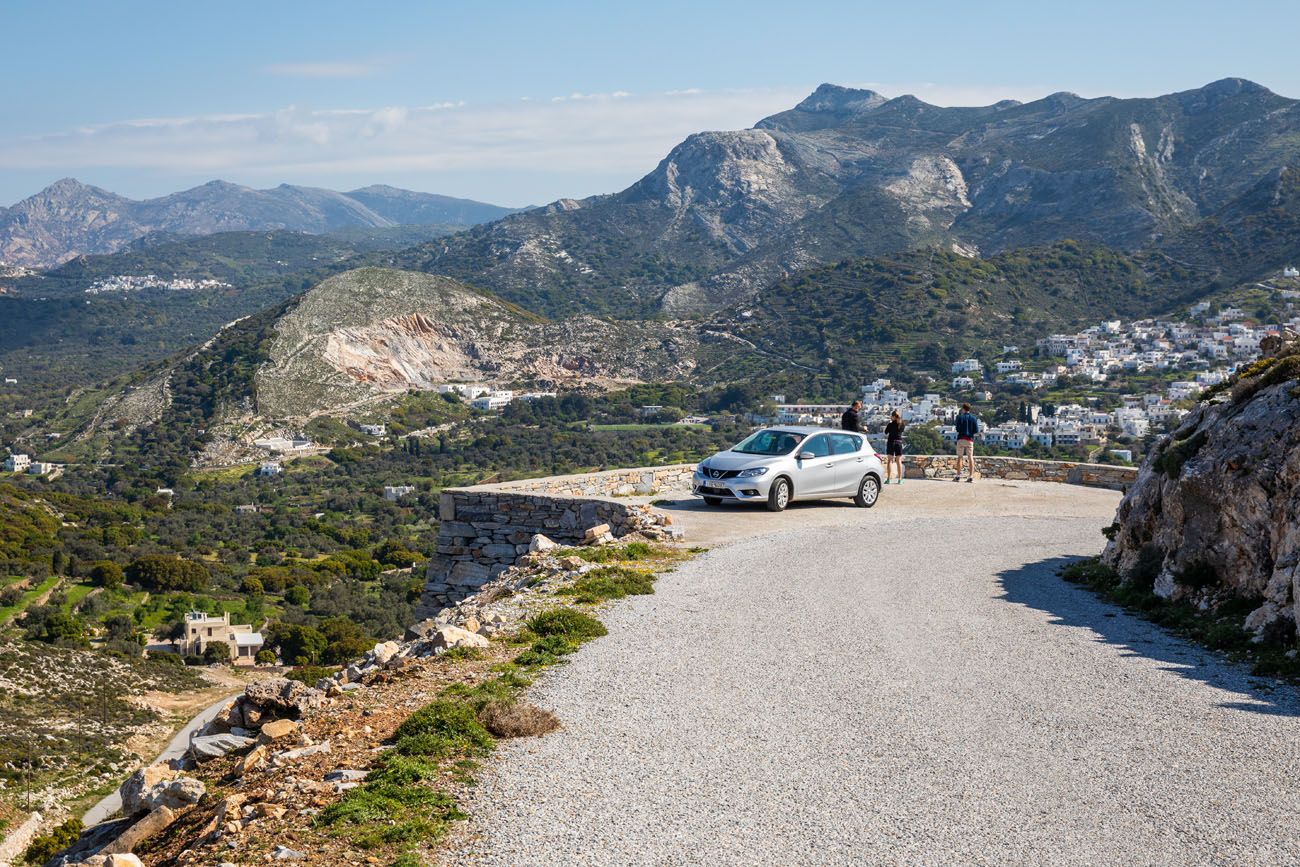 Naxos | Greece Travel Tips
Driving on Santorini
I have mixed feelings on this one.
We rented a car and we loved the freedom it gave us, but it can be challenging driving in Santorini.
The roads are narrow and windy. Since there is limited parking, people park along the shoulder of the road with their car taking up a nice chunk of the driving lane. Which then leads you to leap frog around these cars while avoiding oncoming traffic. Add in the tourists zipping around in ATV's and driving in Santorini becomes a frustrating experience.
And that's just driving the car. Parking it can be just as fun since there is very limited parking.
Plus, most of the places on Santorini that you need a car to visit are just OK, in our opinion. The best spots are Oia, Imerovigli, Firostefani, and the black sand beaches of Perissa and Kamari.
To see the sites outside of the main villages, take a private tour of the island. Let the driver navigate the roads while you sit back and enjoy the view.
If you do choose to rent a car, pick the smallest car you can.
Google Maps is Terrible on the Islands
Google Maps cannot be trusted. It led us down tiny roads, through private farm country, and the wrong way on one-way roads. It was incredibly frustrating.
We learned to use Google's routes merely as suggestions rather than directions that we should blindly follow.
So, what do you do instead? On most of the islands there are plenty of signs to direct to where you want to go. Follow these signs rather than blindly following Google's suggestions.
Should You Rent an ATV?
It sounds like fun right…exploring Santorini by ATV. It tempted us, too. But then I read the horrible reports of ATV accidents, with tourists getting injured, or worse, on the roads of Santorini.
Three days before our visit to Santorini, a young couple tragically died while touring the island by ATV. They had driven up Profitis Ilias, the largest mountain on the island. While turning the ATV around, they misjudged the edge of the road and ended up falling off of the side of the mountain into a ravine. Of course, this could have also happened in a car, but maybe with seatbelts and the protection a car provides, they could have survived the fall.
Places May Close Unexpectedly Early
Our first experience with this was on Mykonos when our Avis car rental agency decided to close almost four hours early so they could go to the beach.
On Santorini, we tried to visit the Akrotiri Archaeological Site. Their hours are listed until 8 pm on their website but they closed at 4 pm (we arrived at 4:10 pm). It was disappointing…well, maybe not for Tyler and Kara. They were thrilled to get out of seeing another "boring" archaeological site.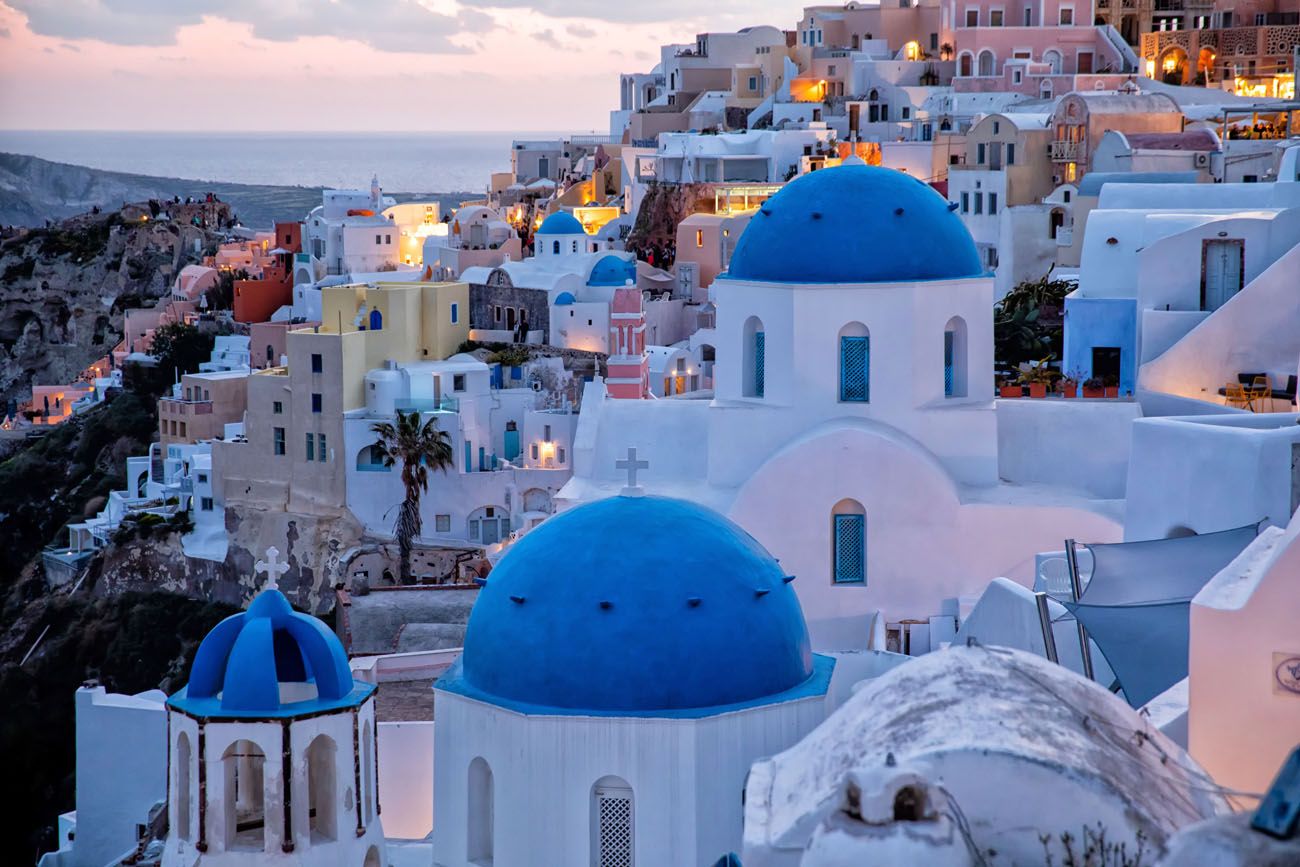 Sunset in Santorini | Greece Travel Tips
Eat the Food and Drink the Wine
The food is amazing everywhere we went. One of our favorite things to do was to search out great restaurants with an amazing view, whether we were in Athens, Naxos, or Santorini.
If you want some great restaurant recommendations, click the links to each post to learn more.
During peak season months, make your reservations at least several days in advance.
Want a Hotel Room with a Hot Tub or Pool? Go to Naxos
If you want a hotel room with a terrace, hot tub, infinity pool and/or amazing view, you get the most for your money in Naxos.
For a fraction of the price we paid in Mykonos and Santorini, we had an amazing experience at Naxos Rock Villas in Naxos. For a relatively cheap price (compared to Mykonos and Santorini), we had a two-bedroom villa with an enormous terrace and infinity pool and stunning views of the island.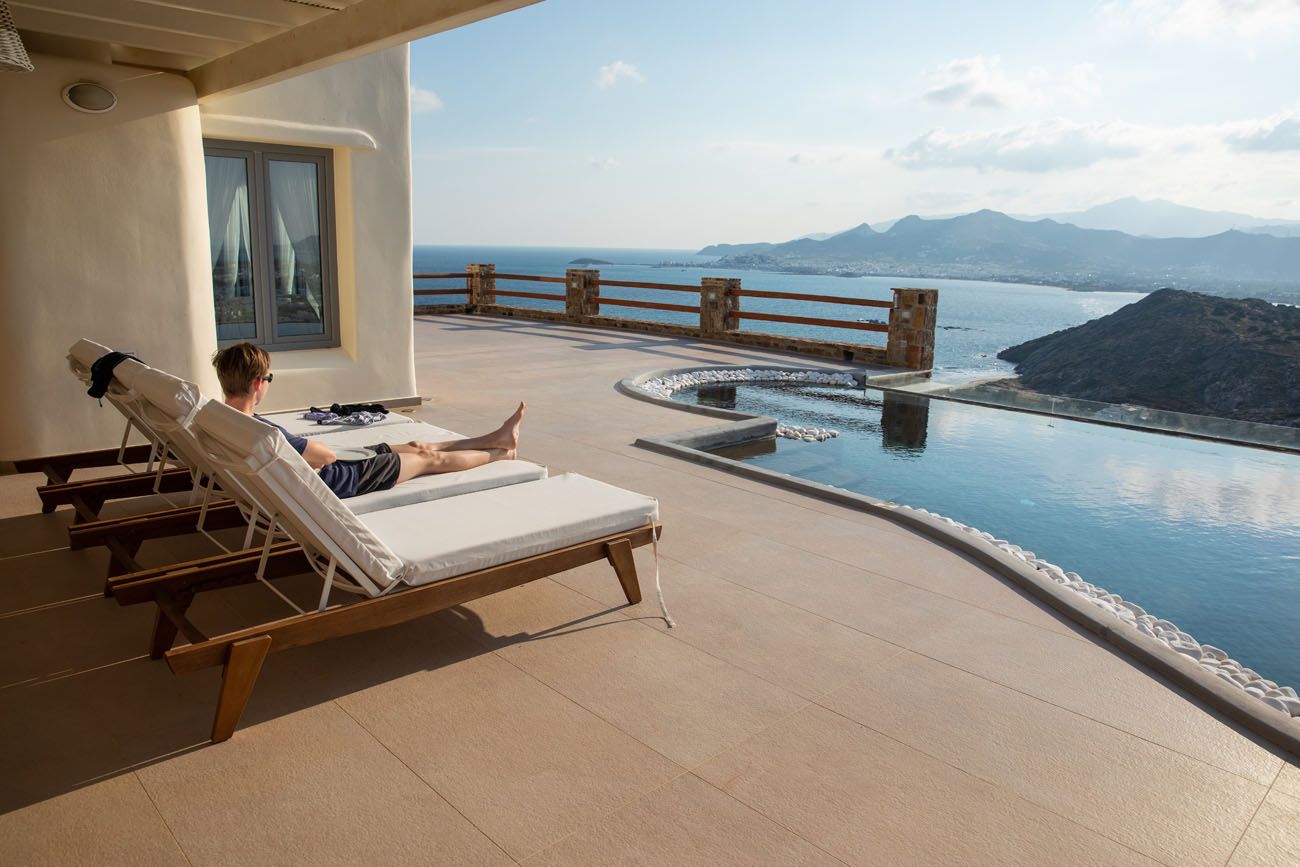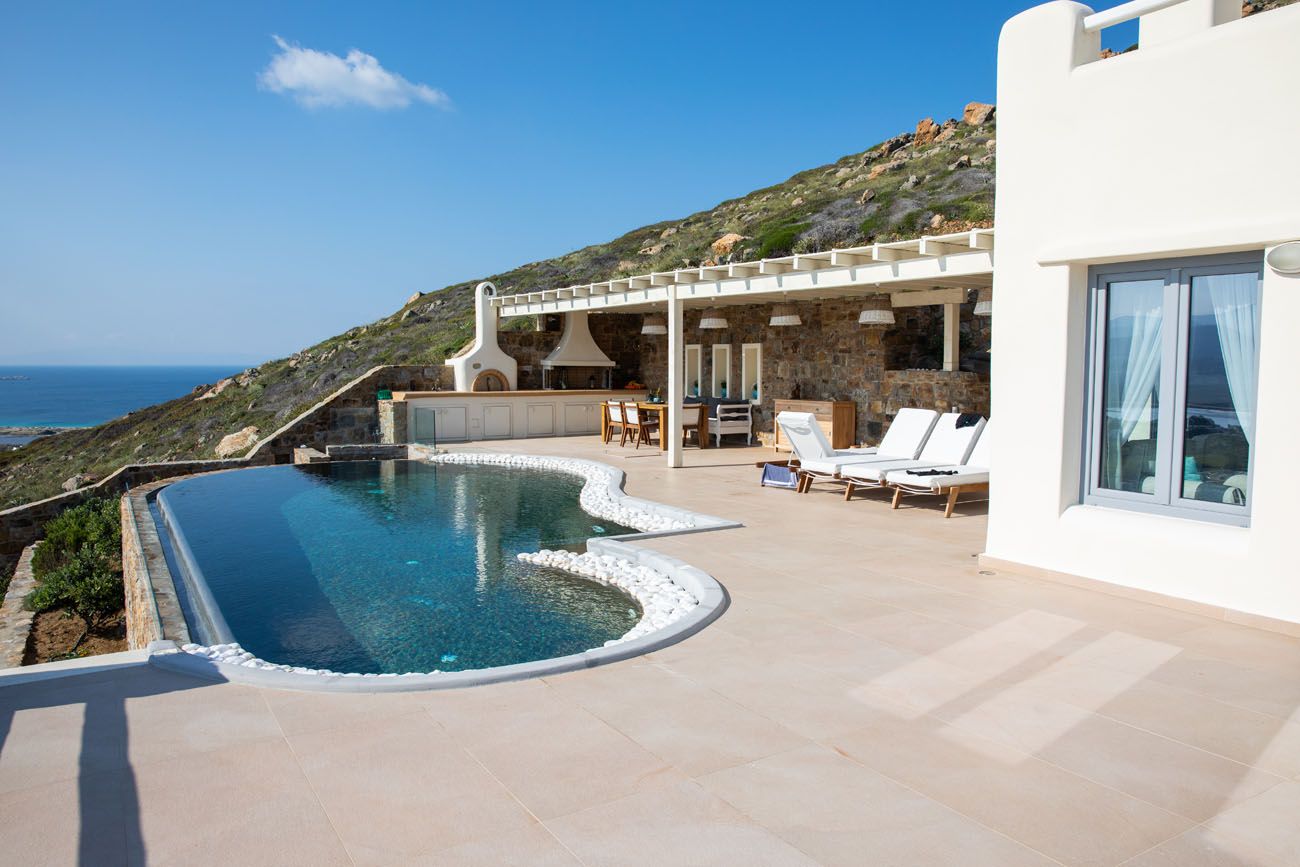 Hot Tub or Pool?
If you are booking a room and have the option of a hot tub or a pool, consider the time of year you are visiting. During April, May and September, when temperatures are cooler, consider a hot tub. During the summer months, consider getting a room with a plunge pool.
---
If you have any questions or if you want to share more Greece travel tips, comment below!
More Information for Your Trip to Greece
GREECE ITINERARY: Learn how to visit Athens, Santorini, Naxos and Mykonos in our 10 Day Greece Itinerary.
THE ACROPOLIS: Learn how to plan your visit and skip the lines in our Guide to the Acropolis. We also have an article about 9 great spots to get the Best Views of the Acropolis.
MYKONOS: Learn about things to do and how to get around Mykonos in our Guide to Mykonos.
THINGS TO DO IN SANTORINI: For a full list of things to do, read our article Best Things to Do in Santorini. We also have detailed guides on How to Walk from Fira to Oia and the Best Places to Watch the Sunset in Oia.
NAXOS: Learn how to plan your visit to Naxos in our article Best Things to Do in Naxos. We also have information on hiking to Mount Zas, how to hike to Apano Kastro, and a detailed guide to hiking the Village Trail to Melanes, Myli, and the Kouroi.
EUROPE TRAVEL INSPIRATION: For more great ideas on where to go in Europe, check out our article 30 Beautiful Places to Visit in Europe. You can also get more travel ideas in our 10 Days in Europe itinerary guide, which has 10 great itineraries for your next trip to Europe.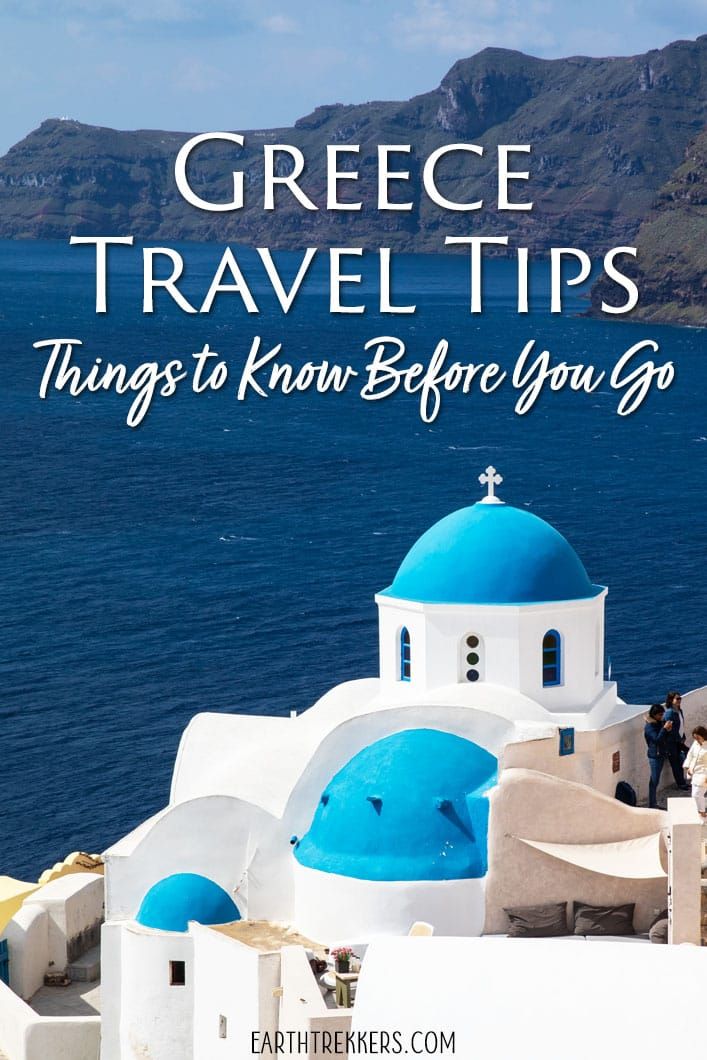 Note: This post contains affiliate links. When you make a purchase using one of these affiliate links, we get paid a small commission at no extra cost to you.
All rights reserved © Earth Trekkers. Republishing this article and/or any of its contents (text, photography, etc.), in whole or in part, is strictly prohibited.