Santorini is a windswept, volcanic island in the Cyclades. Magical sunsets in Oia, photogenic blue dome churches, and a myriad of colorful beaches attract thousands of visitors every year, making this one of Greece's most popular destinations. If you are planning a trip to this wonderful island, here are the best things to do in Santorini.
Interesting Facts about Santorini
Santorini is the southernmost island in the Cyclades. Its official name is Thira (Thera in classical Greek).
This island is the site of one of the largest volcano eruptions in recorded history. About 3,600 years ago the volcano erupted, causing an enormous tsunami which hit the island of Crete, leading to the eventual downfall of the Minoan civilization. Now, Santorini is a waterfilled crescent, the remains of this ancient volcano. The towns of Oia, Fira, and Imerovigli are all perched along the rim of the caldera.
There are more churches than houses on the island, although most of these are very small and private.
Wine is a major industry here. The hot, dry climate is perfect for growing grapes, and if you like to visit wineries and go wine tasting, you'll love Santorini. By the way, the vines are grown in coils on the ground, rather than on a trellis like you typically see in many other vineyards around the world. This is done because it's very windy on Santorini.
And yes, expect windy conditions. While we were here, there were wind gusts strong enough to knock people over, literally. January, February, July and August tend to be the windiest months on Santorini.
Best Things to Do in Santorini
1. Watch the Sunset in Oia
Most likely, you have already seen the iconic sunset photos of Oia. Maybe that's how Santorini made it onto your "must-see" list. It worked for us!
Oia (pronounced ee-uh), is one of the best places in Santorini to watch the sunset. The blue dome churches set amongst cascading whitewashed buildings is the perfect setting to watch the sun go down. This is Santorini's most crowded spot at sunset, so expect big crowds of people here.
PRO TRAVEL TIP: If you are renting a car, plan to get here several hours before sunset just to ensure that you get a parking spot. Parking is extremely limited and by late afternoon, giant tour buses make the situation even worse.
You can wander the streets and look for the perfect spot on your own, but I have two suggestions for you.
The most popular spot to watch the sunset is near Oia Castle. The crowds here are insane. But what you get is view of the windmills and the whitewashed buildings cascading down the cliffs of the island.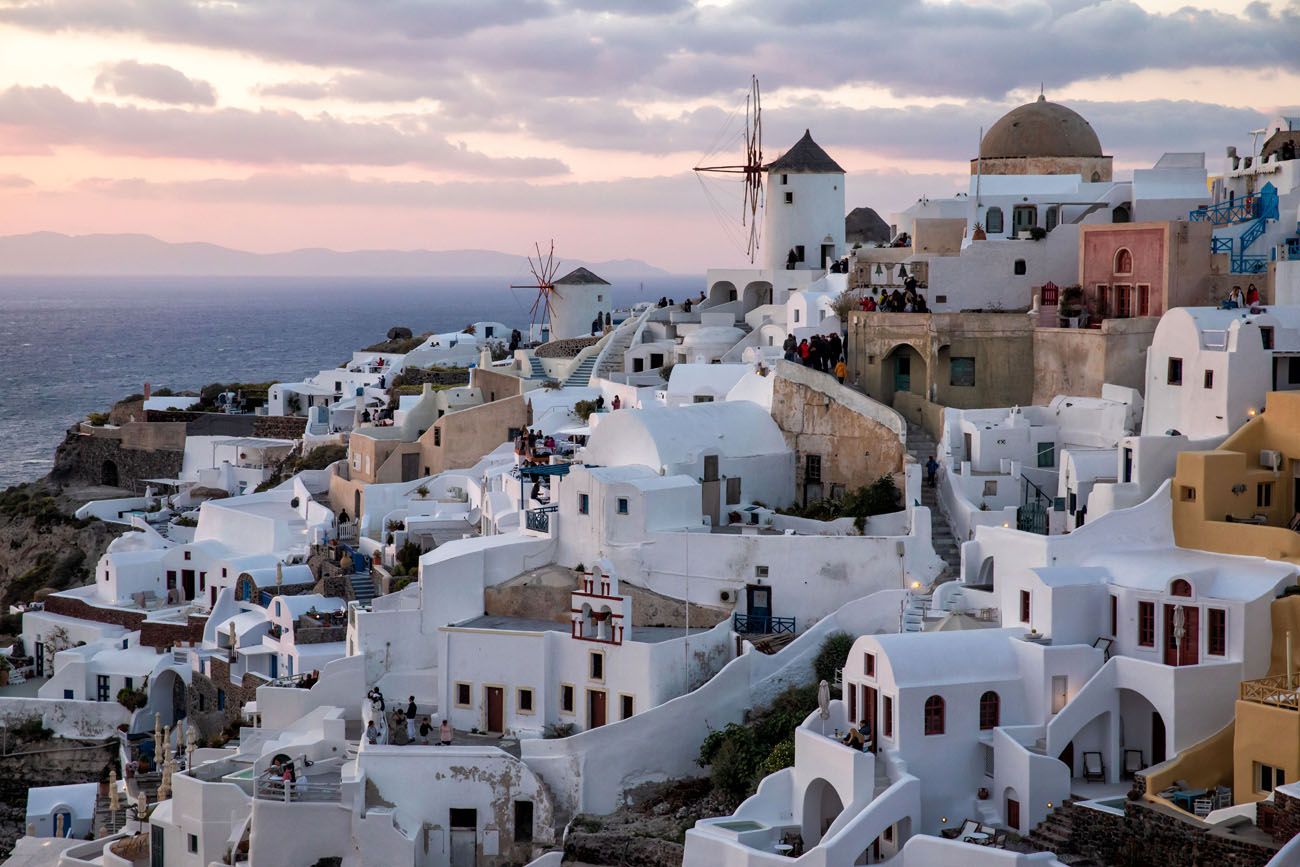 Sunset near Oia Castle | Best Things to do in Santorini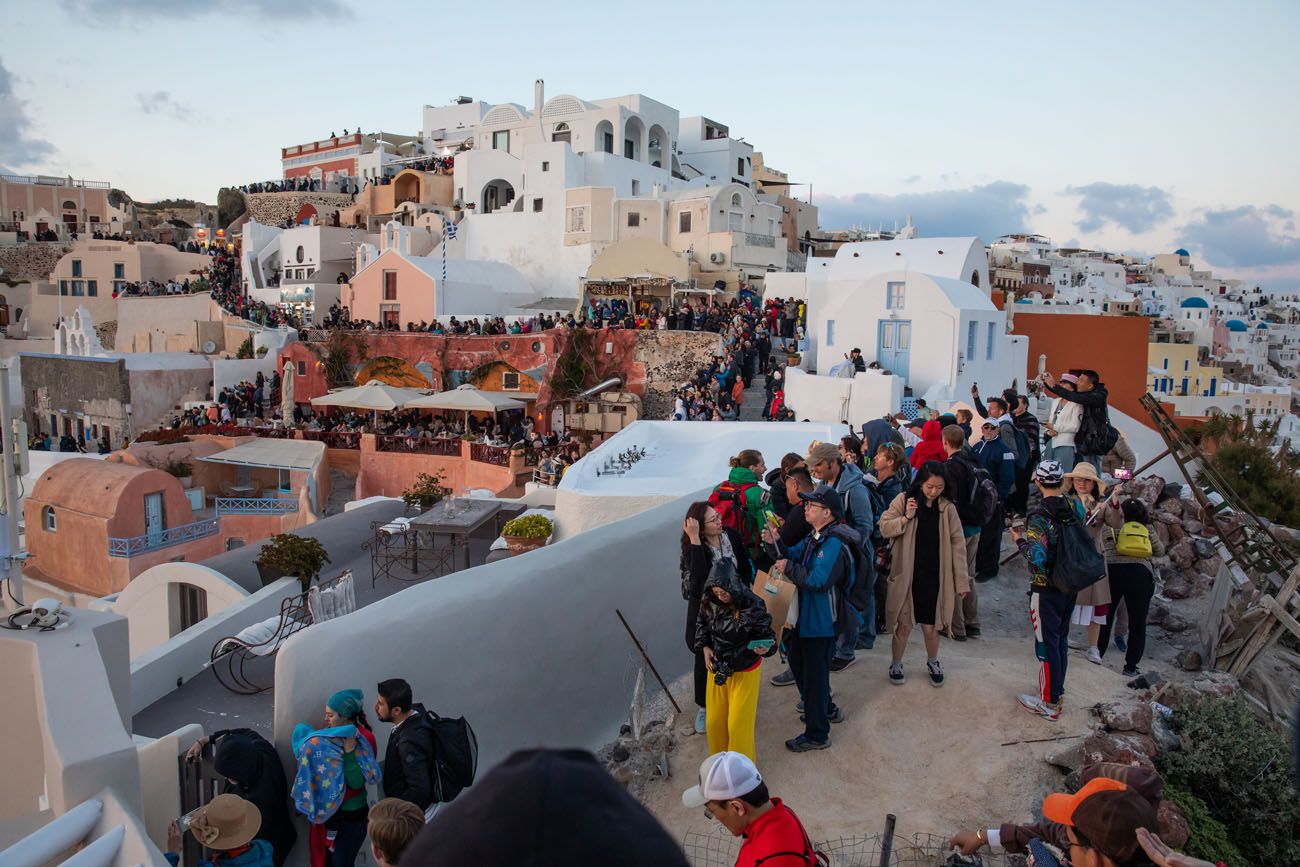 Oia Castle was not our favorite sunset point. It was very crowded and you don't get the iconic blue domes.
My favorite spot was right next to the three blue domes of Oia. This is a fantastic view, because not only do you get the blue domes, but you can also get the bells of a church in your photo. As an added bonus, I shared this amazing spot with just a handful of people.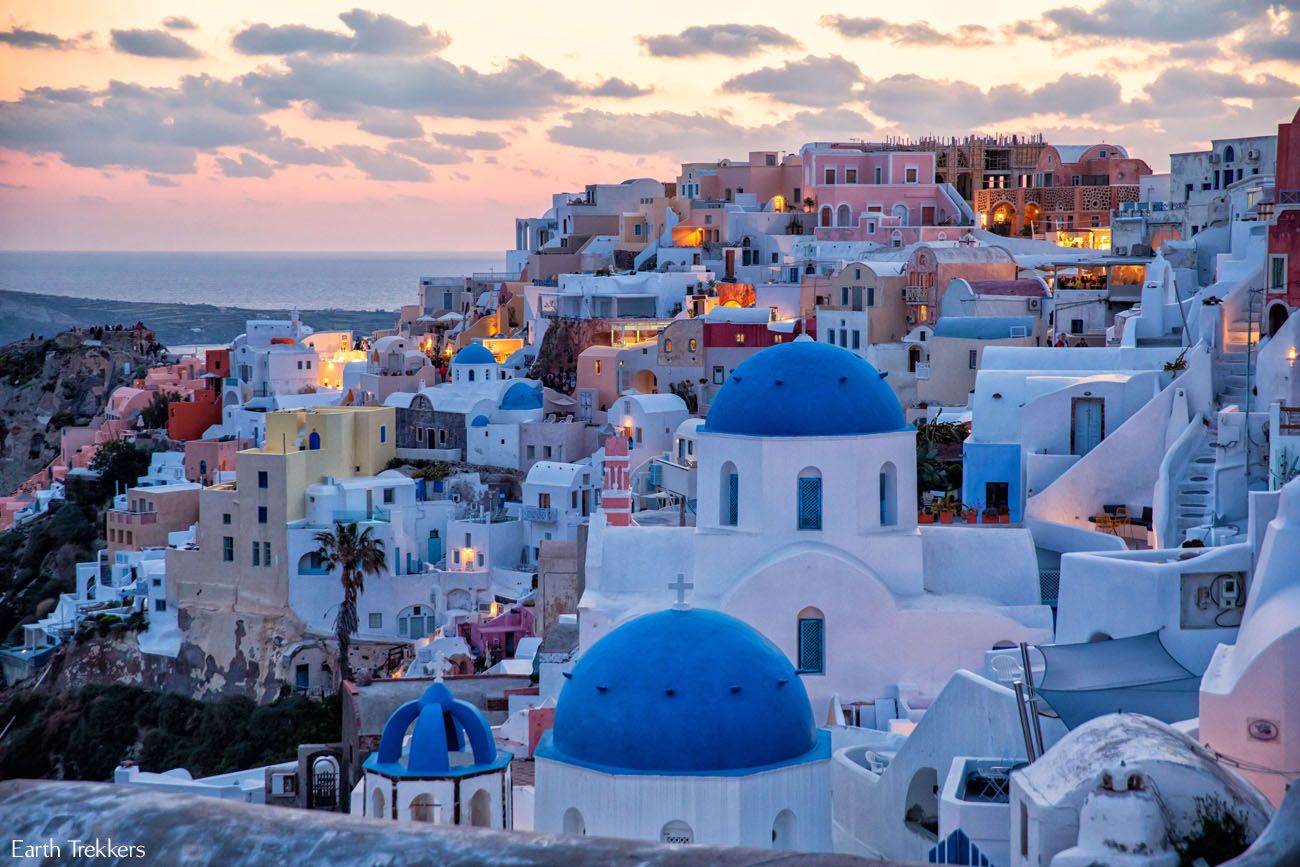 Sunset at the Blue Domes of Oia | Best Things to do in Santorini
2. Sunset in Imerovigli
Imerovigli is less popular that Oia but it's still a fantastic spot to watch the sunset. It's also a lot quieter, another reason why it's so nice.
You can enjoy the view while wandering the narrow walkways, from your terrace or hot tub or plunge pool (if you reserved a hotel here), or from one of several restaurants.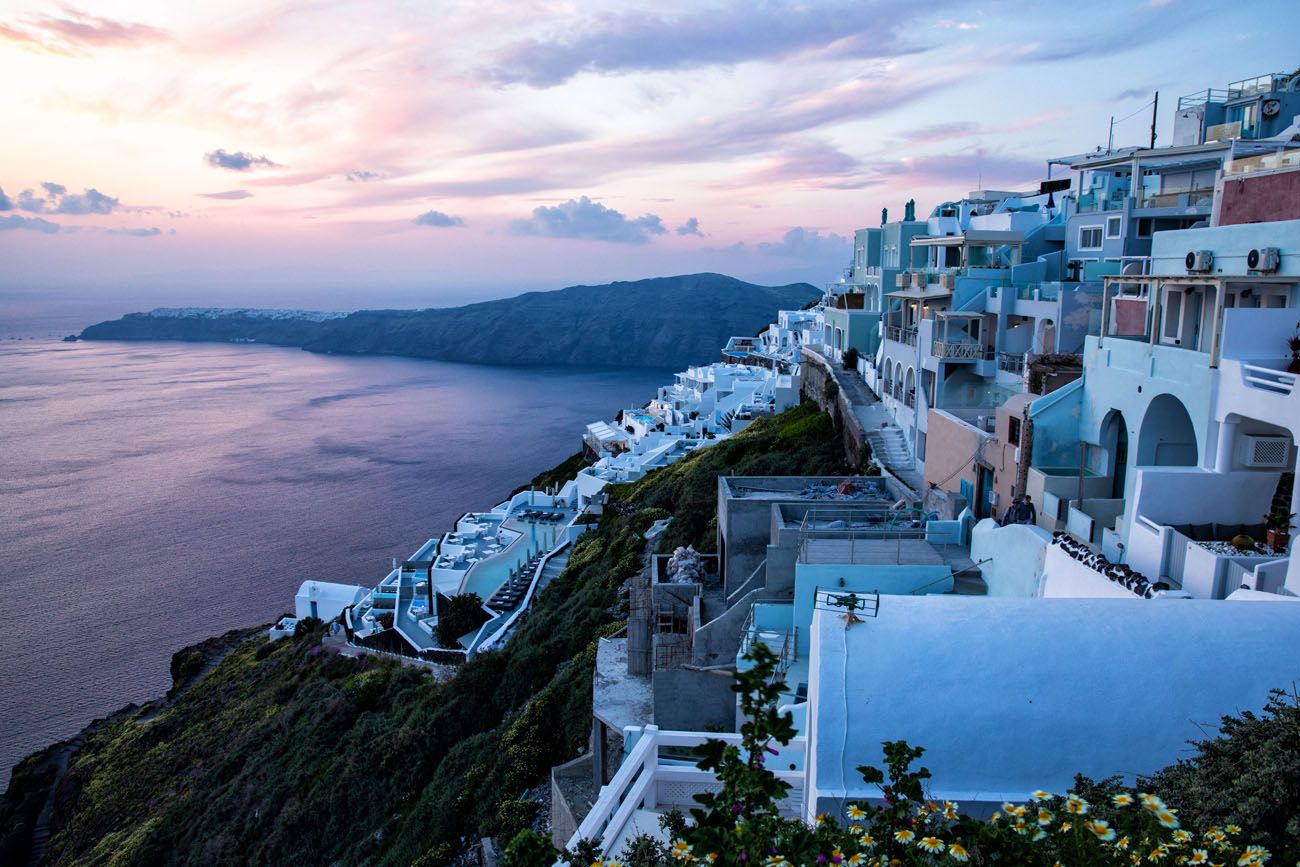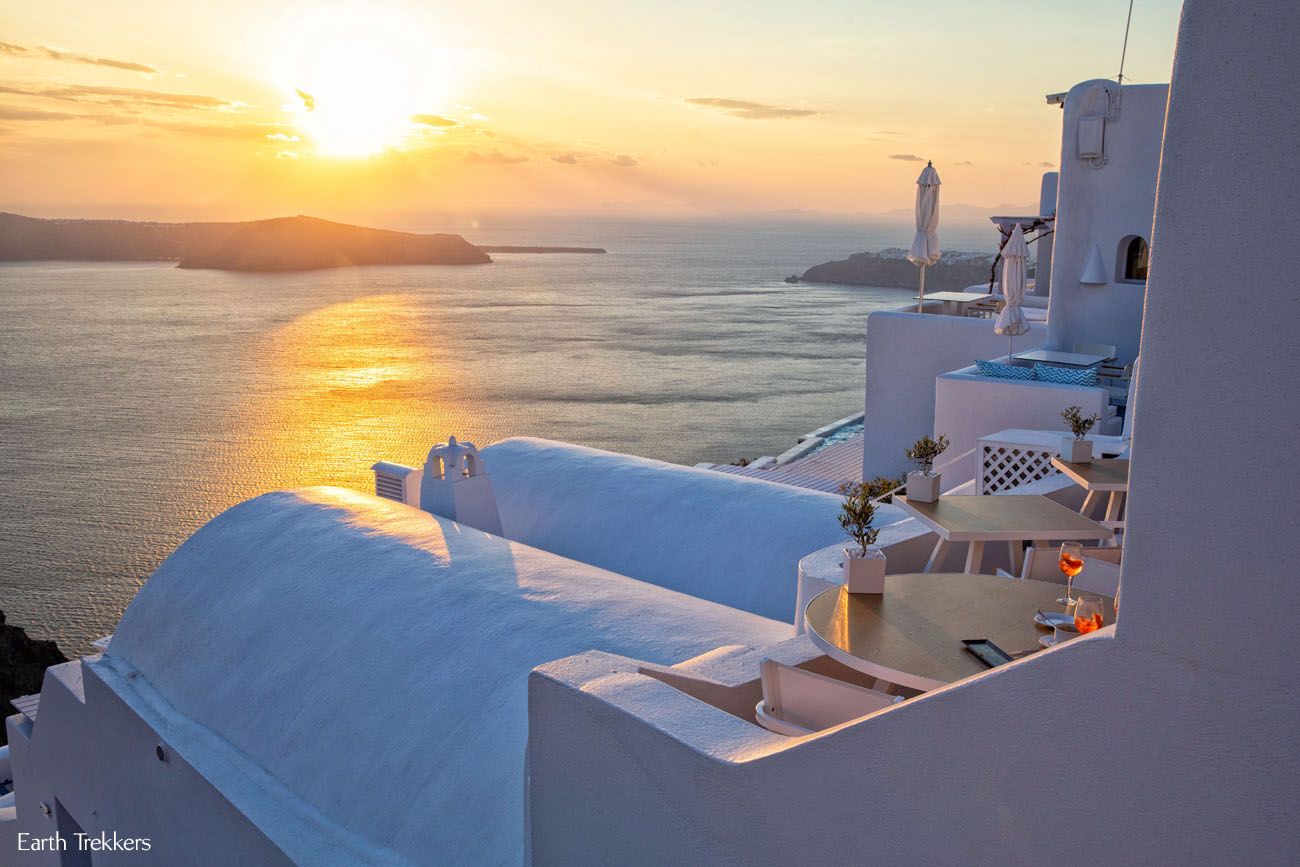 Sunset in Imerovigli | Best Things to do in Santorini
Our favorite restaurant with a view in Santorini is La Maison. Not only is it a gourmet experience but the views are stunning.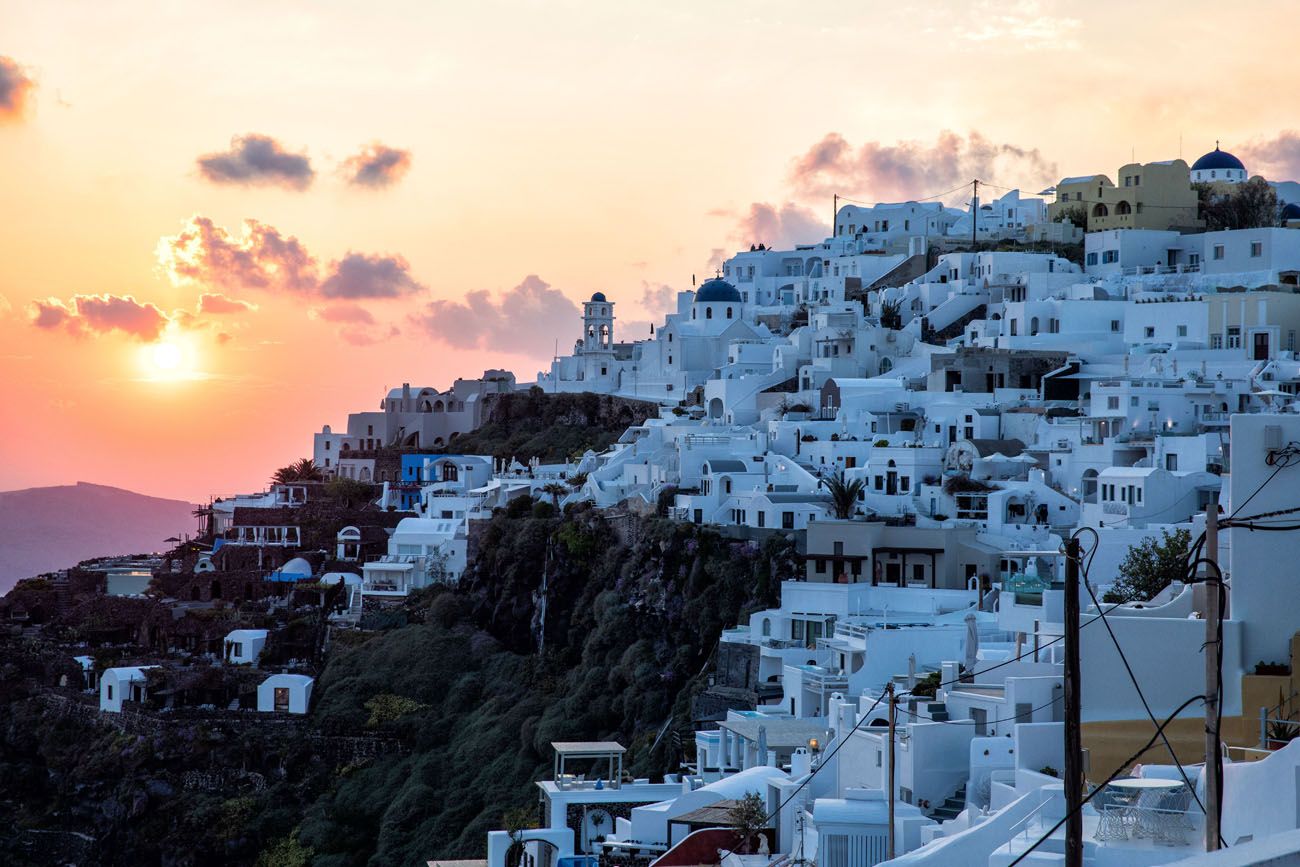 Sunset view from La Maison | Best Things to do in Santorini
3. Take a Boat Tour
Sunset Cruise
Another great experience in Santorini is to take a sunset cruise. From the catamaran, enjoy the view of the white towns on the rim of the caldera and watch as the sun sets. Most cruises offer dinner, drinks, and a chance to go snorkeling or swimming.
Boat Tour of the Volcano
Get out on the water and sail to the volcano. You can swim in the Aegean Sea or the hot springs, peer into the crater of an active volcano, explore the city of Thirassia, and visit the Red and White Sand Beaches. Some of these cruises will end with a sunset view of Oia.
We did not do this, simply because tours were not yet being offered during our visit. However, I think a half to full day boat tour would be one of Santorini's top experiences.
PRO TRAVEL TIP: Want to avoid the cruise ship crowds? Find out when the cruise ships will be in port by clicking here. You can get the cruise ship schedule not only for Santorini but also Athens and the other Greek Islands.
4. Walk out to Skaros Rock
Skaros Rock is a large promontory of rock that juts out from the island just below Imerovigli. This was once the location of an ancient castle and fortresses. Now, it's a popular photography and hiking spot. Explore the trails on the rock, enjoy the views back to Imerovigli, and see the ruins of the old fortresses.
To get here, walk down the zig-zag walking path from Imerovigli to Agios Ioannis Church and continue on the trail to Skaros Rock.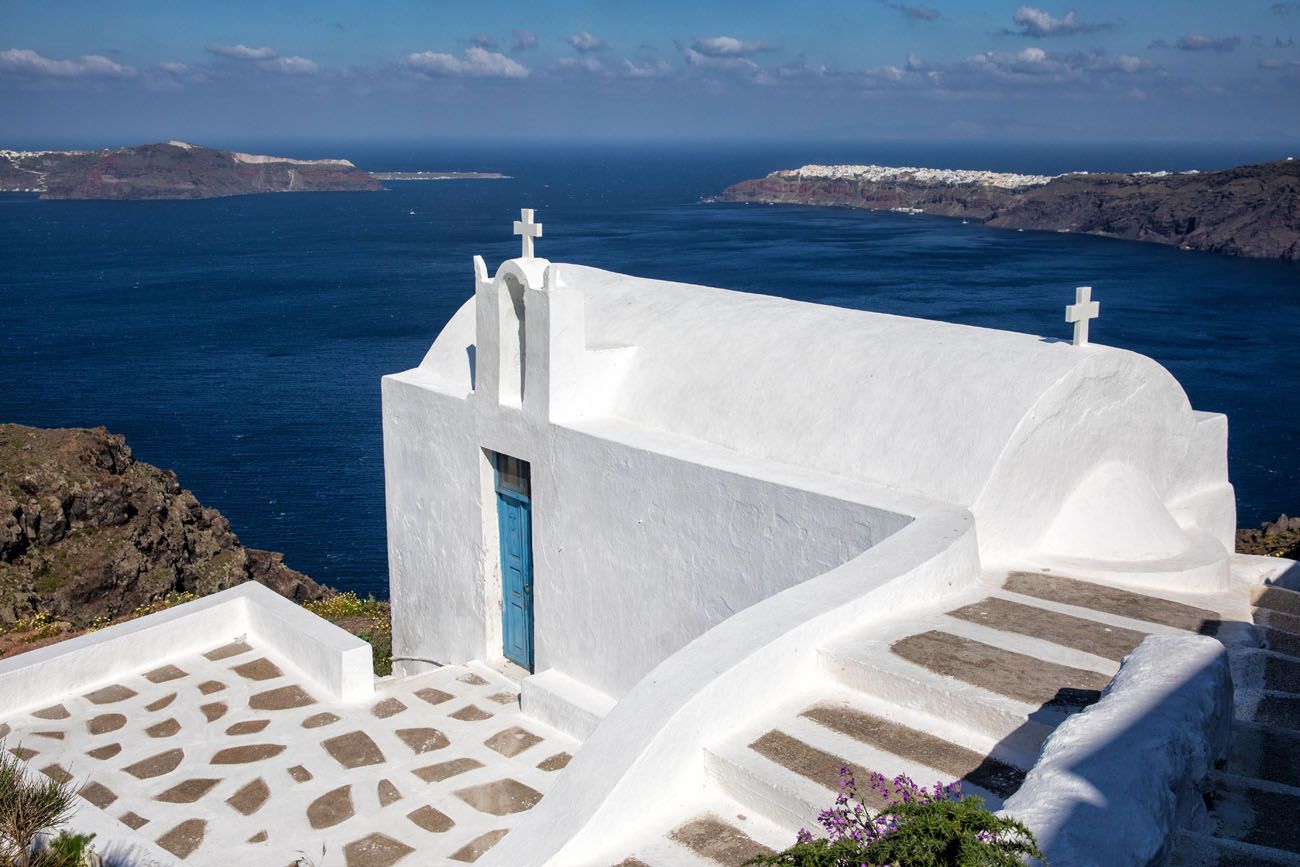 Agios Ioannis Church | Best Things to do in Santorini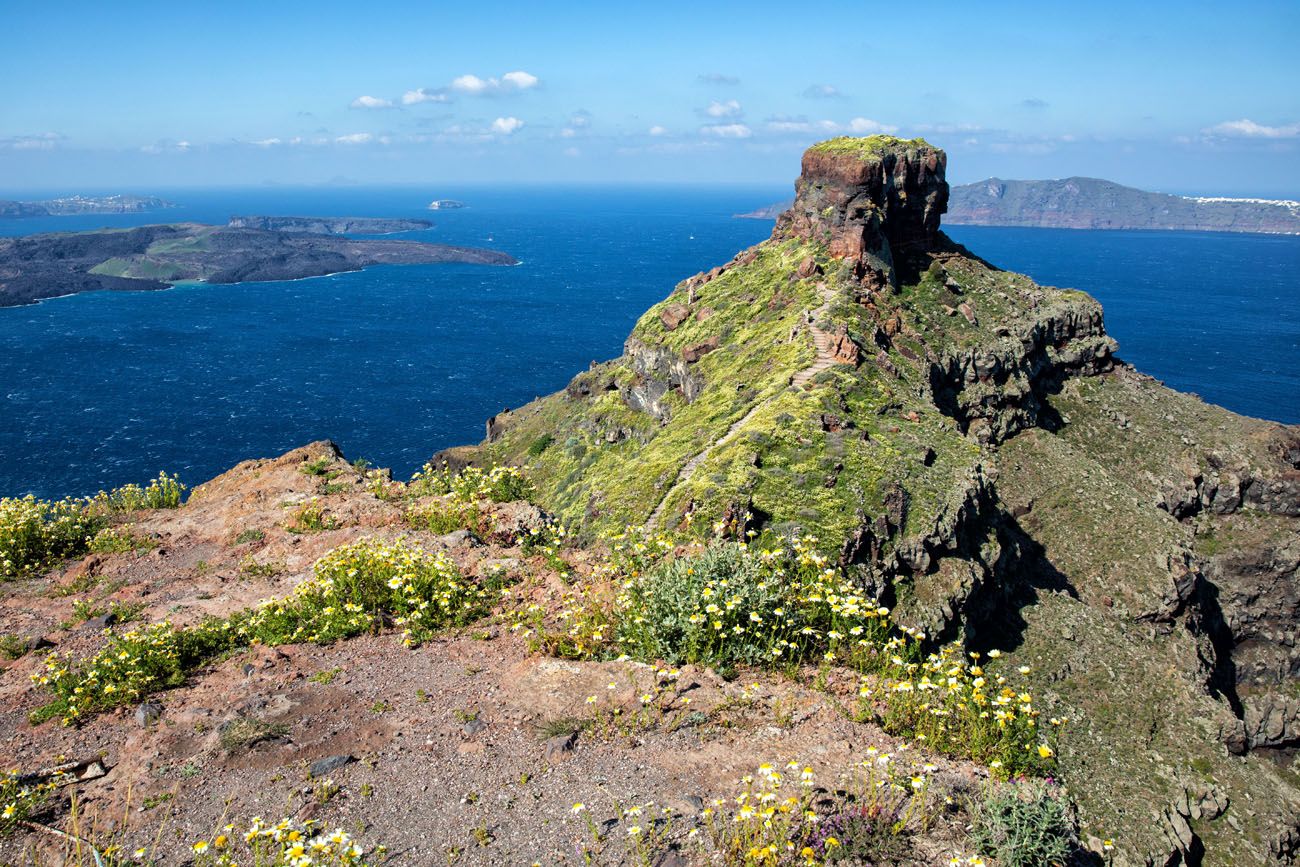 Skaros Rock | Best Things to do in Santorini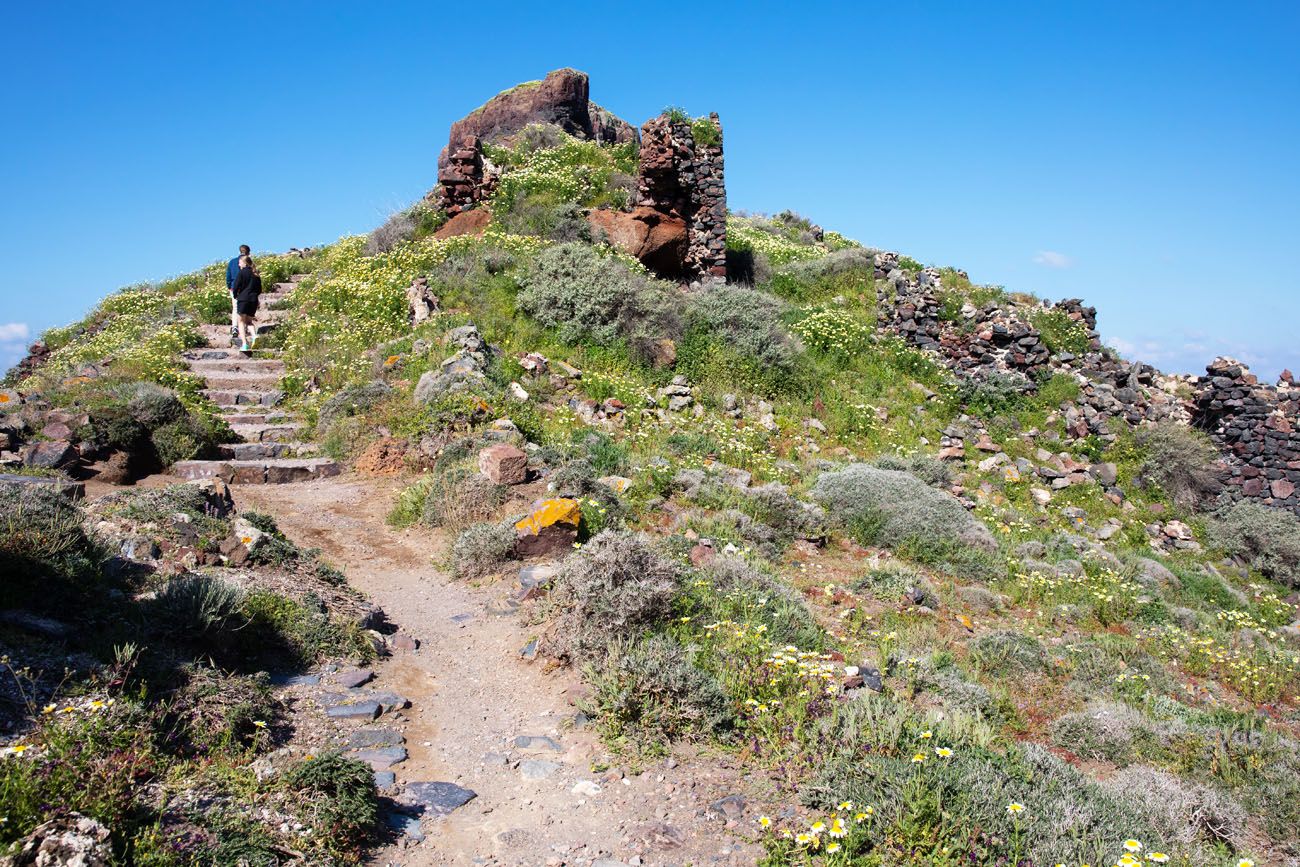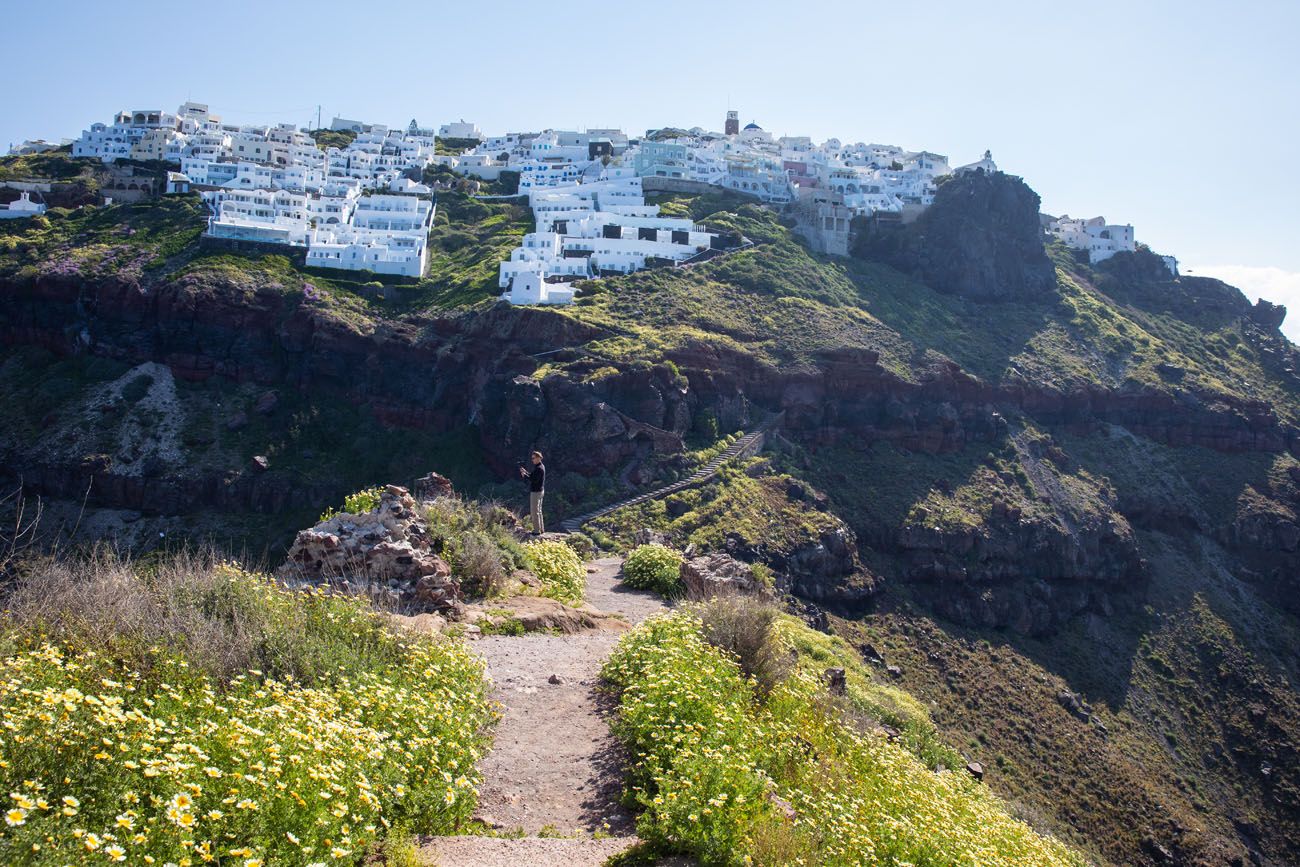 Looking back up at Imerovigli
5. Go Wine Tasting
Wine is a major industry on Santorini. Assyritiko is the main grape grown on Santorini and will be found in many wines made here. You can visit the wineries on your own or take a tour. Santo Wines is the most popular winery to visit but Venetsanos Winery also makes a nice pick.
This sunset wine tour includes a visit to three wineries. This full day tour of Santorini includes a visit to Profitis Ilias and Perissa Black Sand Beach, a wine tasting, and sunset views of Oia. Or, take a private tour of the three wineries in Santorini.
6. Walk from Fira to Oia
Walking along the edge of the caldera from Oia to Imerovigli to Fira was one of our favorite experiences in Santorini. The best parts are the views over Oia and the caldera and exploring the walking paths from Imerovigli to Fira.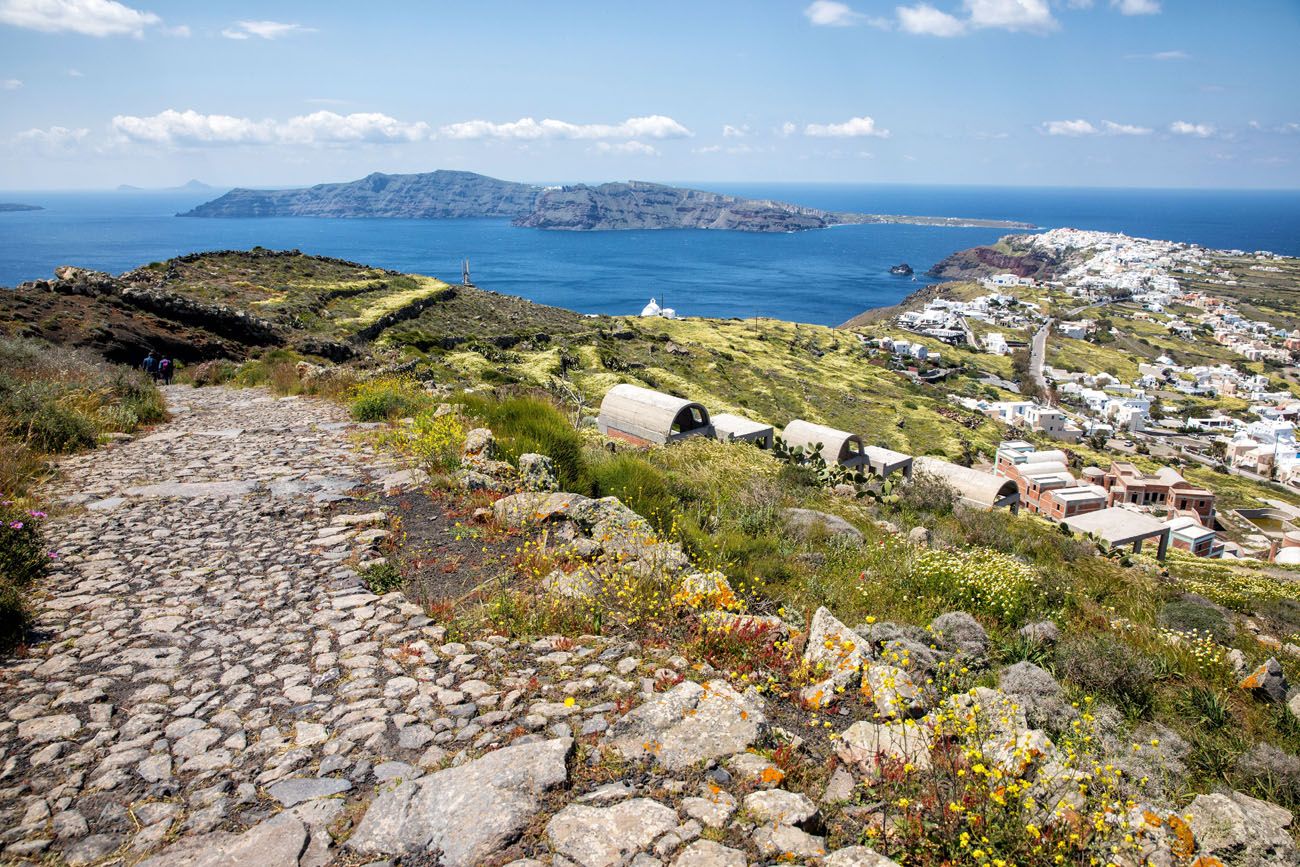 Looking out over Oia | Best Things to do in Santorini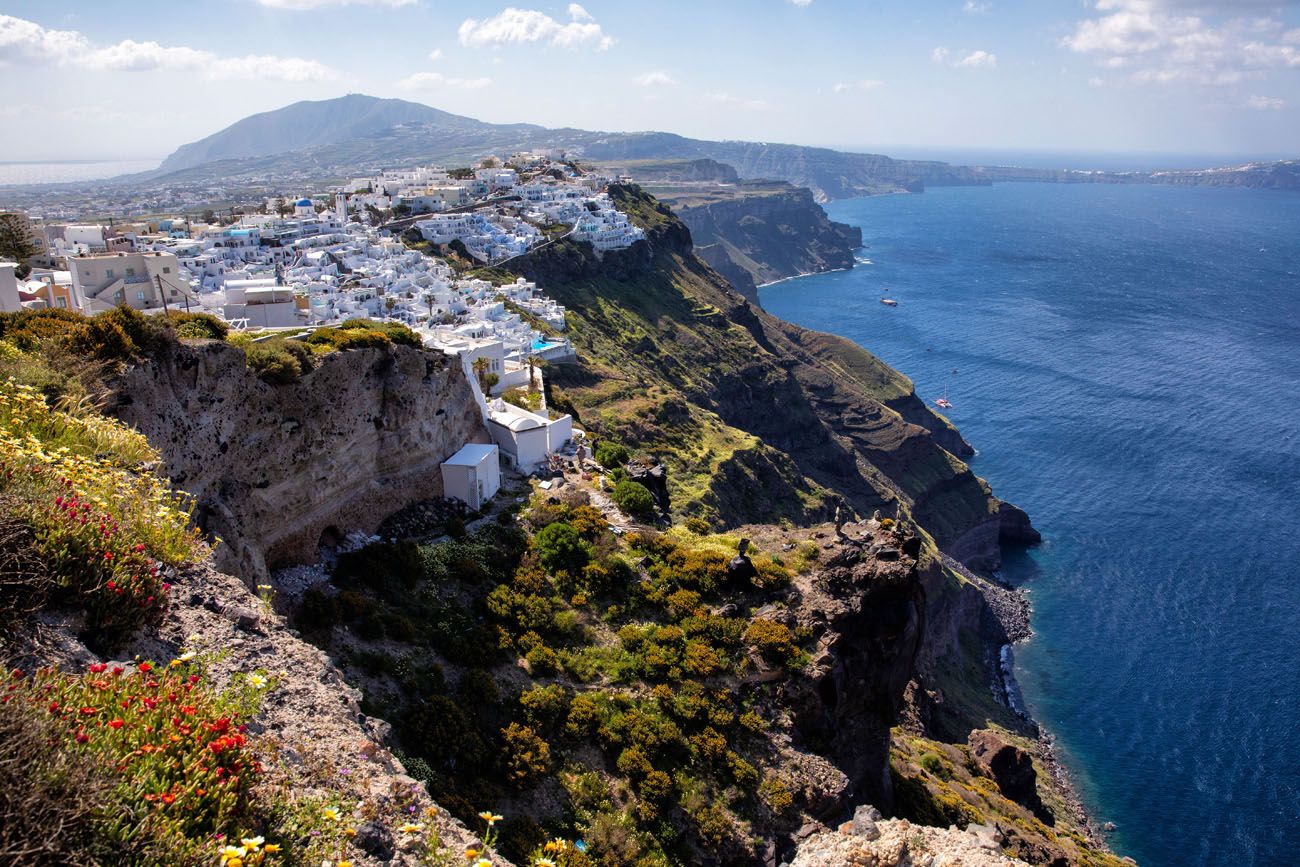 View of Firostefani and Fira | Best Things to do in Santorini
This walk is 6 miles and can take 3 to 5 hours, depending on how fast you walk and how often you stop. It's more of a hike than a walk, since you will be on dirt trails and hiking up and down hillsides for part of the route, but most of the way is paved.
You can go either direction. We walked from Oia to Fira. However, in my opinion, it would be a better experience to walk from Fira to Oia. Doing it this way would make it an overall downhill walk (although you will have to hike up some hills), you get to see the amazing views of Oia in front of you (rather than having to turn around to see them), and you can end in Oia. Spend the rest of the day exploring the village, watch the sunset, and then return to your hotel.
7. Explore Oia
Yes, Oia is famous as a sunset destination. But it's just as wonderful during the daytime. Explore the narrow walkways, go shopping, hop from café to café, and be prepared to fill your camera's memory card with tons of photos. This is one of Santorini's most photogenic spots.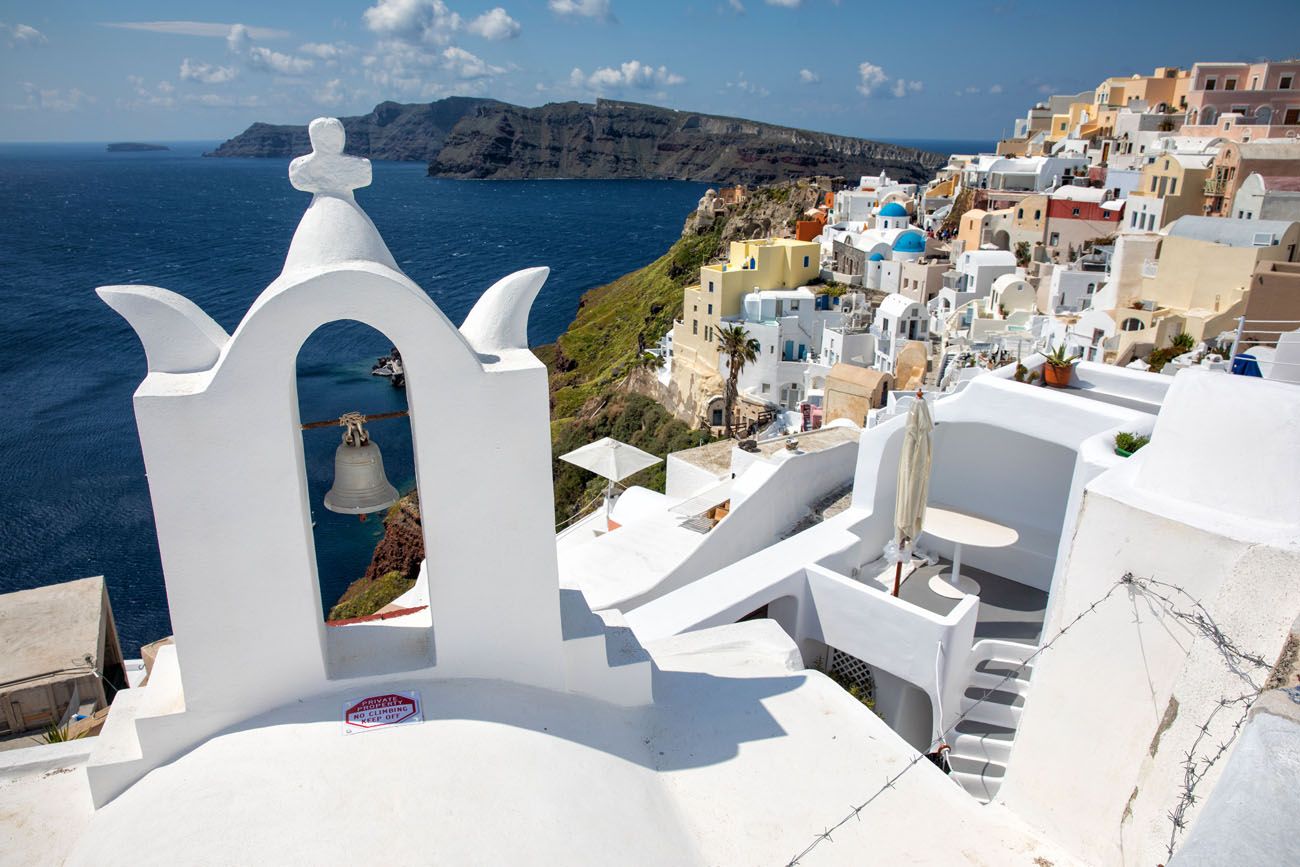 Oia | Best Things to do in Santorini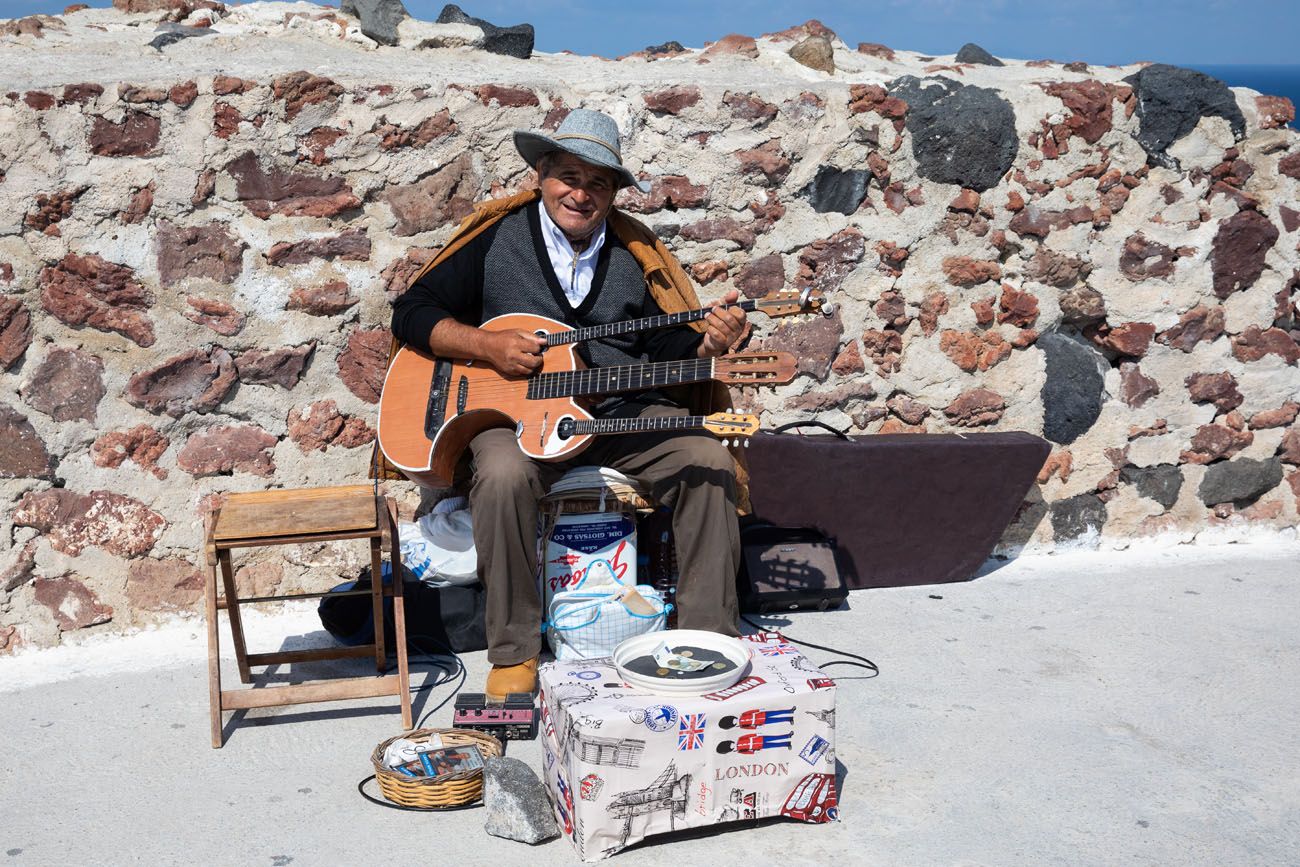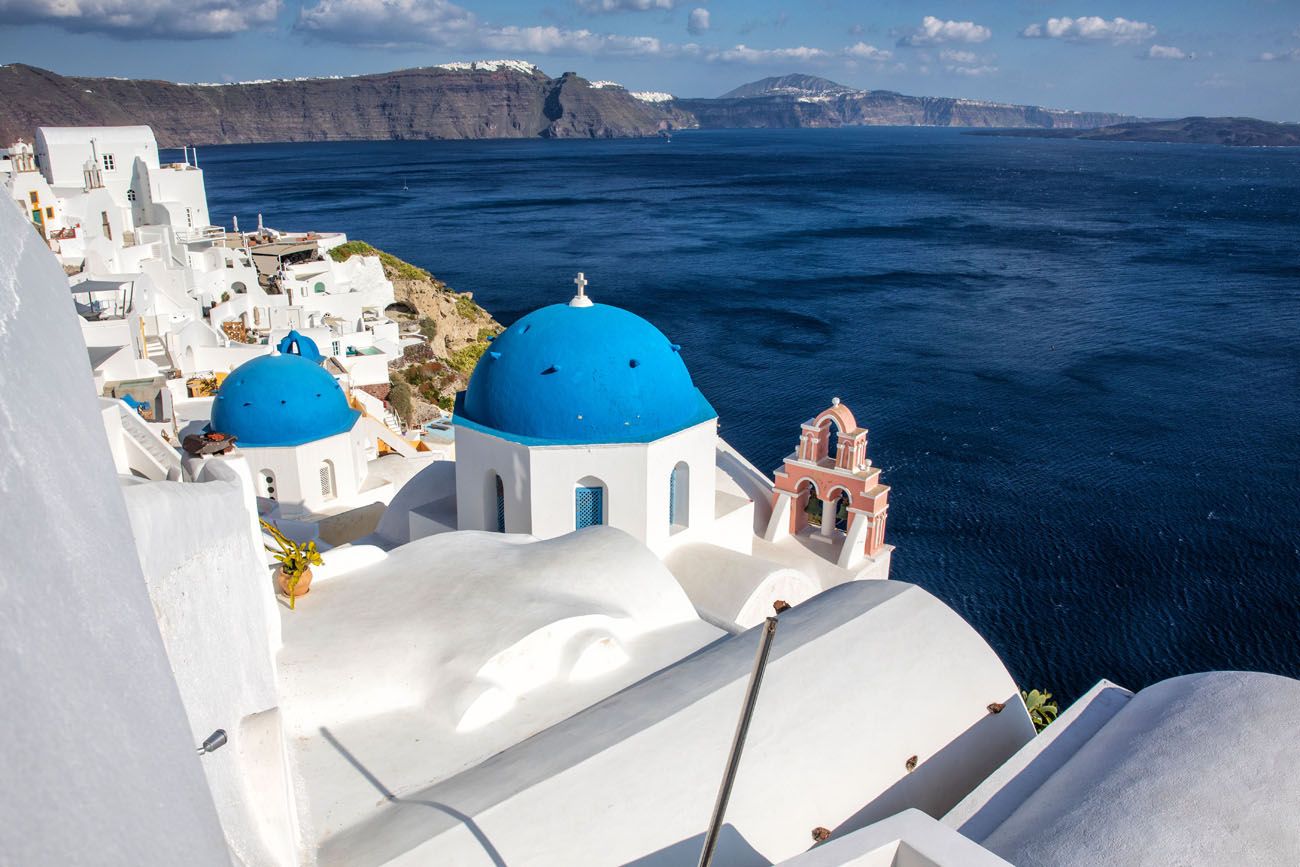 View from Oia | Best Things to do in Santorini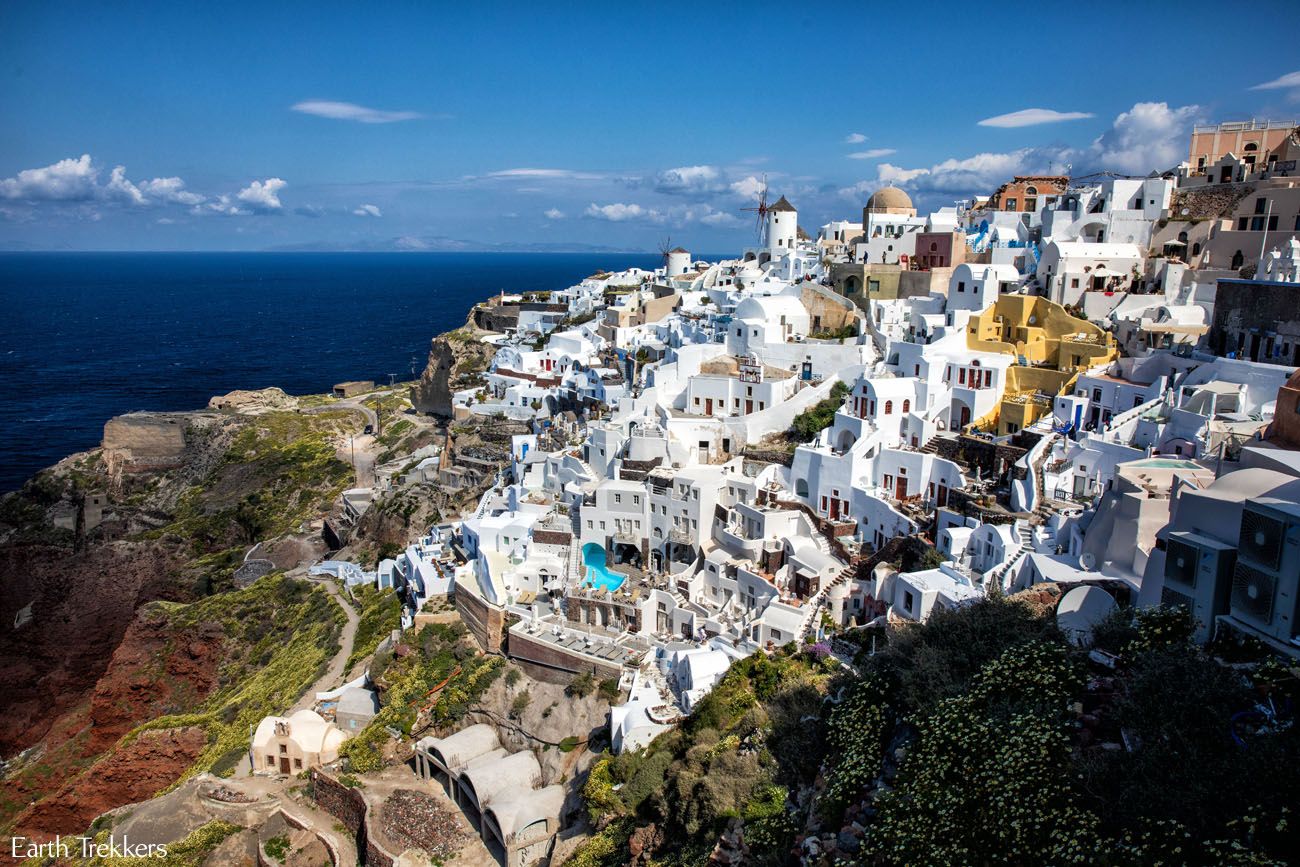 The view from Oia Castle | Best Things to do in Santorini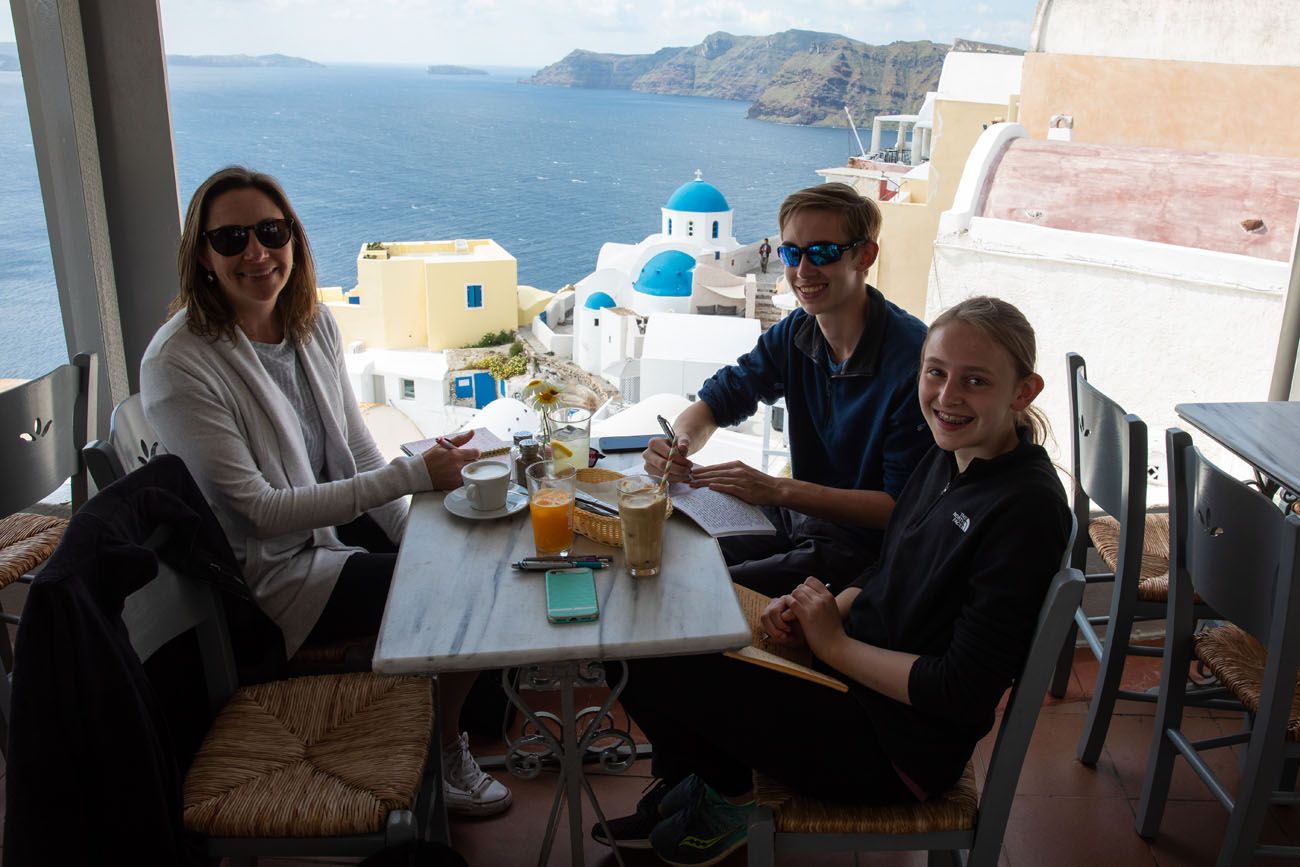 Dining at Lotza | Best Things to do in Santorini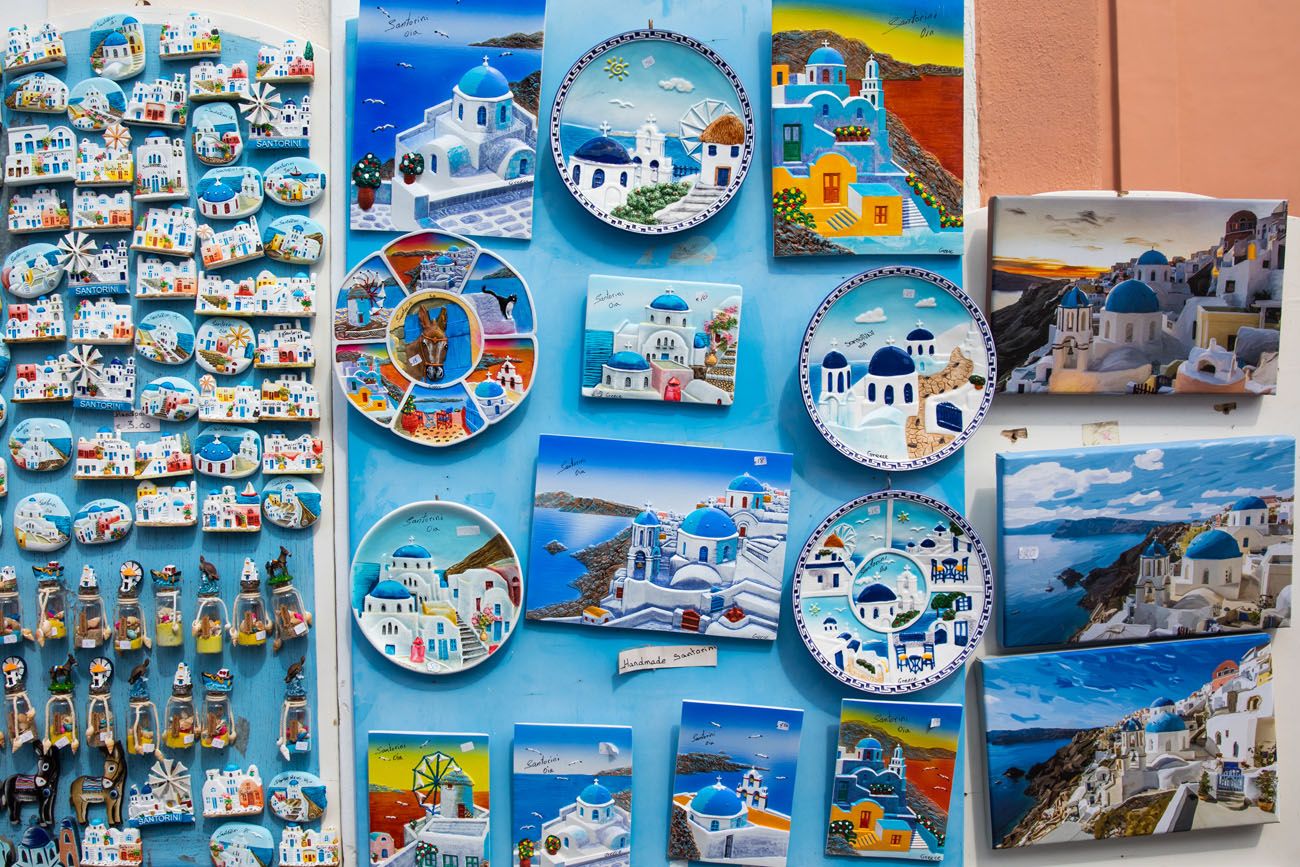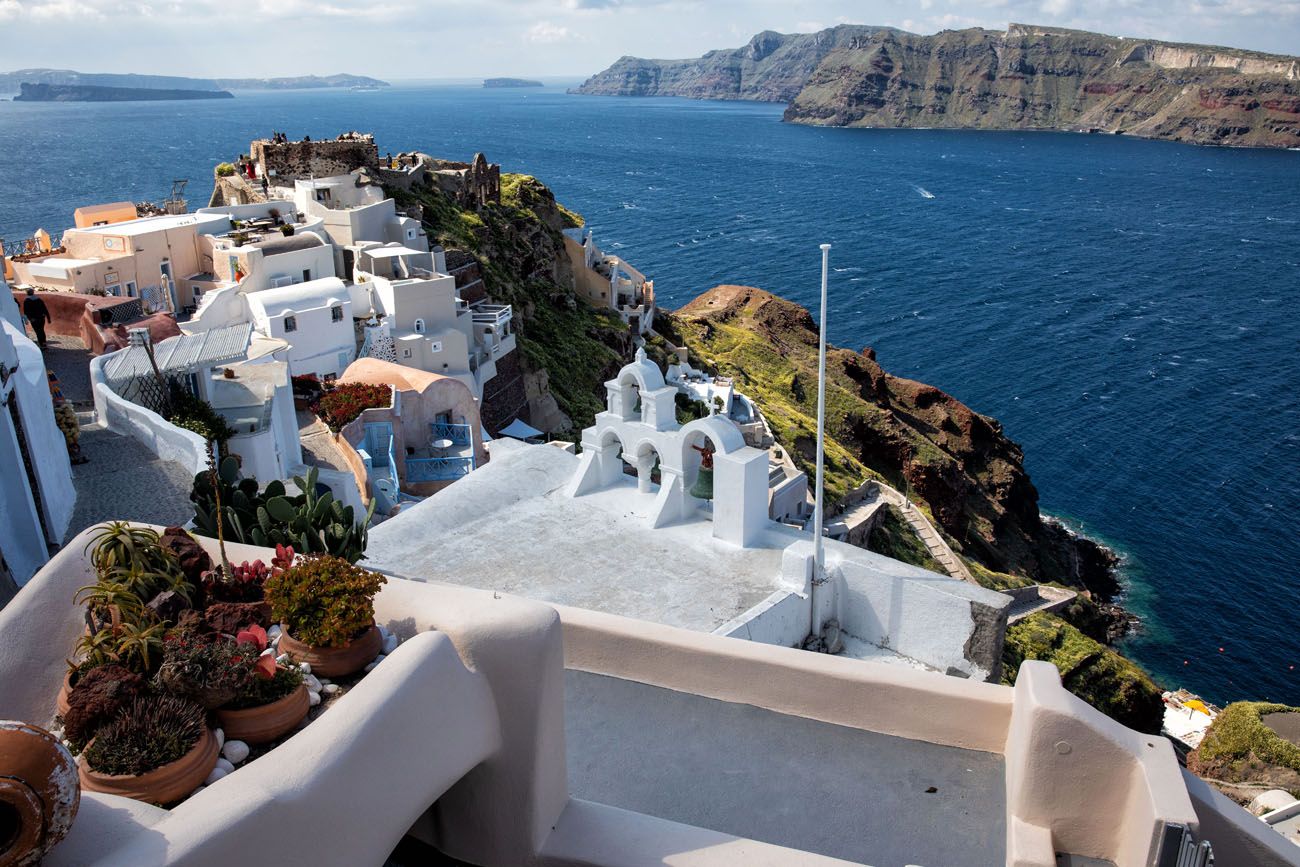 8. Visit Ammoudi Bay
Ammoudi Bay sits just down the cliff from Oia. You can walk down on switchback paths. Once here, go to the beach, dine at a seafood restaurant, or even go cliff jumping.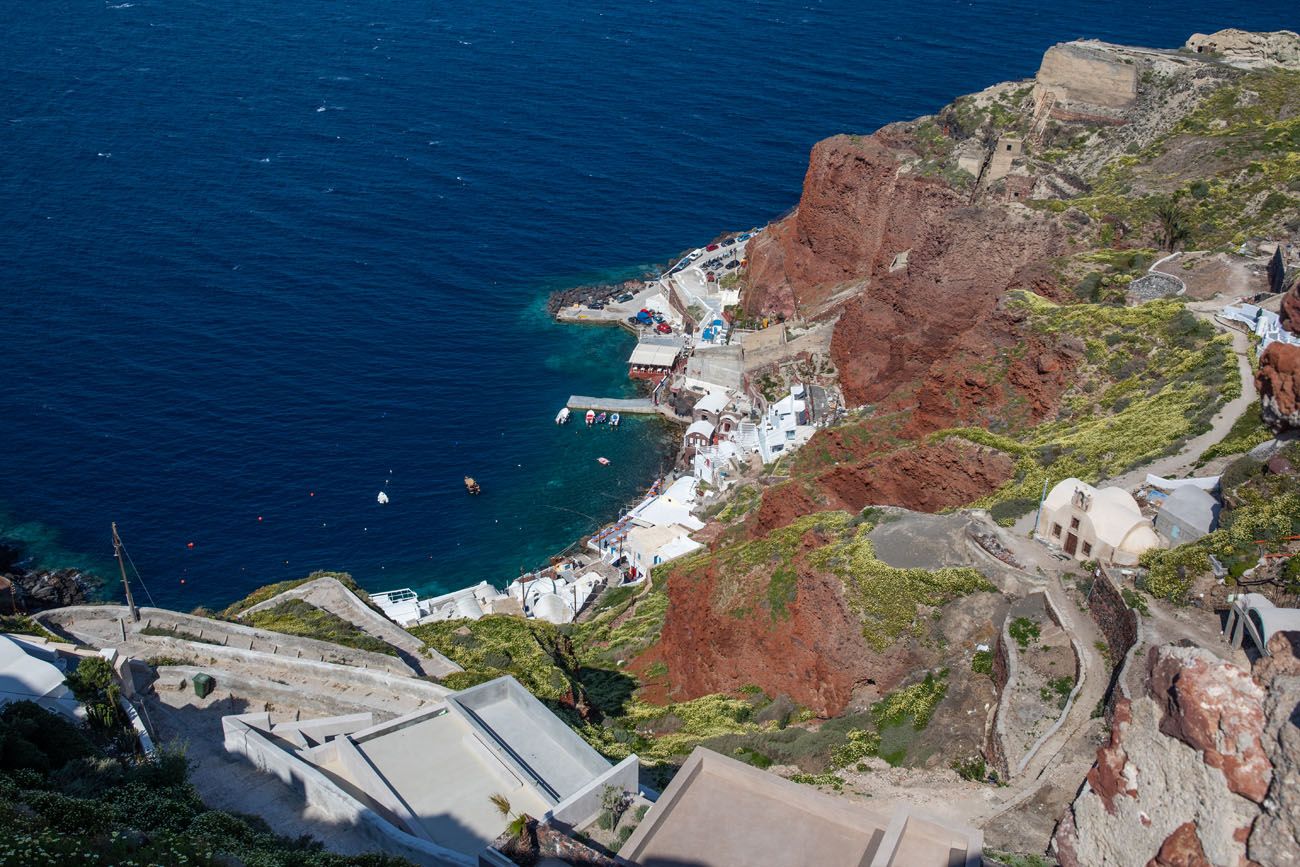 Ammoudi Bay | Best Things to do in Santorini
9. Photograph Agios Theodori Church
This is one of Santorini's most popular blue dome churches. It is located in Firostefani and you can make a detour here while walking from Fira to Oia.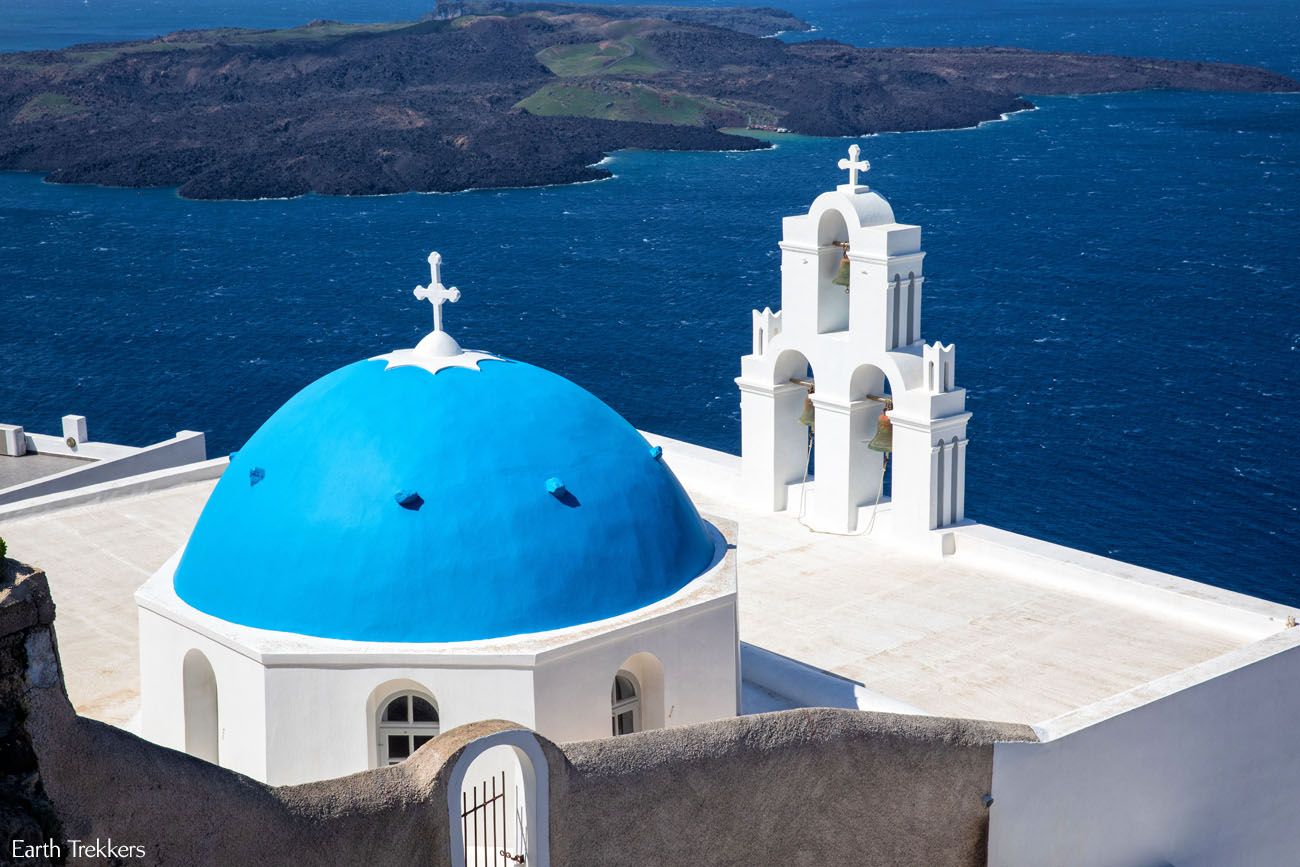 Agios Theodori Church | Best Things to do in Santorini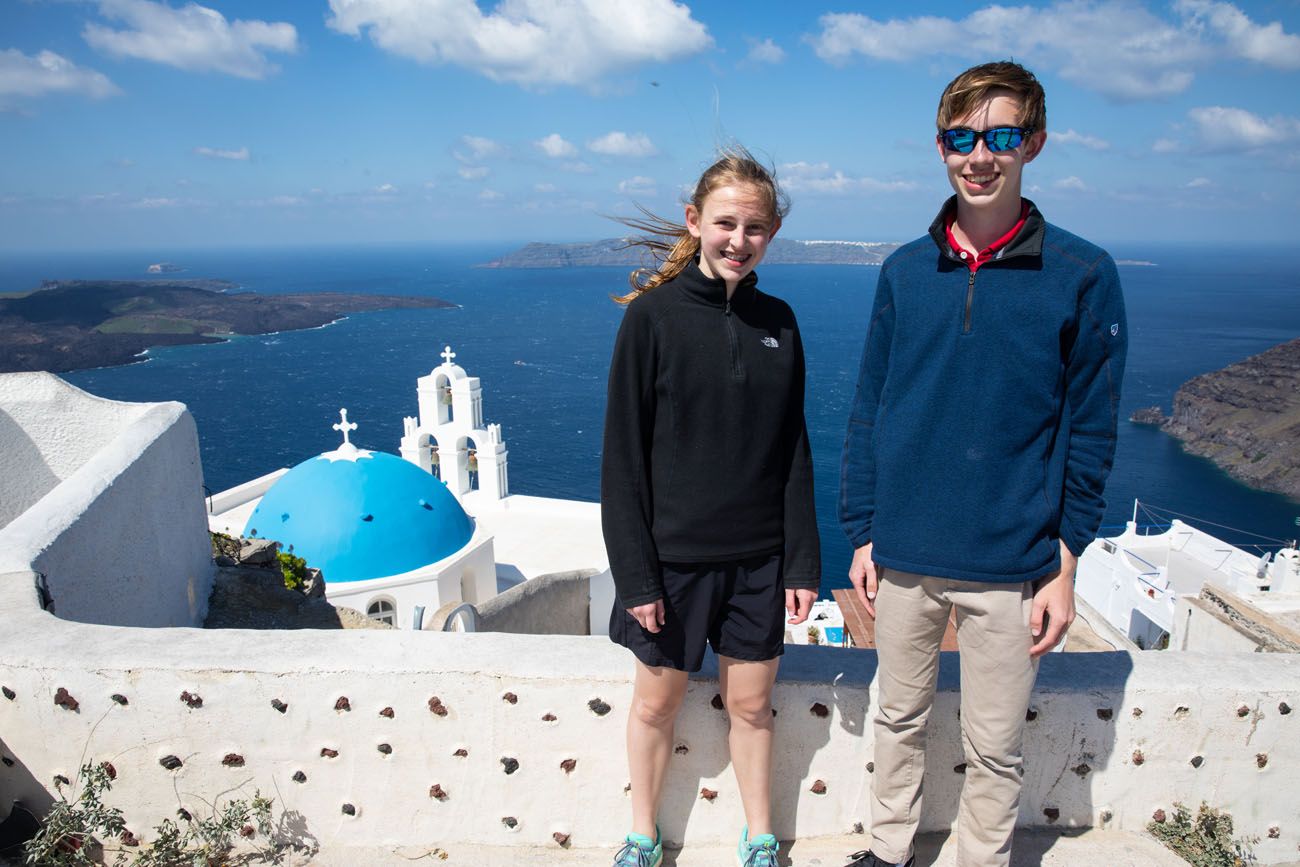 10. Explore Imerovigli
Aah…quiet, picturesque Imerovigli. We really liked it here. This small village is very beautiful and filled with some of the best hotels and restaurants in Santorini. It doesn't have the shopping and the small cafes like you find in Fira or Oia, but it also doesn't have the large crowds.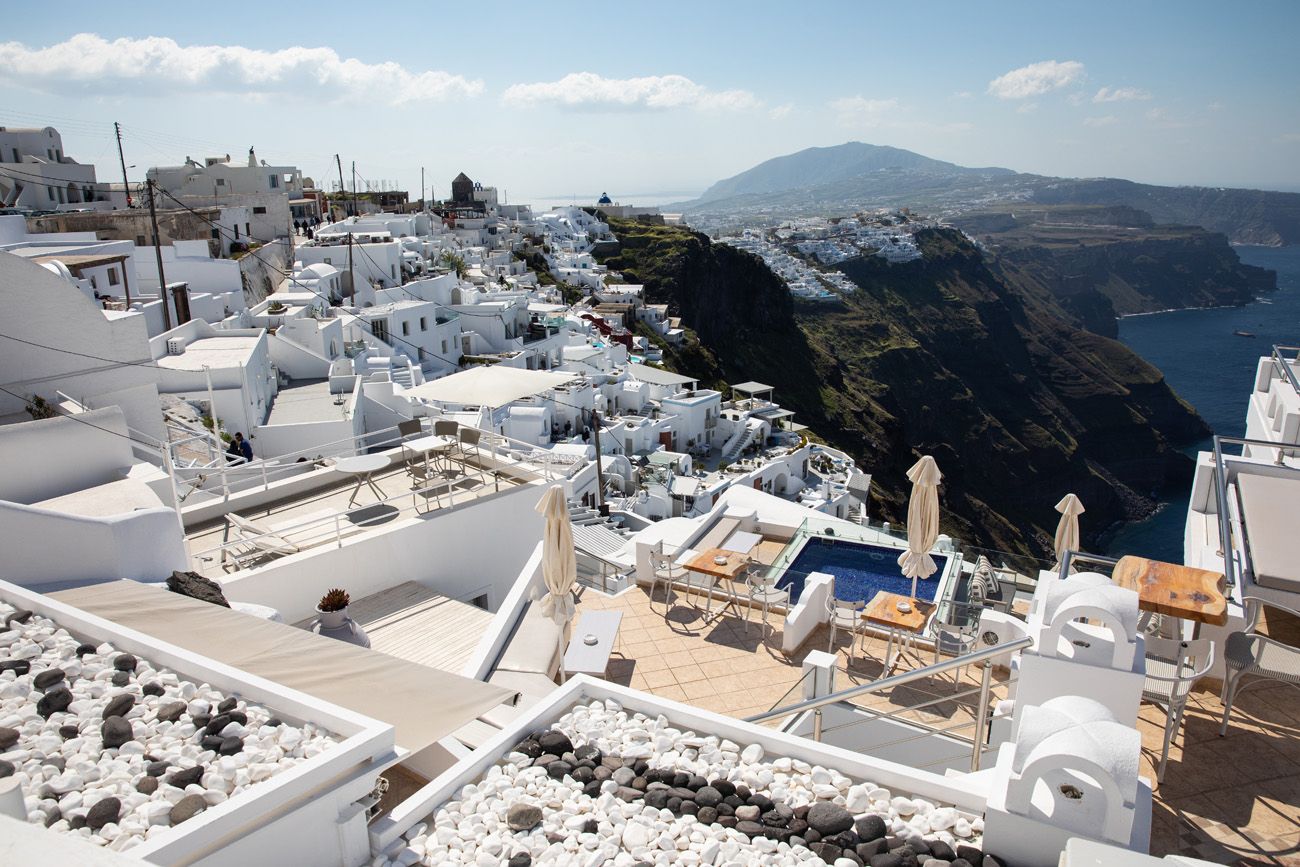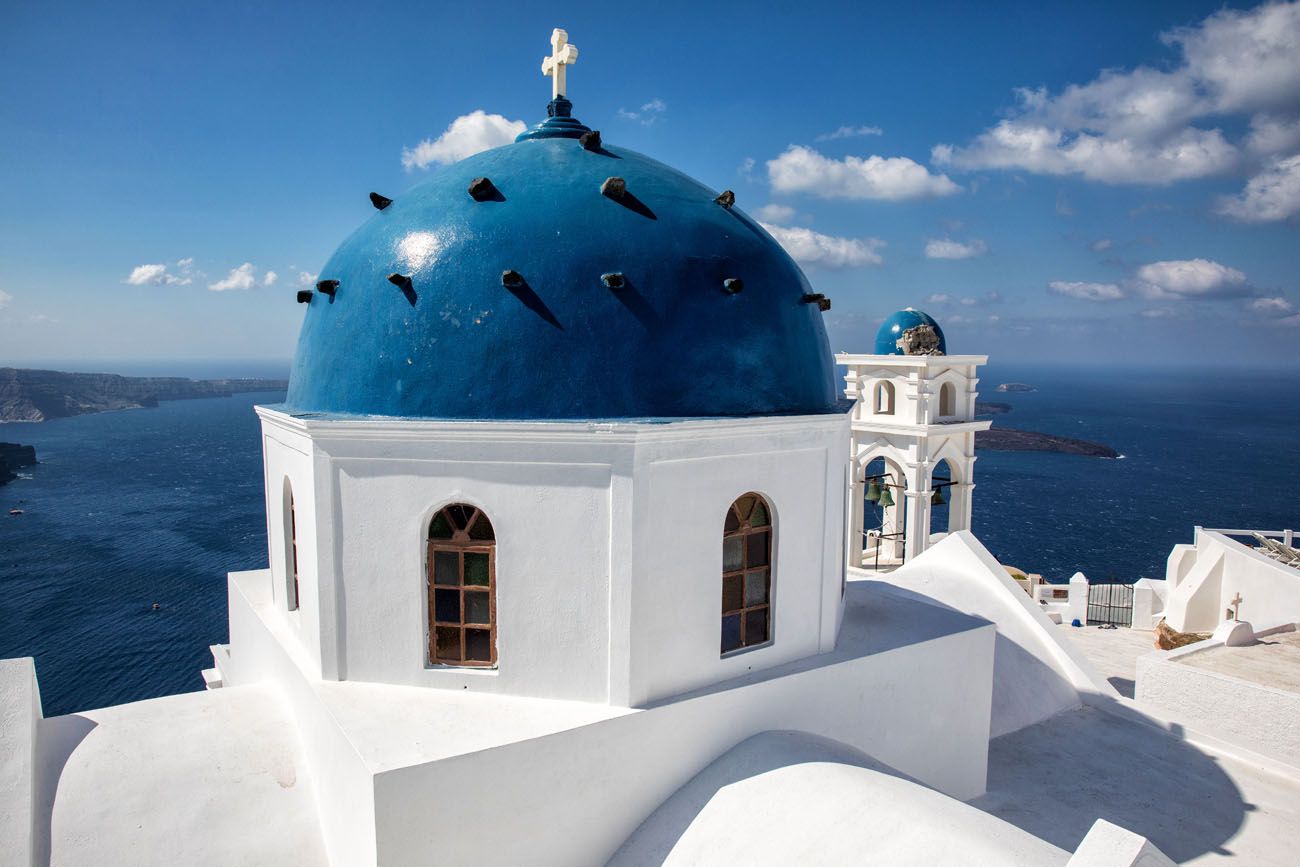 We stayed in Imerovigli at a hotel called Absolute Bliss, and it truly was amazing. Yes, we splurged, and it is was worth it. From our hot tub, we could watch the sunset over the caldera and watch as the lights in Oia twinkled at night. It was private, it was quiet, and it was wonderful. From here, we were within walking distance of quite a few highly rated restaurants. And since Imerovigli is located in the center of the island, it was a very convenient location for exploring the island.
If you plan to walk from Oia to Fira, you'll pass through Imerovigli. I hope you enjoy it as much as we did! 🙂
11. Visit the Red Beach
Volcanic Santorini is home to some very colorful and unique beaches. The first on our list is the Red Beach. This is Santorini's most famous beach. Its unusual red coloring comes from the pulverized volcanic rock. It is located near the Akrotiri archeological site.
However, it is prone to landslides, so it can be dangerous. This might be one beach where you just enjoy the view from a distance and then move on. For more information, read this article.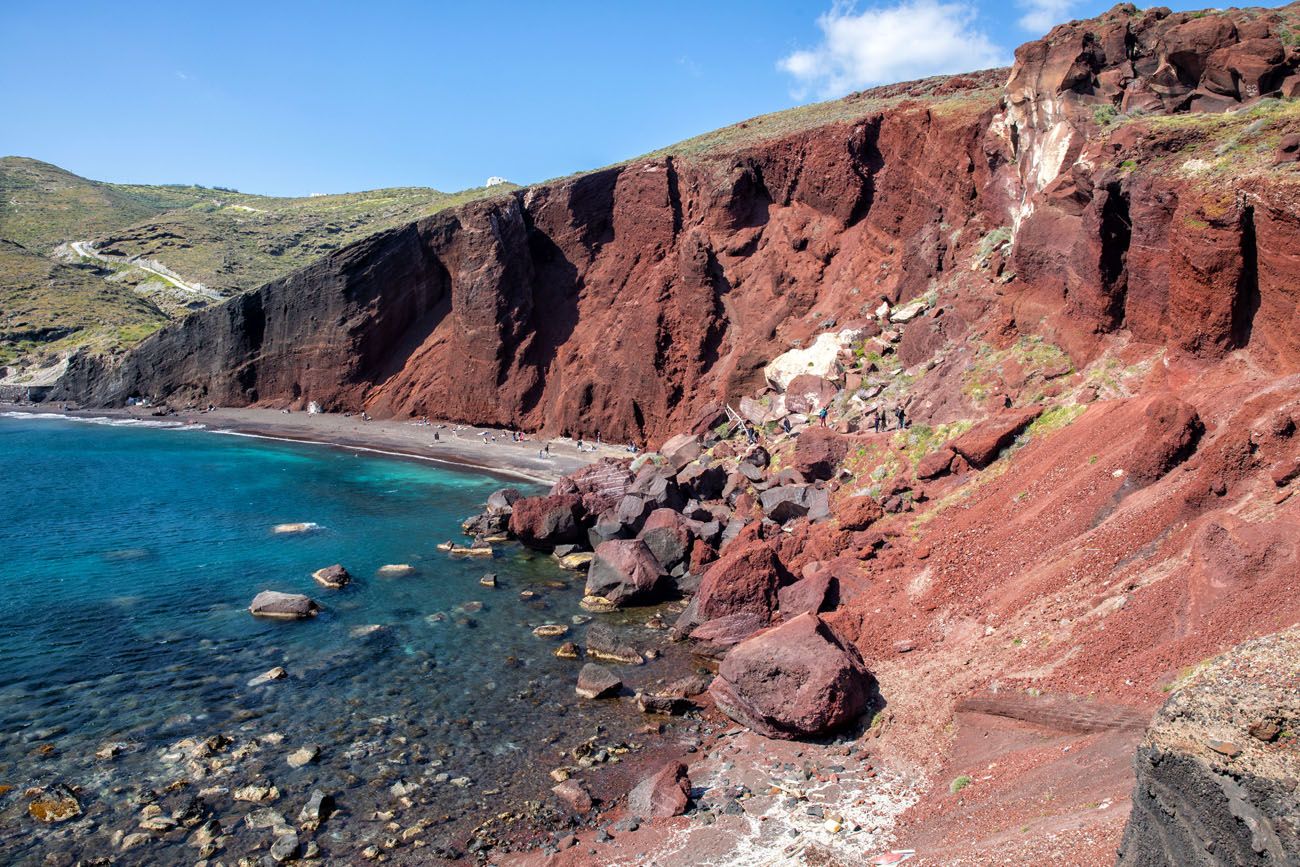 Red Beach | Best Things to do in Santorini
12. Visit the White Beach
Just around the corner from the Red Beach is the White Beach. This beach gets its name from the white cliffs that dominate the area, even though the sand is black. The only way to get here is by boat but you can get a nice view of beach if you don't mind going on a mini-adventure.
To get to the viewpoint, you first have to drive down a very narrow, rough, unnamed dirt road. The road starts near the Aeolos Tavern and leads to Kambia Beach. We didn't drive the entire way because the road got to be too rough for our car to handle. So, we walked down the road, past small houses, barking dogs, and vineyards. Just past one small house, there is an unmarked trail that leads up and over a hill to a viewpoint of the White Beach. It's a very short walk to the viewpoint (2 – 3 minutes). You can go farther for views up the coast to the Red Beach.
On this tour, sail to the White Beach and Red Beach by catamaran. The tour includes an open bar, a Greek meal, and a visit to the hot springs at Nea Kameni volcano.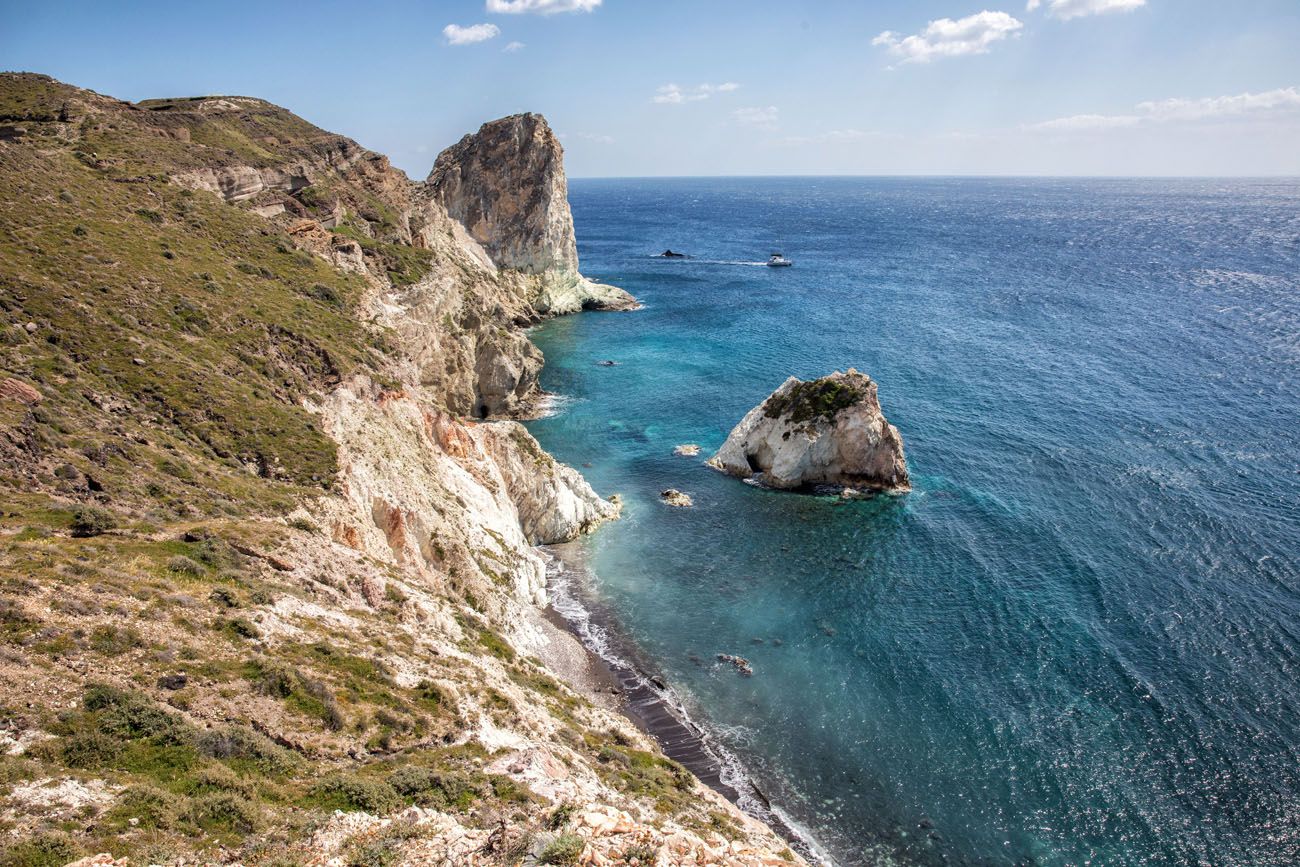 White Beach | Best Things to do in Santorini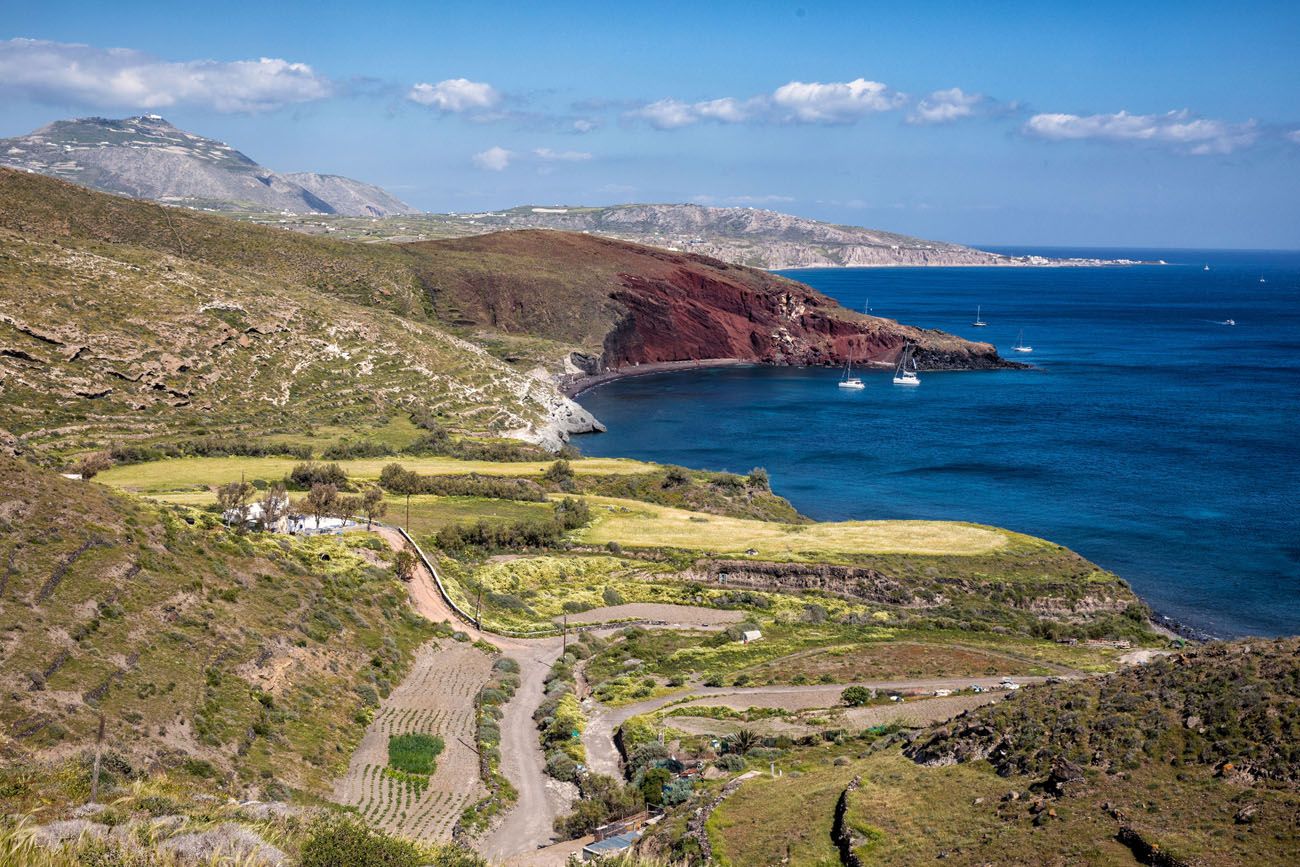 View along the coastline.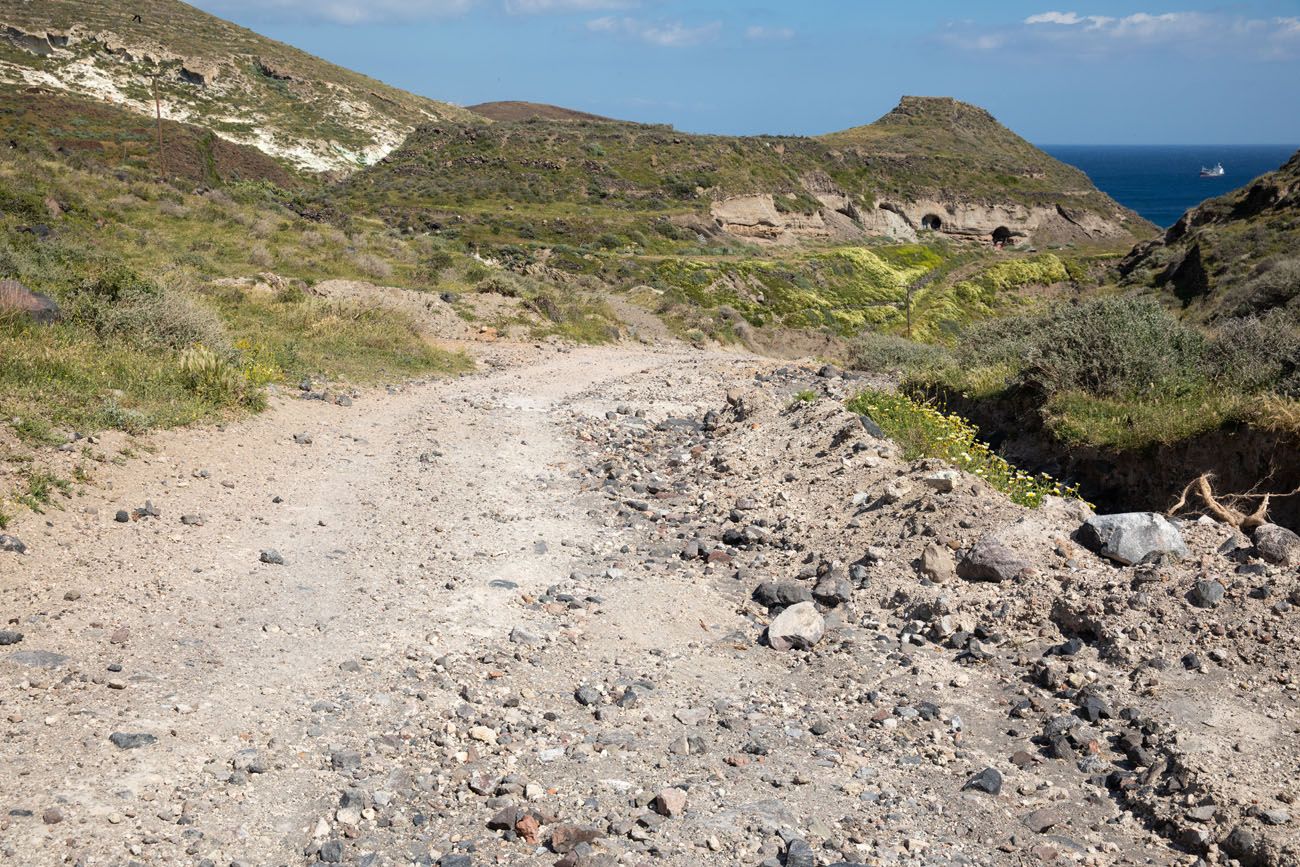 Road to get to the White Beach. It's really much rougher than this in some spots.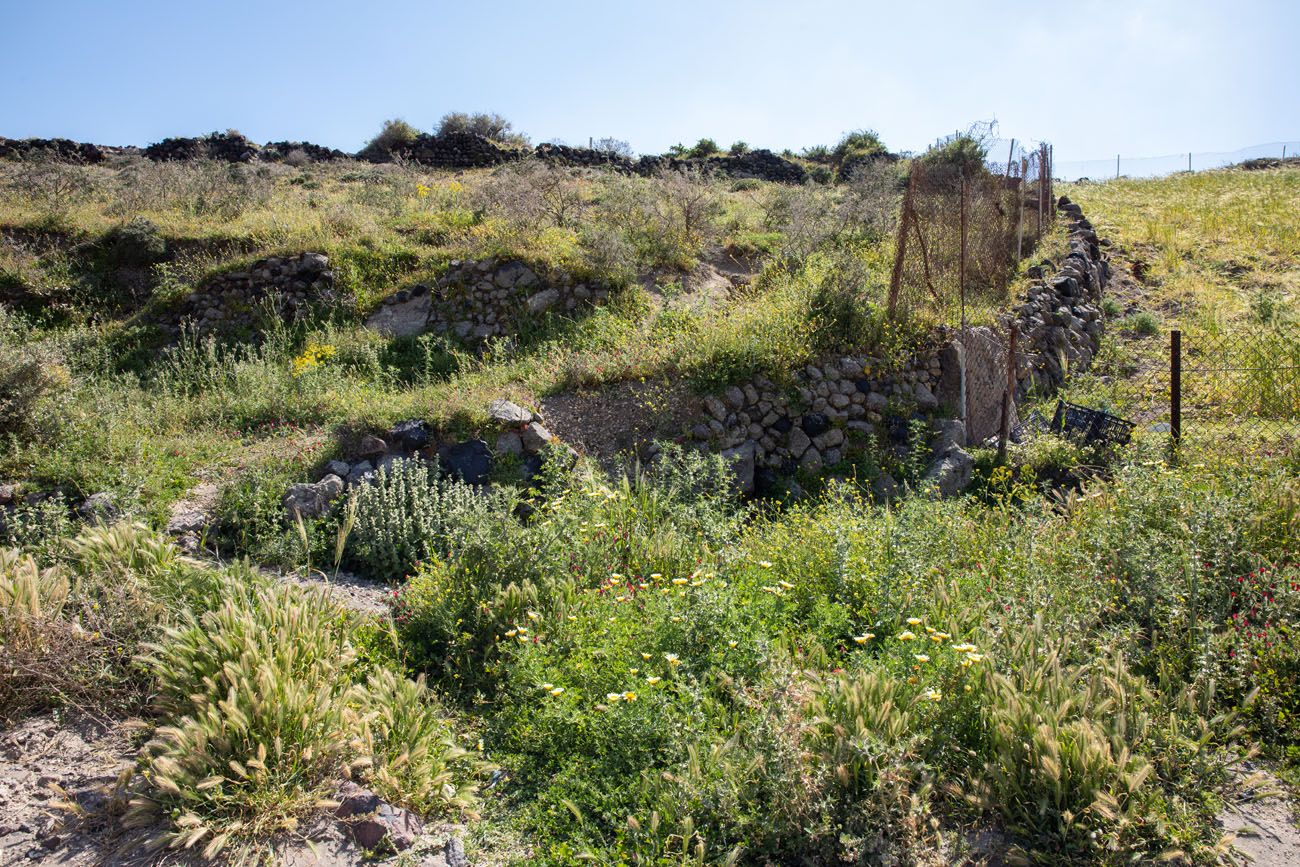 Trail leading the to viewpoint. It's a faint trail and it starts to the left of the fence.
By the way, we also went as far as Kambia Beach. It's just OK but since this is such a challenging spot to get to, I imagine the crowds would be very low in the summer.
13. Visit the Black Sand Beaches
The black sand beaches of Perivolos and Perissa are beautiful. They are lined with small shops, cafes, beach bars, and restaurants, so if you want to spend a day at the beach and have lots of amenities, this is a great place to go.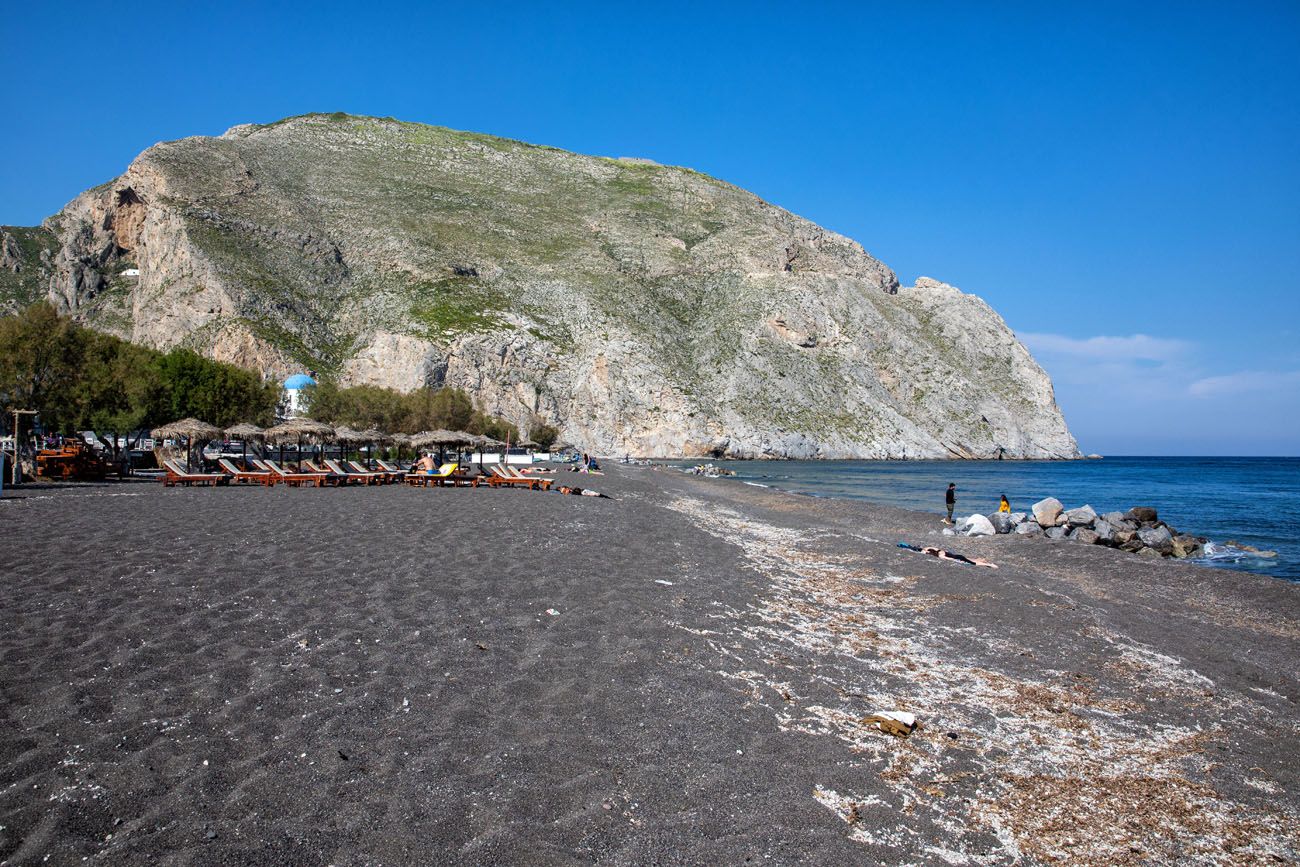 Perissa Beach | Best Things to do in Santorini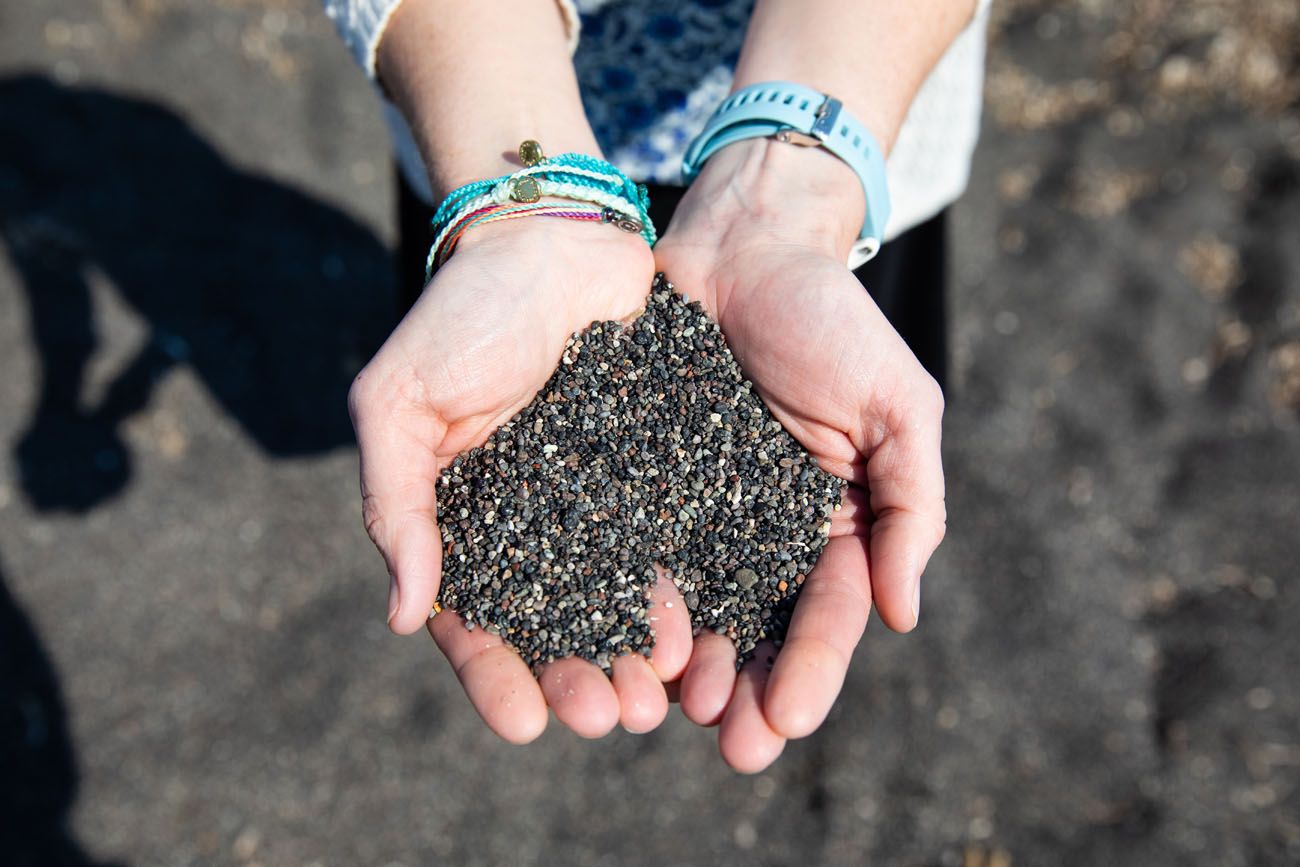 14. Kamari Beach
Kamari Beach is another black sand beach on Santorini. It's very close to Perissa Beach, however, a giant, rocky hill separates the two beaches. Like Perivolos and Perissa, you have lots of dining options to choose from.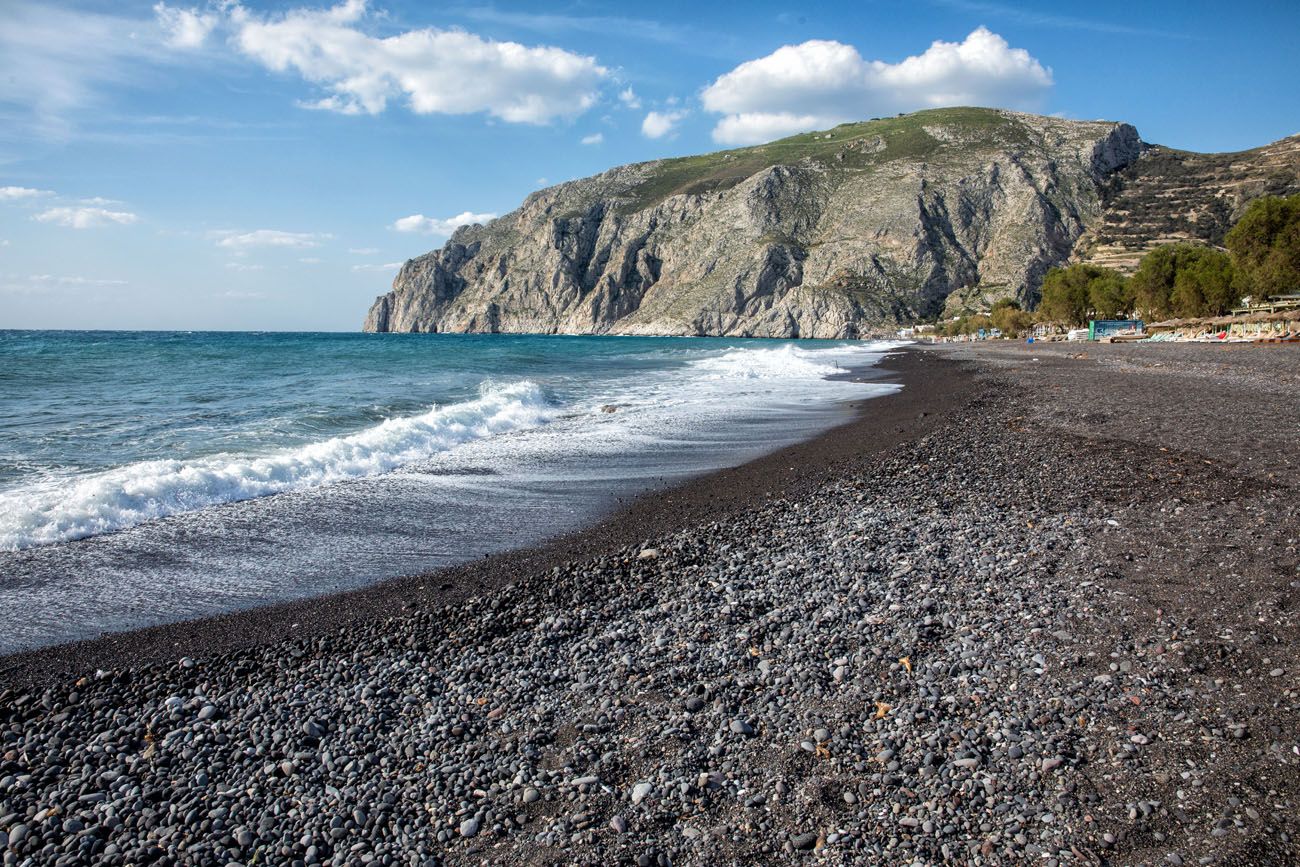 Kamari Beach | Best Things to do in Santorini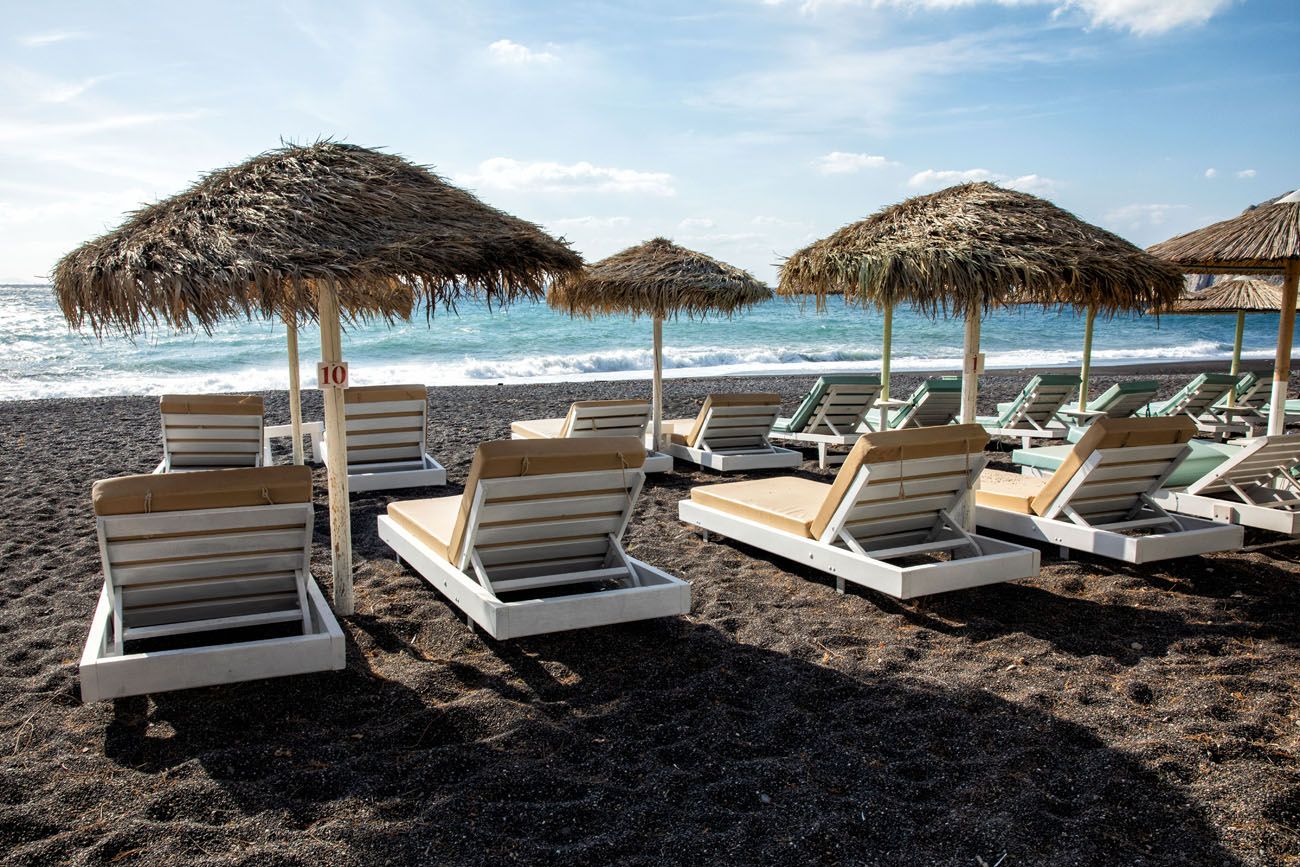 15. Vlychada Beach
Also called the Moon Beach, this looks more like a lunar landscape than a volcanic one. Giant, crazy looking cliffs line the black sand beach.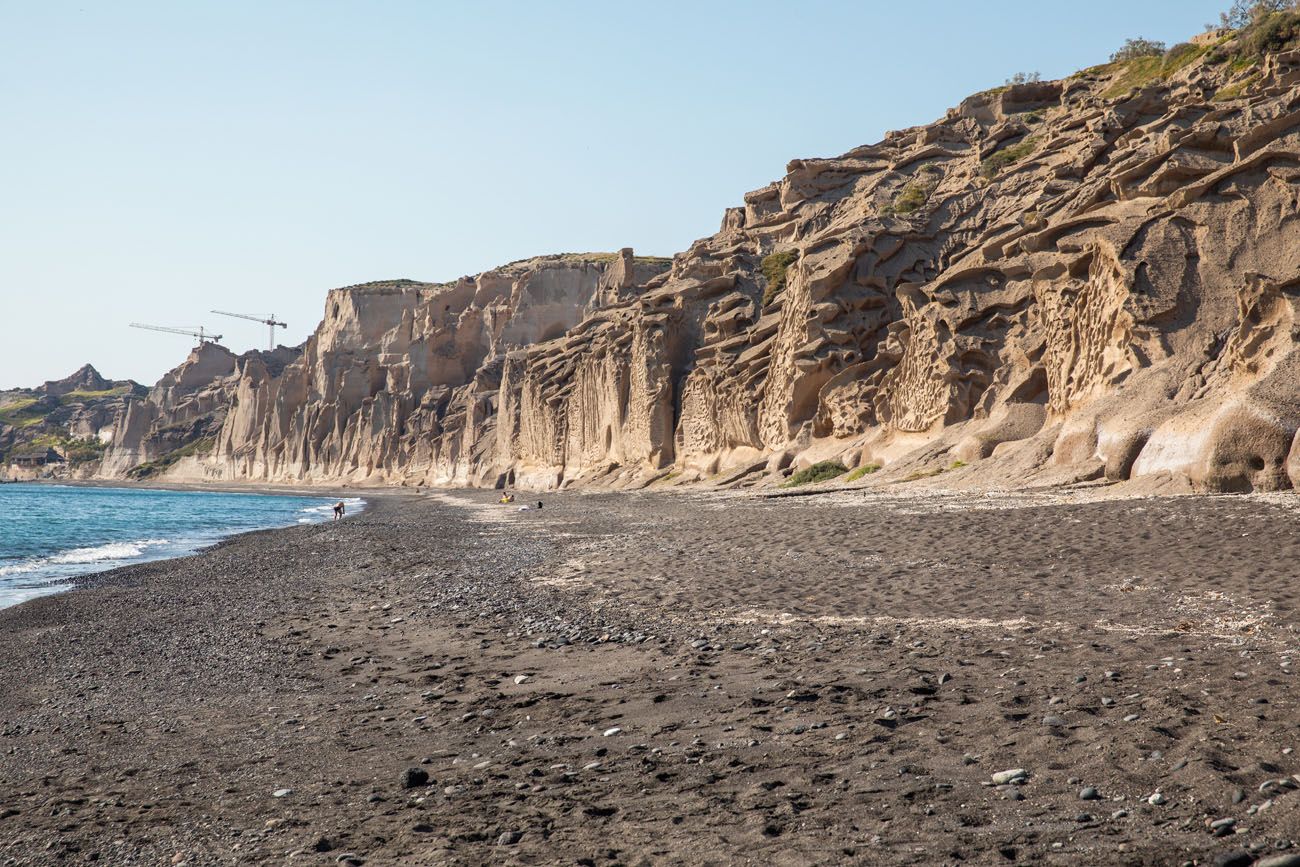 Vlychada Beach | Best Things to do in Santorini
Want to do something unique on Santorini? On this 1.5 hour tour, travel by horseback from Vlychada Beach to Eros Beach.
16. Visit Pyrgos
Pyrgos is a small village located in some of Santorini's best wine country. It's a small town with twisting lanes and small cafes. If you are looking to get away from the larger, more touristy towns along the caldera, this is a nice spot to put on your list.
17. Enjoy the View from Profit Ilias
Profit Ilias is the highest point on Santorini. From here, you get almost 360° views of the island.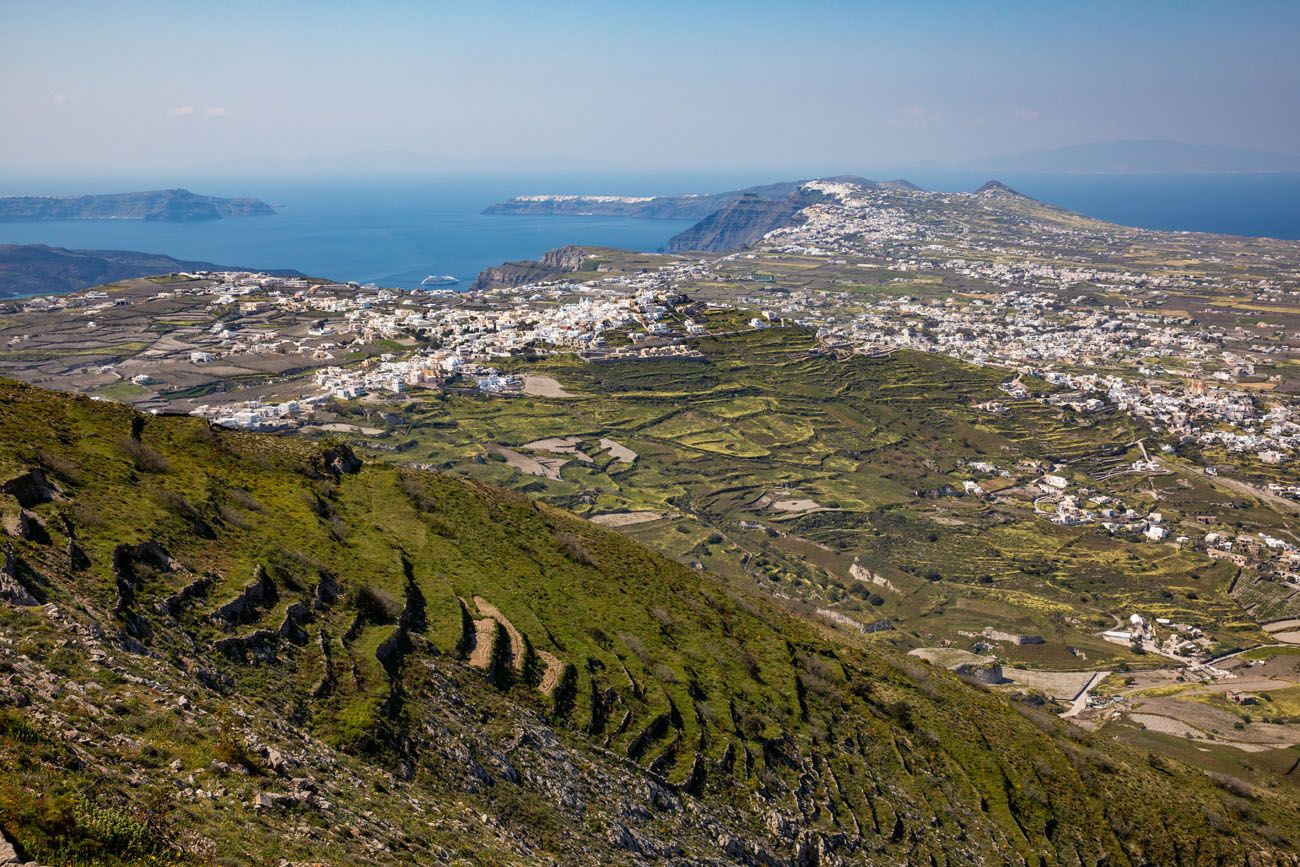 You can get here by car, ATV, tour, or on your own two feet. There is a hiking trail that links Profit Ilias with Kamari, Ancient Thira, and Perissa. If you don't plan on renting a car while on Santorini, this 5 hour private tour includes a visit to Profit Ilias, Akrotiri Excavation Site, Oia, and Perivolos or Perissa Beach.
18. Visit Ancient Thira
Ancient Thira is the remains of an ancient settlement in Santorini. This city was inhabited from the 9th century BC through 726 AD. You can see the remains of this ancient city at this site.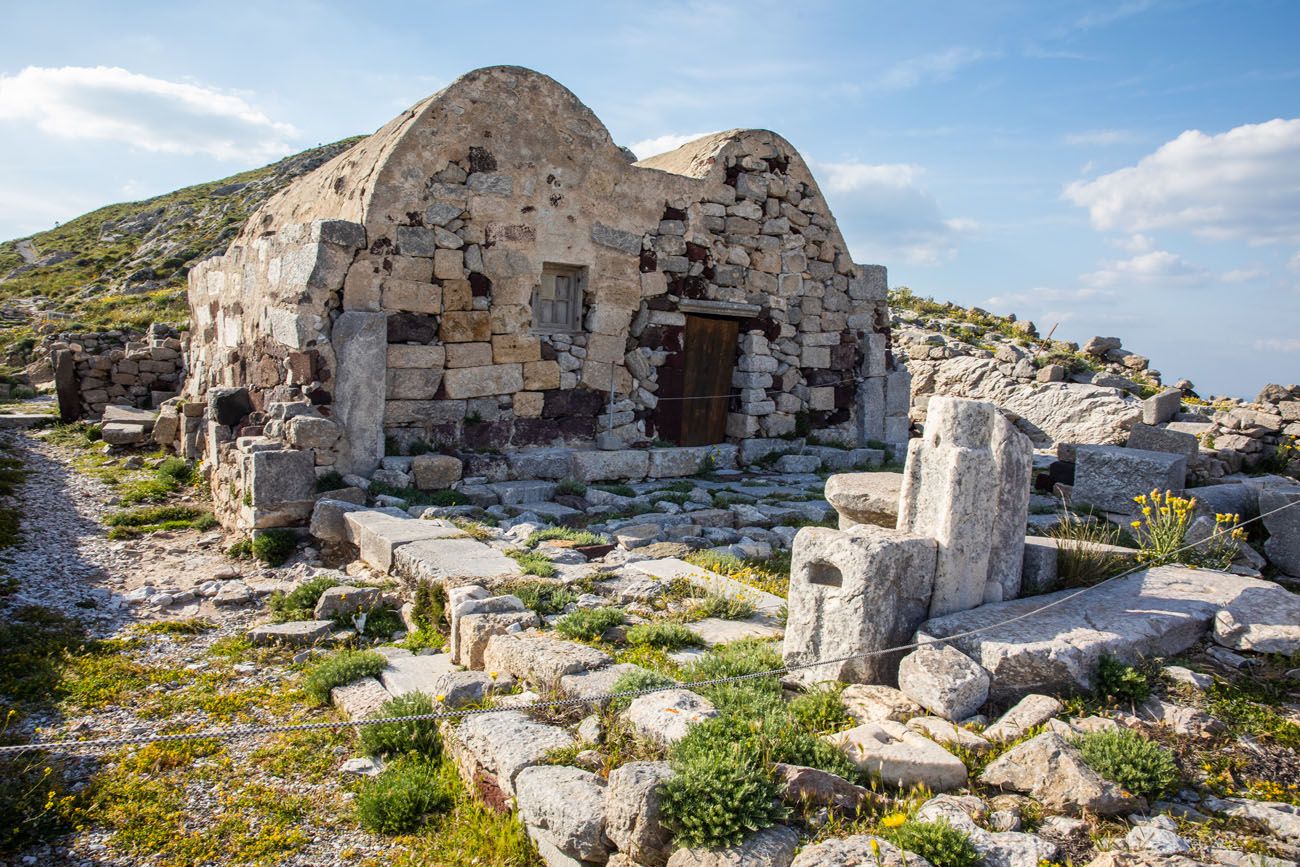 Ancient Thira | Best Things to do in Santorini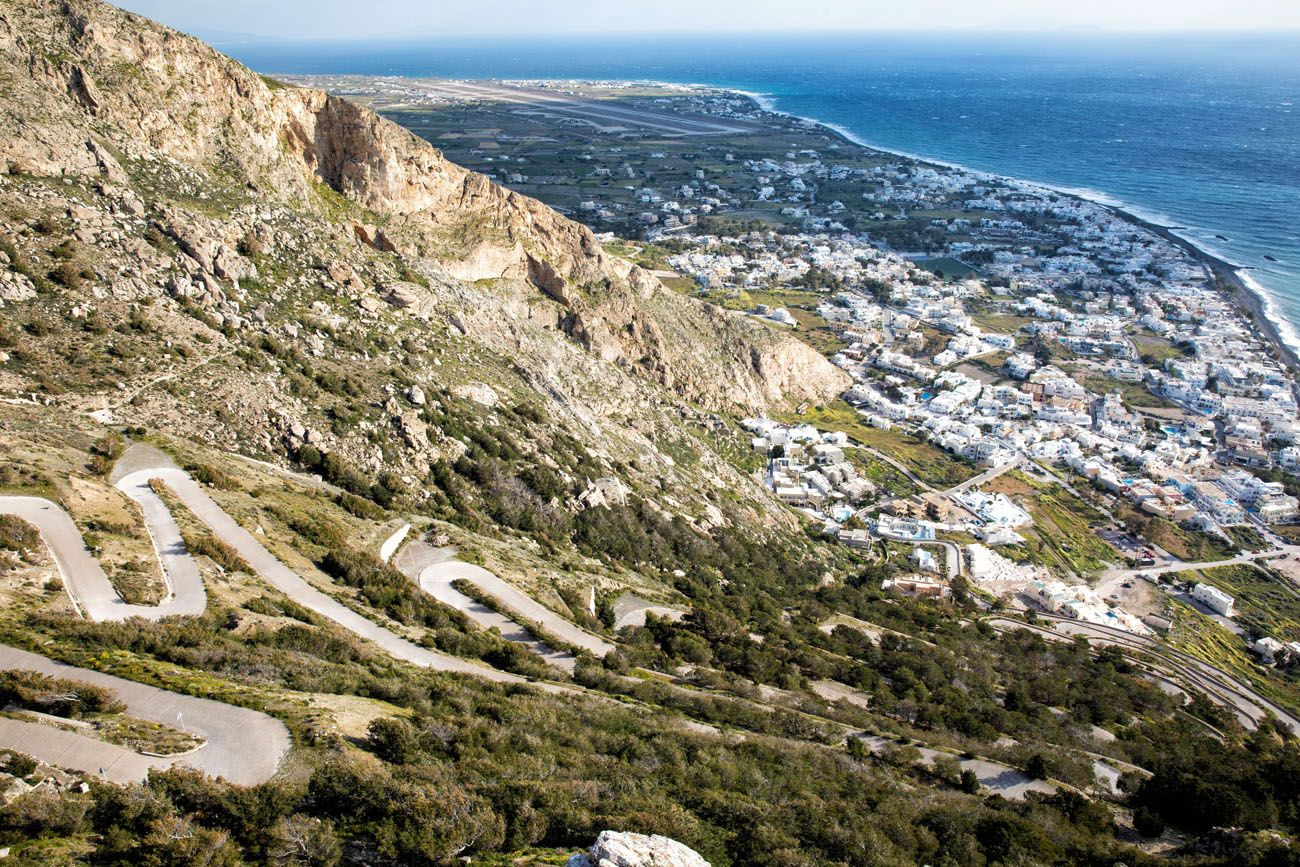 The road to Ancient Thira and the town of Kamari
Ancient Thira is open from 8:30 am to 2:30 pm every day except Mondays. You can drive here, but it is a crazy, narrow road with over 20 hairpin turns. We drove it, but it was first thing in the morning and there was no other traffic on the road. A better option is to take the bus from Kamari. It leaves hourly and saves you a white-knuckle drive.
19. Visit Akrotiri Archeological Site
Akrotiri is an ancient Minoan settlement. Really ancient. In the 16th century BC, the settlement was destroyed in a volcanic eruption and buried in volcanic ash, similar to Pompeii in Italy. It is estimated that humans have inhabited this area since the 5th millennium BC.
We did not visit Akrotiri, although we tried. Hours of operation are listed until 8 pm. However, the staff went home early on the day of our visit, at 4 pm (we arrived at 4:10 pm). It was very disappointing. And this was not the first time in Greece that something we wanted to visit closed unexpectedly early.
Summer hours (from April 15 to October 31) are 8 am to 6:30 pm daily, closed Mondays. It costs €12. Reading reviews on line, some people state that this is too high of a price for what you get. I can't comment on that, unfortunately, but if you are a history buff, this may be worth it. Learn more on the official website.
20. Try Some of Santorini's Best Eats
This was also one of our favorite things to do in Santorini…not only trying to eat at as many restaurants as possible but also sampling some new and wonderful foods.
The volcanic soil and climate on Santorini are perfect growing conditions for tomatoes. The cherry tomatoes are delicious! There is even a tomato museum in Santorini. Other things to try are Brantada, a local Santorian fish dish, fava beans, and melitinia, which are cookies made of cheese and yogurt.
As far as restaurants to try, we have a lot of suggestions.
Metaxi Mas
Metaxi Mas, located on the top of the hill in the town with the same name, is the place to go if you want to try traditional Greek food. Your meal will start with grappa and then you can take your pick from a wide selection of Greek dishes. The food is delicious. Definitely make a reservation in advance, even for lunch, because this is a very popular and highly-rated restaurant in Santorini.
Oia
In Oia, Oia Vineyart gets rave reviews. We didn't eat here but I wish we did (I couldn't convince Tyler and Kara to go here for dinner). Regional dishes are made from local ingredients and paired with wines made on Santorini. We had dinner at Pelekanos. The food was terrific and you get a nice view over the village from the rooftop setting. Both Fino Cocktail Bar and Melitini were on our list for Oia but we could only eat so many dinners in one night. For dessert, go to Lolita's for gelato.
Imerovigli
You have a lot to choose from in Imerovigli. La Maison was our favorite spot but also the most expensive. But the views, the service, and the food were unbelievable. We ate at Avocado twice for lunch and highly recommend it. The Athenian House serves Greek food with a twist and offers caldera views from their terrace. We ate here on our last night in Santorini. Kapari Wine Bar gets great reviews for their food. We didn't eat here but we did have drink and loved the experience. Other restaurants that made our list are Anogi, Mezzo, and Le Moustache.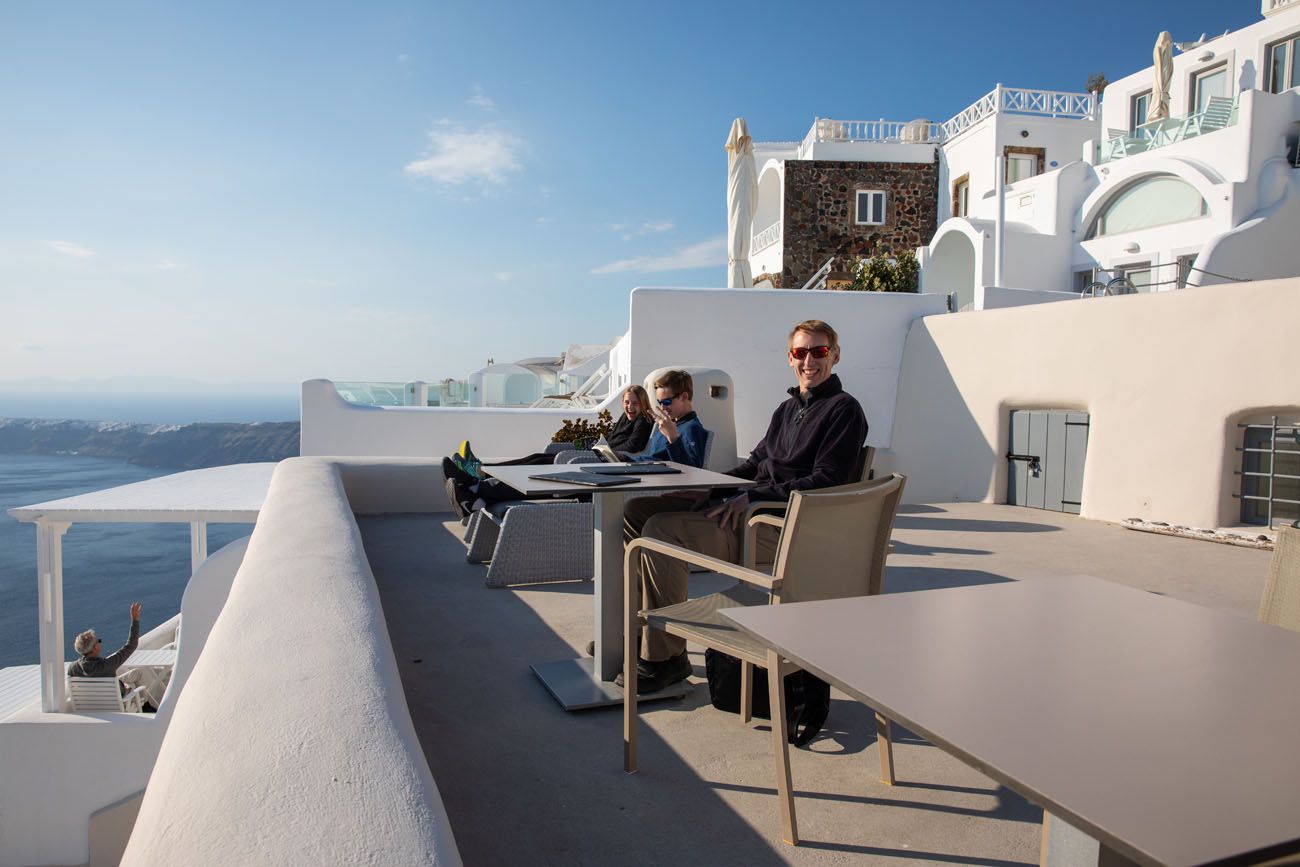 Kapari Wine Bar | Best Things to do in Santorini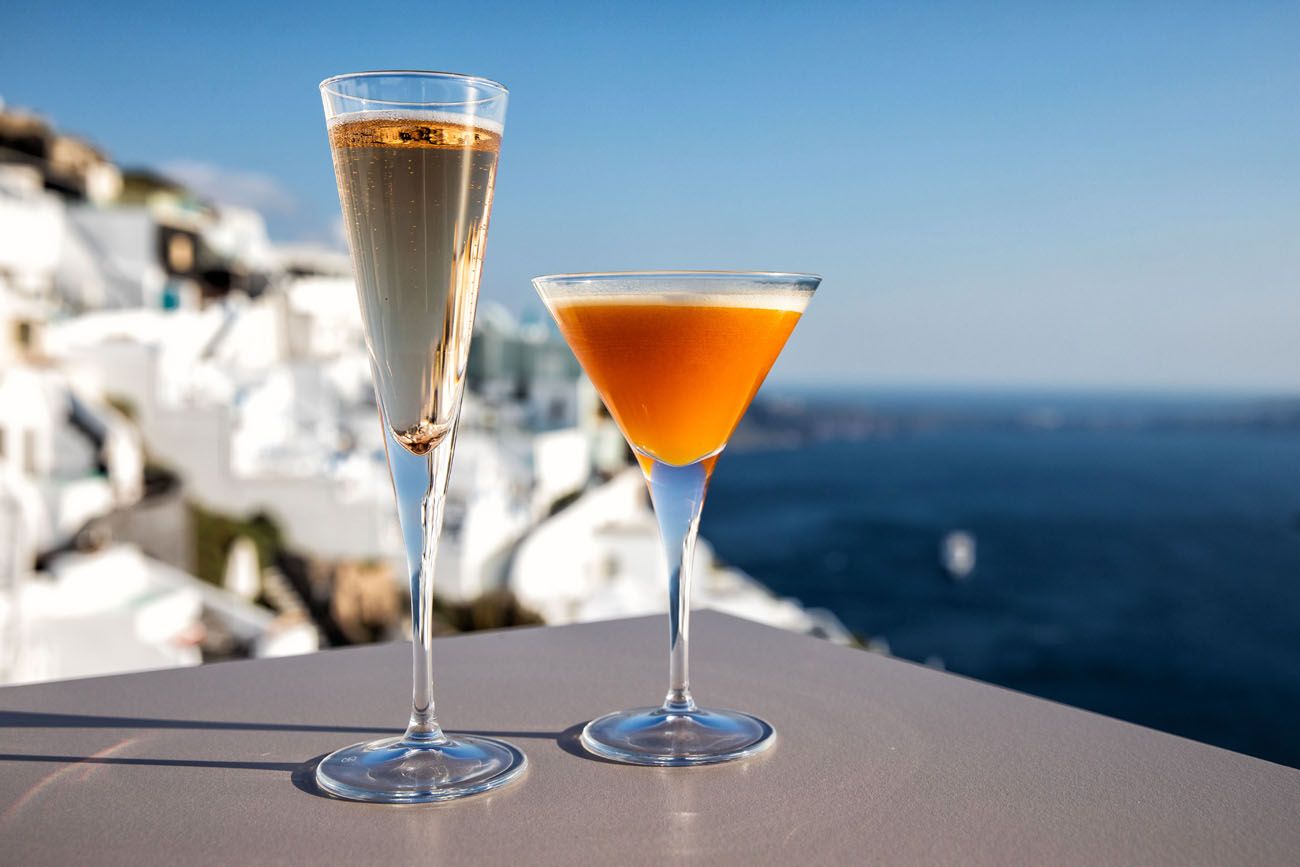 Fira
If you have a hankering for Italian, I read that Cacio e Pepe in Fira is the best on the island.
PRO TRAVEL TIP: If you are traveling during peak season, make your reservations in advance. Even in April we needed reservations at several restaurants.
Two More Recommendations
We did several more things on Santorini although they didn't "wow" us, so they didn't make it onto our top 20 list. However, there are two spots that I believe deserve a mention.
Akrotiri Lighthouse. The Akrotiri Lighthouse sits on the southwestern tip of the crescent of the island. On a windy day, the winds are ridiculous here. You need sunglasses, more to protect your eyes from blowing dust than for the sunshine. The views are just so-so, although you do get to see the entire caldera with Oia far off in the distance.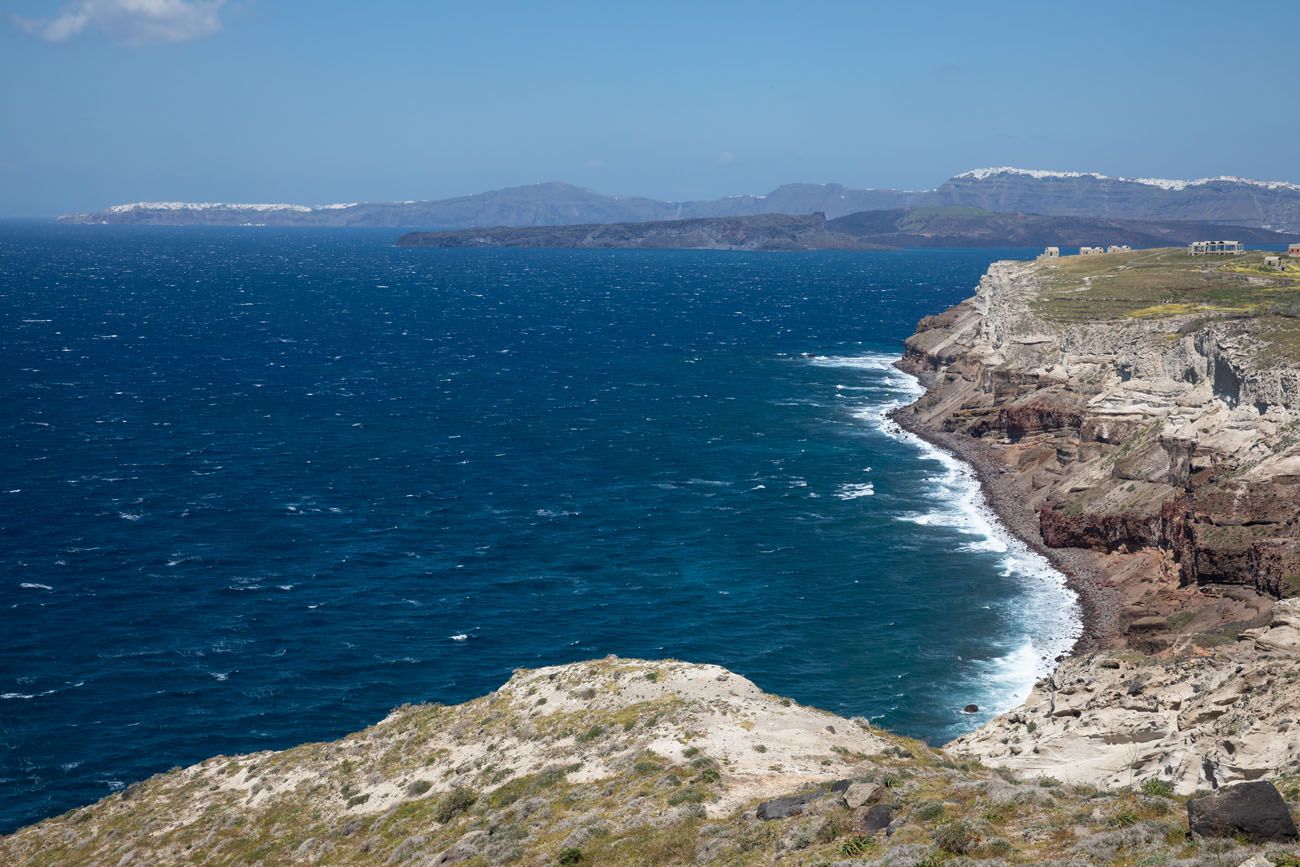 Megalochori. We heard wonderful things about this small town. It is charming but it is also very, very small. There's not a whole lot to do here and it only takes several minutes to wander through the center of town. Unless you have a car and are really into visiting tiny villages, I'd pass on this town.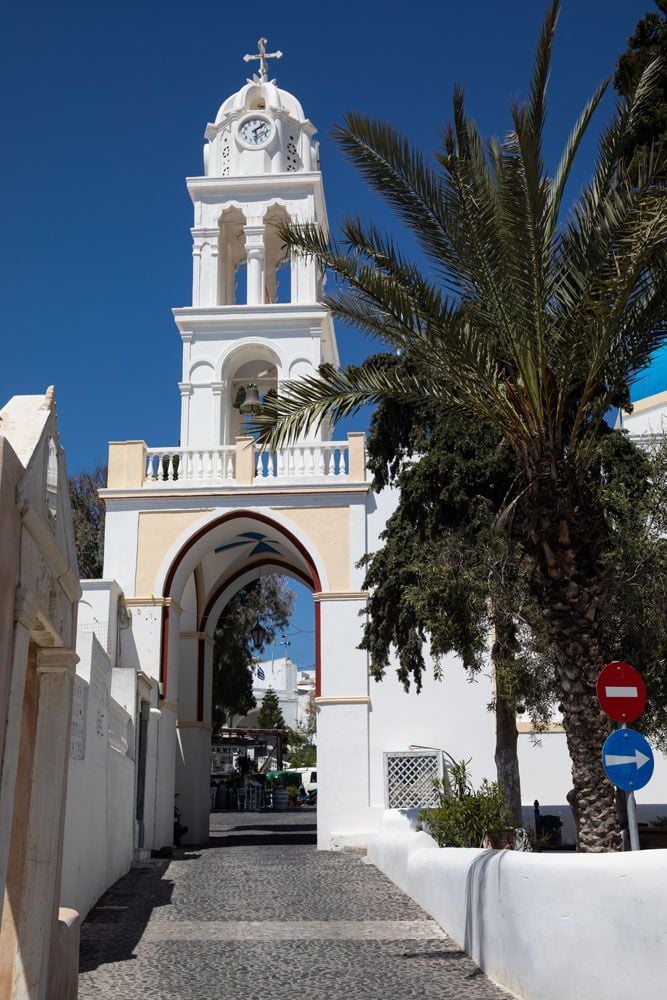 Megalochori | Best Things to do in Santorini
Best of Santorini: On A Map
How to Use This Map: Click the tab in the top left hand corner of the map to view the layers (points of interest, cities, and restaurants). You can click the check marks to hide or show layers. If you click the icons on the map, you can get more information about each point of interest.

If you click the star next to the title of the map, this map will be added to your Google Maps account. To view it on your phone or computer, open Google Maps, click the menu button, go to "Your Places," click Maps, and you will see this map on your list.
Santorini Itinerary
Learn how to put all of this together into a 1, 2 or 3 day tour of Santorini in our article:
About Our Visit
We visited Santorini in mid-April. Typically, April is still considered the off-season, however, it was Easter holiday week, so Santorini was quite crowded. The weather was unusually chilly and windy during our visit. During the day, temperatures were around 14 to 15°C (high 50's) with winds up to 35 mph. It was too cold to get in the water (which explains why the beaches are deserted in our photos).
This time of year, the boat tours to the volcano were not yet operating but there were several catamarans offering sunset cruises. However, restaurants and most hotels are open by mid-April.
But the wind was crazy. Knocking people over, blowing around outdoor furniture, whipping sand and dust into our eyes. After the visit to Akrotiri Lighthouse, we literally had to clean the dirt out of our ears. And it gets even windier in the late summer months, so I have heard. Fortunately, 35 mph winds are not strong enough to cancel ferries and flights, at least not during our visit.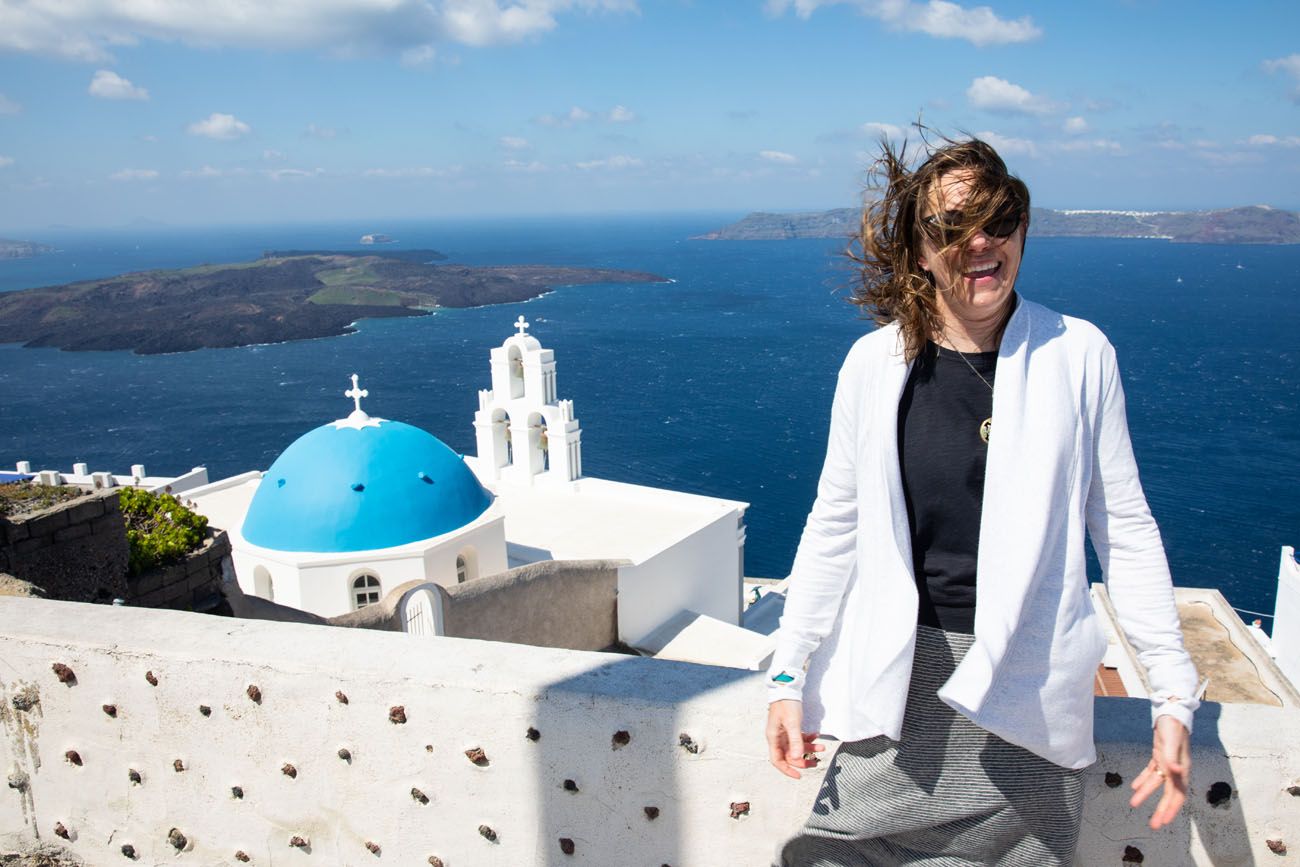 This was me in pretty much every photo in Santorini.
Where We Stayed
We stayed at Absolute Bliss in Imerovigli. This was a big splurge for us, but if we were ever going to pay for a hot tub with a view, Santorini would be the place to do it.
Tim and I stayed in room #12. We had a large room with a private terrace and a hot tub with a view of the caldera. Tyler and Kara stayed in room #17. They had their own pool and even a sauna in their room. During our visit, temperatures struggled to hit 16°C (60°F) and with 25 to 35 mile an hour winds, it was too cold to get in the pool. But we did use the hot tub every night.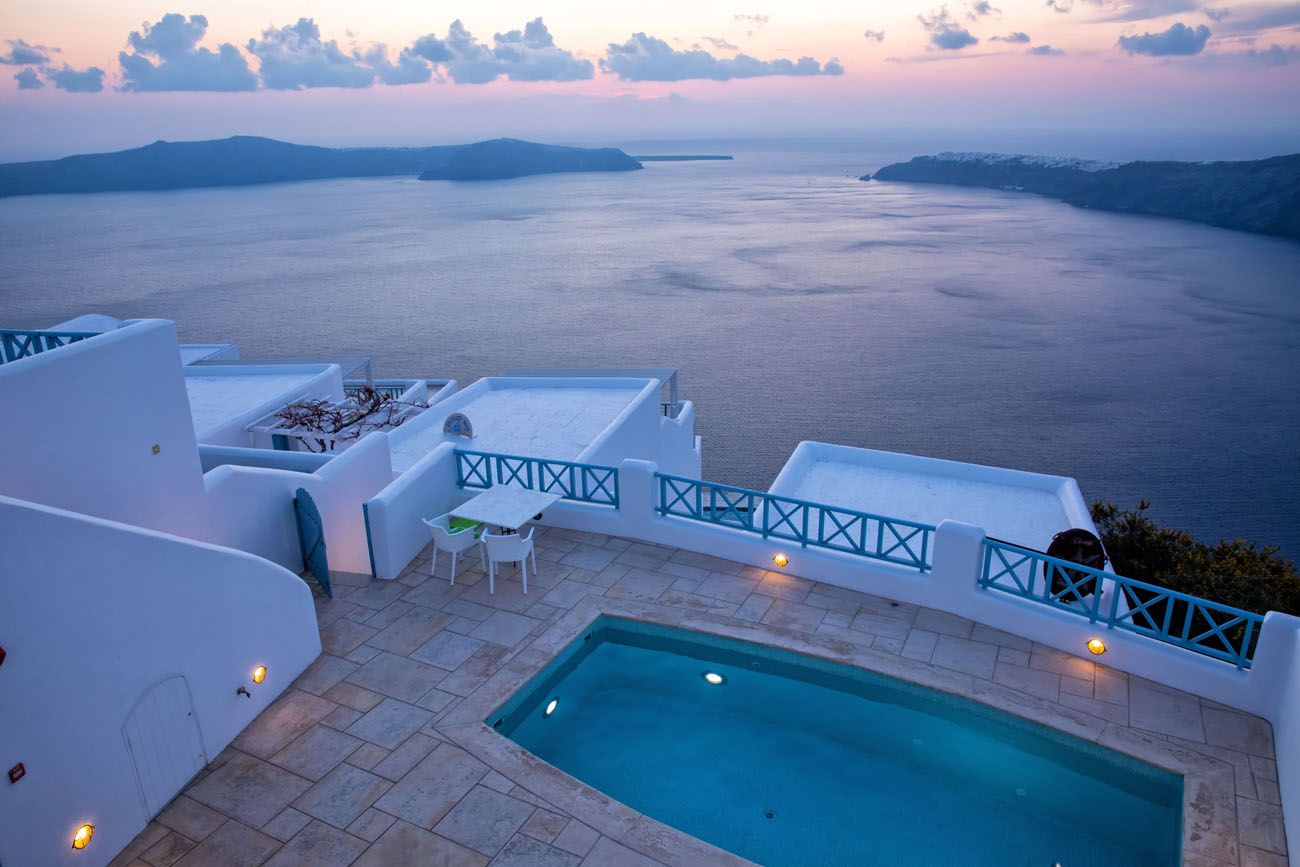 We had a wonderful experience at this hotel. It's quiet, it's private, the views are amazing, the service is 5-star, and we loved it that they brought us breakfast to our room every morning.
For more recommendations on where to stay, read our article about the Best Hotels in Santorini. Learn where to stay for a great view of the caldera and get recommendations whether you are looking for a budget hotel, luxury hotel, or if you are traveling as a family.
---
Comment below if you have any questions about the best things to do in Santorini or if you would like to share your experience.
More Information for Your Trip to Greece
GREECE ITINERARY: Learn how to visit Athens, Santorini, Naxos and Mykonos in our 10 Day Greece Itinerary.
PLACES TO GO ATHENS: For a full list of things to do, read our article Best Things to Do in Athens. And don't miss our guide to the Best Views of Athens & the Acropolis.
TRAVEL ADVICE: First time in Greece? Here are essential things to know about Greece, from SIM cards to booking the ferries to renting a car.
MYKONOS: Learn about things to do and how to get around Mykonos in our Guide to Mykonos.
NAXOS: Learn how to plan your visit to Naxos in our article Best Things to Do in Naxos. We also have information on hiking to Mount Zas, how to hike to Apano Kastro, and a detailed guide to hiking the Village Trail to Melanes, Myli, and the Kouroi.
TRAVEL INSPIRATION: Here are 15 fairytale destinations to visit around the world. And if you are considering a trip to Europe, check out our article 30 Beautiful Places to Visit in Europe.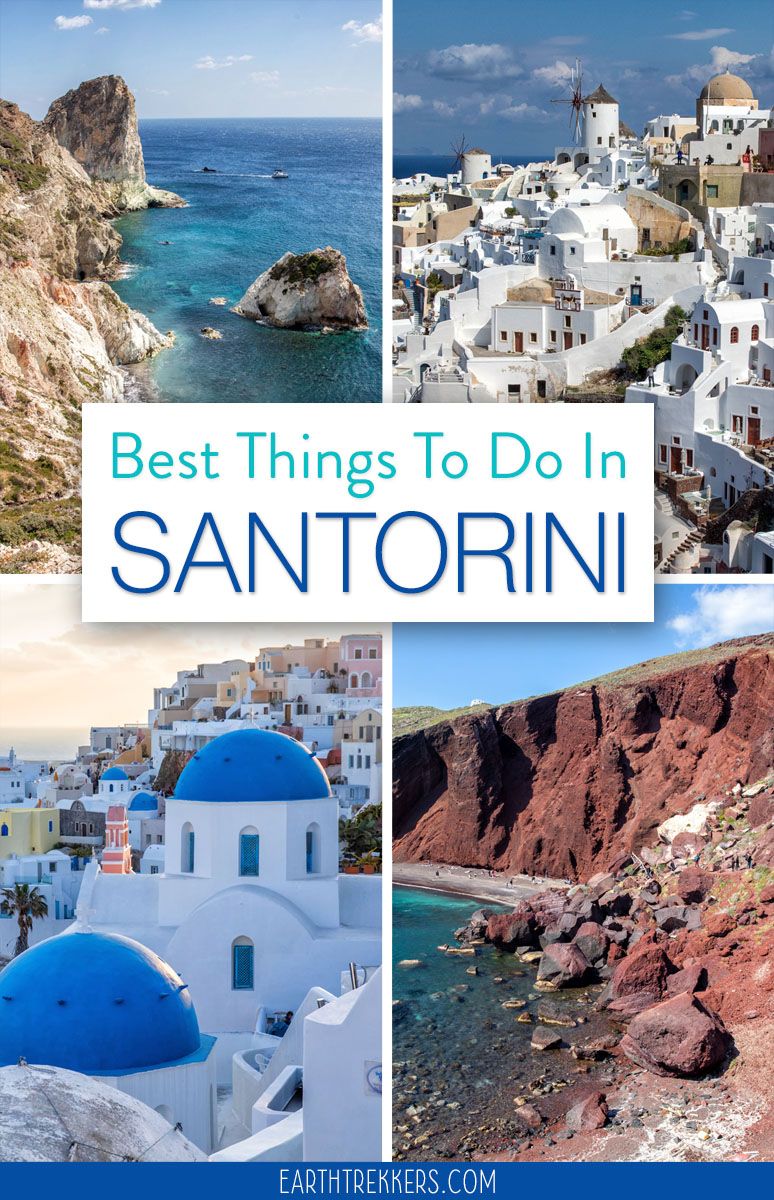 Note: This post contains affiliate links. When you make a purchase using one of these affiliate links, we get paid a small commission at no extra cost to you.
All rights reserved © Earth Trekkers. Republishing this article and/or any of its contents (text, photography, etc.), in whole or in part, is strictly prohibited.