Hiking to Apano Kastro was our favorite "unexpected" surprise in Naxos. This is a wonderful short hike to the ruins of ancient Venetian citadel. Explore the ancient ruins and get one of the best views over the island of Naxos.
When researching things to do on Naxos, photos of Apano Kastro caught my eye. However, when we did this, there was no online information about how to get here. With only a few eye-catching photos and a point on Google Maps, we set off to see if we could find our way to Apano Kastro.
It turned out to be quite easy. From the town of Ano Potamia, we hiked up a concrete and dirt road that turned into an easy to follow hiking trail. Once the trail made a turn and headed up the rocky hillside to the ruins, it became faint and difficult to follow, but even so, it didn't take long until we made it to the ruins.
Exploring the ruins is fun but the real treat is the view. Mount Zas, Chalki and other villages, the coastline, the mountains, and the farmland all stretched out before us and it was gorgeous.
What made it even better was that we were the only ones on the trail. What a beautiful, wonderful experience.
We did three hikes/walks on Naxos and this was our favorite. Hiking to Apano Kastro was better than the climb up Mount Zas and the lovely walk from village to village.
How to Hike to Apano Kastro
Apano Kastro Hiking Stats
Distance: 5 km (3 miles) out-and-back
Elevation Gain: 500 meters
Difficulty: Easy to Moderate
Length of Time: 2 to 3 hours
This hike starts and ends in Ano Potamia and the distance and elevation gain includes the walk uphill through town to the access road.
Ano Potamia
This hike starts in Ano Potamia (30 minute drive from Naxos City). On the north side of the village is a small parking lot. Park here (free).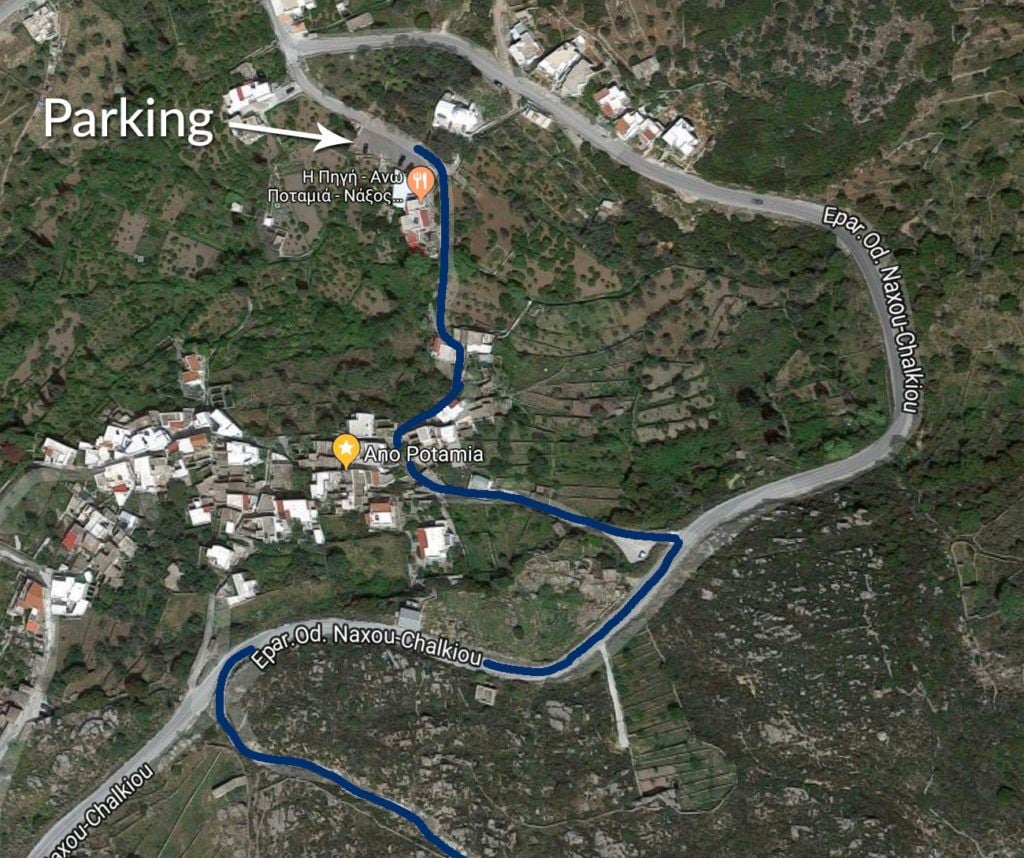 Map of Ano Potamia and how to walk from the parking lot to the trail.
To get from the village to the access road, walk down through town and then up a small road back to Epar.Od. Naxou Chalkiou, the main road in the area. You will walk about 250 meters along the side of this road until you get to the access road.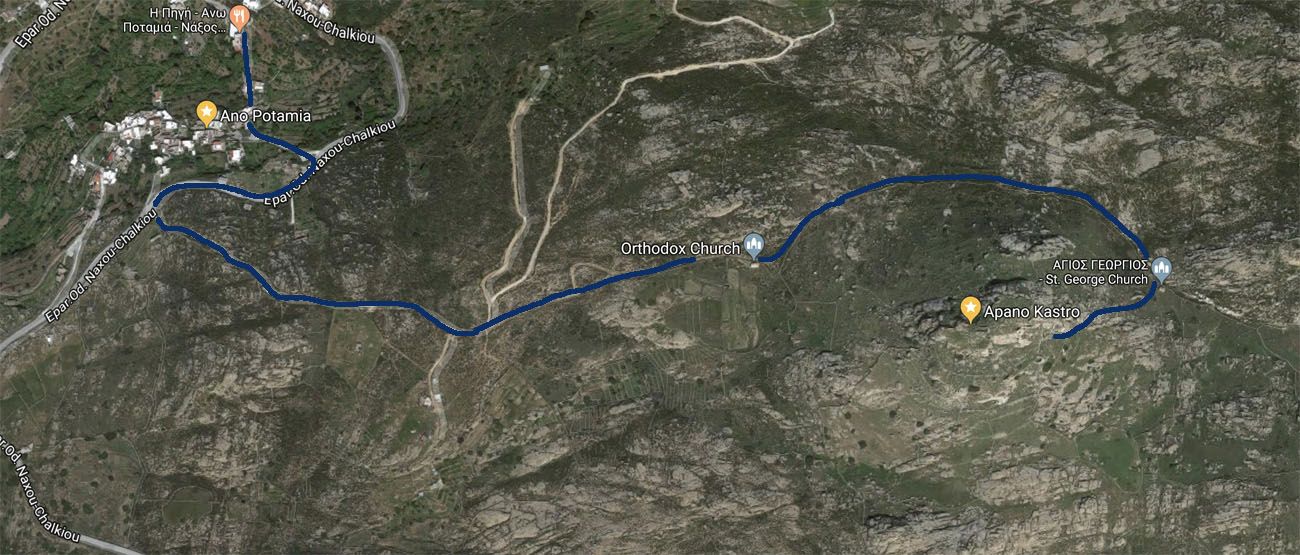 Map of the hiking trail
The access road starts off as a paved road. There will also be a sign pointing you in the right direction. Follow signs for Upper Castle and Chalki. The trail that you are on connects Ano Potamia with Chalki, so you have the option to continue past Apano Kastro.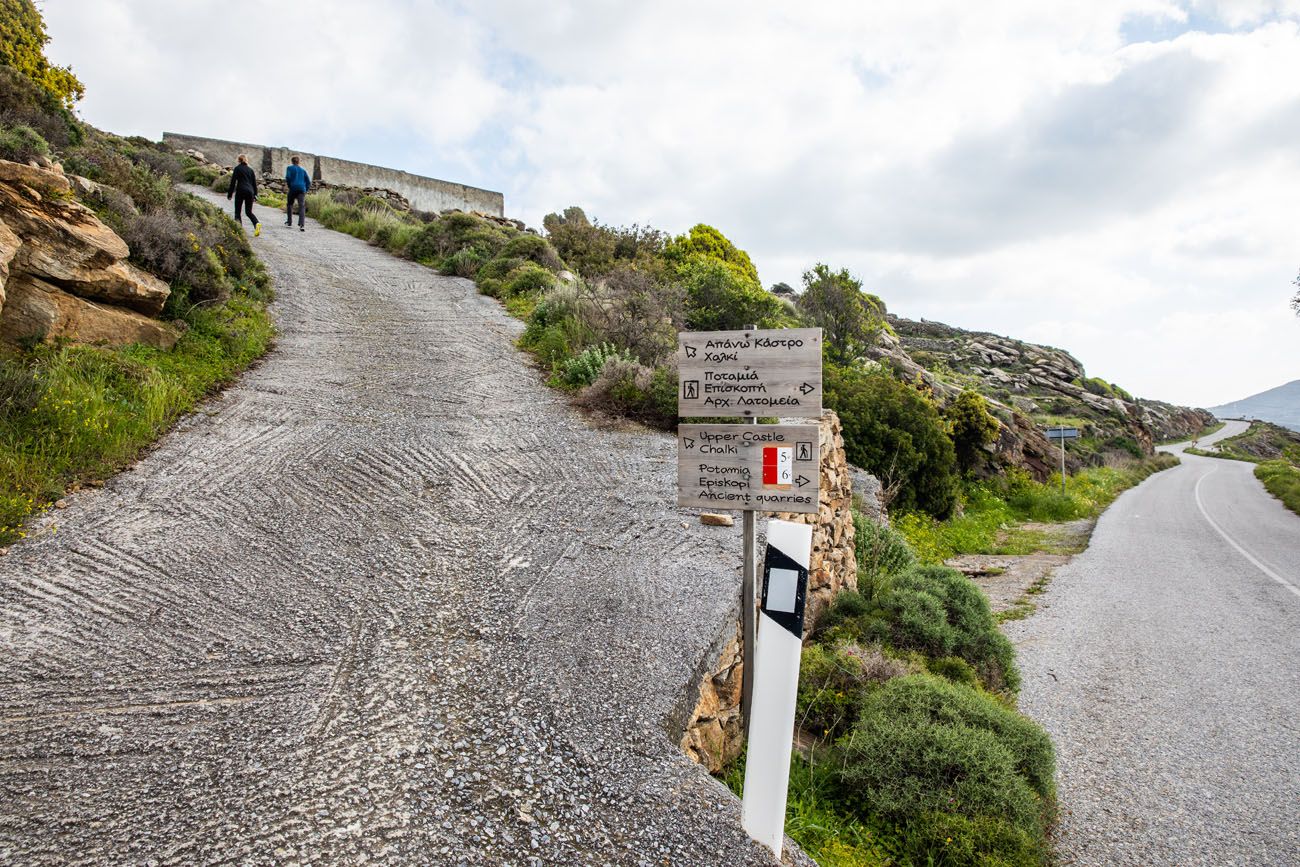 Once you get up the first, steep section of road, the concrete becomes dirt and gravel and the path levels out a little bit. It's still a steady uphill climb to Apano Kastro but it's not too bad. Now you can see the rocky hillside, which is the location of Apano Kastro, in front of you.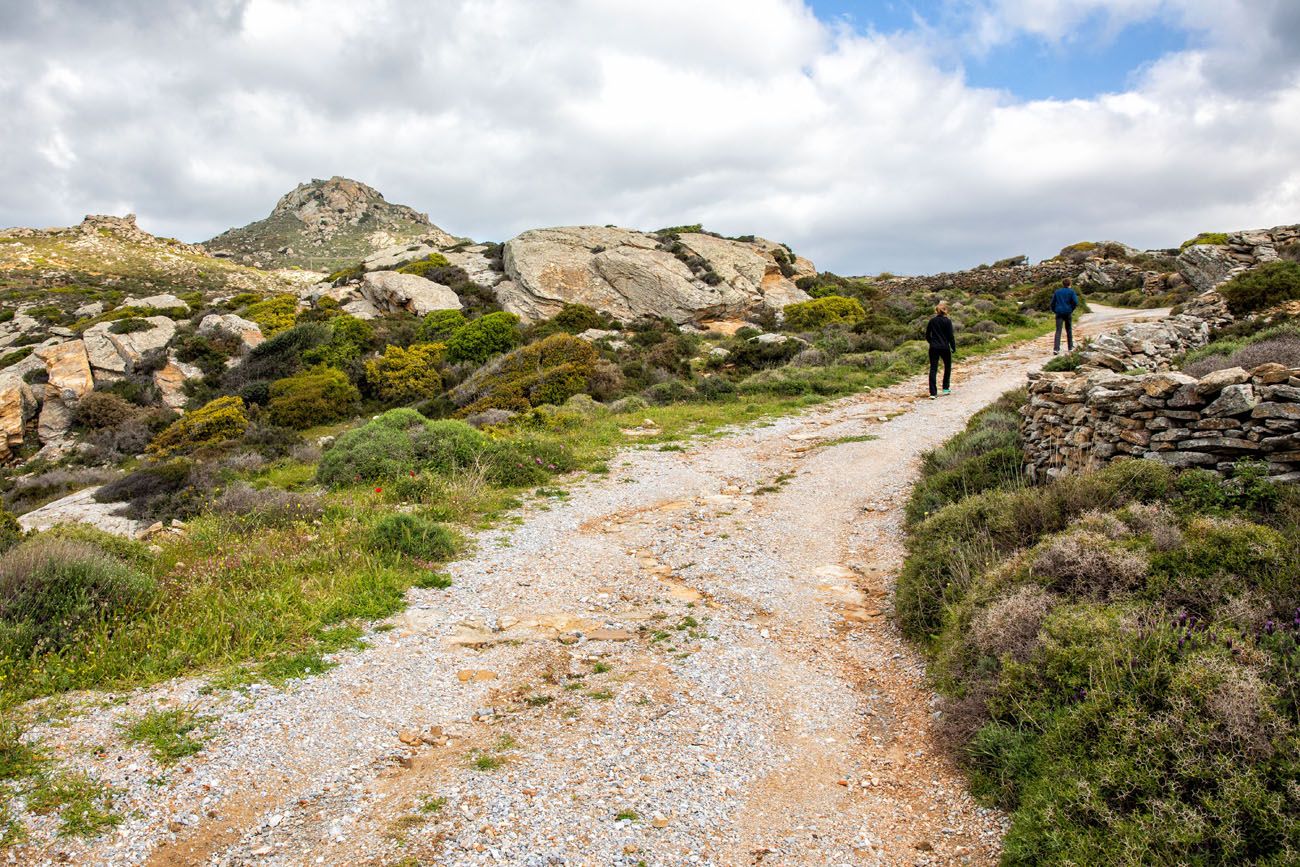 On the Trail
A narrow, dirt trail branches off from the road. When we did this, the sign for Apano Kastro was lying on the ground, like you see in the photo below.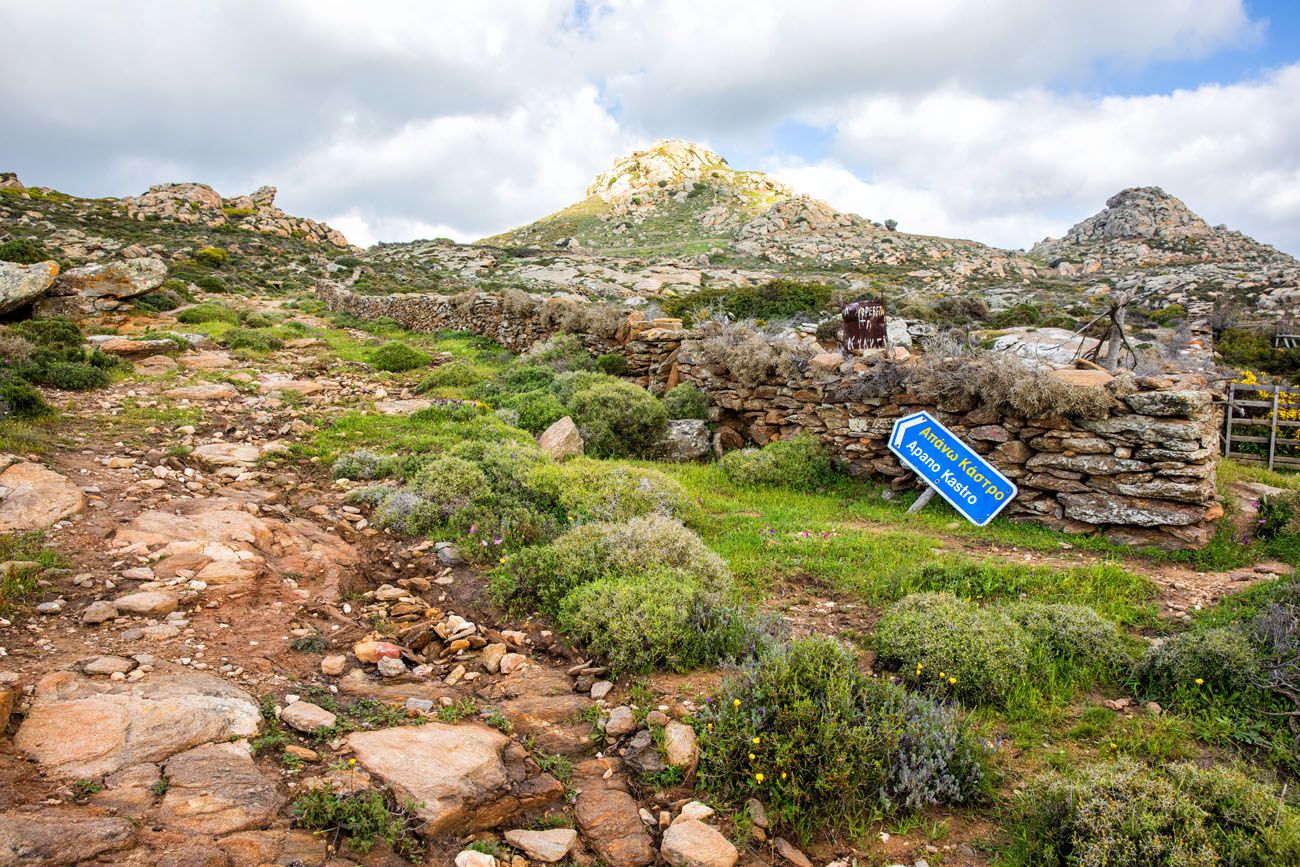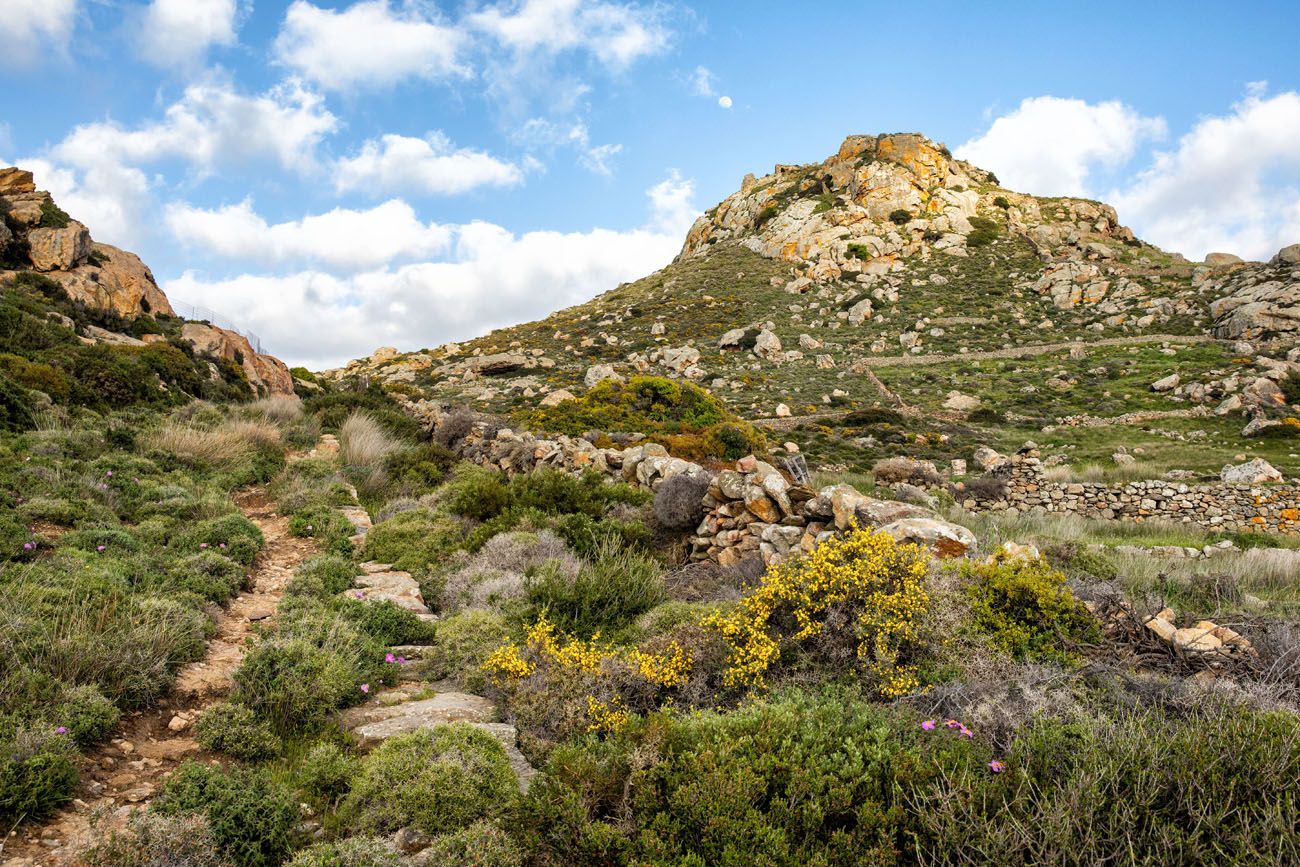 The trail will follow along the left side of the stone wall. It wraps around to the back side of the hill. For this part of the hike, the trail is very easy to follow. You simply walk on a well-worn trail along the stone wall. Occasionally, you will see trail markers with the number 5 on them.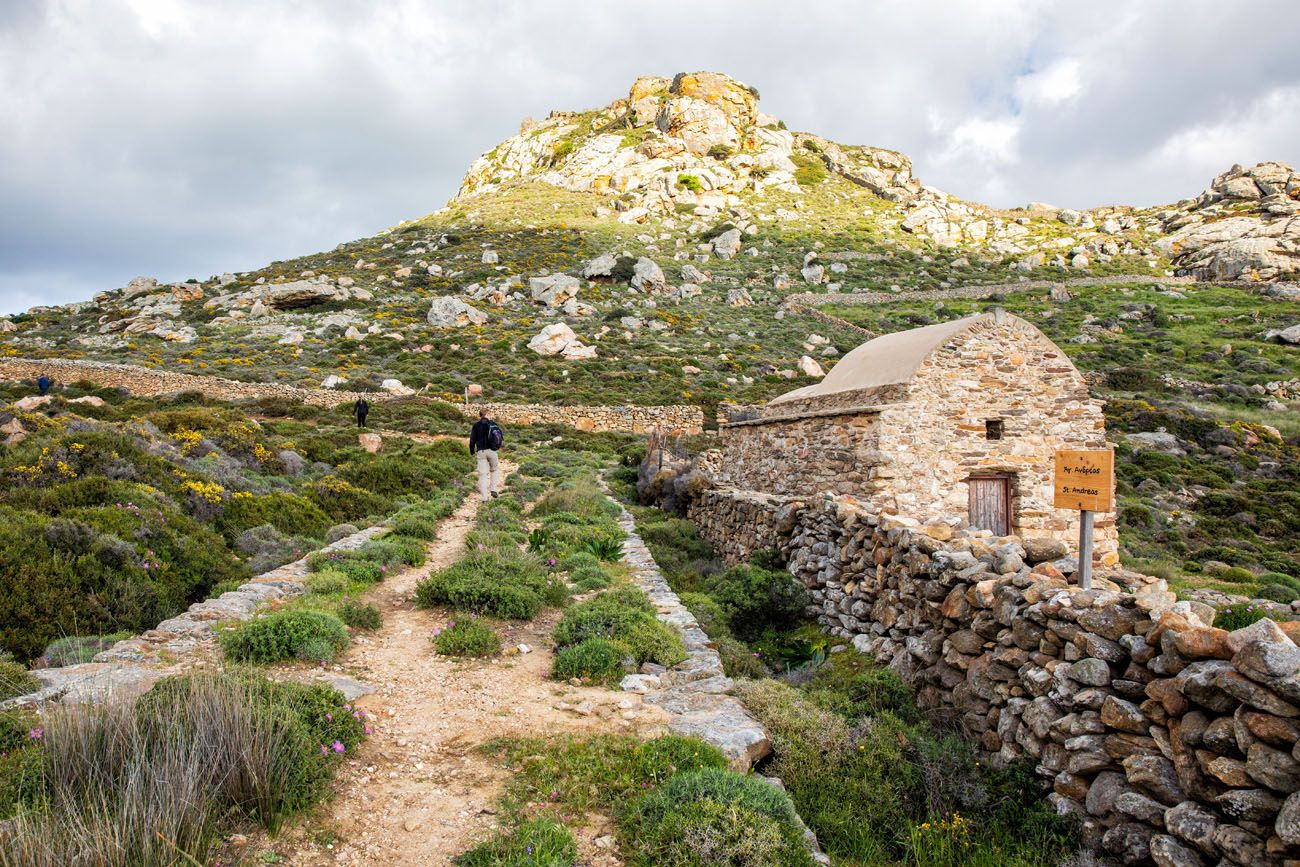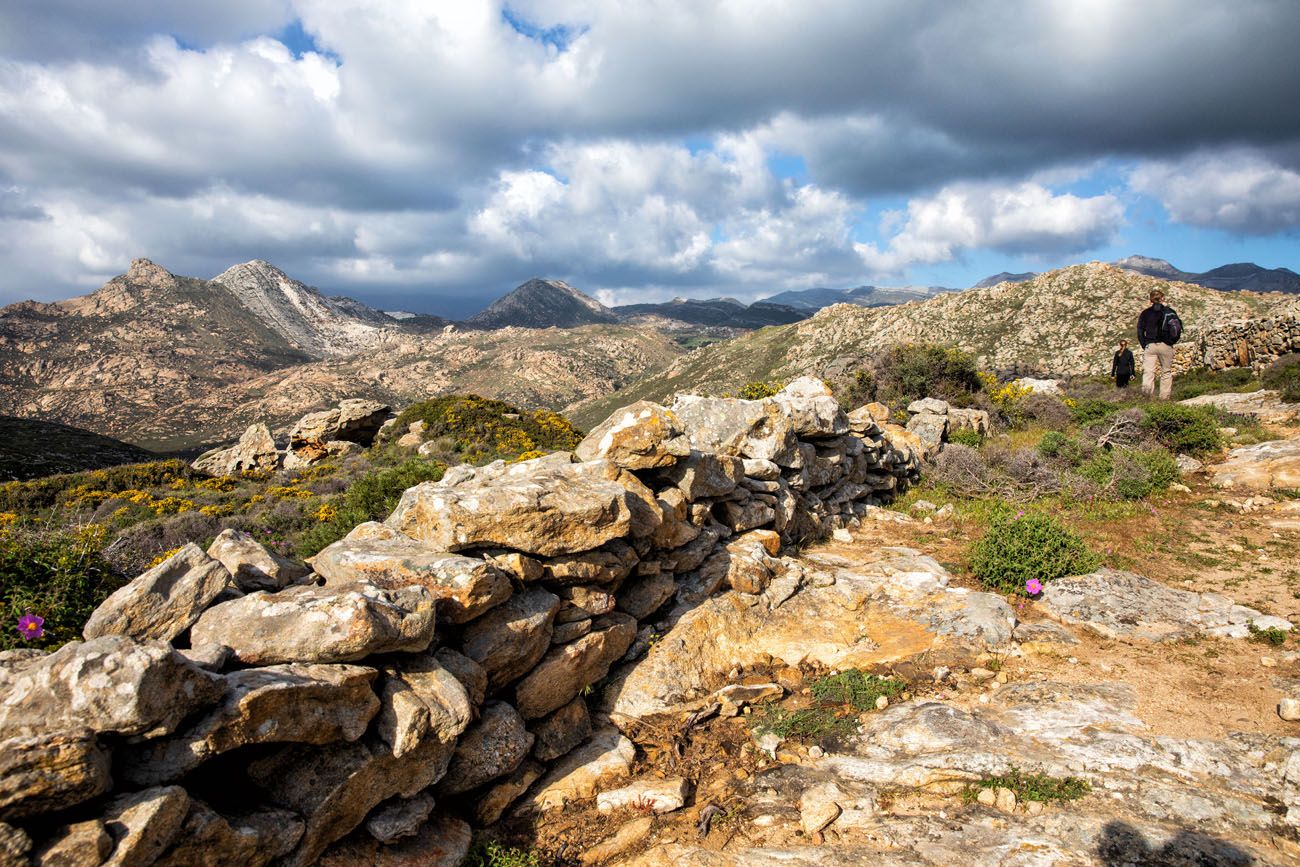 On the back side of the hill, there will be a break in the stone wall. There is also a sign here labeled Tsikalariou Castle and a small stone church. From here, the trail climbs up the hill. The trail is very faint and difficult to follow. Rock cairns mark the trail but they can be difficult to see. Just take your time and as long as you are heading uphill you are going in the right direction.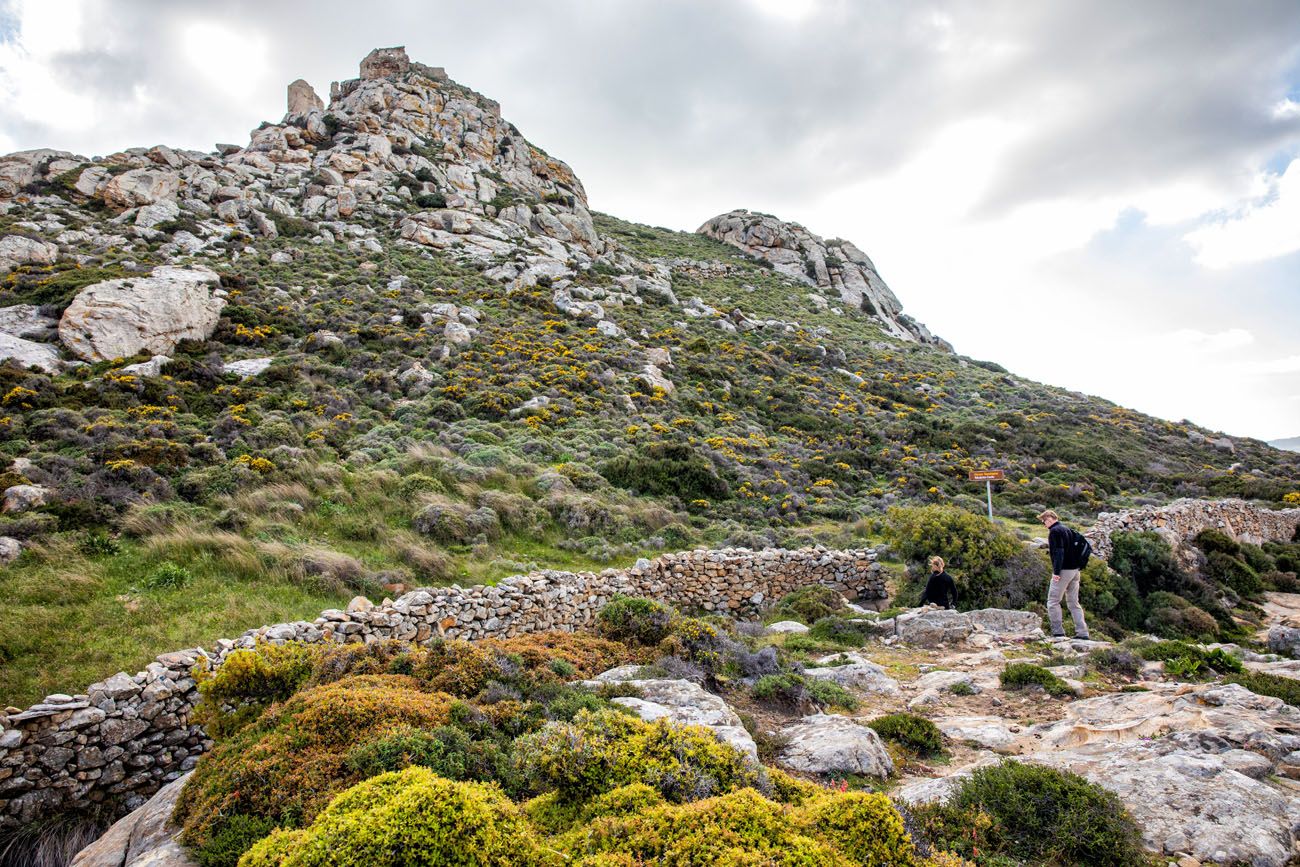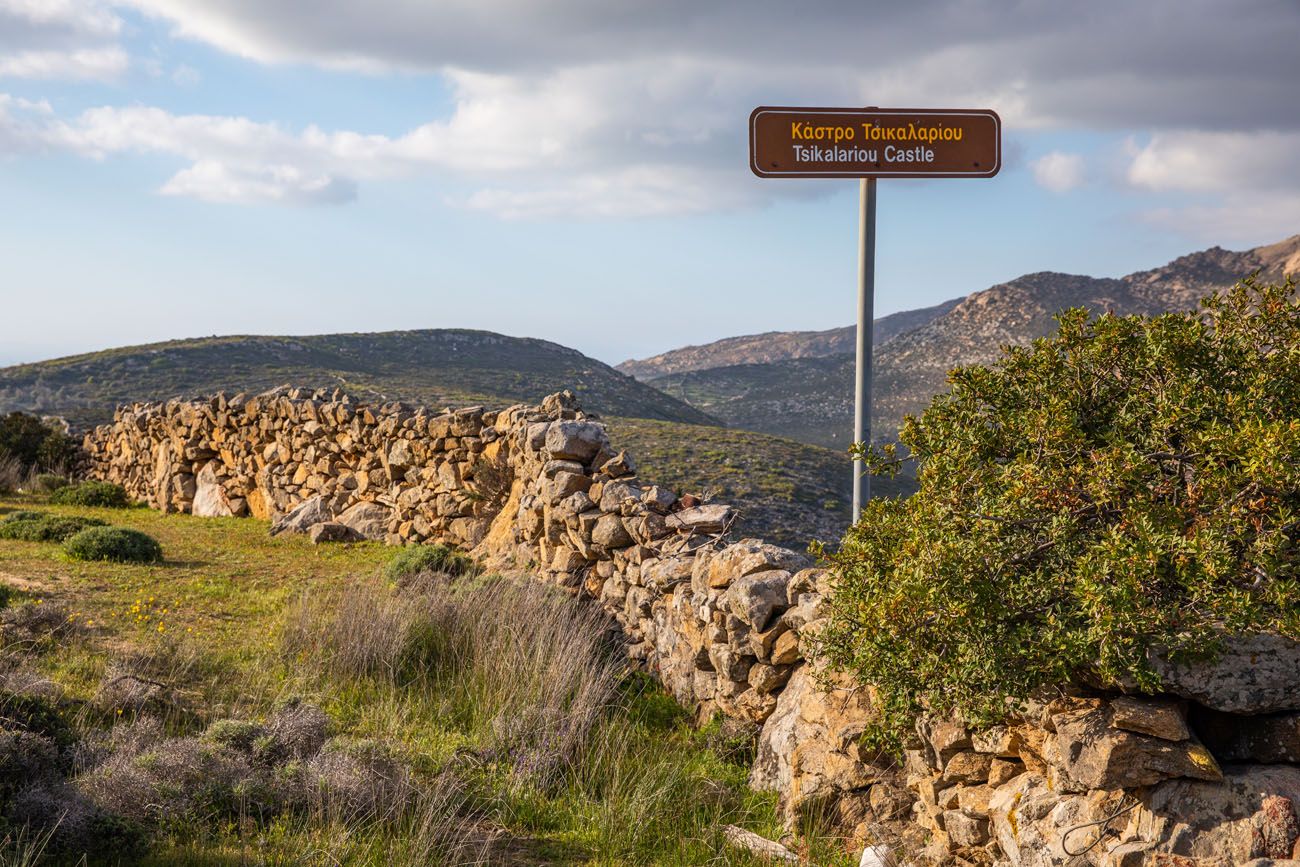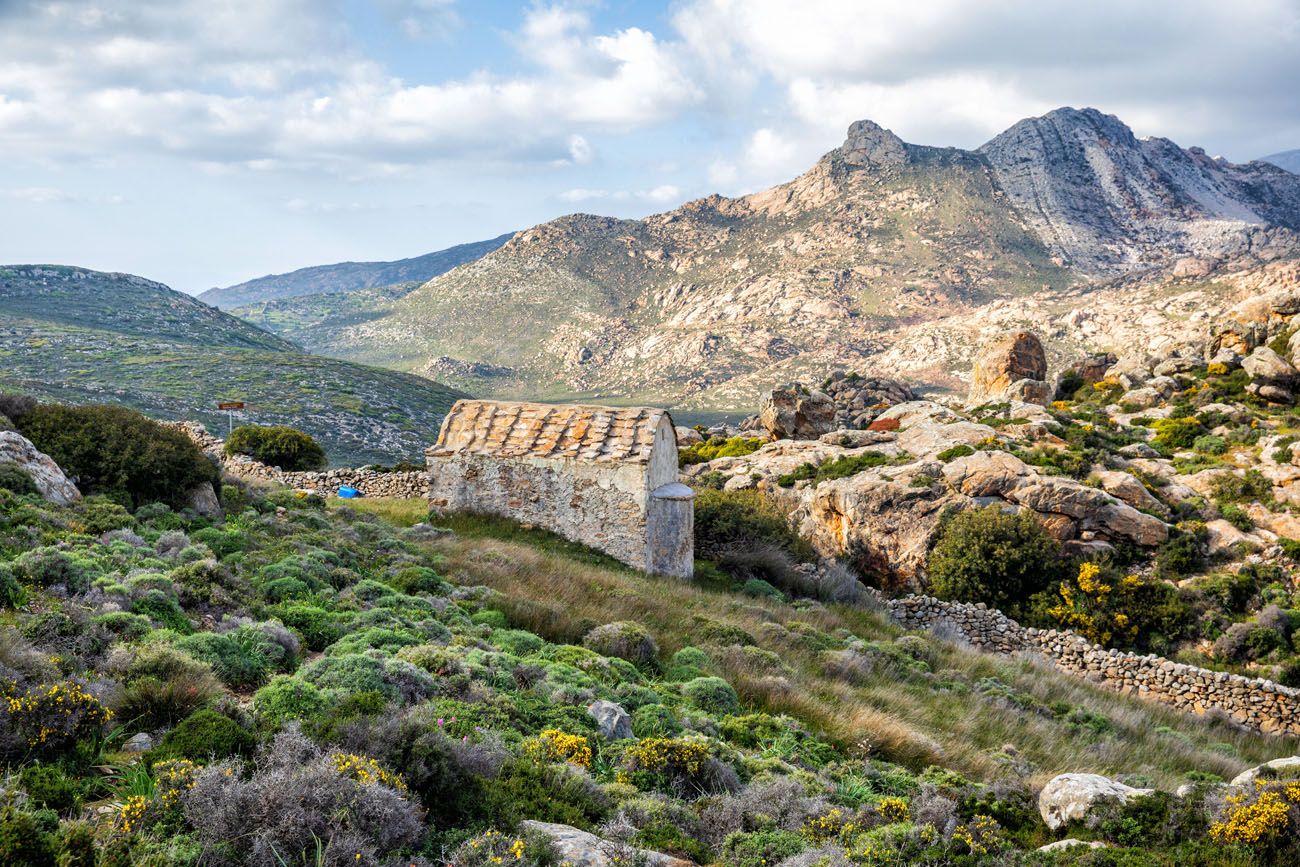 Once on top of the hillside, have fun exploring the ruins and enjoy the views over Naxos.
"Apano" means "upper," since this was the upper castle. The lower castle, Kato Castle (lower castle), is found in Chora or Naxos City. In the 13th century, Venetians built this fortification. The residence of the Duke was built on the hilltop along with several churches, a cistern, and protective walls.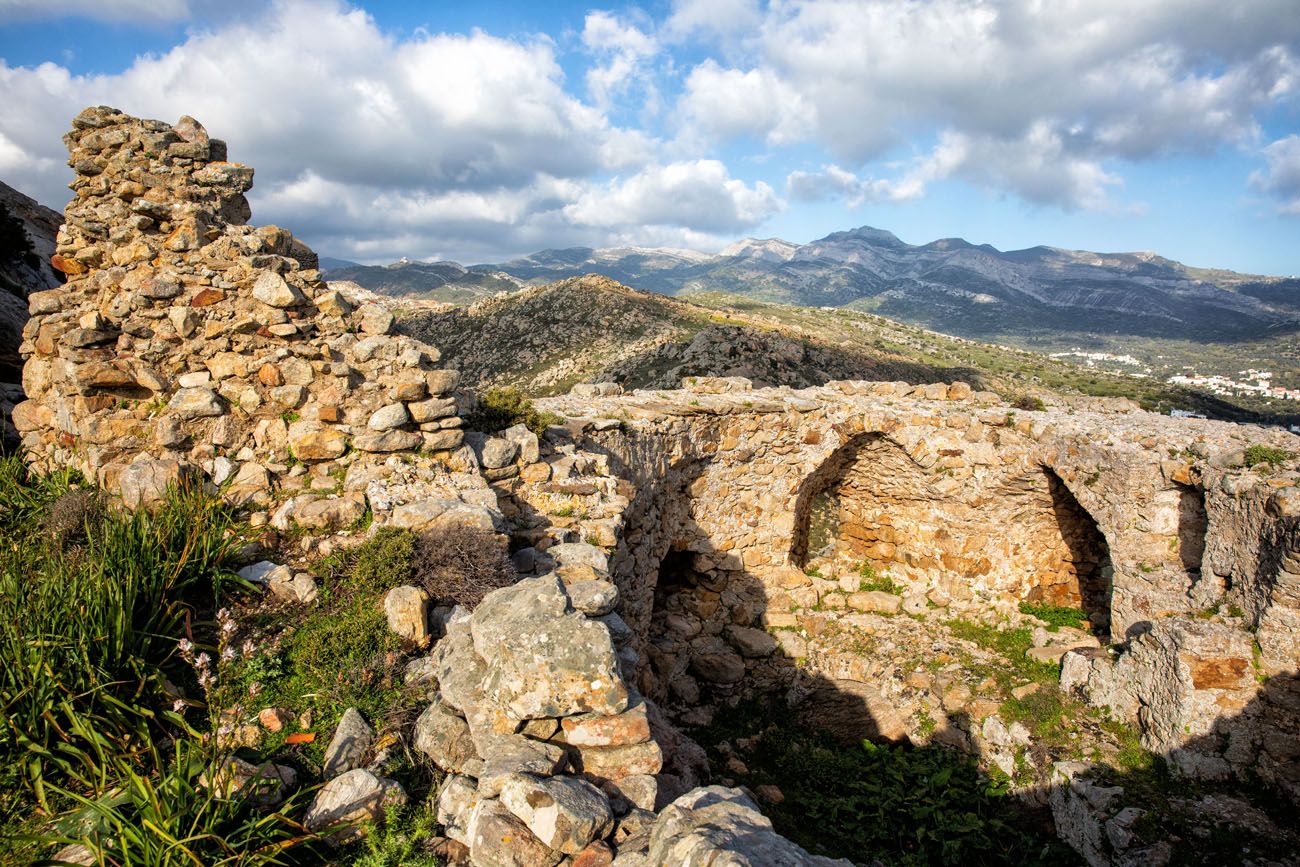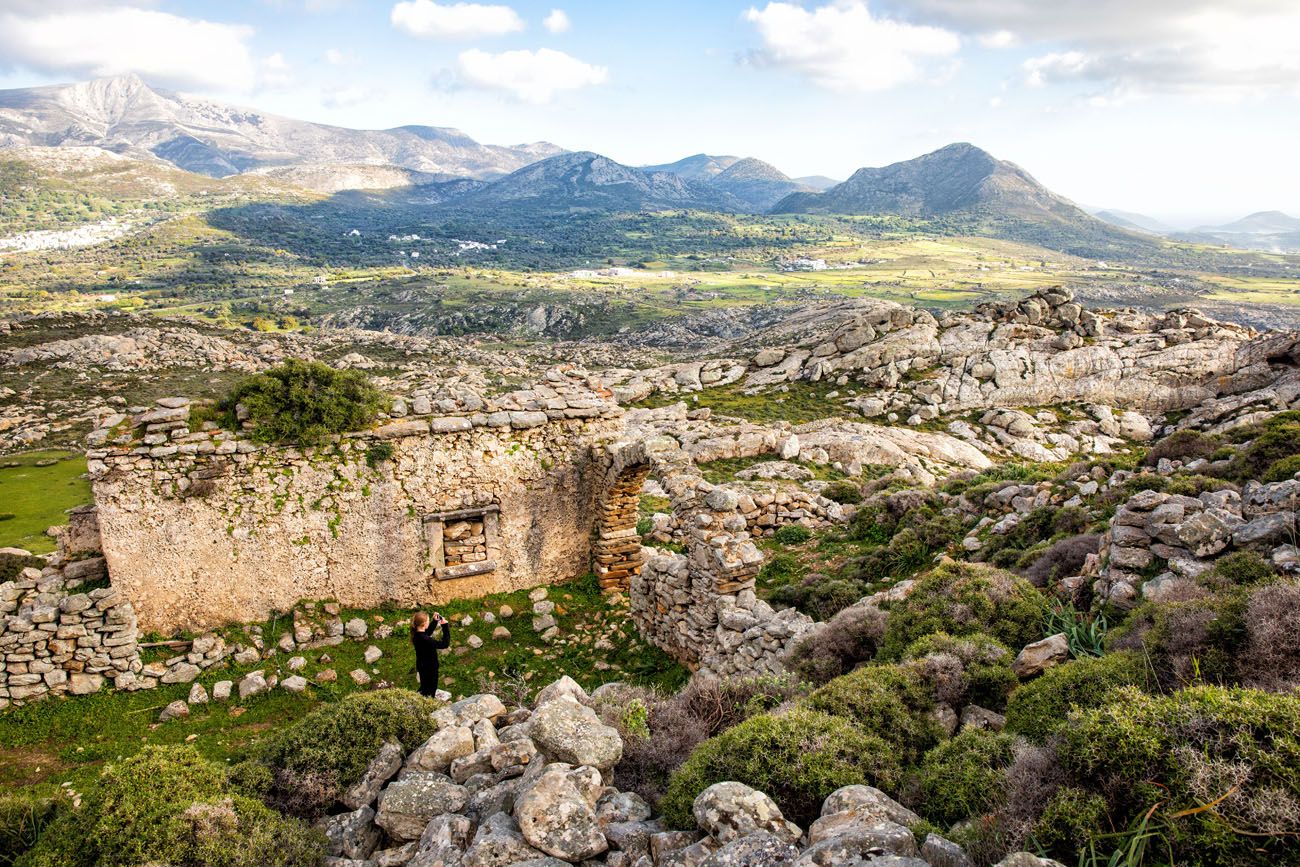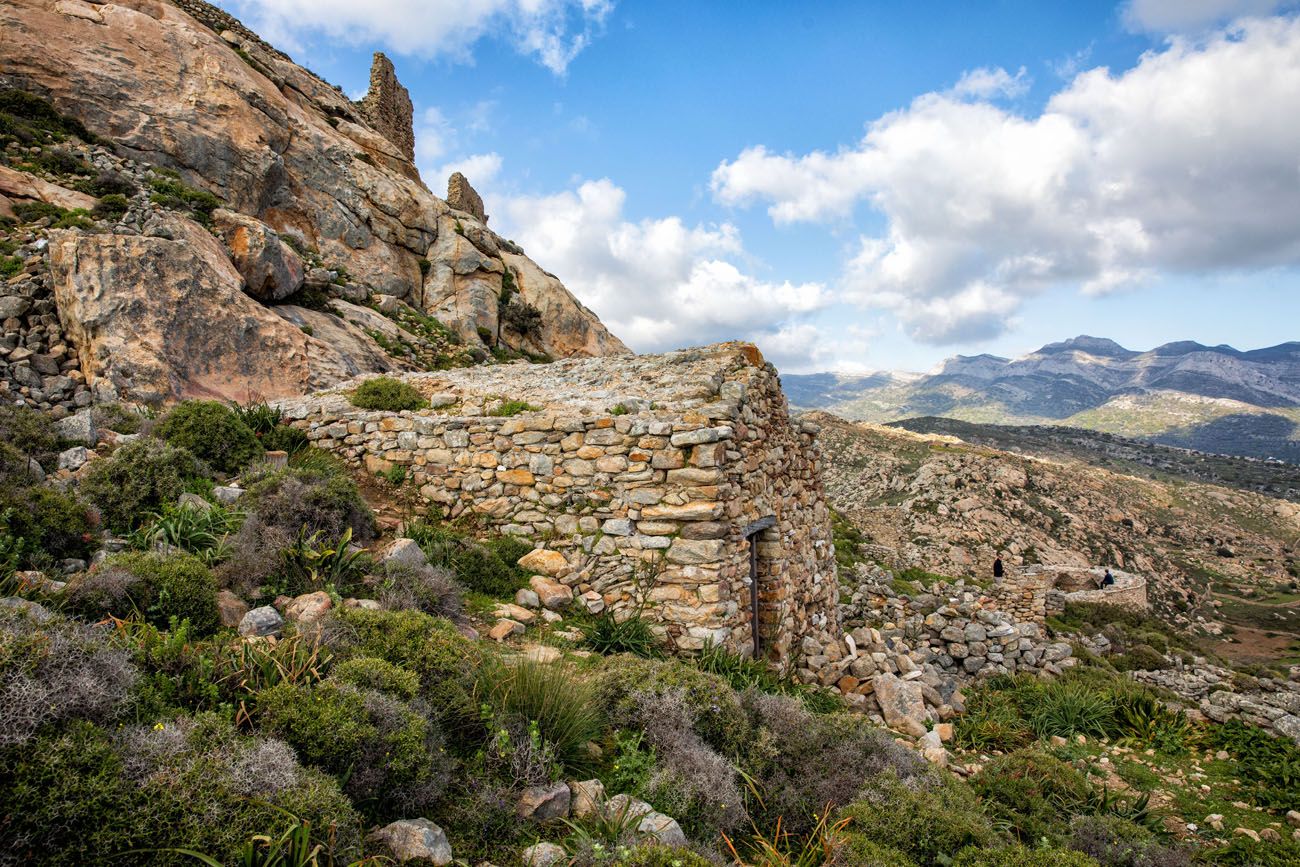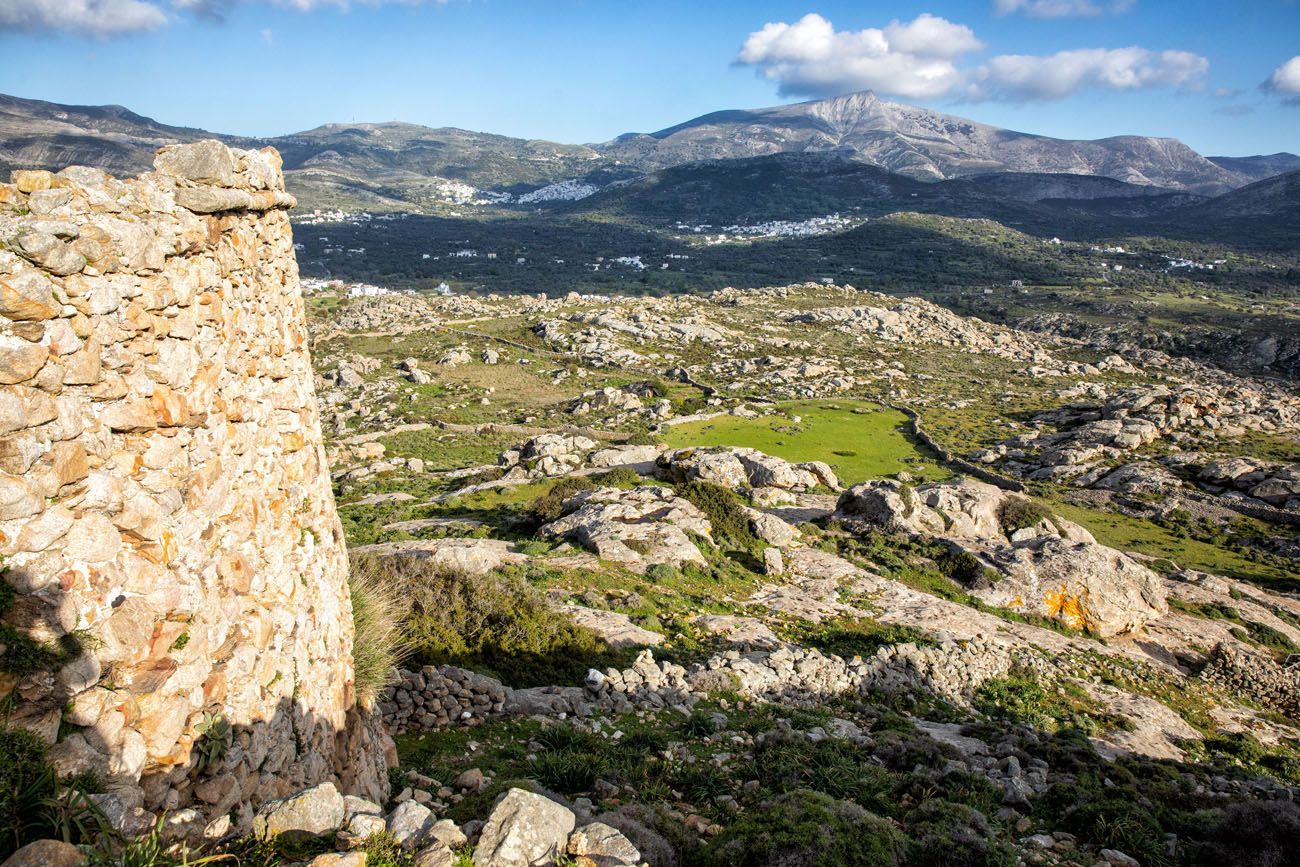 Looking across the interior of Naxos. Mount Zas is the mountain with the cloud over it.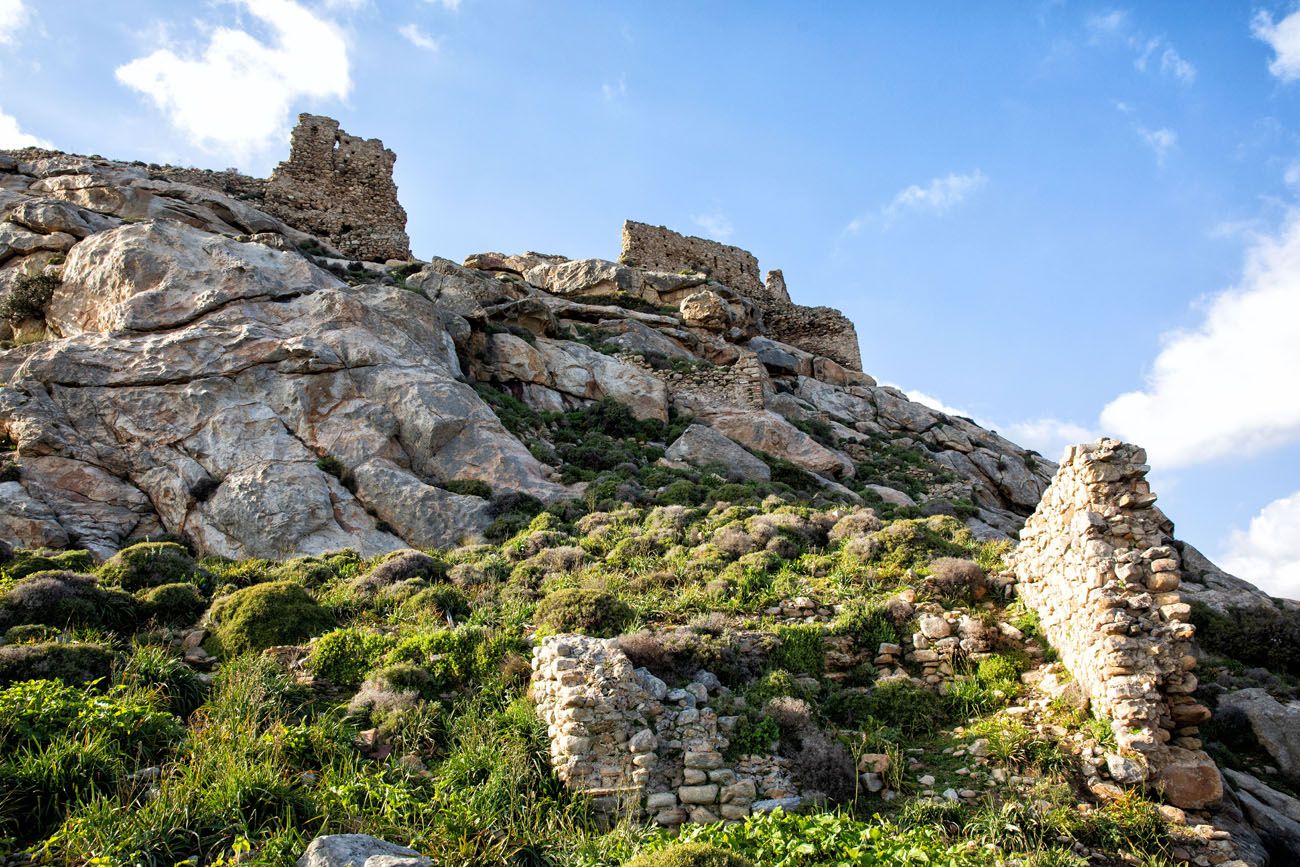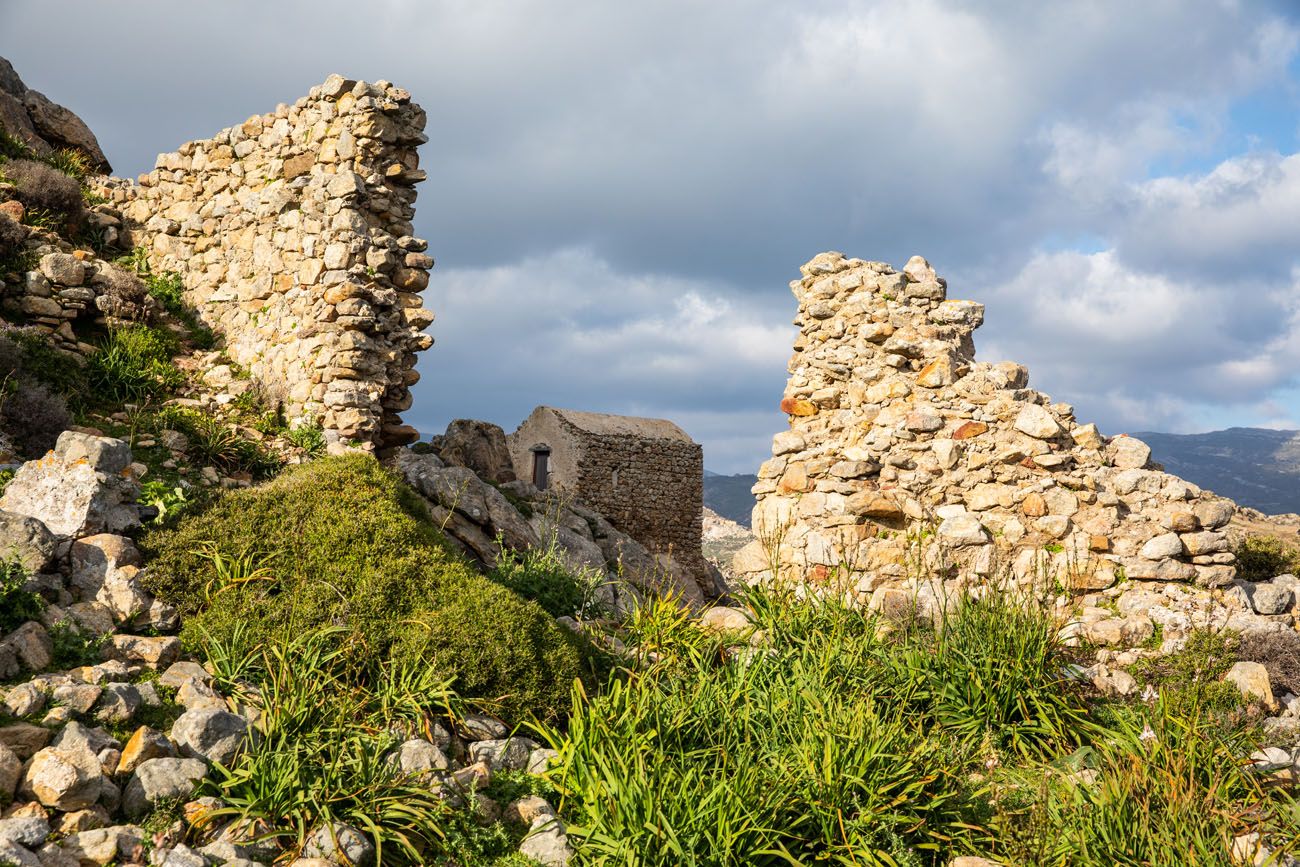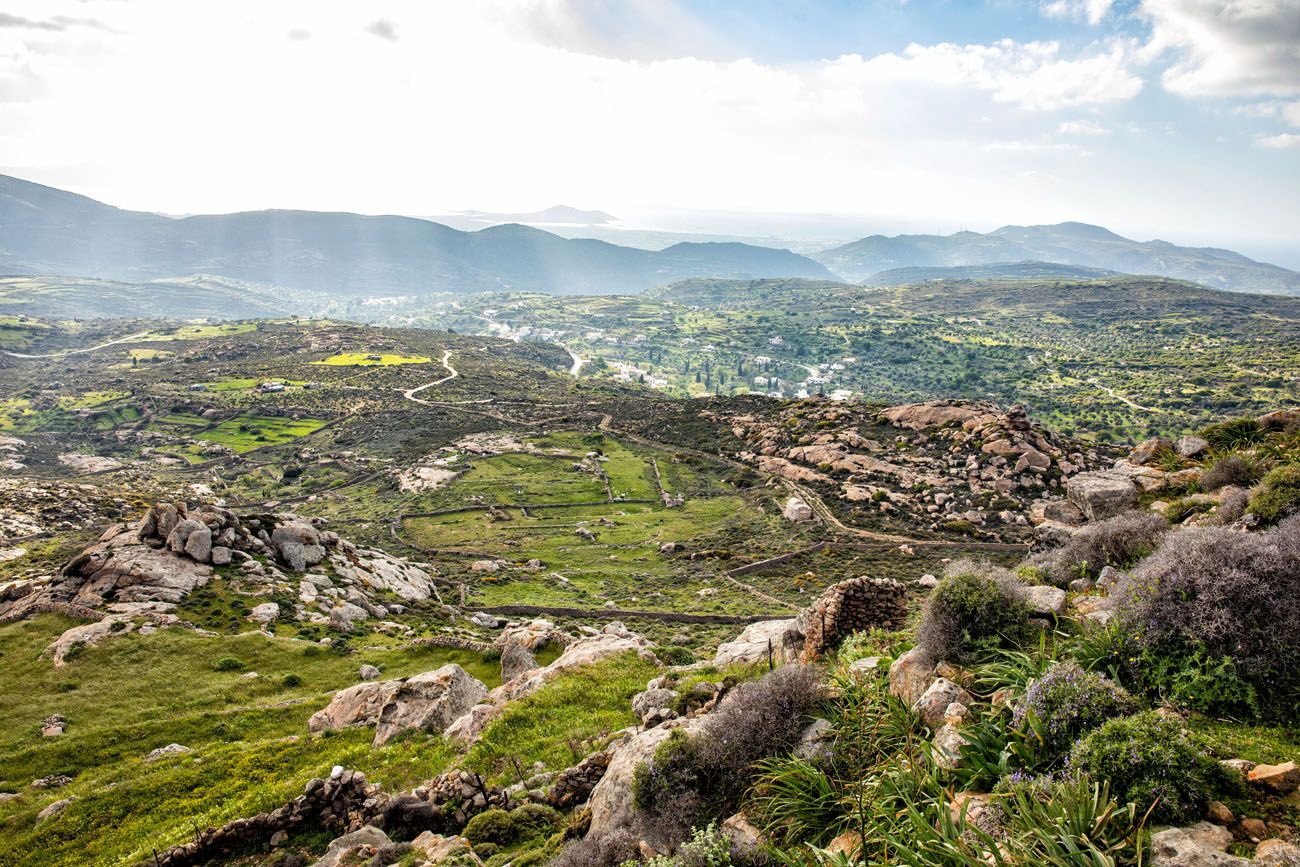 We did not hike to the very top of the hill. The hiking trail faded away once we got the first set of ruins and we did not want to tramp all over the vegetation. However, I know that others have gone farther because of the photos I've seen online.
Return to your car the same way (or you can continue on to Chalki).
Want to Hire a Guide?
Hiking and walking trails criss-cross the island of Naxos. You can walk from village to village, summit Mount Zas, the highest point in the Cyclades, or explore more treasures like Apano Kastro. There are several hiking and trekking companies on Naxos so if you feel more comfortable going with a guide, or if you are looking for more ideas, here are two companies to consider:
Where We Stayed
We stayed at Naxos Rock Villas. This place is amazing. It's honestly one of our favorite accommodations of all time. We had a villa, yes, a villa that had two bedrooms, three bathrooms, a kitchen and living room, and an enormous terrace with an infinity pool. It sounds expensive, but it wasn't, especially if you compare prices with those on Santorini or Mykonos. If you are looking for an amazing place to stay on Naxos, check this one out!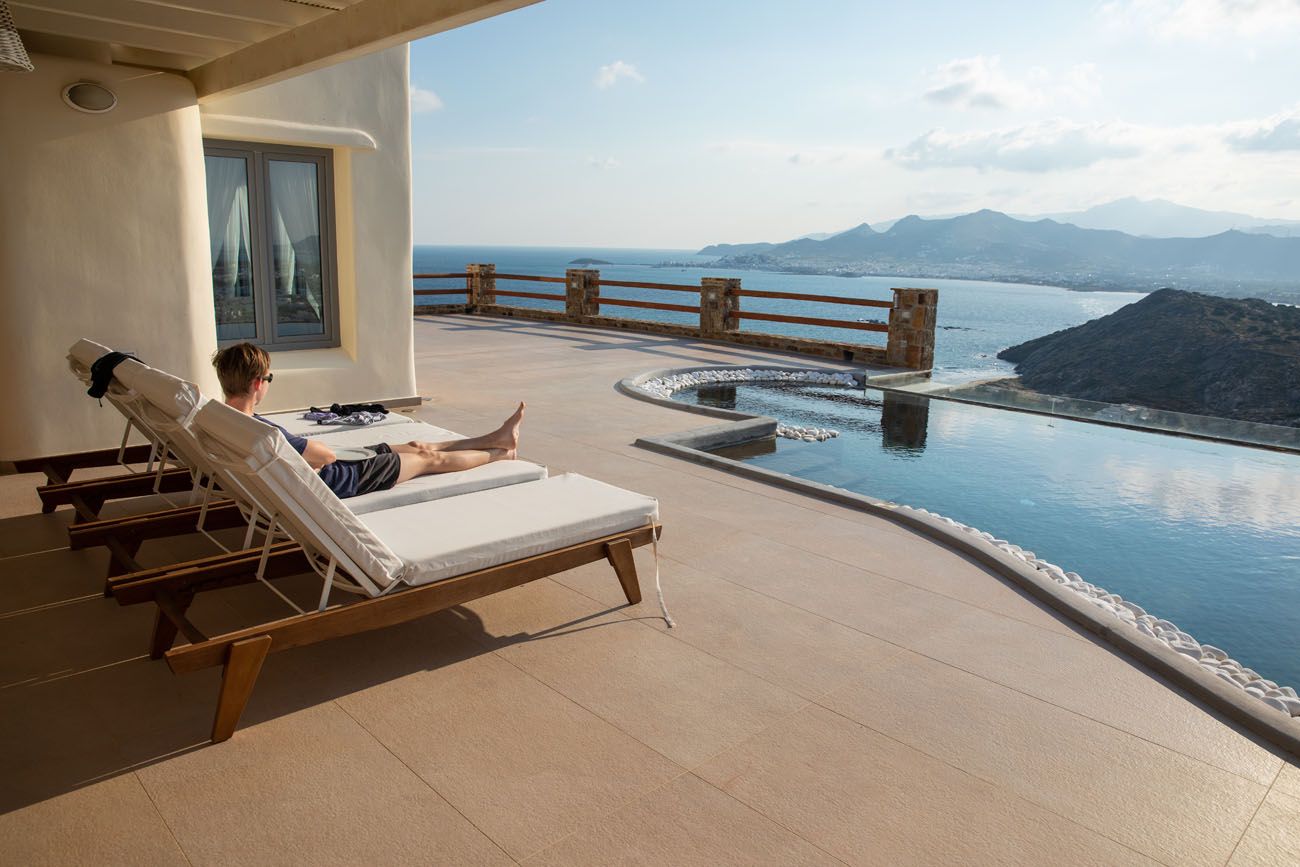 ---
If you have any questions about this hike or if you want to share your experience, comment below!
More Information for Your Trip to Greece
NAXOS: Learn how to plan your visit to Naxos in our article Best Things to Do in Naxos. We also have information on hiking to Mount Zas and a detailed guide to hiking the Village Trail to Melanes, Myli, and the Kouroi.
SANTORINI: For a full list of things to do, read our article Best Things to Do in Santorini. In our Santorini Itinerary, learn how to plan your visit, whether you have 1, 2 or 3 days. In our Santorini Hotel Guide, we list the best hotels in Santorini, organized by location and budget.
MYKONOS: Learn about things to do and how to get around Mykonos in our Guide to Mykonos.
GREECE ITINERARY: Learn how to visit Athens, Santorini, Naxos and Mykonos in our 10 Day Greece Itinerary.
ATHENS: Plan your visit to Athens with our 2 Days in Athens Itinerary and our guide to the Best Hotels in Athens. We also have a detailed list of Things to do in Athens and a guide to the Best Views of Athens and the Acropolis.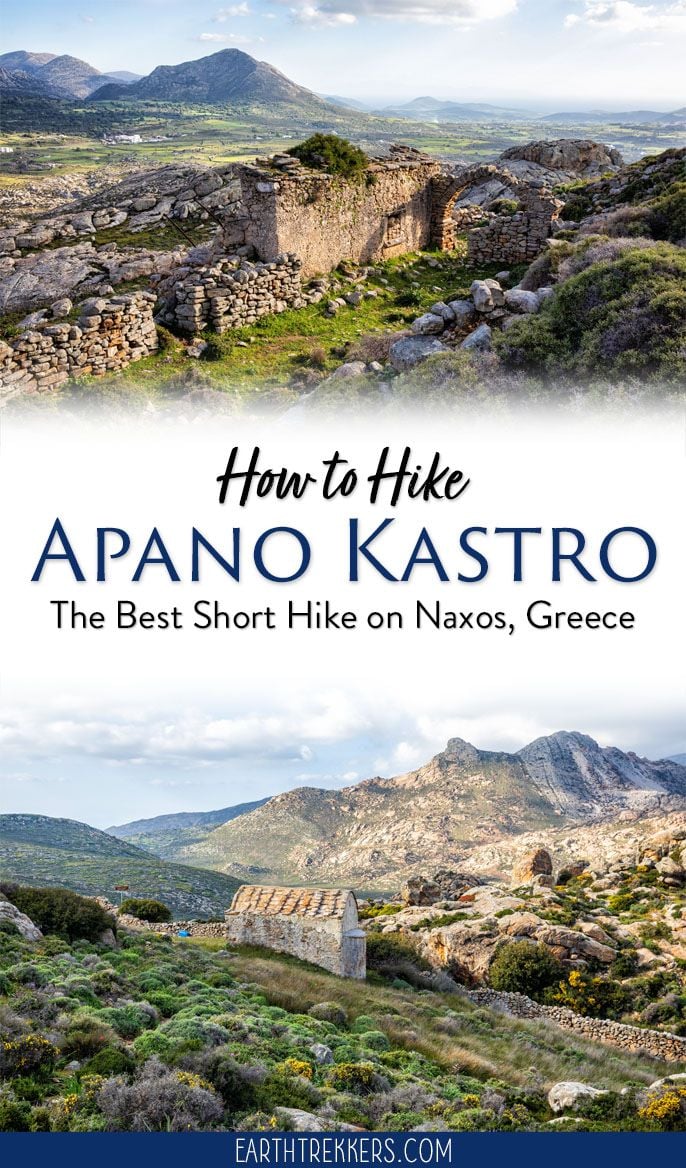 Note: This post contains affiliate links. When you make a purchase using one of these affiliate links, we get paid a small commission at no extra cost to you.
All rights reserved © Earth Trekkers. Republishing this article and/or any of its contents (text, photography, etc.), in whole or in part, is strictly prohibited.