Naxos is the largest and greenest island in the Cyclades. Lounge on the white, sandy beaches, visit ancient temples, hike to the summit of Mount Zas, go windsurfing, and explore the charming villages…these all make the list of the best things to do in Naxos.
On our recent trip to Greece, we hopped from Mykonos to Naxos to Santorini by ferry and it was Naxos that stole our hearts. We loved this island. Naxos feels quiet, peaceful, uncrowded. With its green rolling hills and mountains, Naxos looks and feels remotely different from the other islands in the Cyclades. The beaches are beautiful, walking the village trail and exploring old ruins was lots of fun, and the food is amazing. We thoroughly enjoyed our visit here and hope to return again someday.
Interesting Facts about Naxos
Mount Zas, also called Mount Zeus, is the highest point in the Cyclades. According to Greek mythology, Zeus was raised in a cave on this mountain. You can hike to the summit of Mount Zas and explore the cave along the way.
Naxos is more mountainous than the other islands in the Cyclades. These mountains tend to trap the clouds, so the island gets more rainfall, and therefore it is greener and more fertile than nearby islands.
The island of Naxos is criss-crossed with numerous hiking and walking trails. You can hike to the summit of Mount Zas, walk from village to village, or explore other ruins and statues on the island. If you like to go hiking, Naxos is one of the best Greek islands to visit.
Naxos gets fewer tourists than the more popular destinations of Mykonos and Santorini. It feels quieter here, more authentic, and less crowded. Plus, since it doesn't share the same popularity as other islands in the Cyclades, hotel prices can be a lot lower.
Best Things to do in Naxos
The Portara
The Portara, also called the Temple of Apollo, is Naxos' most famous landmark. It sits right beside Chora, the main city on Naxos, so if you are arriving by ferry, this will be the first thing you see.
The Portara is a large door, the entrance to an unfinished temple. It was constructed in 530 BC. There are two theories about why this temple was built. The Portara faces the island of Delos, so some people believe the temple was built to honor the god Apollo. Other scholars believe it was dedicated to Dionysus, who was worshipped on Naxos.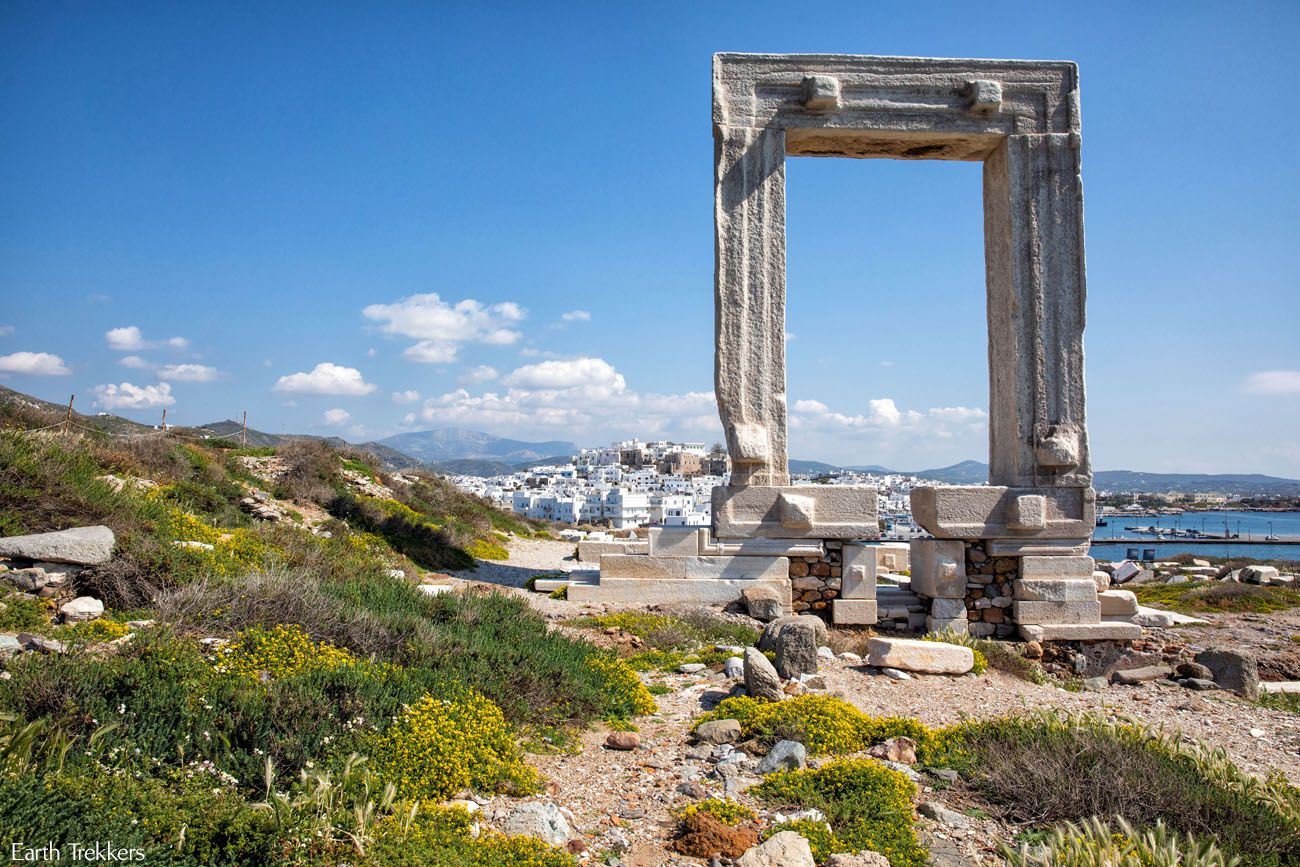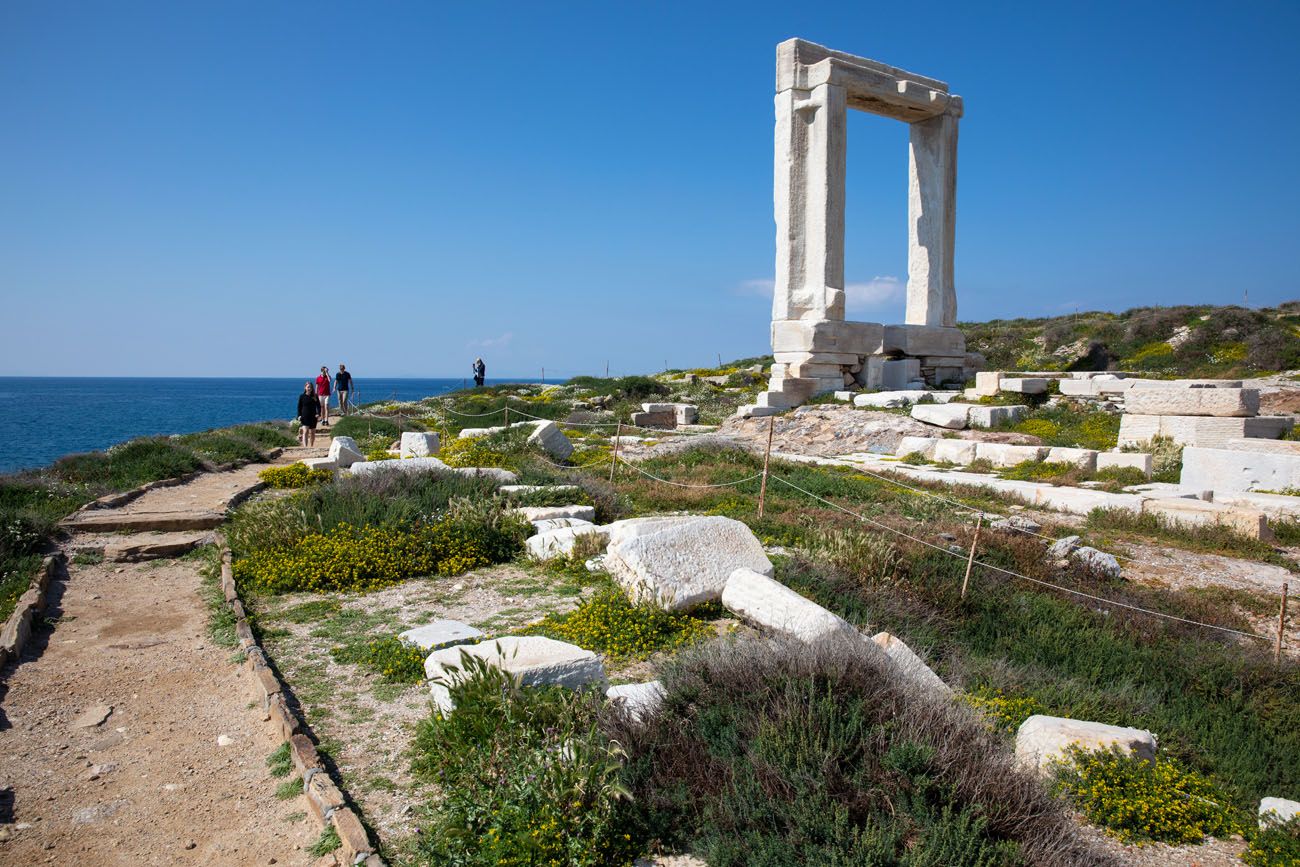 Getting Here: Cross the manmade causeway from Naxos City and walk the gravel trails around the door. It's free to visit and only takes a few minutes of your time. The Portara also makes a great sunset photography spot on Naxos.
Chora, or Naxos City
Chora, also referred to as Naxos City, is the capital of Naxos. This is where the ferries dock and where most visitors stay while on the island. It is filled with great restaurants and small shops and makes a great hub for exploring the island.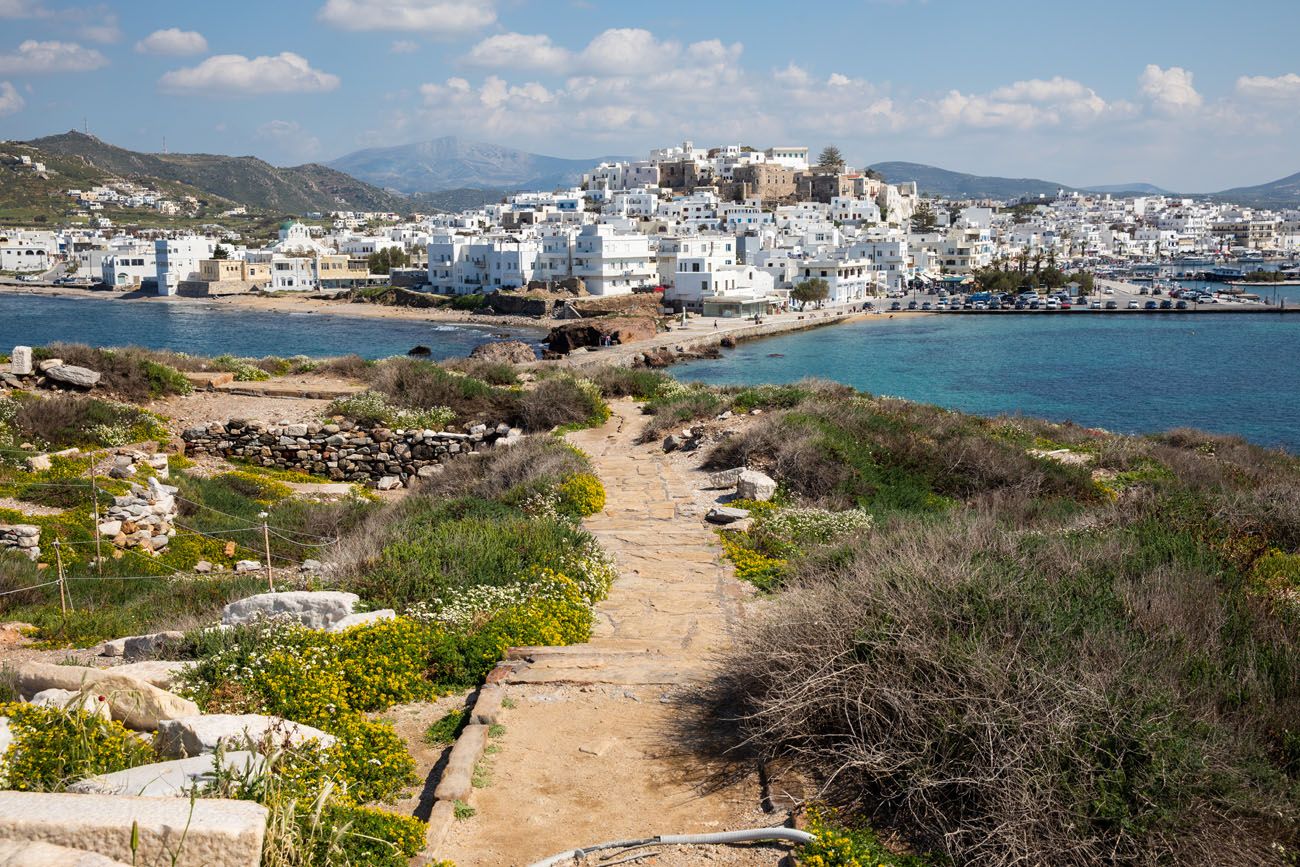 The town is built on a hill. At the top of the hill is the Kastro, or castle. This medieval citadel was built by a Venetian Emperor in 1207 and was the seat of power in the Cyclades for 300 years. Located within the castle is the Archaeological Museum, a worthwhile visit for history buffs.
Mount Zas
Hike to the top of Mount Zas for panoramic views over Naxos and for bragging rights that you stood on the highest point in the Cyclades.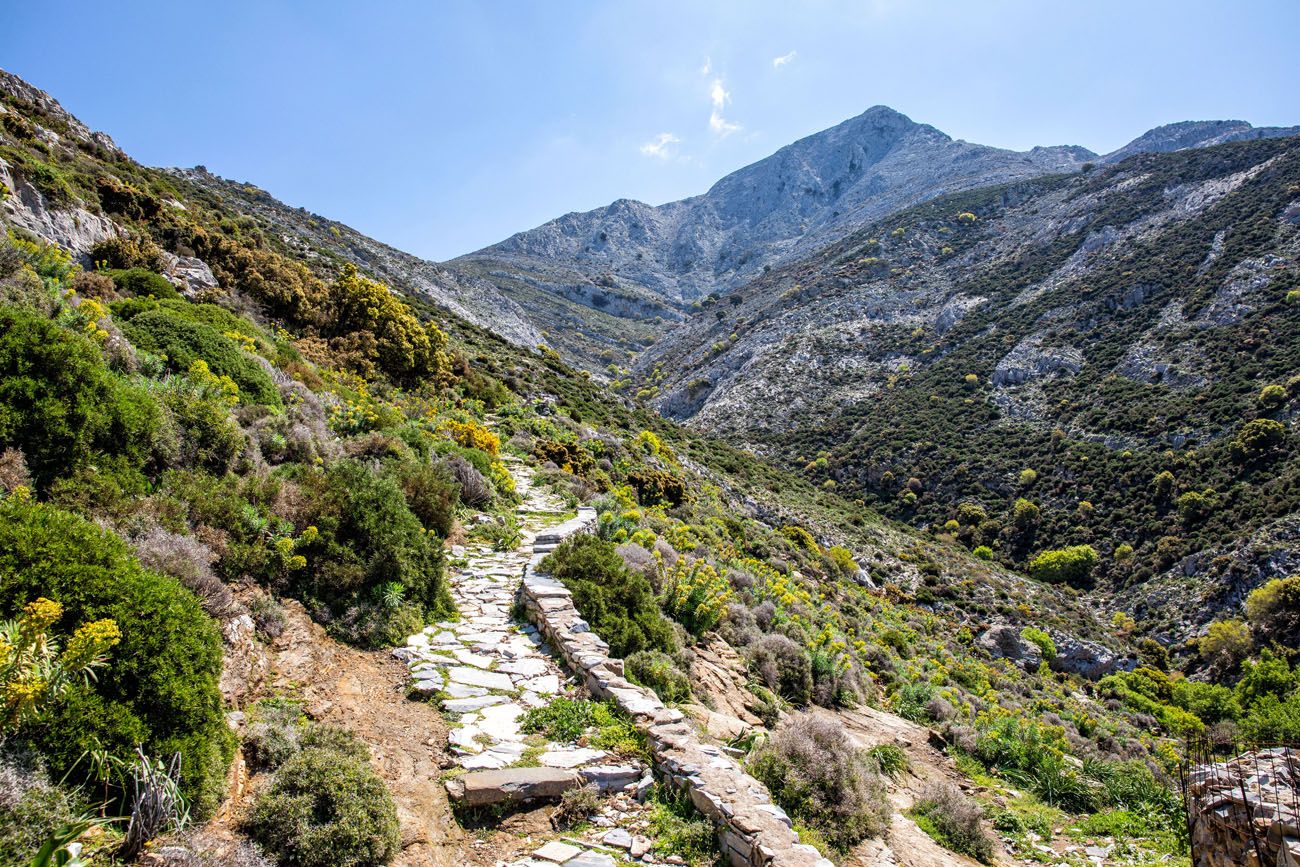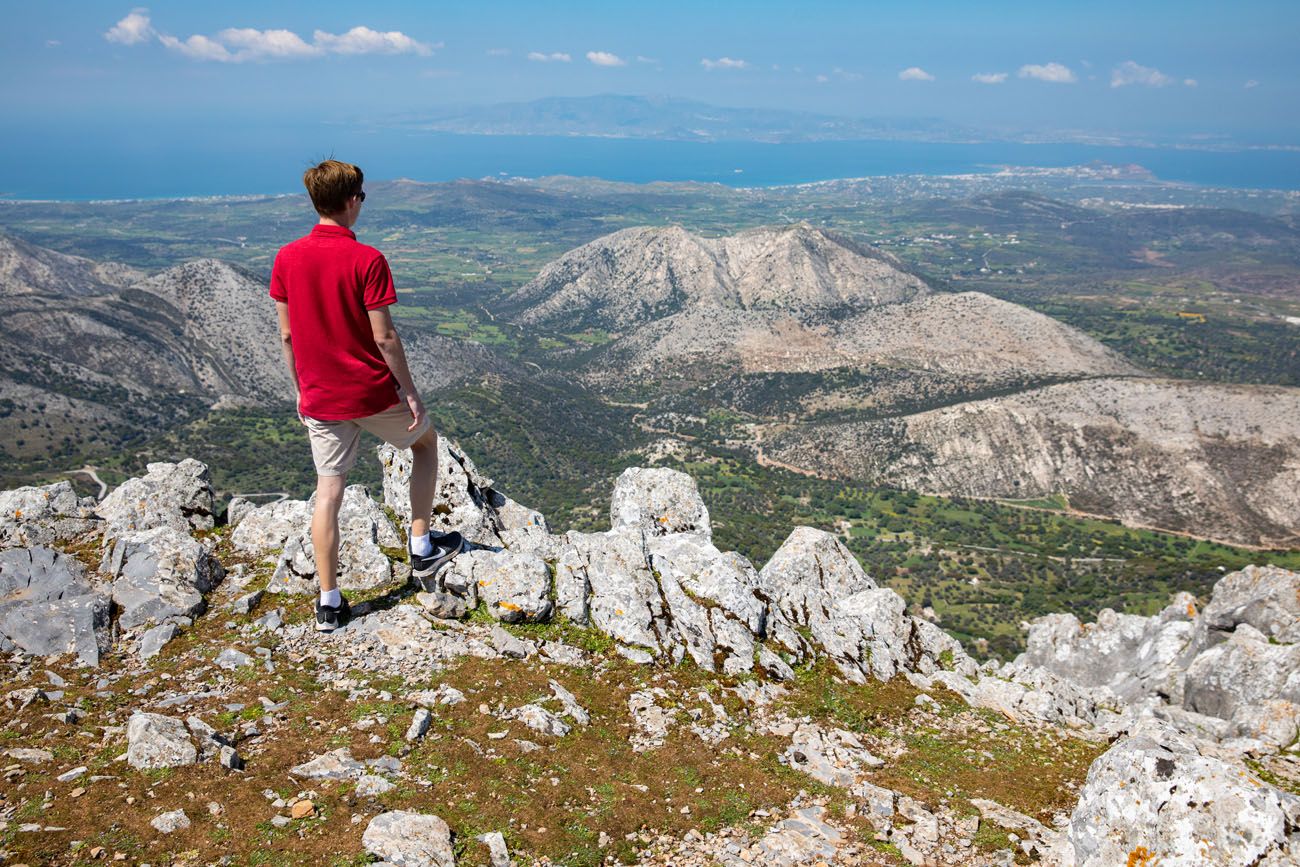 The only way to reach the summit of Mount Zas is on your own two feet. There are two routes to the top. The easiest route is from Aghia Marina. This hike is 7 km round trip with 300 meters of elevation gain.
The second route starts at Aria Spring and goes past the Cave of Zeus before ending at the summit. It's only 5 km round trip but is much steeper and more strenuous than the Aghia Marina route.
Visit the Villages of Naxos
Dotting the hillsides and mountains of Naxos are small, quaint villages that are a joy to visit. You can drive from one to the other by car, or, if you want a more scenic experience, you can walk the trails that connect these villages. On the list are Melanes, Ano Potamia, Myli, Kalamitsia, and more.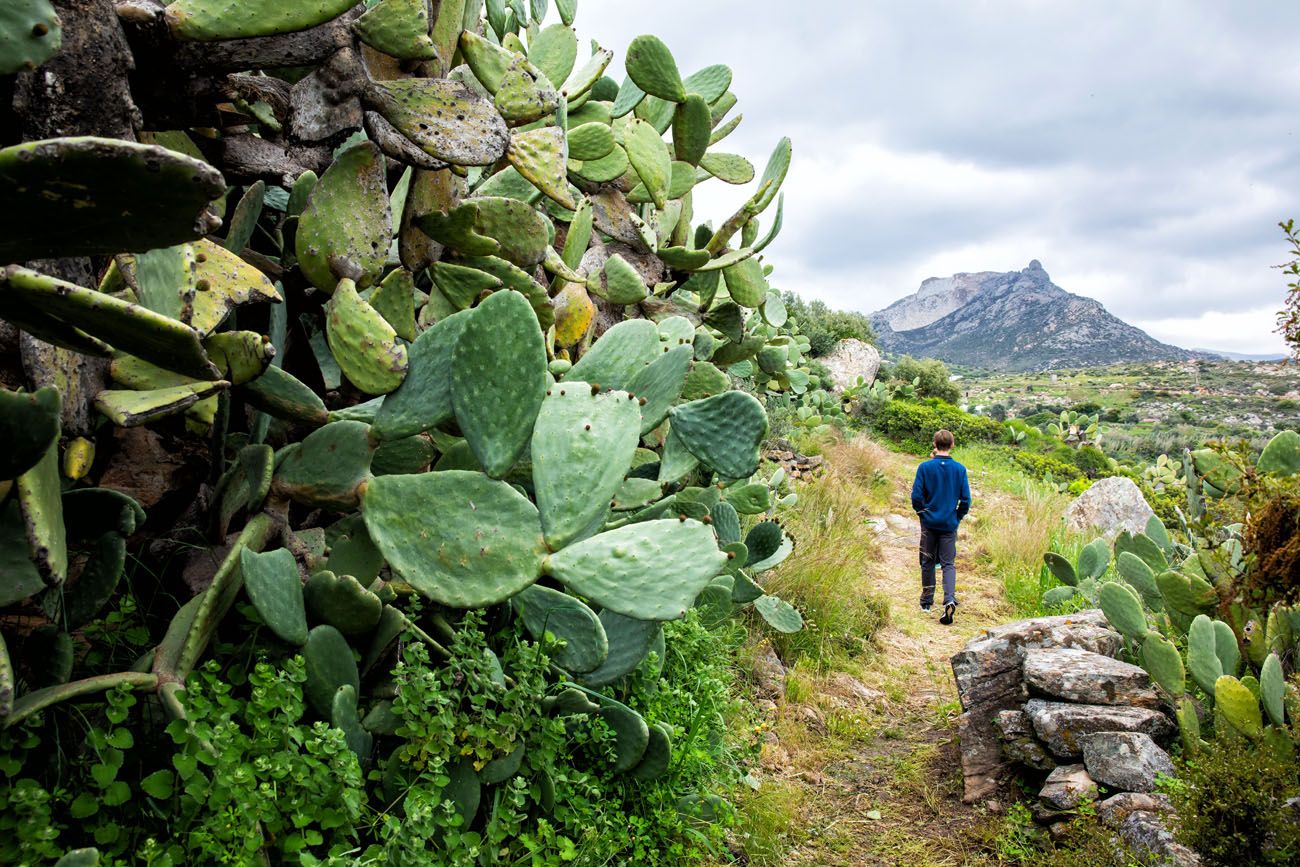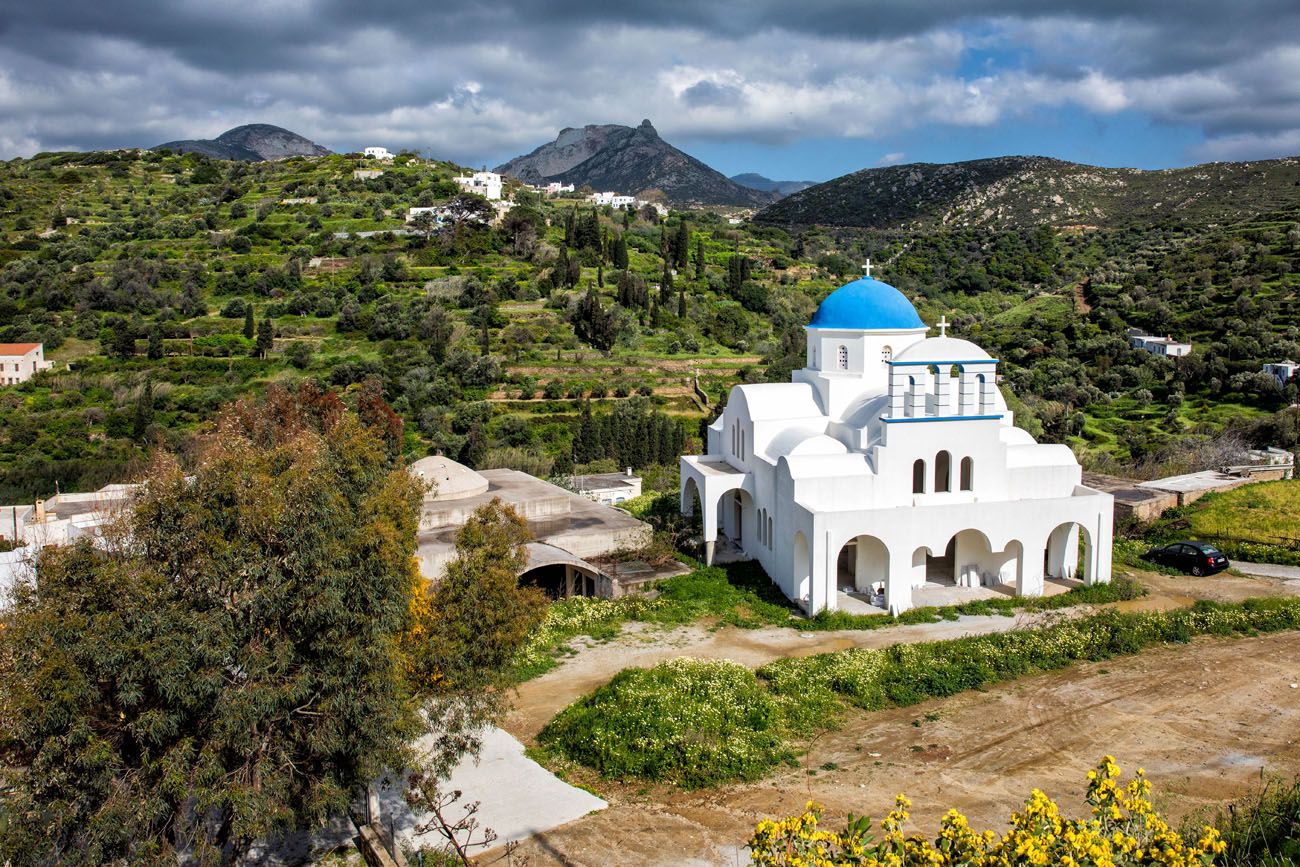 Blue dome church in Melanes
Melanes
We walked from Melanes to Myli to the Kouroi of Flerio and it was one of our favorite experiences in Naxos. It's a beautiful walk and easy to do, so it's great for families and people of all ages. This walk takes about 2 to 3 hours and is done as a loop (it starts and ends at Melanes), so it's easy to do if you have a rental car.
Apiranthos
Apiranthos, also called "Plenty of Flowers Village," is one of the prettiest villages on the island. Wander the narrow marble-paved streets, see more Venetian architecture, and visit one of several small museums here.
Hike to Apano Kastro
This was not on our original to-do list. And this turned out to be our favorite, unexpected surprise on Naxos.
Apano Kastro is the ruins of an ancient castle in Naxos. It made our "maybe" list from a Google search I did prior to our trip to Greece. The images of ruins on a lush, green hillside caught my attention and we decided to give it a try. We had no information to go off of, other than one image and a point marked on Google Maps.
We figured out how to walk from the cute little village of Ano Potamia and up to Apano Kastro. It is a beautiful walk with wonderful views across the interior of Naxos. We could see Mount Zas looming over us and Naxos City off in the distance.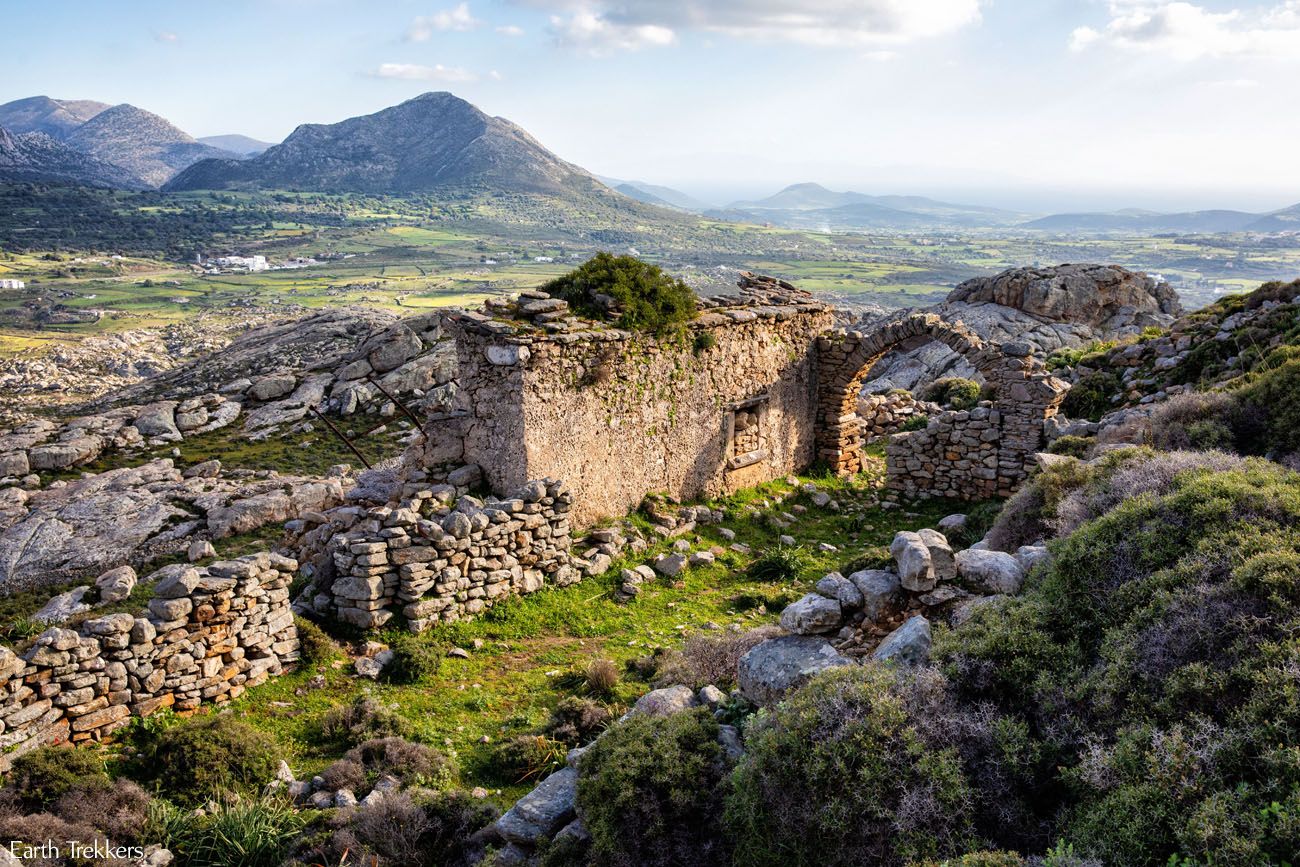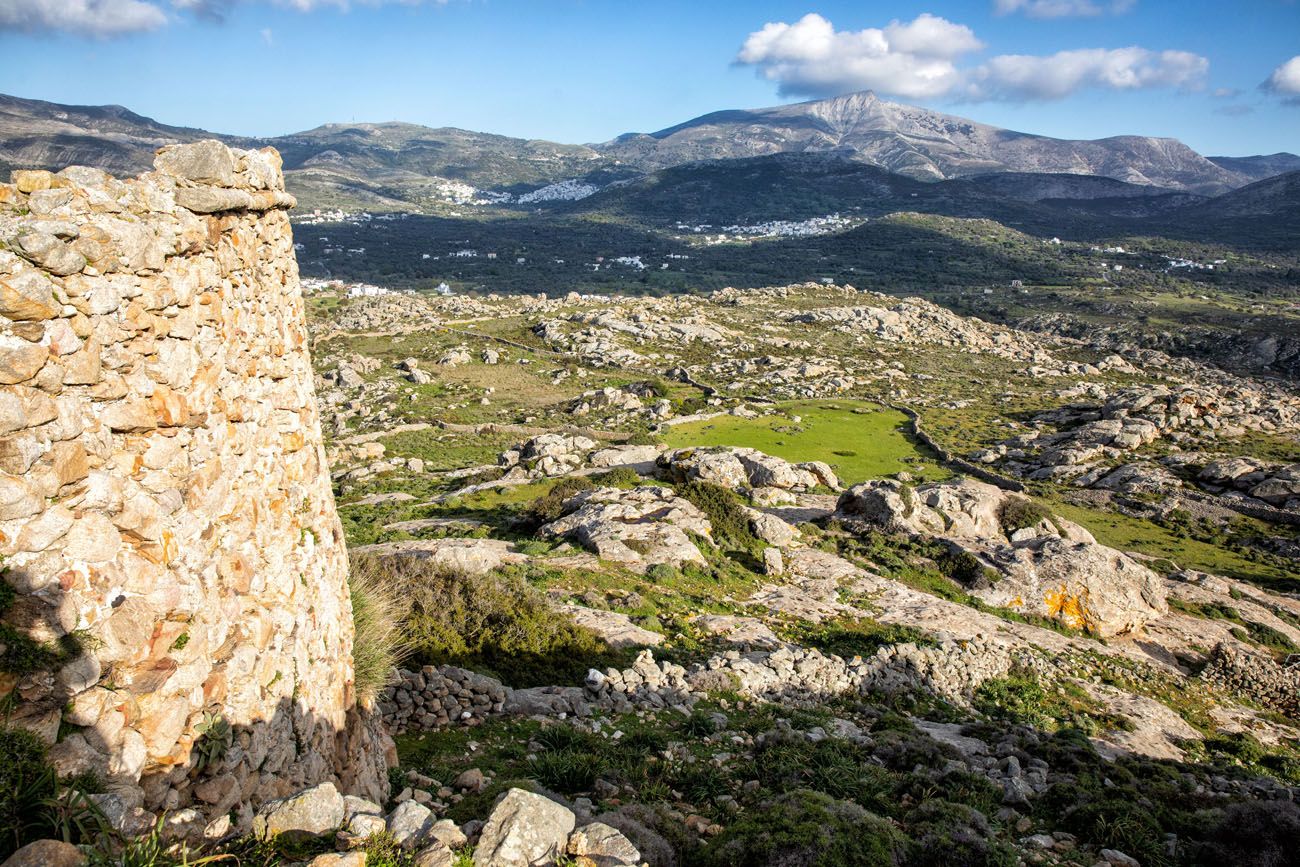 The view from Apano Kastro. Mount Zas is the mountain with the cloud over it.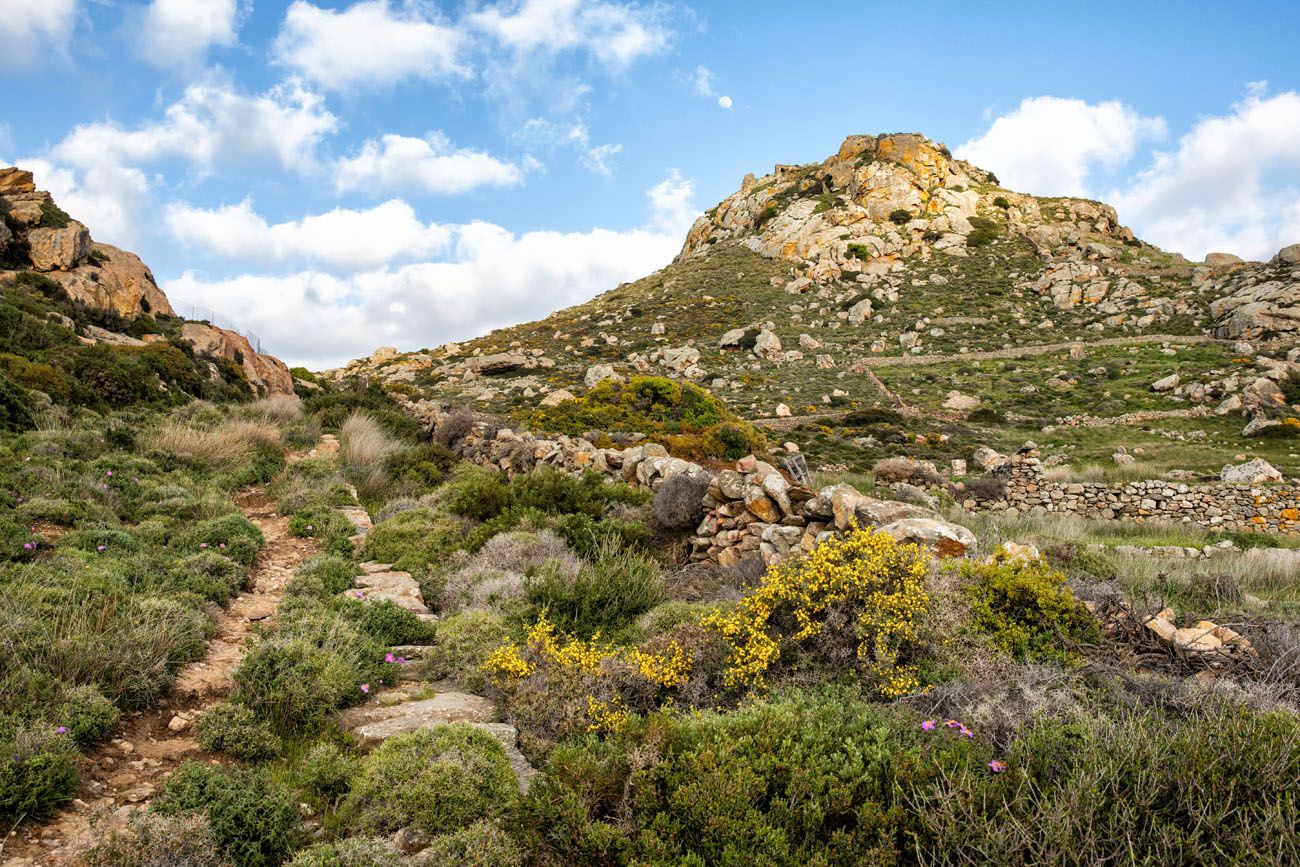 If you really want to get off-of-the-beaten-path in Naxos, this is a great, short hike to consider.
Splurge on a Room with a View
Rarely does a hotel make our to-do list. But we stayed at a place so wonderful that I just had to write about it.
Imagine touring the island by day and then lounging in your infinity pool with one of the best views of Naxos in the evening. And you can get all of this for a fraction of the price you would pay on Mykonos or Santorini.
If you want to splurge for a private pool with a view while in Greece, Naxos is the place to do it. During our search, hotels were considerably cheaper on Naxos than Mykonos or Santorini.
We stayed at the fabulous Naxos Rock Villas. This small property offers three villas (but they will be adding on more rooms in the near future). We stayed in the Apollo villa and had two bedrooms, three bathrooms, a kitchen and living area, and the most amazing terrace with an infinity pool. It was unbelievable.
In the mornings, we would have breakfast on the terrace, with views of Mount Zas, Naxos City, and the rolling hills of Naxos. In the evenings, we literally rushed back to the villa, eager to hang out again on the terrace. Do you blame us? Look at this place!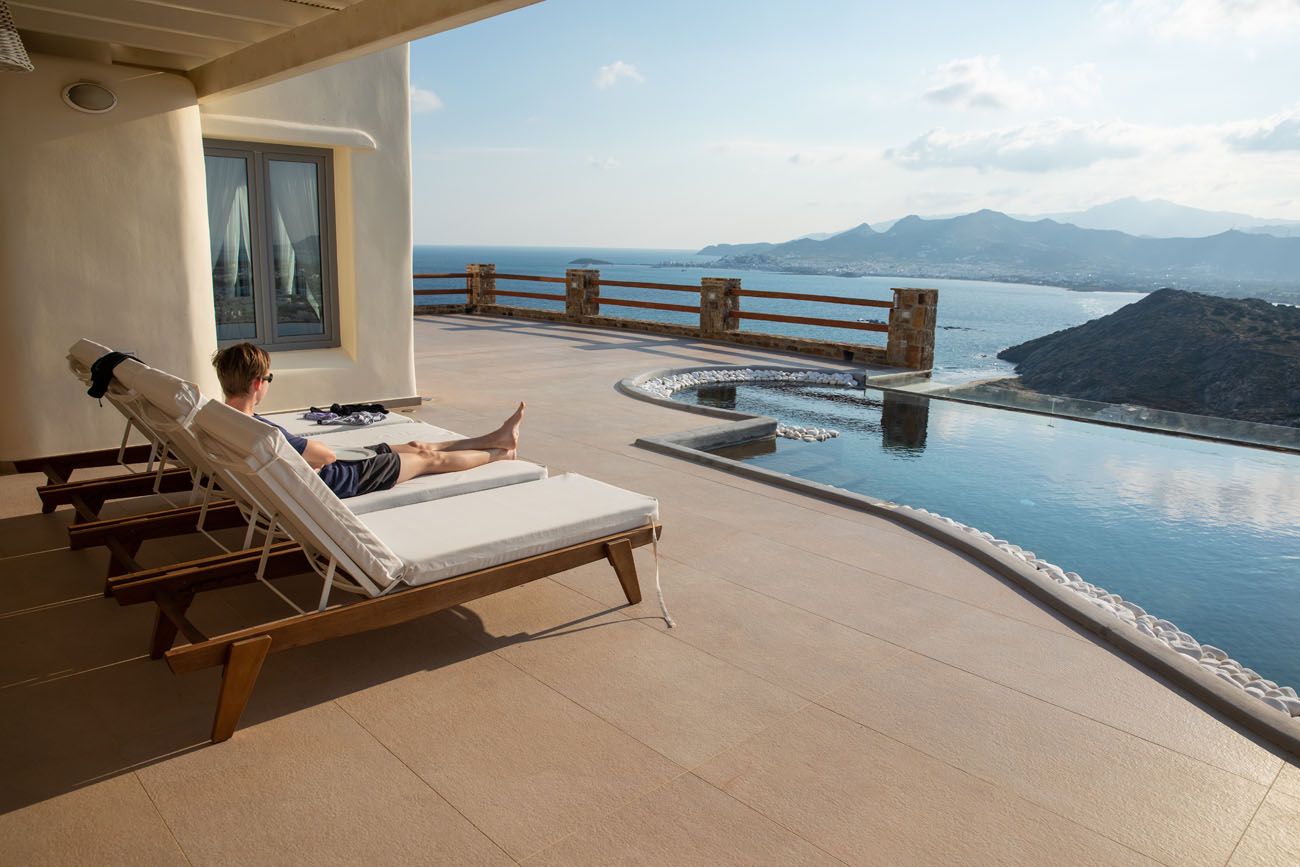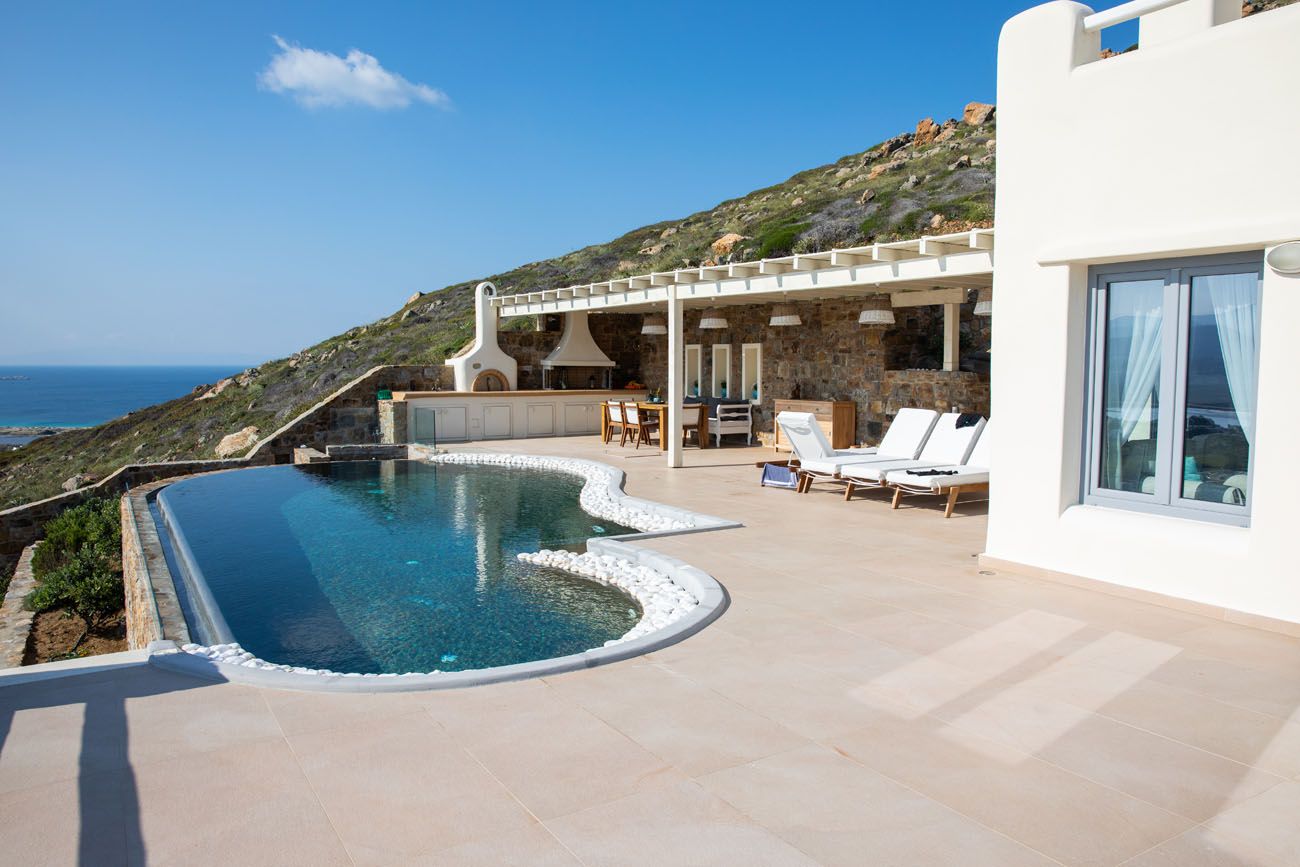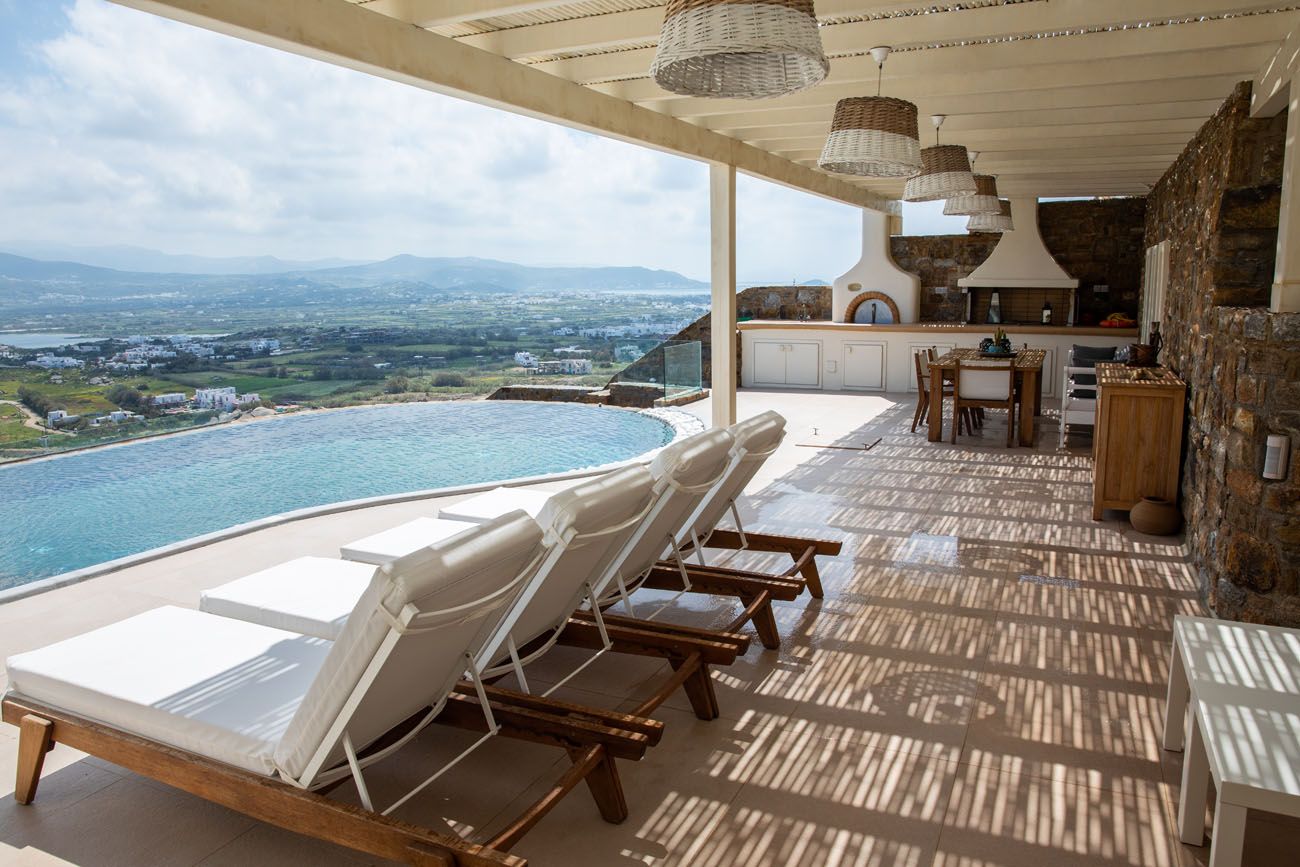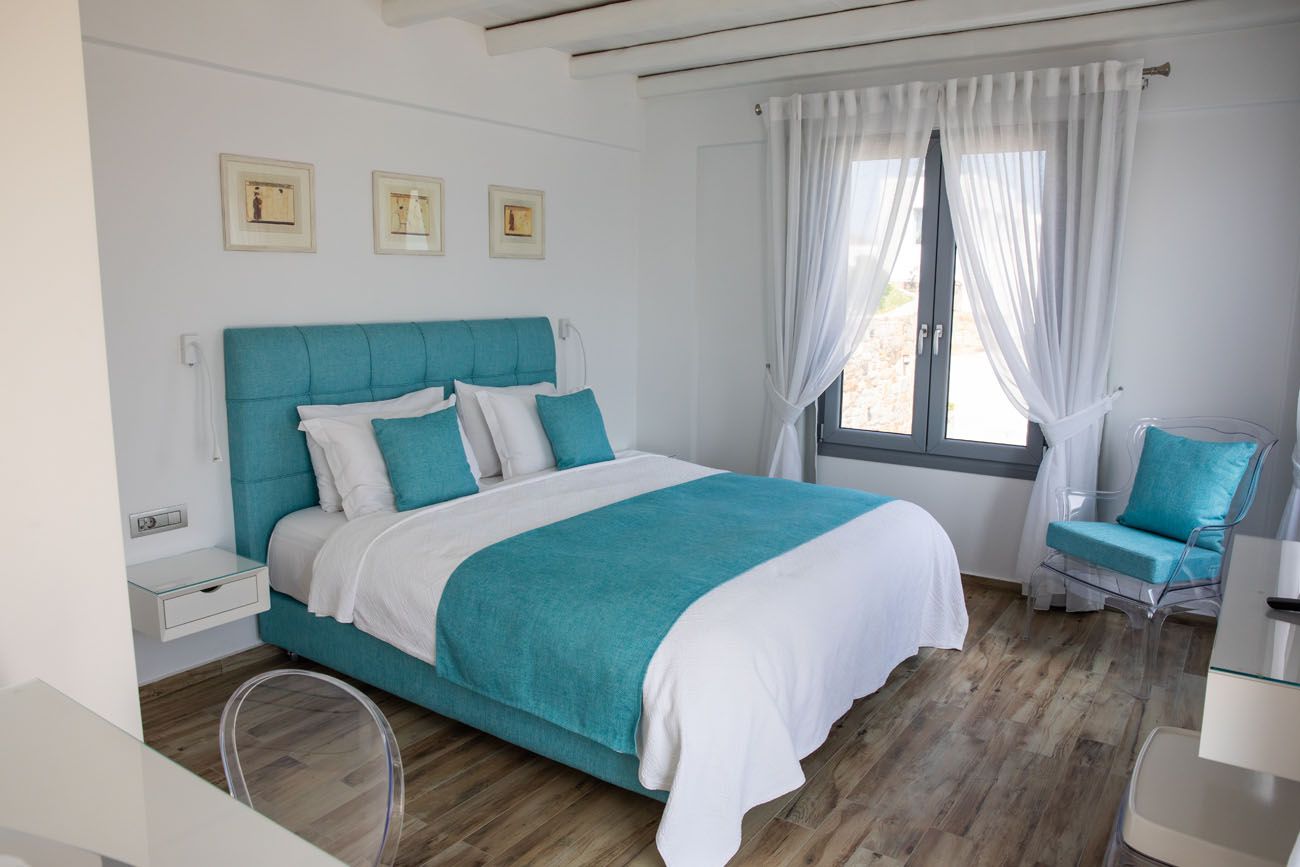 Naxos Rock Villas is located about 10 minutes from Naxos City, so you will need a car if you plan to stay here.
Get prices and check availability on Booking.com.
Go to the Beach
Take your pick from the white sandy beaches that line the coast of Naxos. Agios Prokopios, Plaka Beach, Mikri Vigla, and Agia Anna are some of the prettiest beaches on the island.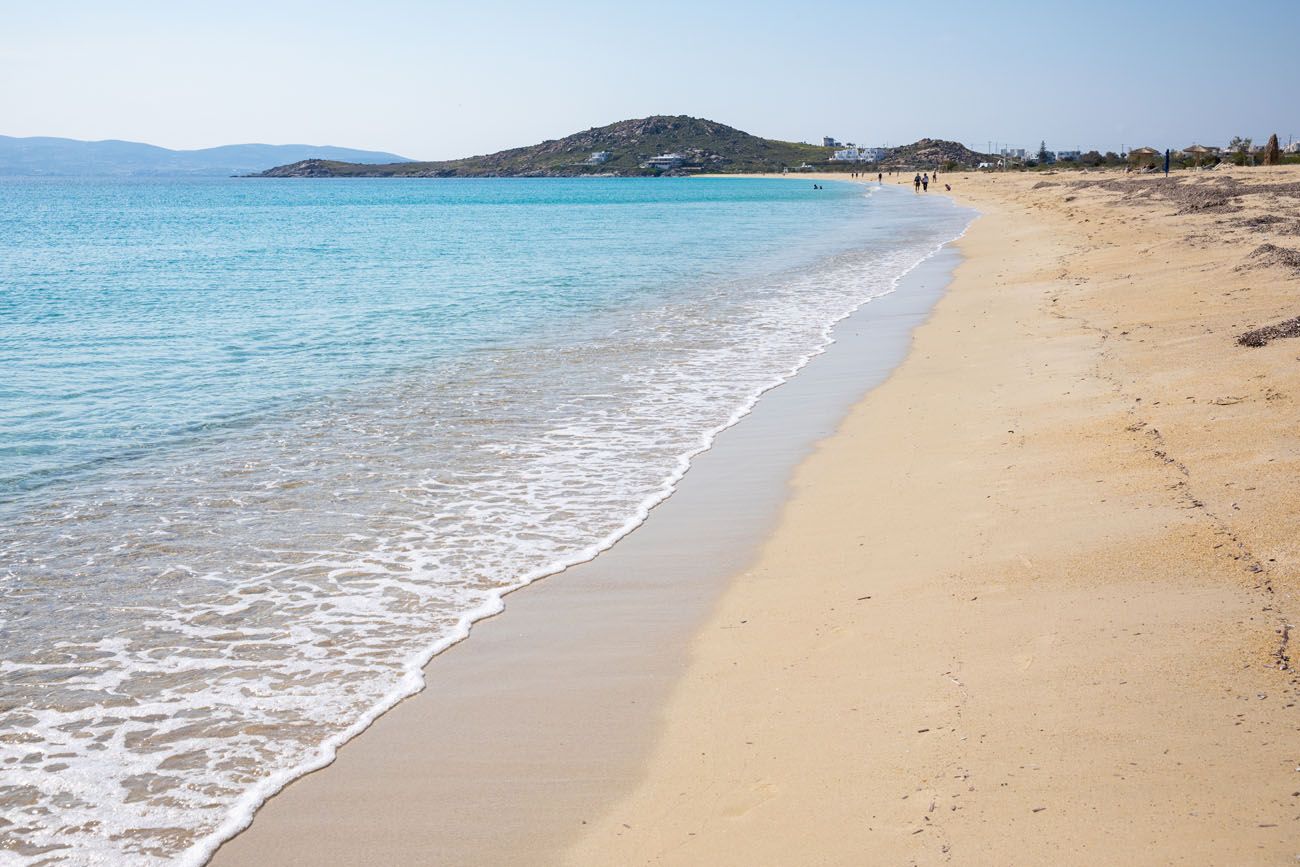 Agios Prokopios Beach
Windsurf or Kitesurf
The northern winds that blow over Naxos create excellent conditions for windsurfing and kitesurfing. The most popular beaches include Agios Prokopios, Agios Georgios, Laguna, and Mikri Vigla beaches.
Learn more here.
The Temple of Demeter
This temple was built in the 6th century BC to honor Demeter, the goddess of grain and the harvest. In the 6th century AD, the temple was demolished and the marble was used to build a Christian basilica on the same site. Recently, German archaeologists restored the temple to its present form.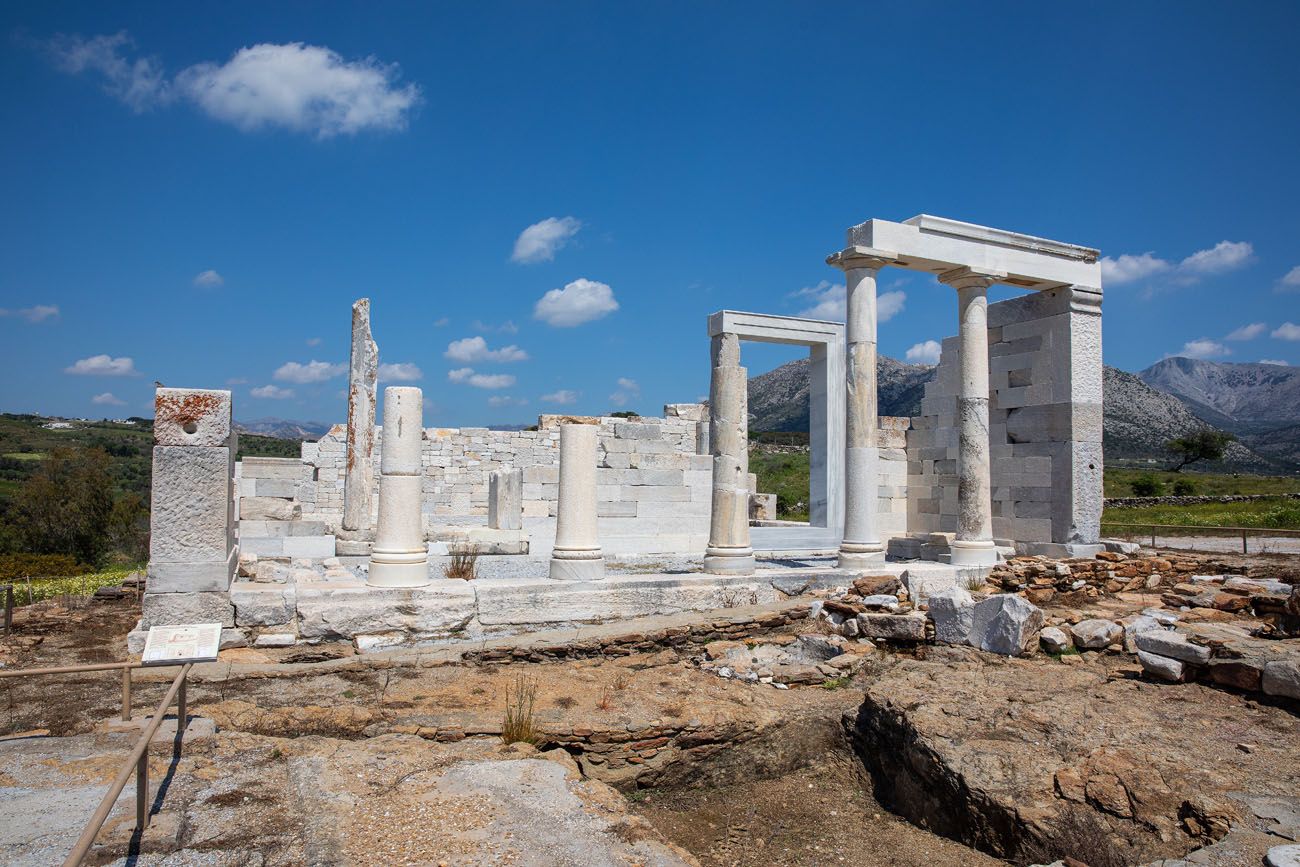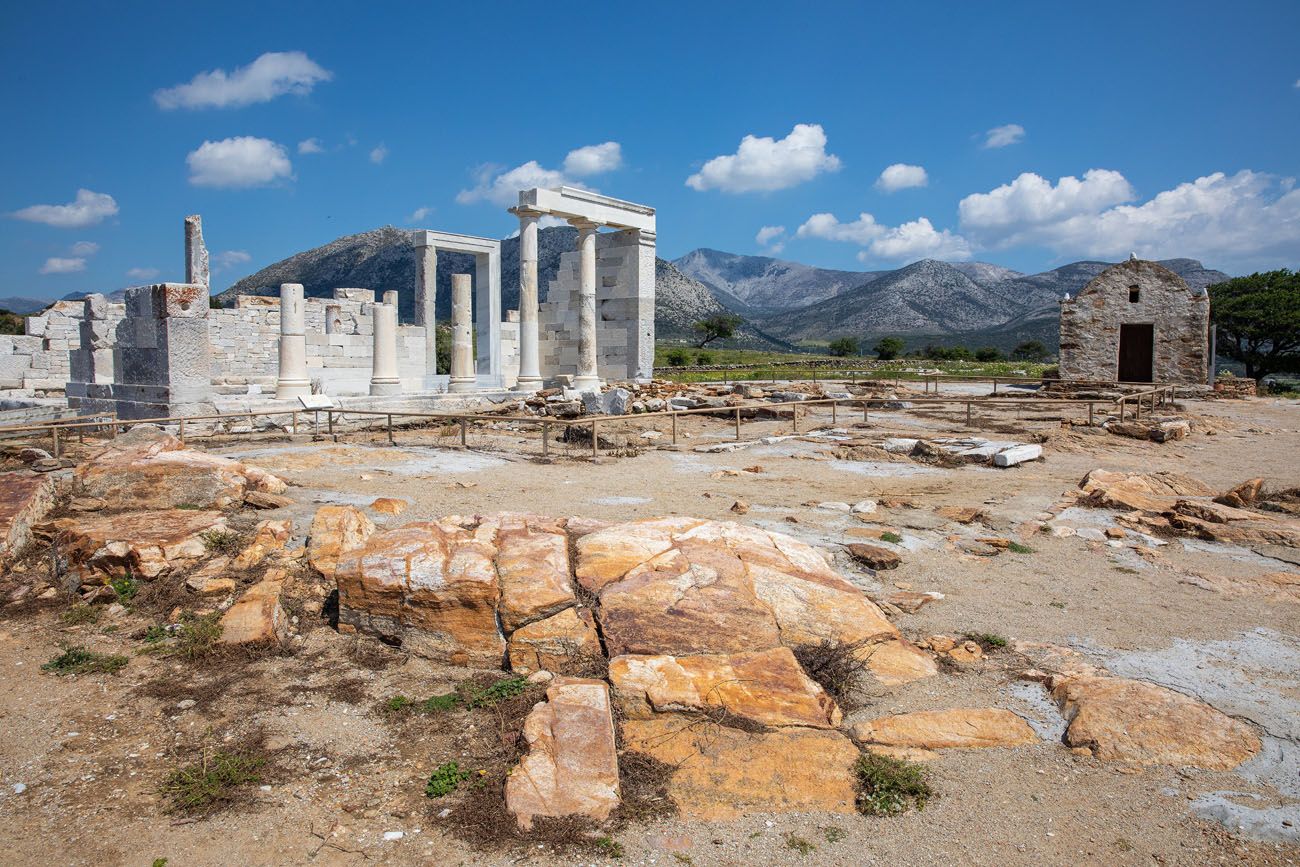 The Temple of Demeter is located near the town of Sangri. From Naxos City it takes 30 minutes to drive here.
Panagia Drosiani Church
This is the oldest Christian church on Naxos and it dates back to the end of the 6th century AD. It's free and quick to visit and worthwhile if you are road tripping around the island.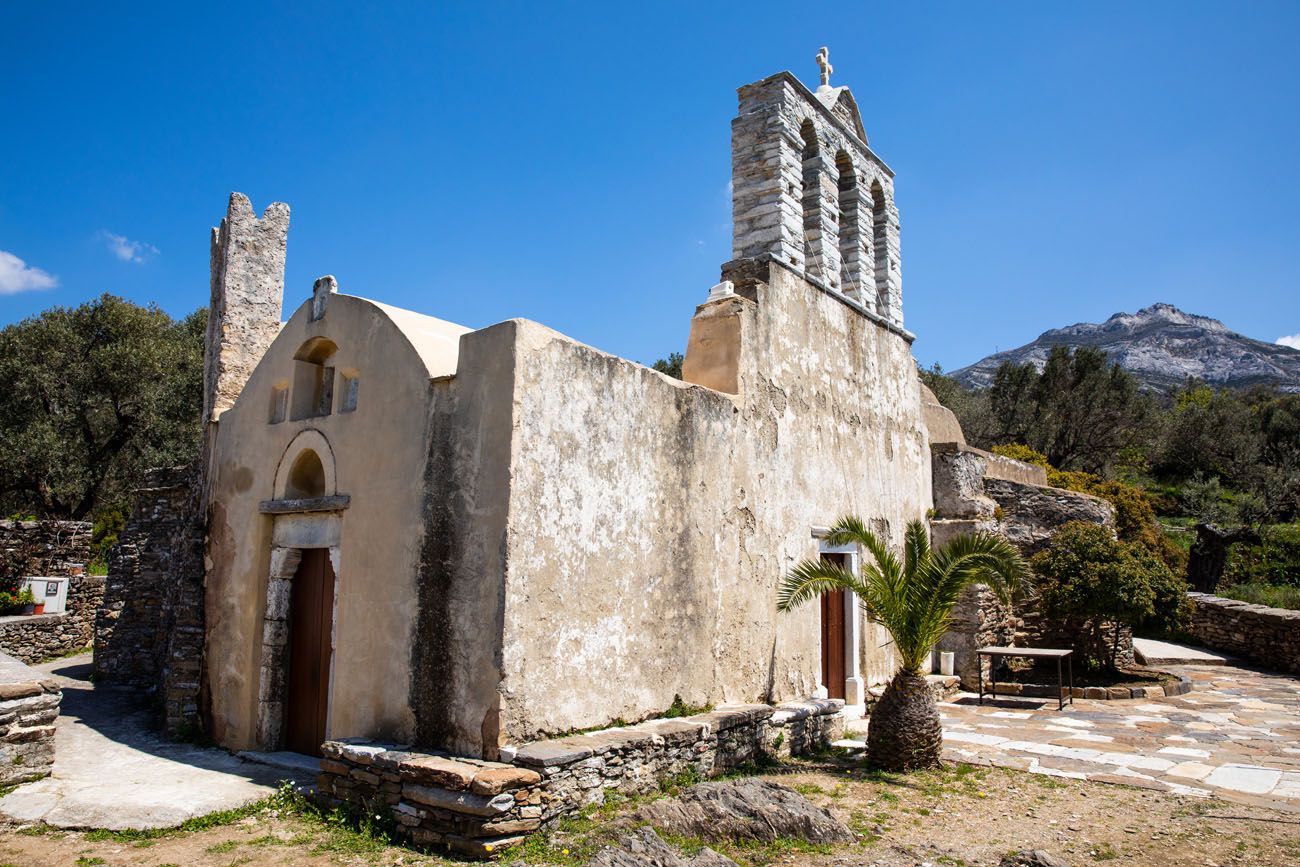 Vallindras Distillery
Kitron is a liqueur distilled on Naxos from the leaves of the citron tree. Located in Chalki, it's free to visit the distillery and do a tasting of kitron. Learn more here.
Kouroi of Flerio
In the 6th and 7th centuries BC, craftsman quarried rock on Naxos and used this rock to carve enormous statues. You can still see two of these statues, and the quarry, if you don't mind doing a little walking.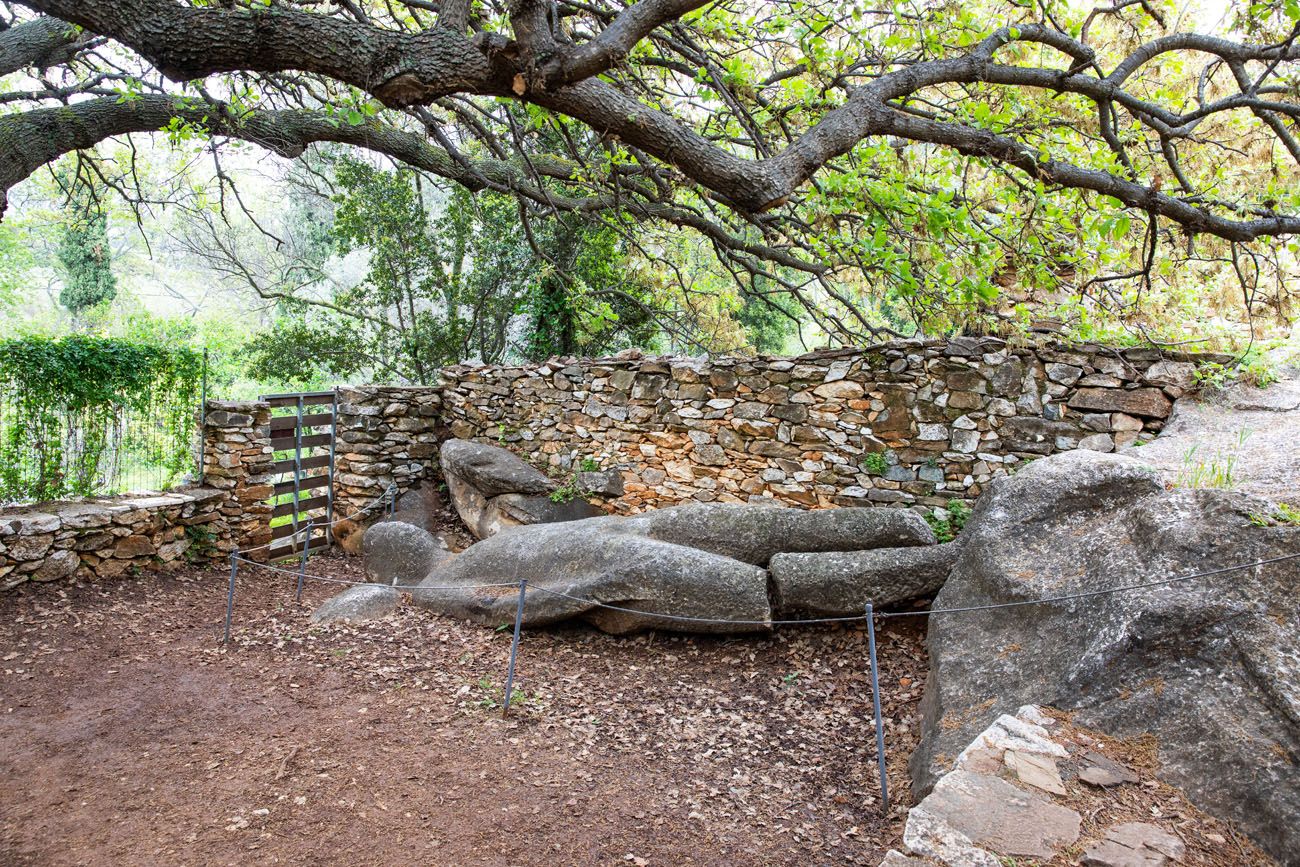 You can drive to a point near the Kouros or include a visit here while walking the village trail. Learn more in our article about walking the village trail on Naxos.
Apollonas
Apollonas is a fishing village on the northern coast of Naxos. It's fun to explore, a great place to dine on fresh fish, and nearby is another Kouros (statue) to visit.
Dine on Greek Food
There are lots of great restaurants to try on Naxos. We couldn't get to all of these during our short stay but here is a list of some of the best restaurants on the island.
Rotonda. If you want a delicious meal with an amazing view, put Rotonda on your list. It is located in the mountains near Apiranthos, so you will need a car to get here, but this restaurant gets rave reviews not only for its food but for the view. Unfortunately, they were closed during our visit, but it looks like a fabulous place for lunch or dinner if you are road tripping around the island.
O Vasilis. Located in Melanes, this traditional Greek restaurant makes a nice place for lunch or dinner, especially if you plan to visit the town while walking the village trail.
In Naxos, we ate at Nostimon Hellas, which serves traditional Greek food with a twist. To Elliniko was high on our list but it was not yet open in early April. If you go, get the orange cake, I hear that it is delicious! Other notable spots to try in Naxos include La Vigne Wine Bar, Scirocco Café, and Barozzi Naxos Restaurant.
See Them All on a Map
How to Use This Map: Click the tab in the top left hand corner of the map to view the layers. You can click the check marks to hide or show layers. If you click the icons on the map, you can get more information about each point of interest.

If you click the star next to the title of the map, this map will be added to your Google Maps account. To view it on your phone or computer, open Google Maps, click the menu button, go to "Your Places," click Maps, and you will see this map on your list.
About Our Visit
We visited Naxos in mid-April. The island was just waking up from a long winter. We were the first guests of the year at Naxos Rock Villas and many restaurants still had not opened their doors.
During the day, temperatures ranged from 13°C – 18°C (mid-50's to mid-60's). We had one day of high winds and clouds and one day of sunny skies and low wind. Even though it was a bit chilly, Kara could not pass up a quick dip in the pool at our villa.
Even though temperatures were cool and Naxos had not fully woken up from the winter season, we loved visiting this time of year. Crowds were very low and temperatures were pleasant for hiking.
If you want nice weather and want to avoid peak season crowds, May and September are great months to visit Naxos.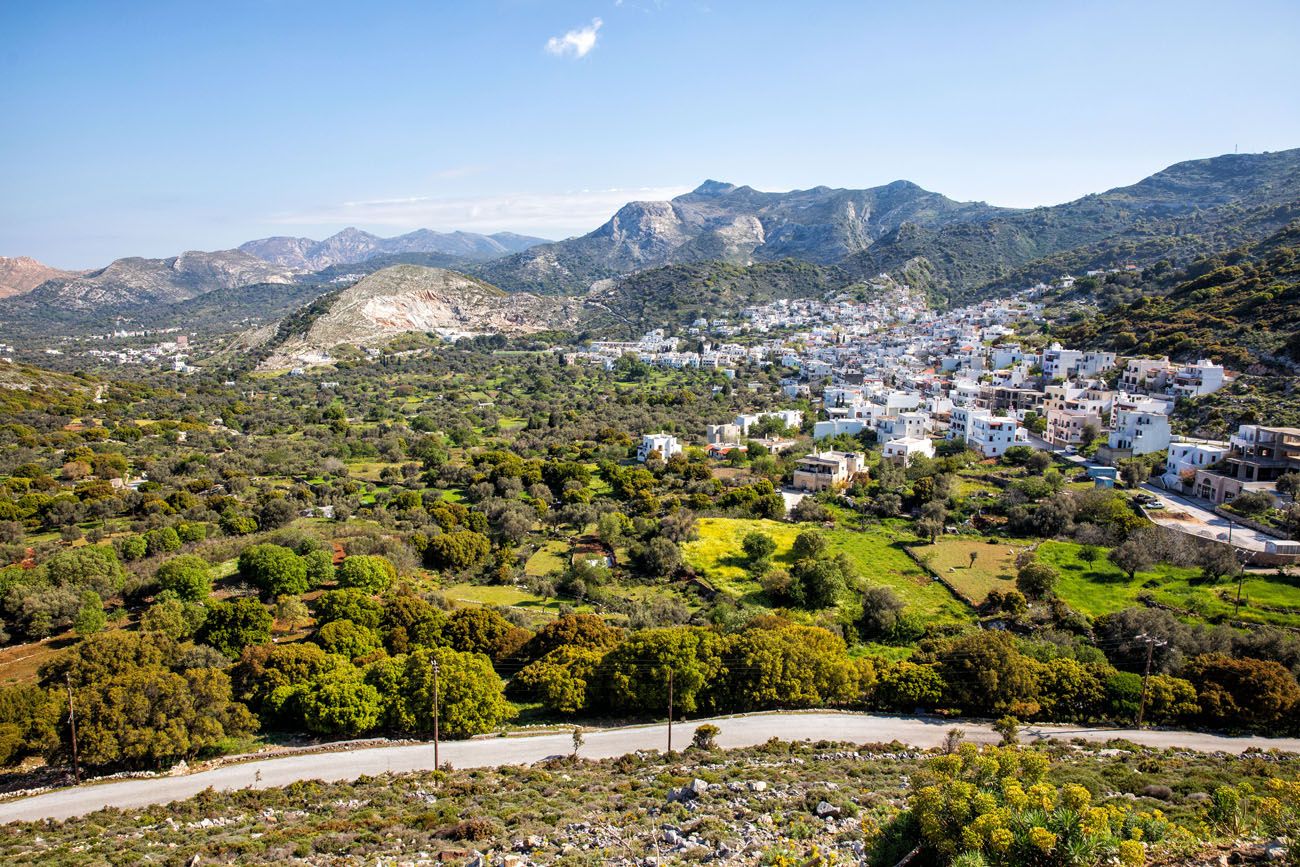 Filoti
Getting Around Naxos
To really get out and explore Naxos, you will need a rental car. As you can see from our list of things to do in Naxos, there is a lot to do that is located away from Naxos City.
For the most part, getting around Naxos by car is relatively easy and straightforward. Simply follow the signs on the roads that point you to the towns, beaches, and other points of interest. There were a few times where Google Maps directed us down extremely narrow, rural roads, so we had to backtrack and find a new route, but in some ways, that just added to the adventure.
How Many Days Should You Spend on Naxos?
We spent two days in Naxos and wished we had at least one more day. The island is deceptively large with a lot to do, so having three or more days is ideal.
Three or more days would give you enough time to hike to Mount Zas, walk the village trail or explore other trails on the island, relax at the beach, take windsurfing lessons, and explore Naxos City. Plus, if you stay at the Naxos Rock Villas, or somewhere similar, you will want some extra time to lounge at your hotel.
More Information about Greece
GREECE ITINERARY: 10 Day Greece Itinerary: Athens, Mykonos, Naxos & Santorini
SANTORINI: 20 Amazing Things to do in Santorini
MYKONOS: Best Things to do in Mykonos
ATHENS: How to Visit the Acropolis and Parthenon in Athens
ATHENS: Where to Stay in Athens: Best Hotels for Your Budget
---
Are you planning a trip to Naxos? Comment below if you have any questions or if you want to share your experience.
You Might Also Like:
Note: This post contains affiliate links. When you make a purchase using one of these affiliate links, we get paid a small commission at no extra cost to you.
All rights reserved © Earth Trekkers. Republishing this article and/or any of its contents (text, photography, etc.), in whole or in part, is strictly prohibited.