Oia is world famous for its spectacular sunsets. The cascade of whitewashed buildings, dotted with windmills and blue dome churches, form a stunning backdrop for photographers. As the sun goes down, these buildings glow in pinks and oranges and yellows. The moment the sun disappears below the horizon, the crowds literally applaud and cheer. It can be an unforgettable moment for many people.
If you plan to visit Santorini, most likely watching the sunset in Oia is on your to-do list. If so, we have two spots to try. One is at Oia Castle, definitely the most popular photo point in Oia. But if you want to escape the worst of the crowds and get the iconic blue domes in your photos, we let you know how you can do that, too.
Sunset from Oia Castle
The most popular spot to watch the sunset is by Oia Castle. The crowds here are insane. But what you get is a stunning view of the windmills and the whitewashed buildings perched on the edge of the caldera.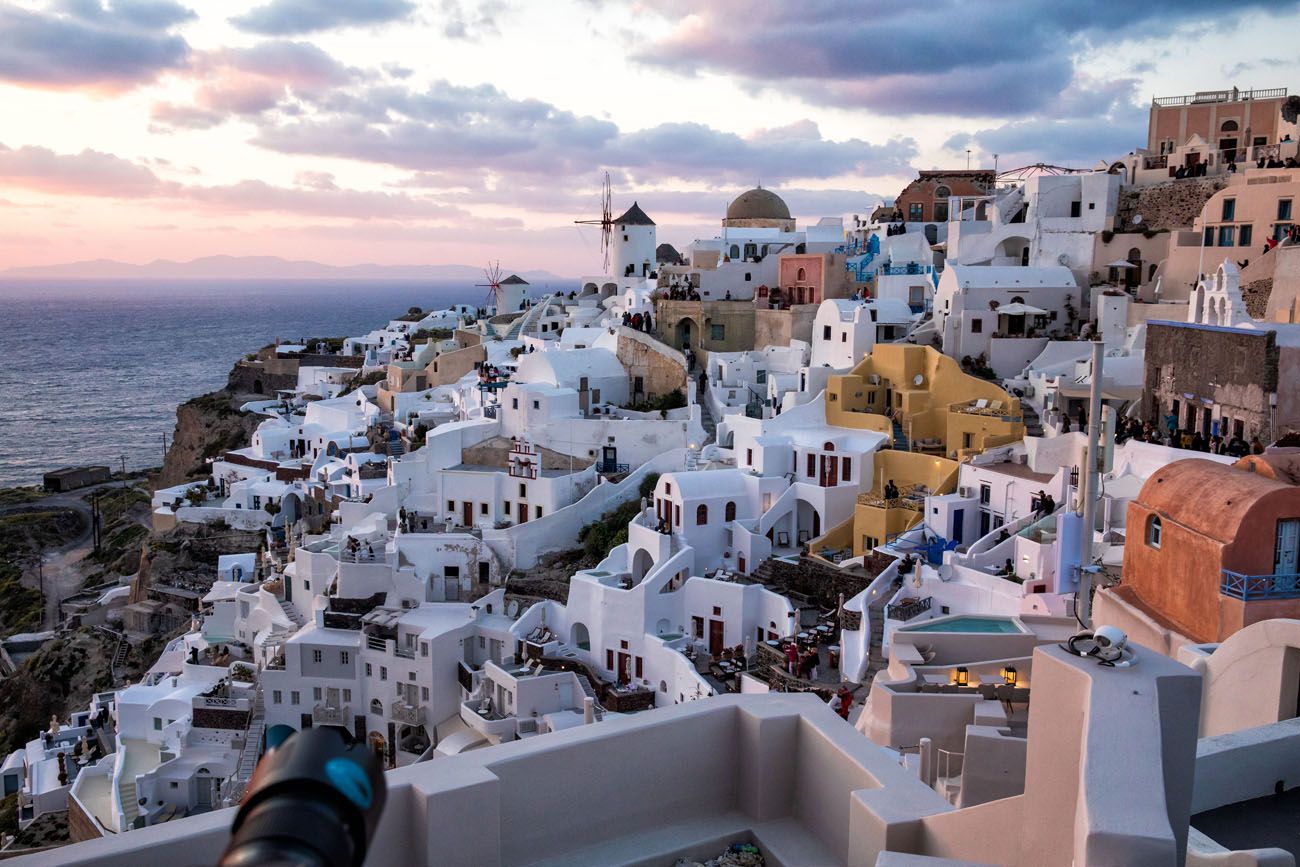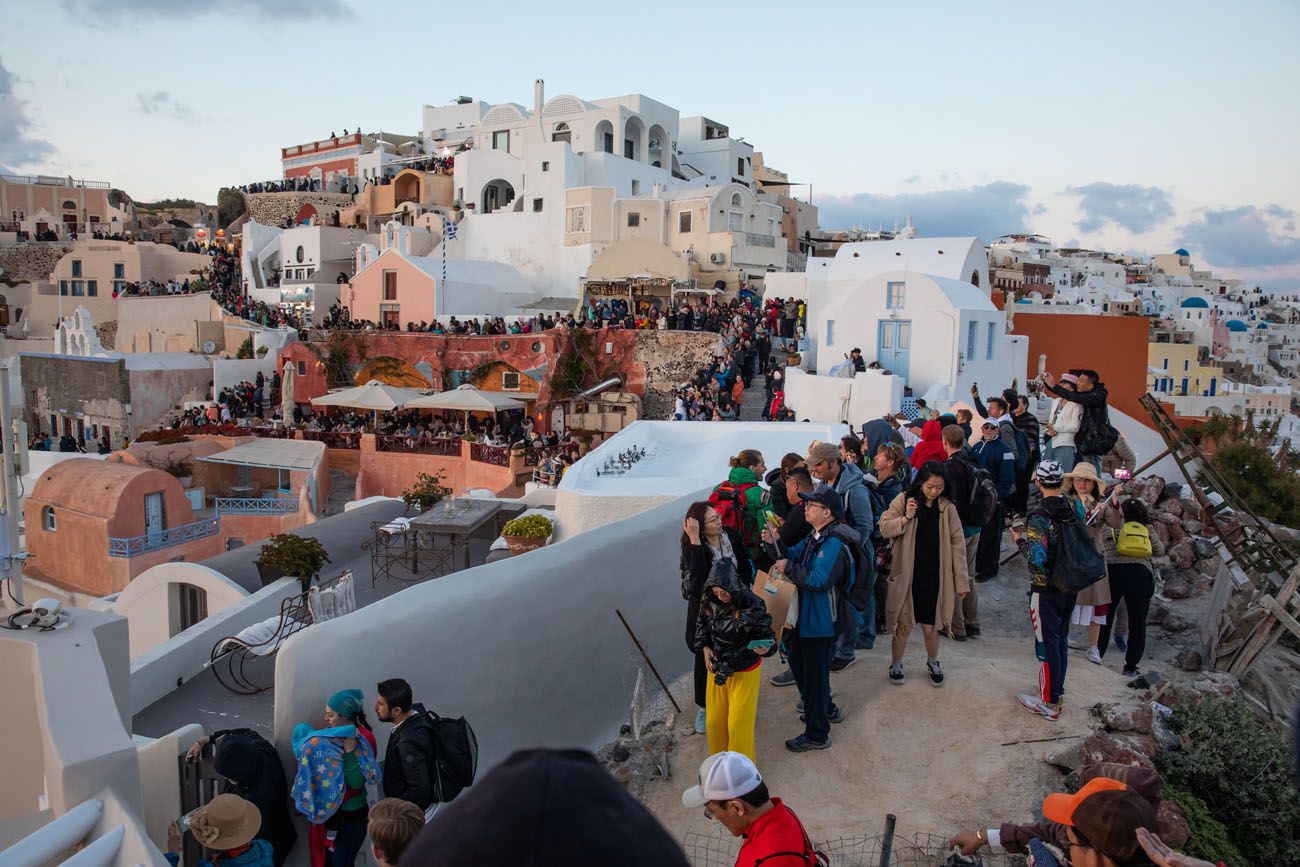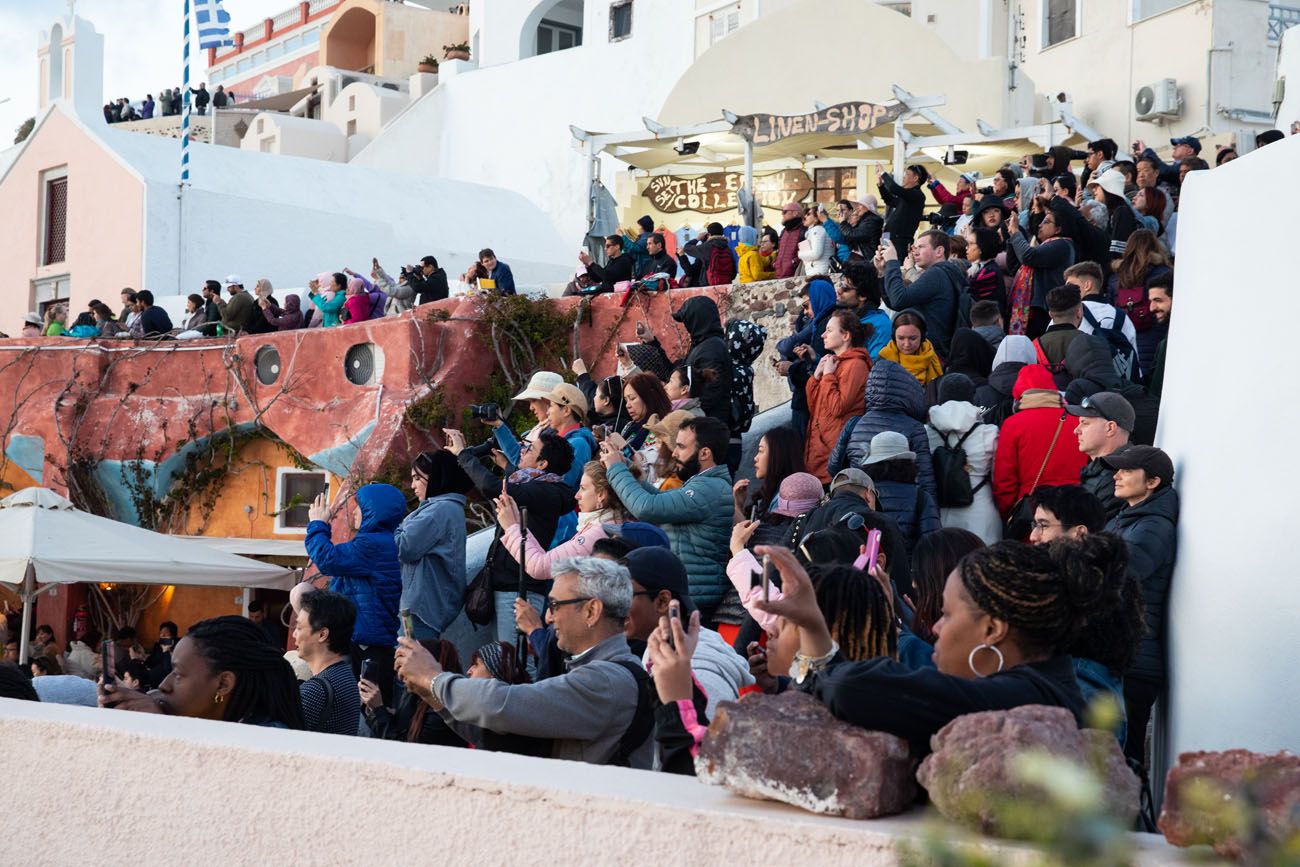 If you want a good spot, plan to get here early. People will start arriving well before sunset to get the perfect spot.
PRO TRAVEL TIP: If you are getting around by car, plan to get to Oia several hours before sunset just to ensure that you get a parking spot. Parking is extremely limited and by late afternoon, giant tour buses make the situation even worse.
People will be perched along walkways and terraces in this general area. However, our favorite view was from a particular spot on Oia Castle. I don't have sunset photos from this exact point but I did take photos during the day time. This is the view during the day.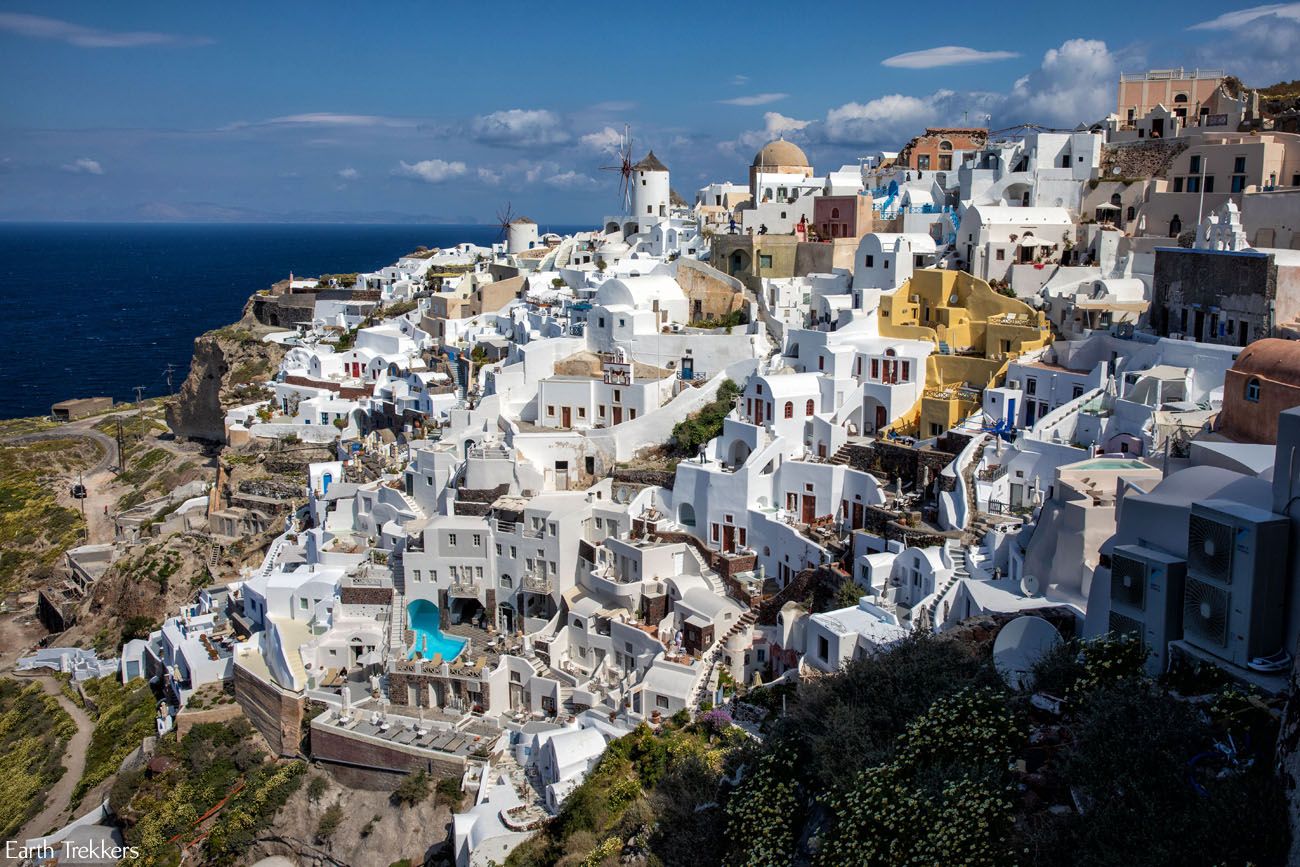 To get here, walk onto Oia Castle, walk up onto the higher lookout point, and then keep going. Walk down the steps onto the large, flat terrace and then turn right and take in the view. On Google Maps, this photo spot is labeled Lookout Oia Panoramic View. This is a great spot, because not only can you look out over the windmills but you also get a nice view over Ammoudi Bay.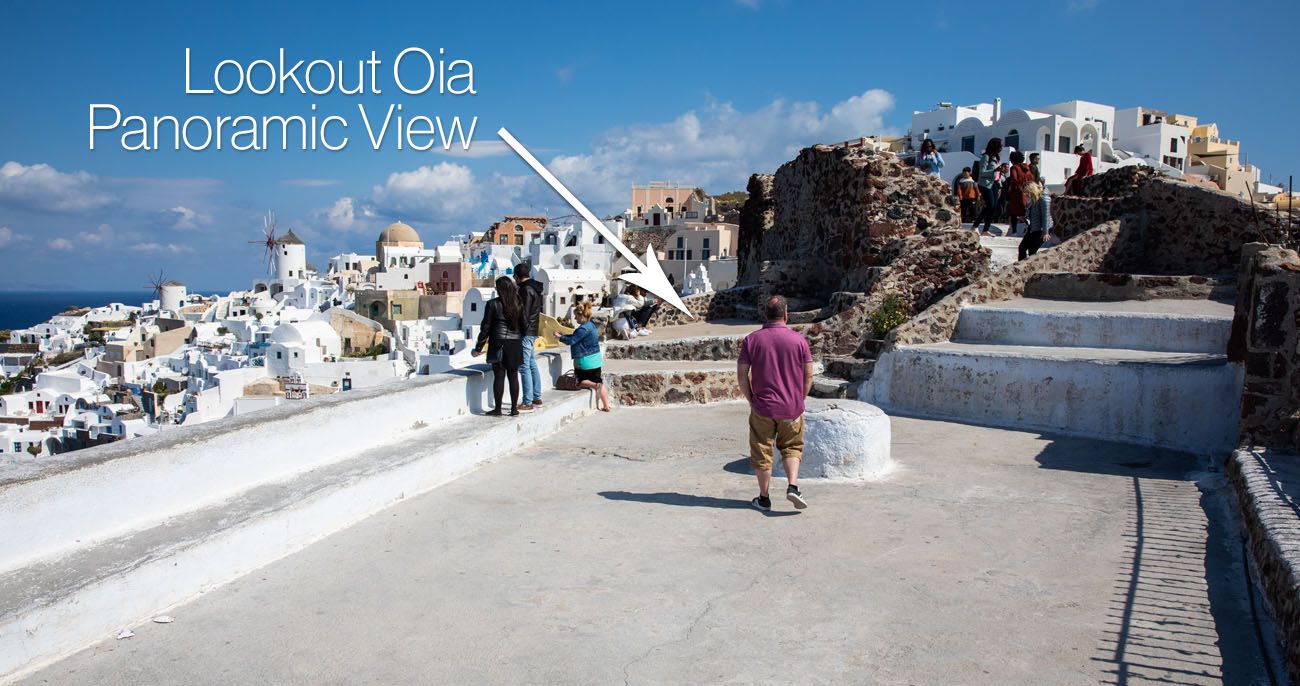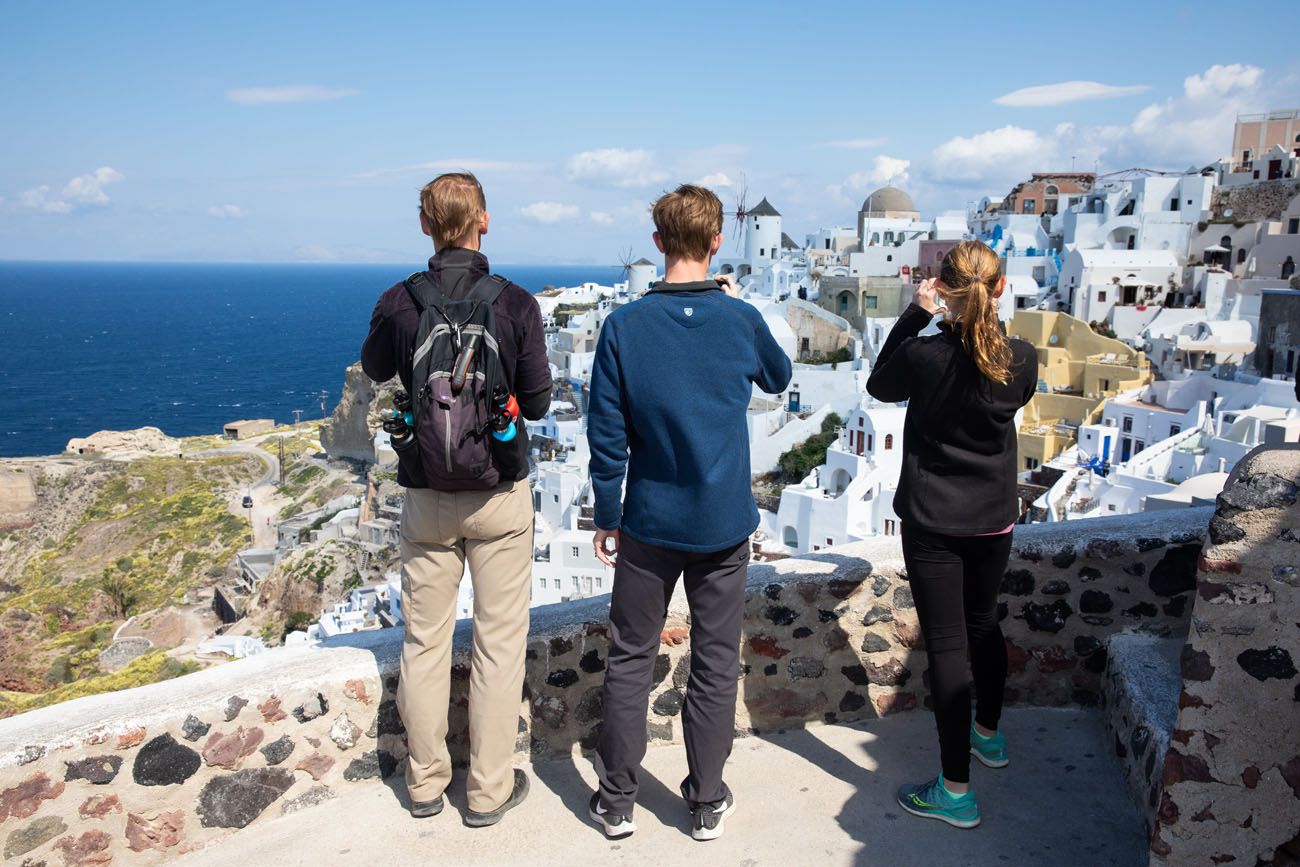 Tim, Tyler, and Kara are standing at the Panoramic Viewpoint.
There is a lot of space here, and if you get here early enough, you should be able to set up a tripod.
Sunset with the Blue Domes of Oia
Even though Oia Castle is the most popular sunset viewpoint, it was not our favorite spot. It was way too crowded and you don't get to see the iconic blue domes.
My favorite spot was right next to the three blue domes of Oia.
This is a fantastic view, because not only do you get the blue domes, but you also can get the bells of a church in your photo. And guess what, at sunset, I shared this photo point with just a handful of other people. Here are the GPS coordinates for the exact photo location: 36°27'40.7″N 25°22'33.9″E.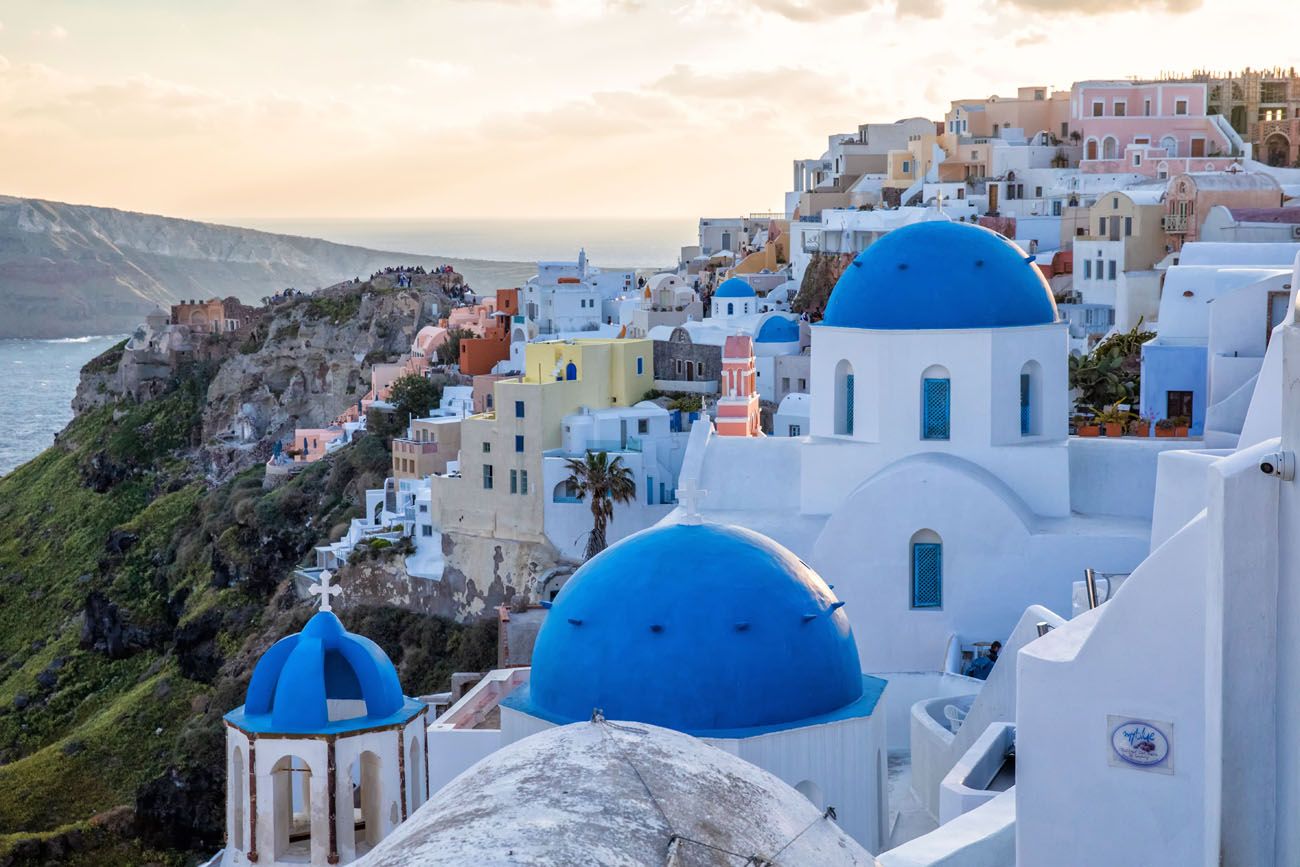 The blue domes just before sunset. Off in the distance, you can see Oia Castle, the rocky promontory with lots of tiny people standing on it.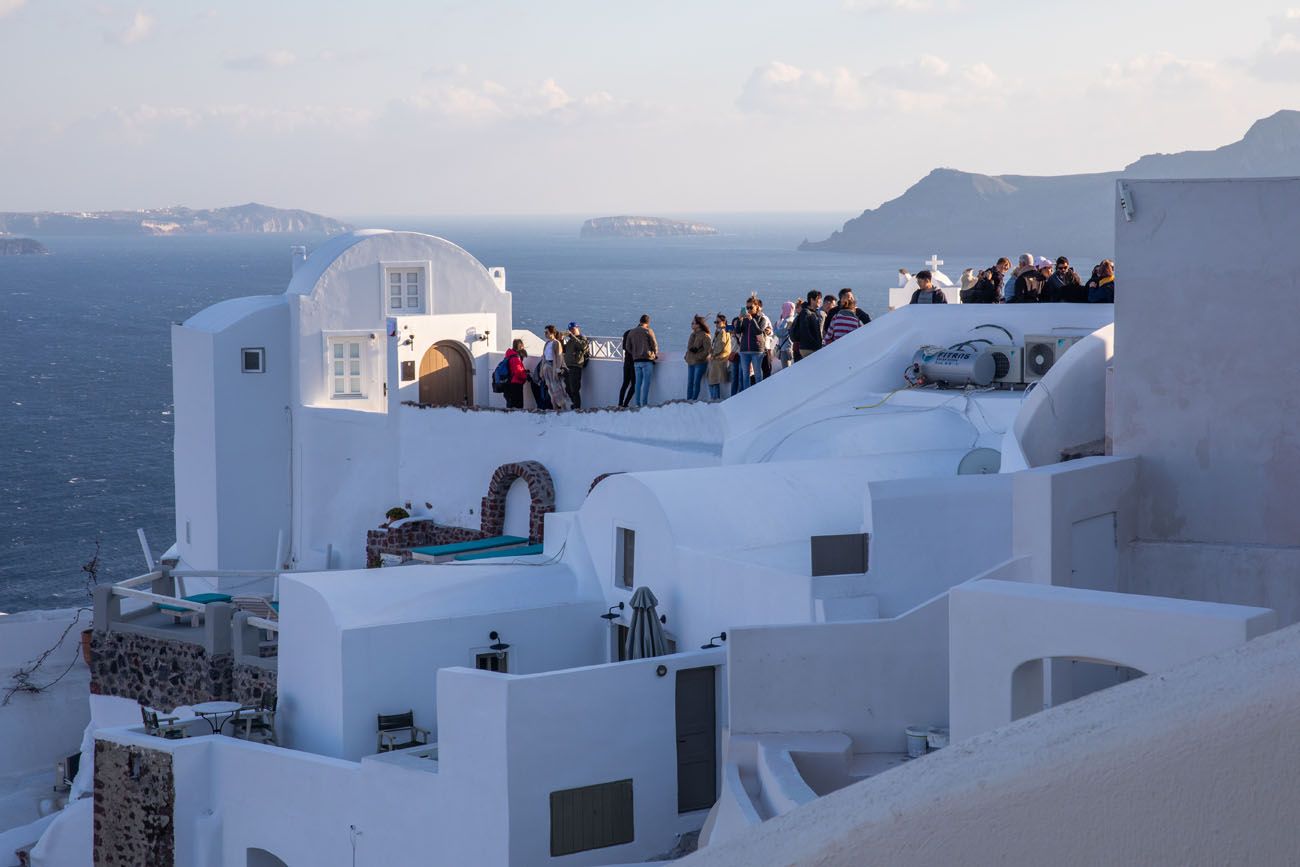 A view of the photo spot in the early evening.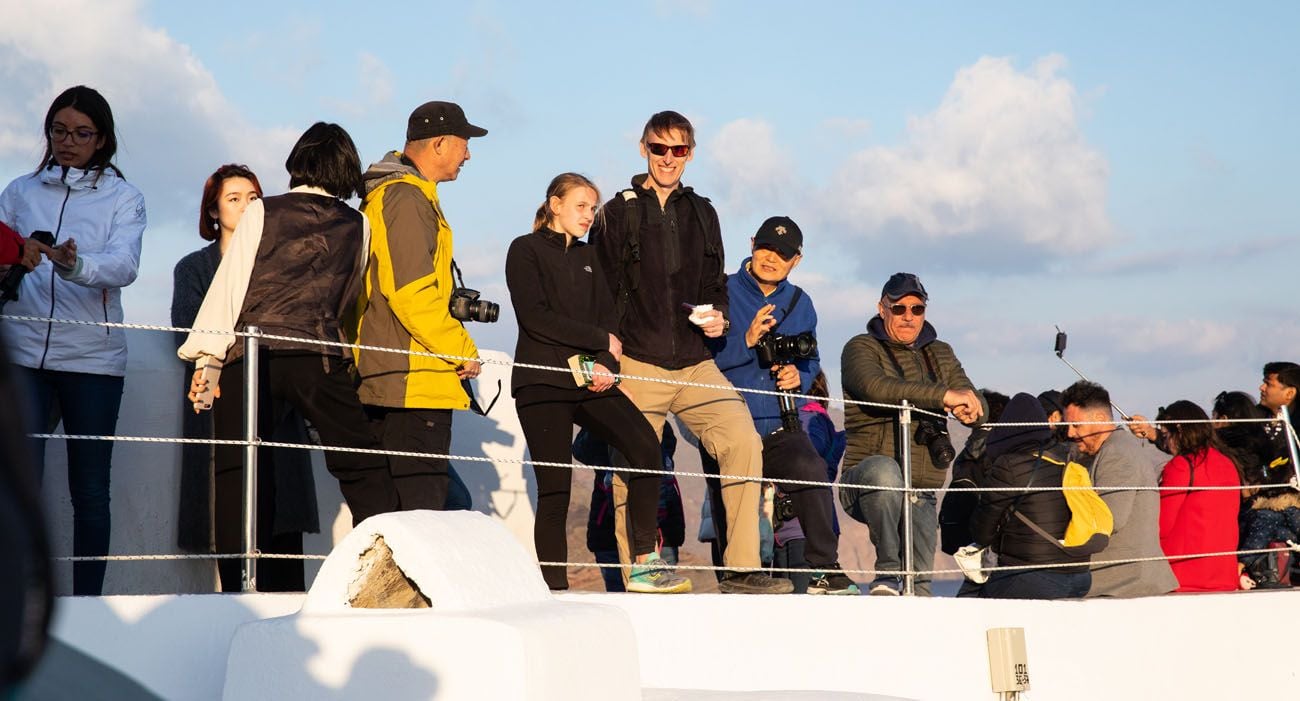 Tim and Kara at the viewpoint. It was crowded about 45 minutes before sunset, but eventually most of the people moved to Oia Castle.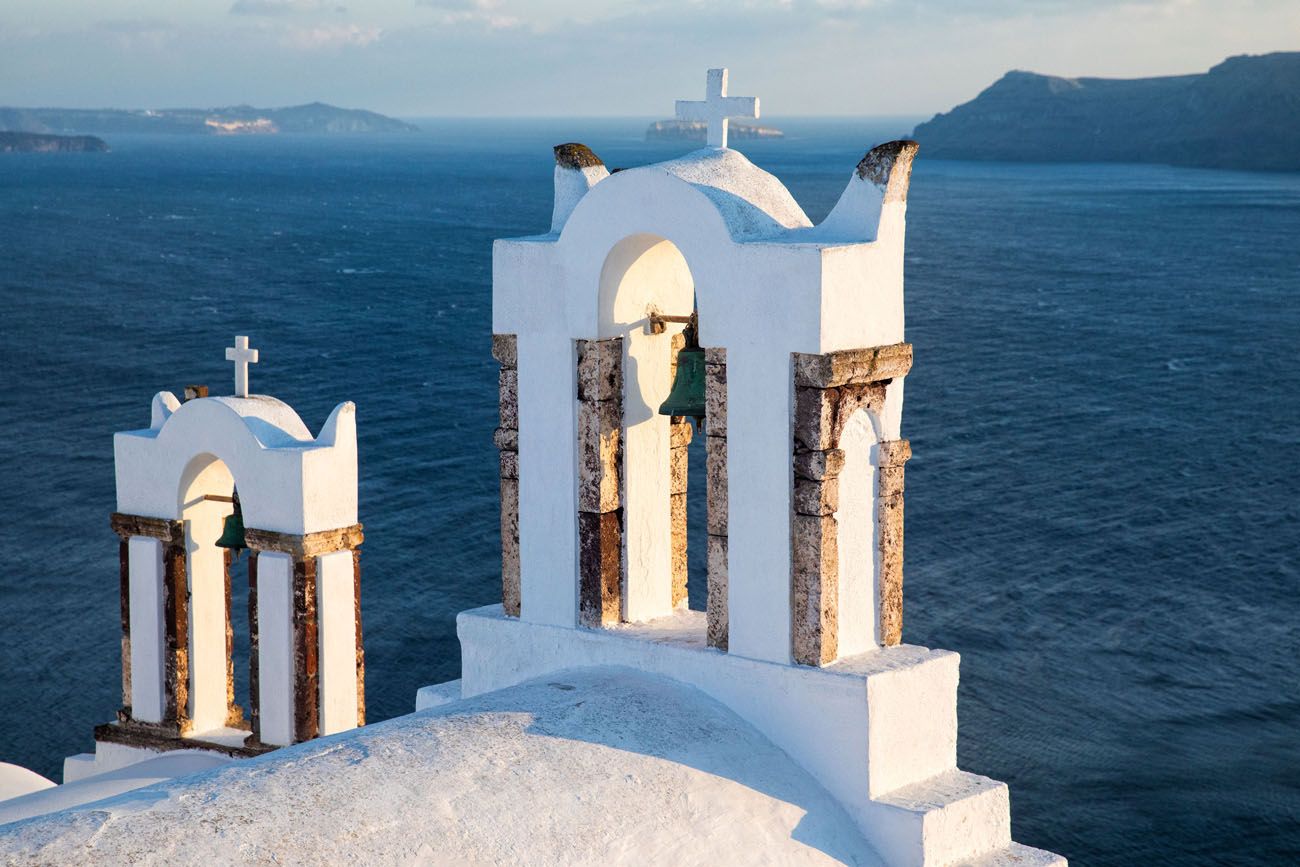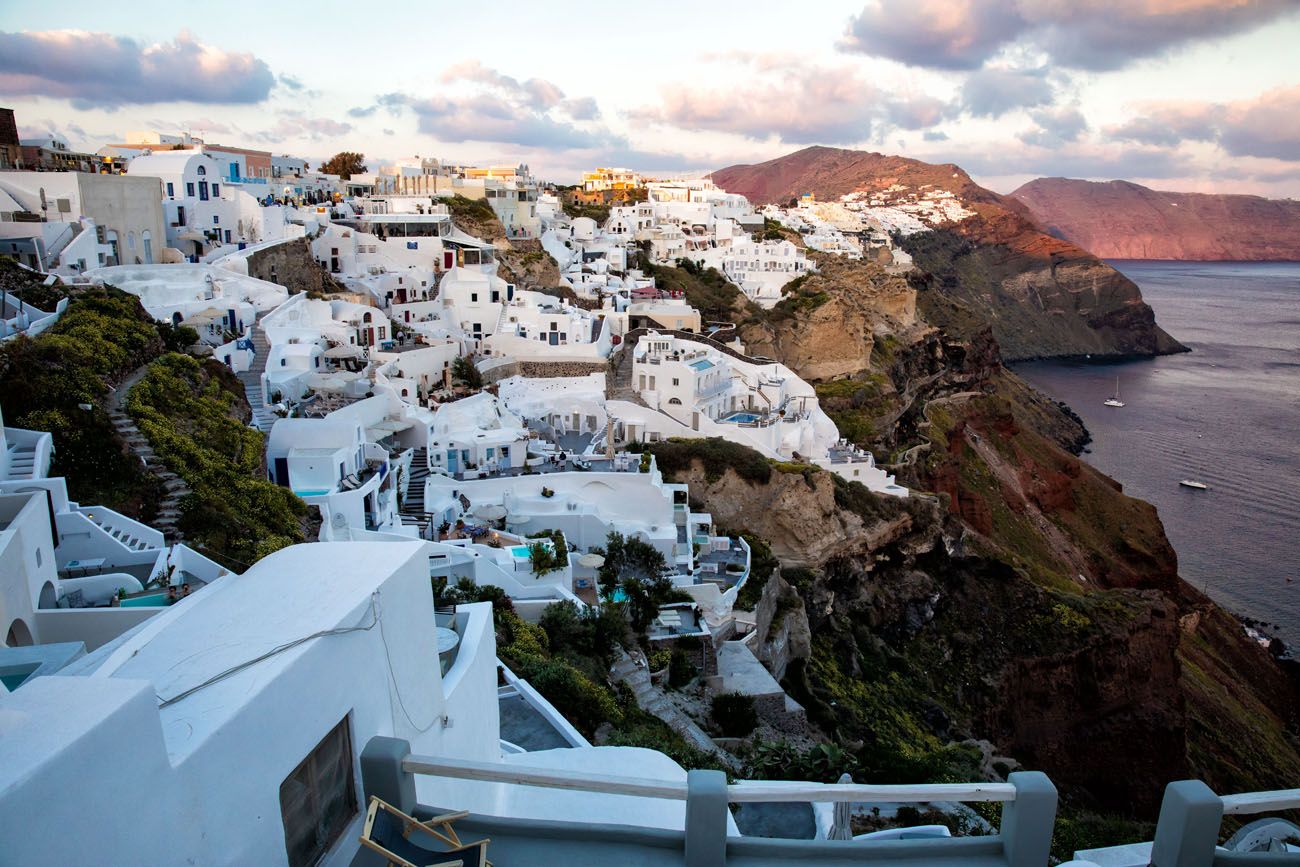 The view over Oia in the opposite direction.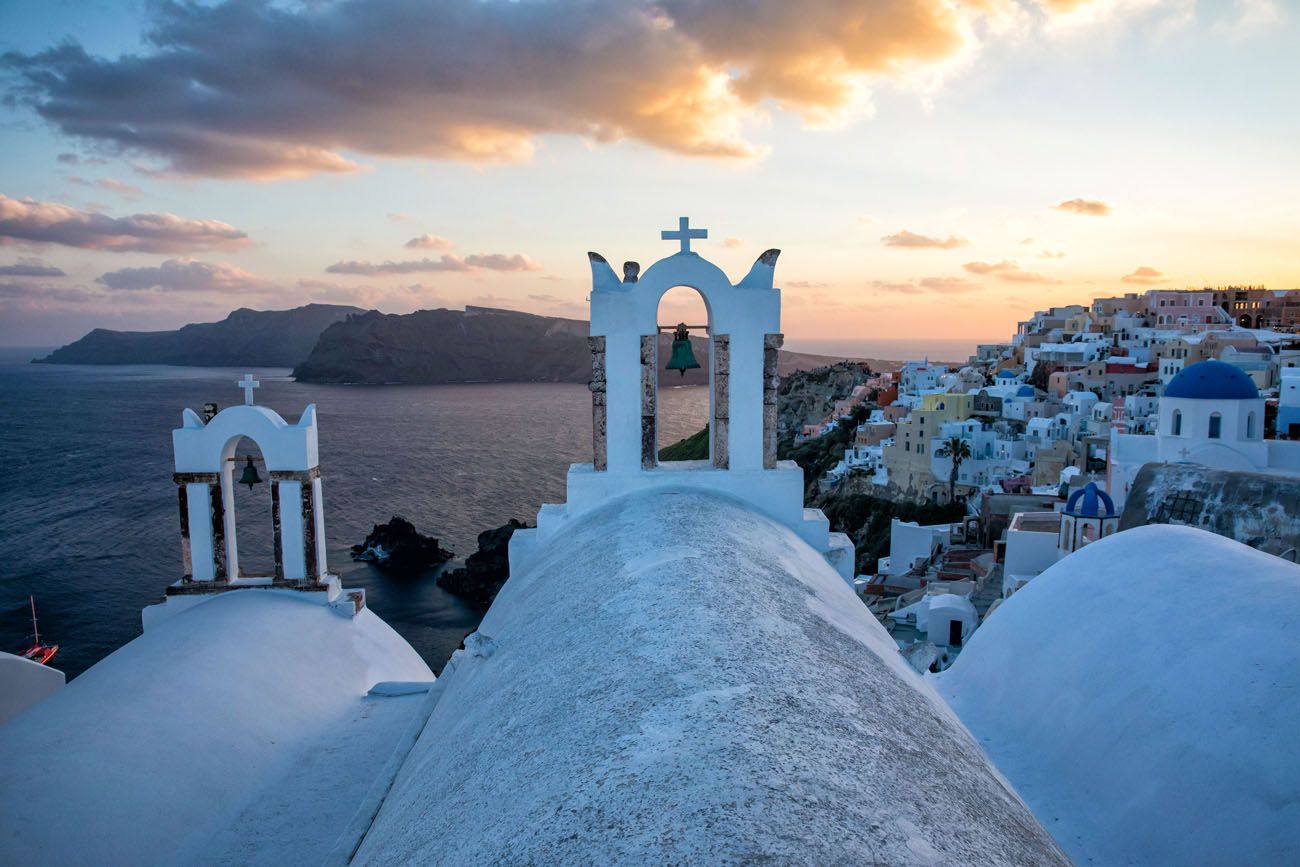 Church bells at sunset.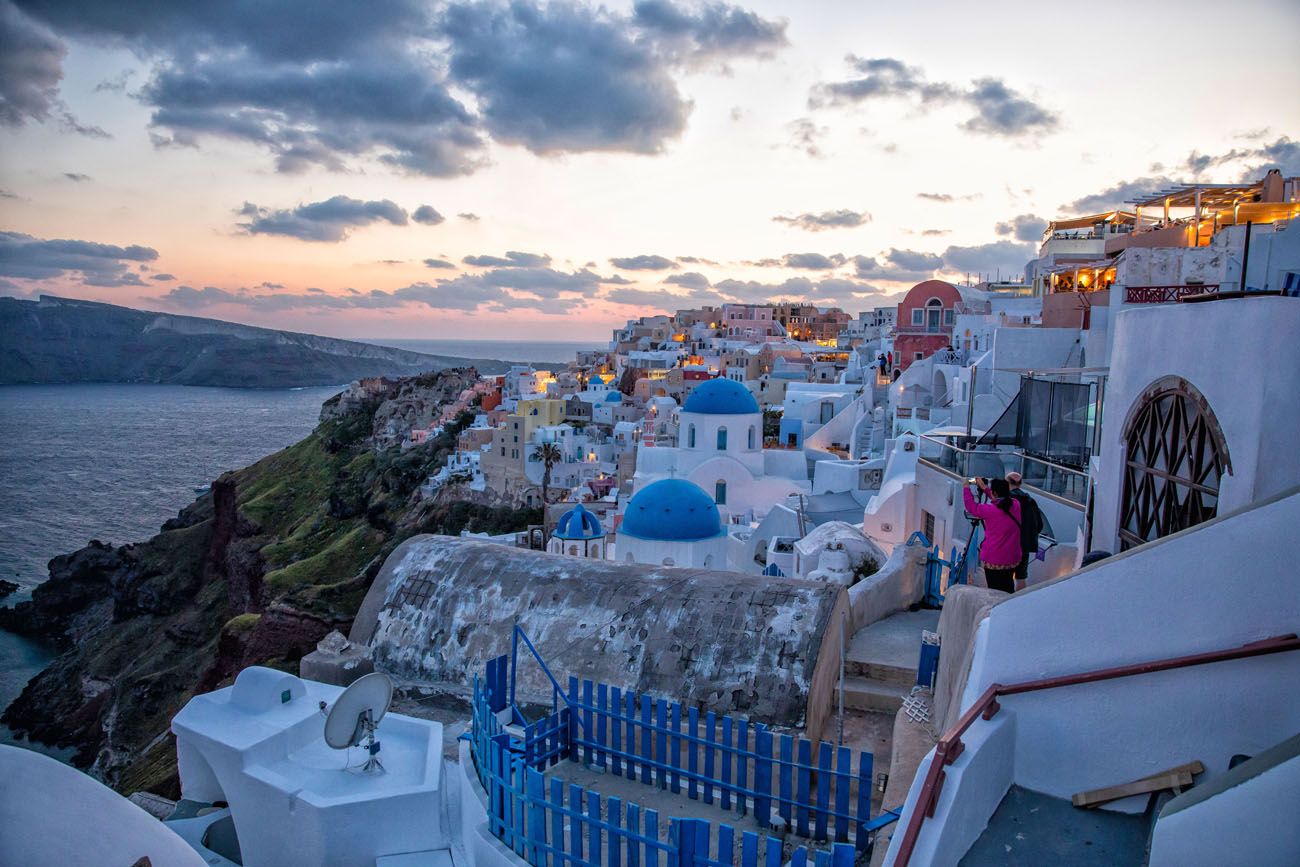 The "real" view from this viewpoint. I had to zoom in with my camera (to about 70mm) to get the blue domes in the foreground of the photo. You can also walk a little bit closer to where the lady in the pink jacket is standing. The view only changes slightly.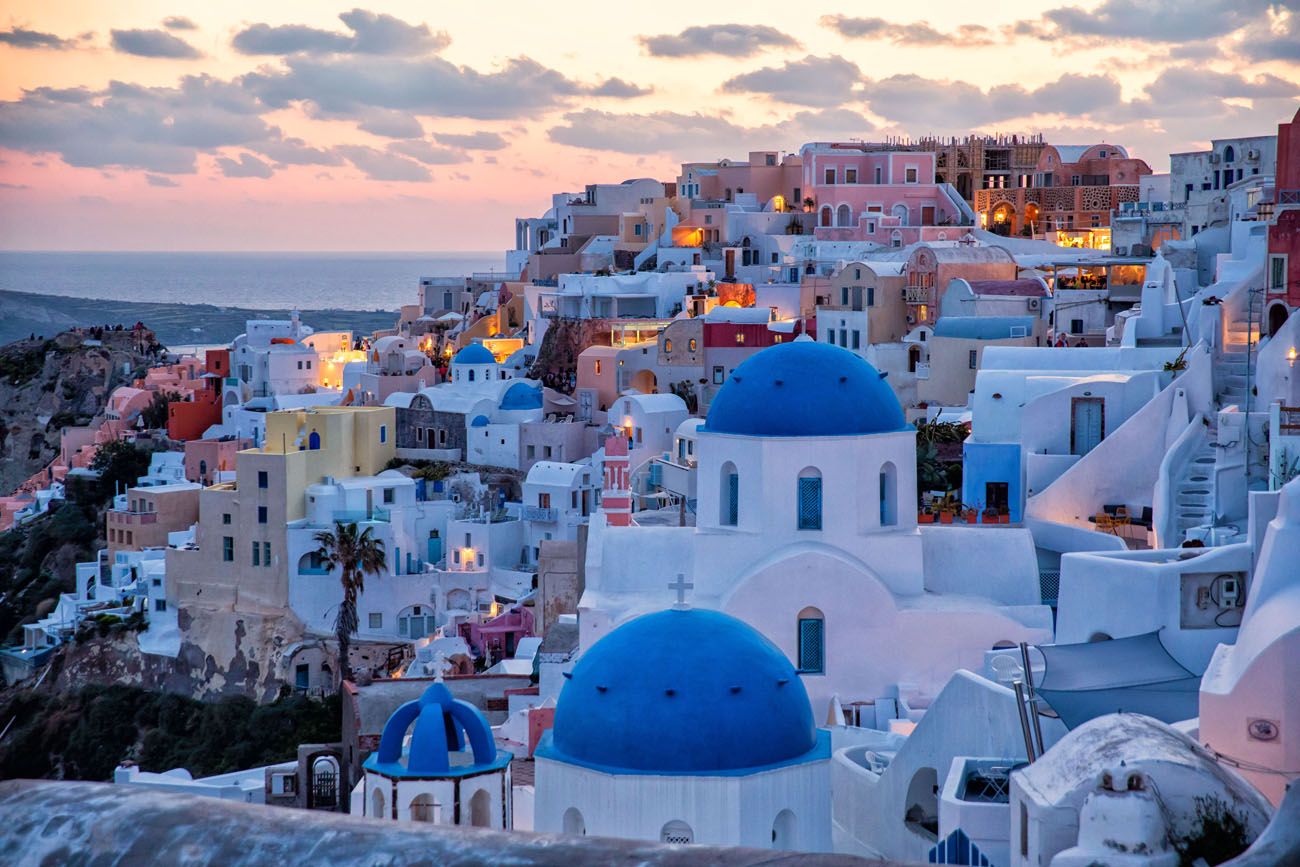 This is a very popular photo point during the daytime through the late afternoon. But in the evening, everyone tends to flock to Oia Castle. So, if you want a gorgeous photo spot without insane crowds, put this point on your list.
The only downside is that you cannot use a tripod. It's not forbidden, but this walkway is so narrow that a tripod would block traffic and get in everyone else's way, so I didn't use one for these photos.
How to Get Photos from Both Spots on the Same Night
We only spent one evening in Oia. Luckily, since we were a group of four people, we could split up and bounce back and forth.
We did not get to Oia Castle early. I already had it in my head that I wanted to be at the blue domes viewpoint for sunset.
Sunset was at 8 pm in mid-April. We got a spot at the Blue Domes point at 6:45. And at 6:45, this point was very, very busy. However, by 7:30, it was just me and three or four other people. It turned out that there was no need for us to "hold" a spot here, but we did not know that beforehand.
While I took my sunset photos of the blue domes, Tim, Tyler, and Kara braved the crowds at the castle.

A panorama that Tim took with his iPhone.
Just past sunset, I joined them at Oia Castle and grabbed a few photos. Since I arrived late, I couldn't get to a good viewpoint and I did not wait around long enough for the buildings to really begin to glow as it got darker.
Then, I went back to the blue domes photo spot and took some of my favorite photos of Santorini. Again, there were just a few people here.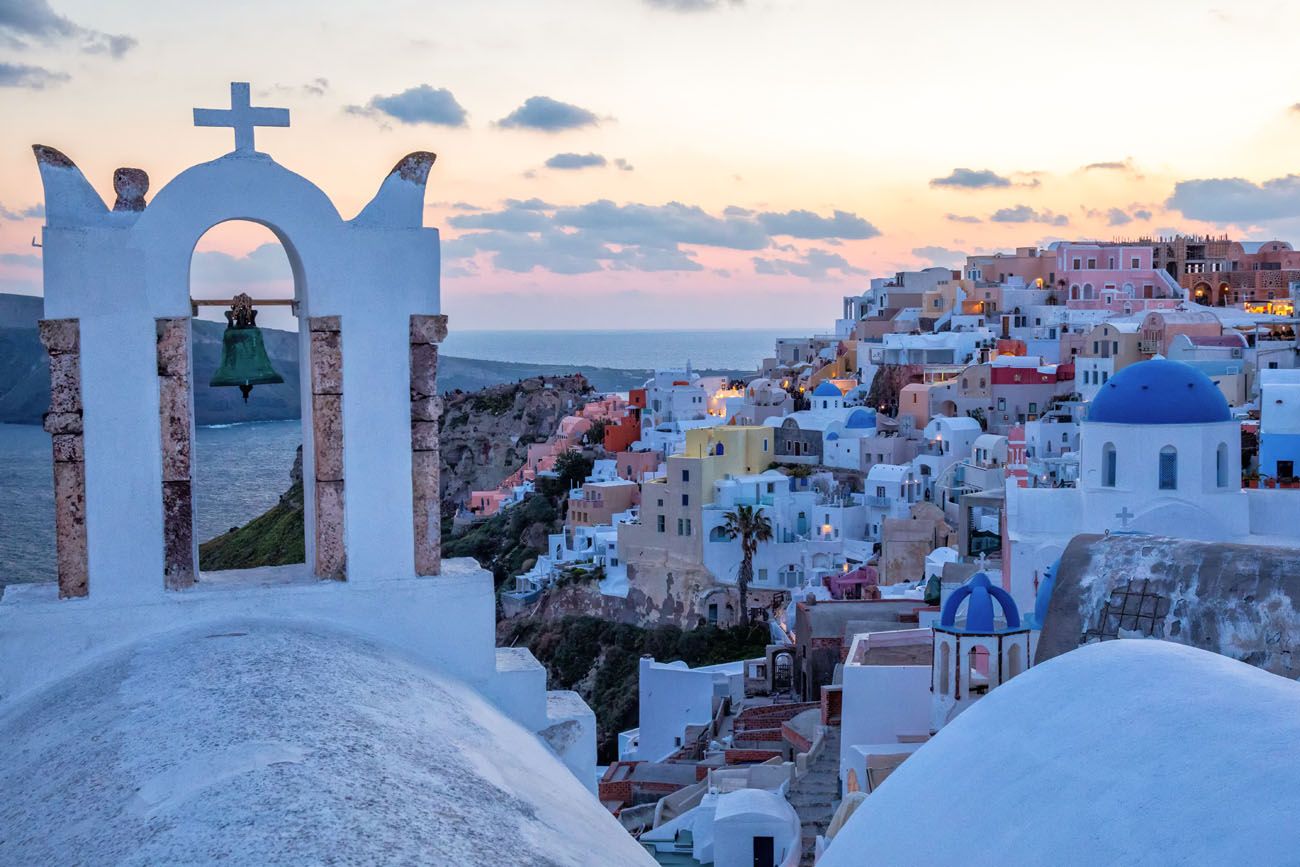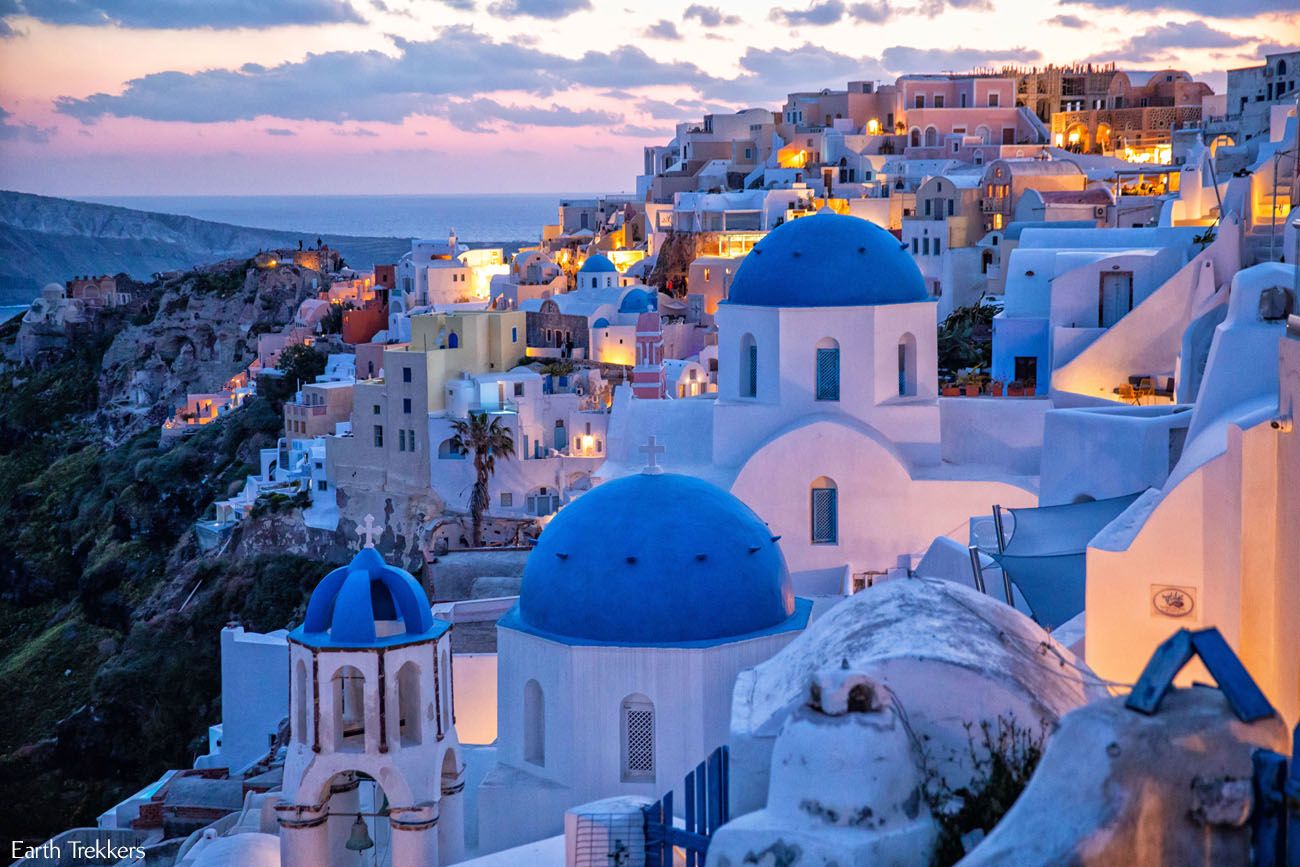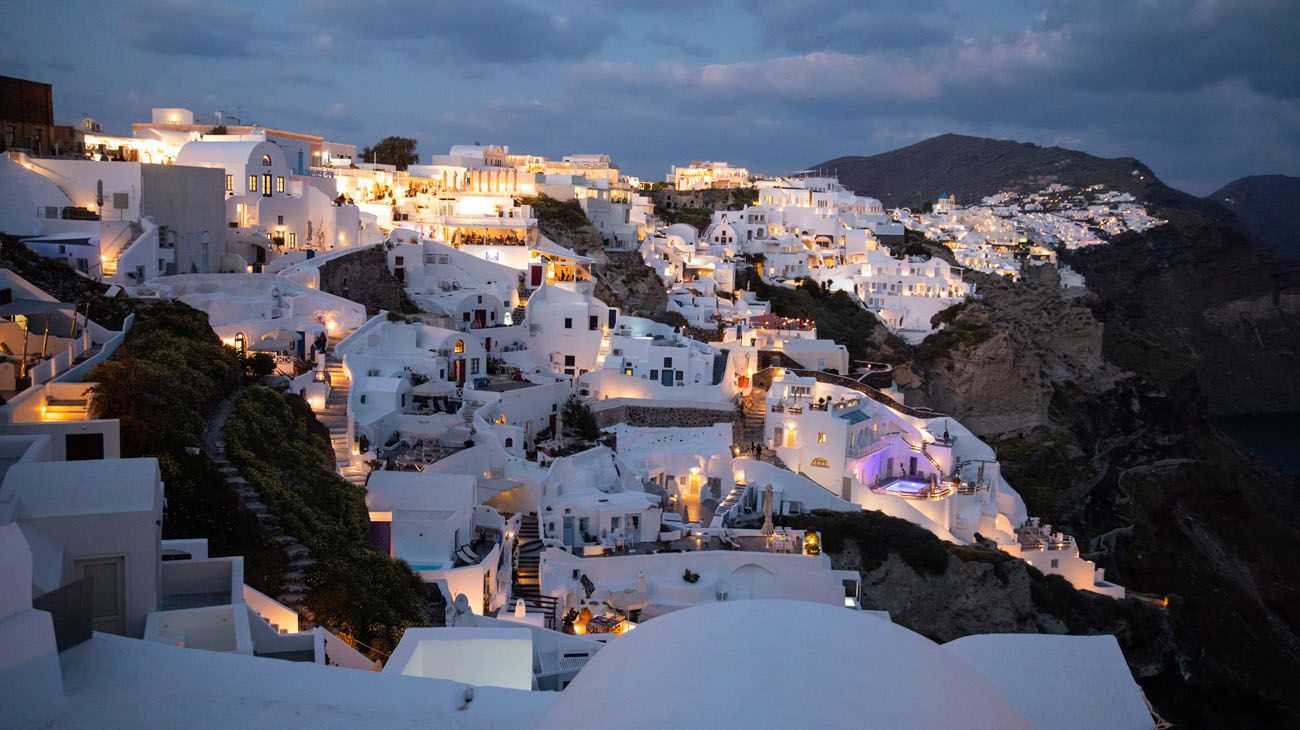 What I Would Do Differently
Knowing what I know now, I would go to Oia Castle first. I would get there early, wait near the Panoramic Viewpoint, take my sunset photos, and then go to the blue domes photo spot. It takes about 10 minutes to walk from one point to the other.
Of course, this information is based on our one sunset experience in Oia. Our visit was in April, which is not peak season. However, it was the Easter holiday season, so crowds were relatively high. During the summer months, I would expect even larger crowds. There's a chance that even the blue domes photo point will be crowded all evening.
Timing of Sunset
When we did this, sunset was at 7:55 pm. My photos from Oia Castle were taken at 7:50 pm. My final photos from the blue domes were taken at 8:18 pm. About 15 minutes before sunset, the sky takes on a nice, rosy glow, and so do the buildings. But the best time to take your photos are in the 20 to 30 minutes after sunset, once the lights begin to turn on and the sky holds its colors.
You can get the exact sunset time for your visit here.
One More Recommendation
If standing in a crowd of people is not your cup of tea, you can enjoy the sunset from a number of restaurants in Oia. We had dinner at Pelekanos, which has a rooftop terrace and nice views over the village. You won't get the iconic views, but it is a nice setting to watch the sunset (and the food is good, too).
Where We Parked
We managed to get a spot at the parking lot near the main square of Oia (GPS coordinates: 36°27'49.8″N 25°22'34.7″E).
There are several other small parking lots located on the edge of Oia. Take a look at Google Maps so you know what to expect before you make the drive. If you don't want the hassle of parking and driving, take the bus or take a taxi. However, the line for the bus to leave Oia was incredibly long and I would imagine you would have to be extremely lucky to catch a taxi just past sunset.
---
Are you planning a visit to Santorini? Comment below if you have any questions about sunset in Oia or if you would like to share your experience.
More Information for Your Trip to Greece
SANTORINI: For a full list of things to do, read our article Best Things to Do in Santorini. In our Santorini Itinerary, learn how to plan your visit, whether you have 1, 2 or 3 days. In our Santorini Hotel Guide, we list the best hotels in Santorini, organized by location and budget.
NAXOS: Learn how to plan your visit to Naxos in our article Best Things to Do in Naxos. We also have information on hiking to Mount Zas, how to hike to Apano Kastro, and a detailed guide to hiking the Village Trail to Melanes, Myli, and the Kouroi.
MYKONOS: Learn about things to do and how to get around Mykonos in our Guide to Mykonos.
TRAVEL ADVICE: First time in Greece? Here are essential things to know about Greece, from SIM cards to booking the ferries to renting a car.
GREECE ITINERARY: Learn how to visit Athens, Santorini, Naxos and Mykonos in our 10 Day Greece Itinerary.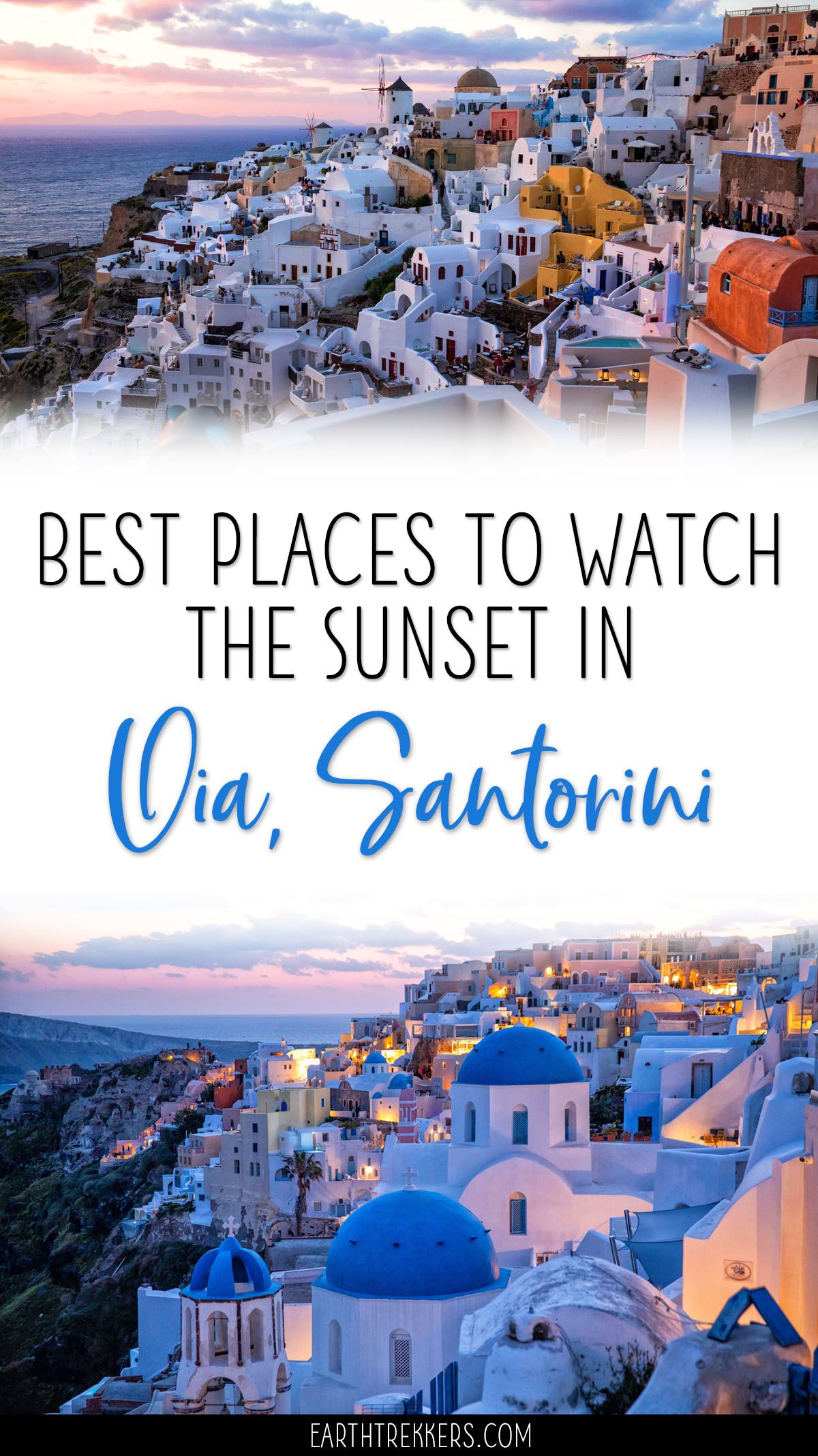 All rights reserved © Earth Trekkers. Republishing this article and/or any of its contents (text, photography, etc.), in whole or in part, is strictly prohibited.