Greece is the home of ancient ruins, volcanic islands, incredible beaches, and beautiful sunsets. Come to visit the Acropolis, see the sun set over Santorini's whitewashed buildings, and hike to the summit where Zeus was born! Greece is a perfect destination whether you prefer to spend your time exploring Greece's historic cities, relaxing on Greece's most famous islands, or enjoying a remote setting at some of Greece's lesser-known locations.
Official Language: Greek
Capital City: Athens
Population: 10 million
Currency: Euro
Electrical Outlet: Type C and F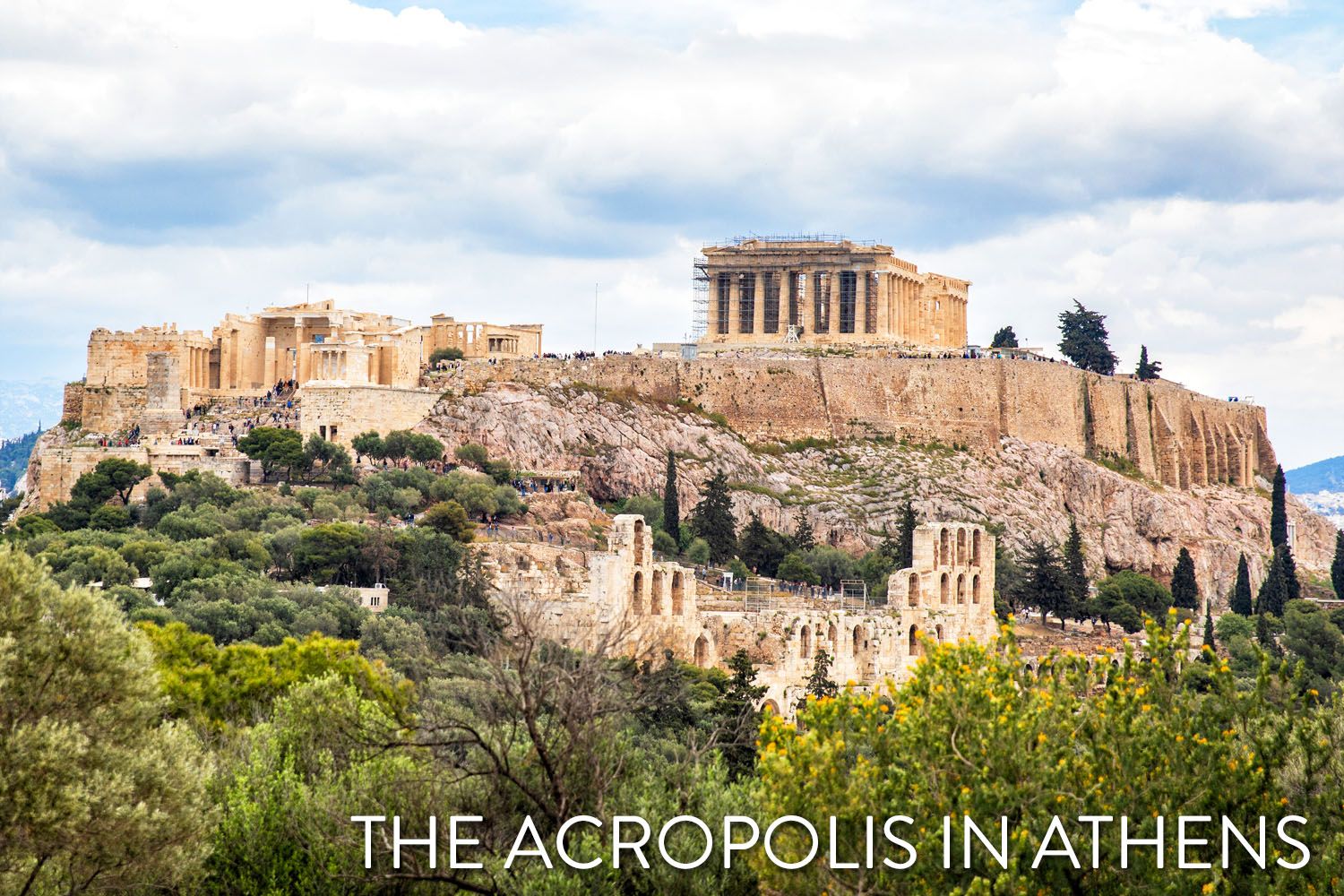 Top Experiences in Greece
Athens. Athens is one of the world's oldest cities and it is filled with archaeological treasures. The Acropolis and Parthenon are the big draw for first-time visitors, but the city is littered with ancient Greek and Roman ruins. 
The Acropolis. Rising up from the center of Athens is the Acropolis, a fortified limestone plateau that is topped with the Parthenon and several other historical monuments. This is ancient, iconic Greece, the place where philosophers questioned the universe, democracy and freedom of speech were born, and temples were built to honor the gods.
The Acropolis Museum. The Acropolis Museum is an archeological museum that houses the artifacts found on the Acropolis and the surrounding slopes. 
Santorini. Santorini is a windswept, volcanic island in the Cyclades. Magical sunsets in Oia, photogenic blue dome churches, and a myriad of colorful beaches attract thousands of visitors every year, making this one of Greece's most popular destinations.
Watch the sunset in Oia. Oia is one of the best places in Santorini to watch the sunset. The blue dome churches set amongst cascading whitewashed buildings is the perfect setting to watch the sun go down. This is Santorini's most crowded spot at sunset, so expect big crowds of people here.
Naxos. Naxos is the largest and greenest island in the Cyclades. Lounge on the white, sandy beaches, visit ancient temples, hike to the summit of Mount Zas, go windsurfing, and explore the charming villages…these all make the list of the best things to do in Naxos.
Mount Zas. Hike to the top of Mount Zas for panoramic views over Naxos and for bragging rights that you stood on the highest point in the Cyclades.
Mykonos. Mykonos is one of the most popular islands to visit in Greece. This island is famous for shopping, beach parties, and the very photogenic Mykonos town. 
Take a day trip to Delos. Delos is a small island in Cyclades and it is one of the most important archeological and mythical sites in Greece. The island is a UNESCO World Heritage Site.
Explore the Monasteries at Meteora: See Metéora's unusual landscape where rocks rise up to 300 meters out of the ground. Sitting at the top of these formations are the Monasteries of Metéora, which you can hike tp and explore their gorgeous interiors.
Visit the island of Paros: Paros has the same to offer as Santorini, just without as many crowds. So, if you are looking to explore whitewashed towns, relax on beautiful beaches, and see historical sites, this may be the place for you.
Mount Olympus: Home to the Greek Gods and the highest peak in Greece, this mountain is a top destination for hiking and outdoor recreation.
Visit Delphi: Built on the slopes of Mount Parnassus in the 8th century B.C. sits the sacred site of Delphi. In the time of ancient Greece, people once came here to worship Apollo and to ask advice from his fabled Oracle. Today, the site's beautiful mountain landscape and its importance to Greek mythology makes Delphi one of Greece's most famous attractions.
Explore Zykanthos: Zykanthos is a stunning island to visit with beautiful beaches, blue sea caves, and fascinating rock formations. This island makes for a great snorkel and scuba-diving spot.
Visit Crete: Crete is one of Greece's largest and most popular islands to visit, and for good reason. Crete has some of the Greece's most gorgeous beaches, there are many historical sites, and you won't want to leave its picturesque cities. The island is also home to one of the world's most challenging hikes: the Samaria Gorge.
Corfu: As a lush and beautiful island surrounded by aquamarine waters, Corfu makes a great getaway spot. Here you will find Italian architecture, historic monuments, and breathtaking cliff-sides.
On this 10-day Greece itinerary, visit three beautiful Greek islands and the city of Athens.
Start in Santorini, a volcanic island that is dotted with picture-perfect villages and is famous for its legendary sunsets.
Next, travel to Naxos, a quieter, greener island that is easier on the wallet and an unexpected surprise for many travelers.
Spend a day in Mykonos, exploring wonderful little Mykonos town and relaxing on the beach.
Finally, tour the city of Athens and get one of the best history lessons in Europe.
Visiting Athens is like taking a step back in time, a wonderful history lesson that is great for all ages. Tour the Acropolis, visit the Roman Agora, explore the city streets in Athens, sample Greek food, and enjoy the views of the city from a rooftop bar or restaurant.
Magical sunsets in Oia, photogenic blue dome churches, and a myriad of colorful beaches makes Santorini one of Greece's most popular destinations. If you are planning a trip to this wonderful island, here is information to help you plan your trip.
Whether you visit Mykonos to party, to go shopping, or just to see what this island is all about, here are the best things to do in Mykonos, with suggestions on how to plan your visit here.
Naxos is the largest and greenest island in the Cyclades. Lounge on the white, sandy beaches, visit ancient temples, hike to the summit of Mount Zas, go windsurfing, and explore the charming villages…these all make the list of the best things to do in Naxos.
While you are in the planning phase of your trip to Greece, there are some things you should know before you go. Here are our Greece travel tips, tips to help you have the best experience in Greece.
Europe Travel Inspiration & Practical Info
Do you dream of visiting world-class cities like Paris, Barcelona, or Venice? Or would you rather hike the Alps, go on a scenic train ride, explore the beautiful beaches and coastal towns in southern Europe, visit fairytale towns and castles, island hop in Greece, or go on an unforgettable road trip in northern Europe?
In this article we list 25 ways to spend one week in Europe. 
Best Time to Visit Greece
June through August is peak season to visit Greece. Expect hot temperatures and large crowds.
May and September are your best bets for decent weather and a less crowded experience.
Despite the crazy weather conditions we experienced during our visit, mid to late April is a great time to visit Greece to see it relatively crowd free. It will still be a little bit too chilly to swim at the beaches, but it's worth it if you like to avoid the crowds.
From November through March, expect chilly, sometimes wet weather and there will be fewer restaurants and hotels open for business.