Walking from Fira to Oia is one of Santorini's top experiences. Hike along the rim of a caldera, explore the towns of Oia, Imerovigli, Firostefani, and Fira, and enjoy some of the most beautiful views of the islands.
If you go the entire distance, you will walk just over 10 km (about 6 miles). The walking path is a mix of paved, pedestrian streets and dirt hiking trails. It's a hilly walk with little shade, so if you plan to do this in the summer months, start early in the day for the best experience.
Along the way, you also have the option to make a detour out to Skaros Rock. This is an outcropping of rock located near Imerovigli. If you add this on to the walk, it will add another 45 to 60 minutes to the hike.
Fira to Oia or Oia to Fira?
You can do this hike in either direction. We walked from Oia to Fira. However, in my opinion, it would be a better experience to walk from Fira to Oia. Doing it this way would make it an overall downhill walk (although you will still have to walk up some hills), you get to see the amazing views of Oia in front of you (rather than having to turn around to see them), and you can end in Oia. Spend the rest of the day exploring the village, watch Oia's legendary sunset, and then return to your hotel.
Fira to Oia Hiking Stats
Distance: 10 km (6 miles)
Length of Time: 3 to 5 hours
Difficulty: Easy
When to Go: Morning and late afternoon are the best times to do this walk in order to avoid the midday heat (especially during the summer months).

This is the elevation profile starting in Oia and ending in Fira. As you can see, it is a mostly uphill walk to get to Fira. If you do this hike in reverse, for much of the hike it will be a downhill walk.
How to Use This Map: Click the tab in the top left hand corner of the map to view the layers (points of interest and the walking route). You can click the check marks to hide or show layers. If you click the icons on the map, you can get more information about each point of interest.

If you click the star next to the title of the map, this map will be added to your Google Maps account. To view it on your phone or computer, open Google Maps, click the menu button, go to "Your Places," click Maps, and you will see this map on your list.
How to Hike from Fira to Oia
The Hiking Route
Starting Point: Fira
The hike "officially" starts at the Atlantis Hotel in Fira. You can use Google Maps to find your way here, or simply start where ever you choose in Fira. Part of the fun of this hike is exploring the towns along the way, so feel free to leave the official walking path if you see something interesting.
Once in Fira, walk north towards Imerovigli. For the entire walk, if you keep the water to your left then you know that you are moving in the right direction. Occasionally, there will be trail markers on the walking path, but these are few and far between.
Firostefani
Firostefani is the second town you will come to. It is an extension of Fira so you probably won't even realize that you are walking into a second village.
Firostefani sits higher than Fira, so you will walk uphill to get here, but the views are also better.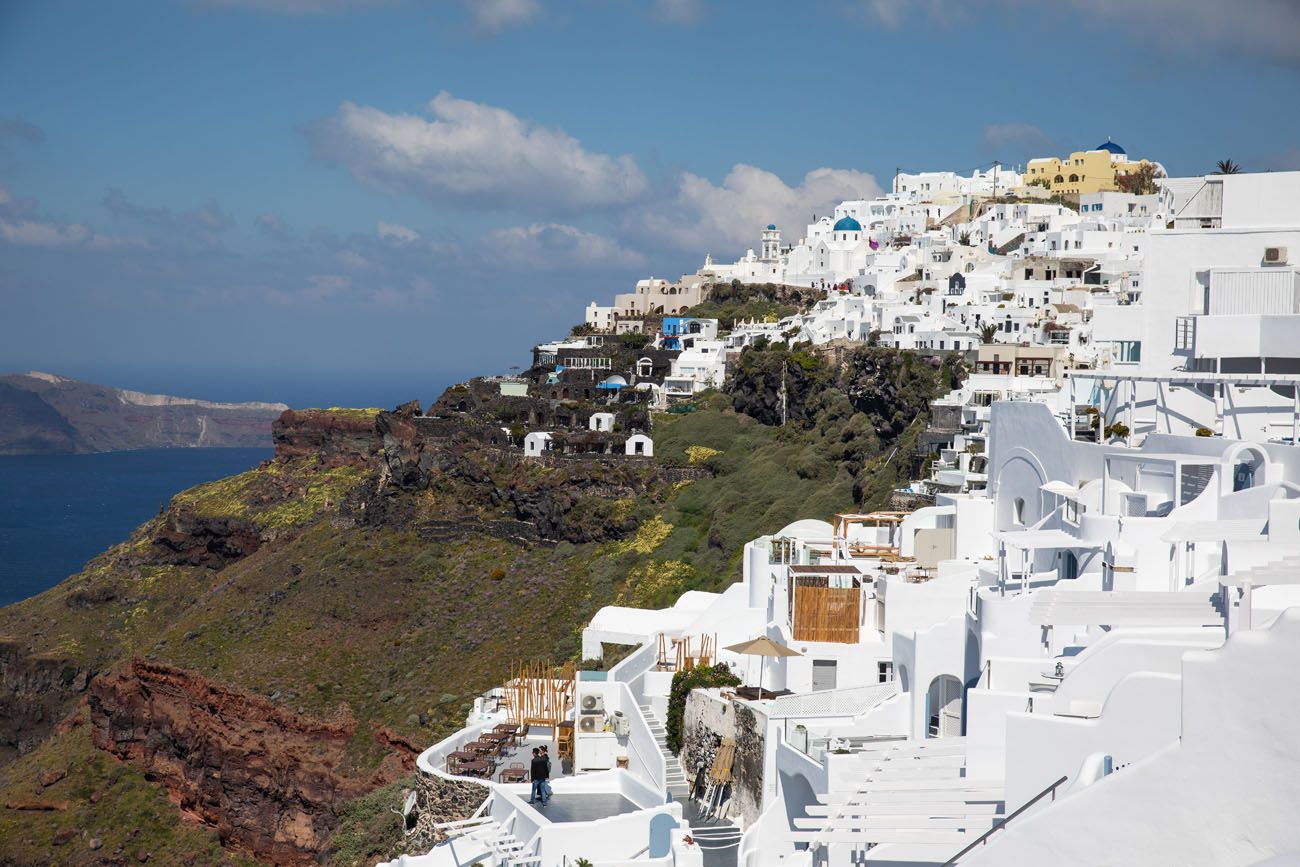 The view of Imerovigli from Firostefani.
While in Firostefani, make the detour to see the Three Bells of Thira at Agios Theodoros (also known as the Virgin Mary Orthodox Church). The viewpoint is from a parking lot that sits just to the east of the church (see our map).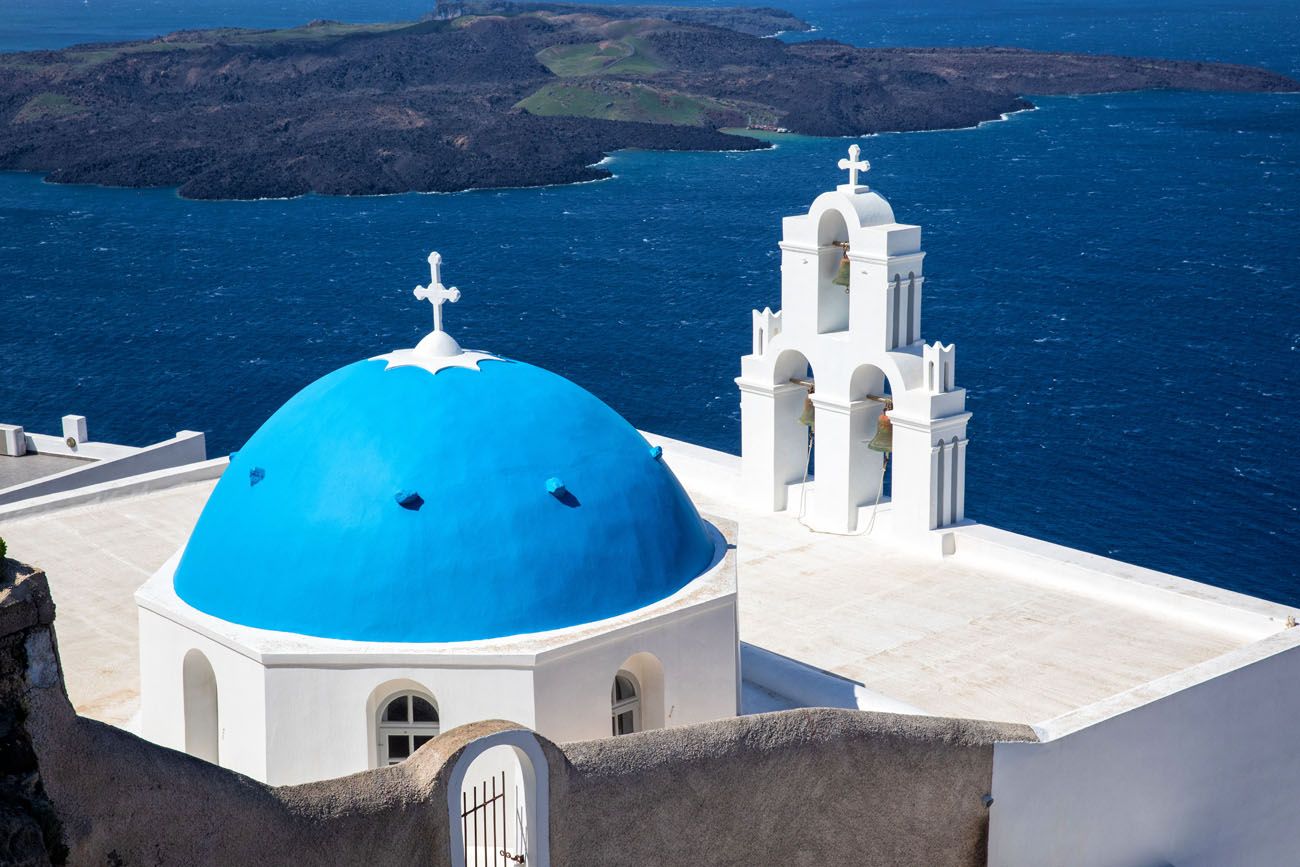 Imerovigli
Continue the uphill walk into Imerovigli.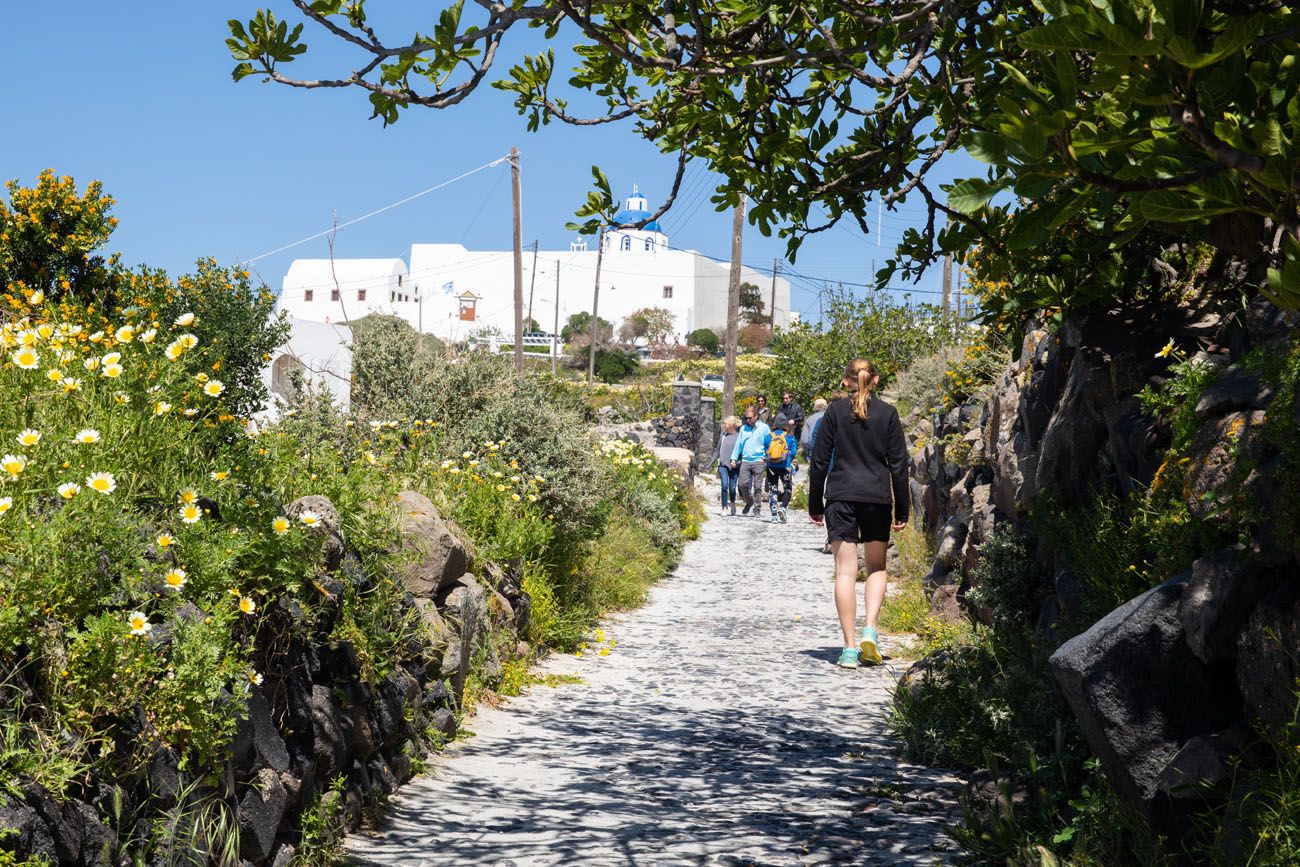 The walking path that connects Firostefani and Imerovigli.
There are several pedestrian walking paths through Imerovigli. You can either follow the trail markers through town or just have fun exploring and picking your own route.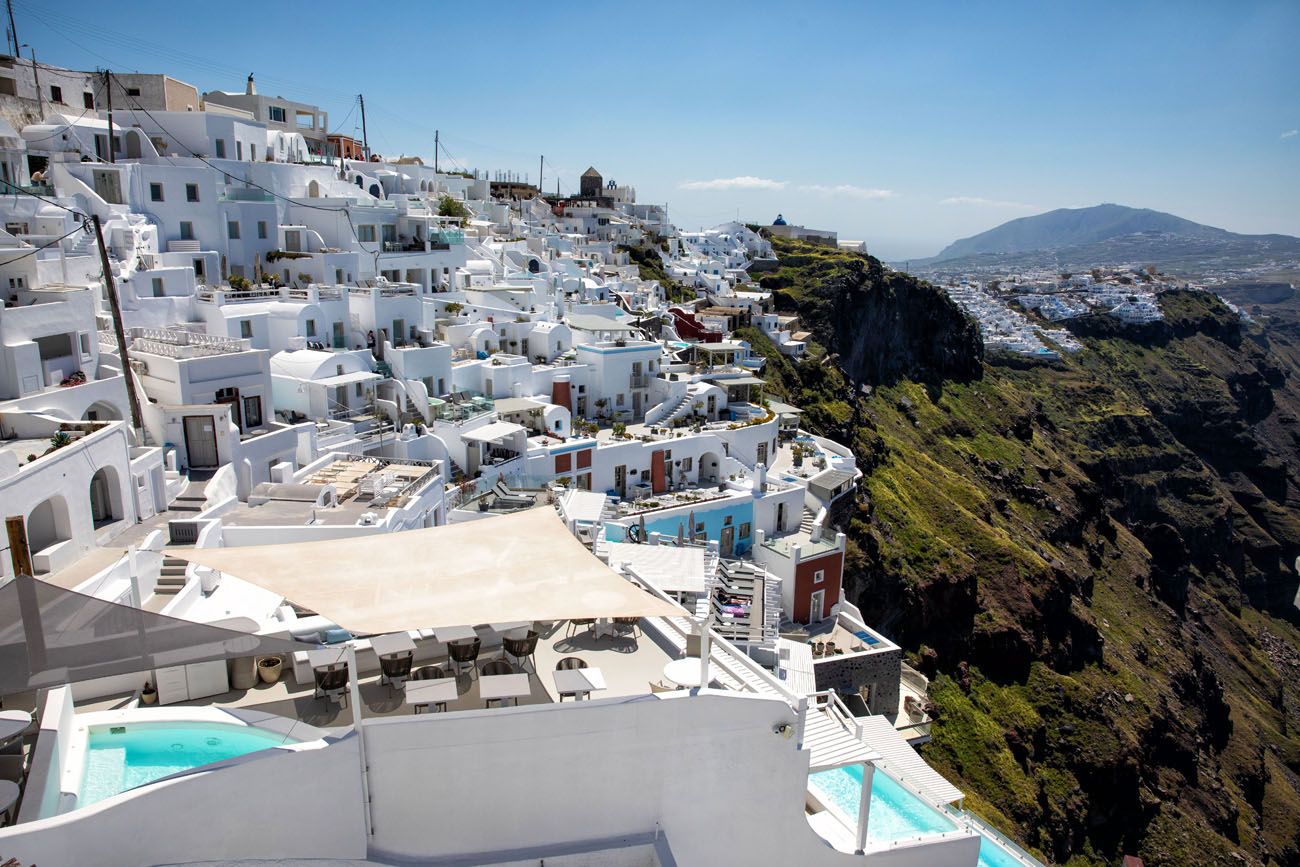 The view from Imerovigli, looking back towards Fira and Firostefani.
Church bells in Imerovigli.
If you are interested, there is another beautiful blue dome church to photograph in Imerovigli. Called Anastasi Church, you can detour off the walking route to a higher point overlooking the blue dome.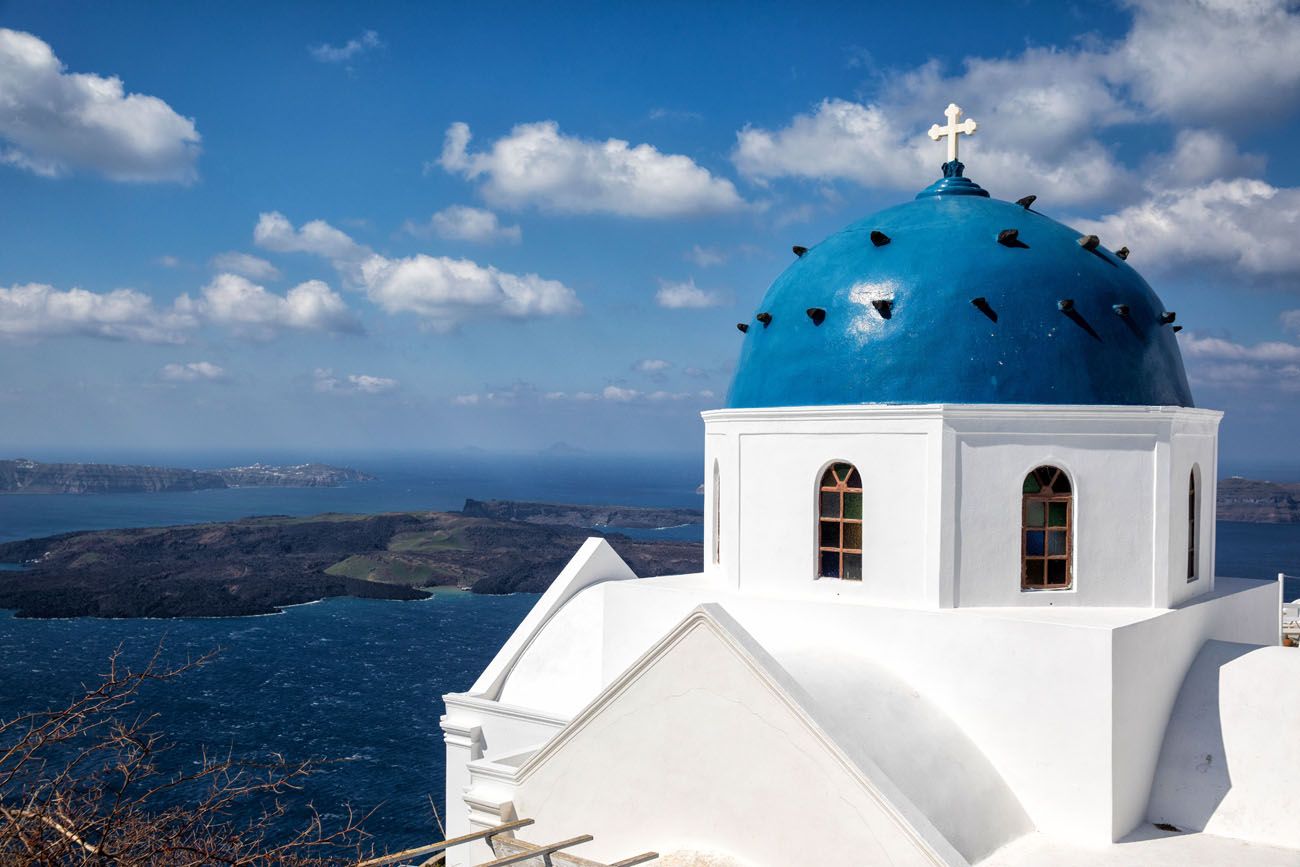 Detour to Skaros Rock
To get to Skaros Rock, continue on the pedestrian path. When the trail forks near Agios Georgios Church, stay to the left to head the Skaros Rock walking path.
To get out onto Skaros Rock, you will first descend a series of steps. Along the way, you will pass the Church of Christ. And if it is a windy day, the winds can be extreme here. During our visit, the winds were gusting over 35 mph and we saw someone get blown over right at this point.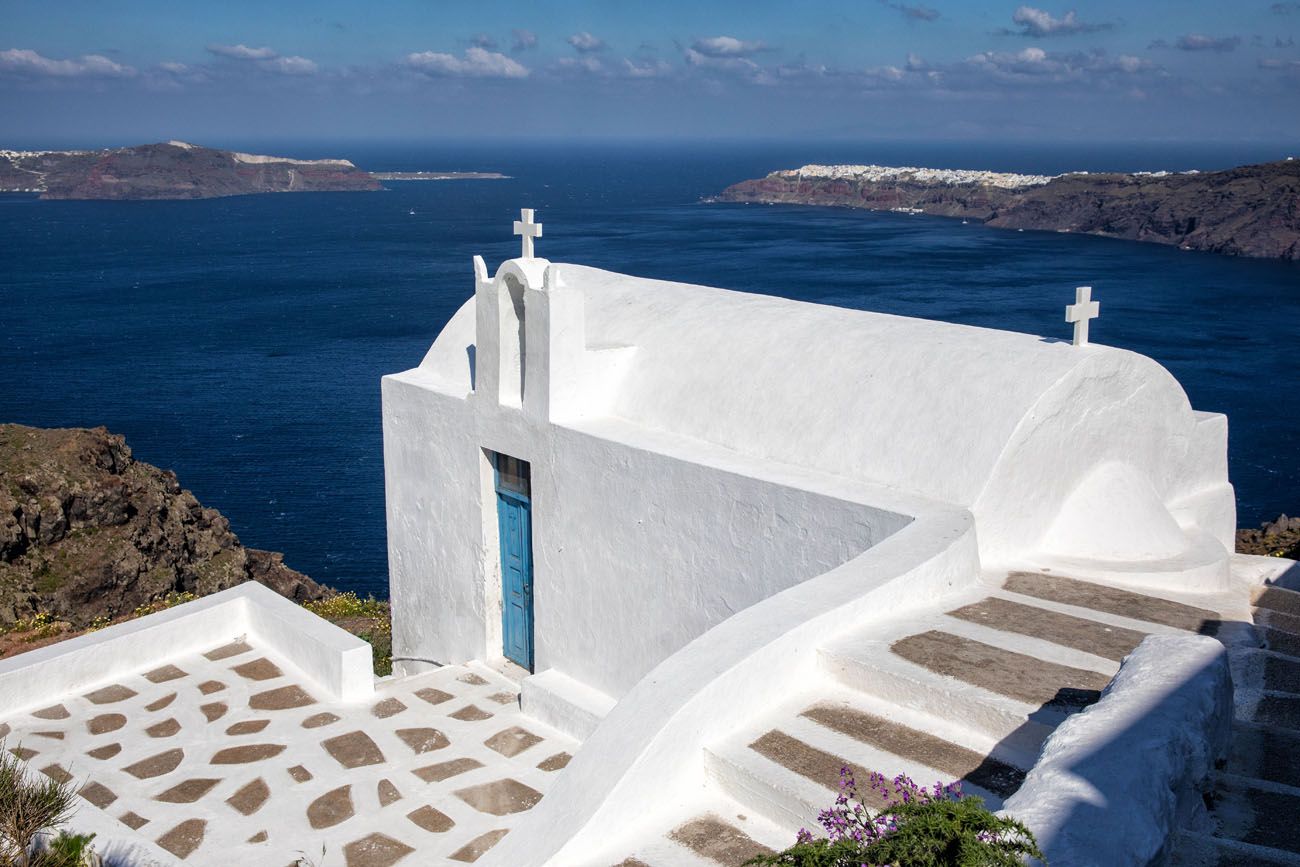 Church of Christ
From Skaros, enjoy the views back to Imerovigli and along the cliffs of Santorini.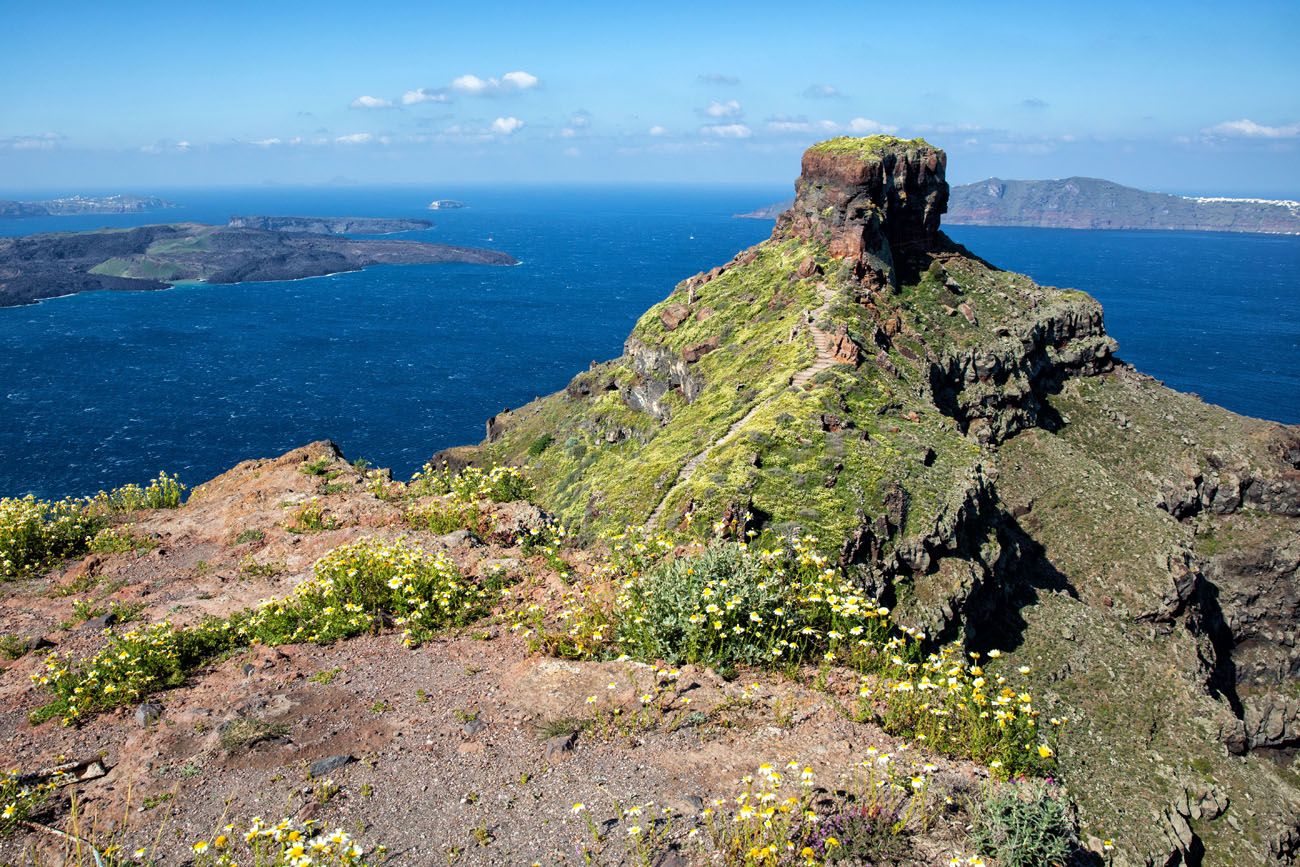 Skaros Rock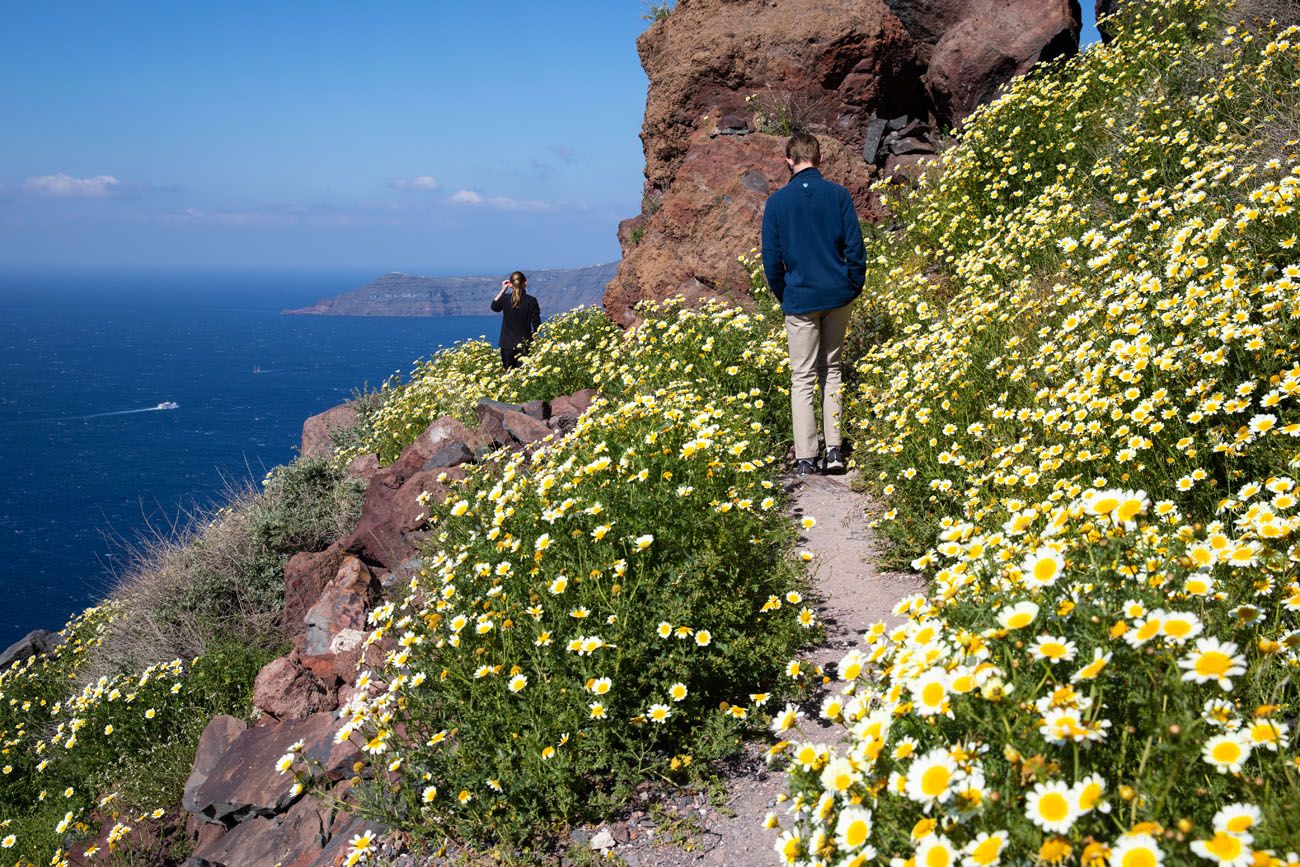 Wildflowers in April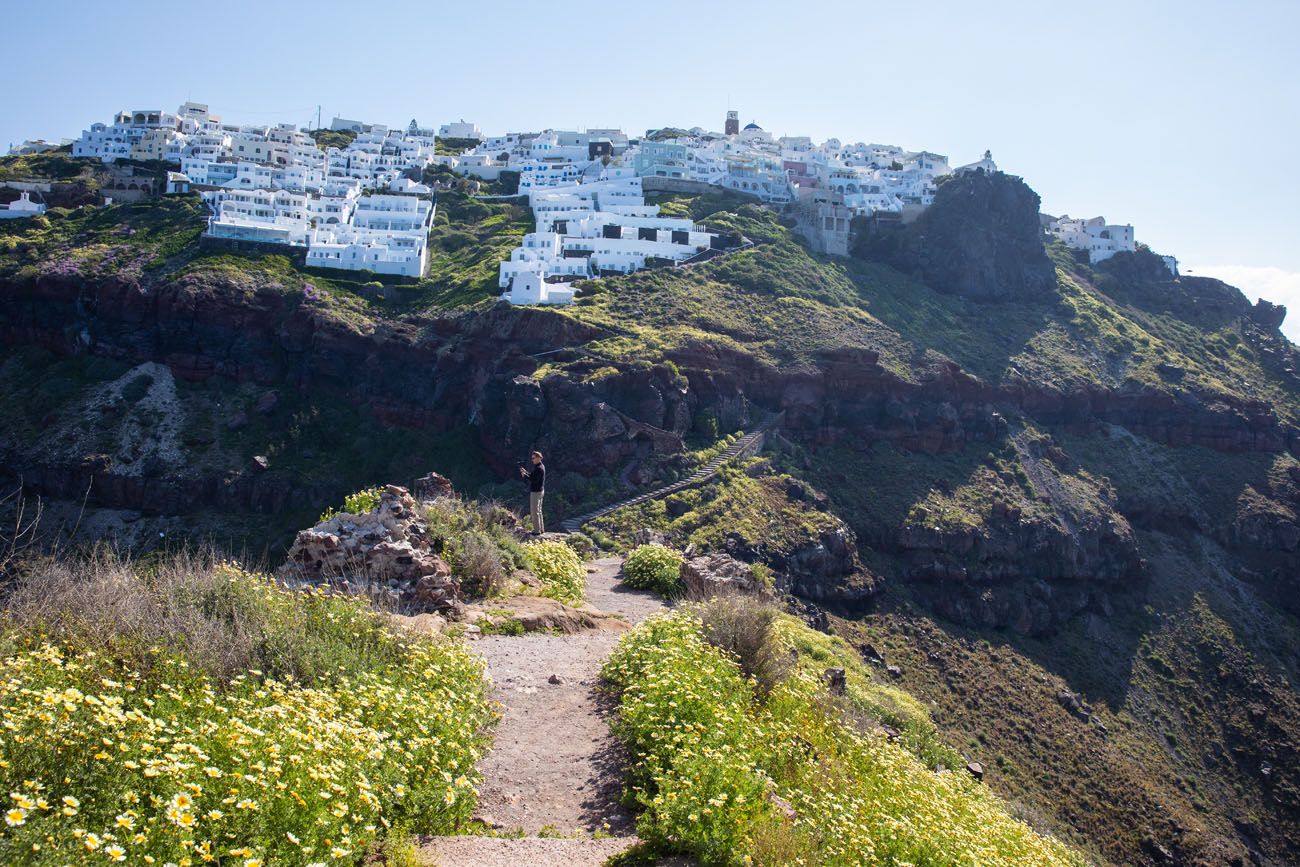 The view up to Imerovigli
This detour adds up to 30 to 60 minutes to the walk.
Imerovigli to Oia
Continue the walk through Imerovigli. With multiple paths to choose from, Imerovigli feels like a maze. But just as long as you continue north you are heading in the right direction.
Just beyond Avalon Resort and Spa, the paths converge into one trail. Follow this trail past numerous resorts and hotels until you get to Profitis Ilias Church.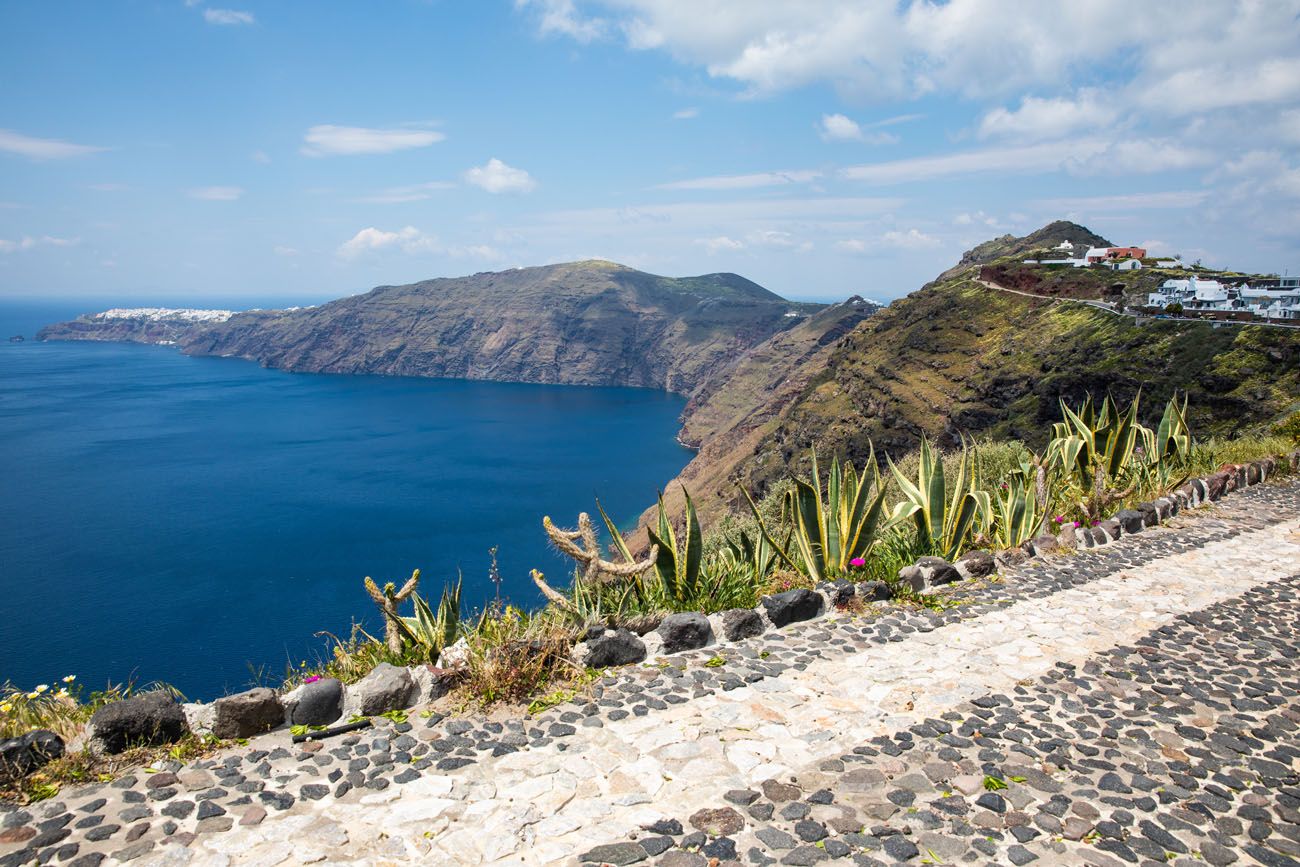 The view from the trail just past Imerovigli. Off in the distance, on the left hand side of the photo, is Oia. From here, you will walk up and over the series of hills to get to Oia.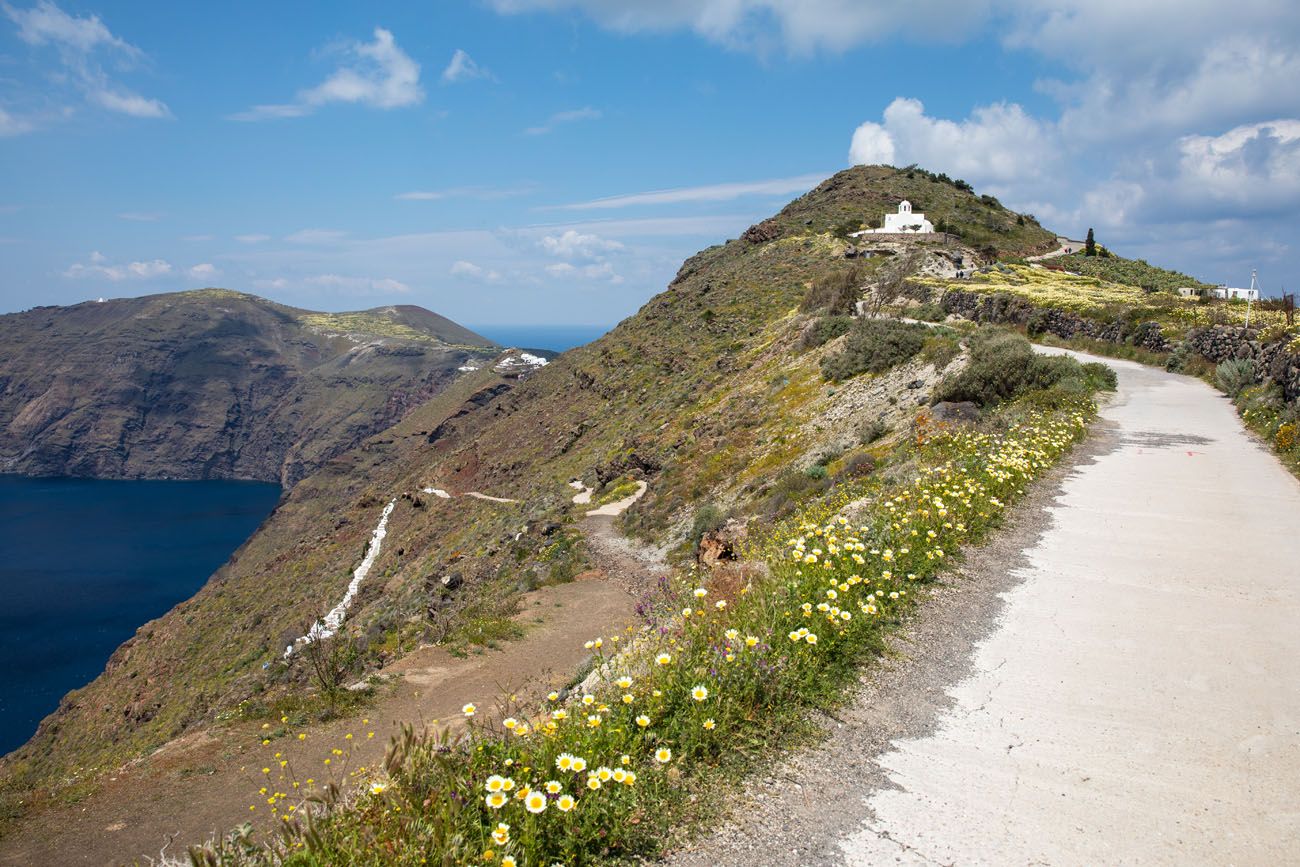 The path to Profitis Ilias Church
Just before Profitis Ilias Church the path will fork. Stay to the left to continue up to the church and for amazing views of the caldera. Go right if you want to walk an easier trail but you will miss out on great views of the caldera.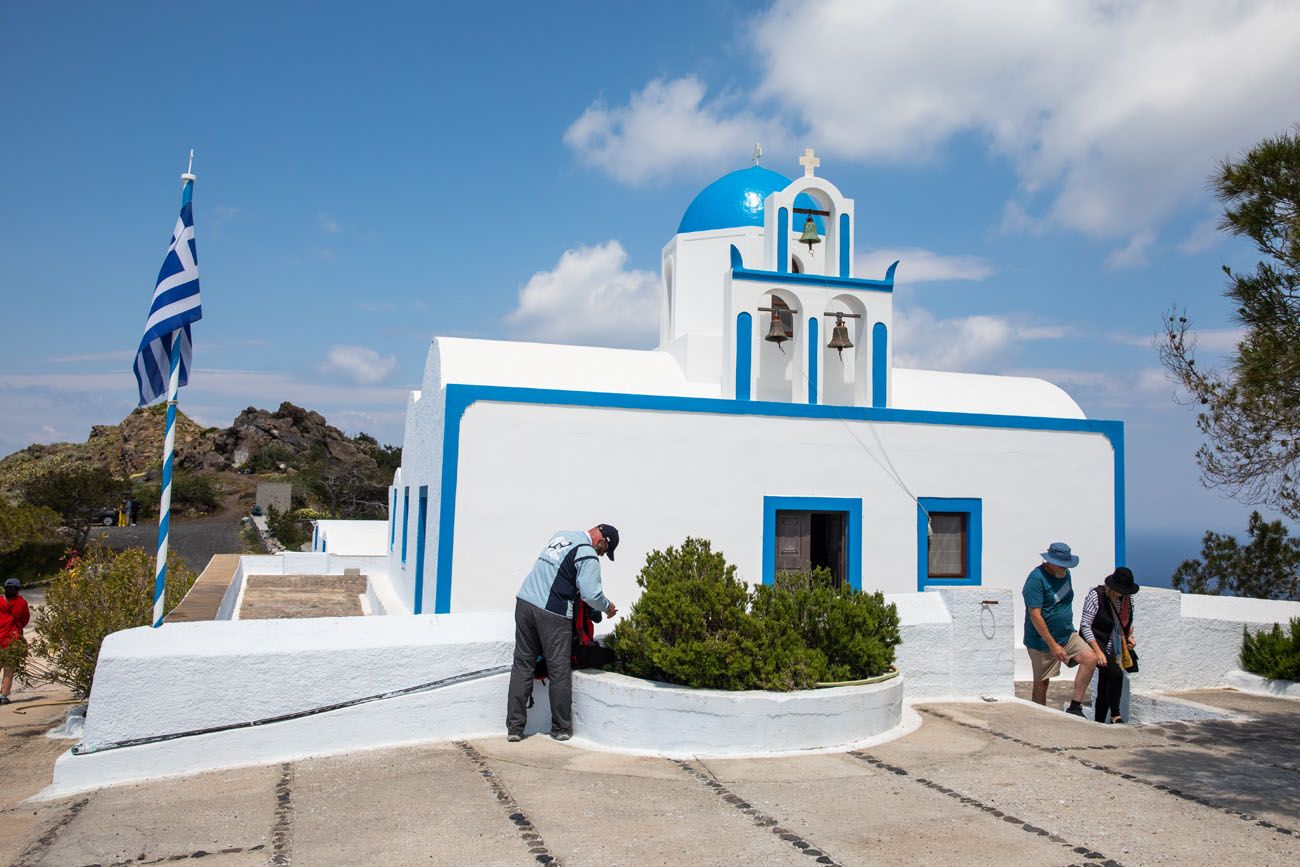 Profitis Ilias Church
From Profitis Ilias, it is a downhill walk for a little bit. Once at the bottom of the hill, the trail ends and you will briefly have to walk along the shoulder of the road. This section is about 150 to 200 meters long. The trail resumes just past the small café/snack bar.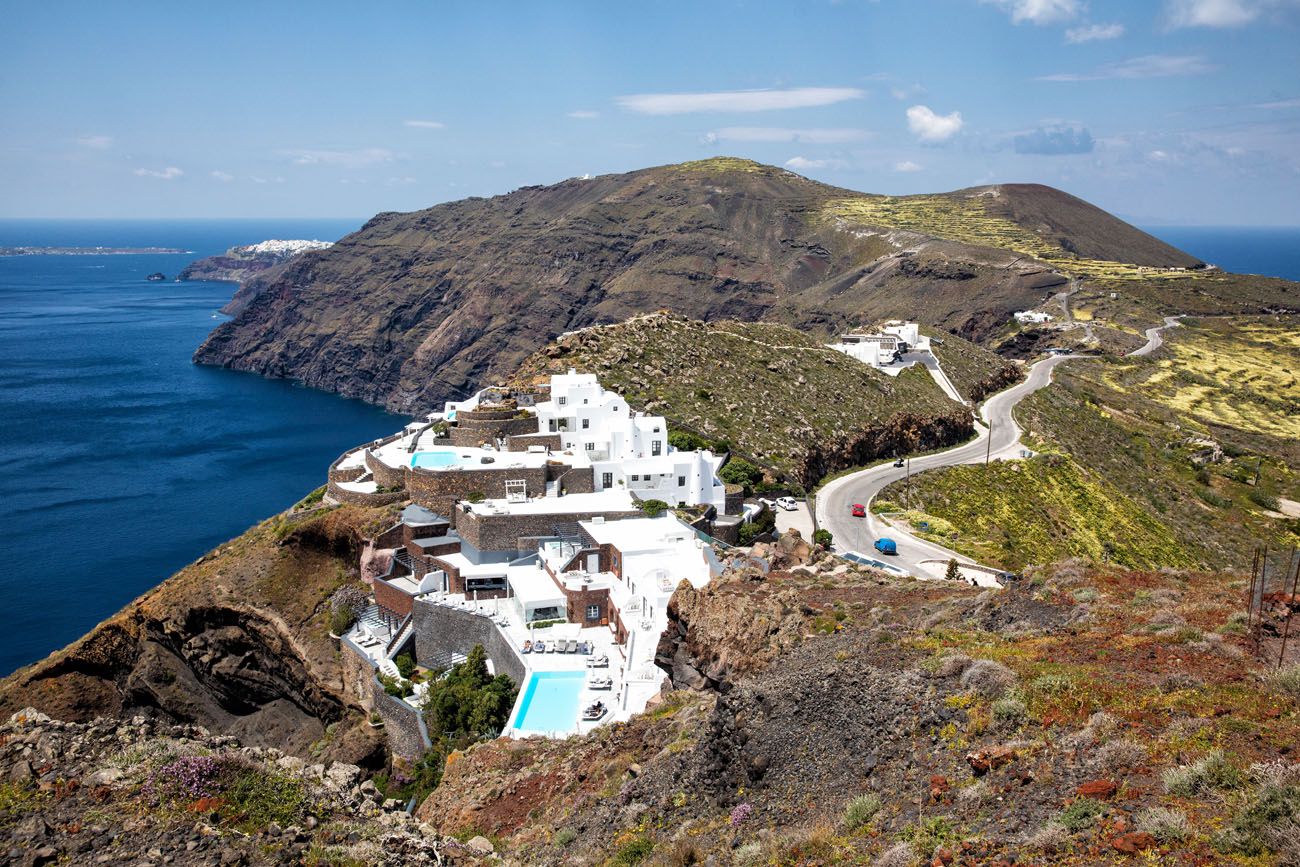 Overlooking the portion of the road that you will walk along. The trail ends on the road near the blue car. You will walk along the road from the blue car until you get to the small, blue building on the left hand side of the road.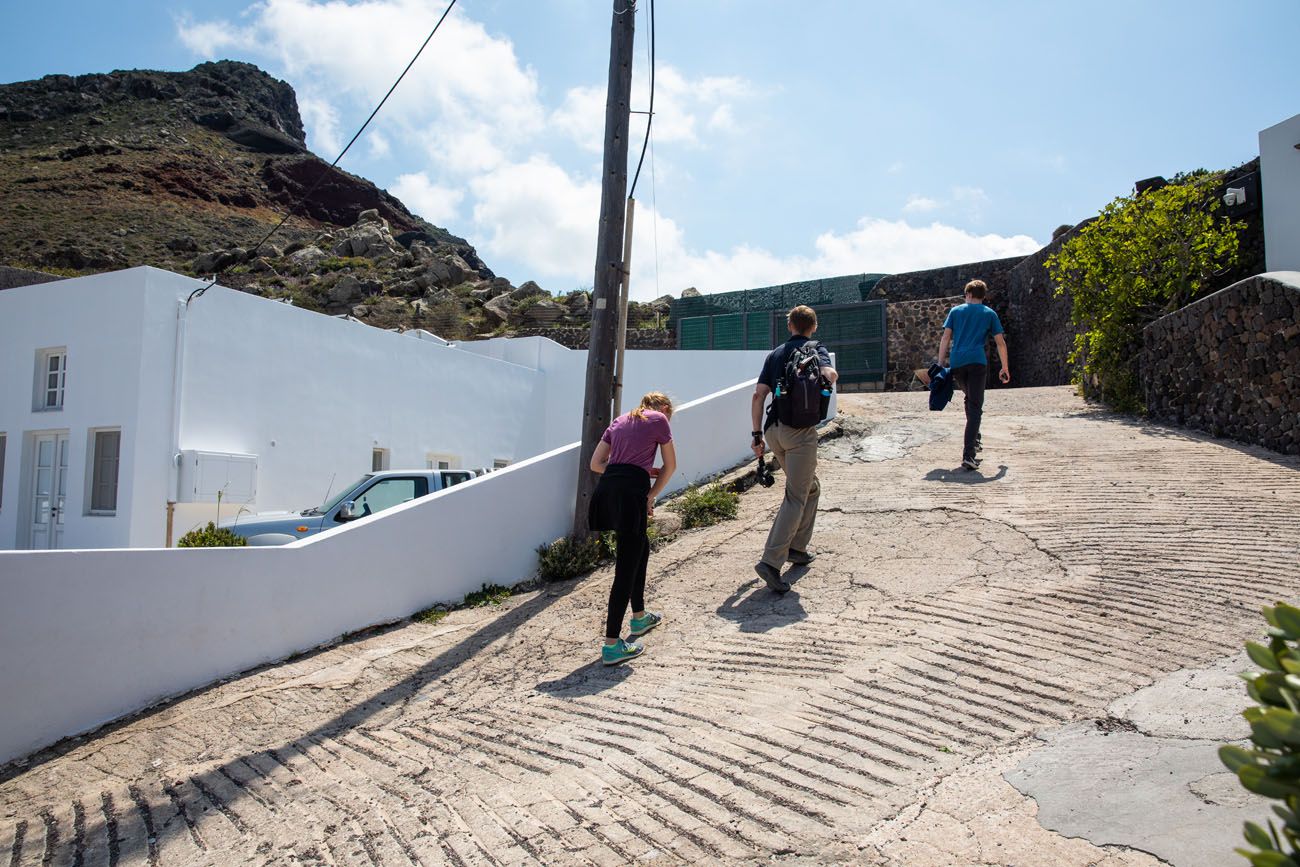 You will walk down this paved path to get to the road (or you will walk up it, like we are, if you are hiking from Oia to Fira).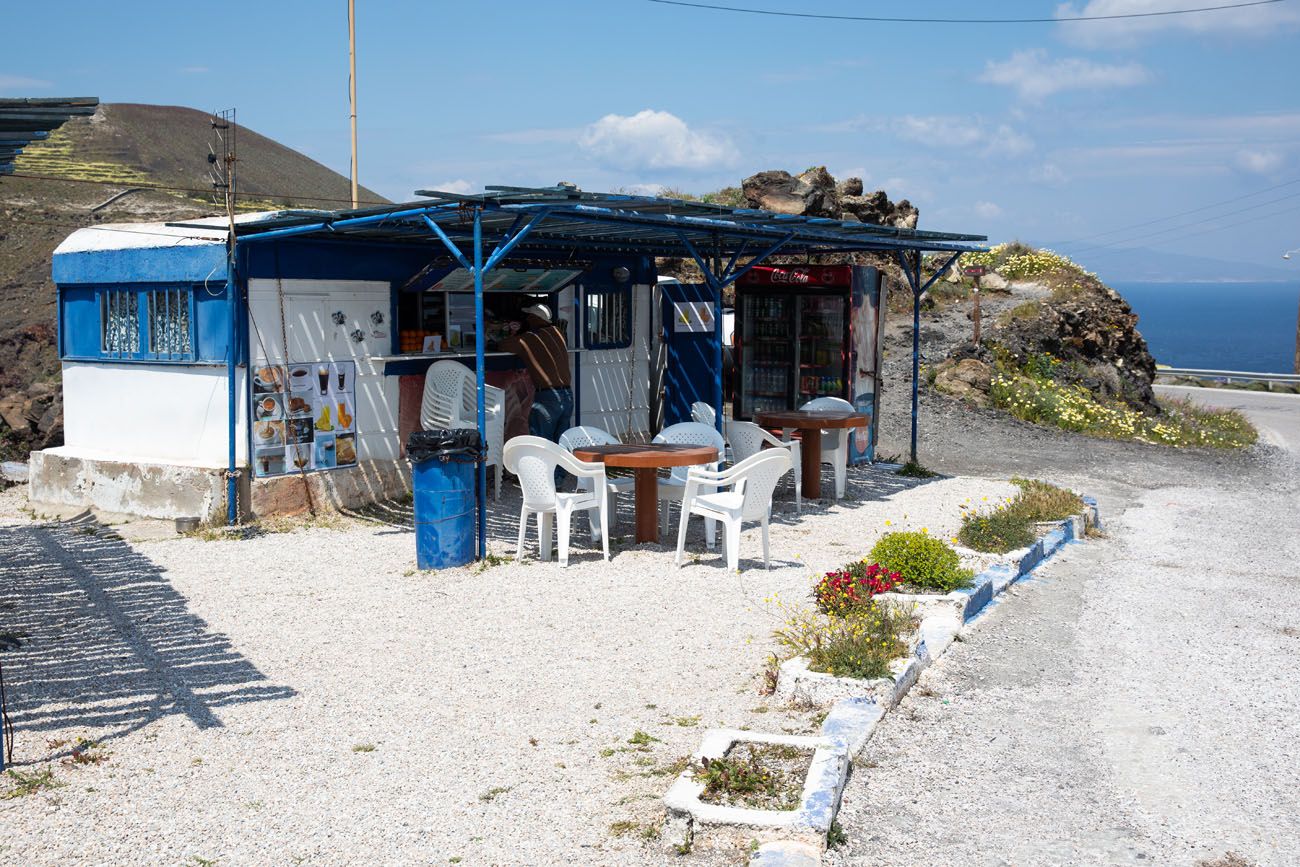 Walk along the road until you get to this snack bar. The trail starts just beyond the building.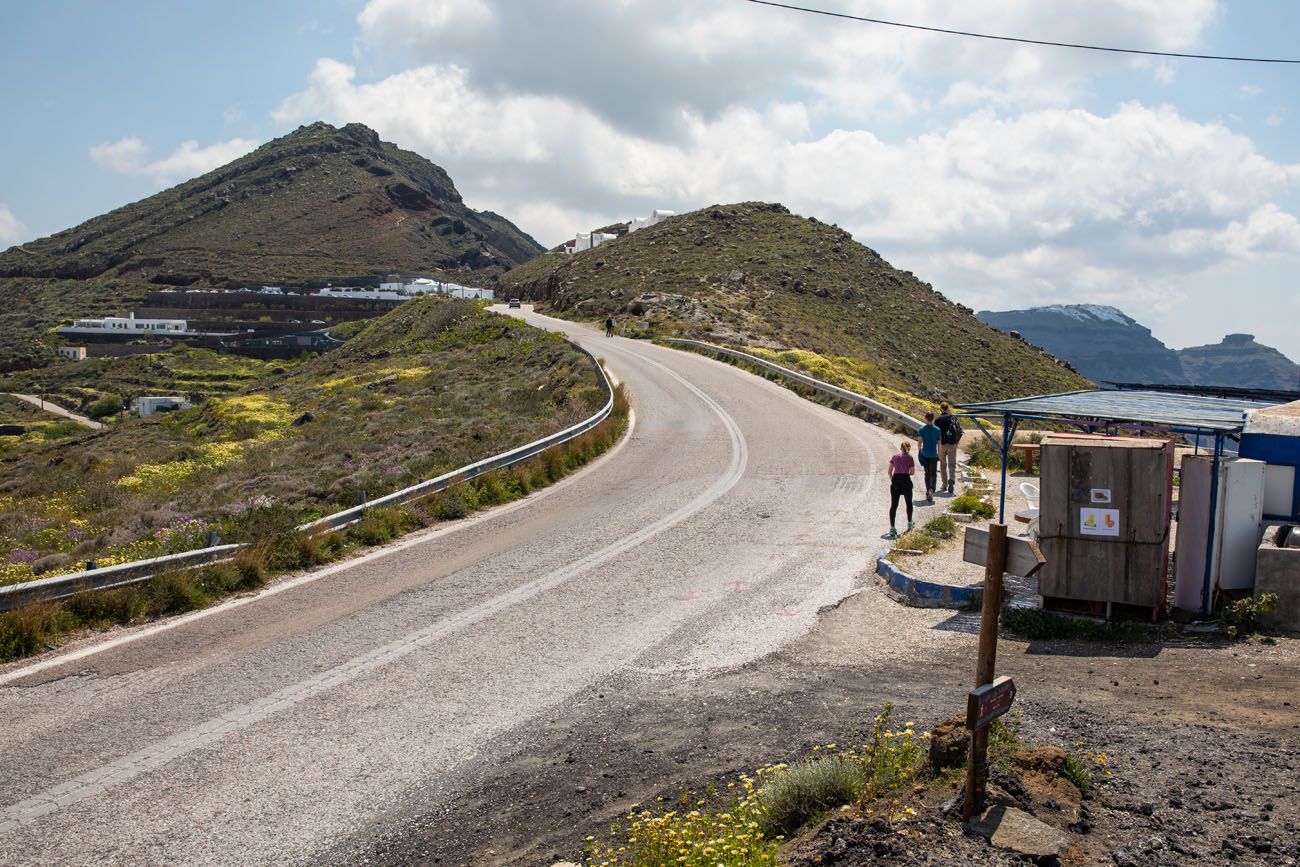 Looking back at the road and the snack bar.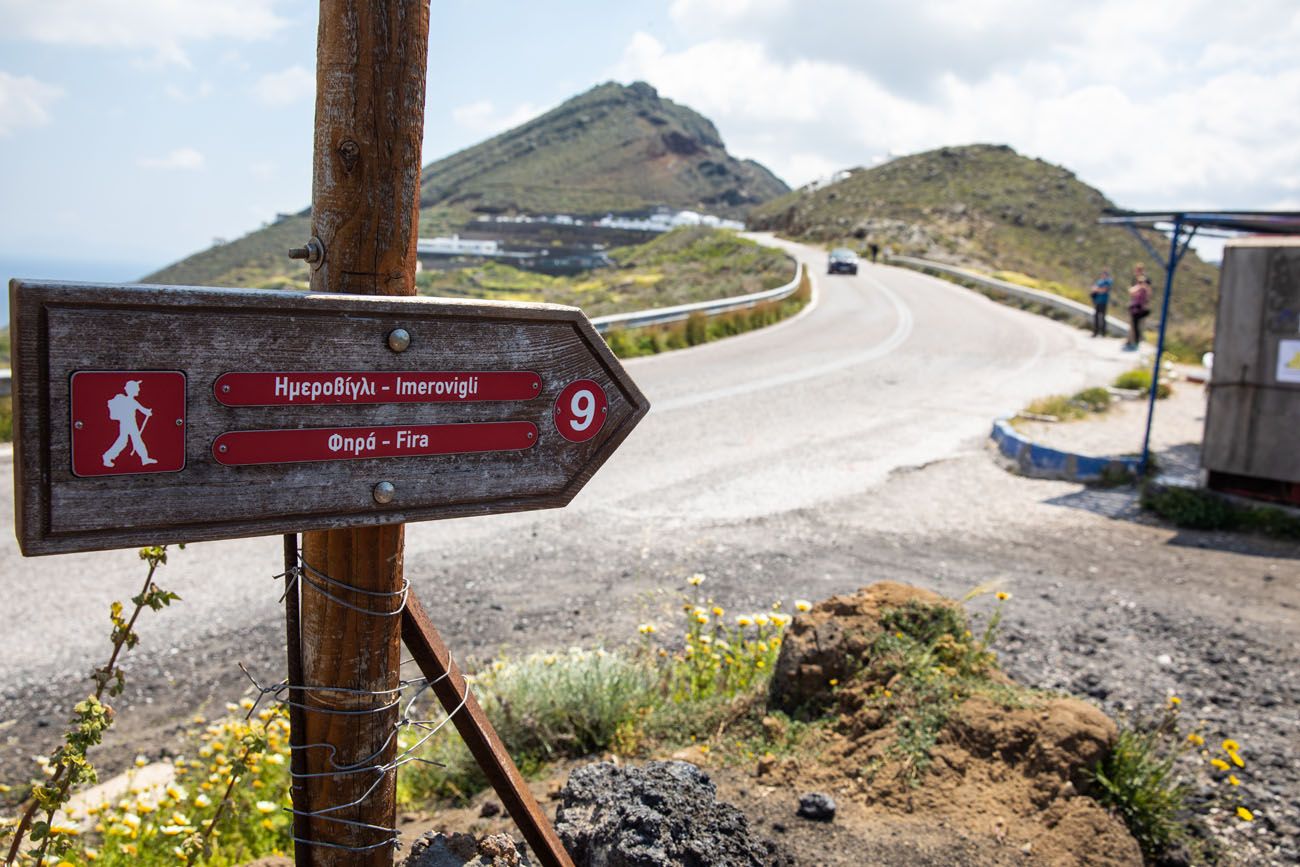 Trail marker to point you in the right direction.
This next section is the hardest part of the walk (if you are walking from Fira to Oia). It's a steady, uphill walk on a rocky, dirt trail. The views are just so-so and this part of the walk can feel monotonous and rather boring. However, once you get to the top, you will be starting our favorite part of the walk, the descent down into Oia.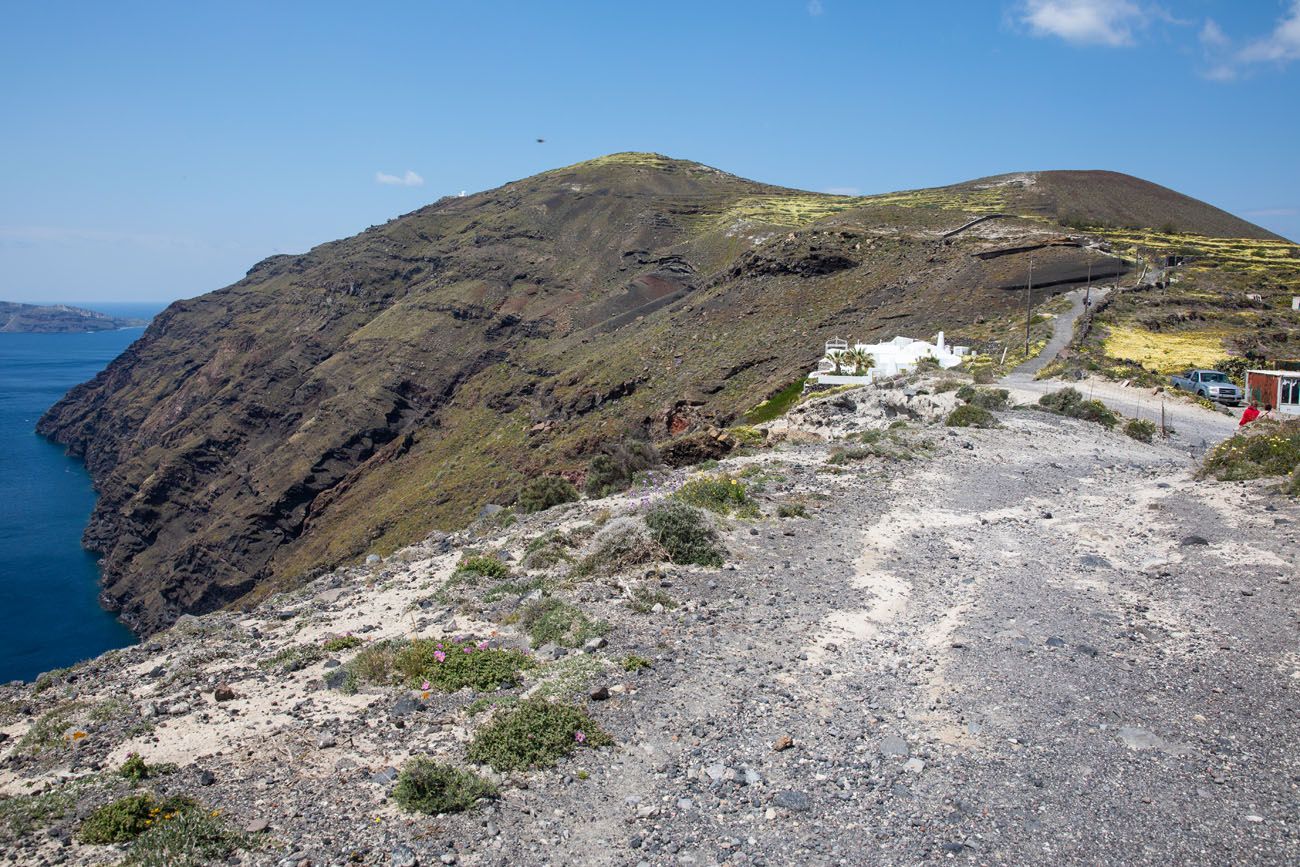 As you walk downhill, you will come to Panagia Church. Enjoy the view!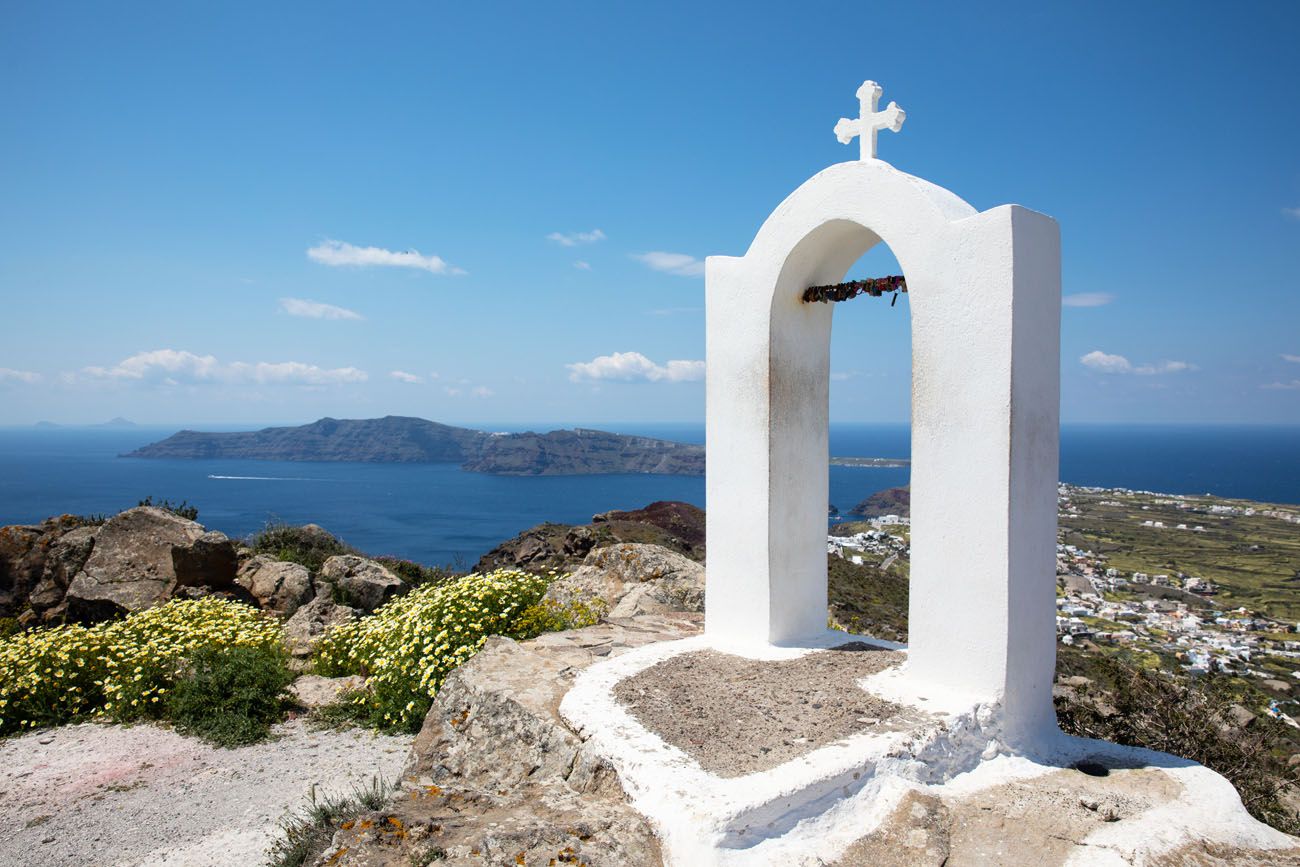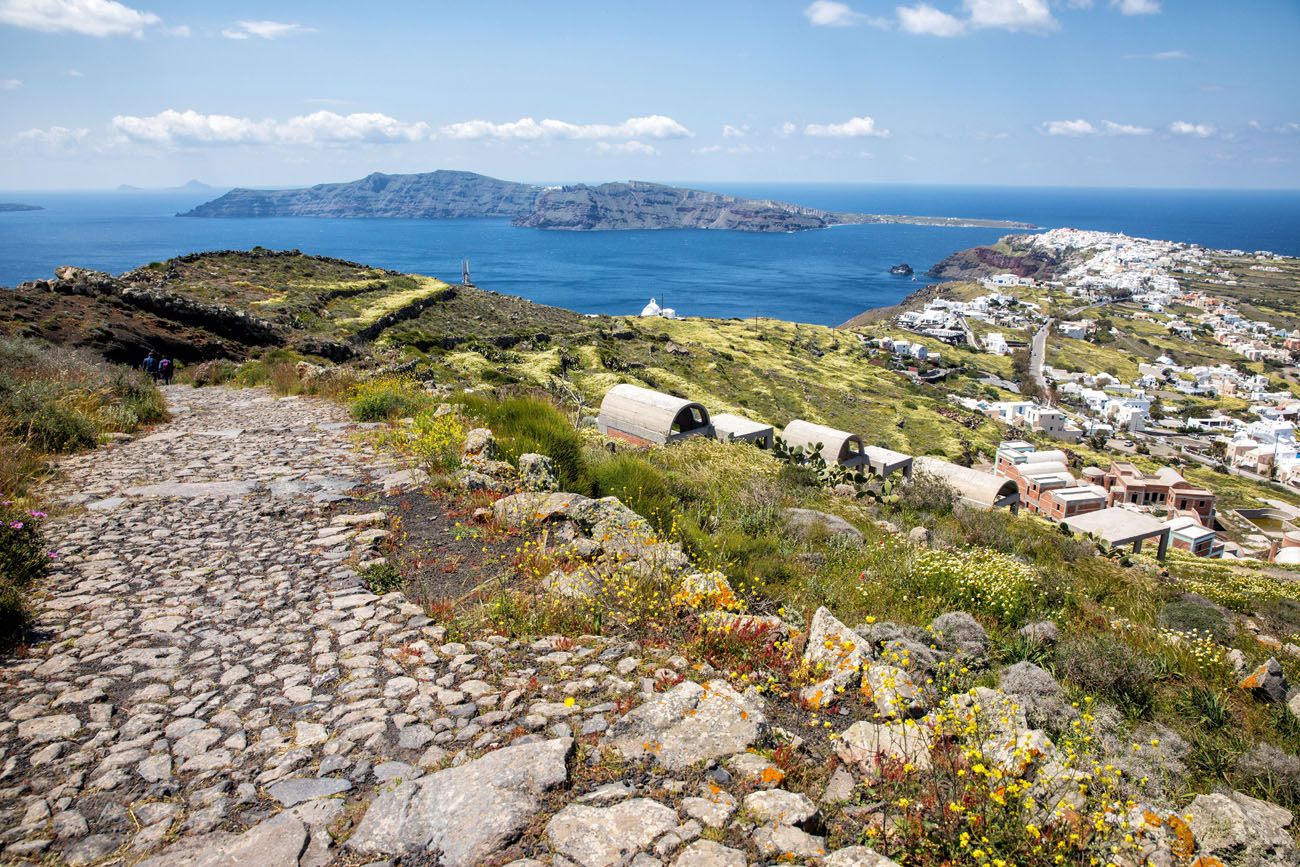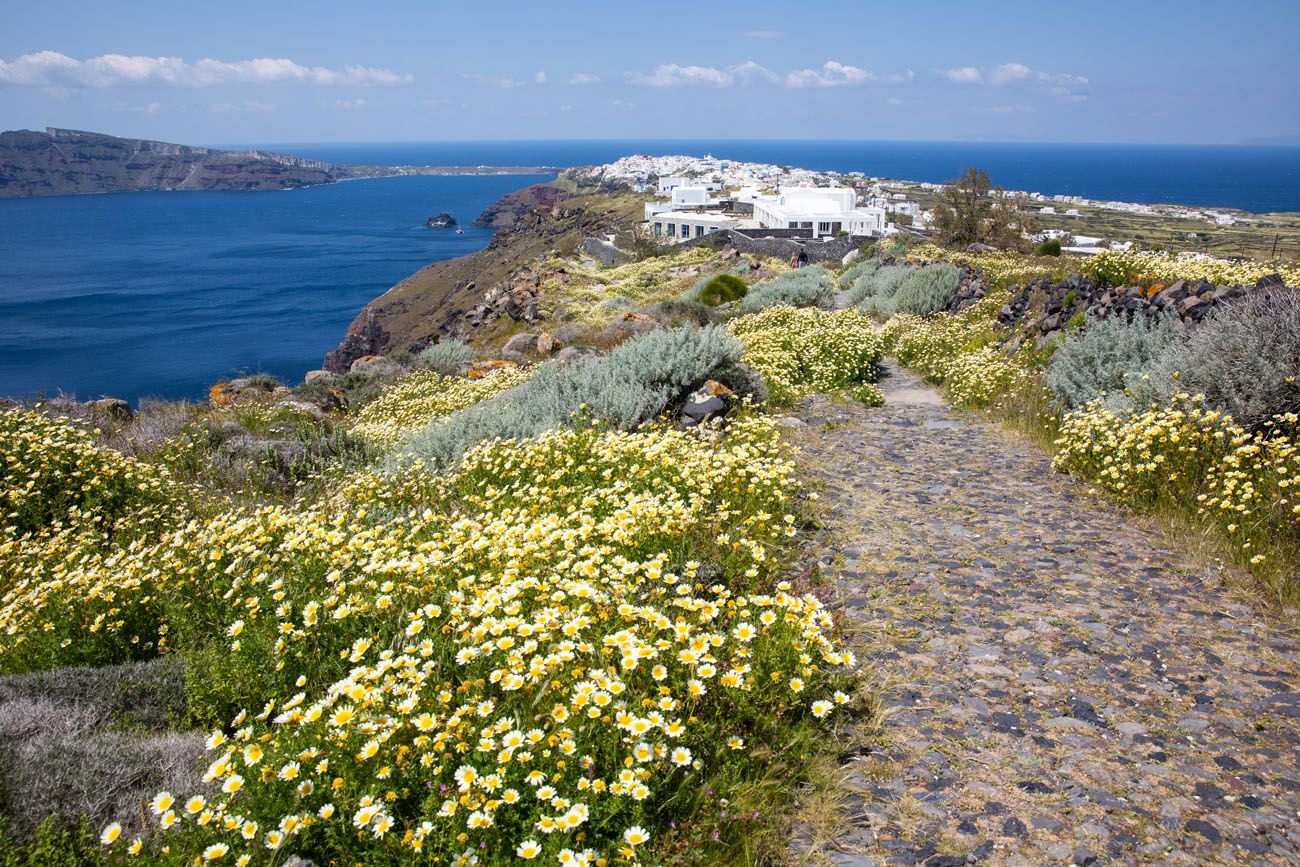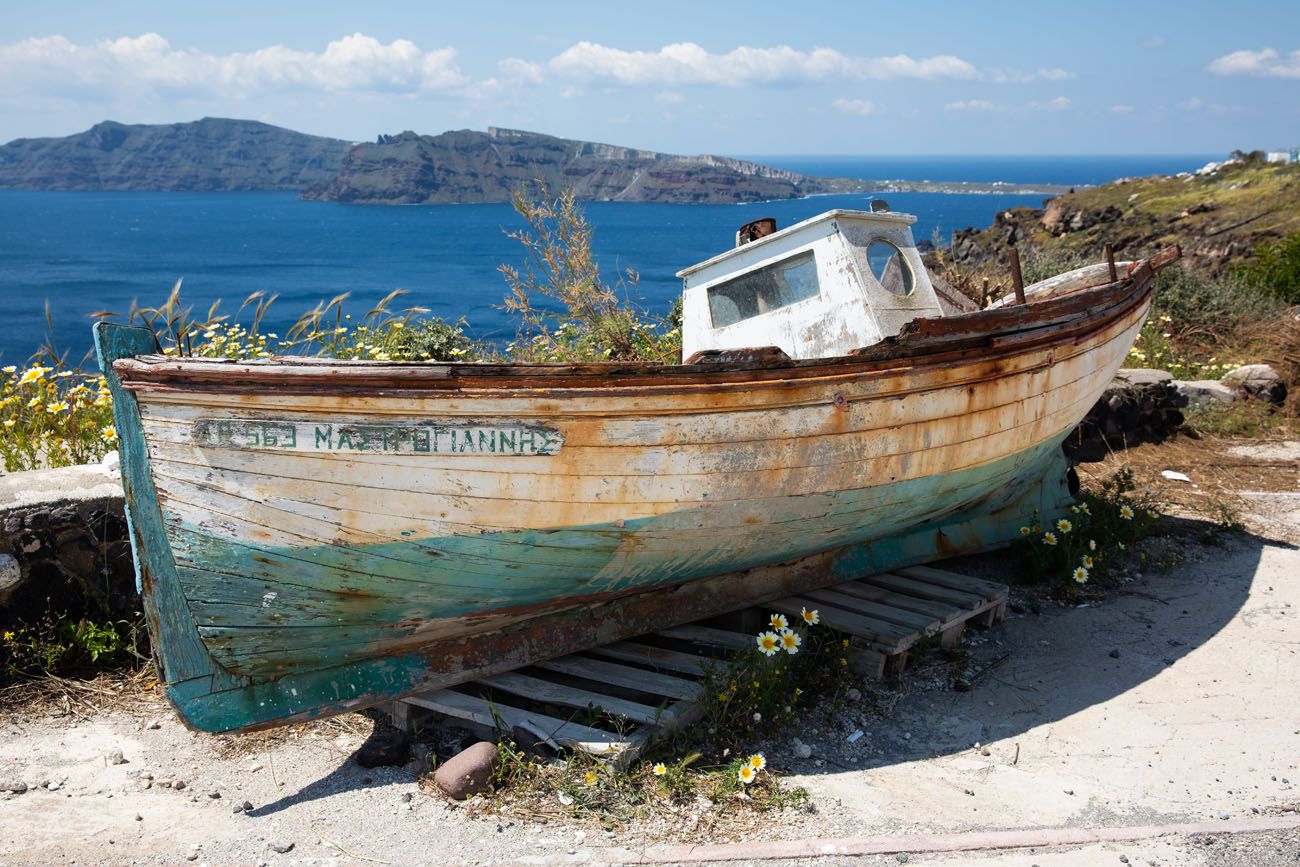 Walking through Oia
Continue to walk along the caldera into Oia. The trail will enter a parking lot before emerging on a pedestrian walking path similar to what you saw in Fira and Imerovigli.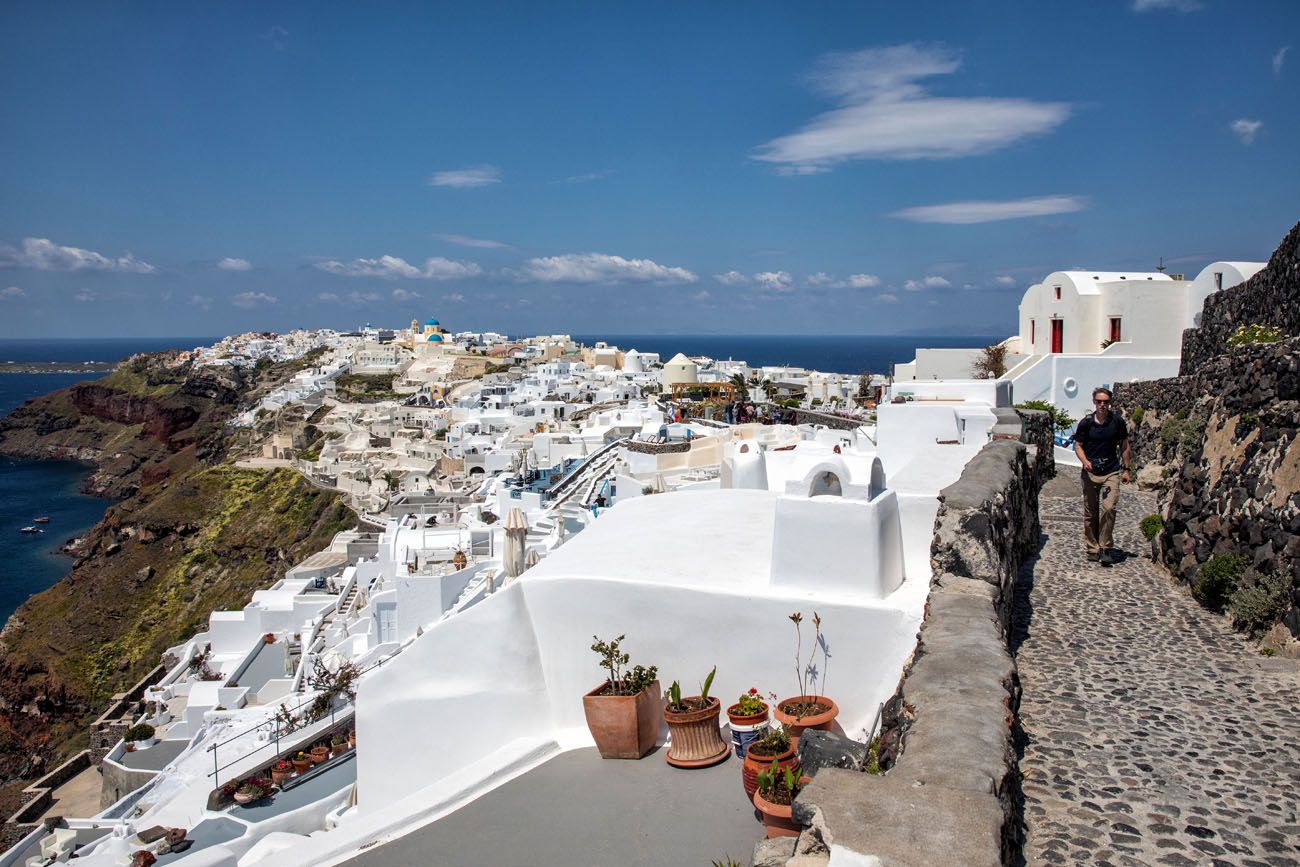 Follow this pedestrian walking path into Oia. There will be a very brief section where you will walk along the road.
Have fun exploring Oia. At first, you will walk past numerous upscale hotels. It's not until you get to the far western part of Oia that you see the iconic blue domes and windmills.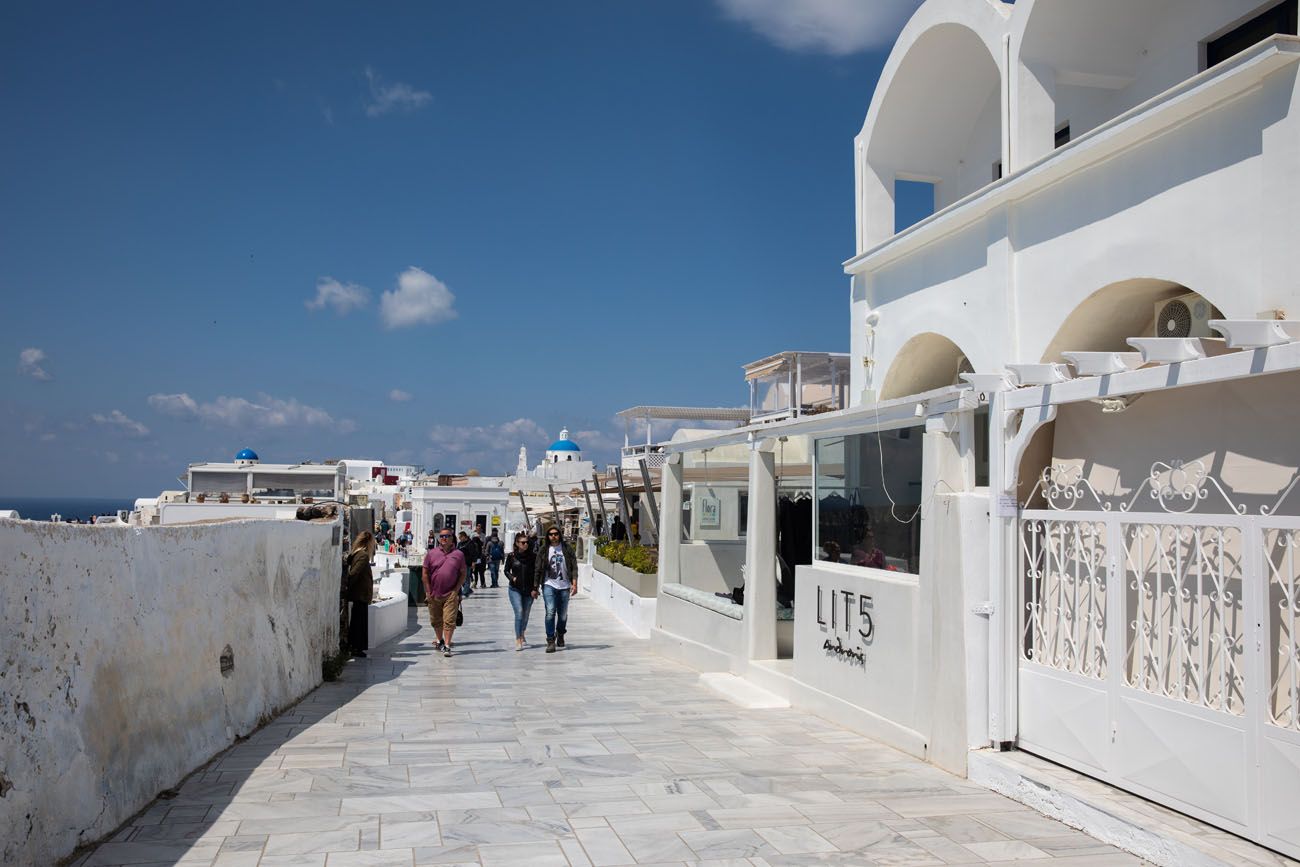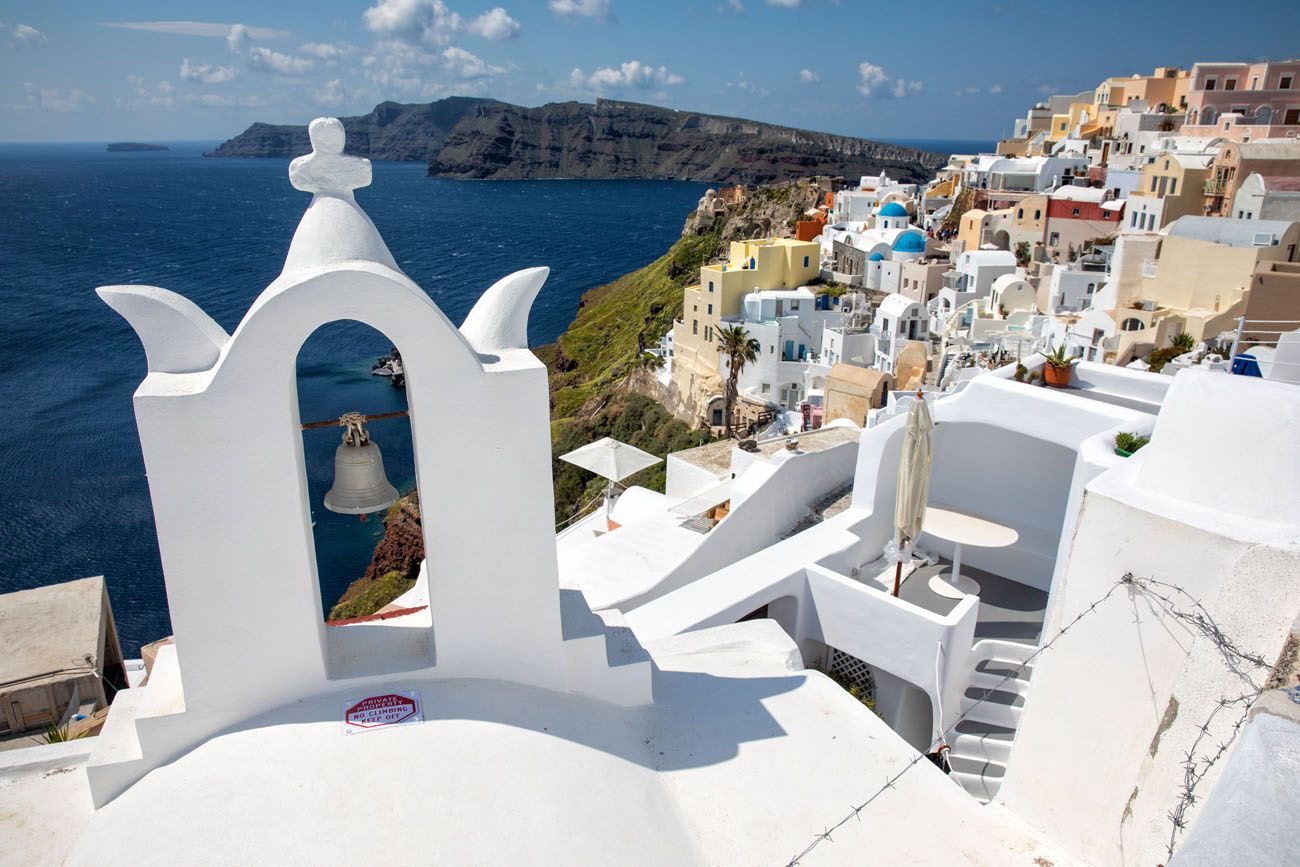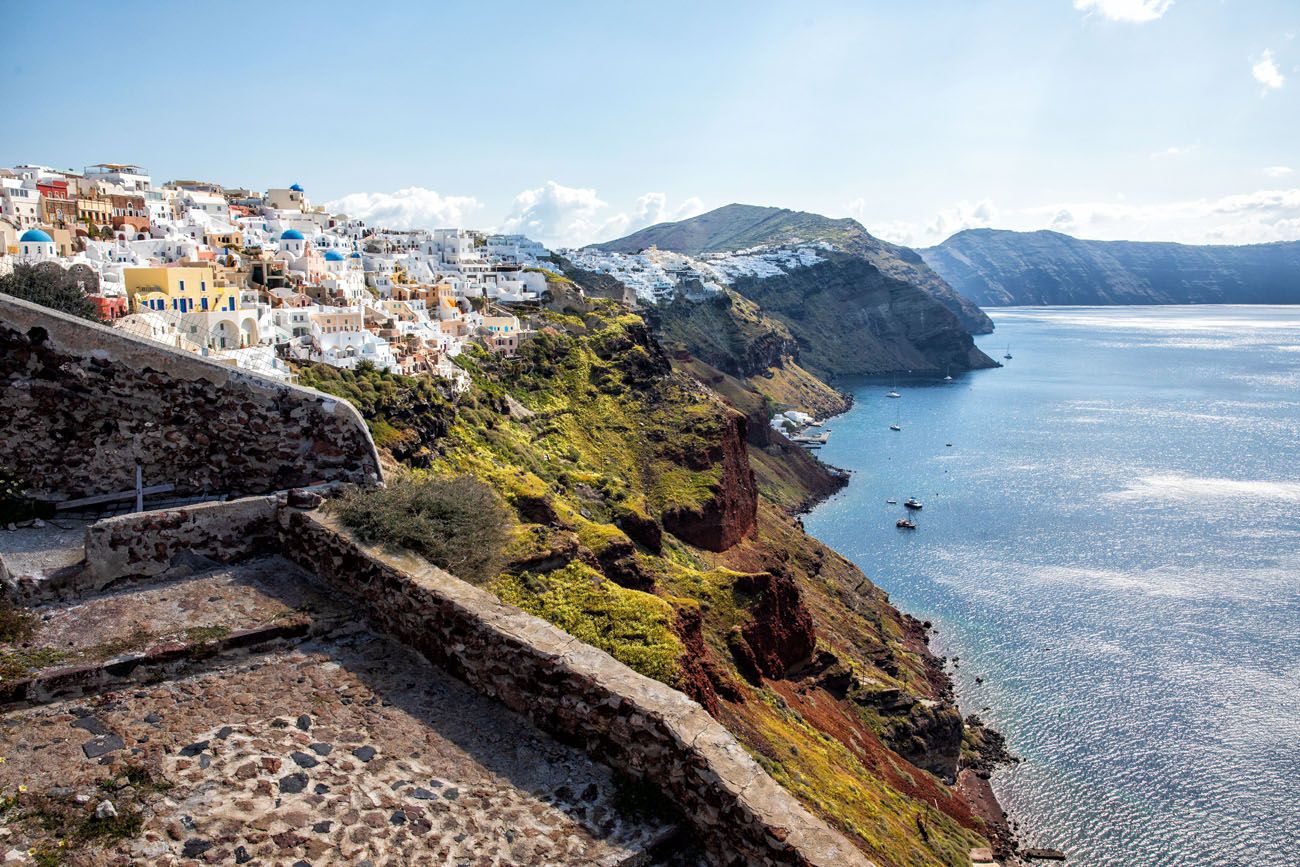 From Oia Castle looking back at Oia and the rim of the caldera.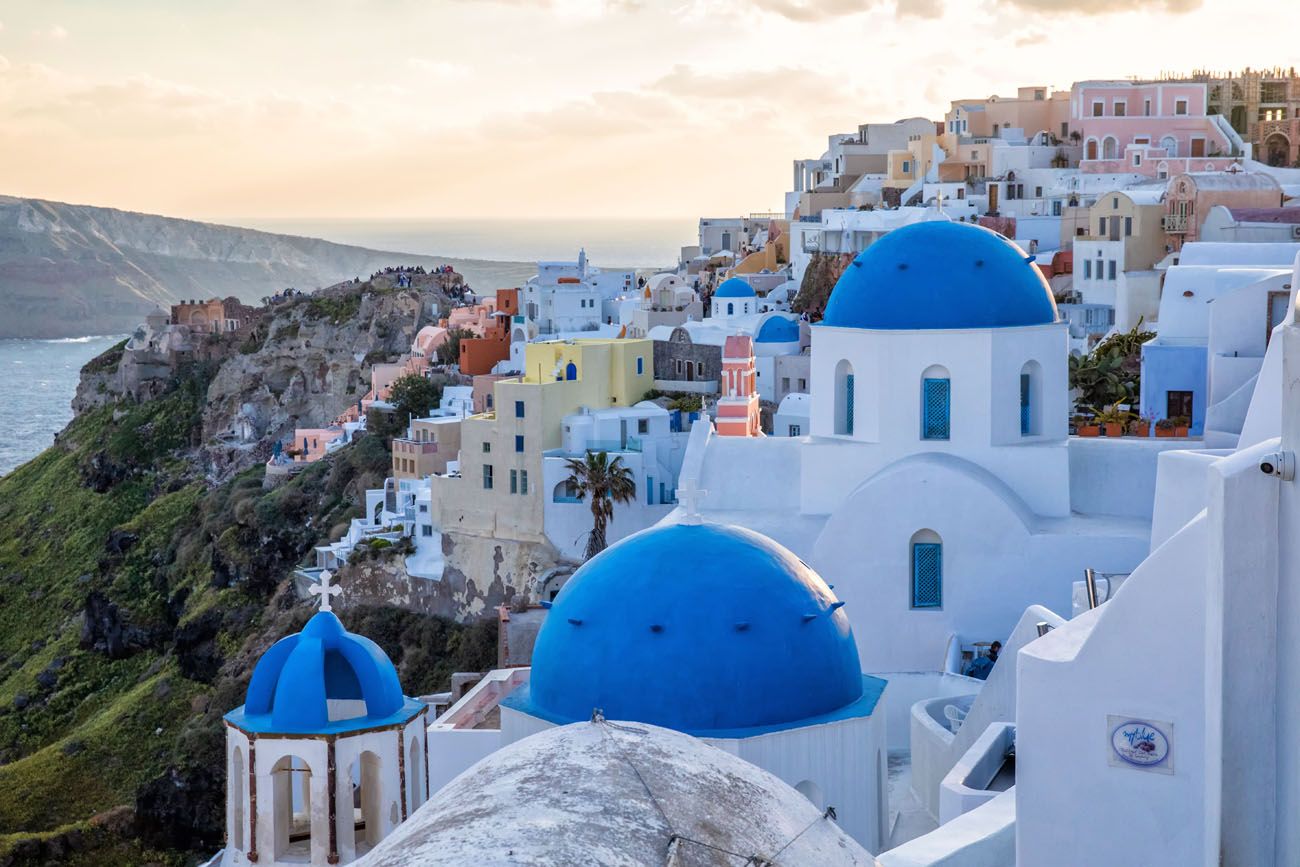 Sunset in Oia
If you want, you can continue all the way to Ammoudi Bay, go cliff jumping, or dine on fresh fish at one of the restaurants here.
What We Did
We visited Santorini in mid-April during Easter vacation. Even though it was not peak season, crowds on Santorini were still high because of the holiday.
We split the hike up into two different days which was easy to do since we stayed in Imerovigli.
On the first morning, we walked out to Skaros Rock, Firostefani, Fira and then back to our hotel in Imerovigli.
The following day we walked from Oia to Imerovigli. We did it in this direction simply because it was easy and convenient to have our hotel call a taxi for us. We took a taxi to Oia, spent the morning exploring Oia and then walked back to Imerovigli.
Using Public Transportation in Santorini
Since this is a point-to-point hike, you will need to use public transportation at some point in the day.
Public buses connect Fira, Firostefani, Imerovigli, and Oia. For the public bus schedule and prices, click here. Buses run approximately every 30 to 60 minutes.
PRO TRAVEL TIP #1: Expect long lines for the bus in Oia after sunset. The line was very long and I imagine that people had to wait for the second or even the third bus to arrive before they got a seat. If you plan to watch the sunset in Oia and use the bus to get back to your hotel, it might be better to spend an hour or two at a restaurant or bar and let the crowds thin out before you make your way to the bus station. Just check the bus schedule to make sure you don't miss the last bus of the day (usually around 10 or 10:30 pm).
Taxis are more expensive than the bus but can be quicker and more convenient. Expect to pay €15 to €25 depending on how far you are traveling on Santorini. However, it can be hard to find an available taxi, especially during the peak season months. I read online that there are only 30 taxis on the island.
PRO TRAVEL TIP #2: The most convenient way to do this hike is use public transportation to get to the starting point and then hike back to your hotel. For example, if you are staying in Fira, take the bus or taxi to Oia and walk back to Fira. If you have a rental car (like we did) you can then drive back to Oia to watch the sunset. Then, you don't have to deal with long bus lines or the difficulty of finding a taxi.
What to Bring on the Hike
Sunscreen and sunglasses. There is no shade on the trail.
Water. On the stretch from Imerovigli to Oia, there is one snack bar that sells food and water, but this is not always open.
A good pair of walking shoes. There are sections where you will be walking on rocky, dirt trails, so a good pair of walking shoes is ideal. Hiking shoes are great but not necessary. I wore a pair of walking sandals and did just fine.
And your camera, of course! 🙂
Where We Stayed
We stayed in Imerovigli at a hotel called Absolute Bliss, and it truly was amazing. Yes, we splurged, and it is was worth it. From our hot tub, we could watch the sunset over the caldera and watch as the lights in Oia twinkled at night. It was private, it was quiet, and it was wonderful. From here, we were within walking distance of quite a few highly rated restaurants. And since Imerovigli is located in the center of the island, it was a very convenient location for exploring the island.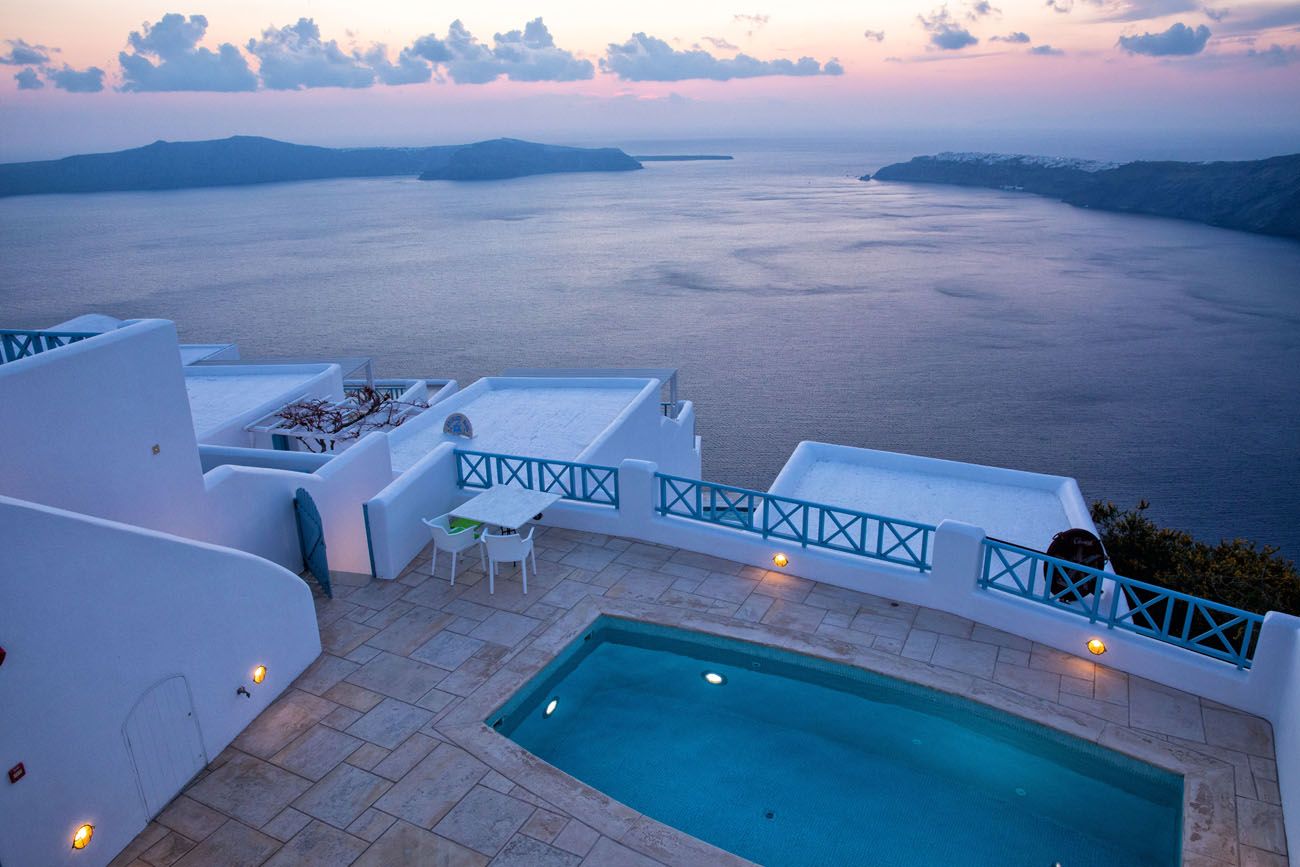 View of our private pool at sunset.
For more recommendations on where to stay, read our Best Hotels and Towns Guide for Santorini. Learn where to stay for a great view of the caldera and get recommendations whether you are looking for a budget hotel, luxury hotel, or if you are traveling as a family.
---
Are you planning a visit to Santorini? Comment below if you have any questions about the walk from Fira to Oia or if you would like to share your experience.
More Information for Your Trip to Greece:
SANTORINI: For a full list of things to do, read our article Best Things to Do in Santorini. In our Santorini Itinerary, learn how to plan your visit, whether you have 1, 2 or 3 days. In our Santorini Hotel Guide, we list the best hotels in Santorini, organized by location and budget.
MYKONOS: Learn about things to do and how to get around Mykonos in our Guide to Mykonos.
NAXOS: Learn how to plan your visit to Naxos in our article Best Things to Do in Naxos. We also have information on hiking to Mount Zas, how to hike to Apano Kastro, and a detailed guide to hiking the Village Trail to Melanes, Myli, and the Kouroi.
ATHENS: Plan your visit to Athens with our 2 Days in Athens Itinerary and our guide to the Best Hotels in Athens. We also have a detailed list of Things to do in Athens and a guide on How to Visit the Acropolis.
GREECE ITINERARY: Learn how to visit Athens, Santorini, Naxos and Mykonos in our 10 Day Greece Itinerary.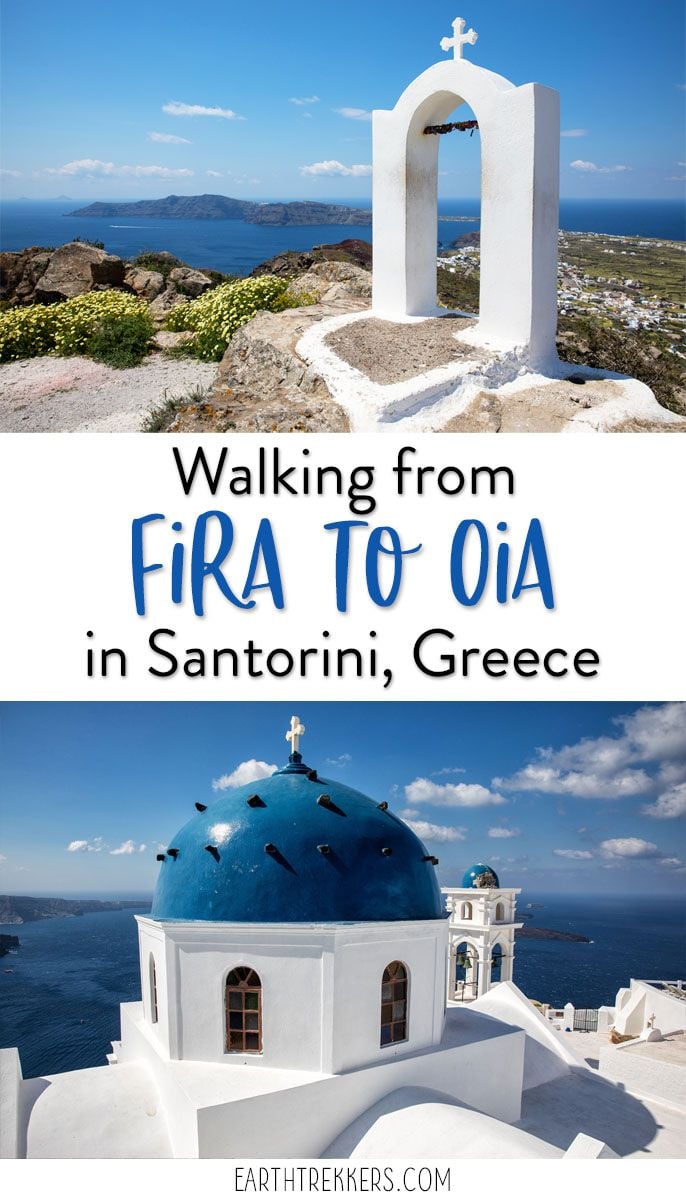 Note: This post contains affiliate links. When you make a purchase using one of these affiliate links, we get paid a small commission at no extra cost to you.
All rights reserved © Earth Trekkers. Republishing this article and/or any of its contents (text, photography, etc.), in whole or in part, is strictly prohibited.