McAfee Knob is one of the most popular hikes in Virginia. It's also the most photographed spot along the Appalachian Trail. For hikers, this is a great one to add your list.
This hike has always been popular with hikers, but it has recently become even more famous. In 2015, McAfee Knob was featured in the movie "A Walk in the Woods" starring Robert Redford. Since then, there has been a huge spike in the numbers of people hiking to this popular spot.
The hike to McAfee knob is located near Roanoke, Virginia. It's an eight mile round trip hike to McAfee Knob and back, taking approximately four hours. Described as moderately strenuous, it is a slow and steady uphill walk up the Catawba mountain to the final viewpoint.
McAfee Knob Hiking Stats
Distance: 7.7 miles round trip
Total Ascent: 1,700 feet
Difficulty: Moderate
Length of Time: 4 to 5 hours
No technical experience is required. The trail is easy to follow and there is no rock scrambling, use of chains for assistance, or dangerous spots (other than standing on McAfee Knob for photos).
This hike would be suitable for most people of average fitness and ability levels. We saw a lot of children on the hike, some as young as 6 or 7.
Peak Season: Weekends during October and early November
Getting here: Park in the McAfee Knob Trailhead parking lot on 311 near Salem, Virginia. View the location on Google Maps.
Please practice the seven principles of Leave No Trace: plan ahead, stay on the trail, pack out what you bring to the hiking trail, properly dispose of waste, leave areas as you found them, minimize campfire impacts, be considerate of other hikers, and do not approach or feed wildlife.
Driving through Shenandoah
Our weekend started with a drive along Skyline Drive and the Blue Ridge Parkway. It was a gorgeous weekend…sunny, clear blue skies, with daytime tempetures in the mid to high 60's. Perfect weather to be exploring Virginia.
With the perfect weather we expected huge crowds along the scenic driving routes, but we were pleasantly surprised. Yes, there were a lot of cars on the roads, but considering it was autumn in the Shenandoah Mountains, traffic was relatively light.
In early November, at least in 2016, the leaves were past peak in Shenandoah. It was still colorful and worth the drive, but the weekend before, the last weekend in October, was probably prime viewing time to see the fall colors here. Still, it was a very enjoyable experience for us.
Hiking McAfee Knob
Since it was a picture perfect weekend during peak season, we expected huge crowds on the trail. in order to avoid this, our day started very early. Changing the clocks for daylight savings time helped us out here, making it very easy to wake up at 6 am.
We arrived at the trailhead parking lot at 7 am, just after sunrise. Surprisingly, the parking lot was almost 100% full. Wow! Most of these cars belong to people hiking and camping the Appalachian Trail over the weekend.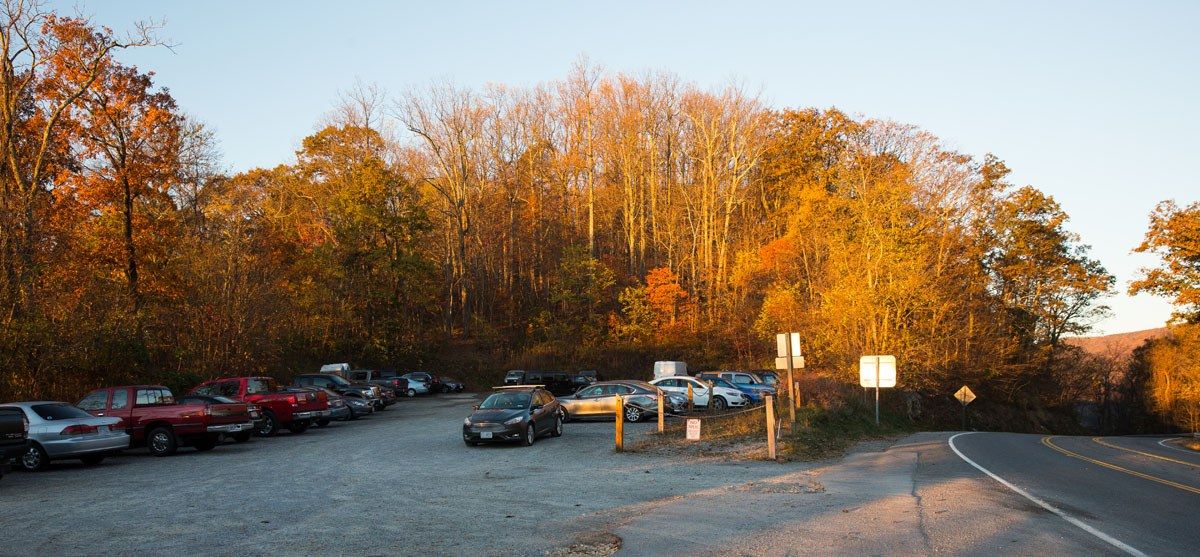 By 7 am, the four of us were stepping foot on the Appalachian Trail. It was a chilly morning. Our car thermometer read 38 degrees at 7 am.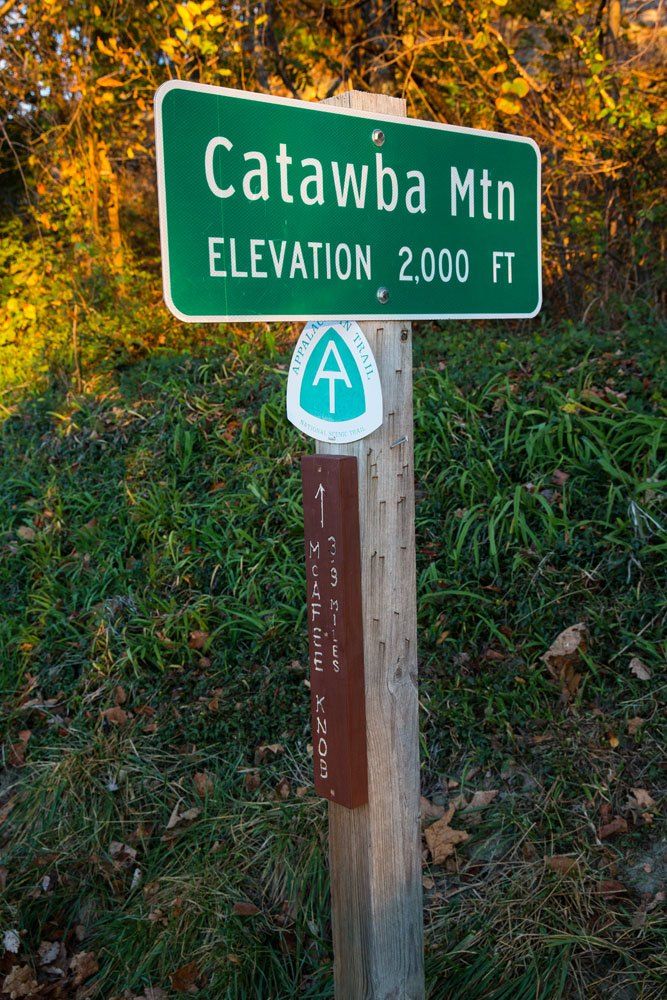 The hike to McAfee Knob is a slow and steady uphill hike up the Catawba Mountain. The trail, which is part of the Appalachian Trail, is wide, well groomed, and easy to follow. There were very few people on the trail at this early hour and we made excellent time.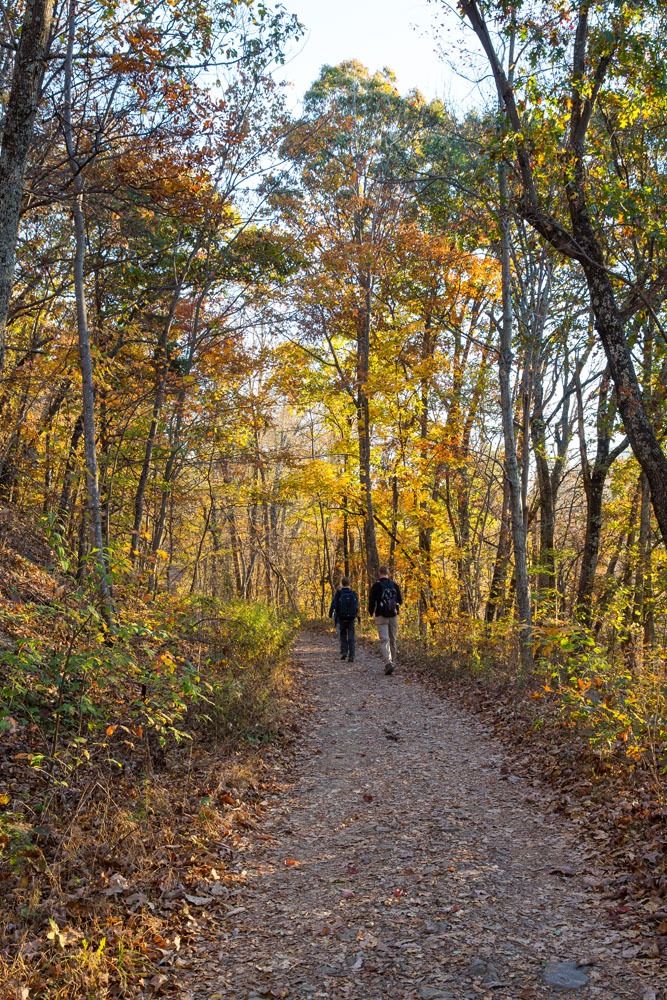 However, we did make a wrong turn. Two-thirds of the way into the hike, there is a turn off to the McAfee Knob. There is a small sign pointing hikers in the direction of the "overlook." Well, I missed this, adding some unnecessary hiking time into our morning.
Don't miss the turn off! Keep a lookout for this and follow the signs to the "overlook."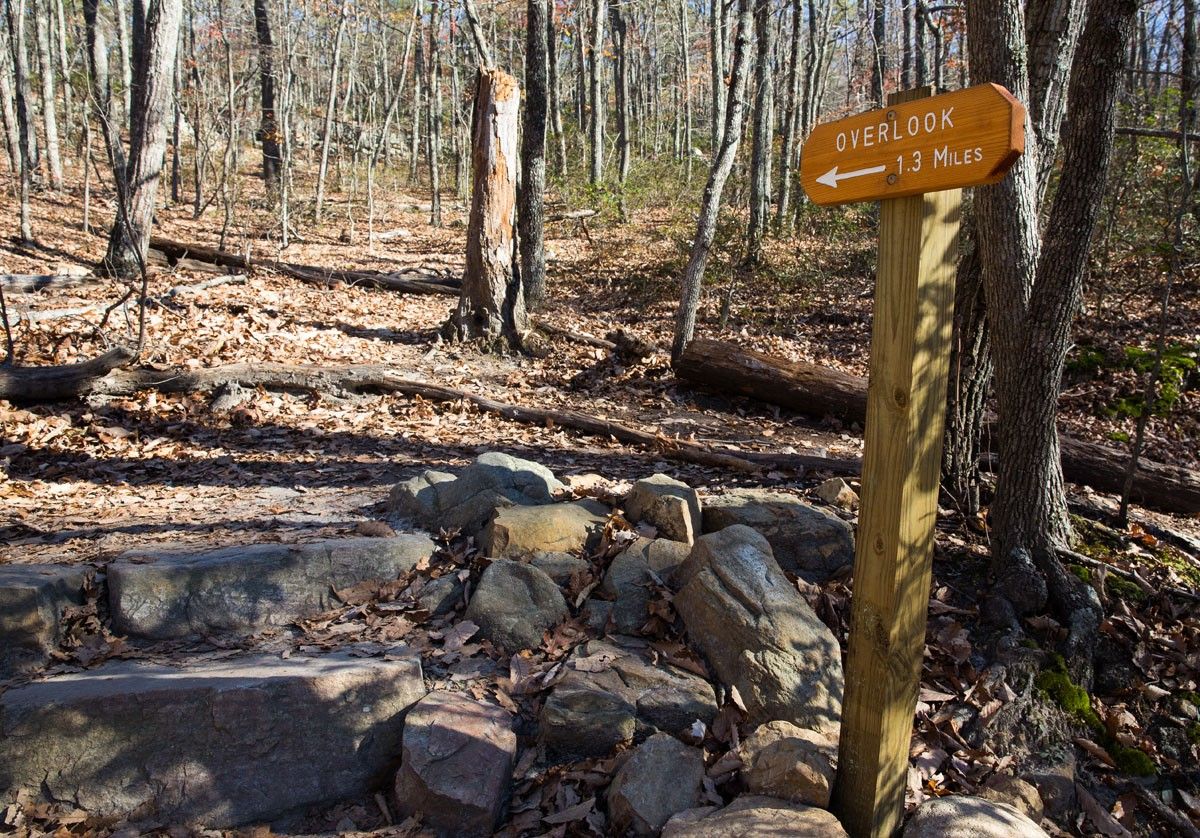 Even with our detour, it took us an hour and a half to get to the McAfee Knob.
The View from McAfee Knob
For a half an hour, we hung out at the McAfee Knob. The panoramic views over the Catawba Valley are awesome. We shared the view with just a few other hikers. It was a great experience and absolutely worth the early, chilly morning to have these views almost all to ourselves.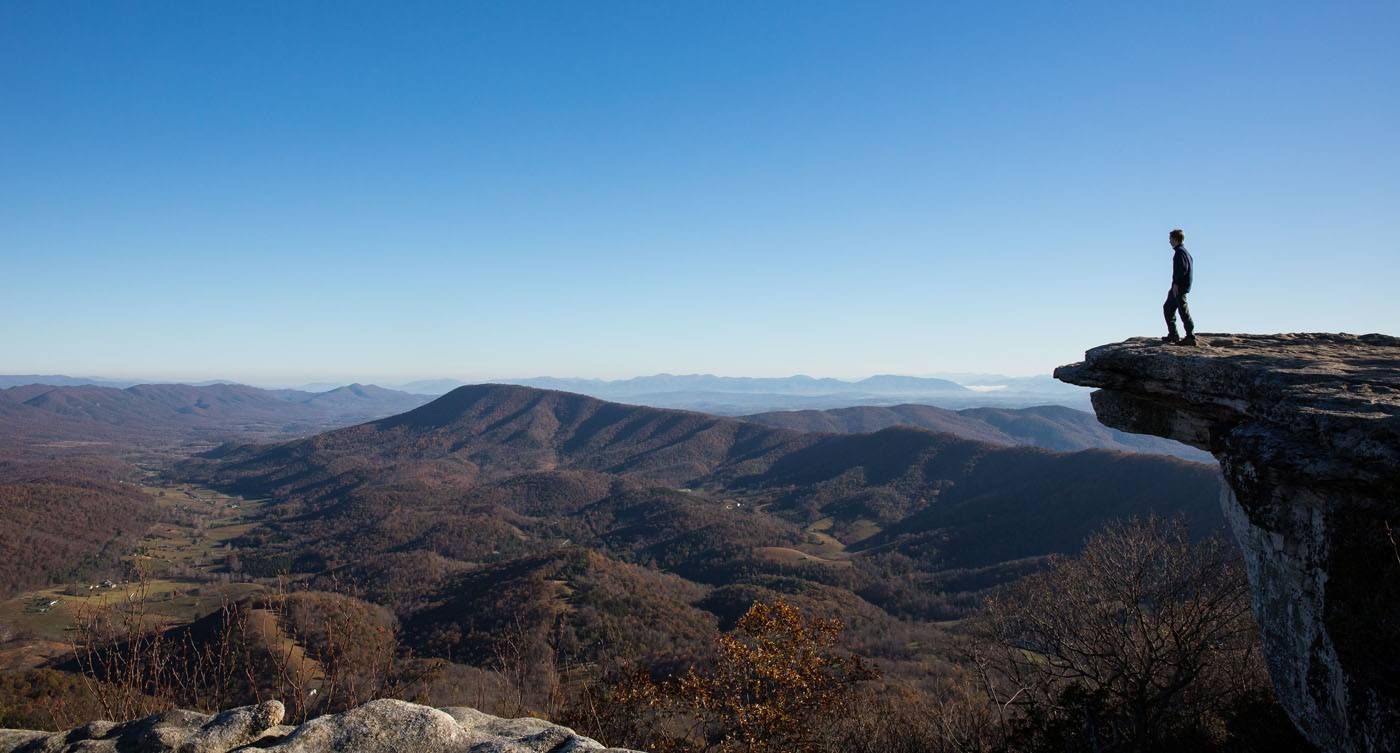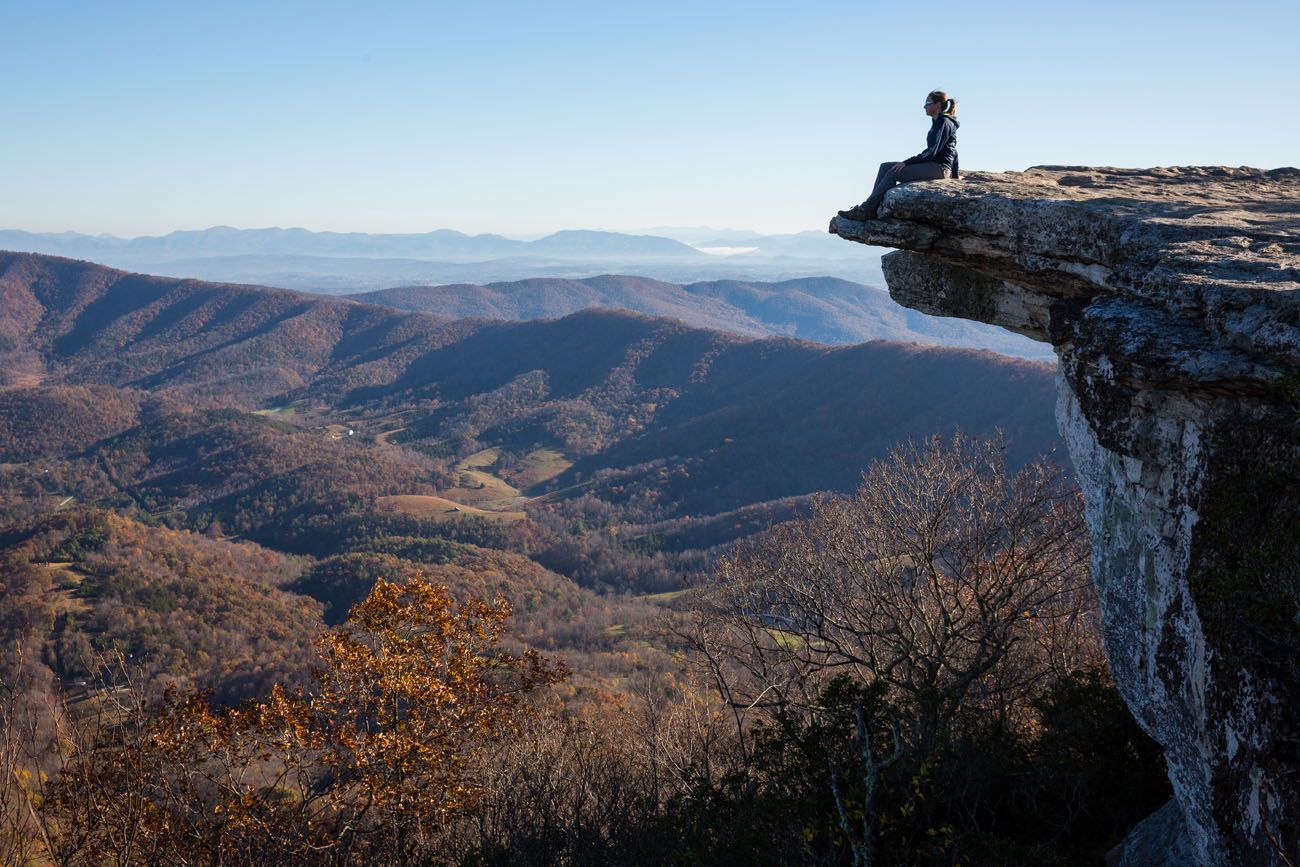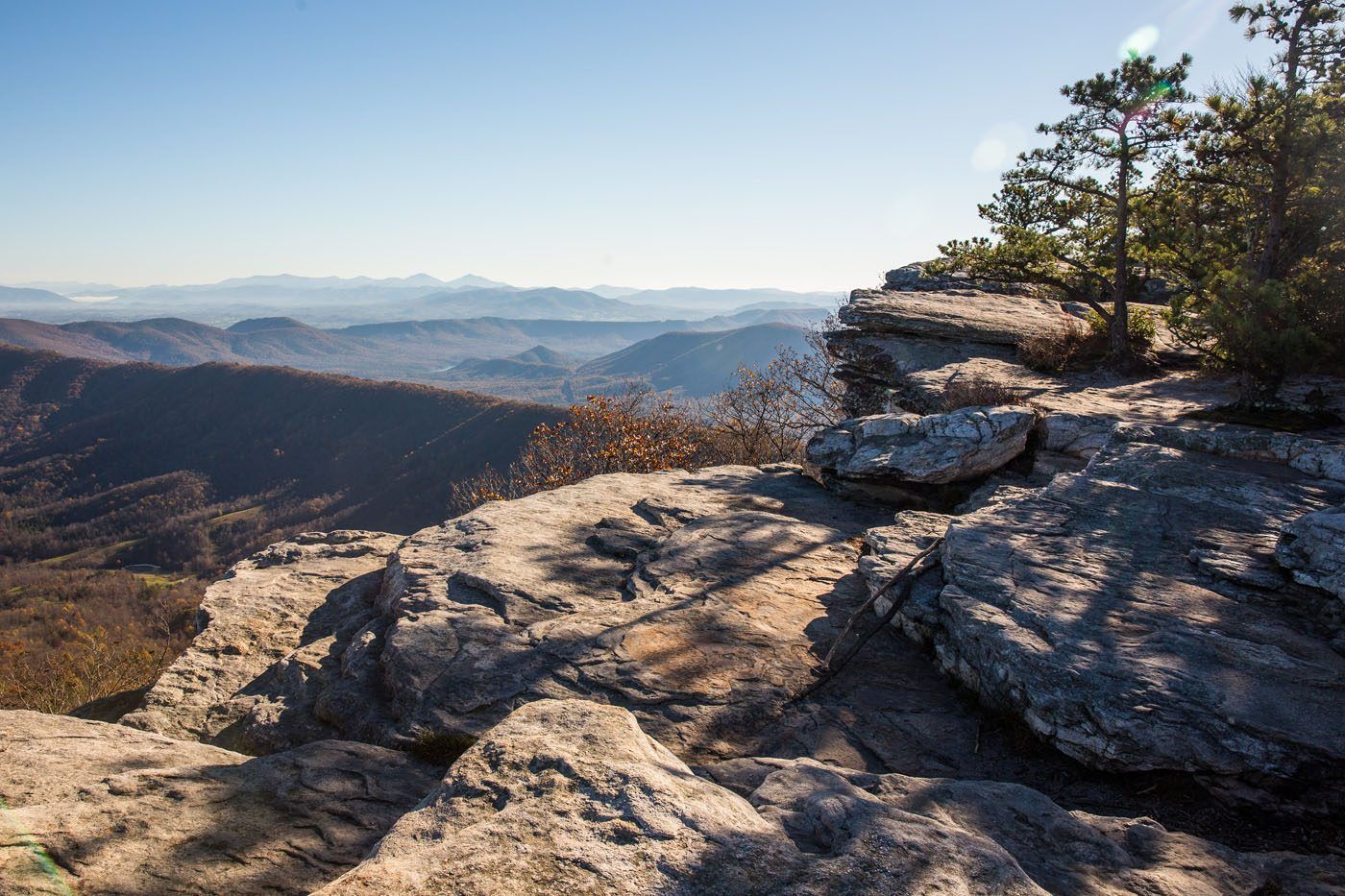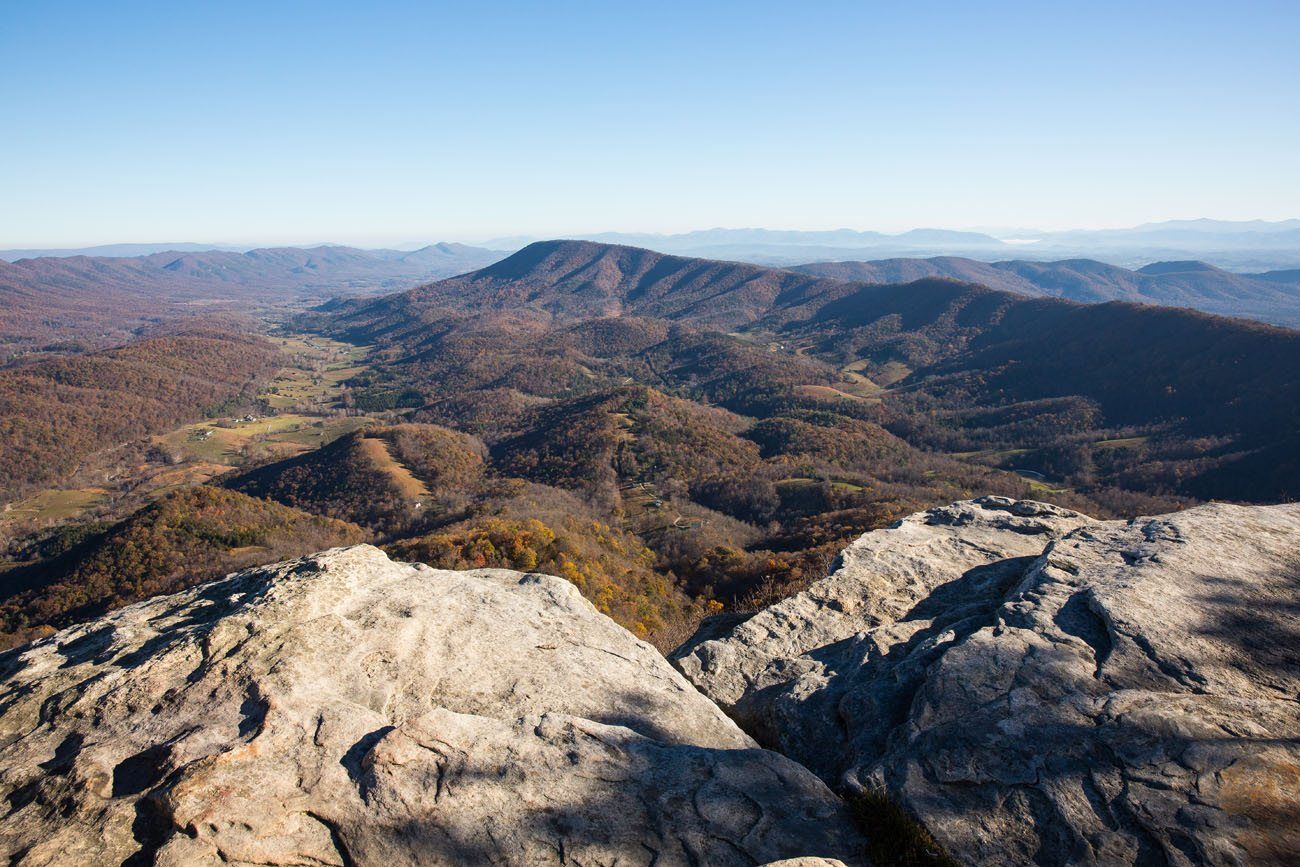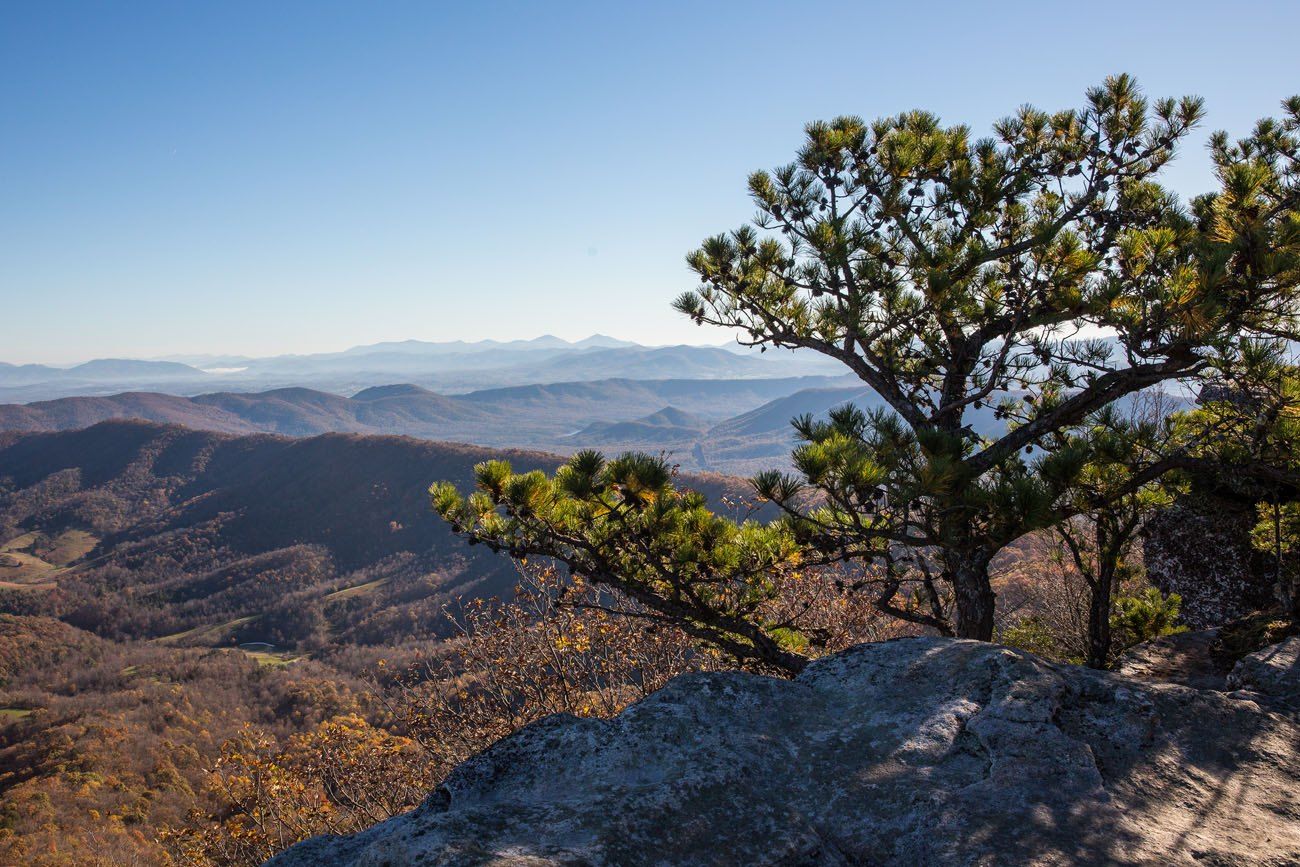 The Return Hike
The walk back is fast. It's downhill the entire way. The walk on the trail is beautiful, especially in autumn. As we made our way back to our car, more and more people were just starting their day. By the time we finished the hike, just before 11 am, people were arriving by the handful. The parking lot was filled and cars were forced to find spots on the side of the road.
If you can get here early in the day, do it!! This hike is infamous for its huge crowds of hikers, especially in peak season.
We really enjoyed this hike. It was quiet, scenic, with an awesome viewpoint at the end. Plus, it was our first experience hiking along the historic Appalachian Trail.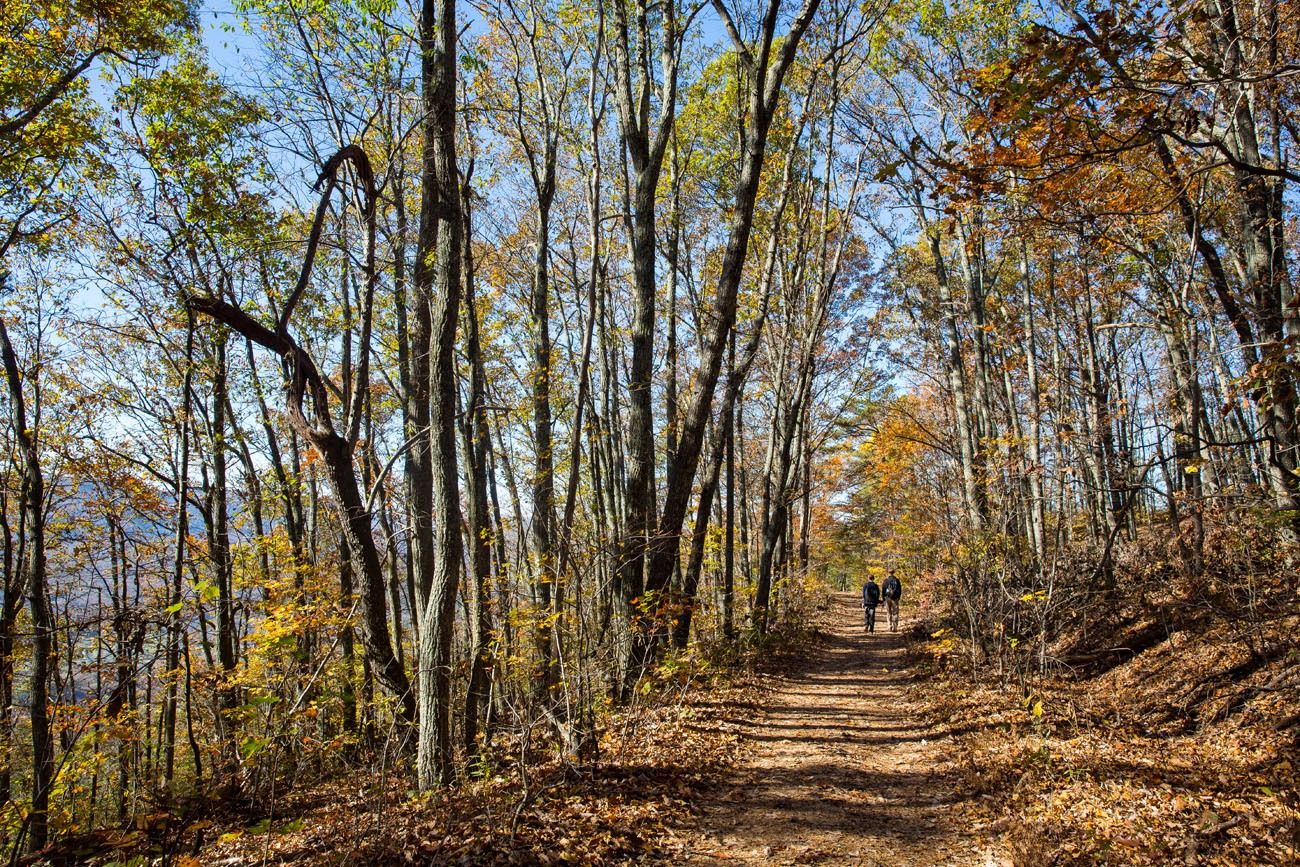 Tips to Have the Best Experience
Bring hiking shoes, water, snacks, and your camera.
We recommend using the app "All Trails." This app provides information on the hike, including a map that will use your GPS position to let you know exactly where you are on the trail.
Inspired to learn more about the Appalachian Trail? Read Bill Bryson's A Walk in the Woods or watch the movie on DVD starring Robert Redford.
---
If you have any questions on how to hike to McAfee Knob, let us know in the comment section below.
SHENANDOAH NATIONAL PARK: Learn about Shenandoah National Park in our guide to the Best Things to Do in Shenandoah National Park. We also have a guide to the Best Hikes in Shenandoah and how to hike to Old Rag.
VIRGINIA: To read all of our articles about Virginia, check out our Virginia Travel Guide.
USA ROAD TRIPS: Planning your next big adventure in the USA? Check our our USA Road Trip Guide for travel ideas and sample itineraries.
NEARBY DESTINATIONS: In West Virginia, learn how to plan your visit to New River Gorge National Park. Visit Asheville, North Carolina or see the best of Nashville, Tennessee. Or learn how to spend one day visiting the highlights of Washington DC.
SAVANNAH, GEORGIA: Learn about the top experiences in our article Best Things to Do in Savannah, Georgia. We cover the top places to eat in our Savannah Restaurant Guide and the top rooftop bars in our Guide to the Savannah Rooftop Bars.
All rights reserved © Earth Trekkers. Republishing this article and/or any of its contents (text, photography, etc.), in whole or in part, is strictly prohibited.