For us, traveling somewhere new does not seem complete without doing at least one hike. So when we read about the hike to Vidova Gora, the highest point on the Adriatic Islands, we were hooked. Not only would we get to break out our hiking shoes but we'd also get to explore the island of Brac.
In order to do this hike, we spent 24 hours on Brac. The town of Bol is the most popular spot on the island for tourists to stay, mainly because of its proximity to the spectacular beach, Zlatni Rat. We spent one night in Suncana Villa, located within walking distance of the Vidova Gora trailhead.
With so many different islands in Croatia to explore, we honestly wondered if we made the right decision in choosing Brac. Well, let me tell you, the time we spent on this island was one of the highlights of our trip to Croatia. Not only was the hike wonderful, but we fell in love with the small towns, the people, and the views on Brac.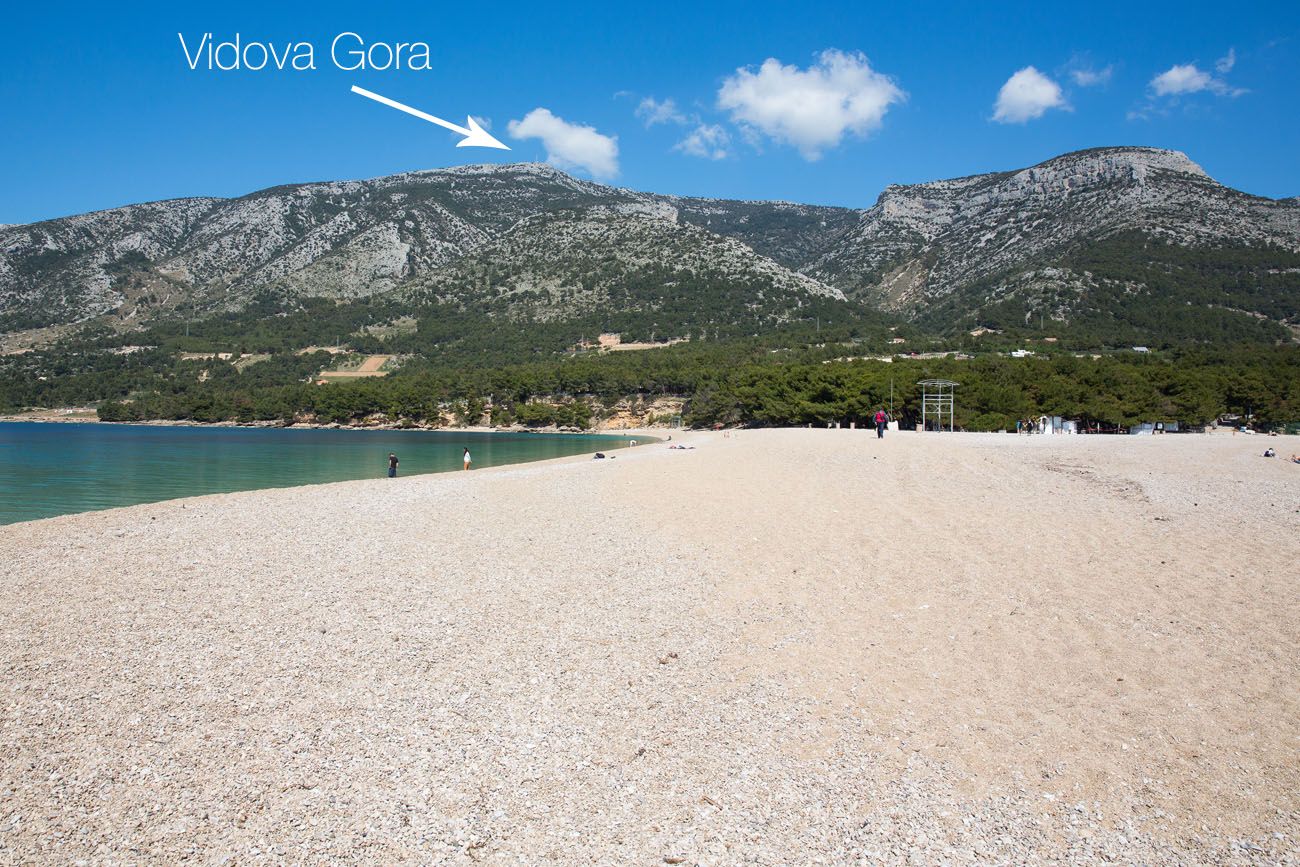 The peak of Vidova Gora seen from Zlatni Rat beach.
Vidova Gora Hiking Stats
Distance: 10.6 km (6.6 miles) round trip
Length of time: 3 to 5 hours
Elevation Gain: 715 meters (2340 ft)
Difficulty: Moderate
Location: The trailhead is in Bol (Google map coordinates: 43.265236, 16.649414). The trail starts at the top of the hill in Bol at the intersection of Ul. Donje Podbarje and Bracka cesta.
Why do this Hike? For amazing views of the Adriatic Islands and a view down to Zlatni Rat beach.

Vidova Gora elevation profile
Please practice the seven principles of Leave No Trace: plan ahead, stay on the trail, pack out what you bring to the hiking trail, properly dispose of waste, leave areas as you found them, minimize campfire impacts, be considerate of other hikers, and do not approach or feed wildlife.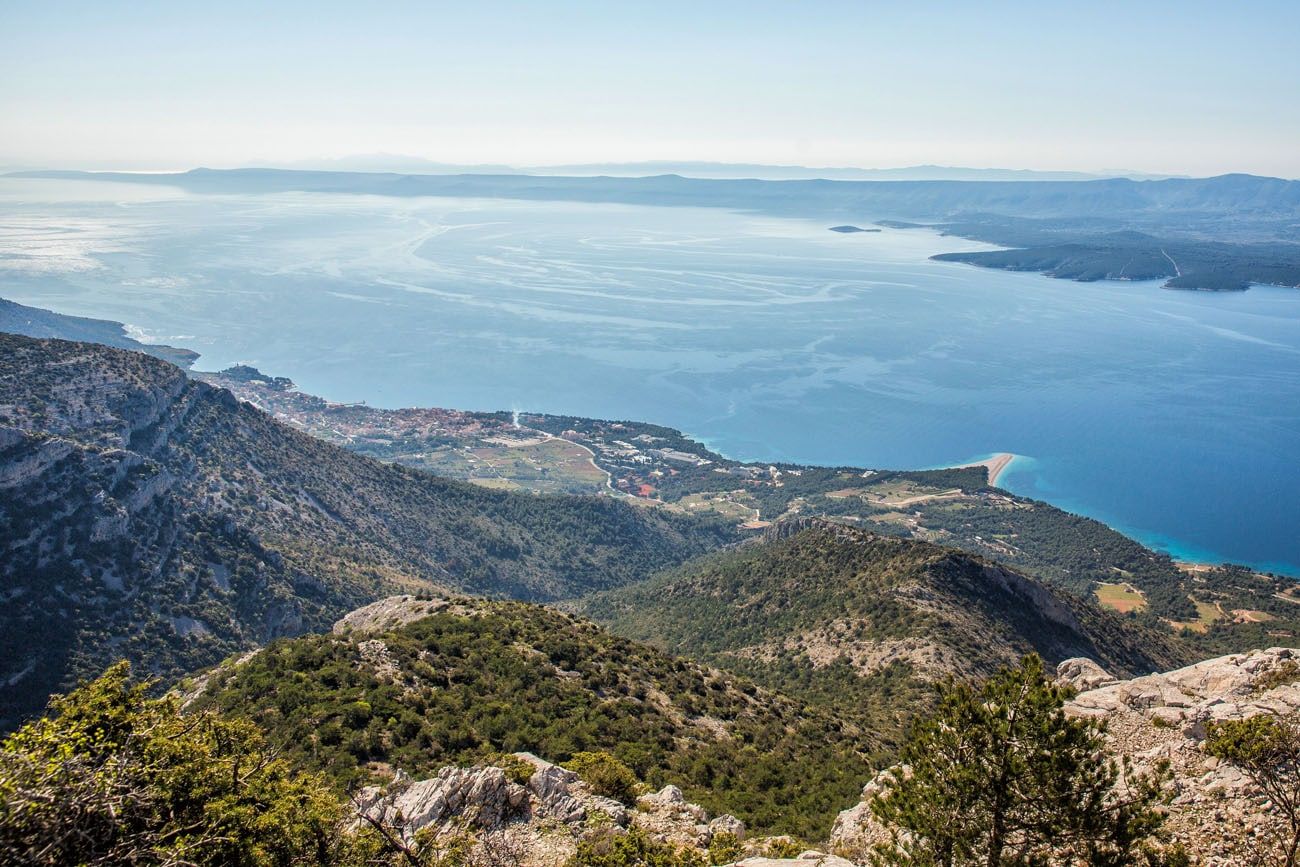 View from Vidova Gora
How to Hike Vidova Gora
Step-By-Step Trail Guide
The first section of the hike is not on a hiking trail, it's along a road that leads up to a stone quarry. Brac is famous for its stone, which has been used in the construction of the White House, Diocletian's Palace in Split, and the Parliament building in Budapest.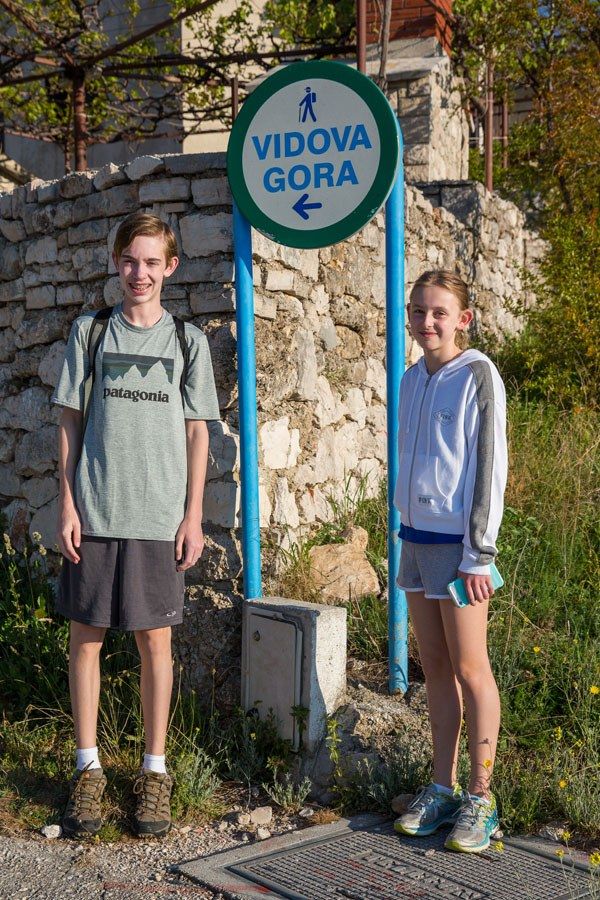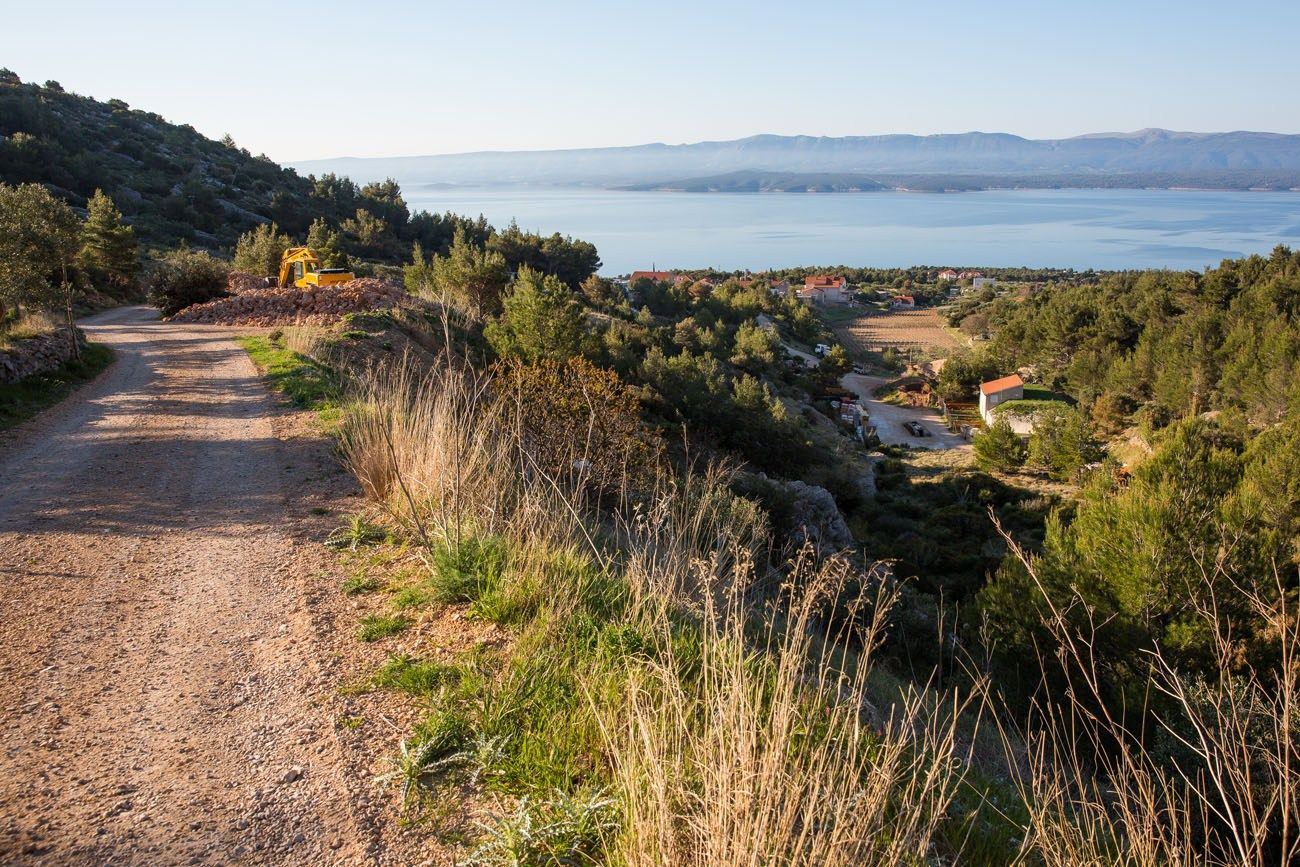 During this first part of the hike, follow the Vidova Gora signs. There are also white and red blazes painted along the trail at regular intervals.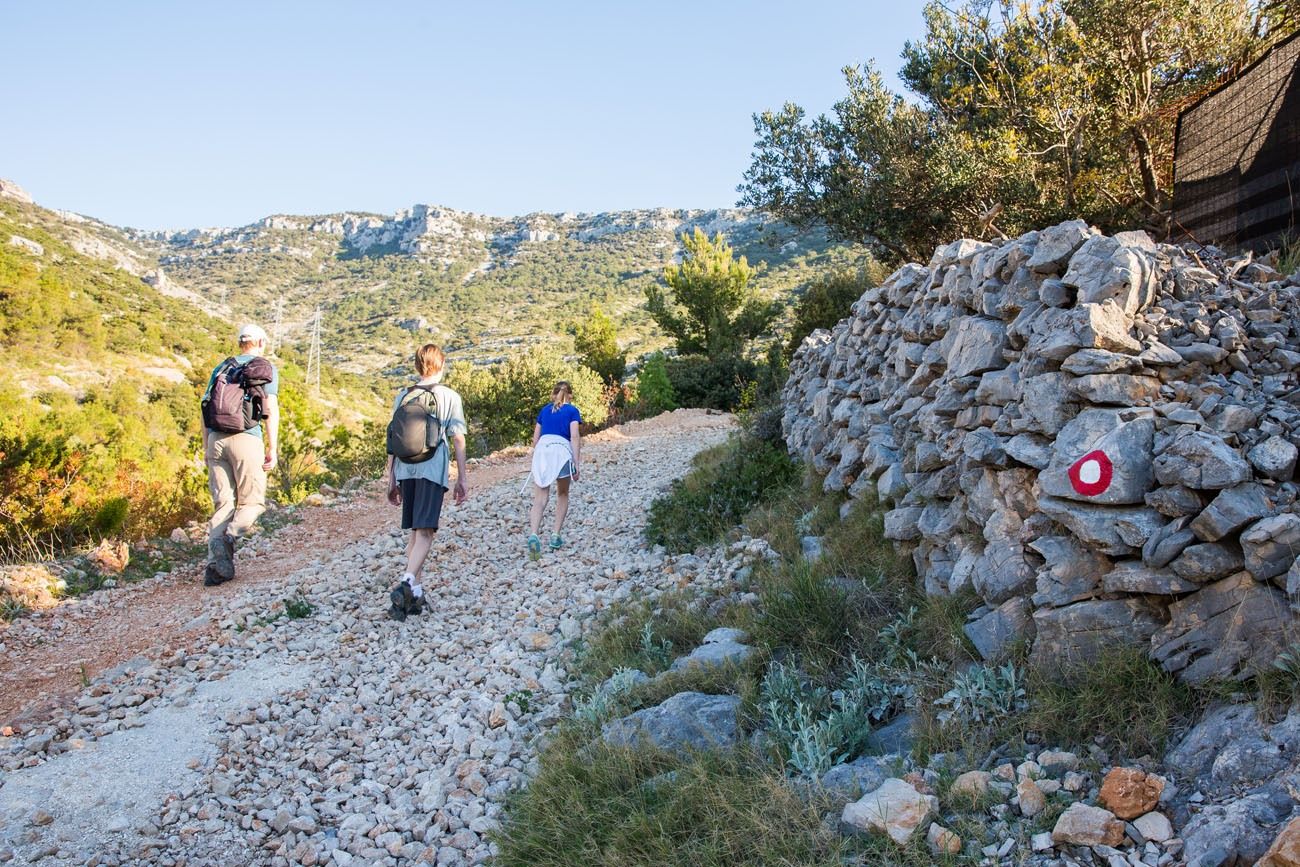 Eventually, the road becomes a rocky hiking trail leading up the mountain. It is a slow, steady climb to get to the top. The path is covered with stones, making it uneven, so watch your step.
As you switchback up the mountain, part of the hike will be sheltered in forests of pine trees. We did this hike in April and there were long trains of caterpillars meandering on the trail. There were also lots of spider webs although we did not see many spiders. I have heard reports from people who did this hike later in the season that they saw spiders everywhere.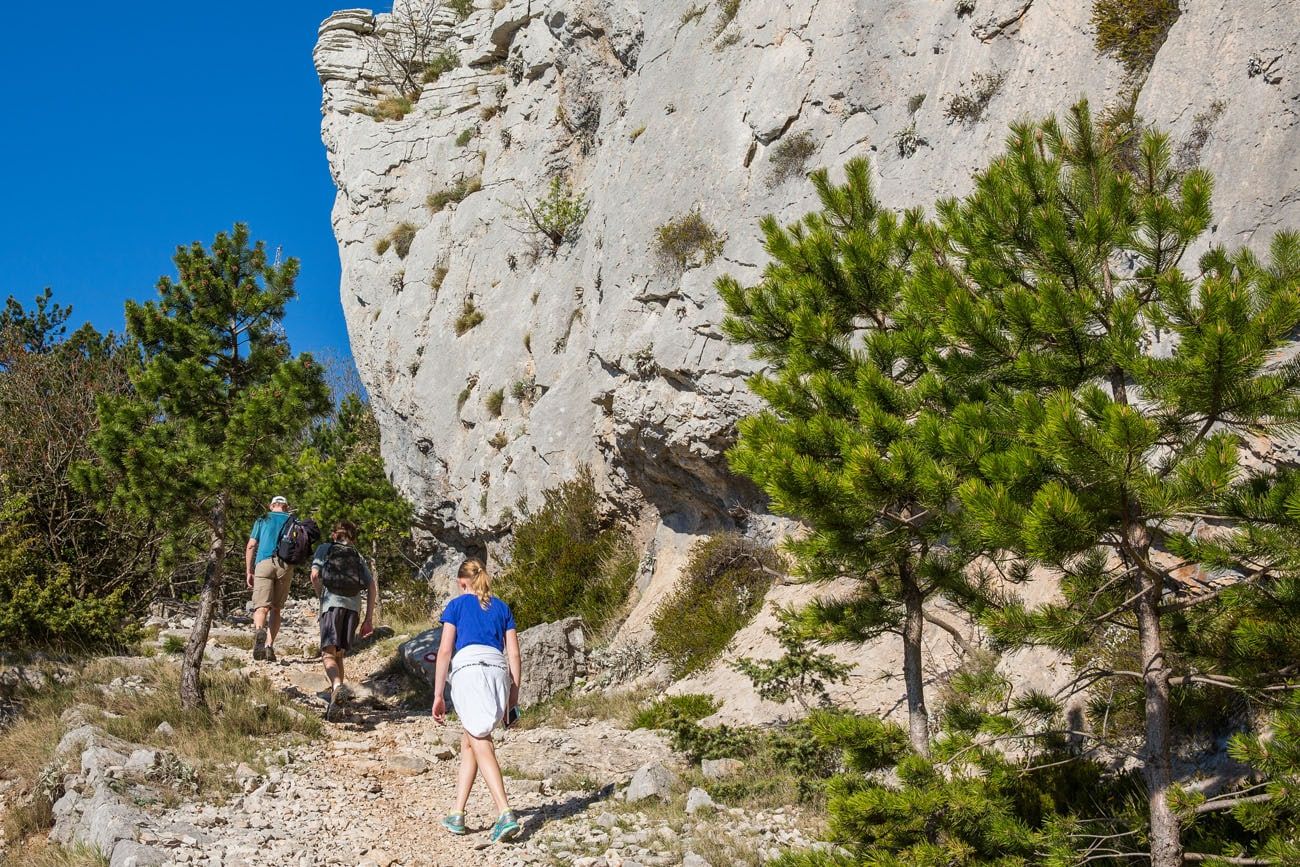 The trail summits onto a ridge high above Bol. From here, it still takes about 15 to 20 minutes to get to the official highest point of Vidova Gora.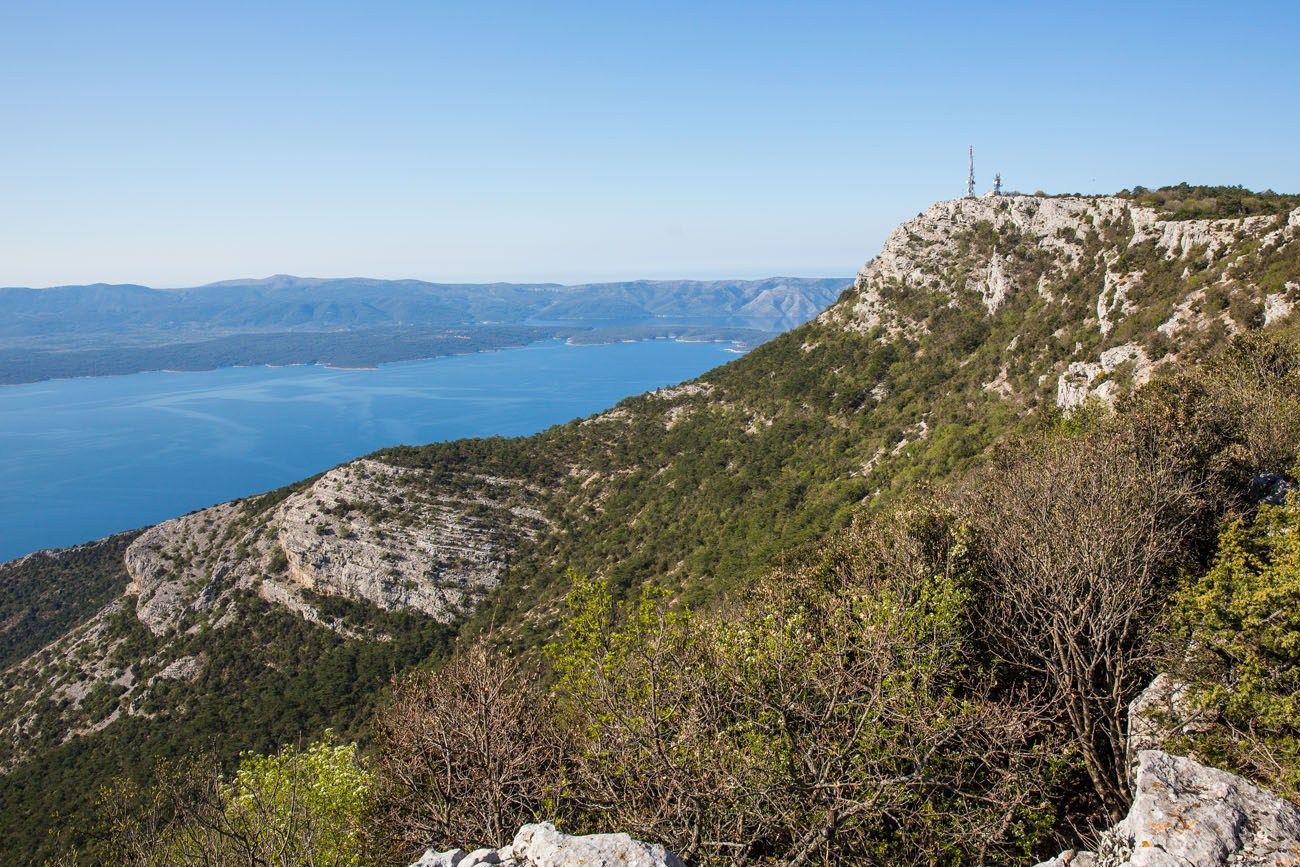 Vidova Gora can be accessed by car (but where is the fun in that?!). The trail meets up with a road and the official entrance to Vidova Gora.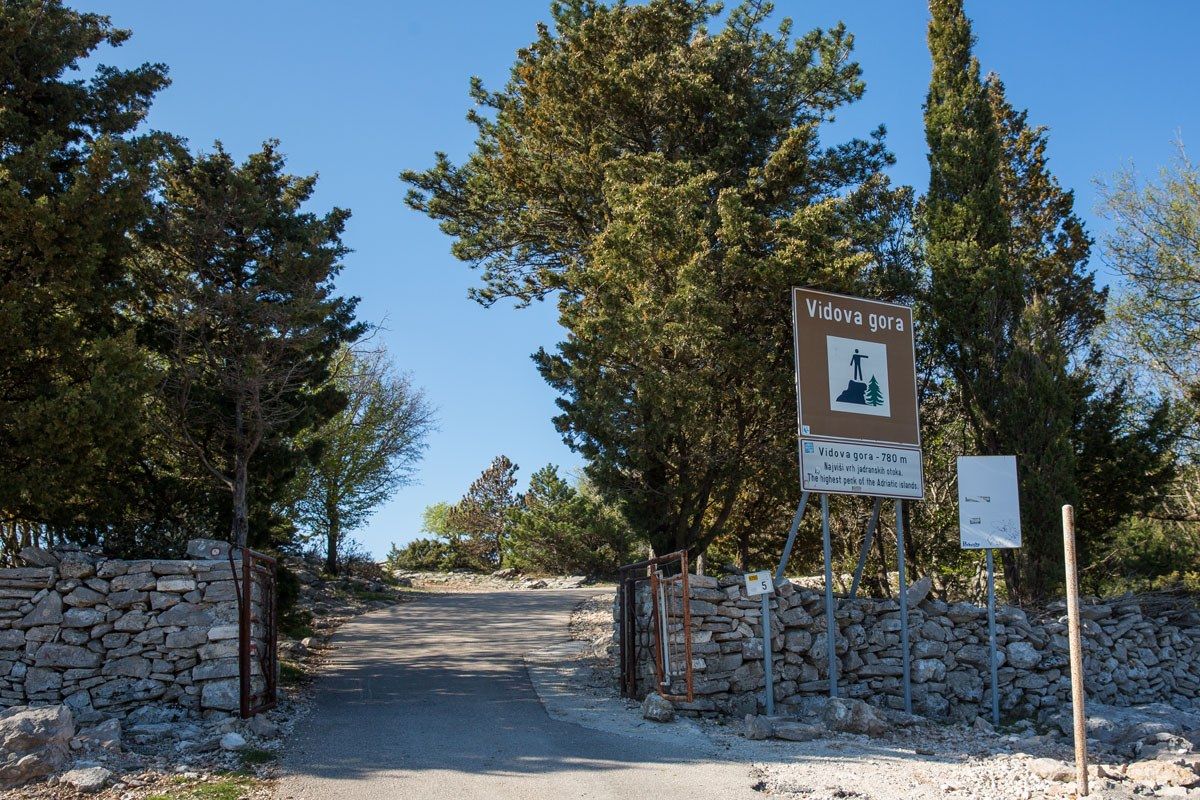 In all honesty, this is not the most exciting hike, at least not until you get to the top. Then the views make your hard work worth it! On a clear day, you can see Zlatni Rat, Bol, Hvar island, and the Croatian mainland.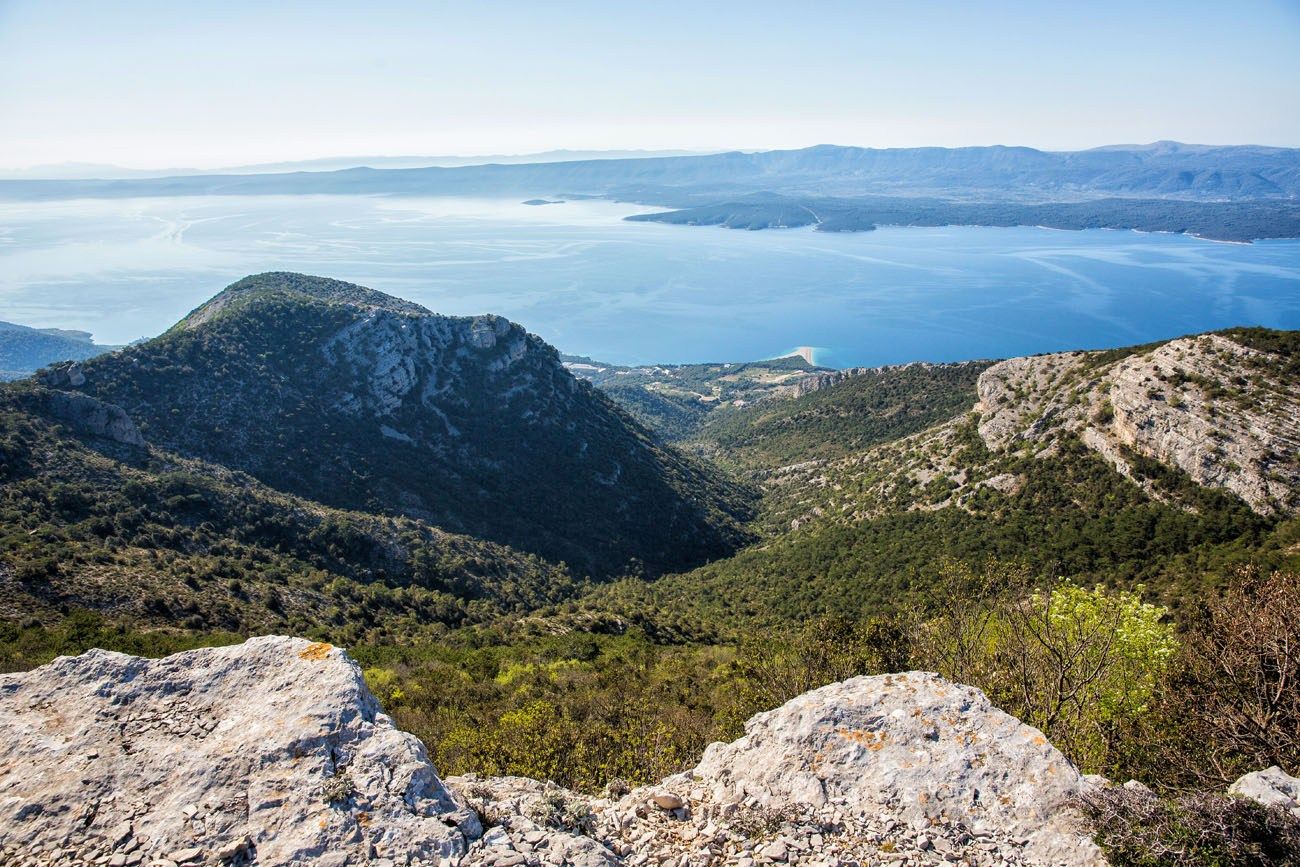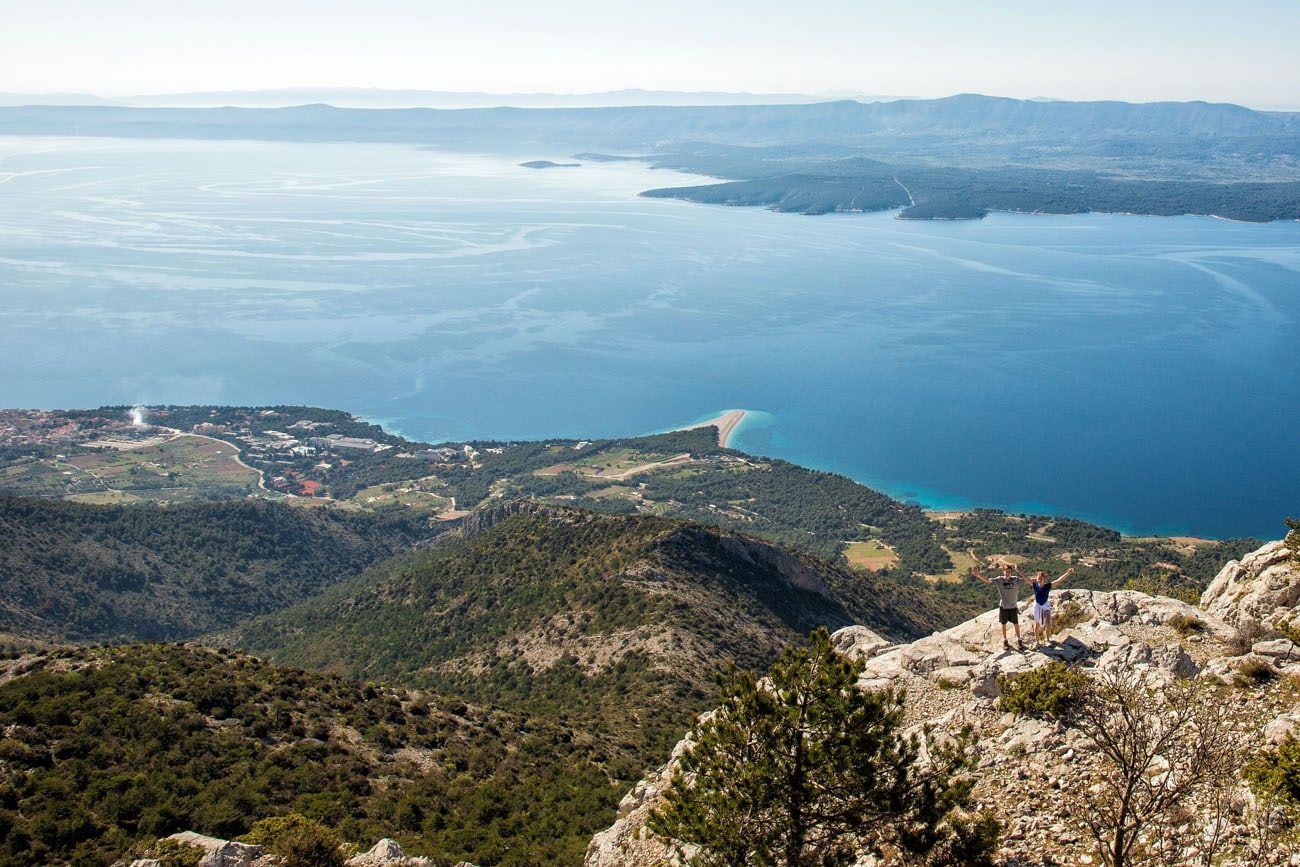 There is a picnic table, the perfect spot for a snack or a picnic lunch. Then it's time to hike back down the mountain.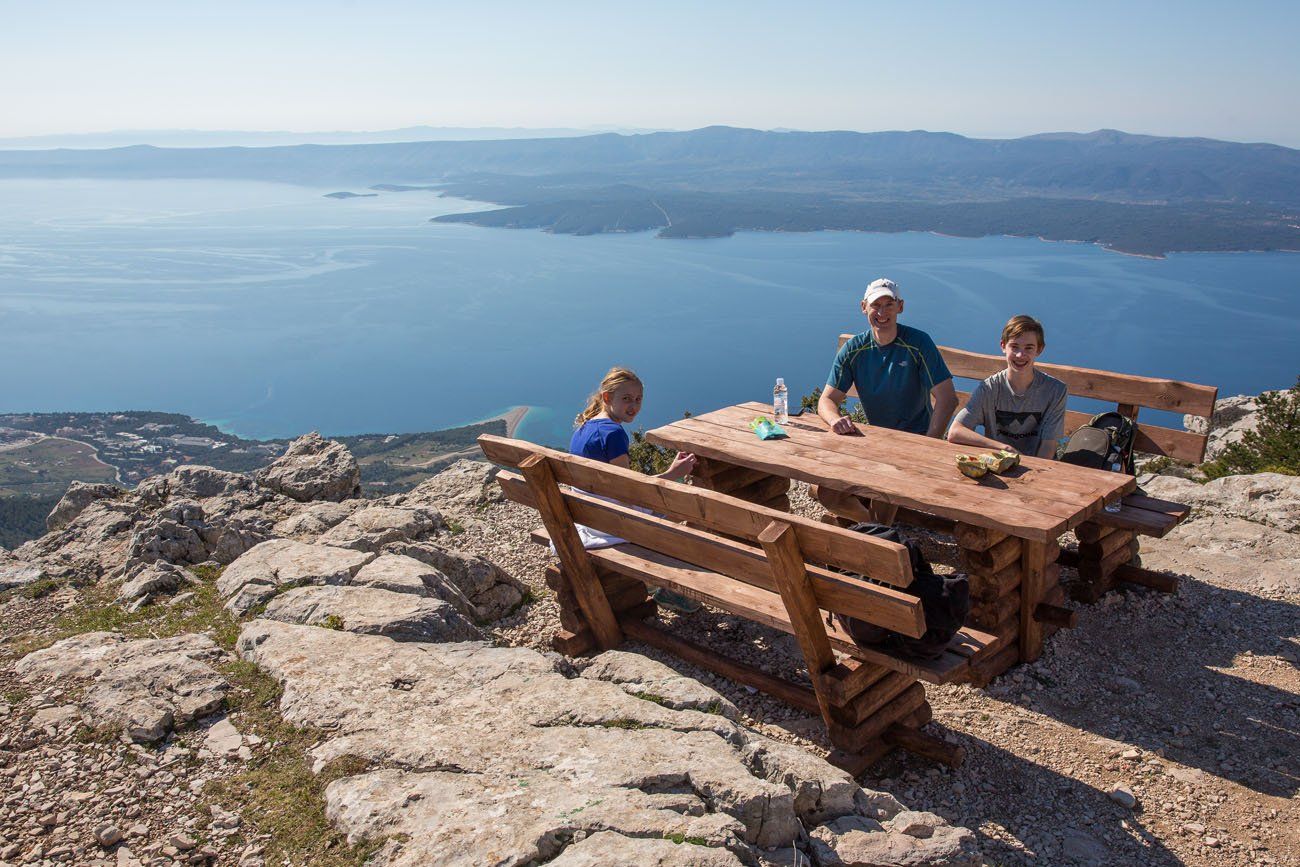 If you are visiting Brac as part of a group and not everyone wants to hike, the non-hikers can drive to the Vidova Gora viewpoint, saving you the trek back down the mountain if you so desire.
Once back down at sea level, Zlatni Rat is the perfect place to cool off!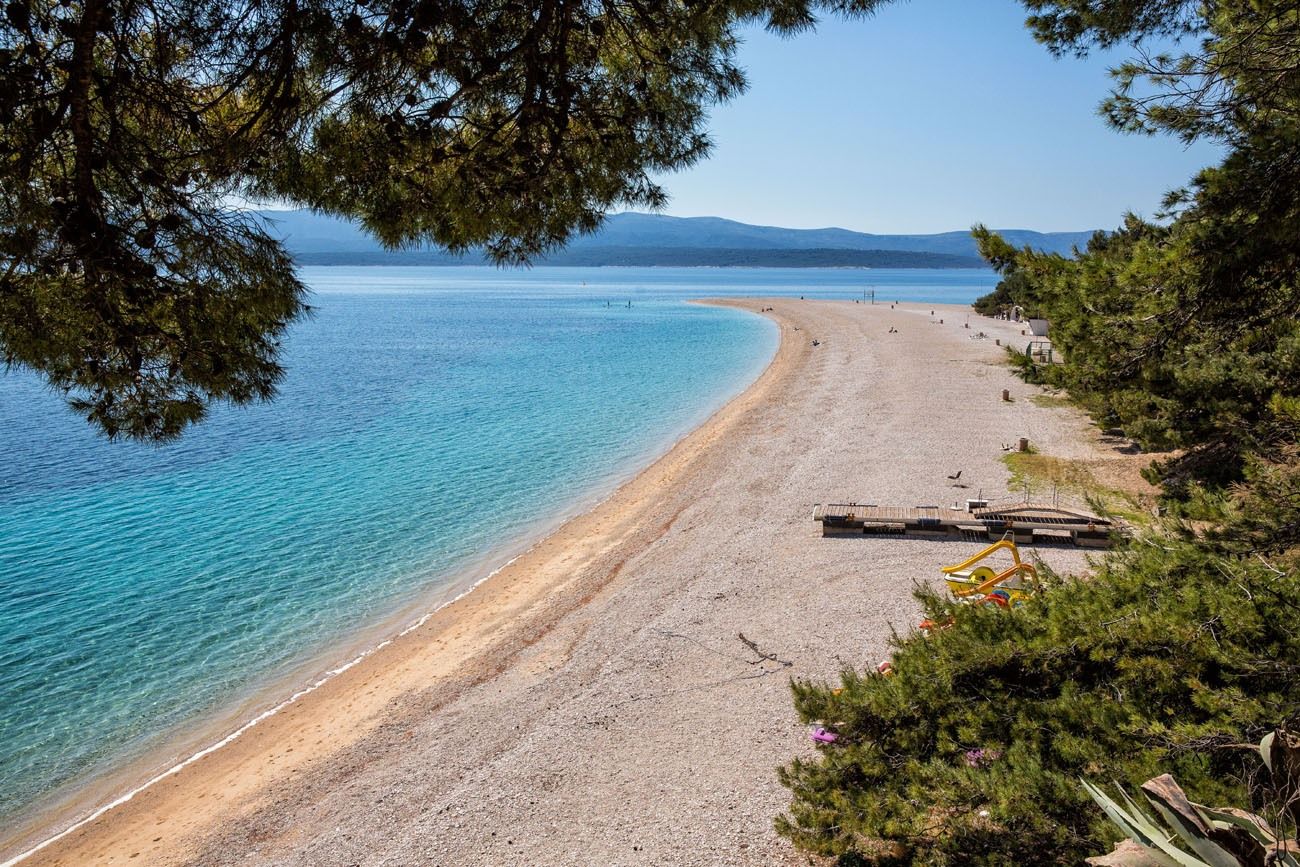 Zlatni Rat
How to Get to Vidova Gora
Vidova Gora is located on Brac, one of the largest islands in Croatia. You can take a car ferry from Split to Supetar or from Makarska to Sumartin. If you do not have a car, you have more options, depending upon the season (click here for the ferry schedule).
Important Information about the Hike
If you are doing the hike in the summer months, start early to avoid the midday heat. Bring lots of water and sunblock. There is some shade on the trail but there are long sections where you will be exposed to the sun.
You do not need a map for this hike. The trail is well marked and very easy to follow.
Hiking shoes are recommended but not necessary. Kara and I each did the hike in running shoes. You do need to wear a sturdy pair of shoes. Sandals and flip-flops are just asking for trouble on this very rocky, uneven trail.
The best place to stay is Bol, since it is located next to the trail and has many options for accommodations and restaurants. You can also walk or drive to lovely Zlatni Rat.
If you need snack food or groceries, Supermarket Tommy is the best place in town, according to our host, Julio. Their fresh baked bread and deli meats are the perfect ingredients for a picnic lunch.
Where We Stayed
We stayed at the Suncana Villa apartments. Our two bedroom apartment was spotlessly clean, quiet, and the wifi worked perfectly. From our balcony we could look out over the Adriatic Sea. In just five minutes we could walk down to the center of town for dinner. Our host, Julio, went out of his way to make sure we had the perfect stay, giving suggestions for things to do and places to eat. We loved this place and would stay here again on a return trip to Croatia.
---
If you have any questions about how to hike to Vidova Gora, let us know in the comment section below.
More Information about Croatia
BRAC: For more information about what to do in Bol and Brac, read our Guide to Brac, Croatia.
DUBROVNIK: For a list of the top experiences in Dubrovnik, read our article Best Things to Do in Dubrovnik. We also have a guide on Where to Eat in Dubrovnik and an article about how to walk the Dubrovnik Walls.
PLITVICE LAKES: Plitvice Lakes is a beautiful place to visit in Croatia. Learn how to plan your visit in our Guide to Plitvice Lakes.
PLACES TO VISIT NEAR CROATIA: If you plan to explore beyond the borders of Croatia, Mostar in Bosnia & Herzegovina is a beautiful, fairytale town to add to your itinerary. Spend 2 days in Montenegro, visit the coastal town of Piran in Slovenia, or learn about the best places to visit in Slovenia, which sits to the northwest of Croatia.
MORE GREAT HIKES IN EUROPE: From thrilling trails in the Alps to easy walks along the coast, read our article 20 Best Hikes in Europe for some beautiful hiking trails to put on your travel wish list.
Note: This post contains affiliate links. When you make a purchase using one of these affiliate links, we get paid a small commission at no extra cost to you.
All rights reserved © Earth Trekkers. Republishing this article and/or any of its contents (text, photography, etc.), in whole or in part, is strictly prohibited.