The Bluebird Cafe is one of the most popular destinations in Nashville. Most people come to listen to talented artists play their music in the writers-in-the-round. This is enough to sell out the tickets at Bluebird Cafe every night and leave others waiting in line, hoping to get a seat. But the Bluebird Cafe reached a whole new level of popularity when it was regularly featured on ABC's "Nashville" television series. Now people come to the Bluebird Cafe just to get a peek into this very famous Nashville spot.
Tim and I visited the Bluebird Cafe at the advice of friends. We were naive to the fact that the Bluebird Cafe is such a popular place in Nashville, but as the line for seats steadily grew to over 60 people, we quickly learned how hot this place is. With proper planning (and maybe a wait in line) we tell you how to get a seat at the famous Bluebird Cafe.
How to Get a Seat at the Bluebird Cafe
Option #1 Purchase Tickets on Bluebird Cafe's Website
This is the easiest and most time effective method. Tickets can be purchased directly on Bluebird's website. It is a small venue with only 20 tables. Tickets go fast!! I talked to a person in line who was lucky enough to reserve her tickets online. She said that within ten minutes of the tickets becoming available online, they sold out. Therefore, you need to be ready to purchase your tickets as soon as they are available.
For Friday, Saturday and Sunday shows, tickets are available Monday 8 am CST of that week.
For Tuesday, Wednesday, and Thursday shows, tickets are available one week ahead of time (Tuesday for Tuesday, etc.) at 8 am CST.
For Monday, seats are first-come first-served for the 6 pm open mic show and the 9:30 pm show.
There is a $4 reservation fee. You can only reserve up to 6 seats.
To purchase tickets online or to get more information from the Bluebird Cafe website, click here. I highly recommend you take a look at the Bluebird Cafe website and read their procedure on reserving your tickets.
Option #2 Wait in Line for the Remaining Seats
So, what if you don't have reserved tickets? There still is a chance to get into the Bluebird Cafe but be prepared to wait in line.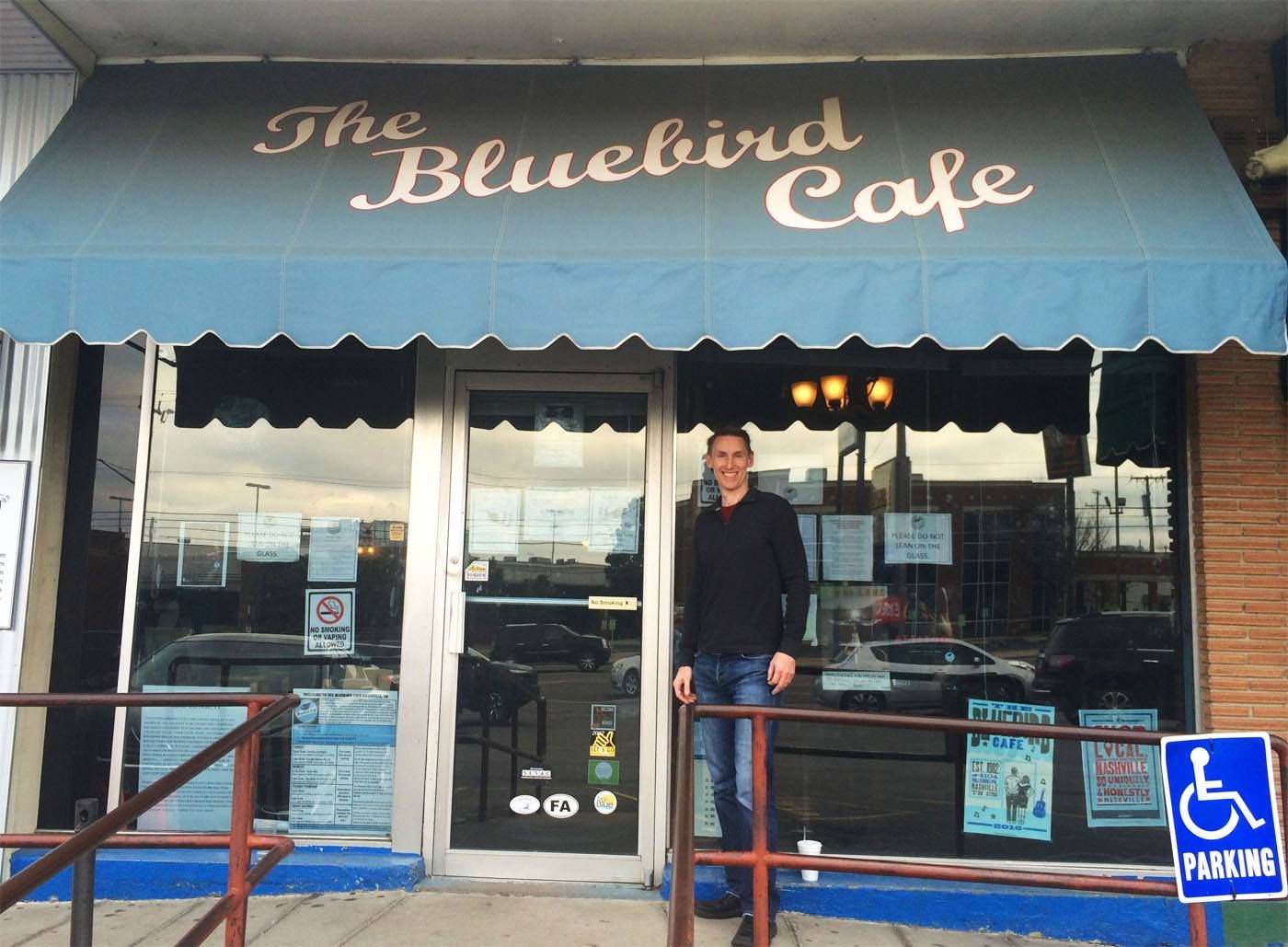 For the first show, there are first-come, first-served seats available in church pew seating (10 to 12 seats). If there are any cancellations, those waiting in line can also get these seats.
For the late shows, both the bar and the pews are reserved in advance. You can wait in line but you will only get a seat if there are any cancellations or no-shows.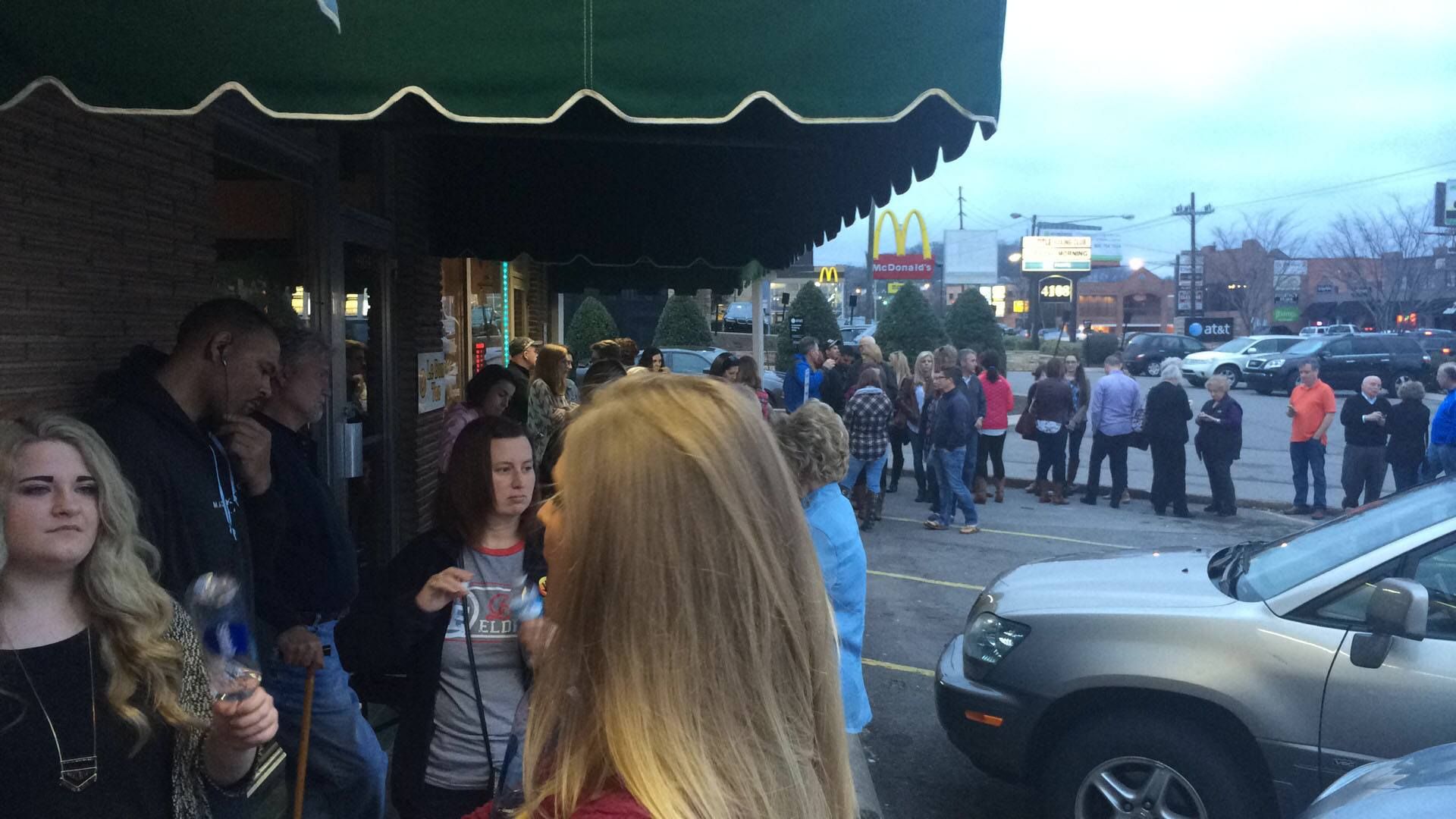 How long will you have to wait in line? Between 2 to 3 hours before opening time. We were here on a Saturday. Doors opened at 5:30 for a 6:30 show. We were the first ones in line at 2:50 pm. At 3:00 groups of people started queuing and by 3:30 there were at least 20 people in line. The line continued to grow until 5:30 and at our last count there were over 60 people in line.
This option only works for the first show of the night Tuesday through Sunday. The second show is reservation only, although they will take walk-ins for the few cancellations they may get. So, if you don't get into the first show of the night, most likely you are out of luck.
Where to Wait in Line. When looking at the Bluebird Cafe, those waiting for the first-come, first-served seats stand to the right of the door. There is a sign on their storefront with instructions.
Inside the Bluebird Cafe
Those with reserved tickets get seated in tables spread about the room. These are the best seats to have.
The 10 to 12 walk-ins get the church pew seating. There are several pews arranged in "stadium style" seating. The disadvantage to these seats is that you do not have a table to put your food or drinks on, but at least you have a seat!!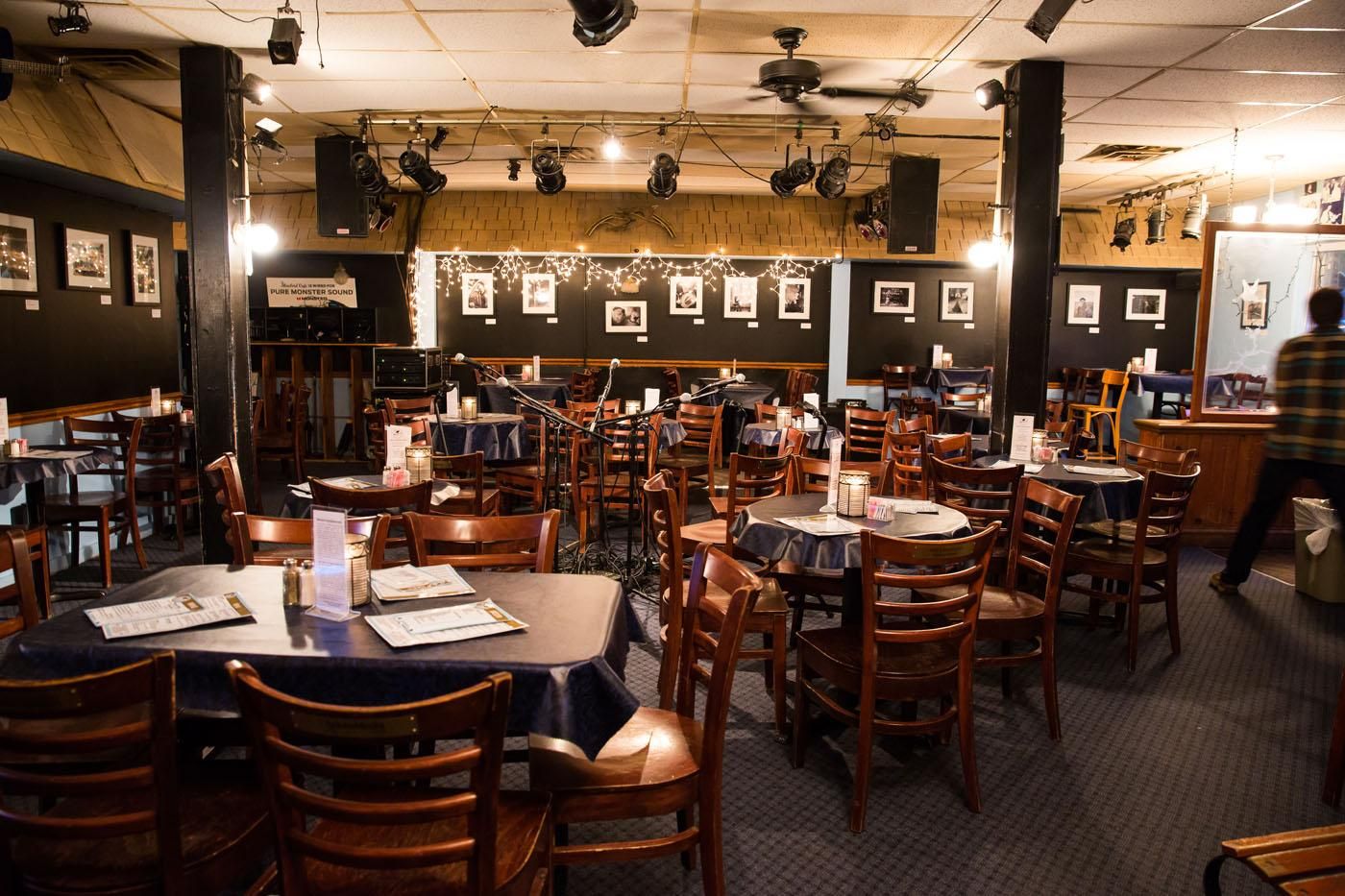 Before and during the show, waitresses serve food and drinks. You can come hungry because you can order dinner off of their menu.
Is there a minimum age? Nope. Kids are allowed although they are not permitted to sit at the bar.
How much does it cost? For those who enter as a walk-in, there is no charge. For those who reserved their tickets online, there is a $4.00 surcharge per person. You will also be charged a $10 food and drink minimum (per person).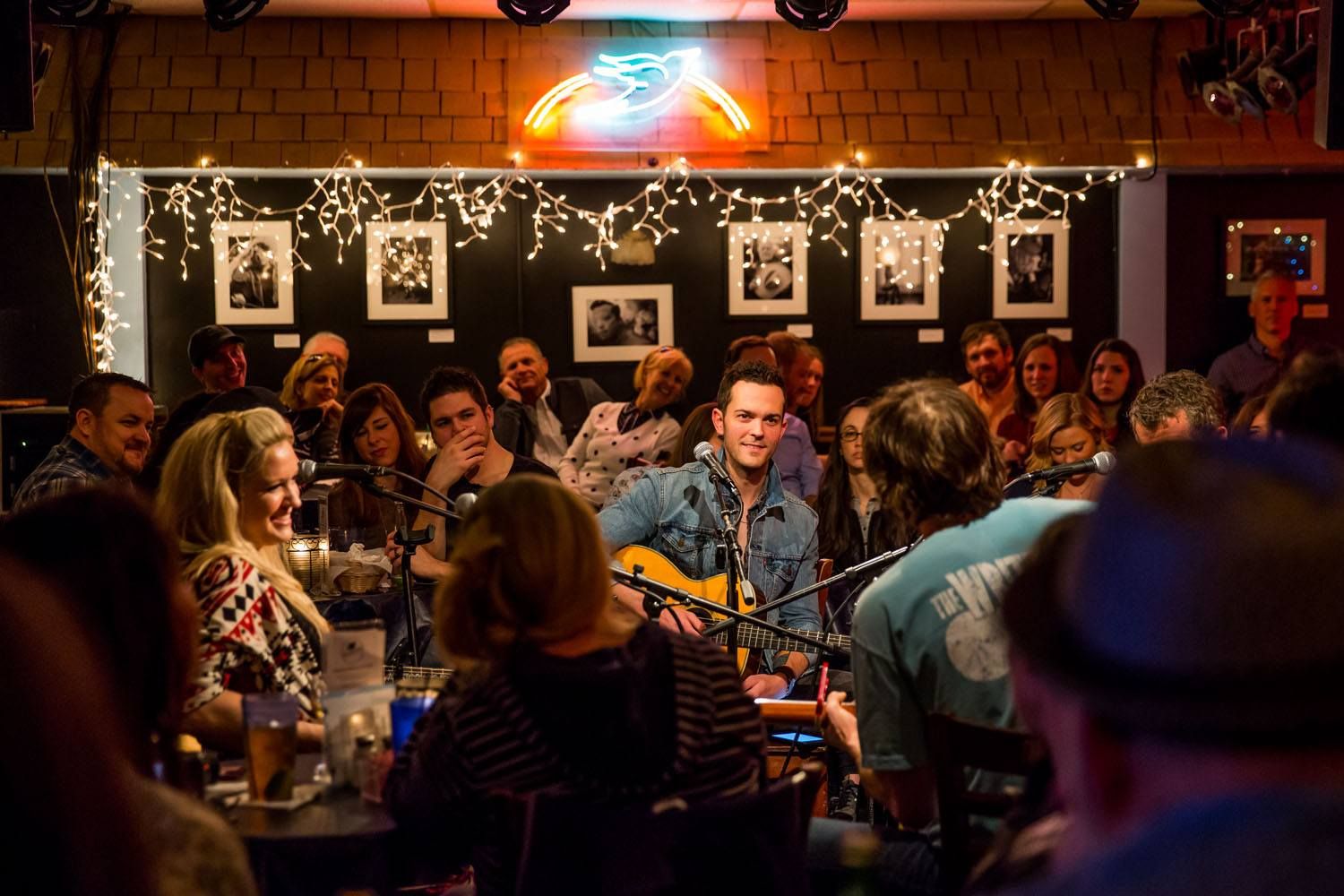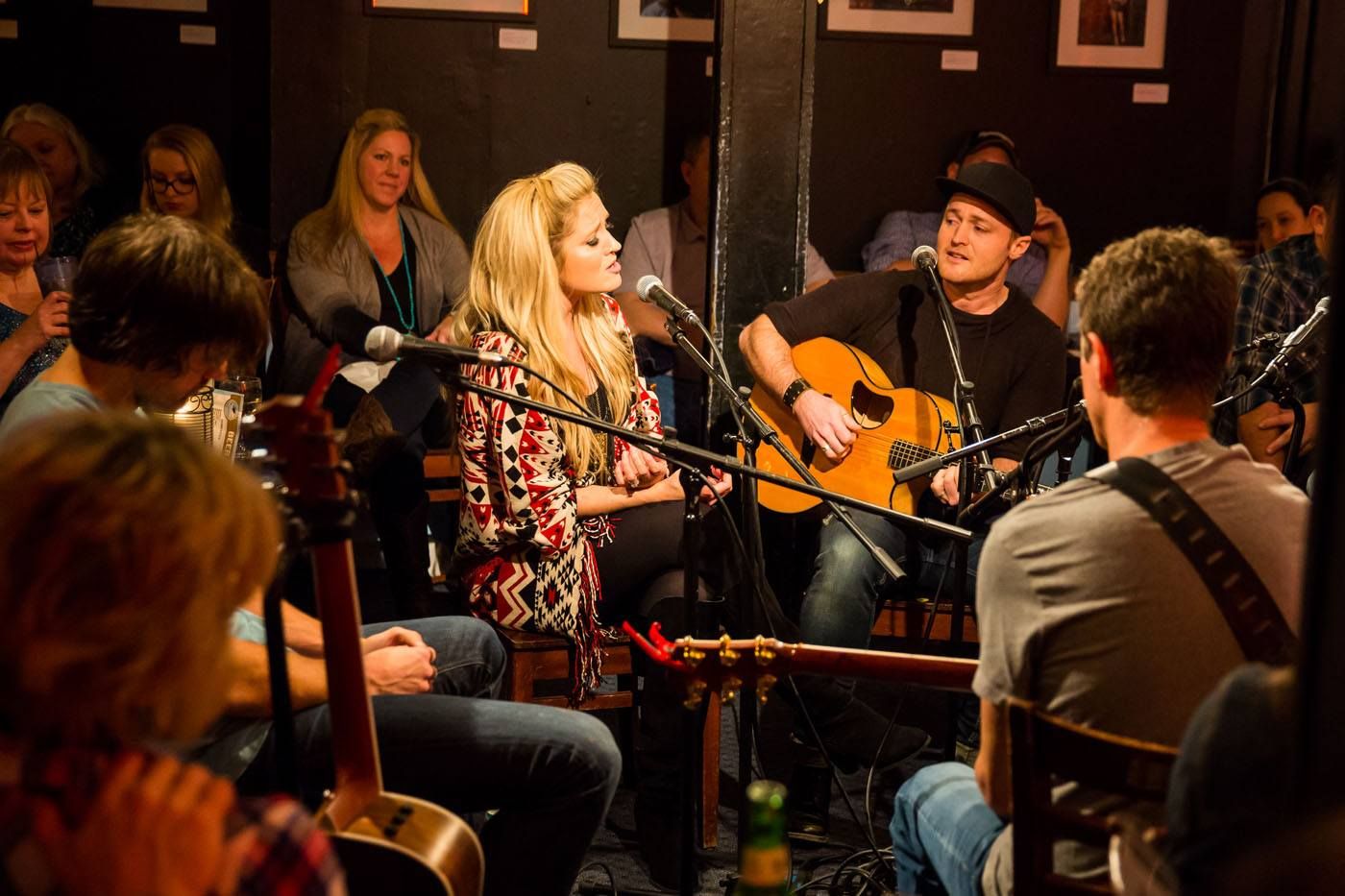 About Our Experience
We arrived at the Bluebird Cafe at 2:45 on a Saturday in February. Tim and I pulled up to a strip mall, wondering if we were at the right place. I double checked Google maps…how can something so iconic to Nashville be tucked away in a tiny strip mall? Well, we were in the right place.
When we saw there was no line we decided to wait. Maybe it would be worth it. Honestly, we had no idea what the Bluebird Cafe was all about, we were just there on recommendations from many of our friends.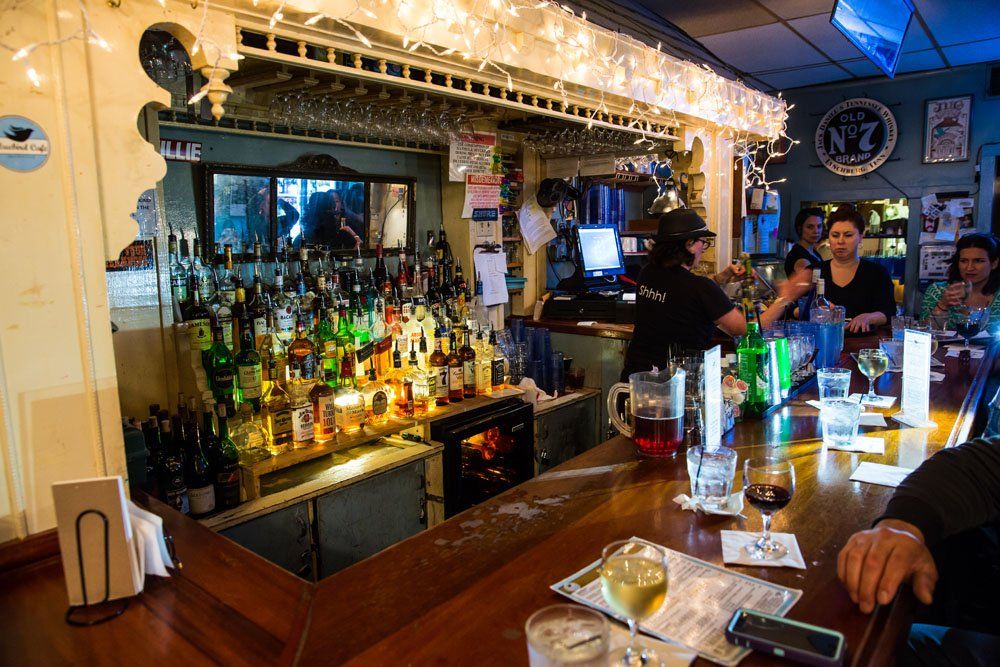 As the line grew and grew, we knew that the Bluebird Cafe must be something special. At 5:30 we were led inside, took our seats at the corner of the bar (bar seating is no longer available for walk-ins) and ordered our food and drinks. During the course of the hour guests filtered in and then the artists took their seats in the center of the room.
Tonight's performance featured five singer/songwriters. Their talent was incredible. You do not have to be a country music fan to appreciate the music here. Never have I listened to an artist when I'd be laughing during one song and almost in tears during their next song. Plus, the interaction and camaraderie between the artists made the whole experience even more enjoyable. The Bluebird Cafe is a small venue, which gives it an intimate yet casual feel.
Listening to the artists perform their music was amazing and remains our favorite thing we did in Nashville. We would go back to Nashville just to go to the Bluebird Cafe again.
So, get in line early! It is absolutely worth it. The Bluebird Cafe was our favorite thing we did in Nashville and we would wait in that same line and do it all over again!
---