Trekking to Everest Base Camp is an unforgettable journey. Hike through the mighty Himalayas, visit the monasteries, spin the prayer wheels, and make memories that will last a lifetime.
We get a lot of questions about what it takes to plan and then trek to Everest Base Camp. So, I decided to put together a post with our answers to your most popular questions. If we missed something, don't hesitate to ask us in the comment section below.
Questions about Trekking to Everest Base Camp
#1 How Long Does It Take?
On average, it takes between 11 and 14 days to trek round trip to Everest Base Camp. Most people will do it in 12 days: 8 days to hike from Lukla to Everest Base Camp and then 4 days to trek back to Lukla.
We did it in 11 days, simply because we felt so great on the hike back to Lukla that we combined two trekking days into one. It took us 8 days to trek from Lukla to Gorak Shep and then just three days to trek back to Lukla.
To read our day by day itinerary, don't miss our article Trekking to Everest Base Camp. Read about what it is like to stay in the teahouses, hike the trails day after day, and what it feels like at the higher elevations.
You can shorten the journey by hiring a helicopter to fly you from base camp back to Lukla, but this adds an extra expense to your trip. Plus, our favorite part of the trek was hiking back to Lukla. All the hard work was done, we were walking downhill, and this is when we really got to enjoy the stunning scenery.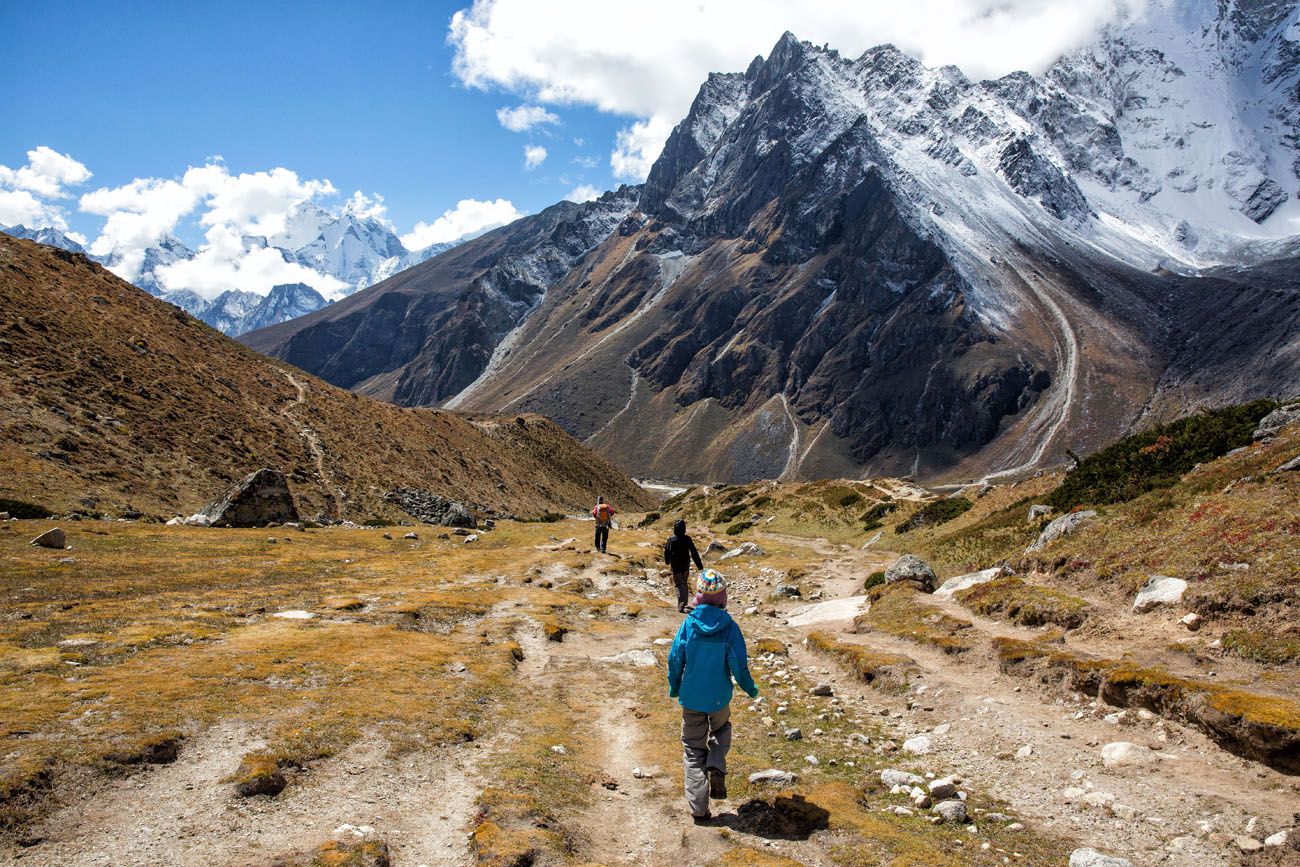 Trekking back to Lukla. This photo was taken between Lobuche and Pheriche.
PRO TRAVEL TIP: If you have suffered altitude sickness in the past, or have concerns about getting altitude sickness on this trek, consider adding one or more days on the trek from Lukla to Gorak Shep. An extra day or two could be the difference between a successful trek or an early trip back to Kathmandu.
#2 How Far Will You Walk?
The entire trek is 130 km (80 miles) round trip. This is the distance from Lukla to Everest Base Camp and then back to Lukla. However, there are several acclimatization days added to the itinerary. On these days, you will walk roughly 3 – 8 km, depending on the schedule.
The bigger story is the elevation gain. Lukla is at 2,860 meters (9,383 feet). Everest Base Camp sits at 5,380 meters (17,600 feet). That's a hefty increase in elevation. The closer you get to Everest Base Camp, the more challenging the trek becomes. Once you get up over 4270 meters (14,000 feet), walking on flat ground feels surprisingly difficult and small hills begin to feel more like mountains.
This was our first experience trekking at high altitude and we knew to expect the shortness of breath and fatigue, but it still surprised us just how difficult it can be hiking to hike at these higher elevations. Once in Gorak Shep, I remember that I would even feel out of breath just rolling over in my sleeping bag.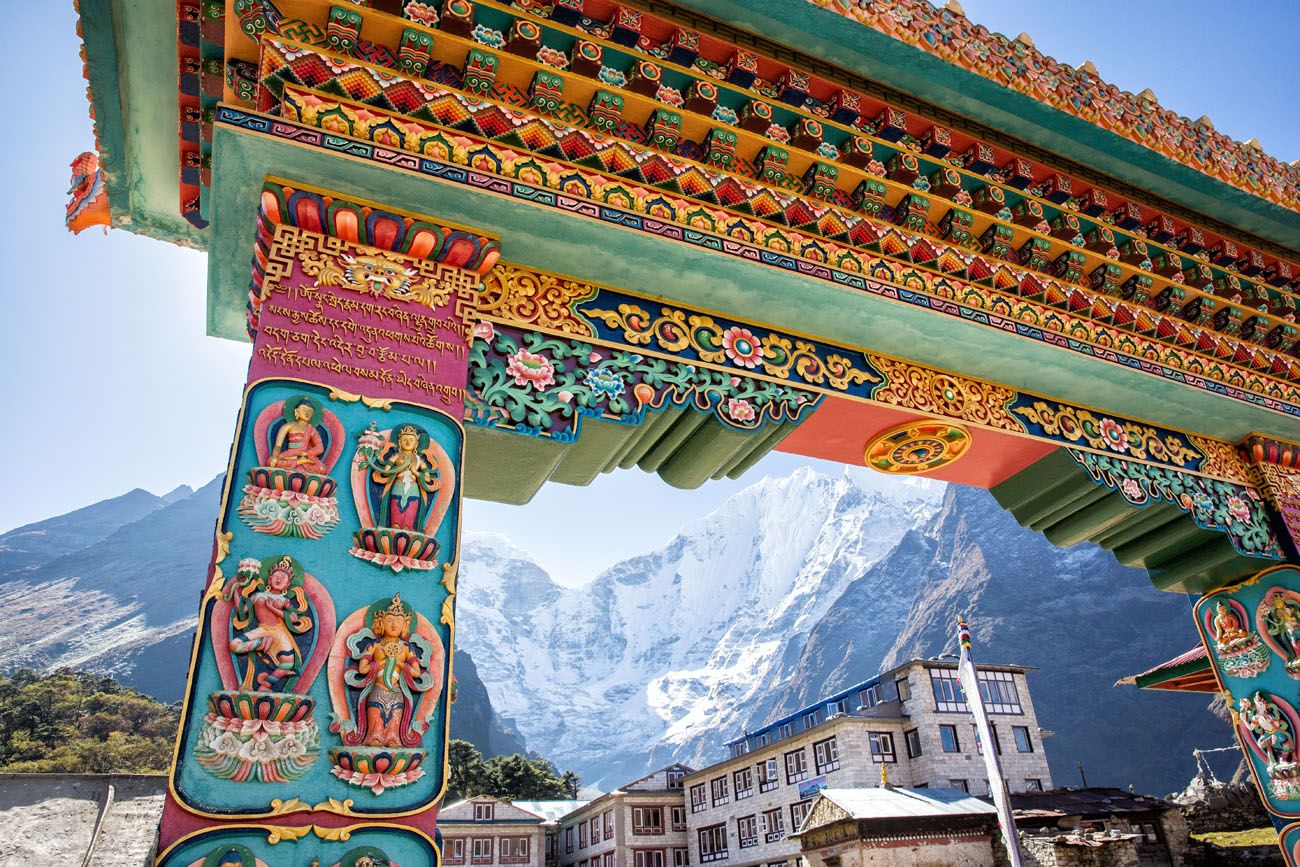 Entrance to the Tengboche Monastery
#3 What is it Like Flying into Lukla?
Google "world's most dangerous airport" and the Tenzing-Hillary Airport in Lukla, Nepal, consistently makes it onto the list. The geography of the airport's location combined with factors such as a very short runway and limited electricity make this airport one of the world's most dangerous.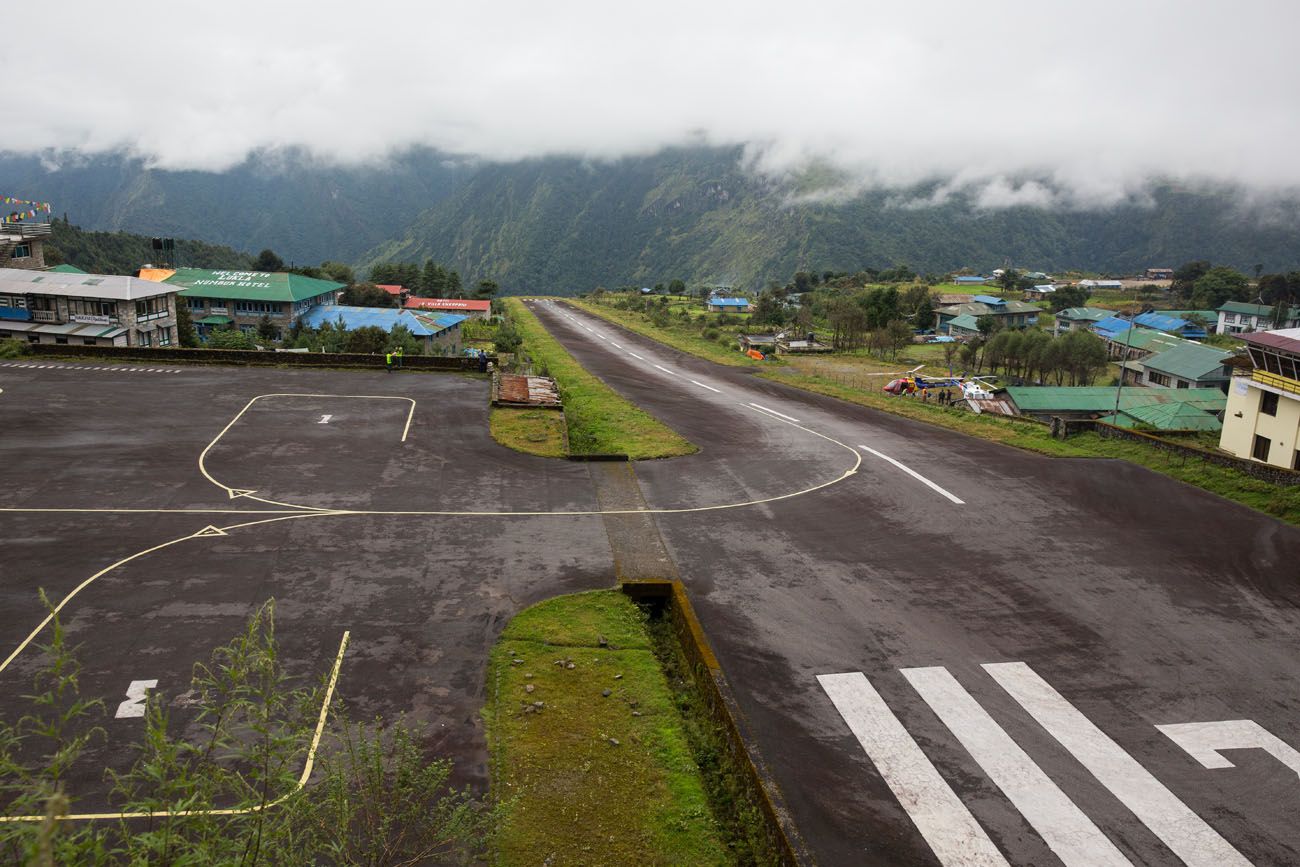 Lukla Airport
Flying into and out of Lukla can be a nerve-wracking, terrifying experience for some people and a thrill ride for others.
Note: As of late 2019, flights between Kathmandu to Lukla have been reduced, and I heard maybe even cancelled, due to congestion and runway maintenance at Tribhuvan International Airport. Rather than flying from Kathmandu, airlines are busing people to Ramechhap airport, which is a 4 hour drive from Kathmandu. From here, you fly to Lukla. Flight times are very fast (lasting only 12 minutes) and less likely to be cancelled or delayed due to unfavorable weather conditions. When booking your trek with a tour company, confirm your flight details between Kathmandu and Lukla.
#4 What About Altitude Sickness?
Altitude sickness is a real possibility on this trek. Altitude sickness typically occurs at elevations over 2,400 meters (7,900 feet), although for most people, it usually takes much higher elevations to cause symptoms.
The symptoms of altitude sickness are shortness of breath, headache, nausea, vomiting, and dizziness. Altitude sickness is a life-threatening condition that can lead to cerebral edema, pulmonary edema, and death. The treatment for altitude sickness is immediate descent to a lower altitude.
The biggest risk for developing altitude sickness increasing your elevation too rapidly. Ideally, you want to increase your elevation no more than 300 meters (1,000 feet) per day. On this trek, we did have an increase of 800 meters in one day, when we trekked from Phakding to Namche Bazaar on day 2. However, the following day was an acclimatization day to help us adjust to this new altitude before pushing on.
The eight day trek to Everest Base Camp is designed to give you enough time to acclimate to the increasing altitude without developing altitude sickness. Even so, there is a handful of people who will still develop altitude sickness. In order to decrease the likelihood of developing altitude sickness, you can schedule extra acclimatization days into the trek to Everest Base Camp.
By the time we reached Dingboche, we were all feeling the effects of the altitude, as were many other trekkers. All four of us suffered from mild symptoms of fatigue and loss of appetite. By the time we reached Gorak Shep, we all had a mild headache.
Tyler got altitude sickness during the ascent up Kala Patthar. Our guide, Indra, immediately recognized the symptoms, put Tyler on his back, and within minutes, ran back to Gorak Shep (with Tim clearing the trail of other hikers along the way). Once in Gorak Shep, Tyler's symptoms disappeared and he immediately felt better.
It's not only important to be familiar with the signs and symptoms of altitude sickness to keep yourself safe on the trail, but this is an example of why we recommend trekking with an experienced guide. Indra recognized Tyler's symptoms and took immediate action.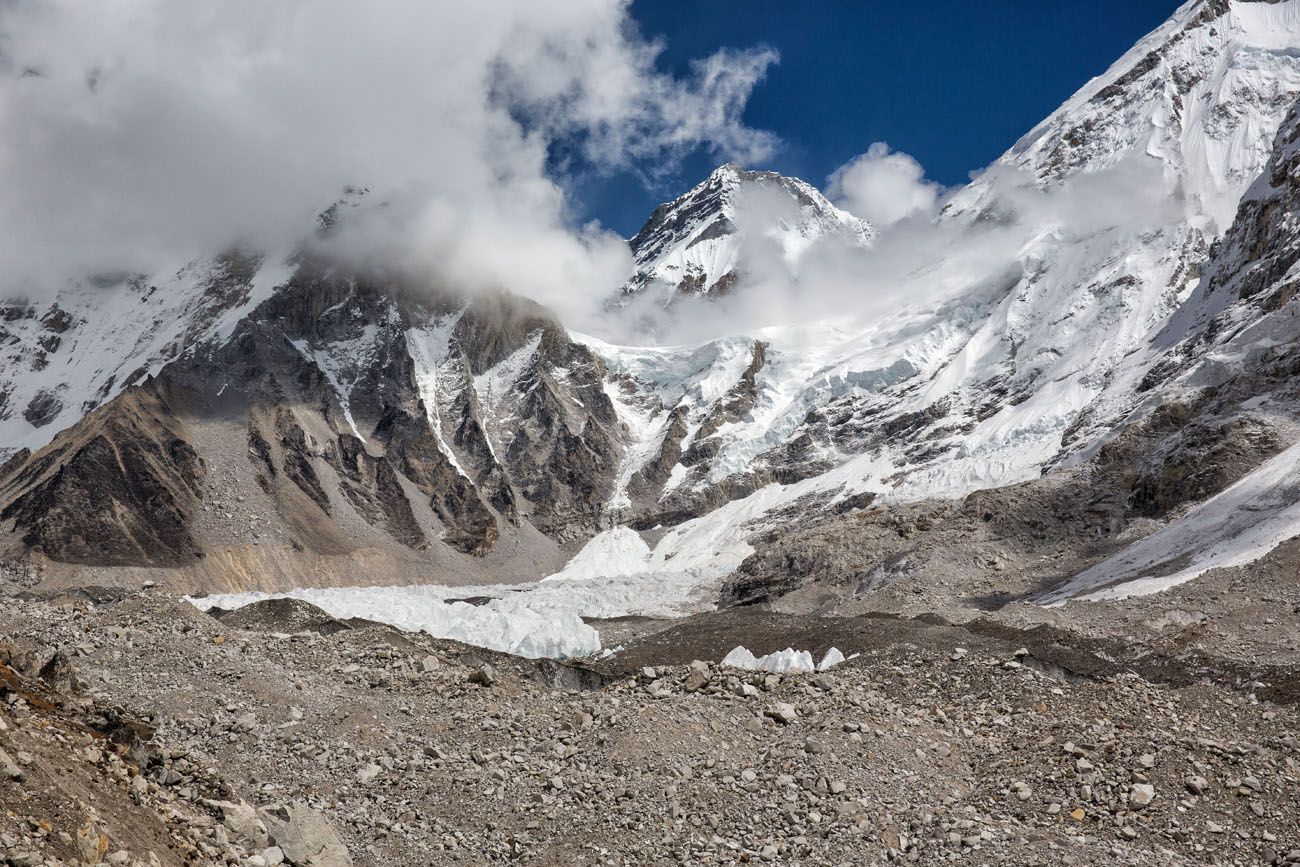 Everest Base Camp
#5 When is the Best Time To Go?
There are two main seasons to trek to Everest Base Camp, in the fall between October and November and again in the spring between April and May. The true climbing season to summit Everest takes place in April and May, but the more favorable trekking season is during the fall months. This is when the skies are clear and the scenery magnificent.
We scheduled our trek to start at the end of September, right at the end of the monsoon season. Late season rains delayed our flight to Lukla by one day. However, by starting just before peak season, we were able to hike on uncrowded trails for most of the trek. By the time we made it back to Lukla, in early October, the crowds on the trails were more than double.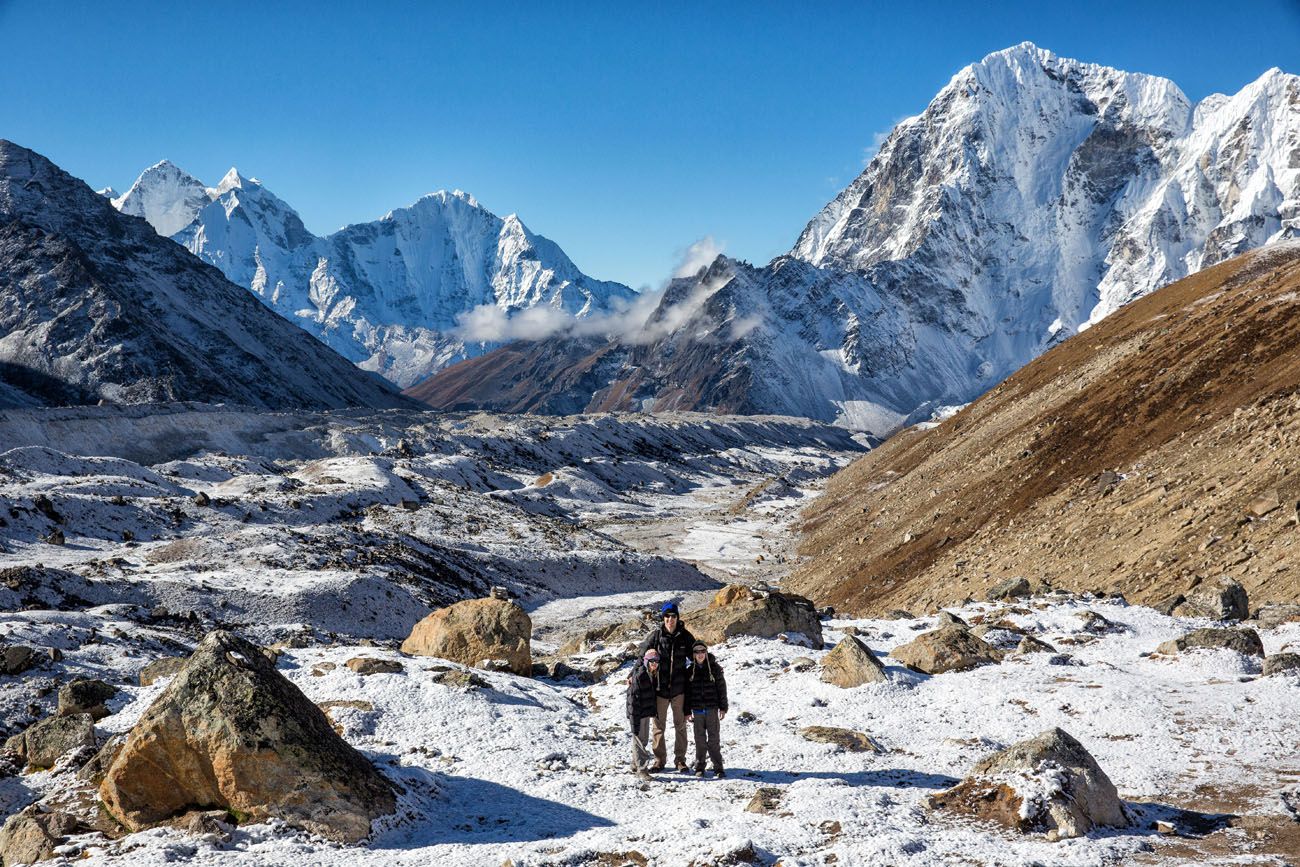 This photo was taken on the trek from Gorak Shep back to Lobuche
#6 How Much Time Will You Need in Nepal?
If the only thing you want to do in Nepal is to trek to Everest Base Camp, you need the number of days for the trek plus a minimum of 2 days in Kathmandu on either side of the trek. For example, if you plan to do a 12 day trek, you will need a minimum of 16 days in Nepal.
When you first arrive in Kathmandu, you need a little bit of time to adjust to the time change, meet your trekking company, and work out any last minute details. This also gives you time in Kathmandu to visit some temples, go shopping, and purchase anything you will need for the trek.
Give yourself at least two days after the trek as contingency days. Flights to and from Lukla frequently get cancelled, which will add extra time onto the trek. It's better to have this extra time built into your itinerary. And if everything goes to plan…awesome! Kathmandu is such a cool city and you can go sightseeing with your extra time.
Namche Bazaar
#7 Should You Hire a Guide and Porter?
Yes. We hired a guide and a porter and it was a great decision.
99% of the time we do things independently, which means we skip the tour groups and figure out how to do things on our own (and then tell you how to do the same thing through our articles). But trekking to Everest is different.
If you hire a tour company, everything is included. Your flights, your guide, your porter, your food, and your accommodations along the way. It is so convenient and takes away such a big hassle out of the planning process that it is worth the extra expense.
We used Nepal Social for our trek in 2014. Since that time, Nepal Social has fallen in the rankings on Trip Advisor and we were not thrilled with our experience with them. However, our guide, Indra, was amazing but he no longer works for Nepal Social.
We do not have any specific recommendations for tour companies. Our advice would be to check the reviews on Trip Advisor. Pick a highly rated company that gets a lot of excellent reviews over a long period of time.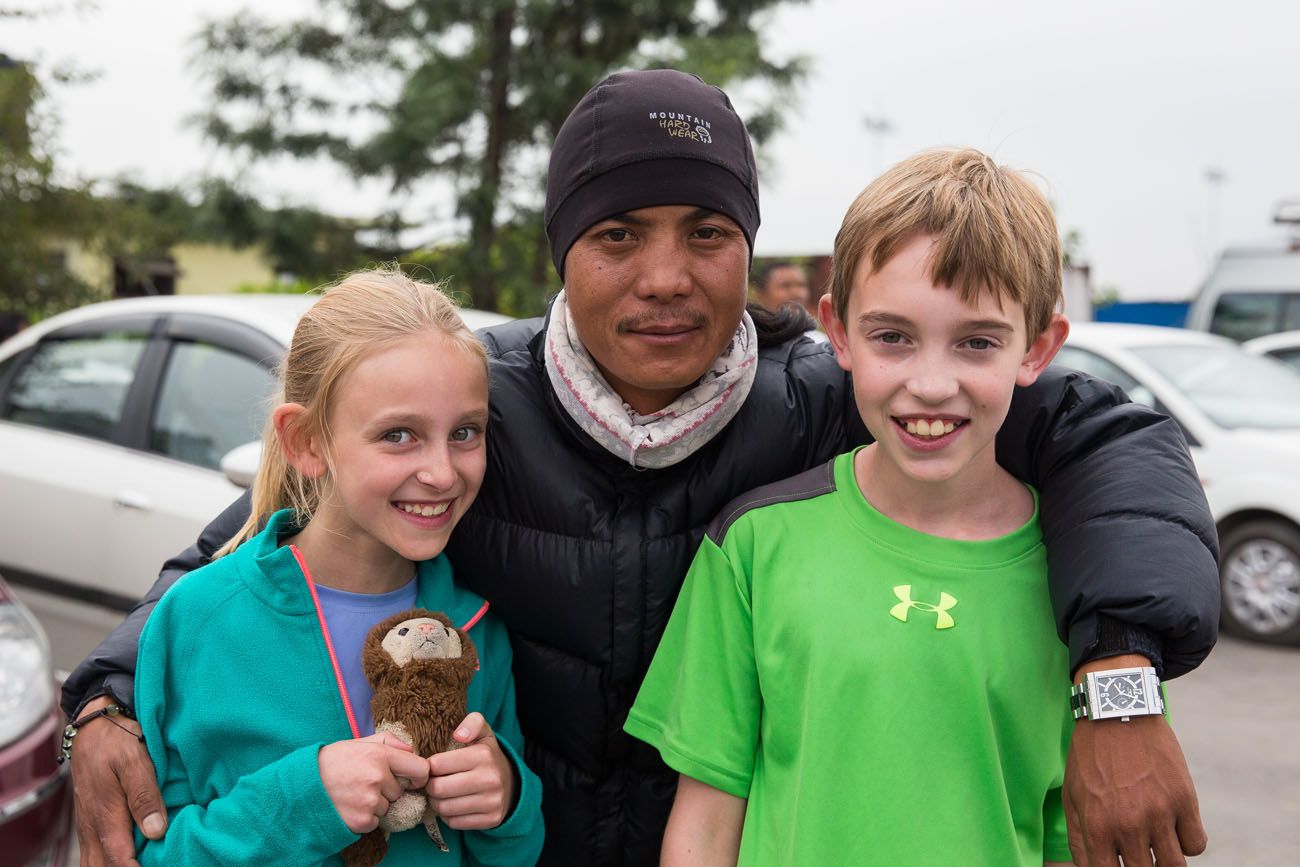 Tyler, Kara, and our guide, Indra
#8 Questions to Ask the Trekking Companies
Before you hire a tour company, here are some questions to ask to help you understand what to expect.
Do they include a tour of Kathmandu?
Do they provide a gear checklist, check over your gear, and/or help you purchase anything you might need? Our trek was part of our around the world adventure so we had to purchase winter gear in Kathmandu before starting our trek. We donated the winter gear to an orphanage once we returned to Kathmandu.
Do they include a guide and a porter? We feel that it is important to have both and for them to be two separate people. Let the porter go ahead with your gear (except for what you have in your day pack). And let your guide focus on trekking with you, telling stories about the mountains and the villages, and keeping an eye on how you are doing (taking breaks, monitoring you for altitude sickness, etc.).
What hotel do they use in Kathmandu? Then you can look it up on Trip Advisor or Booking.com so you know what you are getting.
What airline do they use to fly to Lukla? Do they fly from Kathmandu to Lukla or from Ramechhap to Lukla?
What contingency plans do they make if there is bad weather and your flight is cancelled? How does this impact your itinerary and are there any extra expenses, such as an extra night stay in Kathmandu, as a result?
Do they book you onto a helicopter if the airline flights between Kathmandu and Lukla are grounded? And does that cost extra?
What expenses are covered during the trek, such as accommodations, meals, etc? And what expenses do they think you should plan on covering yourself?
What are your accommodations during the trek, teahouses, camping, etc.?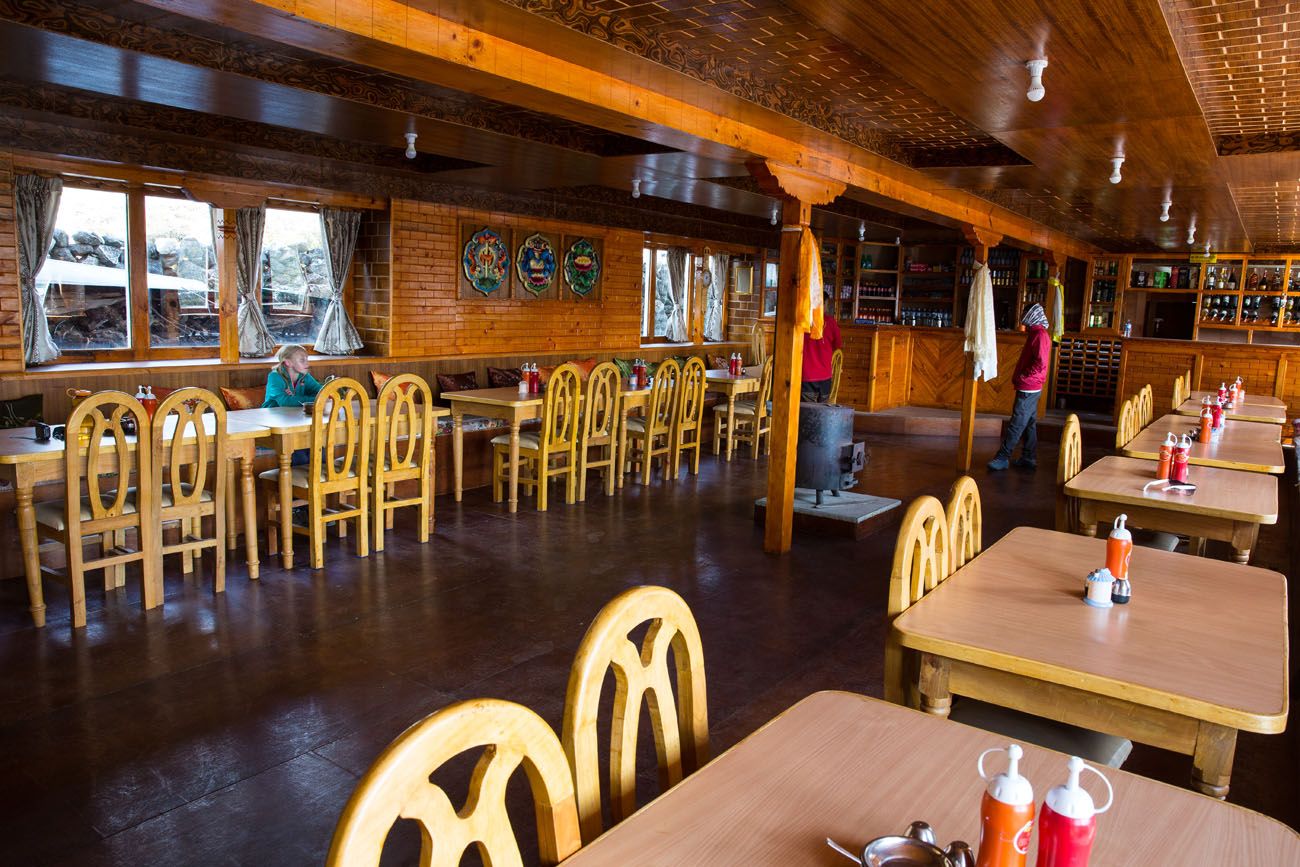 A typical teahouse
#9 How Much Will It Cost?
If you hire a tour company to arrange your guide, your porter, your flights, and your food and accommodations on the trek, it can cost anywhere from $1,200 to $4,000+ per person.
So, why such a big range in price? The number of days of your trek, your dates of travel, and your mode of transportation to and from Lukla have the biggest impact on price.
Of course, the longer the trek the more expensive it will be.
Most people fly to Lukla by plane but you can also travel by helicopter. Traveling by helicopter is more expensive but our guide told us that helicopters can still fly to Lukla if flights have been cancelled due to bad weather (but is this really still a good idea?). And if you choose to fly back to Lukla via helicopter rather than walk, that will increase your price.
We paid a total of $3680 (for the four of us) in 2014. Since Tyler and Kara were kids, we paid a reduced price for them, which accounts for our low per person rate. We did not receive a discount for running this blog.
Some tour companies will offer more experienced guides, flights on a more reputable airline, and slightly nicer teahouse accommodations. You will have to research the companies and pick out the one that is right for your budget and your needs.
It is worth spending the money for a porter. I couldn't imagine trekking at a high elevation with anything other than a day pack on my back.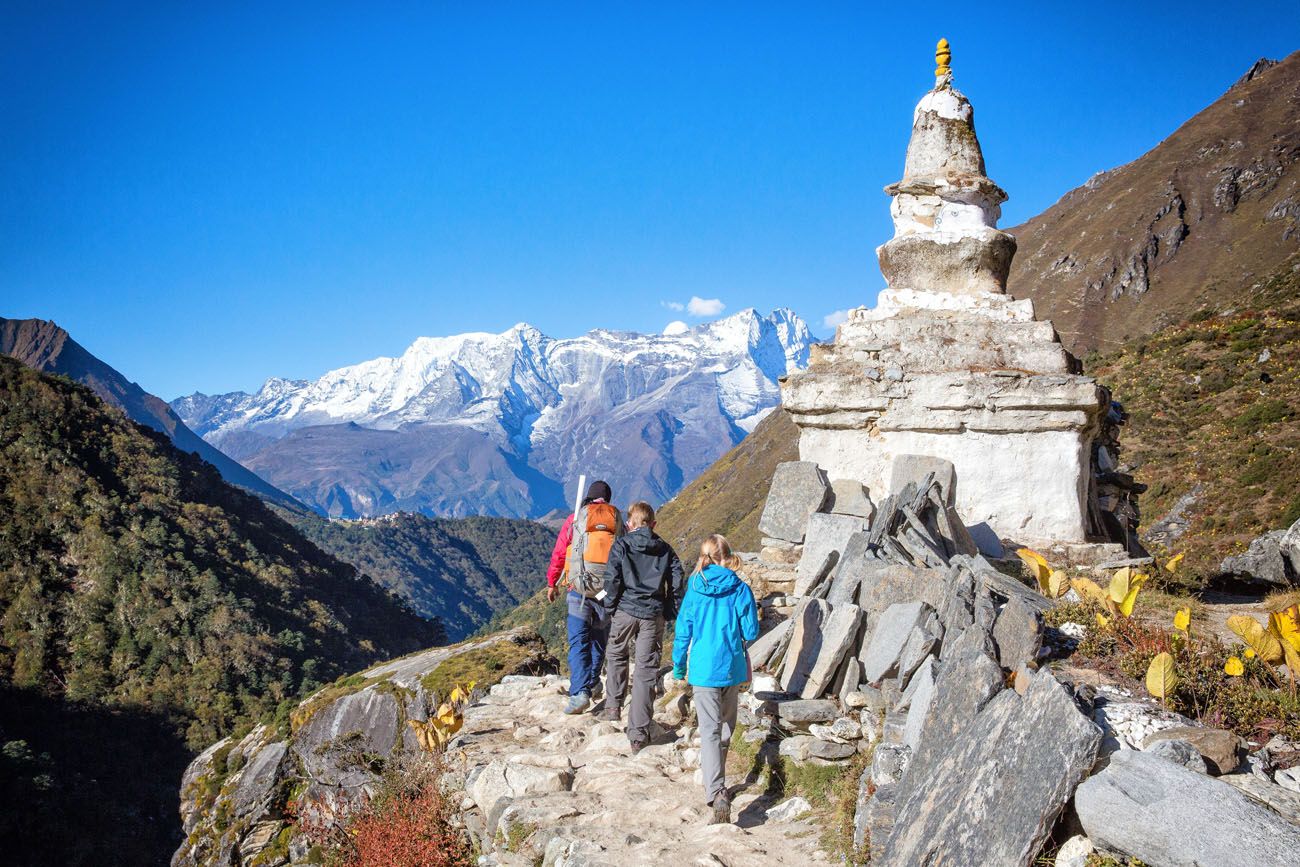 Another view along the trek back to Lukla
#10 How Much Cash Should You Bring on the Trek?
Once you get past Lukla, there are no ATM's on the trek. While in Kathmandu, take out money for purchases along the trek. Here is a list of what you will need cash for:
Bottled water
Toilet Paper
Showers
WiFi and Cell Phone Charging
Tips for your guider and porter
Extra gear and souvenirs
Plan on bringing a minimum of $100 USD per person on the trek. We spent just over $400 for the items in the list, although tips were a big chunk of what we spent.
#11 How Do You Stay Healthy on the Trek?
Our biggest piece of advice is to go vegetarian. Our guide, Indra, warned us not to eat the yak cheese, as that seems to cause diarrhea in a lot of trekkers. Also, meat is not refrigerated (you will smell the porters carrying it as you hike alongside them…it does not smell good). We ate mostly dal bhat, fried rice, vegetable curry, and Tibetan bread.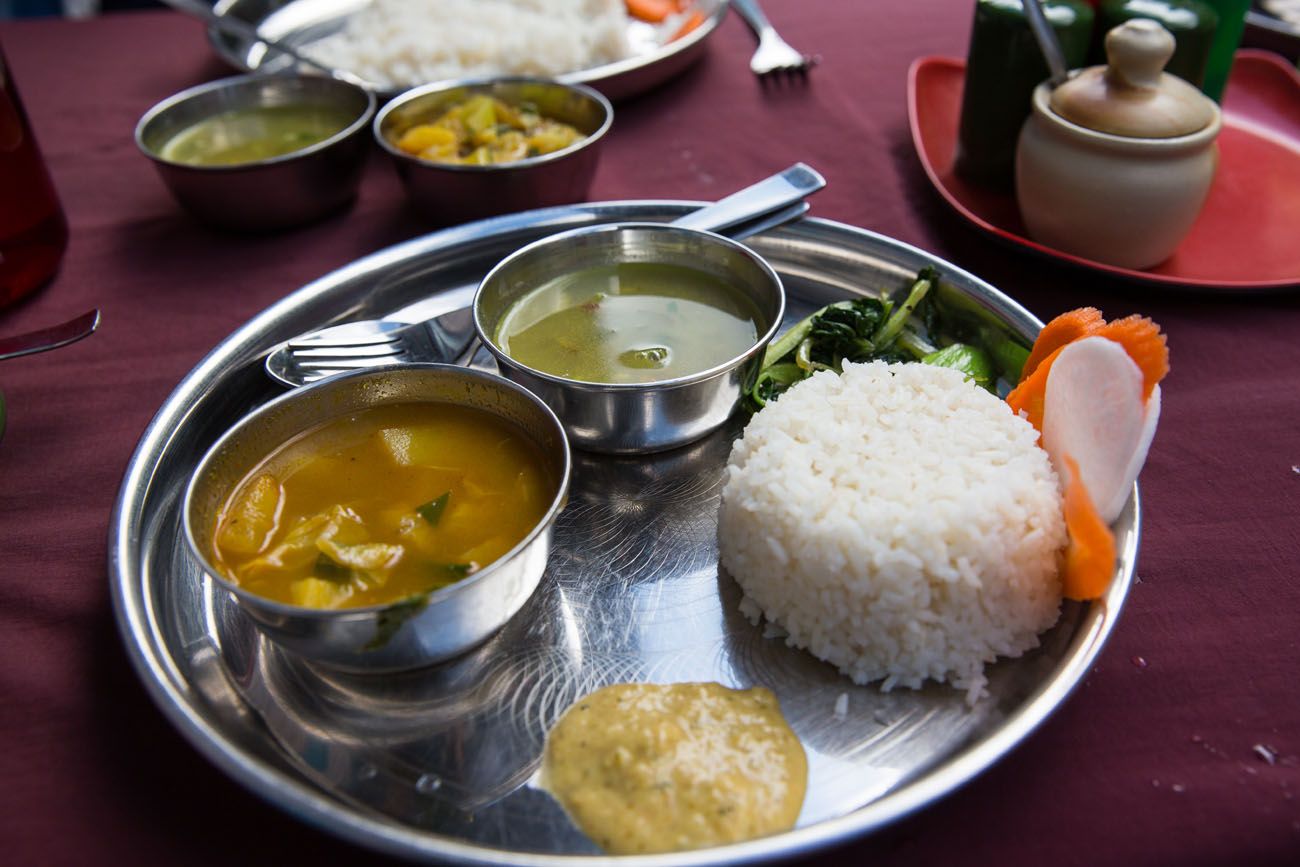 Dal Bhat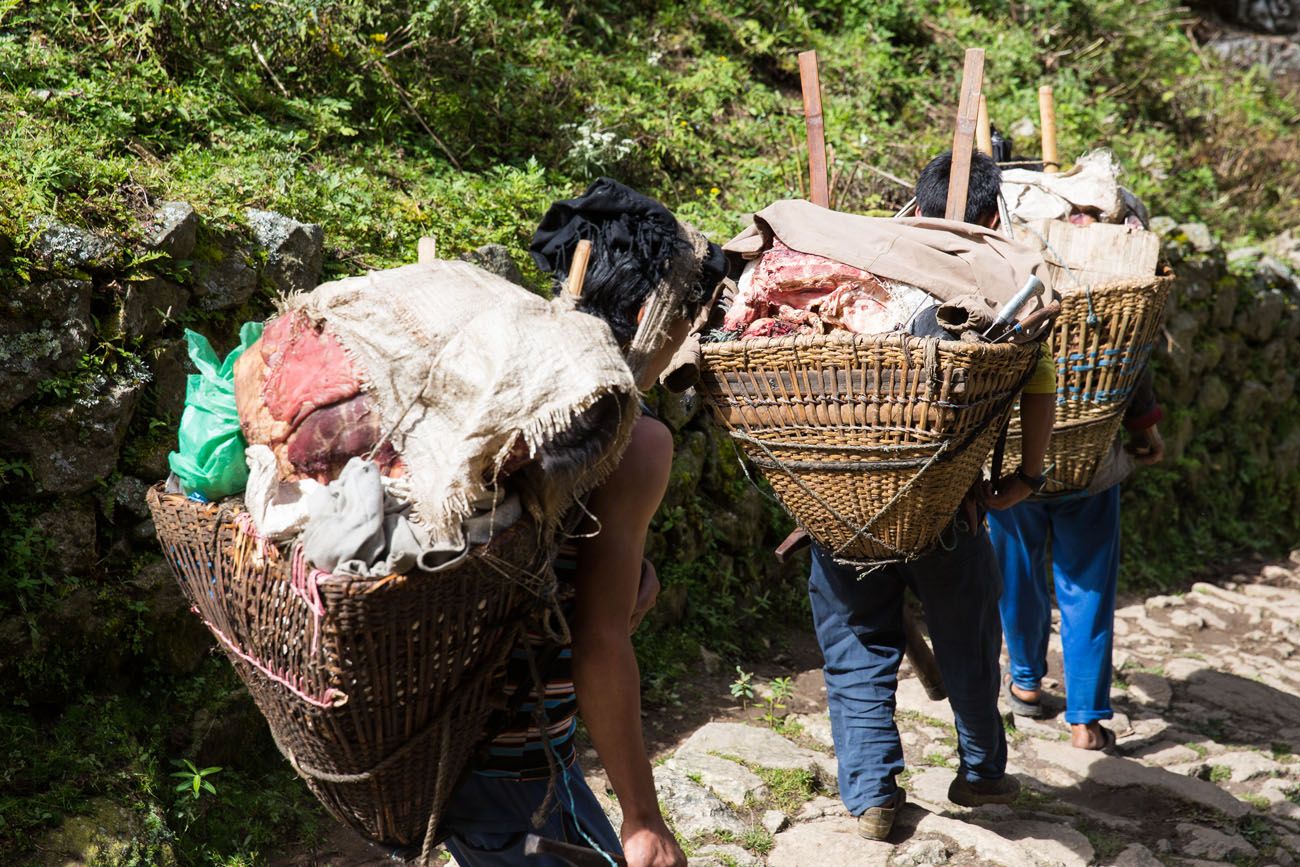 Porters on the trail. Notice the meat!
Bring along some snacks because the food does get to be monotonous.
Only drink bottled water or treat the tap water with a Steri-Pen or water filtration device.
Forgo the alcohol. That dehydrates you and increases your risk for altitude sickness.
In our experience, the bathrooms were disgusting by the time we reached Dingboche. In a teahouse, one hallway of rooms shares one bathroom with a toilet that does not flush (in our experience). It doesn't take much imagination to picture what this gets to be like. I began using the squat potties in the porter and guide's section of the teahouse because these were so much cleaner.
Hand sanitizer is worth its weight in gold once you start living in these conditions.
#12 How Fit do You Need to Be?
On most days, you will be hiking between 5 and 8 miles. The daily distances are very doable and there will be several days when you walk less than this.
It's not the length of the hikes that makes this challenging, it's the elevation. Having a good level of fitness will make this much easier for you and it will help you handle the elevation changes better.
You should be able to easily walk 8 to 10 miles a day, several days in a row, while wearing a backpack.
There are no technical sections on the hike. It's just a graded hiking trail with no rock scrambling, no rock climbing, and no special skills needed. Just a sense of adventure and a lot of perseverance.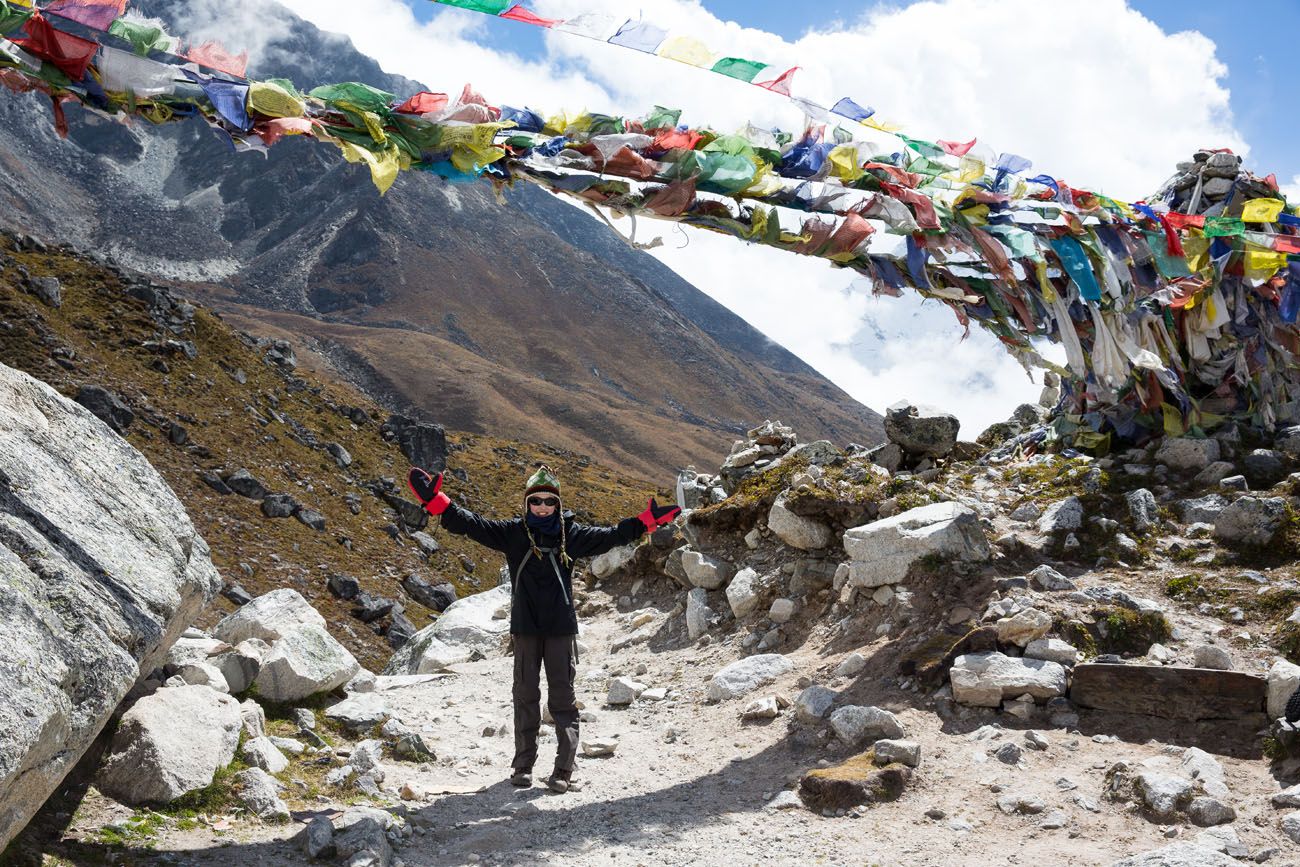 #13 Can Kids Hike to Everest Base Camp?
Yes, kids can do this. I have read that kids as young as 5 years old have done this trek.
Tyler and Kara were 11 and 10 years old when they did this trek. In fact, Kara turned 10 just 3 weeks before our trek.
---
Did we miss something? If you still have questions, ask us below!
More Information about Nepal
You Might Also Like: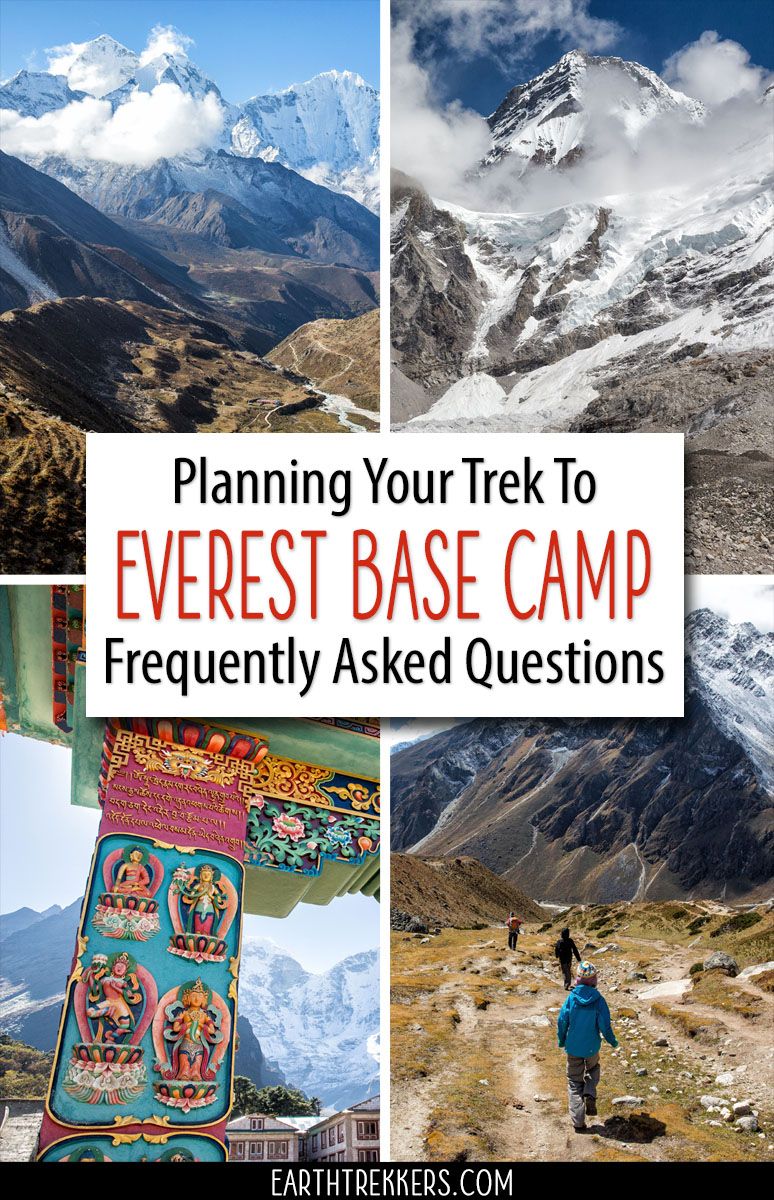 Note: This post contains affiliate links. When you make a purchase using one of these affiliate links, we get paid a small commission at no extra cost to you.
All rights reserved © Earth Trekkers. Republishing this article and/or any of its contents (text, photography, etc.), in whole or in part, is strictly prohibited.