Pokhara, a small city located about 200 kilometers (124 miles) west of Kathmandu, is a popular tourist destination in Nepal. This city is located on Phewa Lake at the foot of the Himalayan Mountains and is the beginning of the Annapurna Circuit, another very popular trek in Nepal.
Pokhara is known as the adventure capital of Nepal and this is the place to go white water rafting, paragliding, and hiking. We came here to relax. After more than three months of travel all four us needed a break. We just needed to do nothing!
Kathmandu to Pokhara
But first we had to get there. We would be traveling by bus, the most economical method of travel in Nepal. There are many tour companies making the daily journey between Kathmandu and Pokhara, and we picked a middle-priced company, Baba Adventures. This was our first of many long distance bus journeys in Asia. I wouldn't exactly say that we were looking forward to it, but traveling this way is almost a necessity in this part of the world.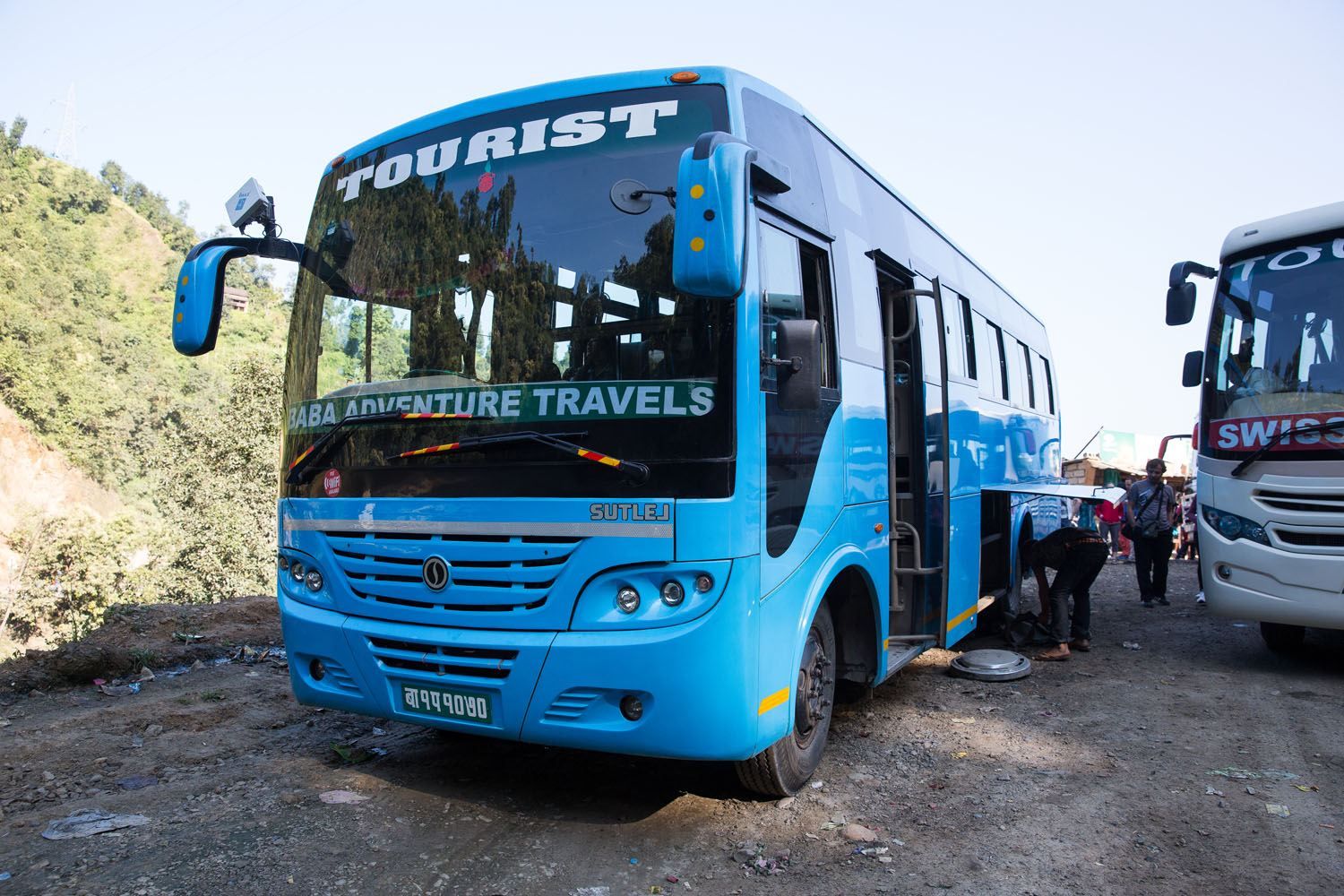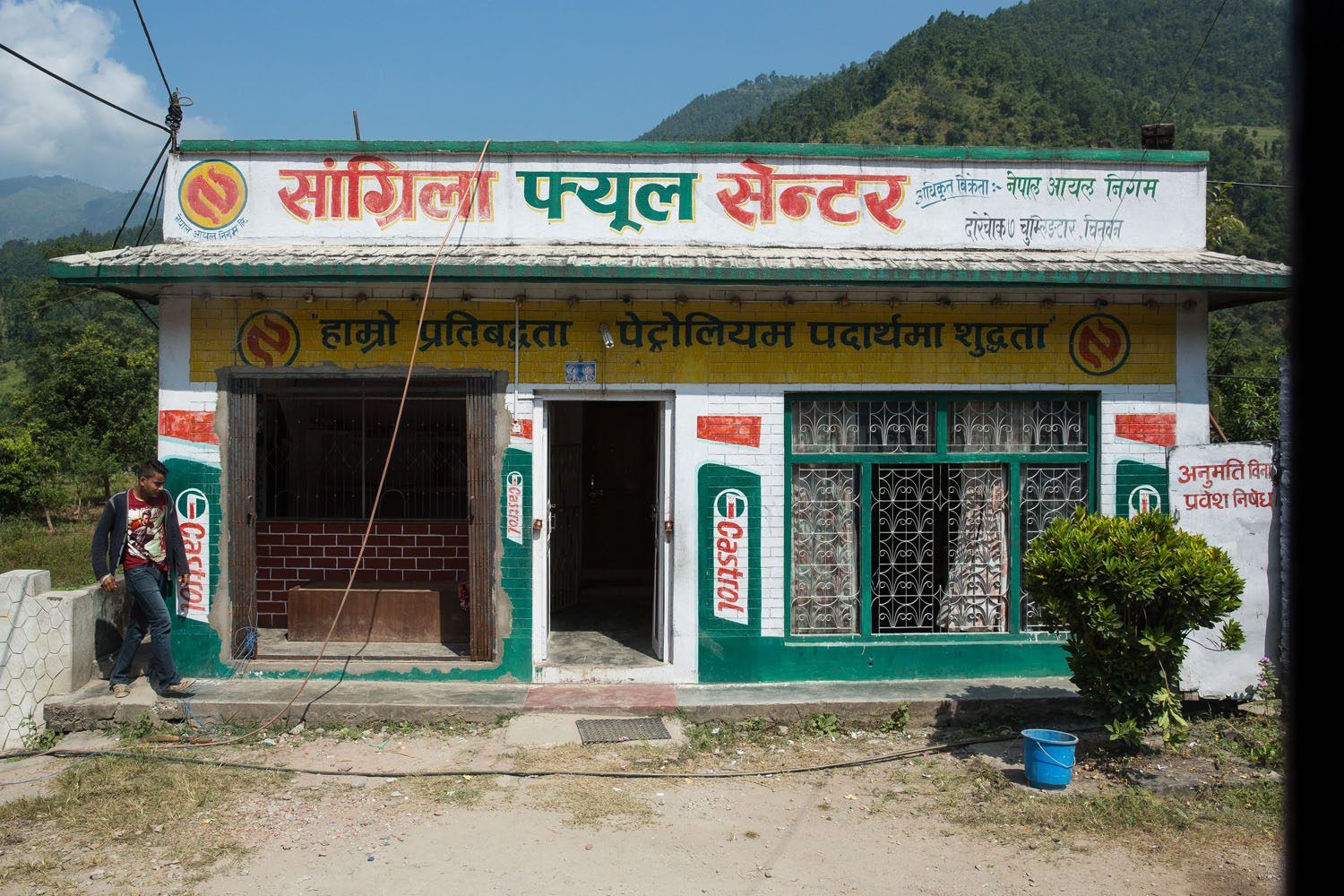 Tourist buses are relatively modern buses offering A/C and somewhat comfortable seating. Everyone has an assigned seat so there is no overcrowding like there is on local buses.
Our bus left Kathmandu at 7:15 am. Immediately it was very slow going. Two lane roads are the rule in Nepal. Never once did I see a speed limit sign. But that doesn't really matter as there are so many slow cars and trucks on the road that it is almost impossible to drive fast here.
There are also no shoulders on the roads, so if someone wants to pull over, they just stop in the road. Now, all of the cars behind them must drive into the oncoming traffic lane to pass them. This scenario occurred at least twenty times and we hadn't even made it out of Kathmandu yet!
The biggest dangers on the road in Nepal are head on collisions and buses driving off the side of the road, landing in the river valley below. Just two days ago a local bus ran off the road, killing 27 on board.
Our progress was painfully slow. The roads were narrow and winding and we had to keep slowing down to avoid hitting oncoming traffic. Every time our bus slowed down we could hear the loud screech of the brakes.
Not even an hour into our journey our bus had to pull over to fix a flat tire.
I had read numerous accounts of these bus trips but never expected to actually live it. But the journey wasn't all bad. The countryside here is beautiful. Lush mountains with dense forests, banana trees growing along the roads, terraced fields of crops…this part of Nepal is gorgeous. The towns along the way looked like tiny versions of Kathmandu, with trash and cows in the streets, half constructed buildings, and people selling goods out of small shops. Watching Nepal pass by the bus windows was fascinating.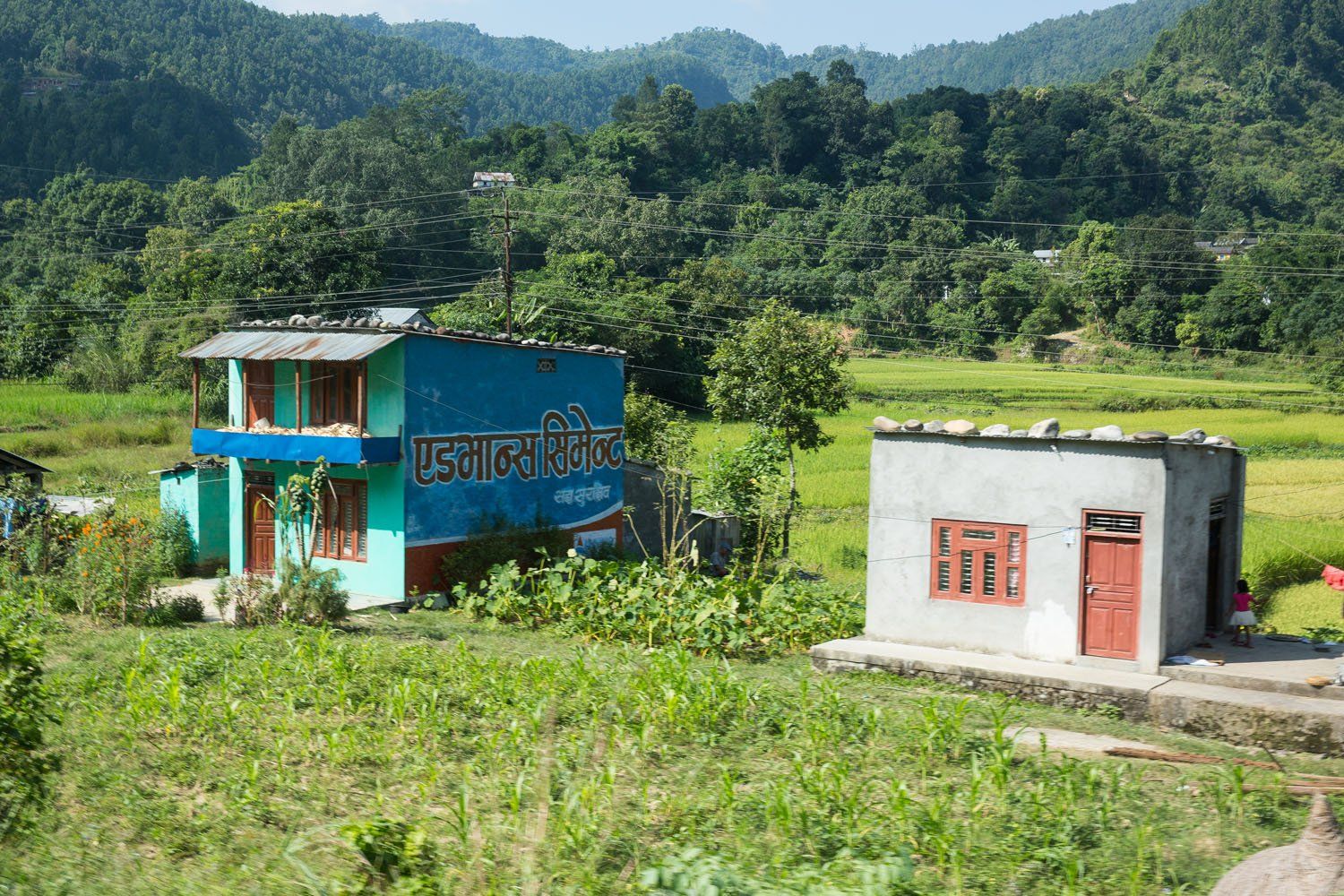 Our bus stopped two more times for breakfast and lunch breaks. We parked at roadside stands selling bananas, Pringles, candy bars, and bottled water, with squat potties for toilets. Finally, at 3 pm, eight hours from the start of our journey, we arrived in Pokhara. It took forever but we made it, safely. Tyler and Kara handled the journey extremely well. In five days we get to repeat the experience going back to Kathmandu!
Our "home" in Pokhara
Shekhar, the man running The Global Inn (our home for the next five nights), met us at the bus station. A taxi took us to the hotel and we checked into our very small room. For just $25 a night the four of us were sharing a tiny room just big enough for three beds. We unpacked our things the best we could in such a small place. But it was clean and comfortable and we had our own bathroom, so we were happy.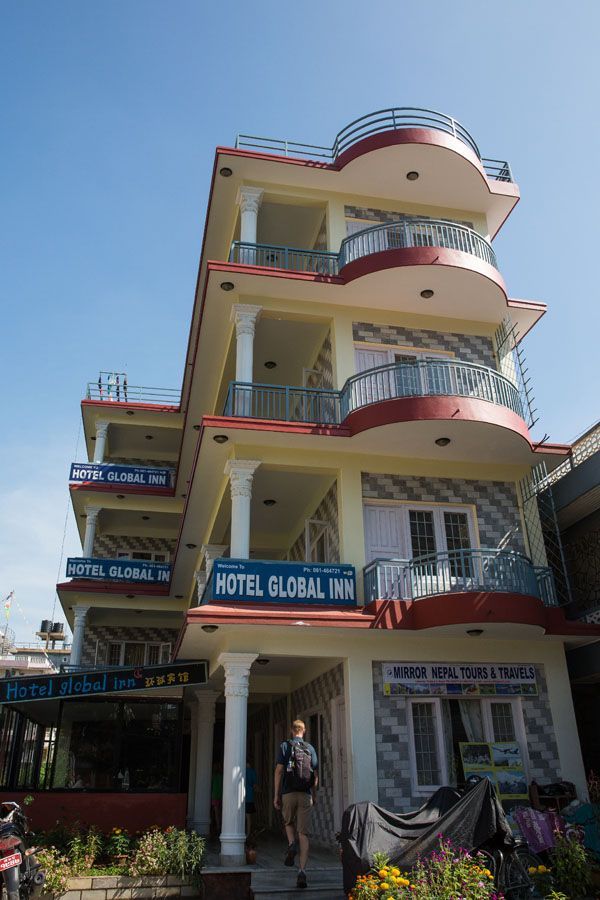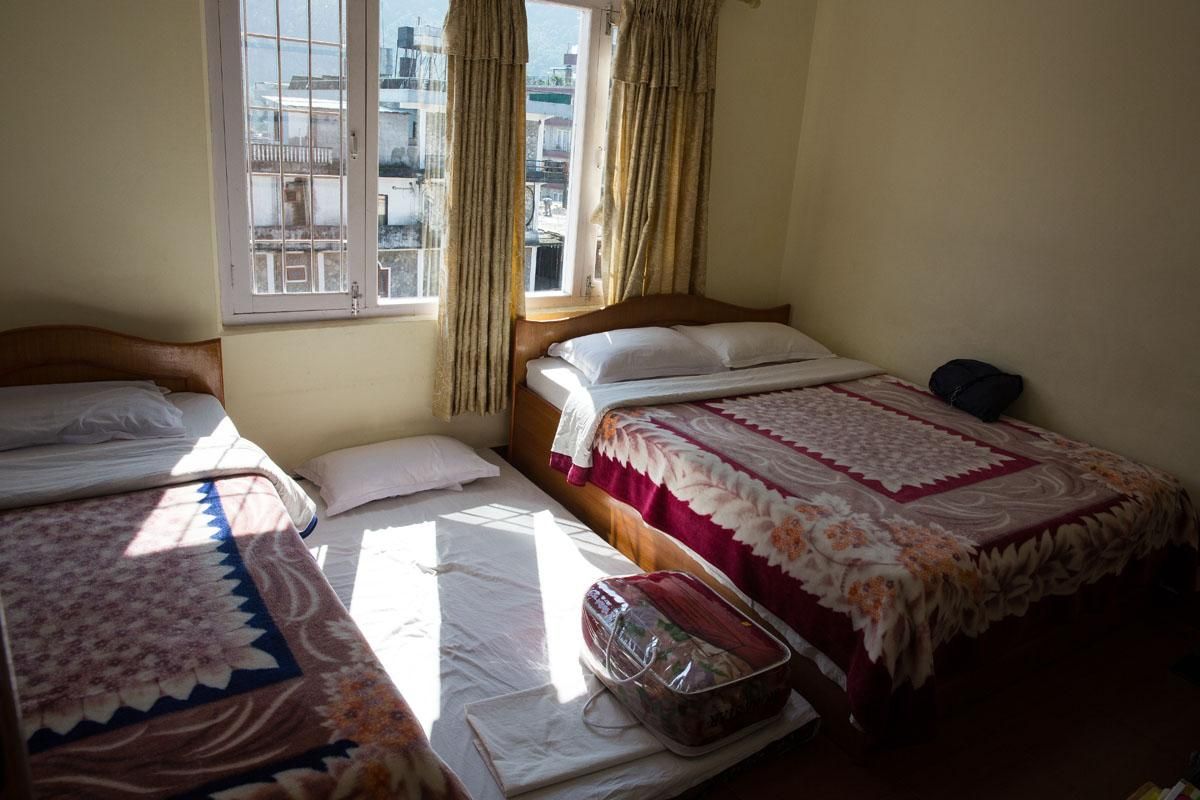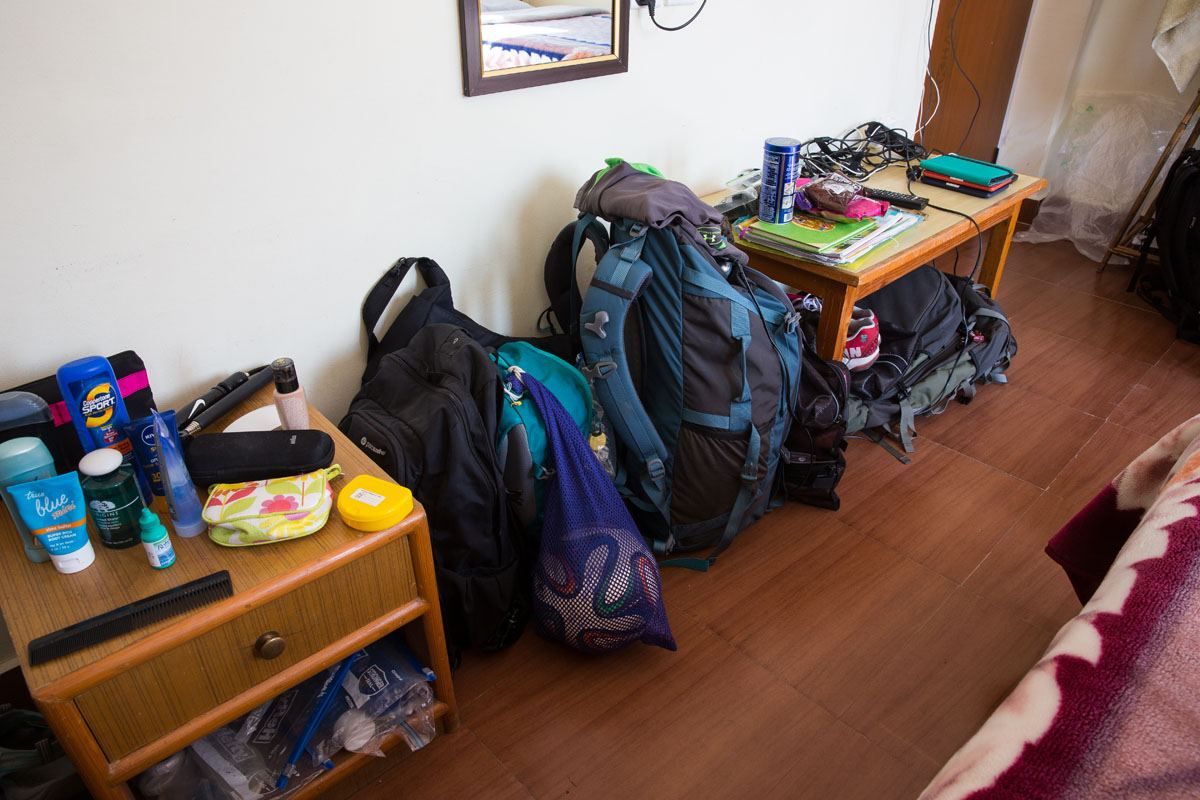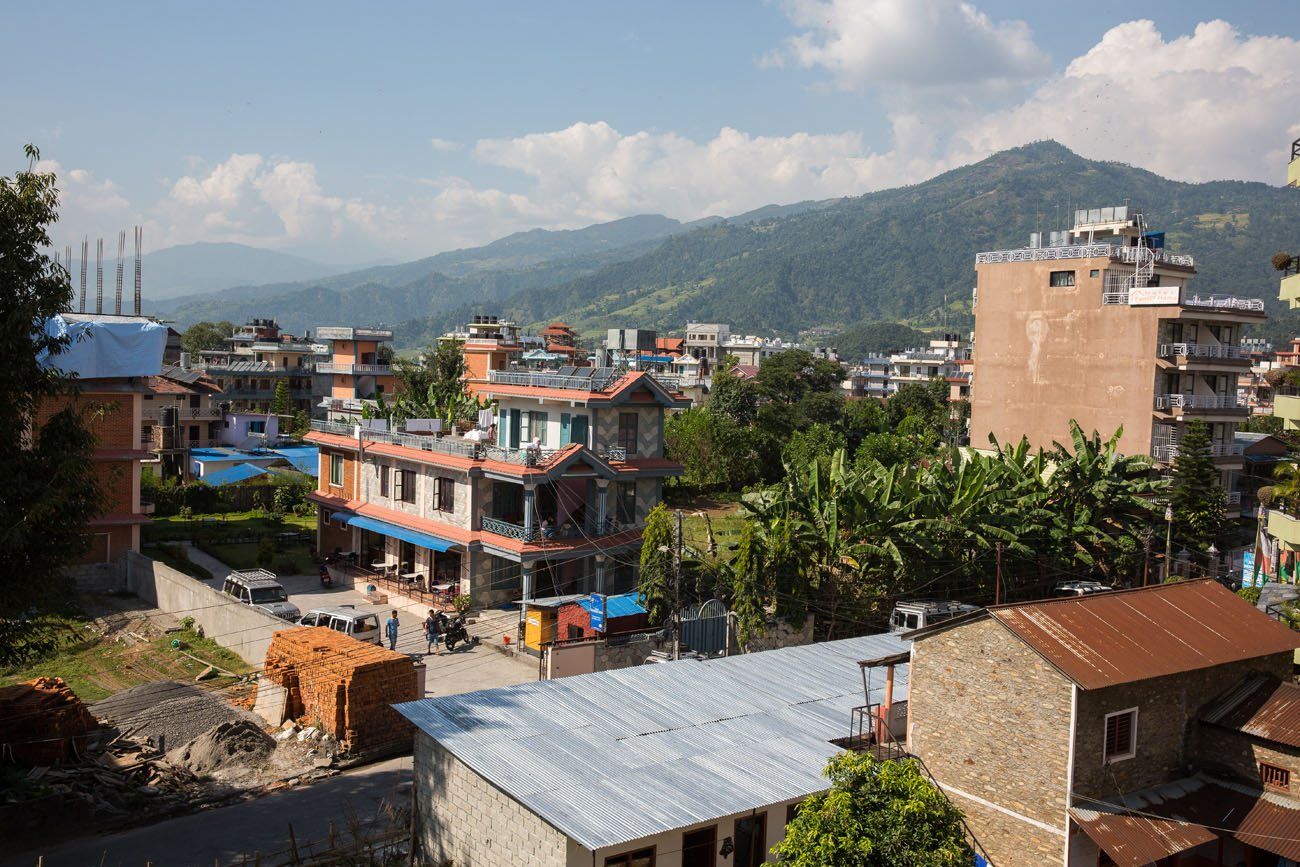 The Rooster Outside our Window
The next morning, at 3:30 am, a rooster began to crow outside of our window. There were small farms on either side of the hotel, one with cows and one with chickens. The rooster crowed all morning and well into the daytime. The next morning the little bugger was out again, welcoming the sun.
We were all able to sleep through the crowing, but he had me wondering, why start so early in the morning?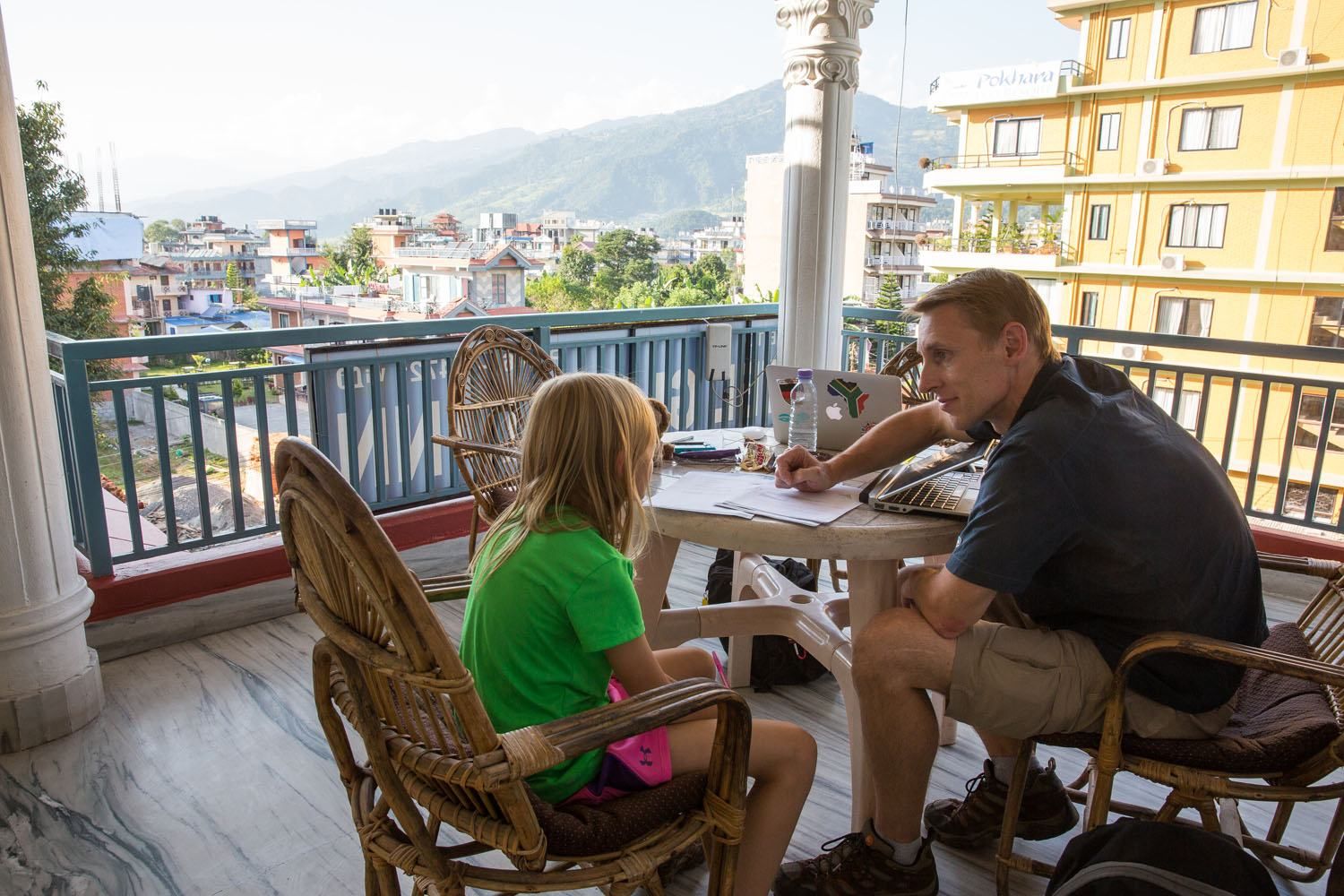 Most of our time in Pokhara was spent at the hotel, catching up on trip planning and homeschooling Tyler and Kara. Tyler and Kara were happy to have some downtime to watch movies on the TV, play video games on their computer, and just relax. At times, we felt a little guilty for not getting out and doing more, but sometimes it is very nice to just do nothing.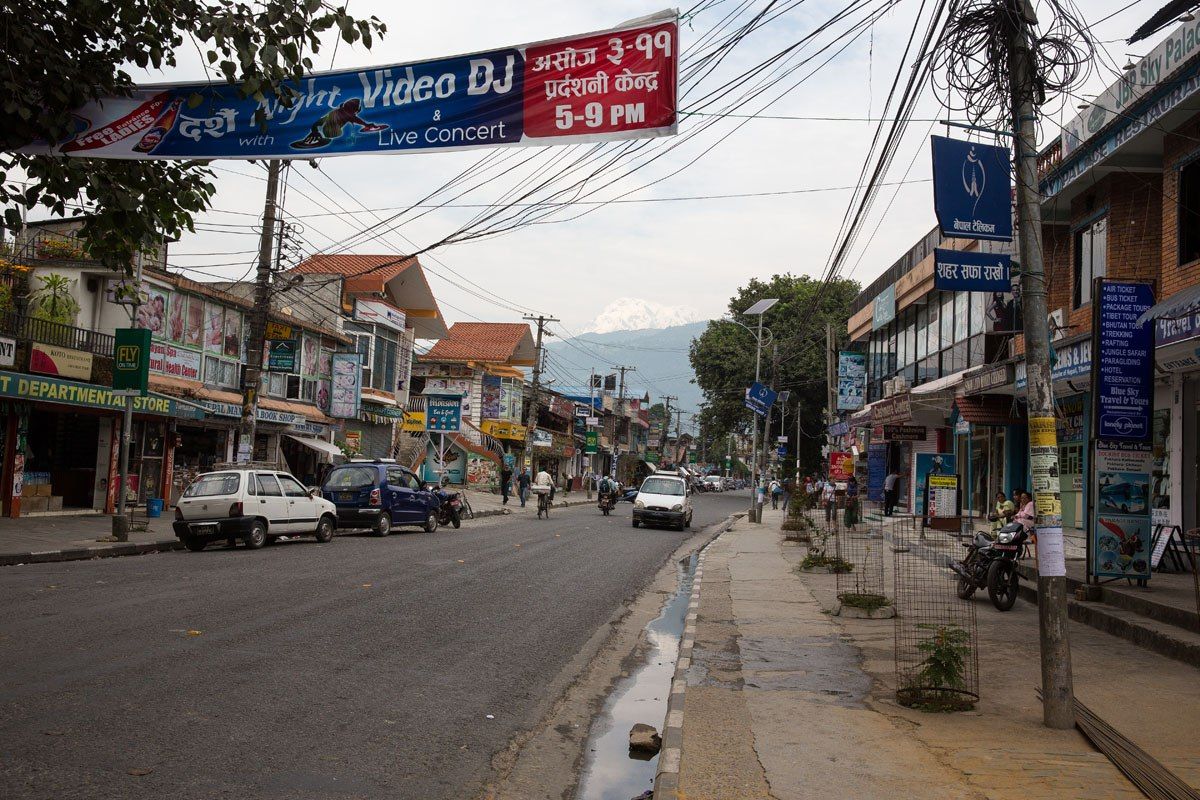 World Peace Pagoda
One day we did hike to the World Peace Pagoda, a Buddhist stupa high on a hillside overlooking Phewa Lake and Pokhara. It was a hot walk to the top but we had good views of Pokhara.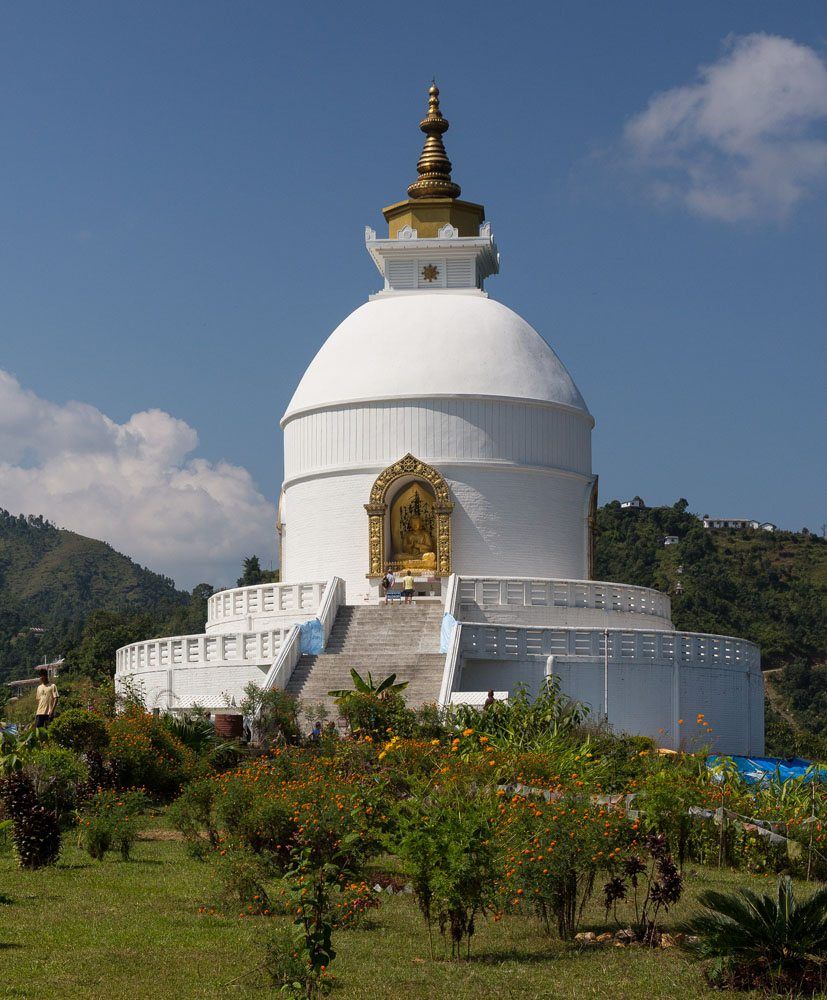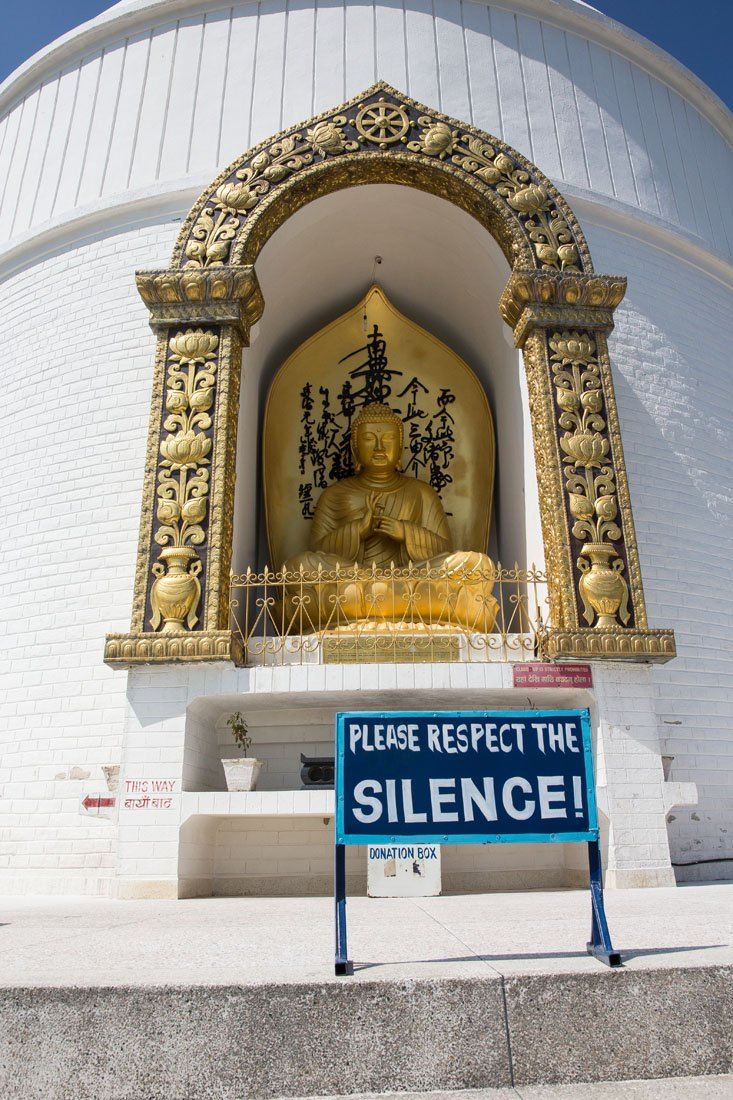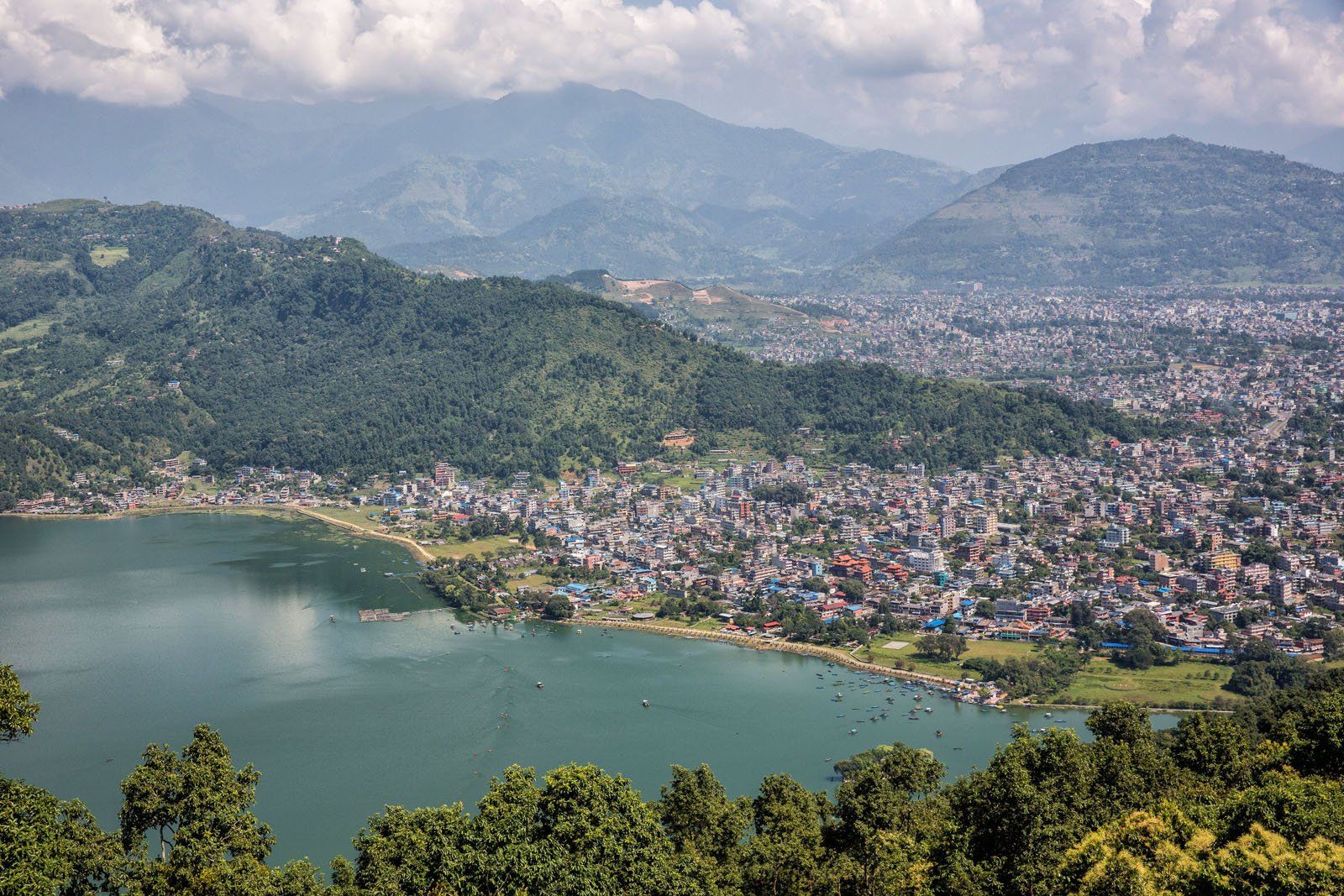 Phewa Lake
We walked along the lake several times, enjoying views of the boats on the water. We ate dinner every night at a great restaurant called Moondance Restaurant. The food was excellent and Tyler and Kara loved it here. We could eat pizza, pasta, Mexican, Indian, and Thai food. The normal rule is a place that serves so many different kinds of food is good at nothing. This place was different; everything was fantastic. Here we all found something we loved. I have still been eating vegetarian, something I started during our Everest Base Camp trek.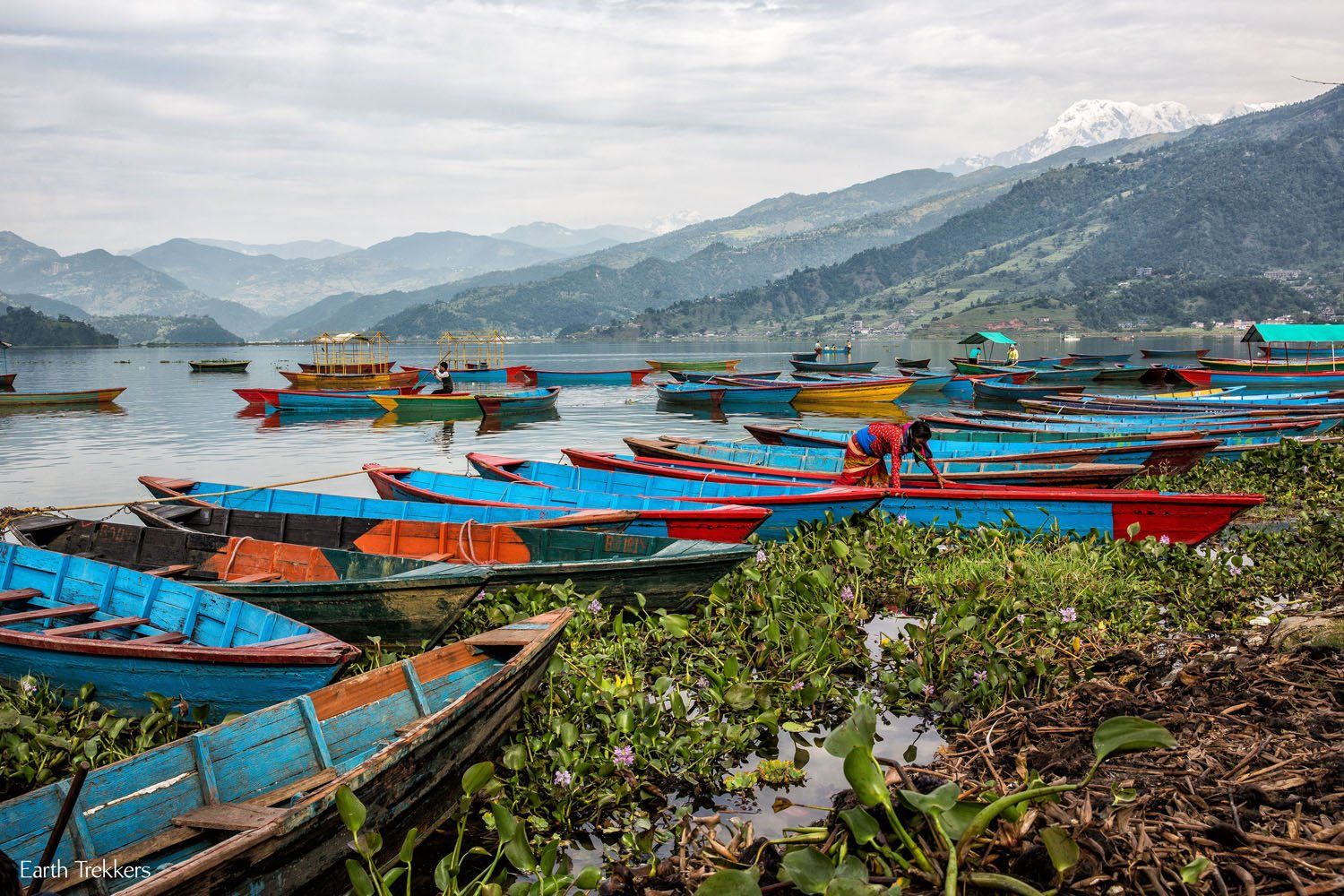 Cyclone Hudhud
It rained the entire third day of our stay in Pokhara. The rain came from Cyclone Hudhud that hit India and Bangladesh two days before. As Pokhara received inches of torrential rain, the streets turned to small rivers, temperatures dropped, and we spent the entire day at the hotel.
This had me wondering, do roosters still crow in the rain, especially tropical, torrential rain? I fell asleep wondering if we would hear the rooster the next morning.
This same weather system, which brought rain to Pokhara, brought heavy snow to the Himalaya Mountains. This snowfall caused an avalanche which killed numerous trekkers and their guides on the Annapurna Base Camp Circuit. This was a disaster for Nepal. Our guide from our Everest Base Camp trek, Indra, was leading a group of trekkers through the Annapurna loop when the avalanches hit the area. Fortunately, he was safe, as was the group of trekkers he was leading.
This storm illustrates the dangers of trekking in the Himalayas, and we feel very fortunate to have finished our trek with all four of us happy and healthy.
So, Do Roosters Crow in the Rain?
Yes, roosters still crow in the rain. Fortunately, the rooster did not get going until almost 6:30 this morning, and he was much less vocal than normal. In fact, we hardly heard him at all for the rest of our stay in Pokhara. The following two mornings he crowed, but it was a raspy, quiet, pitiful crow, almost like the rooster caught laryngitis. I almost felt bad for him.
After four full days in Pokhara, we were all ready to return to Kathmandu. We had our fill of downtime and are now looking forward to the next leg of our journey: Bhutan and India. But first, we have to endure another eight hour bus journey to Kathmandu.
Best Things to do in Pokhara
For us, Pokhara provided some much needed downtime. But there is a lot to do here. Here is a list to get you started.
Hike to the World Peace Pagoda. Rent a boat to take you across Phewa Lake. It takes between 30 minutes to an hour to hike up to the Pagoda. The views over Pokhara are amazing.
Phewa Lake. Walk along the shore, rent a canoe, or go here at sunset. Phewa Lake is one of Pokhara's most scenic spots.
Poon Hill. Start your trek before dawn to arrive at the summit just in time to watch the sunrise over the Himalayas. This is a great option for those who want to go on a "mini-trek" in Nepal without going to Annapurna or Everest. To do this hike, stay in Ghorepani.
Sarangkot. This is another spot with stunning views of the Himalayas.
Go paragliding. On clear days, numerous paragliders can be seen soaring around the mountain peaks that tower over Pokhara. This is something I am sad we missed. If we ever go back, paragliding will be #1 on our list of things to do.
Where to Eat in Pokhara
We ate at many places in Pokhara. There was one place we kept coming back to: Moondance Restaurant. The food was consistently very good. They offer a wide variety of dishes, from Indian to Thai to Mexican, and their prices are very reasonable. Definitely visit Moondance Restaurant while you are in town.
The other restaurant we recommend is Caffe Concerto. Sometimes it's just nice to have a decent pizza. If you agree, this is a great spot to try.
Beware, there are some copycat restaurants in Pokhara. In 2014, there were two Maya Restaurants. We unknowingly went to the copycat one. The food was terrible. Make sure you check Trip Advisor and get the address so you go to the correct restaurant.
Ready for Our Next Adventure
We all enjoyed our time in Nepal, but we are all also ready to move on. This is a beautiful country, filled with friendly, colorful people. It can be frustrating, with the power cuts, slow transportation, and the noisy, dirty city streets. It is also eye opening, with its poverty and cultural differences.
We stepped outside of our comfort zones coming here, trekking to Everest Base Camp, exploring Kathmandu, and taking our short trip to Pokhara. Tyler and Kara are seeing a part of the world they normally would only be reading about (briefly) in a textbook. I feel very fortunate for the month that we spent in Nepal.
From Nepal, our travels continued with a one week visit to Bhutan followed by a 5-week journey through India.
This post was originally written in October 2014 during our trip around the world.
---
Note: This post contains affiliate links. When you make a purchase using one of these affiliate links, we get paid a small commission at no extra cost to you.
All rights reserved © Earth Trekkers. Republishing this article and/or any of its contents (text, photography, etc.), in whole or in part, is strictly prohibited.