Trekking to Everest Base Camp (EBC), a bucket list item for many travelers, is not just an adventure for twenty or thirty year olds. It is possible to trek to Everest Base Camp with kids, as we proved in October 2014.
Tyler and Kara were 10 and 11 years old when we trekked to Everest Base Camp. Kara had turned 10 just three weeks before our trek. With no extra training or preparation, Tyler and Kara walked the entire 83 miles round trip from Lukla to EBC, and most of the time made it look easier than their parents.
If you have been wondering if trekking to EBC is right for your family, keep reading.
Trekking to Everest Base Camp with Kids
How Long Does the Everest Base Camp Trek Take?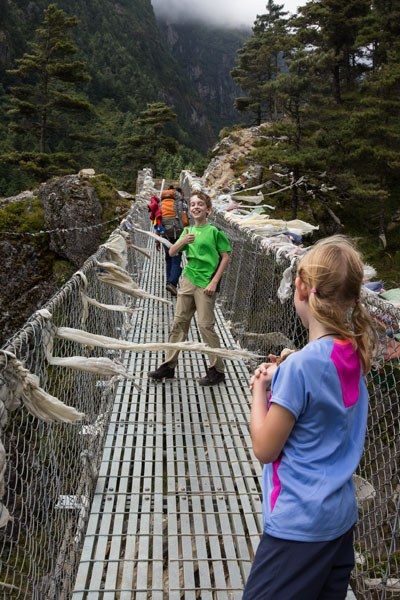 Trekking to Everest Base Camp with kids takes a minimum of 11 days round trip. On average, it takes eight days to reach EBC from Lukla. This allows plenty of time for acclimatization to the higher altitudes as well as ample time to hike the necessary miles everyday.
In general, once you ascend higher than 2700 meters, the chances of getting altitude sickness become much higher. Past this altitude, you do not want to ascend any more than 500 meters per day. Even adding an extra 100 meters increases your chances of getting altitude sickness. This rule goes for people of all ages, not just children.
There were two occasions during our trek where we did break the rule and go a little higher. The main reason for this is the spacing of the popular teahouse towns. We made up for it by climbing higher later in the day or adding an acclimatization day.
Our eight days out to Everest Base Camp included six days of trekking and two days of acclimatization. This length of time was perfect for our family. For people prone to altitude sickness or those traveling with children younger than ten years old, one more acclimatization day may not be a bad idea. For our schedule and experience climbing to Everest Base Camp, read our Guide to the Everest Base Camp Trek.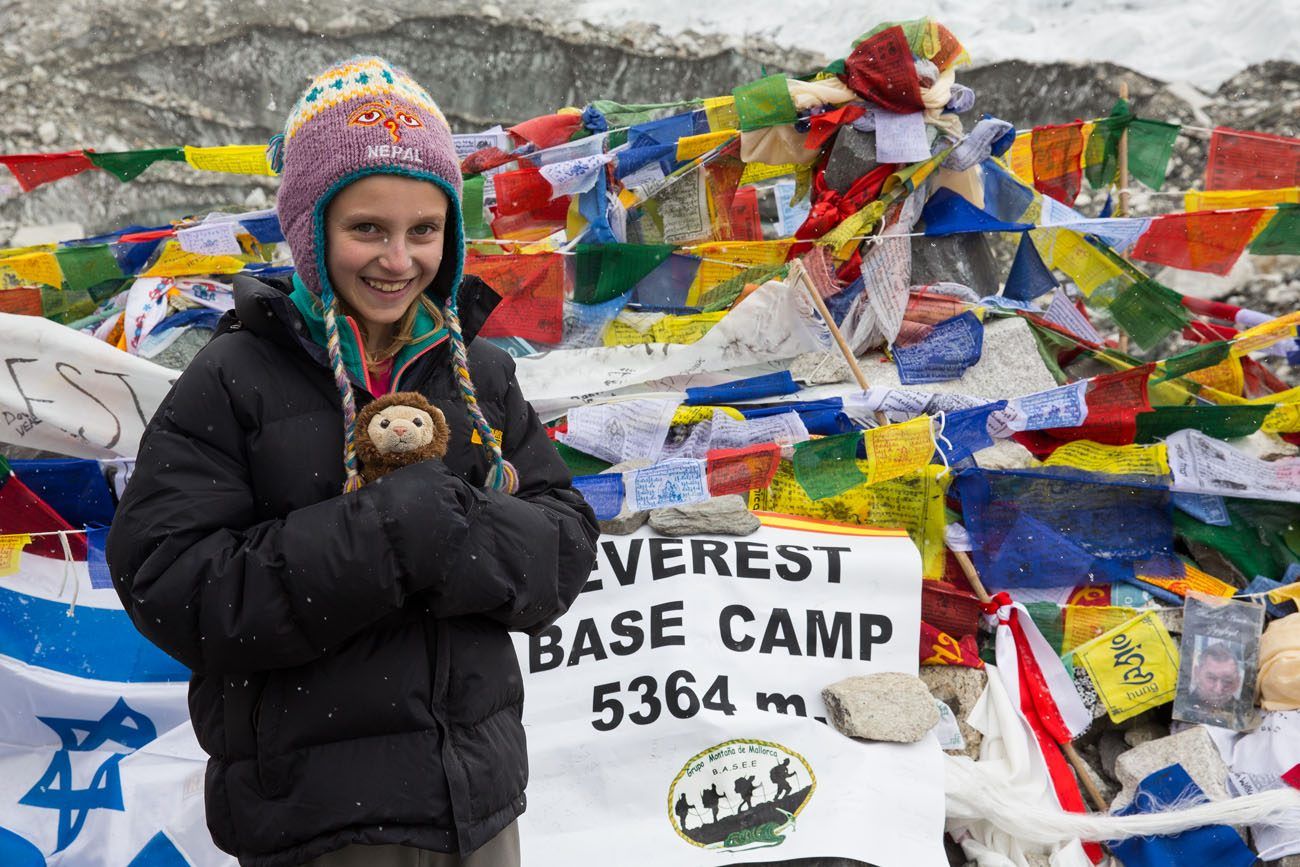 The Optional Climb to Kala Patthar
One of the optional things to do once in Gorak Shep, the last town on the way to EBC, is to make the early morning climb up to Kala Patthar. From Kala Patthar you get the best views of Everest and the surrounding mountain region. Believe it or not, Mt. Everest cannot be seen from Gorak Shep or EBC as it is hidden by the neighboring mountain, Lhotse.
Climbing Kala Patthar is very difficult. Kara did not want to hike up Kala Patthar, so I stayed back at the teahouse with her while Tim and Tyler attempted the climb. Unfortunately, Tyler got altitude sickness just below the summit and had to be rushed back down the mountain by our guide.
From our personal experience, climbing Kala Patthar with kids under the age of 12 can be very difficult. There was another family with a twelve year old at Gorak Shep while we were there, and that family didn't even try to make the climb. Now, if your kids have other climbing or mountaineering experience, this climb may be a great idea. You have to know your child and what they can handle.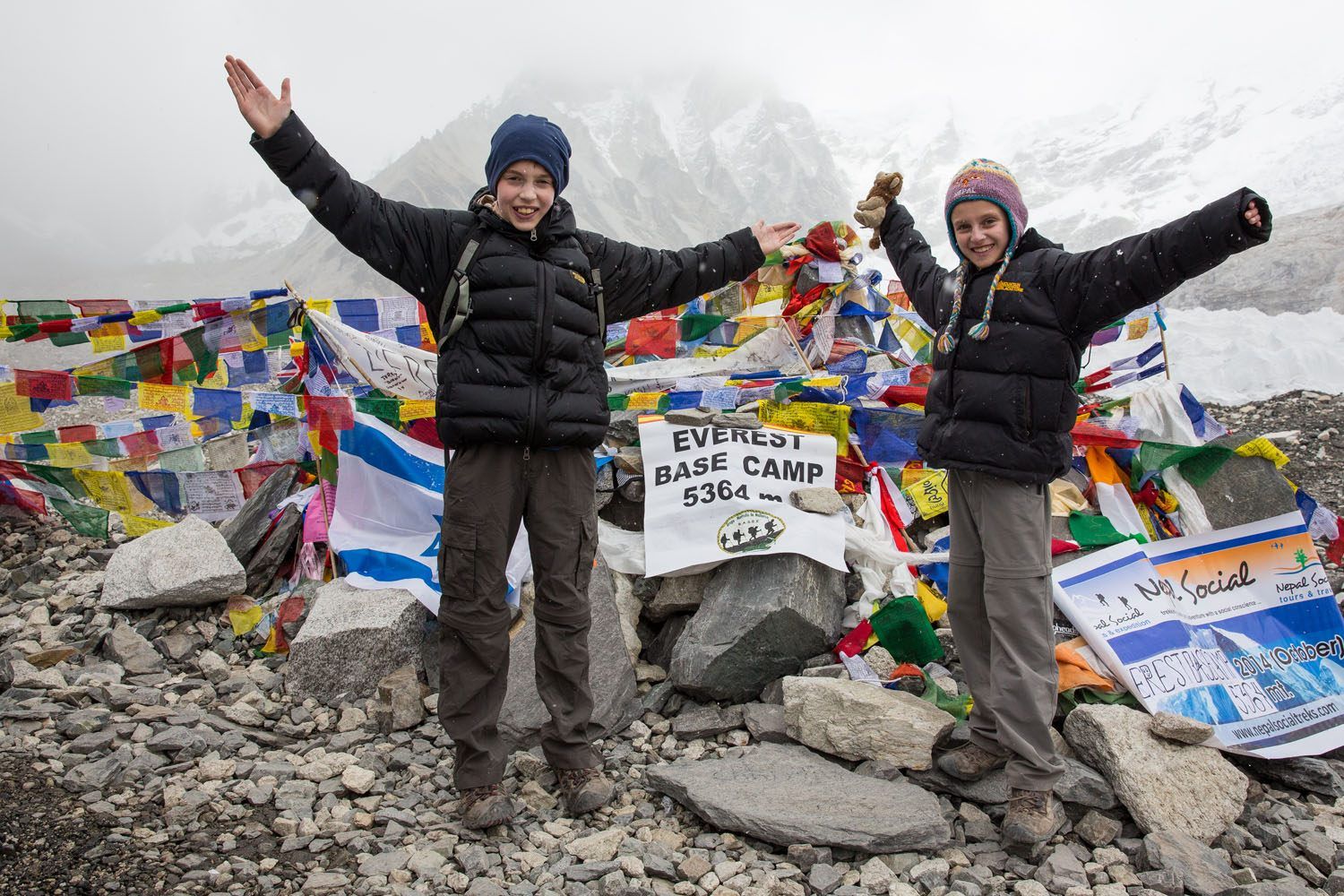 Trekking Back to Lukla
We had planned for a four day trek back to Lukla from Gorak Shep. The walk back to Lukla is mostly downhill with several climbs along the way. Once we started hiking back down from the high altitude all four of us felt amazing. We walked an average of ten miles a day for three days and reached Lukla a day early. By this point in time all four of us were ready to return to Kathmandu. This made our trek last a total of eleven days.
How to Plan the Trek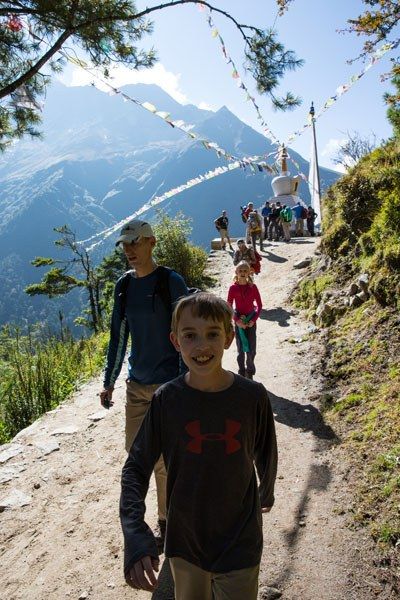 There are several options for planning your trek. We chose to book a tour with a tour operator (Nepal Social) located in Kathmandu. This tour covered our guide, porter, and the majority of costs along the way. Nepal Social booked our flights, applied for our trekking permits, made sure we had rooms in the teahouses every night, and all meals were included. All we had to worry about was getting from point A to point B. It was a huge relief to not have to worry about finding accommodations along the way.
Our guide, Indra, had lots of experience and was great with Tyler and Kara. He kept us all happy and well fed, took us on our acclimatization hikes, and kept us healthy. Tyler and Kara now miss the songs he sang while trekking and the ringtone of his cellphone that played so many times.
You can also hire a porter and guide once you arrive in Kathmandu. Technically, you do not need a guide for the trek. The route is straightforward and easy to follow. But by hiring a tour company, everything is prearranged, saving you from having to search for teahouses with vacancies, booking your flights, and finding quality places to eat. It's more expensive, but the convenience is worth it, especially when trekking to Everest Base Camp with kids.
Living Conditions along the Route
We stayed in teahouses along the trekking route. A teahouse is a very basic hotel with just the bare minimum for comfort. The rooms are furnished with a platform bed topped with a foam mattress. On this you sleep in your sleeping bag and can use the provided pillow and blanket.
In some teahouses you may have your own bathroom with running water, but once you get to Tengboche there is usually only one communal bathroom for an entire floor (10-15 rooms of people). These places usually do not have running water so conditions can get to be rather unsanitary.
The only room in the building that is heated is the dining room and this room is also the place where almost everyone socializes together after a day of trekking and before going to bed.
The bedrooms can be very cold at night and during the first week of October, room temperatures in Lobuche got down into the high 30's (Fahrenheit).
Electricity and water are luxuries and everything has a price. The closer you get to Gorak Shep, the more things cost. In Gorak Shep, a roll of toilet paper cost $5 and a bottle of water cost $3.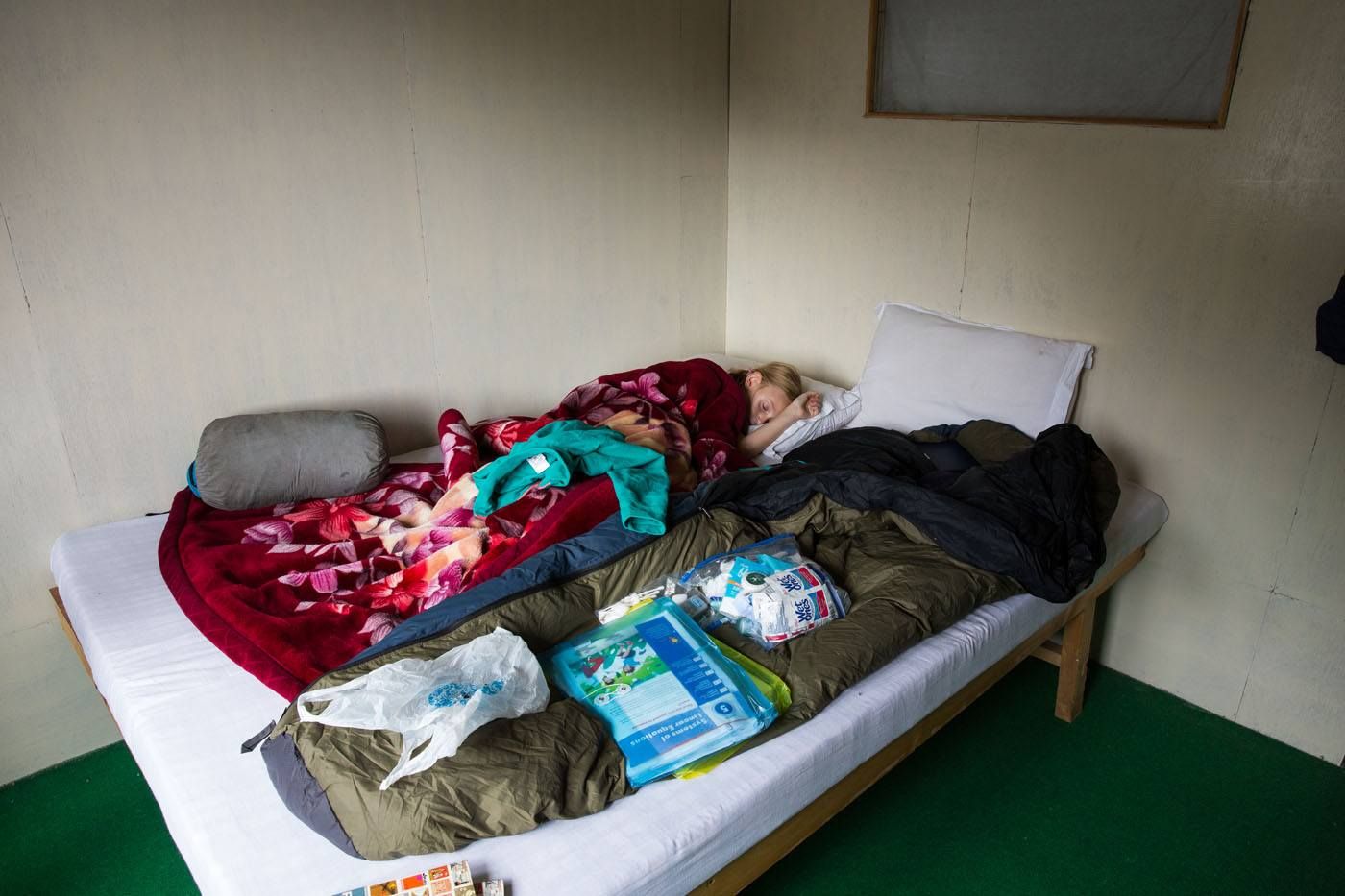 What Types of Food are Available?
The teahouses provide meals three times a day. The menu does not change much along the way but there are plenty of options to keep everyone satisfied.
Dal bhat
All food is carried by porters and the food is not refrigerated while it is being transported. The general rule is to avoid meat above Namche, and we cut out cheese at this point, also. The cheese served is yak cheese, something Tyler and Kara did not like. Pizza is an option on the menu, which is really just flatbread, ketchup, and yak cheese. There are much tastier options for dinner other than yak cheese pizza.
Every place offers dal bhat, a traditional Nepali meal of lentil soup and steamed rice, but you can also always find noodle soups, fried rice or fried noodles, and some version of fried potatoes.
Tyler has a peanut allergy and there was never a concern of peanuts being used in the cooking during the trek. Our kids mostly ate toast, soup, fried rice, and potatoes.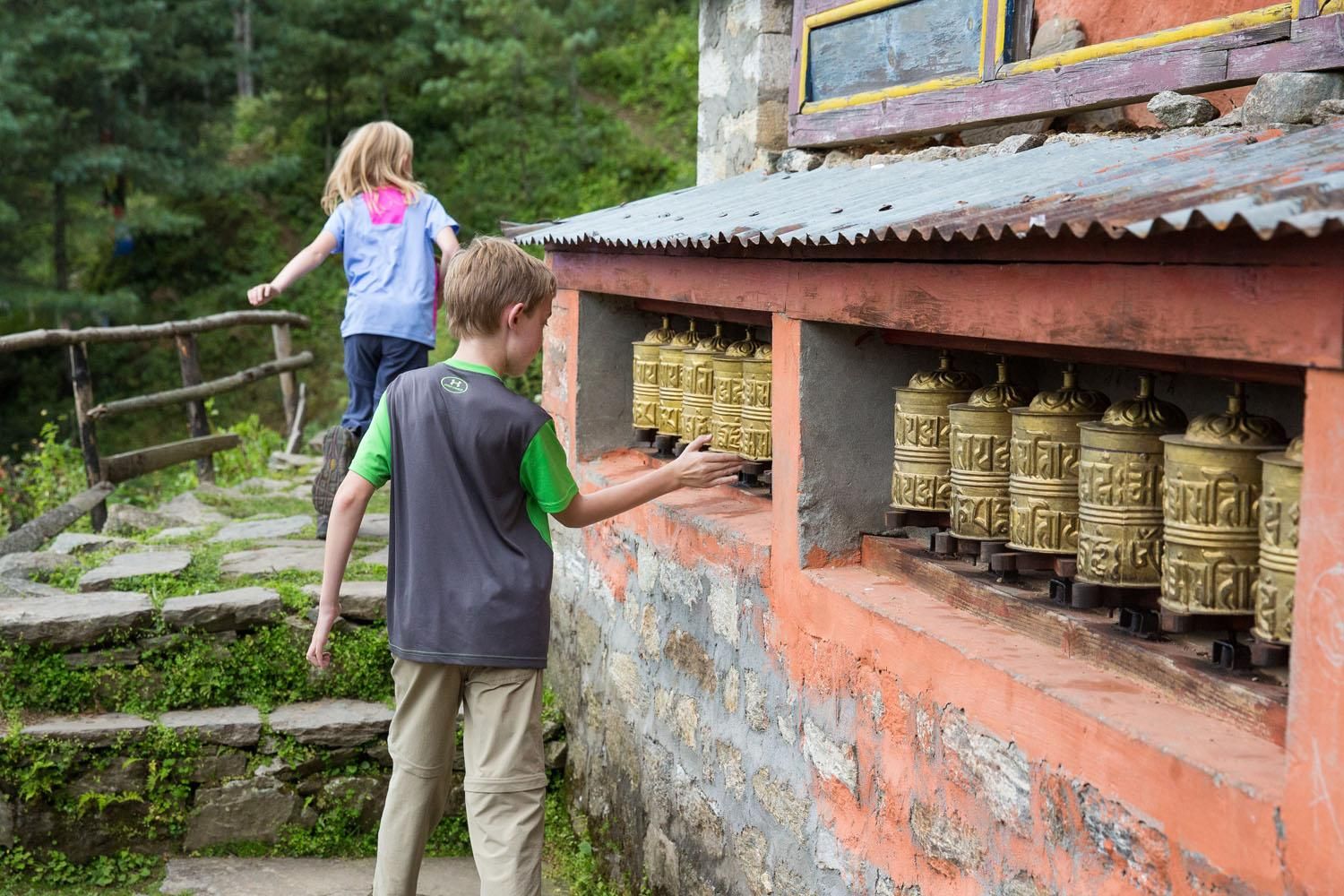 How Hard is it to Trek to Everest Base Camp?
Honestly, it was a little tougher than I was expecting.
Tim and I are relatively fit, as we have both completed Ironman triathlon races, and both Tyler and Kara participate in extracurricular sports. We have hiked several places around the world, such as Norway, Italy, Turkey, Peru, and the US (before this trek). Tyler and Kara's longest day hiking was 23 kilometers (14 miles) in Norway. We felt like we were well prepared for EBC and knew that Tyler and Kara would be able to handle it.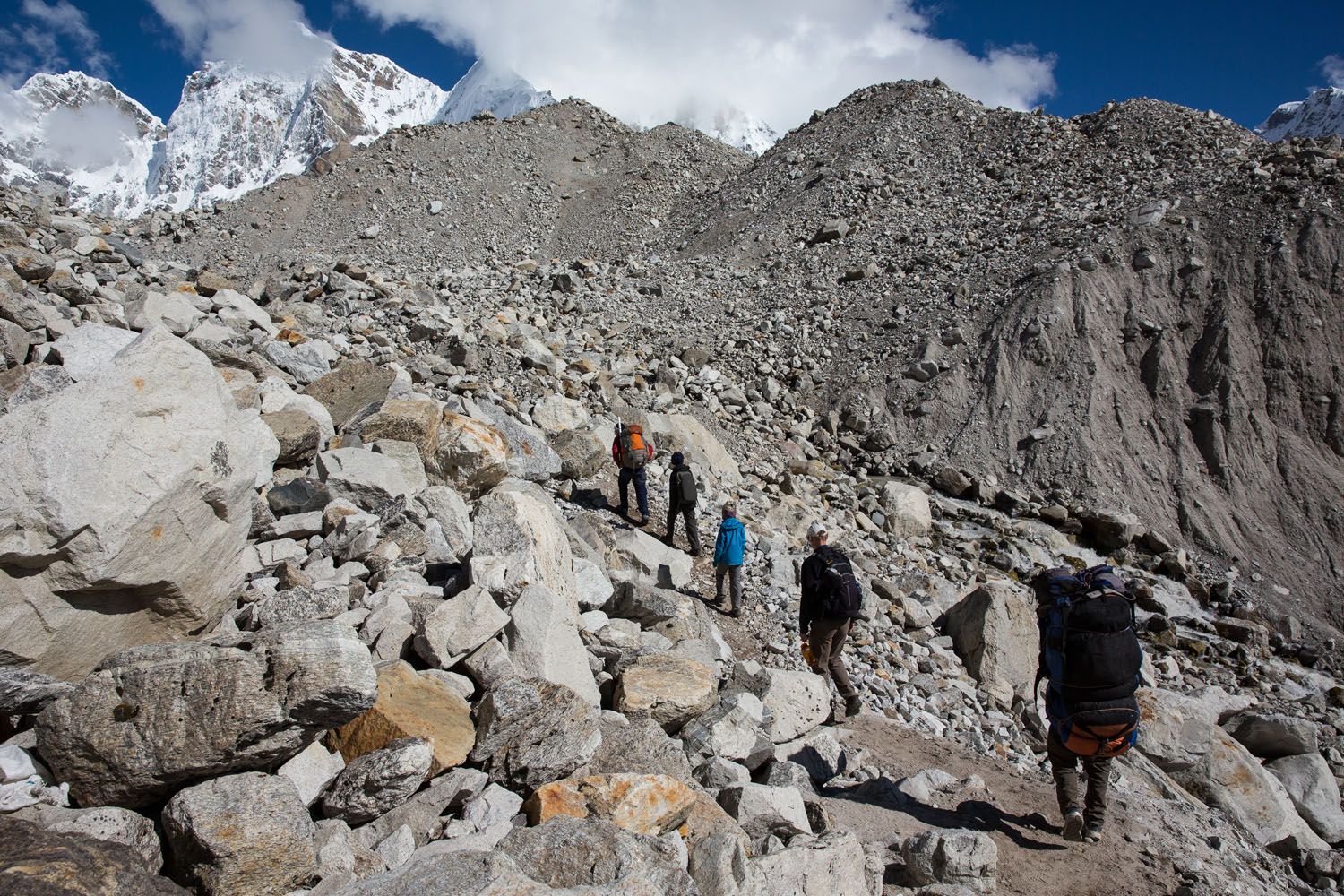 We walked an average of five to six hours everyday, usually with a break for lunch halfway through the day's journey. This includes the acclimatization days, as well.
The higher in altitude we got, the harder the trekking got as well. As the air gets thinner there is less oxygen available to the working muscles. Climbing even small hills had us breathless. Larger hills had us feeling exhausted. By the end of the day we all felt very fatigued. Tyler and Kara seemed to handle the fatigue and steep climbs better than we did.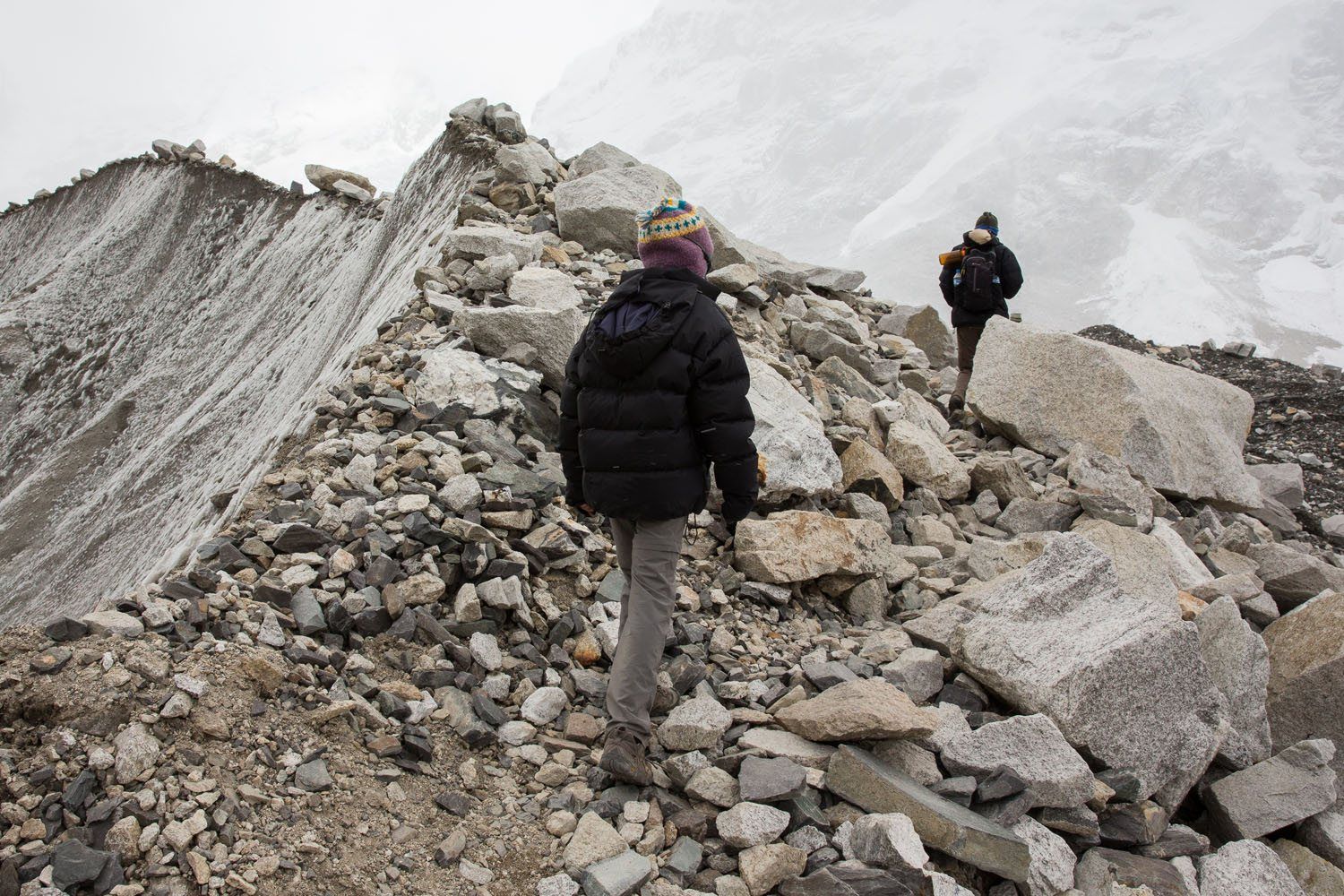 What About Altitude Sickness?
Altitude sickness is a very real concern when trekking to Everest Base Camp. Children are no more likely than adults to get altitude sickness, especially children ten and older. When doing my research during our trip planning, most trekking companies would accept children aged eight or older.
The best advice on how to avoid altitude sickness is to take your time while walking from Lukla to EBC. I would recommend taking at least eight days to walk the entire distance from Lukla to Gorak Shep. Any less than this and you may run into trouble.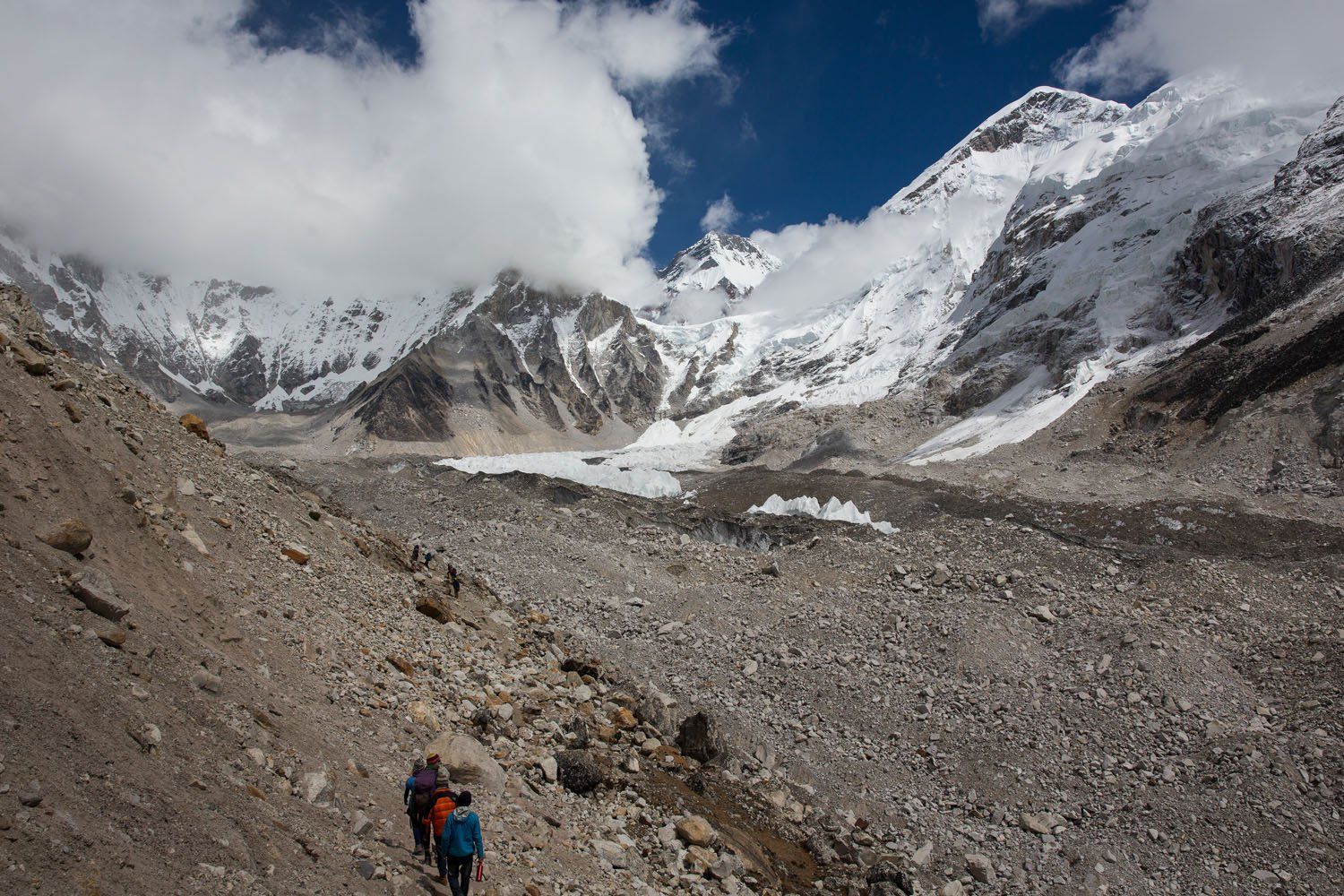 What is the Youngest Age Recommended to Hike to Everest Base Camp?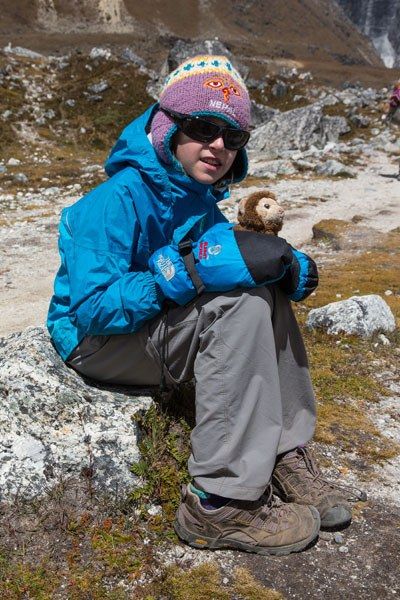 In my opinion, and I am no expert on trekking at altitude, eight would be the youngest that I would recommend to make the trek to EBC. A strong eight year old with experience hiking long distances should be able to walk all of the way to Everest Base Camp.
However, I read that a child as young as 5 years old completed the trek to Everest Base Camp.
Your child needs to be able to express accurately how they are feeling and needs to be able to hike day after day after day.
Remember, it's not just the daily hiking but also the cold sleeping quarters, less than ideal bathroom facilities, and repetitive meal options that make this trek difficult. These last three things were harder for our family than the actual effort it took to walk to Everest Base Camp.
Tyler and Kara were the youngest kids we saw on the trail and they got tons of attention and support from other adults making the trek. The positive encouragement really helped to keep our kids going and helped them realize what a special thing it was that they were doing.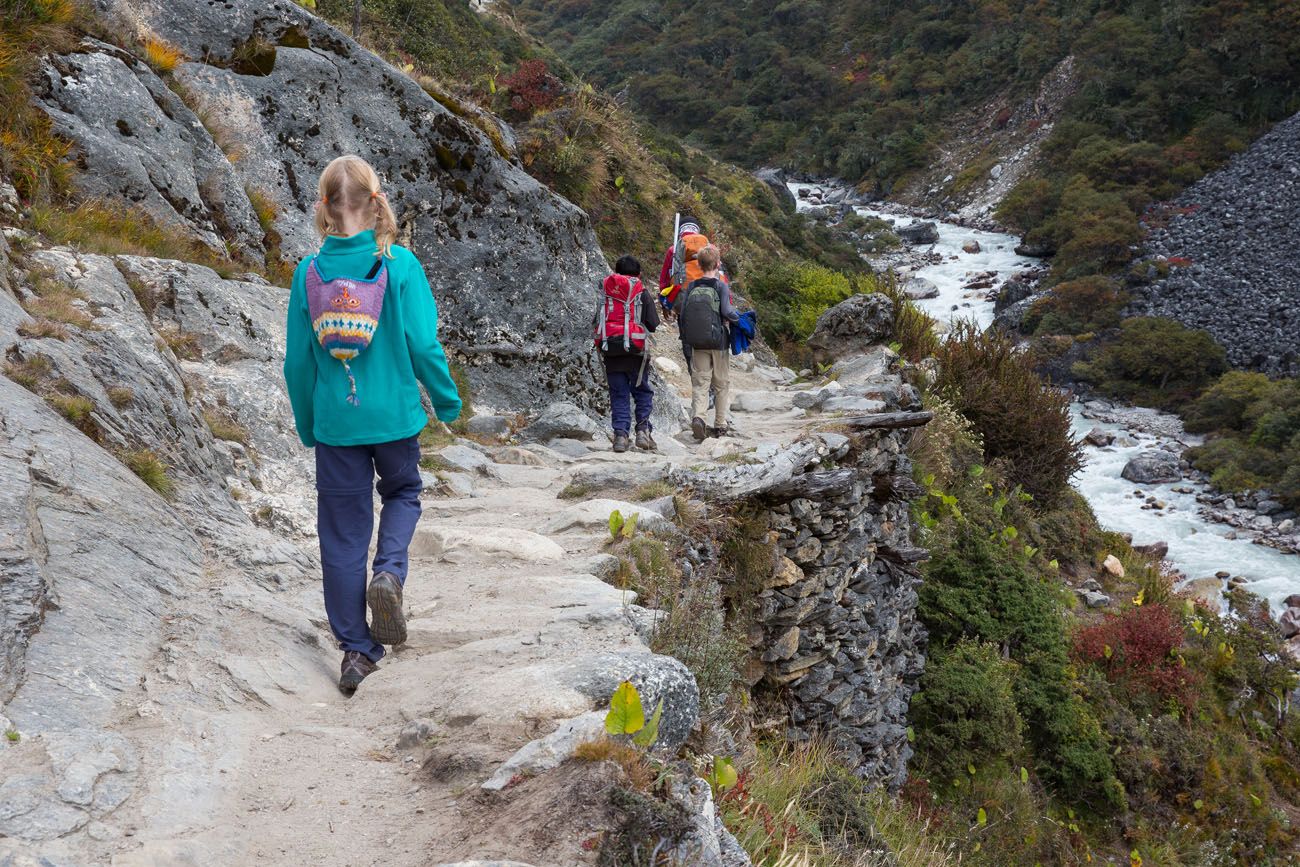 What Do You Need to Pack?
Cold weather gear is a must: down jacket, good quality sleeping bag, hats and gloves, and a warm under layer is a good start. One or two short sleeved shirts and two long sleeved shirts, two pairs of long pants, a rain coat, and even rain/wind pants are good to have. Many of these things can be rented or bought at very cheap prices at one of the many trekking stores in Kathmandu.
Other good things to bring are a headlamp, snacks, water purifier (SteriPen or chlorine tablets), deck of cards, and extra cash for purchasing toilet paper, bottled water, and extra food along the way. And don't forget your camera!!!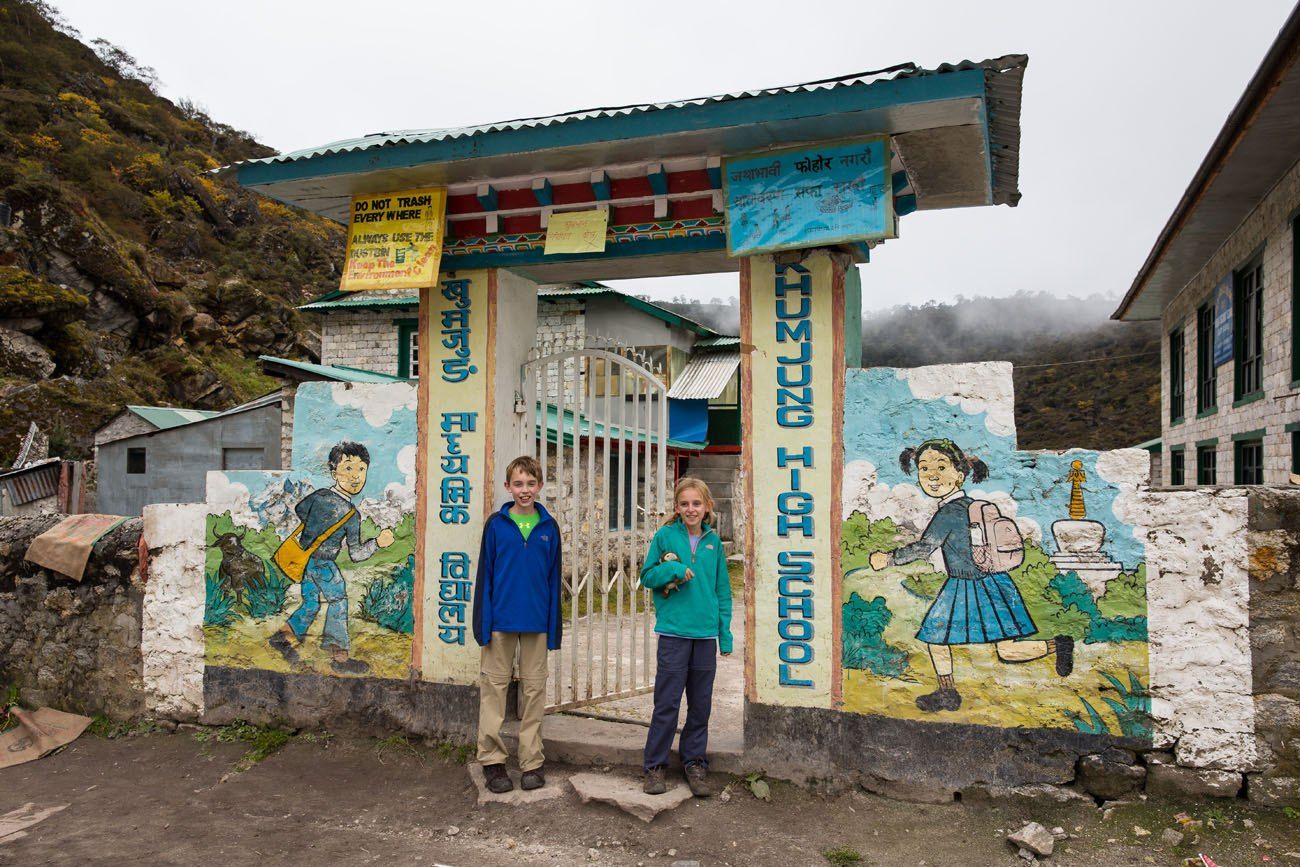 When is the Best Time to Trek to EBC?
The two big seasons are in the fall and the spring. October and November have clear, crisp skies with great views of the mountains all around. This is also peak season so expect to share the trail with many, many other people.
The second biggest season is in the spring during the months of April and May. This is also the season where climbers are attempting to summit Everest, so if you go now you will be able to see tents set up at EBC.
We chose to go during the end of September, taking our chances on monsoon season. We did have a rain delay at the start of our trek, but the trails were fairly empty the entire way to EBC. On the way back, in early October, we saw the first of the huge numbers of trekkers heading towards EBC, and knew we made the right decision on going a little early.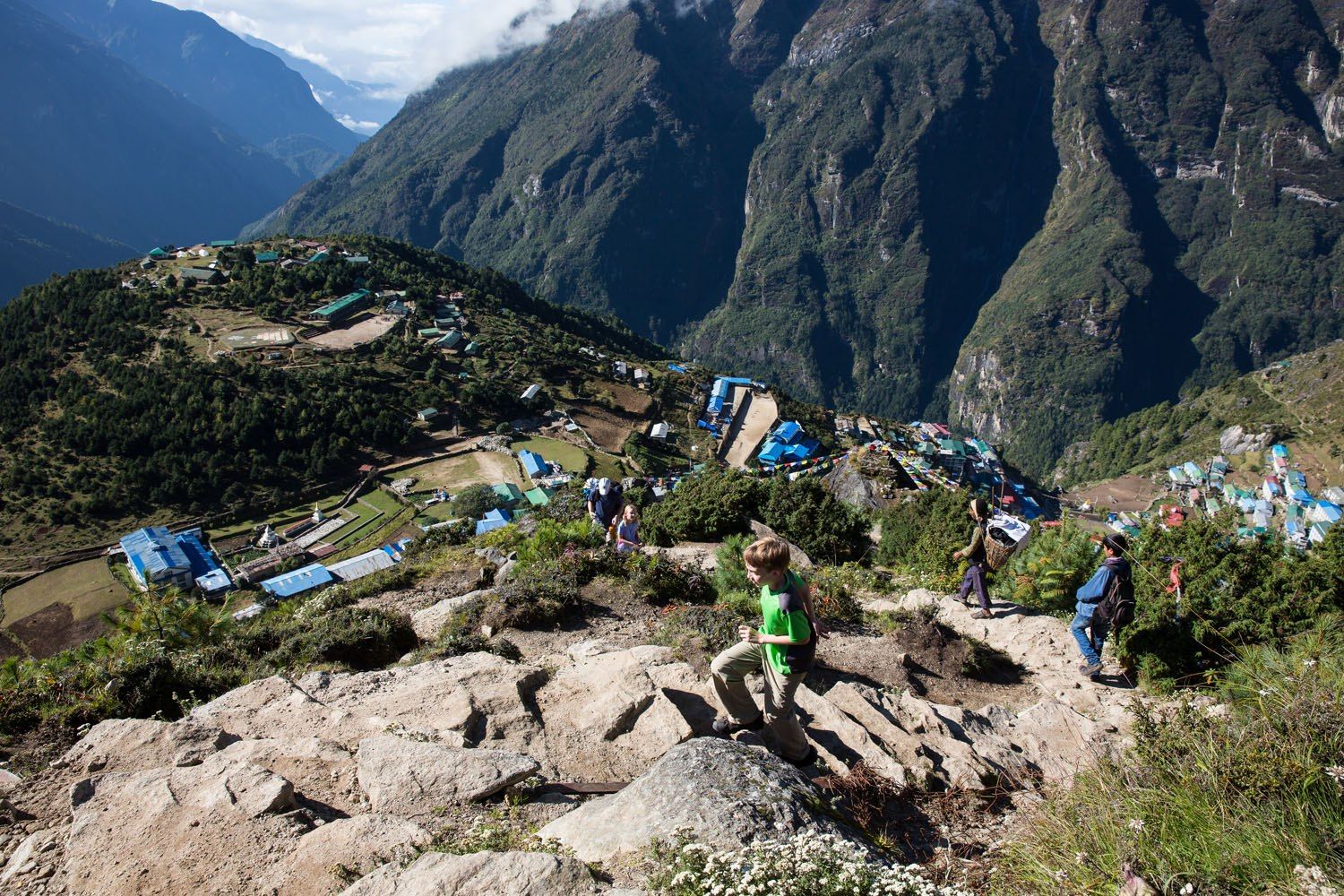 Any other Questions about Trekking to Everest Base Camp with Kids?
Hopefully this answered any questions you may have had about trekking to Everest Base Camp with kids. If not, feel free to leave a comment below and we are happy to answer any other questions you may have!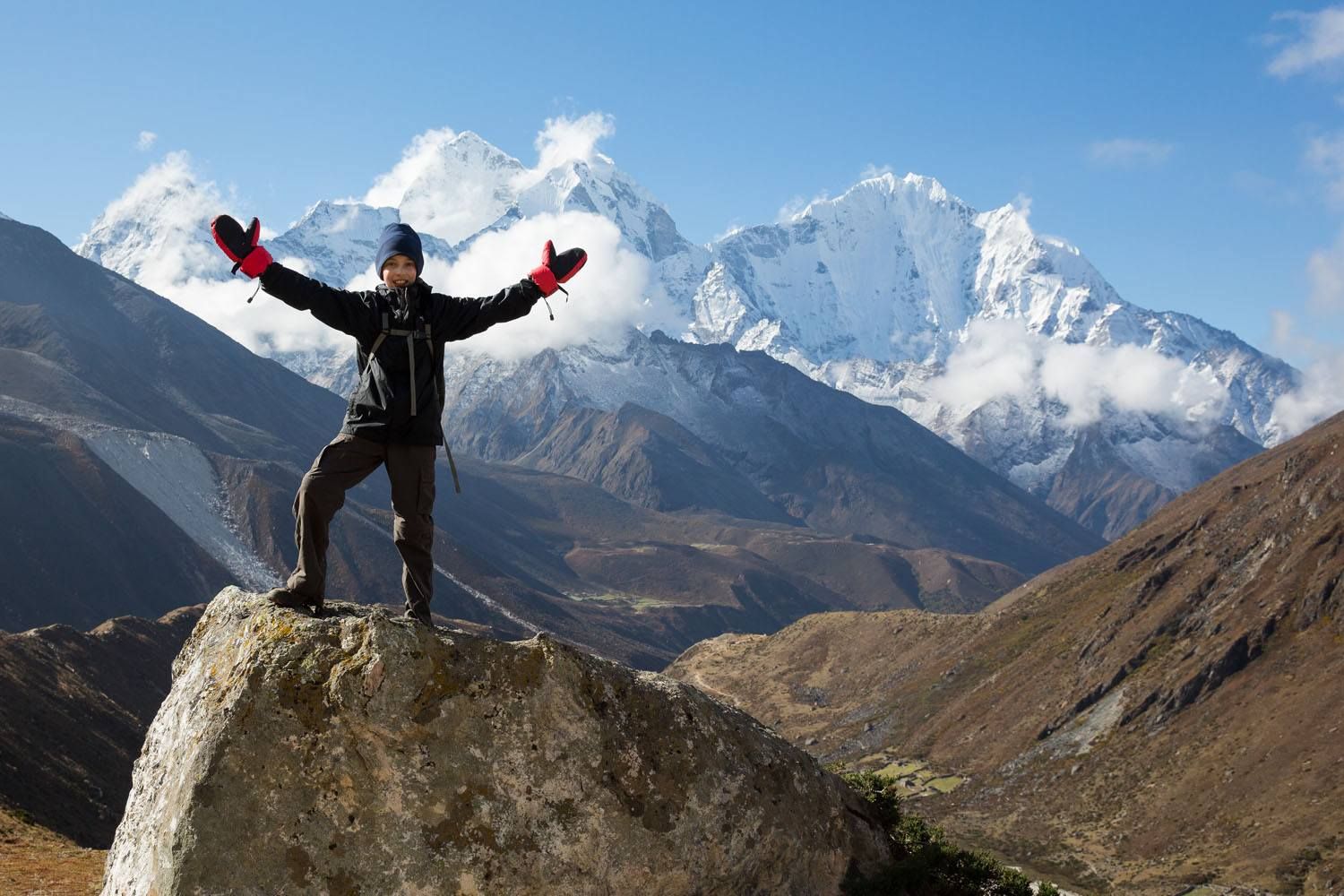 ---