Alpe di Siusi (Seiser Alm in German) is the highest alpine meadow in Europe. This lush, green meadow is located in the Dolomites of Italy. Cabins, rifugios, and hotels dot the landscape. Hiking trails and biking trails run along the hillsides, connecting the small villages. And Sassolungo, with its jagged, rocky peaks, looms over the area.
There are lots of different ways to plan your time in Alpe di Siusi during the summer months. In this guide, I will lay out what we did, what we learned, and alternatives to how to plan your time.
Quick Facts about Alpe di Siusi
Alpe di Suisi is the highest alpine meadow in Europe.
It can be visited all year long. In the warmer months, this is a popular hiking and biking destination in the Dolomites. In the winter, there are numerous slopes to go skiing or snowboarding.
Alpe di Siusi has become such a popular destination that there are restrictions as to when you are permitted to drive to here. Between 9 am and 5 pm, the road to Alpe di Siusi is closed to private traffic. You can only drive this road during this time if you are staying at one of the hotels in Alpe di Siusi.
How to Get to Alpe di Siusi
If you look at a map, Alpe di Siusi isn't far from Selva di Val Gardena or Ortisei. This alpine meadow sits on a mountaintop next to Ortisei. However, if you will be driving here, you will have to drive through Castelrotto, which makes it a longer drive than you might expect.
How to Use This Map: Click the tab in the top left hand corner of the map to view the layers (places to go and the driving route). You can click the check marks to hide or show layers. If you click the icons on the map, you can get more information about each point of interest.

If you click the star next to the title of the map, this map will be added to your Google Maps account. To view it on your phone or computer, open Google Maps, click the menu button, go to "Your Places," click Maps, and you will see this map on your list.
Driving to Alpe di Siusi
If you have a car, you can drive to Alpe di Siusi before 9 am and after 5 pm.
To drive to Alpe di Siusi, take Via S. Valentino to the Tourist Information booth. This is where the driving restrictions are enforced. You will not be permitted past this point if it is between 9 am and 5 pm. If it is before 9 am or after 5 pm, continue up the road (it is now an unnamed road) until it ends in Compatsch/Seiser Arm. Before 9 am, you will pass through the gate. There is no need to make a reservation in advance or pay a fee to drive all the way to Compatsch.
Once at Compatsch, park in the paid parking lot (€20).
Here are driving distances and times from nearby destinations:
Selva di Val Gardena:

30 km, 45 minutes

Ortisei:

23 km, 35 minutes

Bolzano:

35 km, 45 minutes

Cortina d'Ampezzo:

90 km, 2.25 hours
Cable Car to Alpe di Siusi
Alternatively, you can ride the cable car to Alpe di Suisi (Seiser Alm). The Seiser Alm Aerial Cableway is located in the town of Siusi (Seis) and runs to Compatsch. This is a good option if you won't be able to make the drive by 9 am or do not want to do the entire drive to Alpe di Siusi.
During the summer months, the cable way operates from 8 am to 6 or 7 pm. A round trip ticket costs €24 per person. A family ticket costs €52. Get updated pricing and hours here.
Alternatively, you can also ride the Ortisei – Alpe di Siusi cable car. This cable car starts in Ortisei and ends in Alpe di Siusi, at Almgasthof Mont Seuc. This saves you a long drive to Compatsch but puts you at the eastern side of Alpe di Siusi, not in Compatsch.
Bus to Alpe di Siusi
It is also possible to get to Alpe di Siusi by bus. Get more information here.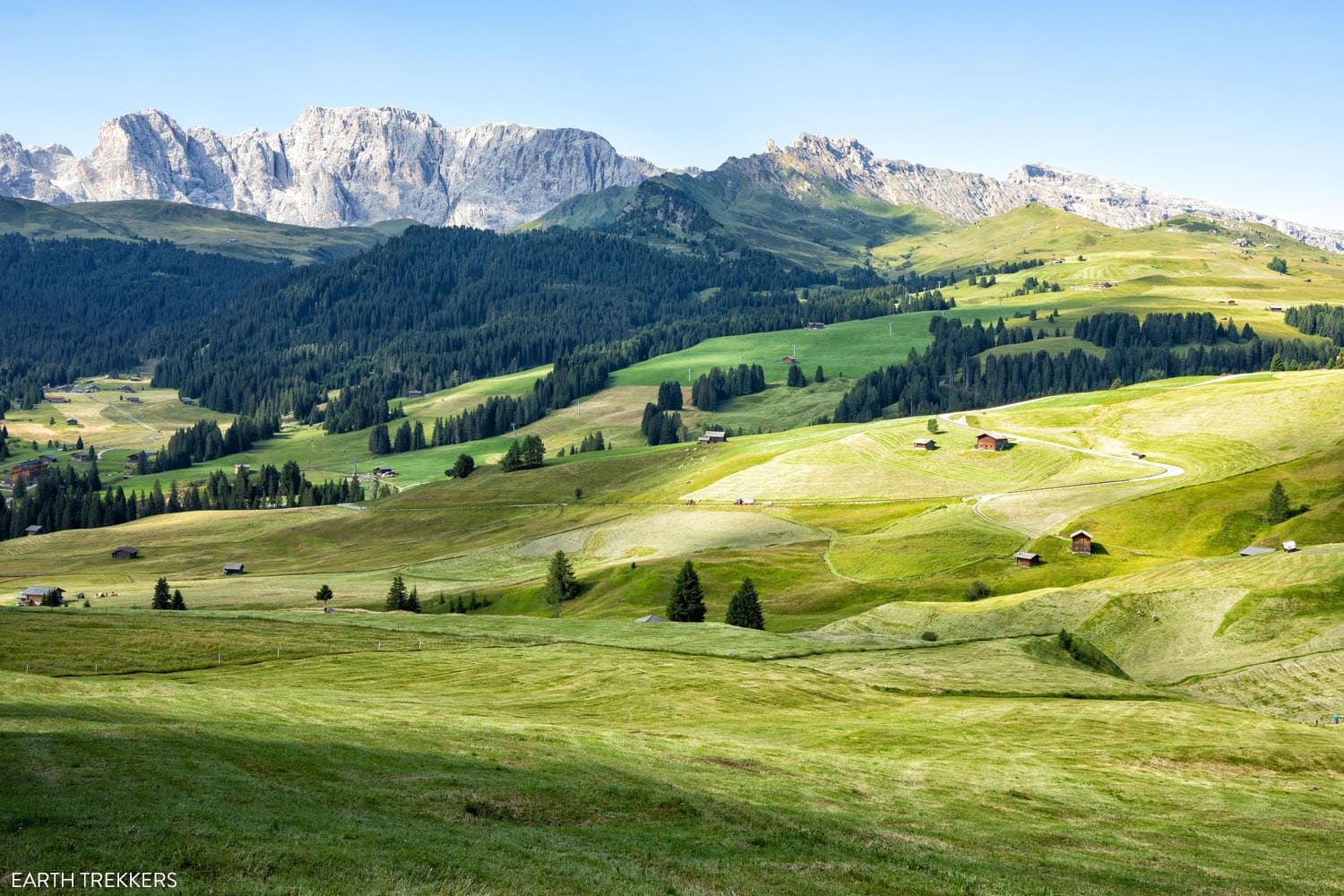 Alpe di Siusi (Seiser Alm) in July
Compatsch, Alpe di Siusi
Compatsch (Compaccio) is located on the western side of Alpe di Siusi. In this very small town are hotels, restaurants, and rental shops. Right across the street from the main parking lot are bike rental shops. We ended up hiking around Alpe di Siusi, but in hindsight, we wish that we had rented bikes.
PRO TRAVEL TIP: Alpe di Siusi is hilly, so rent an E-Bike so you don't have to do a lot of work cycling uphill. The transportation of bikes is not allowed on the shuttle buses and the Almbus.
In Compatsch, there is also a bus station. The Almbus (route 11) connects Compatsch with other places in Alpe di Siusi, such as Panorama, Rauch, and Saltria. Bus tickets can be purchased at the stations.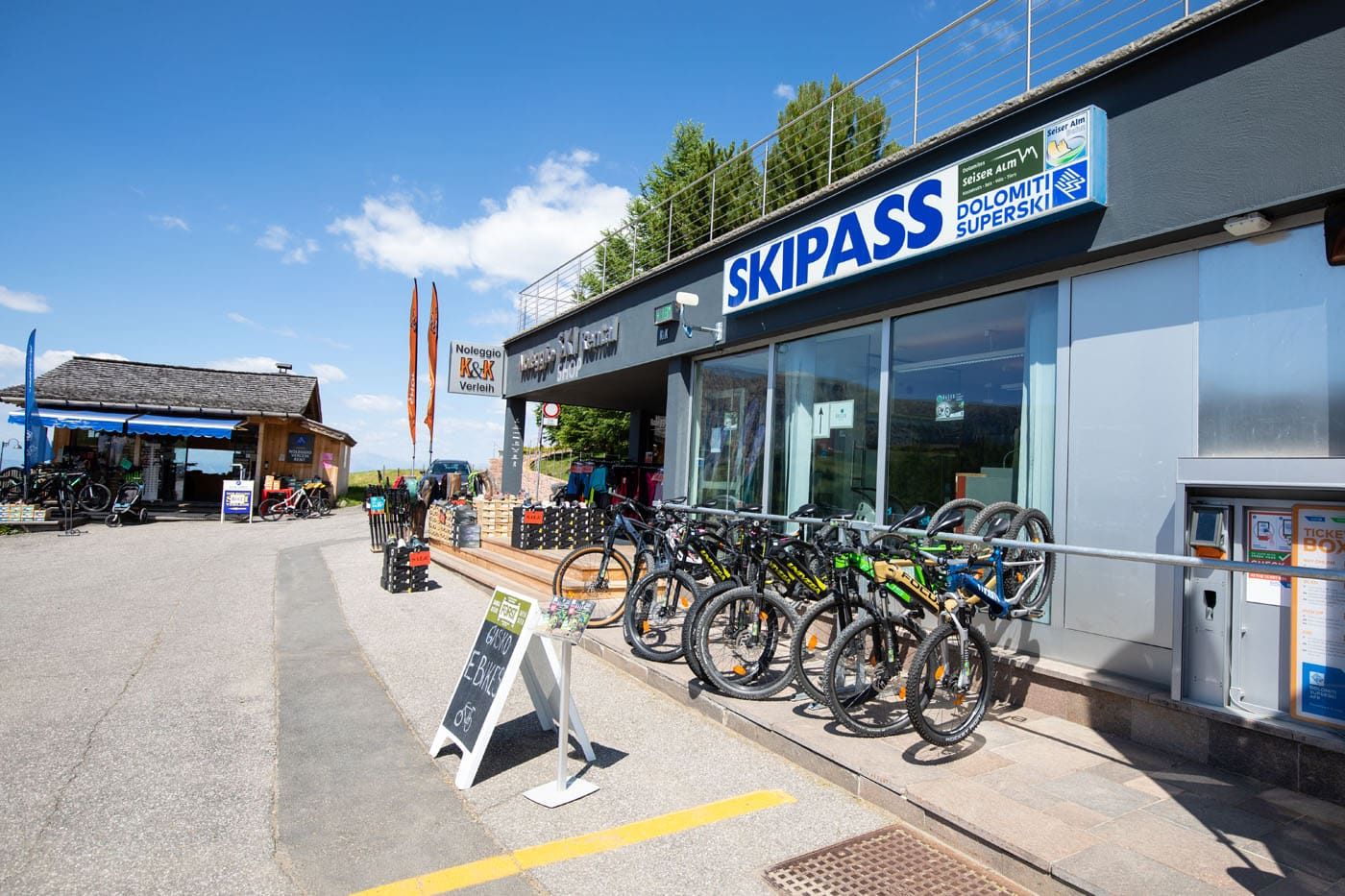 Bike rental shops in Compatsch
Hiking from Compatsch to Saltria
Compatsch sits high on the western end of Alpe di Siusi. Saltria is a tiny village that is nestled down in the central part of the area. To get here, you can hike (this is what we did), cycle, or take the bus.
From Compatsch, we walked to several rifugios before entering Saltria. It is a very pretty walk, with wonderful views of Alpe di Siusi and Sassolungo.
We started this walk around 8:15 am (we arrived early because we chose to drive all of the way to Compatsch). Here is a description of the short hike we did in Alpe di Siusi.
Alpe di Siusi Hiking Stats
Starting Point: Compatsch
Ending Point: Saltria
Distance: 6.8 km (4.2 miles) point-to-point
Difficulty: Easy
Total Ascent: 105 meters (350 feet)
Total Descent: 260 meters (850 feet)
Lowest Elevation: 1,685 meters (5,530 feet)
Highest Elevation: 1,875 meters (6,150 feet)
Time: 2 hours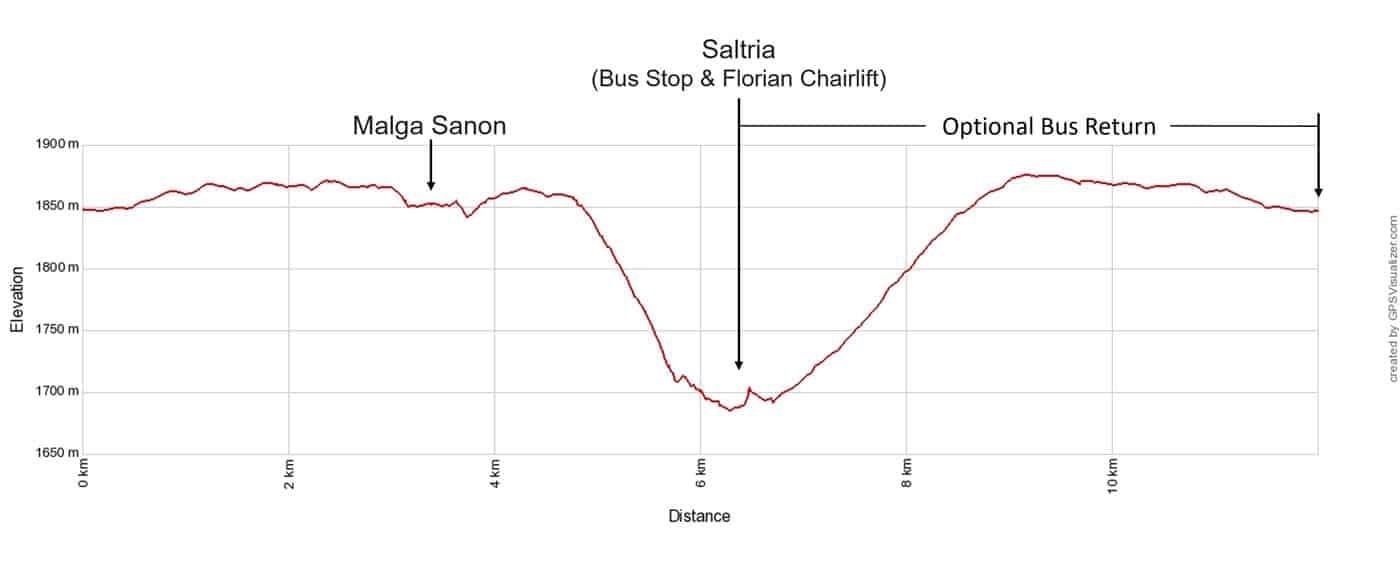 Elevation profile of the hike from Compatsch to Saltria. This includes the return to Compatsch, which you can do by bus (this is what we did) or walk back along the road.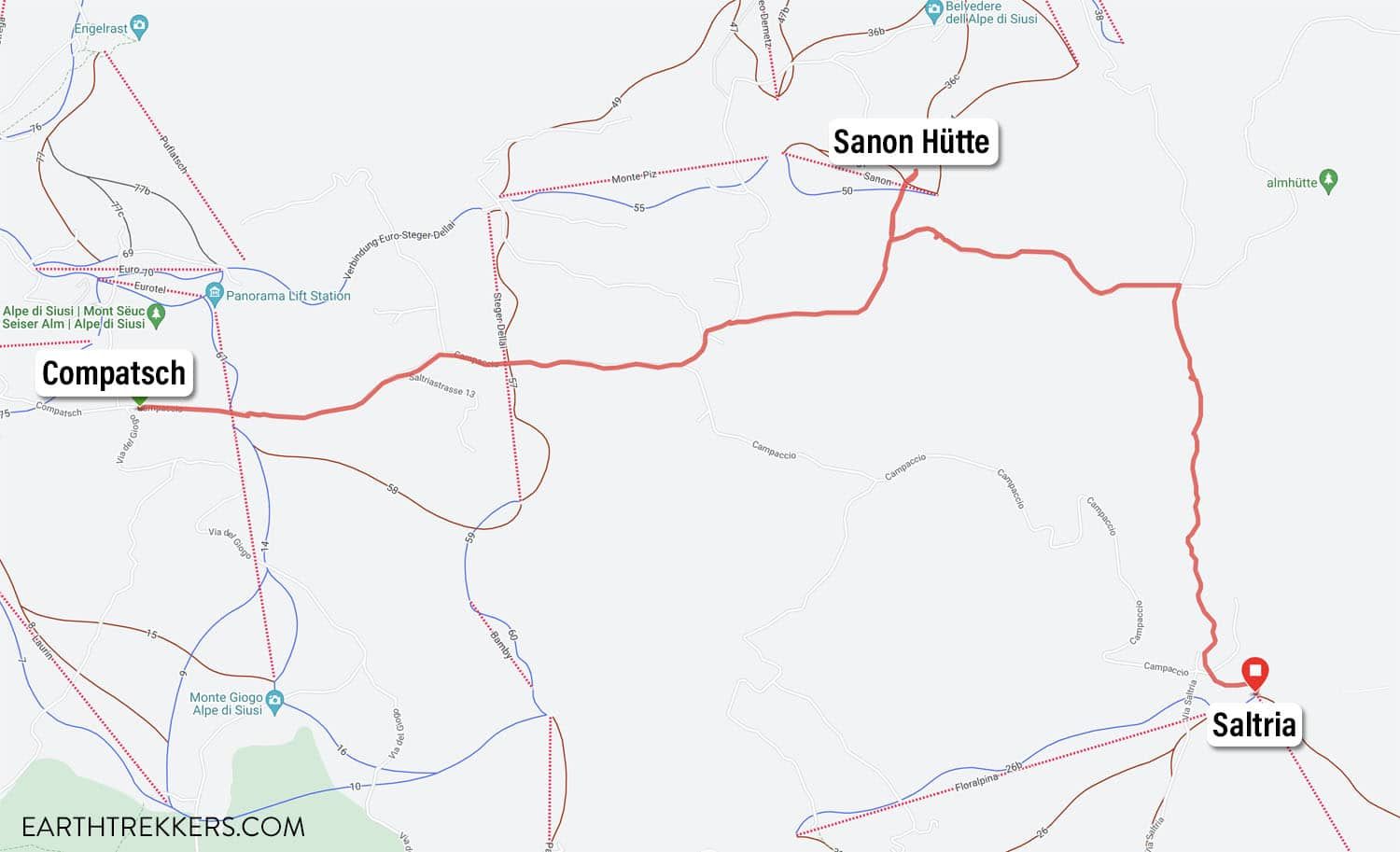 Map from Compatsch to Saltria
Compatsch to Sanon Hütte (Malga Sanon)
From the parking lot in Compatsch, walk to the east side of the parking lot, towards Via del Giogo. Look for a trail sign with a very long list of places to visit in Alpe di Siusi.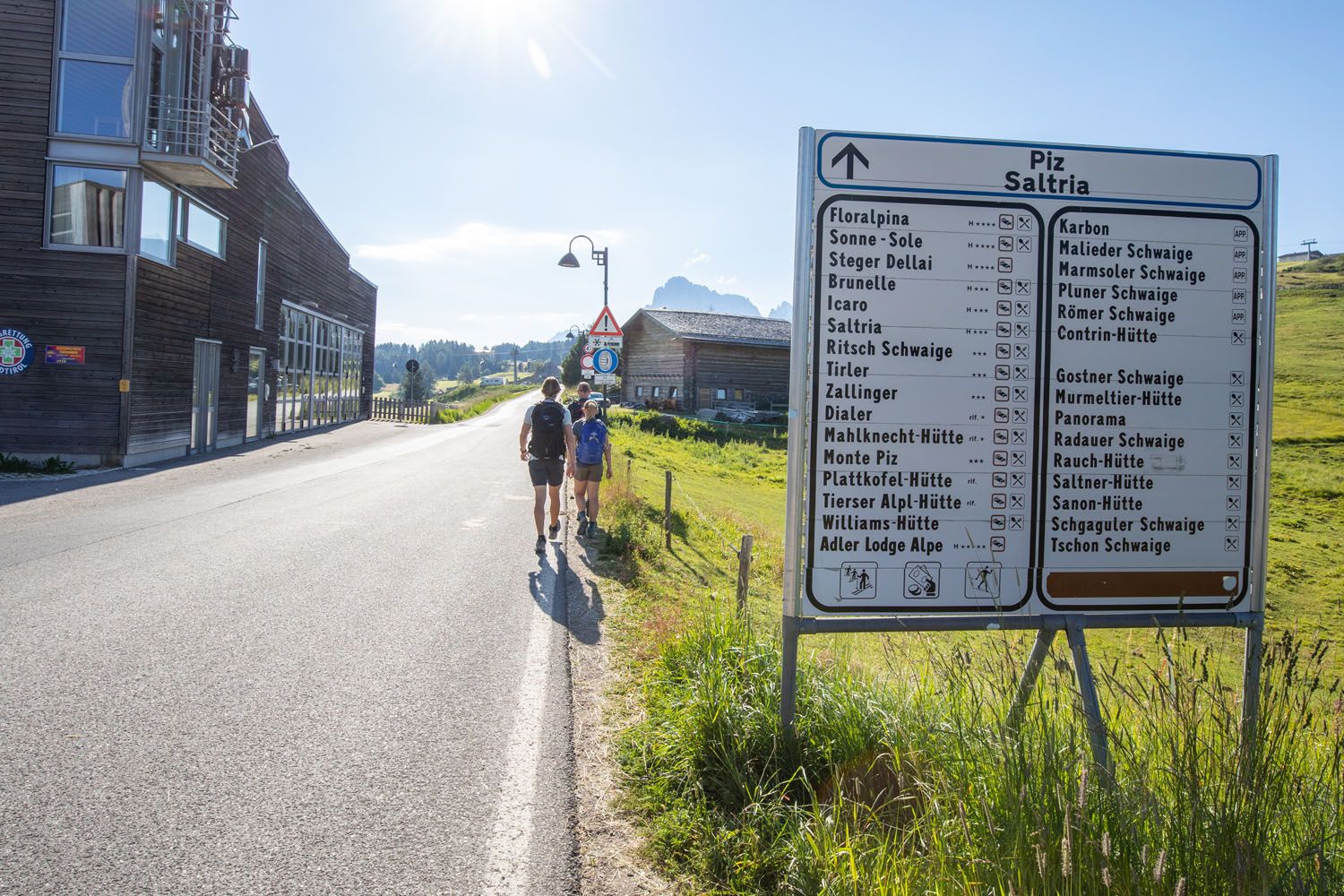 Hiking through Compatsch
On our point-to-point hike to Saltria, we first went to Sanon Hütte. From Compatsch, take trail #30. It is a 50-minute walk and for the most part, it is flat with some short downhill sections. The first part of the walk is the most boring, as you walk along paved streets in Compatsch, but once out of town, you enter the pasture and the views become much better.
Most of this walk is along some sort of road, either paved or gravel. There are several trail splits along the walk, but each junction is well marked with a trail sign.
The trail number changes several times between Compatsch and Sanon Hütte.
In Compatsch, take trail #30 to Sanon Hütte. Just outside of Compatsch this changes to trail #3 and then near Apartment Mooshütte it changes to trail #6. Just a minute or two beyond Mooshütte the trails fork again and now you will be walking on trail #6B to Sanon Hütte. Each junction lists Sanon Hütte, so it's easy to keep things straight, despite the long list of trail number changes.
Here are the views in the early morning along this first part of the hike.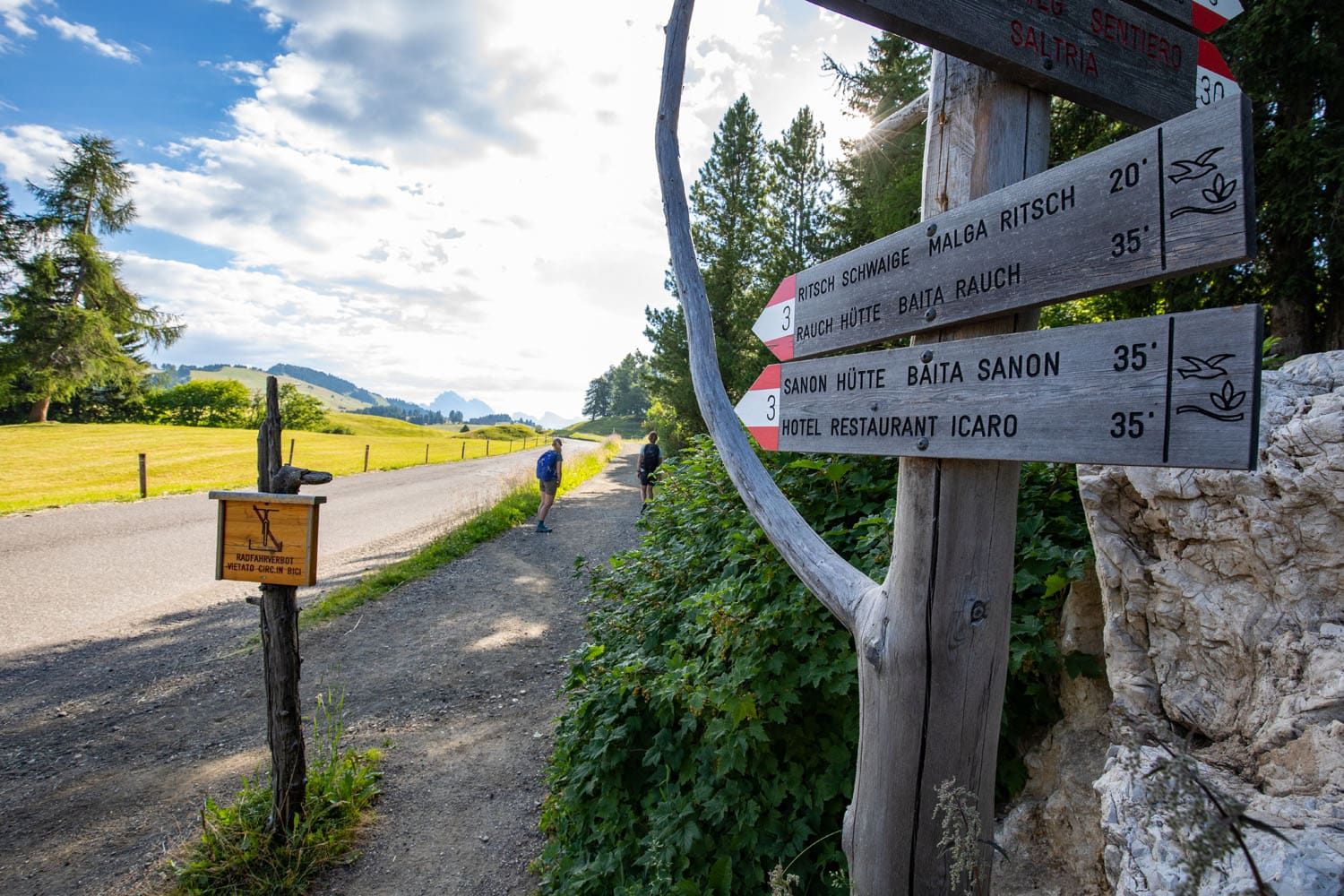 The hiking trail just outside of Compatsch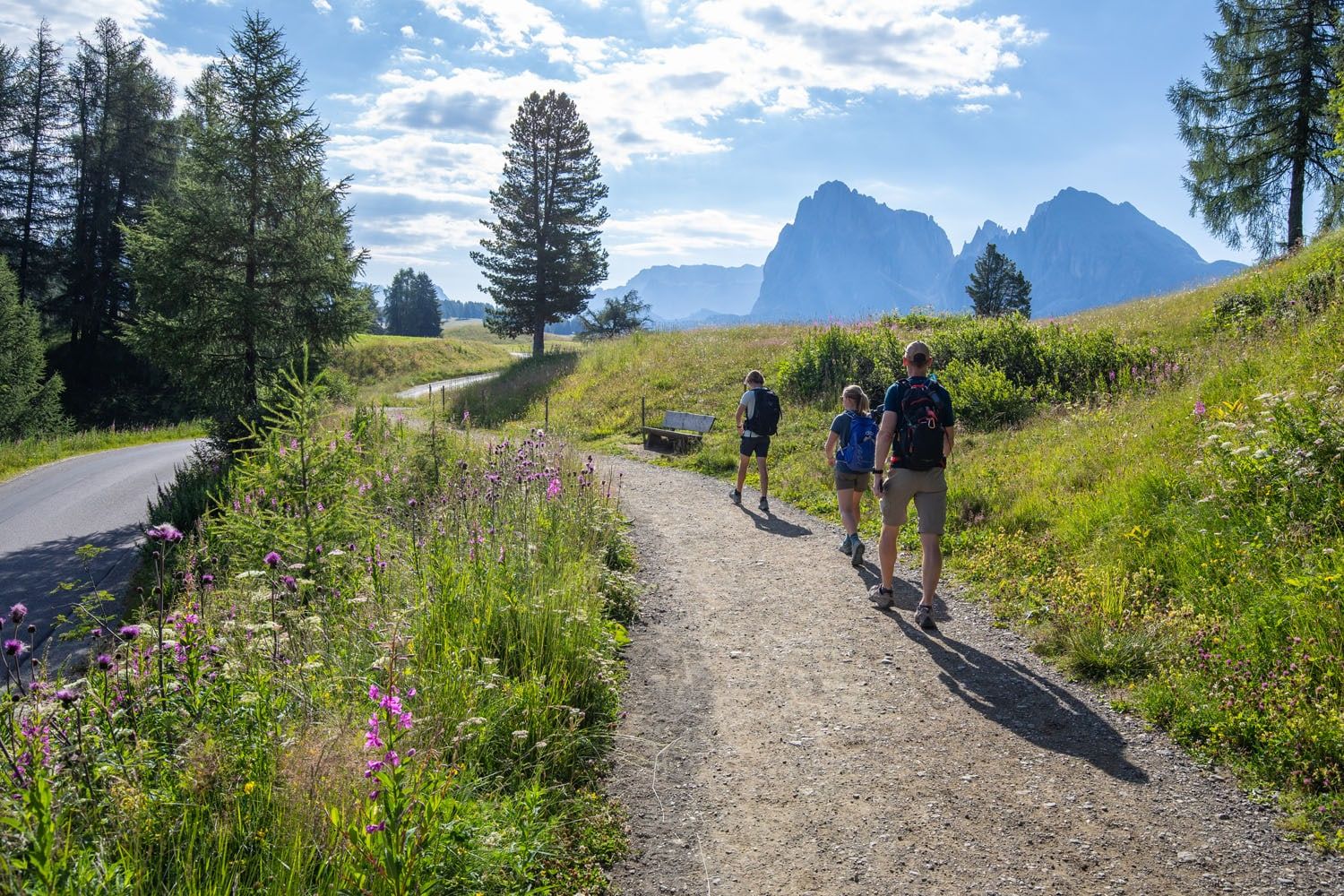 Sassolungo comes into view
At this split, stay left to continue to Piz and Sanon Hütte (to follow what we did). If you prefer to go right to Saltria and Williamshütte, stay to the right.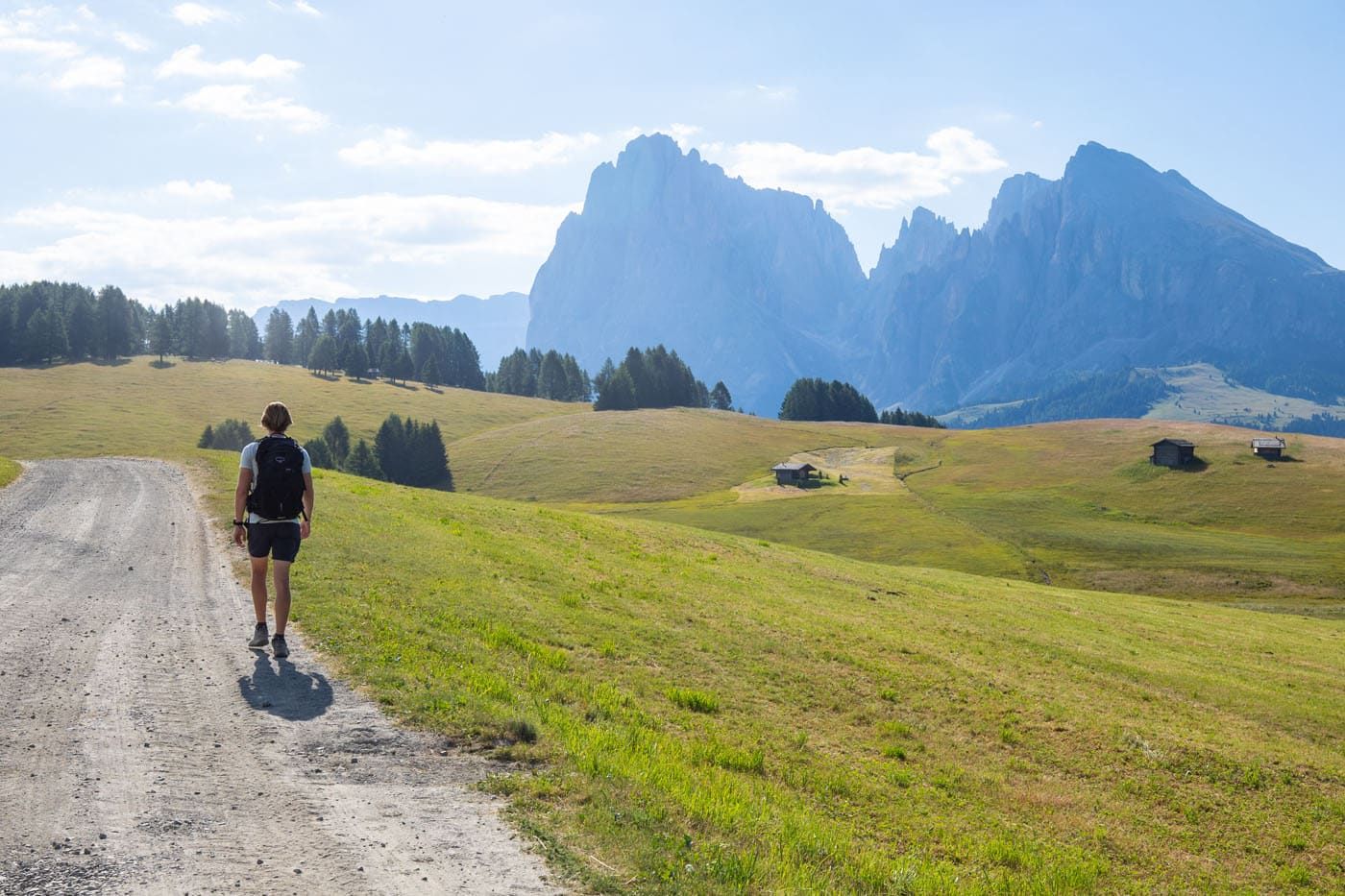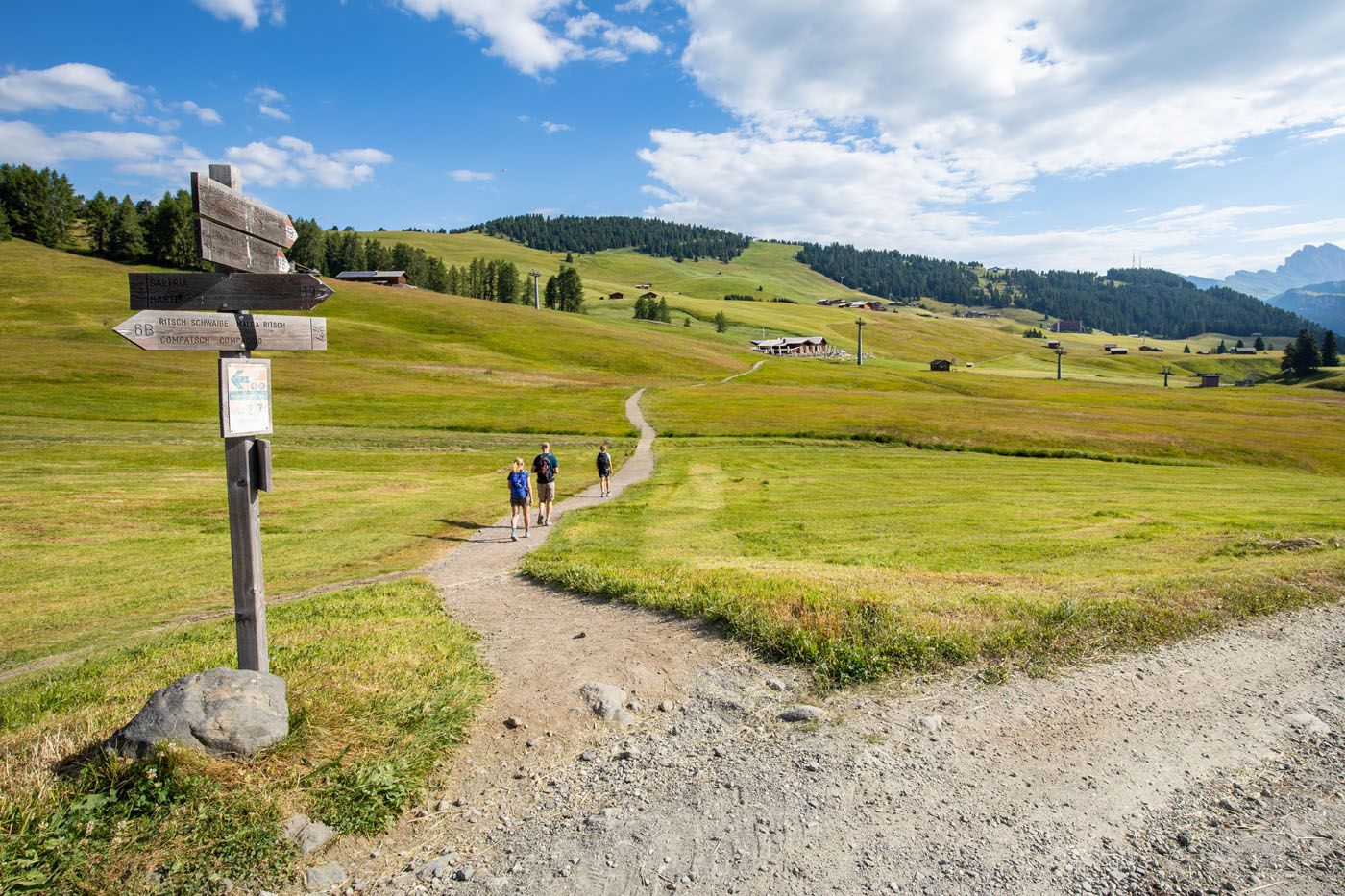 To go to Sanon Hütte, take the narrow trail seen here on the left.
Sanon Hütte
Since we started this hike so early, Sanon Hütte was not open during our visit, unfortunately. The view of Sassolungo and Alpe di Siusi is magnificent from here. I think this would be a great place for lunch, an afternoon snack, or a drink with a view.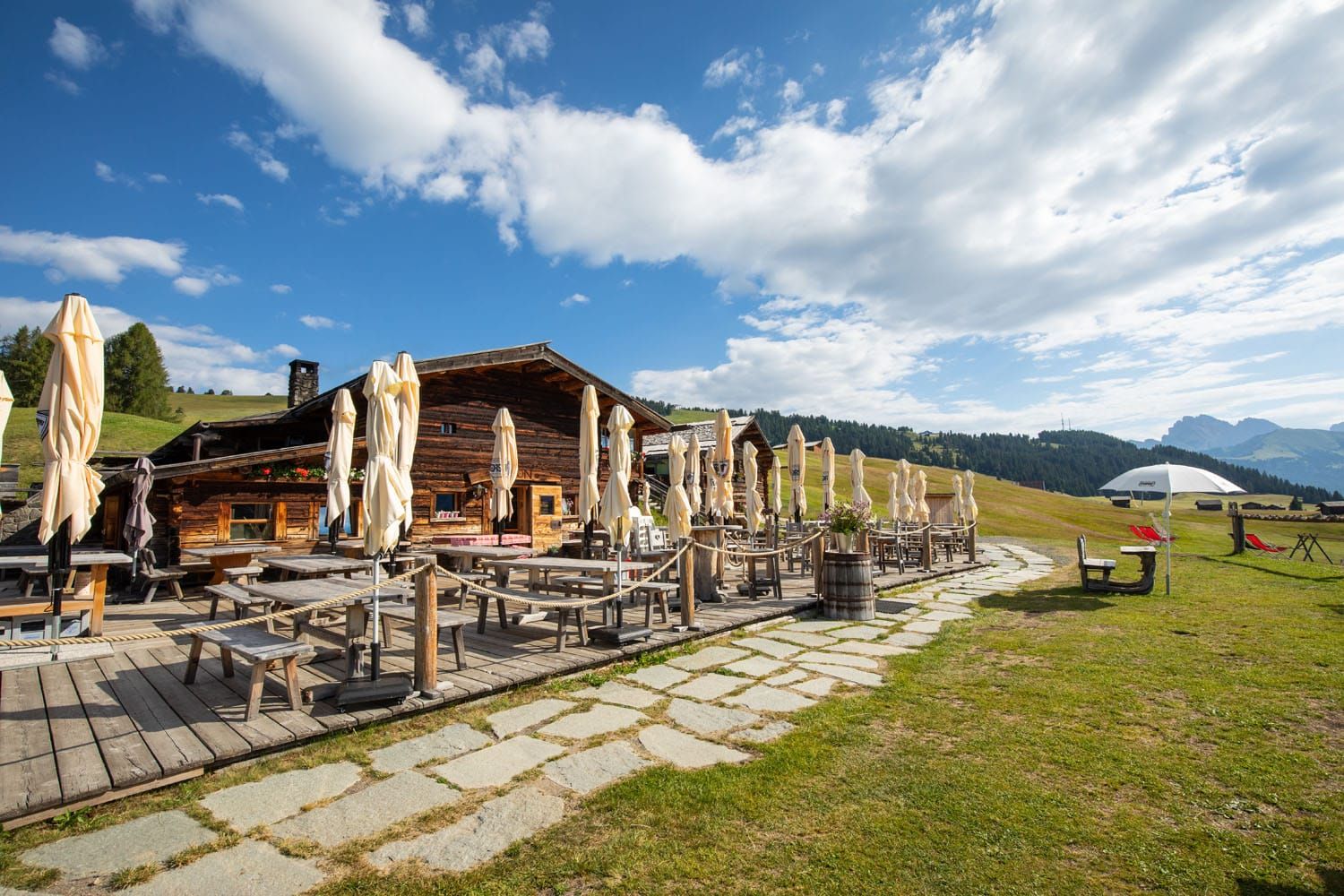 Sanon Hütte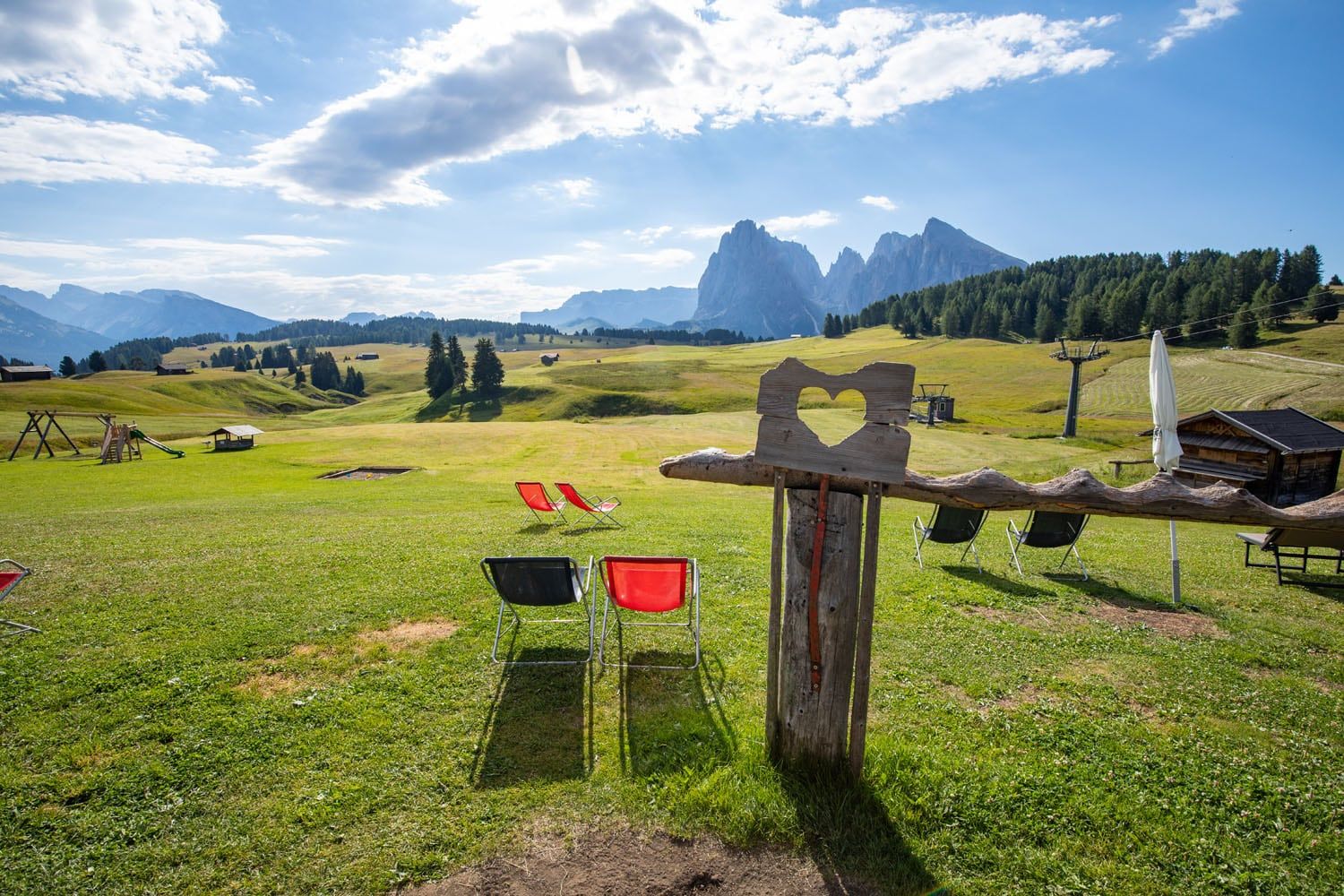 The view from Sanon Hütte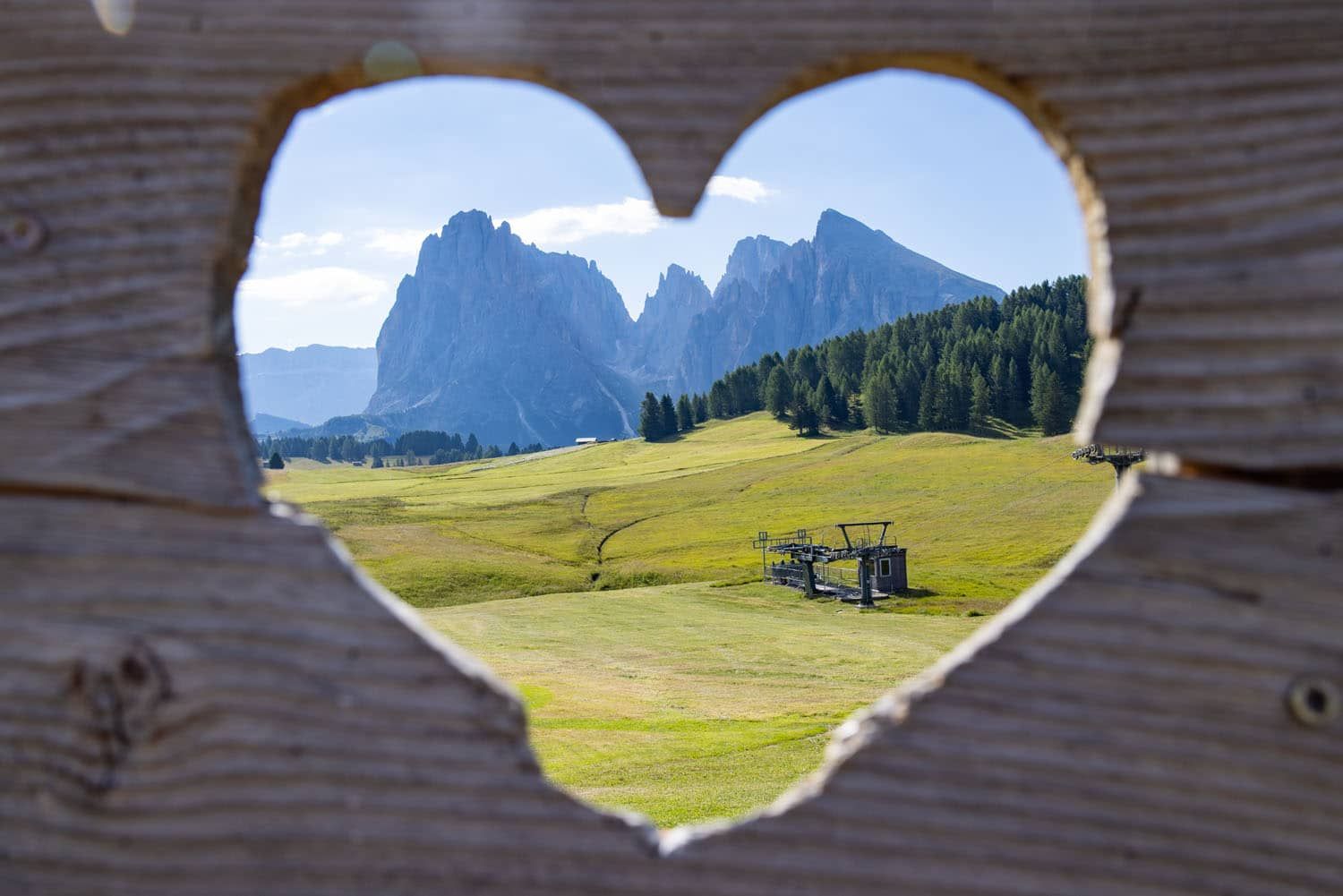 Sassolungo from Sanon Hütte
Sanon Hütte to Saltria
From Sanon Hütte, walk back out to the gravel road and then turn left. You are now on trail #19 to Saltria. Again, you are walking on a gravel road, passing through several farms.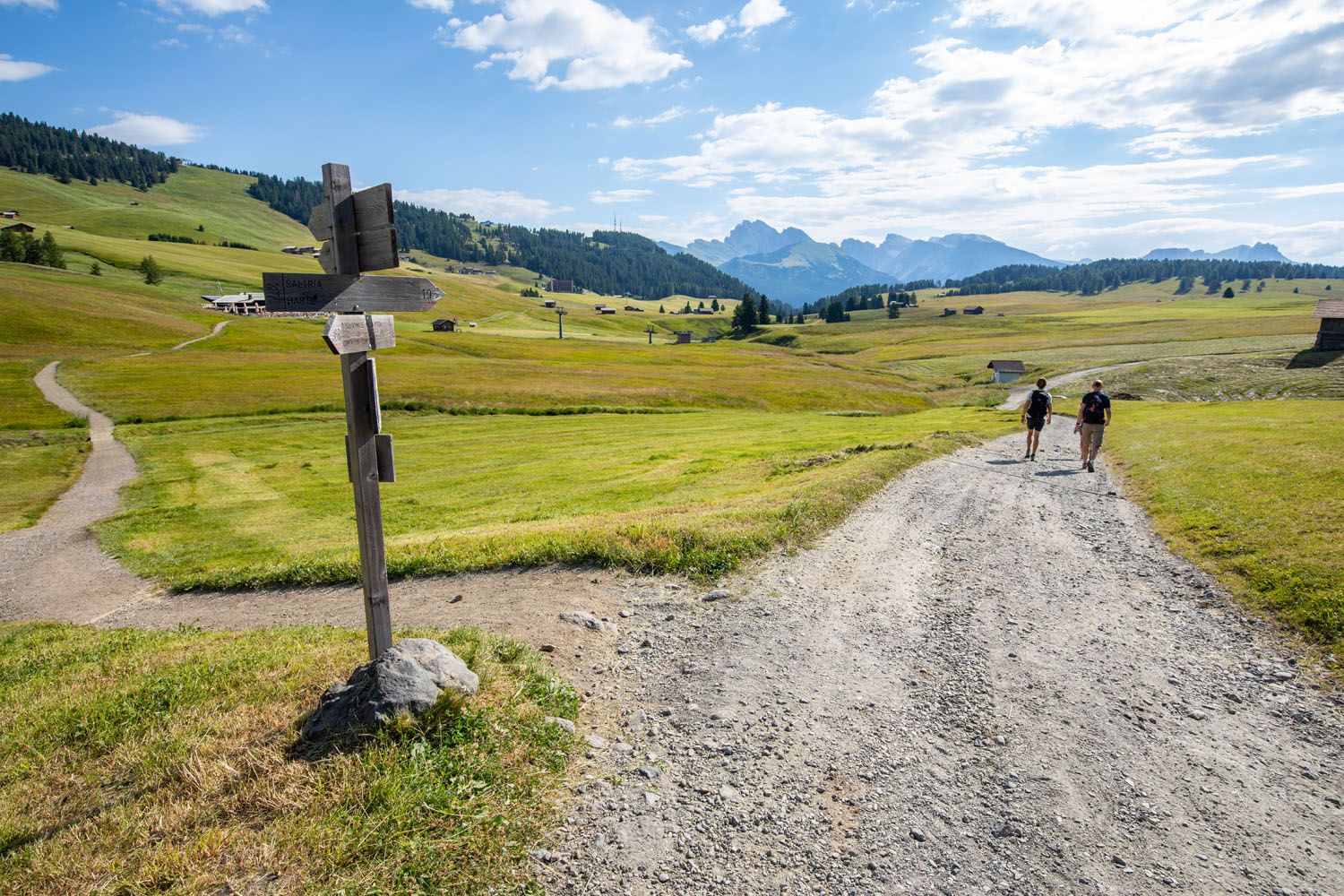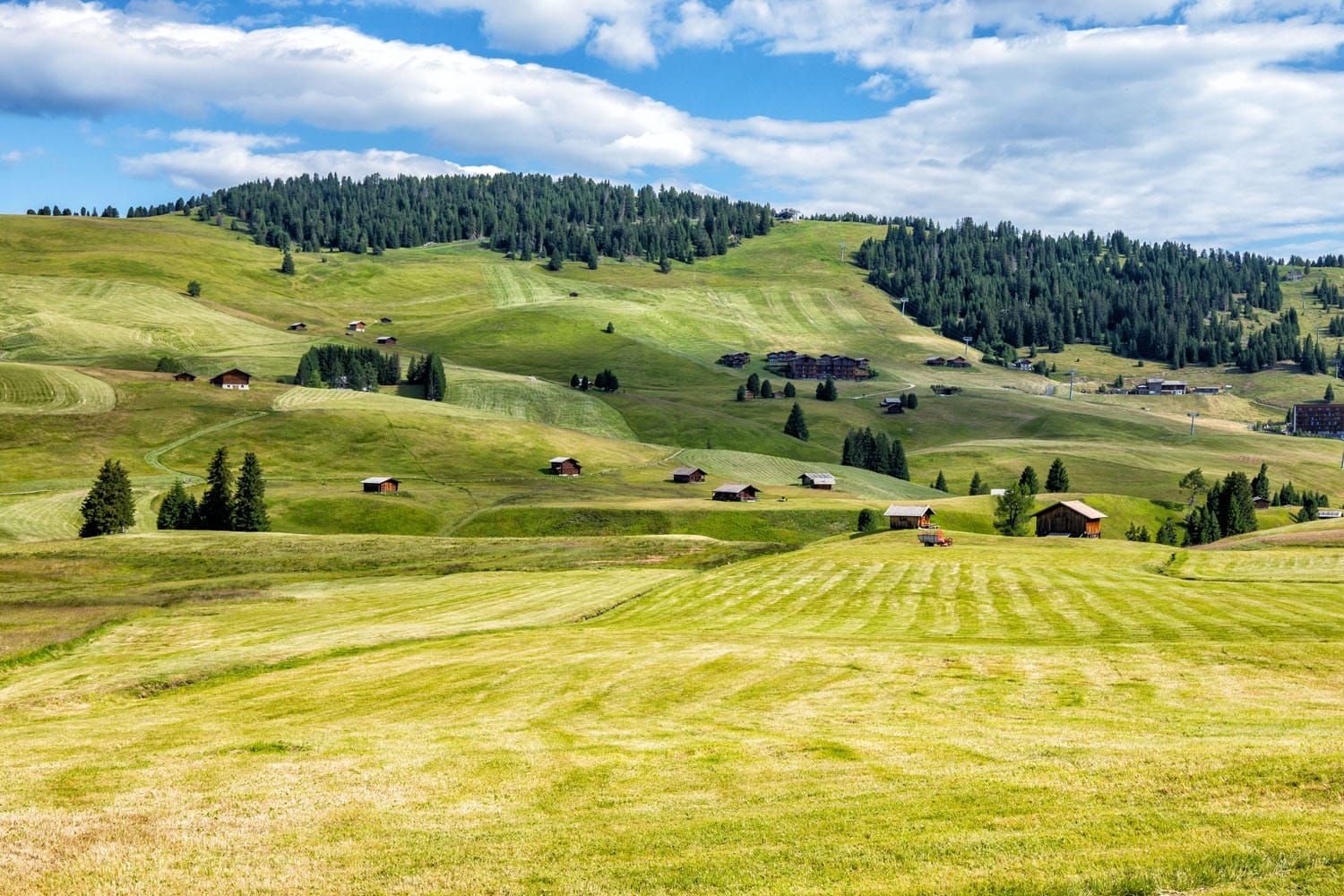 View of Alpe di Siusi from the trail.
From the wide gravel road, you will reach another trail junction. Take trail #9 to Saltria. It takes about 20 minutes to walk to Saltria from this point.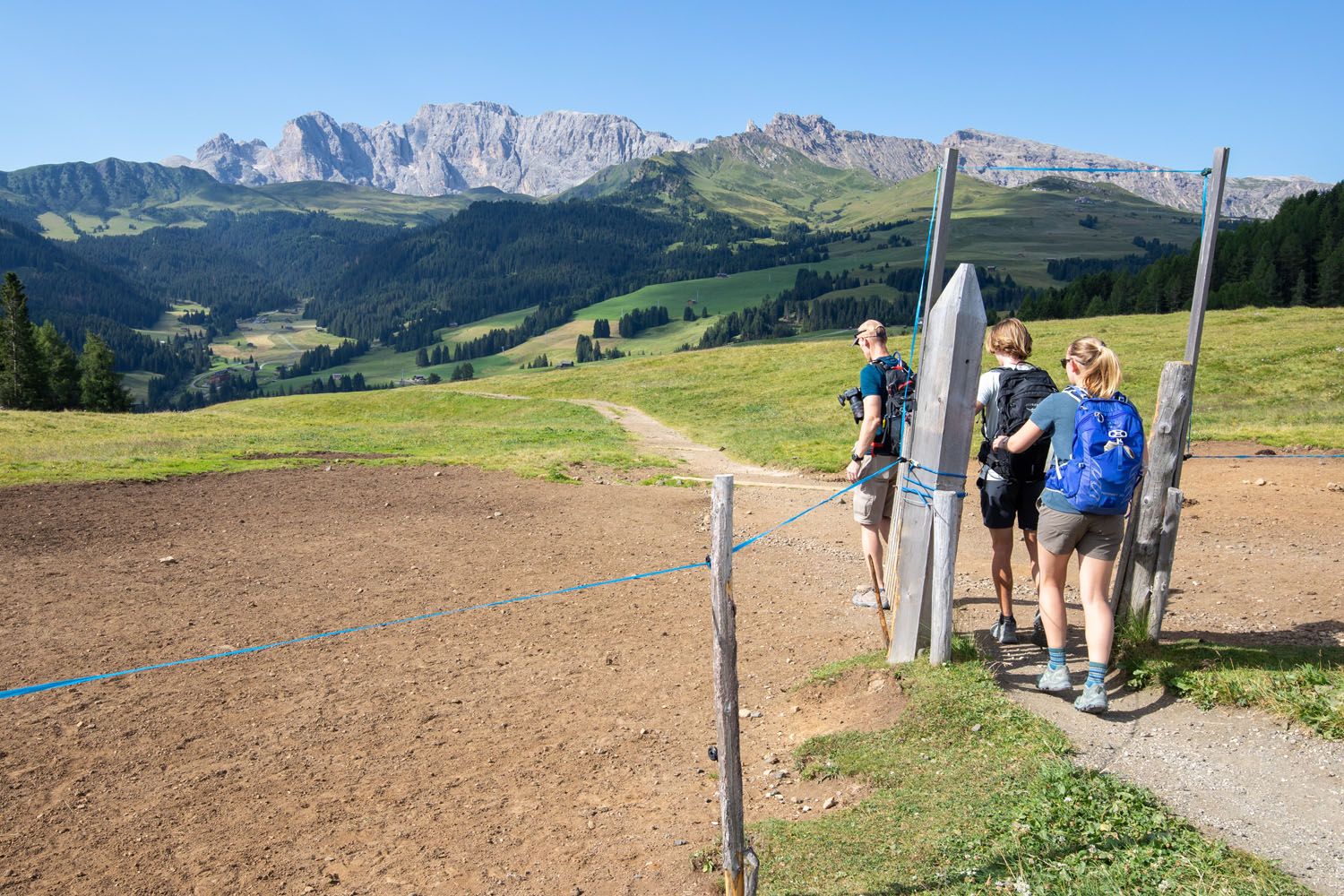 Pass through this gate and hike downhill to Saltria.
This, in my opinion, is the prettiest part of the hike. Now you are hiking downhill on a dirt trail. Sassolungo is just off to your left and the rolling hills of Alpe di Siusi are right in front of you. You will also hike through an evergreen forest and past a horse farm.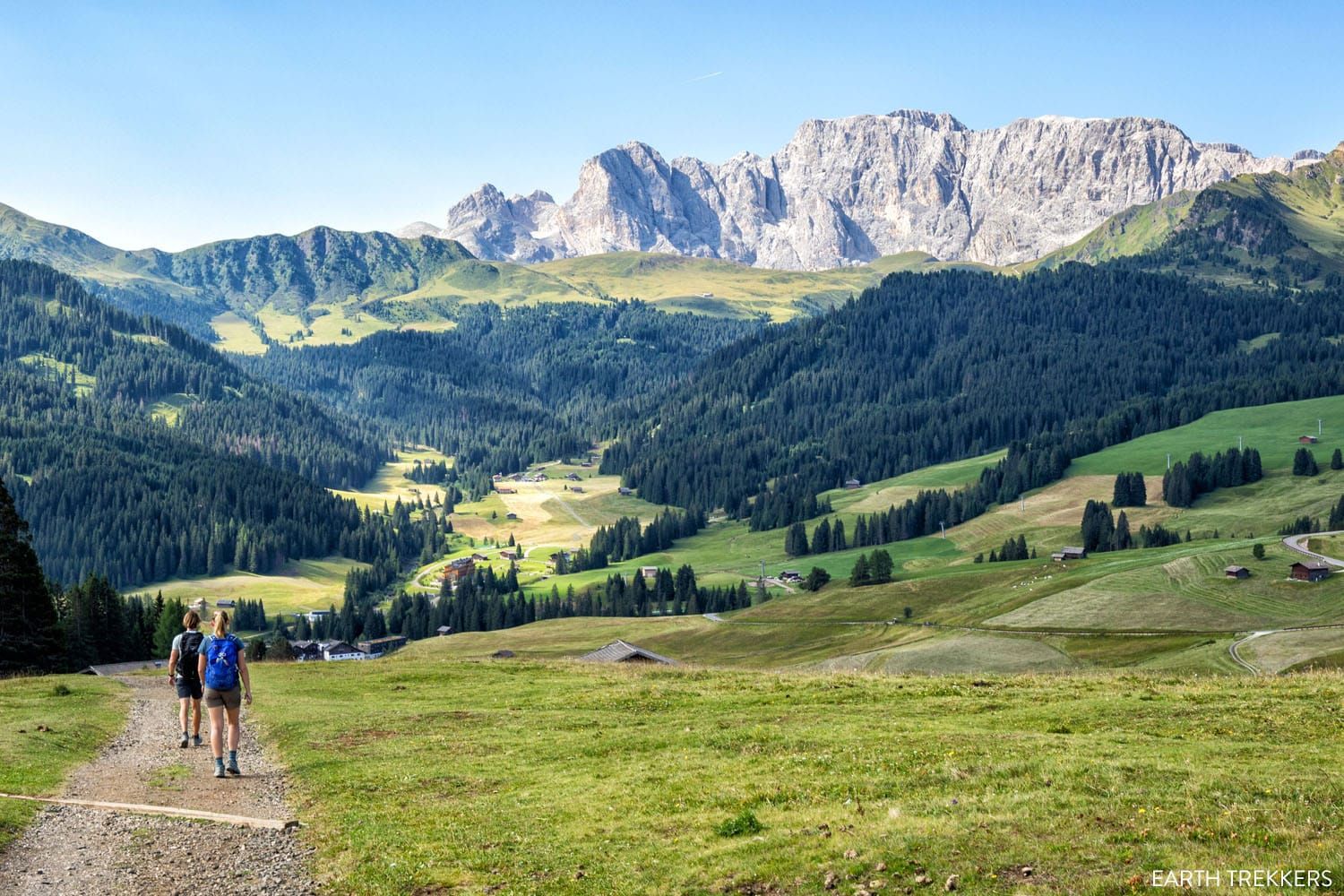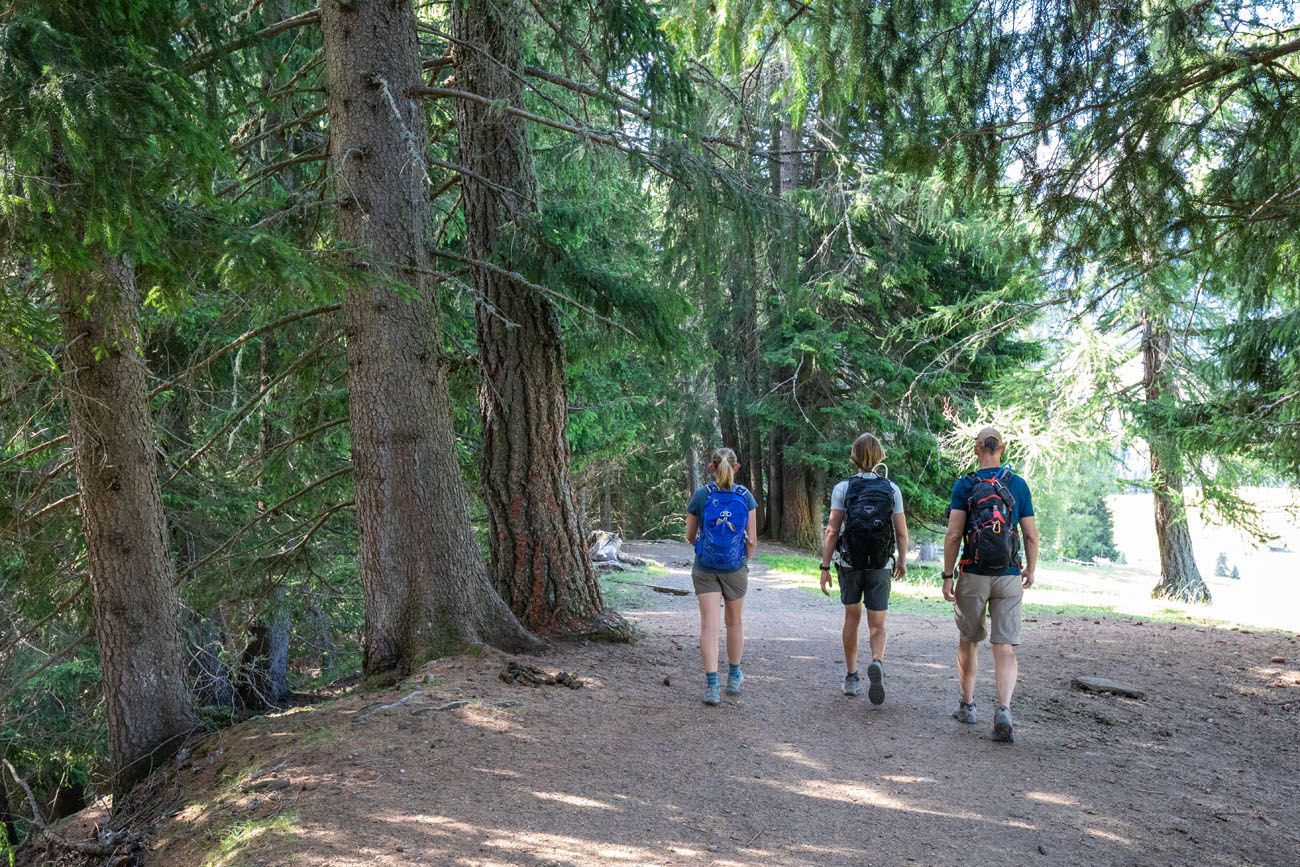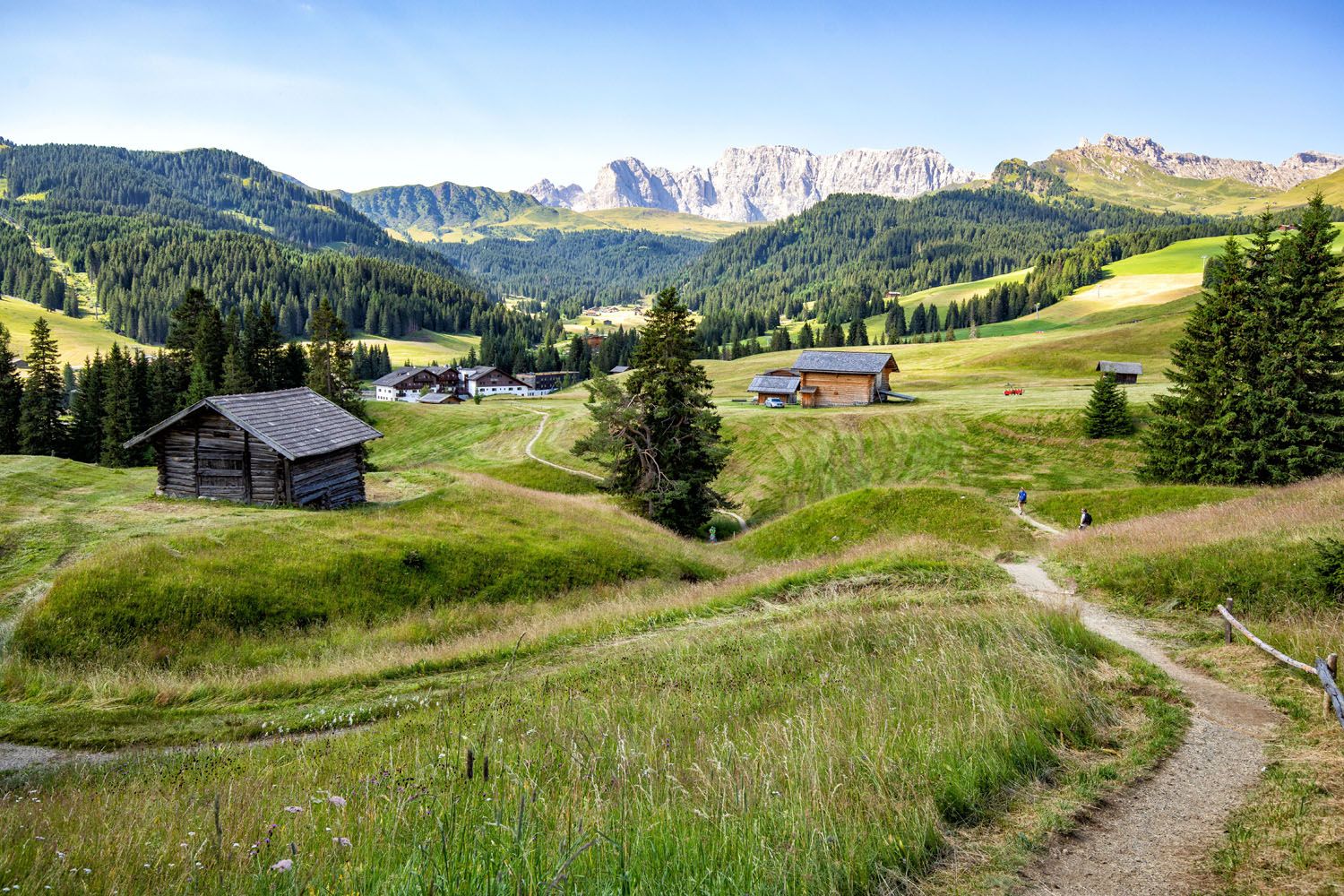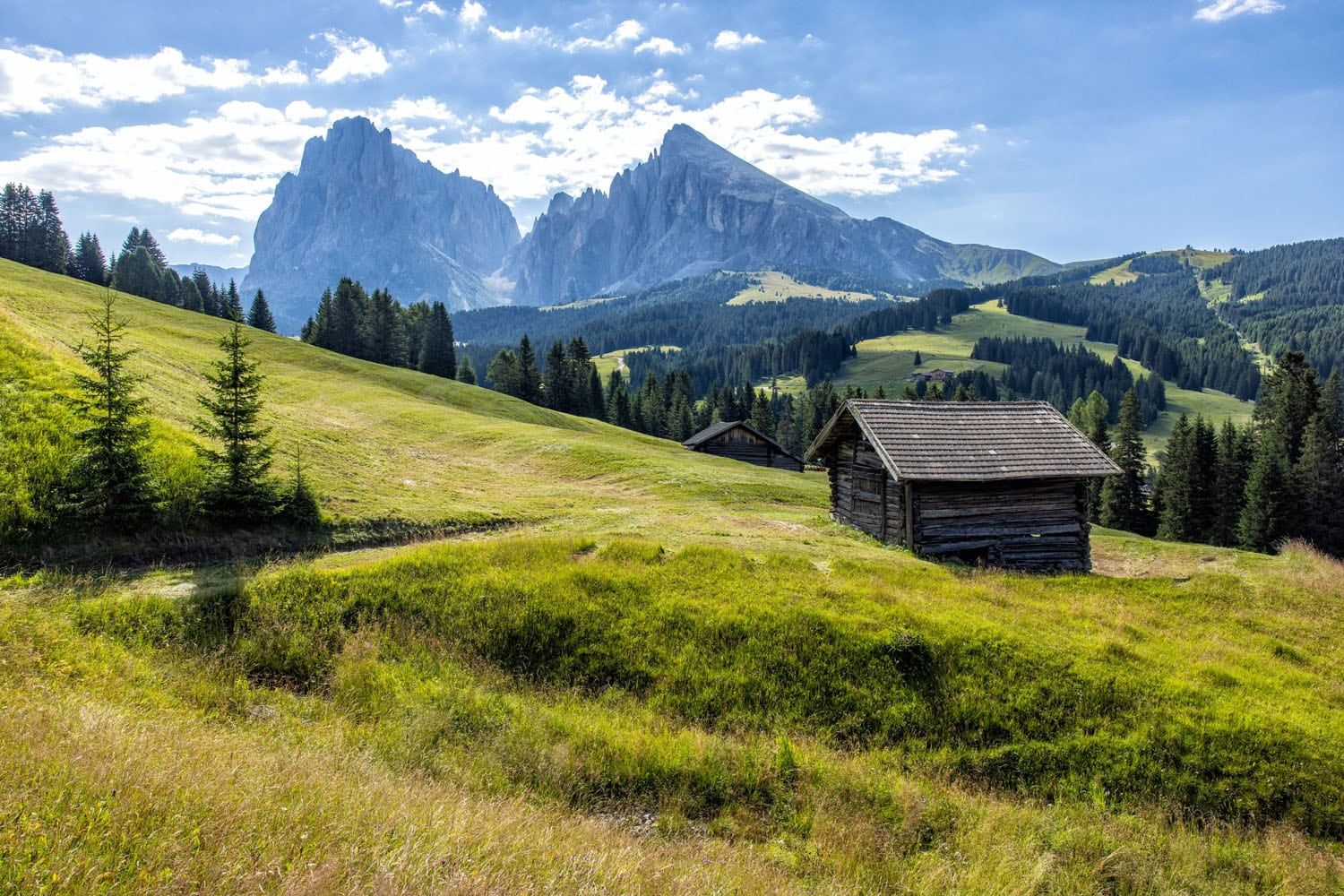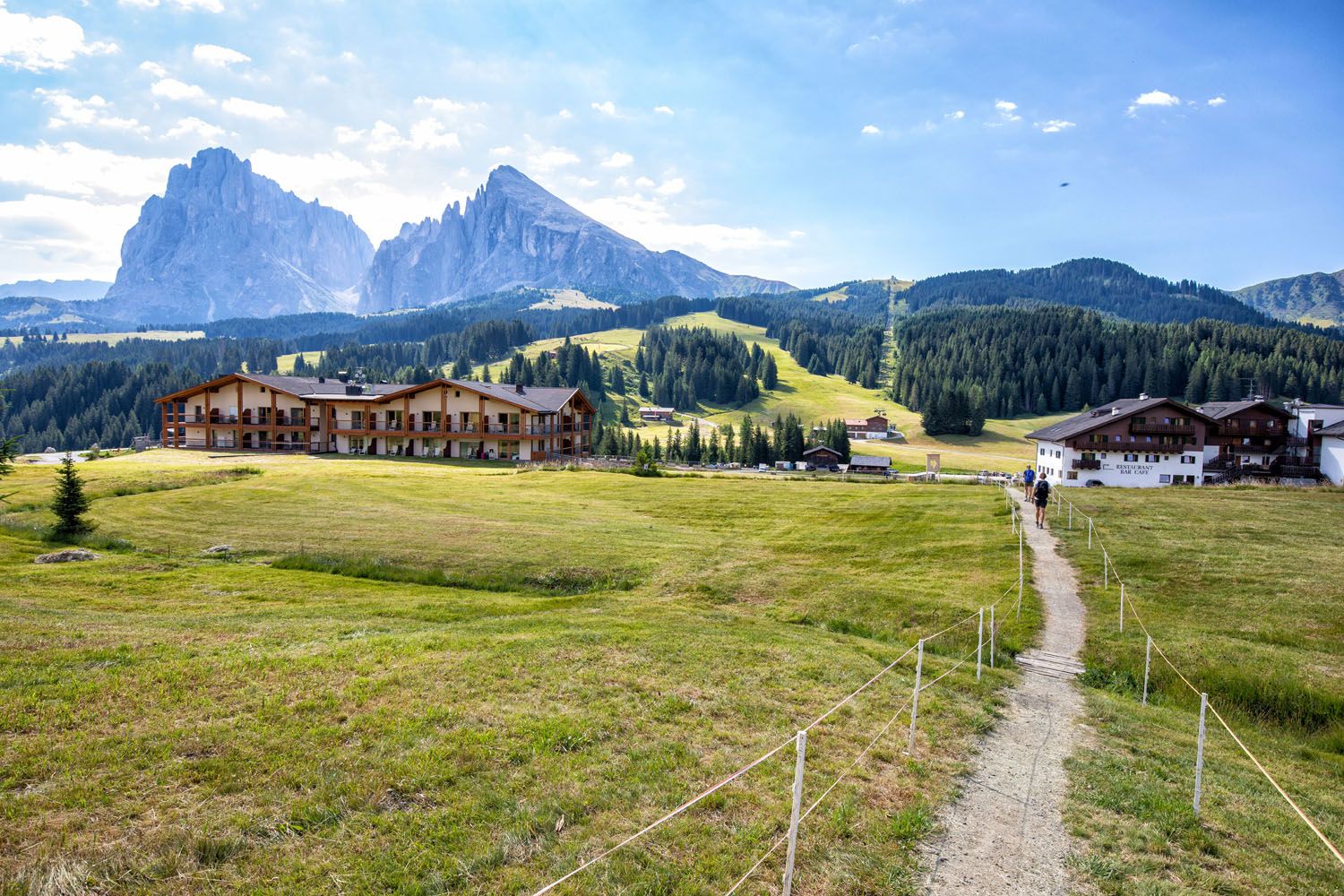 Entering Saltria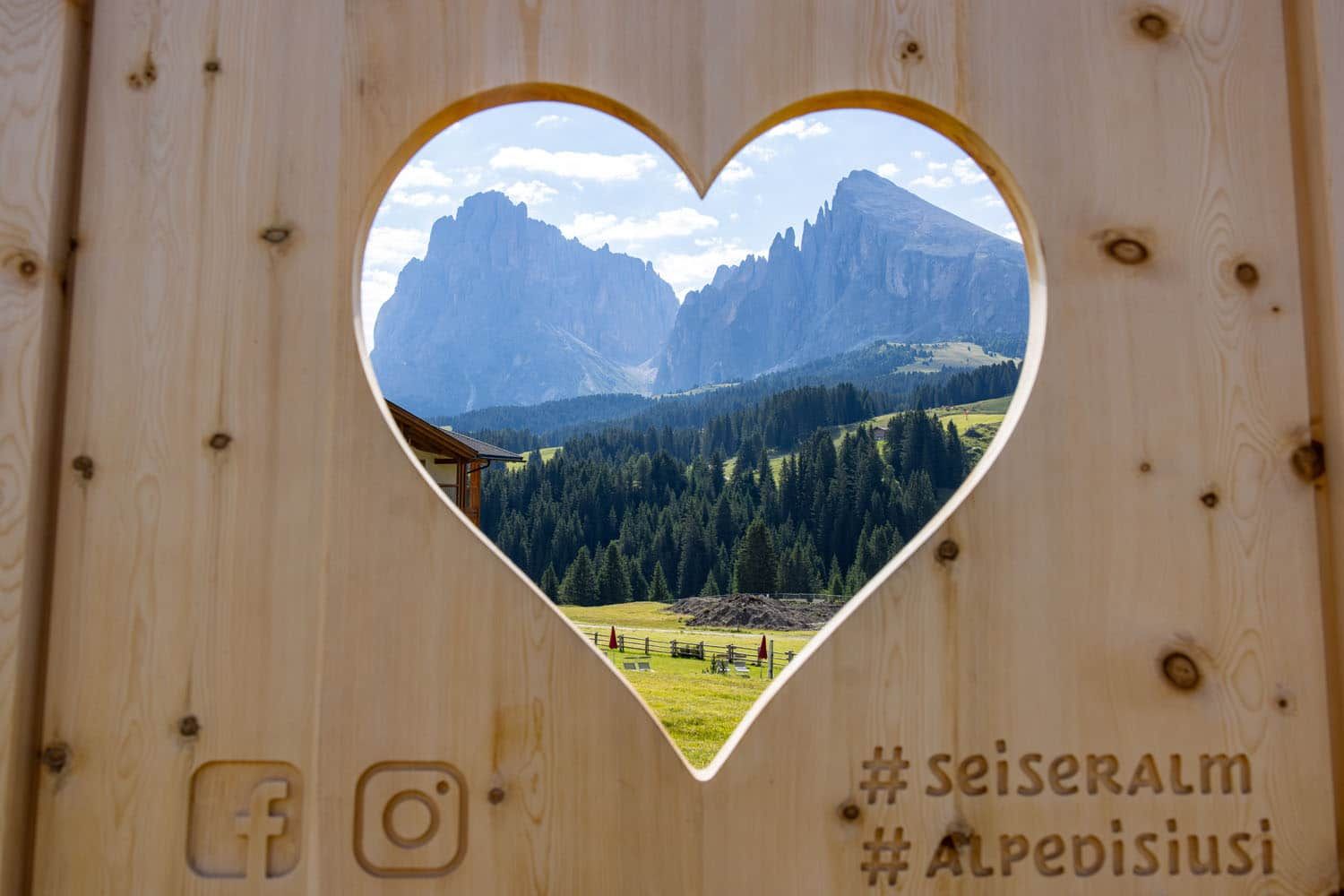 In Saltria, don't miss another cool spot to take a photo of Sassolungo.
Once you arrive in Saltria, you can have lunch at one of the restaurants here, hike or ride the bus to Compatsch, or ride the Florian chairlift.
Florian Chairlift to Williamshütte
We knew nothing about the Florian chairlift before our visit, but it looked like a fun thing to do while in Saltria.
Tickets can be purchased at the station. In the summer, a round trip ticket costs €18.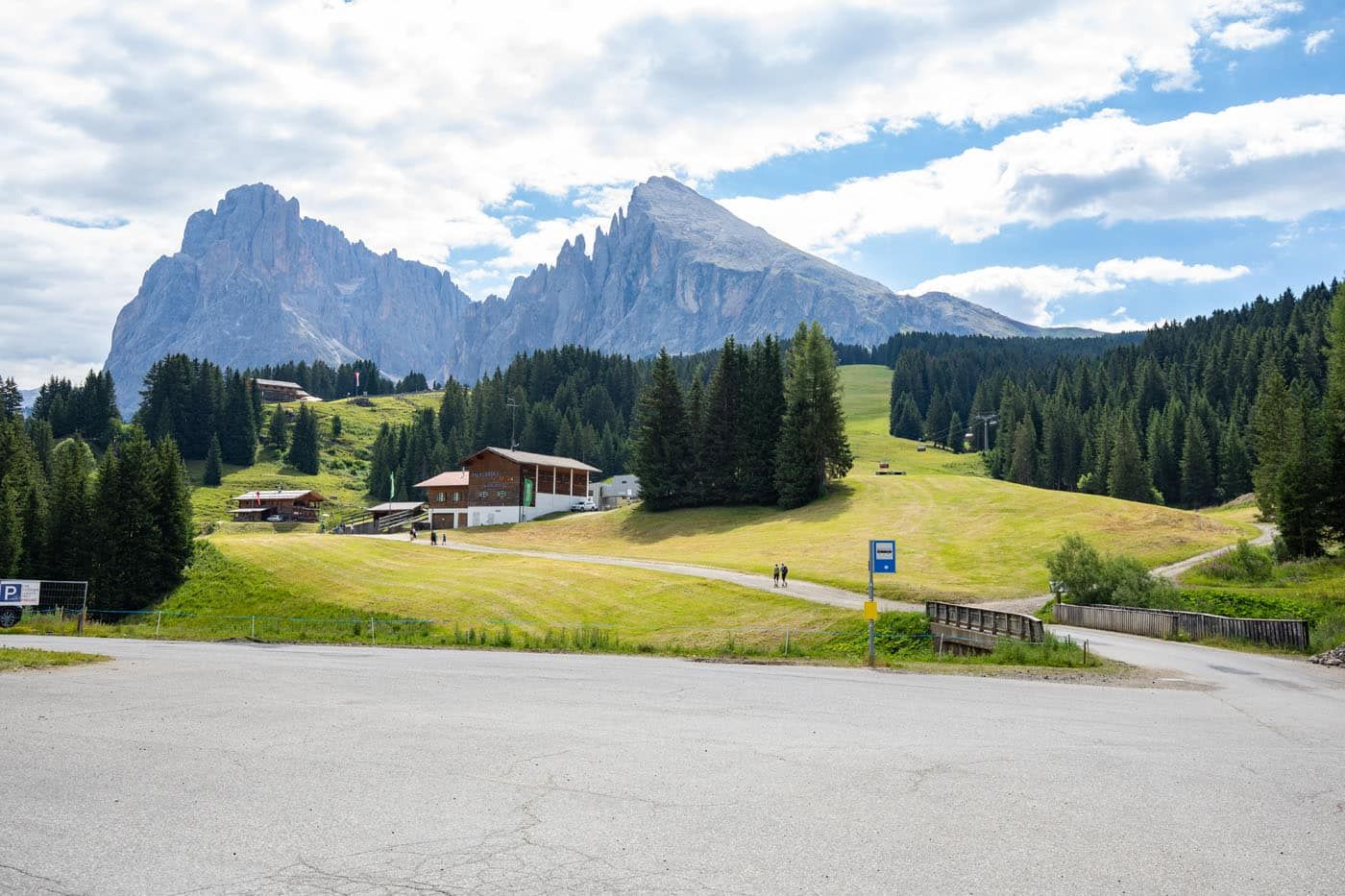 Bottom station of the Florian chair lift with Sassolungo in the background.
Williamshütte is a restaurant with outdoor terrace that has stunning views of Sassolungo. There is also a playground for kids and we had fun on the swing and zip line.
There is a hike that starts at Williamshütte and goes to Rifugio Sasso Piatto (Plattkofelhütte). And from this hut, you can hike another 2 hours up to Sasso Piatto (Plattkofel), on Sassolungo. Because of time constraints, we did not do this, but it looks like a great add on to the day, if you don't mind the idea of a strenuous hike.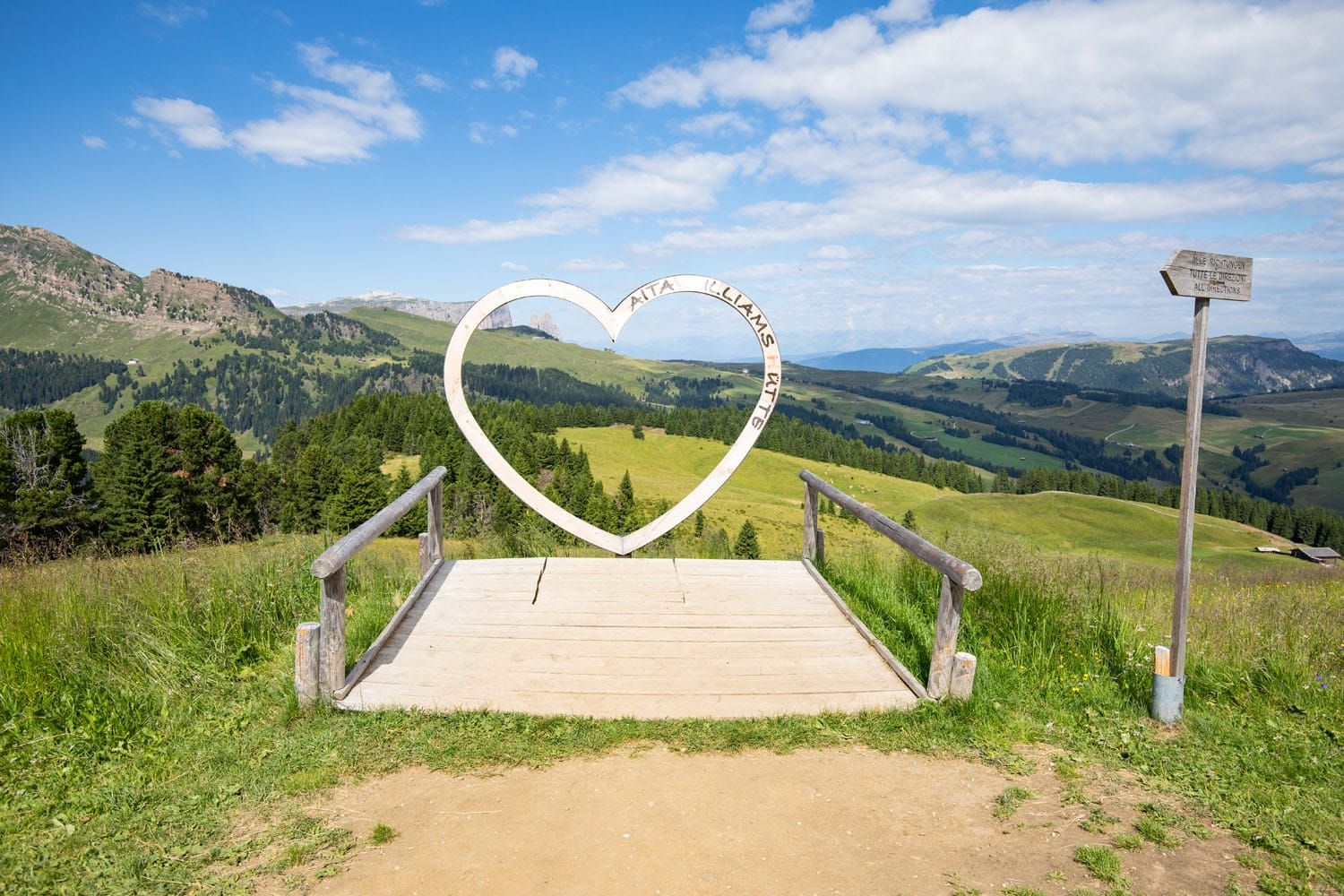 View from Williamshütte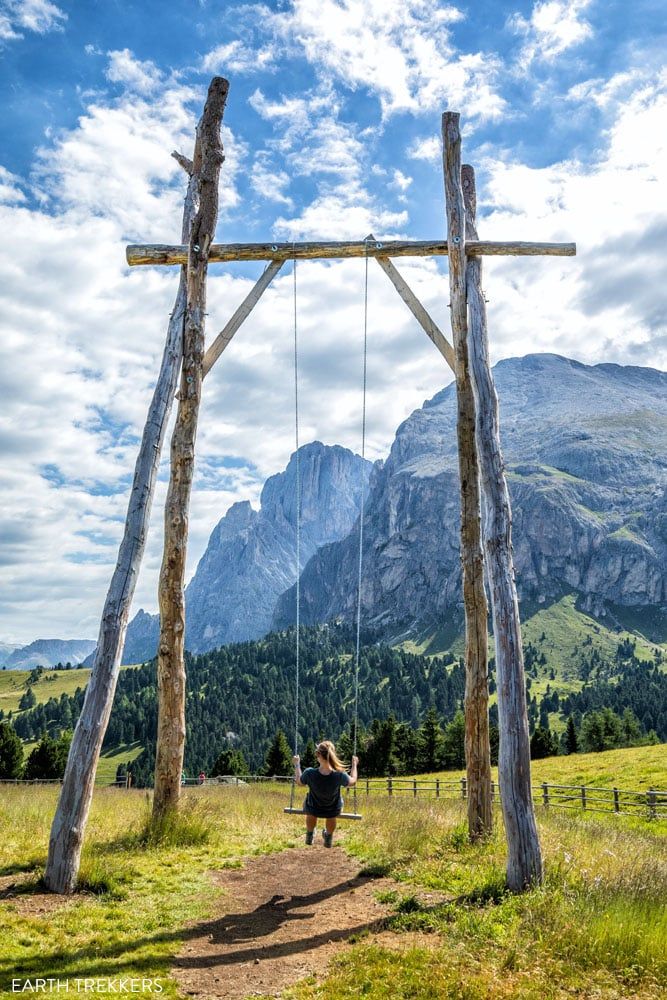 The swing at Williamshütte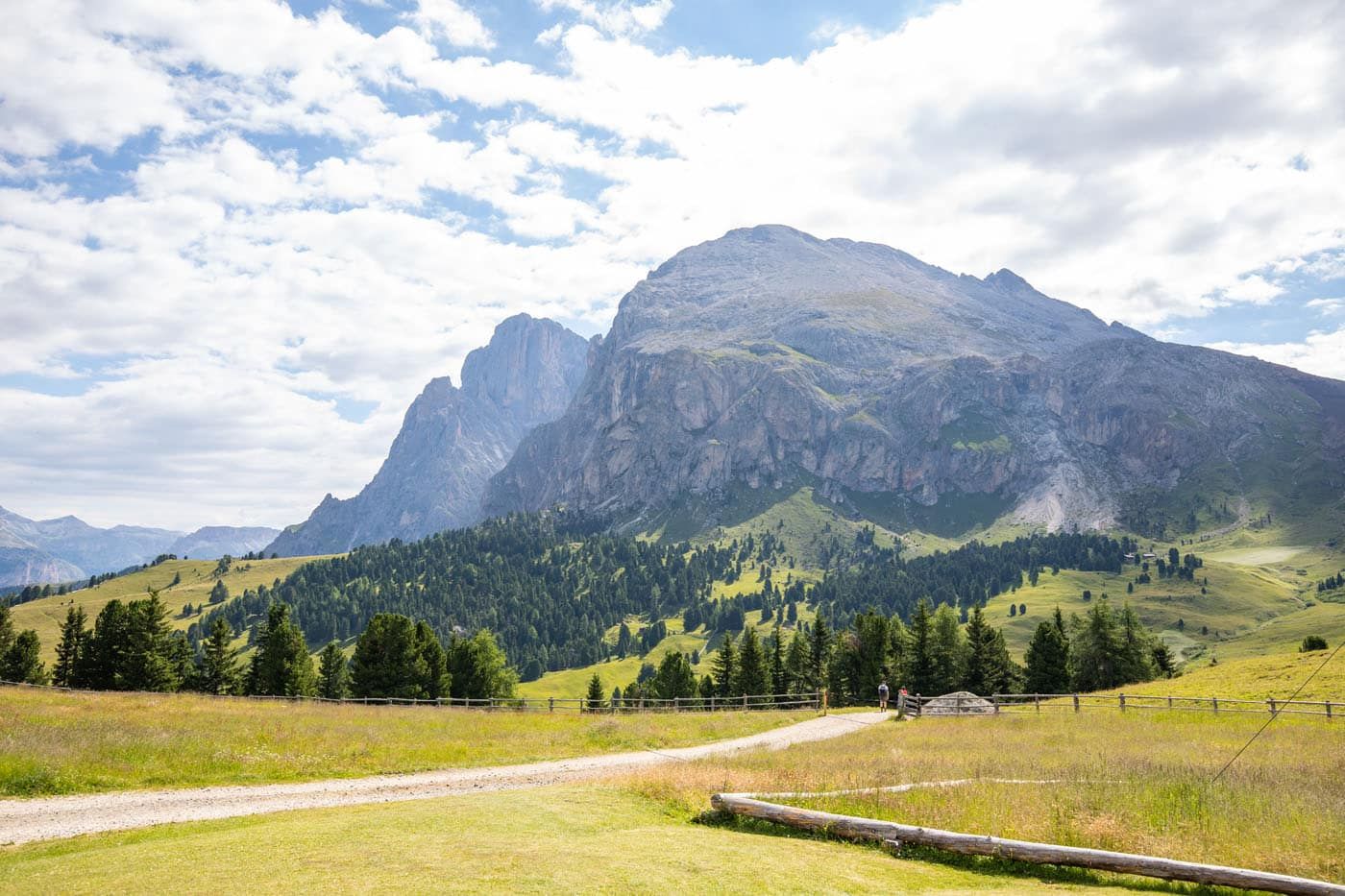 Hiking trail to Rifugio Sasso Piatto (Plattkofelhütte)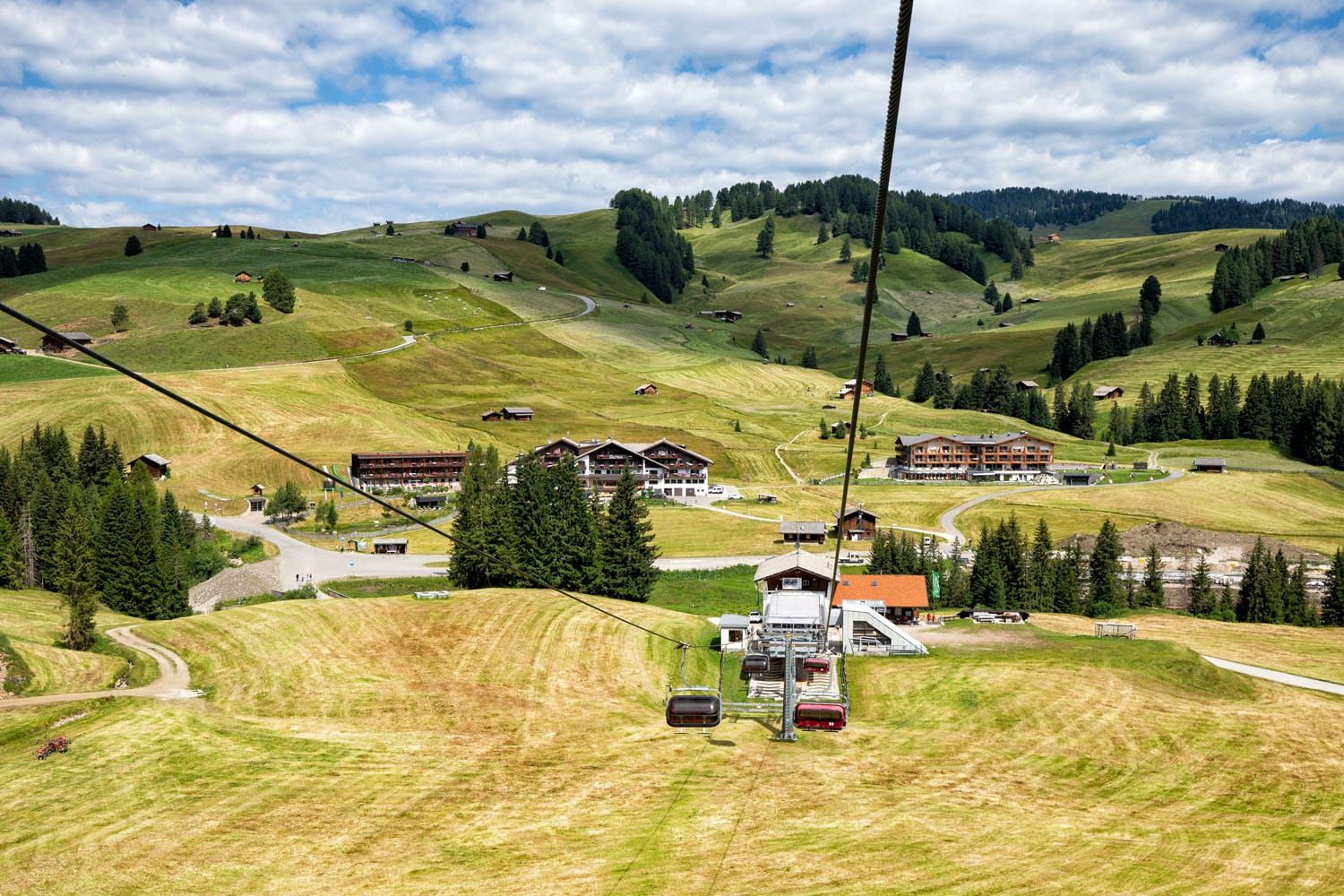 View of Saltria from the chairlift
Saltria to Compatsch
From Williamshütte, we rode the chairlift to Saltria and from Saltria, rode the bus to Compatsch. From Saltria, it is a mostly uphill hike to Compatsch. We bought our bus tickets at the automatic ticket machine at the Saltria bus stop.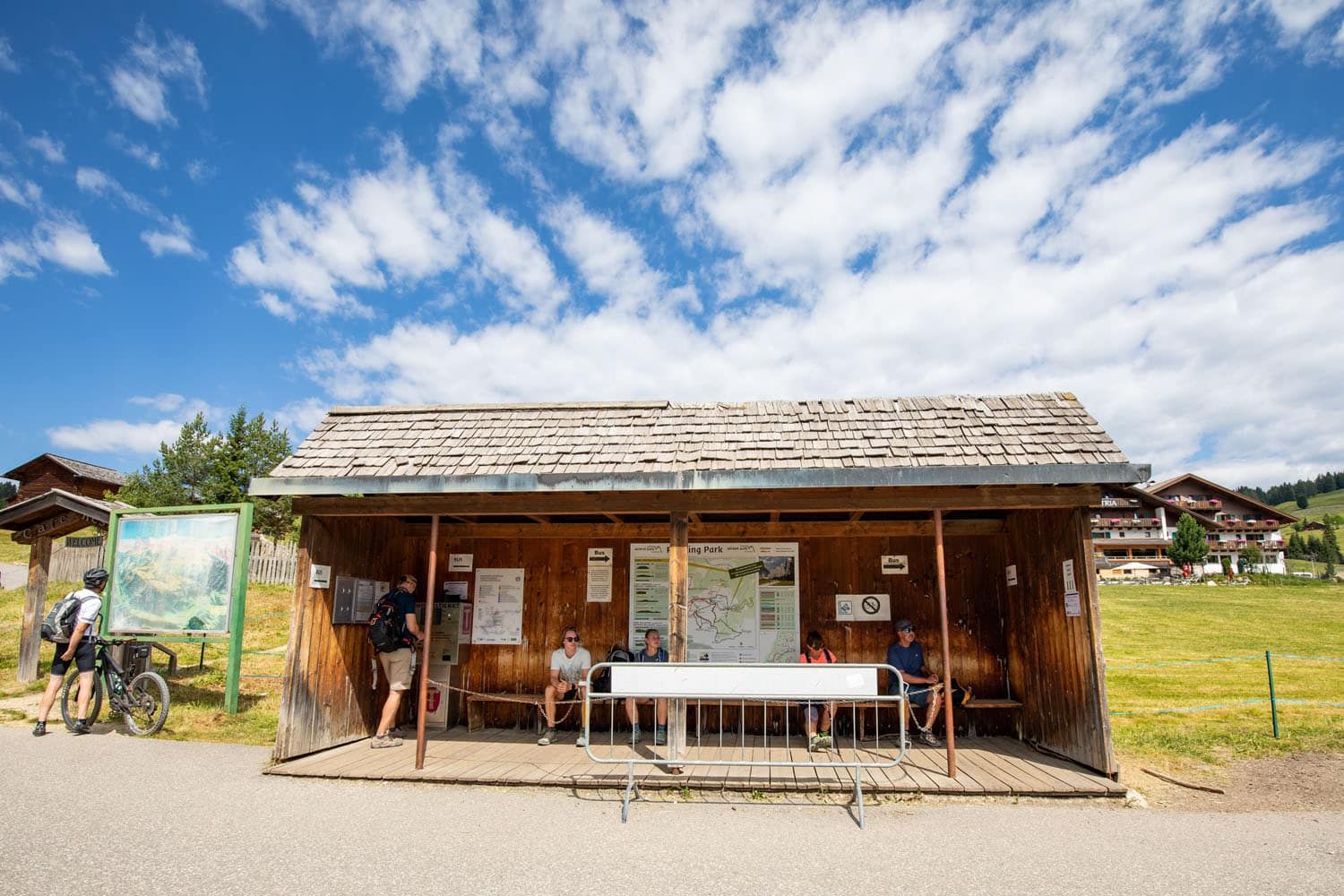 Saltria bus stop
If We Did it Again
We knew very little about what to do in Alpe di Suisi before our visit. For example, we knew nothing about the Florian chairlift until we saw it on our walk to Saltria.
Our experience, the easy walk to Saltria and visiting Williamshütte, was great, but if I did it again, I'd do a few things differently.
If I did the walk the same way, I'd start later in the day, ideally around lunchtime. That gives enough time for the rifugios to open and I think the lighting would be better for photos of Sassolungo. However, to arrive midday, you will have to ride the Seiser Alm Aerial Cableway from Seis/Suisi.
If you are an avid hiker, I'd recommend the hike up to Sasso Piatto rather than the easy stroll through Alpe di Siusi. From Compatsch, ride the bus to Saltria. From Saltria, ride the chairlift to Williamshütte and then hike to Sasso Piatto. Later in the day, you could have lunch or an early dinner at Williamshütte or in Saltria.
The Rauch Hütte also looks like an amazing place to have a meal and the views of Sassolungo from here are phenomenal.
More Information about the Dolomites
For links to all of our articles about the Dolomites, check out our Dolomites Travel Guide.
In our article Best Hikes in the Dolomites, we cover 15 epic trails in the Dolomites. Which ones do you want to do?
With our Dolomites Itinerary Planner, put together the perfect trip to the Dolomites, whether you have 2 days, 4 days, or a full week.
We cover important things to know before you go and travel tips in our article How to Plan a Trip to the Dolomites. And for ideas on what to do, read our article Best Things to Do in the Dolomites.
For recommendations on where to stay in the Dolomites, check out our guide Best Places to Stay in the Dolomites.
Tre Cime di Lavaredo is one of the most popular hikes in the Dolomites. Add on the Cadini di Misurina viewpoint for one epic day in the Dolomites.
Lago di Braies is a beautiful alpine lake. Hike the loop trail around the lake, paddle around on a rowboat, or hike high into the mountains from here.
---
If you have visited Alpe di Siusi and have an experience you would like to share, let us know in the comment section below.
More Information for Your Trip to Italy
NORTHERN ITALY: Verona is a beautiful city to add to your Italy itinerary and we also have a detailed guides on Lake Garda and how to day trip to Lake Como and Bellagio. In our Northern Italy Itinerary, visit Venice, the Dolomites, Verona, Milan, and Lake Como.
VENICE: Learn more about what to do in Venice in our Venice Bucket List. To help you plan your time, we have a detailed one day Venice itinerary and a 2 day Venice itinerary.
FLORENCE: Get started with our guide to the Best Things to Do in Florence. We also have a guide about how to visit the Florence Cathedral and related sites, the best rooftop bars in Florence and the best viewpoints in Florence.
PHOTOGRAPHING ITALY: For some of the best views in Italy, here are 10 gorgeous views and exactly where to photograph them.
We have TONS more information about Italy in our Italy Travel Guide, including Rome, Florence, Venice, Tuscany, the Dolomites, the Amalfi Coast, the Cinque Terre, and Puglia.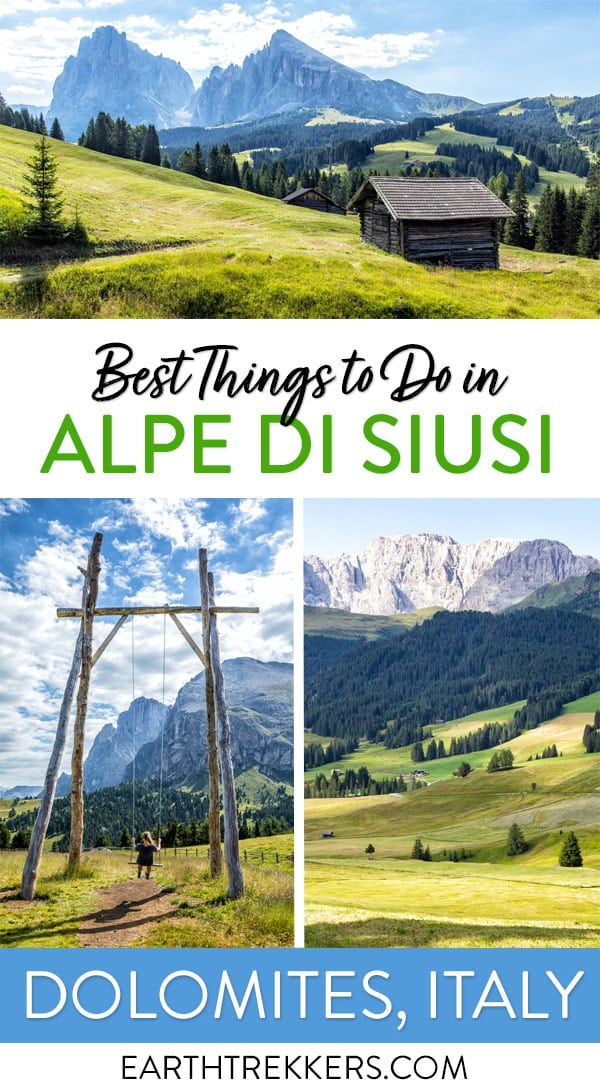 All rights reserved © Earth Trekkers. Republishing this article and/or any of its contents (text, photography, etc.), in whole or in part, is strictly prohibited.