The Croda da Lago Circuit is one of the most underrated hikes that we did in the Dolomites. With a beautiful walk through the woods, a visit to an alpine lake (Lago Federa), close up views of Croda da Lago, and panoramic views of the Dolomites, the scenery is constantly changing, making this one of the most interesting trails in the area.
During the summer months, the Dolomites is a busy place to visit. But not this trail. The Croda da Lago Circuit was one of the emptiest trails that we hiked in our 12 days in the Dolomites. So, if you are looking for a less crowded hike that is still BIG on views, this hike is for you.
A Brief Overview of the Hike
This hike is done as a loop. It can be done in either direction, but we recommend doing it clockwise, so that you are hiking down through the steep, tricky boulder field, rather than going up it.
The circuit makes a loop around the Croda da Lago mountain range, which is a small, jagged, rocky mountain range that can be seen from the Cinque Torri, Rifugio Nuvolau, Tofana di Mezzo, and other viewpoints in the Dolomites. Along the way, you will hike past lovely Lago Federa and reach the high point of the trail at Forcella Ambrizzola.
Croda da Lago Circuit + Lago Federa Hiking Stats
Distance: 12.8 km (8.0 miles) lollipop-type loop
Total Ascent: 900 m (2,950 feet)
Difficulty: Moderate to strenuous
Lowest Elevation (Trailhead): 1,680 m (5,510 feet)
Highest Elevation (Forcella Ambrizzola): 2,475 m (8,120 feet)
Starting Point: Ponte de Ru Curto, SP638
Ending Point: Ponte de Ru Curto, SP638
Time: 4.5 to 6 hours
When to Go: Summer through early fall
Toilets: At Rifugio Palmieri (Lago Federa); there are no toilets at the trailhead

Croda da Lago Circuit + Lago Federa Elevation Profile
Please practice the seven principles of Leave No Trace: plan ahead, stay on the trail, pack out what you bring to the hiking trail, properly dispose of waste, leave areas as you found them, minimize campfire impacts, be considerate of other hikers, and do not approach or feed wildlife.
Croda da Lago Circuit + Lago Federa Map
Croda da Lago Circuit + Lago Federa Map
How to Hike the Croda da Lago Circuit
Step-By-Step Trail Guide
Parking and Trailhead
The trailhead is located on SP638 at Ponte de Ru Curto. It is a 15-minute drive to get here from Cortina d'Ampezzo, the closest town.
Parking is right along the road, near the trailhead sign. Here is a view of the cars parked along the road. It's a good idea to get here early (before 9:30 am) to get a spot, because parking is very limited. We got here at 8:30 am and there were roughly 10 cars parked.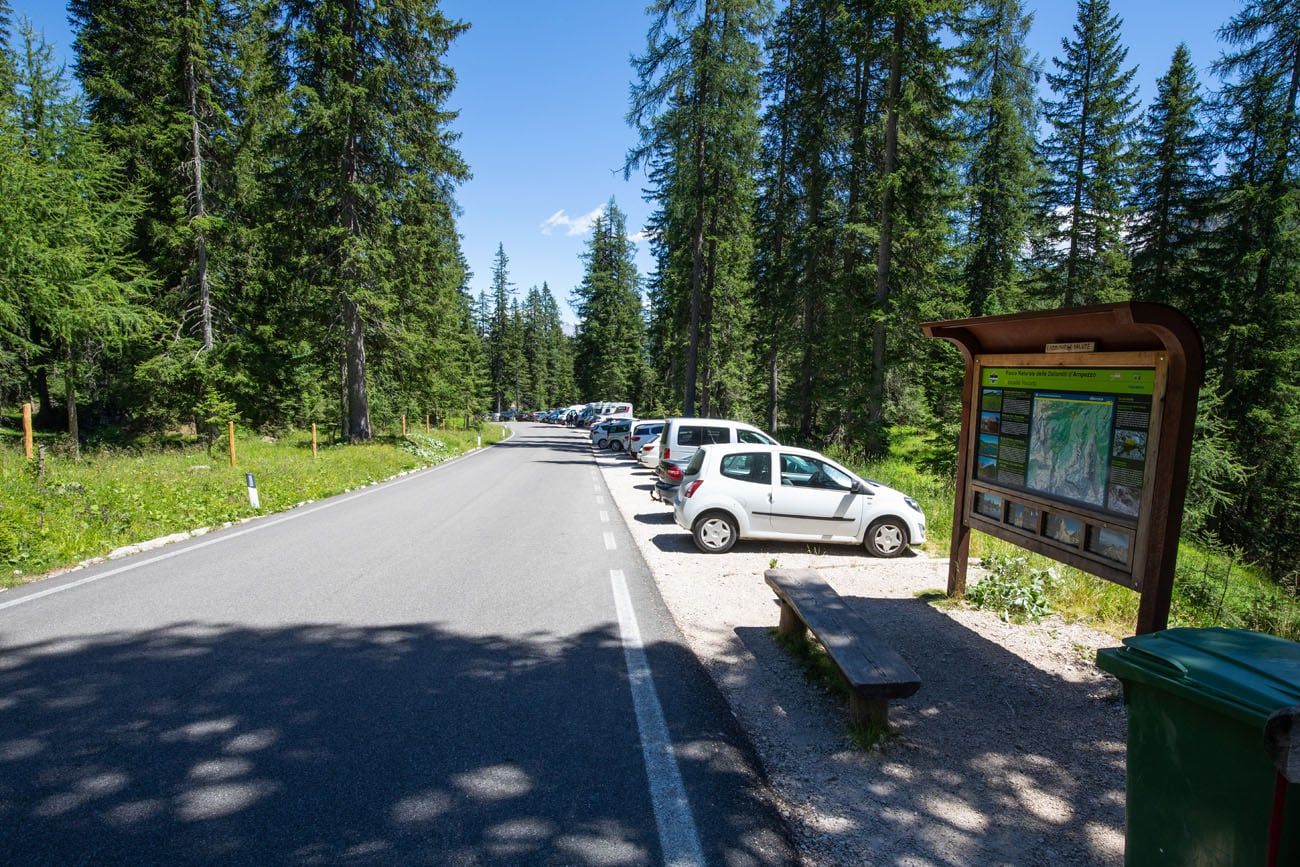 This photo was taken midday, once we finished the hike. However, when we started the hike there were only a few cars here.
Croda da Lago Circuit Trailhead
If you are taking public transportation, there is a bus stop about 40 meters from the trailhead. In 2022, we saw very few public buses running in this area. We also heard from other hikers that the buses were failing to show up. If you are reliant on public transportation, you will need to have a lot of patience, since the buses are not always reliable.
Hiking to Lago Federa
For roughly the first 3 km (2 miles) of the hike takes you through a pine forest. You will cross several bridges, have a few short, steep climbs up switchbacks and gravelly slopes, and occasionally get a view through the trees of Tofana di Rozes and Cortina d'Ampezzo.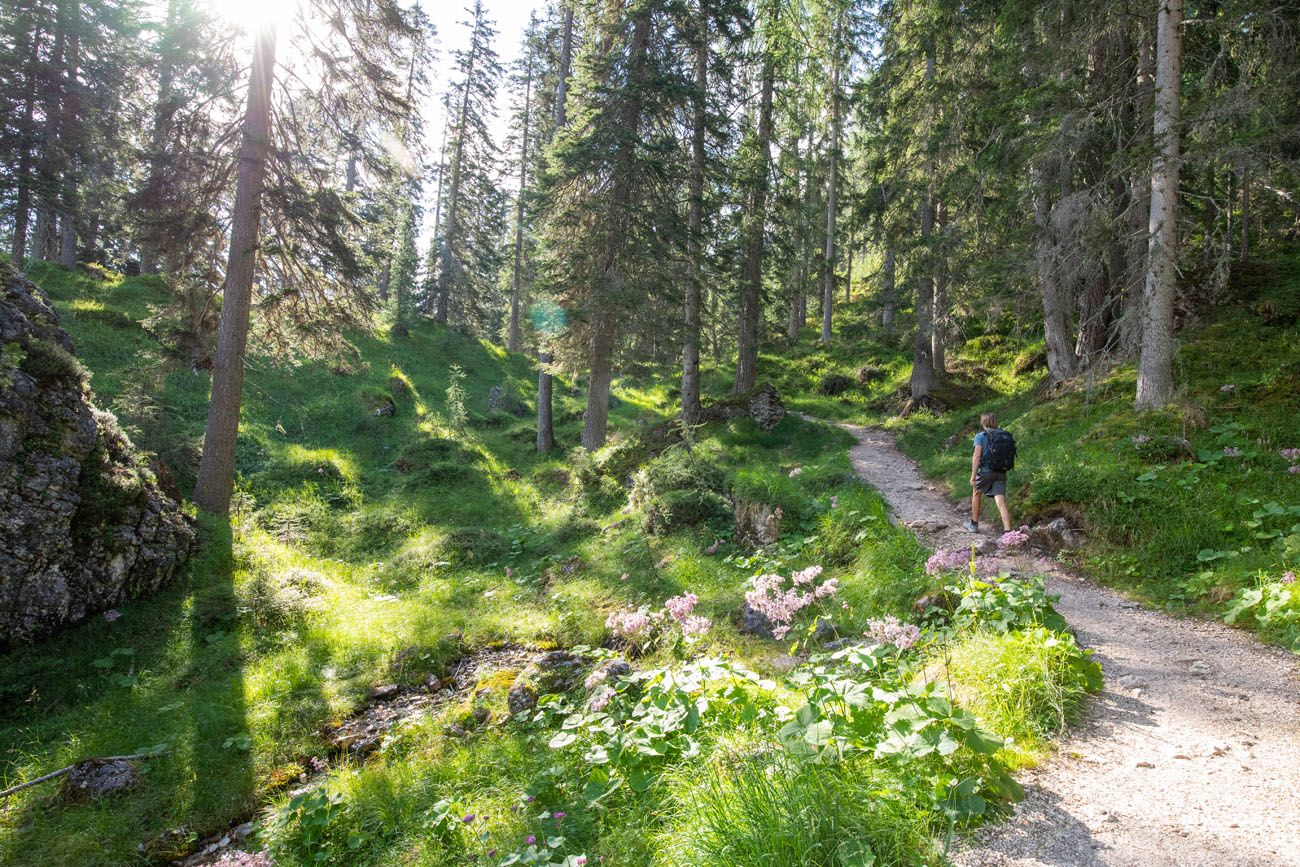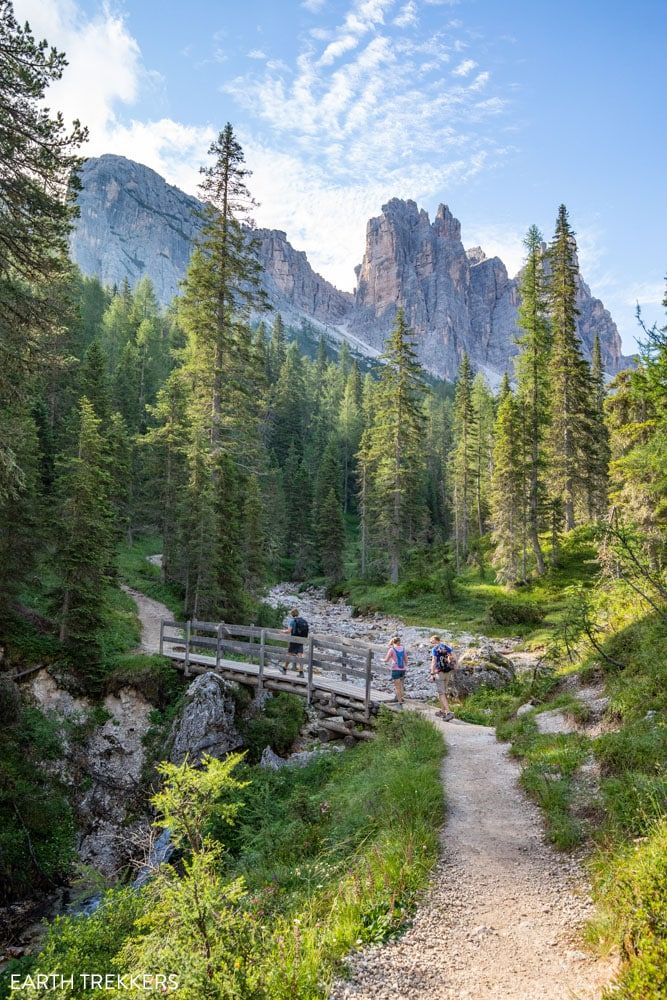 The first trail junction (Cason de Formin) appears 1.8 km (1.1 miles) into the hike. This is where the loop around Croda da Lago begins. Stay to the left here to go to Lago Federa first (take trail #434).
2.8 km into the hike (1.7 miles), keep an eye out for a short detour to the left. This quick and easy walk takes you to Val Negra, a viewpoint over Cortina d'Ampezzo. At this point, you are at 2,048 meters (6,700 feet).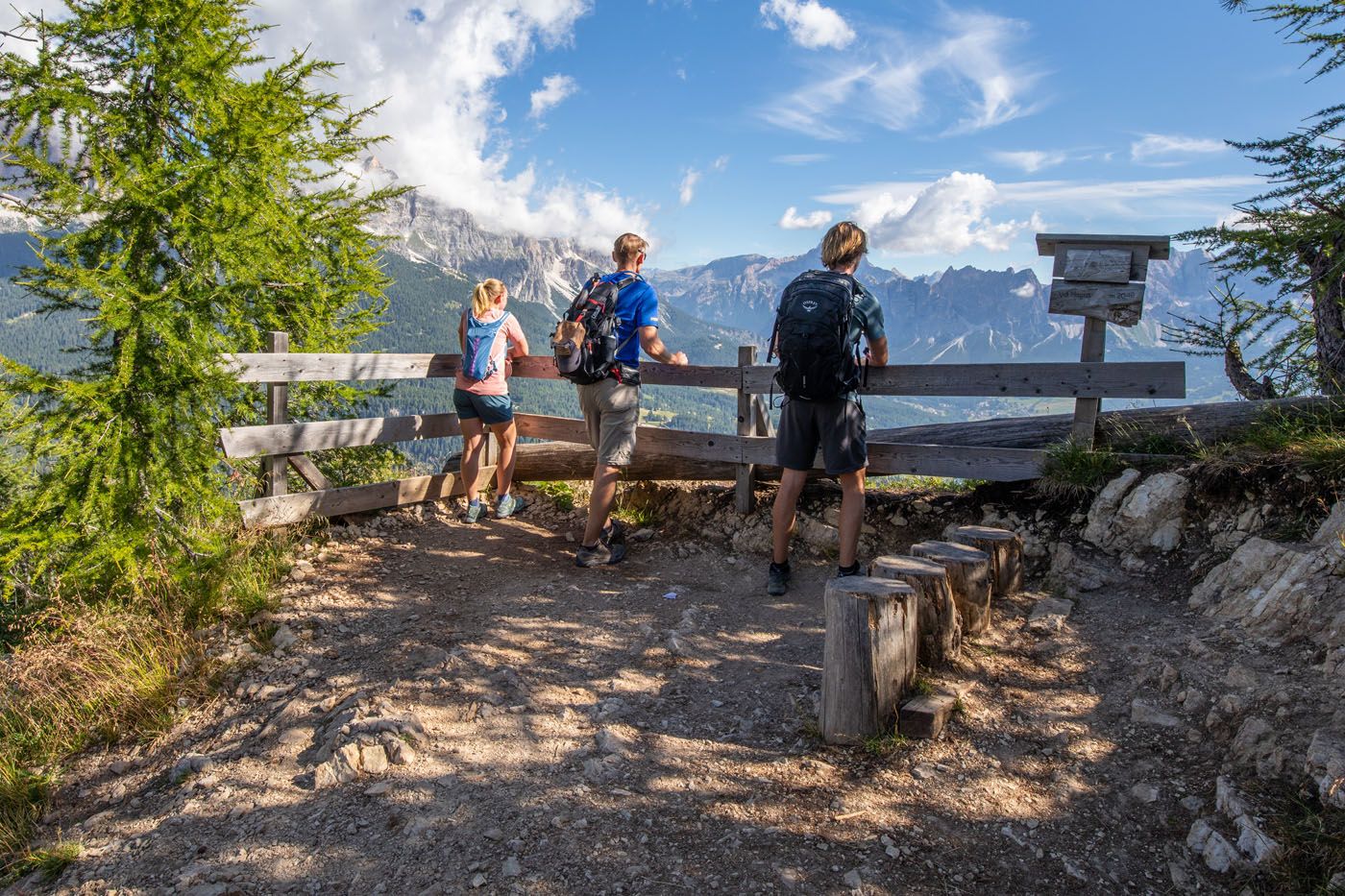 Val Negra Viewpoint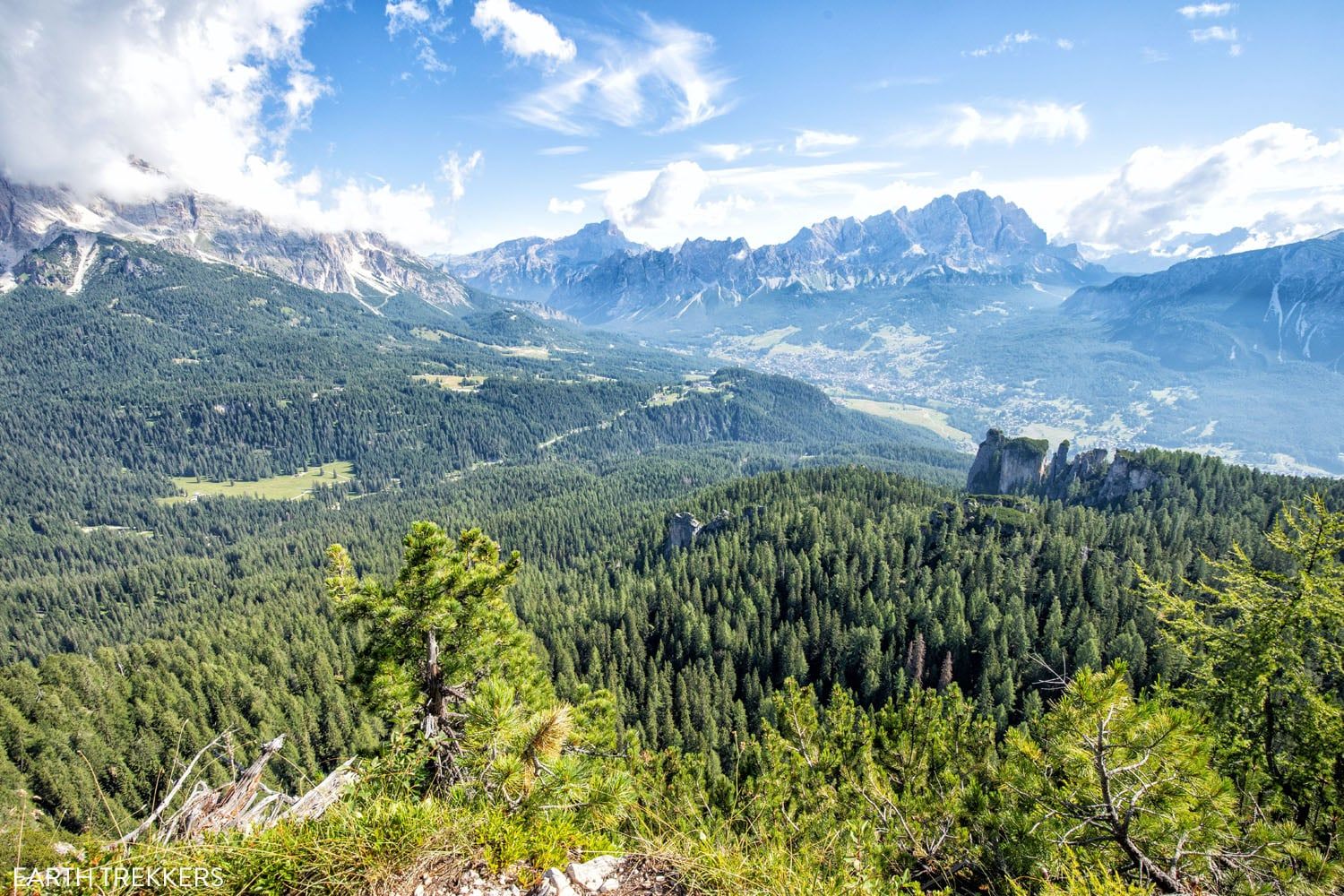 Val Negra View
It's a pretty walk through the woods, but if you find this part a bit boring, not to worry. The scenery along the trail is about to dramatically change. Not too far past the Val Negra viewpoint, the trail flattens out and then slightly heads downhill.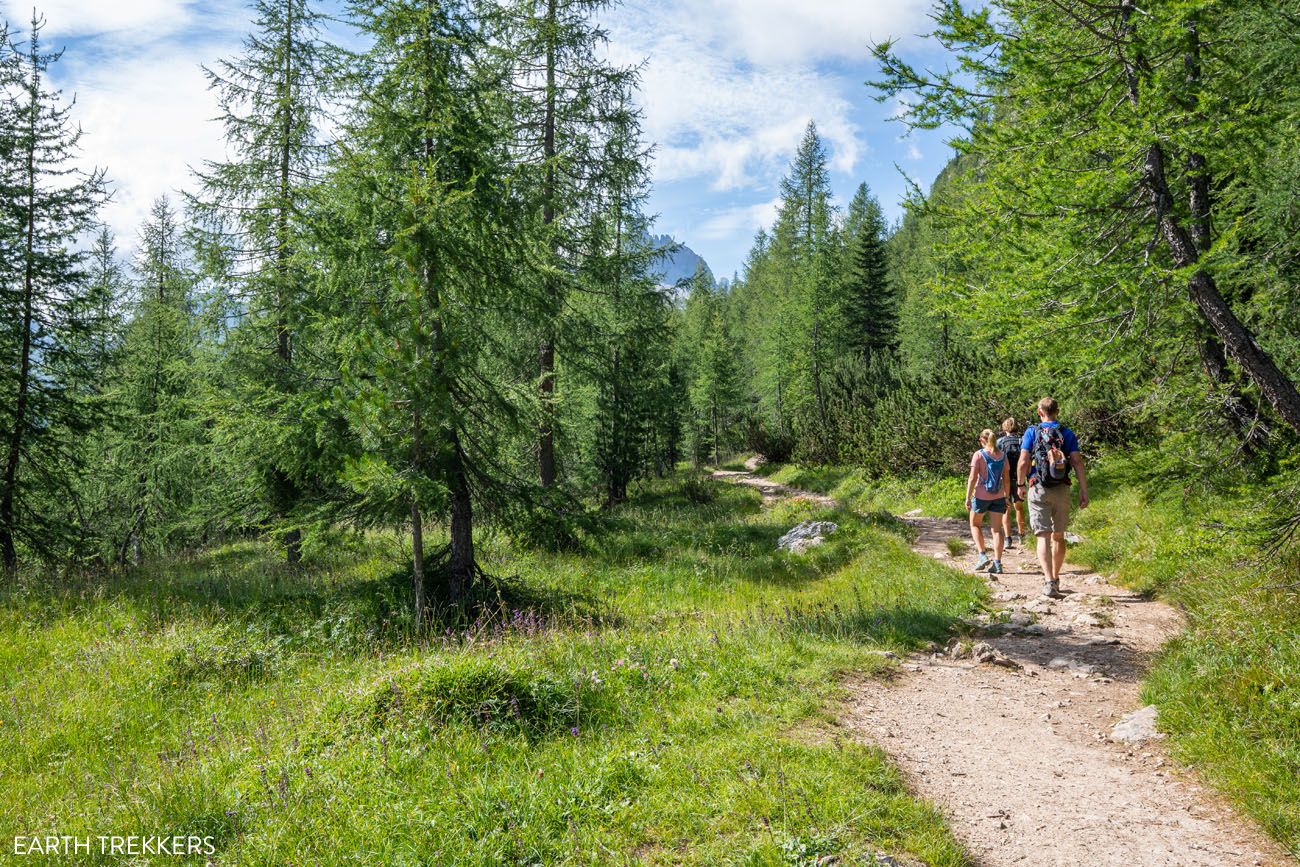 At 4 km, you reach Lago Federa.
Lago Federa
Lago Federa, with its emerald green water and mountain backdrop, is one of the prettiest lakes in the Dolomites. It's also one of the least crowded since you have to hike to get here.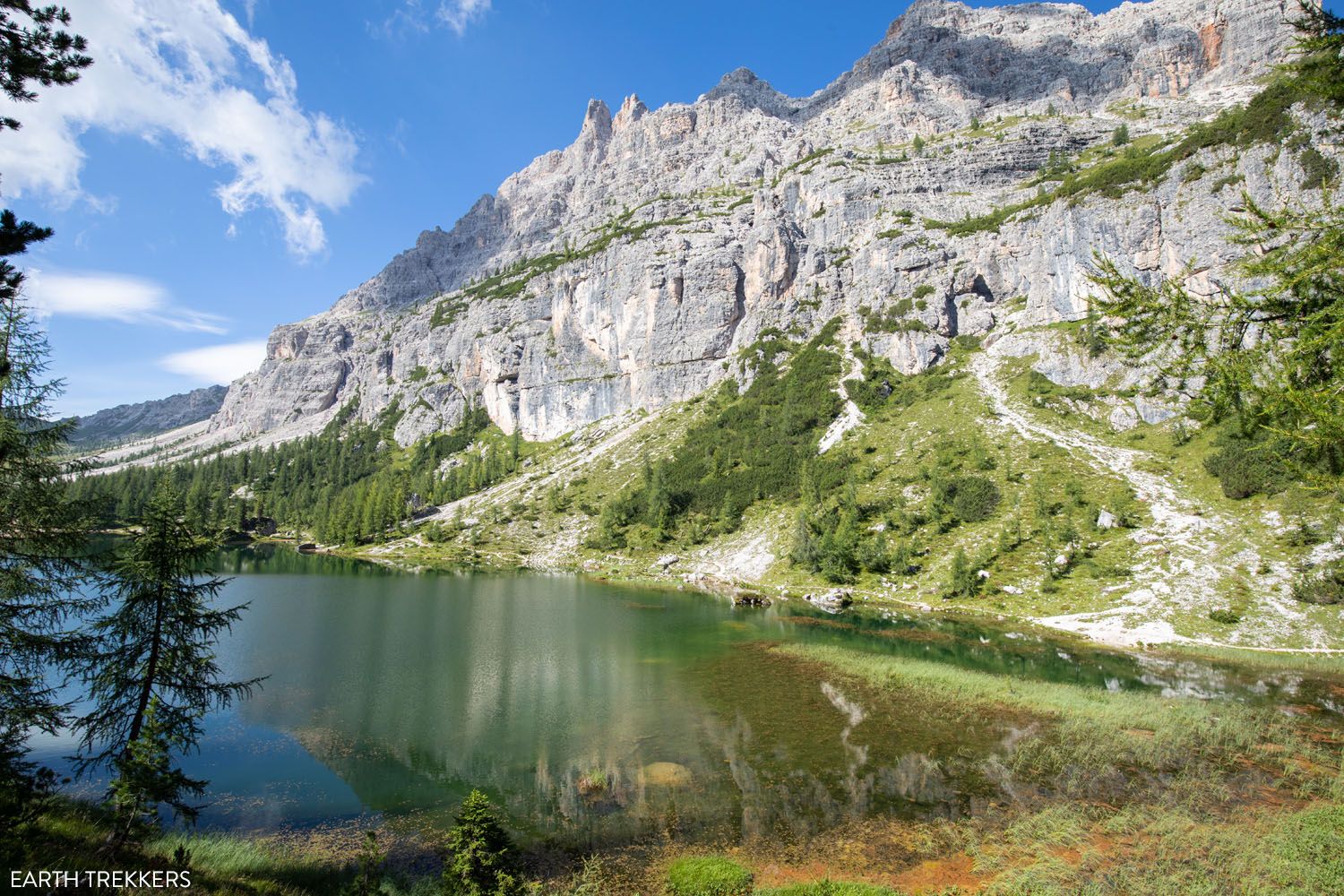 First view of Lago Federa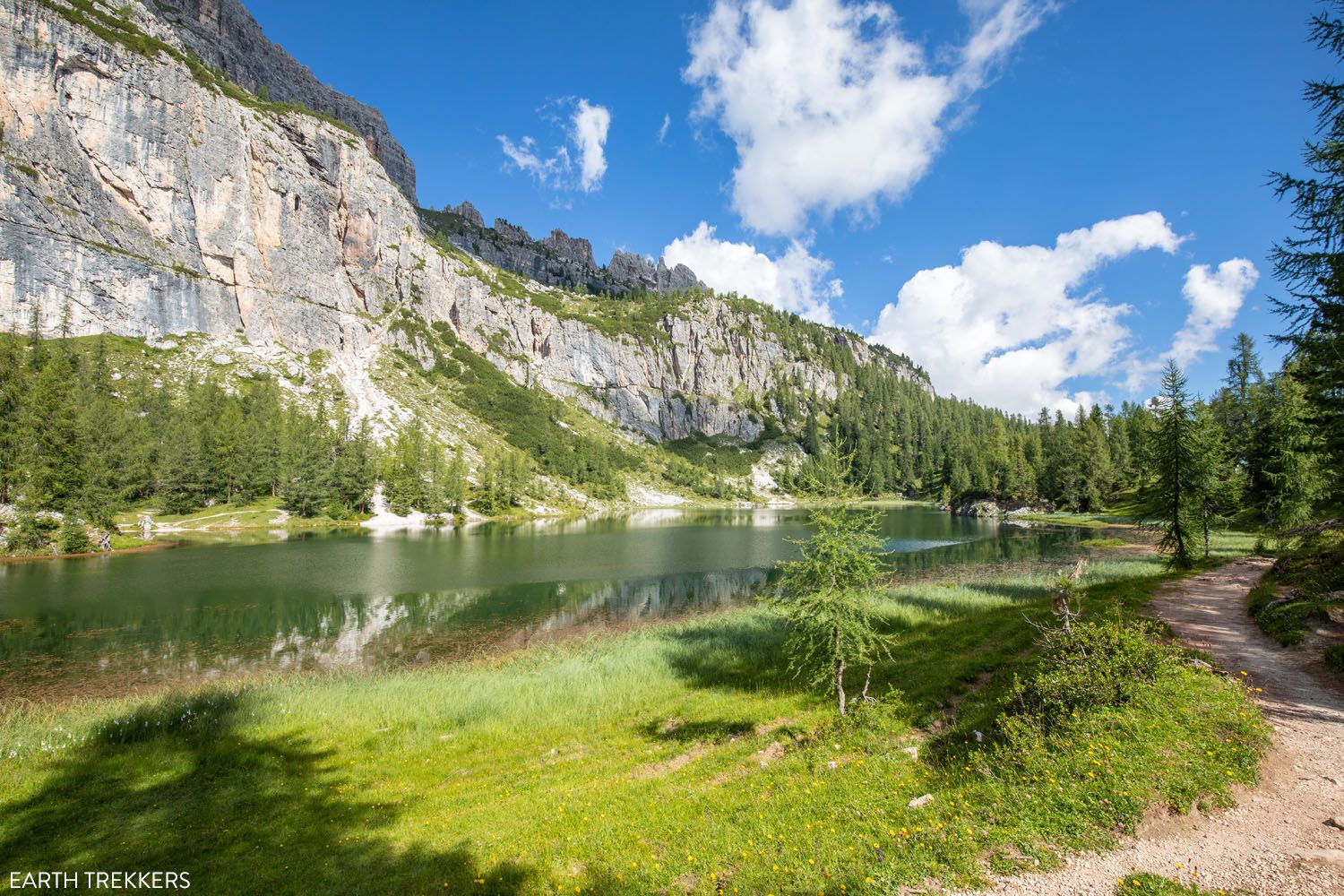 Another view of Lago Federa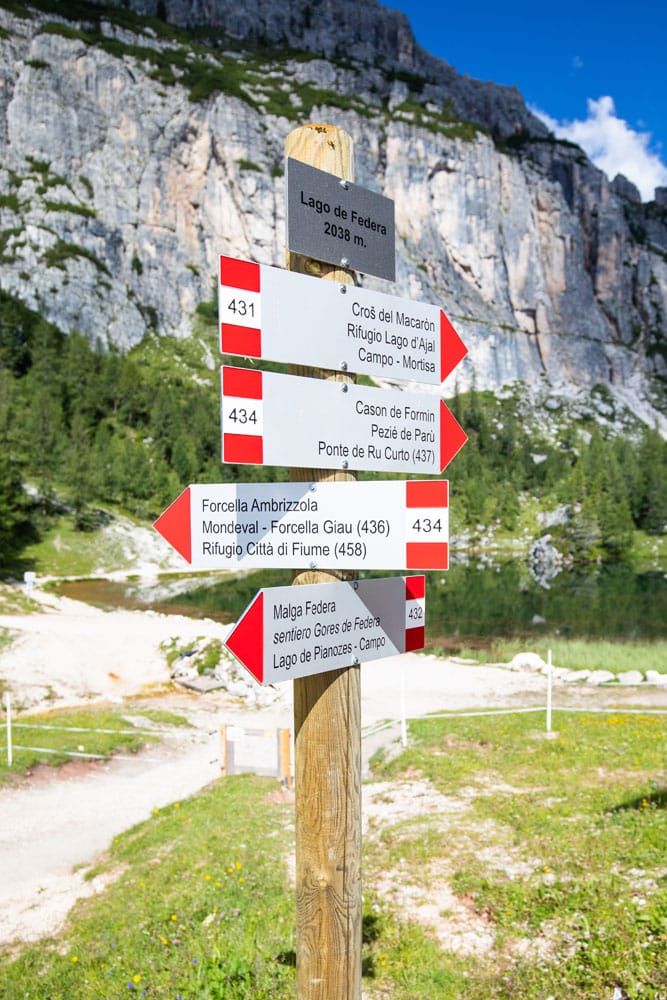 Trail sign at Lago Federa
Sitting next to the lake is Rifugio Palmieri, sometimes also referred to as Rifugio Croda da Lago. This is a wonderful place to have a mid-morning snack or lunch, depending on the time of day.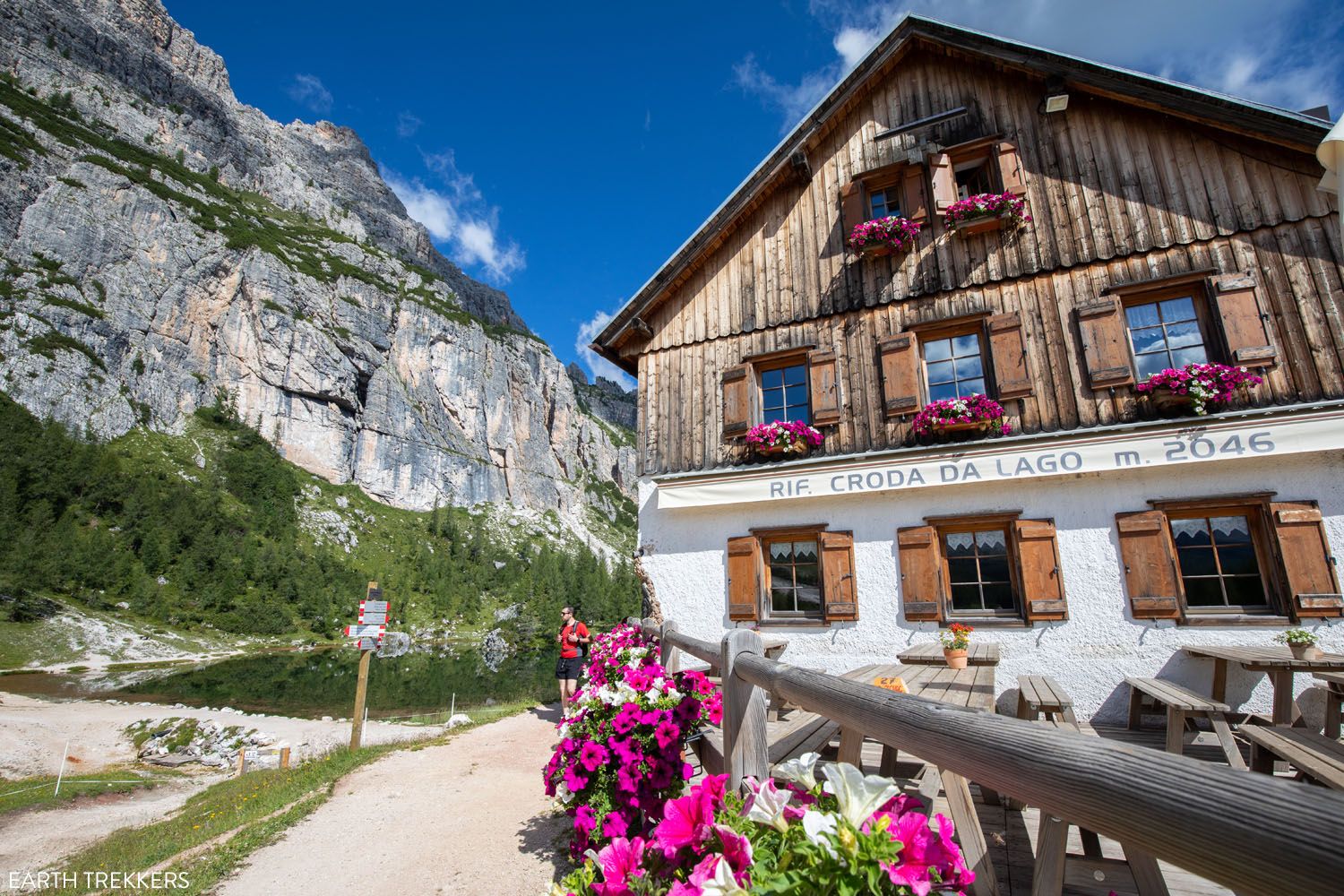 For the iconic view of Rifugio Palmieri, walk around the far side of Lago Federa for a view to the hut. The trail makes a loop around the lake, so you can go as far as you like. Our hiking stats do not include the loop around Lago Federa.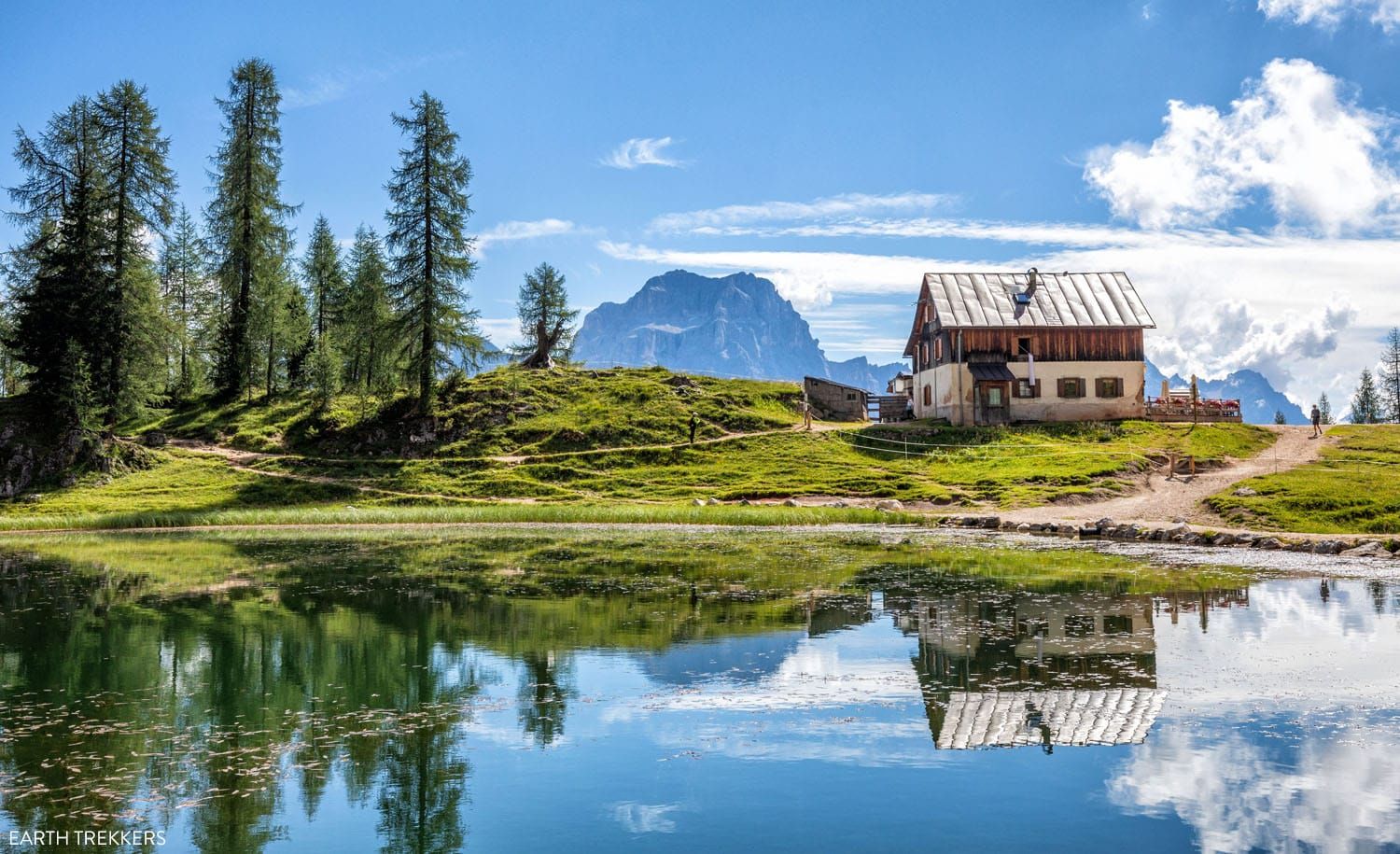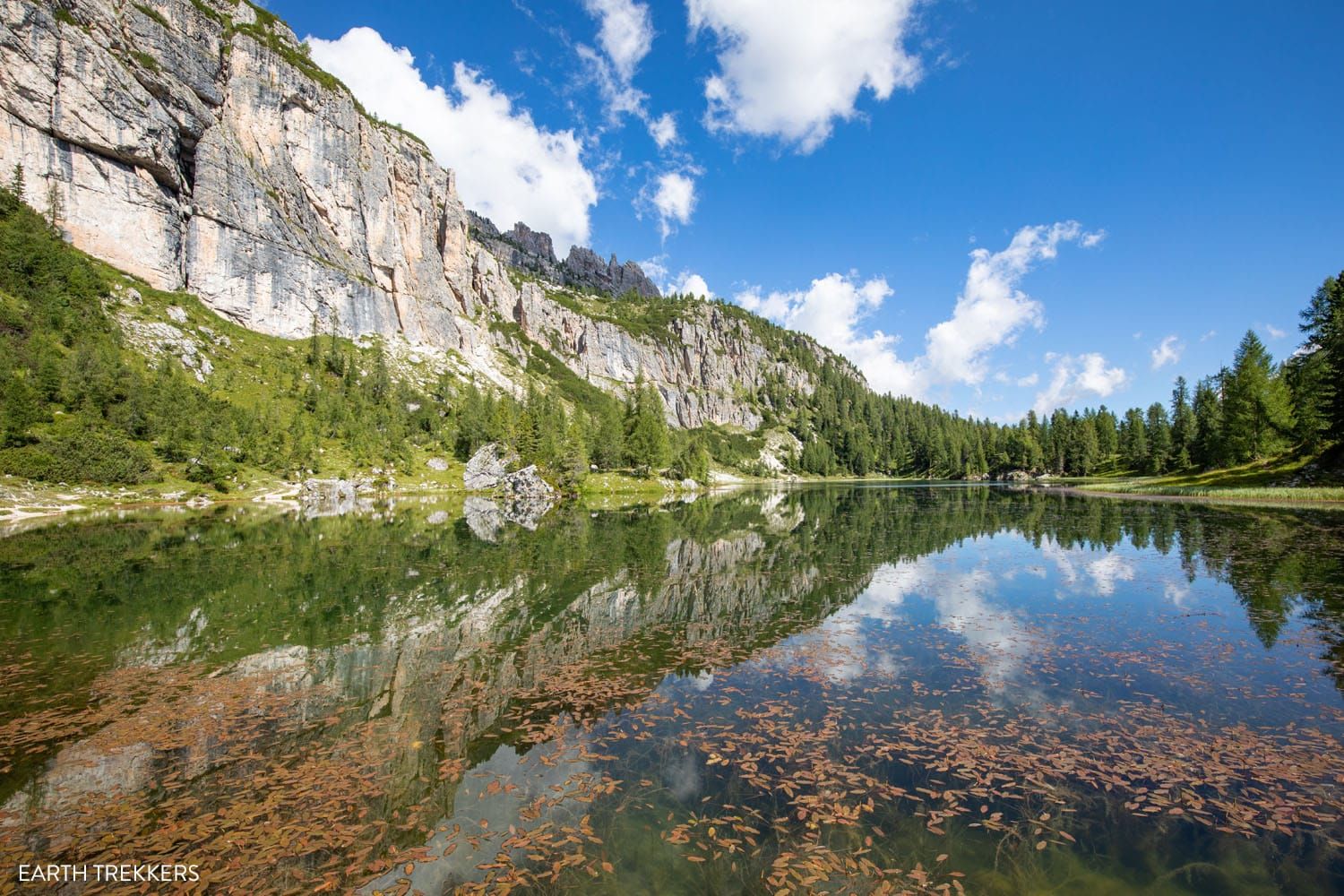 One more view of the lake.
Stats for the Lago Federa Hike
If you only want to hike out-and-back to Lago Federa (not doing the full Croda da Lago Circuit) here are the hiking stats.

Distance: 8.4 km (5.2 miles) out-and-back to Rifugio Croda da Lago located at Lago Federa
Total Ascent: 500 m (1,650 feet)
Estimated Time: 2.5 to 3.5 hours
Lago Federa to Forcella Ambrizzola
Now comes one of the most beautiful parts of the hike. From Lago Federa, it is a steady, uphill hike to Forcella Ambrizzola. In front of you is the craggy peak of Becco de Mezzodi and to your right is Croda da Lago. Behind you are views over Lago Federa and Cortina d'Ampezzo.
As you hike up the hill, and maybe pause to catch your breath, turn around and enjoy the magnificent view.
Here are photos from this part of the Croda da Lago Circuit.
Trail to Forcella Ambrizzola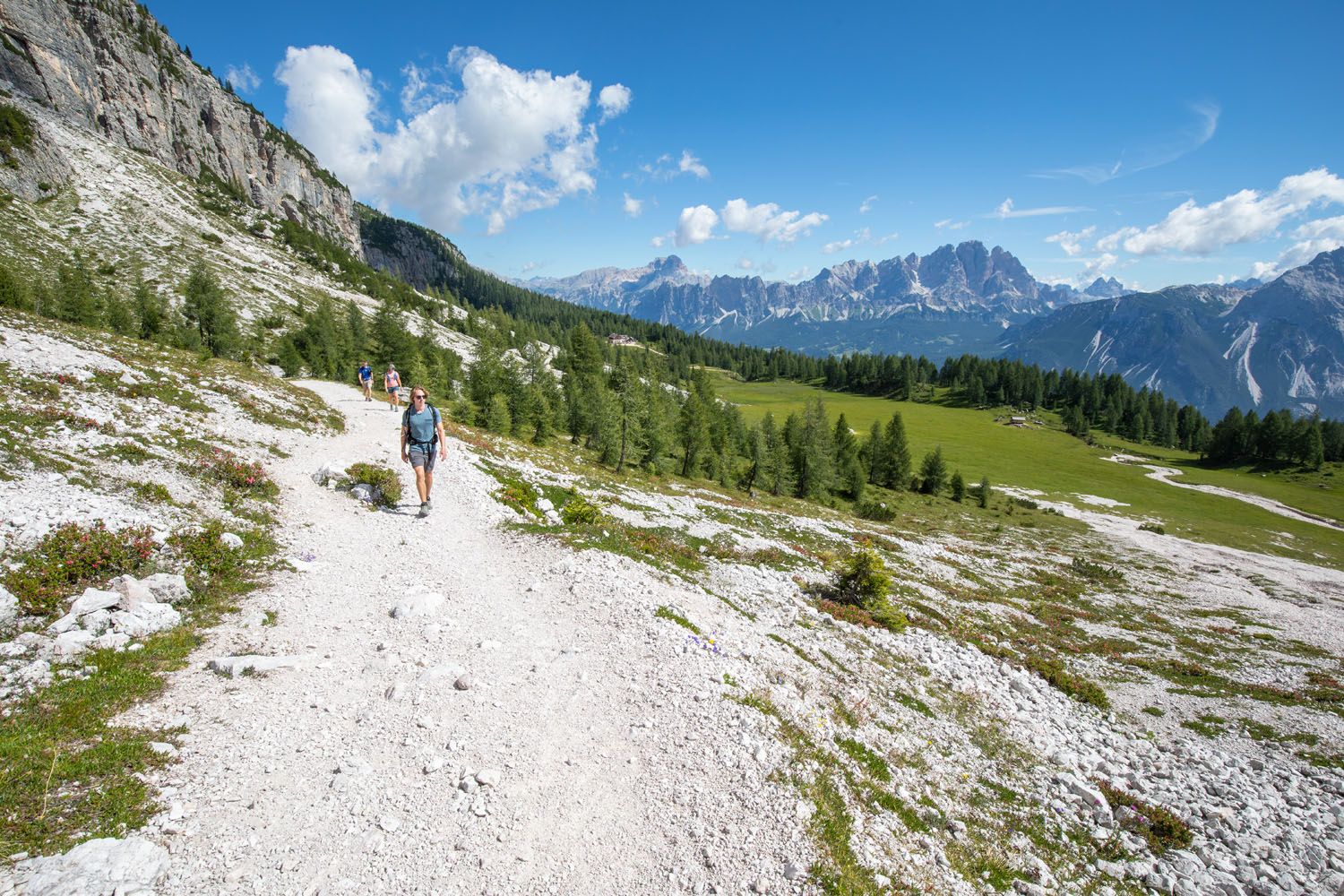 Looking back towards Lago Federa.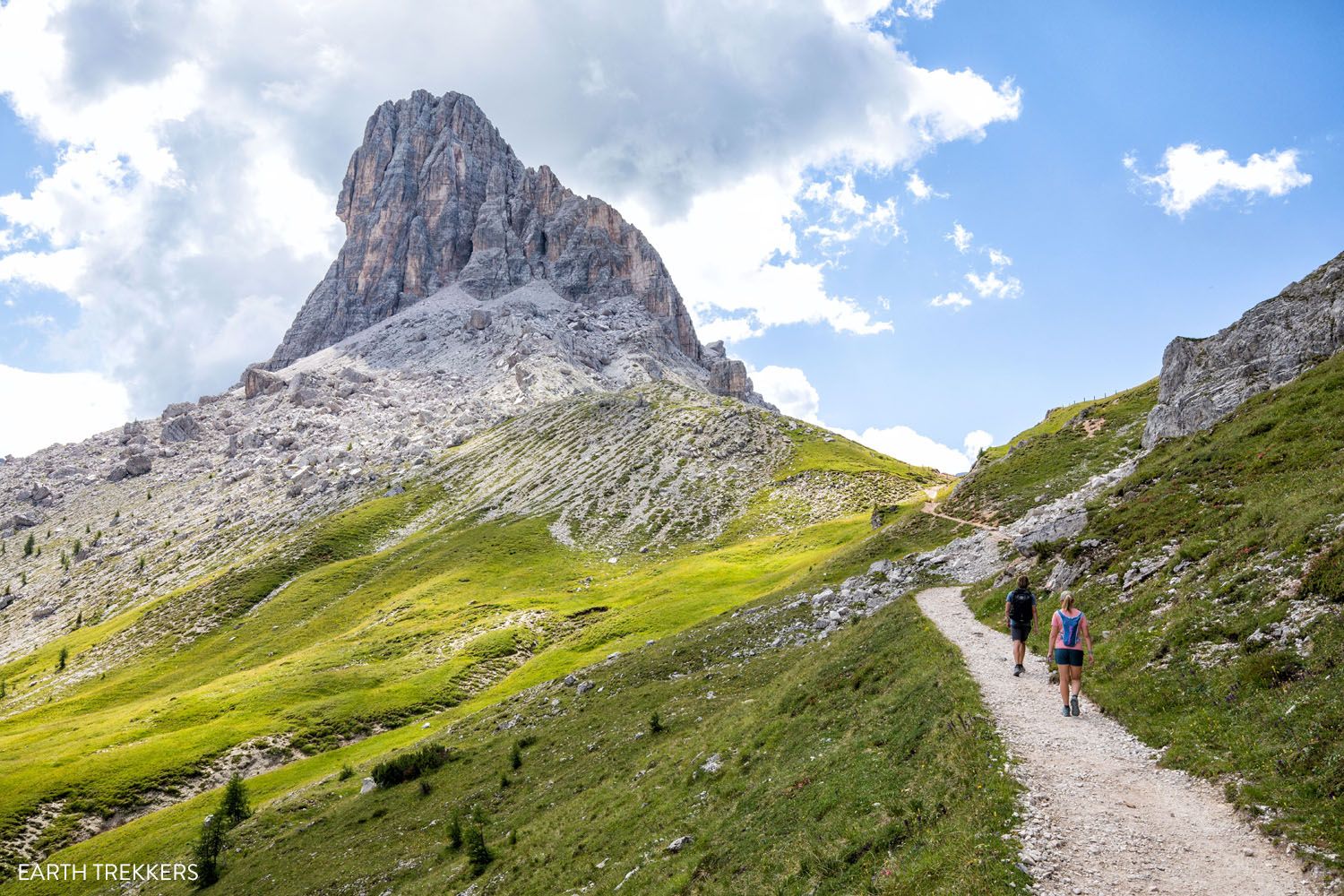 Getting closer to Forcella Ambrizzola. The big peak to the left is Becco di Mezzodi.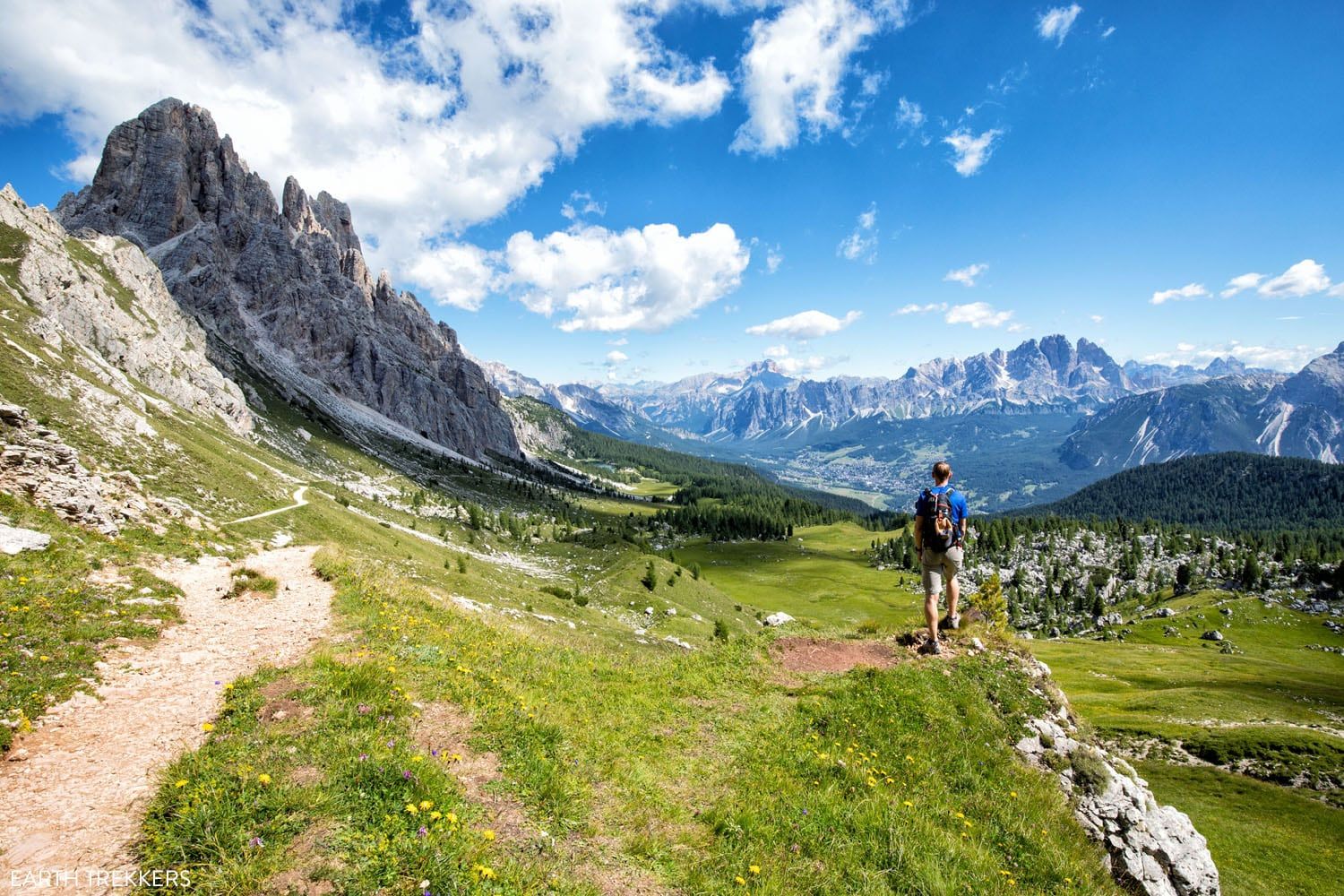 Once you get close to Forcella Ambrizzola, turn around and look back. It's one of the best views of day.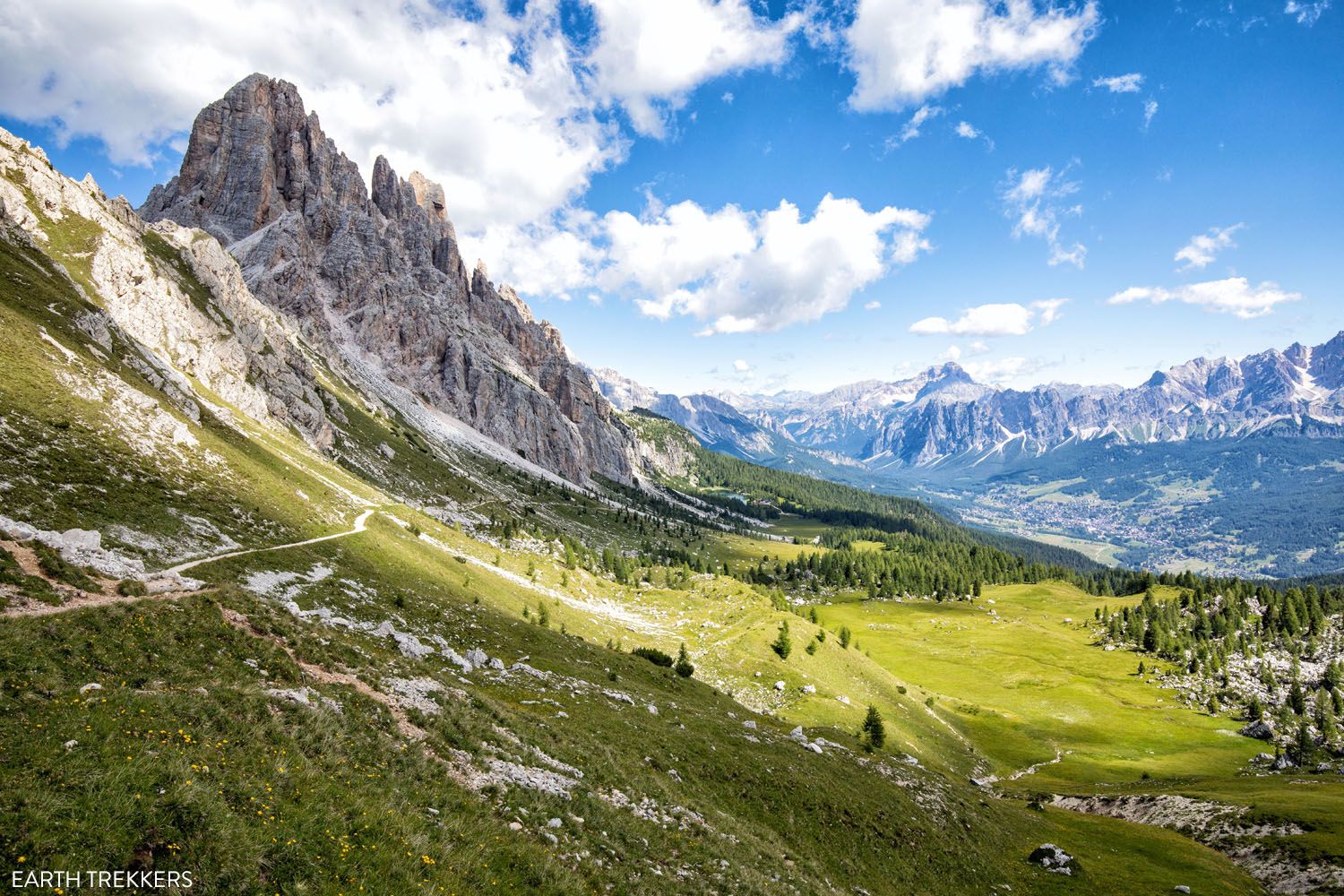 Once at Forcella Ambrizzola, you are standing at 2,277 meters (7,500 feet), but you still have some climbing to do. From this saddle, you can look out over both Cortina d'Ampezzo and the Mondeval alpine meadows.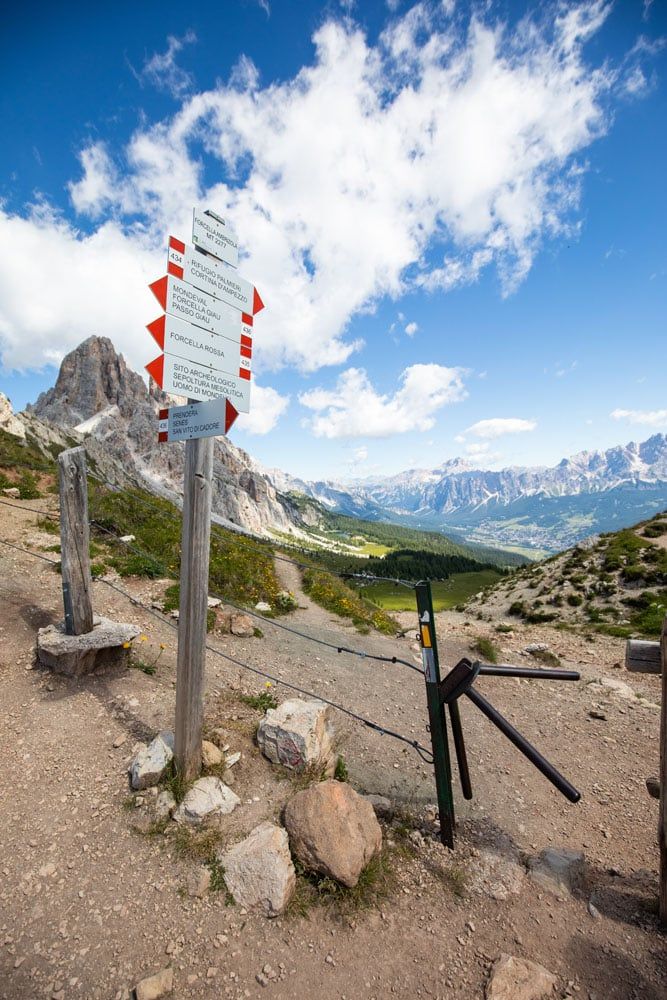 Trail sign at Forcella Ambrizzola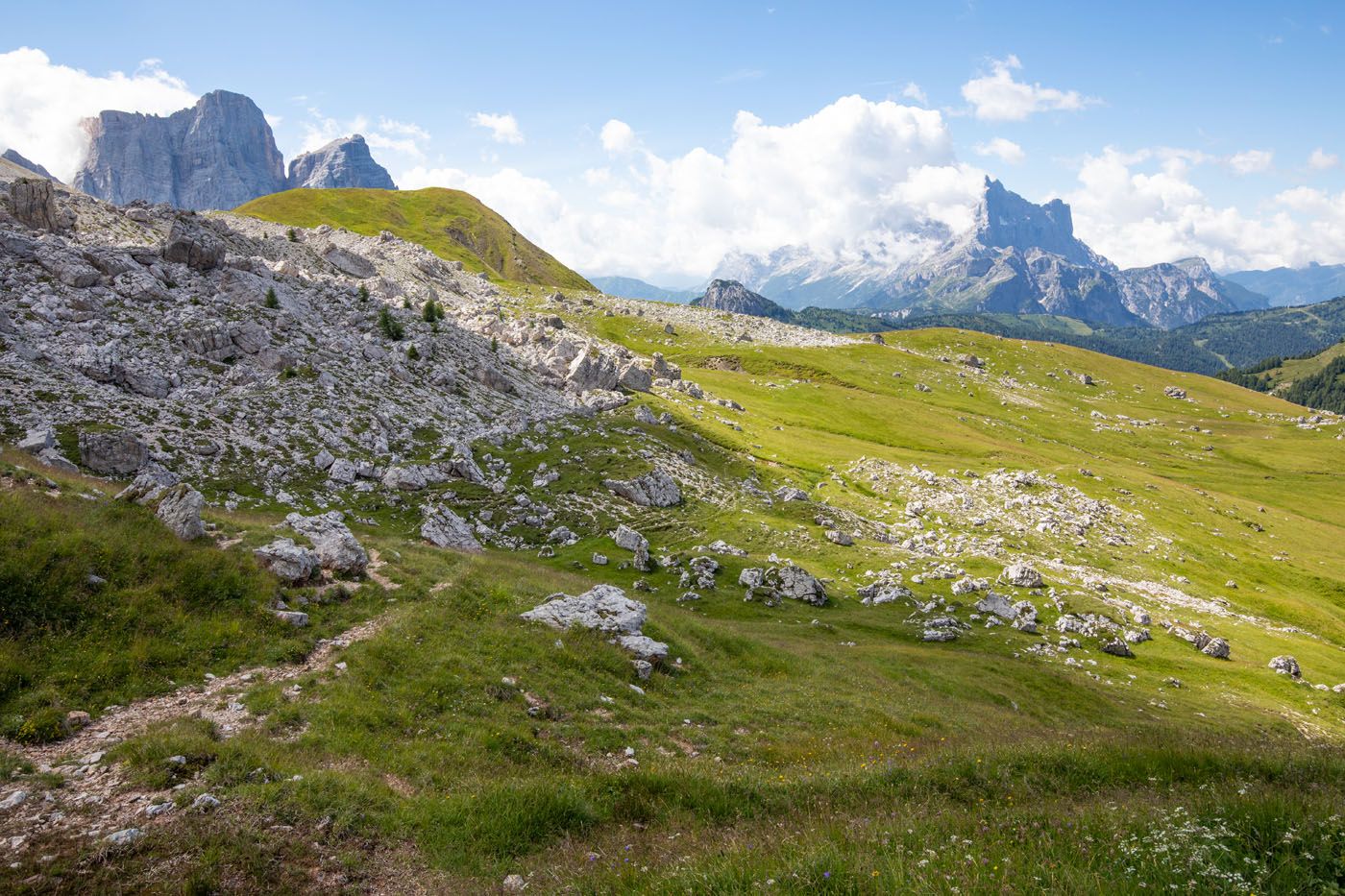 View from Forcella Ambrizzola
Forcella Ambrizzola to Forcella Rossa
The trail briefly descends down into green meadows. Passo Giau is off to your left and the spine of the Croda da Lago range is to your right.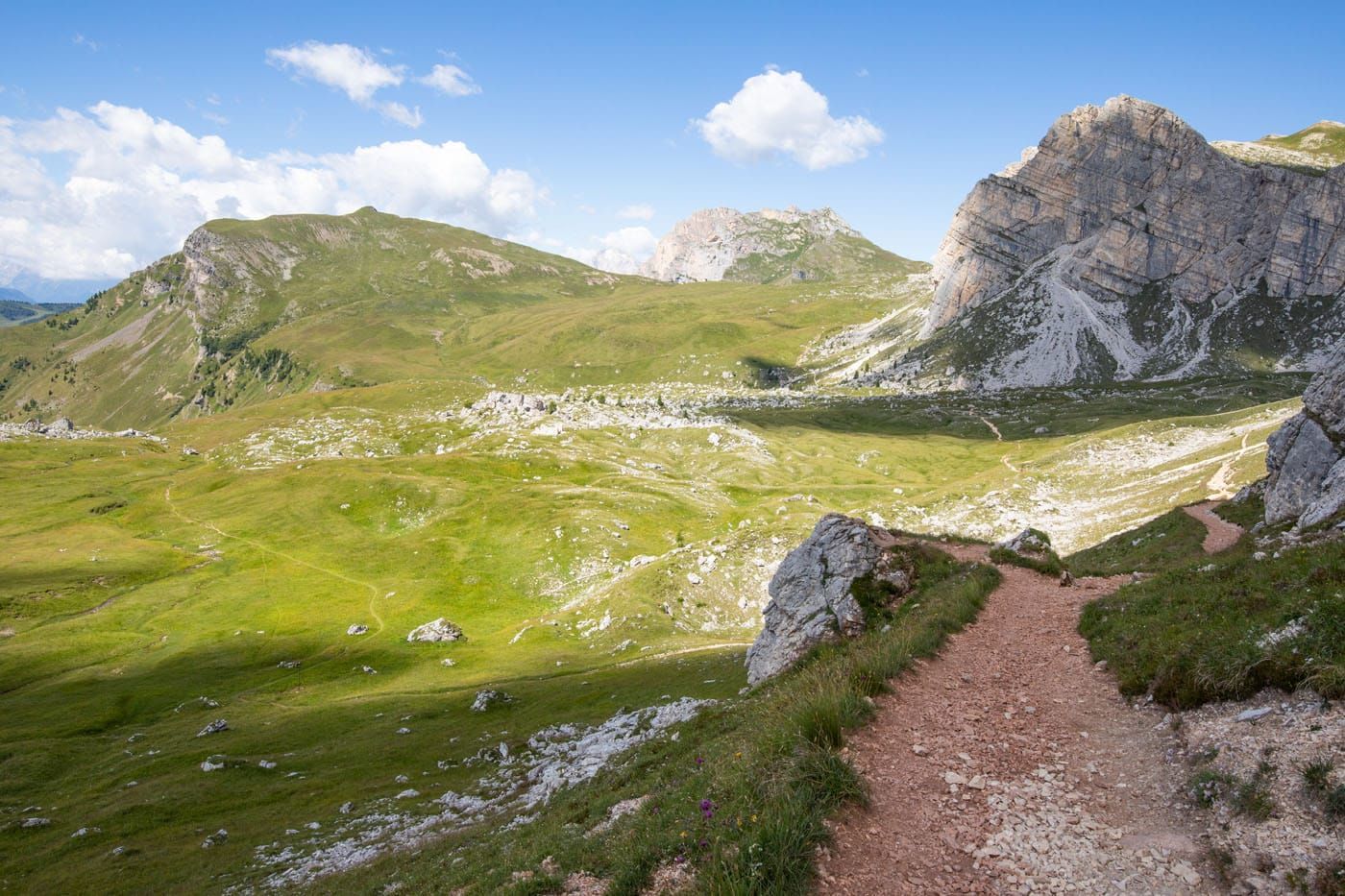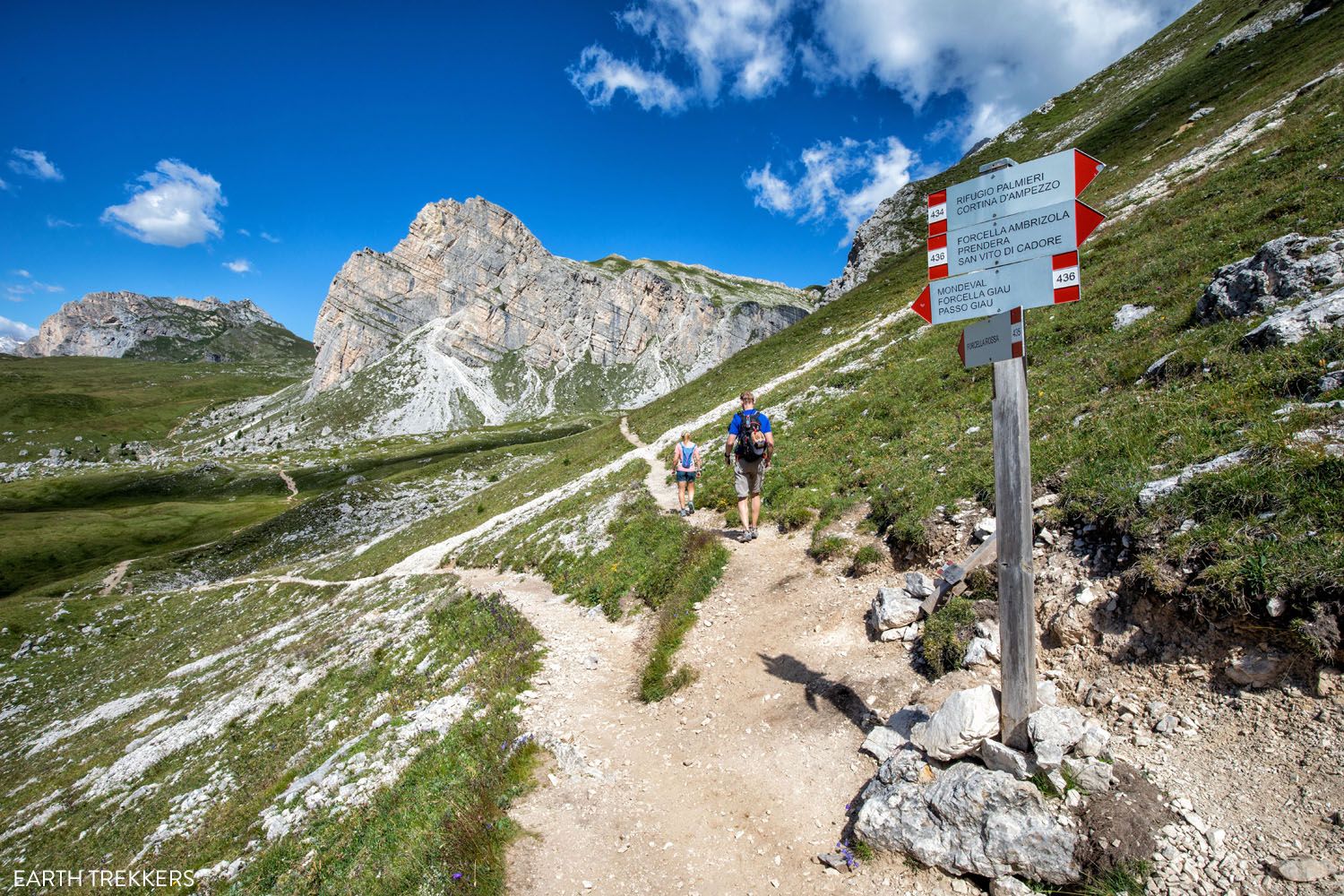 It doesn't take long until the Forcella Rossa del Formin saddle comes into view. The trail gets a lot steeper and lot rockier. This is the toughest part of the hike, if you are doing this in a clockwise direction. Once you get to the top of this short beast of a climb, it's almost all downhill for the rest of the hike.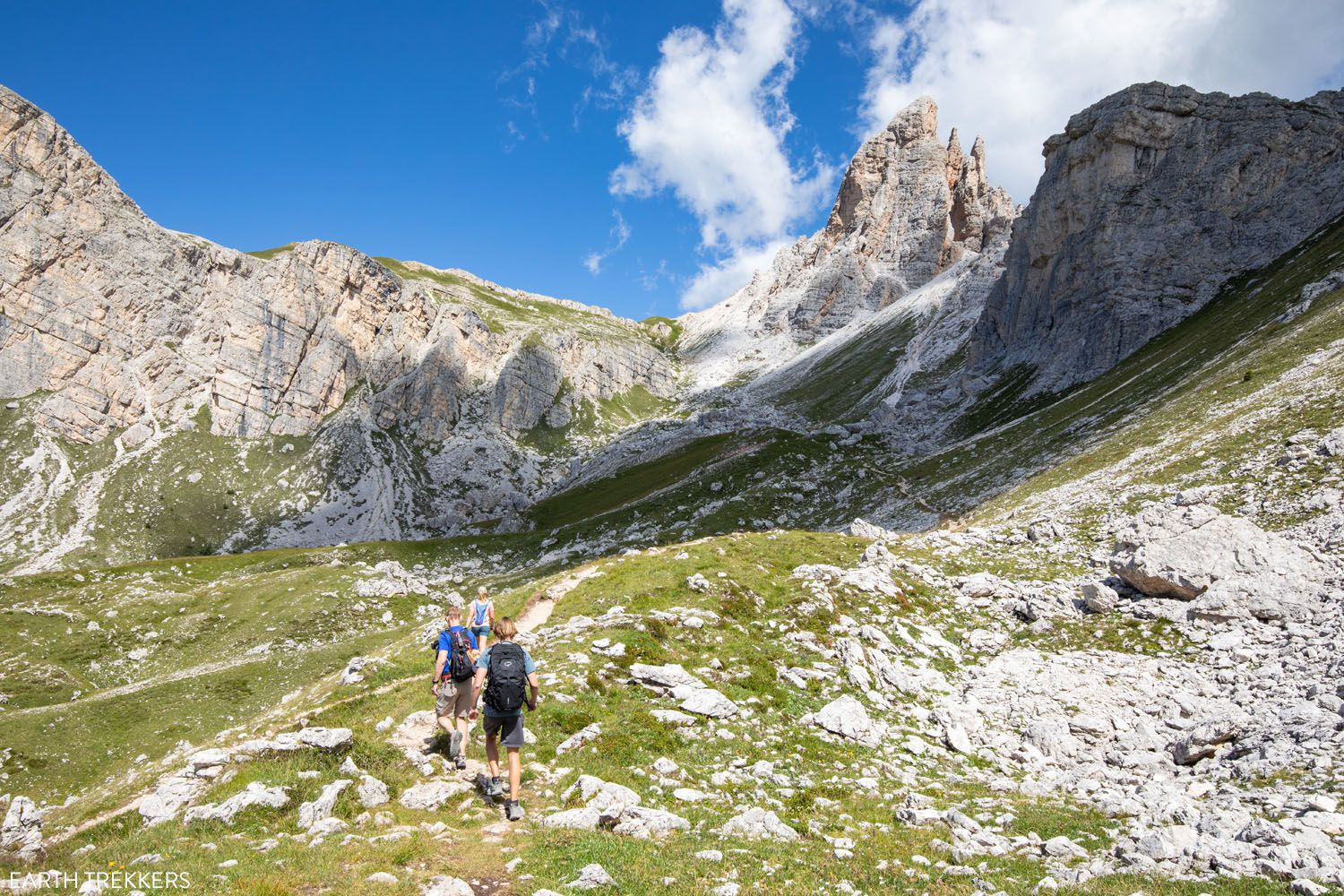 Trail to the Forcella Rossa del Formin saddle.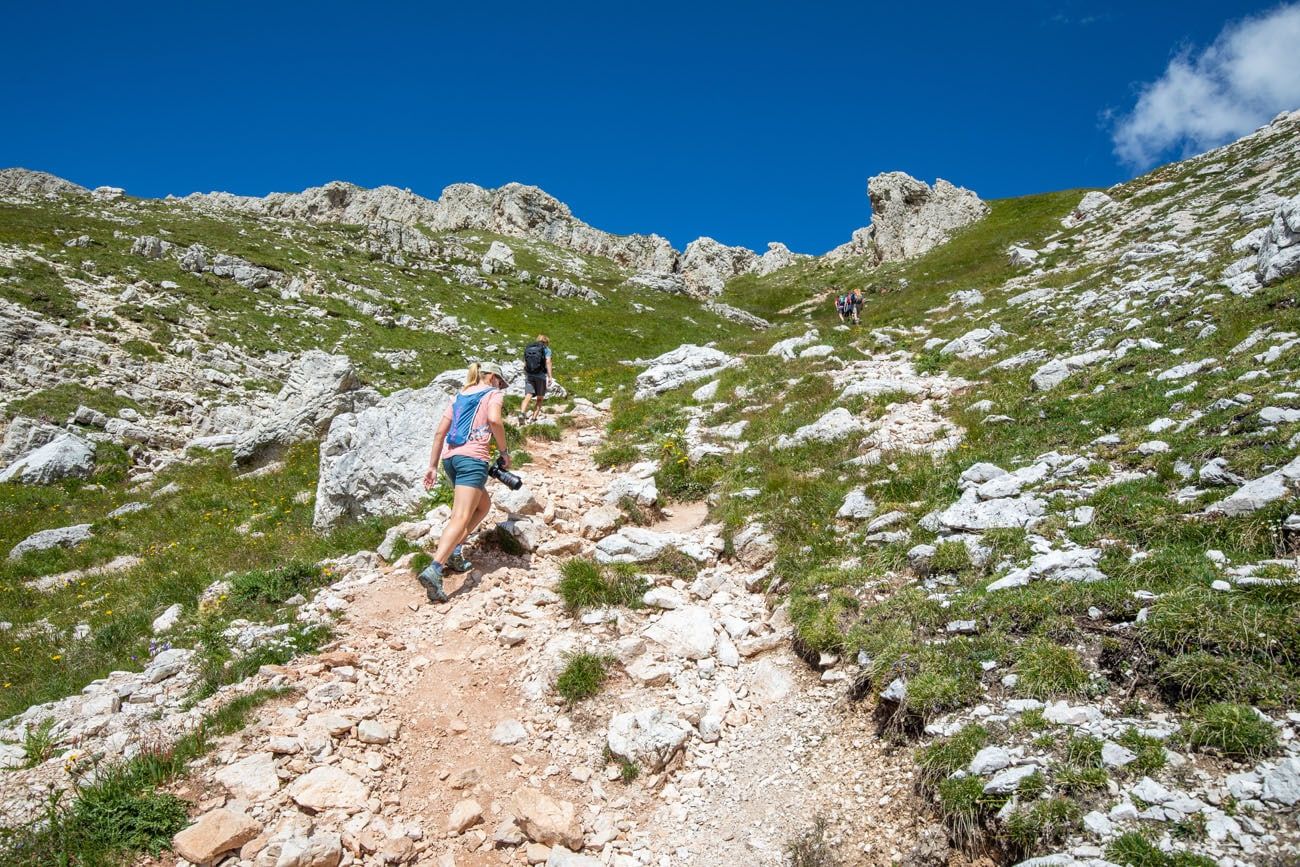 Another view of the trail.
From Forcella Rossa del Formin, turn around and look back. This was one of our favorite views on this hike.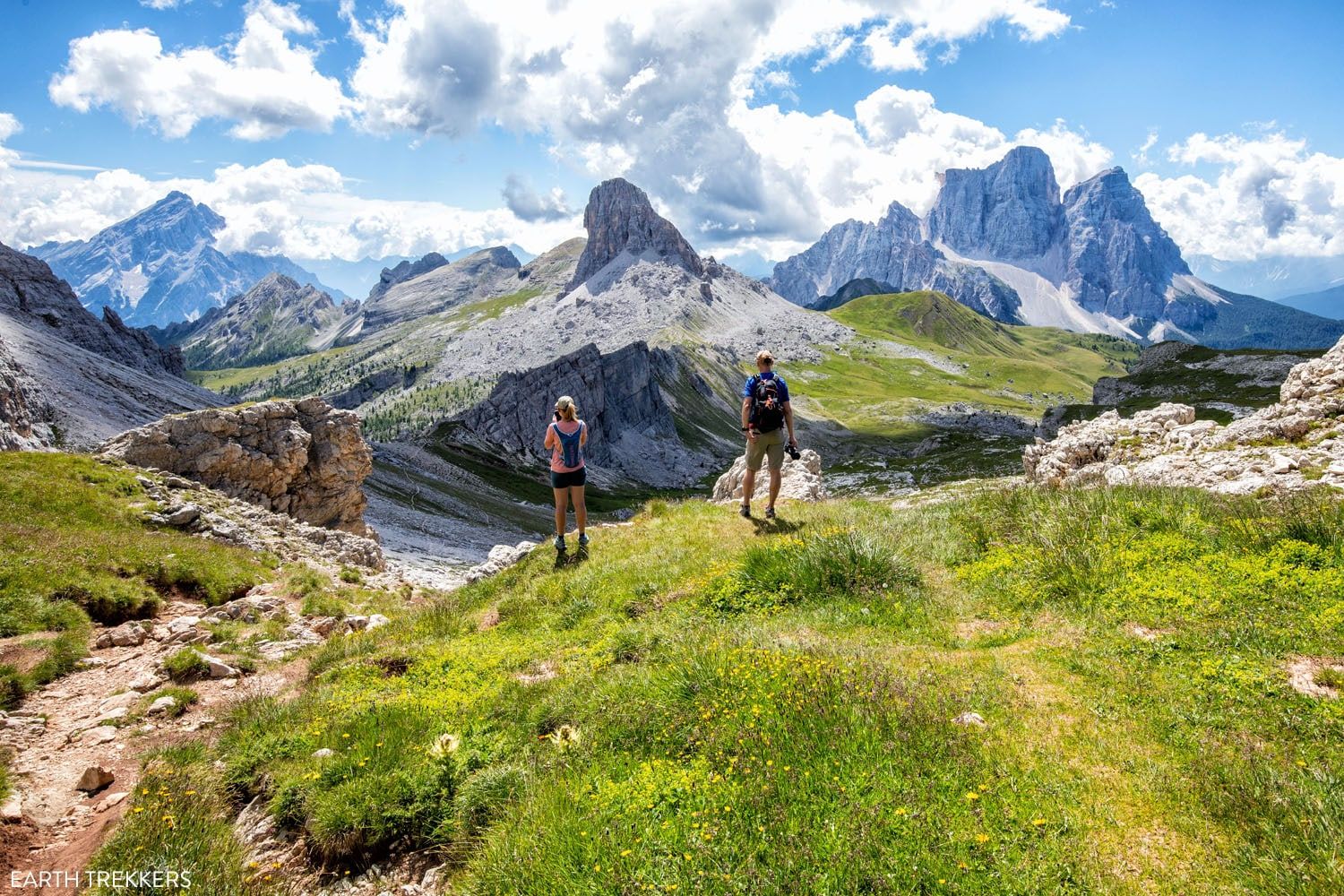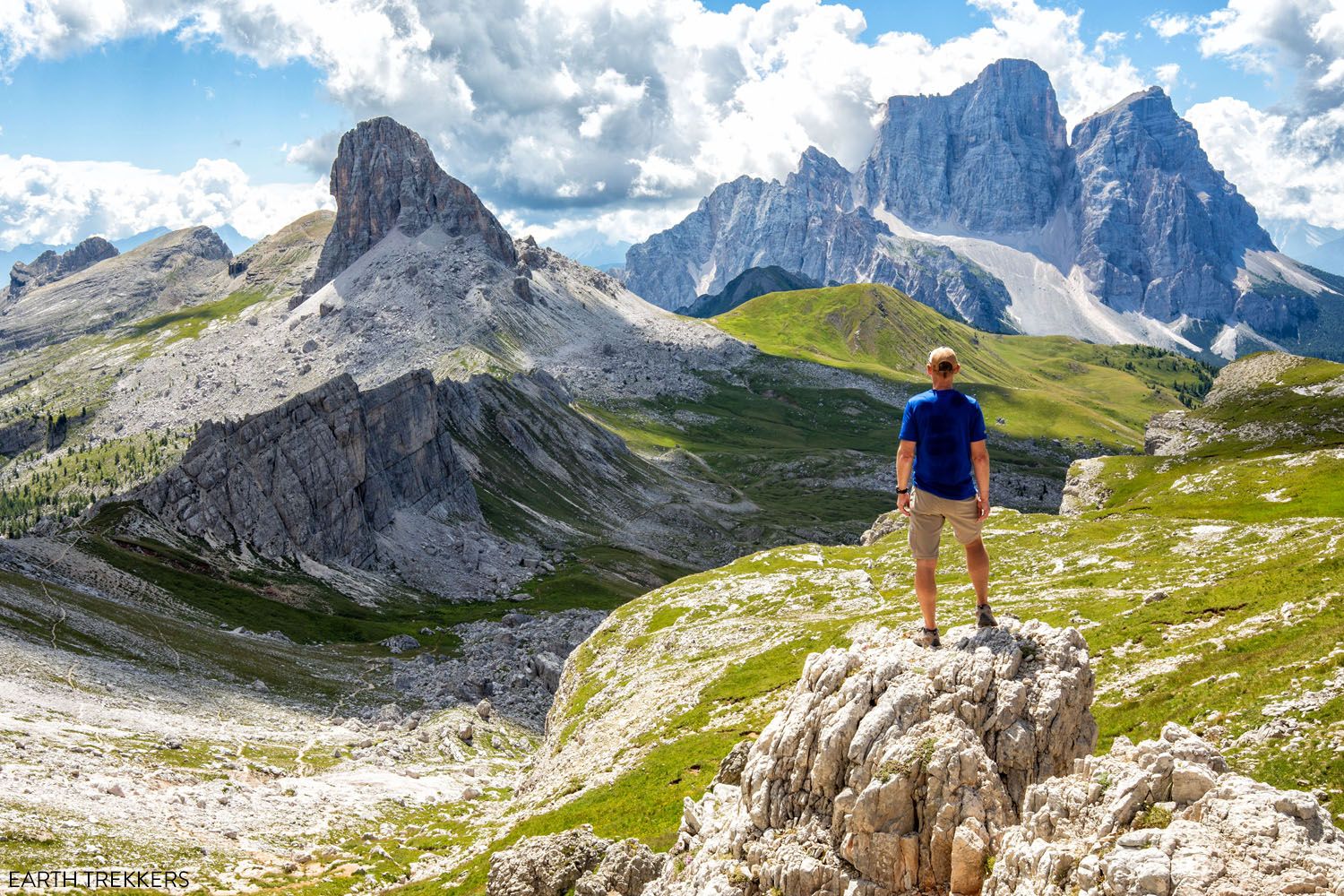 Forcella Rossa to the Trailhead
From the saddle, continue along trail #435. It flattens out for bit and from here, you can see Tofana di Rozes, Lagazuoi, and even the Cinque Torri, if you look closely. Off in the distance to your left, sitting high on Mount Nuvolau, is Rifugio Nuvolau.
We LOVED the views along this part of the trail.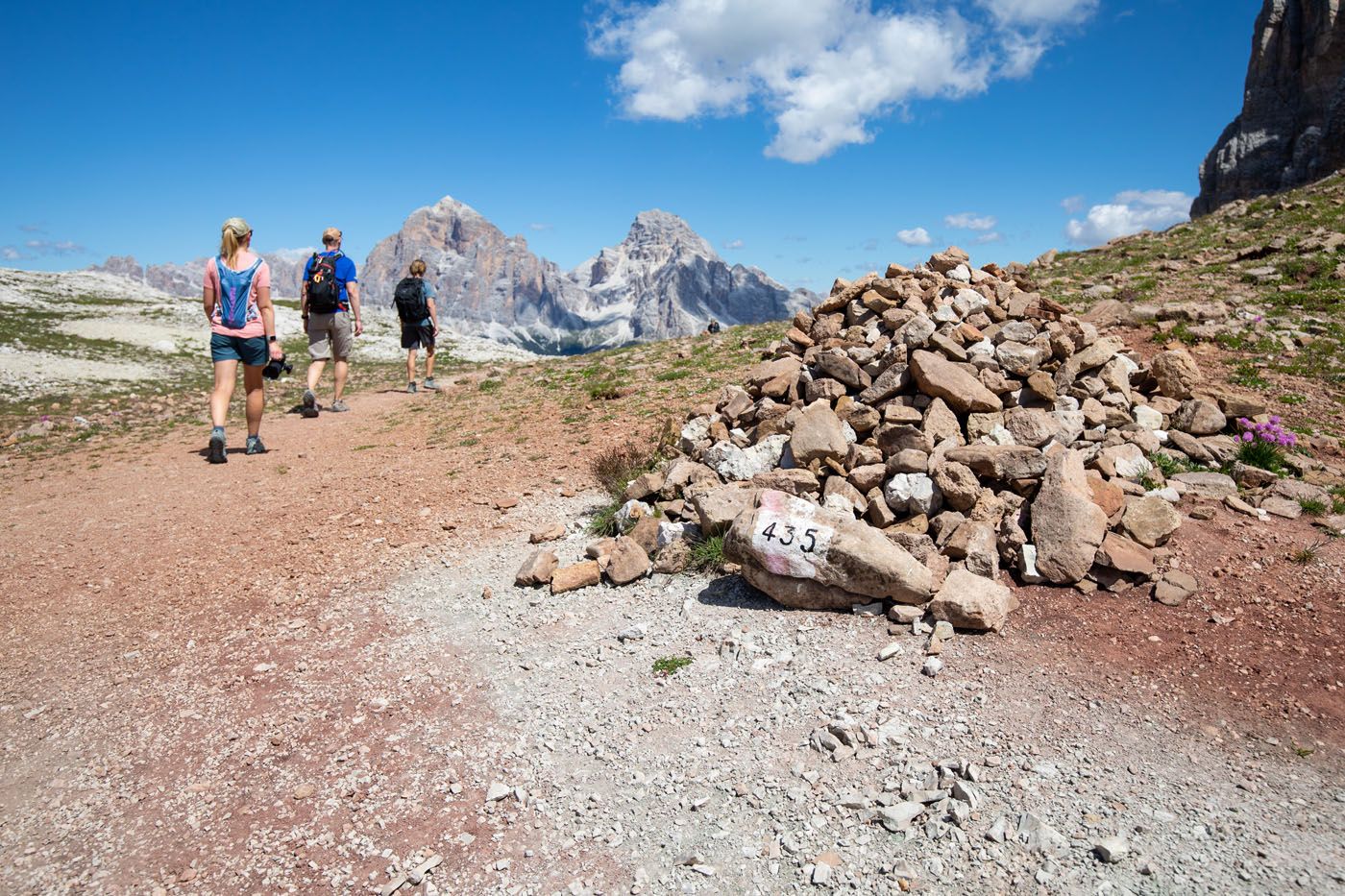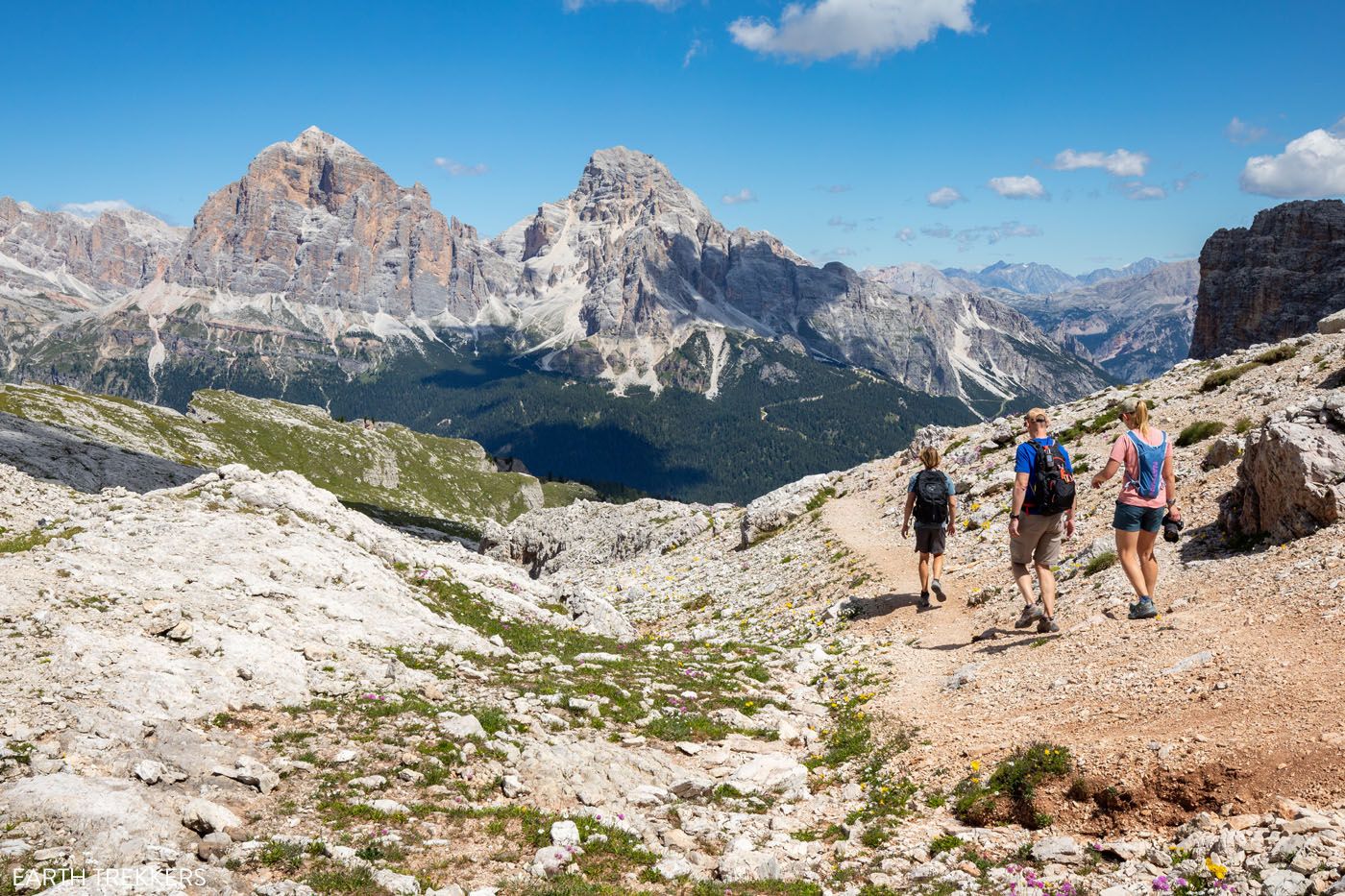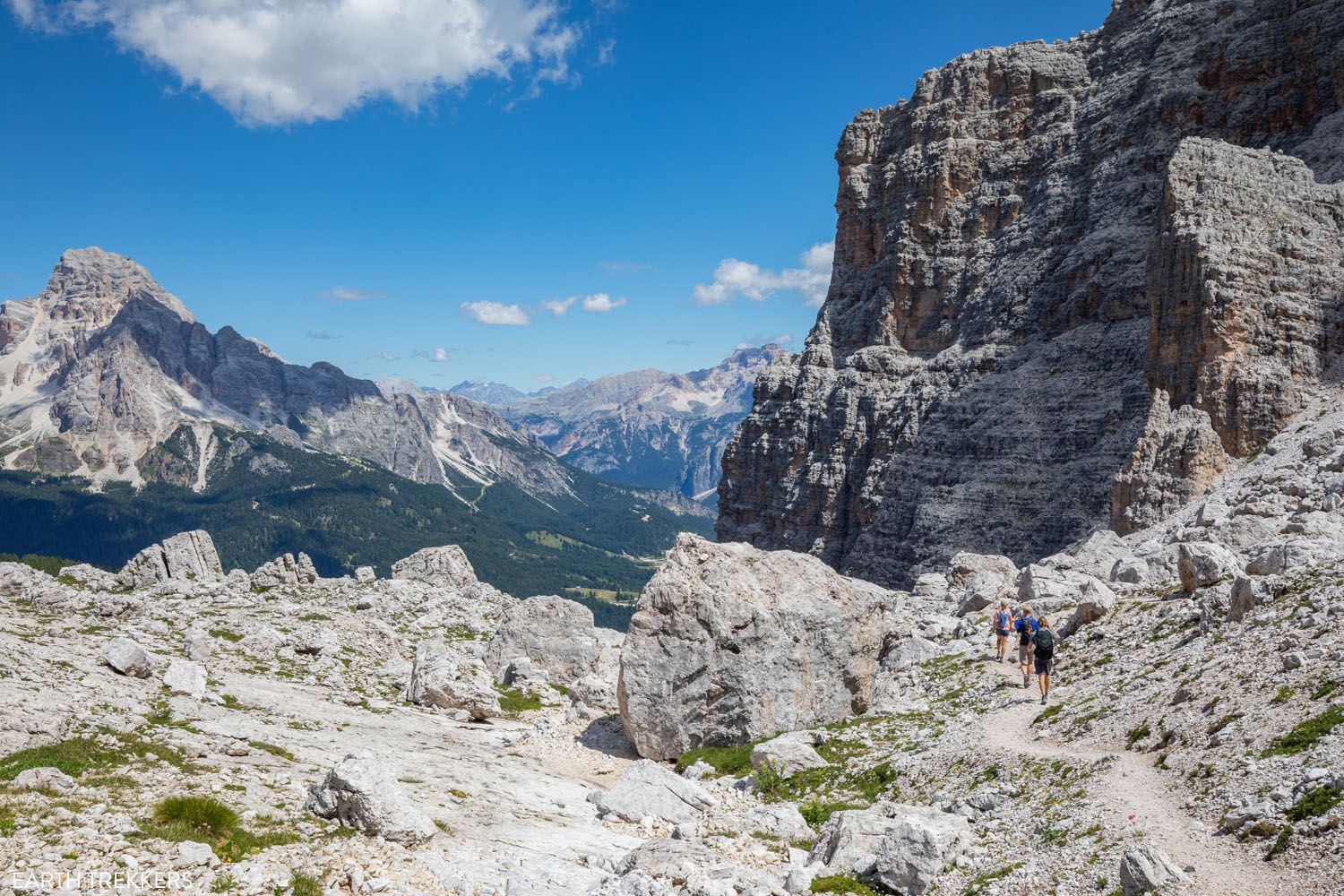 As you start the big descent, you enter the boulder field in Val de Formin. This next part of the hike, which is roughly 2 km (1.25 miles) long, is steep, slippery, and challenging, even going downhill. You will do a lot of rock scrambling over boulders so take your time here. This part of the hike takes a while, even though you are going downhill.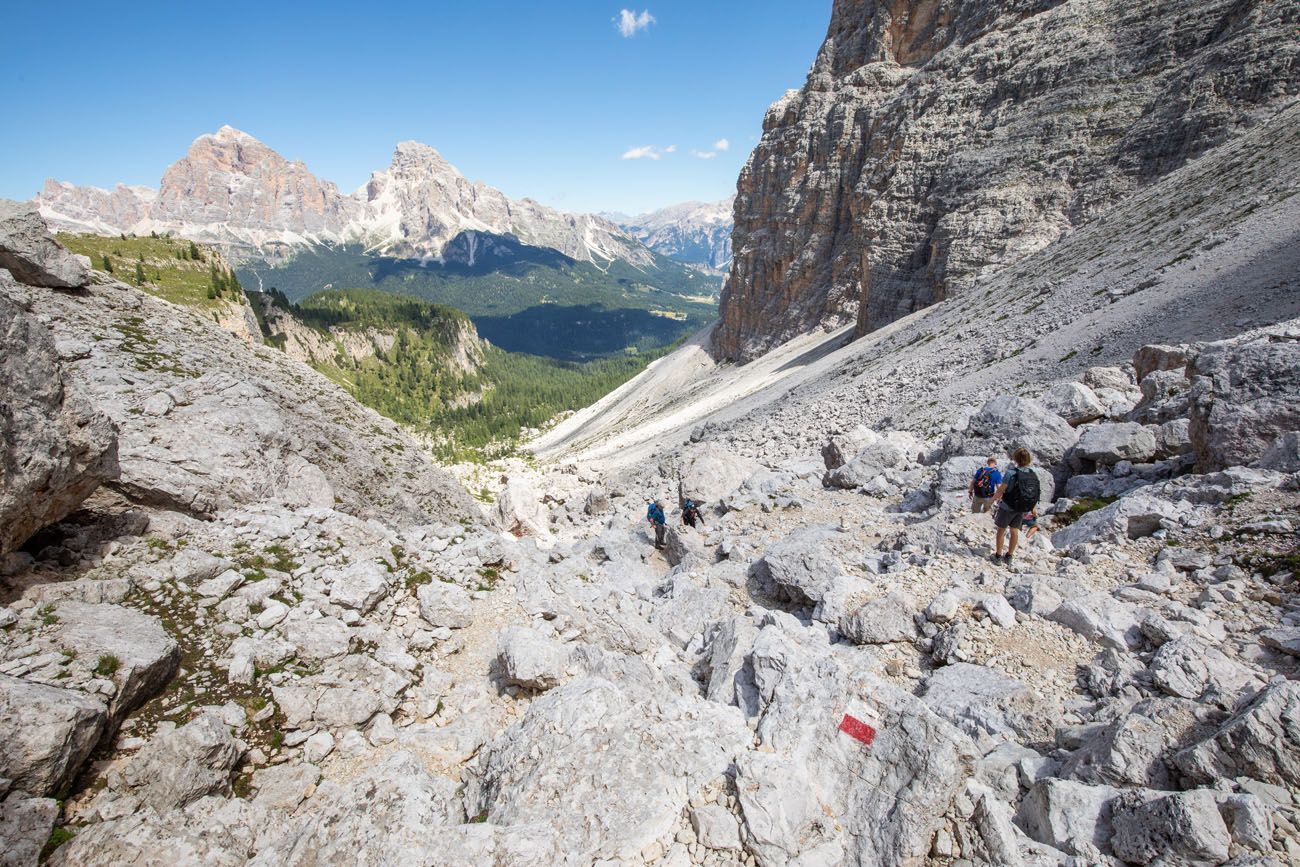 Once at the bottom, look up. It's impossible to even see a trail from this vantage point. And if you are hiking this trail in the opposite direction, getting up this rocky, rough terrain will keep you busy for the next hour or so.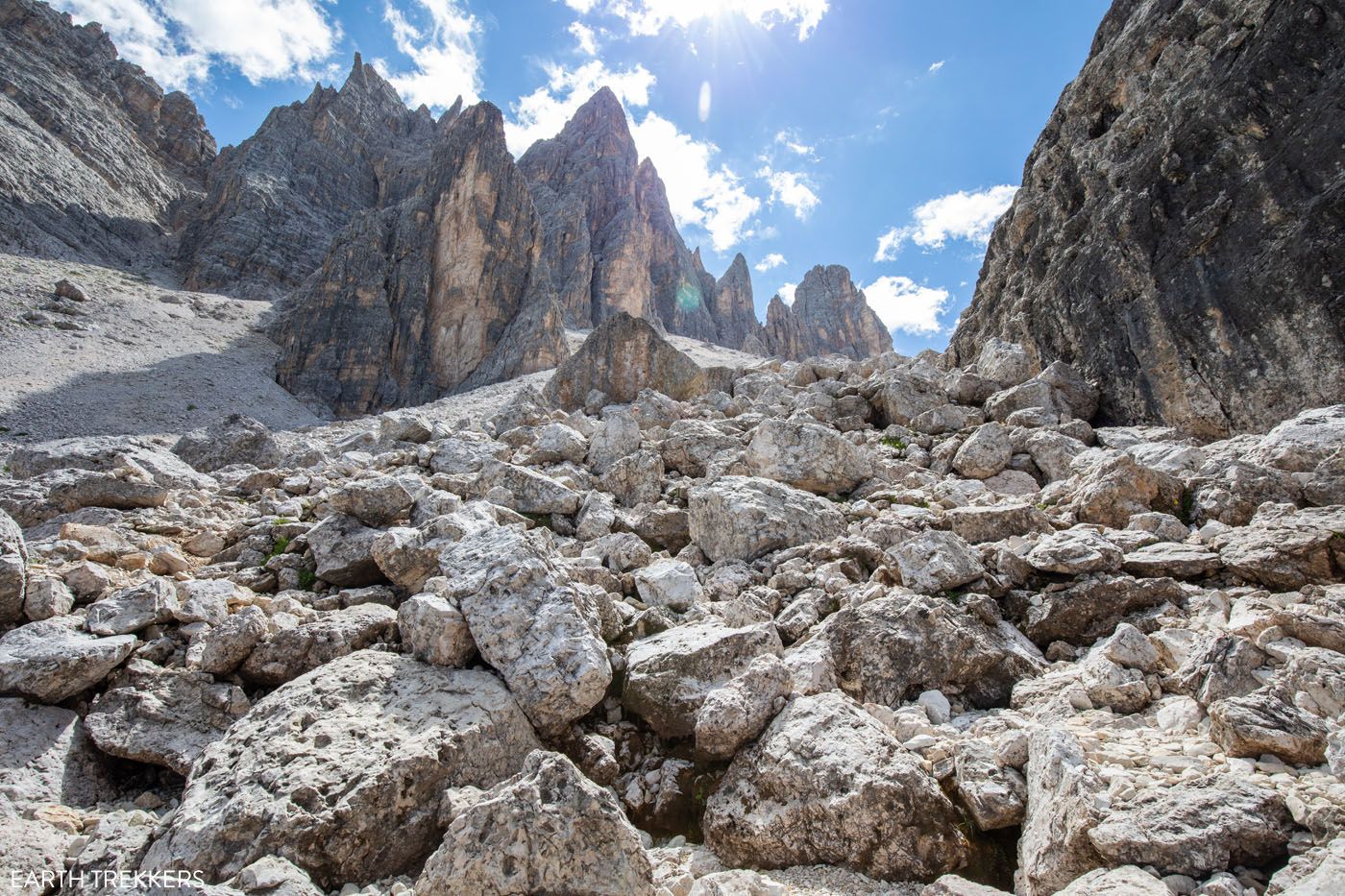 Looking back up at the trail.
Once the trail enters the forest again, you can move a lot quicker. Now you are hiking downhill through the trees, occasionally getting a view of the mountains. Once you reach the trail junction at Cason de Formin, you have just under 2 kilometers to go (about 1.1 miles) or about 30 minutes.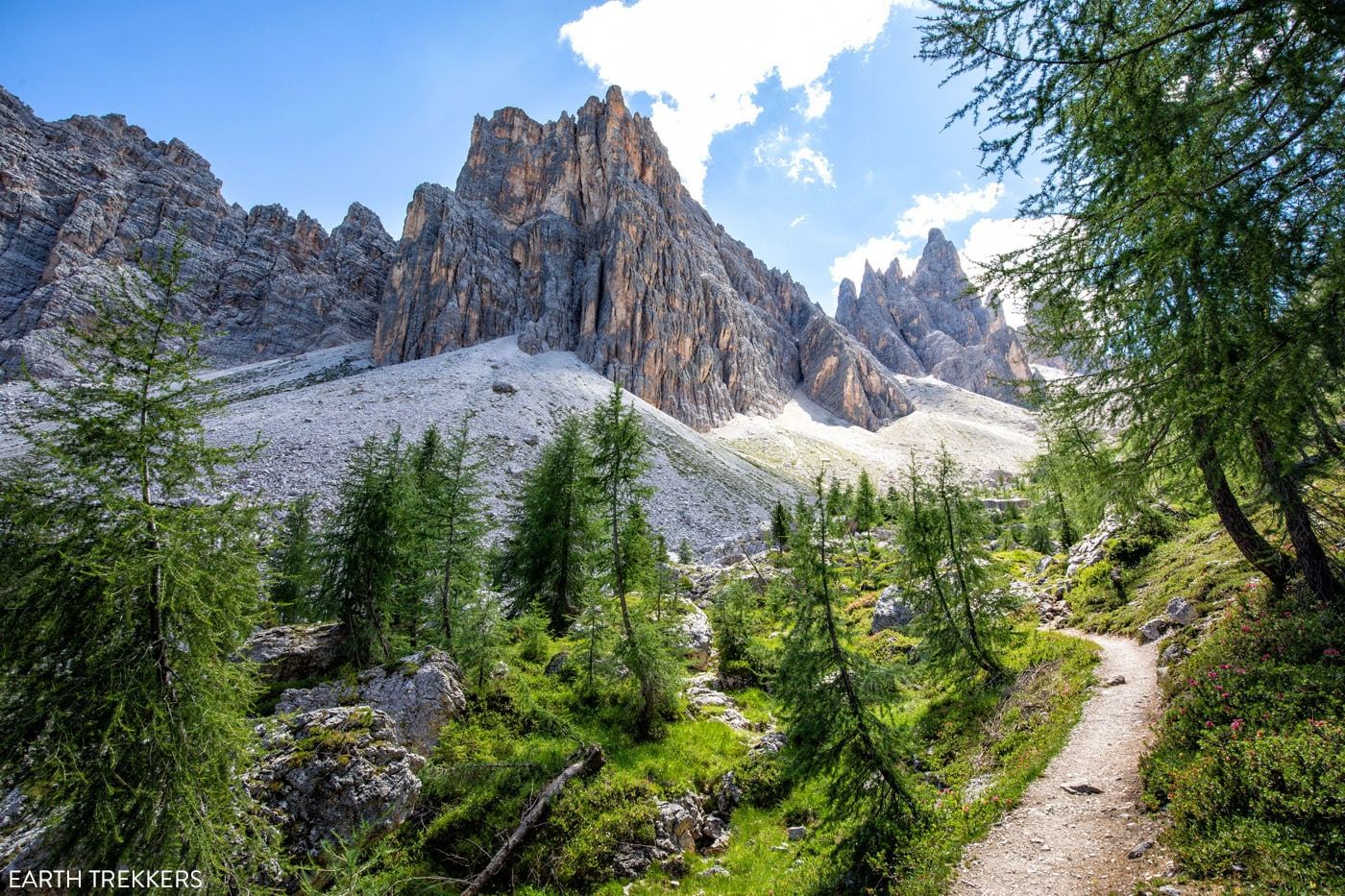 Looking back up the trail to the peaks of Croda da Lago.
The Croda da Lago circuit ends back at the trailhead on SP638.

What to Bring on the Croda da Lago Circuit
Hiking shoes. I recommend wearing hiking shoes for this hike. The trail is rough and uneven in a lot of places and you will rock scramble up and down smooth, granite rocks, which can be very slippery. The hiking shoes will give you added traction which will be very helpful on this hike.
Water. Bring at least 1.5 liters of water per person. You can refill you water bottle or hydration pack at Rifugio Palmieri.
Sunscreen, hat, and sunglasses. Parts of the trail is shaded, but you will be exposed to the sun for much of the hike.
If you are new to hiking or are curious about what you should bring on a hike, check out our Hiking Gear Guide. Find out what we carry in our day packs and what we wear on the trails.
Frequently Asked Questions
Is it worth it to hike out-and-back to Lago Federa?
Lago Federa is one of the most beautiful lakes that we visited in the Dolomites. To get here, it is a 4.2 km walk one-way, mostly through the forest, to get to this lake. This is a nice lake to visit, but I don't think it is worth hiking out-and-back to it, at least from the Ponte Curto trailhead, since you are in a forest for most of the hike. I think it's best to either hike to Lago Federa as part of Croda da Lago Circuit or to include it on a point-to-point hike through the Dolomites.
When is the best time to do the Croda da Lago Circuit?
The best time of year to hike the Croda da Lago Circuit is during the summer and early fall (from June through mid-October). In autumn, the larches turn a vibrant yellow, making this trail a great place to see fall colors.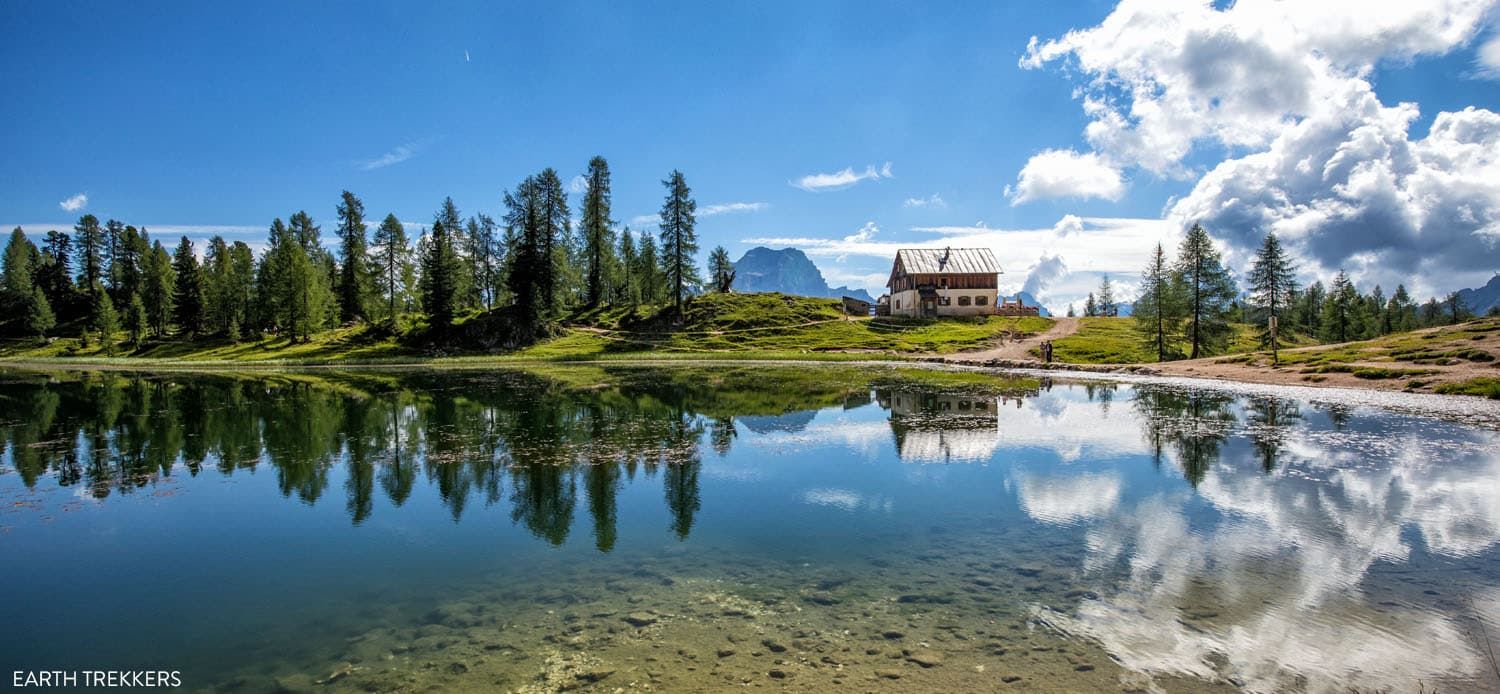 ---
If you have any questions about how to hike the Croda da Lago Circuit or how to hike to Lago Federa, let us know in the comment section below.
More Information for Your Trip to Italy
DOLOMITES: For more great hikes in the Dolomites, check out our hiking guides for the Puez-Odle Altopiano, Tre Cime di Lavaredo, Lago di Sorapis, and Lago di Braies. And in our article Best Hikes in the Dolomites, we cover 15 epic trails in the Dolomites.
NORTHERN ITALY: Verona is a beautiful city to add to your Italy itinerary and we also have a detailed guides on Lake Garda and how to day trip to Lake Como and Bellagio. In our Northern Italy Itinerary, visit Venice, the Dolomites, Verona, Milan, and Lake Como.
VENICE: Learn more about what to do in Venice in our Venice Bucket List. To help you plan your time, we have a detailed one day Venice itinerary and a 2 day Venice itinerary.
BEST OF ITALY: In our Guide to the Best Places to Visit in Italy, we list 20 beautiful destinations to consider for your next trip to Italy.
ITALY TRAVEL GUIDE: To read all of our articles about Italy, check out our Italy Travel Guide.
TRAVEL PHOTOGRAPHY: For more information about the camera gear we carry, check out our Travel Photography Gear Guide.
We have TONS more information about Italy in our Italy Travel Guide, including Rome, Florence, Venice, Tuscany, the Dolomites, the Amalfi Coast, the Cinque Terre, Basilicata, and Puglia.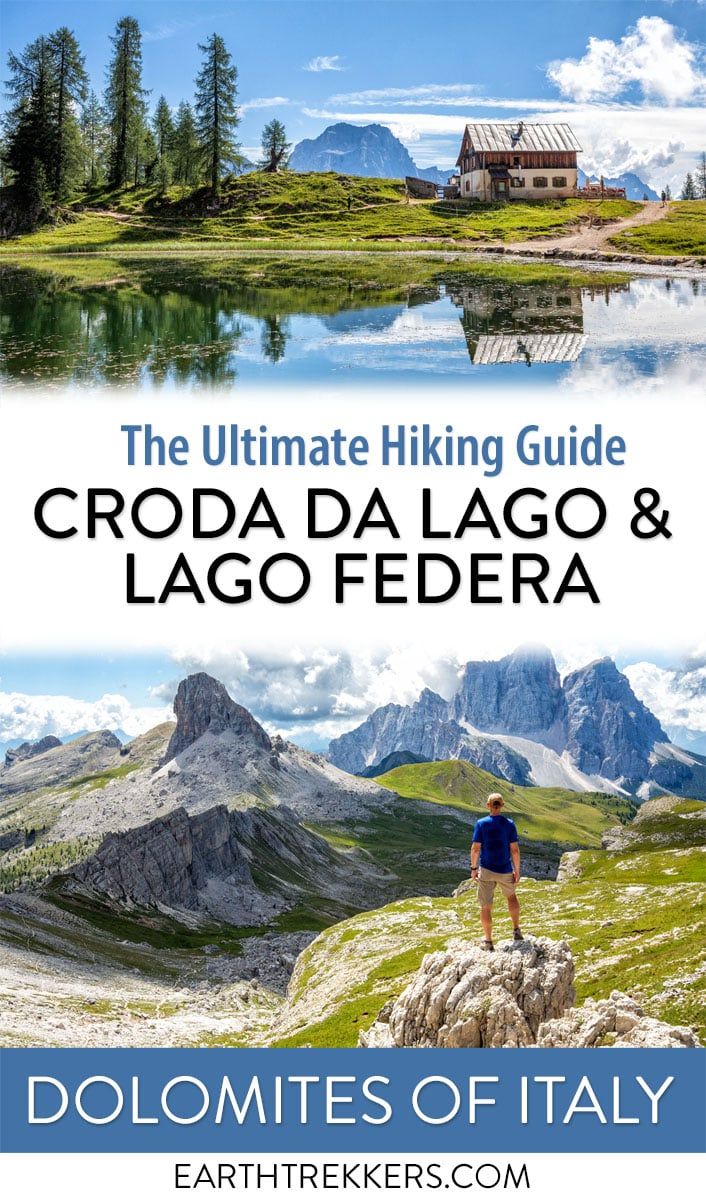 All rights reserved © Earth Trekkers. Republishing this article and/or any of its contents (text, photography, etc.), in whole or in part, is strictly prohibited.