Dachau Concentration Camp was the first of the Nazi concentration camps. It is located near Munich, Germany. A visit here is an incredibly moving experience and a valuable history lesson. Here are some things you should know while planning your visit.
Dachau was the Nazi's first concentration camp and was the only concentration camp to have existed throughout the entire twelve years of Nazi rule. In the early years it was the largest and most well-known concentration camp. Initially, it was used as a place to imprison political prisoners, but later Dachau became a transfer station to other concentration camps such as Auschwitz-Birkenau.
Dachau was planned and constructed to hold 6,000 prisoners, but by the end of WWII in 1945, Dachau was home to 32,000 prisoners. The conditions of course were terrible with overcrowding, torture, and lack of food. Thousands of people died here, either from disease, torture, lack of food, medical experimentation, or murder. There was a gas chamber here but it was never used. Unfortunately, what got a lot of use was the crematorium, of which there were several.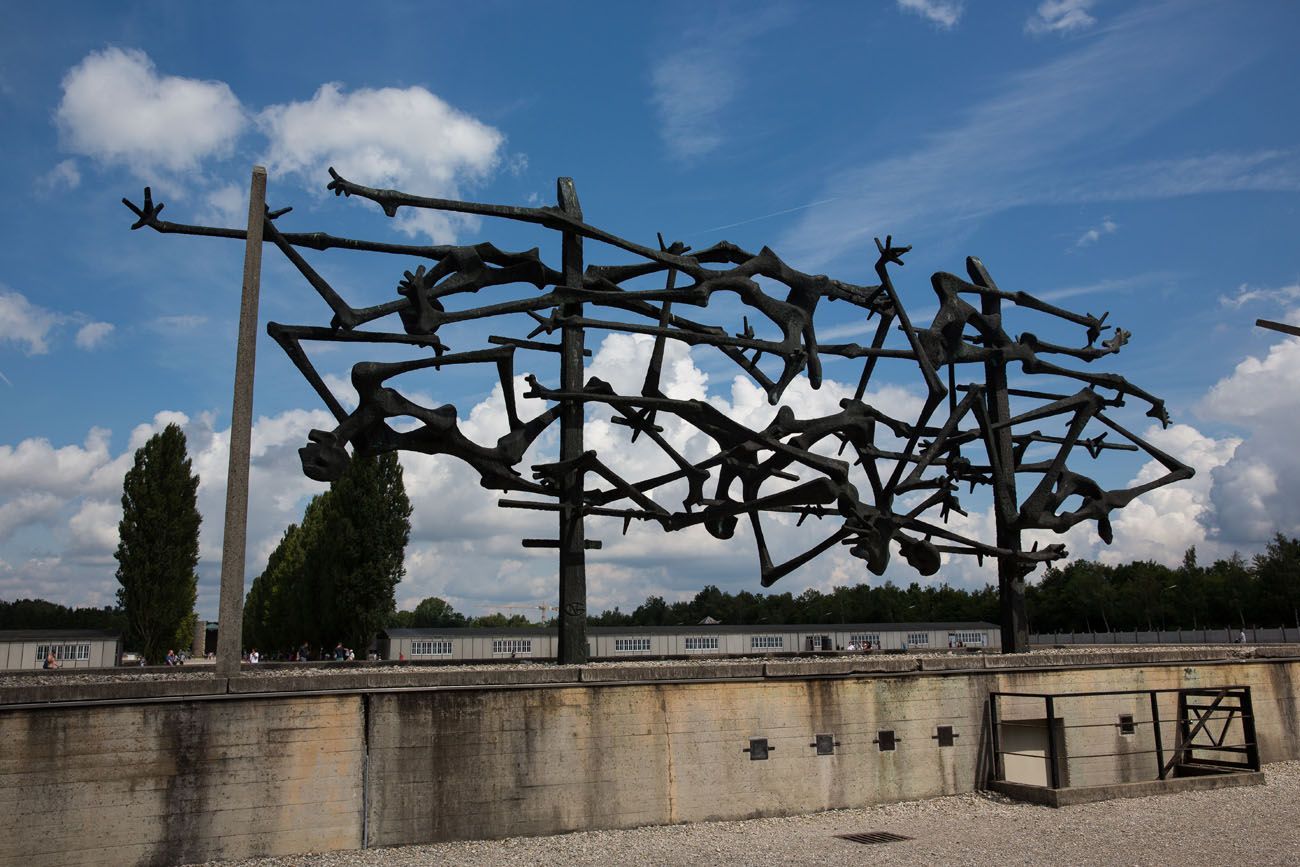 Visiting Dachau
The entrance is through the same gate prisoners would pass through, a metal gate stating "Arbeit Macht Frei," which means "work makes you free," which of course was a lie.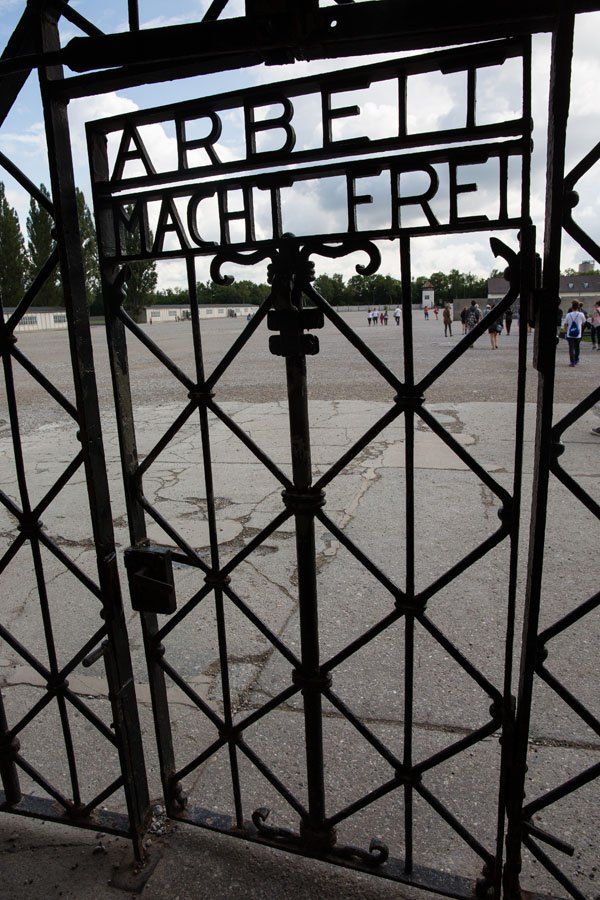 Visitors are able to walk the grounds, visit one of the last standing dormitories, and visit the museum, which is excellent. Inside of the museum is a chronological history of the Nazi regime, WWII, and the use of Dachau from WWII up until present time.
There is a graphic, twenty minute movie about the history of Dachau which is not recommended for children. It is disturbing, with its images of death and starvation, but a must see while visiting Dachau.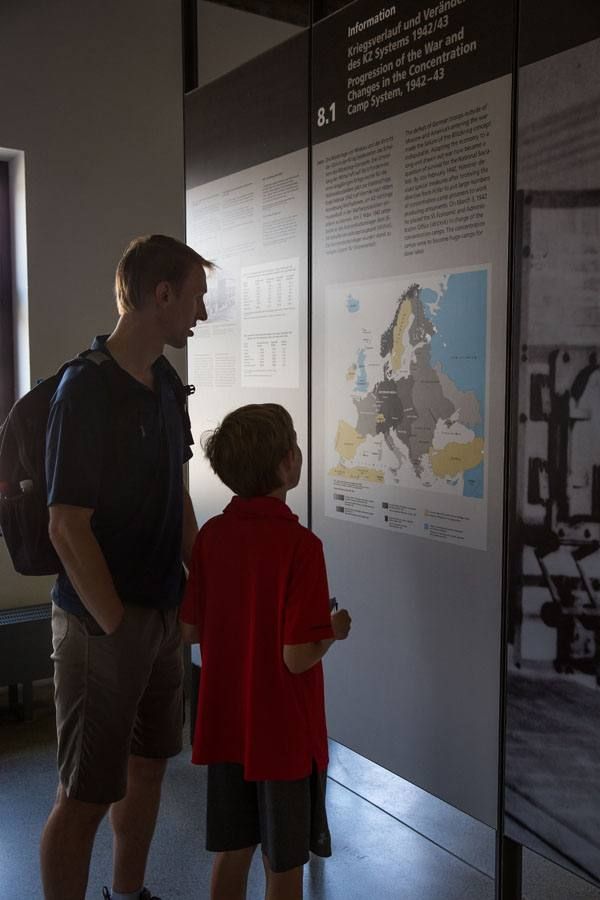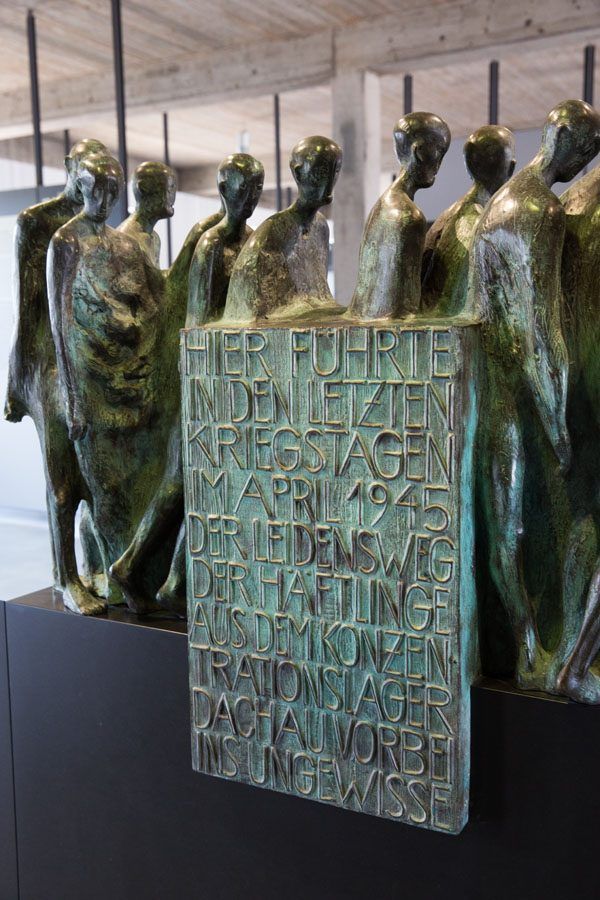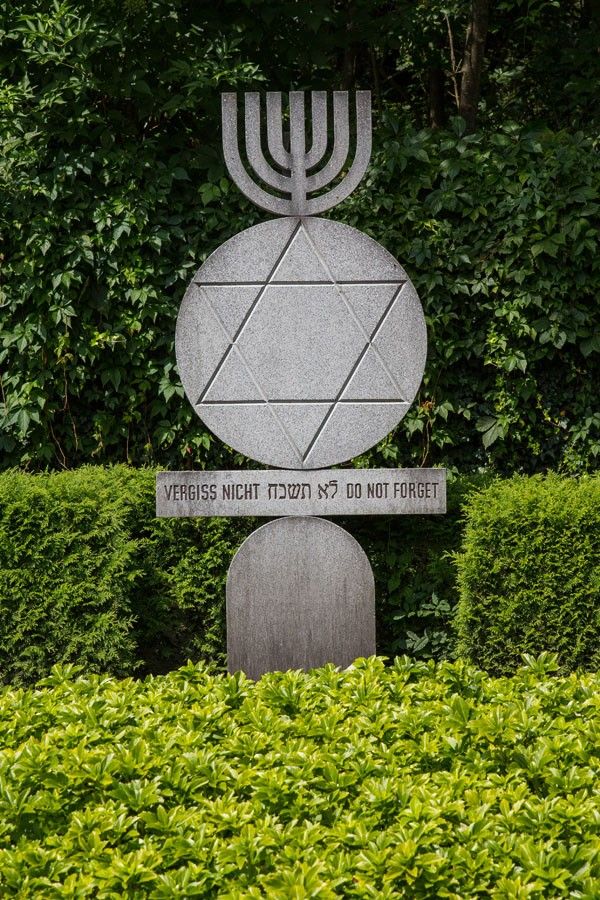 Should Kids Visit Dachau?
We had concerns taking Tyler and Kara here since it is a site not recommended for children under the age of 12. At the time of our visit, Tyler was 11 years old and Kara was almost 10 years old.
Tim and I do not want to shelter the kids…we think it is important for them to learn about world history, even the atrocities that occurred during WWII. If either of them found what we saw too disturbing we would leave. Tyler and Kara handled seeing Dachau very well, but they were some of the only children we saw while visiting the memorial.
Should You Take a Tour of Dachau?
Tours are optional and a great way to learn the history of Dachau. Plus, those who take the tours rave about the experience. I recommend taking a tour to get the most out of your visit.
We were unable to take a tour because Tyler and Kara were not old enough during our visit. The tour is only for those 13 years and older.
Guided tours are offered in English and German. At the time of this update, tours are held in German at 12 pm and in English at 11 am and 1 pm. Virtual tours are also offered on the official website. Before your visit, get updated tour times on the official website. Tickets cost €4 per person and can be purchased at the Visitor Center. Only those 14 years and older are permitted to attend the tour. The tour lasts approximately 2 hours.
If you prefer not to take a guided tour, audio guides are also available.
How to get to Dachau from Munich
From Munich, take the local S-Bahn S2 line towards Petershausen. Get off at the Dachau station (about 25 minutes by train from Central Station). Exit the Dachau station, cross the street to the bus station, and take bus 726 to Dachau Camp (KZ-Gedenkstätte).
If you have a car, there is a parking lot next to the memorial center at 73 Alte Romerstrasse.
Hours of Operation
Dachau is open daily from 9 am to 5 pm. It is closed on December 24th to 26th.
Entry is free. No advance tickets are necessary.
Allow half a day for a visit to Dachau.
For more information, including updated hours of operation, click here.
---
More Information for Your Trip to Germany
BAVARIA, GERMANY: Take an amazing 10 day road trip in Bavaria, visiting Munich, Neuschwanstein, Berchtesgaden, Salzburg, Innsbruck, and drive the Romantic Road in Germany.
BERLIN: Start with our article Best Things to Do in Berlin for a big list of things to do in the city. Plan your visit with our 5 Day Berlin Itinerary and what to expect on a visit to Teufelsberg.
SAXONY, GERMANY: In Saxony, visit the fairytale bridge called Rakotzbrücke and the amazing Bastei Bridge. Put both of these together, plus the town of Görlitz, into a big day trip from Berlin.
CENTRAL EUROPE ITINERARY: Learn how to put together Budapest, Vienna, and Prague together in our 10 day Central Europe Itinerary.
All rights reserved © Earth Trekkers. Republishing this article and/or any of its contents (text, photography, etc.), in whole or in part, is strictly prohibited.