Death Valley National Park is filled with unusual spots to visit and the Racetrack Playa may be one of the most bizarre. This is the place to see those mysterious sailing stones…the large rocks that somehow glide over this dry, muddy surface, leaving imprinted trails behind them.
This is not a spot you can just visit on a whim. Getting here takes advance planning. The only way to get here is via long, rough, rocky roads through a remote landscape. On this excursion, the journey is part of the adventure.
Have you have been dreaming about a visit to Racetrack Playa? Find out how to get here and what to really expect once you are here.
What is Racetrack Playa?
Racetrack Playa is a large, dry lakebed located in Death Valley National Park. It is fairly large, about 3 miles long (north to south) and 2 miles wide (east to west). It is extremely flat, with the northern end only being 1.5 inches higher than the southern end.
The dry surface is covered with dried mud hexagons, which gives the playa its characteristic appearance. When it is dry, this surface is very hard and when you walk on it, you leave no footprints behind. However, during the brief periods when the playa is wet (it receives rainfall in the summer and winter months), walking on the wet surface creates unsightly, muddy footprints that can take years to erase.
Old footprints on the playa
Mystery at Death Valley: What Causes the Sailing Stones to Move?
For years, there had been many theories behind what causes these rocks to move across the dry surface of the playa. Hurricane-like winds, people, ice, and animals were all on the list as potential causes.
The mystery was solved in 2014 when researchers monitored the rocks using scientific equipment. When it rains, the Racetrack Playa becomes a shallow lake. At night during the winter, the water freezes, trapping the rocks in the ice. The next day, as the surface warms up, the ice breaks up and a steady breeze pushes the rocks over this wet, slippery surface. These rocks can move up to several hundred feet in one day!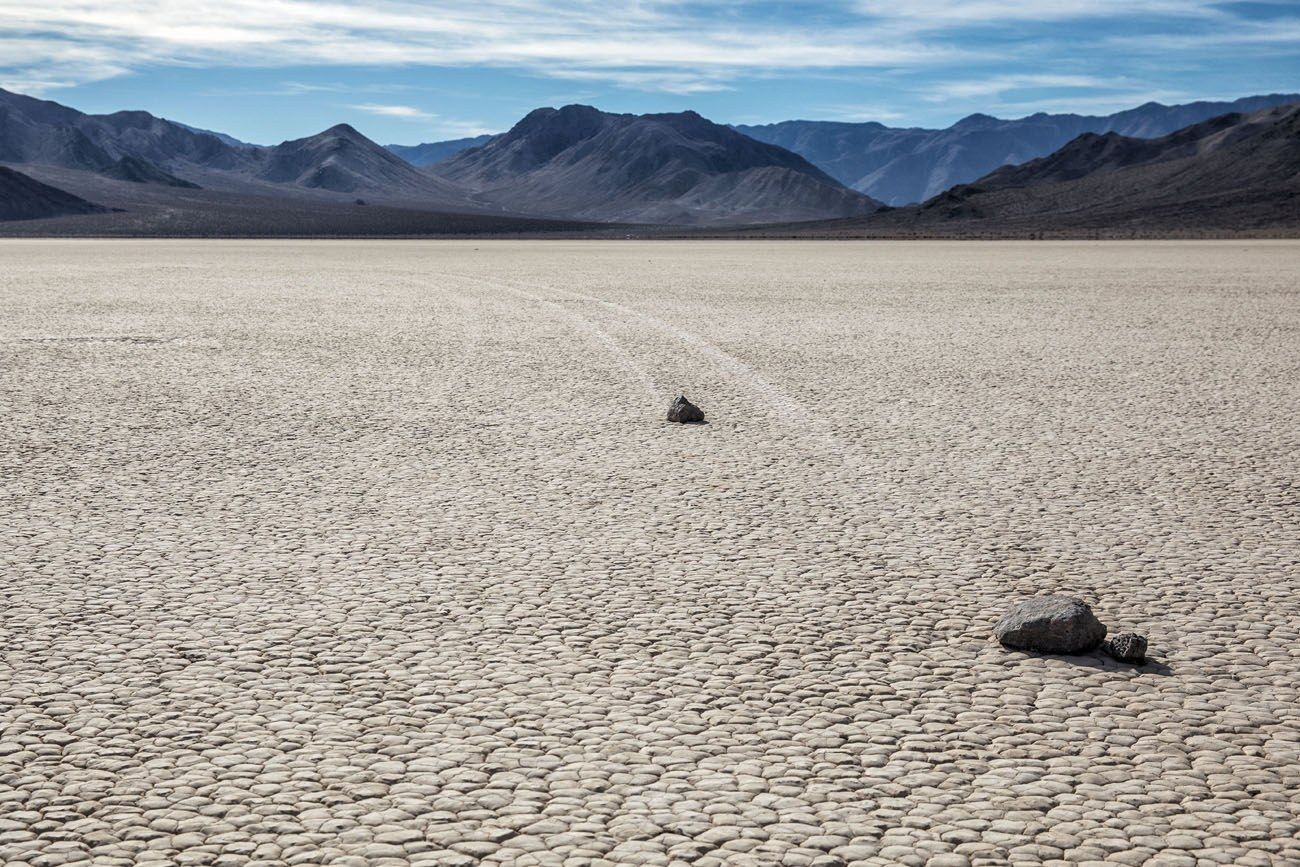 How to Get to Racetrack Playa
Racetrack Playa is located in a remote area of Death Valley. From the Furnace Valley Visitor Center, it is an 83-mile drive to get here. 27 of these miles are on rough, unpaved roads.
From Furnace Creek, it can take up to 3.5 hours one-way to get to Racetrack Playa (even though Google says it is quicker than that).
To get here from Furnace Creek, drive north, following signs for Ubehebe Crater. This part of the drive is on paved roads. It's relatively flat, fast, and can make you feel like you are in the middle of nowhere. We did this drive at 7:30 am and we could go as long as 20 minutes without seeing another car. It is a wonderful, beautiful drive.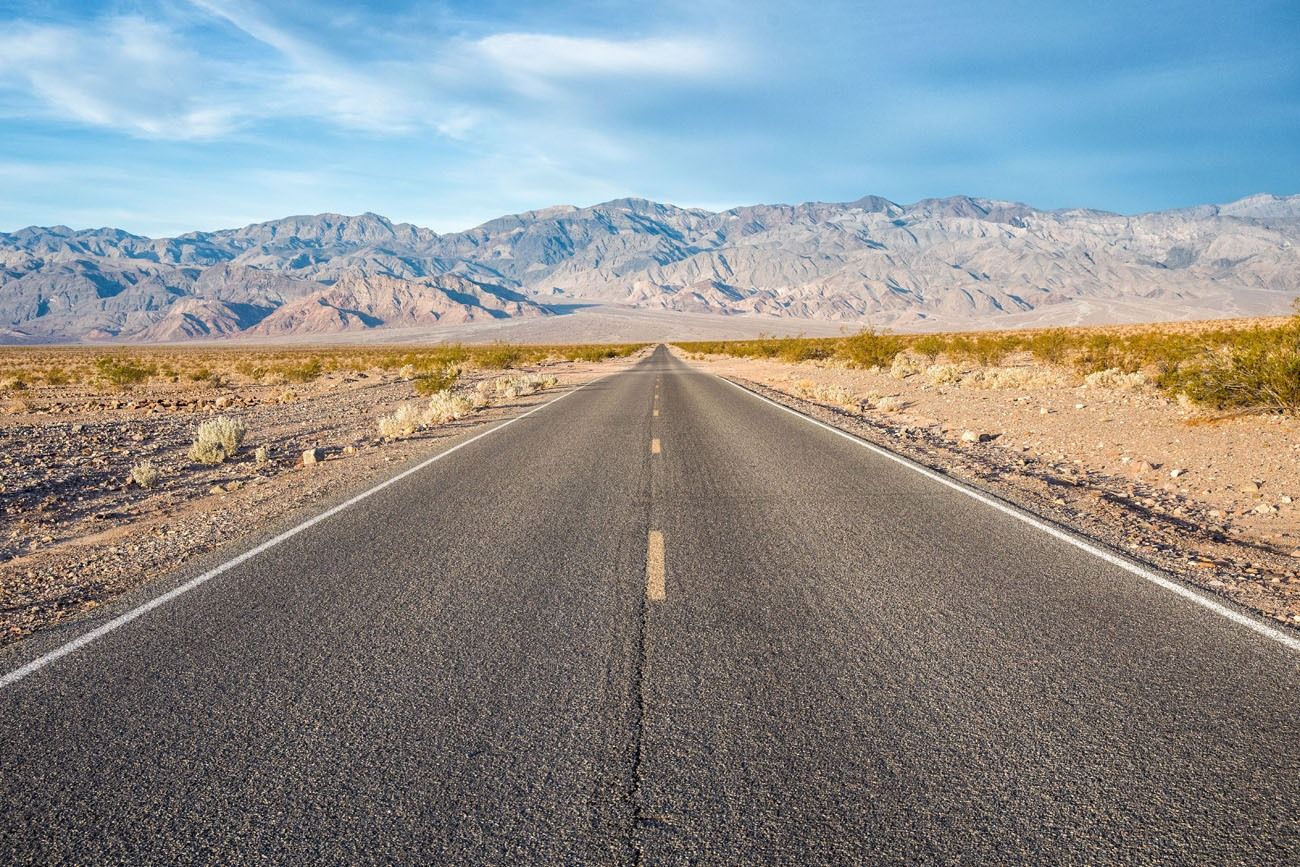 The turn off for Racetrack Valley Road, the gravel road to Racetrack Playa, is located near the parking lot for Ubehebe Crater. If it's early in the day, you can take a look at the Crater (it's worth it!) or save it for the afternoon after your visit to the Playa.
From Ubehebe Crater, it's just 27 miles to the Racetrack Playa.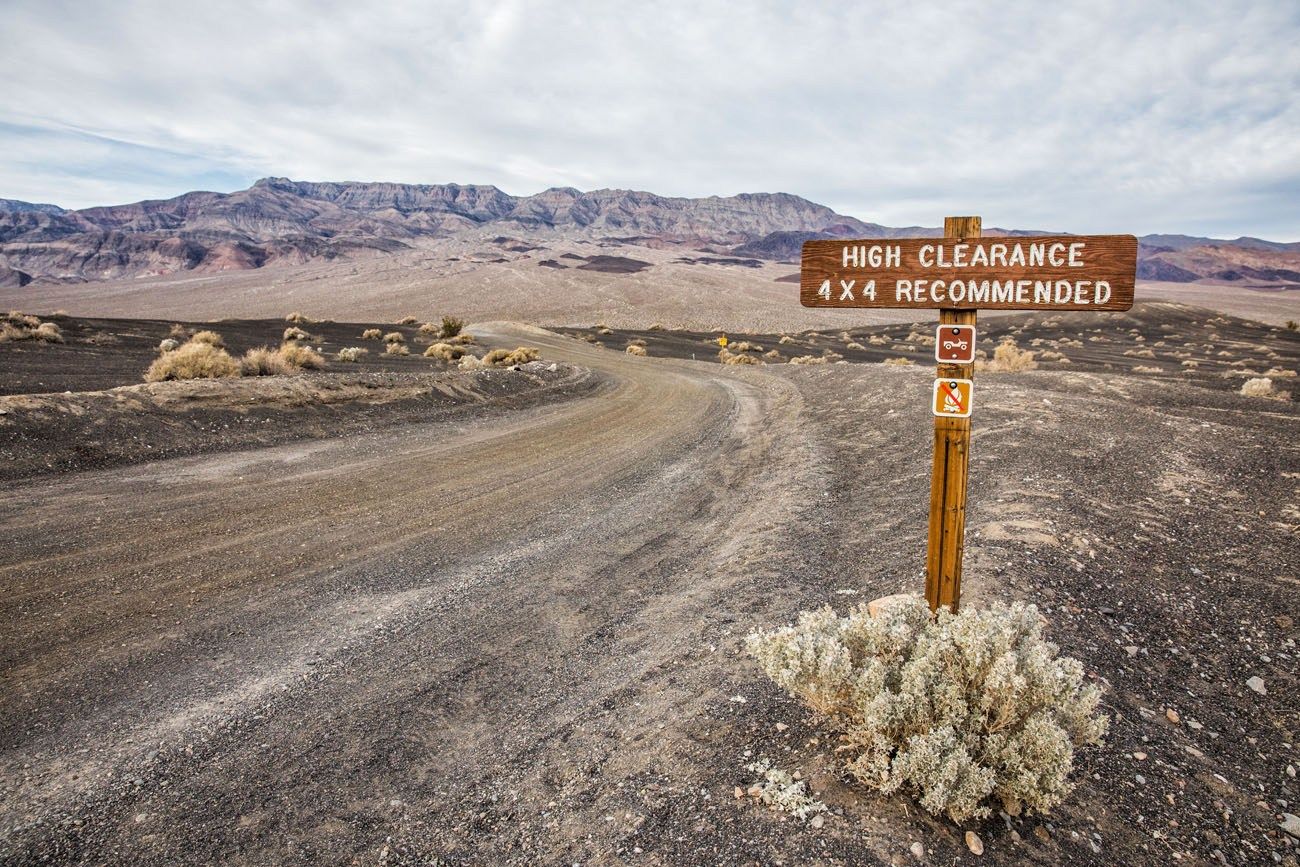 Driving on Racetrack Valley Road
Racetrack Valley Road is very rough road. It is covered with gravel and sharp rocks. These rocks are notorious for causing flat tires. Expect to have a slow, bumpy ride that can take between 1.5 and 2.5 hours (one-way).
In order to do this drive, you absolutely must have a vehicle with high clearance. The National Park Service highly recommends having a 4×4. During our visit, we saw SUV's without 4×4 doing just fine. But mostly, it is pick-up trucks, Jeeps, and large SUV's with 4×4 that make the journey out here.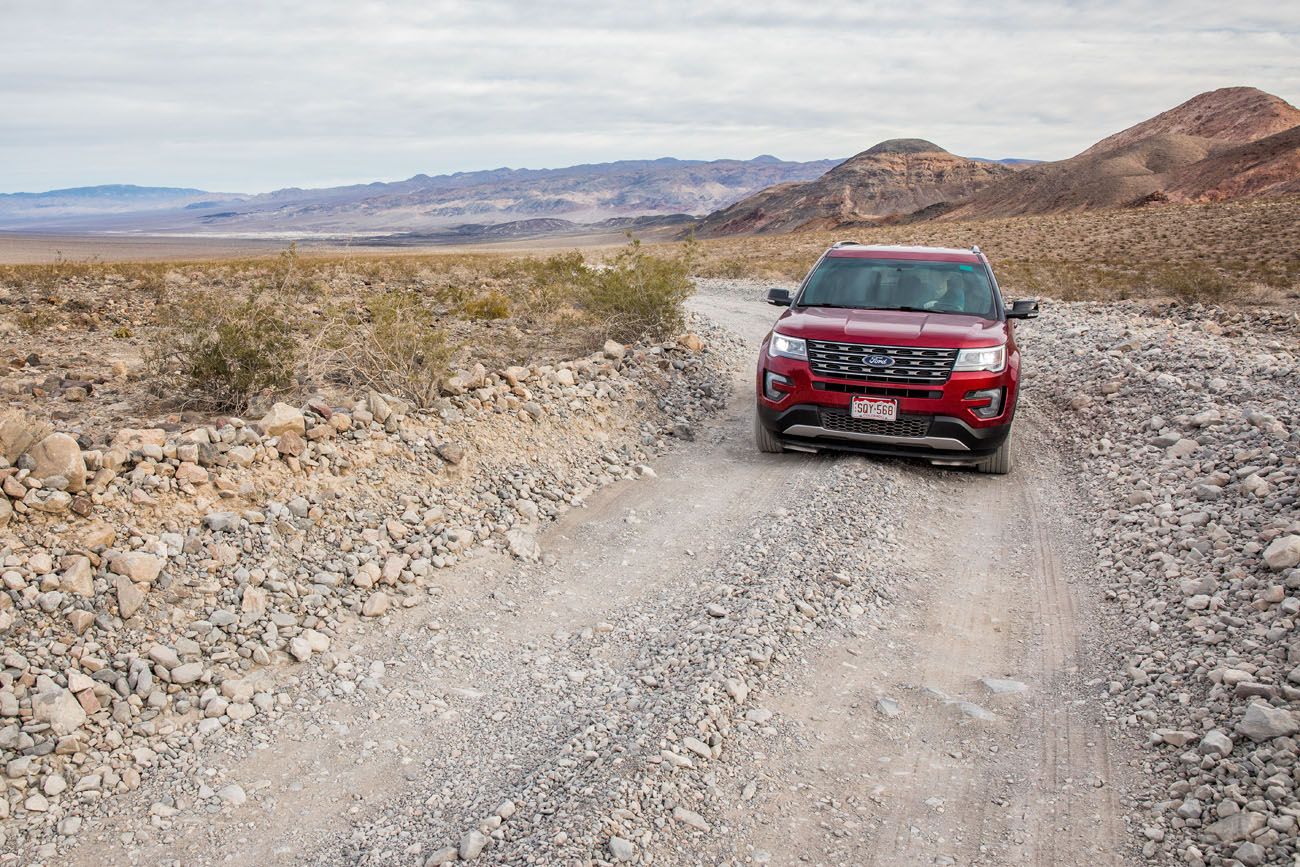 We drove a Ford Explorer with 4×4 and had no issues at all. The biggest dangers on this road are the sharp rocks that cover it, the washboarding, and the narrow width of the road. These factors can cause flat tires and damage your vehicle.
In many places the road is only wide enough for one vehicle. In order to pass oncoming cars, you need to be prepared to drive up onto the gravel embankment or wait in a wider section of road to let oncoming traffic pass.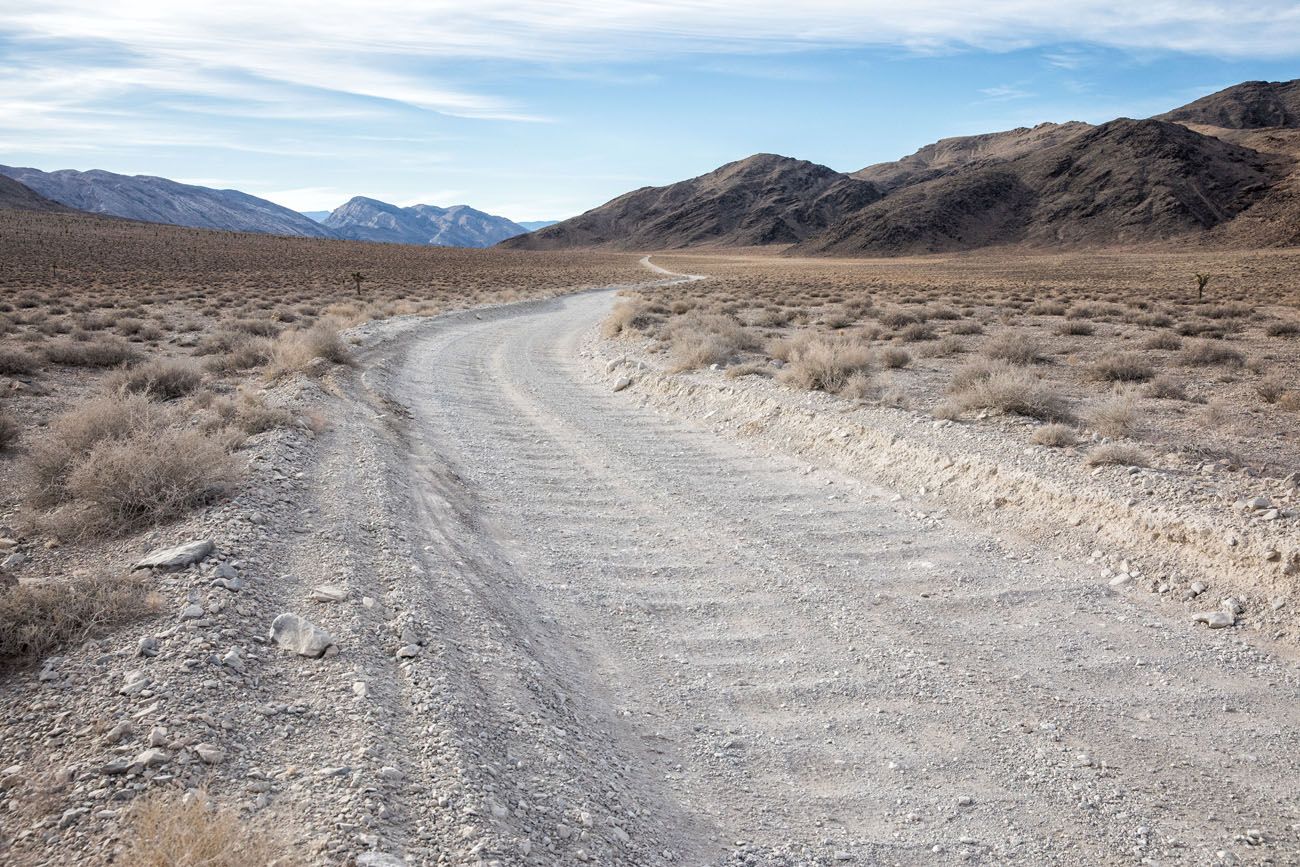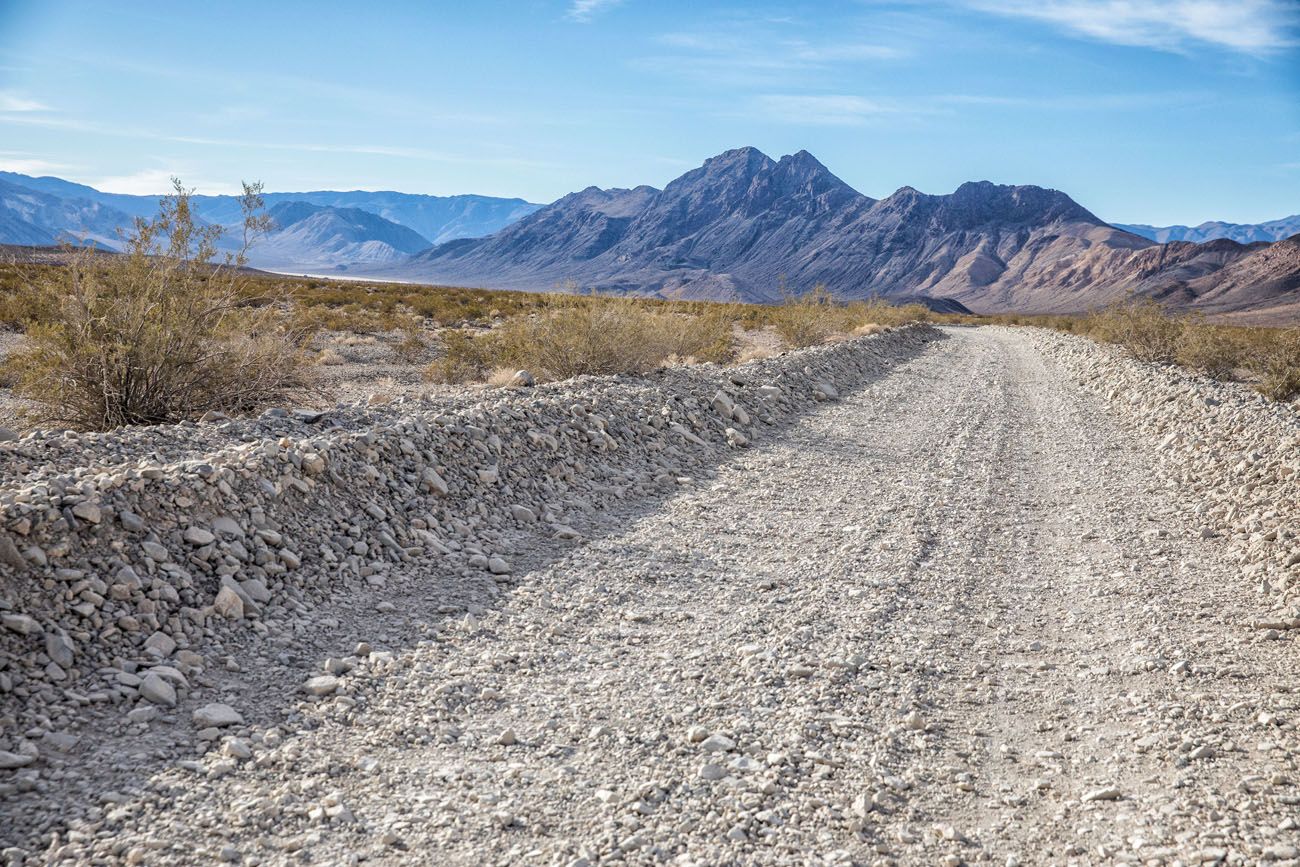 You should also know that there is no cell phone coverage out here. Zero. Zilch. Nada. So, if you get a flat tire or you get stuck, it could be a long wait until assistance arrives.
Teakettle Junction
20 miles from Ubehebe Crater is Teakettle Junction. From here, it's just 7 more miles to Racetrack Playa, or you can turn left for Hunter Mountain.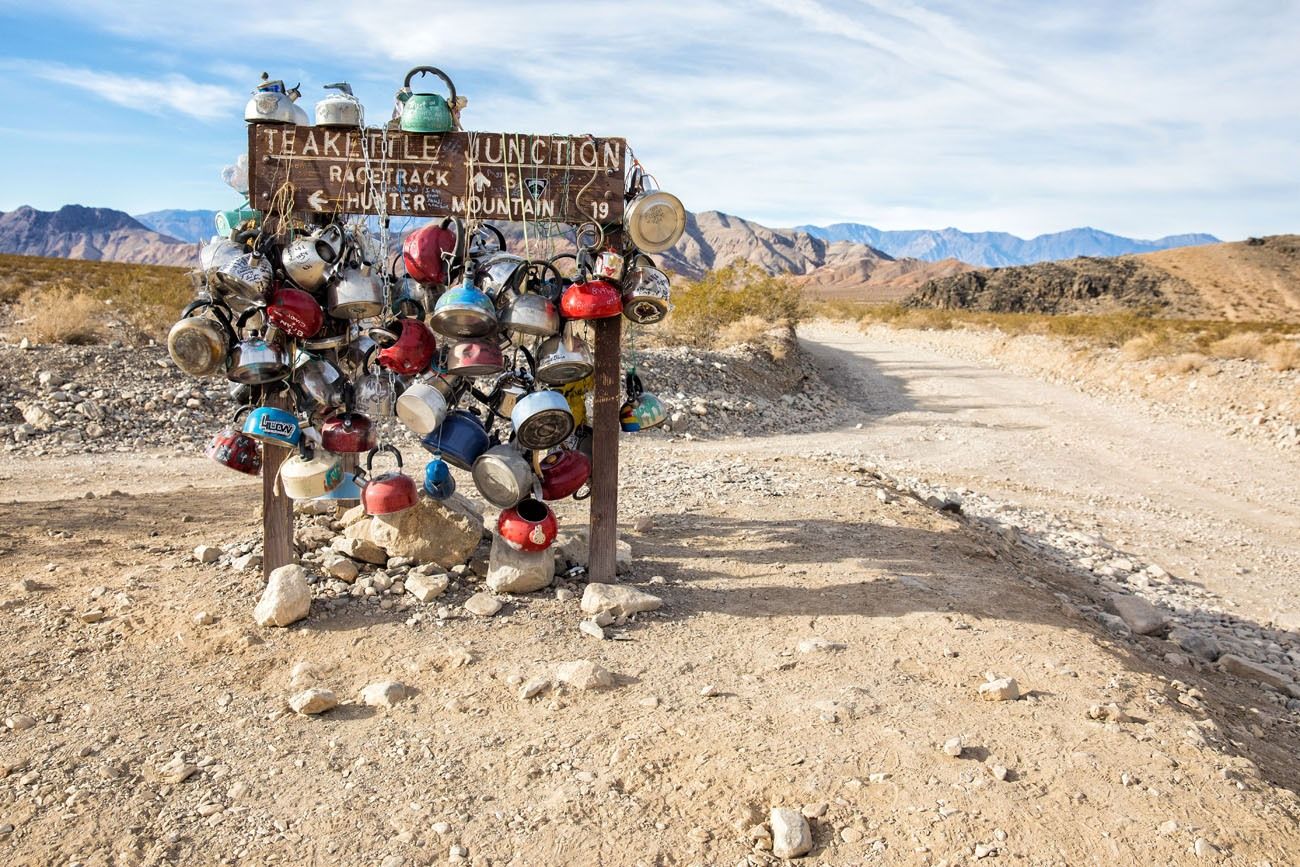 For years, people have been leaving teakettles here, with notes written on them or inside of them. This is a great spot to stop and stretch your legs.
What to Expect at Racetrack Playa
The Grandstand
When we arrived at Racetrack Playa, we were the first ones here for the day. I was so excited. I couldn't wait to see those mysterious rocks that travel across this barren land. Tim parked our vehicle and we ran out onto the playa.
We searched and searched around the Grandstand, finding large boulders with no trails, long trails with no boulders, and manmade trails with little rocks at the end. There were also old, muddy footprints and the slowly fading vehicle tracks from vandalism in 2016.
It felt like a bit of a letdown.
Here's the thing. There are two parking areas for the Racetrack Playa. The first parking area is for the Grandstand. The Grandstand is a large, dark rocky outcropping in the middle of the playa. It's fun to climb if you want to get a view out over the whole area and really fun for kids to explore.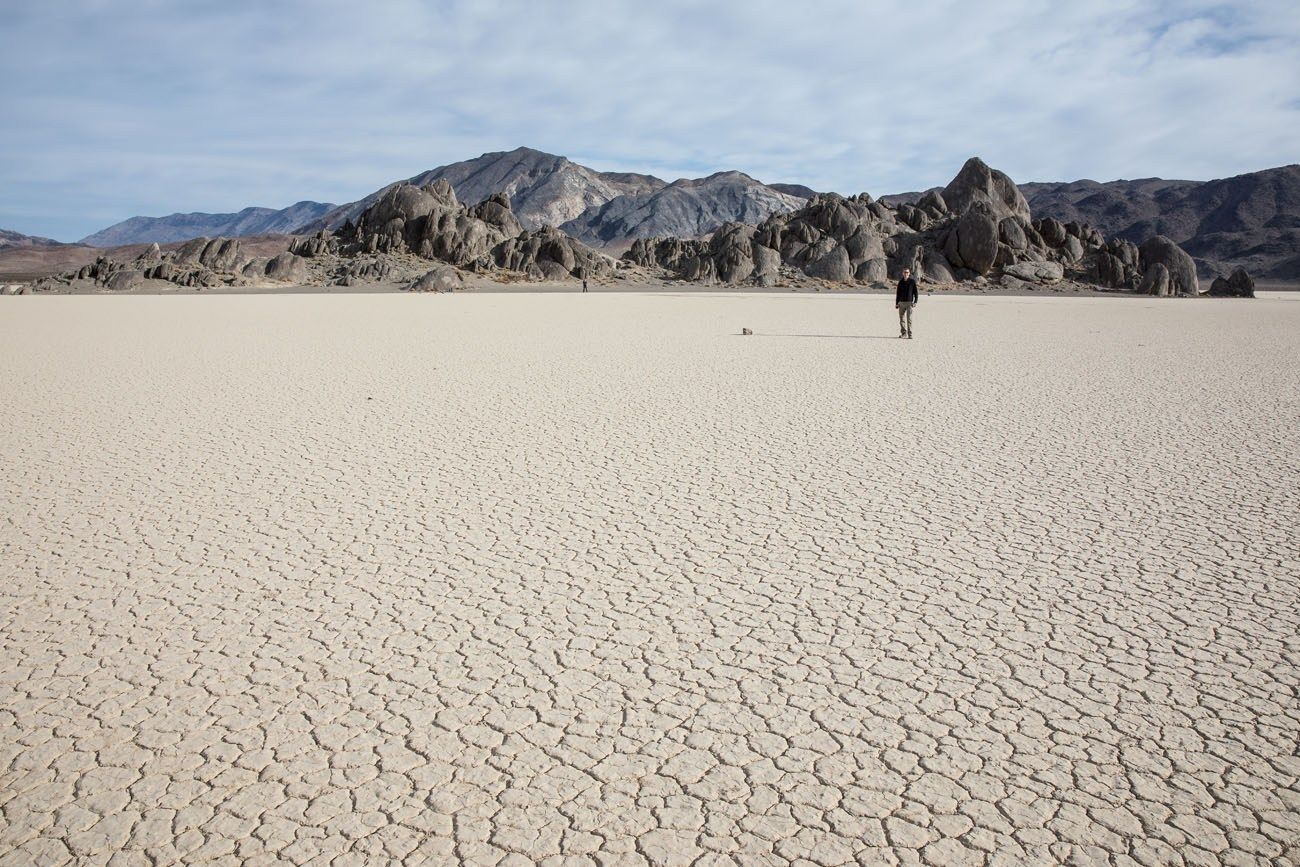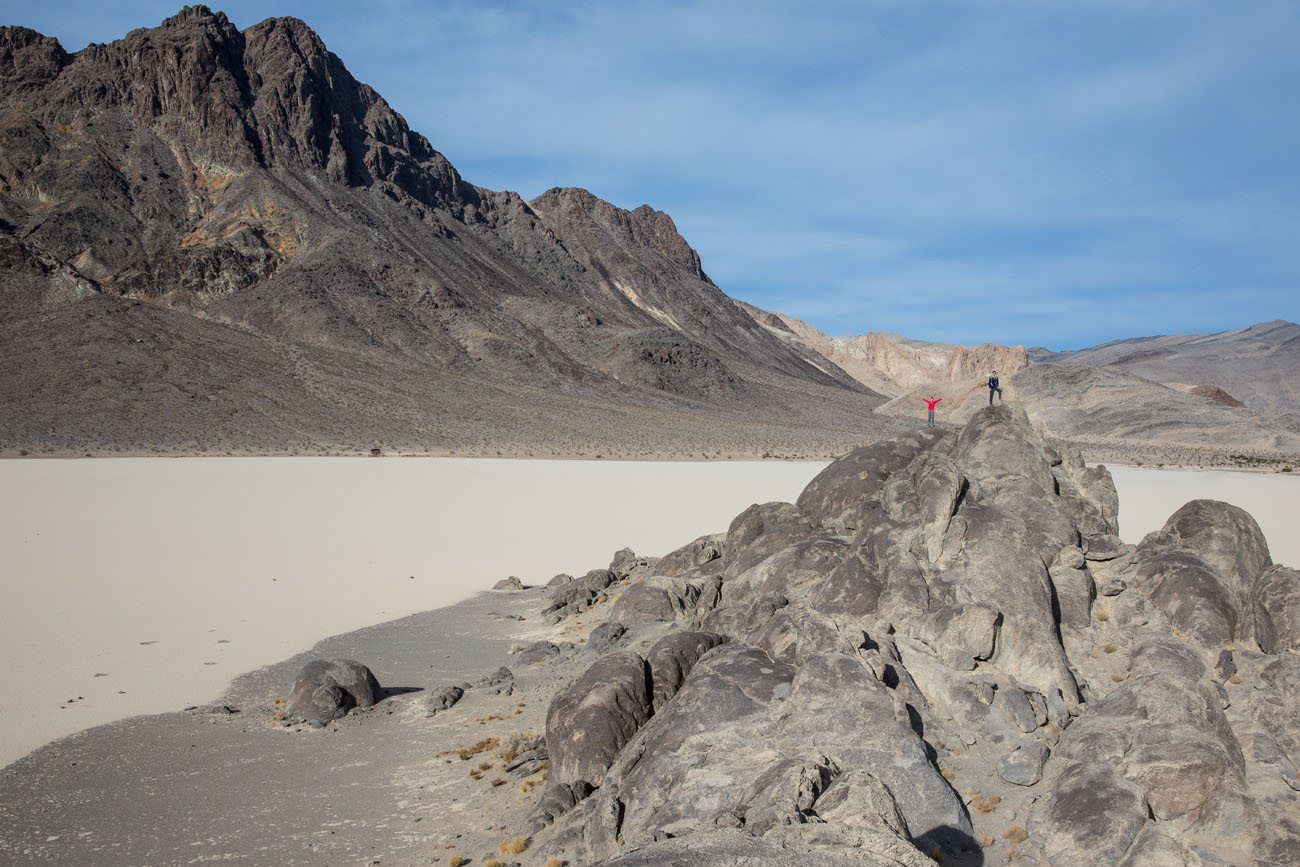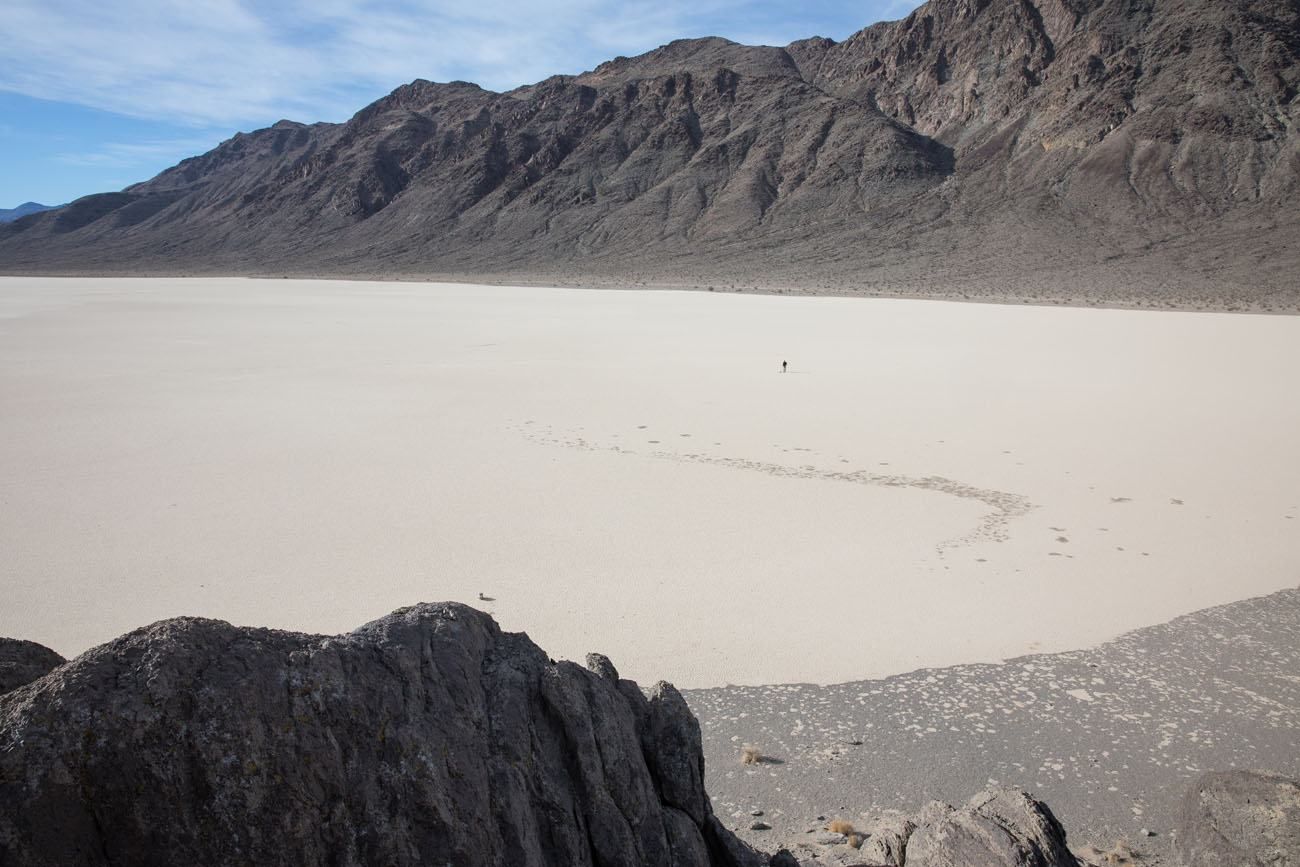 We did not see any of the sailing stones near the Grandstand. We did find a manmade trail, which had us fooled for a little bit, until we saw the real thing later. It seems like some people who travel here move things around and disturb the stones, ruining the experience for future visitors. It's such a shame.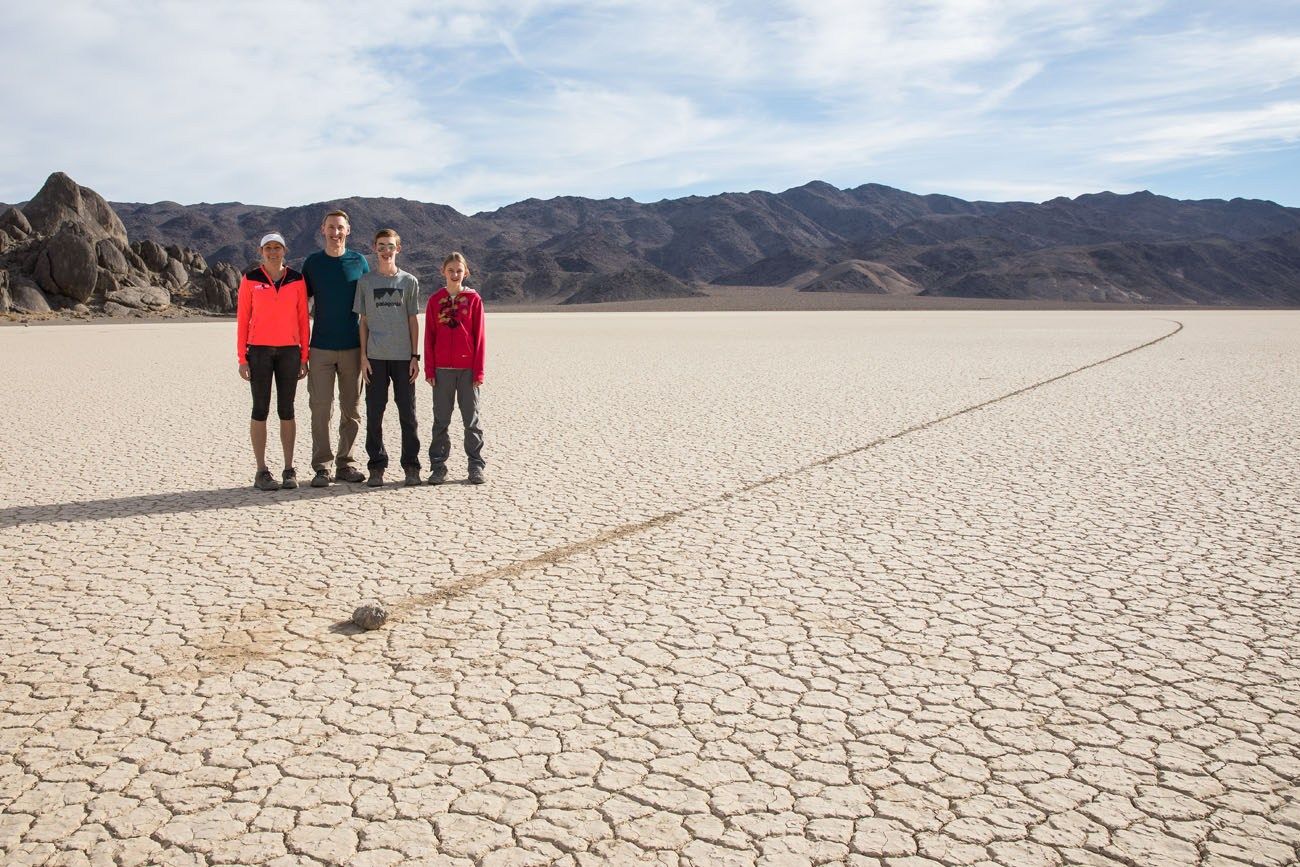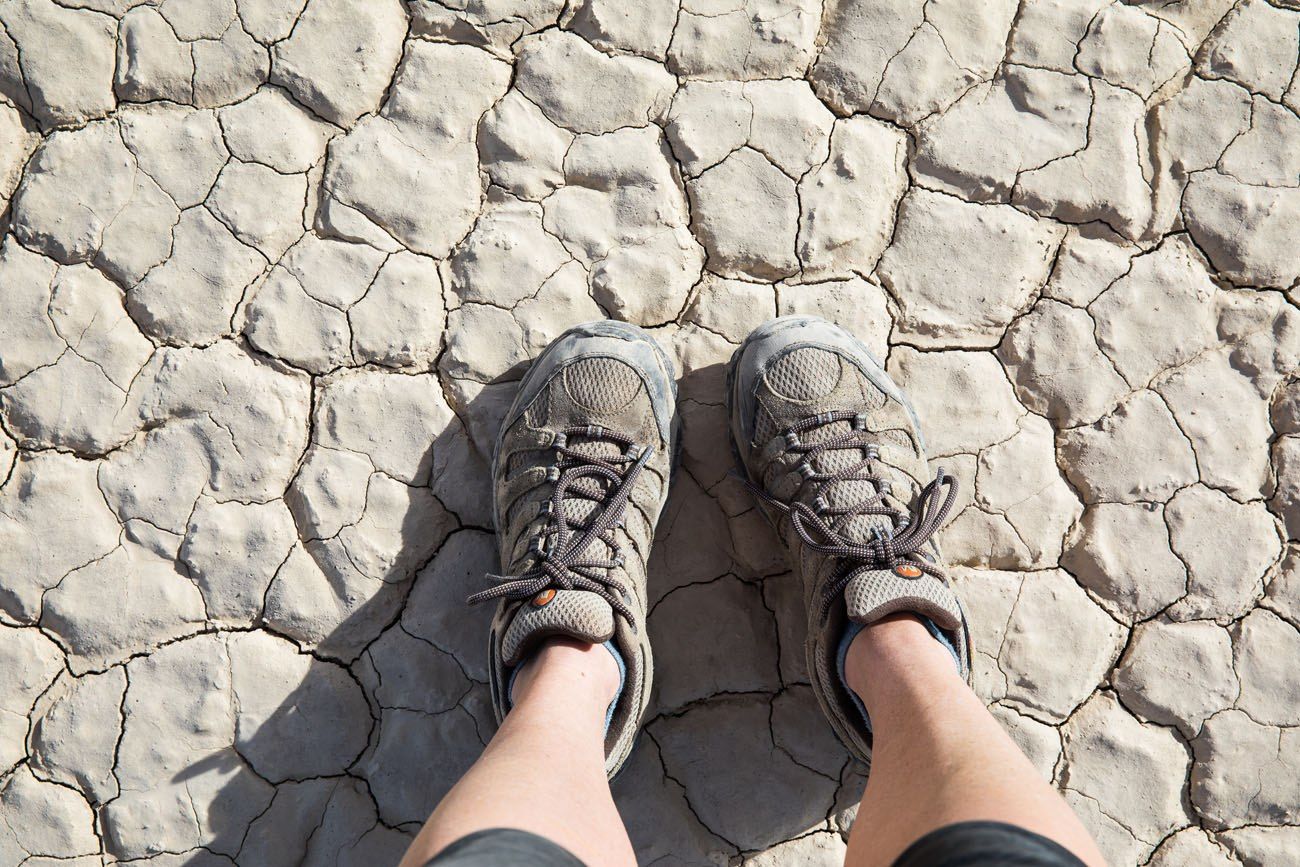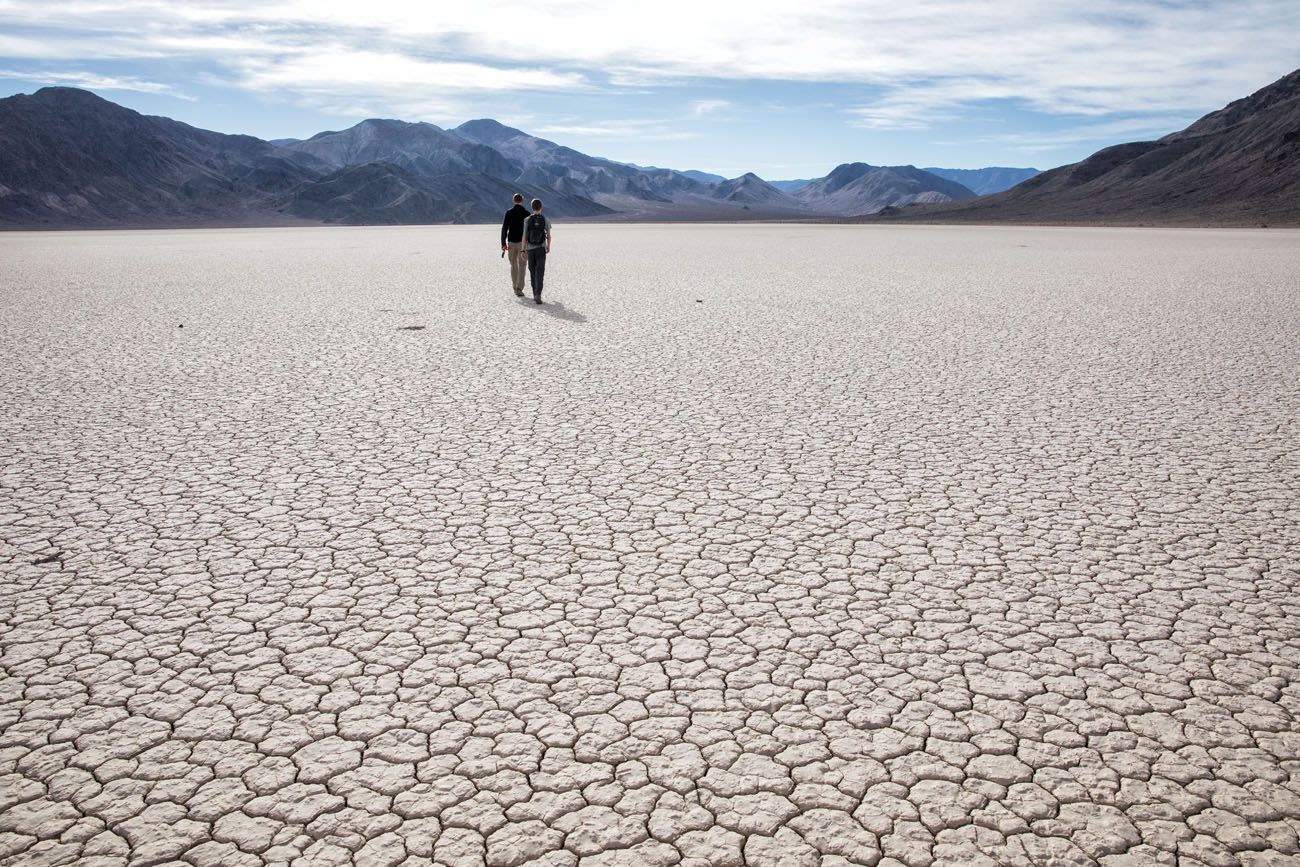 But it is still worth a visit to the Grandstand. It feels so desolate out here. And it's absolutely quiet…there are no animals, no distant highways, and for us, no other people to make noise. You really feel like you are in the middle of nowhere.
If you walk south, out into the middle of the Racetrack Playa, you will be able to see a few of the sailing stones. But be prepared to walk a lot. Finding a sailing stone in this section of the playa takes a lot of searching.
The Sailing Stones
After you finish at the Grandstand, continue on Racetrack Valley Road to the next parking area. This is the best place to find those mysterious moving rocks.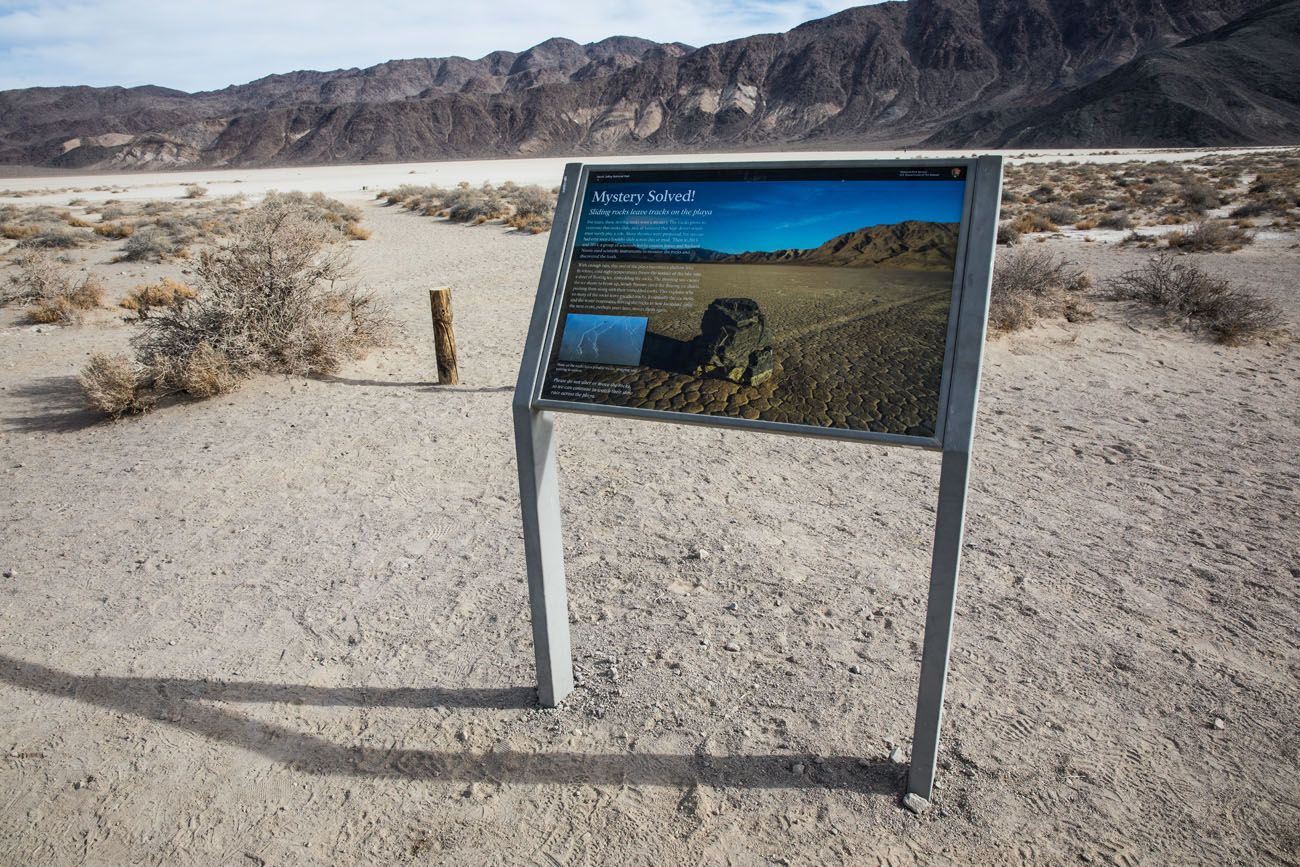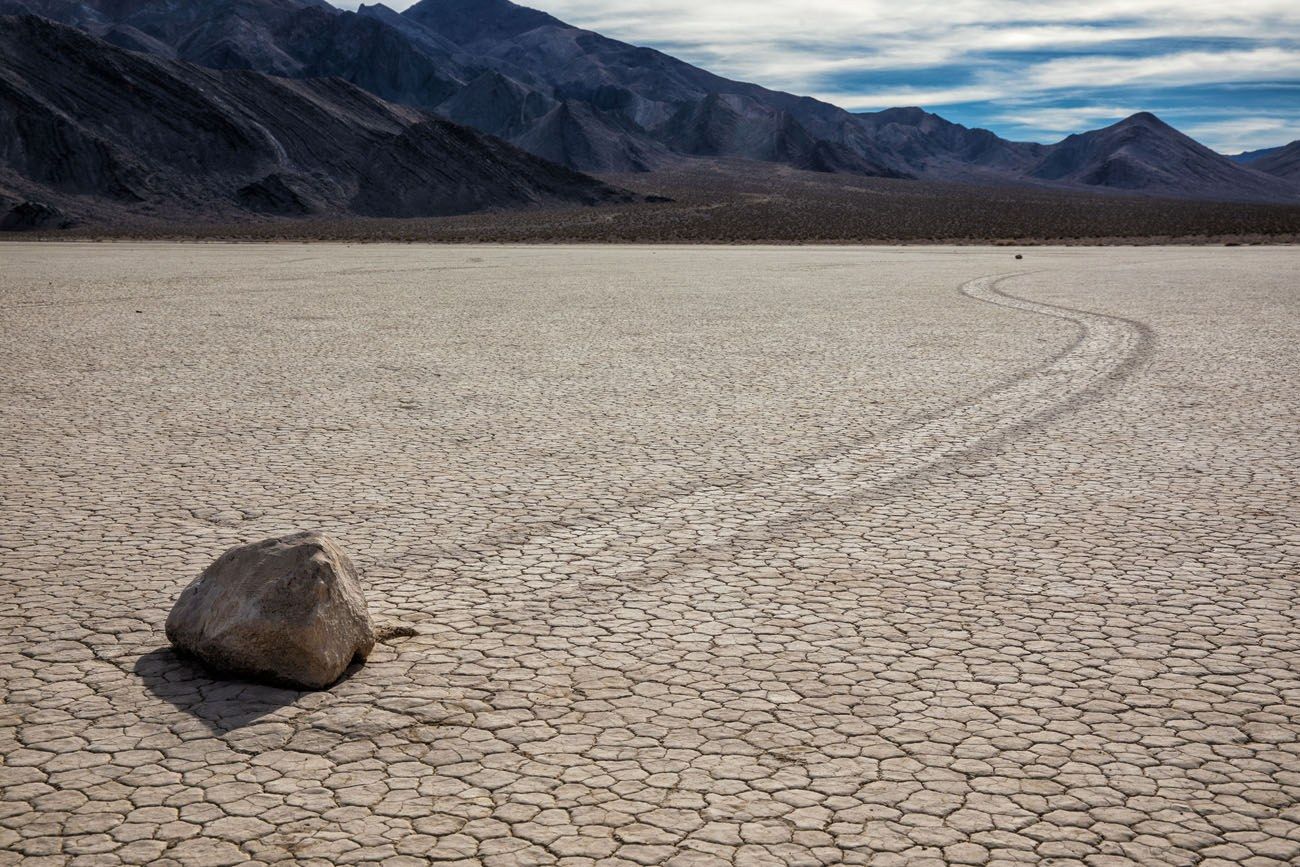 Almost as soon as you step out on the playa here, you can see lots of rocks and their trails. Have fun taking pictures and exploring the area.
Once you are finished, drive back to Ubehebe Crater, and consider visiting the crater if you skipped it this morning.
Is Racetrack Playa worth it?
If you are doing this only to snap a few photos of some rocks with trails, you might be disappointed. Sure, seeing the sailing stones is very cool but for us, it was not as exciting as we thought it would be. The footprints, tire tracks, and vandalism all take away from this experience.
However, if the idea of this entire day sounds interesting, then this excursion will be worth it. This is one of those excursions where the journey is just as important as the destination. A visit to Racetrack Playa is not just about seeing some moving stones, but also about the bumpy, adventurous drive down Racetrack Valley Road and enjoying the isolation of this area.
Think about it, you're going to spend about 6 to 7 hours in the car, bouncing along dusty, washboarded roads, with the potential for flat tires and engine trouble, just to see some rocks. If you are not excited about doing this drive, at least a little bit, is it going to be worth it for you to visit Racetrack Playa?

How to Have the Best Experience
Arrive early in the day. If you can be the first one here, it is an awesome experience. We arrived at Racetrack Playa at 10 am and were the first ones here, although it only took 15 more minutes for the next people to arrive. Even so, for 15 minutes it was such a thrill to have this place to ourselves.
Leave no trace. As a responsible visitor, leave no trace that you were here. Don't move or disturb the rocks. And if it is wet, do not walk out onto the Racetrack Playa. It can take years for muddy footprints to disappear.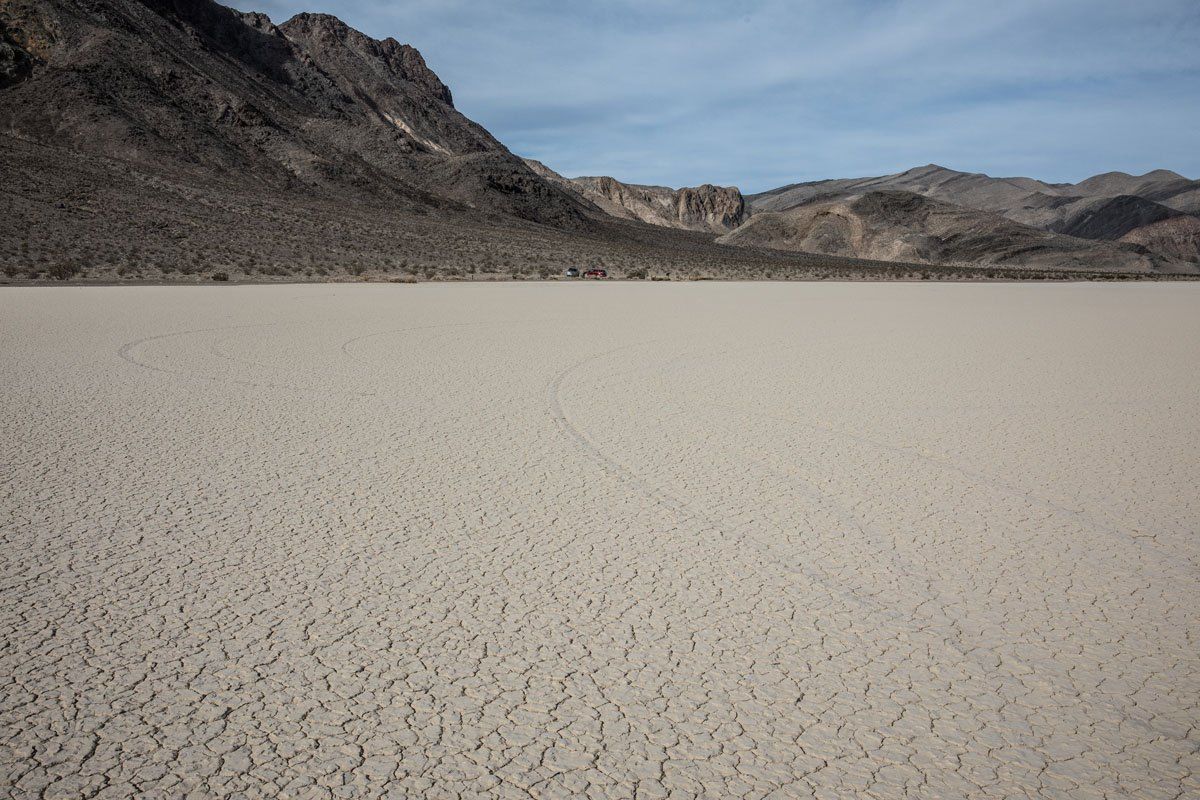 Tire tracks on the playa
The best time to visit Death Valley is between September 1 and June 1, when temperatures aren't scorching. We did this on December 29.
Expect to spend one to two hours (at a minimum) on Racetrack Playa. The entire excursion can take up to 8 to 10 hours.
How to Be Prepared for Racetrack Valley Road
Know how to change a flat tire. If you don't know how to do this, skip the visit to Racetrack Playa. Flat tires are a common occurrence on this road.
Bring extra food and water. We brought 24-hours worth of food and water, just in case we got stuck out here. Since we did this drive in December, we also brought blankets to keep us warm, just in case we had to spend the night here. It's better to be prepared than not.
Make sure you have a full tank of gas before you leave Furnace Creek or Stovepipe Wells. Your car will be running for at least 6 hours today. You don't want to put yourself in a situation where you could run out of gas. If you have plans to continue on the roads past Racetrack Playa, consider bringing extra gas with you.
What if you don't have a 4×4?
If you don't have a 4×4, you can rent a Jeep in Furnace Creek and drive this to Racetrack Playa. Farabee's Jeep Rentals will rent 2-door and 4-door Jeeps that you can drive to Racetrack Playa. They also offer tours to Racetrack Playa if this is a place you want to visit but don't feel comfortable doing the drive.
Where We Stayed
We spent two nights at Stovepipe Wells Hotel. Stovepipe Wells is an oasis in the middle of Death Valley. There are hotel rooms, a campground, gas station, general store, saloon, and a restaurant. It is very convenient to have everything you need in one spot. The rooms are nothing fancy but they are clean and comfortable. There are hiking trails nearby and just five minutes away are the Mesquite Flat Sand Dunes, a definite must-see while in Death Valley.
---
Are you planning a visit to Racetrack Playa? Share your questions or comments below!
More Information for Your Trip to Death Valley & California:
DEATH VALLEY NATIONAL PARK: Check out our Death Valley National Park Travel Guide for important travel information, sample itineraries, and how to plan your visit. For a list of must-have experiences, read our article Best Things to Do in Death Valley National Park.
DEATH VALLEY ITINERARY: Learn how to spend 2 days in Death Valley, which can be done as a road trip from Las Vegas. If you have less time, learn how to visit Death Valley on a day trip from Las Vegas.
MOJAVE NATIONAL PRESERVE: Learn about the best things to do and how to plan your visit in our Guide to the Mojave National Preserve.
NATIONAL PARKS: In our Guide to the US National Parks, get the full list of national parks with important travel planning information, such as things to do in the parks and sample itineraries.
USA ROAD TRIPS: Planning your next big adventure in the USA? Check our our USA Road Trip Guide for travel ideas and sample itineraries.
All rights reserved © Earth Trekkers. Republishing this article and/or any of its contents (text, photography, etc.), in whole or in part, is strictly prohibited.