Death Valley is the hottest, driest, and lowest place in the United States. But don't let its mysterious name and seemingly barren landscape discourage you from planning a trip here. This park is full of wonderful surprises.
With barren salt flats, towering mountains, mysterious sailing stones, shifting sand dunes, rainbow-colored mountains, and canyons to explore, there is a lot to do here.
Drive out to Racetrack Playa and learn how the boulders slide across the desert landscape. Stand at the lowest part of the United States at Badwater Basin and visit Furnace Creek, which holds the record for the hottest recorded temperature in the world. Hike on hills of borax, explore twisting canyons, visit a desert oasis, and slide down the sand dunes.
Death Valley is one of the most unusual national parks in the United States…I hope you enjoy learning about and exploring this wonderful treasure.
DEATH VALLEY NATIONAL PARK STATS
Founded: October 31, 1994
Annual Visitors: 1.1 million in 2022
Size: 3.4 million acres. This is the largest national park outside of Alaska.
Location: California and Nevada
Entrance Fee: $30 per vehicle, valid for 7 days
Notable Fact: Death Valley National Park is also a UNESCO Biosphere Reserve.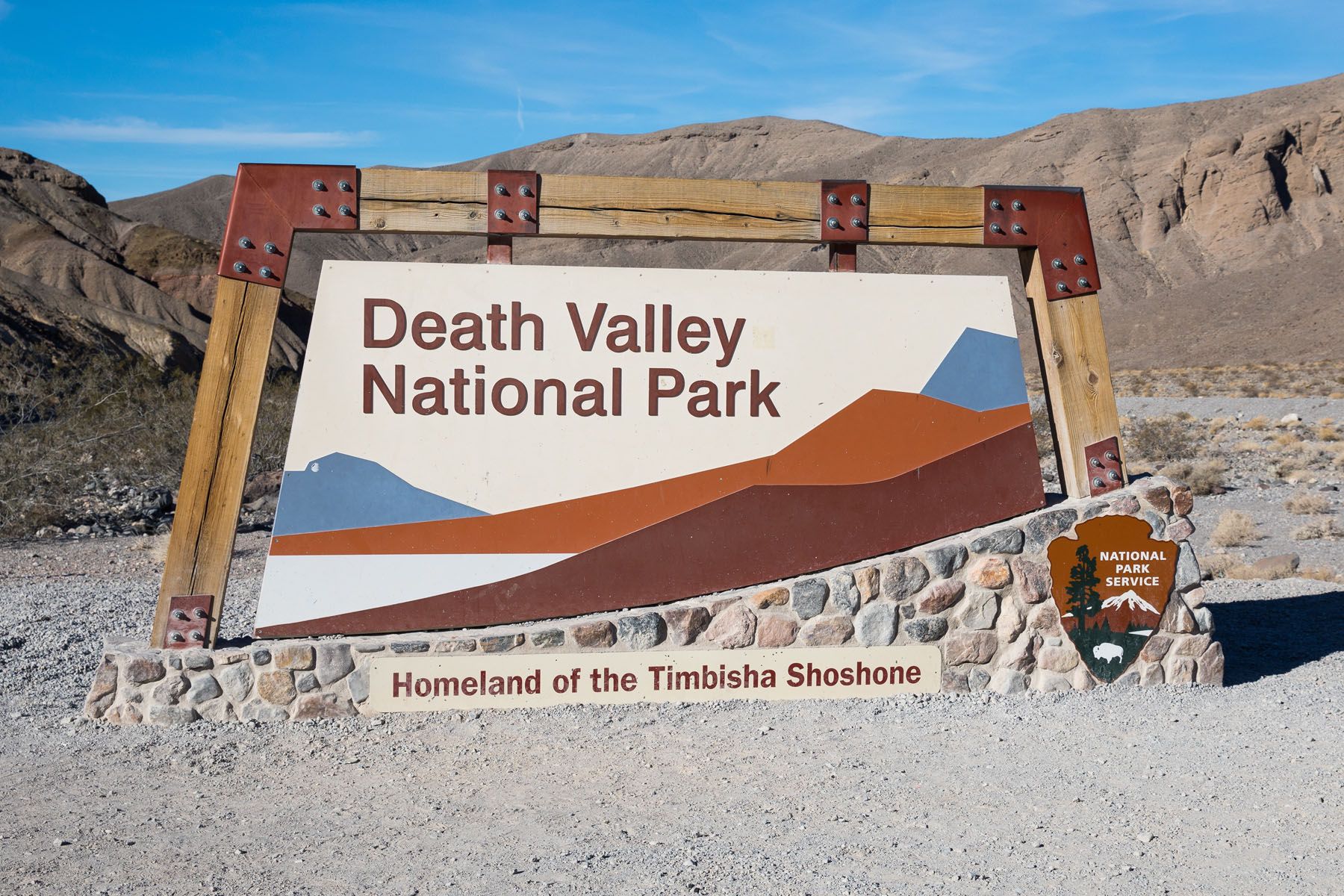 Zabriskie Point. This is one of the most iconic views in Death Valley. From here, gaze out over the Badlands and you have the option to hike one of the trails into the hills.
Visit Badwater Basin. Badwater Basin is the lowest point in the United States, sitting 282 feet below sea level. From the parking lot, a wide, flat trail heads out into the salt flats. This is also a very cool photography spot and from here you have the chance to take some very unique photographs.
Dante's View. This is one of the best viewpoints in Death Valley National Park. From this vantage point, you have panoramic views over the park and an aerial view of Badwater Basin.
The Mesquite Flat Sand Dunes. Surrounded by purple mountains are sand dunes that create a natural playground for kids and a wonderfully photogenic landscape for photographers.
See Artist's Palette on Artist's Drive. Artist's Drive is a 9-mile scenic drive through one of Death Valley's very unique landscapes. There are many places to stop to enjoy the view and take a photo, but the best spot is Artist's Palette, where you can see the pink, aqua, and purple hills.
Go Hiking in Golden Canyon. This short, fun hike takes you through a golden canyon to the base of Manly Beacon. For an even better experience, make this hike a loop, adding on Gower Gulch.
Walk a Lap around Ubehebe Crater. Ubehebe Crater is a volcanic crater in Death Valley. It is well worth a visit, especially if you have never seen a caldera before. You can view the crater from the parking lot, hike down into the crater, or walk around the rim (1.5 miles).
Hike to Telescope Peak. Telescope Peak is the highest peak in the park, at 11,043 feet (3,366 meters). To get to the peak, it's a tough 14-mile hike but once at the top, you can see the lowest point in the United States (Badwater Basin) and the highest peak in the lower 48 states (Mount Whitney).
View the Night Sky. Death Valley has some of the darkest night skies in the United States. With its remote location far from cities and small towns, this is an amazing place to gaze up at the night sky. Badwater Basin, the Mesquite Flat Sand Dunes, and Harmony Borax Works all make great places to view the night sky.
Hike to Darwin Falls. Darwin Falls is a year-round waterfall in Death Valley National Park. To get here, you will hike through an oasis, a much different landscape that what you see in the rest of the park. It is a 2-mile round trip hike that takes about an hour to an hour and a half.
Learn More about Death Valley
Road Trip with Death Valley
Go on a national park road trip, visiting both Death Valley National Park and Joshua Tree National Park on the drive. Or, you can spend some time in the Mojave National Preserve, which is home to a surprisingly wide variety of landscapes.
In this guide, we lay out several different ways to plan your southern California road trip, depending on your interests and how much time you have.
When to Visit Death Valley National Park
Springtime is the most popular time to visit Death Valley. If the valley received enough rainfall during the winter months, you get to see the legendary superbloom (usually the end of March into early April).
The winter months are another great time to visit Death Valley. Daytime temperatures are very pleasant (65 to 70°F) although it can get cold at night. There may be brief periods of rain during the winter months, and if this occurs during your visit, you may want to skip Racetrack Playa.
During the summer months, be prepared for incredibly hot conditions with temperatures getting to 120°F or higher. Skip the hikes and instead drive through the park, getting out at the viewpoints.
Autumn has warm temperatures and clear skies. As the heat fades, visitors start reappearing.
Death Valley National Park appears in our Best US National Parks Month-By-Month series as a great park to visit in January, April, and December.
How Many Days Should You Spend in Death Valley?
Ideally, you need at least two days in Death Valley, although more time is better.
With two days, you can visit the highlights of the park (Badwater Basin, Zabriskie Point, Mesquite Flat Sand Dunes, Artist's Drive, Dante's View, and Twenty Mule Team Canyon), hike one or two trails, and visit Racetrack Playa.
Check out our 2-day Death Valley National Park itinerary where you can visit all of the highlights.
ONE DAY IN DEATH VALLEY
For those with just one day in Death Valley, you can do quite a bit. In fact, Death Valley makes a great day trip from Las Vegas. Learn how to plan your Death Valley day trip.
Where to Stay
There are several lodges inside of the park, which is the ideal place to stay, since it helps to limit how much driving you do. Death Valley is a very large national park and for the best experience it helps to stay in a central location.
Inside of Death Valley, you can stay at Stovepipe Wells or one of the two properties that make up The Oasis at Death Valley, the Inn at Death Valley or the Ranch at Death Valley. Panamint Springs Resort is also located within Death Valley National Park, but with its location on the west side of the park, it is not as centrally location as Stovepipe Wells or The Oasis.
There are also numerous campgrounds located within Death Valley National Park. Click here to learn more. 
Outside of the park, the town of Beatty has a convenient location for exploring Death Valley. In this town, we recommend the Death Valley Inn & RV Park.
Death Valley is the hottest, driest, and lowest place in the United States.
A scorching 134°F (57°C) was recorded in aptly named Furnace Creek on July 10, 1913, the hottest temperature ever recorded on Earth. Less than 2 inches of rain falls in Death Valley per year. Badwater Basin is the lowest spot in the United States, sitting 282 feet below sea level.
This diverse landscape has been used in a surprisingly large number of movies, the most famous being Star Wars: A New Hope. Many of the scenes of Tatooine were filmed in Death Valley.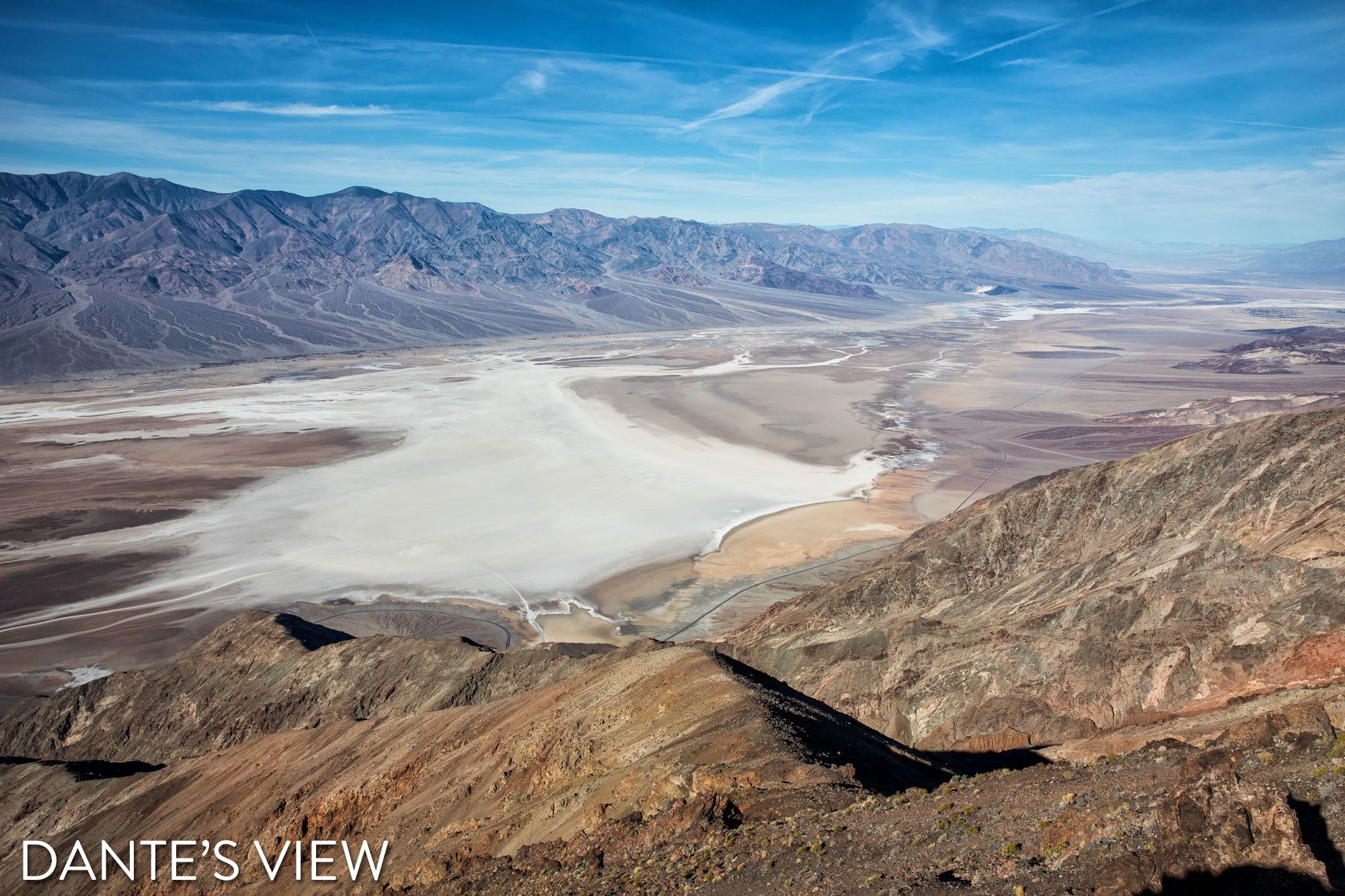 Death Valley National Park Map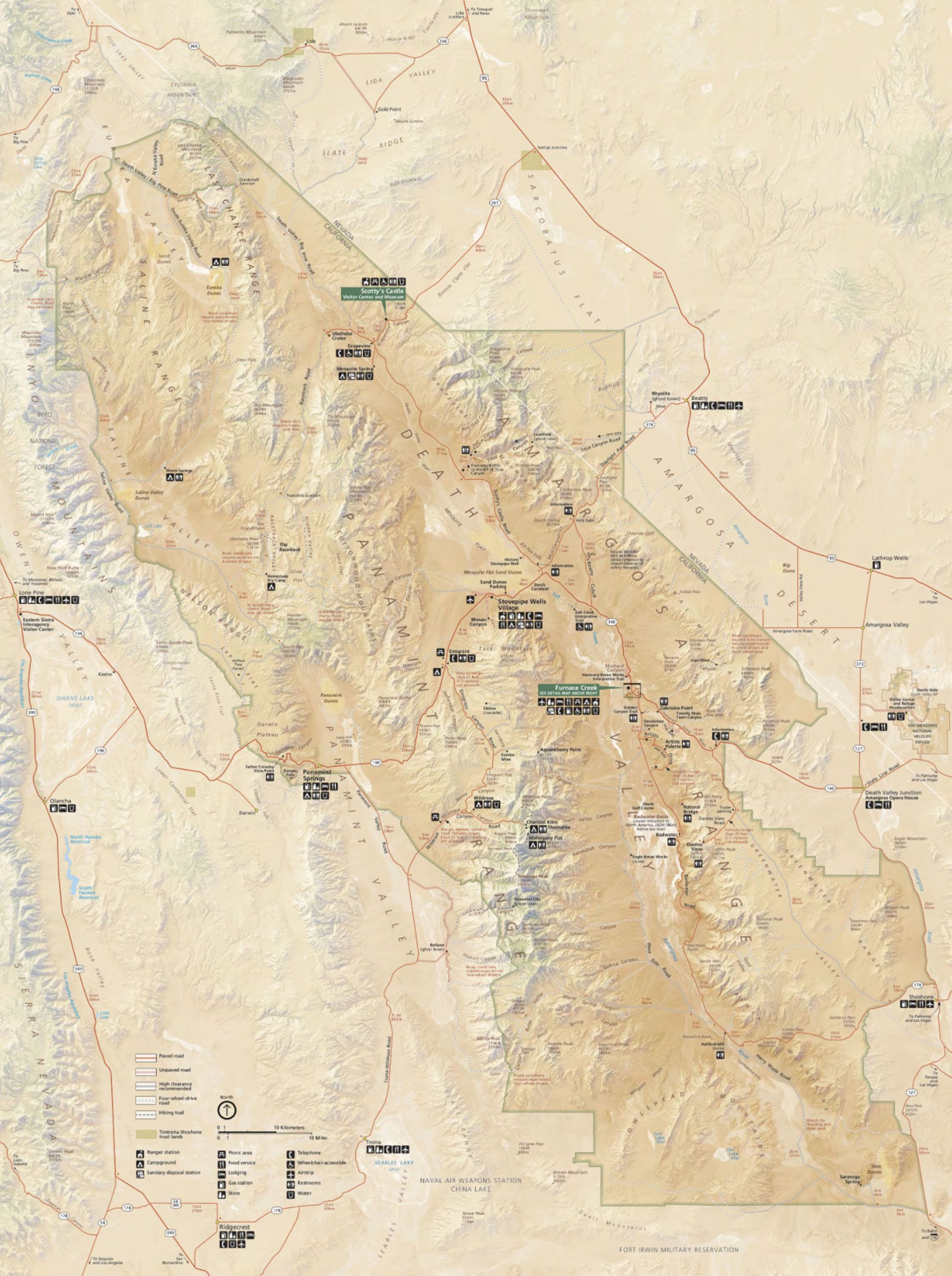 Death Valley National Park in Photos
In our US National Parks List, get information on all of the US national parks, including interesting facts, the most and least visited national parks, and a FREE printable national parks checklist with map.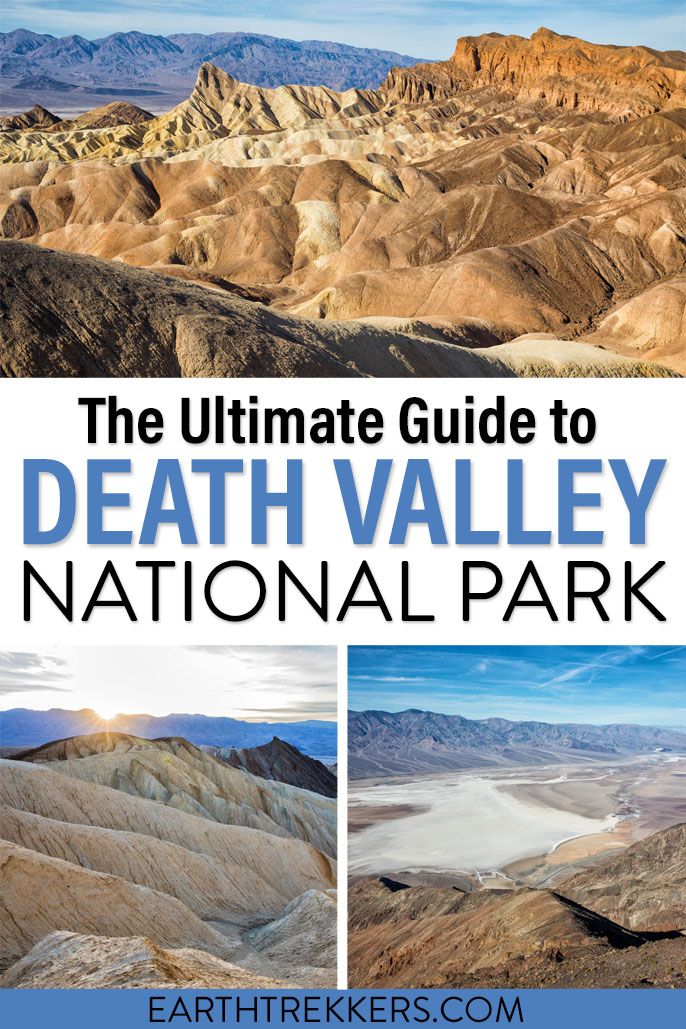 Note: This page contains affiliate links. When you make a purchase using one of these affiliate links, we get paid a small commission at no extra cost to you.
Visit More National Parks