Lower Antelope Canyon is a gorgeous place to visit. With its glowing red canyon walls and narrow, twisting passageways, this place is fun to visit and a joy to photograph.
Antelope Canyon is made up of two slot canyons, Upper Antelope Canyon and Lower Antelope Canyon. When people refer to Antelope Canyon, they are usually referring to Upper Antelope Canyon. With its darker canyon walls, falling sands, and light beams shining through the dusty air, the Upper canyon was once the more popular of the two slot canyons.
Until even just a few years ago, Lower Antelope Canyon had the reputation of being the canyon to visit if you wanted smaller crowds of people. Not so, not anymore. Now, Lower Antelope Canyon is just as busy as Upper Antelope Canyon. Why? A tour of the Lower canyon is considerably cheaper, tours run more frequently, and some people say that it is more fun, with narrow passageways to squeeze through and ladders to climb.
How to Visit Lower Antelope Canyon
Antelope Canyon can only be visited on a tour. There are several companies offering tours into the canyon. The general tour lasts one hour.
It costs $55 per person for this tour, plus taxes, service charges, and an additional $8 for the Navajo Park Permit Fee.
There are two tour companies that run tours into Lower Antelope Canyon: Ken's Tours and Dixie Ellis' Tours. We chose Ken's Tours. Both companies run tours every 30 minutes, with approximately 10 to 15 people per group. That is 30 people every 30 minutes and the canyon can fill up fast. Even if you reserve a 1 pm time slot, your tour group could end up waiting in line to enter the canyon, especially during the peak summer months.
Book your tickets online in advance! This is recommended especially during peak season. Midday is the most popular time to visit Antelope Canyon because the lighting is the best at this time. If you don't mind sacrificing ideal lighting to avoid the worst of the crowds, go early or go late in the afternoon.
The option to take a photography tour is over. This was a new change in 2018. Lower Slot Canyon has become so popular that the tour operators can no longer offer general tours and photography tours.
Our Experience
Tim and I visited Lower Antelope Canyon in early May 2017. We took the 10:20 am general tour with Ken's Tours. Crowds were relatively low, but we still had to wait about 10 to 15 minutes to enter the canyon. Once inside, guides kept ushering us through, keeping the groups on schedule, in order to avoid bottlenecks and longer waits for tour groups later in the day.
Even though we felt a little rushed, Lower Antelope Canyon is fun to visit. It's narrow at the bottom, with ladders to climb and narrow passageways to squeeze through. This canyon is shallower and brighter than Upper Antelope Canyon. Light beams are unusual here, but we got lucky and were able to see a few.
Lower Antelope Canyon in Photos
Here's a tour through Lower Antelope Canyon in photos. Enjoy!
Walking to the entrance of the canyon.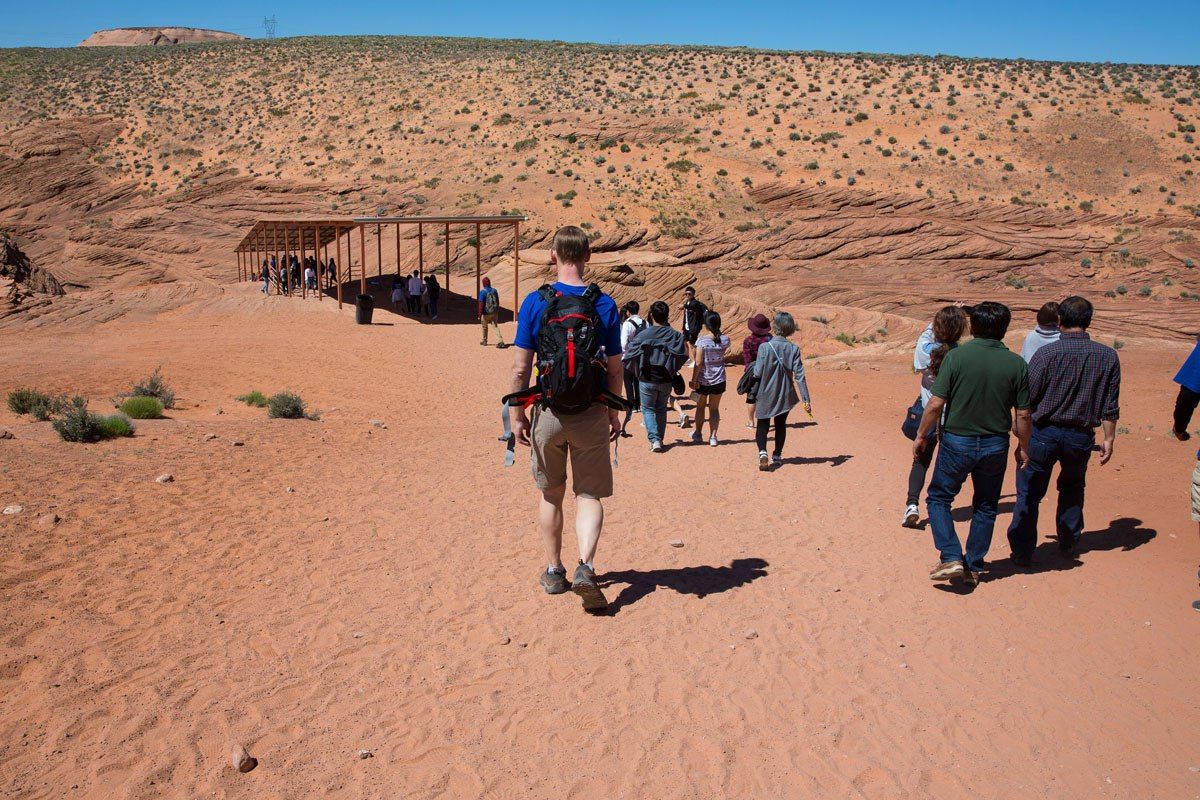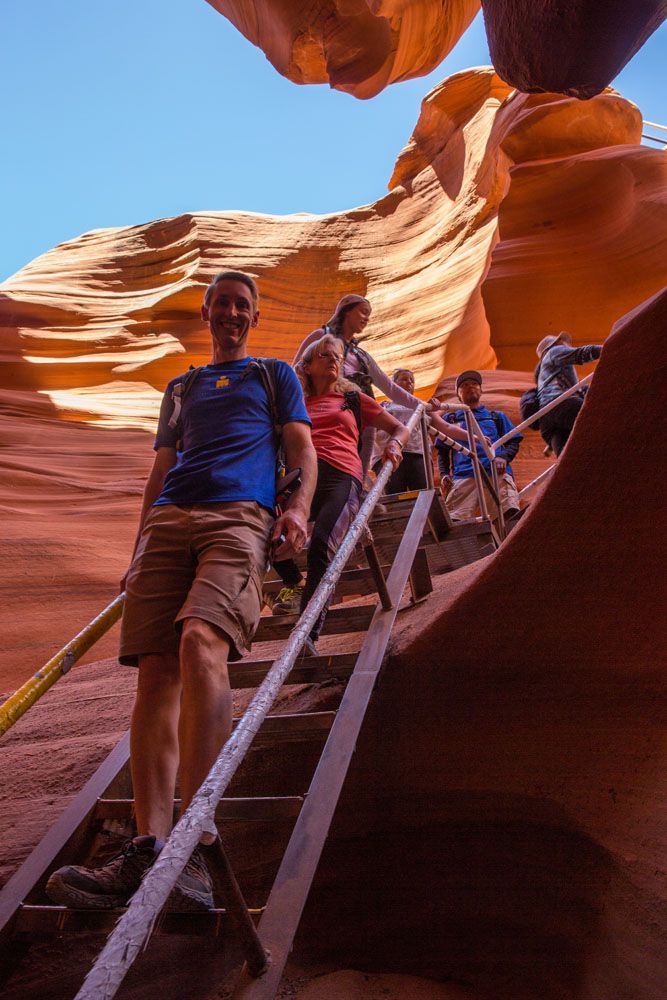 From the very start, the views are amazing.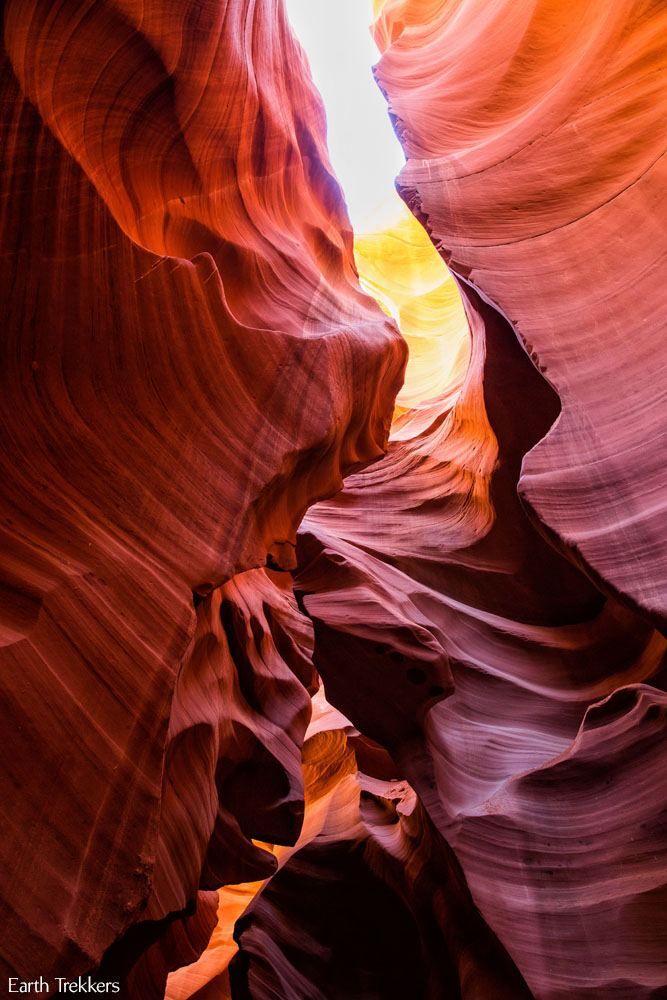 Touring the canyon with a large group of people is almost unavoidable, especially during peak hours.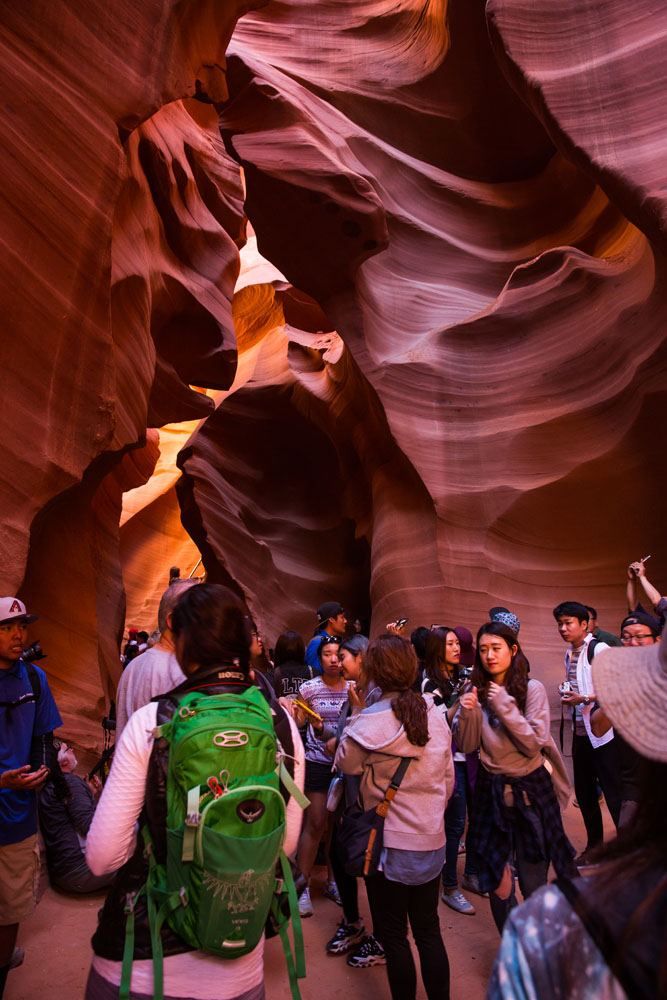 Just don't forget to look up.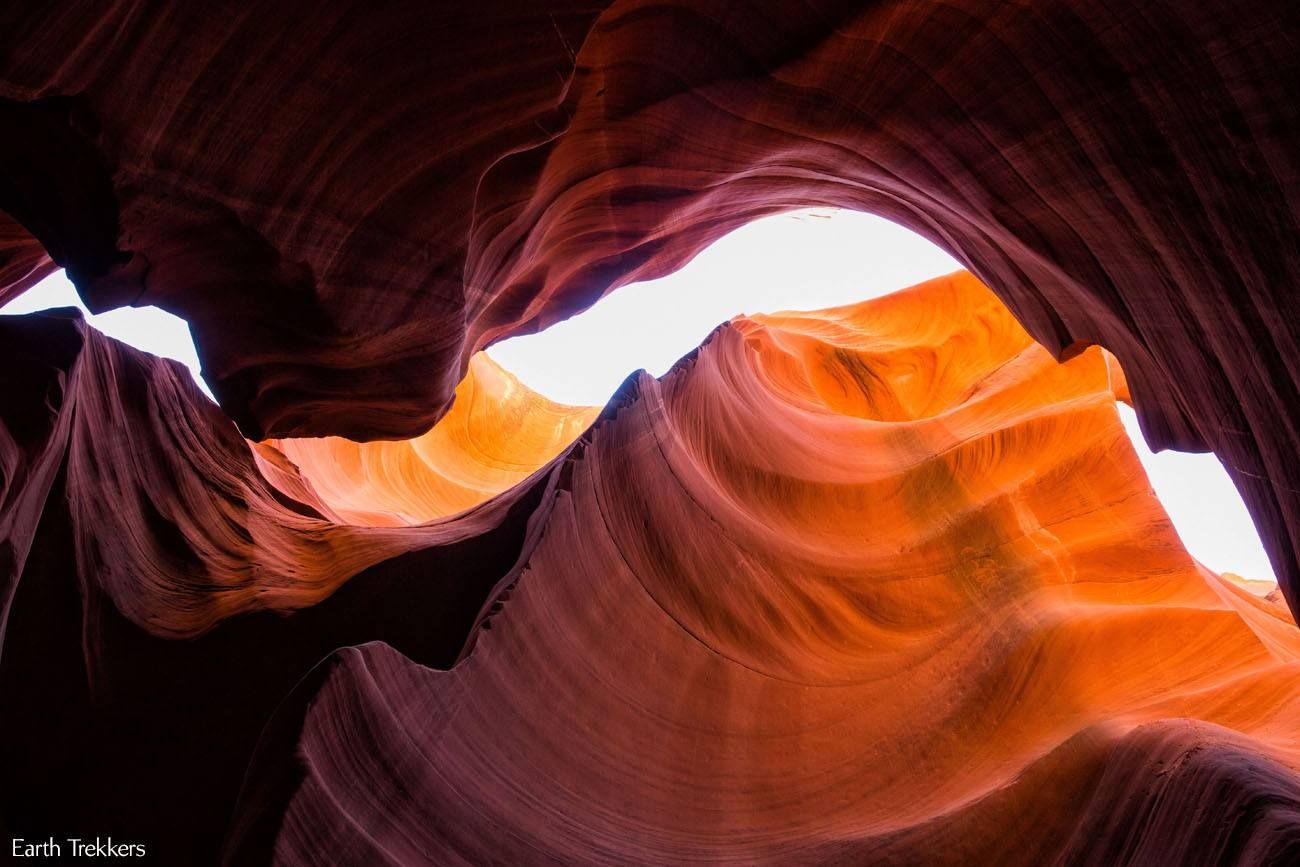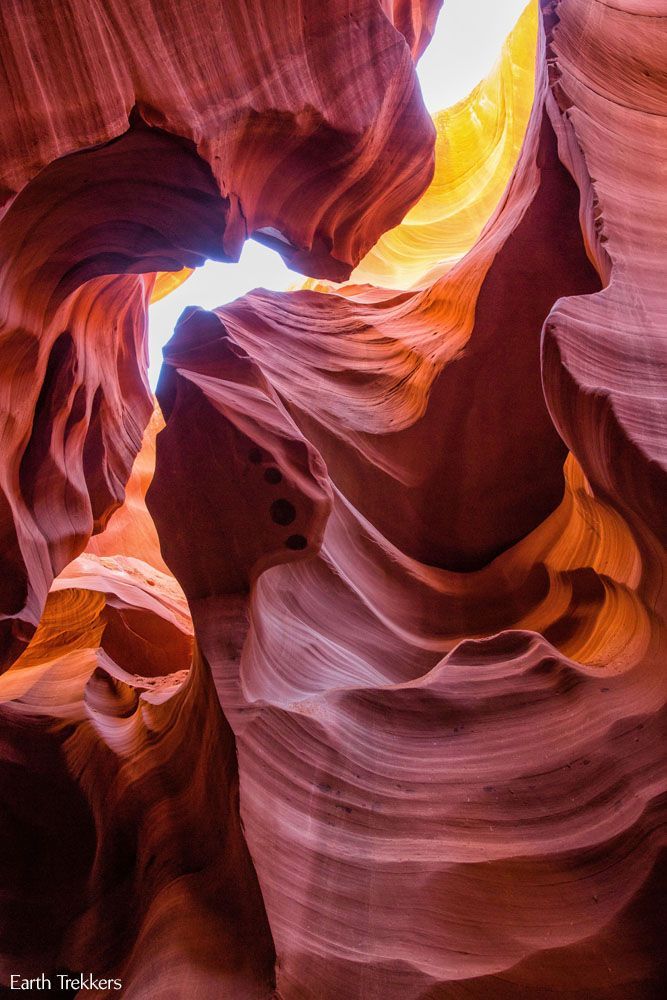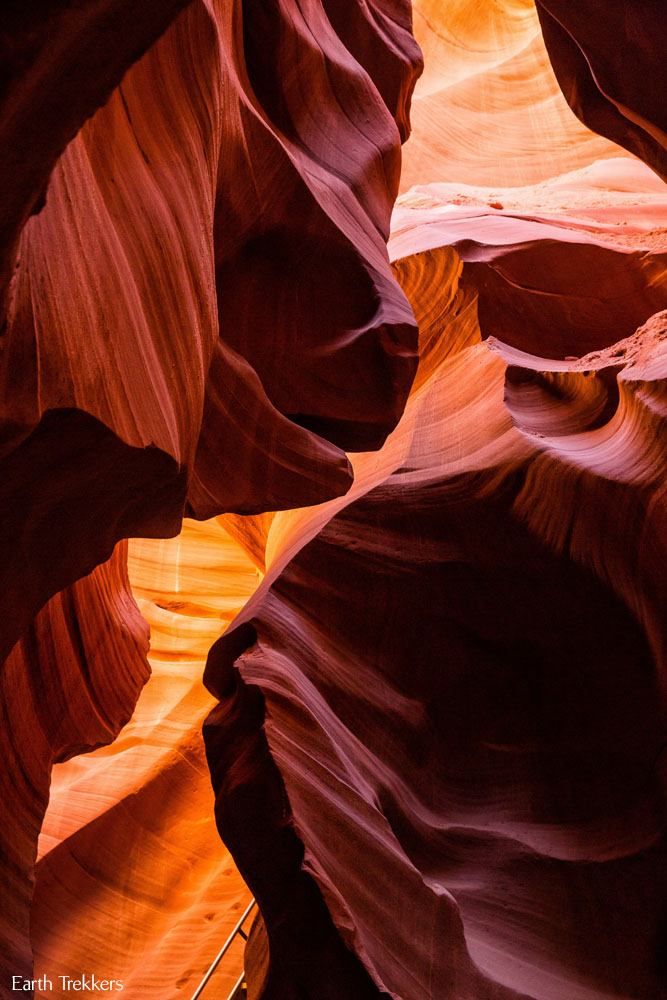 A photography tour of the canyon. Photography tours are no longer offered in Lower Antelope Canyon.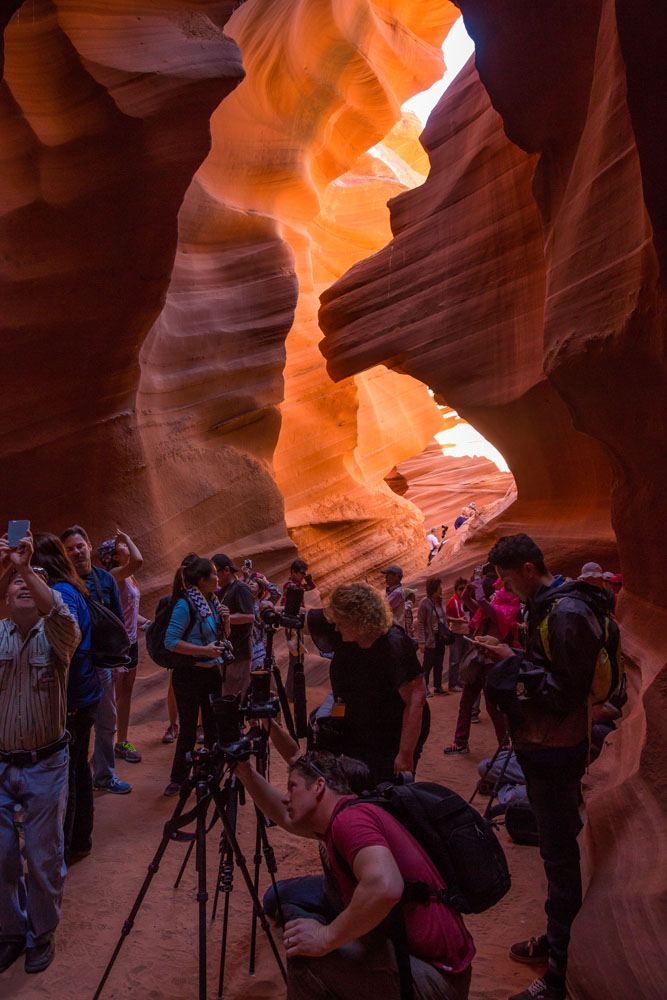 Here is one of several ladders to climb.
At times, the canyon gets very narrow. For some, that can be fun. If you suffer from claustrophobia, maybe not so fun.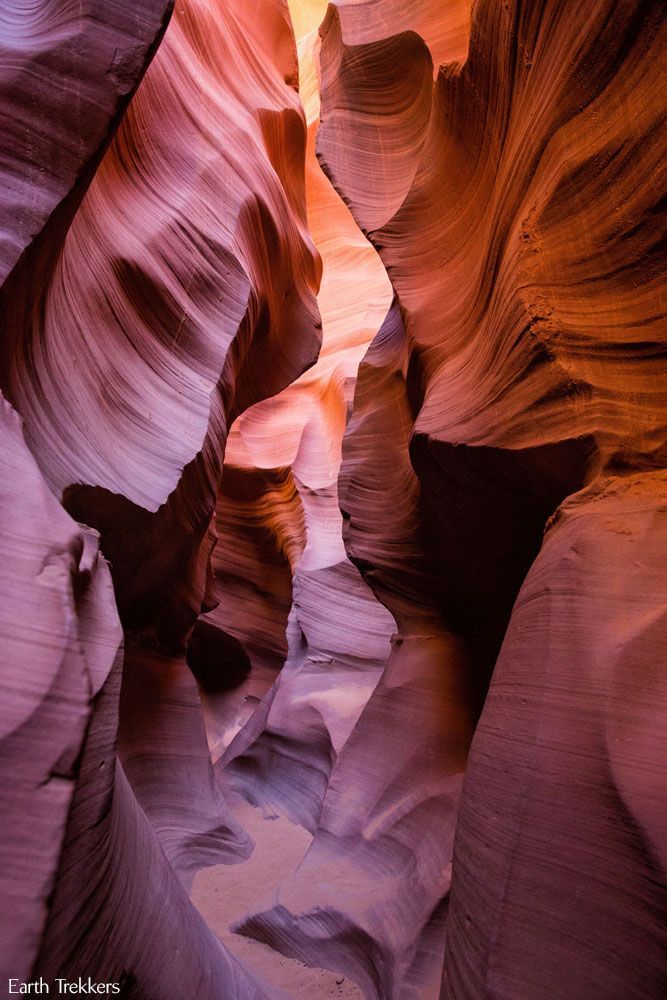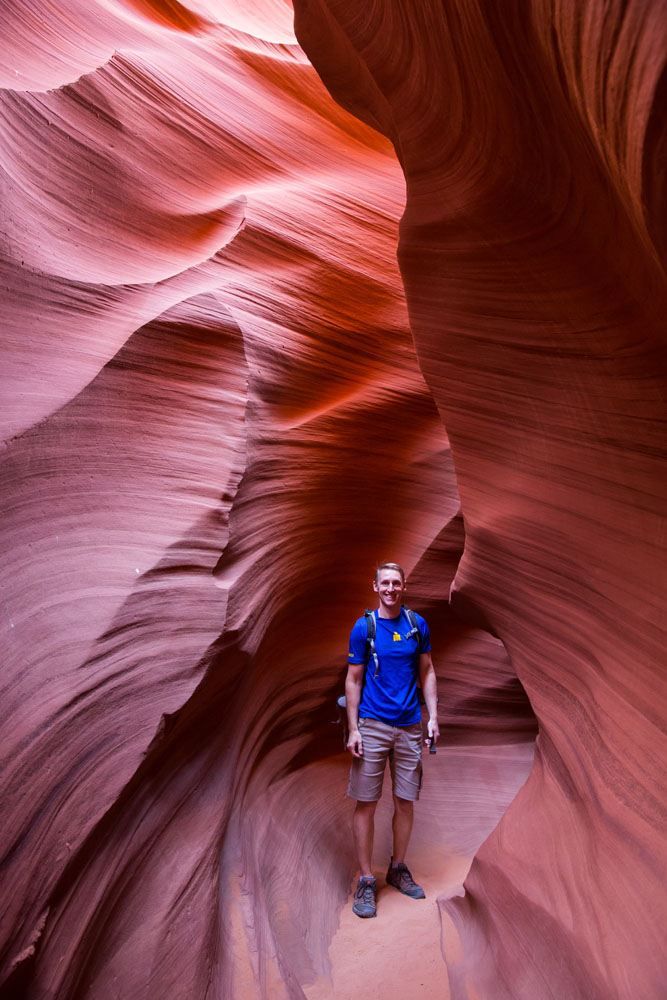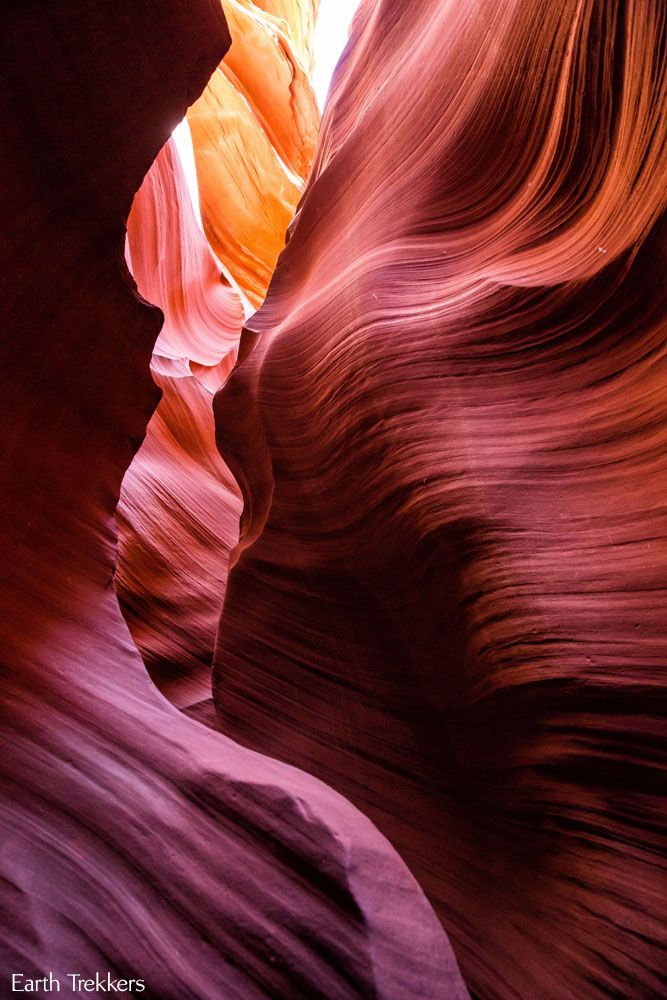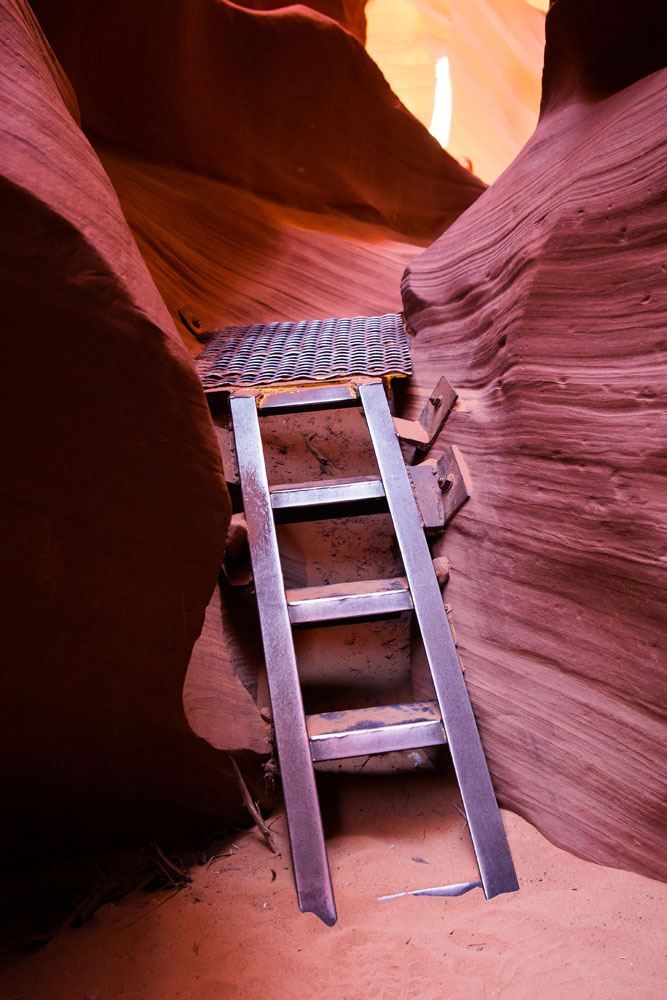 We did get lucky and saw a few light beams.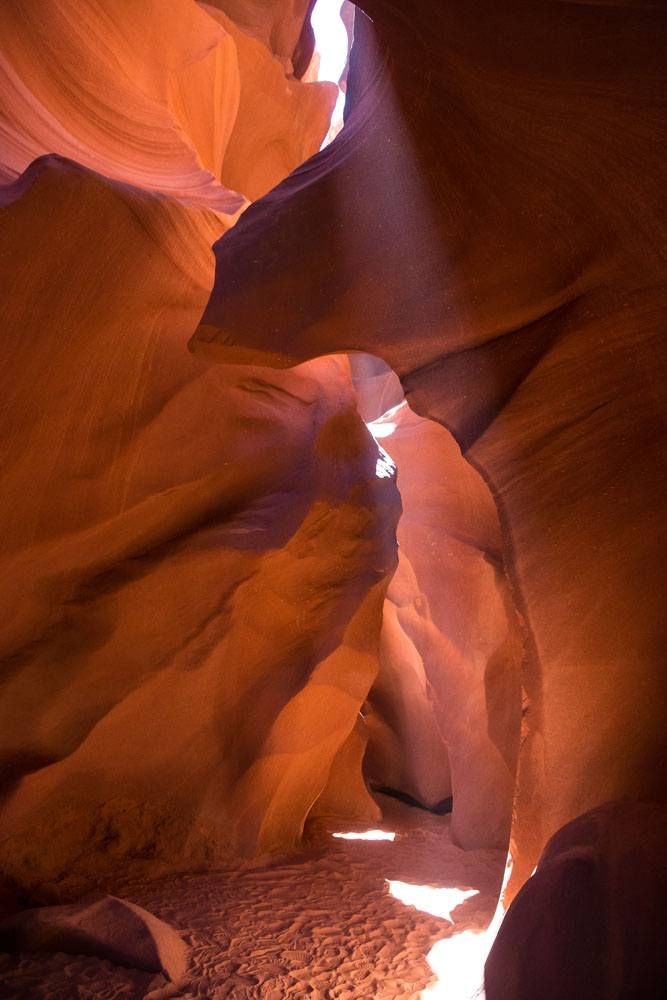 Our guide, Boo, and the last ladders of Lower Antelope Canyon.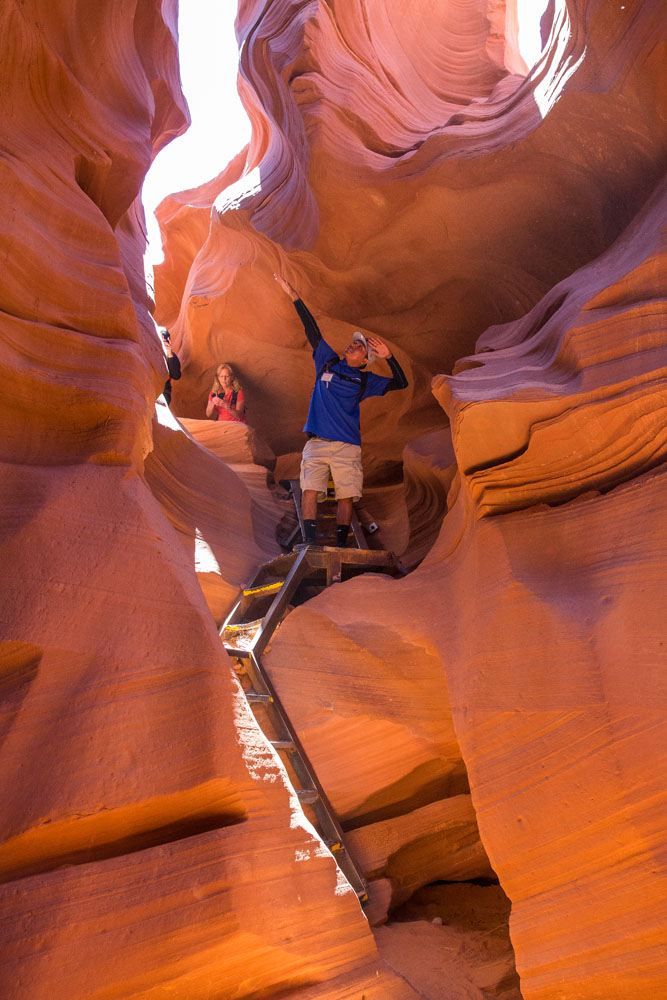 Tim emerging from the canyon.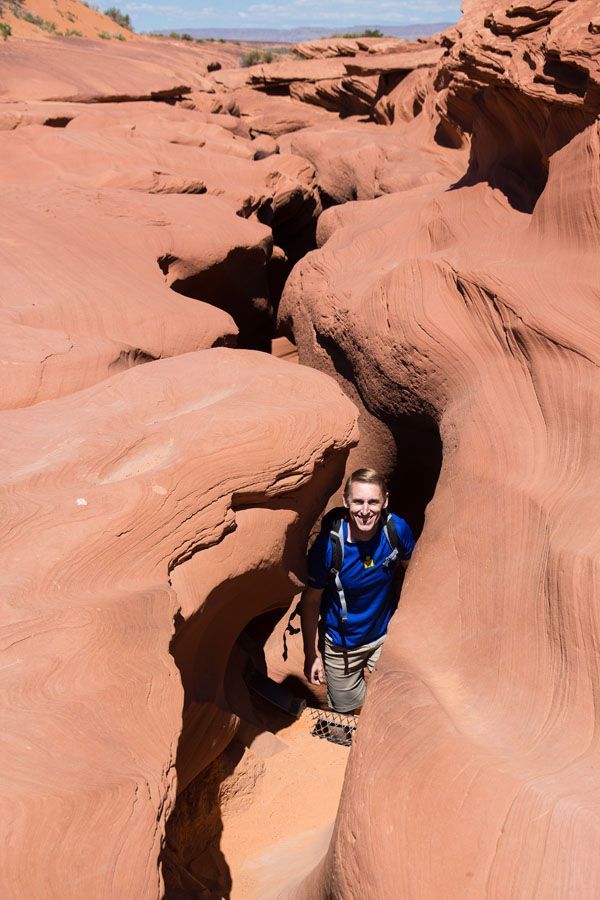 How to Have the Best Experience
To avoid the crowds, visit during the shoulder or off-season months. Summer is the most popular time to visit Antelope Canyon and midday is the busiest time of day. We heard horror stories of people waiting an hour or longer in the hot sun just to enter the slot canyon. Although the lighting may not be ideal, go early or go late to miss the worst of the crowds.
Book your tour in advance. I recommend making your reservation as soon as you start planning your trip. Some of our readers mentioned tours being sold out months in advance. If you are visiting during the peak seasons of summer and winter break, book your tour at least three months prior to your visit.
Handheld photography only. Tripods and selfie sticks are not allowed in the canyon.
Upper or Lower Antelope Canyon? If you only have time for one slot canyon, which one should you choose? Read our detailed post about the good and the bad of visiting each of these canyons.
See Upper Antelope Canyon in Photos: Upper Antelope Canyon: A Journey in Photos
Tours of Antelope Canyon
If you are unable to purchase tickets on the websites listed above, you can also purchase your ticket through GetYourGuide or join one of the tours below.
---
Have you visited Lower Antelope Canyon? Comment below about your experience!
More Information about the American Southwest
PLACES TO GO IN ARIZONA: Go hiking in Sedona, visit Saguaro National Park and Petrified Forest National Park, explore Monument Valley, photograph Antelope Canyon, and visit the South Rim of the Grand Canyon. Learn how to put all of this together in our Arizona Road Trip Itinerary.
GRAND CANYON: Check out our guides to the Best Things to Do on the South Rim, how to spend one perfect day in the Grand Canyon, and which South Rim viewpoints are the best ones to visit. For amazing views of the Grand Canyon, check out our guide to the Grand Canyon Helicopter Tours.
MONUMENT VALLEY: Learn what there is to do and how to plan your visit in our Guide to Monument Valley. We also have articles on what to expect on a Monument Valley Sunrise Tour and what it is like to hike to Teardrop Arch.
SEDONA: Get links to all of our articles in our Sedona Travel Guide. To help you plan your visit, we also have guides to the best things to do in Sedona, the best hikes in Sedona, and how to plan the perfect Sedona itinerary. Learn where to stay in our Sedona Hotel Guide.
ARIZONA ITINERARIES: If you are looking for road trip ideas through Arizona, we have a couple of good ones. See the highlights of Arizona in our 10 Day Arizona Itinerary, visit the Grand Canyon and Utah's Mighty 5 in our Two Week American Southwest Itinerary, and visit parts of Arizona, Las Vegas, and southern Utah in our 10 Day American Southwest Itinerary.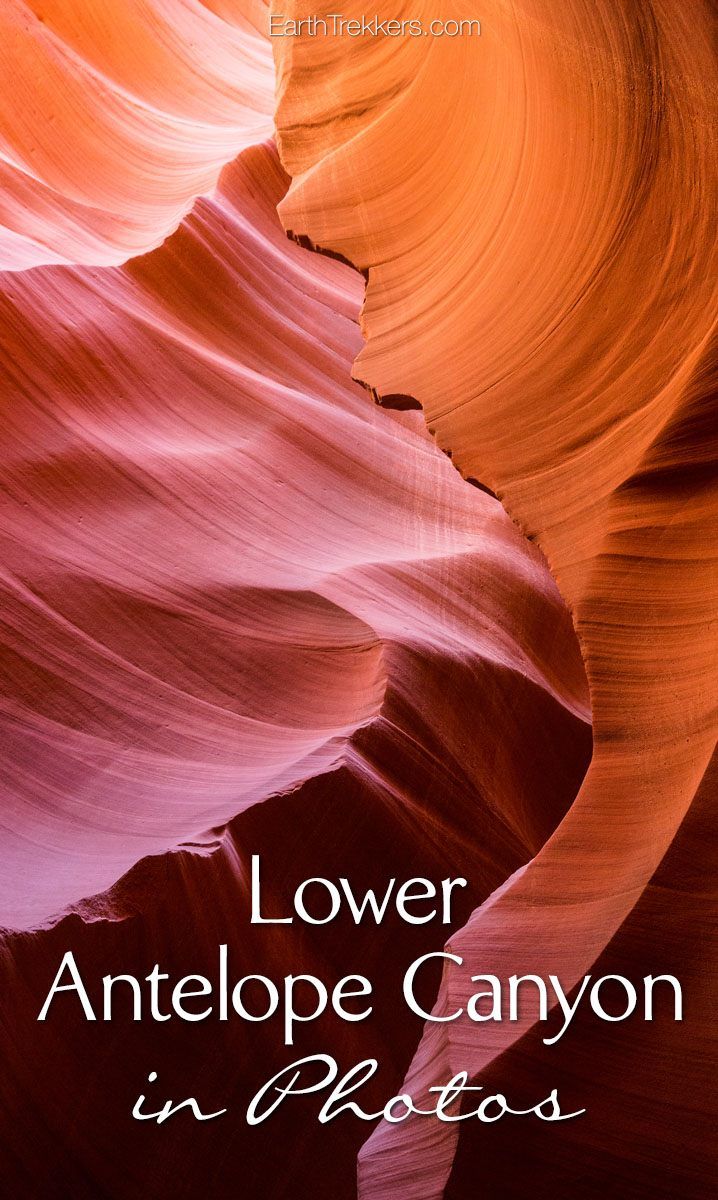 Note: This post contains affiliate links. When you make a purchase using one of these affiliate links, we get paid a small commission at no extra cost to you.
All rights reserved © Earth Trekkers. Republishing this article and/or any of its contents (text, photography, etc.), in whole or in part, is strictly prohibited.