What's the first thing that comes to your mind when you think of San Francisco? The Golden Gate Bridge? The legend and the stories of Alcatraz? Cable cars climbing up and down the steep hills of the city?
San Francisco is a big city, filled with lots of things to do. It has a colorful history, beautiful harbor, and lots of great options for day trips and quick excursions. Here is our big list of things to do in San Francisco.
The Best Things to do in San Francisco
1. The Golden Gate Bridge
The Golden Gate Bridge is one of San Francisco's most recognizable landmarks. Built in 1937, it was the longest suspension bridge in the world until 1964 (when the Verrazano-Narrows Bridge was built in New York City).
If it isn't too foggy while you are here, you can see the Golden Gate Bridge from almost anywhere in San Francisco. But it is worth your time to cross the bridge, whether it is by car, by bicycle, or on your own two feet.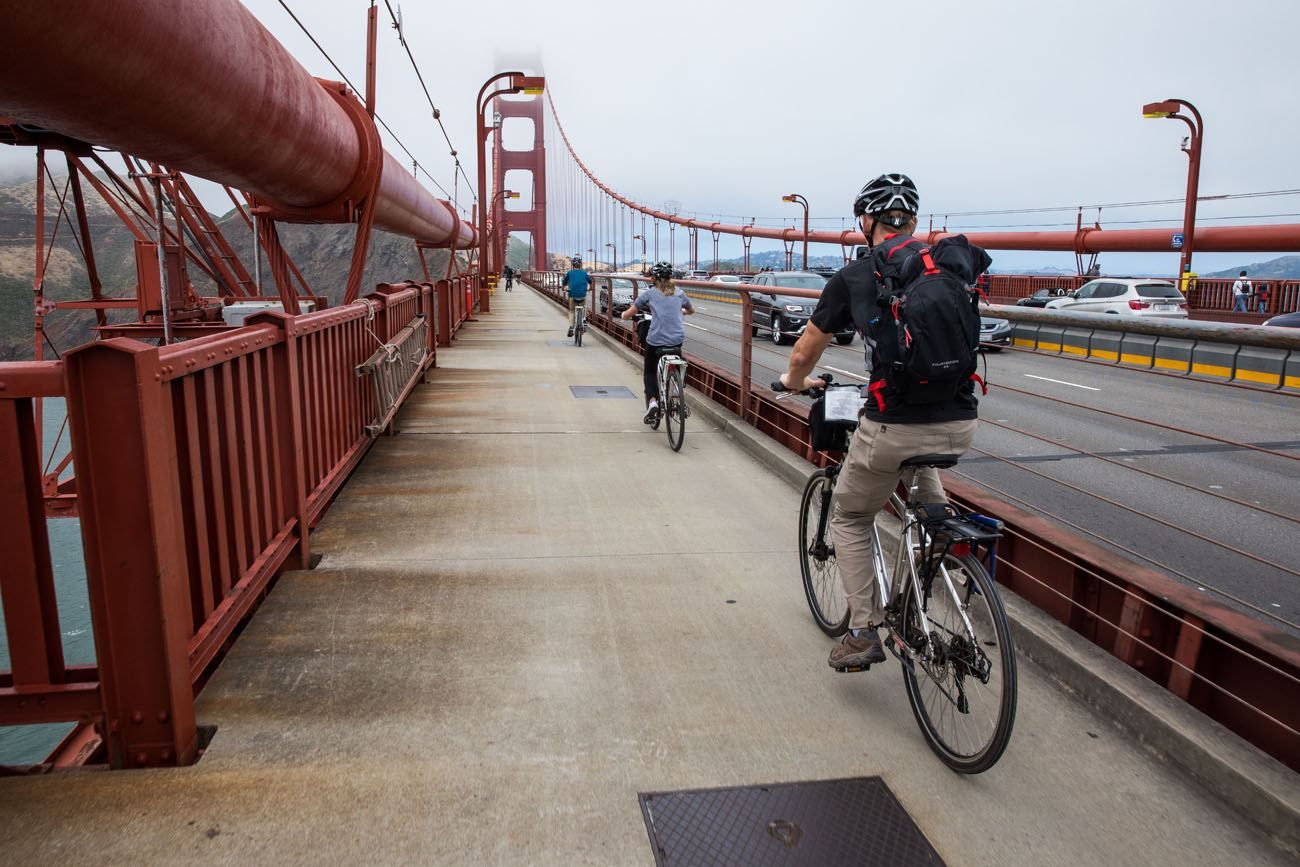 2. Alcatraz
Tour "The Rock," the world famous prison that was home to criminals like Al Capone, George "Machine Gun" Kelly, and Robert Franklin Stroud, "The Birdman of Alcatraz."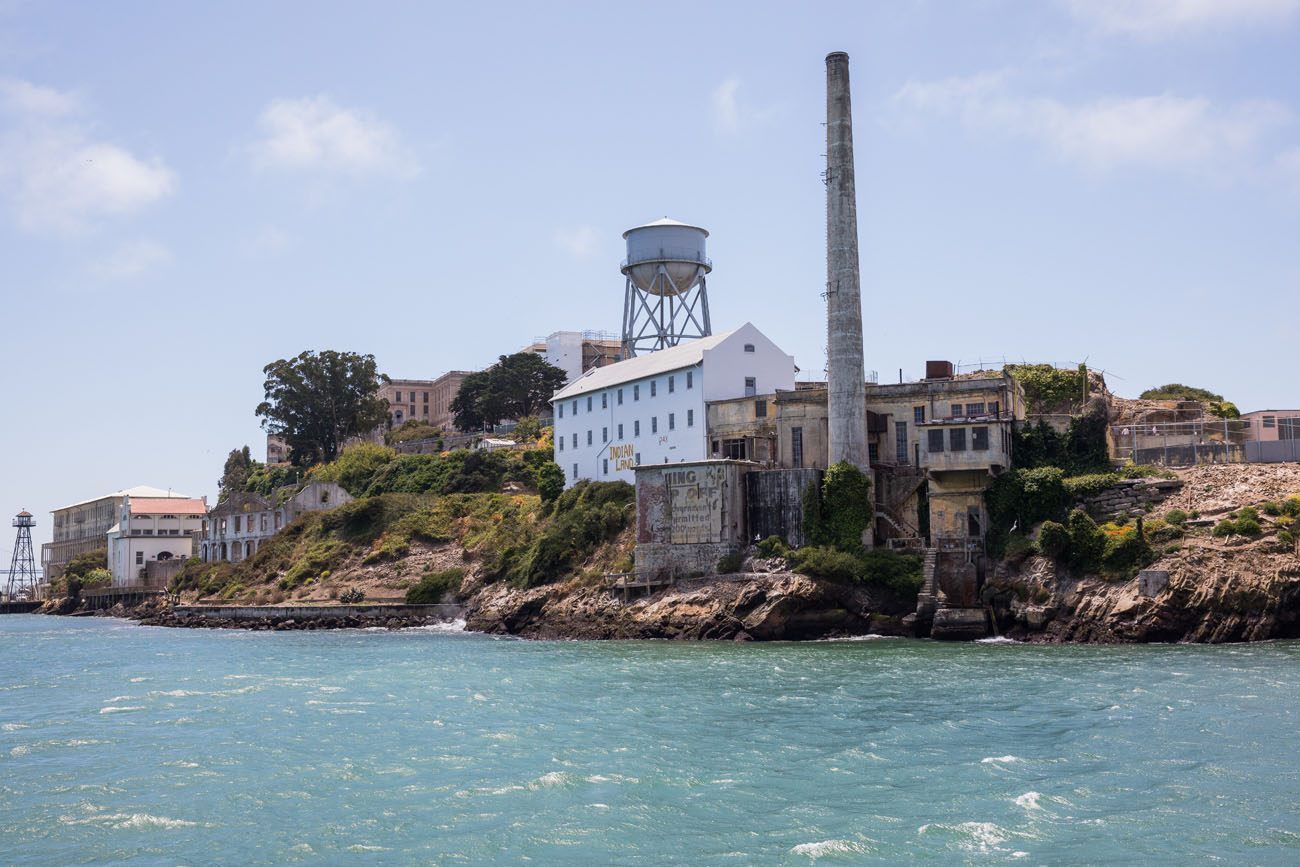 Alcatraz is another extremely popular place to visit in San Francisco. In fact, it is so popular that tickets will sell out weeks in advance, especially for those visiting during the summer months.
PRO TRAVEL TIP: If Alcatraz is on your list of places to visit, book your tickets in advance! Tickets can be purchased up to three months in advance, and I highly recommend doing this.
We missed seeing Alcatraz on this trip to San Francisco (although Tim and I visited it years ago), because tickets were sold out not only during our visit but for the next five weeks!! It was a complete surprise.
So, is Alcatraz worth it? Yes, it's a great tour. Learning the history behind the prison is fascinating and the views from the ferry are wonderful.
To book your tickets in advance, visit the Alcatraz Cruises website.
If tickets are sold out for your dates of travel, you can join one of these tours to Alcatraz:
3. Cruise the San Francisco Bay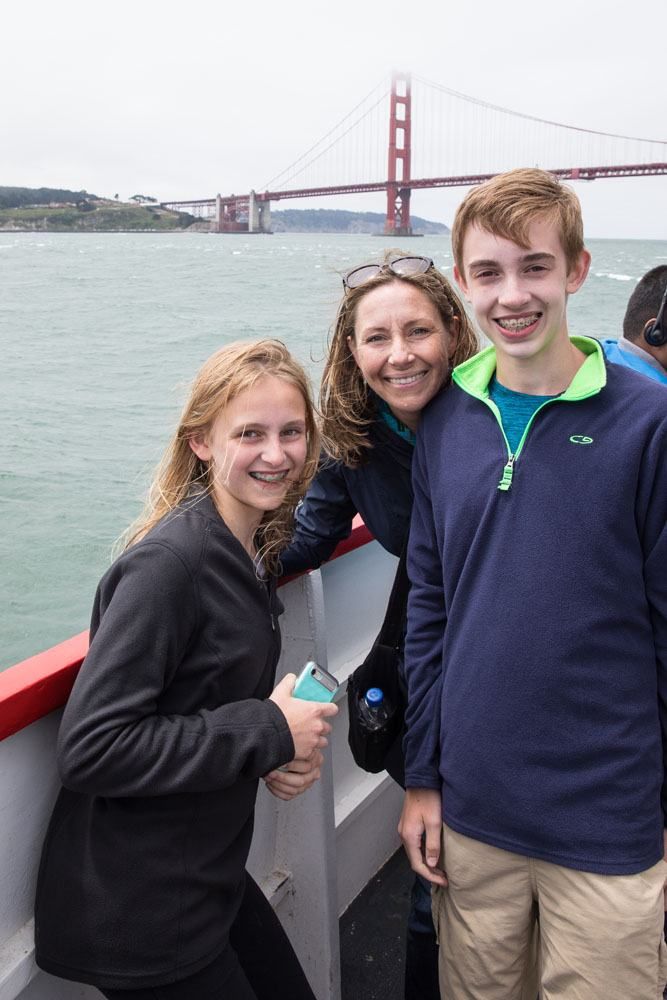 The San Francisco Bay is beautiful, with views of the Golden Gate Bridge, Alcatraz, and the city skyline. If you visit Alcatraz, you have this covered. But if you can't get to Alcatraz, consider the one hour cruise through the bay that takes you out to the Golden Gate Bridge and around Alcatraz. It's the next best way to get up close to Alcatraz without setting foot on the island.
PRO TRAVEL TIP: This can be windy and chilly, even in the summer. Bring at least a lightweight jacket, although something even warmer would be ideal. When we did this in July, Kara and I were shivering at the end of the tour.
You can also join one of these tours:
4. Fisherman's Wharf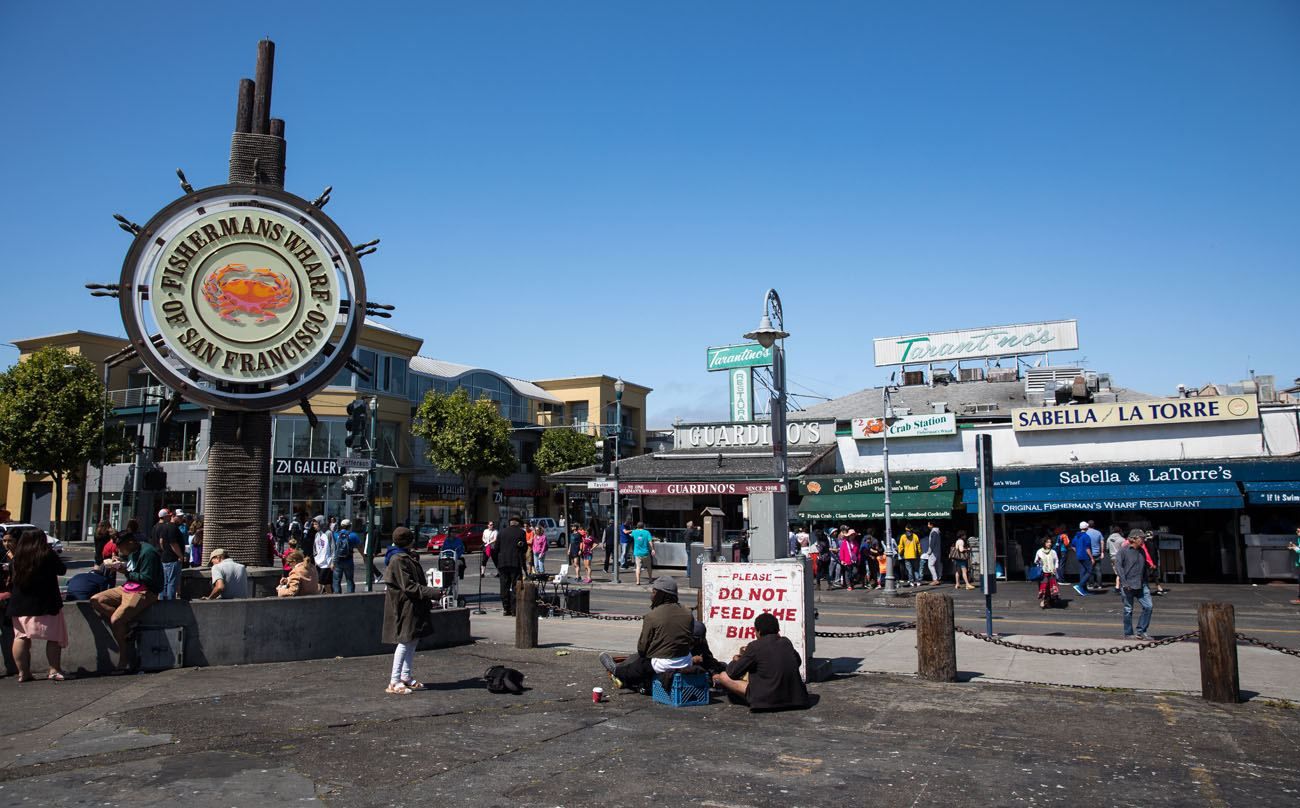 OK, so this is super touristy, but it's worth a quick stroll. If you visit Alcatraz or take a bay cruise, you will be here anyway. At Pier 39 there are souvenir shops and restaurants to try. The donuts at Trish's Mini Donuts are delicious! You can also see (and smell) the seals that lounge on the floating docks nearby.
5. Ferry Building Marketplace
This just became one of my new favorite spots in San Francisco.
Until the 1930's (when the Golden Gate Bridge and the Bay Bridge were constructed), the majority of people arrived in San Francisco by ferry, which docked right here at the Ferry Building. In 2003, this building reopened after a massive renovation, and now it is a public food market.
Filled with a mix of gourmet restaurants, wonderful little shops, a wine bar, and pastry shops, this place is a joy to explore. If you are a foodie, the Ferry Building Marketplace is worth a visit (or two). If I lived in San Francisco, I would be here all of the time.
One of the best times to visit is during the Farmer's Market on Tuesday, Thursday, and Saturday. Visit the Ferry Building Marketplace website for more information.
6. Lands End
Did you know that you can go hiking in San Francisco? Located on the coast in northwestern San Francisco is a web of hiking trails. Short, easy walks take you to the Sutro Baths and the Labyrinth. If it's not too cloudy or foggy, you will have an unbelievable view of the Golden Gate Bridge and the Marin Headlands.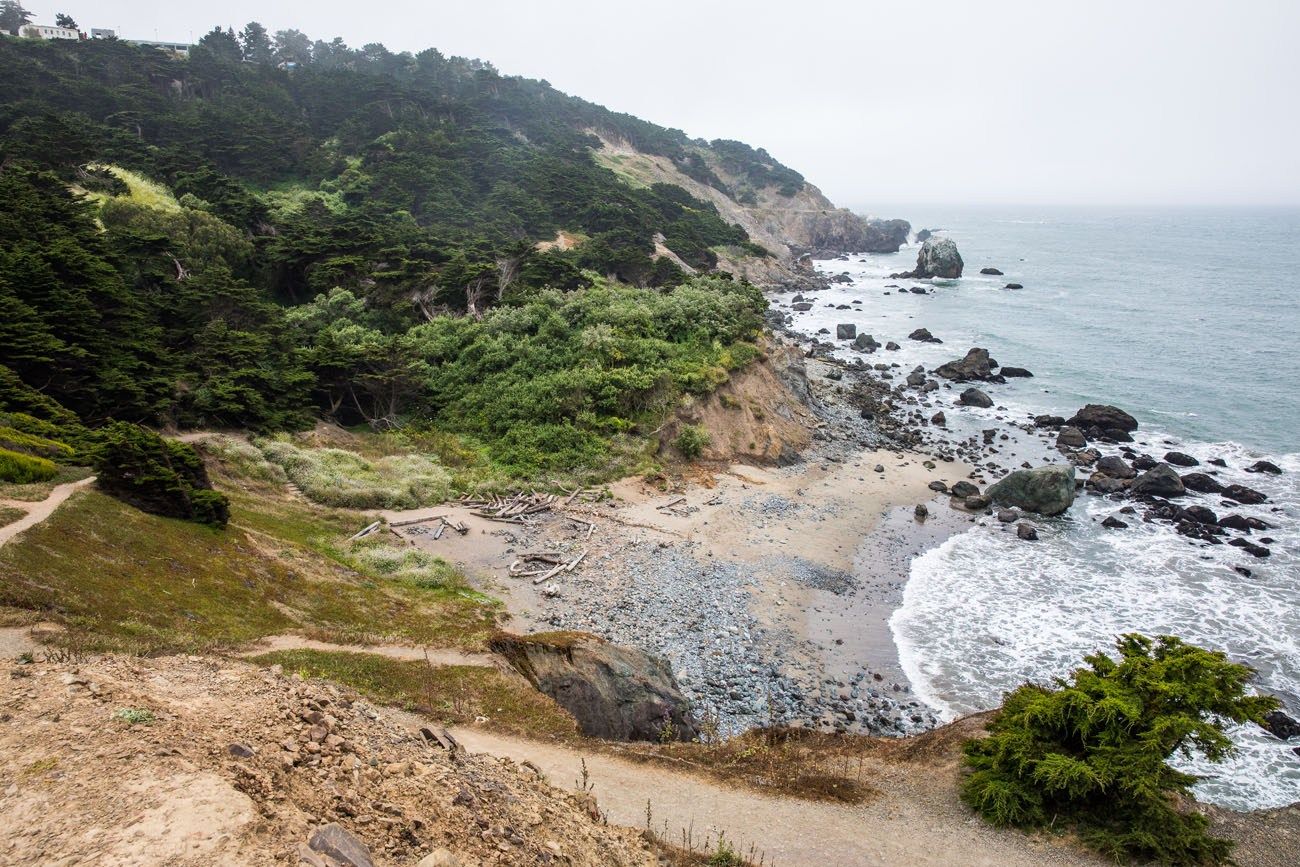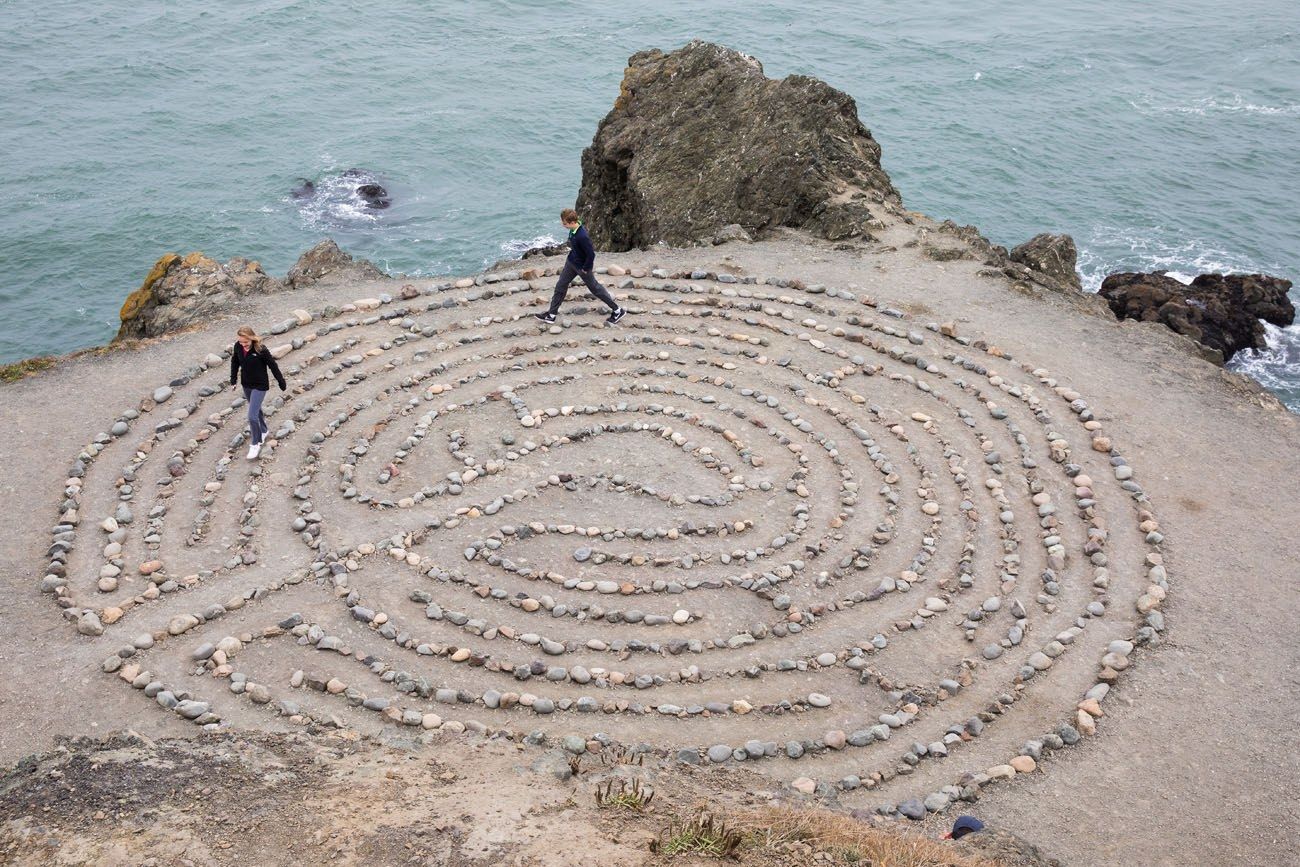 We parked at the large car park near the Legion of Honor and followed the trail out to the Labyrinth.
7. Legion of Honor
The Legion of Honor is an art museum featuring European art. Located next to Lands End, this museum has a fabulous setting and is beautiful inside and out.
Open Tuesday through Sunday (closed Mondays). Adults $15, children are free. Included on the Go Card.
8. Ride a Cable Car
Yes, this may be another touristy thing to do, but there is something fun about riding a historic cable car through the streets of San Francisco.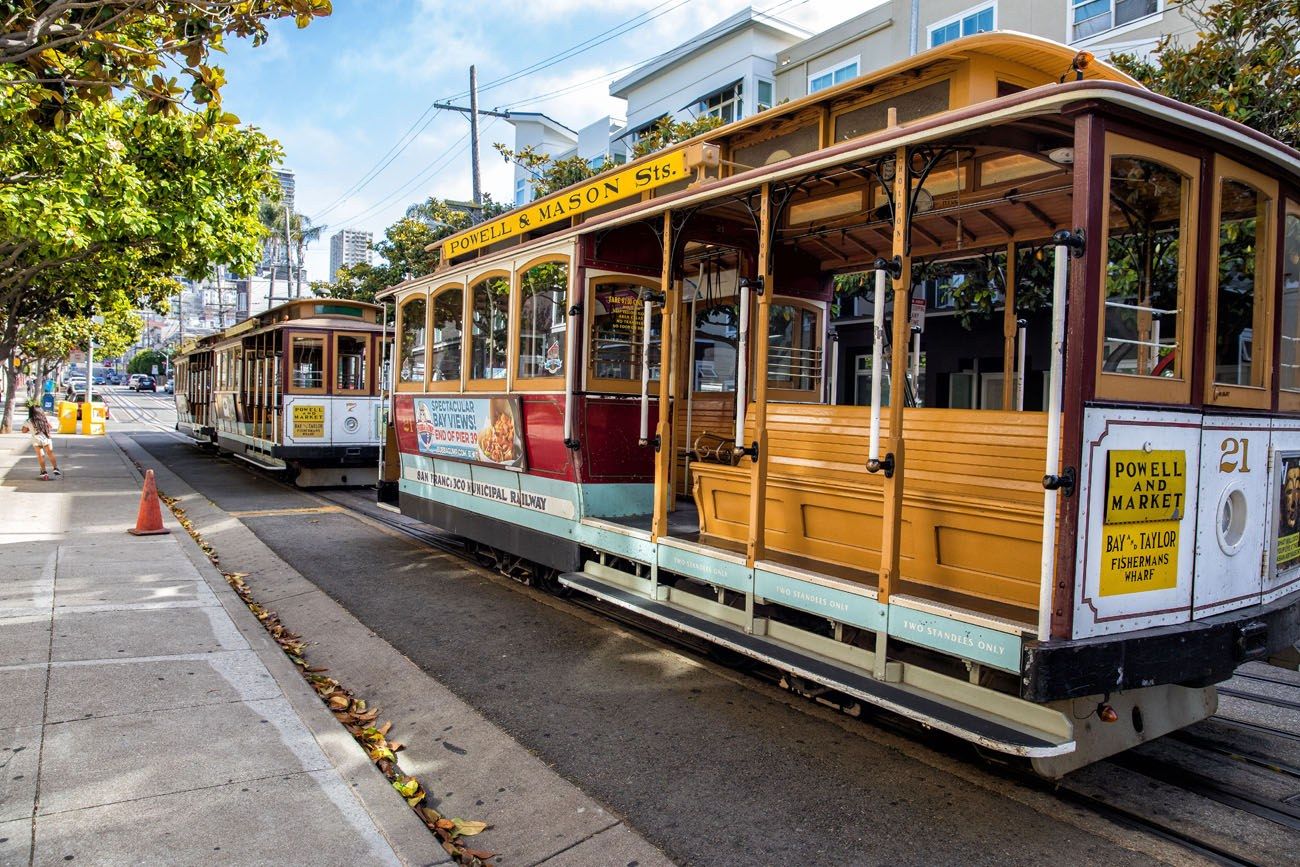 There are several routes through the city. The Powell-Mason Line (Fisherman's Wharf to Union Square) and the Powell-Hyde Line (Ghirardelli Square to Union Square) are the most popular routes for tourists.
At the endpoints of the route, the cable car glides onto a turntable and is spun 180 degrees, to start its journey back in the other direction.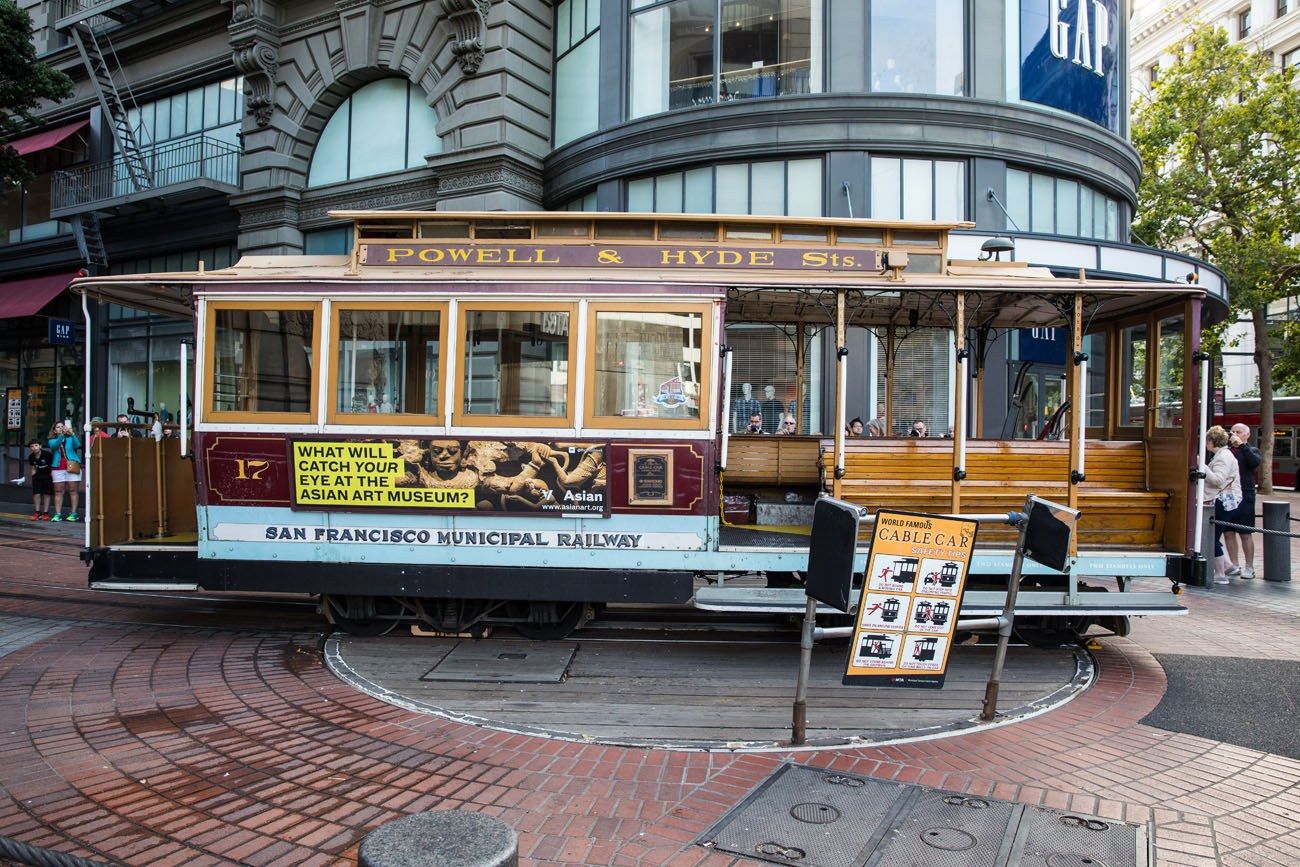 If you really enjoyed riding the cable car, don't miss the Cable Car Museum (both cable car lines stop here).
PRO TRAVEL TIP: Midday, expect to wait in long lines to get on a cable car. In the morning, they are almost empty.
9. Take in the View from Twin Peaks
The view from Twin Peaks is one of the best in the city. It's free to visit and best when the skies are clear.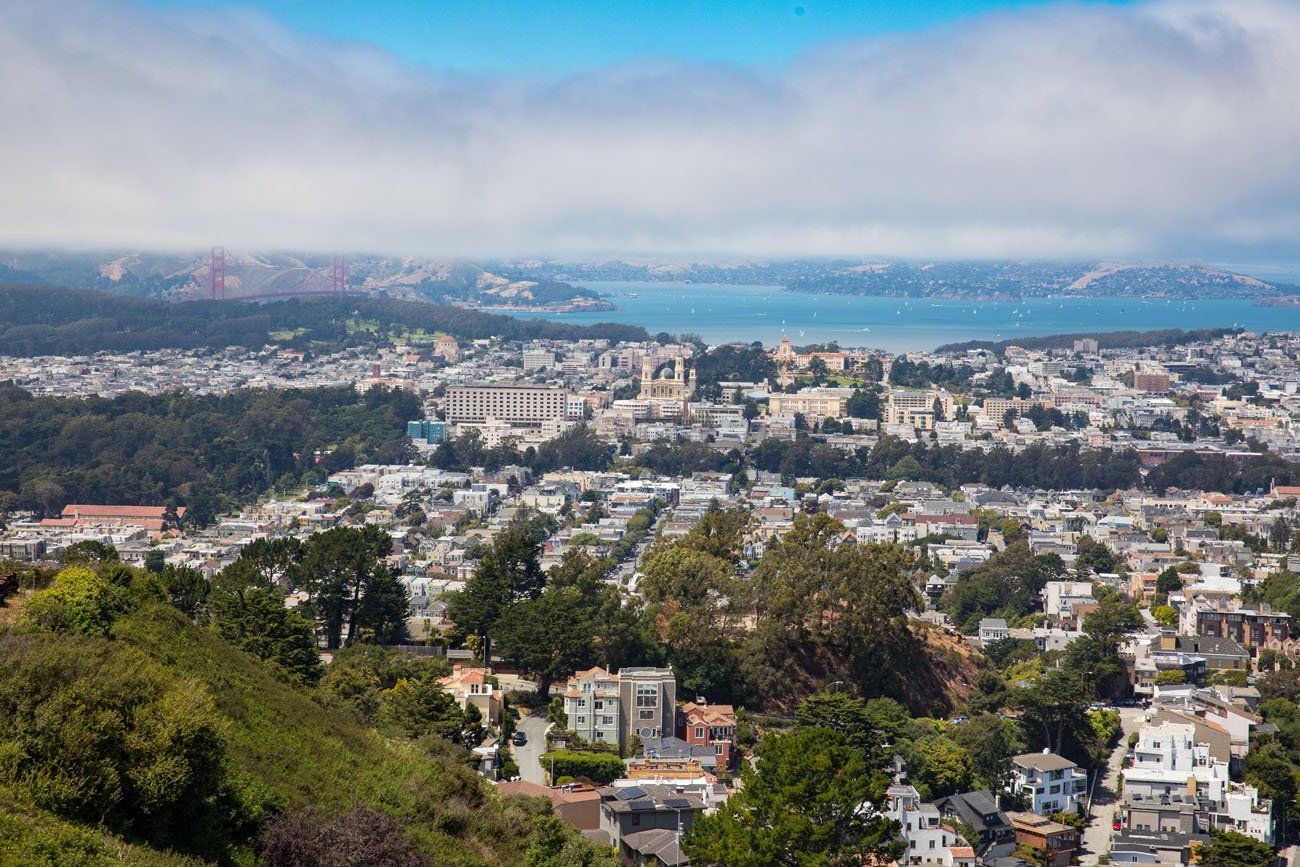 10. Muir Woods
Muir Woods is not located in San Francisco, but it is such a great place to visit that it shouldn't be missed on a trip to this city.
This is a gorgeous, tranquil spot to visit. Muir Woods is your chance to see towering redwoods just a short drive from San Francisco. Spend a few hours or spend all day here wandering among these giant trees.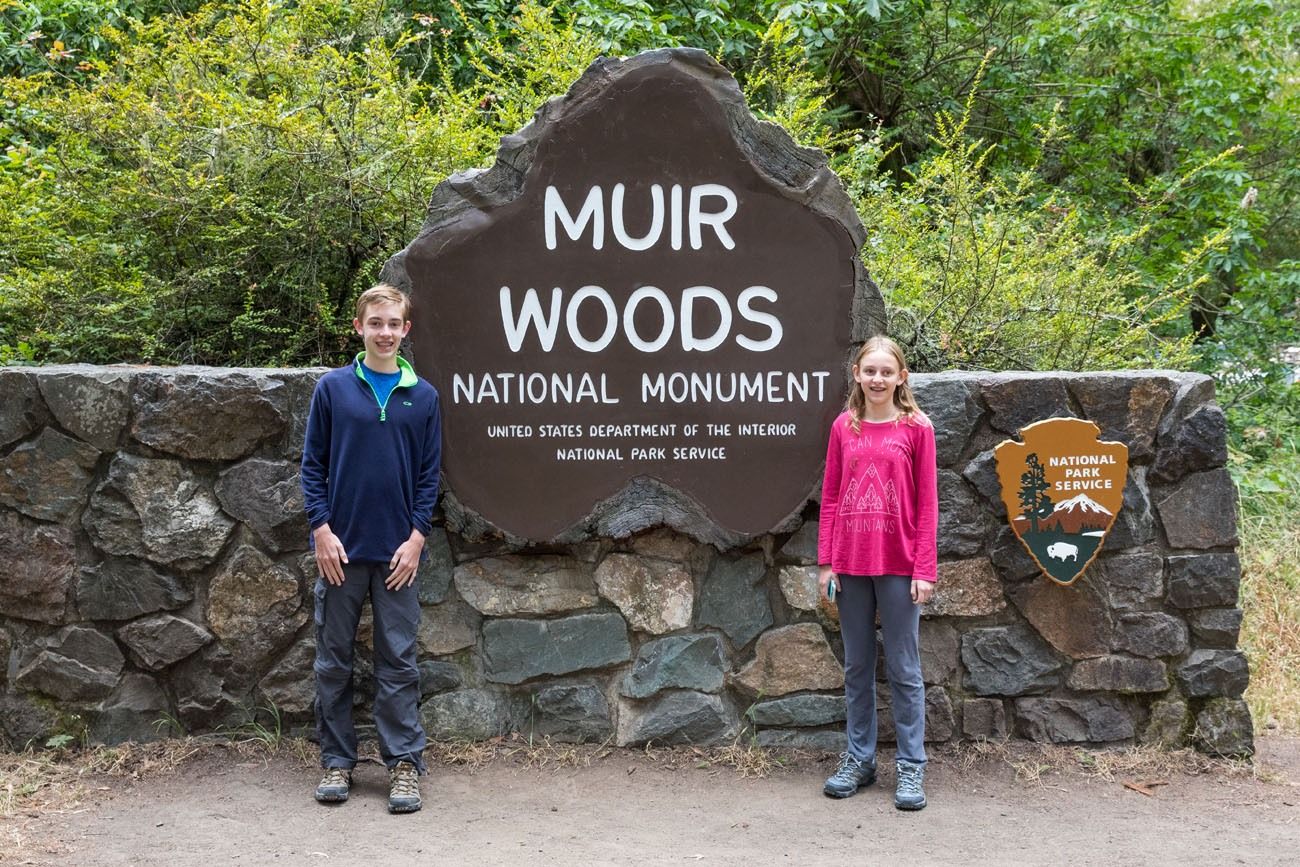 PRO TRAVEL TIP: Go early!! There are only a few parking lots and they are filled by 9 am. People park on the side of the road, as far as 1 to 2 miles from the entrance. It's crazy! We got here at 7:30 in the morning and it was perfect. The park entrance is open 24 hours so you can arrive even earlier if you want.
Getting here: 30 – 45 minute drive, 16 miles northwest of San Francisco
11. Sausalito
This is another popular excursion from San Francisco. If you visit Muir Woods in the morning, Sausalito makes the perfect stop for lunch or an afternoon visit.
If you have plans to bike across the Golden Gate Bridge, you can continue on to Sausalito and take a ferry back to San Francisco. Read more about how to do this here.
12. Explore Haight-Ashbury
Haight-Ashbury was the epicenter of the hippie revolution in the 1960's. Janis Joplin, Jimi Hendrix, and the members of the Grateful Dead and Jefferson Airplane lived nearby.
Now, Haight-Ashbury is a trendy area filled with boutique shops and restaurants. You can still feel the 1960's vibe here, with some shops still proudly selling bell-bottoms, tie-dyed shirts, and flower power novelties.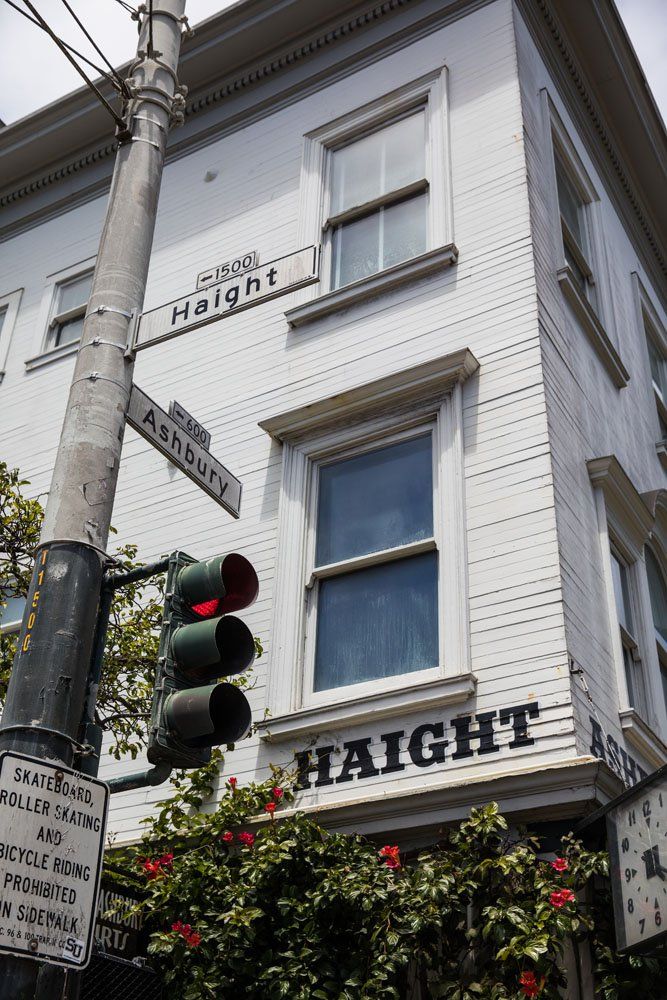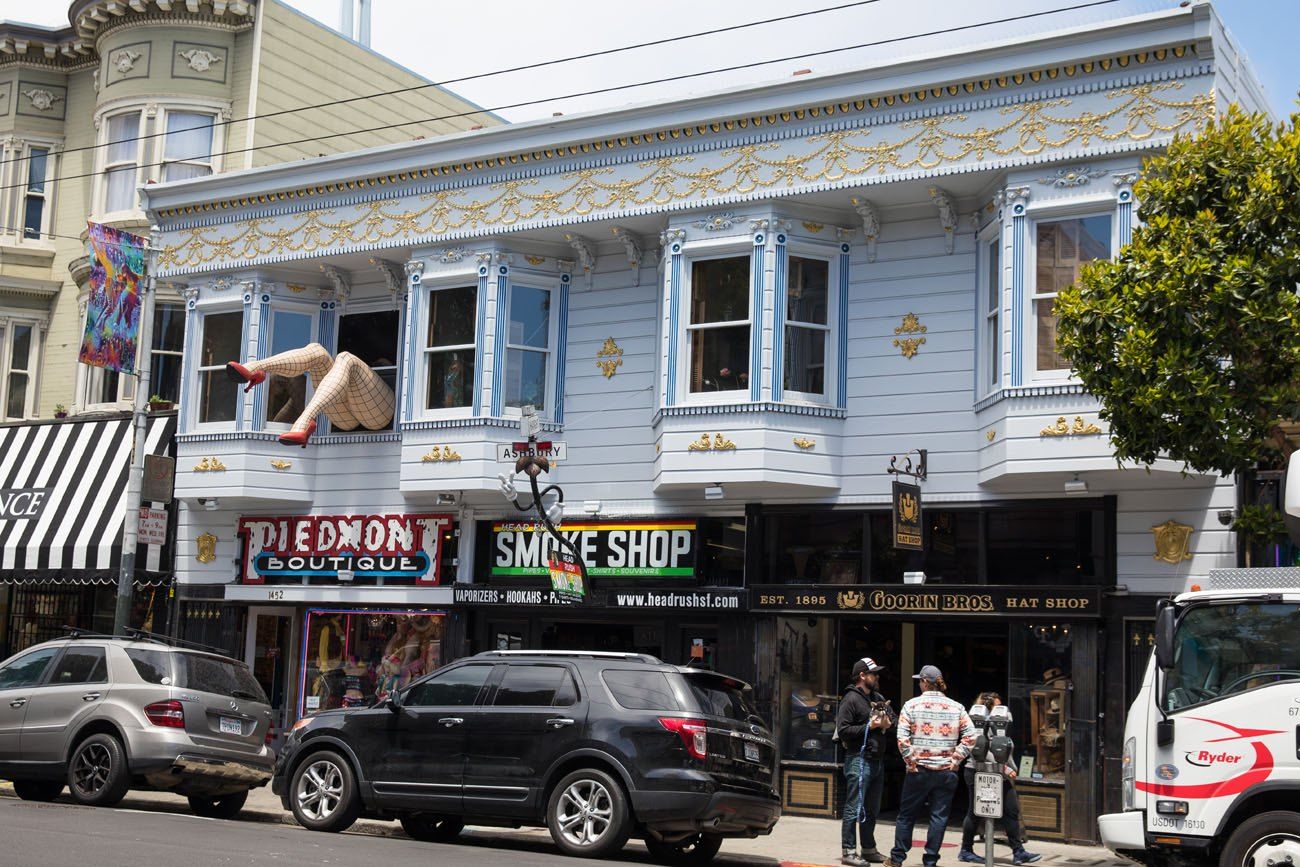 13. The California Academy of the Sciences
Visit a planetarium, aquarium, and a rainforest, all under one roof. This is a great spot to visit for families.
Located in Golden Gate Park. Open 7 days a week. Ticket prices vary according to the day of the week. Visit the official website for updated pricing. Included on the Go Card.
14. Golden Gate Park
Golden Gate Park is a huge, gorgeous place to visit. Cycle through the park, visit the California Academy of the Sciences, and wander the Japanese Tea Garden.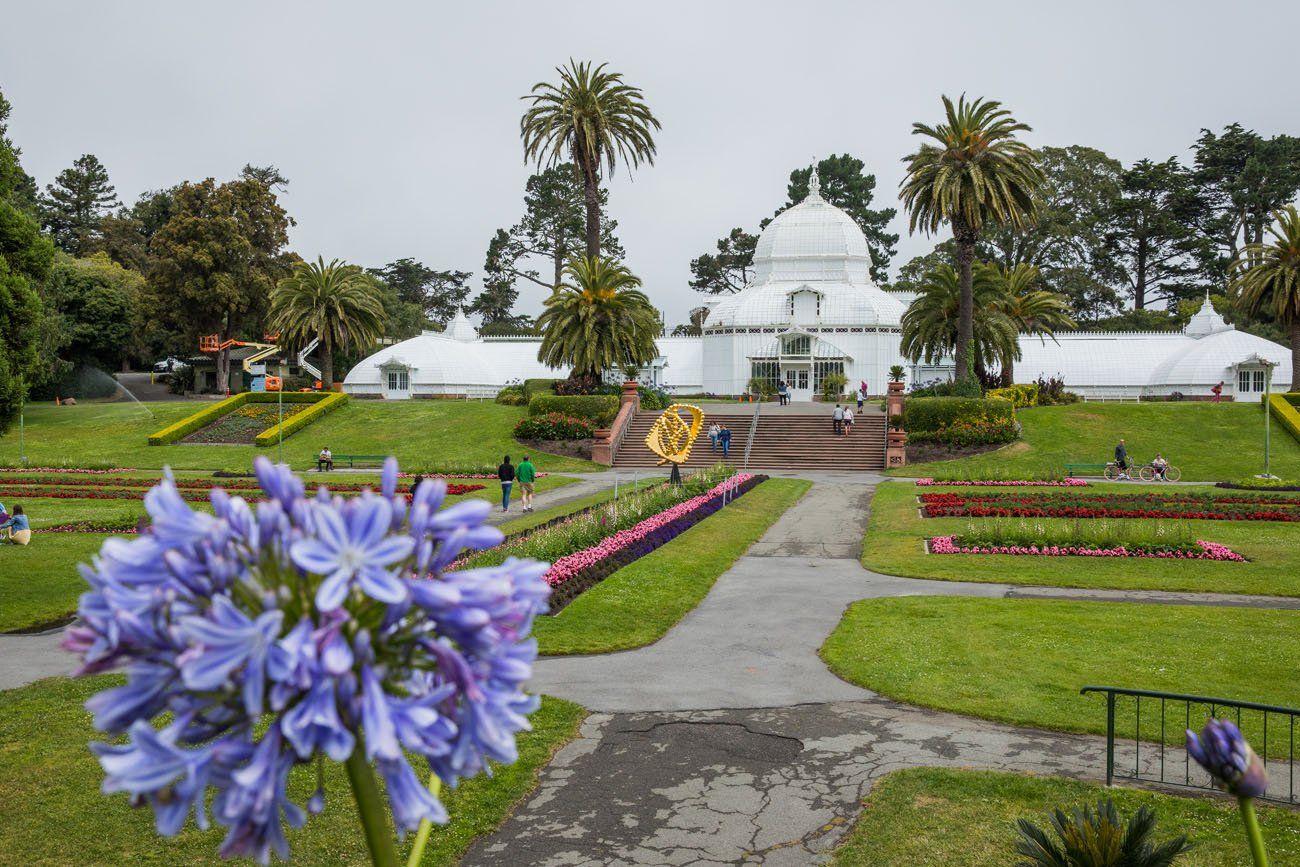 15. Zigzag your way down Lombard Street
It doesn't get any more touristy than this in San Francisco. If you are a first-timer to San Francisco, you have to at least see it, even if you don't have plans to drive it.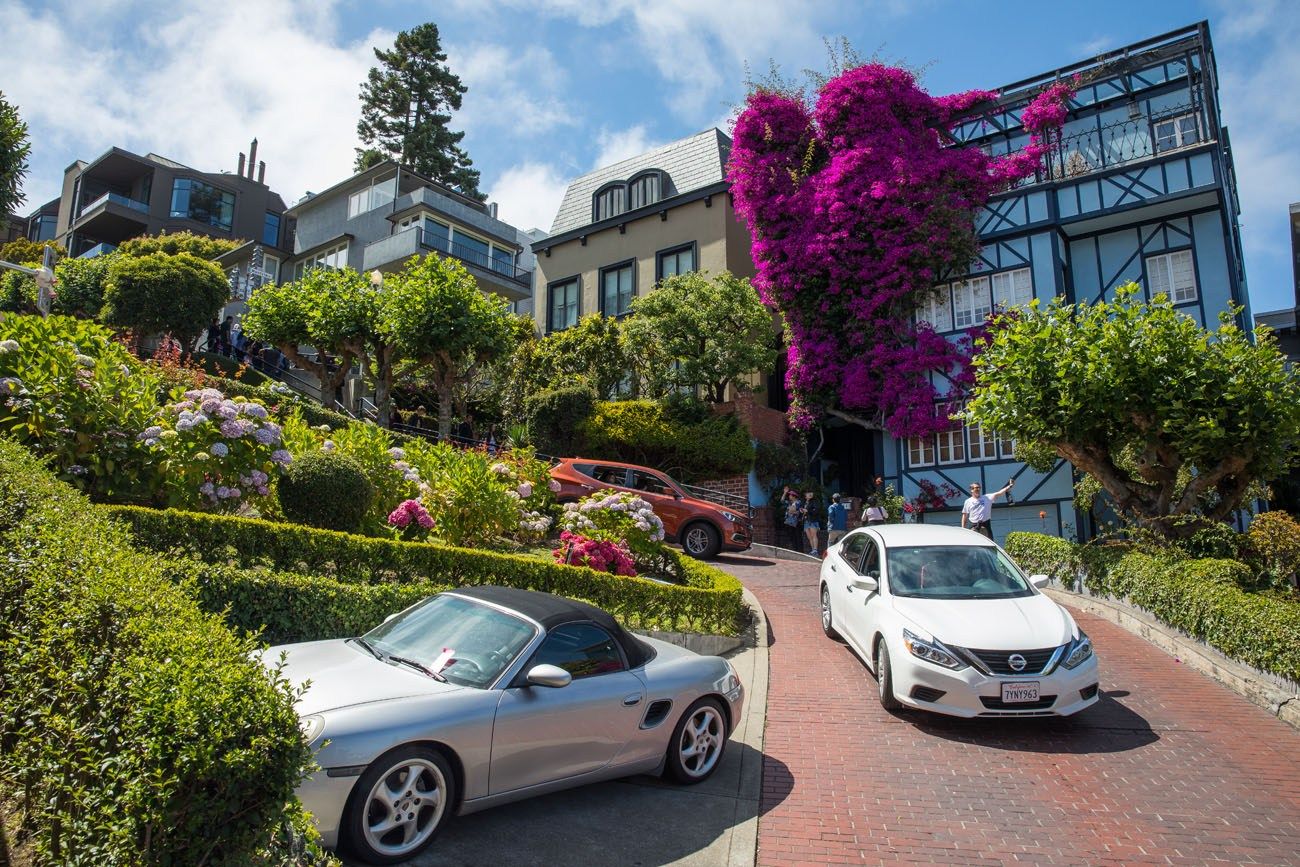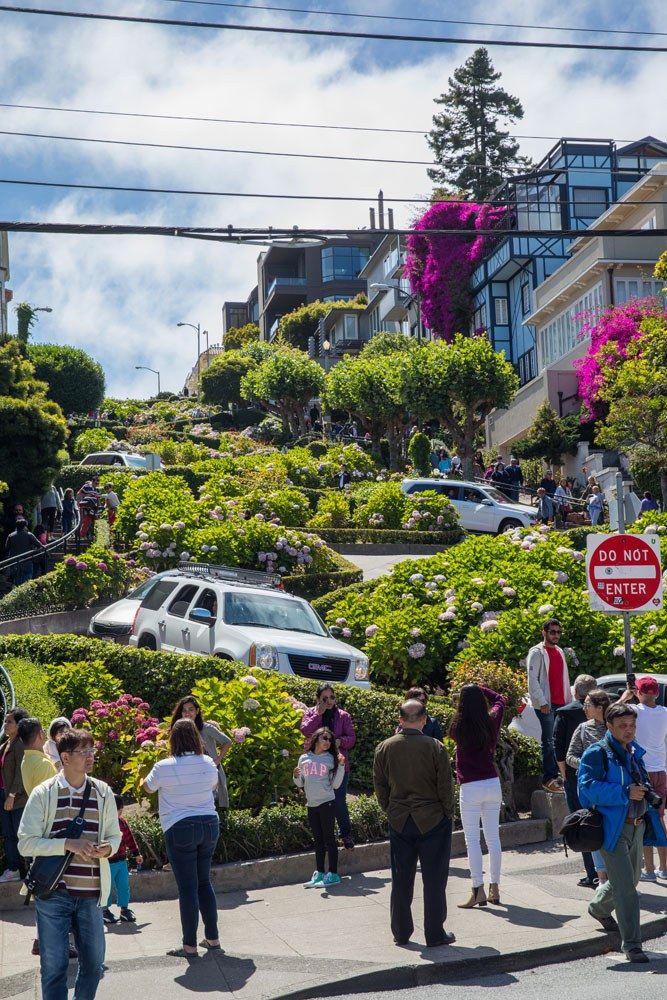 Beware, this is a traffic jam nightmare. If you want to see Lombard Street but skip the traffic jam, park nearby and walk down it instead. Or get here very early or late in the day, when the road is almost empty.
16. See the Painted Ladies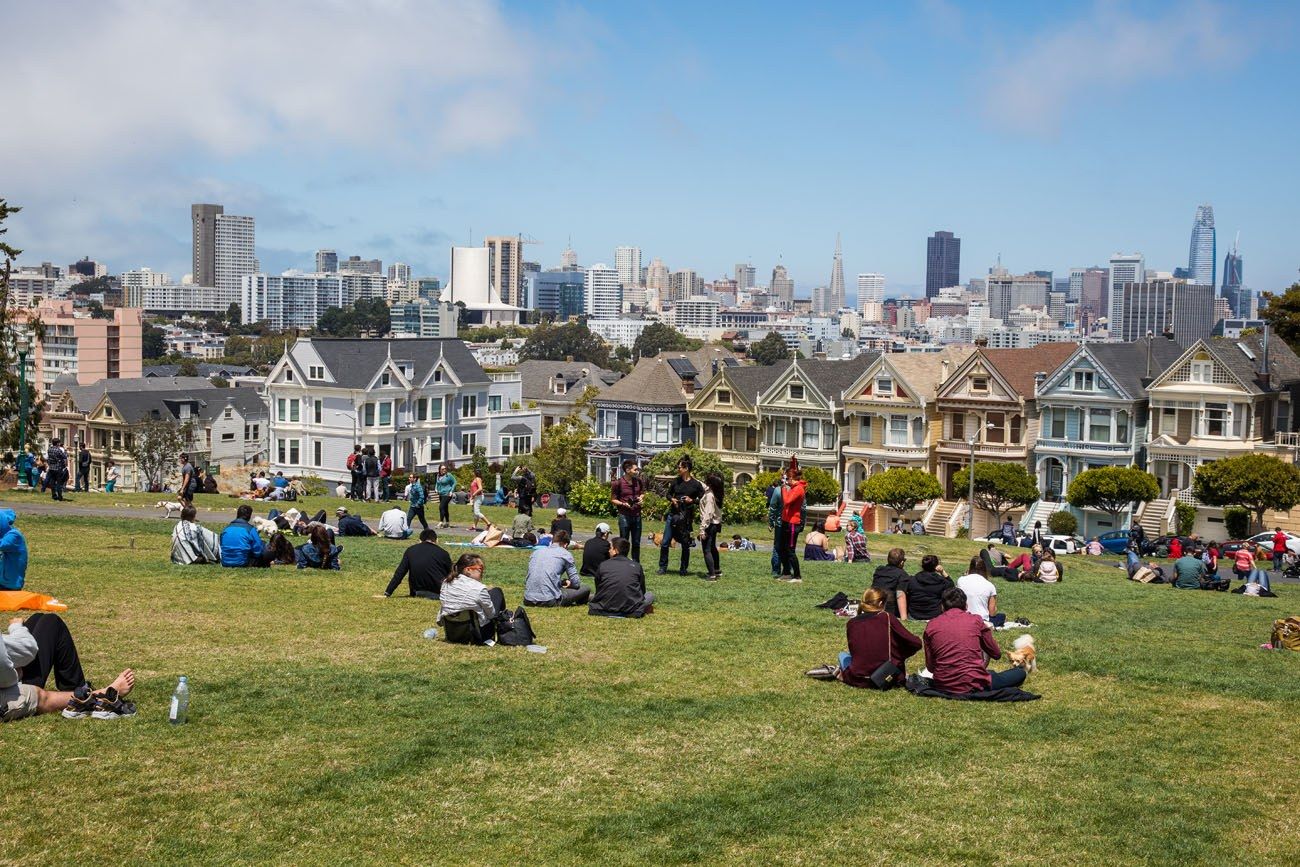 From Alamo Square Park, take in the view of the Painted Ladies, a stretch of colorful Victorian houses that are an icon of San Francisco.
17. Take in the View from Baker Beach
For one of the best views of the Golden Gate Bridge, go to Baker Beach. Notice I don't have a photo for this one. When we were here, the Golden Gate Bridge was covered in such a thick blanket of clouds that you could barely see it. But from what I see from other people's photos, this view is breathtaking (on a nicer day).
18. See the Tiled Steps
There are several spots in San Francisco to photograph beautiful, tiled steps. You need a car to do this and it can feel like a scavenger hunt, but it's fun to do if you like this sort of thing. These steps also attract a lot of visitors, so it can be challenging to get a photo without people.
16th Avenue Tiled Steps: Lomita Avenue and Moraga Street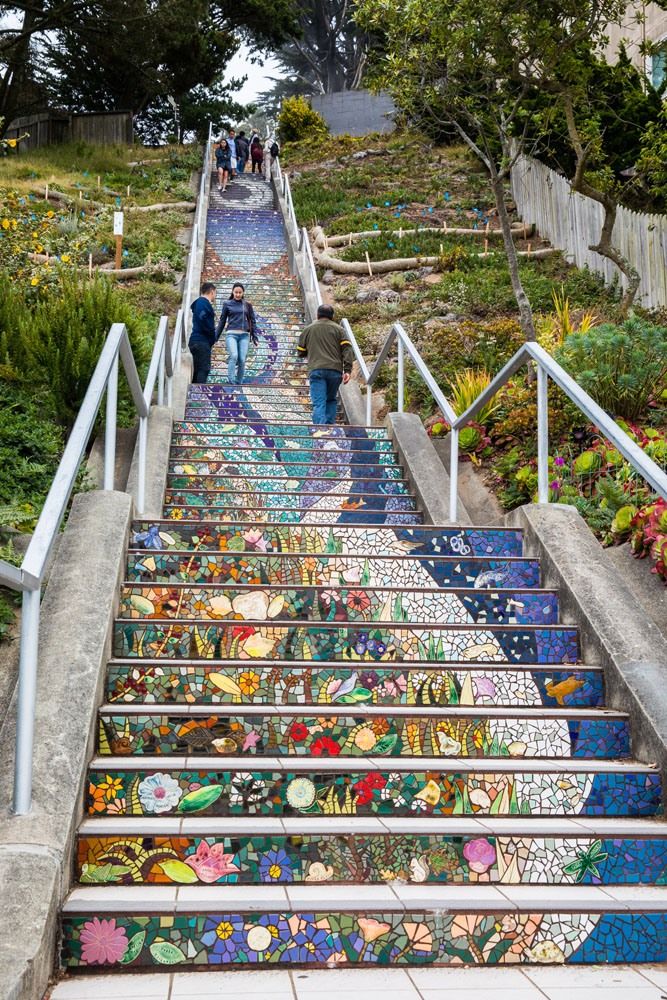 Hidden Garden Steps: Kirkham Street and 16th Avenue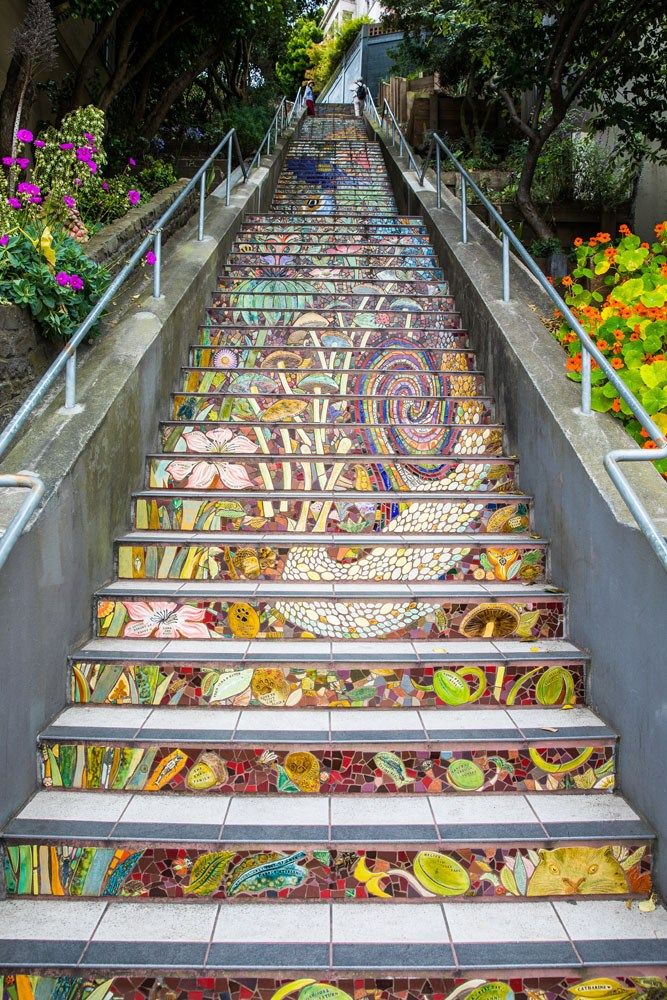 Lincoln Park Steps: California Street and 32nd Avenue (near Lands End)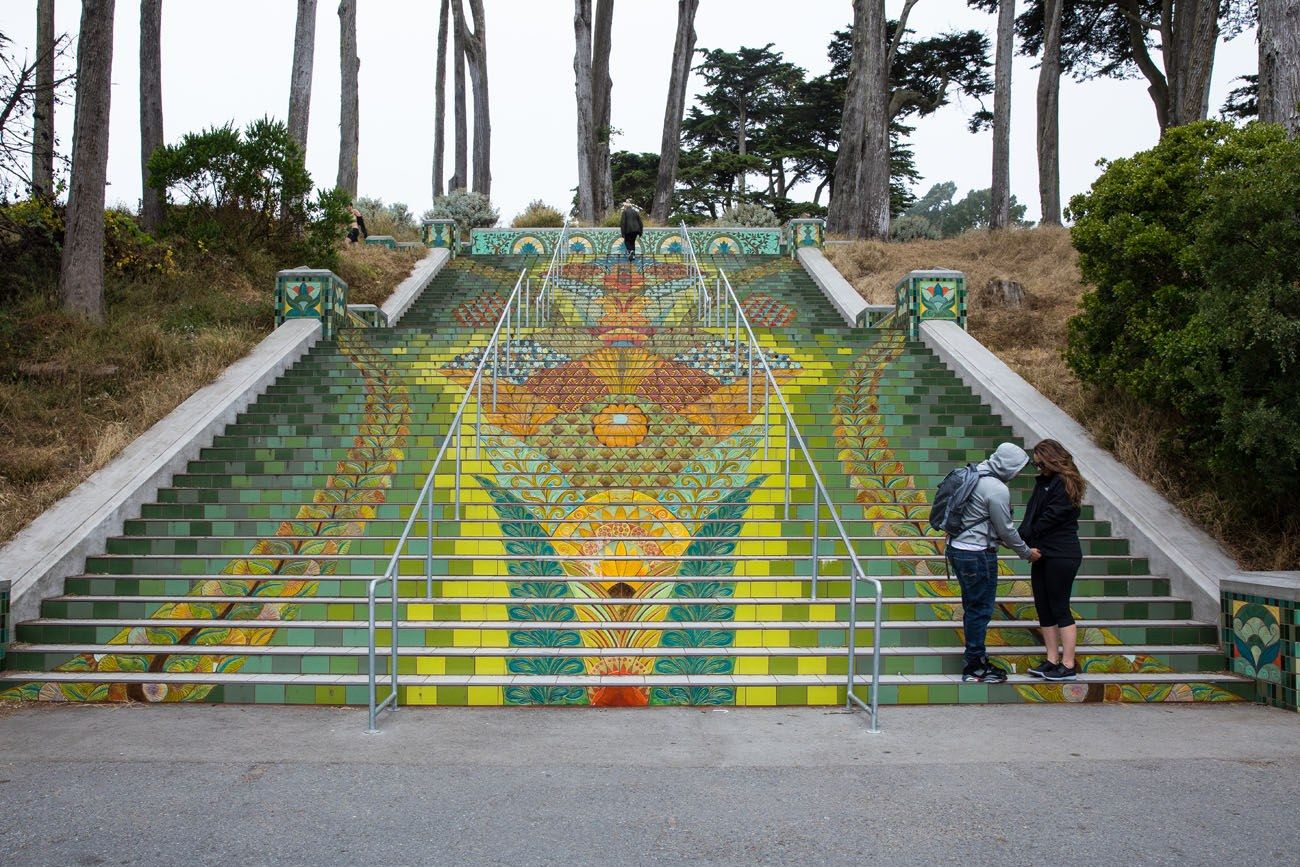 19. Explore Chinatown
This is the largest Chinatown outside of Asia. It's a great place to go shopping, eat Dim Sum, and you can even visit the Fortune Cookie factory.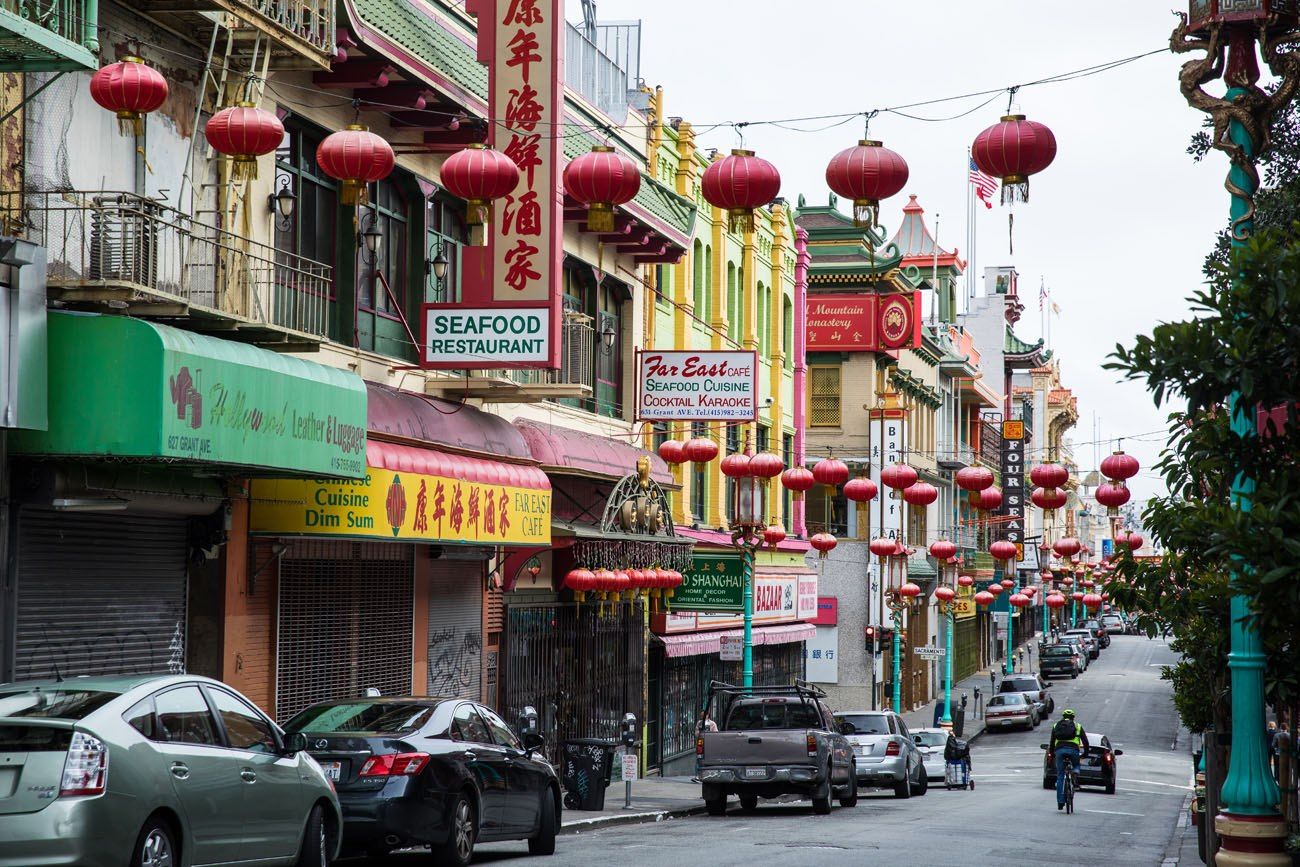 20. Coit Tower
From the top of Coit Tower you can have another panoramic view of San Francisco. No climbing involved, since an elevator zips you to the top. I really liked this view, and I think it's better than the view from Twin Peaks.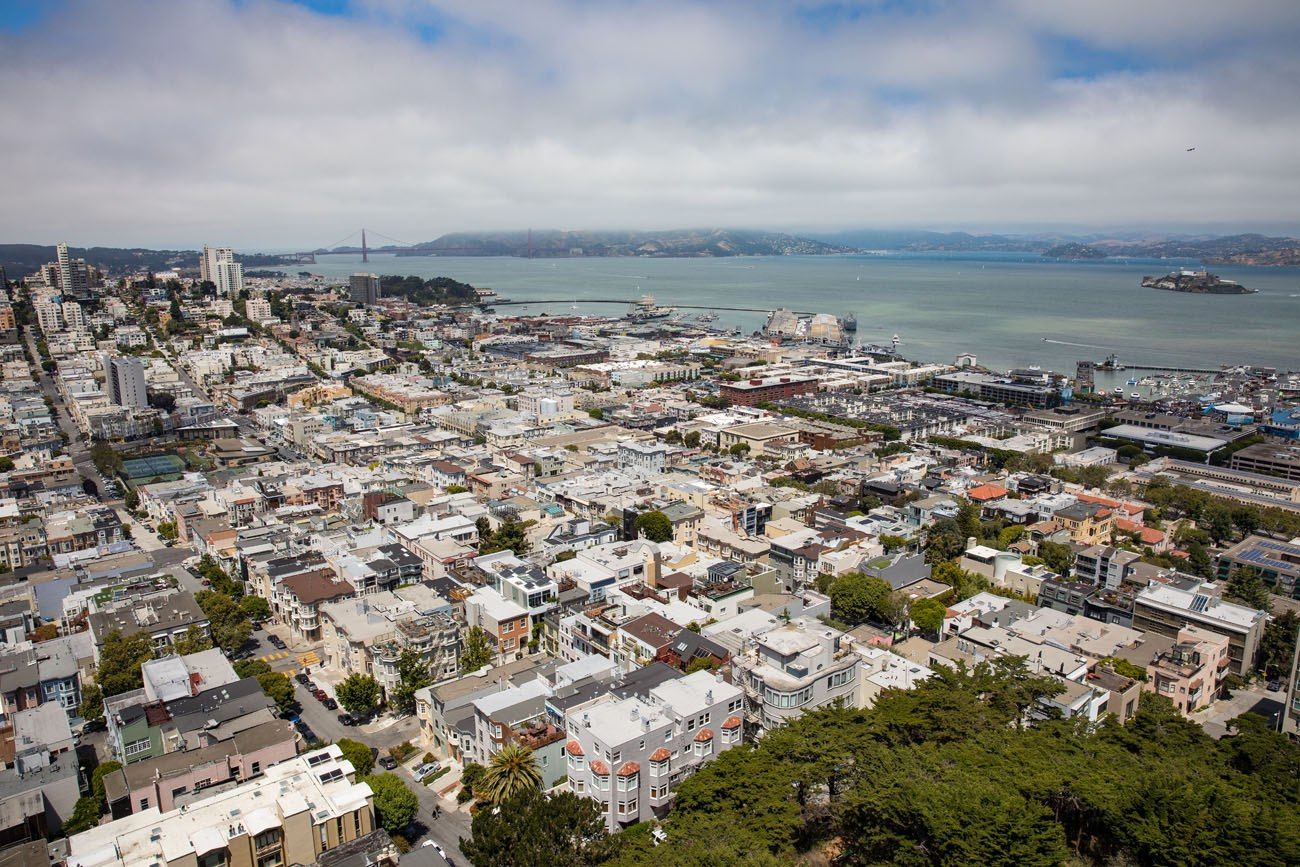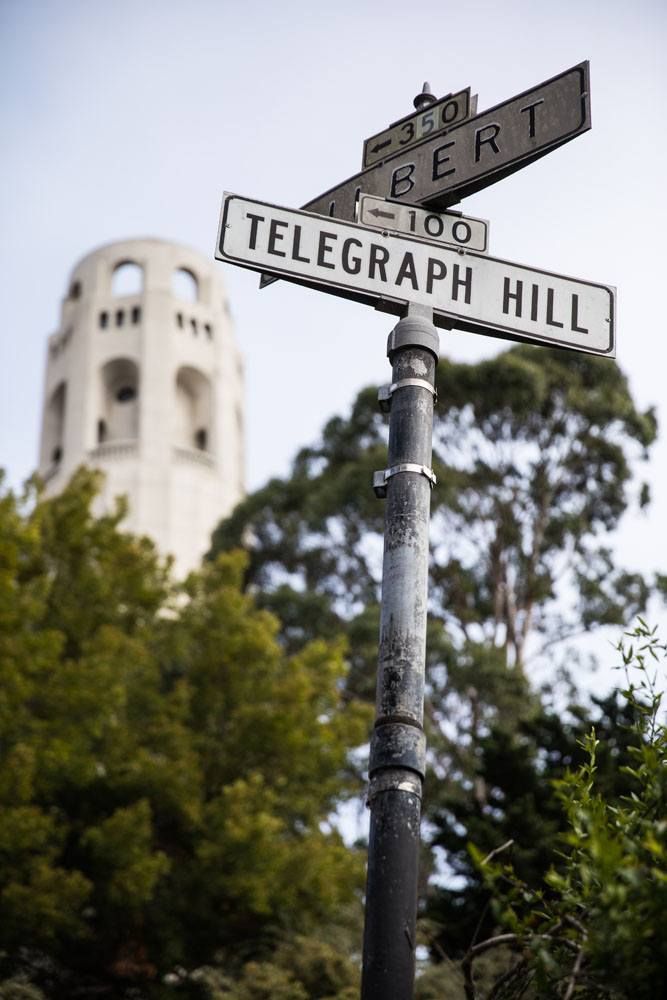 PRO TRAVEL TIP: On weekends and holidays it can get crowded, with long lines waiting for the elevator. Get here at opening time or late in the day to avoid the crowds.
End your visit here with a walk down the Filbert Steps, a set of staircases that descend down Telegraph Hill, amidst the private gardens of the residents in this neighborhood.
Location: Telegraph Hill
21. Exploratorium
Although we never made it here, I think it is worth mentioning because of the rave reviews it gets. This is an interactive, hands-on science museum geared towards children, but adults love it almost as much. If you are in San Francisco with kids, this is a fun learning experience to add to your must-visit list.
22. Ghirardelli Square
Ghirardelli Square is another icon of San Francisco. We came here just for the ice cream sundaes…yum!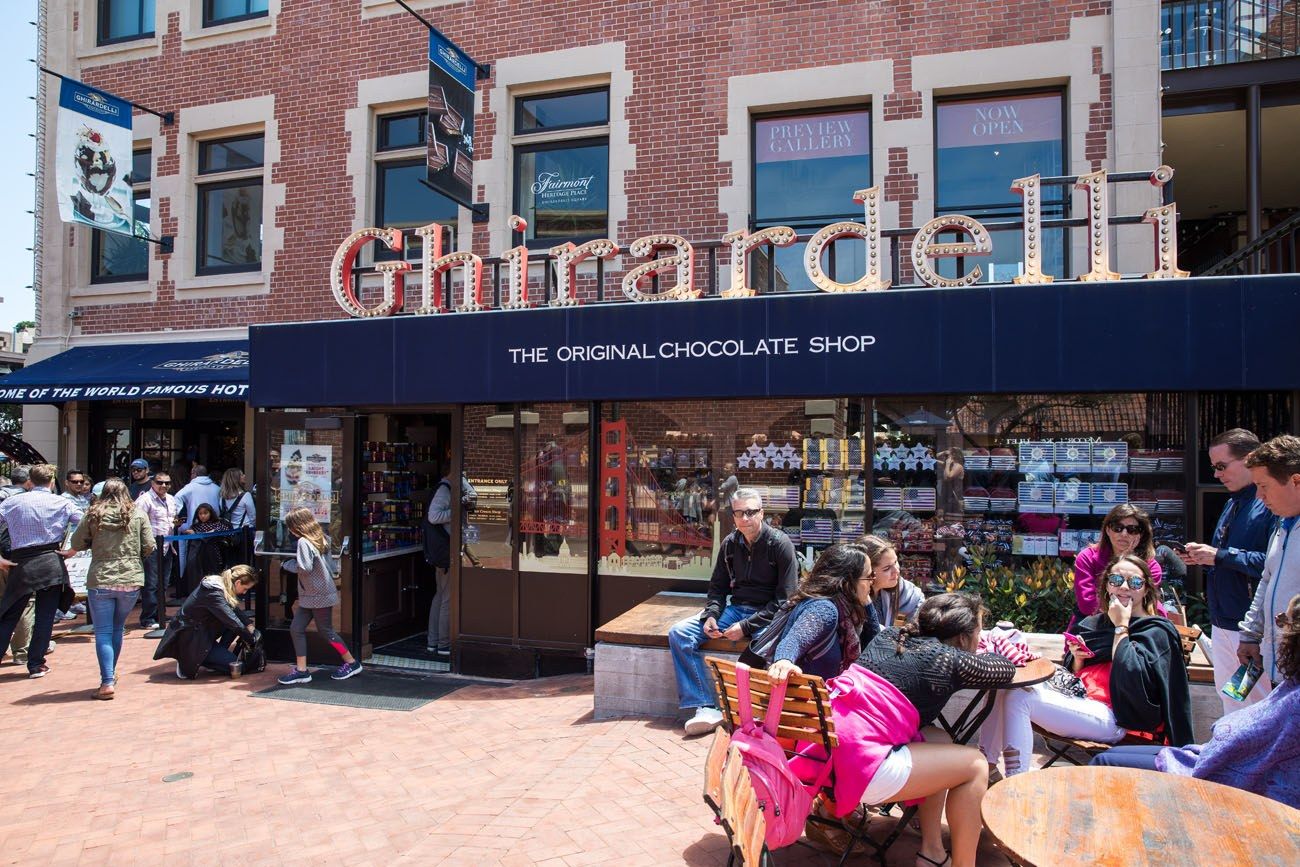 23. The Walt Disney Family Museum
Are you a Walt Disney fan? Then you don't want to miss this museum, although it does have a high price tag. This museum is about the life of Walt Disney, his filmmaking, and the designing of the parks. I wouldn't recommend this for young children (it might be boring for them), but older kids and adults who are Disney fans may find this interesting.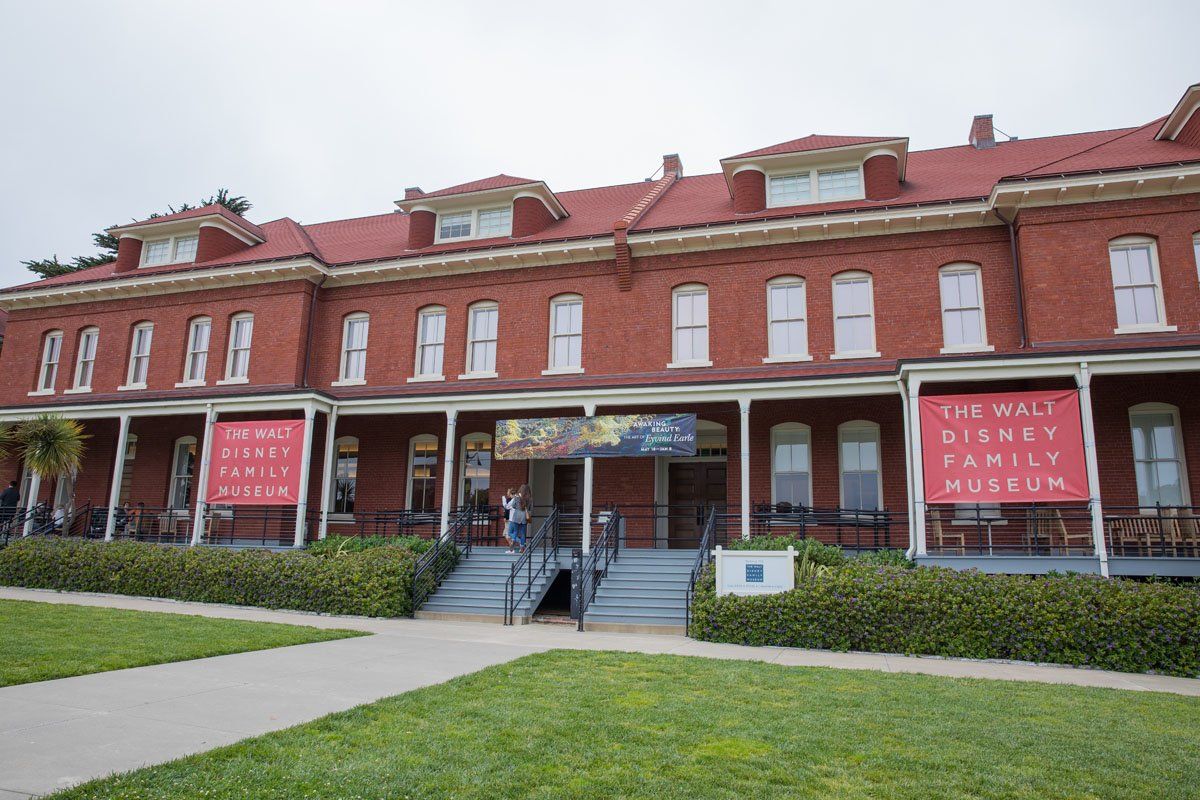 24. See the Mission District Murals
This is an outdoor art gallery that is free to visit. The walls, fences, and buildings in the Mission District are covered in bright murals. Some are political statements and some are purely colorful works of art.
If you are in the Mission District, you can see street art throughout the area. However, there are two alleys that are filled with colorful murals.
Balmy Alley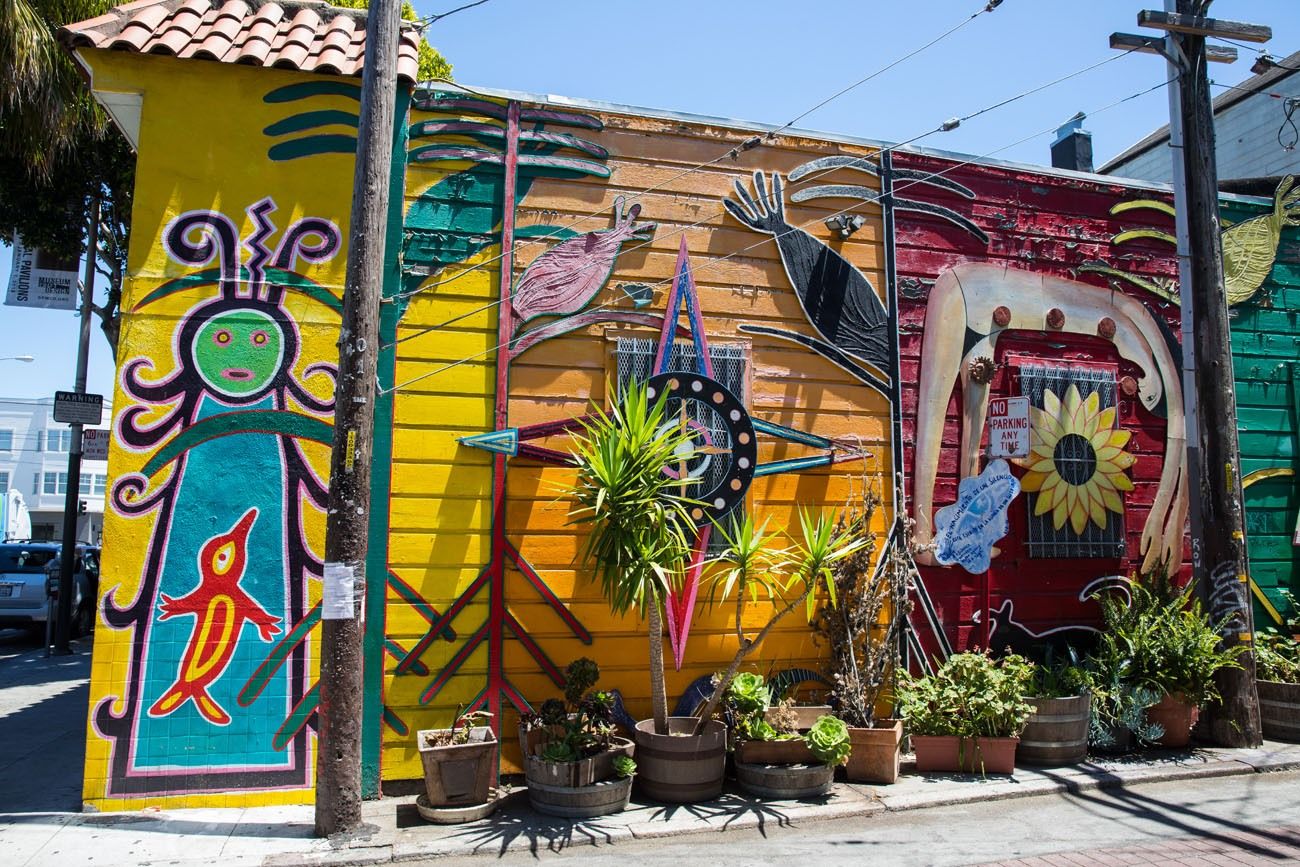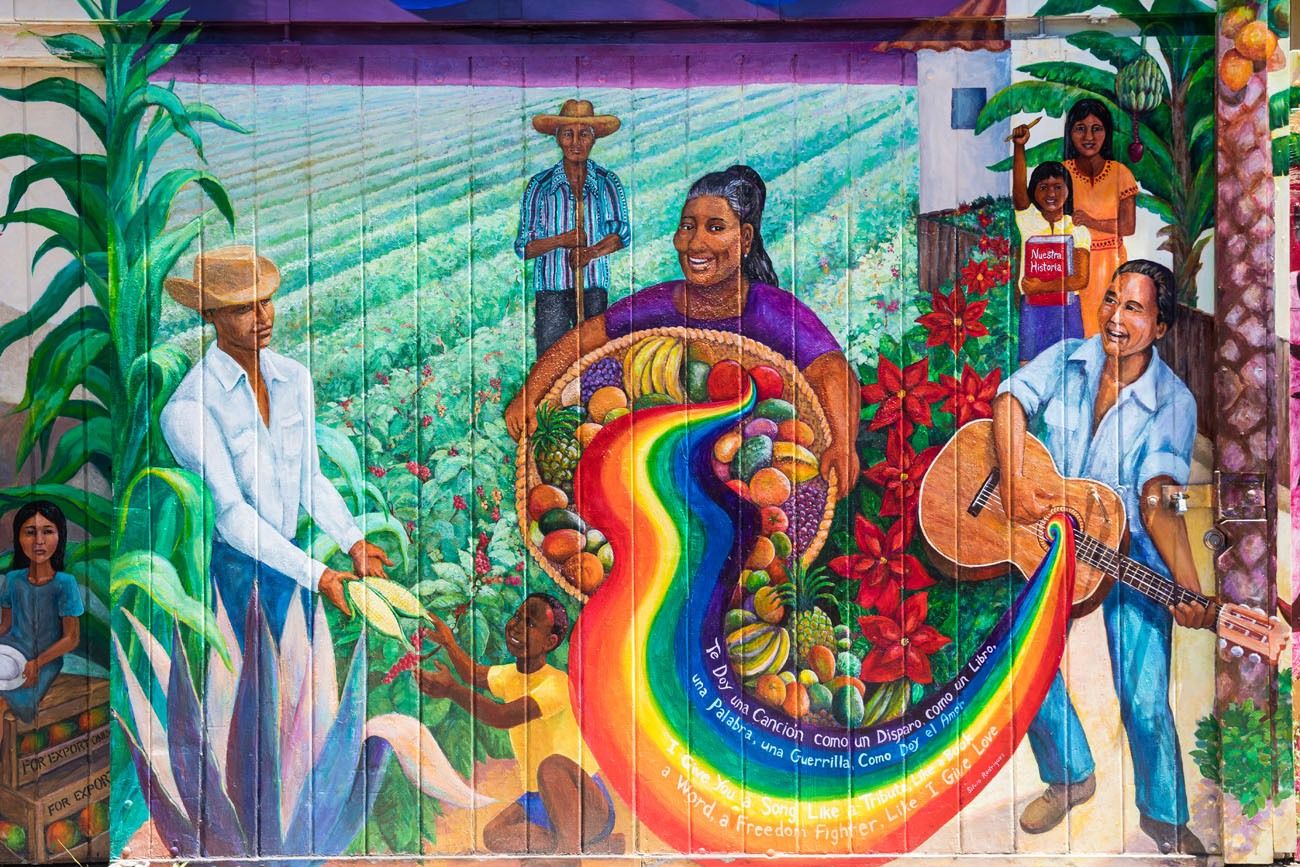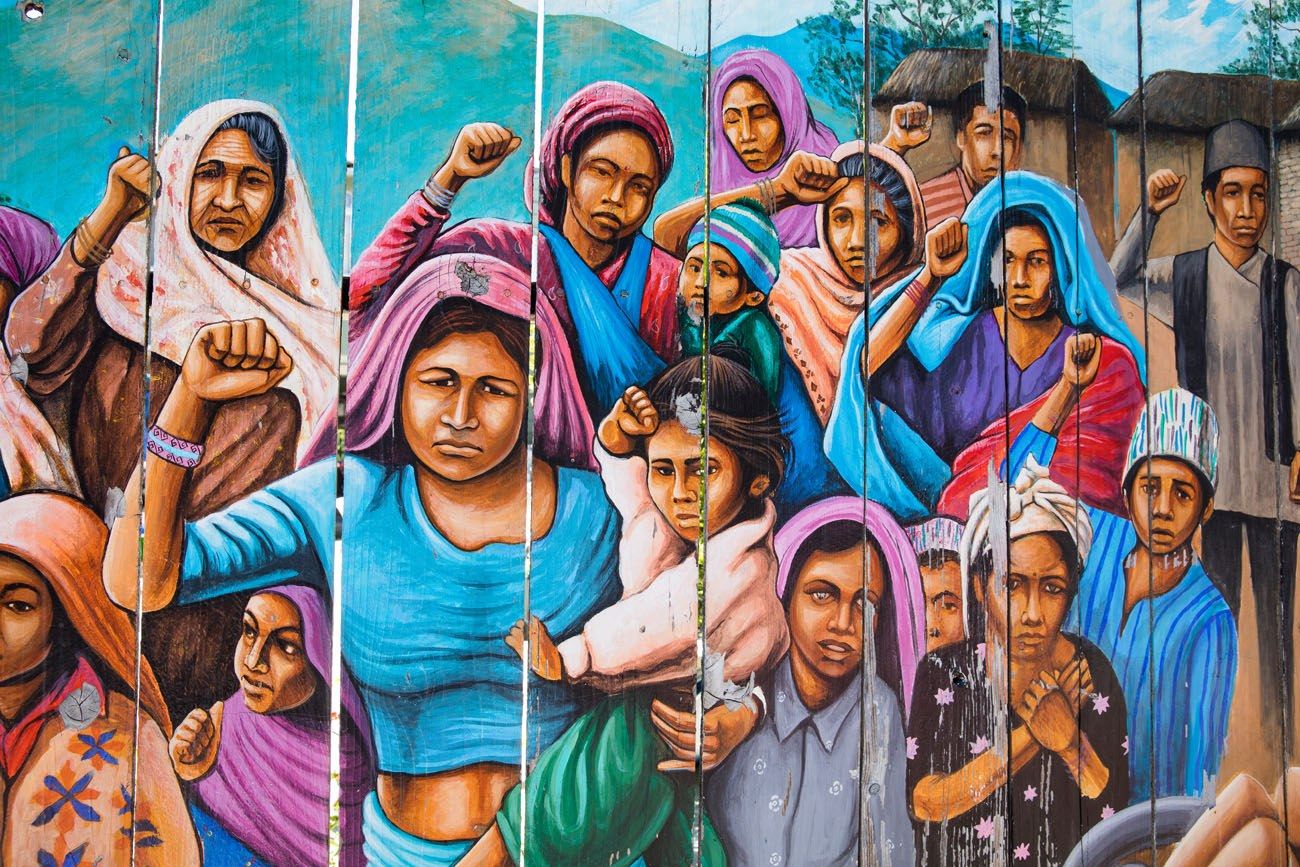 Clarion Alley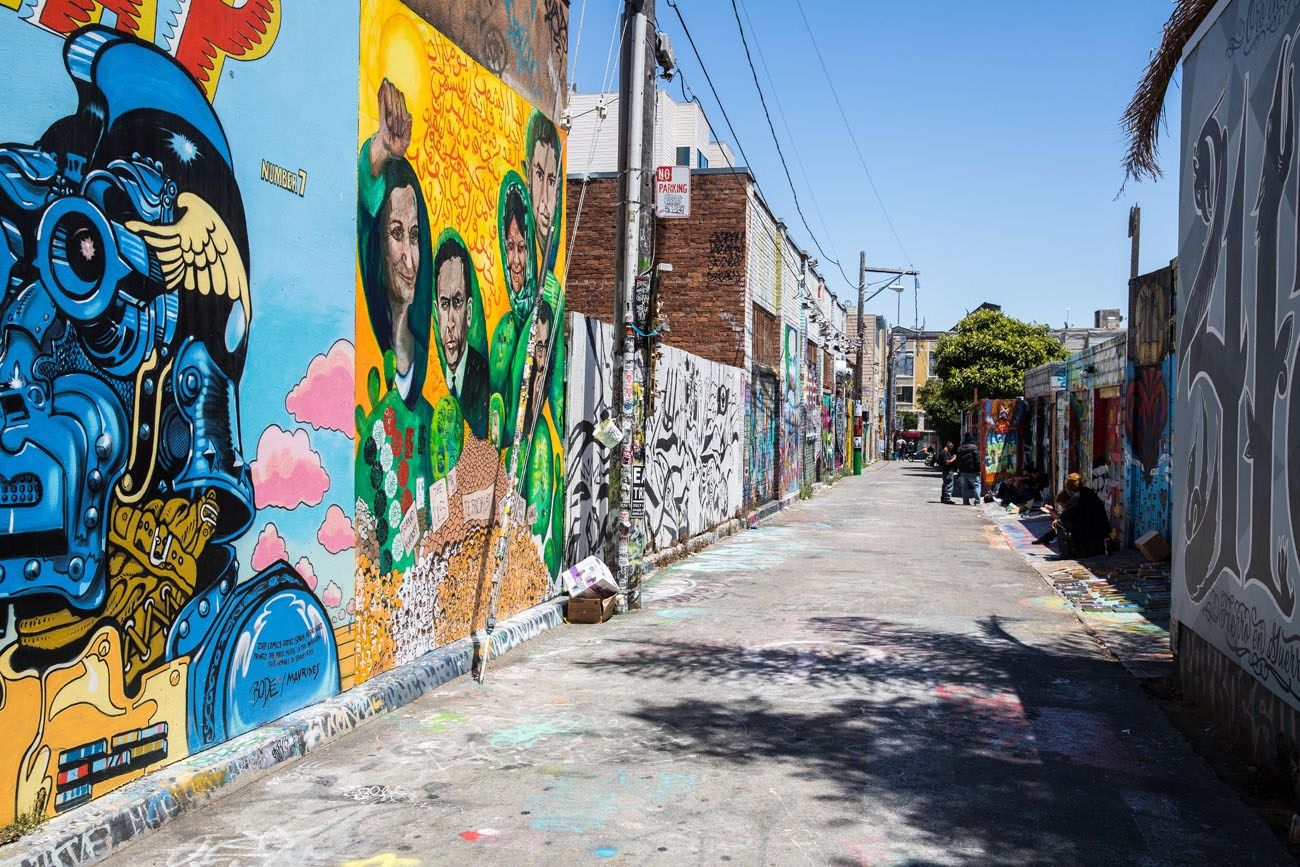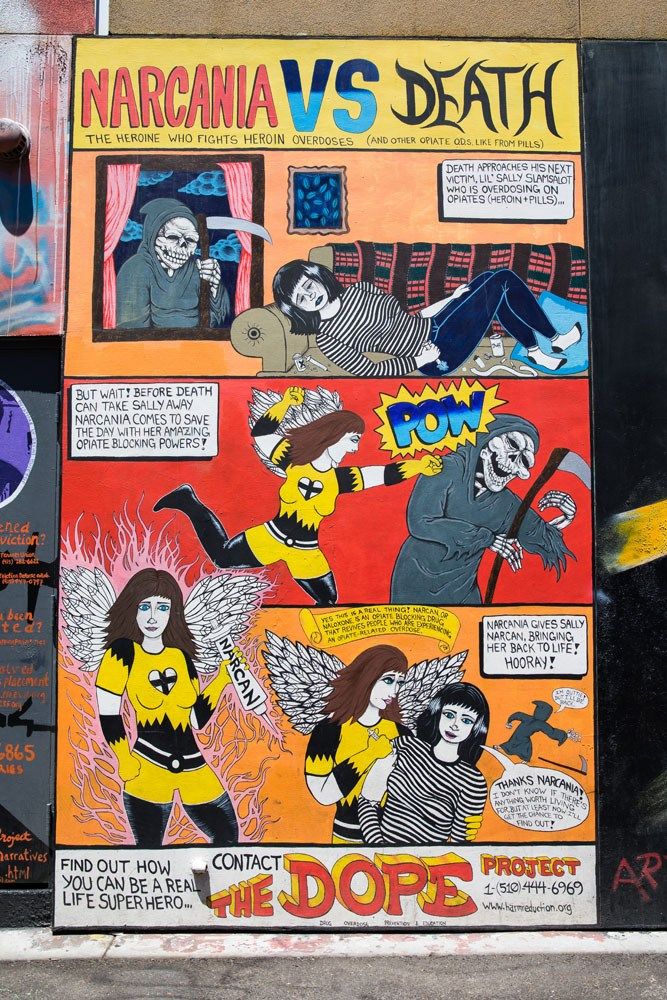 25. Stroll or Bike the Golden Gate Promenade
The Golden Gate Promenade is a park with bike and running trails along the San Francisco Bay. From here, get another view of the Golden Gate Bridge. If you want to cycle along the Golden Gate Promenade, you can combine this with a cycle trip across the bridge.
Map of Things to do in San Francisco
How to Use This Map: Click the icons on the map to get more information about each point of interest. Click the star next to the title of the map to add this map to your Google Maps account. To view it on your phone or computer, open Google Maps, click the menu button, go to "Your Places," click Maps, and you will see this map on your list.
Should You Purchase the San Francisco Go Card?
The San Francisco Go Card is an all-inclusive pass that gets you into many attractions in the city. It is available for 1, 2, 3, or 5 days.
We did not use the Go Card for San Francisco (because honestly, I didn't know it was available for San Francisco when we were here) but we did use the Go Card in Boston. We saved over $100 per person with the Go Card in Boston during the 5 days we had the pass.
The Go Card is worth it if you plan on visiting the higher priced attractions that it covers, such as the Walt Disney Family Museum, the Big Bus Tour, the Exploratorium, or the California Academy of the Sciences.
To learn more about the Go Card, visit their website.
Day Trip Ideas
San Francisco makes a great home base for exploring California. Take a wine tour of Napa Valley, day trip to Yosemite, or explore the coastline at Monterey and Carmel.
---
Have you been to San Francisco? What are your favorite things to do? Comment below!
More Information for Your Trip to California:
You Might Also Like: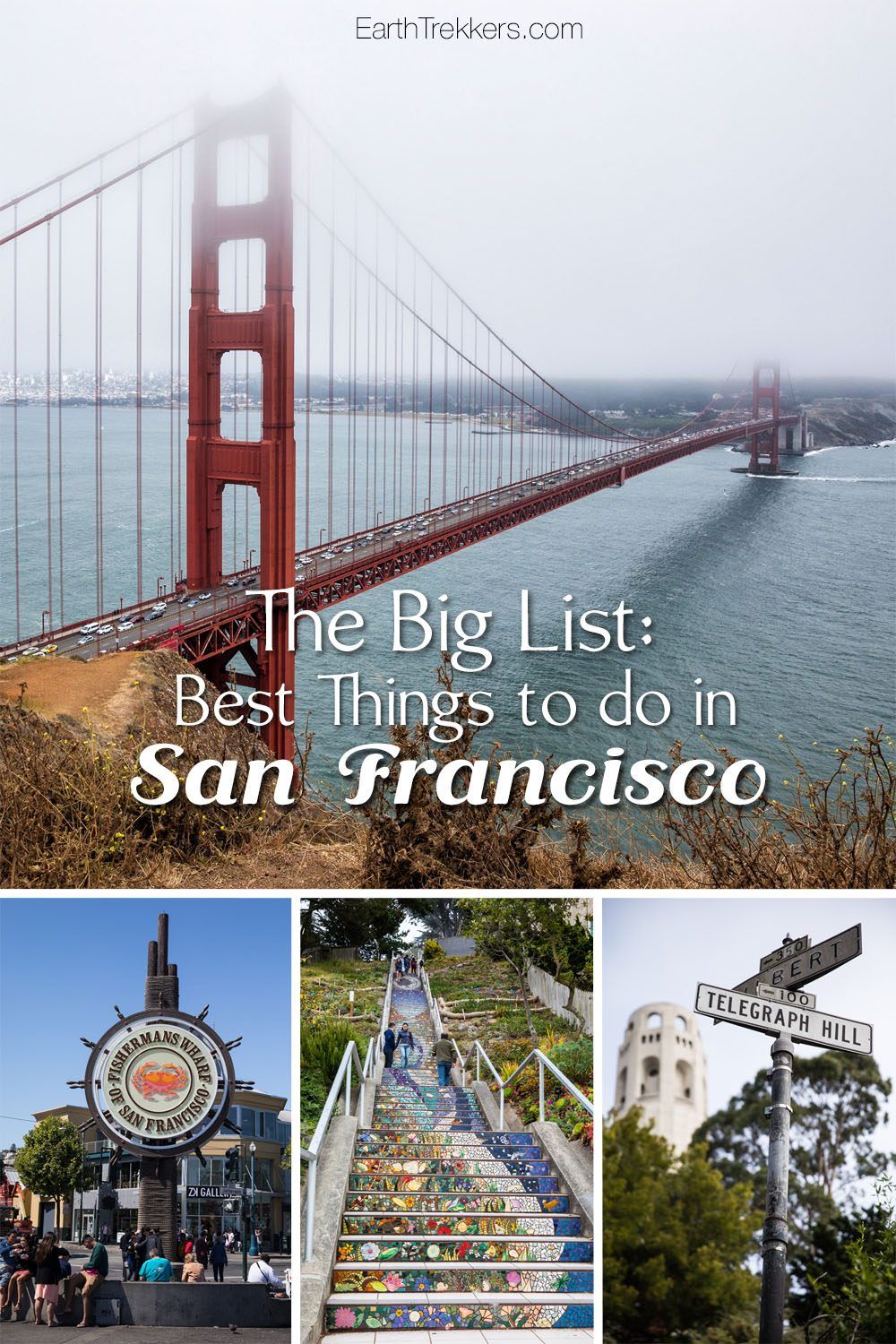 Note: This post contains affiliate links. When you make a purchase using one of these affiliate links, we get paid a small commission at no extra cost to you.
All rights reserved © Earth Trekkers. Republishing this article and/or any of its contents (text, photography, etc.), in whole or in part, is strictly prohibited.