Badlands, grasslands, bison, and the Little Missouri River are not the only attractions in Theodore Roosevelt National Park. You can also visit the Petrified Forest to see ancient, mineralized trees, similar to what you will see at Petrified Forest National Park in Arizona.
Millions of years ago, this part of North Dakota was once a swamp, much like the Everglades in Florida. The trees that lived here fell, were submerged under water, and over eons, the organic material was replaced with minerals, forming petrified trees.
You can see these ancient remnants in this area of Theodore Roosevelt National Park. It's not quite as impressive or dense as what you would see in Petrified Forest National Park in Arizona, but it is still a worthwhile visit.
To get here, you will have to drive on a gravel road and then hike out to areas where the petrified wood lies scattered across the ground. It's not for everyone, but if you like hiking, geology, journeying to remote areas, and the chance to see lots of bison, hiking the Petrified Forest Trail is worth it.
Overview of the Hike
A visit to Petrified Forest consists of two parts: a 6 mile drive on gravel roads followed by hiking, which can range from 3 to 10 miles, depending on how much you want to see.
Let's start with the drive to get here.
Driving to the Petrified Forest
Distance: 9 miles from Medora
Length of Time: 30 minutes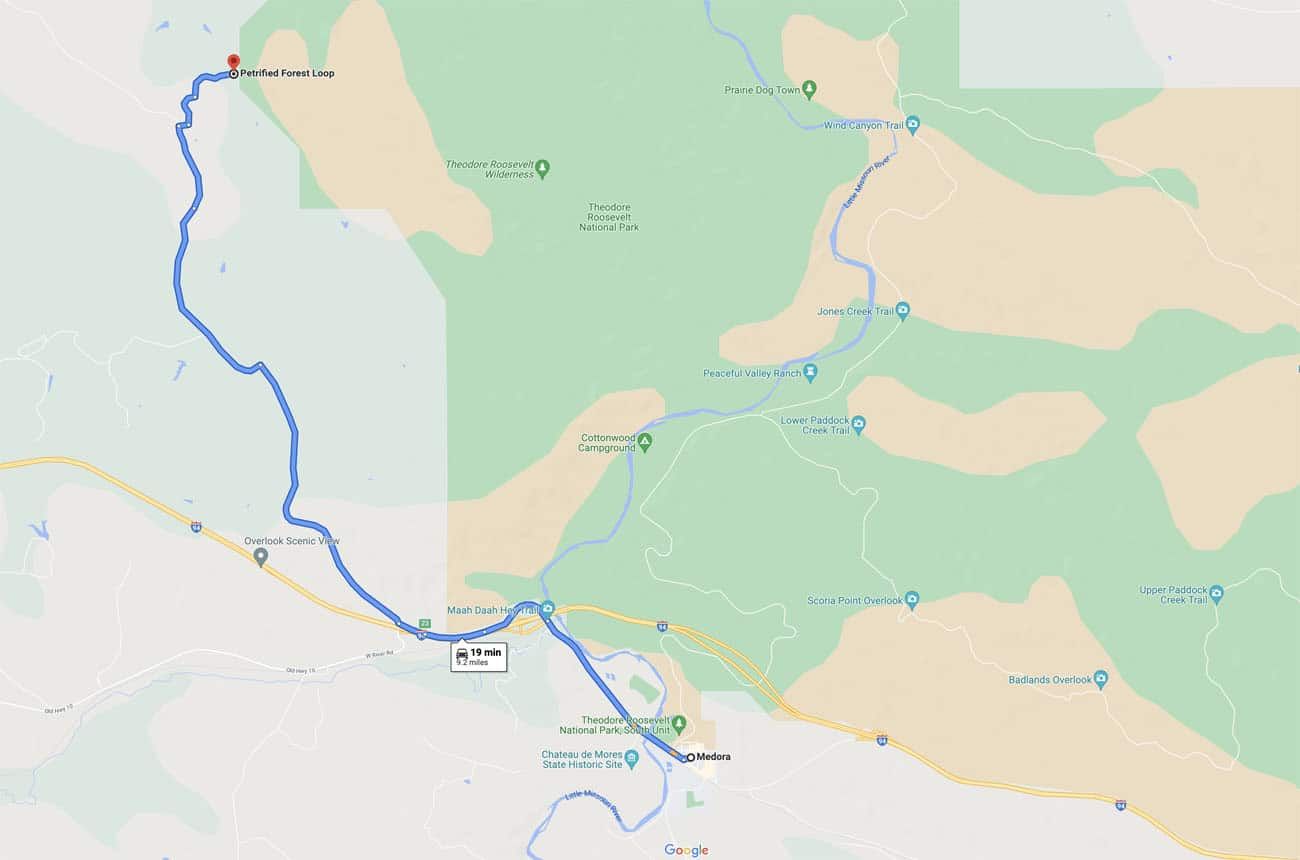 Petrified Forest is a separate area of the South Unit in the west. To get here, you will have to drive on gravel roads that go through private property in order to get to the trailhead.
The roads that lead to the Petrified Forest area lie outside of the national park boundary.
From Medora, take Interstate 94 to exit 23. Turn right onto Forest Service Road 730. You will then make a few turns to stay on this road, until you get to the trailhead 6 miles later. Each turn is well marked with road signs pointing you in the right direction.
This gravel road goes through ranches and private property, so stay on the roads and follow the signs to the Petrified Forest.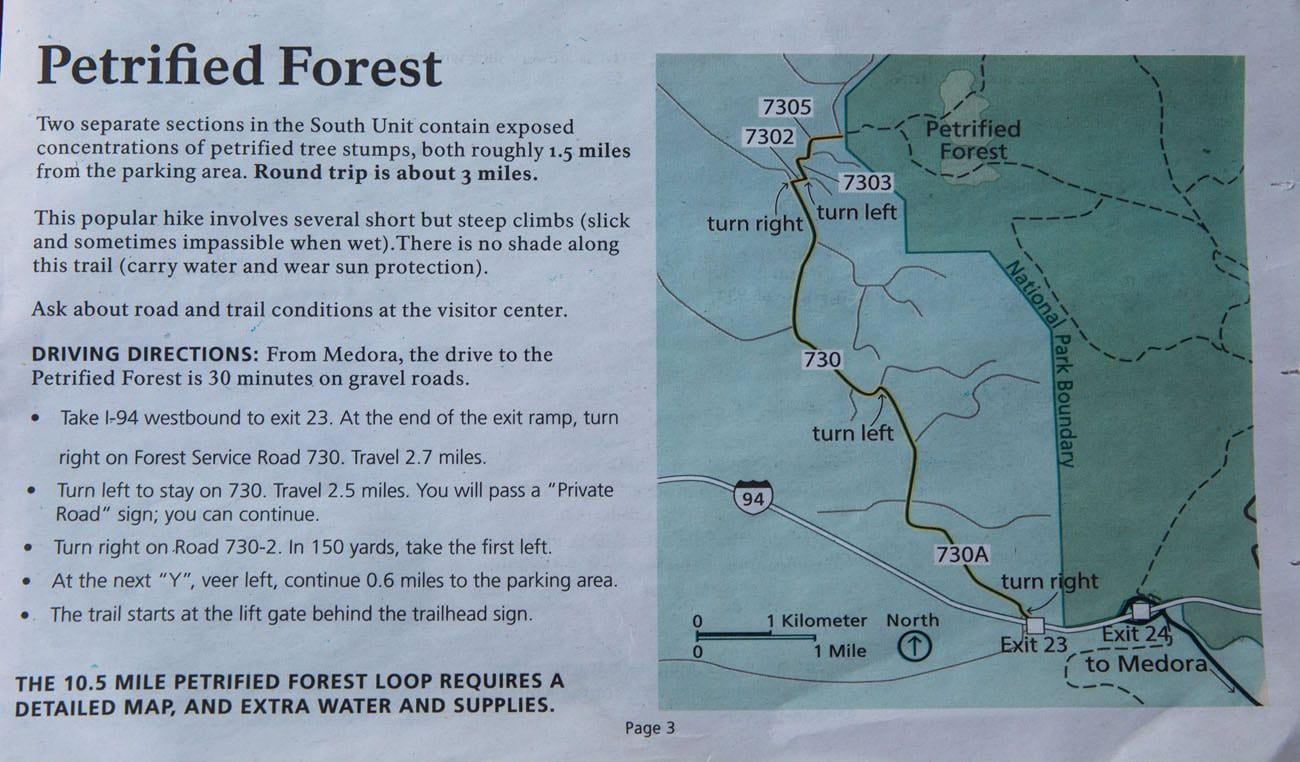 The newspaper provided by the National Park Service provides detailed turn-by-turn directions on how to reach the trailhead. Above is a photo of the directions but I recommend picking up a copy at the South Unit visitor center.
We also tried out Google Maps and this worked just fine. Enter "Petrified Forest Loop" into Google and follow the directions.
The road is gravel and suitable for standard vehicles as long as it has not recently rained. There was some washboarding on the road when we did this but we did not have any problems (we were driving a Toyota Sienna minivan, not our first choice, but it was our only option when we picked up our rental car due to low inventory).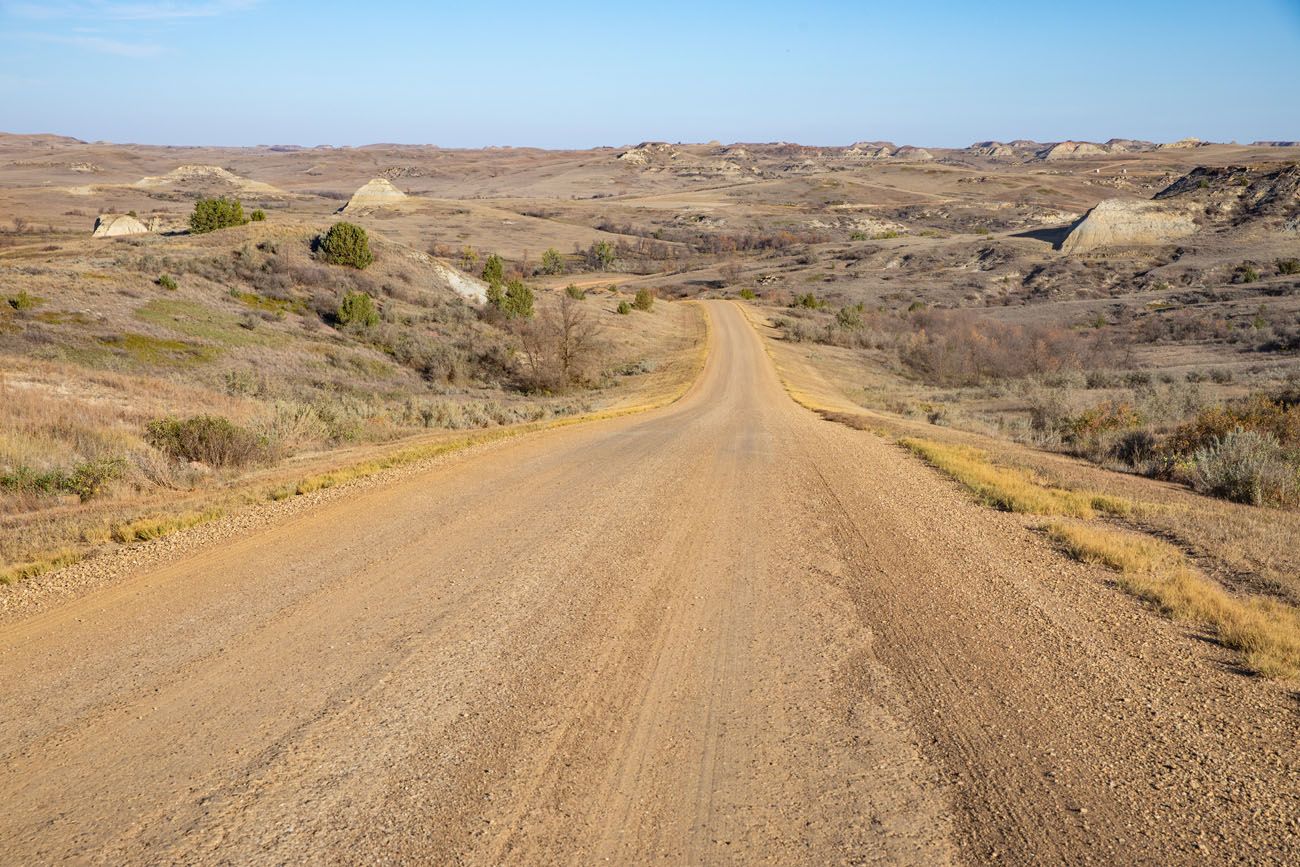 Forest Road 730
Hiking the Petrified Forest Trail
There are two areas of the Petrified Forest: a south area and a north area.
You can hike to both as a gigantic loop (10.4 miles) or hike out-and-back to one or both areas. I recommend hiking out-and-back…it will save you a lot of time and most of the gigantic loop leads through monotonous grasslands.
Petrified Forest Trail Hiking Stats
North Area Out-and-Back
Distance: 2.9 miles
Difficulty: Easy to moderate
Total Ascent: 440 feet
Length of Time: 1.5 to 3 hours
South Area Out-and-Back
Distance: 3.4 miles
Difficulty: Easy to moderate
Total Ascent: 425 feet
Length of Time: 1.5 to 3 hours
North & South Areas Out-and-Back
Distance: 5.2 miles
Difficulty: Easy to moderate
Total Ascent: 675 feet
Length of Time: 2 to 4 hours

Elevation profile of the Petrified Forest Trail, starting with the south area and ending with the north area.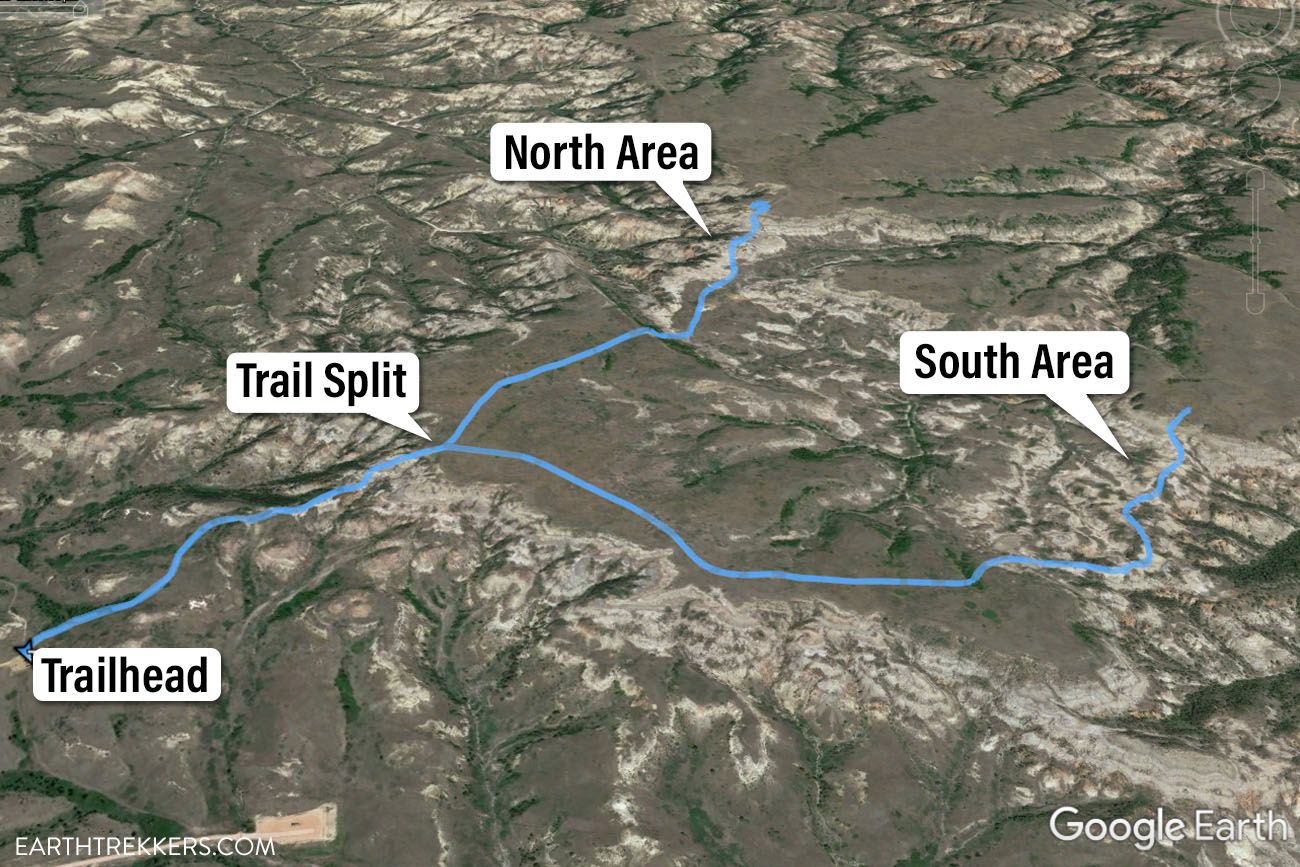 Map of the hiking trail.
Please practice the seven principles of Leave No Trace: plan ahead, stay on the trail, pack out what you bring to the hiking trail, properly dispose of waste, leave areas as you found them, minimize campfire impacts, be considerate of other hikers, and do not approach or feed wildlife.
First Part of the Hike
From the parking lot, you will hike 0.6 to a trail split. Most of this hike is uphill but it's nothing too strenuous.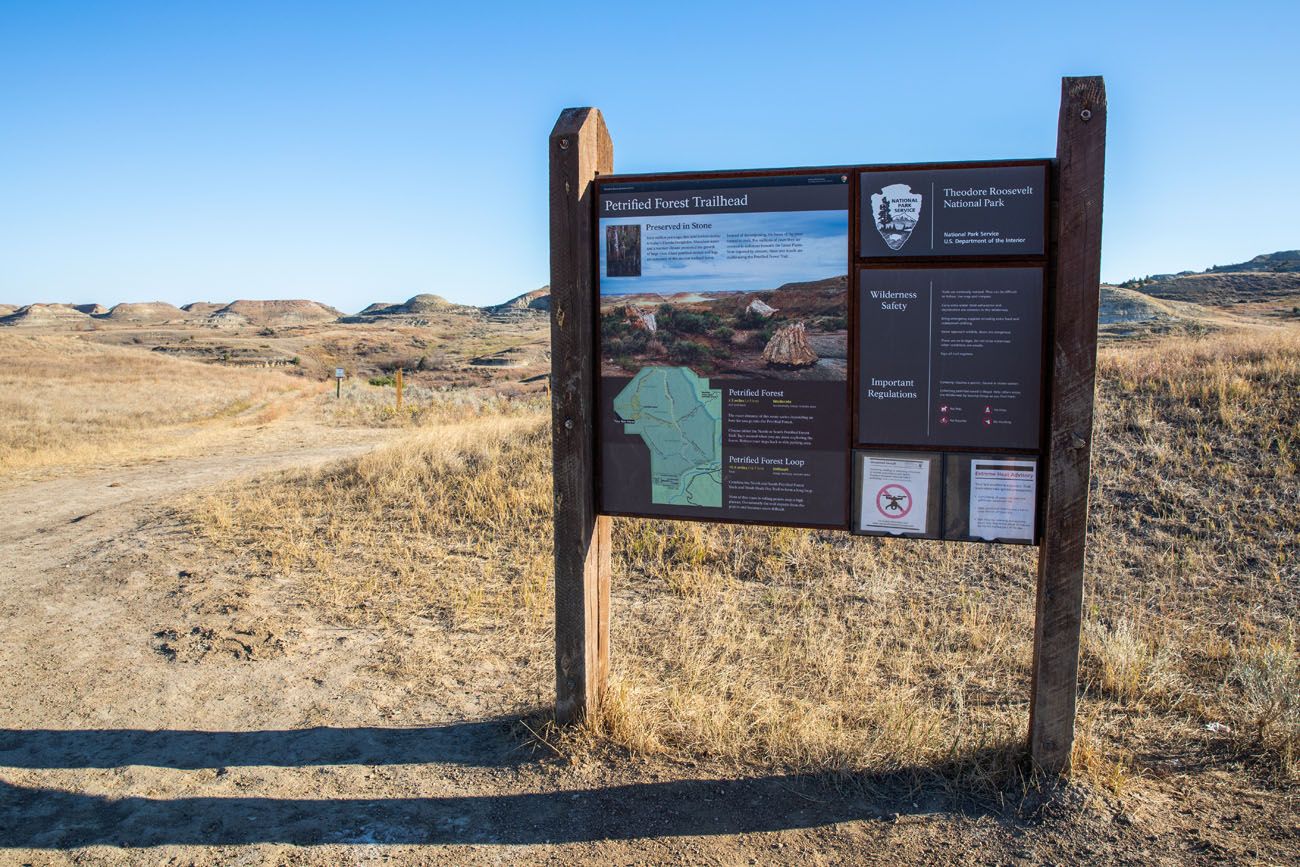 Petrified Forest Trailhead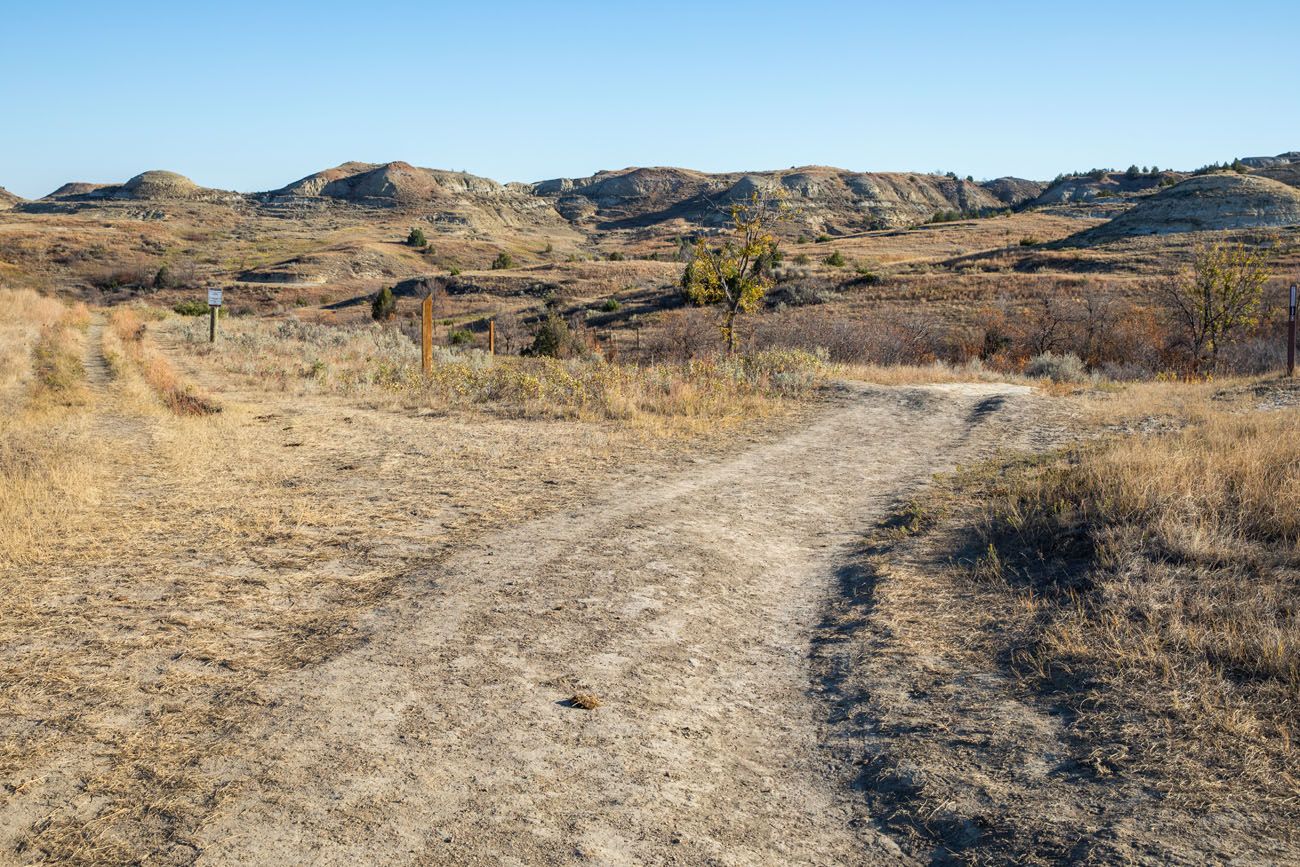 First part of the trail.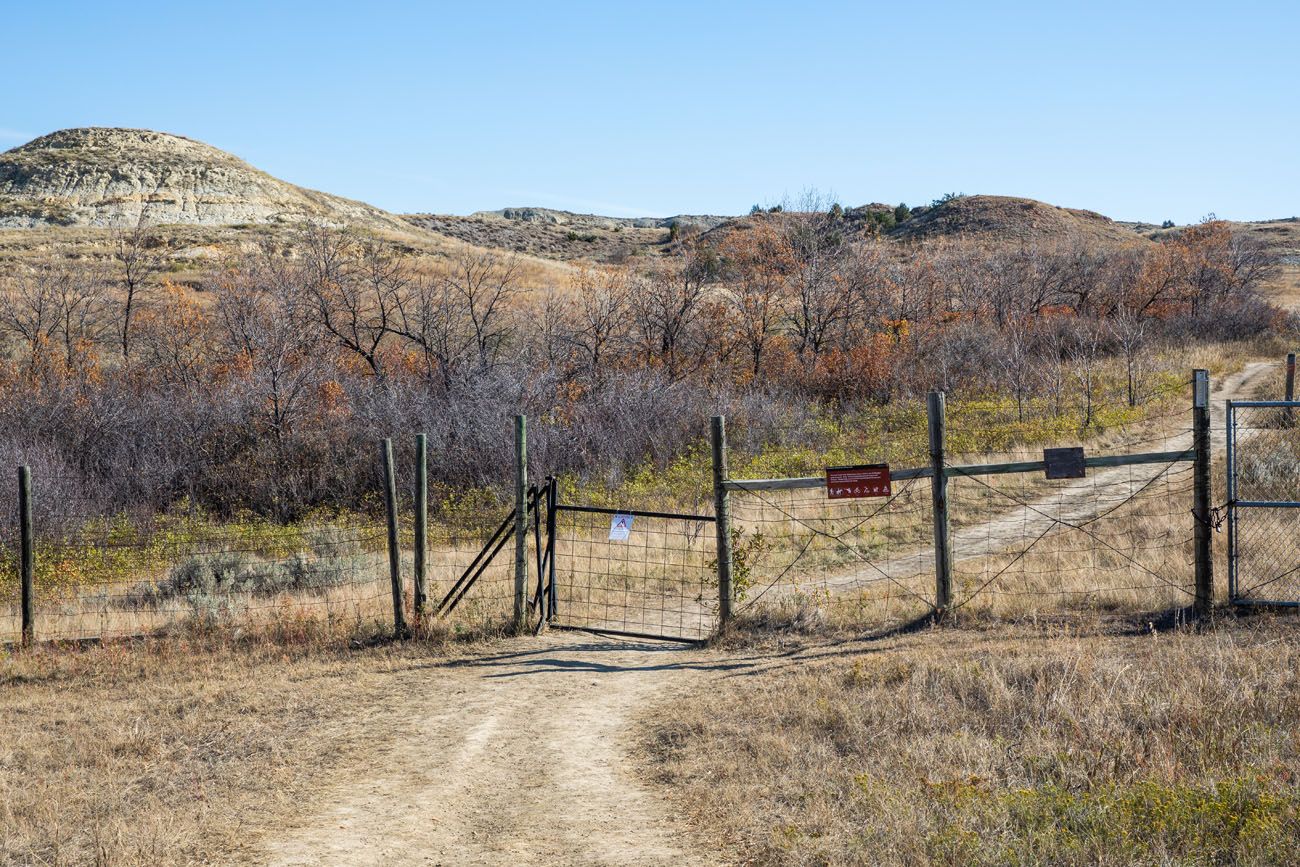 Almost right away you will have to pass through this fence. Make sure you close it behind you.
On this hike, there is a good chance that you will see bison. A park ranger raved about the wildlife sightings here and we have to agree. We saw bison over and over again throughout this hike.
At the trail marker, go left to go to the north area and go right to go to the south unit. We did both and Tim and I both liked the north area more. It's a bit shorter of a walk and the amount of petrified wood is more impressive in the north area.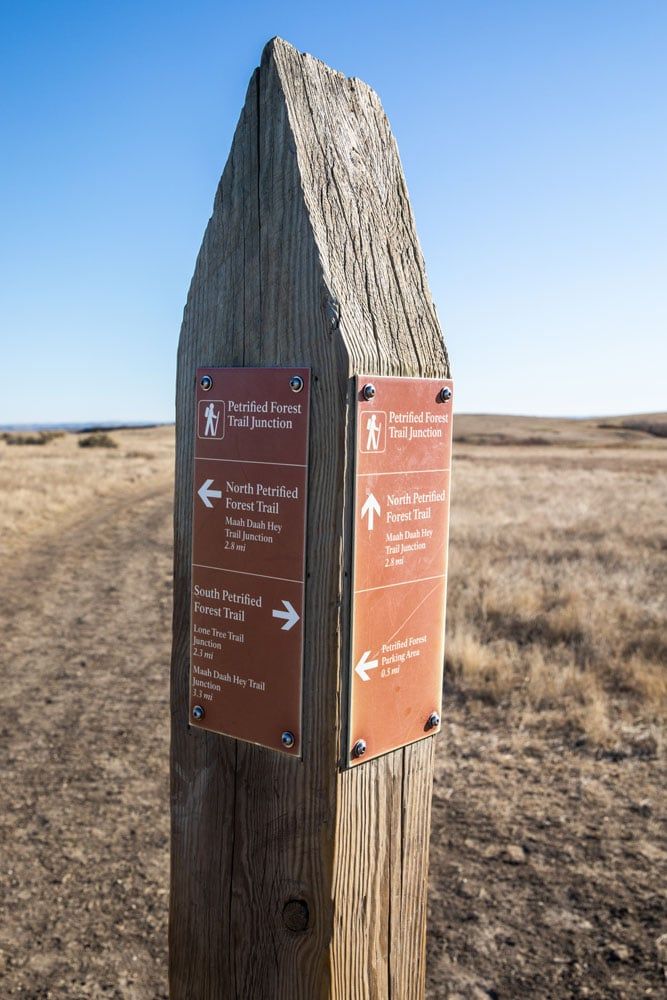 Trail marker
The North Area of the Petrified Forest
To get to the north area, you will hike roughly another half mile, descend from the plateau into an area of badlands, and then you will come to the petrified wood.
We were told by a park ranger that in Theodore Roosevelt National Park it is fine to hike off trail, so you can walk around and take photos of the petrified wood. But as part of Leave No Trace, do not take any pieces of the petrified wood.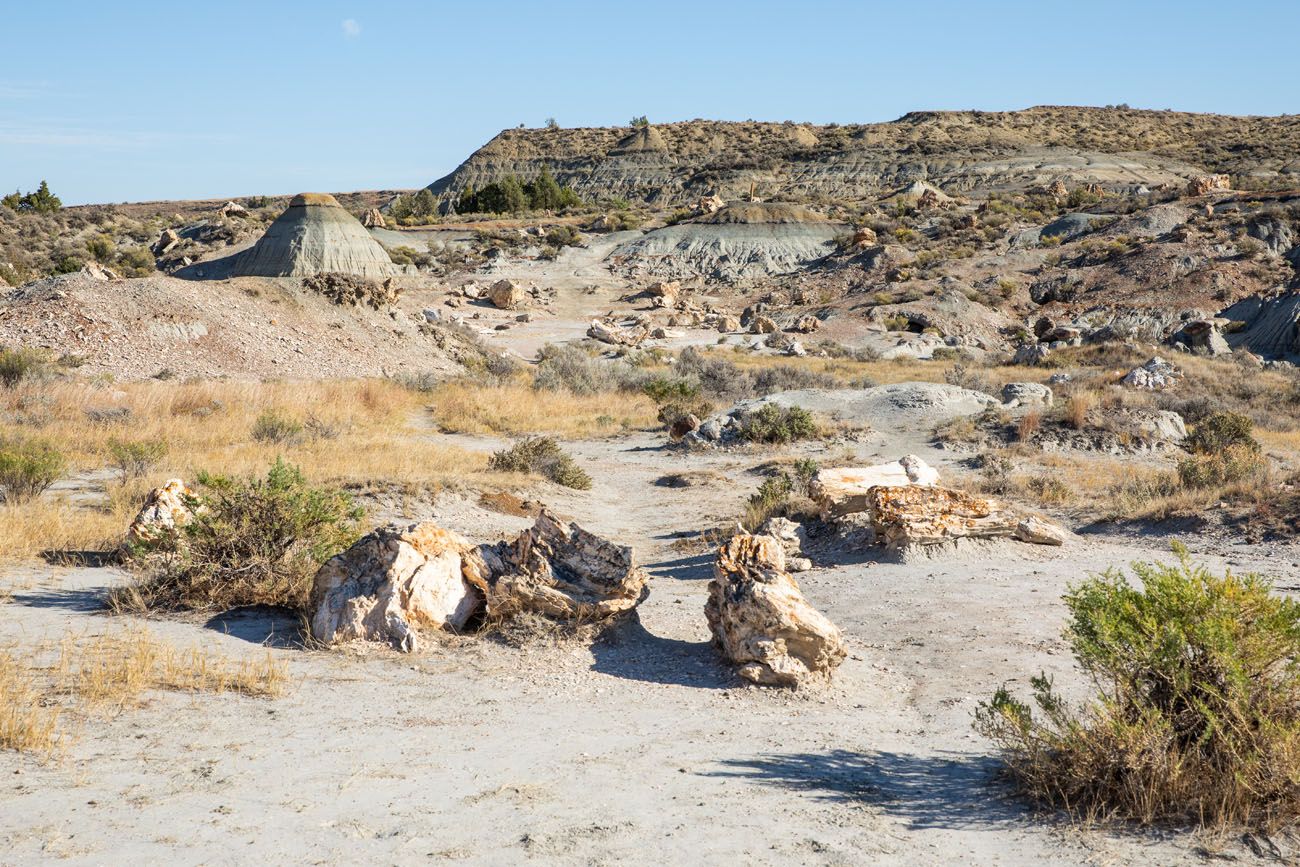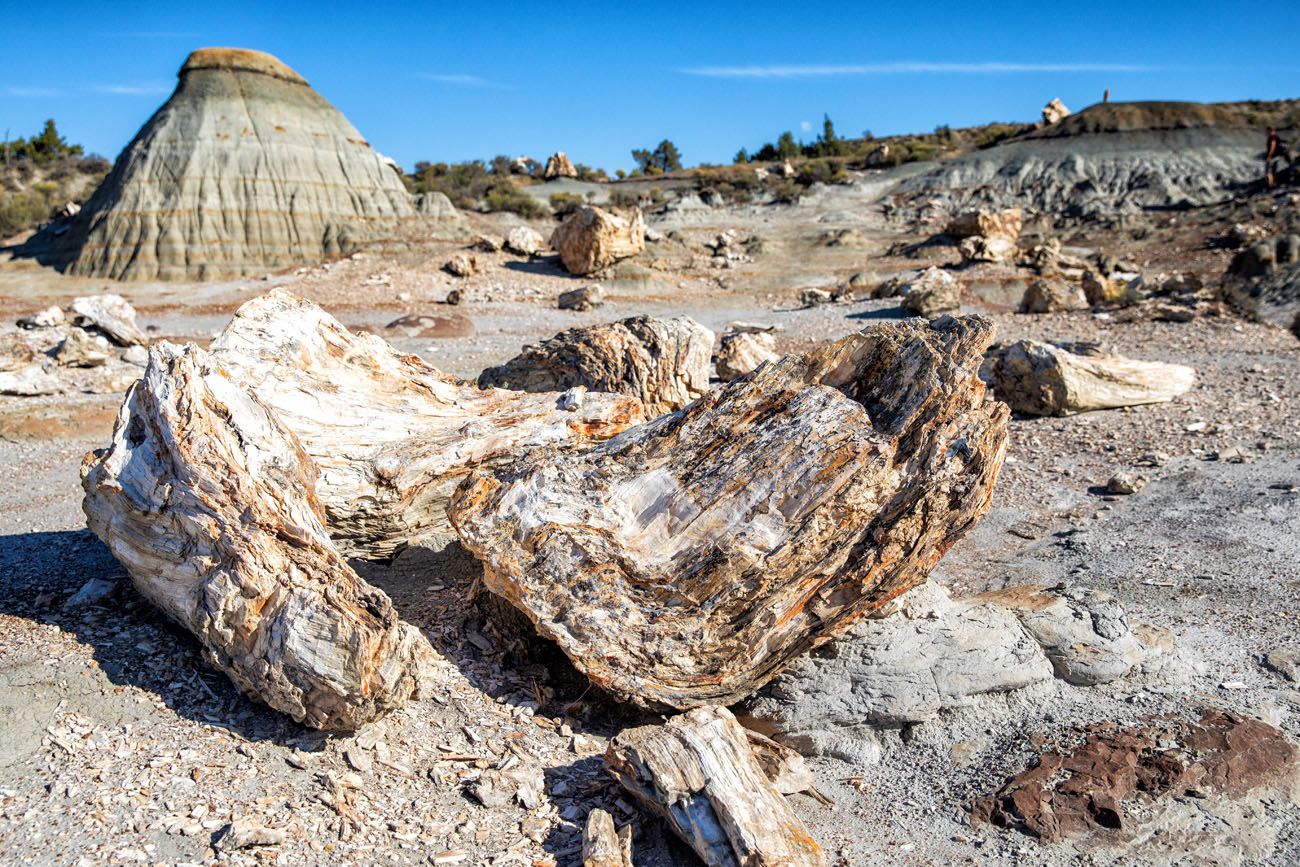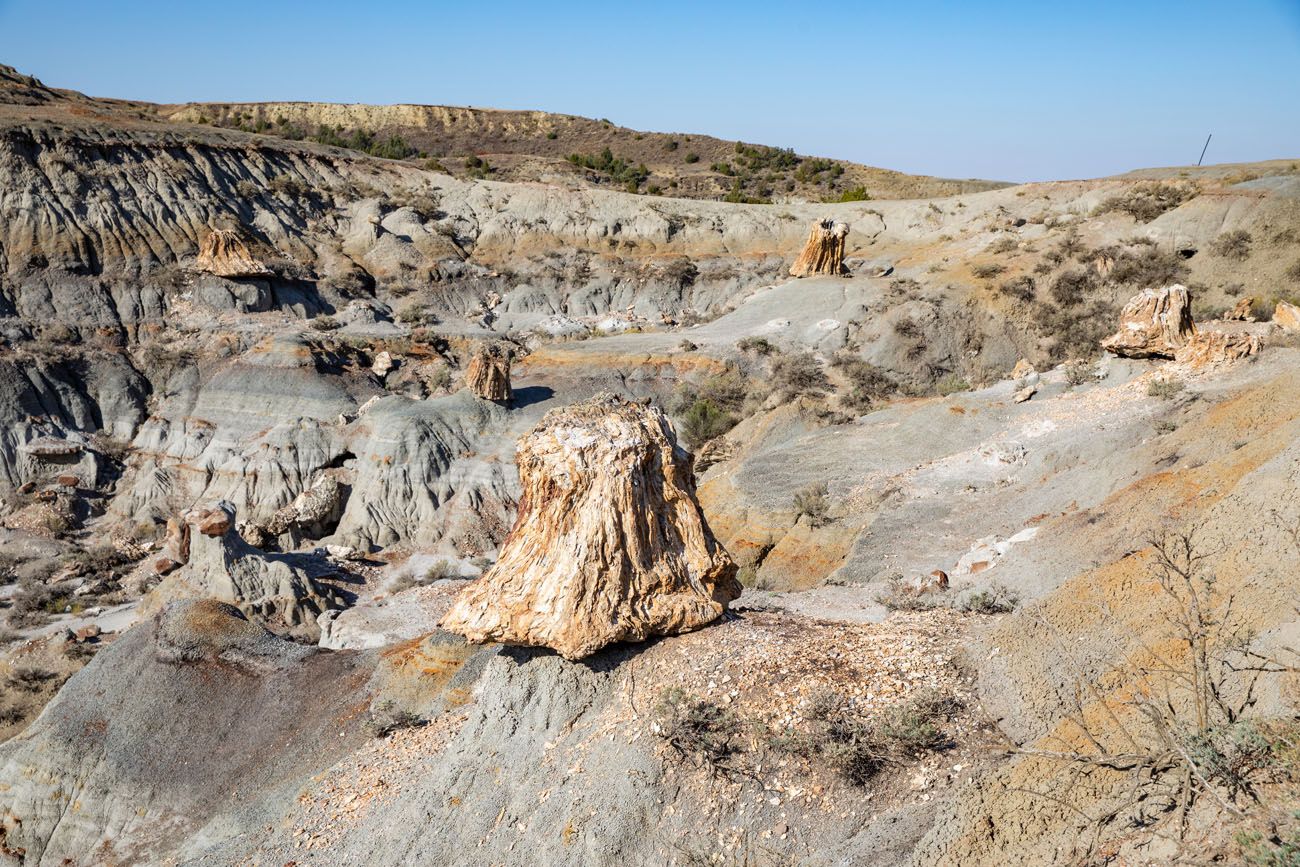 You have the option to continue the trail up the far hill for another view but this is optional and just okay in my opinion. Here's the view.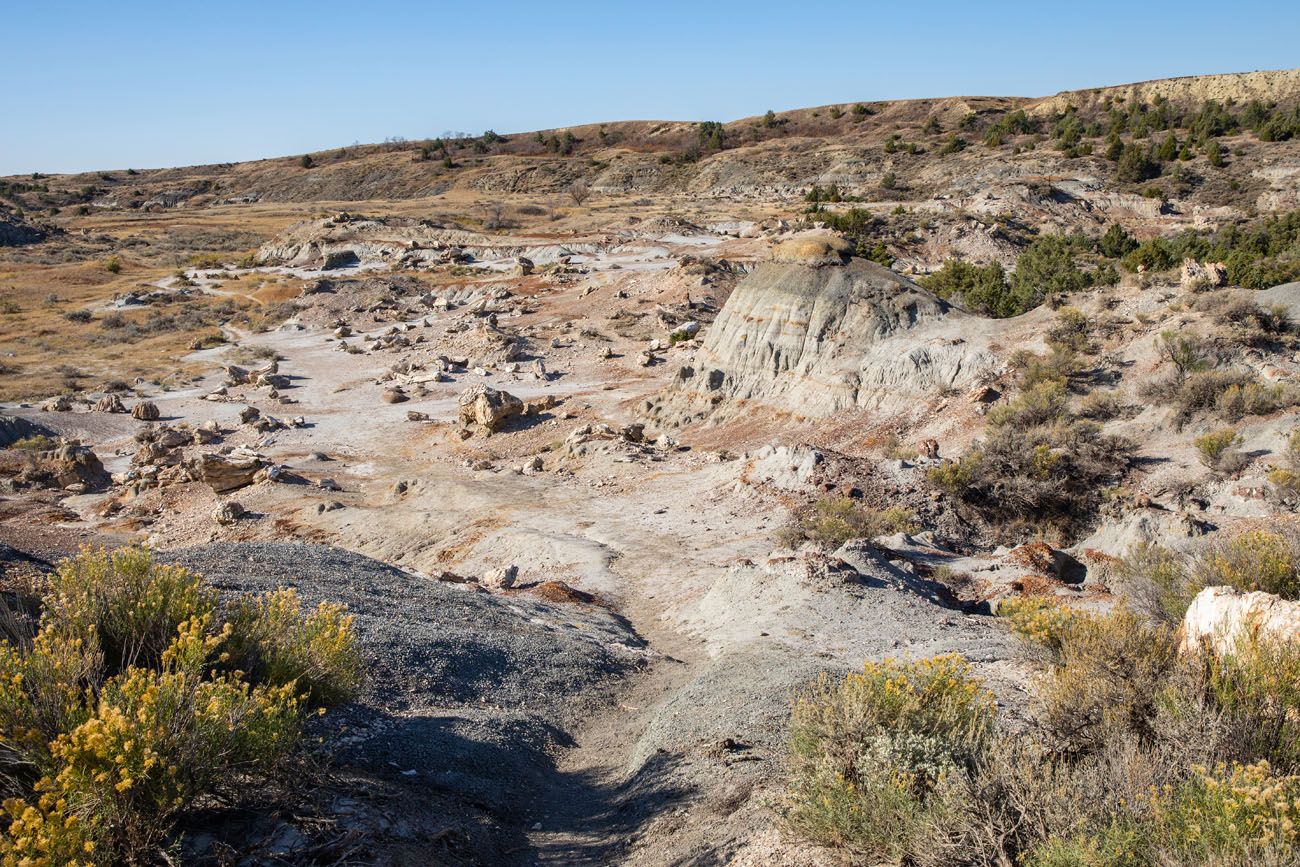 Overlooking the petrified wood in the north area.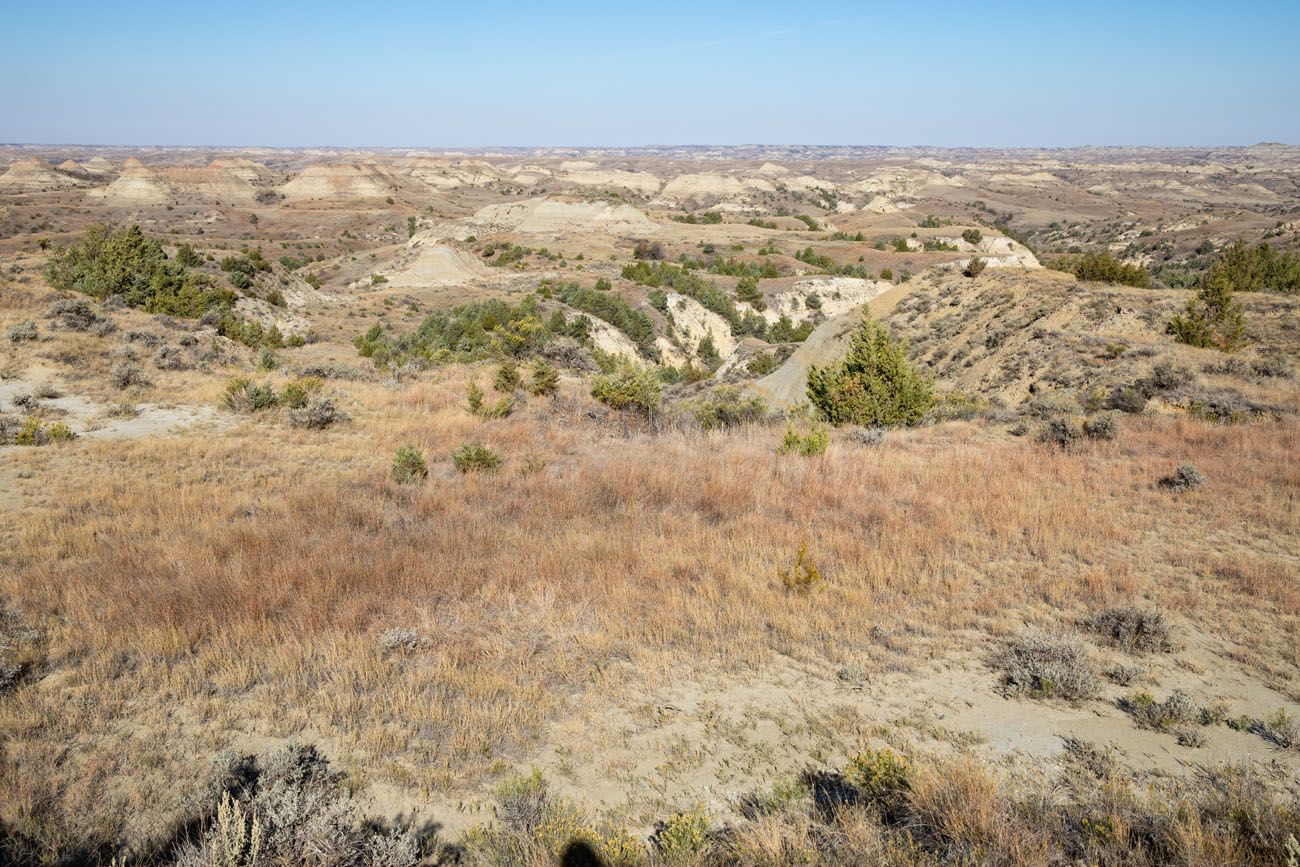 View from the plateau.
Retrace your steps back to the trail split. You can either end the hike by returning to your car or continue on to the south area.
The South Area of Petrified Forest
From the trail split, it is about a 0.75 mile easy walk to the south area of petrified wood. This area is larger but the pieces of wood are smaller and more spread out. The best petrified wood is at the far end of the area and it's worth the extra walk to see these larger trunks and chunks of petrified wood.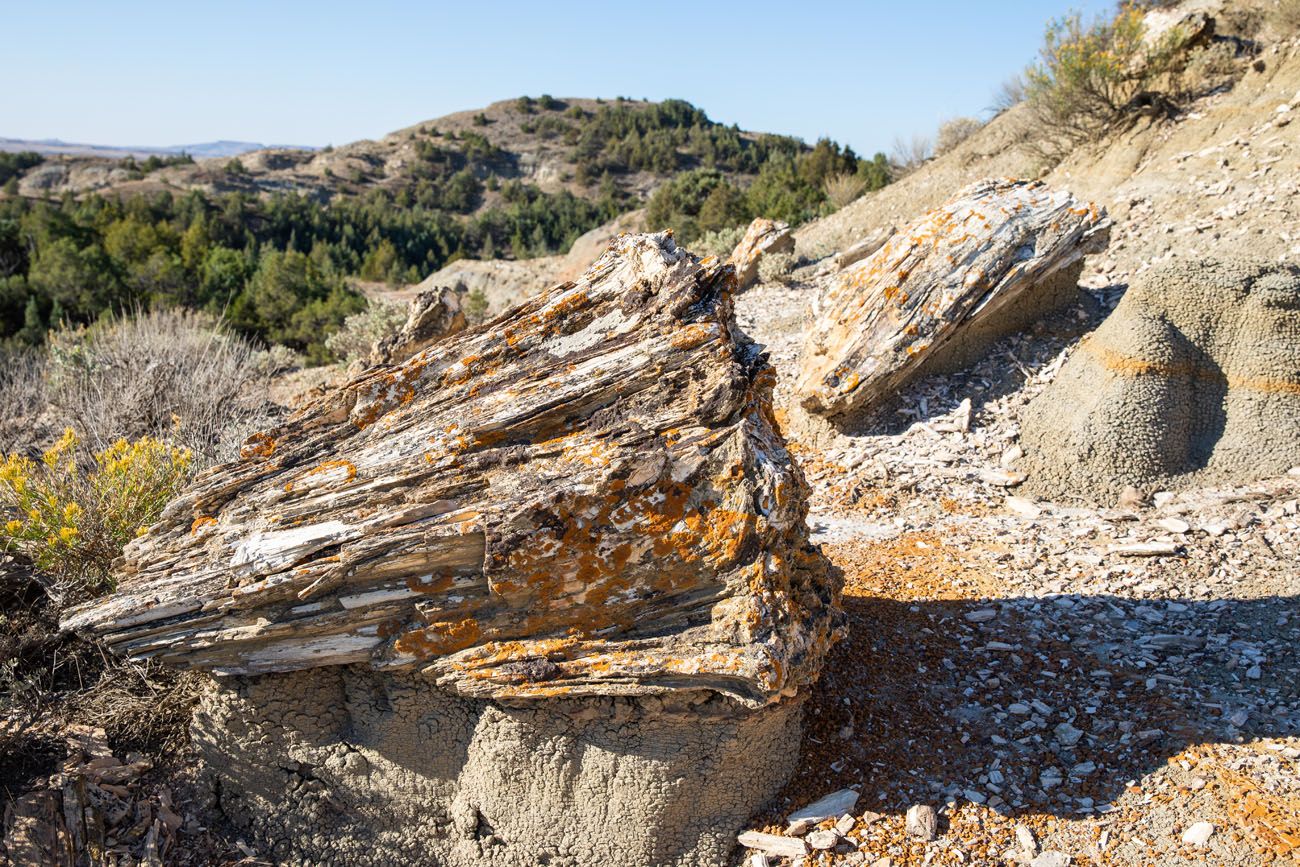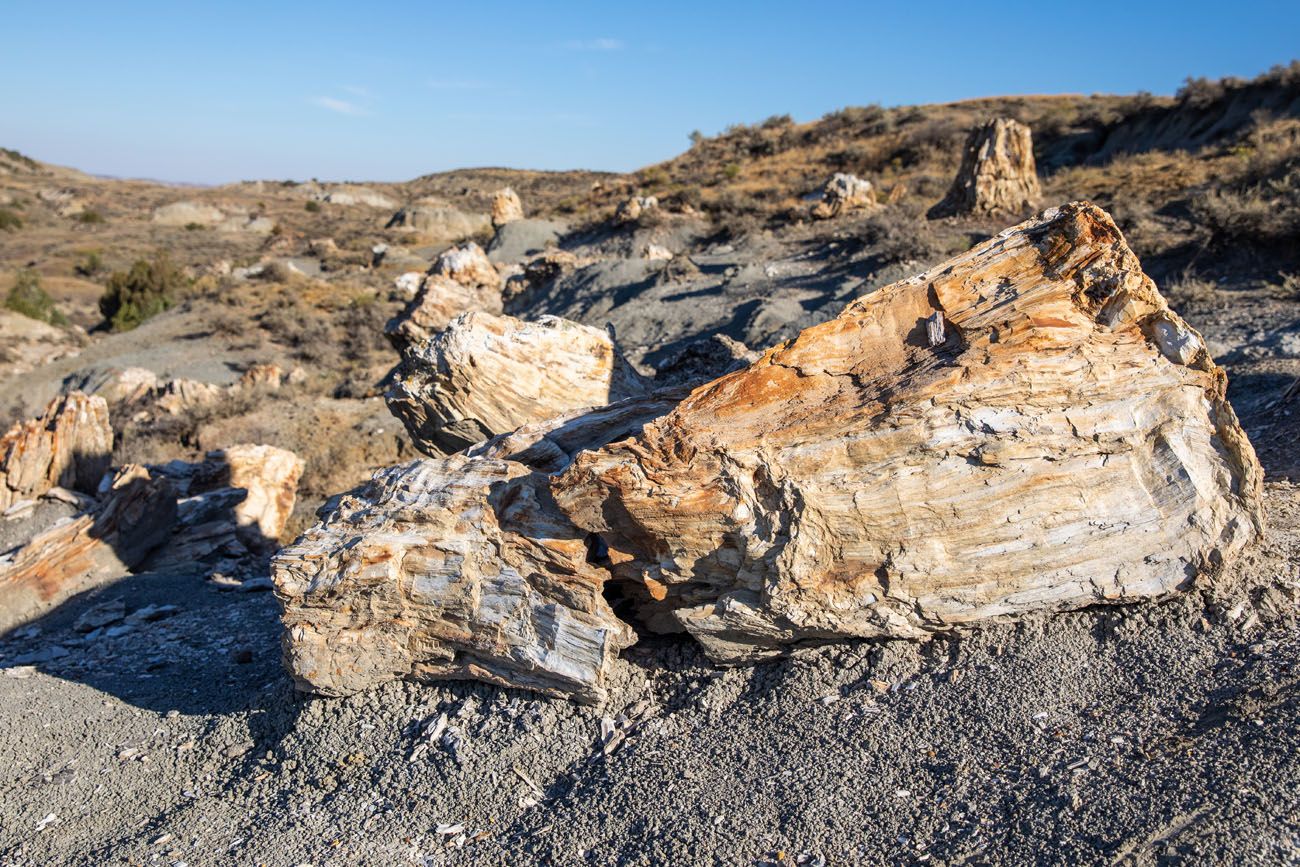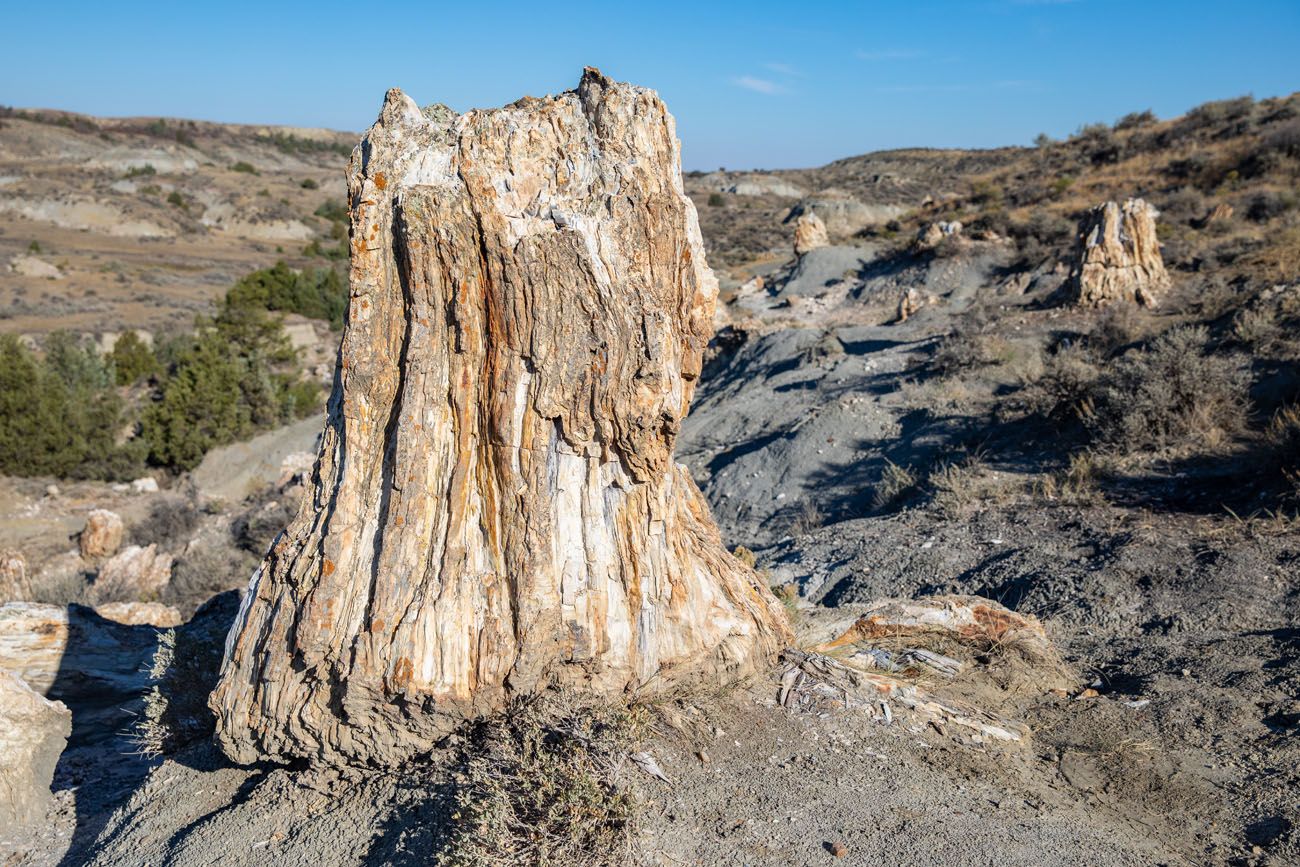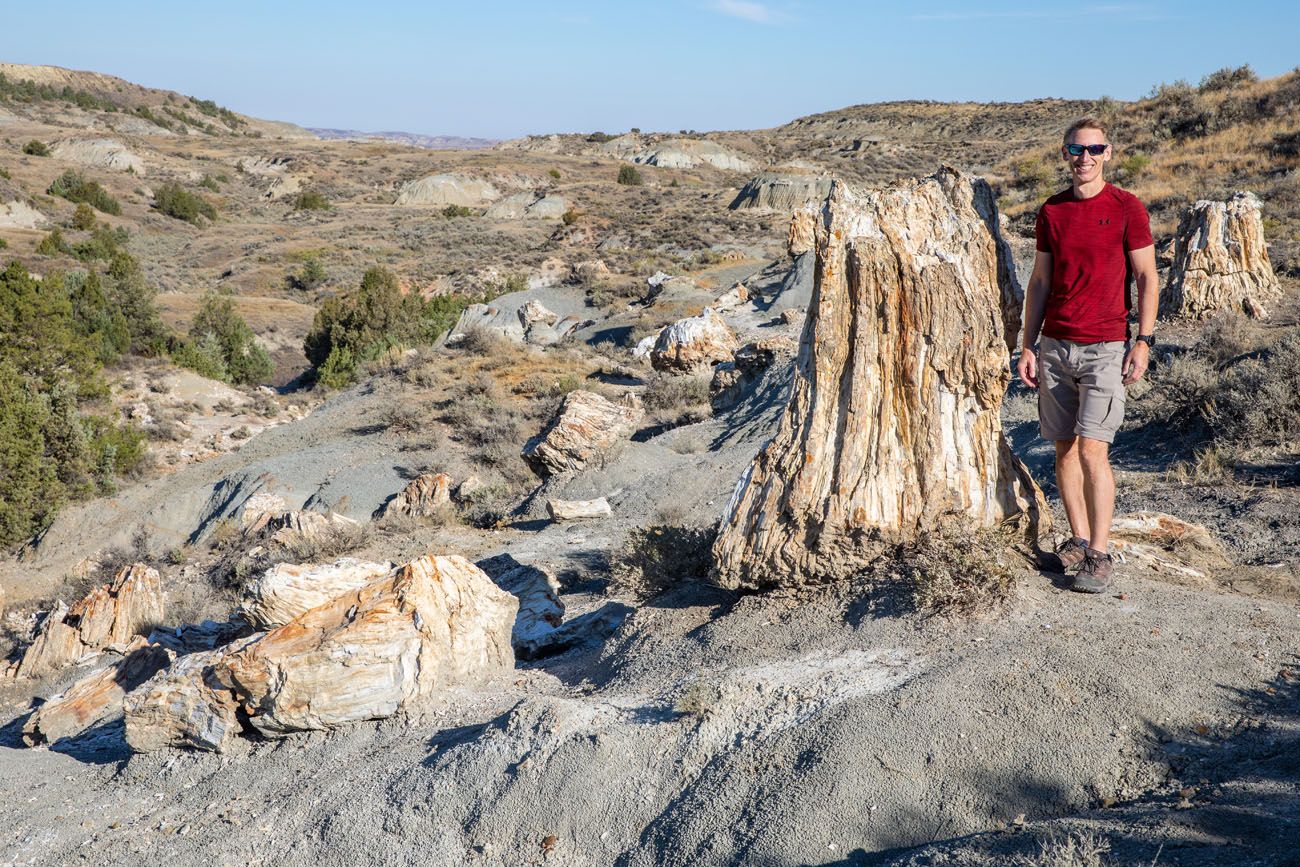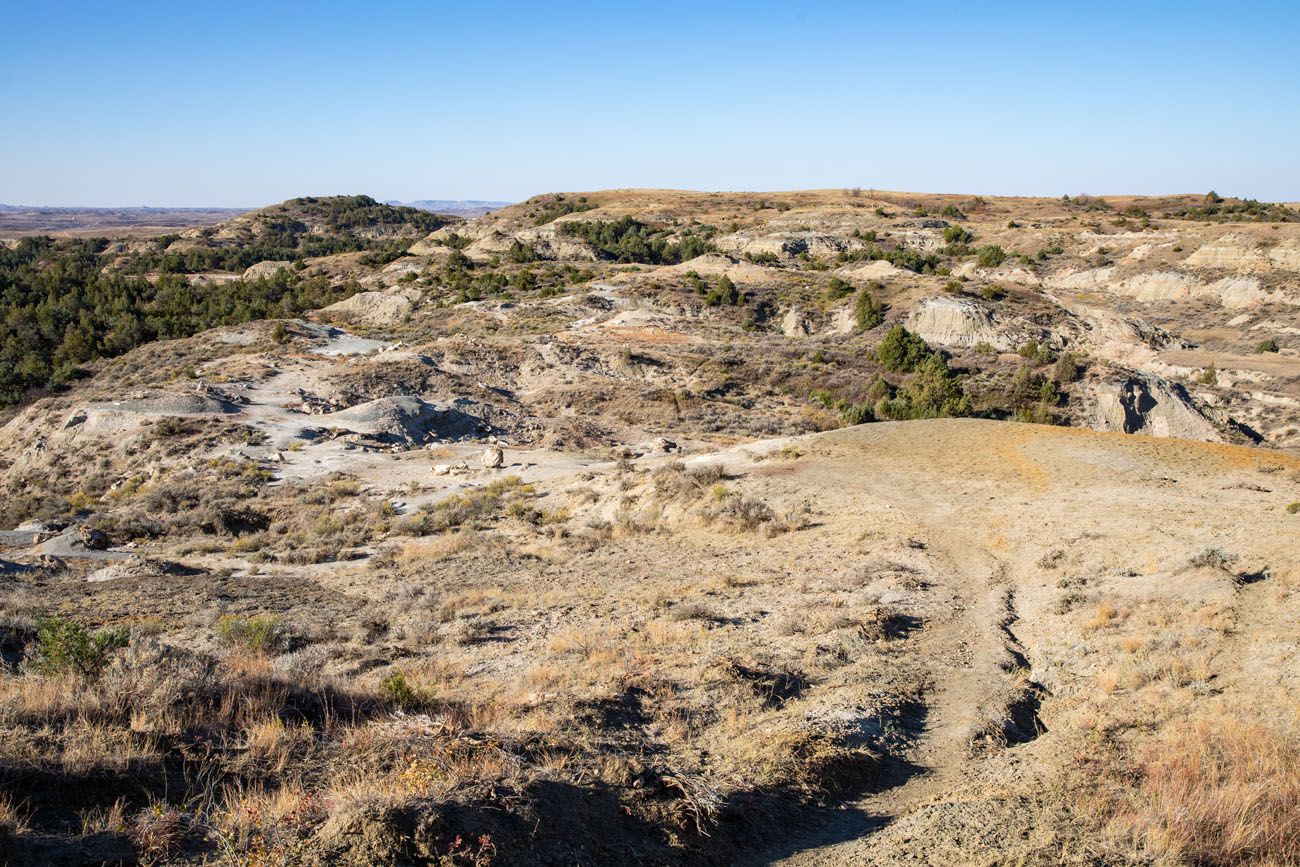 Overlooking the south area from the plateau.
You have the option to hike uphill to the plateau for a nice view over the area. On the plateau, we saw a few bison near the trail and a large herd off in the distance.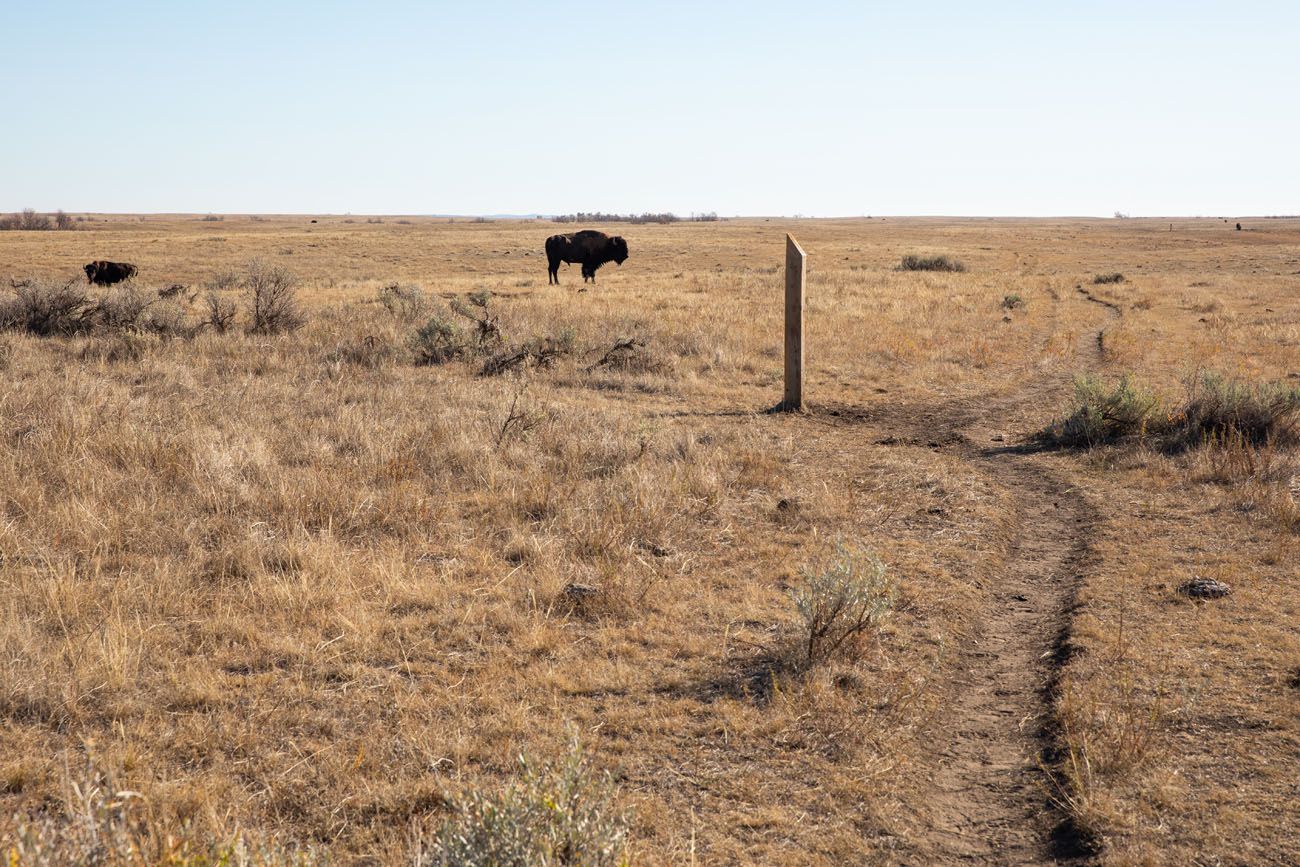 Note: If you choose to do the full Petrified Forest Loop, the majority of the hike will be through grasslands. From what we read on forums, most people state that most of the hike is monotonous and not worth the time and effort.
To finish the hike, retrace your steps back to your vehicle.
What to Bring on the Hike
Hiking shoes. You can also get by with a good pair of walking shoes or running shoes for this hike.
Water and snacks. Bring at least 2 liters of water in the summer.
Sunscreen, hat, and sunglasses. There is no shade on this trail.
Camera. Even a smartphone will do.
Cellular Service: We use Verizon and had a decent cellular signal for the majority of this hike and on the roads to get here.
---
If you have any questions about hiking the Petrified Forest Trail, or if you want to share your experience, let us know in the comment section below.
More Information for Your Trip to Theodore Roosevelt National Park
THEODORE ROOSEVELT: Get an overview of this national park in our article Best Things to Do in Theodore Roosevelt National Park. We also have guides to the South Unit, the North Unit, and the Caprock Coulee Trail.
BADLANDS NATIONAL PARK: Take a look at our Badlands National Park Travel Guide for important travel planning tips, sample itineraries, advice on when to go, where to stay, and more.
ROAD TRIP ITINERARY: Learn how to put together the Badlands, Mount Rushmore, Devils Tower, Yellowstone, and Grand Teton into one amazing 10 day road trip.
NATIONAL PARKS: In our Guide to the US National Parks, get the full list of national parks with important travel planning information, such as things to do in the parks and sample itineraries. You can also learn more about the national parks and get a FREE printable checklist in our US National Parks Checklist.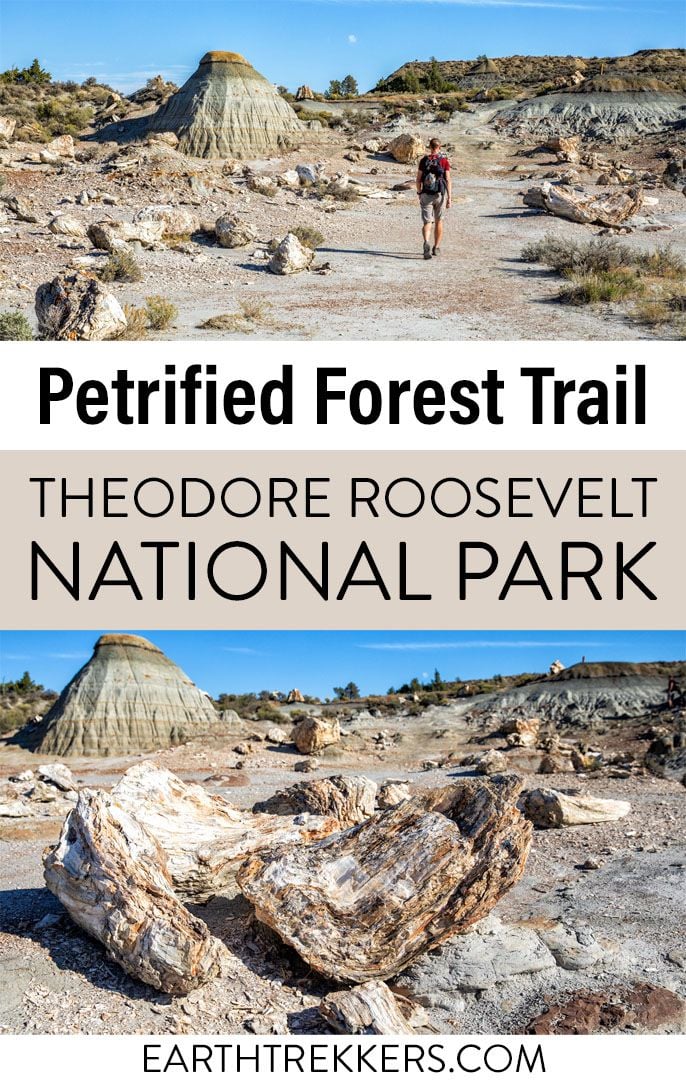 All rights reserved © Earth Trekkers. Republishing this article and/or any of its contents (text, photography, etc.), in whole or in part, is strictly prohibited.