Stroll the picturesque streets, dine on pecorino cheese, walk the city walls, and tour a Renaissance palace…these are all things to do in Pienza.
Located in Val d'Orcia, Pienza is one of the loveliest towns in Tuscany. And its small size makes it easy to visit, even on the fastest of itineraries in Italy.
In this guide, we cover the best things to do in Pienza plus helpful tips to help you plan your visit.
We have visited Pienza twice and our photos are a mix of both of these visits. Our first visit was July 2014 and our second visit was September 2022.
Interesting Facts about Pienza
Pienza is located in the province of Siena in the region of Tuscany. It sits in Val d'Orcia, which is a small countryside known for its rolling hills, vineyards, villas, and snaking lines of cypress trees.
Until 1462, this was just a small town that went by the name Corsignano. It was also the birthplace of Pope Pius II.
In 1462, on a trip back to his birthplace, Pope Pius II decided to build a small city at this site. The pope wanted to construct the ideal Renaissance city, and he entrusted the project to architect Bernard Rossellino. Pienza was constructed in just a few years, and since its construction, the city has undergone very few changes.
Pope Pius II died during construction of the city. Pienza, which means "city of Pius," is named for Pope Pius II.
In 1996, Pienza became a UNESCO World Heritage Site.
Best Things to Do in Pienza
1. Stroll along Corso il Rossellino
Corso il Rossellino is the street that runs through the historic city center. It runs from Porta al Prato (also called Porta al Murello) on the west side of town to Porta al Ciglio on the east side of town.
To walk from one end to the other, it takes just 5 minutes, so that gives you an idea of just how small this city is. Branching off from this main thoroughfare are smaller streets that lead to restaurants, shops, viewpoints, and other side streets of Pienza.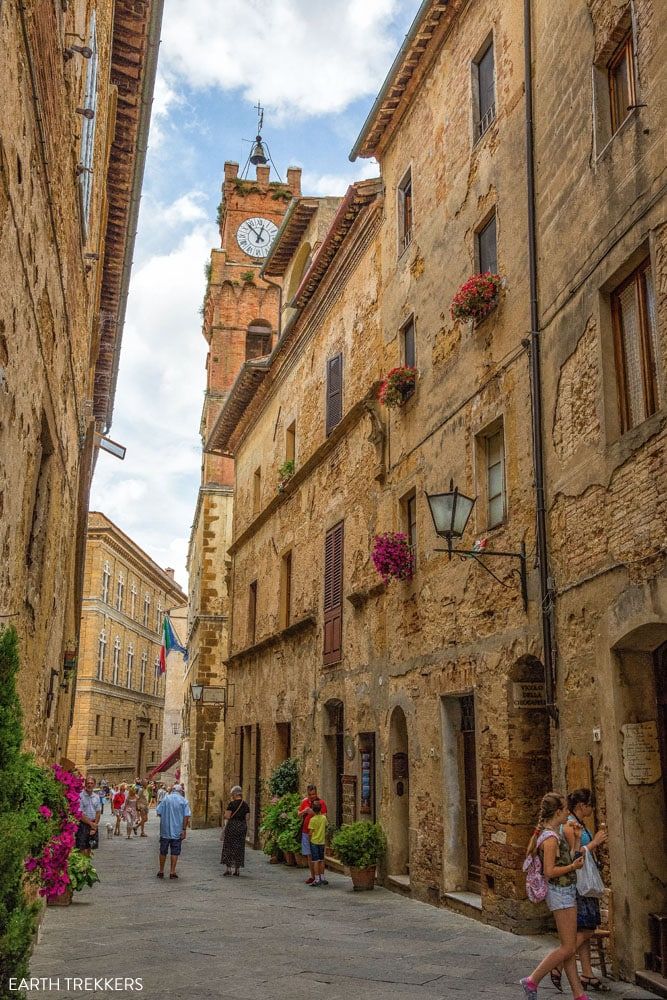 Corso il Rossellino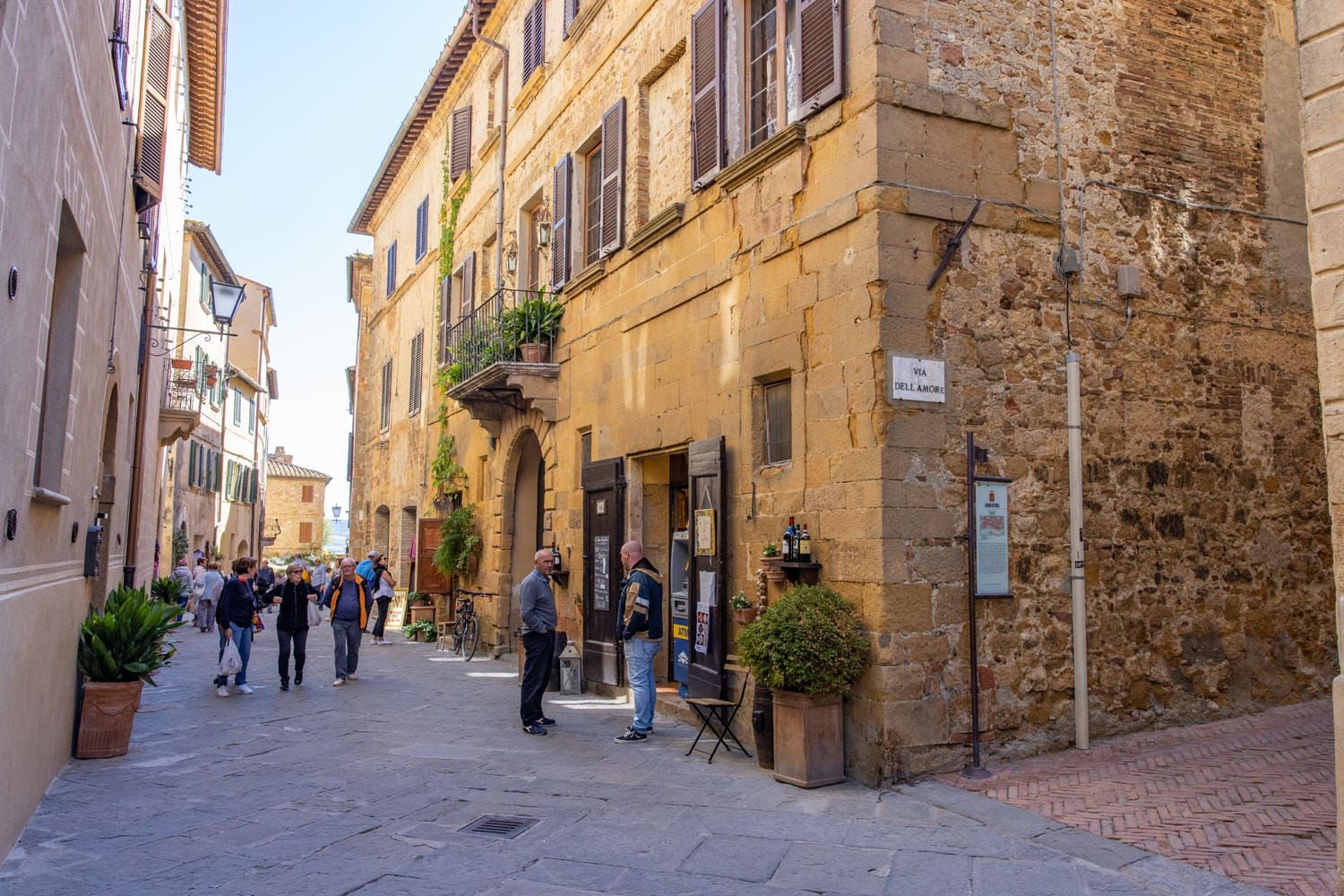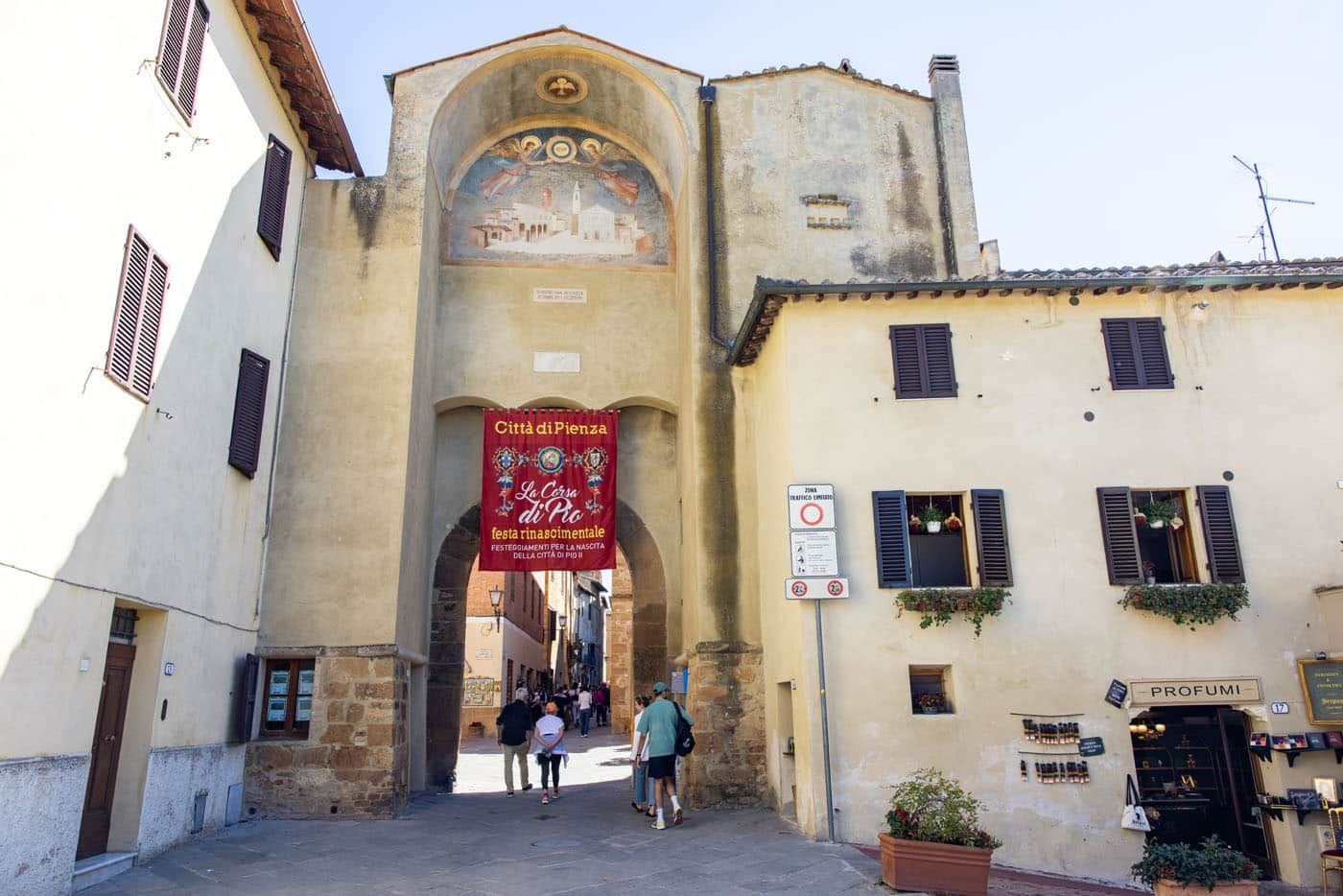 Porta al Prato
2. Visit Piazza Pio II
Named for Pope Pius II, this small piazza is located along Corso il Rossellino.
If you stand in the square and spin 360 degrees, you will see a few noteworthy sites which we mention next: the cathedral, Palazzo Piccolomini, and Palazzo Borgia.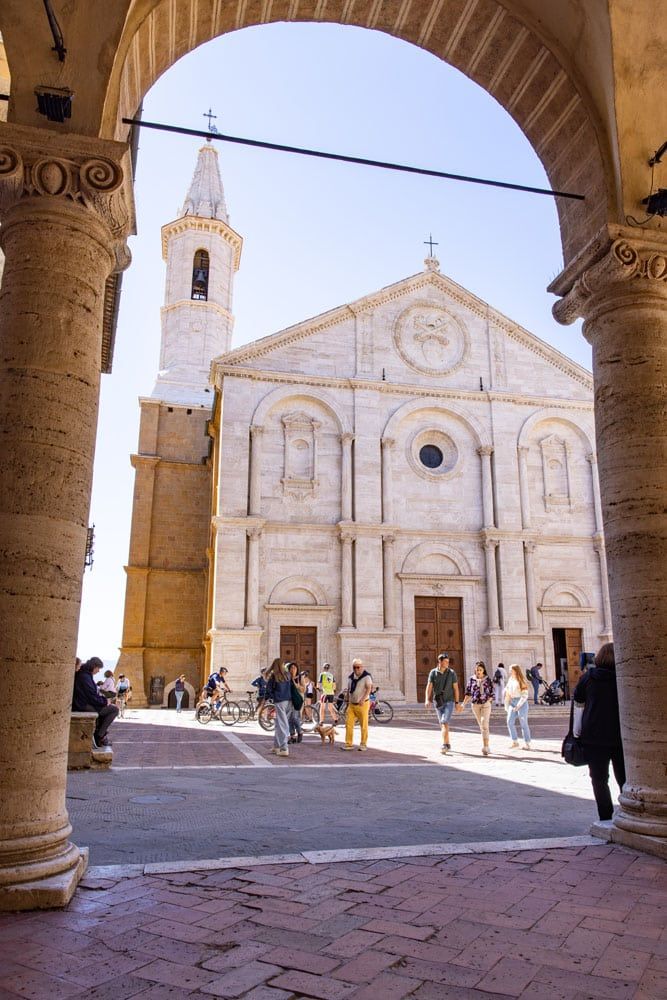 The view of Piazza Pio II and the Pienza Cathedral from Palazzo Comunale.
3. Tour Palazzo Piccolomini
Palazzo Piccolomini (Piccolomini Palace) was designed by Bernardo Rossellino in the 15th century.
The palace can only be visited on a tour, which lasts about 30 minutes and takes you through the courtyard and to the rooms of the palace. You also get to see the "hanging garden," which is a small botanical garden with laurel trees, box hedges, and flowers. From this garden, you can look out through the windows to Val d'Orcia.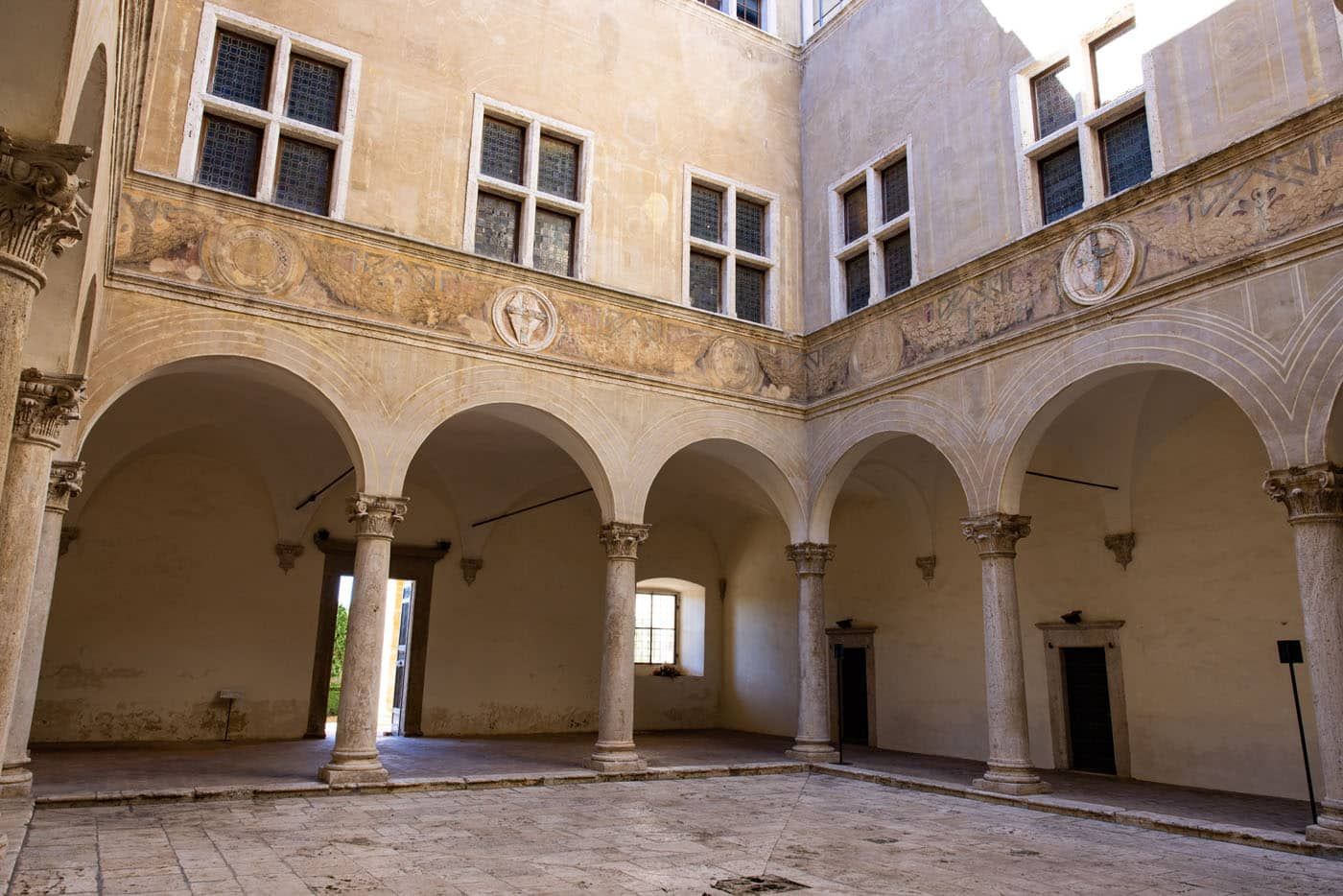 Courtyard of Piccolomini Palace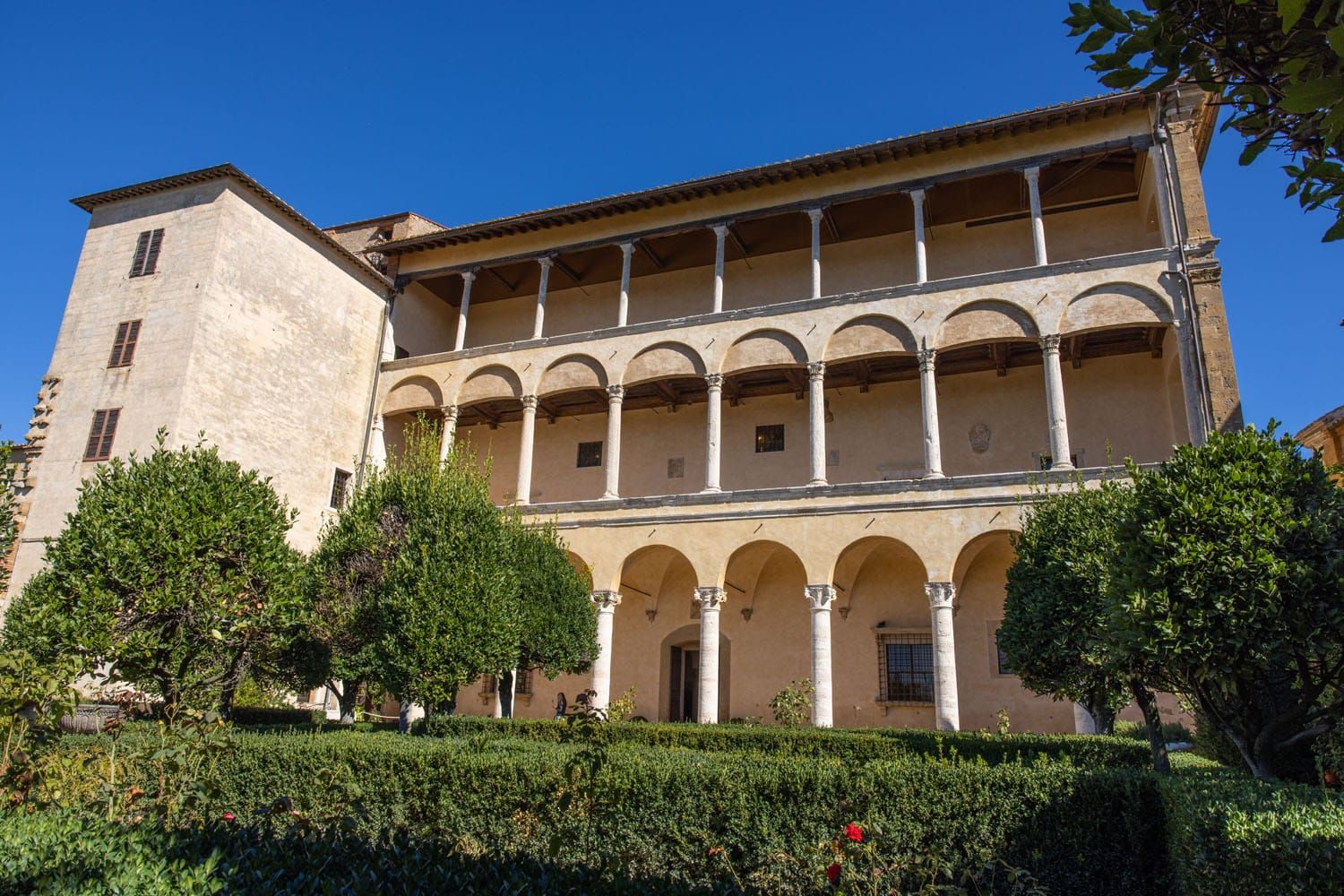 Piccolomini Palace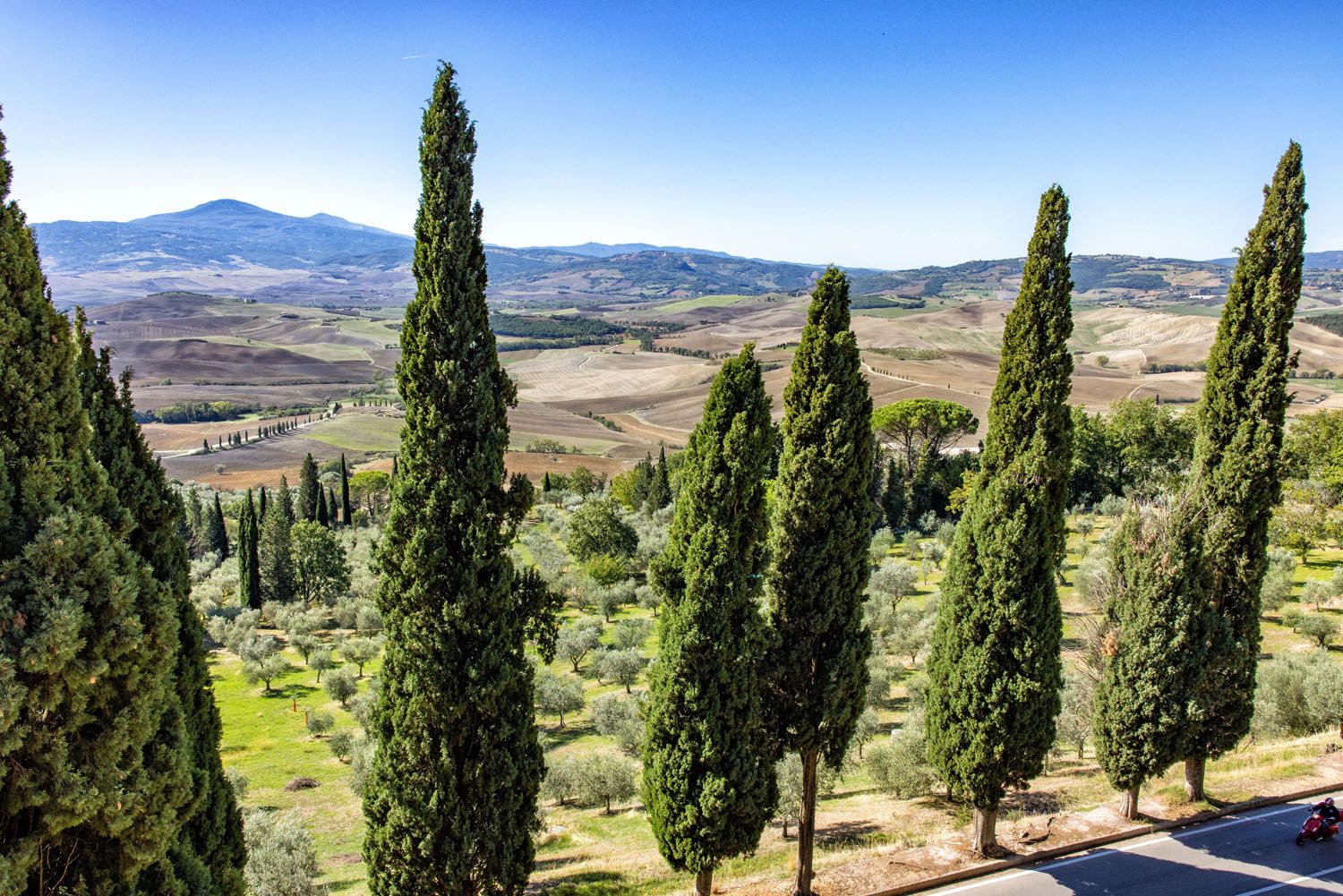 The view from Palazzo Piccolomini
To tour the palace, you can either purchase an individual ticket (€7 per person) or purchase the Pienza Pass (€12 per person), which also includes the crypt and labyrinth and Palazzo Borgia. Photos of the inside of the palace are not allowed.
For hours, visit the official website. Hours vary by day and season and several times a year (part of November and from January into early February) the palace is closed.
4. Visit the Pienza Cathedral
This cathedral, also called Cattedrale dell'Assunta, is located in Piazza Pio II and it is another building commissioned by Pope Pius II and constructed by Bernardo Rossellino in the 15th century.
It was built in a Renaissance style with some Gothic influences that Pope Pius II saw during his travels.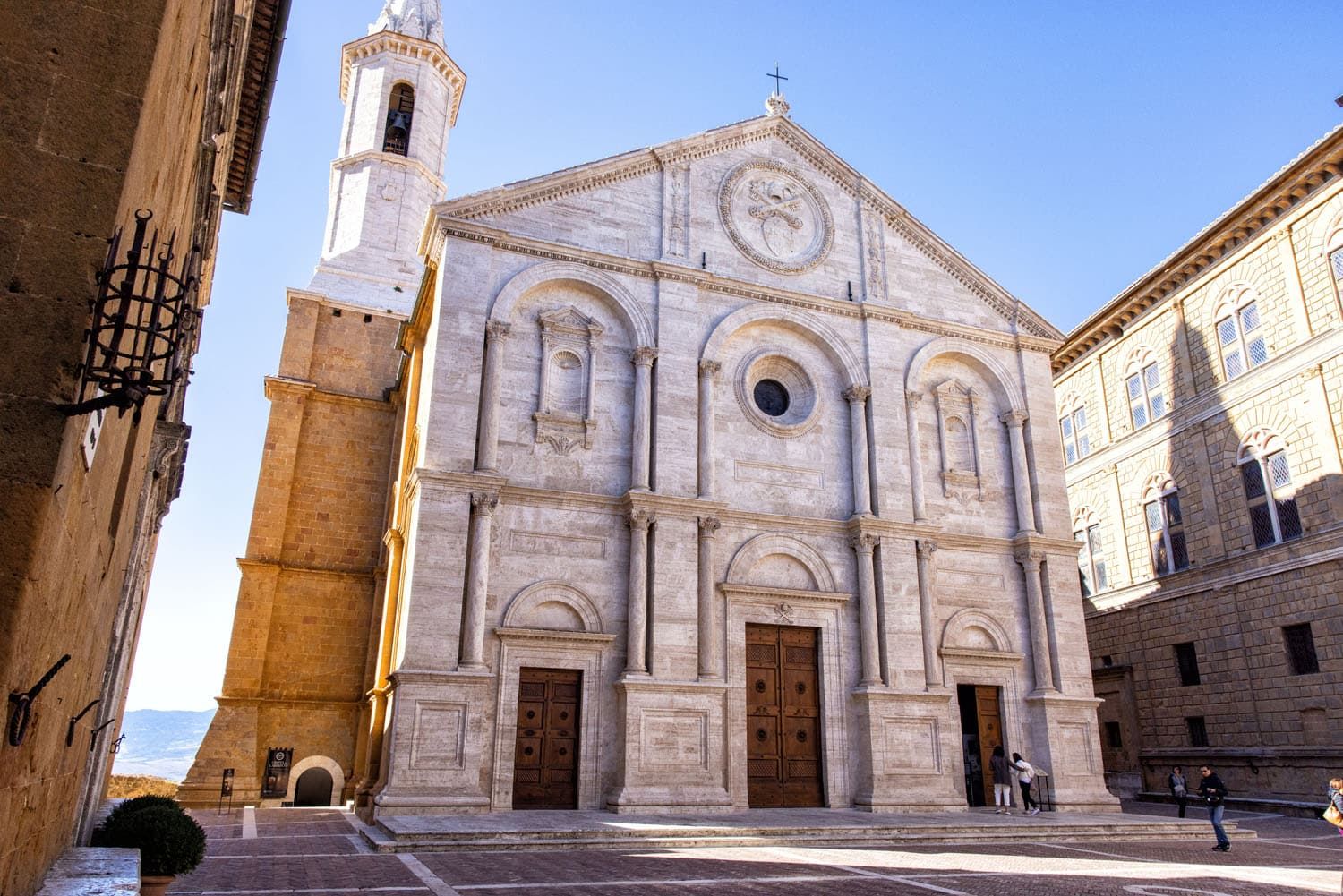 Pienza Cathedral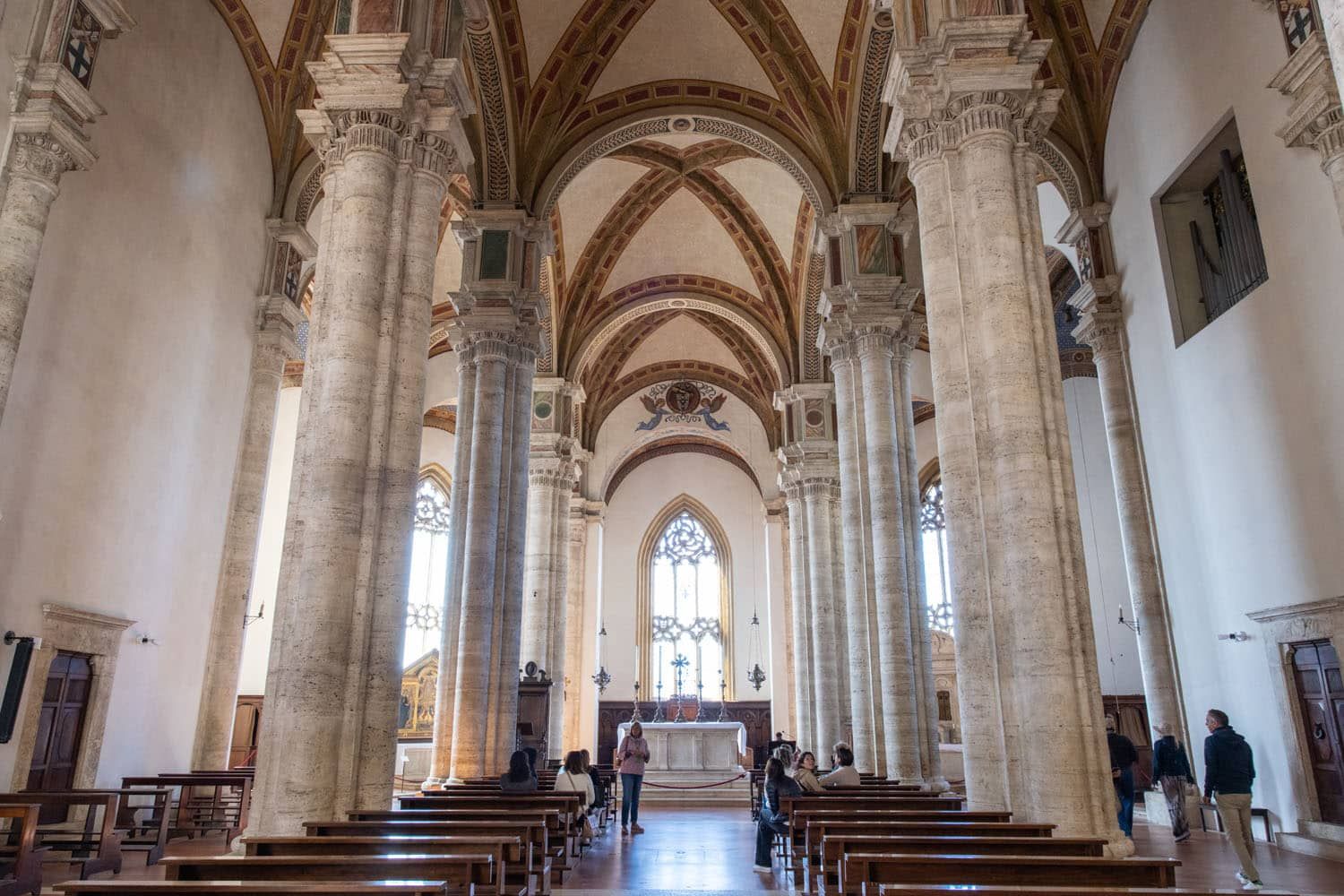 Inside the Pienza Cathedral
5. Explore the Crypt below the Cathedral
Sitting below the Pienza cathedral is the labyrinth and crypt.
The crypt is the church of San Giovanni, which preserves the baptismal font that was designed by Rossellino. Within the crypt you can also see several Flemish tapestries and the medieval church of Santa Maria.
Beyond the crypt, you will enter a maze of narrow, brick tunnels, the "labyrinth." These hallways are a series of drainage tunnels that were built under the cathedral.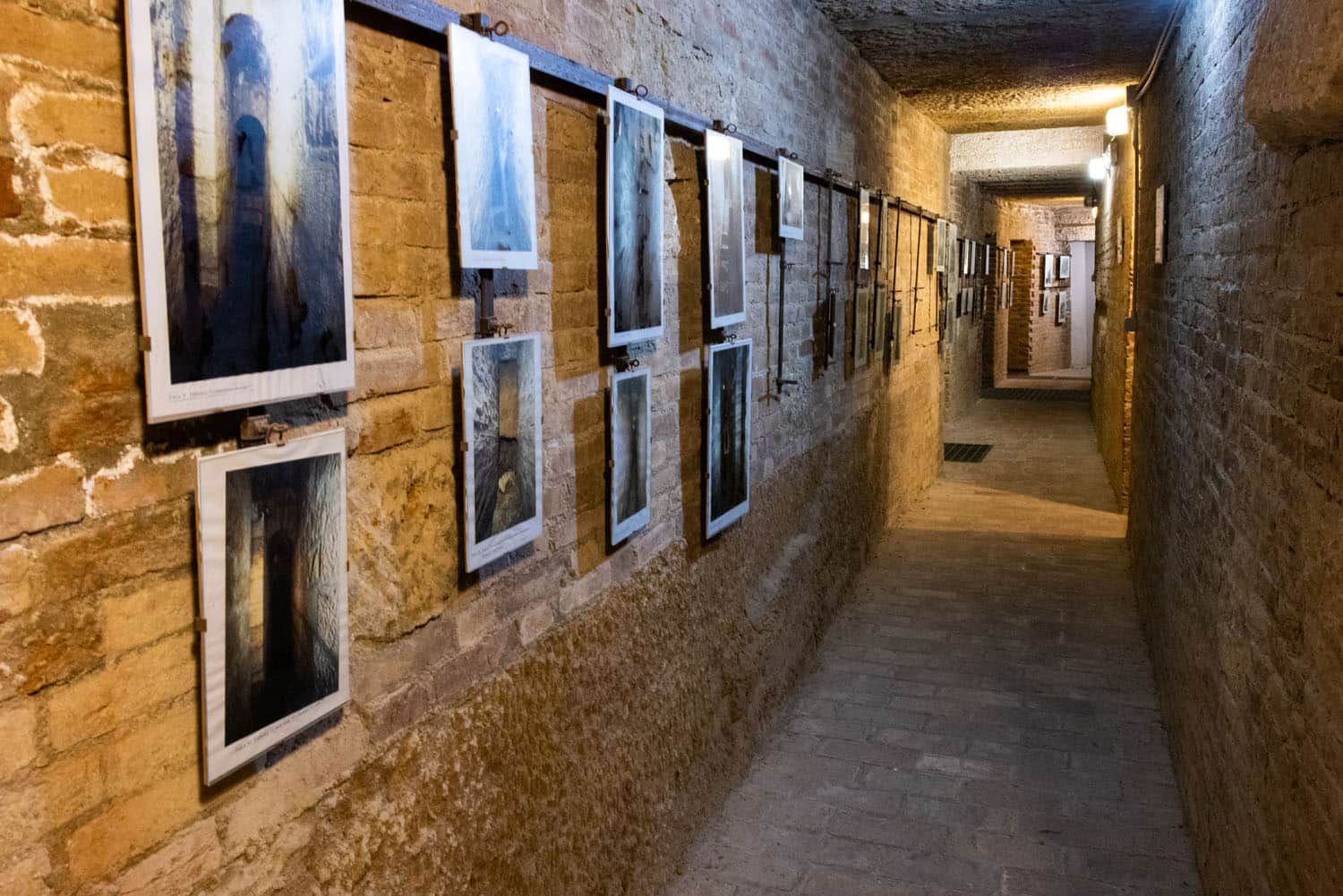 The labyrinth
A visit to the crypt and labyrinth takes 15 to 30 minutes. There are no caves, not like the ones you can see in Montepulciano, so a visit to the crypt is only worthwhile if you want to fully explore the cathedral and see the ancient church of Santa Maria.
There is an additional fee to enter the crypt, or you can enter with the Pienza Pass. Hours vary by day of the week and season. It is closed on Tuesdays. Get the price and hours before your visit on the official website.
6. Walk the City Walls
Running along the southern end of Pienza is a walkway along the city walls. From here, you have a beautiful view over Val d'Orcia and the buildings of Pienza.
The prettiest stretch is between the Pienza Cathedral and Porta al Ciglio, on the east side of town. On Google Maps, this walkway is called Via del Casello and there are numerous viewpoints from this very short walk.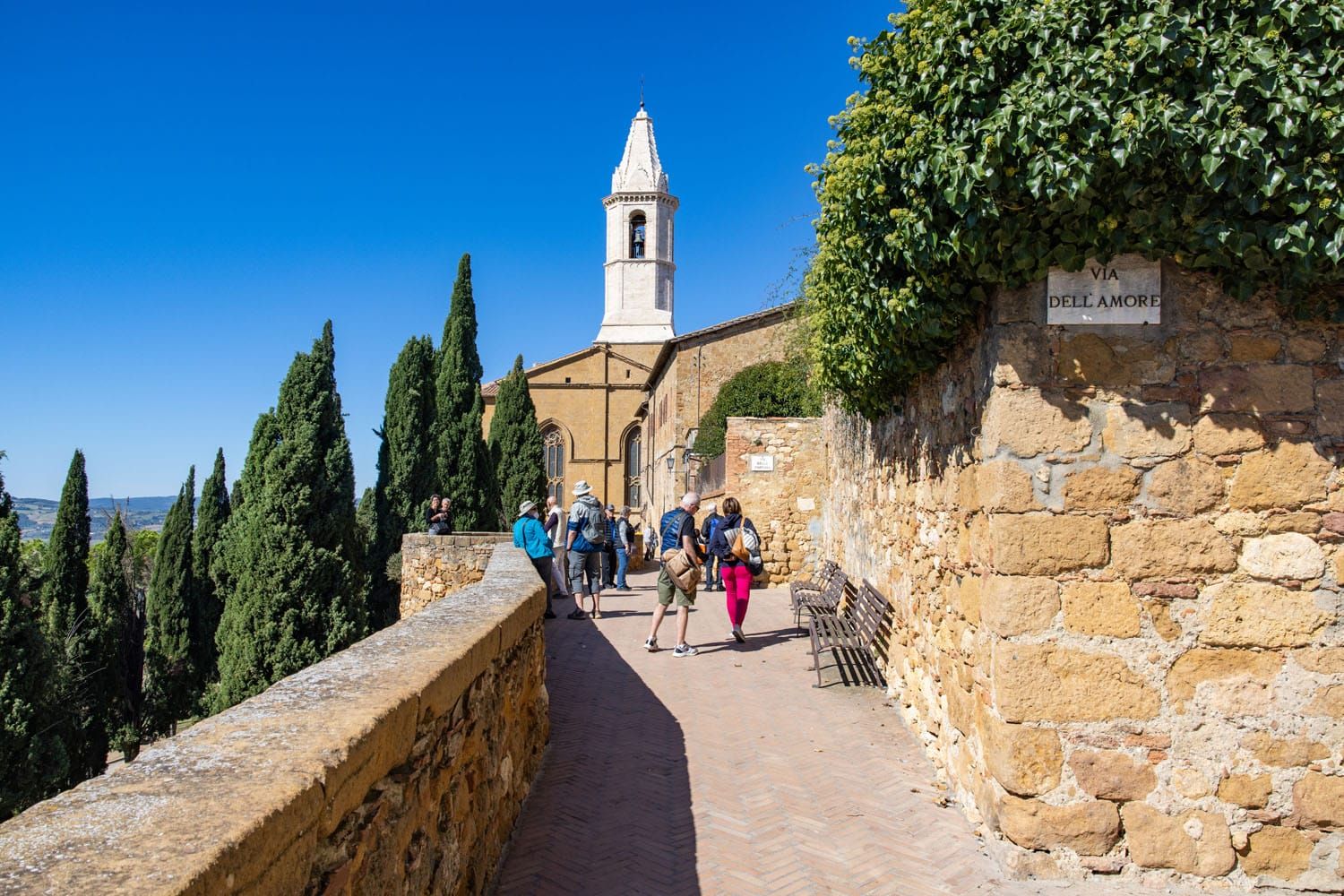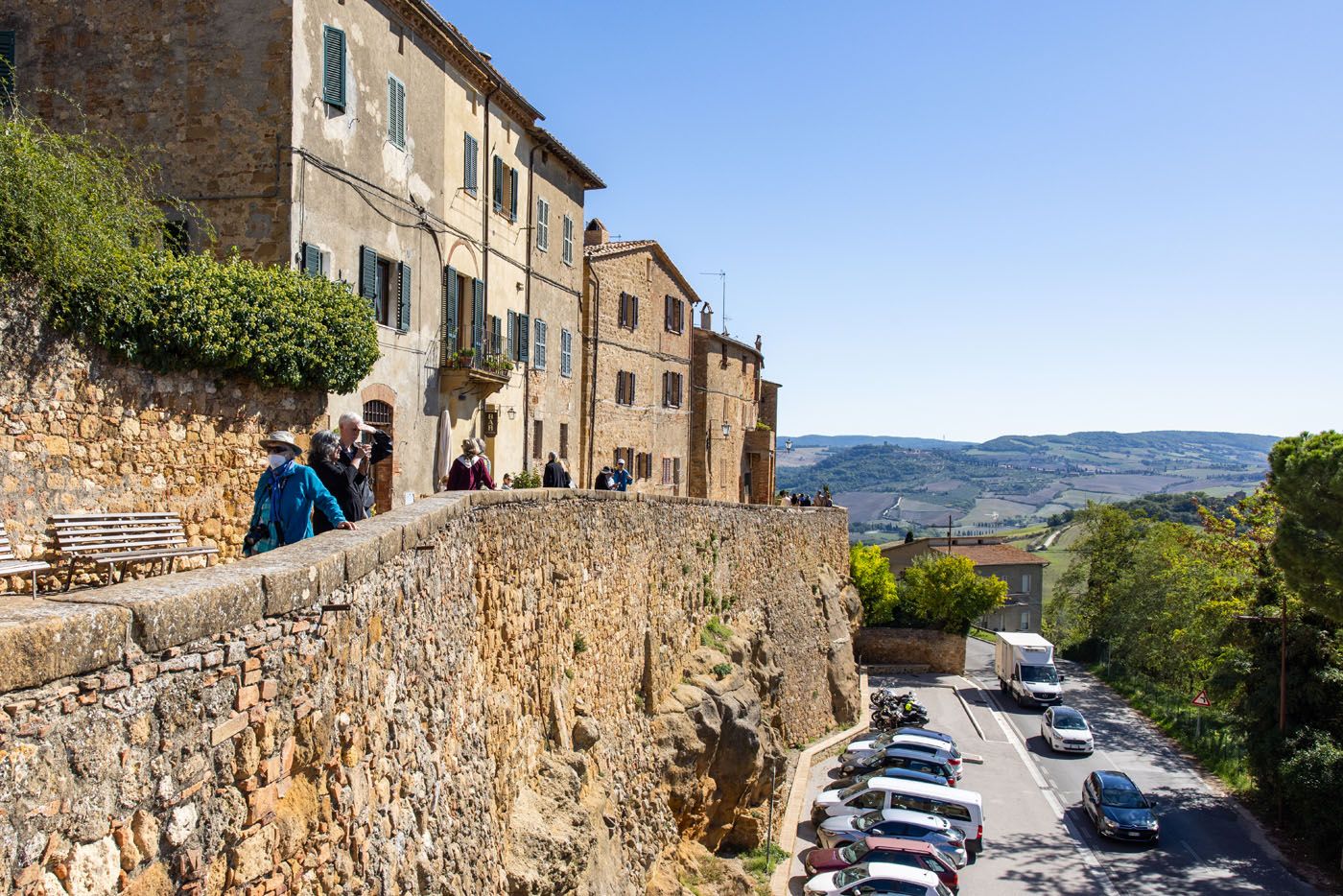 The Pienza walls. Below is a parking area, one of the closest places to park if you will have a rental car during your time in Tuscany.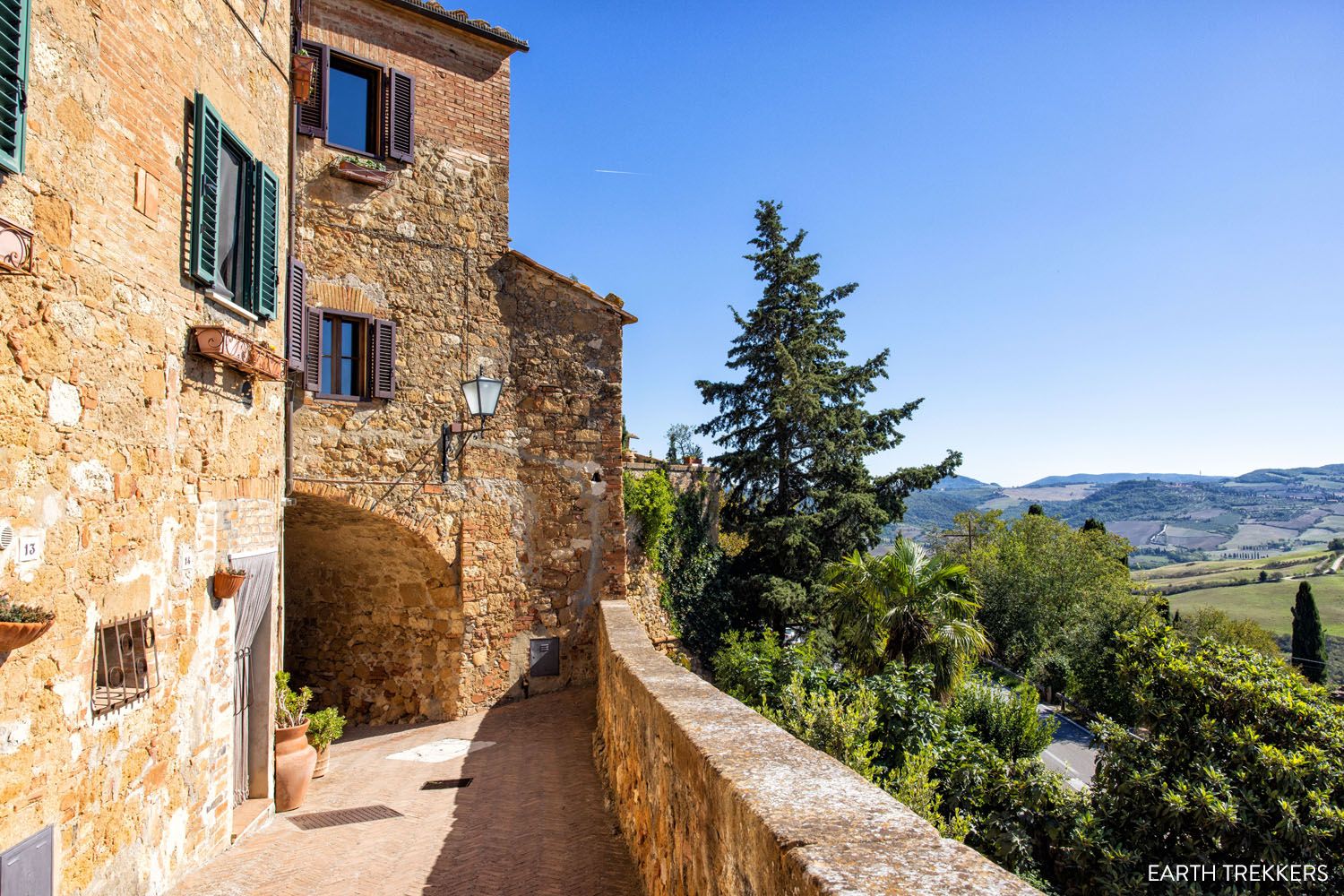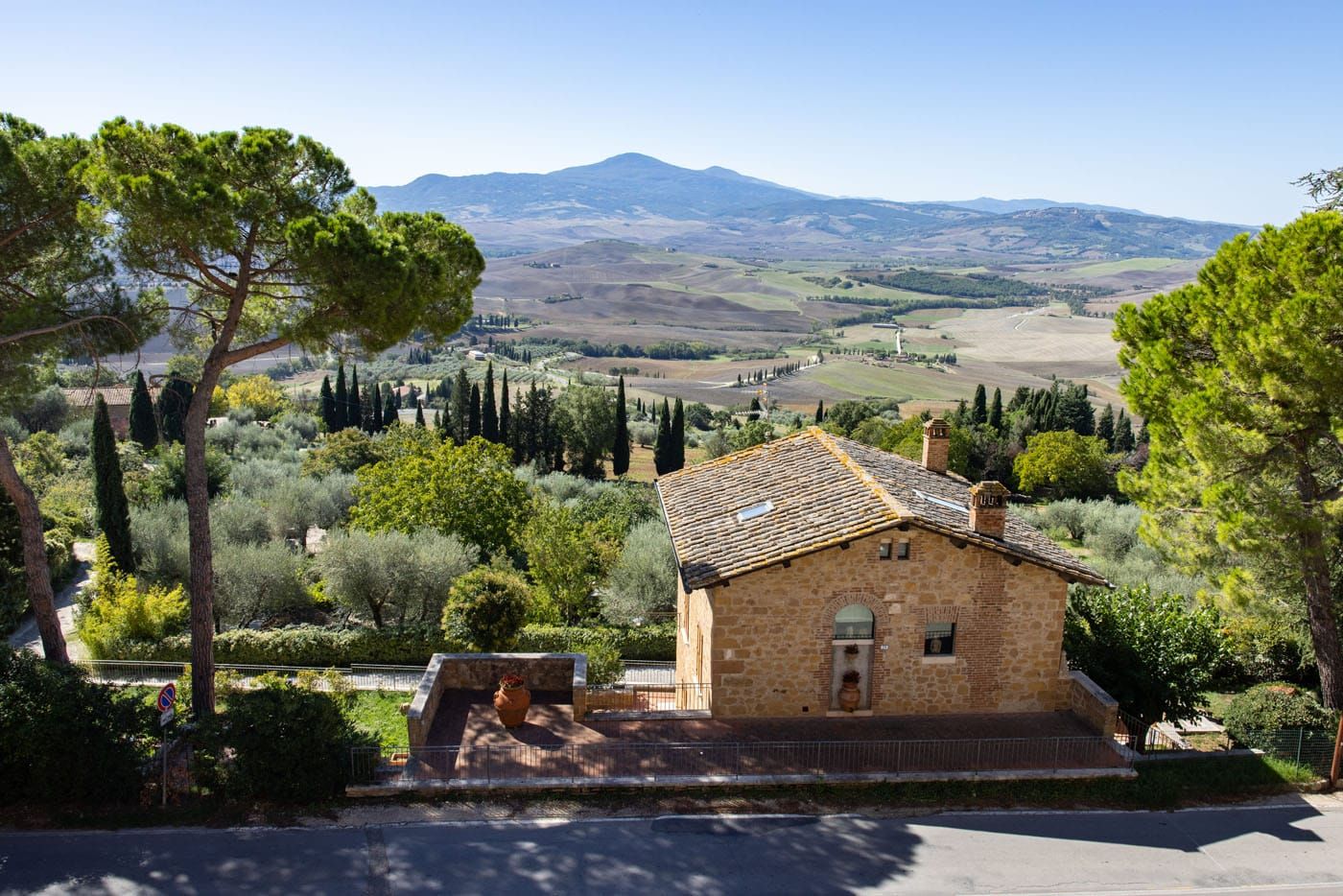 The view from the walls.
7. Wander off the Main Street
Yes, the main street is a beautiful place to go for a stroll, but it is also well worth it to explore the side streets that lead away from Corso di Rossellino. Some of our favorite streets are Via Dogali, Via del Giglio, and Via della Volpe.
Via dell'Amore (the street of love) connects Corso di Rossellino with the city walls.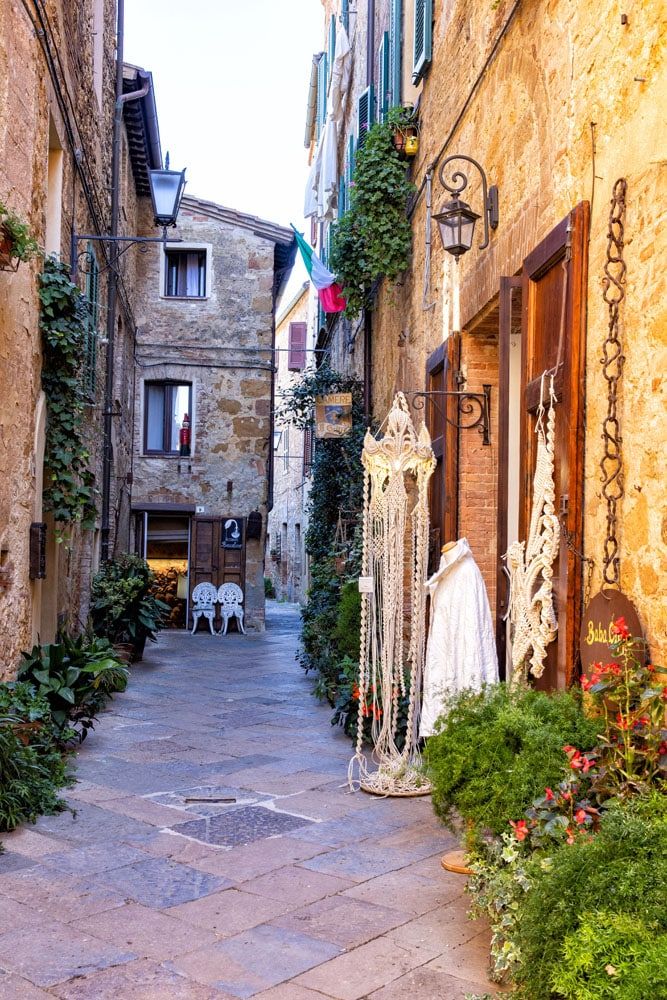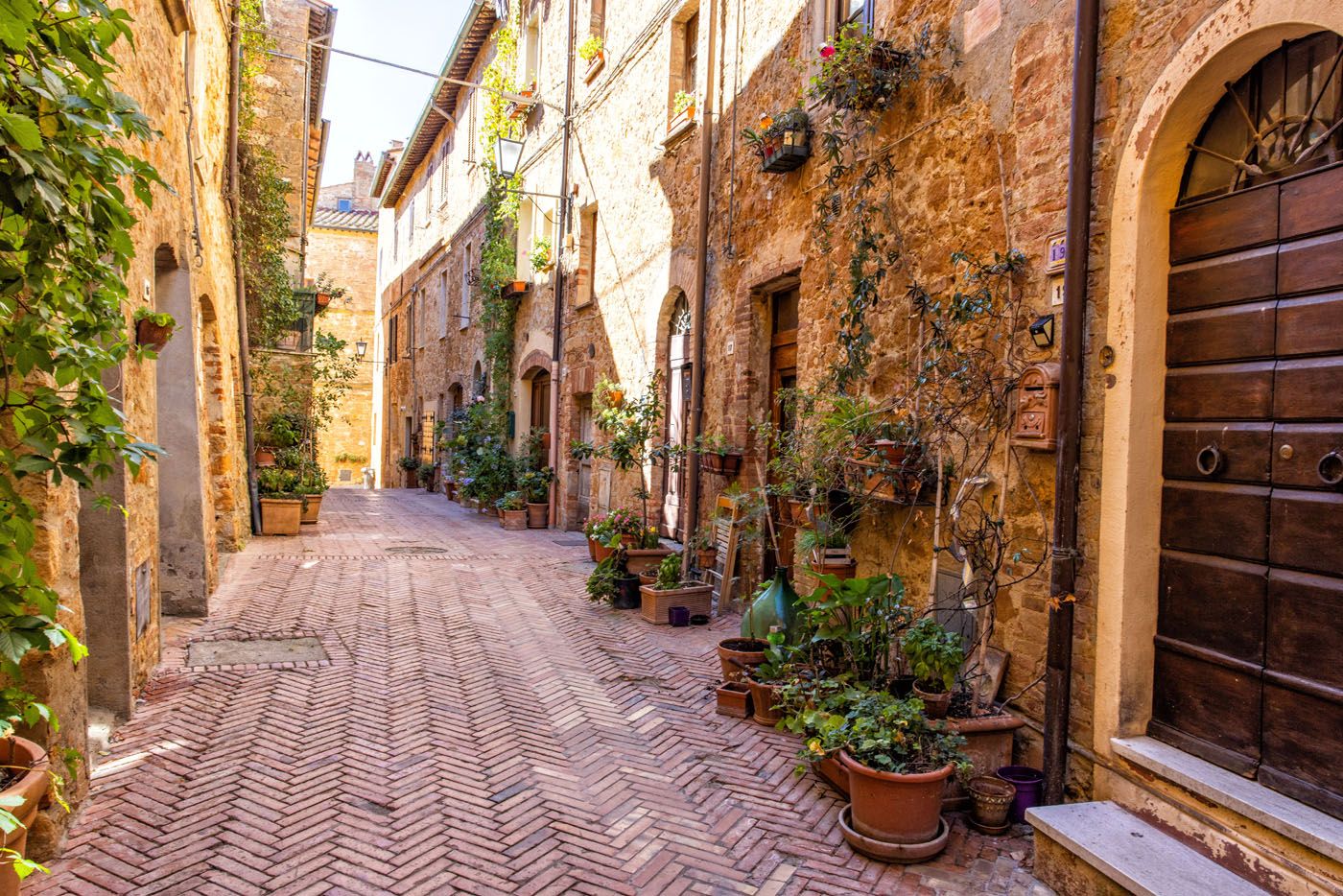 8. Try Some Pecorino di Pienza Cheese
Pecorino di Pienza cheese is cheese made from sheep's milk. There are several varieties of the cheese, but the two main varieties are a red rind cheese seasoned with tomato juice and a black rind cheese that is aged pecorino.
This famous Tuscan cheese can be found on the menus and in shops throughout Pienza.
Our favorite experience in Pienza was trying three varieties of Pecorino di Pienza along with cured meats and a glass of local wine.
La Vecchia Bottega serves a mix of small plates with options to try the pecorino cheese. On the menu are meat and cheese plates, bruschetta, and crostini. If you try a cheese that you like, or if you like the wine that you try, you can purchase it from the shop once finished your meal.
La Vecchia Bottega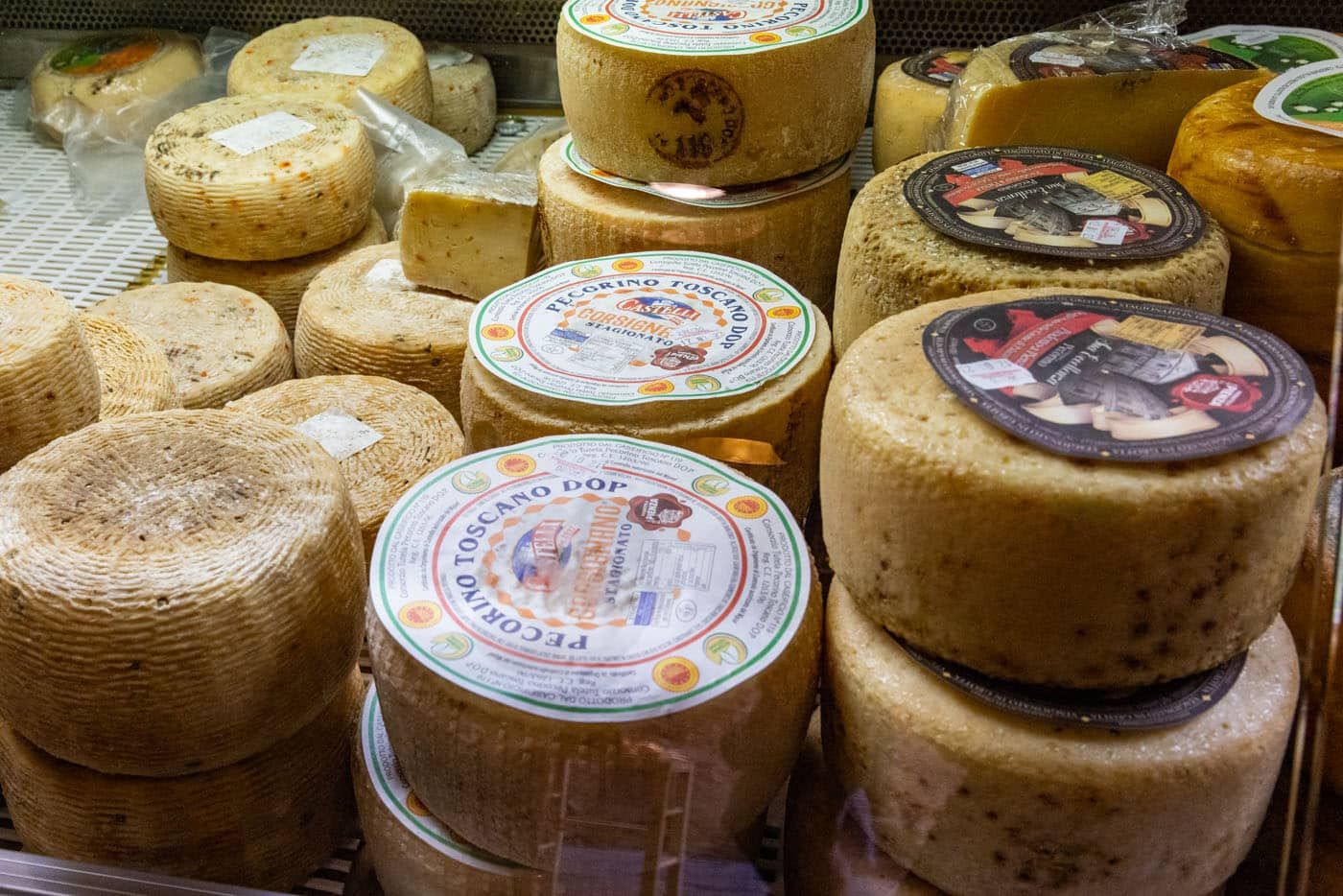 Pecorino di Pienza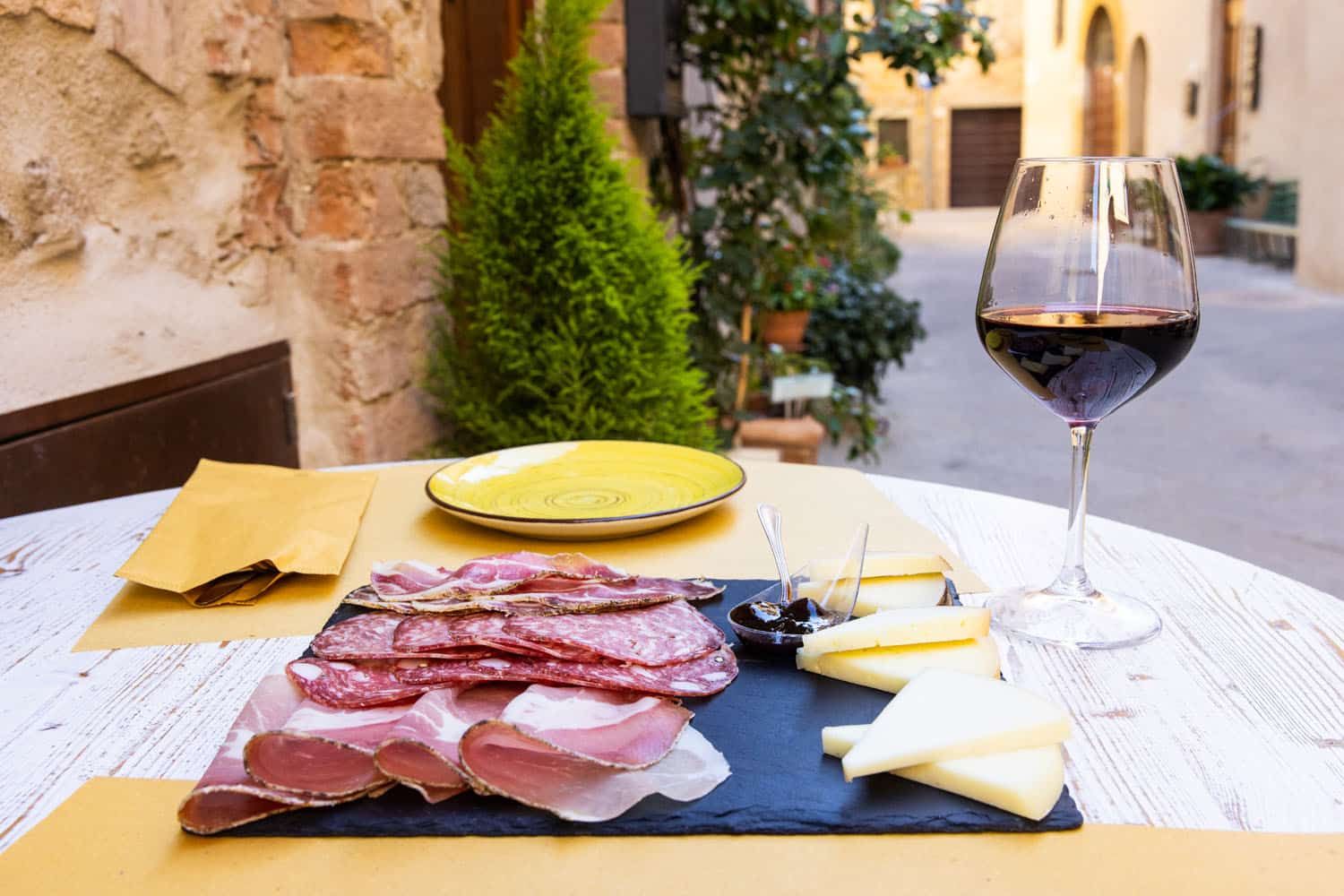 Meat, Pecorino di Pienza cheese and wine at La Vecchia Bottega.
9. Visit Chiesa San Francesco
The church of San Francesco is located on Corso di Rossellino. It dates back to the 13th century, so it was around before Pope Pius II renovated Pienza to what we see today. On the walls of the church are 14th century frescoes.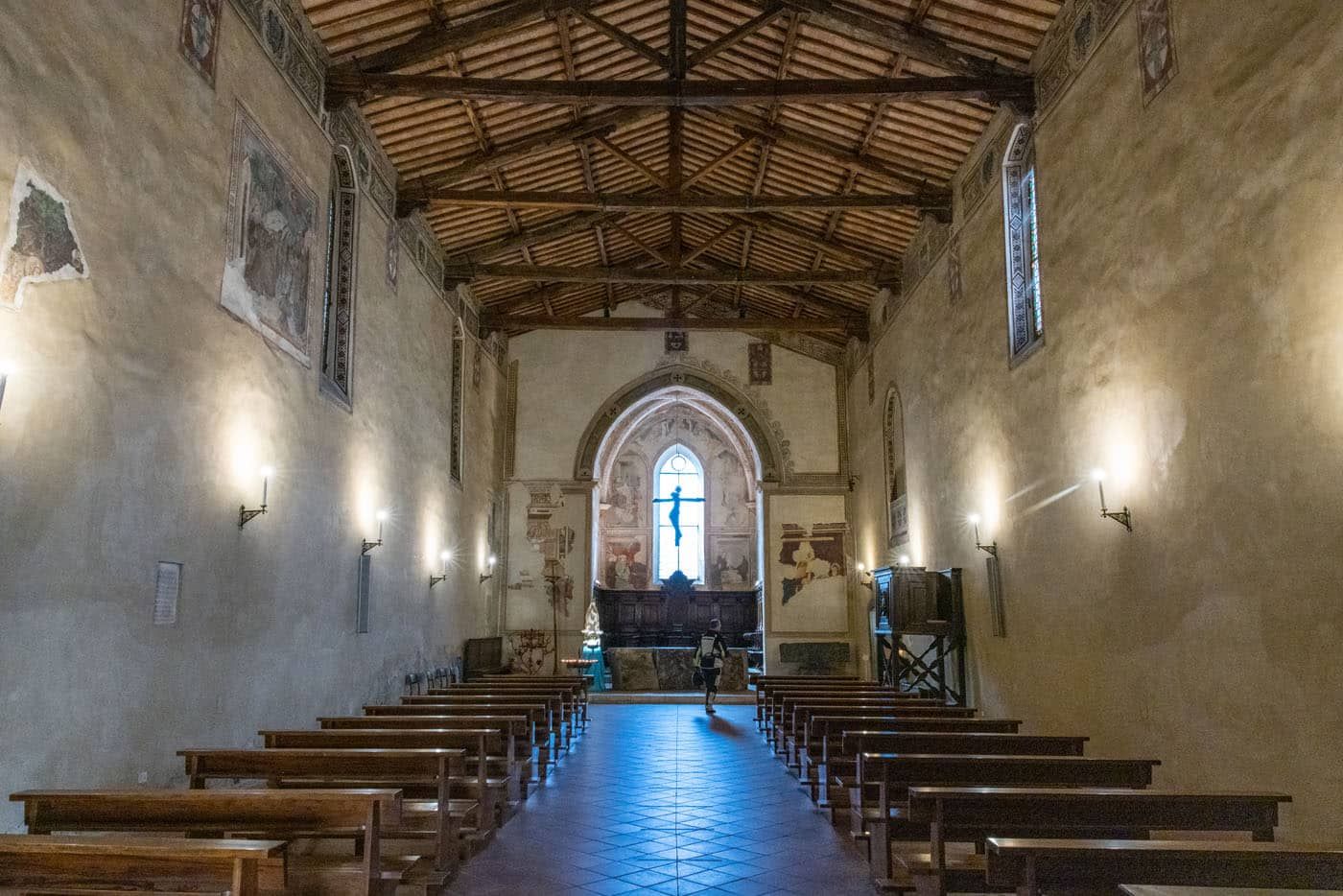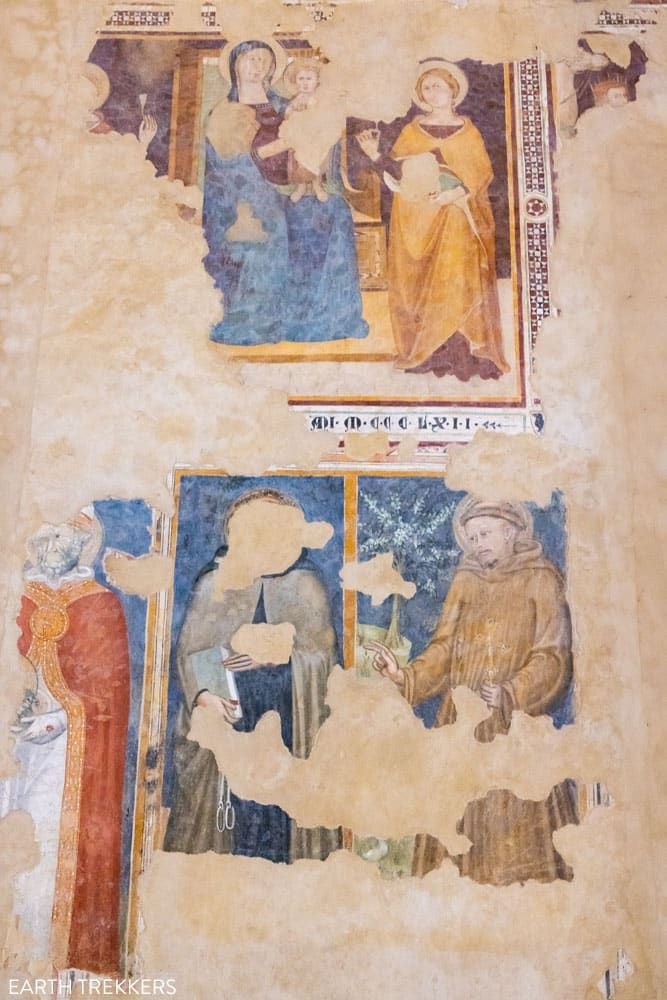 PRO TRAVEL TIP: This church is dark when you first enter. To turn on the lights, put a euro in the box on the wall to the left of the door and the lights will turn on.
10. Go Shopping
One of the best things to do in Pienza is to go shopping. Pecorino di Pienza cheese is a popular item to purchase in Pienza, but you can also shop for artwork, home goods, cured meats, and other souvenirs.
At Art Gallery Artemisia, you can purchase colorful paintings of Val d'Orcia and the prices are very reasonable.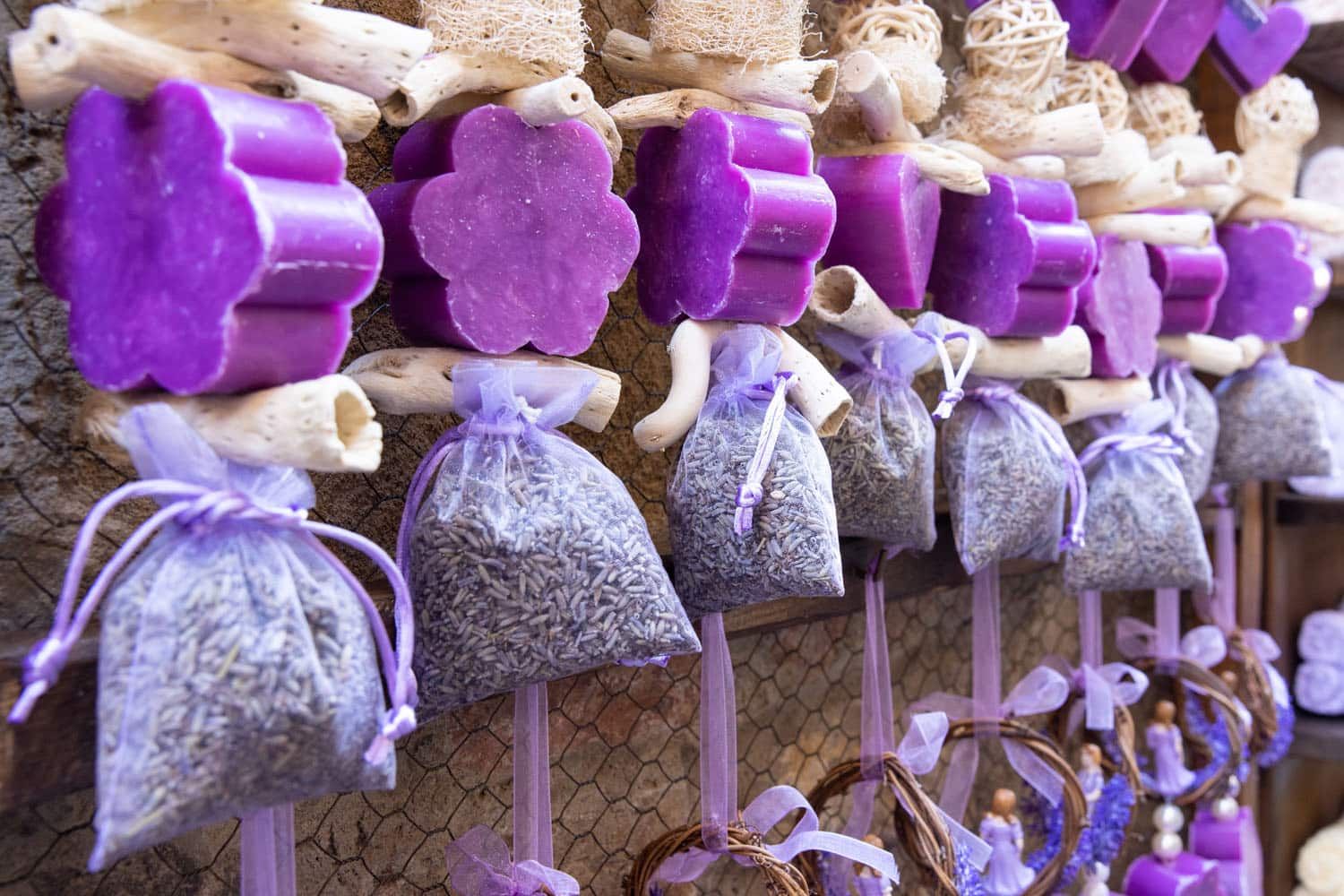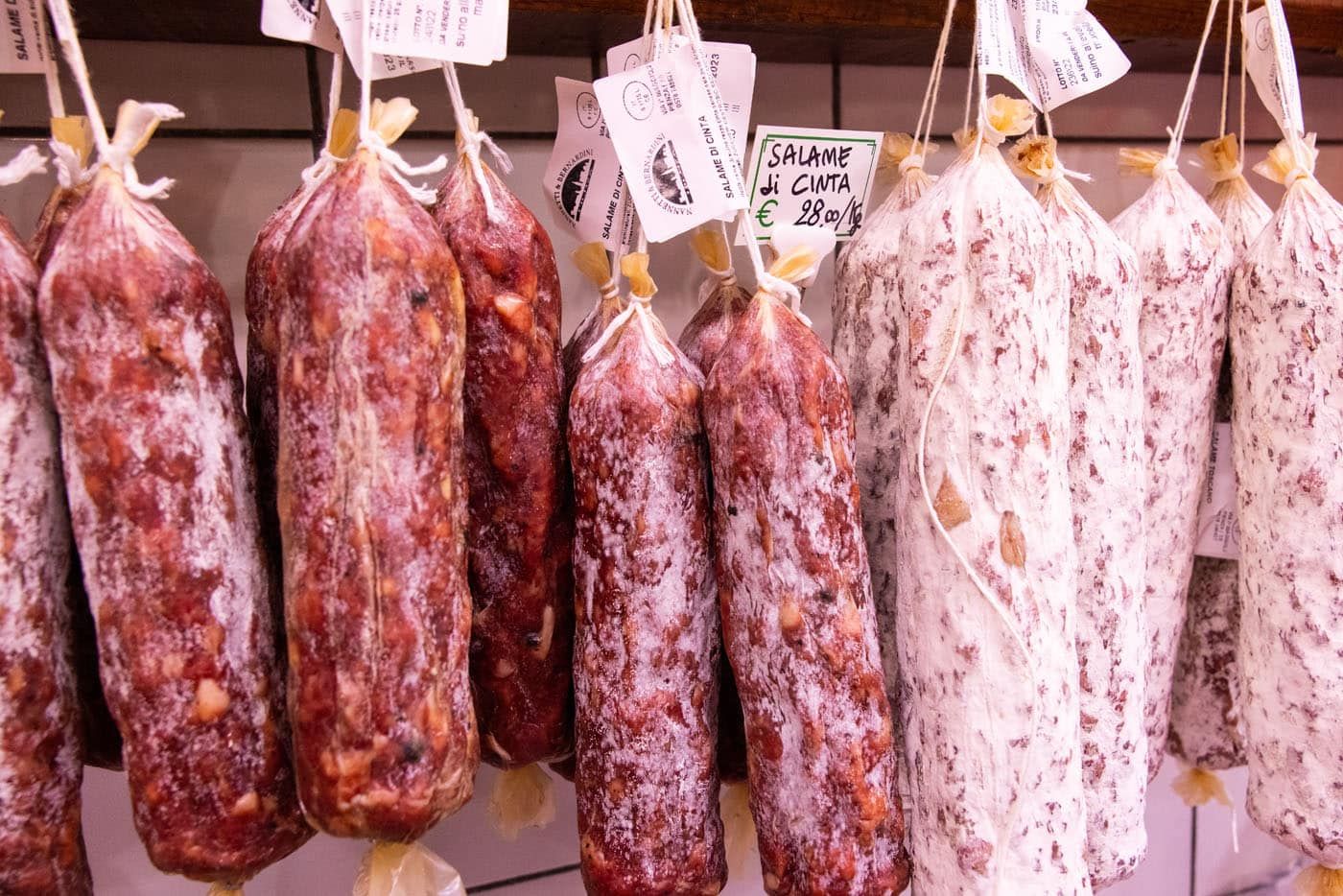 11. Pieve dei Santi Vito e Modesto e Corsignano
This church sits just outside of Pienza. To get here, it is a downhill walk from Pienza (and later, an uphill walk back to town) or you can park near the church. Just be aware that parking is limited, and busy, since many people are parking here to walk down to the famous Gladiator viewpoint.
The church dates back to the 12th century. It makes it onto a lot of Pienza to-do lists but on our visit in 2022, we could not visit it, since it was being renovated…but it should be beautiful in future years!
12. Gladiator Viewpoint
From the same small parking lot next to Pieve dei Santo Vito, you can walk down to the viewpoint of Agriturismo Terrapille. This famous viewpoint was used in the movie The Gladiator, featuring Russell Crowe. The scene where he is walking towards his home, through a field of grain, was filmed here.
From the parking lot, it is a 10-minute downhill walk to the viewpoint. On Google Maps, it is labeled "Gladiator."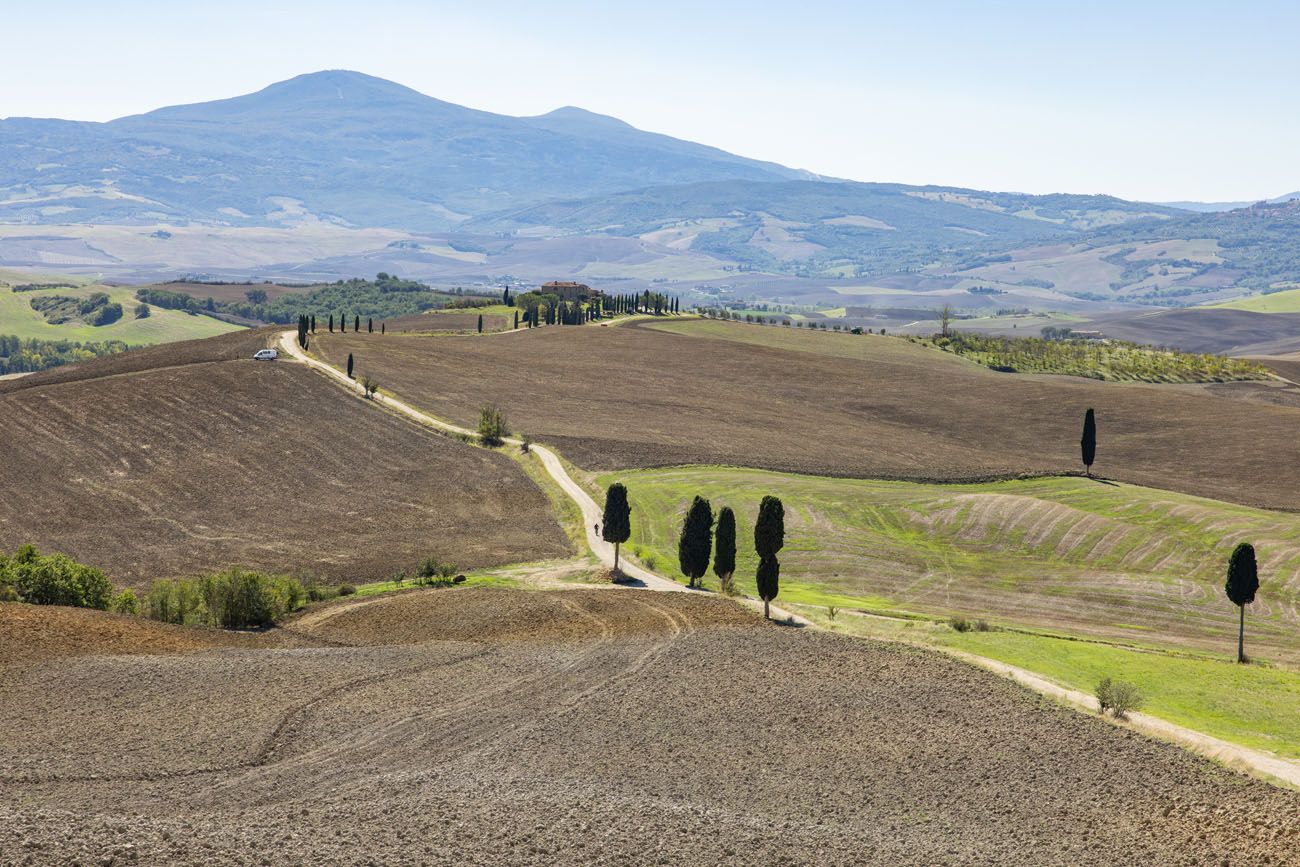 Our photo was taken near the end of September. During this time of year, many of the fields have been tilled and are fields are dirt, rather than green grass or golden grain. If you want to see Tuscany lush and green, come here in the spring and early summer.
13. Attend the Fiera del Cacio
This festival, which takes place in early September, is dedicated to pecorino cheese. If you happen to be here at this time, don't miss the Palio del Cacio Fuso, where players from each town have to roll a round of pecorino cheese around a spindle in the center of the square.
Things to Do in Pienze: On a Map
How to Use This Map: Click the tab in the top left hand corner of the map to view the layers (places to go and parking). You can click the check marks to hide or show layers. If you click the icons on the map, you can get more information about each point of interest.

If you click the star next to the title of the map, this map will be added to your Google Maps account. To view it on your phone or computer, open Google Maps, click the menu button, go to "Your Places," click Maps, and you will see this map on your list.
How Much Time Do You Need in Pienza?
If you simply want to stroll the city streets, visit the cathedral, do a little shopping, and try some Pecorino di Pienza cheese, 2 hours is all you need to visit Pienza.
Add on more time to tour Palazzo Piccolomini, visit the crypt, or sit down to a leisurely lunch or dinner.
If you want to walk out to the Gladiator viewpoint, add on 45 minutes to your visit, which gives you time to drive to the parking area, park, and walk out-and-back to the viewpoint.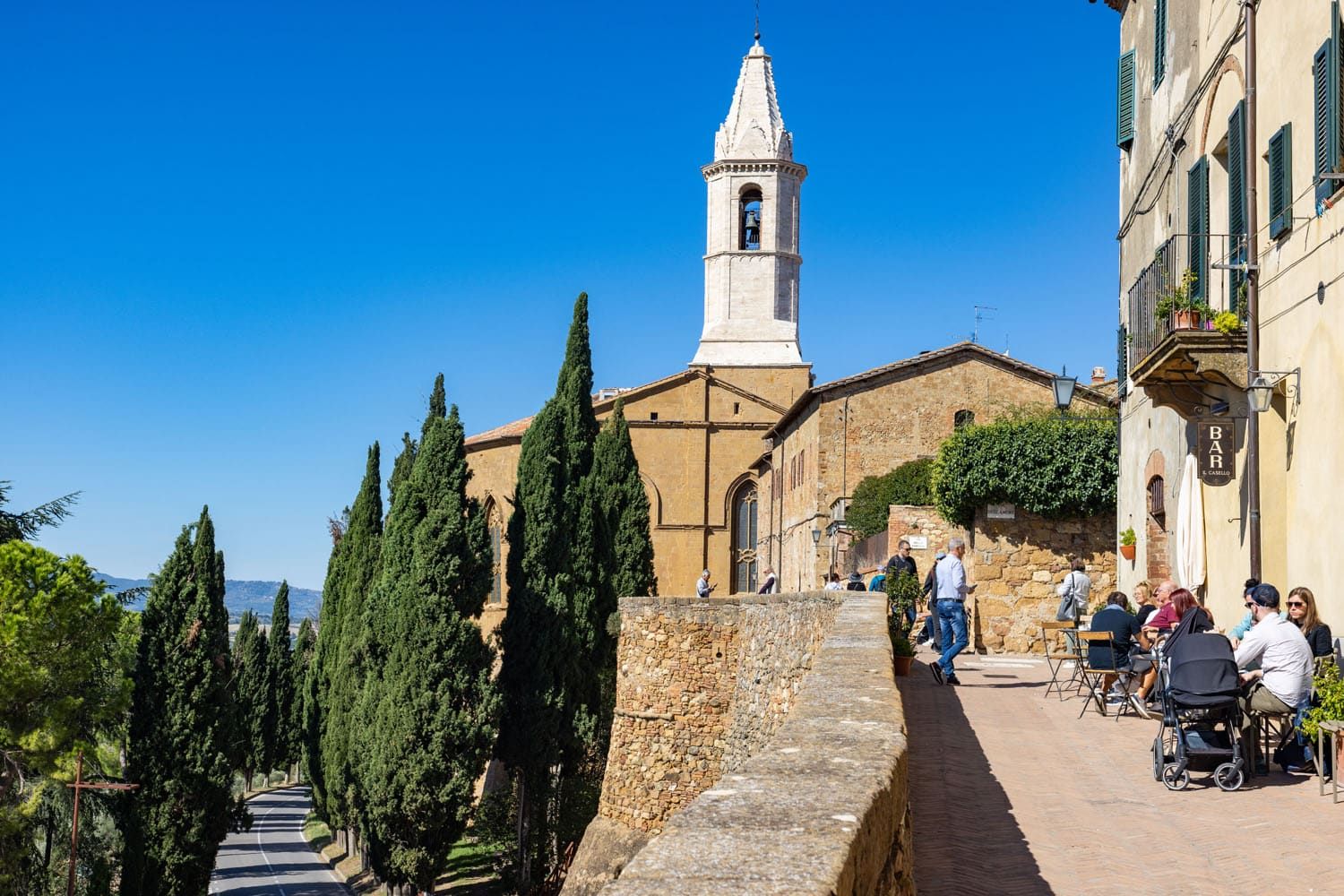 Helpful Tips for A Visit to Pienza
If you like the idea of touring Palazzo Piccolomini, you can purchase your ticket for the next available tour once you arrive, or book your time slot online in advance. In September 2022, I had no trouble booking a tour for the next available time slot (at 10:45 am I booked the 11:00 am time slot) the morning we arrived in Pienza. It could be a little busier during the summer months. The downside of booking your ticket in advance is that you are locked into that time slot, so you have no flexibility.
If you like the idea of visiting the crypt, once you have a ticket, you can visit anytime.
To check the weather forecast, we used Meteo Italy and the forecast was relatively accurate. There is also an app that you can download onto your phone.
If you plan to have dinner in Pienza, make your reservation in advance. In our experience in Italy, you will need to have a reservation for dinner at the highly rated restaurants. In Pienza, you can dine at a Michelin-starred restaurant, Ristorante Daria. Other highly rated restaurants include Sette de Vino, Poderuccio, and La Taverna di Re Artu.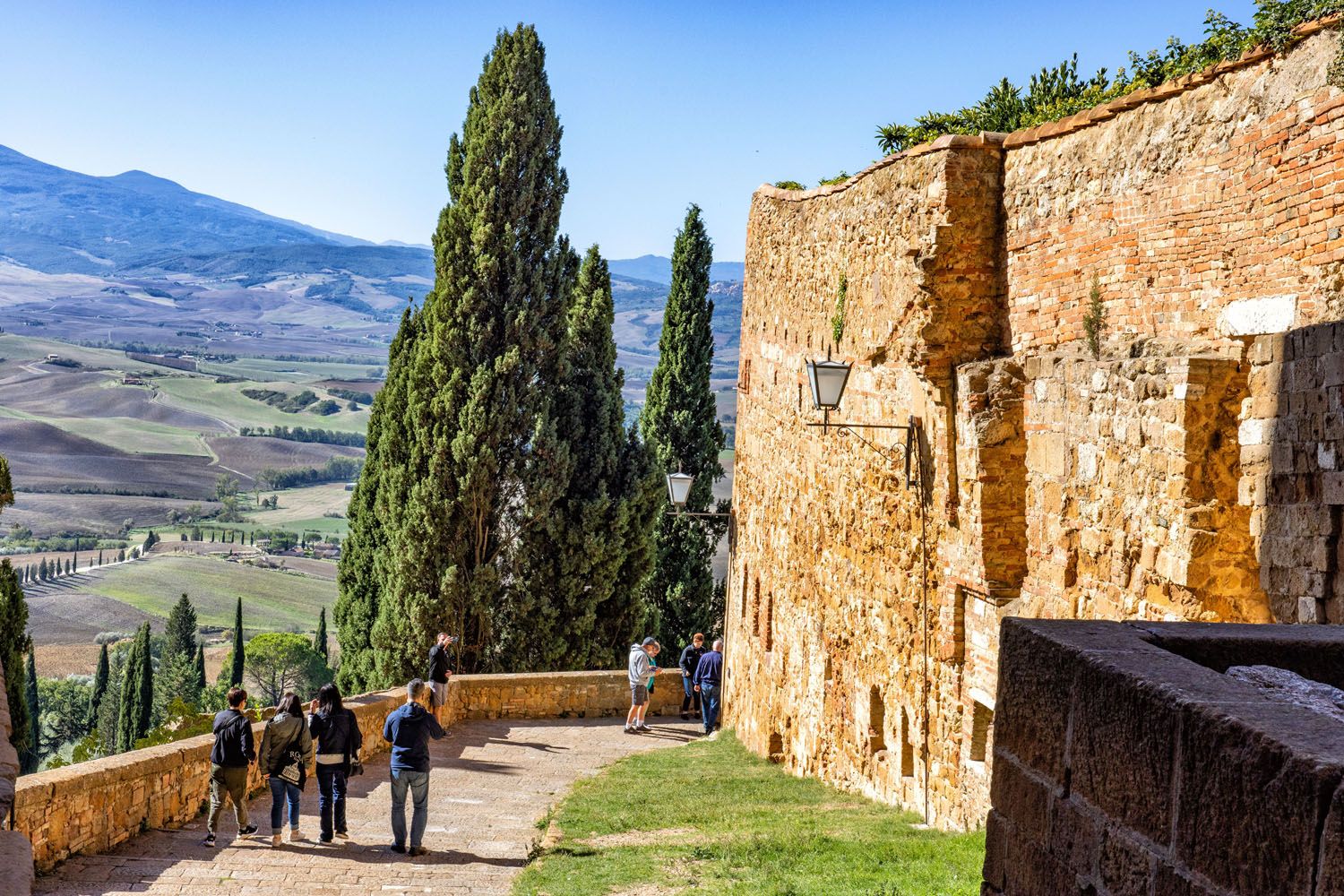 How to Get to Pienza
Public Transportation
There are no train stations in Pienza. If you are traveling by public transportation, you can get here by bus, but you will have to transfer several times and it can take quite a bit of time to get here (at least 1 hour but usually a lot more than this) depending on your starting point.
By Car
The best way to get to Pienza is by rental car.
Here are driving distances and times from nearby destinations:
Montepulciano: 15 km, 20 minutes

Montalcino:

23 km, 30 minutes

San Quirico d'Orcia:

10 km, 15 minutes

Arezzo:

60 km, 1.25 hours
Siena: 56 km, 1.25 hours

Florence:

115 km, 1.75 hours
Parking in Pienza
There are numerous parking lots in Pienza, outside of the historic city center.
We parked at the lot labeled Punto Sosta Communale, which is just a 5-minute walk from the city center. On Google Maps, more options are Via del Cassello Parking (located next to the city walls) and Parcheggio Seminario Vescovile.
All of these parking lots will have a small fee. To pay for parking, enter the amount of time you plan to spend in Pienza into the ticket machine, pay the amount by credit card or coins, and put the ticket on your dashboard. It costs a few euros to park for 3 or 4 hours in Pienza.
Tours of Pienza
If you don't plan on renting a car while in Tuscany, you can visit Pienza on a tour. This takes care of your transportation to and from Pienza, which can save you a lot of time, since Pienza is not easily reachable by public transportation.
If you want to tour Val d'Orcia on your own, this private chauffeur tour gets good reviews.
Here are several tours of Pienza that start from nearby Florence and Siena.
Where to Stay in Pienza
Pienza is a great place to stay to explore Val d'Orcia and the towns on the southern end of Tuscany. From here, you can easily drive to Montepulciano, Montalcino, and San Quirico d'Orcia, as well as the scenic viewpoints throughout Val d'Orcia.
We did not stay in Pienza. We spent three nights at Villa le Prata, which is a short drive from Montalcino and a great home base for exploring Val d'Orcia. At Villa le Prata, we got the experience of staying in a Tuscan villa, which was extra special since the end of September is harvest season. At the villa, we had dinner each night, plus sunset wine tastings and tours of the vineyard.
Staying in a villa is a wonderful experience to have while in Tuscany. There are many villas located in the area, but we chose Villa le Prata since it gets rave reviews, and we have to agree. Staying here was one of our highlights of our time in Tuscany.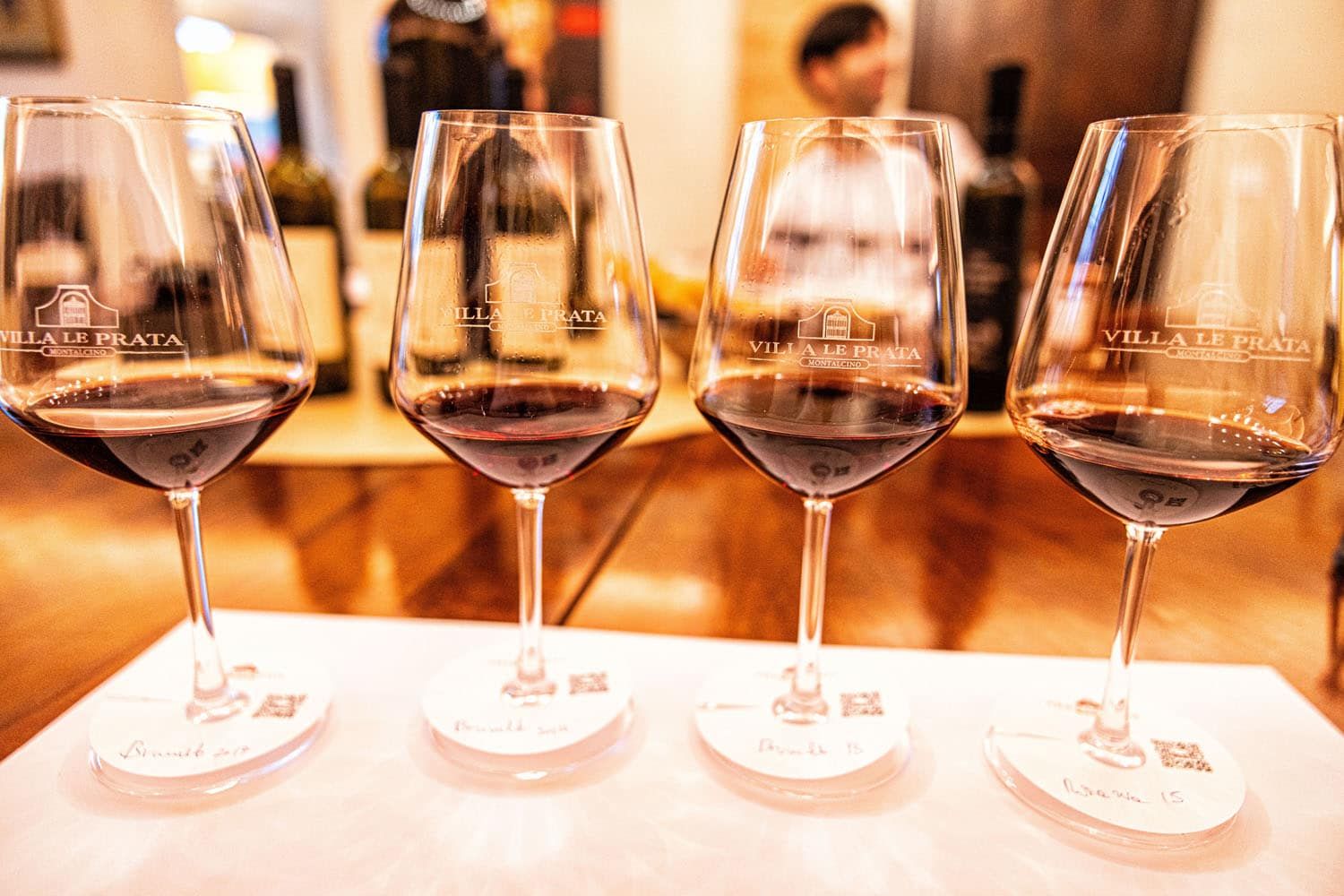 Things to Do Near Pienza
There are several Tuscan hill towns and viewpoints that can be added onto your visit to Pienza. In one day, it is possible to visit Pienza, Montepulciano, and Montalcino, if you move fast and don't mind visiting just the highlights of each town. If you want a more leisurely experience (and not feel like you are in a race), pick two of these towns.
Montepulciano is a 20-minute drive from Pienza. In Montepulciano, climb the tower for panoramic view of Val d'Orcia, go wine tasting, tour the underground wine cellars, and stroll the picturesque streets.
Montalcino is a small town that is a 30-minute drive from Pienza. This is one of our favorite towns in Tuscany. It's small, it's a little less crowded than Pienza and Montepulciano, and there are numerous shops where you can taste (and buy) Brunello di Montalcino wine. Plus, you can climb the tower of the fortress for stunning views of Tuscany.
San Quirico d'Orcia is a lesser known but beautiful town in Val d'Orcia. A visit here is more about strolling the main street that runs through town, having lunch or dinner, and visiting a place that has a less touristy vibe than the towns mentioned above.
If you are into photography or capturing the perfect Instagram shot of Tuscany, there are also numerous viewpoints in Val d'Orcia where you can photography lines of cypress trees and the rolling hills of Tuscany. During our visit in September, most of the fields were tilled and were literally rolling hills of dirt. For lush, green landscapes, visit in the spring and early summer.
Frequently Asked Questions
Is Pienza worth visiting?
With its small size, short list of must-see sights, views of Val d'Orcia, and UNESCO World Heritage Site status, Pienza is one of the best cities to visit on a tour of Tuscany. Tour the historical sites, walk the city walks, and try Pecorino di Pienza cheese while sipping on a glass of local wine.
Which is better, Pienza or Montepulciano?
Pienza is a small town known for its pecorino cheese, views of Val d'Orcia, and picturesque streets. Montepulciano is known for its wine cellars and shops where you can taste and purchase Vino Nobile de Montepulciano wine. Montepulciano is also larger than Pienza, so you need more time to tour this town. We liked both towns, but if I had to pick a favorite, Montepulciano would be the winner.
Which is better, Pienza or Montalcino?
If you want to explore a small town, try pecorino cheese, and have views out over Val d'Orcia, put Pienza on your Tuscany to-do list. Montalcino is a great place to taste Brunello di Montalcino wine but it's also a lot of fun to walk the fortress walls for great views of the town and explore the city streets. Of the two towns, Montalcino is our favorite.
How much time do you need in Pienza?
If you only want to see the highlights of Pienza, 2 hours is all you need. With more time, you can have a leisurely lunch or dinner, tour the historical sites, and venture outside of town to visit the popular viewpoints of Val d'Orcia.
---
If you have any questions about the best things to do in Pienza or how to visit Pienza, or if you want to share your experience, let us know in the comment section below.
More Information for Your Trip to Italy
TUSCANY: In Tuscany, learn about the best things to do on your first visit to Florence, an overview of what it is like to visit the Tuscan hill towns, and how to spend one day in Siena.
BEST OF ITALY: In our Guide to the Best Places to Visit in Italy, we list 20 beautiful destinations to consider for your next trip to Italy.
ITALY ITINERARIES: If you are just beginning to plan your Italy itinerary, take a look at our 10 Days in Italy Itinerary for three different ways to spend 10 days in Italy. We also have a detailed 10 day itinerary that includes Rome, Florence, the Cinque Terre, and Venice. For those with more time, check out our 14 day Italy itinerary, which covers the highlights of Italy.
ROME: In Rome, we cover the best places to stay in our Rome Hotel Guide. We also have a detailed 2 day Rome itinerary that covers the best things to do in Rome.
NORTHERN ITALY: If you plan to visit the Dolomites, read our article Best Hikes in the Dolomites. Verona is a beautiful city to add to your Italy itinerary and we also have a detailed guides on Riva del Garda on Lake Garda on how to day trip to Lake Como and Bellagio.
ASSISI: In our article Best Things to Do in Assisi, we cover the top experiences to have, plus where to eat and where to stay. In our One Day in Assisi Itinerary, we have a detailed walking tour of the historic city center.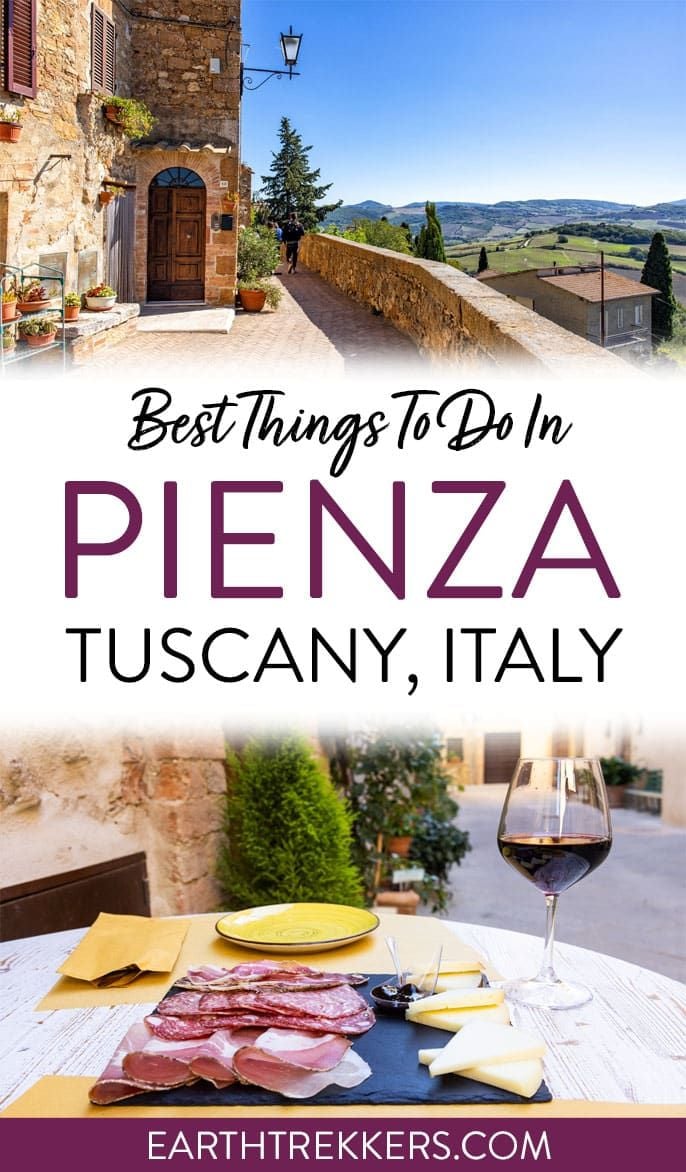 Note: This post contains affiliate links. When you make a purchase using one of these affiliate links, we get paid a small commission at no extra cost to you.
All rights reserved © Earth Trekkers. Republishing this article and/or any of its contents (text, photography, etc.), in whole or in part, is strictly prohibited.