Made famous by the movie Under the Tuscan Sun, Cortona is a small, Tuscan hill town with a short to do list. Stroll the medieval streets, enjoy the views over Tuscany, go wine tasting, and shop in the boutique shops. If you like museums and want to visit a few churches, you can do that too. Here are the best things to do in Cortona, Italy.
Overview of Cortona
Cortona is located in the southeastern corner of Tuscany. Due to its location (it takes longer to get to Cortona from Siena and Florence than many other Tuscan towns), Cortona doesn't get quite as many visitors as the other hill towns. But don't be expecting a ghost town. Quite a few people travel here to see Villa Bramasole, the villa made famous by the movie Under the Tuscan Sun.
Like Montepulciano, Cortona dates back to the 4th century BC, to the time when this land was inhabited by the Etruscans. The Etruscan civilization lived in the region of Tuscany between the 9th century and 1st century BC. Cortona was an important Etruscan city, which you can learn more about at Museo dell'Accademia Etrusca, a museum that documents this history.
Cortona sits on a hilltop. On a visit here, you'll walk quite a few narrow, hilly streets with wonderful views of the countryside. These narrow streets, combined with the beautiful piazzas and viewpoints, makes Cortona one of the prettiest hill towns to visit in Tuscany.
Best Things to Do in Cortona
Below is a list of ten things to do in Cortona, within the city center. These are all within walking distance of each other.
1. Stroll along Via Nazionale
Via Nazionale is the main thoroughfare through Cortona. Along this pedestrian street are small restaurants, shops, and places to go wine tasting. Via Nazionale connects two of the most popular piazzas in town, Piazza Garibaldi and Piazza della Repubblica.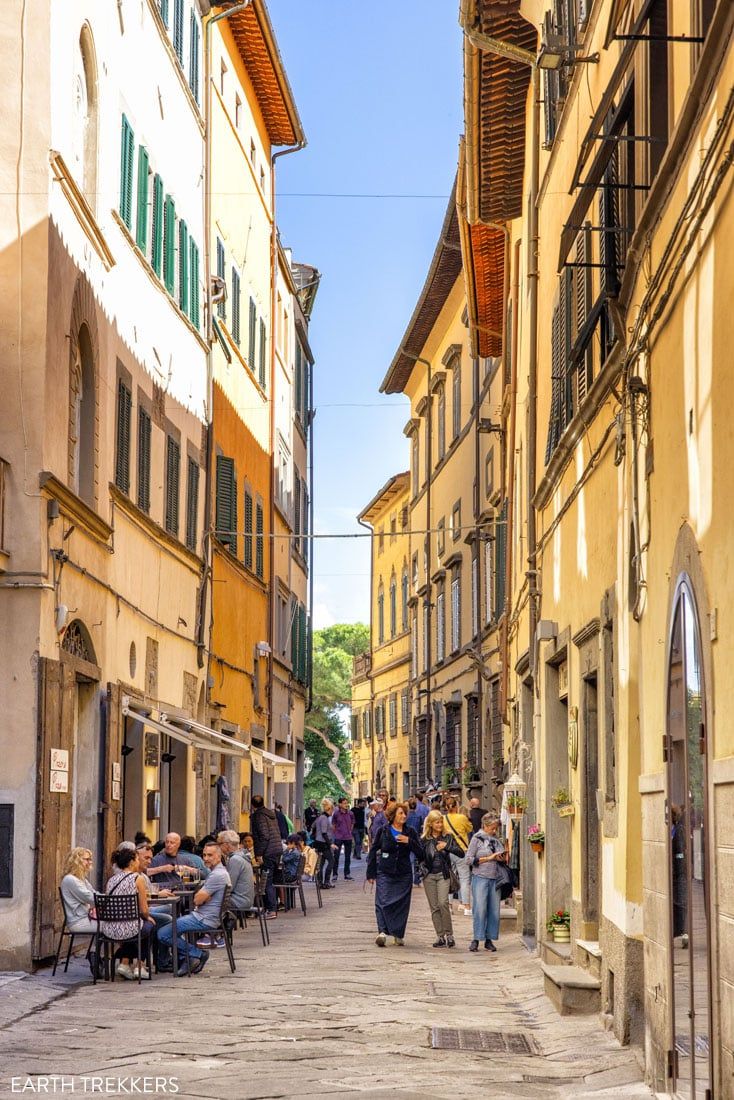 Via Nazionale | Things to Do in Cortona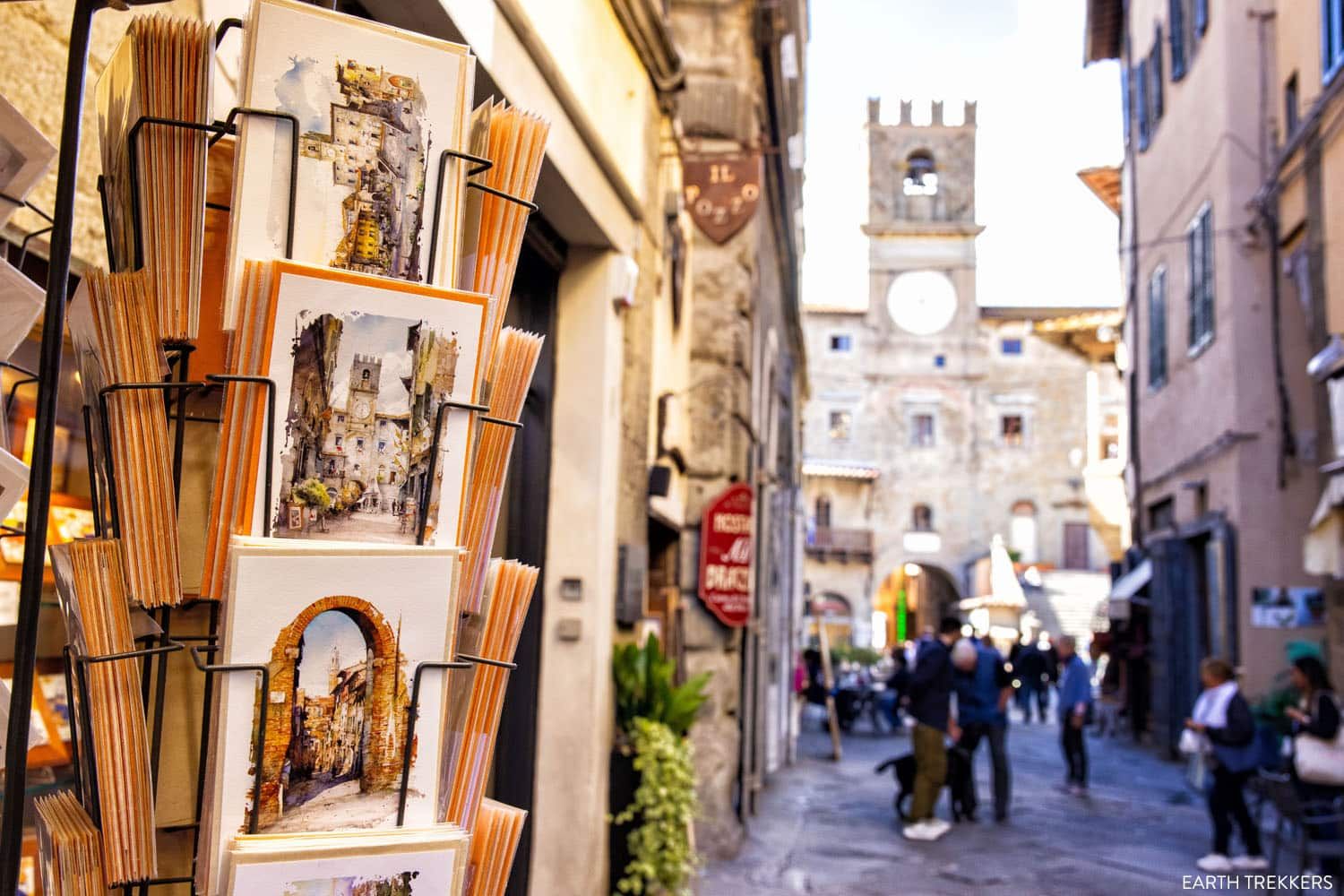 Via Nazionale | Things to Do in Cortona
2. Visit Piazza della Repubblica
Piazza della Repubblica is the main square in Cortona. Lining the square are restaurants, wine shops, and Palazzo Communale.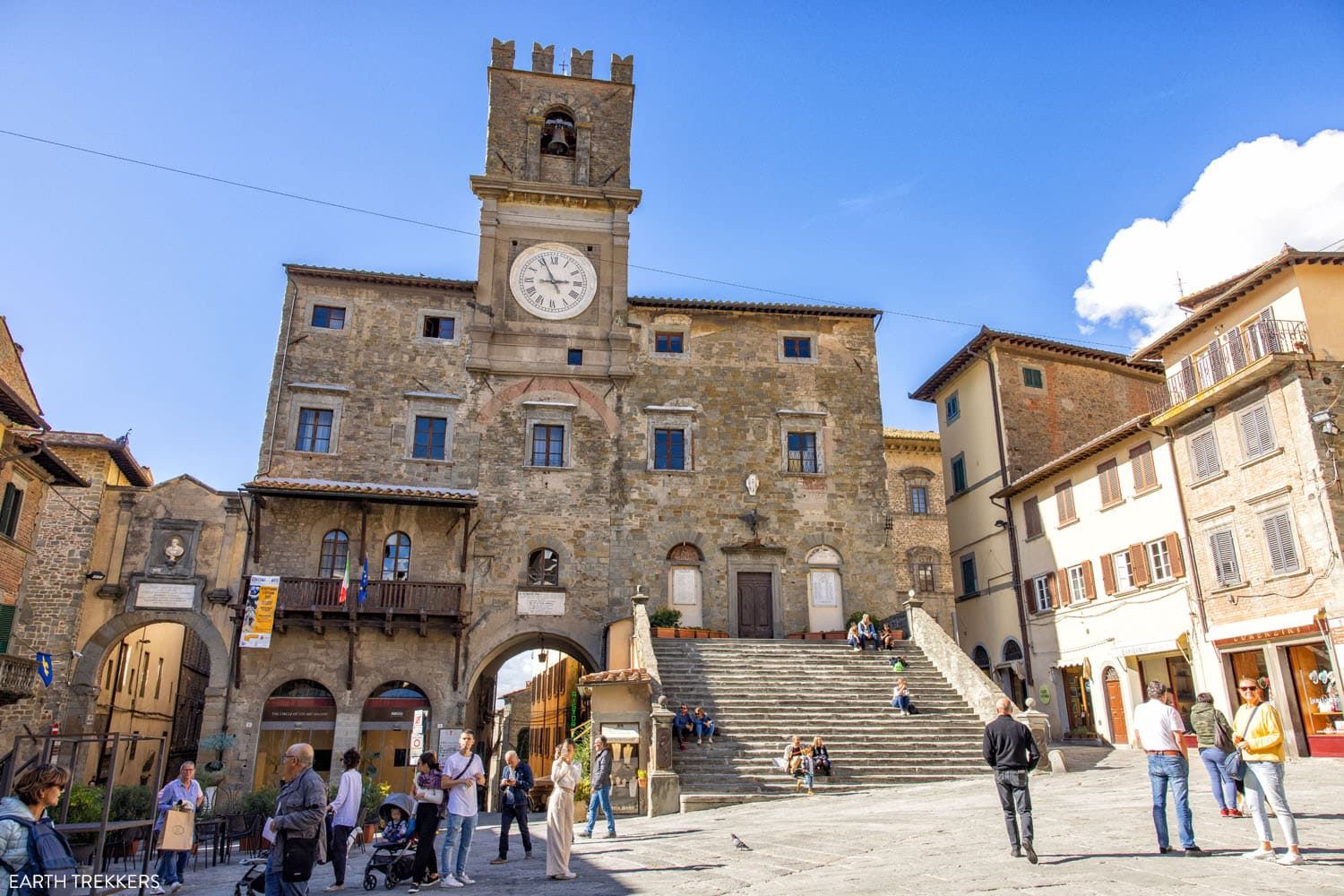 Piazza della Repubblica | Things to Do in Cortona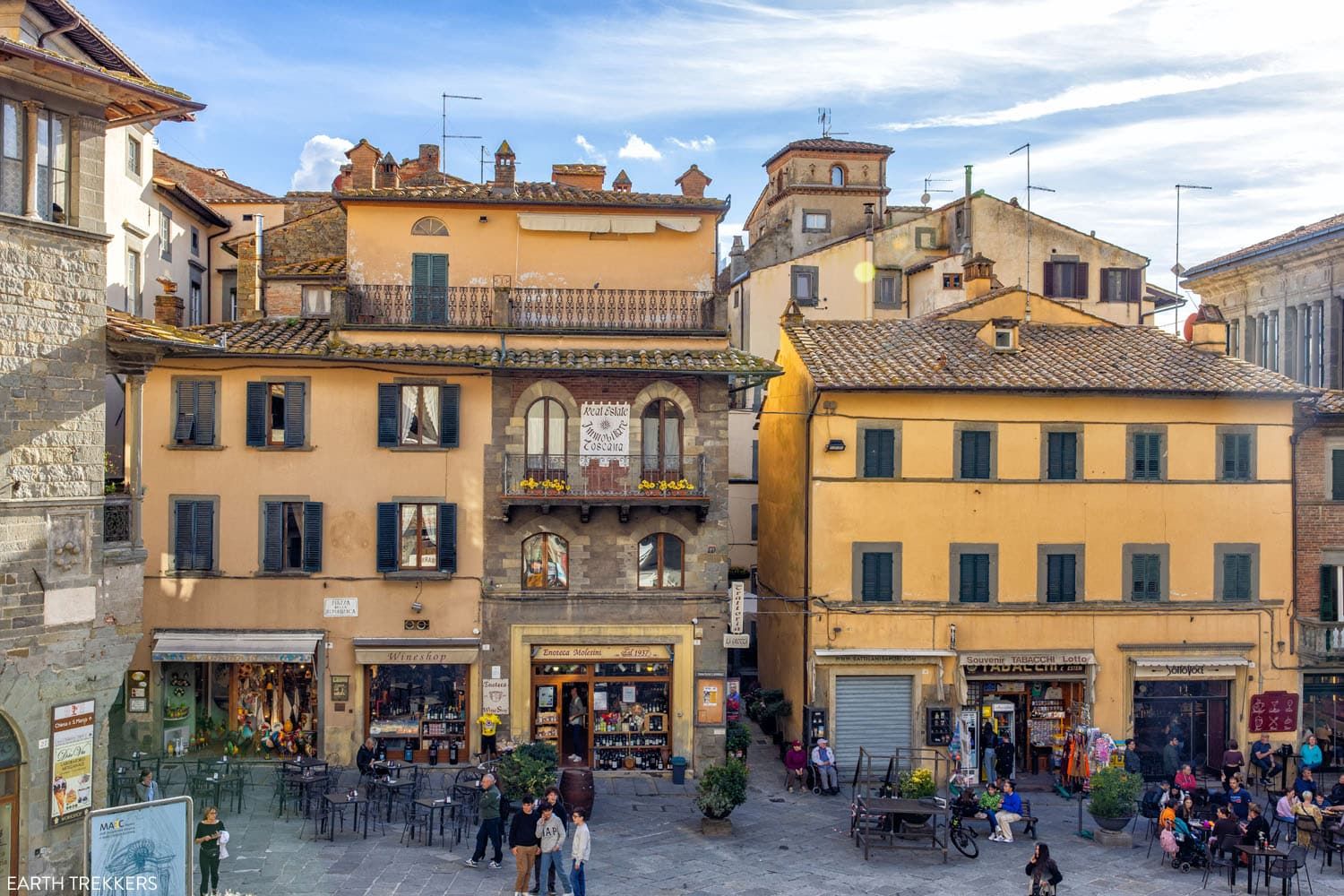 Piazza della Repubblica | Things to Do in Cortona
3. Get a History Lesson at the Museo dell'Accademia Etrusca (MAEC)
This museum contains artifacts from the Etruscan civilization, some of which are 2,200 years old. Important artifacts to see are the Etruscan Chandelier and the Tabula Cortonensis, which is a bronze tablet and the third longest Etruscan text in the world. It was discovered in Cortona.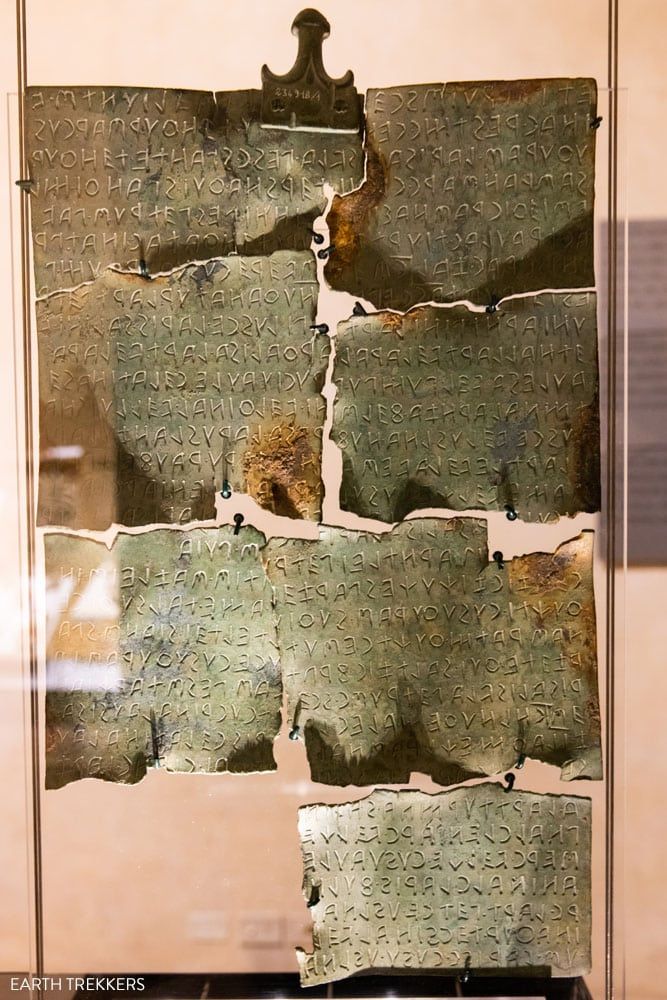 Tabula Cortonensis | Things to Do in Cortona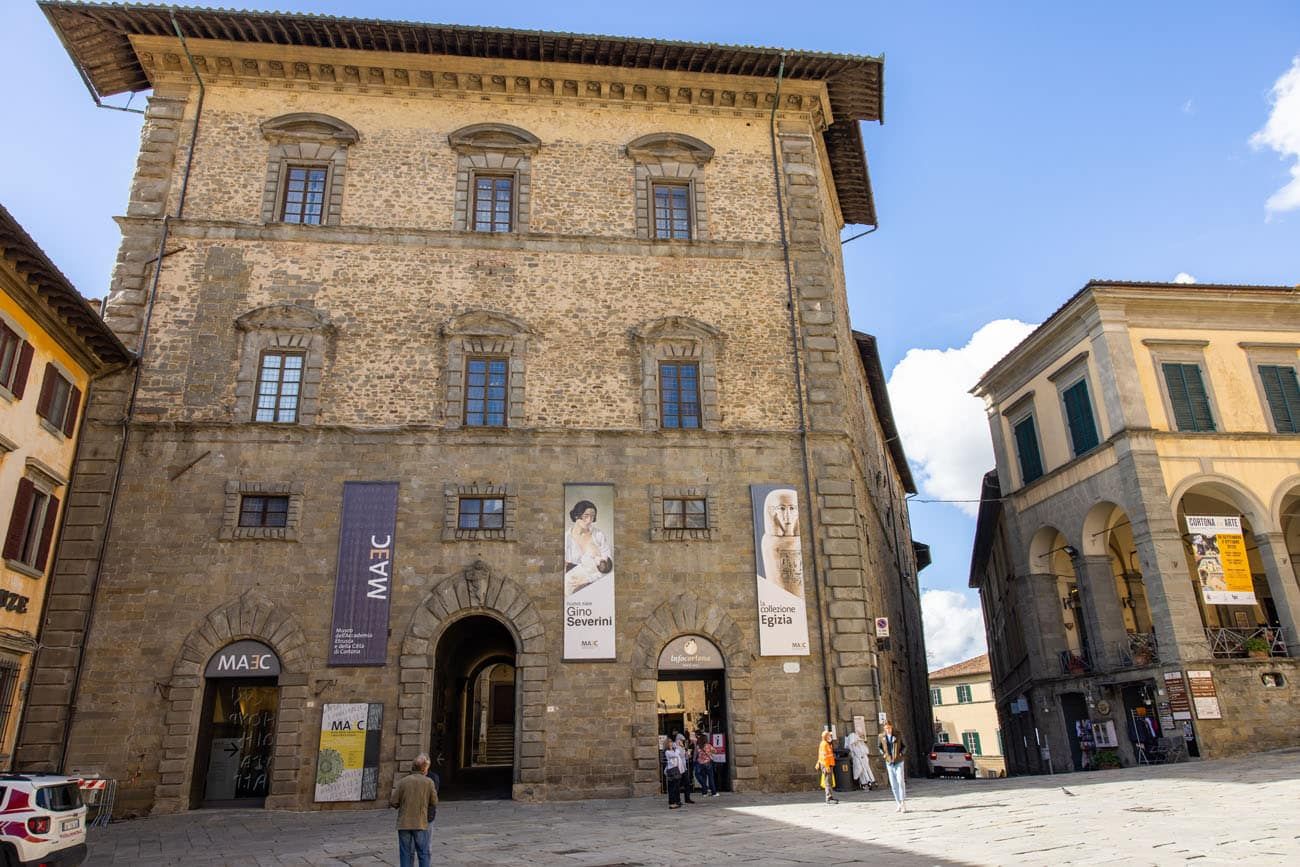 The MAEC | Things to Do in Cortona
The Museo dell'Accademia Etrusca is located on Piazza Luca Signorelli, in the city center. It is a large museum spanning several floors. A visit here lasts anywhere from 30 minutes to an hour or longer, depending on how much interest you have in Eturscan history and the temporary exhibits.
For hours and pricing, visit the official website.
4. Explore the Side Streets
One of the best things to do in Cortona is to explore the side streets that branch off of Via Nazionale and Piazza della Repubblica. These narrow streets lead to quiet corners in Cortona, as well as more shops and restaurants.
Take a step back in time on Via del Gesú, a narrow street with medieval buildings dating back to the 14th century.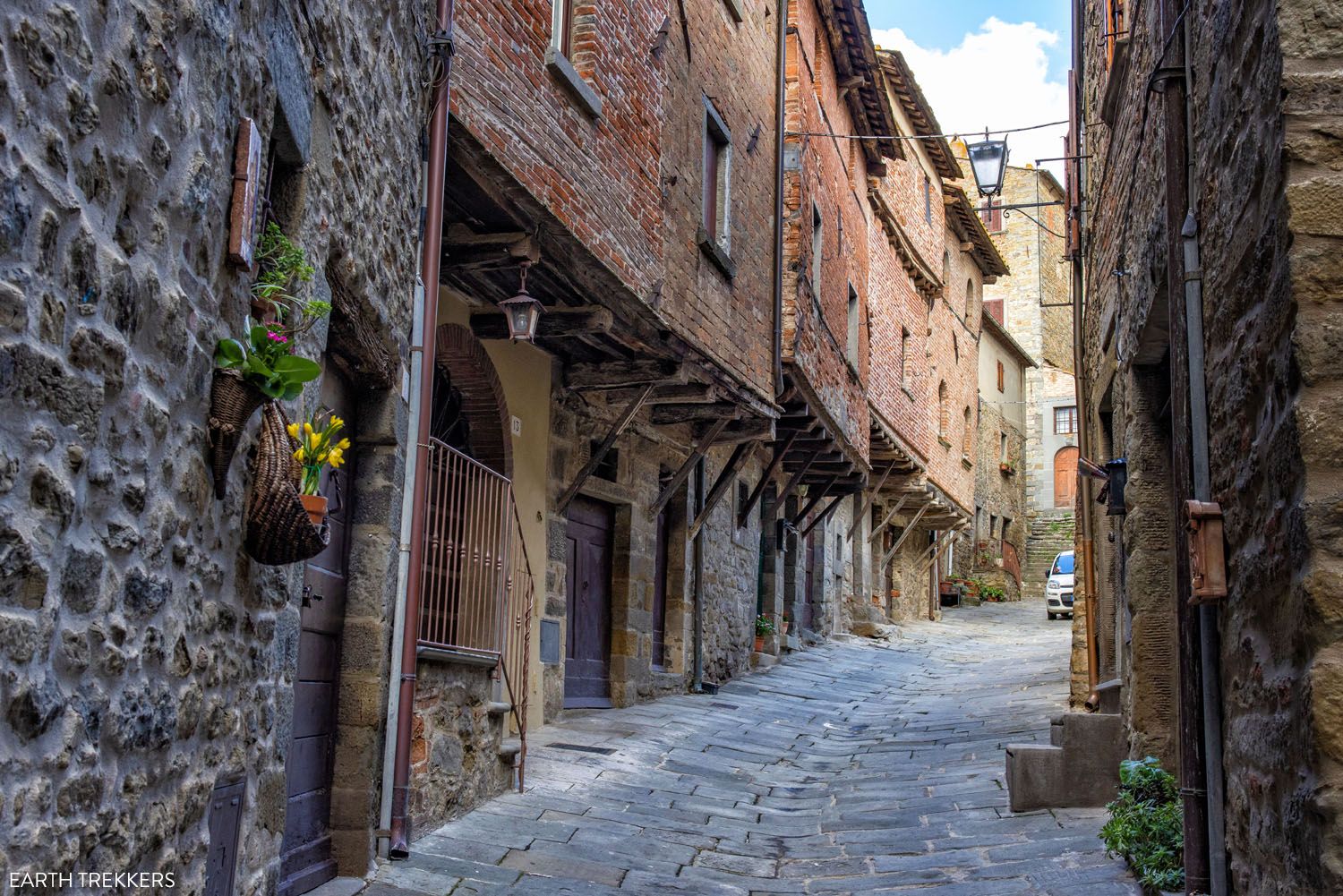 Via del Gesú | Things to Do in Cortona
5. Enjoy the View from Piazza Garibaldi
From Piazza Garibaldi, you get one of the best views from Cortona. From this scenic spot (called "Belvedere di Cortona" on Google Maps), you can gaze across the colorful buildings of Cortona to the Tuscan countryside.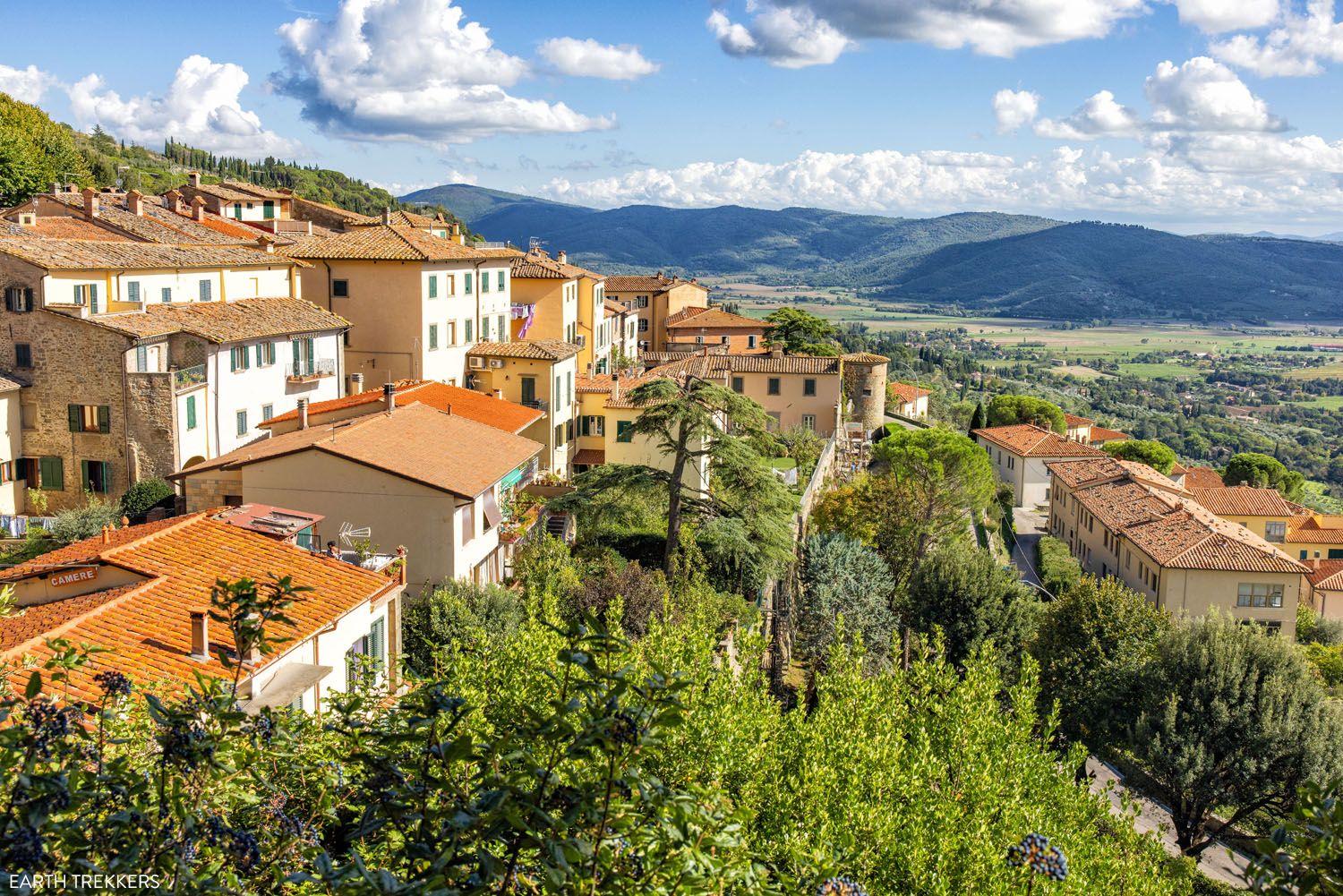 The view from Piazza Garibaldi | Things to Do in Cortona
Piazza Garibaldi
6. Visit the Cortona Cathedral
The Cortona Cathedral, also called the Cathedral of Santa Maria Assunta, sits on Piazza del Duomo. This Renaissance cathedral with its Romanesque façade was built on top of a pagan temple.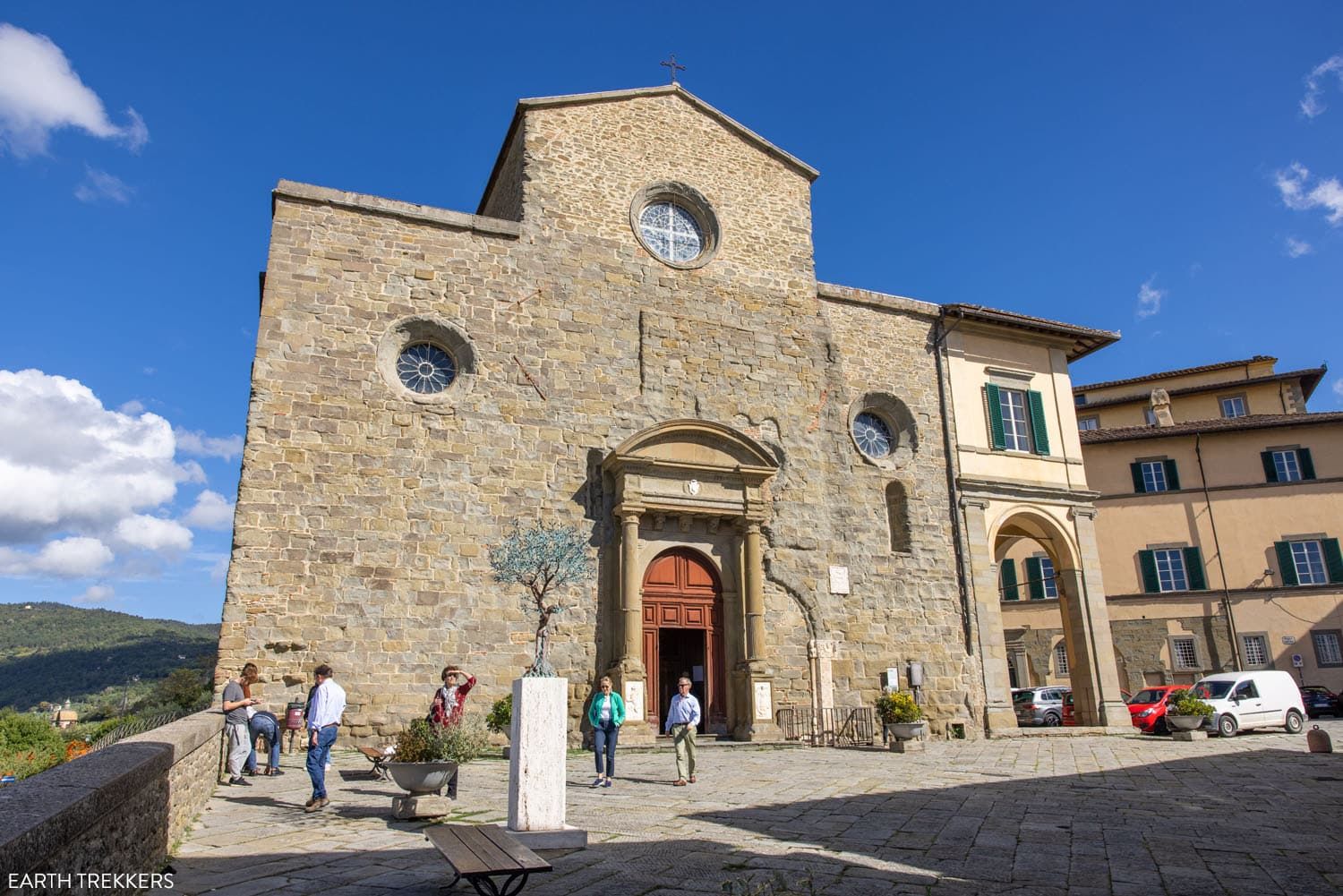 Inside the Cortona Cathedral | Things to Do in Cortona
7. Piazza del Duomo
From this piazza, you can visit the Cortona Cathedral, the Diocesan Museum, and have another spectacular view of the surrounding countryside. From here, you look out over the Cortona cemetery (Cimitero della Misericordia).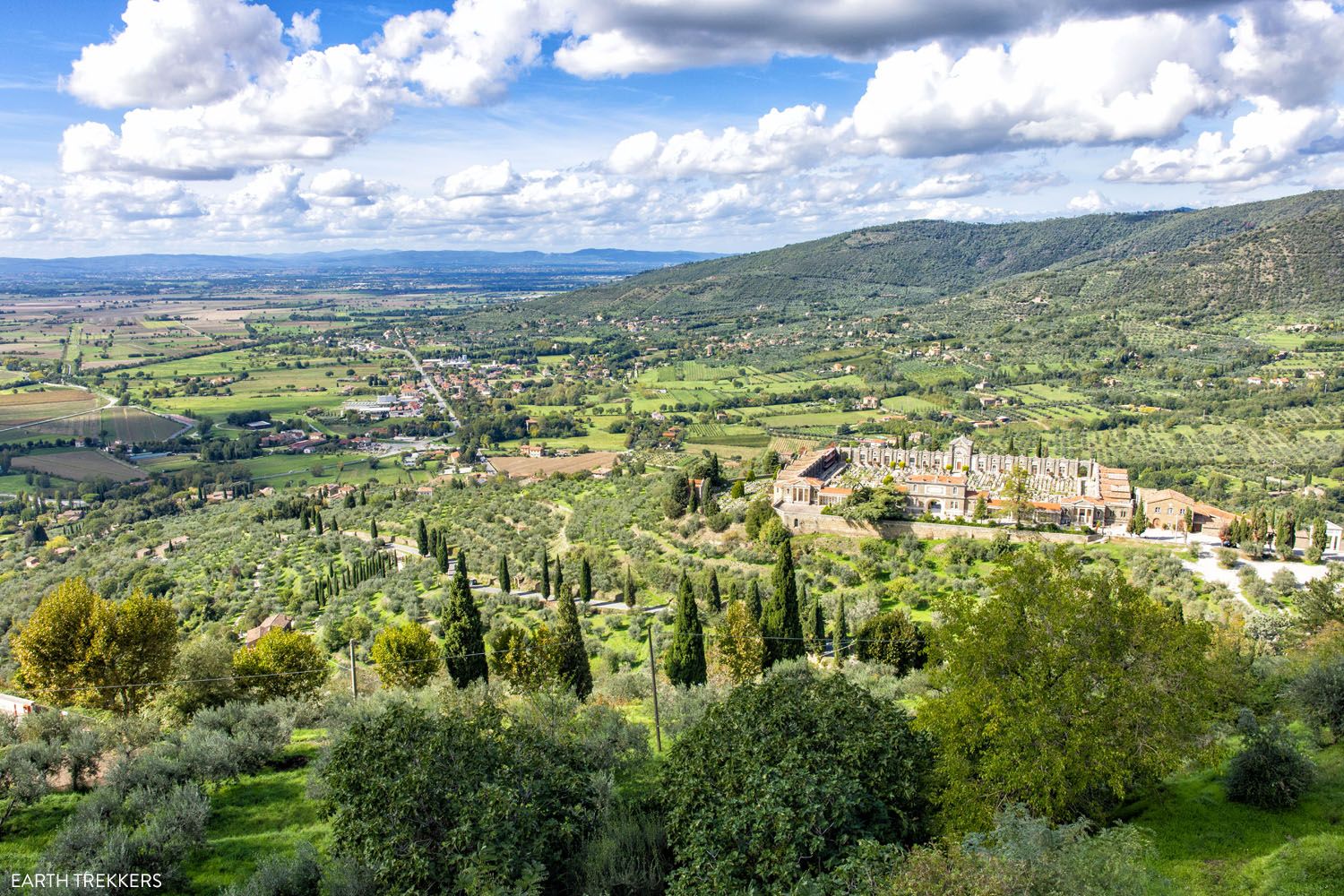 The view from Piazza del Duomo | Things to Do in Cortona
8. Visit the Diocesan Museum
This art museum is located on Piazza del Duomo, on the site of the Church of Gesú. This museum contains notable works of art, including a cross painted by Pietro Lorenzetti, the Cortona Triptych by Fra Angelico, and Madonna and Child by Niccolò di Segna.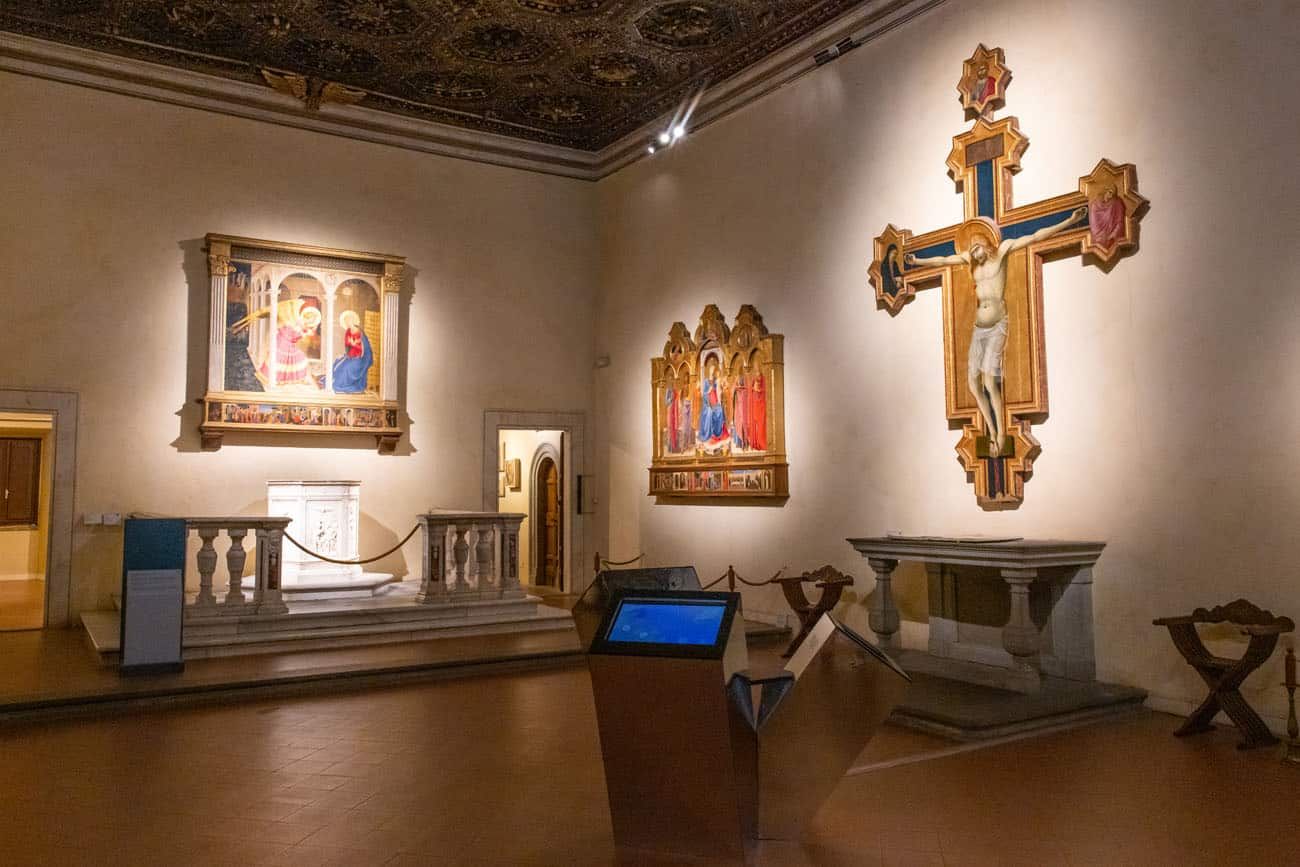 Diocesan Museum | Things to Do in Cortona
9. Visit the Church of San Francesco
This church was built in 1245. Inside, you can see relics of St. Francis of Assisi and the Reliquary of the Holy Cross.
The Reliquary of the Holy Cross is a rectangular ivory tablet that holds a gold cross which houses a fragment of the Cross on which Jesus died. It is one of the most famous relics in existence.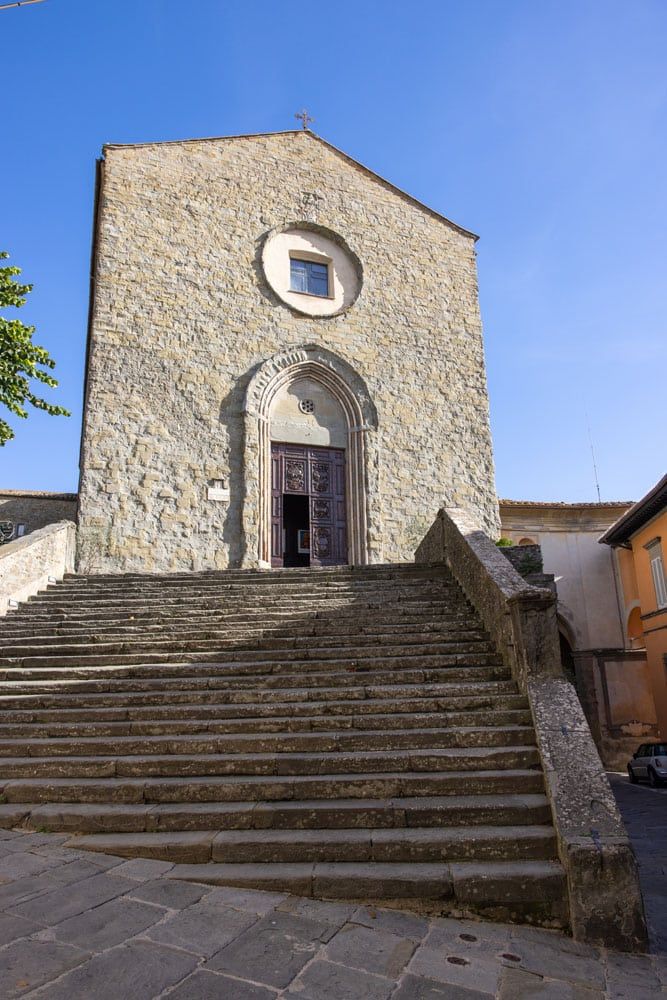 Church of San Francesco | Things to Do in Cortona
Inside the Church of San Francesco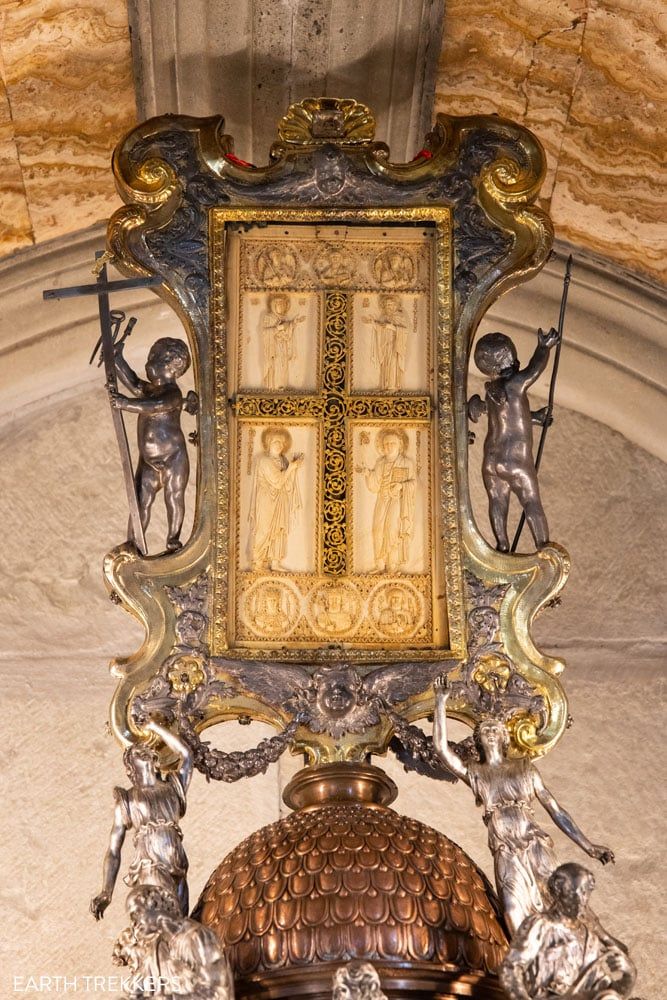 Reliquary of the Holy Cross
10. Go Shopping
One of the things we really liked about Cortona is the shopping. Sure, there are some souvenir shops in Cortona, but mostly you'll find wonderful art galleries, small boutique shops selling everything from food to clothing to shoes, and places to go wine tasting.
Il Pozzo is an art gallery that is located on a side street off of Via Nazionale.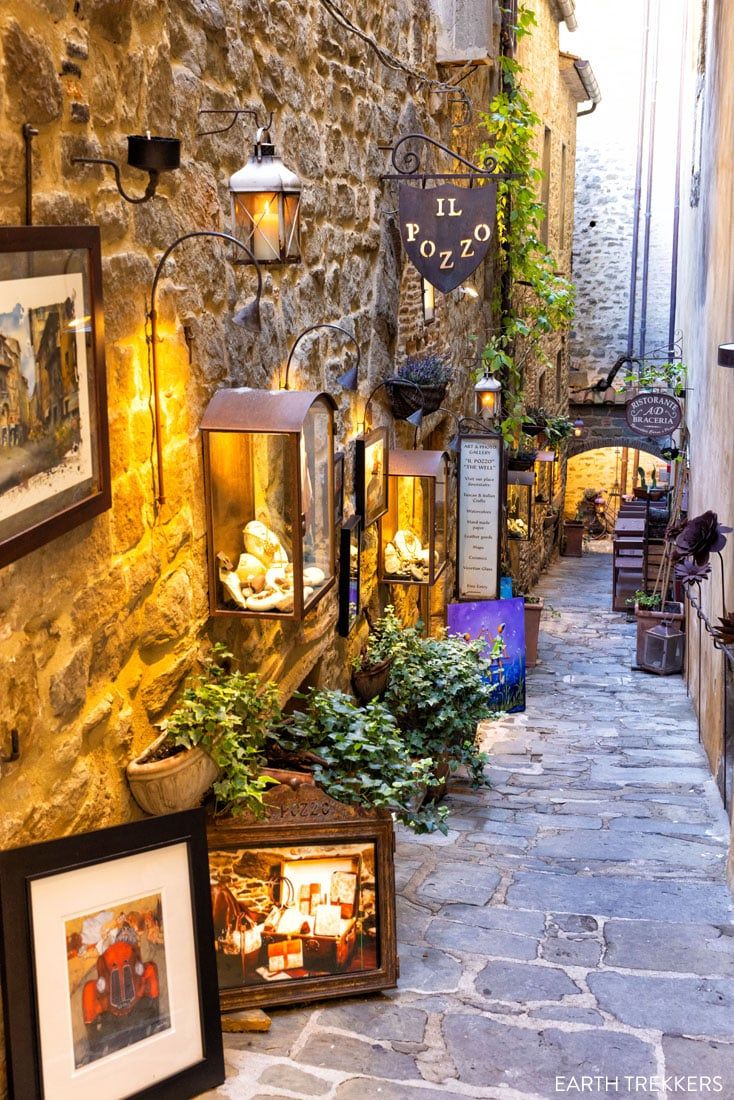 Il Pozzo | Things to Do in Cortona
Story of Life is located next to Convento di San Francesco. We loved the artwork in this shop and the message this husband and wife team promoted. The sign that greets you says, "You are about to enter an extraordinary adventure, so forget who you are, what you do, where you come from and how old you are … love, emotions and dreams are ageless and live everywhere!" The artwork is beautiful, unique, and very affordable. Their journals make a great souvenir or gift for family and friends. It is located next to the Church of San Francesco.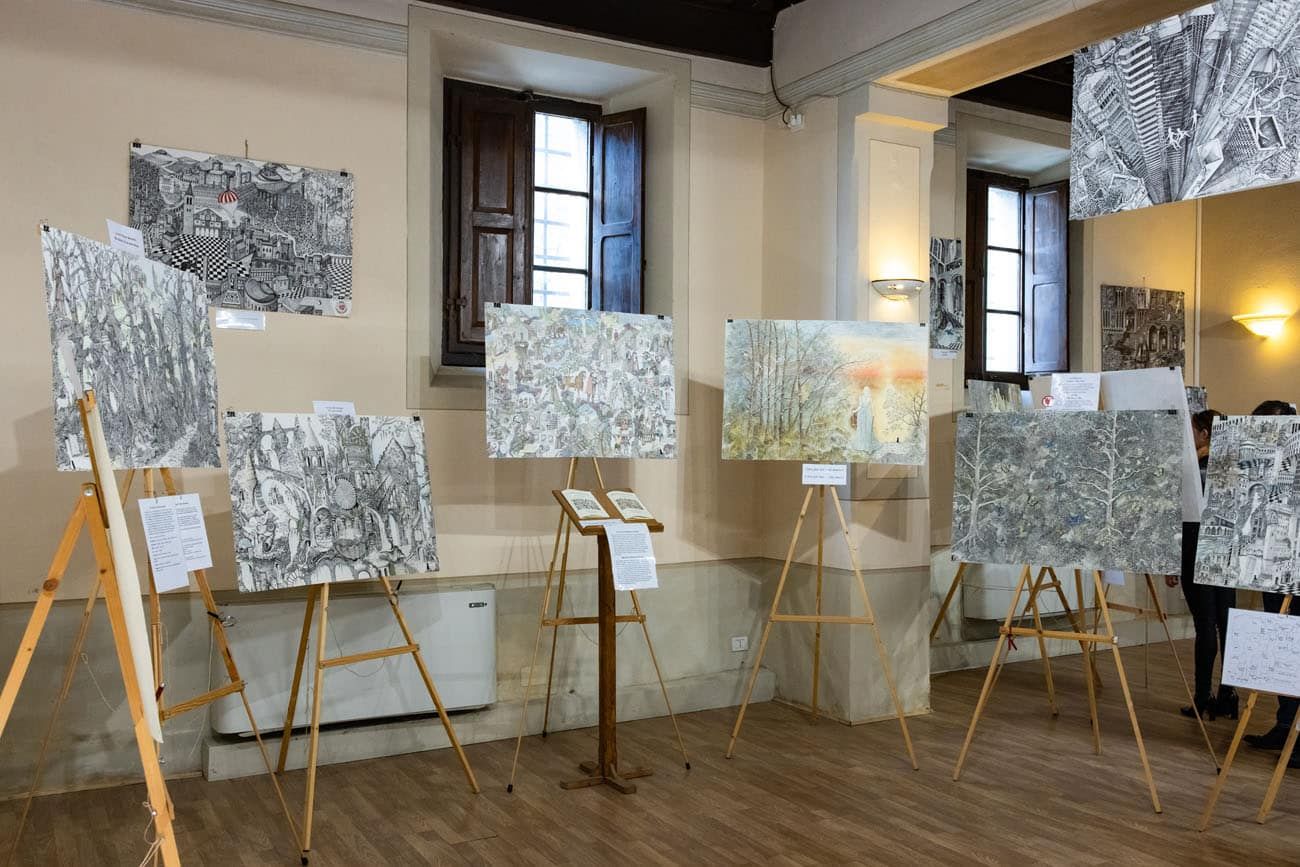 Story of Life
Vini Di Toscana is a wine shop that offers tastings. It is located on Via Nazionale. We tasted Super Tuscan wine, Brunello di Montalcino, Sryah, and others. As a souvenir from Cortona, purchase a bottle of the Bramasole, a Syrah produced in Cortona.
Best Things to Do Outside of Cortona
Here is a list of things to do just outside of Cortona. A few can be reached on foot from the city center (such as Villa Bramasole and the Girifalco Fortess), but for others, you will have to drive there.
1. Villa Bramasole
Villa Bramasole is featured in the Under the Tuscan Sun movie. Filmed in 2003 and starring Diane Lane, this movie is based on Frances Mayes' memoir, in which a recently divorced author buys a villa in Tuscany. Villa Bramasole is this villa.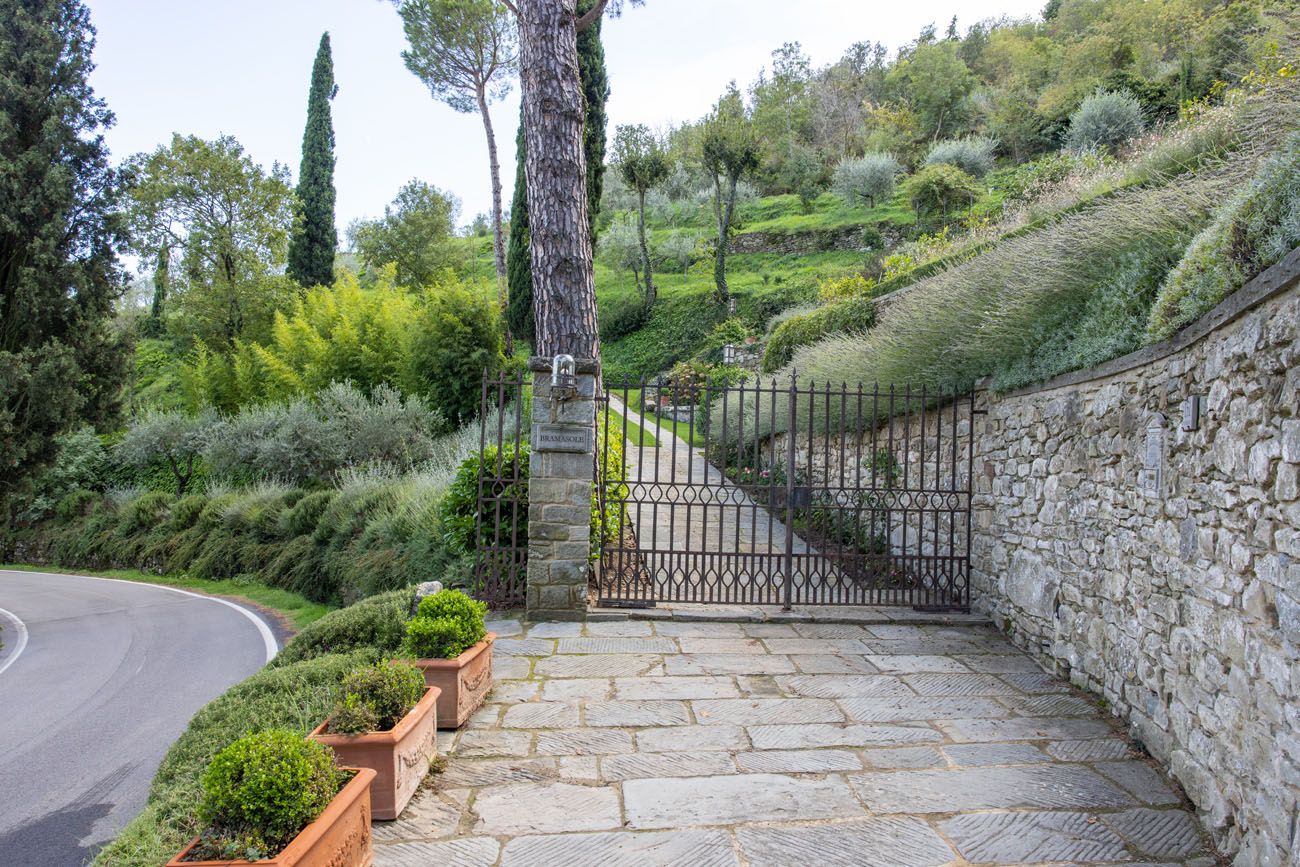 Villa Bramasole
This movie put Cortona on the tourist map and now people travel here just to see the villa. But getting to the villa is not so easy, and really not worth it, in our opinion.
Villa Bramasole is a private home so you cannot go inside.
You can get here on foot, but it will be a hilly walk on a narrow road with a fair amount of traffic. If you have a car, you can drive here, but there is just a small shoulder on the road in which you can get out and stop and take a photo. Plus, you really only see the gate and the top of the villa.
Villa Bramasole is located on a very narrow two-lane road which is really only wide enough for one car in some spots. As you drive down Localita Torreone, the street on which Villa Bramasole is located, you will see the gate and the gardens. There is no place to turn around here, so you will have to drive farther down the road and turn around at one of the pull offs. As you drive back up the hill you will be able to see the villa as you drive past it.
We did it, just out of curiosity, and don't think it's worth the time and hassle of driving down the narrow road. I think your time is better spent in Cortona or visiting the Girifalco Fortress or a winery, than doing a drive by of Villa Bramasole. I also think you get a better view of the villa by dropping Pegman, the Google map man icon, onto street view next to the villa.
PRO TRAVEL TIP: Montepulciano and Pienza make quite a few appearances in the movie, so if you also have plans to visit Montepulciano and Pienza (as well as Cortona), it may be worth watching Under the Tuscan Sun before or after your trip to Italy.
2. Girifalco Fortress & Basilica di Santa Margherita
The Girifalco Fortress sits on the hilltop just above the city center. It dates back to the 5th century BC, with original Etruscan walls. It has been expanded, attacked, destroyed, and rebuilt several times. What we see today dates back to the 17th century. Since its "recent" renovation, it has been used as a prison, as an observation post by German soldiers in WWII, and then became a tourist attraction.
Sitting next to the fortress is the Basilica di Santa Margherita. This church is dedicated to Saint Margaret of Cortona, the native saint of the town. It contains a silver casket with the body of Saint Margeret.
To get to the Girifalco Fortress and the Basilica, you can drive and park here (about a 10 minute drive ) from Cortona or walk here (about 15 minutes, 1 km).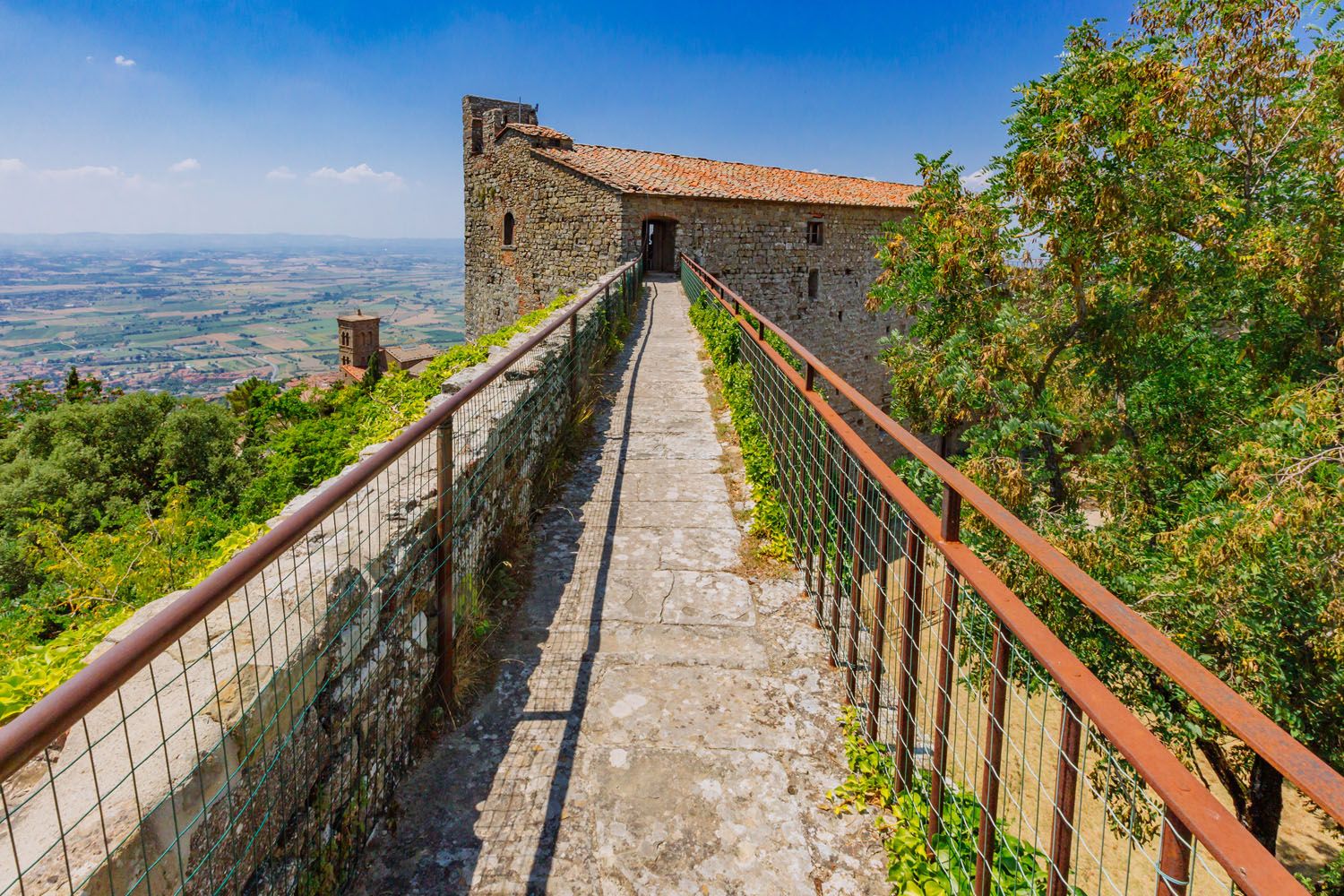 Girifalco Fortress | photo credit: Mark Zhu/shutterstock.com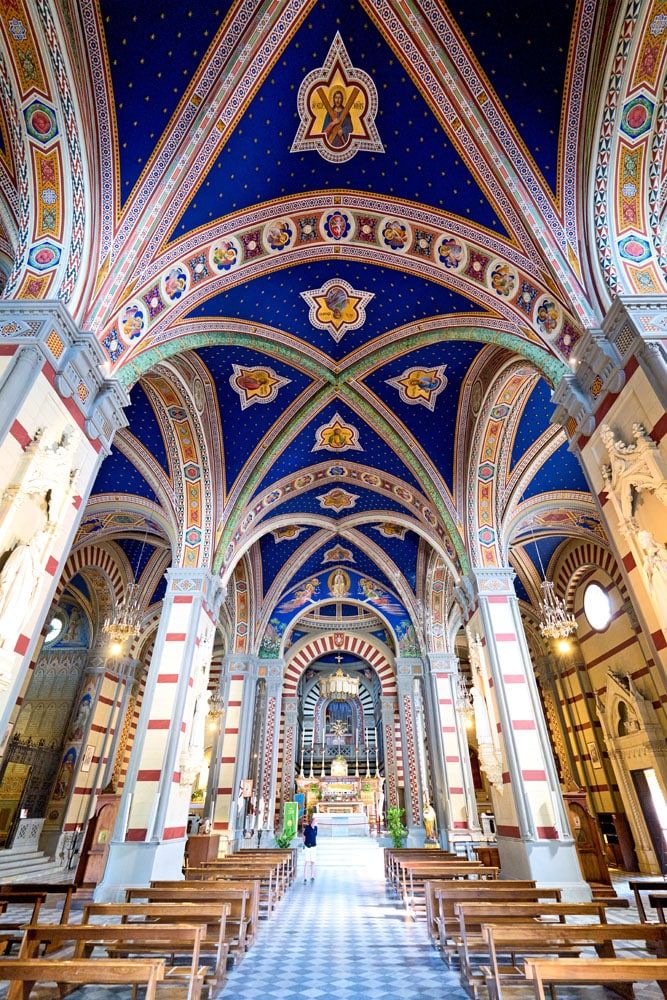 Basilica di Santa Margherita | photo credit: marcobrivio.photo/shutterstock.com
3. Convent Le Celle
Convent Le Celle, also called Eremo Le Celle, is the first monastery built by St. Francis of Assisi in 1211. It was inhabited by St. Francis of Assisi and visited by St. Anthony of Padua, St. Bonaventure, and Brother Elias of Cortona.
The best way to get here is to drive. It is a 2 km drive that takes 6 minutes. On foot, it is a 30-minute walk one-way.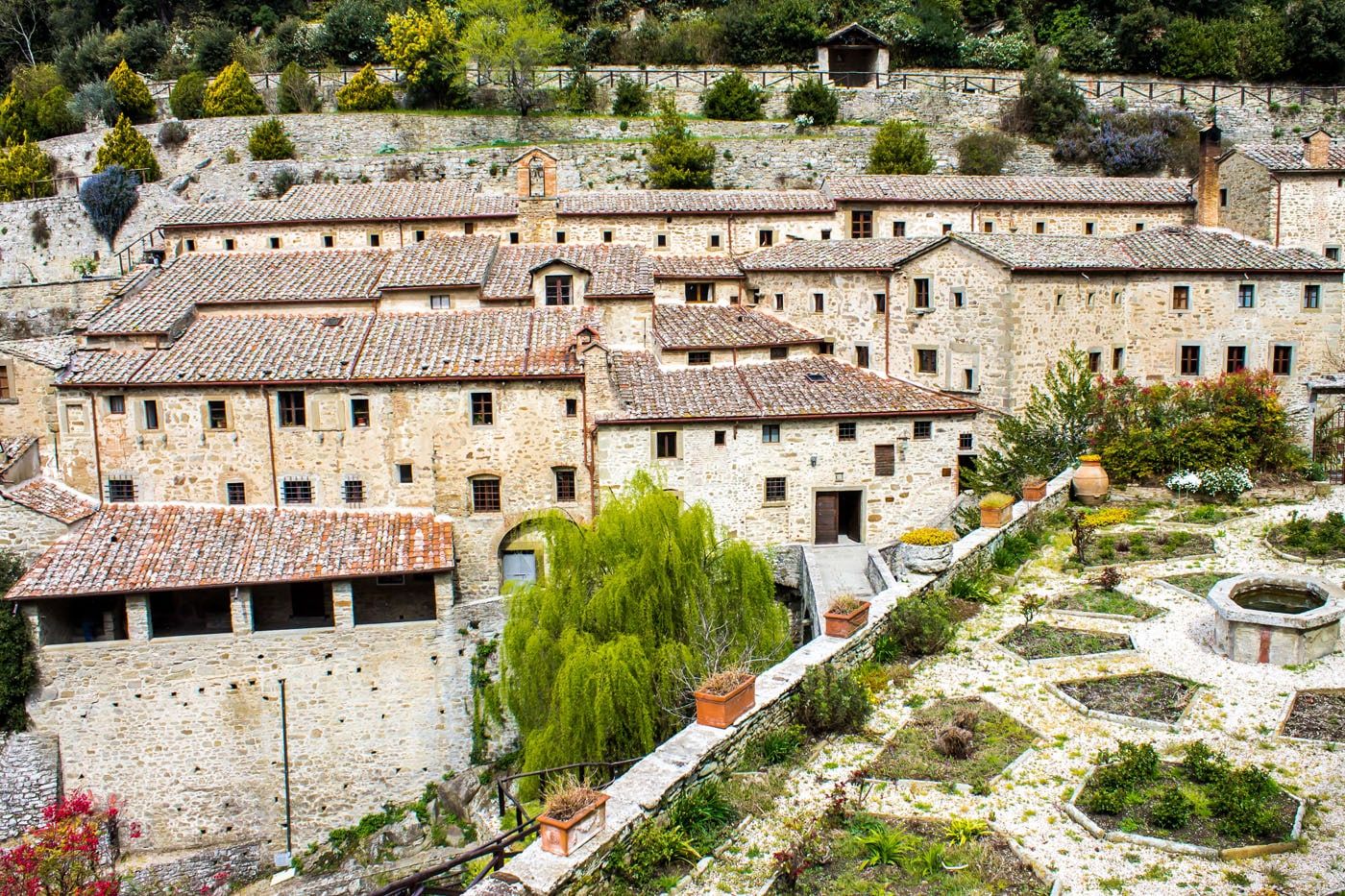 Photo credit: marcociannarel/shutterstock.com
4. Avignonesi Winery
This winery is a 20-minute drive southwest of Cortona. We did a wine tasting here and Tim is a huge fan of their Vin Santo. They also offer cooking classes, private dinners, and a gourmet lunch with wine pairings on their outdoor terrace.
Learn more here.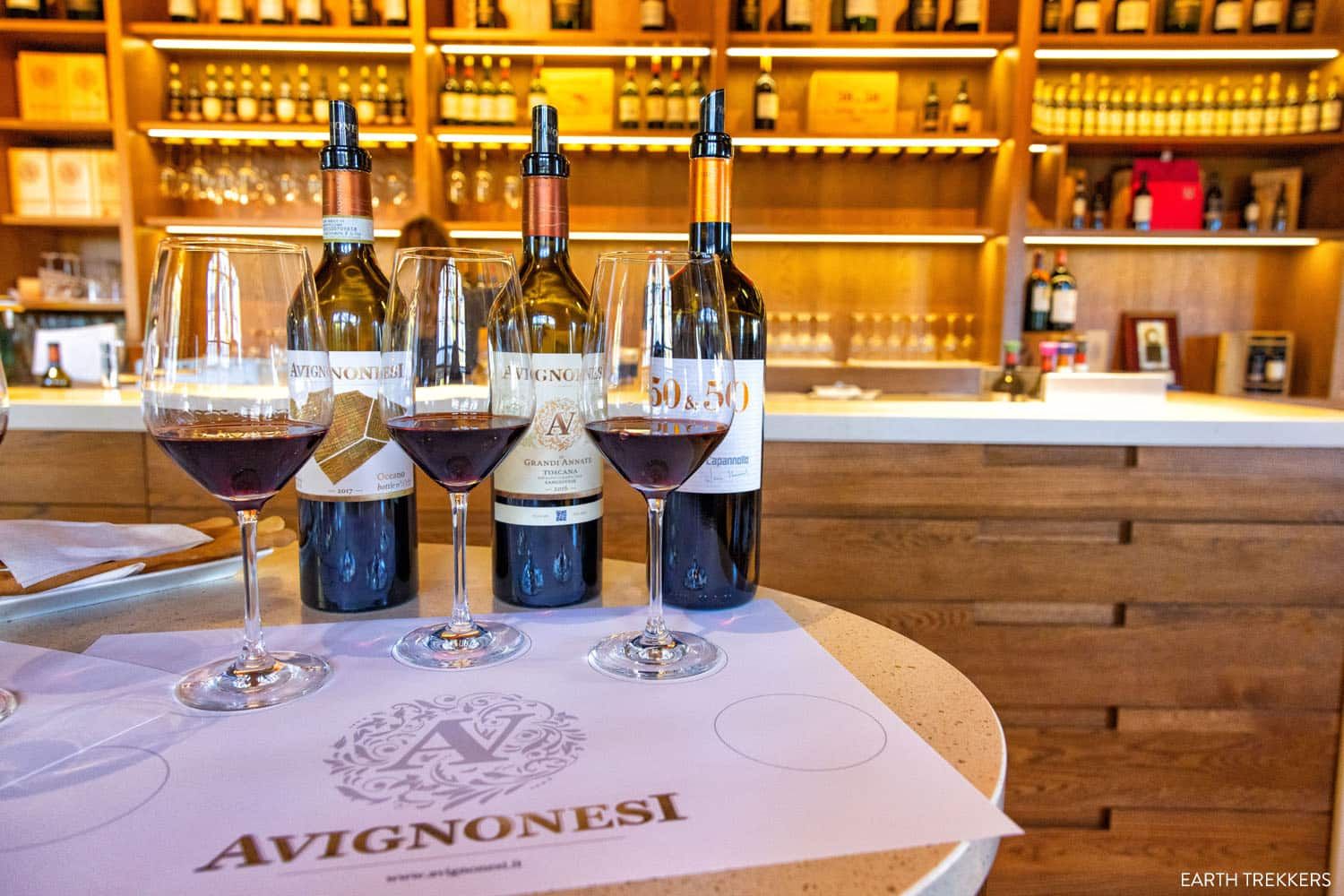 Avignonesi Winery | Things to Do in Cortona
5. Tenimenti Luigi d'Alessandro
This is another highly rated winery near Cortona. We didn't have time for this one but it looks fantastic. They offer wine tastings and you can dine at their restaurant. They also run the Borgo Syrah Resort, which are apartments located in historic buildings on the property.
Learn more here.
Best of Cortona: On a Map
How to Use This Map: Click the icons on the map to get more information about each point of interest. Click the star next to the title of the map to add this map to your Google Maps account. To view it on your phone or computer, open Google Maps, click the menu button, go to "Your Places," click Maps, and you will see this map on your list.
How Much Time Do You Need in Cortona?
If you want to stroll the city streets, go shopping, have a bite to eat, and visit museum or church or two, you will need 2 to 3 hours in Cortona. In order to visit the sites that sit outside of the city center, add on another 2 to 4 hours, which means that your visit to Cortona will last about one full day.
Helpful Tips for Visiting Cortona
To check the weather forecast, we used Meteo Italy and the forecast was relatively accurate. There is also an app that you can download onto your phone.
Be prepared to walk some hilly streets. Via Nazionale, the main road to the city center is flat, but from here, the streets either lead up or down the hillside.
How to Get to Cortona
By Train
The two closest train stations to Cortona are the Terontola station (on the Terontola-Perugia-Assisi railway line and the Florence-Rome railway line) and the Camucia station (on the Florence-Rome railway line). Of the two, the Camucia station is the closest, being 3 km from the city center. From both stations, you can get to the city center by bus or taxi.
By Bus
The best way to get to Cortona by bus is to first take the train to the Camucia or Terontola stations and then take the bus from here. It's also possible to travel to Cortona on the Tiemme SpA bus.
By Car
The easiest way to get to Cortona is to drive here.
Here are the driving distances and times from nearby destinations:
Montepulciano: 31 km, 40 minutes

Montalcino:

66 km, 1 hour 10 minutes

Pienza:

50 km, 55 minutes

Arezzo:

30 km, 45 minutes

Assisi:

73 km, 1 hour
Siena: 75 km, 1 hour

Florence:

120 km, 1.5 hours

Orvieto:

95 km, 1 hour 10 minutes
There are several parking lots outside of the city center. We parked at Parcheggio libero, which is a large, free parking lot that sits just a short walk from Porta Santa Maria. There is another large lot called Parcheggio dello Spirito Santo and from here it is an uphill walk to Piazza Garibaldi.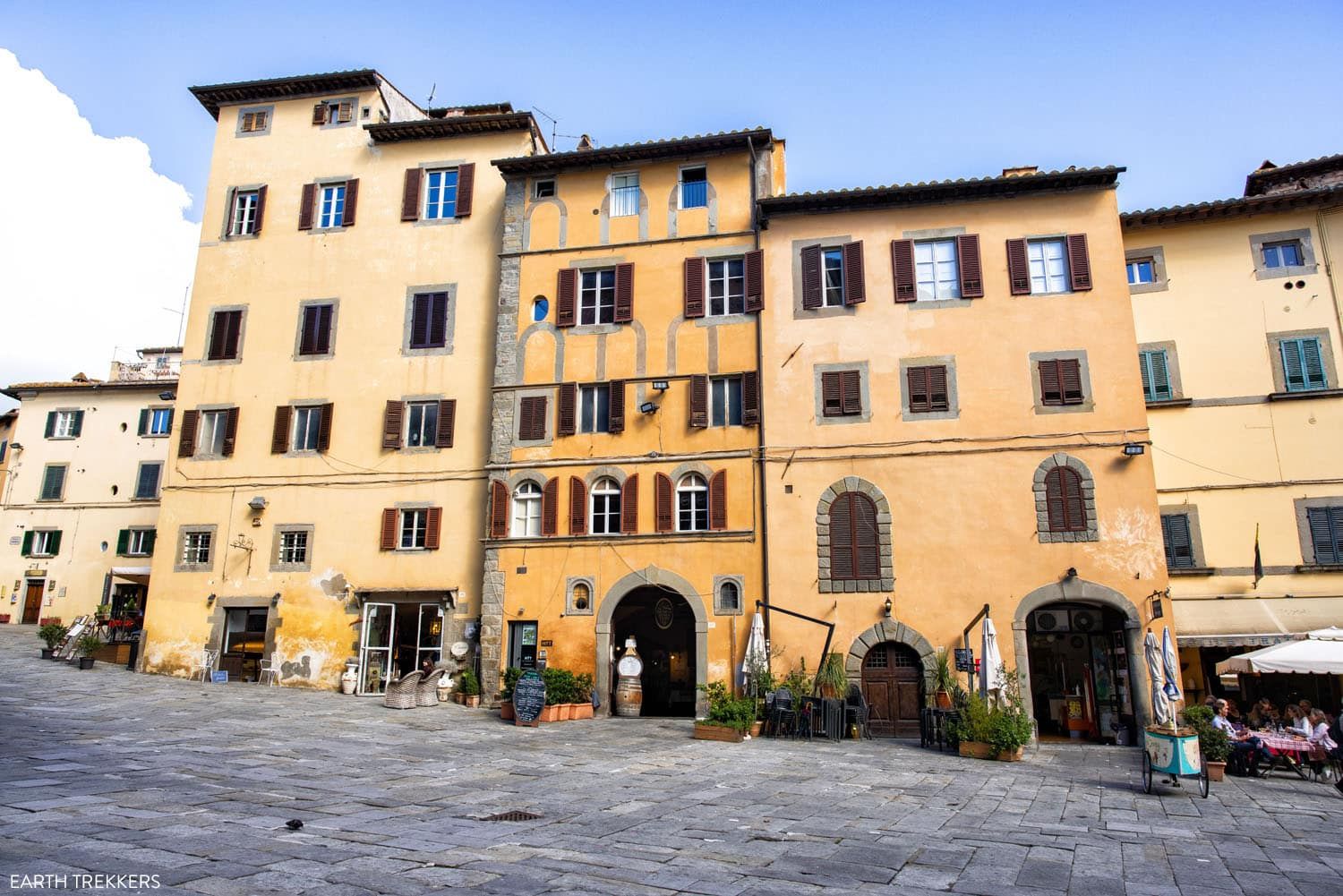 Piazza Luca Signorelli
Tours of Cortona
There are lots of tours that include Cortona. From Florence, visit both Cortona and Montepulciano on this tour. From Florence, you can also take a day trip to Assisi and Cortona. Once in Cortona, take a 3-hour private walking tour of the city or a cooking class.
Things to Do Near Cortona
There are several Tuscan hill towns that can be added onto your visit to Cortona. In one day, it is possible to visit Cortona and Montepulciano, or Cortona and Arezzo, if you move fast and don't mind visiting just the highlights of each town.
Arezzo is a 45-minute drive from Cortona. Arezzo is another beautiful Tuscan town that is a delight to visit. Wander through the historic city center, have lunch or dinner in the main square, and climb the fortress walls for outstanding views of the city.
Montepulciano is a 40-minute drive from Cortona. In Montepulciano, climb the tower for panoramic view of Val d'Orcia, go wine tasting, tour the underground wine cellars, and stroll the picturesque streets.
Pienza is a very small town, smaller than Cortona. Trying pecorino cheese and strolling the city walls are top experiences here, so a visit here cany be very quick. Pienza is about an hour drive from Cortona.
Assisi is located in Umbria, an hour from Cortona by car. This city, which is the birthplace of St. Francis, is filled with spiritual treasures, works of art, and some of the most beautiful churches we have seen in Italy.
What We Did
We visited Cortona while driving between Florence and Assisi. In the morning, we first visited Arezzo, which is just a 40-minute drive north of Cortona. In the early afternoon, we drove to Cortona, spent the afternoon here, and then made it to Avignonesi vineyard just before closing time. Our day ended at Assisi, which sits in the region of Umbria.
Our visit was on October 1. By this time, tourist visitation begins to quiet down in Tuscany. However, just a few days before this, we spent some time in many of the other hill towns, such as Montepulciano, San Gimigano, Volterra, and Montalcino. Of all the towns we visited, Cortona was the quietest. And it was wonderful.
We weren't expecting much from this town, we just wanted to quickly see it as we drove from Arezzo to Assisi. But we loved it here. Strolling the scenic streets, wine tasting, and shopping in the art galleries was a wonderful experience. If you have the time to add Cortona into your Tuscan itinerary, it's well worth it if you want to visit a quieter town with a less touristy vibe.
Frequently Asked Questions
Is Cortona worth visiting?
If you want to visit a Tuscan town with a less touristy vibe, then Cortona put Cortona on your list. This small hill town is a delight to stroll through, with its beautiful piazzas, views of the Tuscan countryside, art galleries, and boutique shops. It is a bit out of the way from other Tuscan hill towns, but it can be combined with Arezzo and nearby vineyards.
How much time do you need in Cortona?
If you simply want to stroll through town, do a little shopping, and have a bite to eat, 2 to 3 hours is all you need in Cortona. With more time, explore the sites that sit right outside of the city center, such as the Girifalco Fortress and Convent Le Celle or go wine tasting at the nearby vineyards.
How do you get to Cortona?
The best way to get to Cortona is by car since it takes several transfers by bus and/or train to get here using public transportation. Another convenient way to visit Cortona is on a tour.
---
If you have any questions about the best things to do in Cortona, or if you want to share your experience, let us know in the comment section below.
More Information for Your Trip to Italy
ITALY ITINERARIES: If you are just beginning to plan your Italy itinerary, take a look at our 10 Days in Italy Itinerary for five different ways to spend 10 days in Italy.
TUSCAN HILL TOWNS: Check out our detailed guides to Siena, Montepulciano, Pienza, Montalcino, San Quirico d'Orcia, San Gimignano, Monteriggioni, Lucca, Volterra, and Arezzo.
TUSCANY: Get started with our guide to the Best Things to Do in Tuscany. Learn how to plan your visit with our Tuscany Itinerary, which has sample itineraries, whether you have 3 days, 5 days, or an entire week in Tuscany.
FLORENCE: For a list of things to do, take a look at our Florence Bucket List and learn how to plan your time with our 2 Day Florence Itinerary. We also have information about how to visit the Florence Cathedral, about the best rooftop bars in Florence, and the best viewpoints in Florence. Here are 15 day trips to take from Florence, with practical information on how to plan your day.
SAN MARINO: San Marino is a tiny country located entirely within Italy. It is gorgeous to explore and one of the most underrated places to visit in Europe.
PUGLIA: Read about 15 beautiful places to visit in Puglia and the best things to do in Alberobello. We also have a guide to the best things to do on the Gargano Peninsula, how to spend one day in Vieste, and about how to take a boat tour to visit the Gargano sea caves.
We have TONS more information about Italy in our Italy Travel Guide, including Rome, Florence, Venice, Tuscany, the Dolomites, the Amalfi Coast, the Cinque Terre, and Puglia.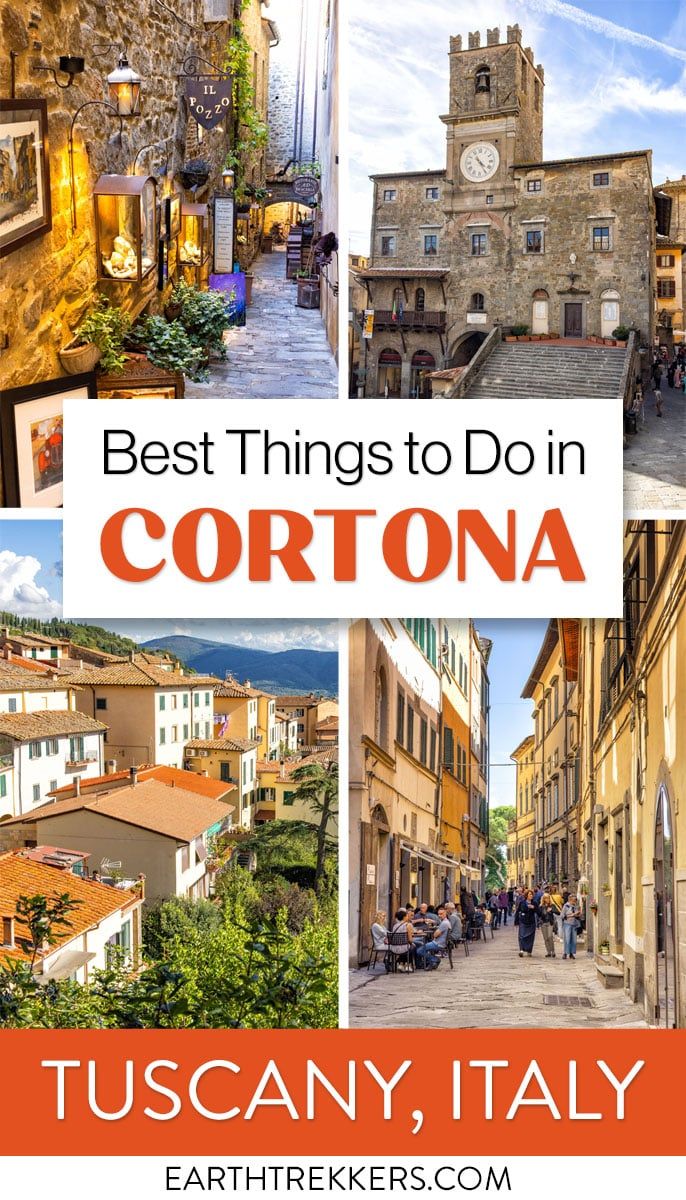 Note: This post contains affiliate links. When you make a purchase using one of these affiliate links, we get paid a small commission at no extra cost to you.
All rights reserved © Earth Trekkers. Republishing this article and/or any of its contents (text, photography, etc.), in whole or in part, is strictly prohibited.