Hiking Teapot Mountain was a fantastic experience. This hike would end up being our favorite in Taiwan as it had all of our favorite elements: stunning scenery, rock scrambles, steep ascents that required basic rock climbing skills, and an almost deserted trail. We saw hardly anyone else on this hike leaving us to wonder where everyone was. Why don't more people know about this?
I had discovered this hike a little over a year while researching things to do in Taiwan. It came as a surprise to me that Taiwan has so many great hikes. Many of the best trails take hikers to high altitudes and require at least a guide and sometimes even an overnight stay on the mountain. On this trip, we kept things simple, limiting our hikes to single day trips that we could do on our own.
Teapot Mountain was perfect for us…a hike that could be accomplished without a guide but had plenty of challenging sections to keep things interesting. If there are no dirt trails, giant boulders to climb over, and hair-raising views to the valley below, Tyler and Kara are bored out of their minds.
Note: We hiked Teapot Mountain in 2015. This post is updated on a regular basis.
Hiking Teapot Mountain
Teapot Mountain Hiking Stats
Distance: 4.25 km (2.6 miles) round-trip
Starting Elevation: 300 meters (1,000 feet)
Highest Elevation: 730 meters (2,400 feet)
Total Elevation Gain: 500 meters (1,650 feet)
Difficulty: Moderate

Elevation profile
Please practice the seven principles of Leave No Trace: plan ahead, stay on the trail, pack out what you bring to the hiking trail, properly dispose of waste, leave areas as you found them, be considerate of other hikers, and do not approach or feed wildlife.
Finding the Trailhead
Finding the start of the hike was a bit tricky. The only information that I had to go off of was another person's blog with a few photos describing the hike. Just in case there are others out there interested in doing this same hike I will provide some more detailed directions with photos. Hopefully, this will keep you from wandering around and wasting time like we did at the start of the hike.
The hike starts at the Jinguashi Gold Ecological Museum. We parked in a small parking lot on a hill just above the main entrance. Parking is free and the parking spaces were motorbike sized so our car took up three of them.
Walk downhill from the parking lot into the museum. There is now a fee of TWD 80 to visit the museum. A recent reader has confirmed that you need to pay this fee in order to start the hike at the museum.
The museum is an outdoor park containing exhibits, restaurants, and an old mining railroad. Walk towards the back of the museum and up the steps towards the Gold Building. Follow the train tracks to the very back of the park. There are toilets here for a final pitstop before starting the hike.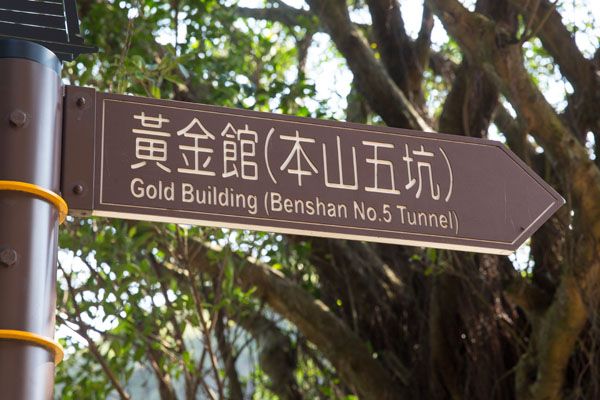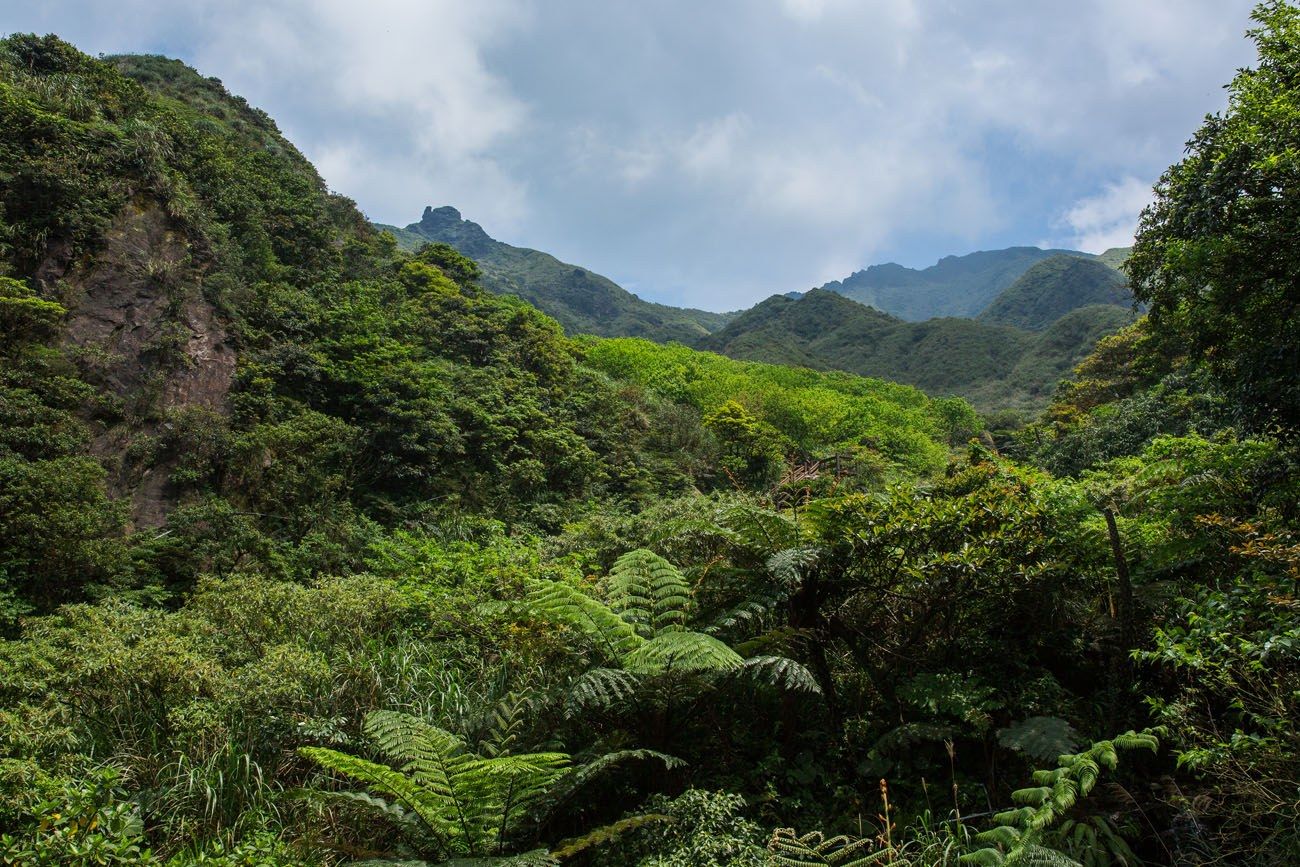 This is the view up to Teapot Mountain and Banpingshan from the Jinguashi Gold Ecological Museum.
Cross over the bridge.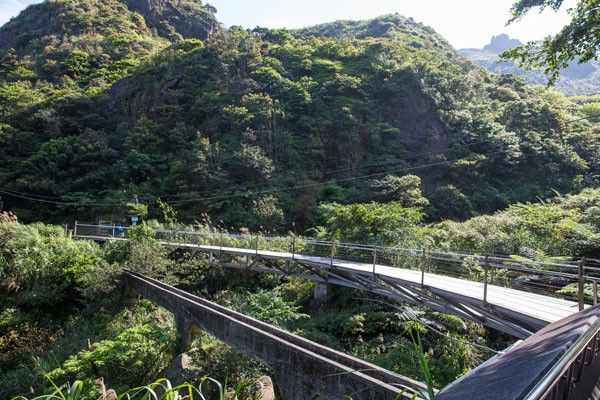 On the Trail
Once on the other side of the bridge, turn right. There will be a stone and gravel path that quickly turns into a long staircase. This first part of the climb is very steep. Stone steps take you up the mountain and it is here that you will have your last shelter from the sun.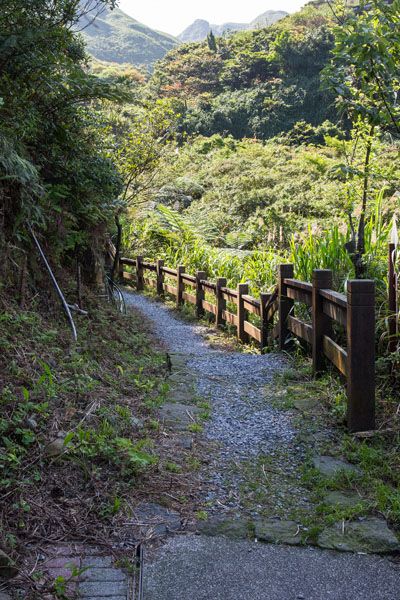 The staircase ends at a paved road. Follow the road up the mountain, taking you to a pavilion for your first views out over the northern coastline of Taiwan. When looking at the coastline, Teapot Mountain will be at your back, the only mountain in the area that is topped with gigantic boulders.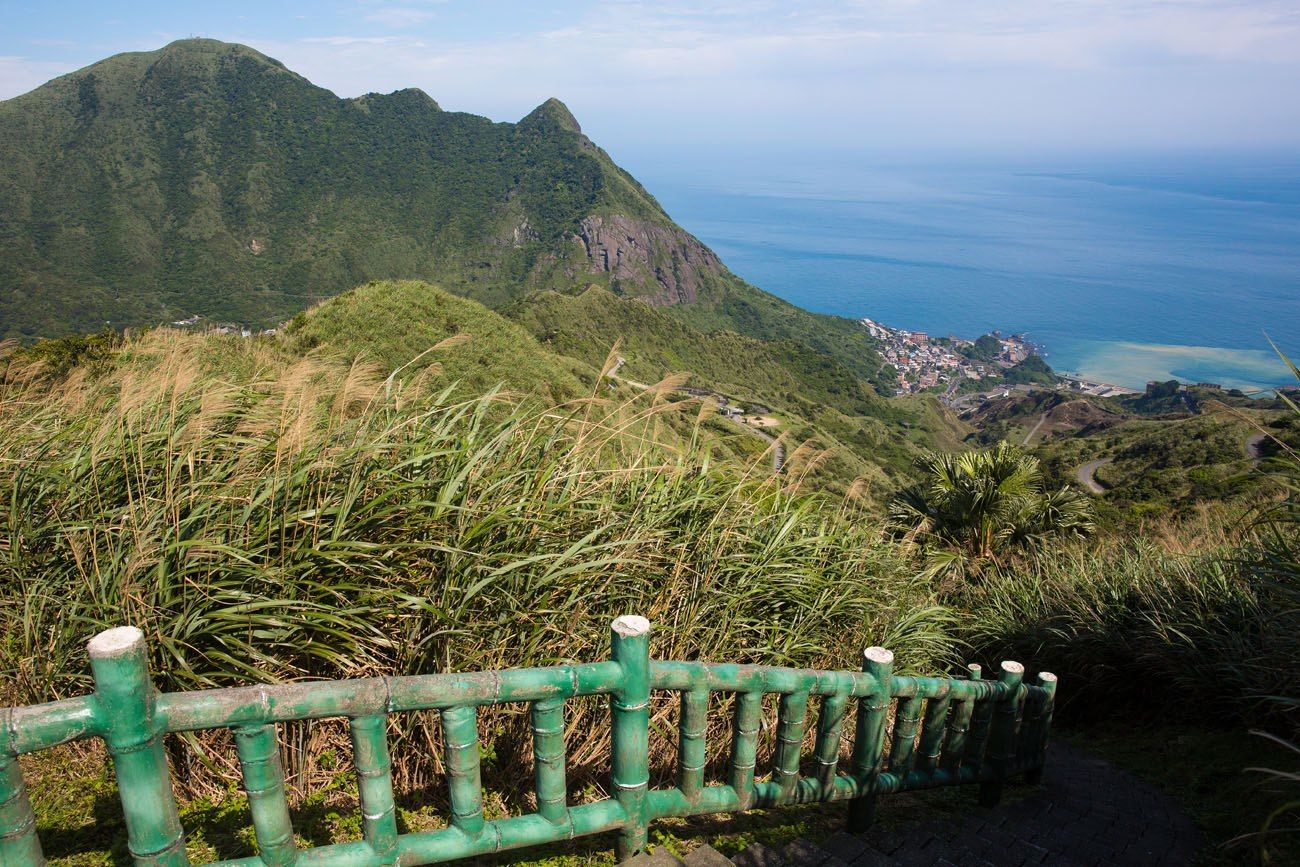 The Trailhead for Teapot Mountain
After a five to ten minute walk up the paved road you will come to another trailhead. To your right will be a dirt and gravel trail with a sign in English pointing you uphill to Teapot Mountain.
Note: This is a narrow road but there is enough room for several cars to park here. However, it is safer to park your car at the Ecological Museum, pay the entrance fee, and walk up to this spot, rather than parking along this very narrow road.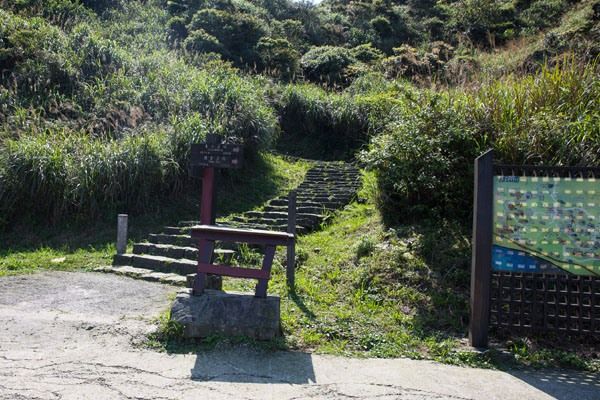 This trail soon becomes another series of stone staircases that terminates at Teapot Mountain. Just before the final climb is another pavilion with spectacular views of the coastline.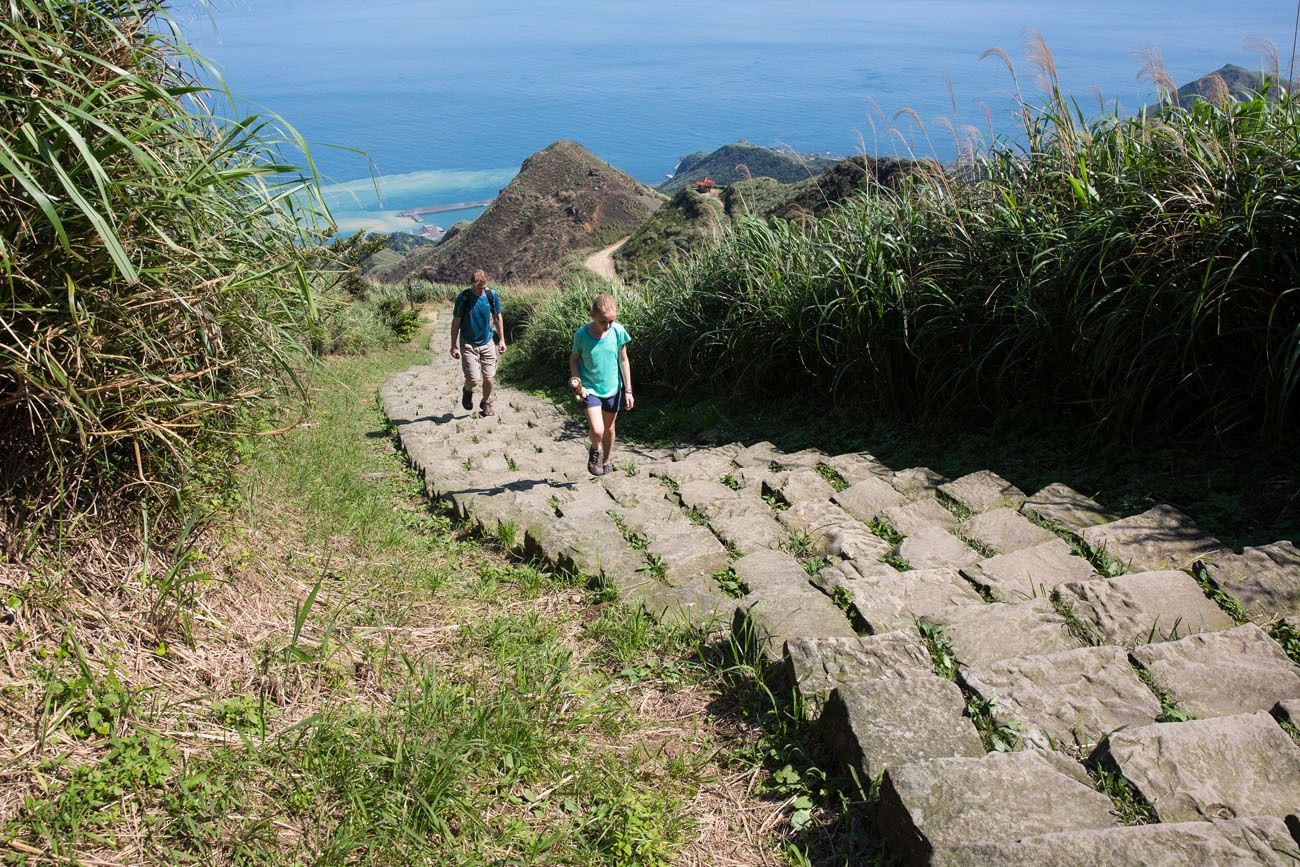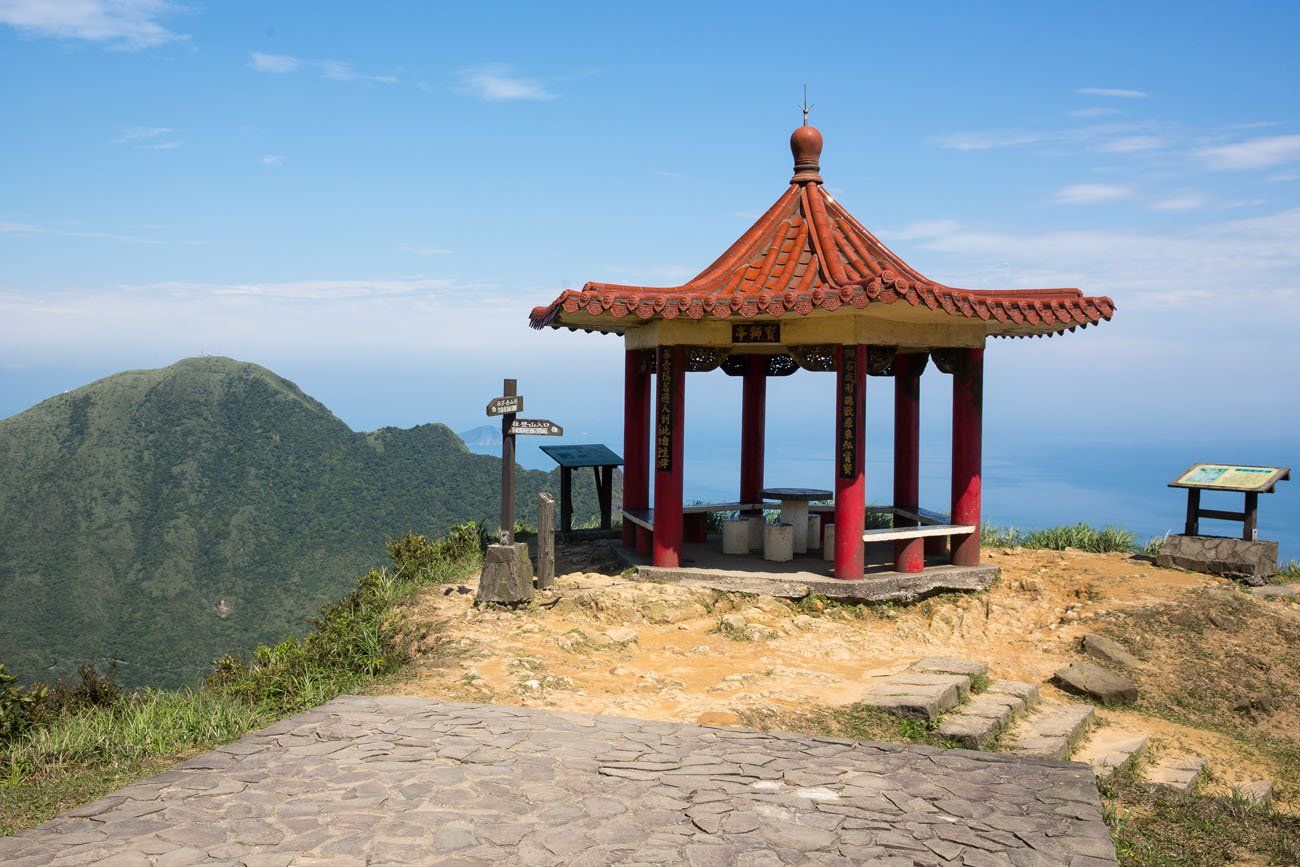 Climbing through Teapot Mountain
The real hiking (and all of the fun) starts at Teapot Mountain. If you want to continue your climb up to the higher mountains you will have to climb through the highest section of Teapot Mountain.
At the end of the trail sits the mouth of a cave. In this small cave there is a hole at the top. With the aid of the provided ropes, climb through here to continue on with the hike. There is no other way around this. It is a relatively easy climb but for bigger people squeezing yourself out of the hole at the top will be the biggest challenge. In order for Tim to fit through the opening he had to remove his crazy heavy backpack.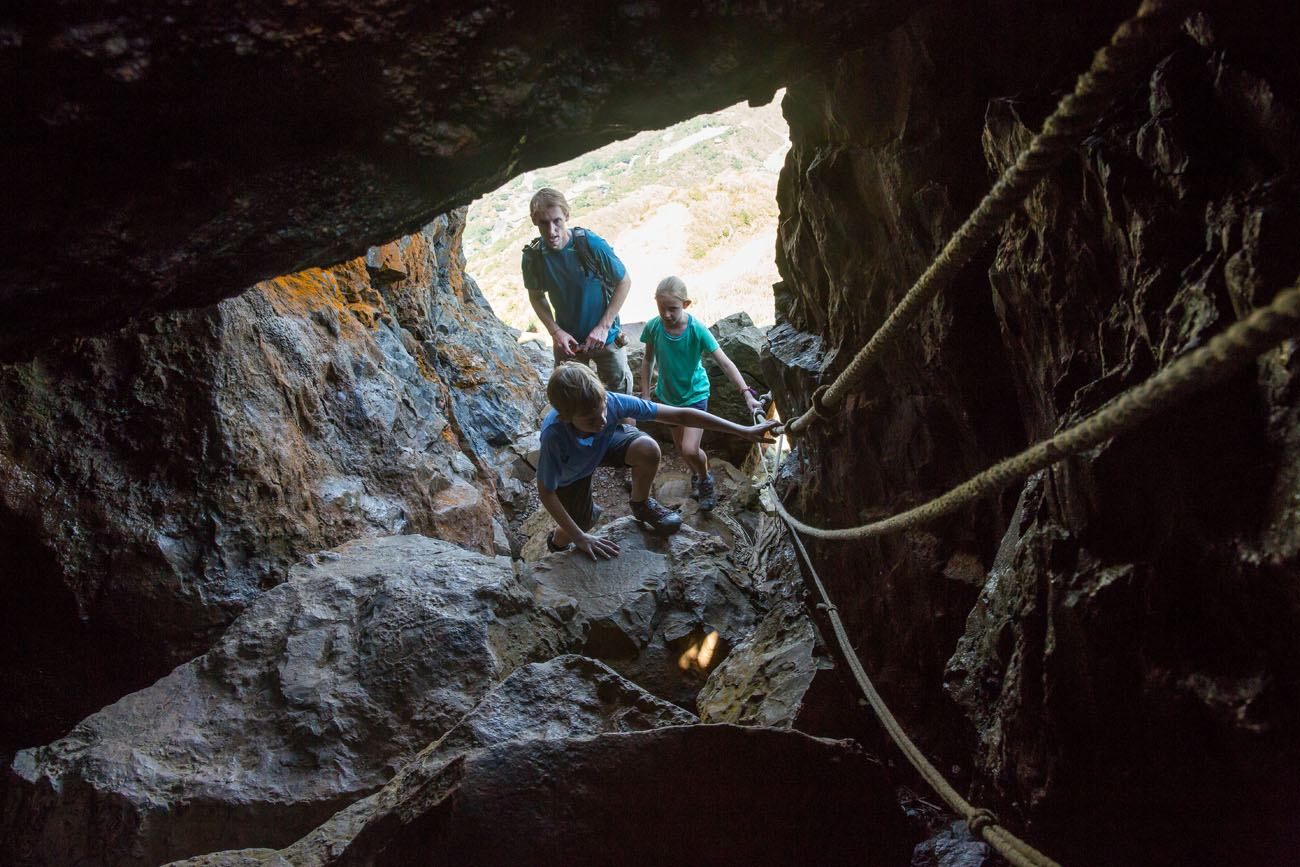 Looking in at the cave.
Kara, coming out of the top of the cave.
Once you emerge from the cave you will be standing on the large pile of boulders that forms the top of Teapot Mountain. The views of Taiwan are even better from here and will continue to get better the higher you climb.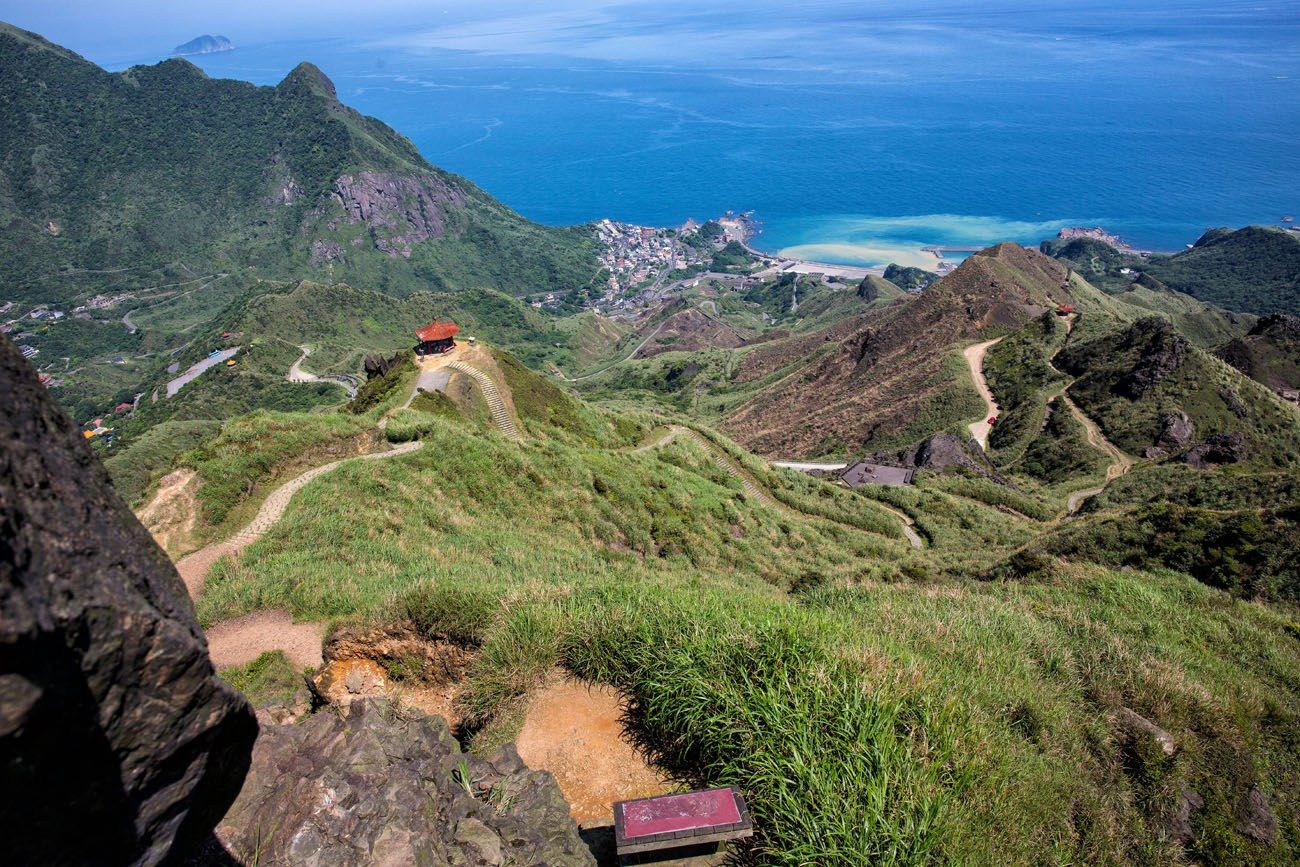 We had a hard time trying to figure out how to continue on from here.
There are several routes to scramble over these rocks and onto the dirt trail on the other side. One route was roped off with danger signs and the second route had a large drop down onto the trail that Tyler and Kara would not have been able to manage.
The third route had us scrambling up and over an enormous boulder bigger than a car, then crossing over a drop off down into the cave that could have us featured in a Discovery Channel movie if we made a wrong step. It was a little freaky looking down into the crevice, a tunnel that led down into the dark, damp depths of the cave. With the help of Tim, we made it safely over the crevice and over the boulder, and then we scrambled down over more rocks.
Update: From the comments of people who have recently done this hike, it sounds as if the path through the cave has changed. Now, you may be able to hike straight through the cave, with no need to step over crevices, making this part of the hike safer.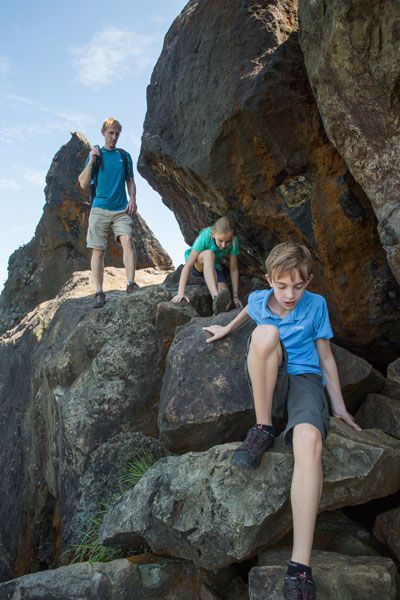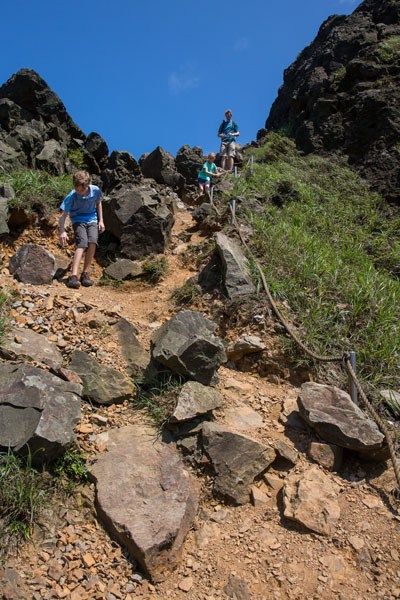 To Banpingshan
From the other side of Teapot Mountain a dirt trail takes you uphill to Banpingshan. This part of the trail is completely exposed to the hot sun. Grasses that are as tall as Tim and I grow very thickly here. The trail was just recently cleared but I have read that these grasses can get overgrown, making the trail hard to follow and rubbing legs raw. Just in case, it would be a good idea to have long pants and a long sleeved-shirt with you if the trail is overgrown.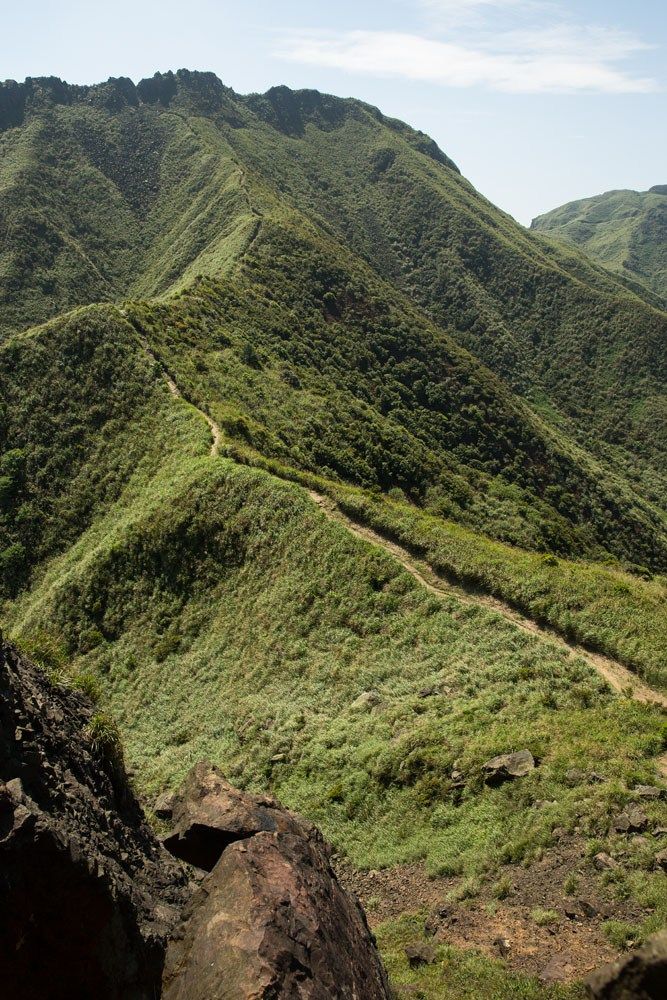 The hike continued uphill on a rocky dirt trail. It was another steep climb but in almost no time at all we had arrived at the final obstacle in our ascent, an almost vertical climb up a rock face. Once again, if you take your time and use the provided ropes it is not a very difficult climb. It looks harder than it really is.
Looking up at the rock face.
Kara making her way up.
The reward is the summit of Banpingshan and 360° views of Taiwan. We were lucky enough to have an almost crystal clear morning, but by midday the clouds started moving in fast. Out to the west is Taipei, to the north and the east is the coastline, and to the south of us were green, verdant mountains that stretch to the center of Taiwan.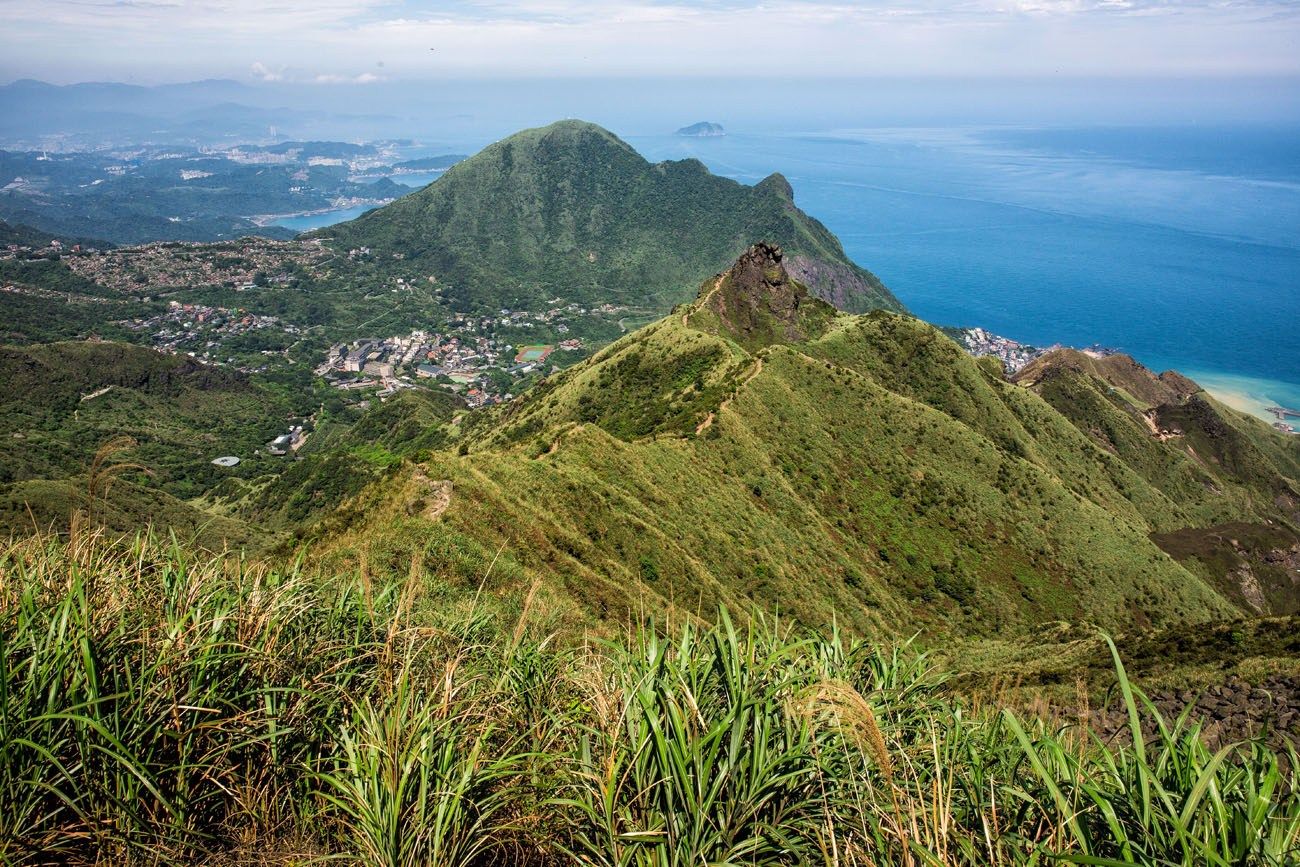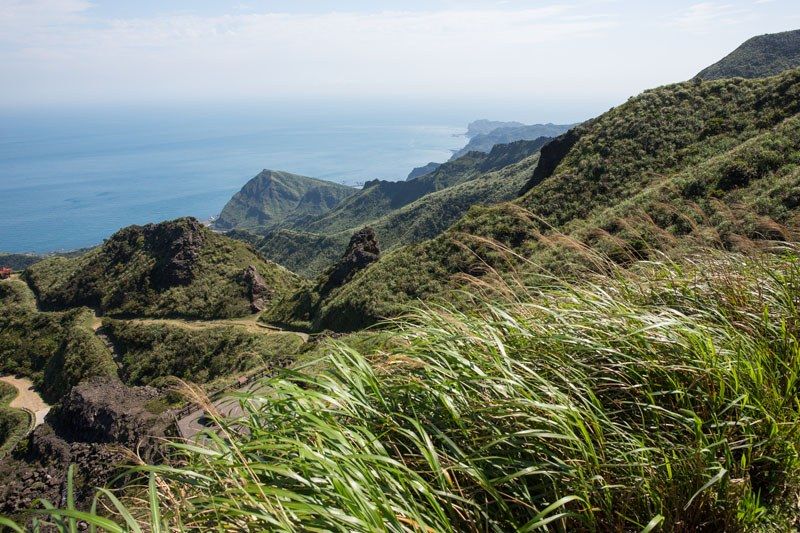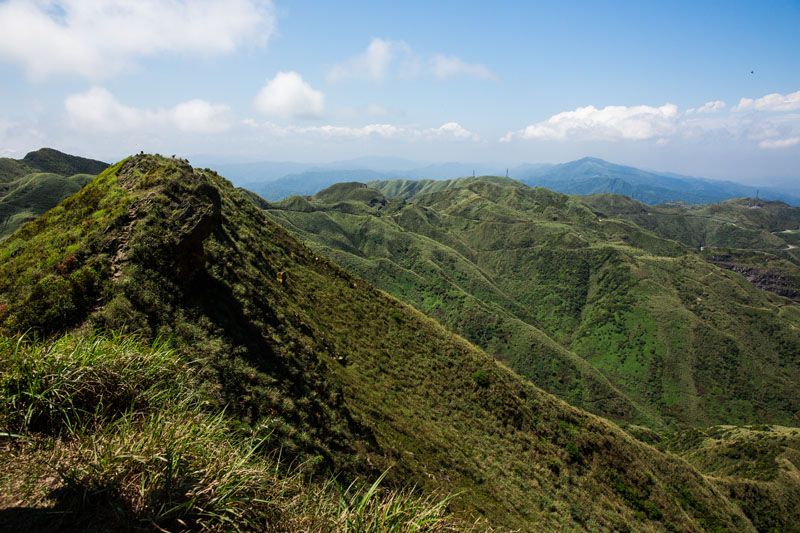 We were all surprised by the beauty of Taiwan, honestly not expecting to see such stunning mountainous scenery and gorgeous coastline. During the two hours it took to get to the summit we saw only two other hikers. We love it when we have the trail to ourselves.
From the summit we walked west along the upper ridge, using the ropes when necessary. We wanted to enjoy these views as long as possible.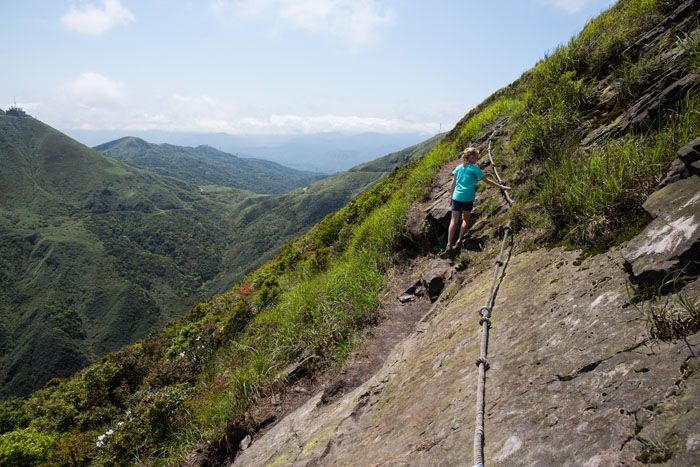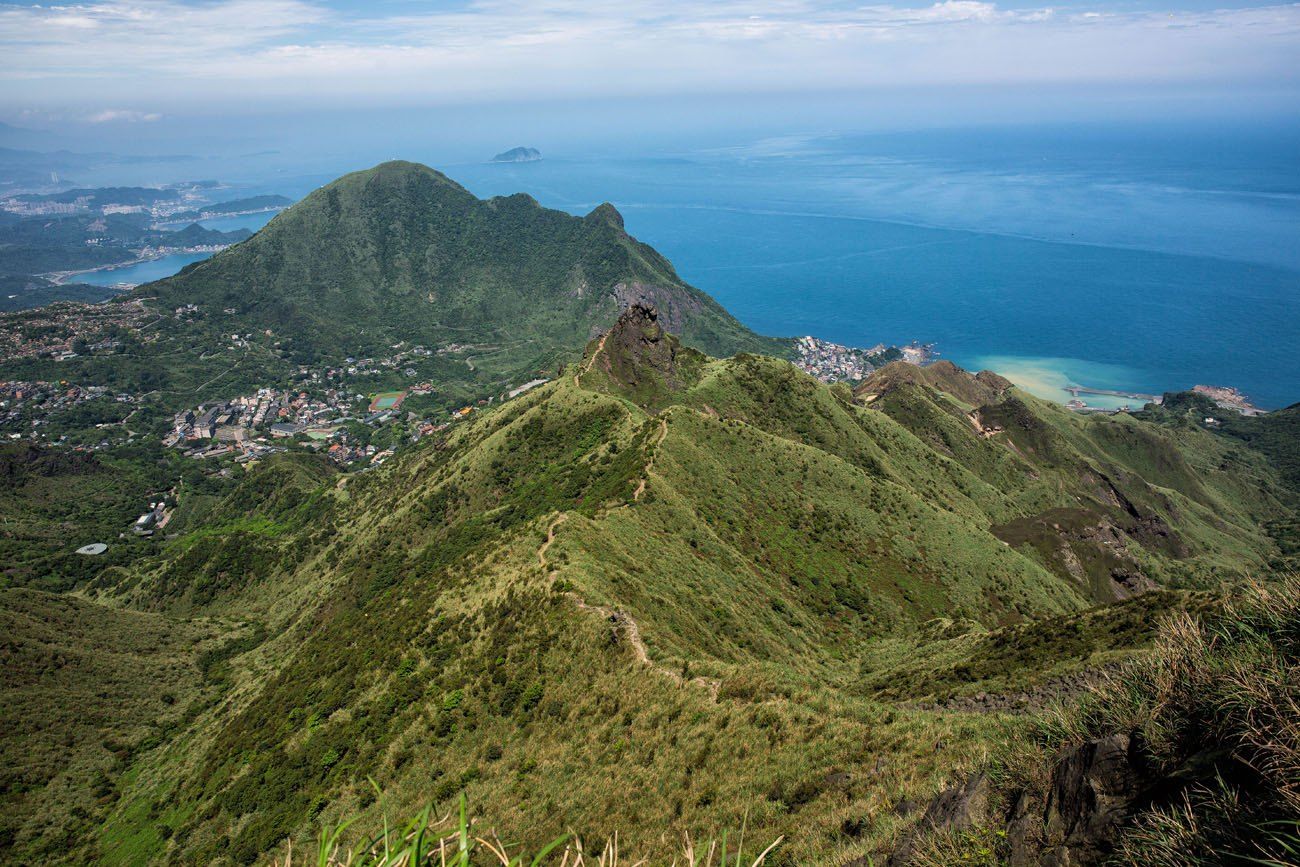 The Return Hike
For us this hike was an out and back hike. We walked back to our car the same way we hiked up the mountain, walking through the tall grass, scrambling back through Teapot Mountain, and then stopping for a picnic lunch at one of the pavilions. The entire round trip hike, including lunch, took us four hours. It was an awesome morning and a great introduction into hiking in Taiwan, as from here we continue on to Taroko Gorge.
There are other routes to take you down from Banpinshan, although I am not going to be able to provide detailed directions on how to do this. I know that if you follow the trail west, there is a second trail that ends at Jiufen Old Street, turning this into a point to point hike.
Tim and I could see a second trail that looked like it ended back at the Gold Museum. We chose to go back the way that we knew, not in the mood to be wandering the trails in the hot sun and risking getting lost, although the trail did look straightforward from where we stood. We have also learned that hardly anything is as easy as it looks when you are in unfamiliar territory. Plus, the rock scrambling and climbing through Teapot Mountain is what made this hike so much fun for Tyler and Kara…why not do it again?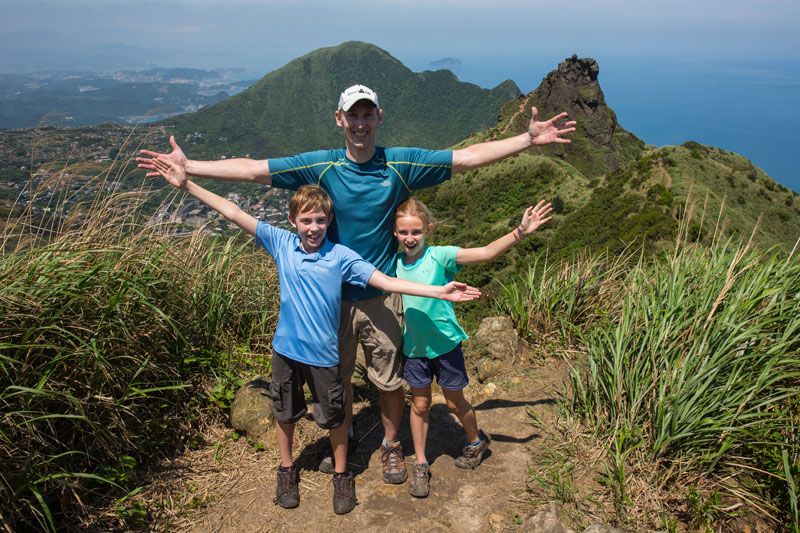 Tips for hiking Teapot Mountain
Bring lots of water, especially if it is going to be a hot, sunny day.
Wear lots of sunscreen. Most of the hike is exposed to the sun with very little shade.
Don't forget those long pants and long sleeved-shirt just in case the trail is overgrown with grass.
Have fun! It's a gorgeous hike and a ton of fun.
---
Does this hike look like something you would like to do? Comment below if you have any questions or if you want to offer advice to future hikers.
More Information for Your Trip to Taiwan
TAIWAN: Explore Taipei in photos, read about the things to do in Taroko National Park, and take a food tour through Taiwan.
CHINA: Learn how to visit Zhangjiajie National Forest Park, the best things to do in Yangshuo, what it is like to hike the Great Wall of China, things to do in Beijing, and get essential travel tips for China.
GREAT HIKES FROM AROUND THE WORLD: For more great hikes, check out our article listing the 20 Best Day Hikes in the World. See our full list in our Hiking Guide.
TRAVEL INSPIRATION: For more travel ideas, here are 10 unique destinations to put on your travel wish list and 10 cool destinations to visit during the winter holiday season.
Are you planning a trip to Taiwan? Read all of our articles about Taiwan in our Taiwan Travel Guide.
All rights reserved © Earth Trekkers. Republishing this article and/or any of its contents (text, photography, etc.), in whole or in part, is strictly prohibited.