Stinky tofu, pig's blood soup, and chicken feet, oh my!! We ate some weird things while in Taiwan and believe it or not, we even ate out of a toilet. Our two weeks in Taiwan was a culinary adventure and tons of fun. We wandered through night markets, ate at delicious Japanese restaurants, and feasted on Dim Sum. Here is our Taiwan food tour.
Taiwan Food Tour
Modern Toilet
Our food adventures began at a classy restaurant named "Modern Toilet." It was a rainy day, we had spent all morning visiting a museum, and Tyler and Kara were ready to have some fun. We ate chicken curry out of a toilet, chocolate ice cream out of a squat potty, all while sitting on toilets ourselves. It was tons of fun and one of our crappiest meals yet.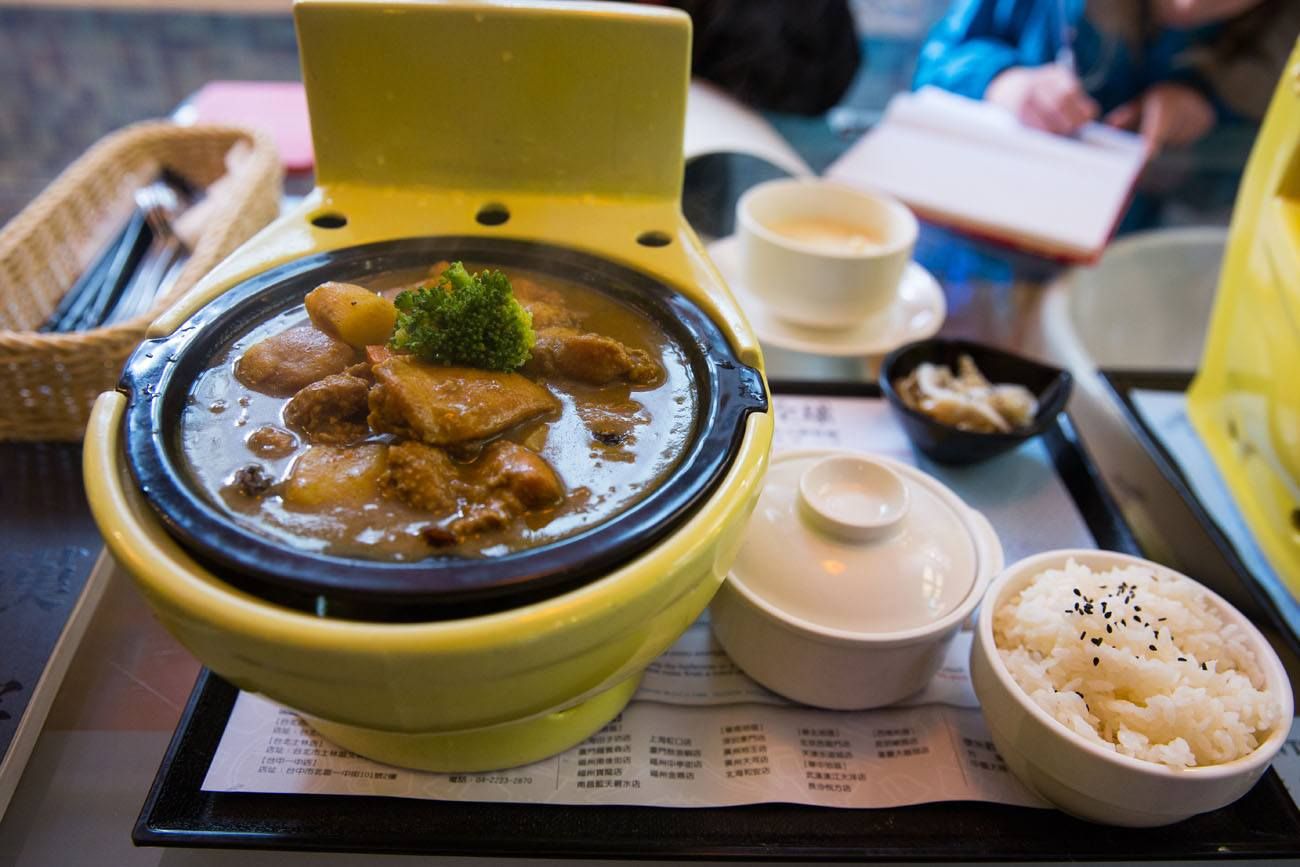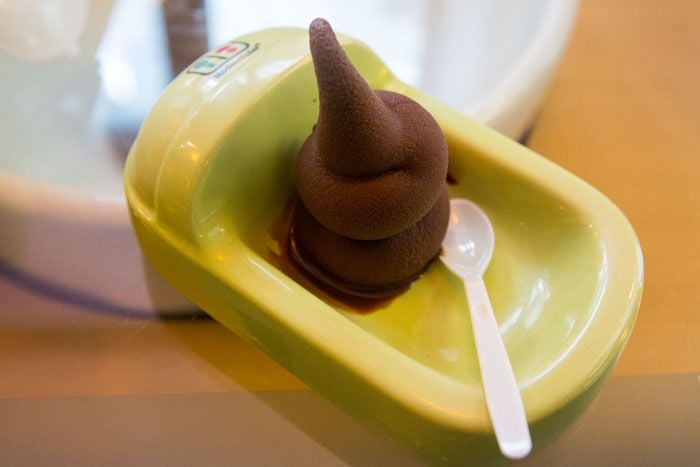 Raohe Night Market
The night markets in Taiwan are legendary. Personally, I was a huge fan. Where else can you try foods you'd never see in the US for as little as a dollar?
Raohe Night Market in Taipei was our first Taiwanese night market tour and looking back it was also our favorite. At Raohe there were enough new (for us) foods mixed in with more recognizable and enticing foods, something to keep everyone in my family happy.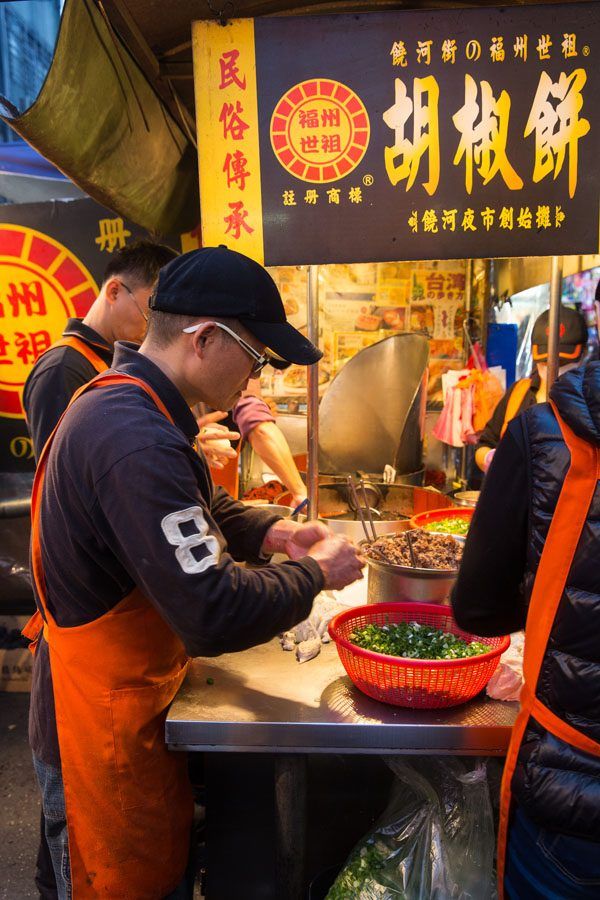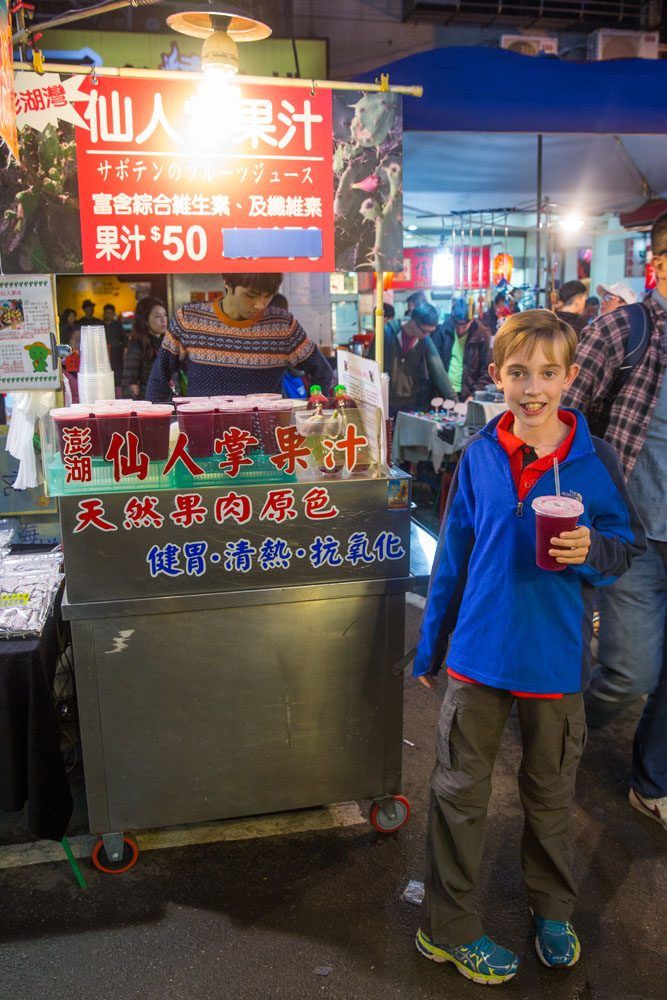 Grilled octopus…yum!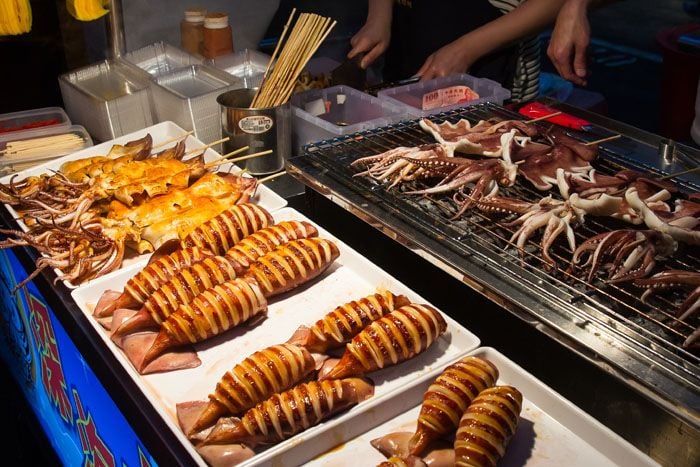 Hotdogs, Taiwan style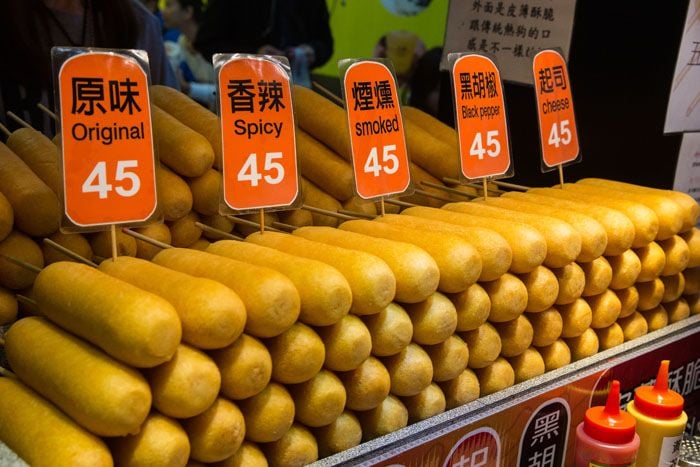 Kimchi French Fries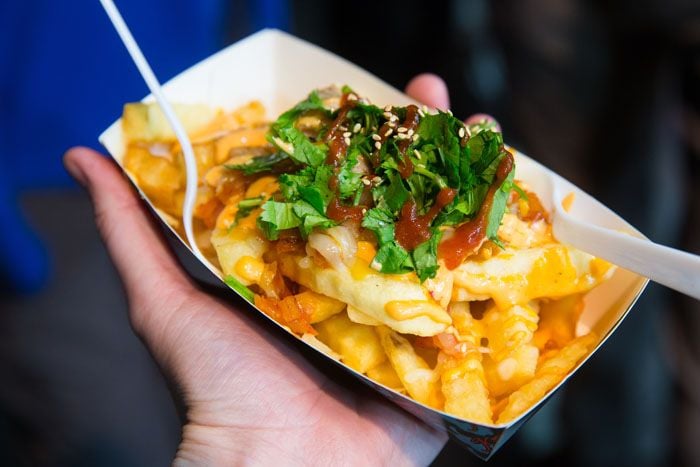 Minced pork rice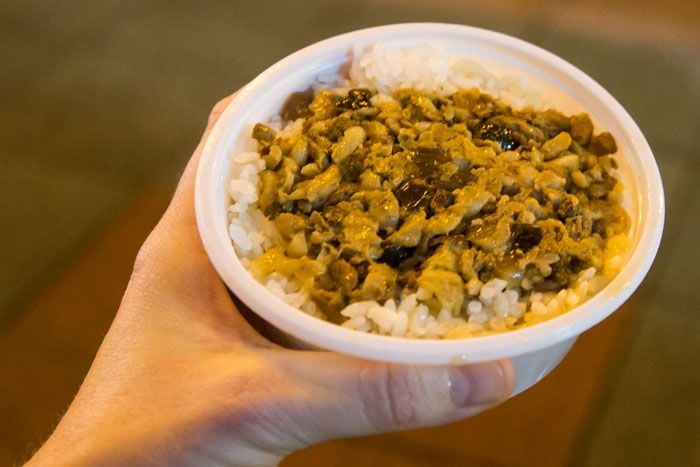 And here's the pig.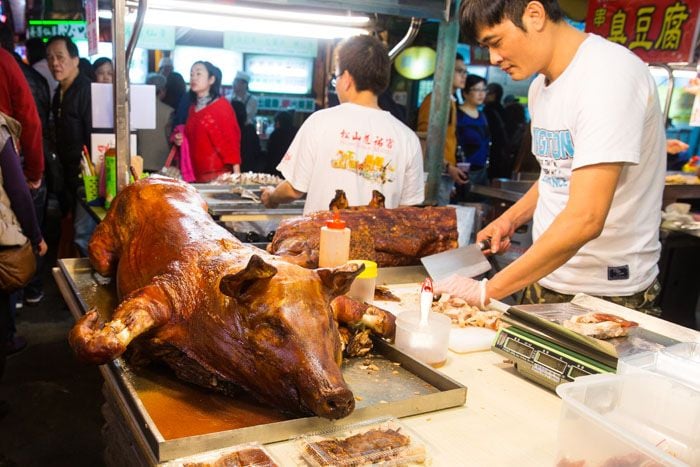 Strawberries in a crunchy, sugary shell. They had tomatoes, too, but these seemed a bit odd.
Conveyor Belt Sushi
For dinner one night we ate at Sushi Motto and where Kara discovered her new favorite food was sushi. She was a huge fan of the conveyor belt with tiny plates of raw fish that kept passing in front of her. I am still a big fan of enormous bowls of noodle soup.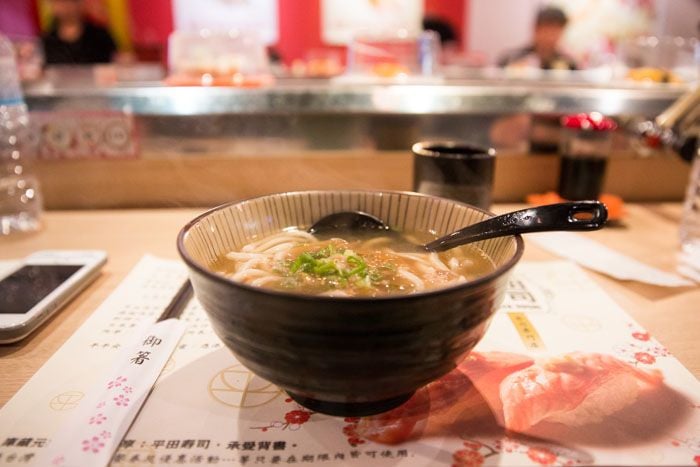 Shilin Night Market
Our second night market was the biggest and supposedly the best in Taipei, the Shilin Night Market. We found it to be overcrowded, turning what should have been a fun experience into something more like torture. We didn't stay long, just long enough to sample some new foods.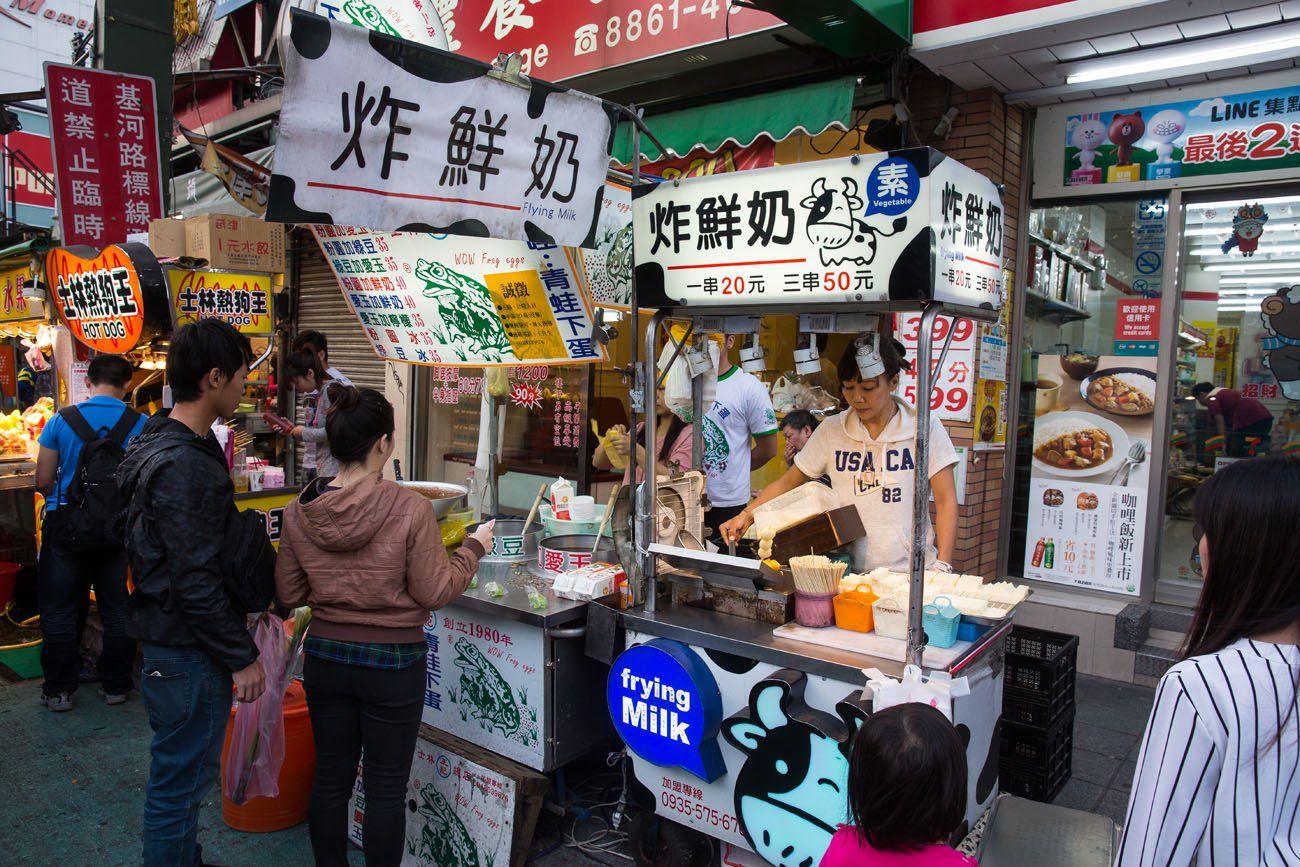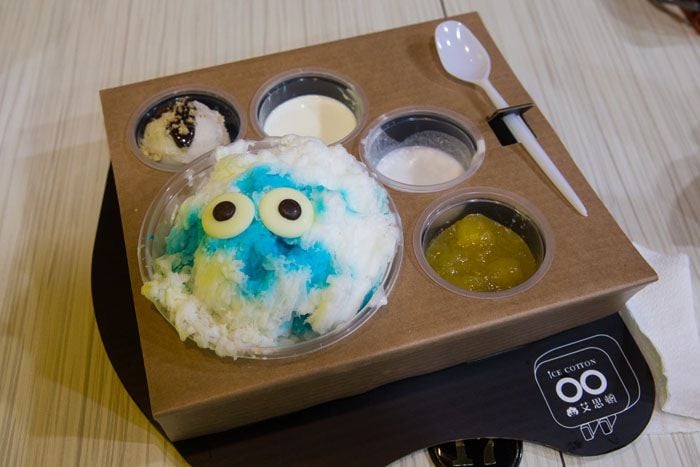 Keelung Night Market
We hit our third night market in Keelung, a city just north of Taipei. We stayed here specifically to visit the night market.
Pig's blood soup was on my list of things to try and we found it right away here. So, what is pig's blood soup? Floating in chicken broth are cubes of congealed pig's blood, reddish-brown spongy blocks of blood. Honestly, the cubes did not have much taste but the broth was delicious. Tim, Kara, and I tried it and I was the biggest fan.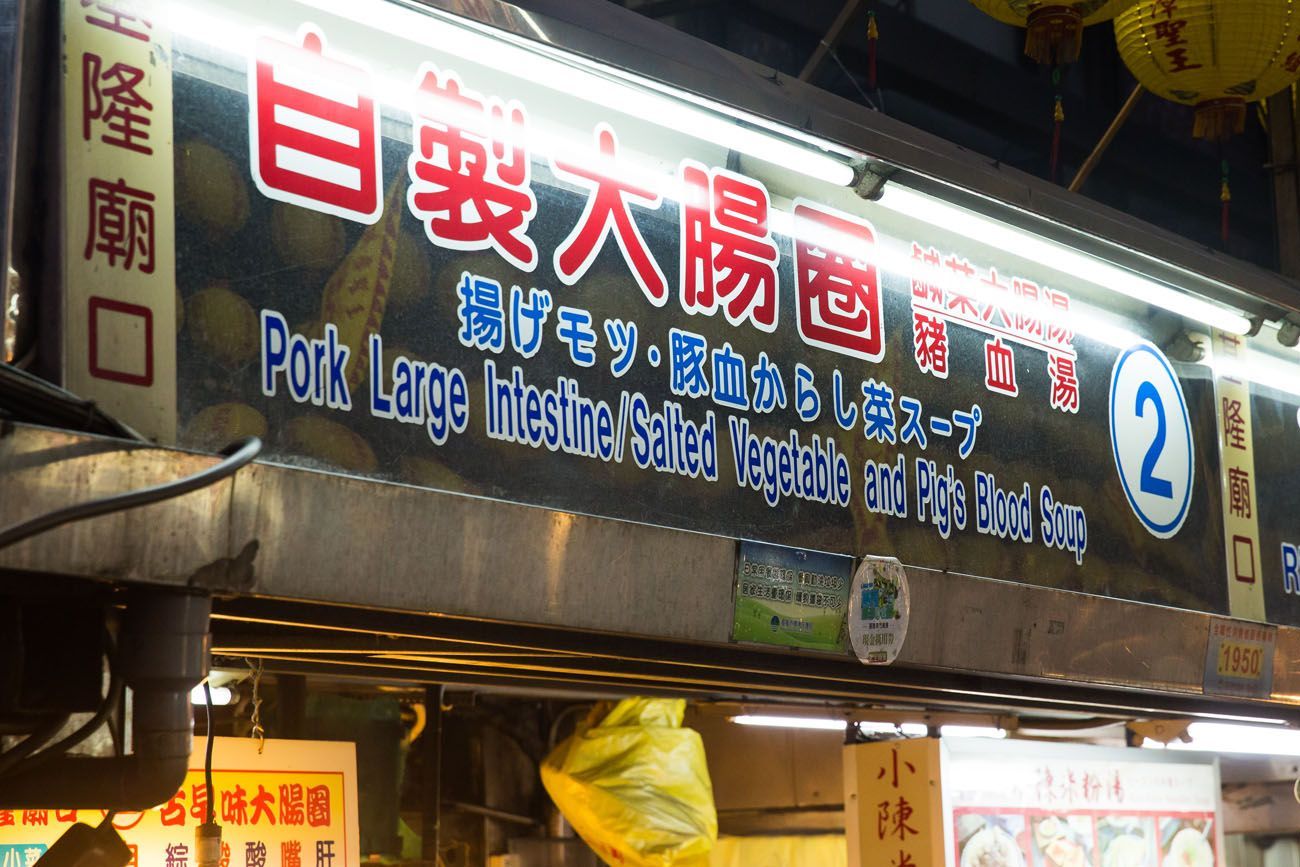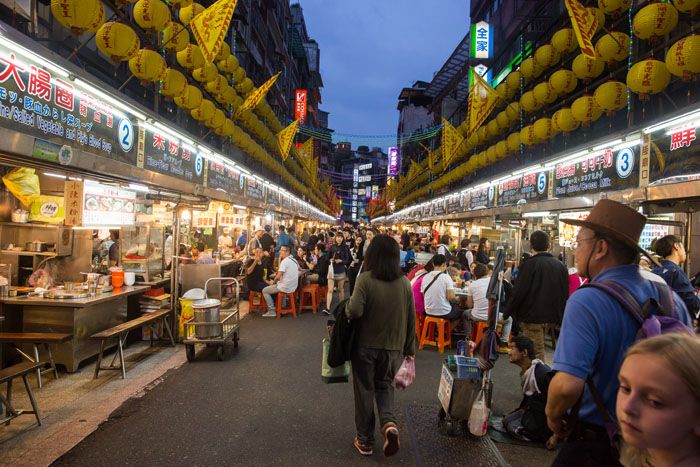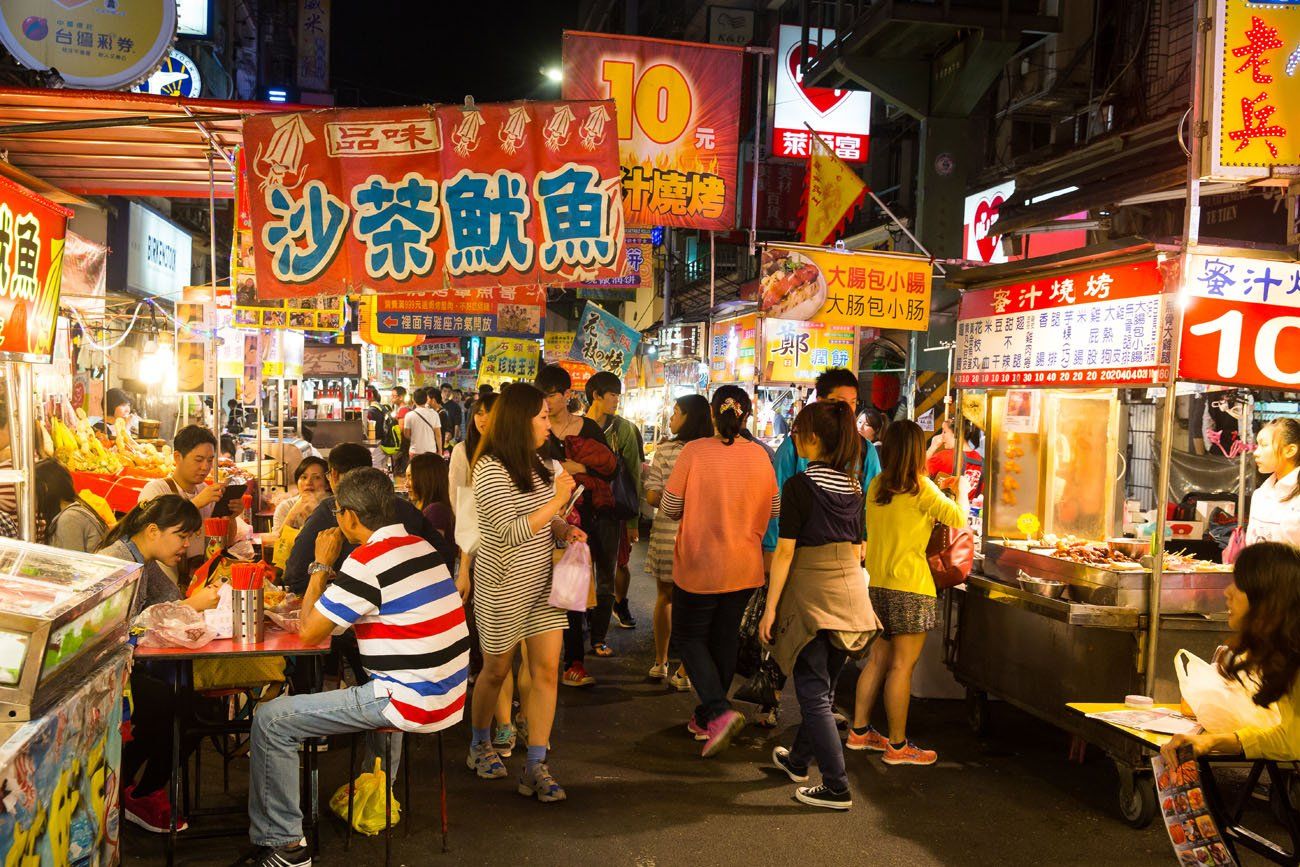 Din Tai Fung
One of our favorite restaurants in Taiwan, and perhaps during our entire trip, is Din Tai Fung. This Taiwanese restaurant is one of the most popular places to eat in Taipei. We ate dinner here, having dumplings, wontons, noodle and rice dishes, and the food was amazing. This is a chain restaurant and voted as one of the best places to eat in Asia. During our tour of the island we also stopped to eat here in Kaohsiung.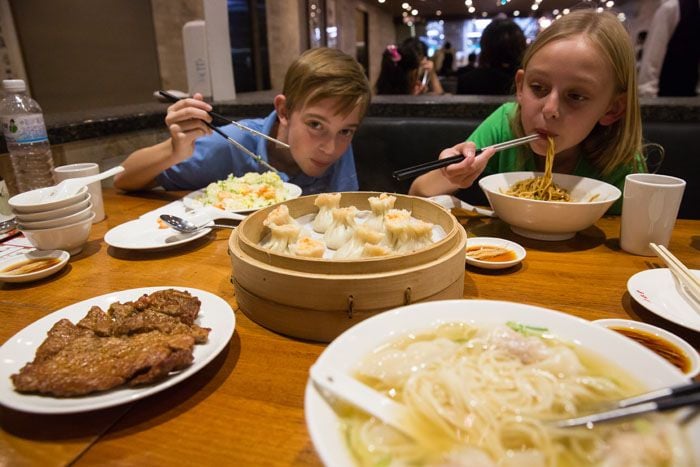 This restaurant was so clean and so efficient. The chefs wore head coverings and face masks, so there'd be no stray hairs in our food. While we waited to be seated at our table we placed our order from the menu (in English and Chinese), making our wait time very short, and allowing them to feed as many people as possible. We need one of these in Maryland!



Taitung Night Market
Our Taiwan food tour ended at a night market in Taitung. As a side note, we were amazed at the number of cities that started with Tai…Taipei, Taitung, Tainan, Taichung.
Anyway, it was at the night market in Taitung that we tried stinky tofu for our first time. You can smell stinky tofu before you get to it. There is a terrible smell that permeates the air around the food stalls selling stinky tofu. Tyler didn't even like to stand near them.
But we were in Taiwan, we had to try stinky tofu!
Well, none of us liked it, and Tim and Kara were completely disgusted by it. It does have a taste of food past its expiration date. While we were just trying to sample the stinky tofu, people around us were gobbling it down.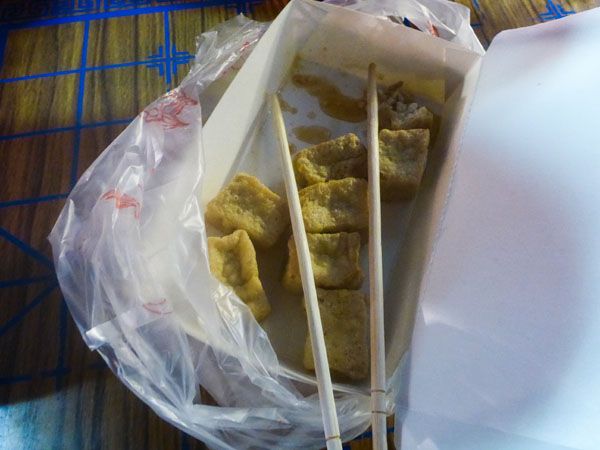 ---
More Information for Your Trip to Taiwan
TAIWAN: Here are 10 interesting facts about Taiwan. Journey through Taipei in photos and learn how to hike Teapot Mountain.
JAPAN: Learn about the best things to do in Kyoto, how to day trip to Hiroshima, how to watch Sumo wrestling, and journey through Tokyo in photos.
CHINA: Learn how to visit Zhangjiajie National Forest Park, the best things to do in Yangshuo, what it is like to hike the Great Wall of China, things to do in Beijing, and get essential travel tips for China.
TRAVEL AROUND THE WORLD: Learn more how to plan a trip around the world in our Around the World Travel Guide. You can also read our 13 Month Around the World Itinerary and a recap about our around the world trip.
Are you planning a trip to Taiwan? Read all of our articles about Taiwan in our Taiwan Travel Guide.
All rights reserved © Earth Trekkers. Republishing this article and/or any of its contents (text, photography, etc.), in whole or in part, is strictly prohibited.