Our adventures in China continue with an amazing visit to the town of Yangshuo. When you see paintings and artwork of China, this is the area used so frequently. Bumpy limestone mountains, fishing boats and bamboo rafts drifting along the Li River, small villages located in the valleys, this is a beautiful part of China.
Arriving in Yangshuo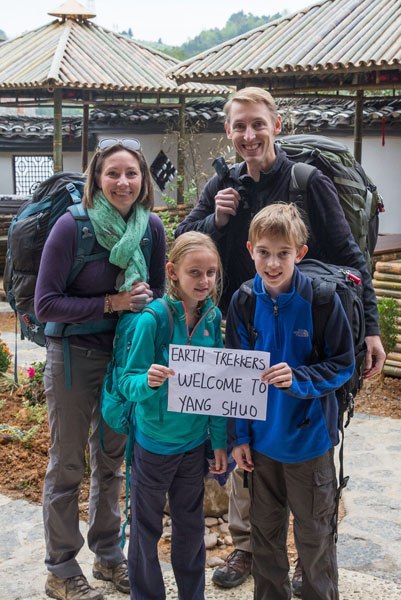 We were greeted at the Guilin train station by our driver, who was holding a sign that read, "Earth Trekkers Welcome to Yangshuo." That was the first time we were identified as Earth Trekkers; usually it's with a sign with something boring on it like my name or "Rivenbark Family." Using "Earth Trekkers" is so much cooler.
Gerd, the man who runs our hotel in Yangshuo, the Yangshuo Village Retreat, is a big fan of our travels. We have been communicating with him since reserving this hotel nine months earlier.
It takes an hour and a half by car to travel from Guilin to Yangshuo. Gerd greeted us at the entrance to the hotel. He said the same thing we have been thinking…that he knew us already. It was so nice to finally be here.
Gerd showed us to our room, the family suite on the fourth floor. This room, or rooms I should say, was amazing. Tim and I had a gigantic bedroom, furnished with an ornate, French bed, giant bathroom, living room area, and a flat screen TV. Tyler and Kara had their own separate bedroom with a twin and a double bed. This was our home for four nights and we loved it here.



We ate most of our meals at the hotel restaurant, which serves a mix of Chinese and western style food. This was perfect for our family…Tyler could get his spaghetti bolognese fix here (which was delicious!) and the rest of us could eat Chinese food.
Cycling the Li River Valley
We spent our first full day cycling along the Li River valley from Xingping. Xingping is a small town located a half an hour north of Yangshuo and accessible by bus, car, or bicycle. We loved Xingping, climbing Laozhai Mountain, wandering the ancient city streets, and cycling around the very picturesque countryside.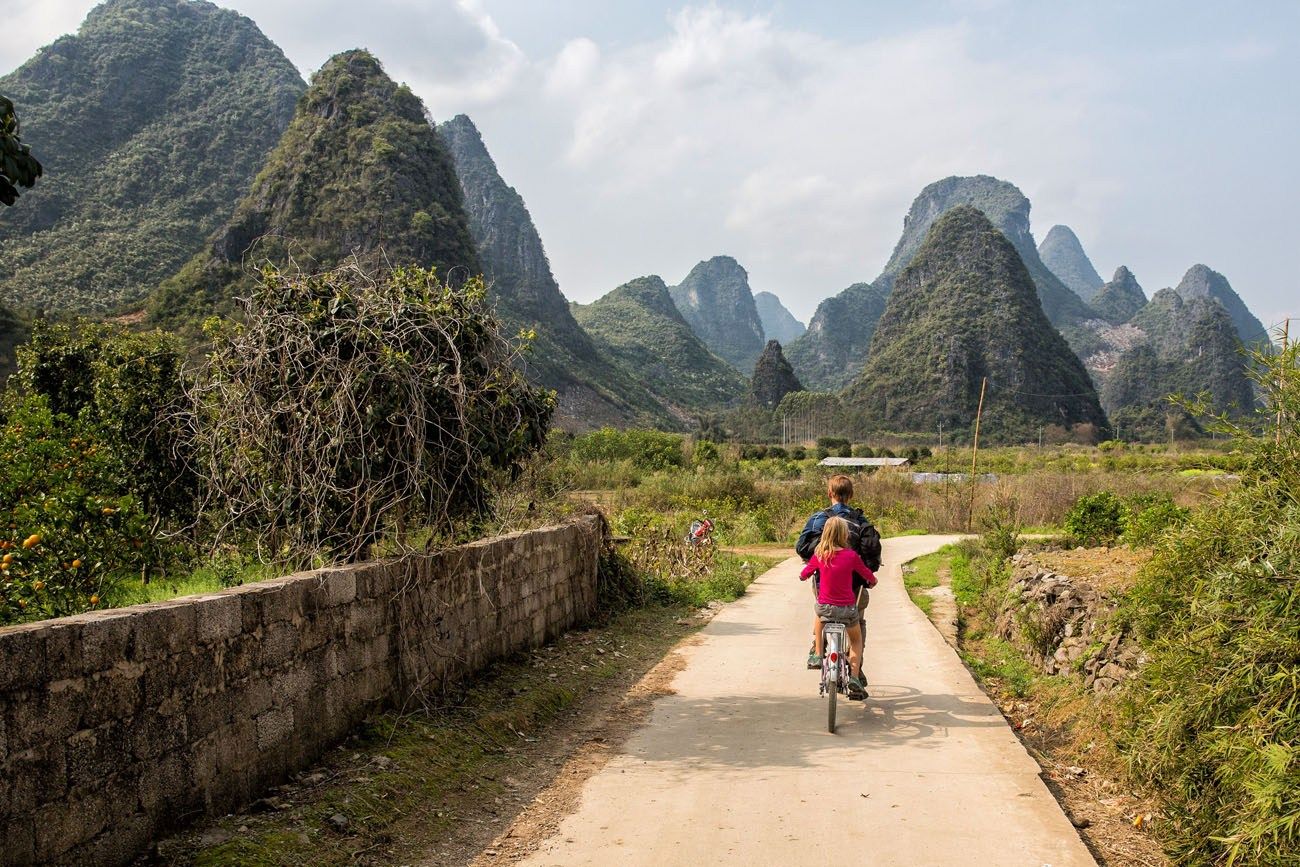 Learning Chinese Calligraphy
One of the highlights for Kara and I was taking a Chinese calligraphy class. A Chinese man named Zeng Song set up our calligraphy station in the dining area of our hotel: paper, brushes, and black ink. For one hour Tyler, Kara, and I were his students. Tim chose to watch.
The calligraphy paper resembled graph paper, only with oversized boxes containing horizontal, vertical, and diagonal lines for frame of reference. We started off by making small accent marks, really just dots with a point on one side. It sounds easy but it was a lot more difficult than it looks.
Once our dots looked acceptable, we continued with the basics, like horizontal and vertical lines, followed by curved lines. It really must take a lot of practice to get used to these brushes; our teacher made it look so easy and we were struggling to paint a straight line.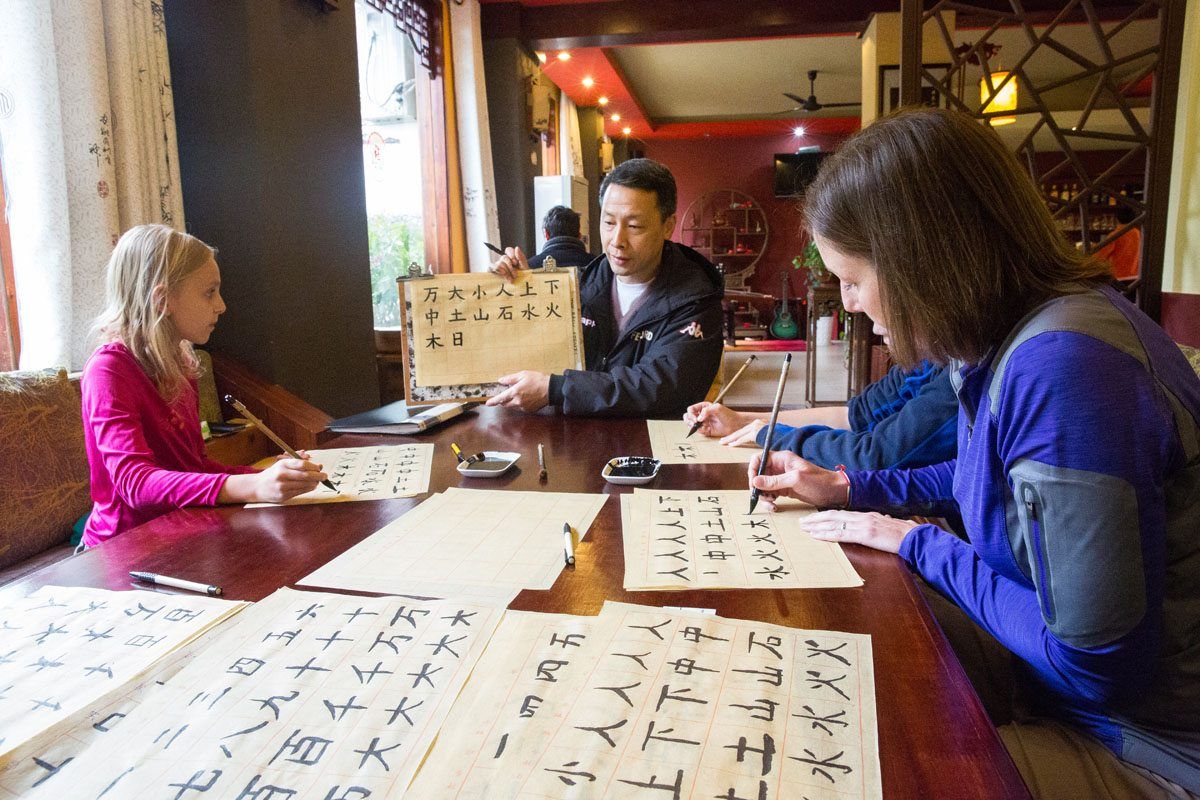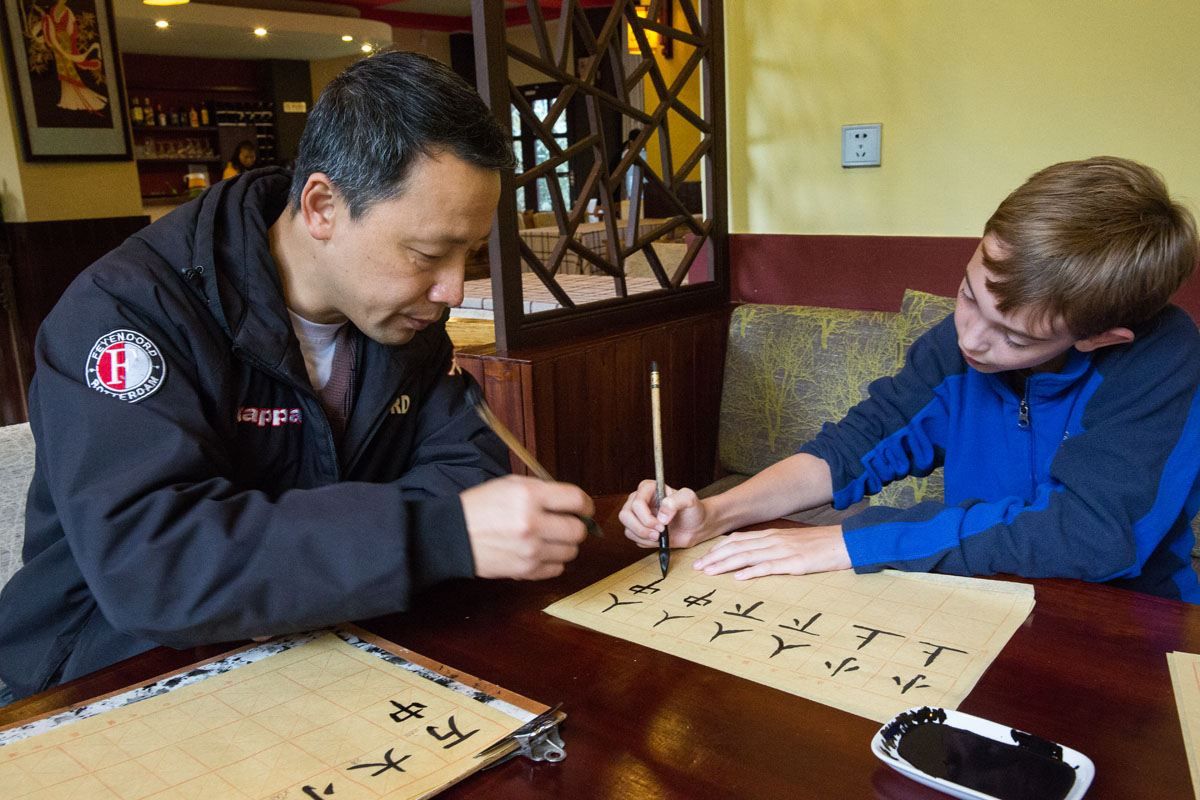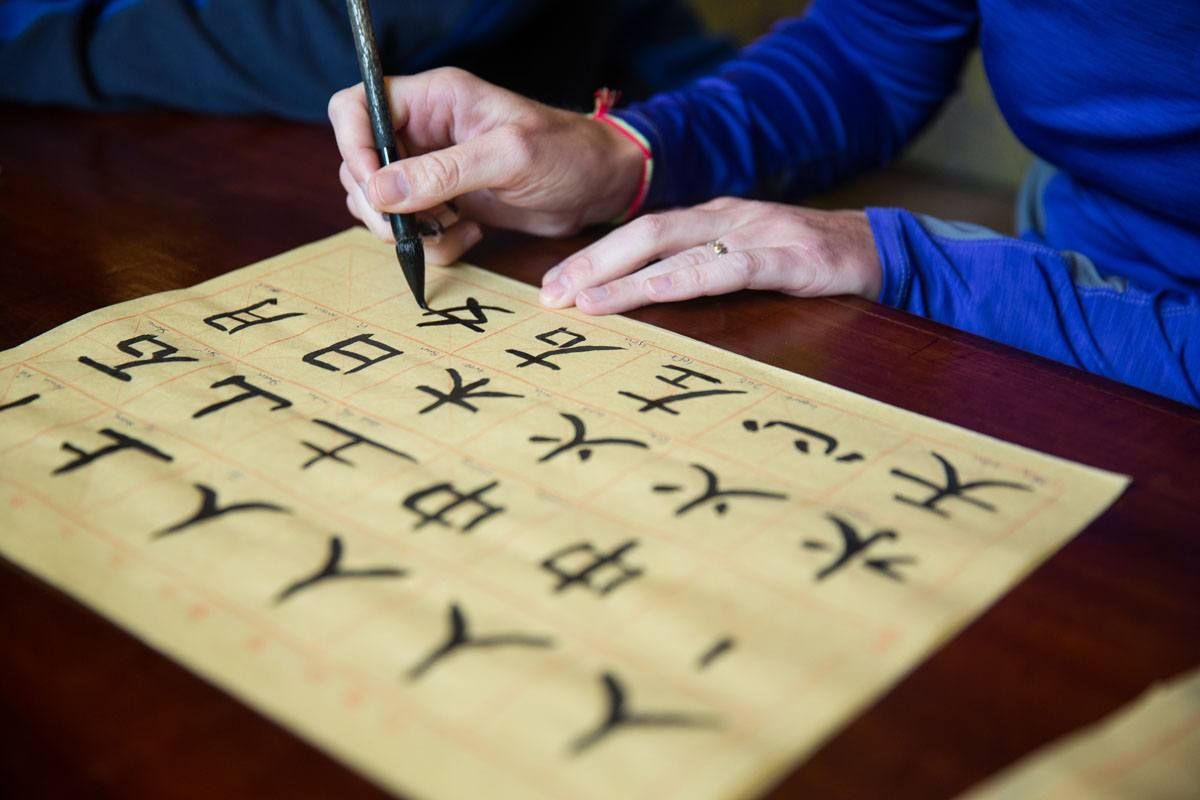 During the second half of the lesson we learned how to draw the characters for the numbers and several common words. It got much more difficult very quickly. The grand finale was learning how to write our names and we even had him write "Earth Trekkers" for us.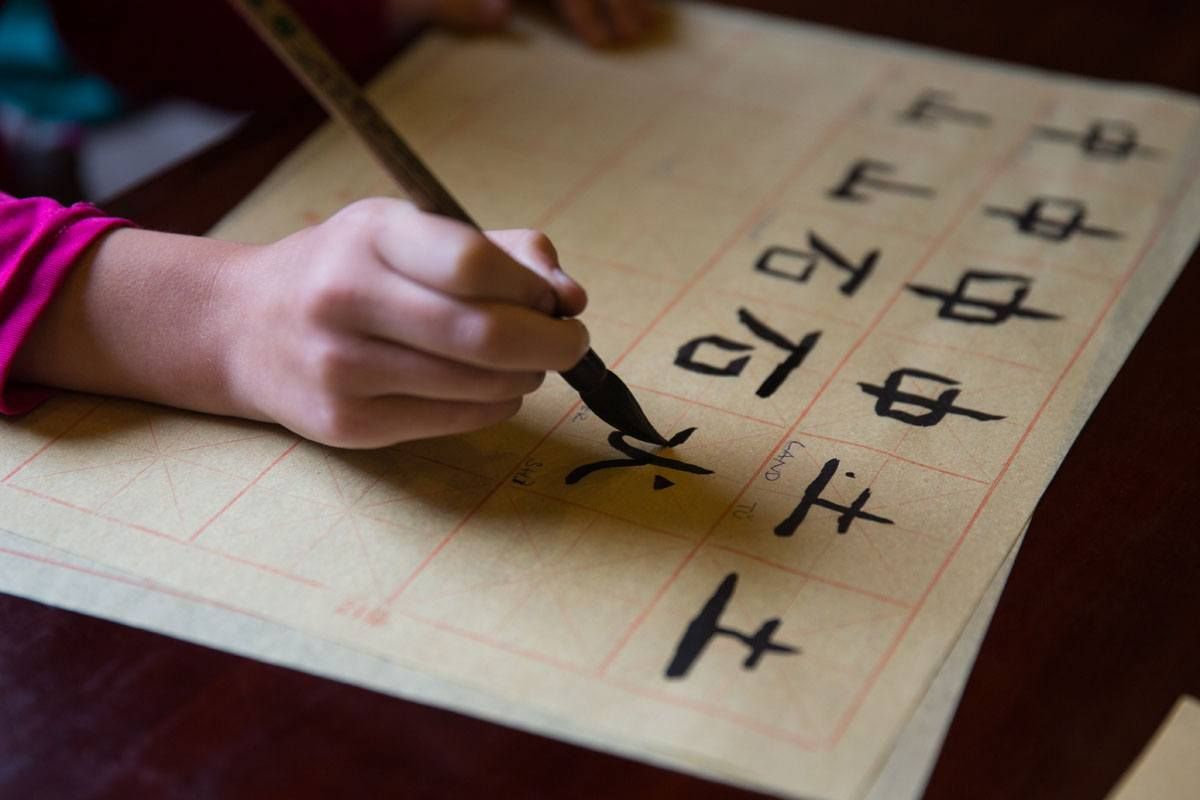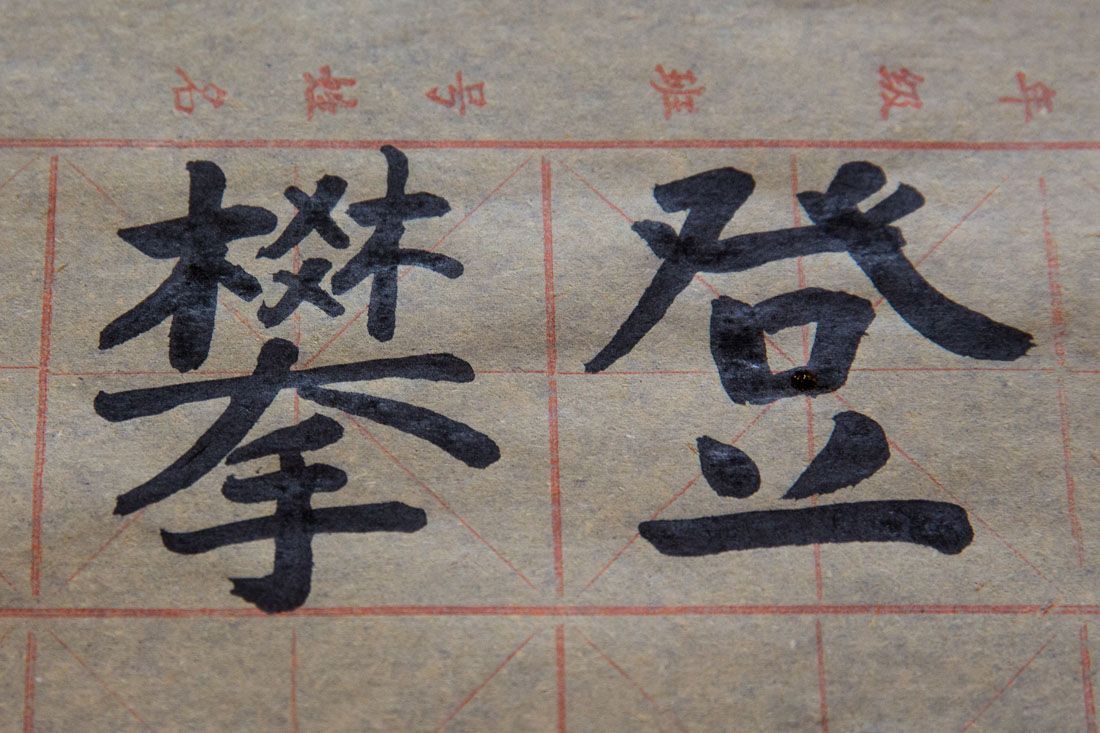 Kara loved this class. She was determined to do her best and had fun learning the English for each character. This is a great way to learn the Chinese characters. Now that Kara can recognize some of the characters that we see written on everything she is eager to keep learning more.
Time to learn Kung Fu
The calligraphy class was fun for us, but what Tyler was really looking forward to was Kung Fu. At 3 pm the same day we had a Kung Fu lesson. Tyler and Kara took the class and Tim and I were their audience.
Across town we were dropped off at a Tai Chi School. The dojo, or whatever it is called in Chinese, was an outdoor paved platform with a metal roof overhead. Surrounding the platform was a small moat. The facility was open to the outside air and we could look out over old brick buildings with tiled roofs to the nearby. It was like being in the movie Kung Fu Panda.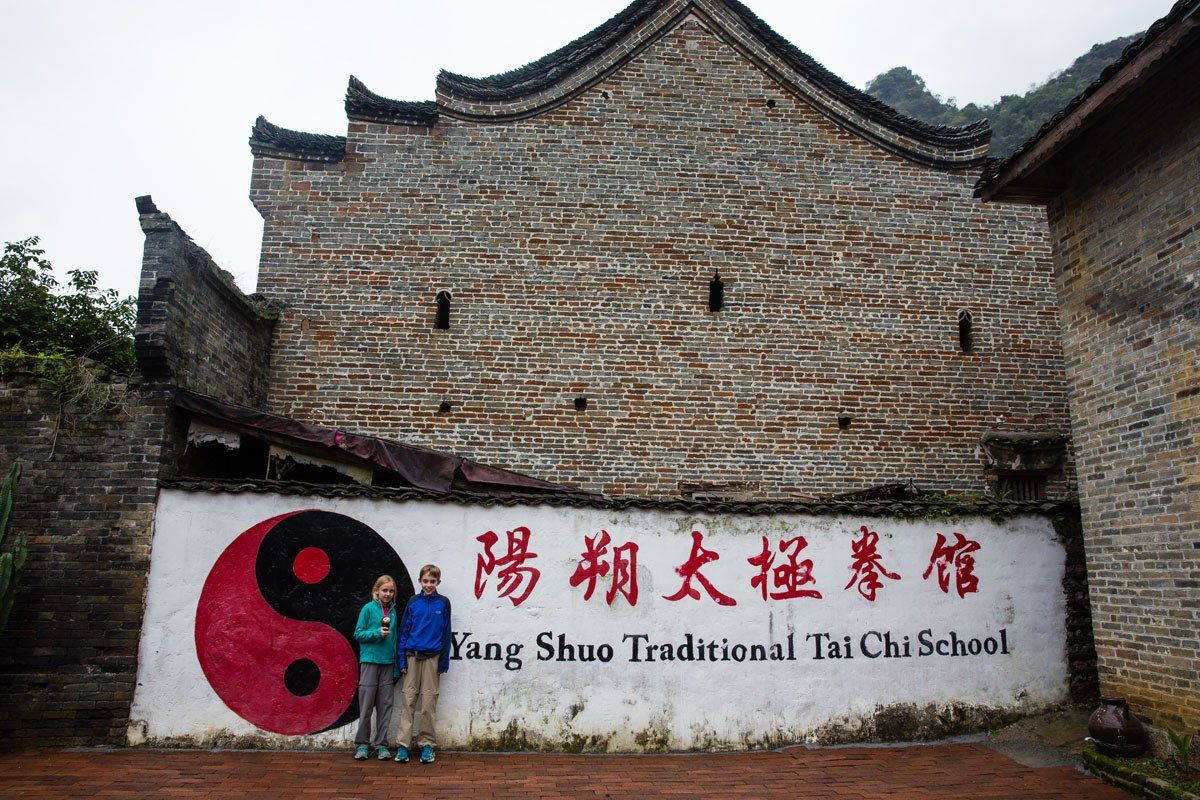 The Kung Fu Master was a young Chinese woman with long hair, glasses, and a bright red coat. I brought shorts and T-shirts for Tyler and Kara to wear, thinking this would be inside, but those would not be necessary. It was chilly…it couldn't have been more than 50 degrees outside.
Tim and I were instructed to sit on the concrete benches to watch. As we sat there, huddled together, buttocks freezing from the cold concrete seats, we knew this was going to be a long two hours. The setting was awesome but the cold weather, not so much.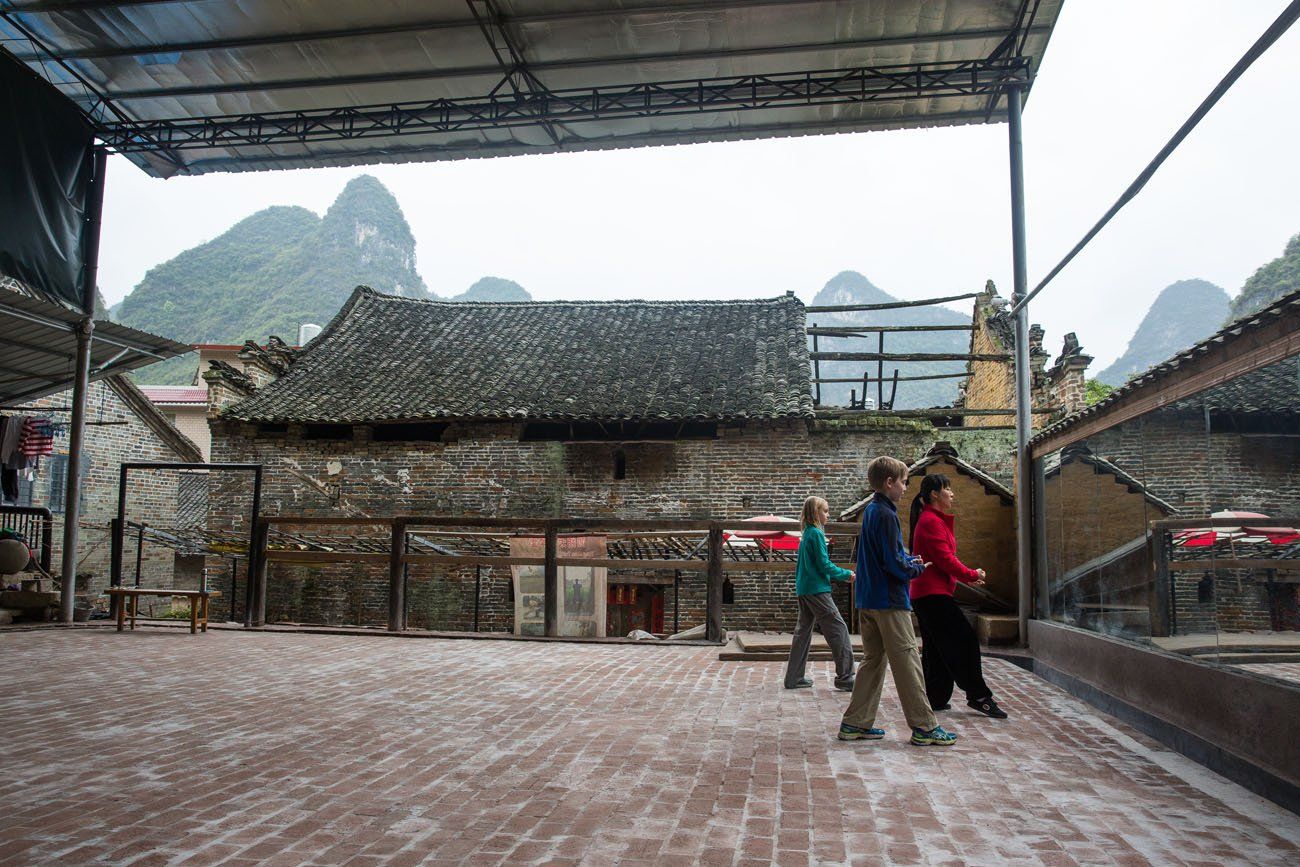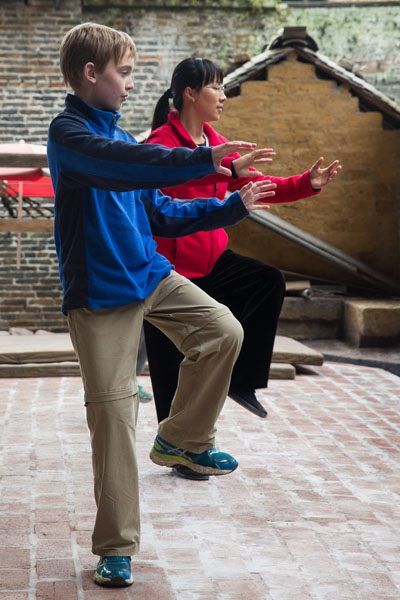 Tyler and Kara were the only students, which was great since they dislike large group activities. After a long warm up and stretching they began learning Kung Fu, Tai Chi style. The Master proceeded to teach them a series of Tai Chi movements, dancelike movements that look cool but left Tyler and Kara wondering where the punching and kicking came into all of this. It was similar to learning "wax on, wax off" in the movie "Karate Kid."
Towards the end of the lesson the Master demonstrated how these movements are used to block and punch and a light bulb went off in Tyler and Kara's heads. At the end of the two hours the kids had the basics of the Tai Chi movements down.
Tyler thought the class was awesome and Kara thought it was a little boring. Both were very chilly and had very cold hands. Tim and I were frozen but really enjoyed the experience. Tyler and Kara, learning Tai Chi and Kung Fu in this awesome setting in Yangshuo, China…add this to the long list of amazing experiences we have had during these last 245 days.
Exploring Yangshuo
We spent our final day touring the town of Yangshuo. It was a cold afternoon, another day in the high forties. We were wearing shirts, fleeces, and rain jackets and were still chilly. The sky was overcast but at least it wasn't raining.
We toured an outdoor market and bought our first Chinese artwork. Bargaining is key here and it is one of our favorite things about shopping. I think sometimes we buy things just for the game of bargaining. Here in Yangshuo, they start with a ridiculously high price and we go back and forth until we get it a fraction of what they were originally asking.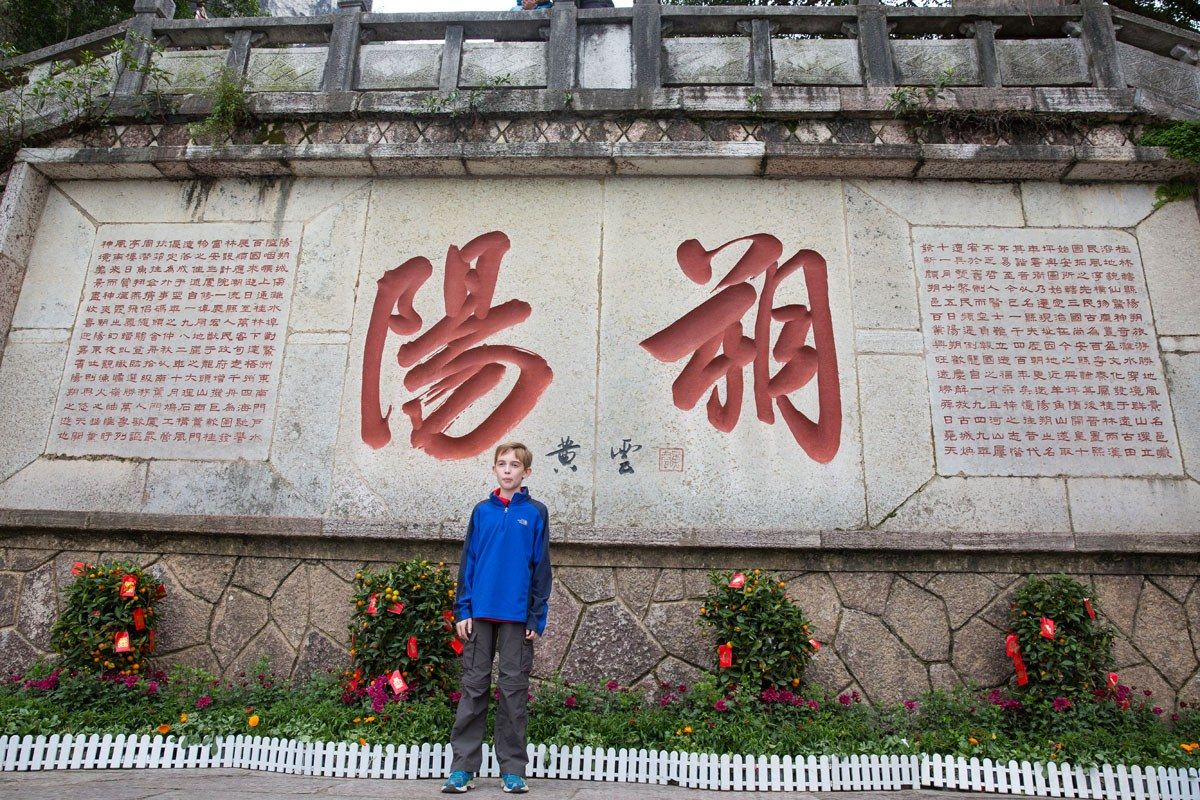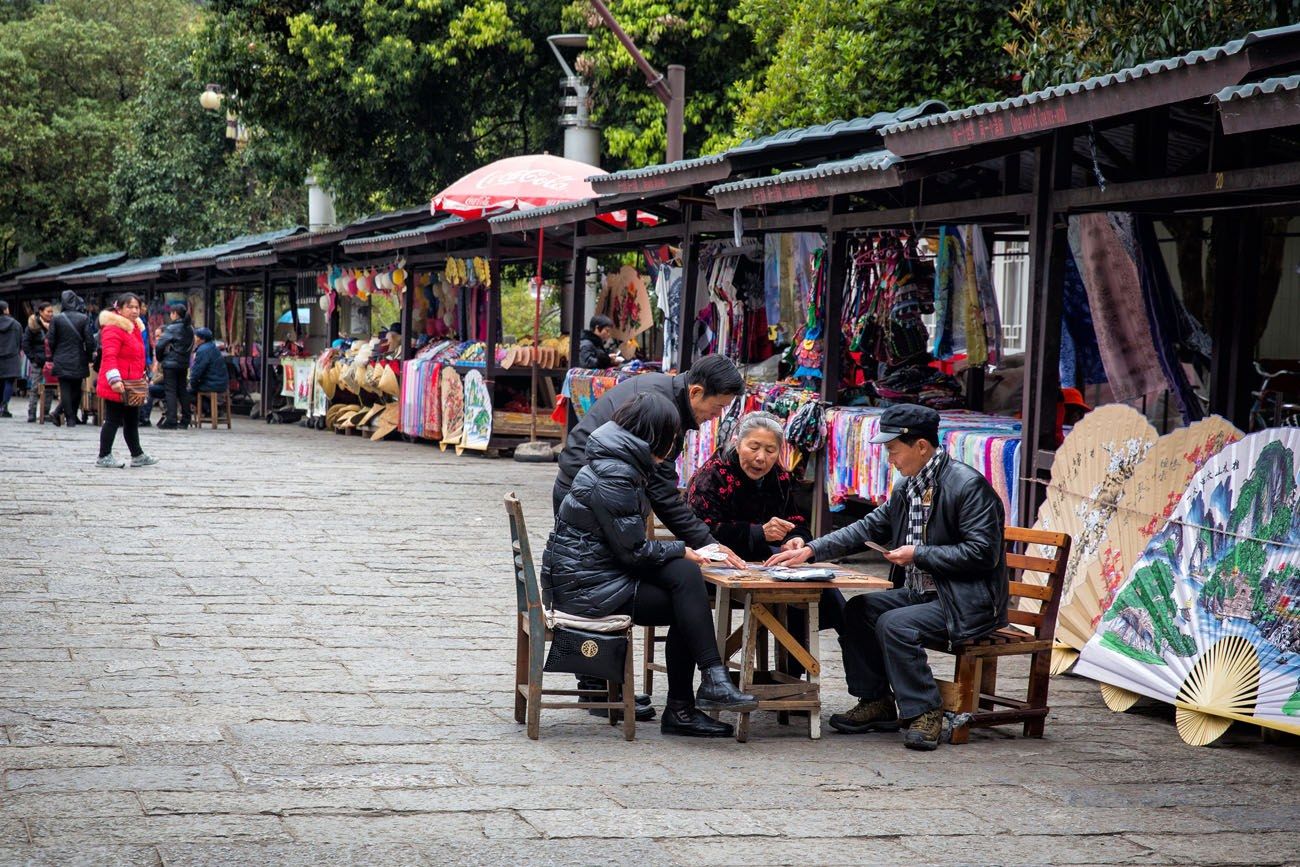 We walked down to the Li River for more views of those bumpy mountains that I like seeing so much.
There was a grumpy Chinese man here who was charging people for the pleasure of holding his two birds on a bamboo pole. His sign read 3 yuan. Kara and I walked over with our 3 yuan (50 cents) and handed it to the man. He refused, stating his price was 5 yuan. I knew if I walked away, he'd call us back over and accept the 3 yuan. Why not? He is just sitting there waiting for interested people to want to hold his birds. I was right. He grudgingly called us over, accepted the 3 yuan, and let Kara hold the bamboo pole.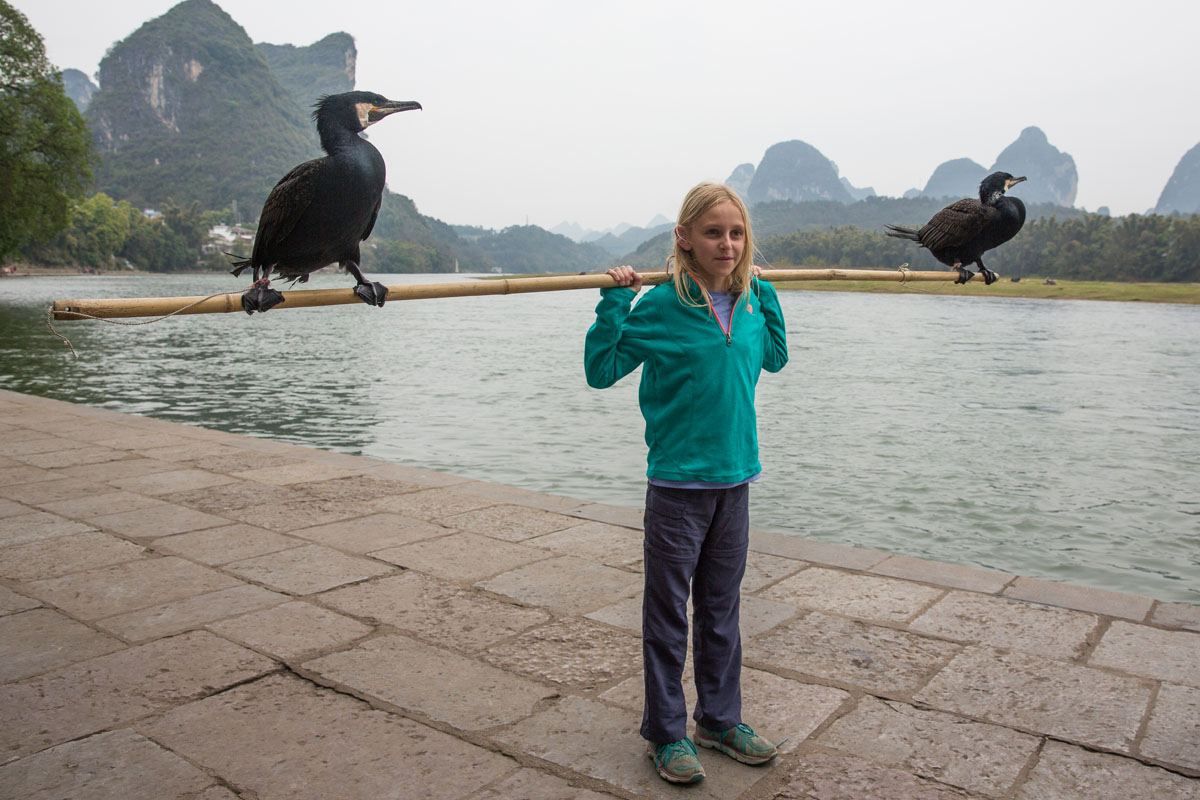 Shopping in Yangshuo
After getting our view of the Li River, we walked up West Street, an awesome pedestrian shopping area. Small lanes of shops, labeled with Chinese characters and decorated with Chinese lanterns, filled the area. It looked amazing. All four of us love seeing the Chinese characters. What is it about them that look so cool?
Strolling these streets was so much fun. There were numerous shops selling mystery food, fashionable clothing, and there were plenty of bars and restaurants.
We tried some street food as well. Tim, Kara, and I tried tofu (not so good) and fried dough filled with pork and veggies (much better than the tofu). We all ate honey candy, small chunks of orange, hard, crunchy candy that was delicious.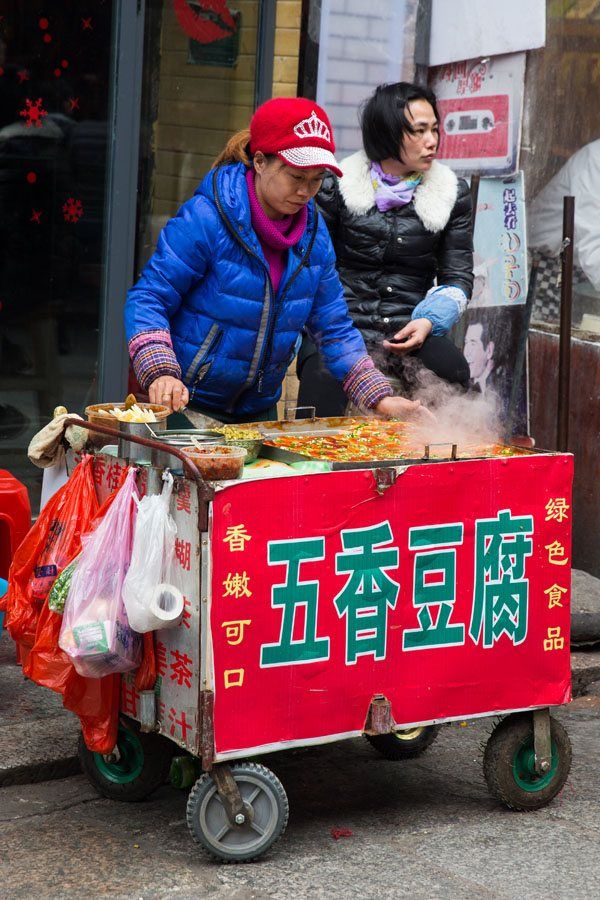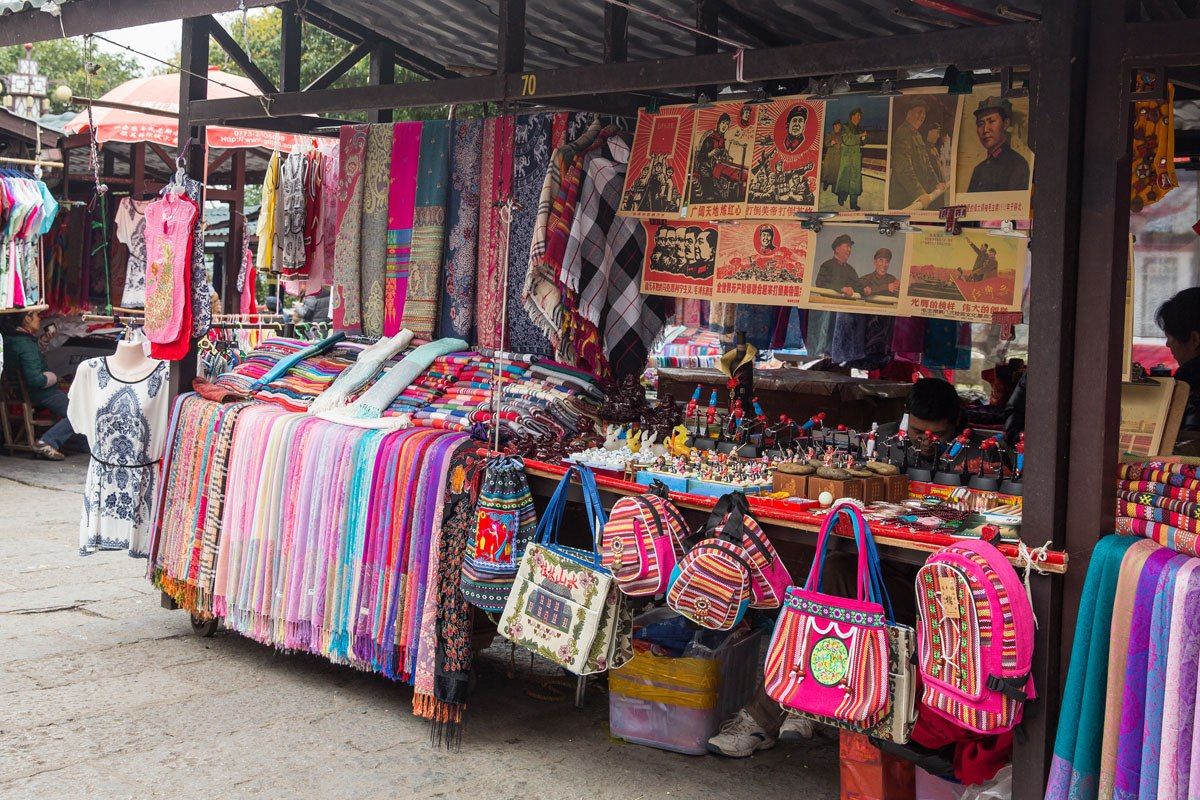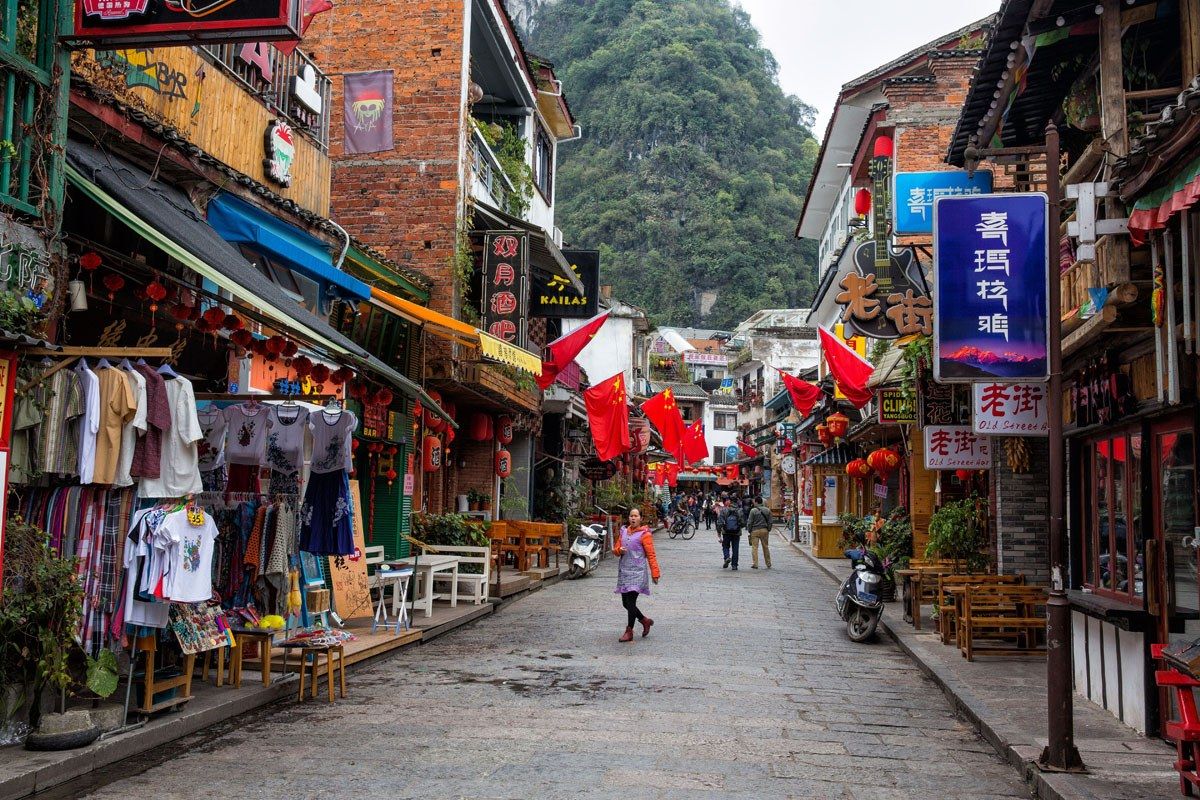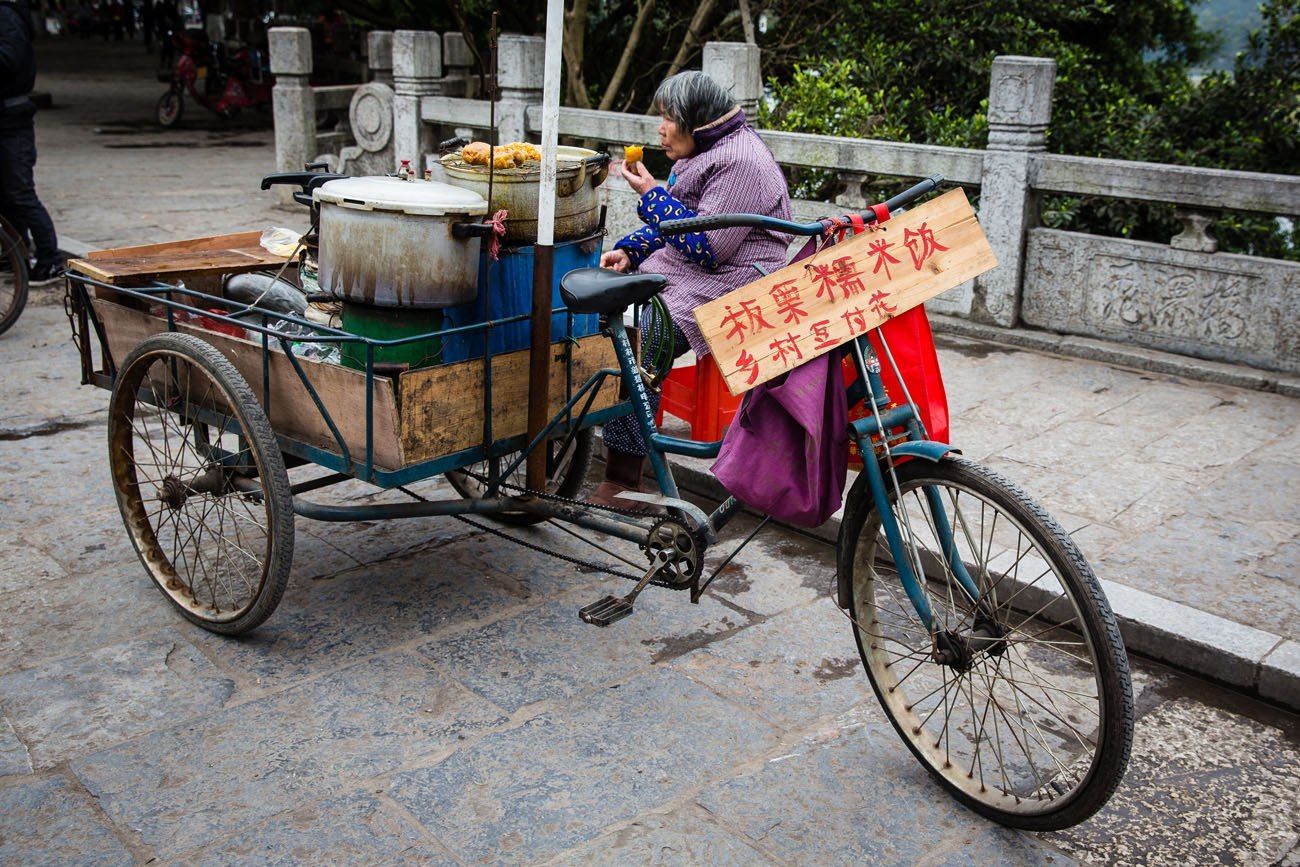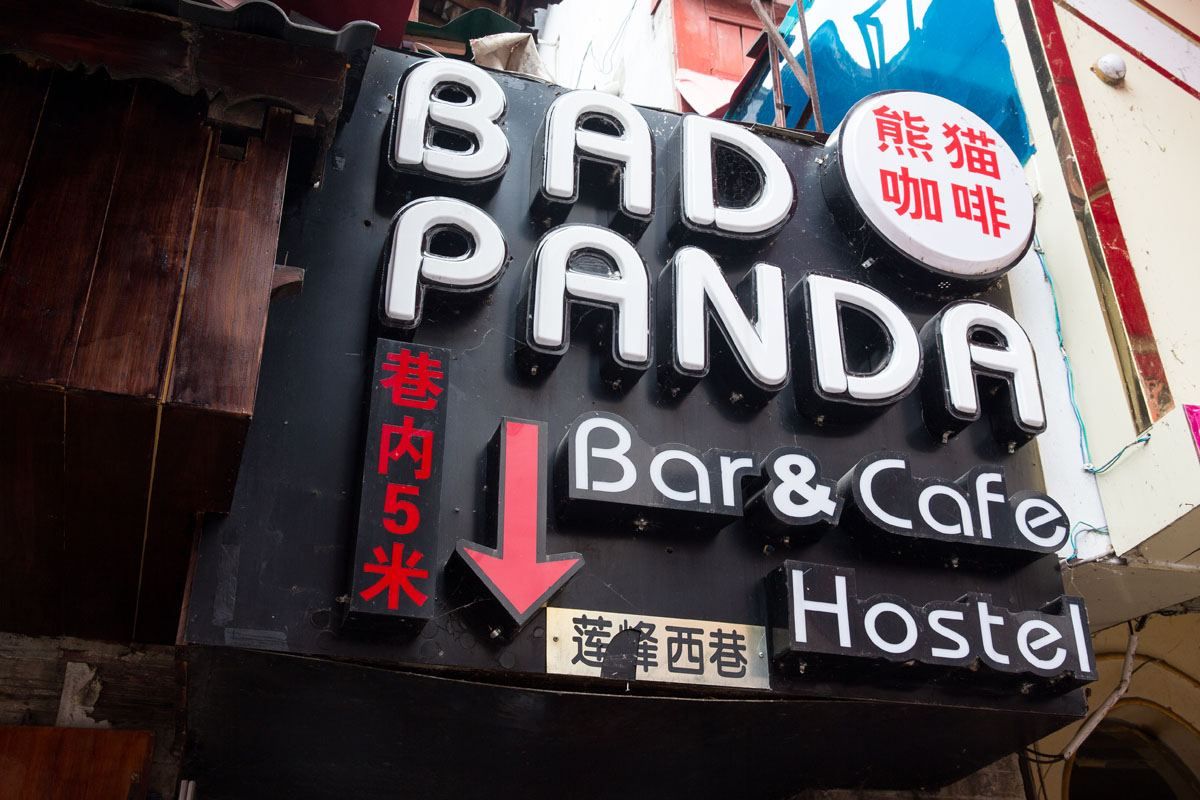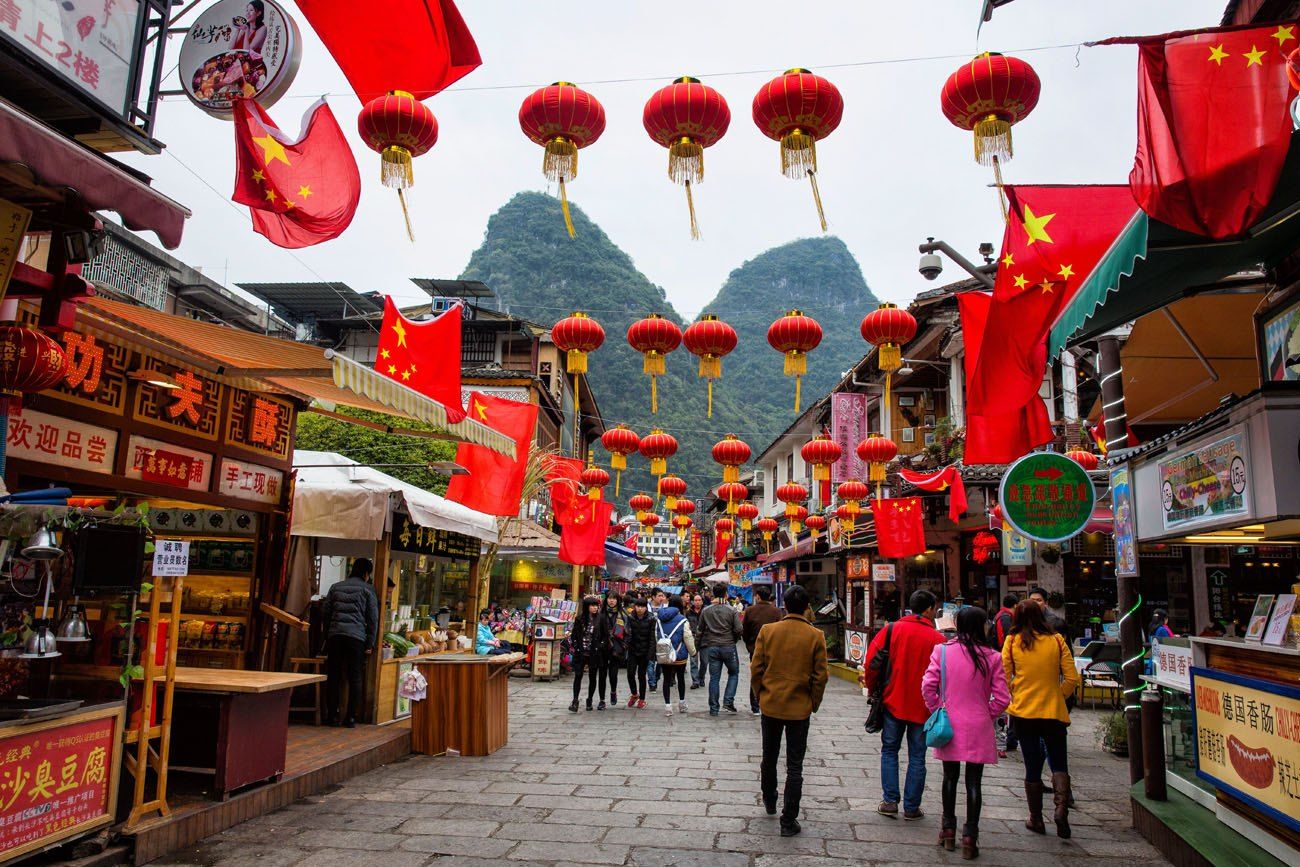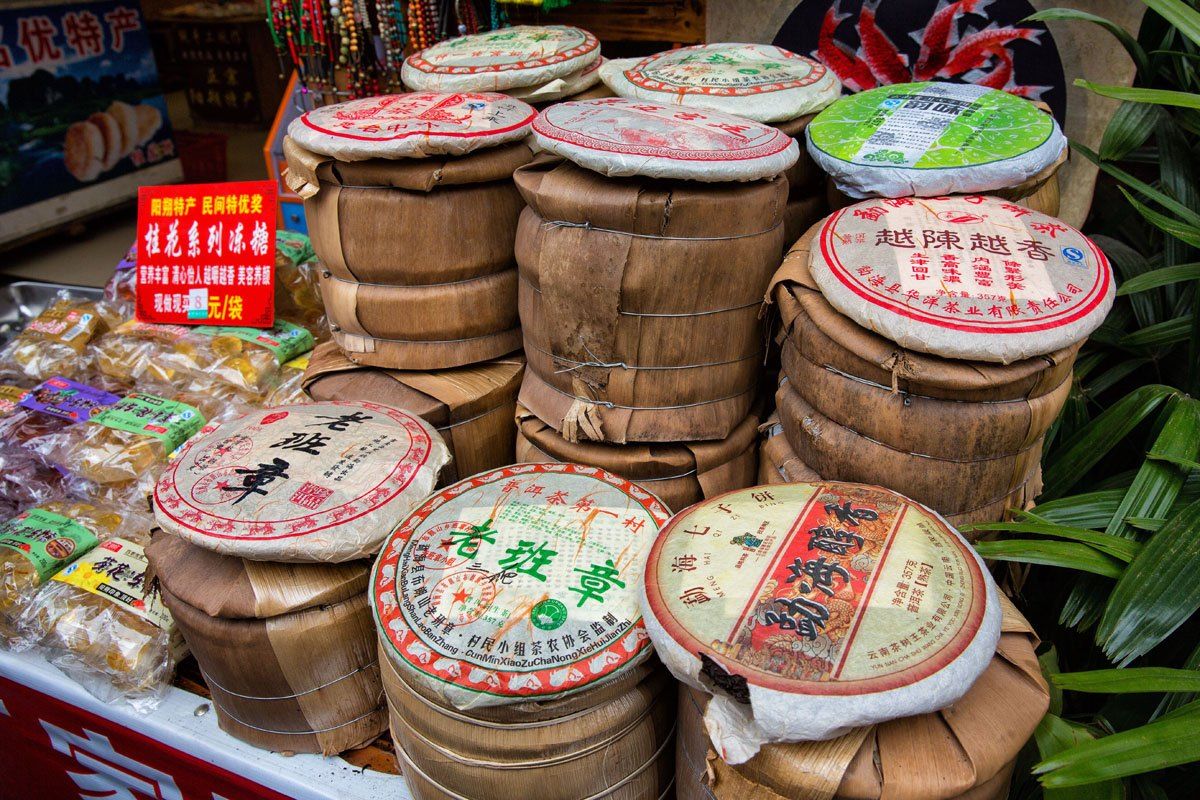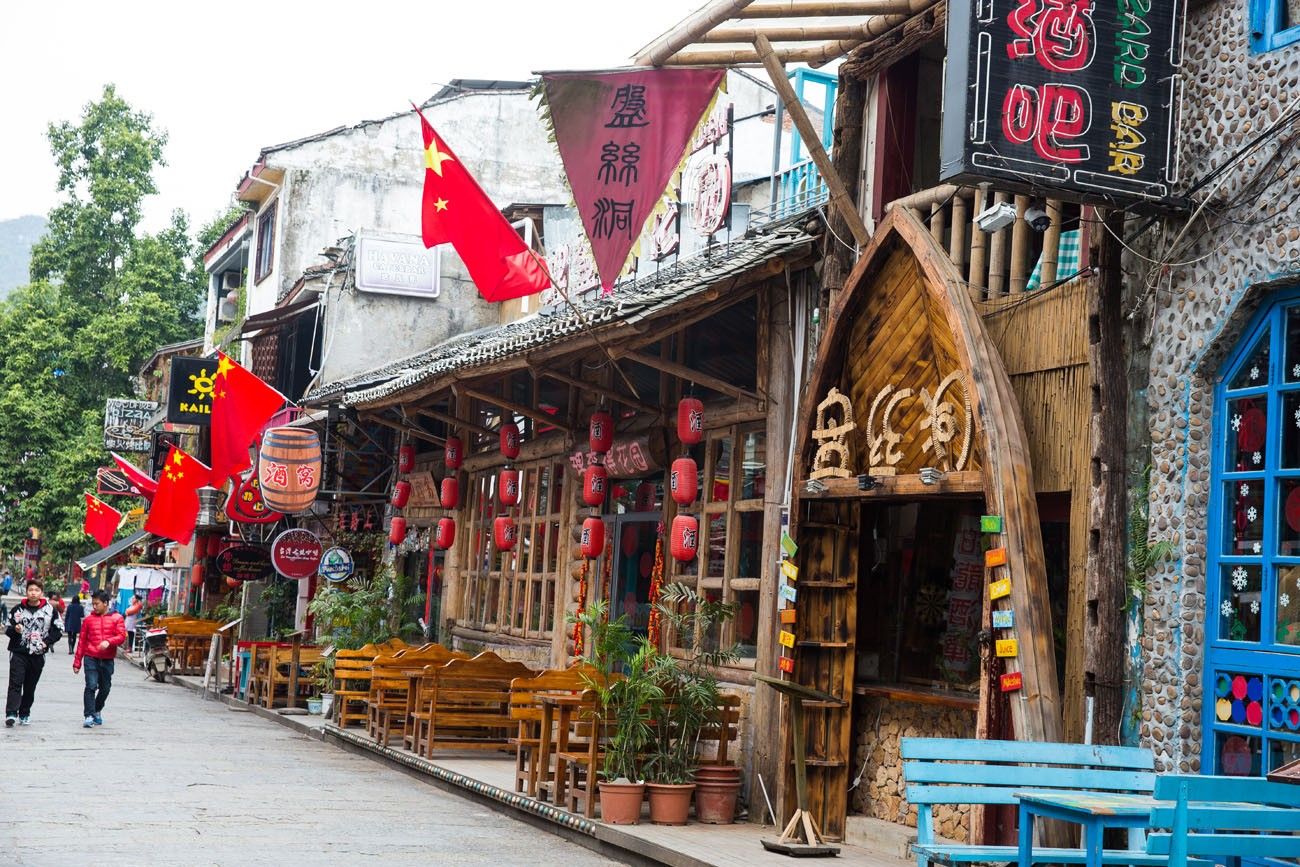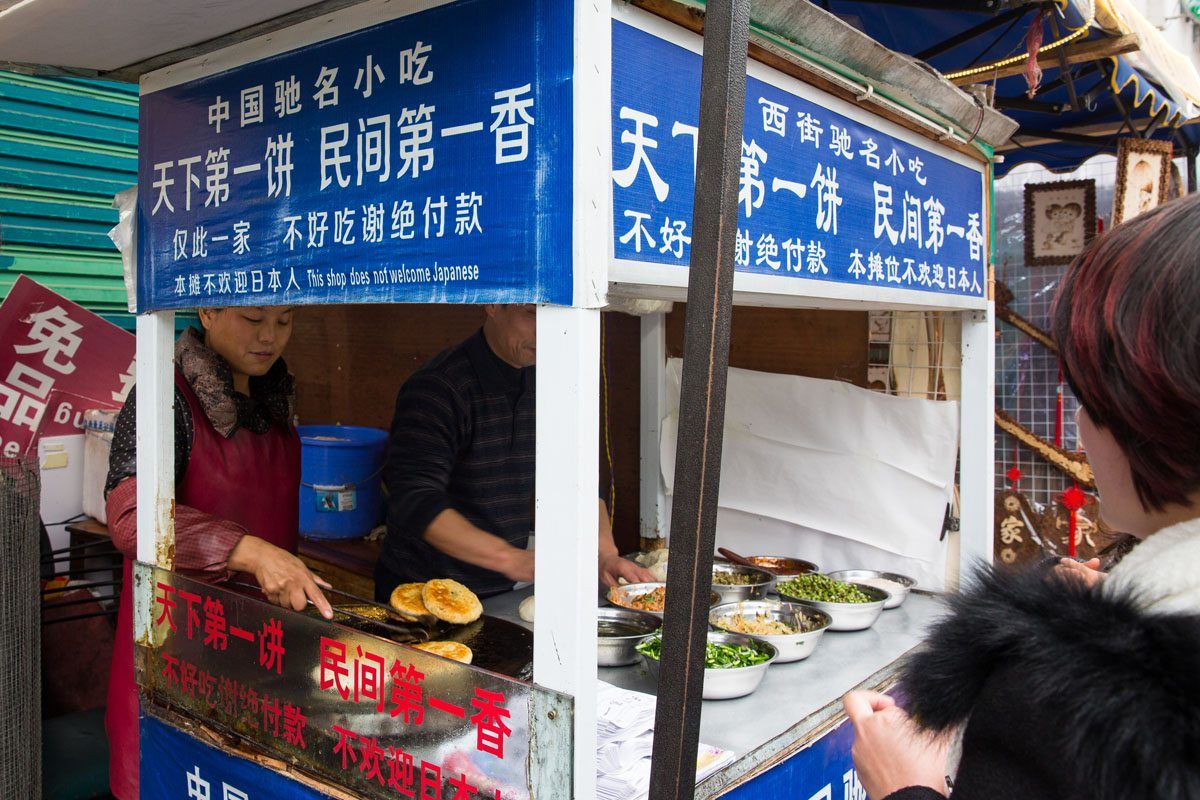 Grocery Shopping
Grocery shopping was another adventure. There were some recognizable foods: Lays potato chips, Oreos, Gatorade, and crackers called Tuc (which we had on our first night in Rome). There was even Crest toothpaste.
There were also a lot of strange foods: waxberries, packaged chicken feet, and boxes and boxes of food labeled in Chinese. I also saw peanuts, a whole aisle of them, packaged in every form peanuts can be eaten. I didn't show Tyler; he would have called it the "aisle of death."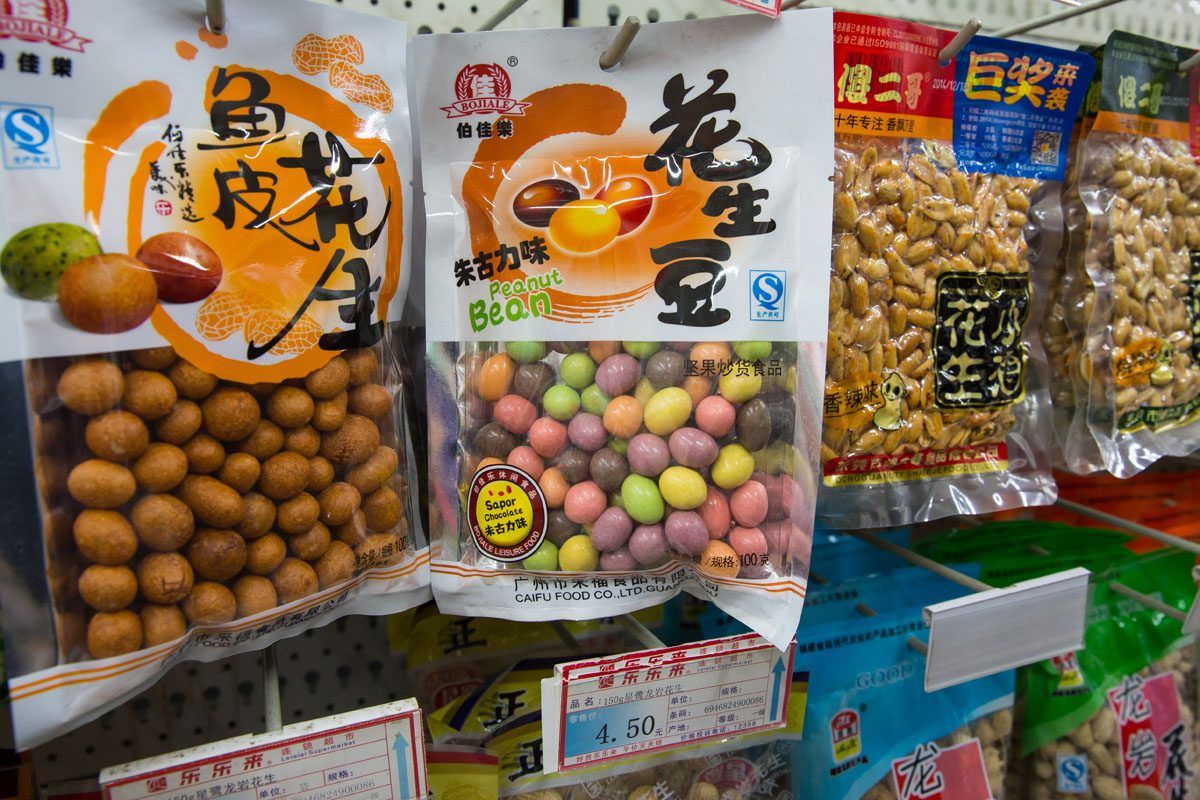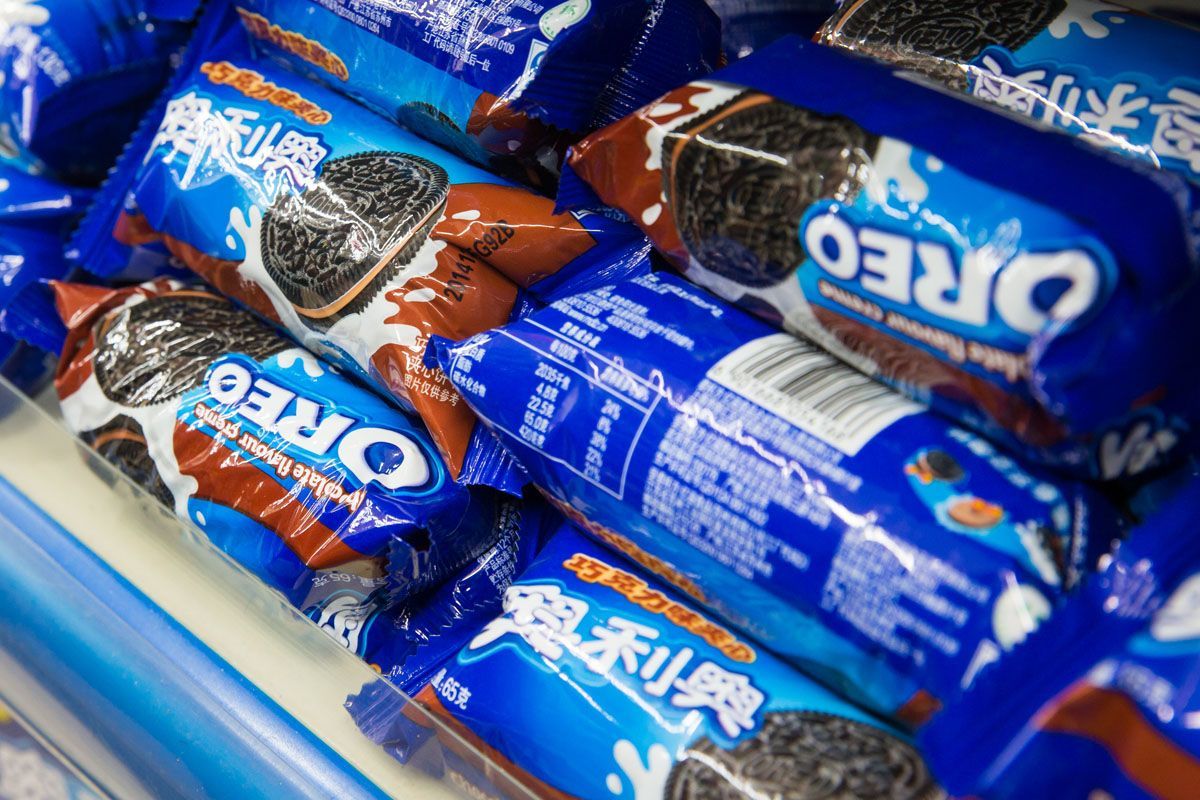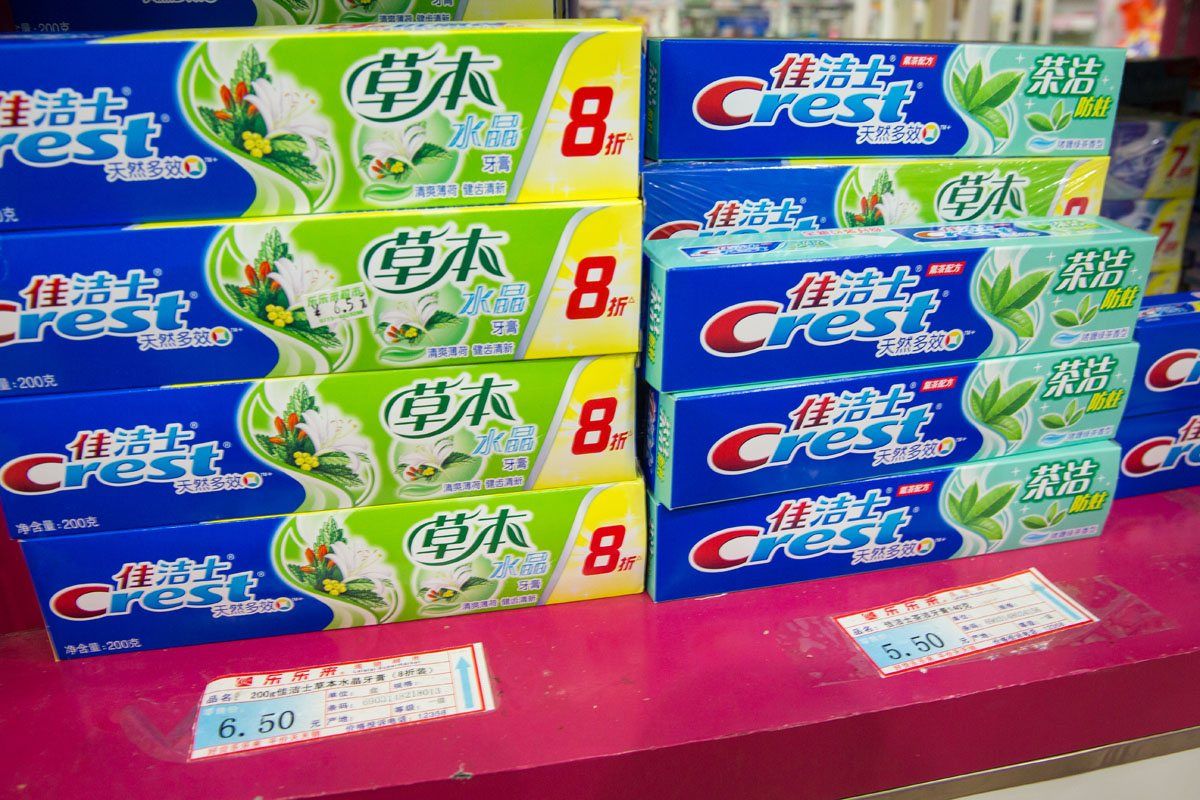 Dinnertime!
For dinner we went to the busiest restaurant in the area and took our seats. Let the staring commence. Yes, people at the neighboring tables could not stop looking at us.
We were handed a menu with photos. Awesome! I am so worried that at some point I am going to go eenie, meenie, miney, mo and pick something like cow intestines or pig stomach.
We ordered garlic beef, fried shrimp, Guilin noodle soup, and a big plate of broccoli. It was all delicious and so unlike Chinese food we would eat at home. The Guilin noodle soup was enormous and my favorite thing on the table. It was a big bowl of rice noodles in beef broth served with slices of beef and chopped up green beans. I ate way more than I needed to and I may need a bigger pair of pants before we leave China.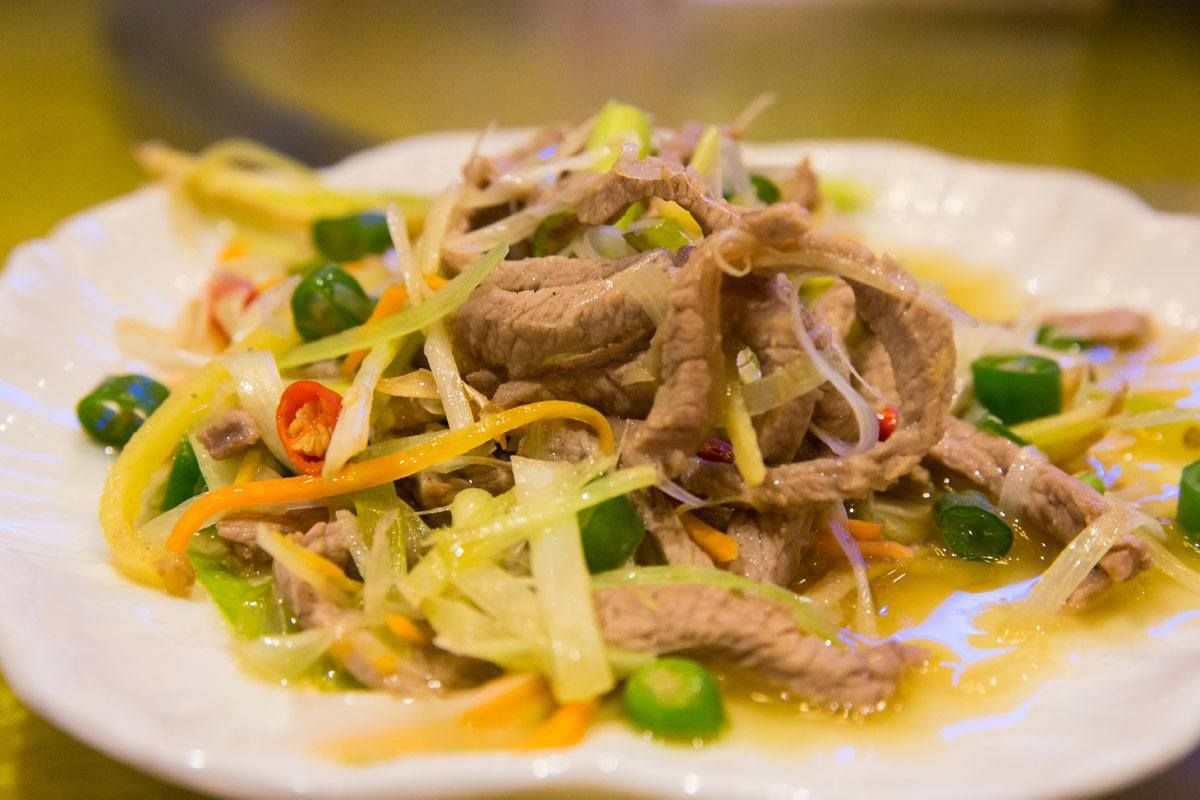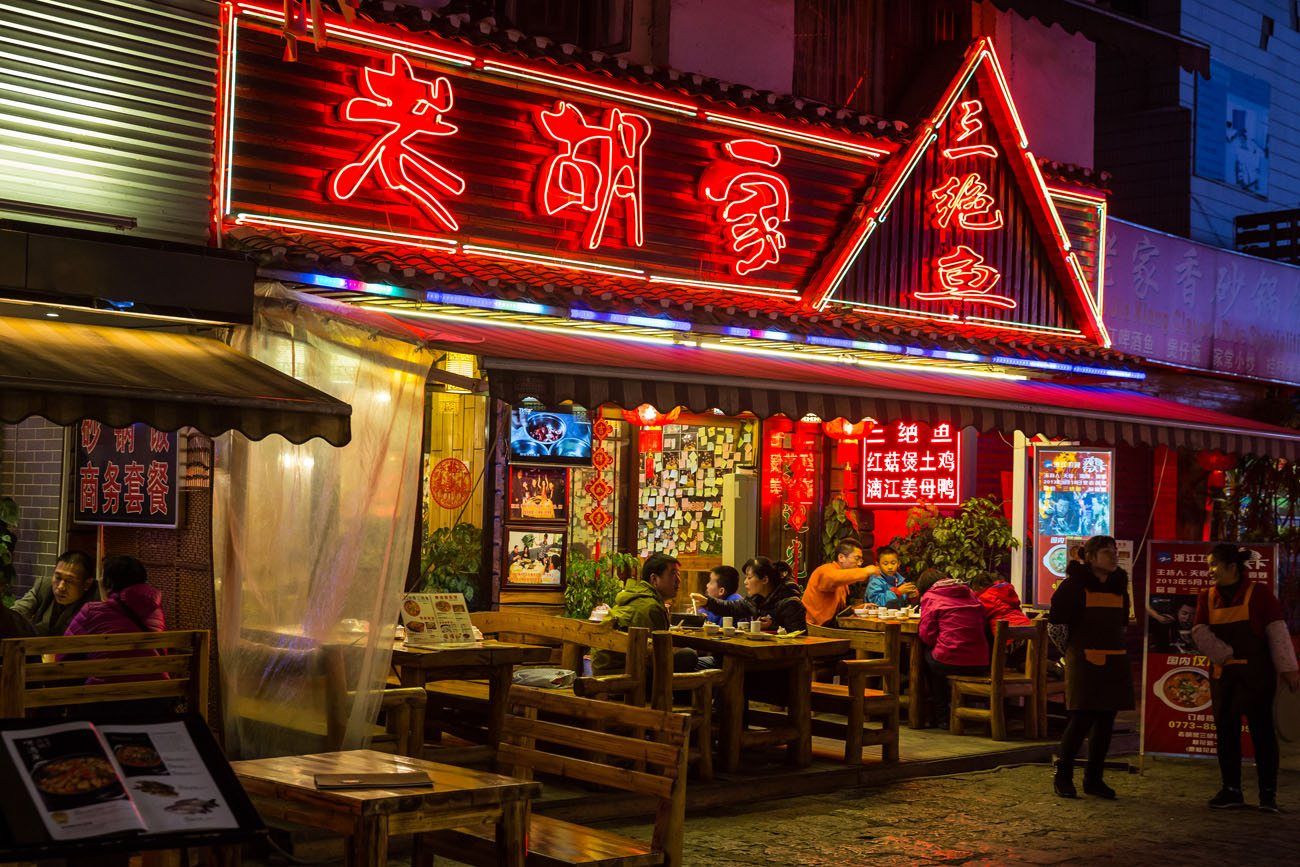 And just like that our time in Yangshuo was over. It was an awesome experience and everything we imagined it would be. From here we have several days of travel ahead of us to get us to our next destination, Zhangjiajie, China. Say that three times fast!
---
More Information about China
BEIJING, CHINA: Learn about things to do in Beijing, what it is like to visit the Great Wall of China, and how to hike from Jiankou to Mutianyu on the Great Wall of China.
ZHANGJIAJIE: Take a photo tour of Zhangjiajie National Forest Park, learn how to visit Tianmen Mountain, and explore the market in Zhangjiajie.
TAIWAN: Here are 10 interesting facts about Taiwan. Journey through Taipei in photos, learn how to hike Teapot Mountain, and go on a food tour through Taiwan.
TRAVEL BLOGGING: This website started with a trip around the world and has become one of the most popular travel sites on the internet. Learn more about what it is like to run this website in our article My Life as a Travel Blogger.
Note: This post contains affiliate links. When you make a purchase using one of these affiliate links, we get paid a small commission at no extra cost to you.
All rights reserved © Earth Trekkers. Republishing this article and/or any of its contents (text, photography, etc.), in whole or in part, is strictly prohibited.