Yes, we focus on family travel. So why would we write about traveling without your kids? Because if you are a parent, sometimes it's nice to get away without your kids, even if it is just for a few days.
So, how do you do it? How do you keep your kids happy while you are away? Tim and I have some tips and tricks to make this easier for everyone.
The Anxiety About Traveling Without Your Kids
Let's face it. As adults, it is nice to get away. You need some time on your own without your kids.
But there is usually some anxiety with leaving your kids for an extended amount of time. What if something happens to you? What if something happens to them? And, maybe you feel guilty for leaving them at home while you get to lie on a beach, sipping piña coladas.
These are all normal worries of parents who travel. It can be hard to leave your kids that first time. It was for me. I felt panicky the first time we booked a flight to Europe, our first extended time away from Tyler and Kara. It does get easier after you have done it several times, although for me, the anxiety has never completely gone away.
In some ways, you will have to accept that this anxiety is normal. But it is much easier to have a good time traveling if you know that your children are happy at home.
Traveling Without Your Kids is Good For You (and Them)
My favorite trips are when the four of us are together. However, the time that Tim and I spend on our own, traveling without Tyler and Kara, is wonderful in so many ways.
We are able to spend time doing things we would never be able to do with two young kids in tow. Museums, leisurely dinners, logging miles of walking through foreign cities…these are all things that would be a much less enjoyable experience with two young kids with us.
Getting some time alone was great for our marriage.
It's a good thing for kids to see that their parents won't be home every single day. It's OK for them to be without you for a little bit.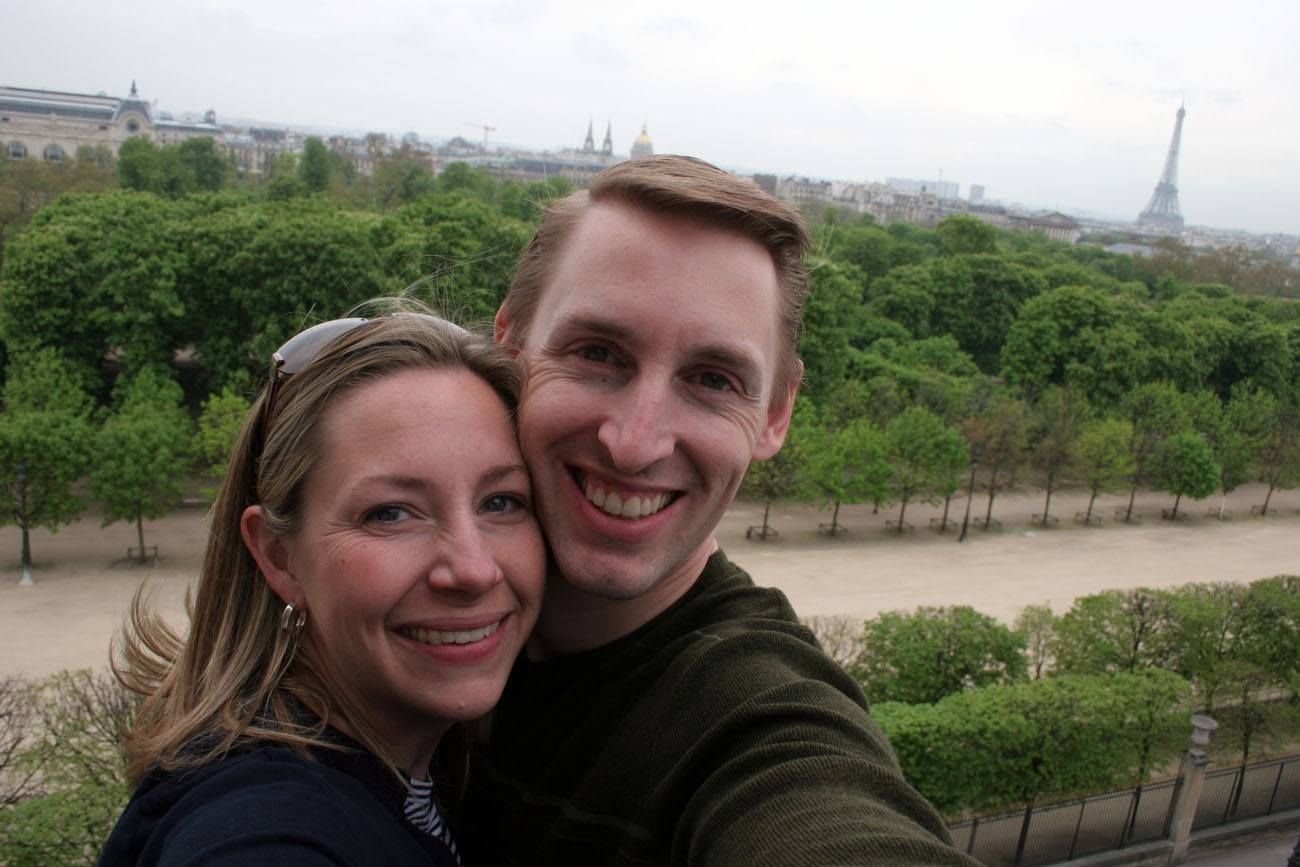 But there is also some guilt associated with leaving your kids at home. Depending on the age of your kids, it may be hard to explain to them why you will be away for so long. They will miss you and this can be hard on them. Of course, you'll miss them too.
Keeping Your Children Happy While You are Away
When we first started taking longer trips, we came up with ways to keep Tyler and Kara happy at home. Honestly, this was more to ease our guilt of being away for so long than to keep them happy. But after several trips, Tyler and Kara liked these little surprises so much that they looked forward to us going away!
Here are some tips for keeping your kids happy while you are away. Depending on the age of your child, some of these may be more age appropriate than others.
Photograph their Favorite Toy
Ask them to give you one of their favorite toys that you can take on your trip. It should be something that is small and easy to carry around. During your trip, take pictures of the toy at various places and text or email them home for your kids to see.
This becomes an iSpy game for your kids. They get to see their favorite toy traveling the world and you get to be creative where and how to take the photos. This also opens you up to many interesting conversations with the people you meet while traveling.
We did this when Tyler and Kara were little (ages 3 to 9) and they loved it. Kara gave us Rainbow Dash, a small My Little Pony toy, and Tyler gave us his small R2-D2 figurine. Now, these little toys are very special to us and have become treasures that we will keep forever.
Here are Rainbow Dash and R2-D2 traveling the world.



A Small Gift A Day Keeps the Separation Anxiety Away
Before leaving on the trip, we planned out a gift for each day we were away. Nothing expensive, just a little trinket or candy or something related to where we were traveling. We put each gift and a short letter in an 8 x 10 brown mailing envelope marked with the date it could be opened.
Every morning, Tyler and Kara opened the envelope, read about our activities for the day, and got their gift.
Ideas for what to put inside the envelope include:
A print out of a map of where you are and how you got there. This is great if you are flying to another continent. But only do this if your child is not going to feel too much anxiety once they realize how far away you are.
A children's book about the place we were visiting (or a similar topic, like a book about the jungle if you are going to Costa Rica).
A coloring book about the place you are visiting.
A stuffed animal.
A piece of paper and a pen so they can write about their day.
Candy.
A movie on DVD. This is great for a Friday or Saturday night while you are away.
We had a surprise package for every day we were away. Each of the gifts had something in common with our trip. We wanted to entertain Tyler and Kara but we also wanted them to learn about where we were in the world.
These simple gifts gave Tyler and Kara something to look forward to each day we were gone and it took the edge off of missing us. After several trips, they actually looked forward to us going away.
Take Full Advantage of Your Smartphone
Nowadays, it is so easy to send photos and videos of where you are and what you are doing. It is just as nice to see photos of your kids while you are away. Let's face it, there's a chance that you may be a little homesick. Use Facetime, texting, Viber, What's App, and more to communicate back and forth with your kids. Communicating everyday and sending photos helps bridge that distance between you and your kids.
This Goes Without Saying
Of course, you want to make sure that you leave your kids with responsible family or friends. Tim and I are extremely lucky to have two awesome mothers who stay with Tyler and Kara when we travel.
---