For millions of years, the Virgin River has been carving its way through layers of rock, forming the Zion Narrows. This canyon twists and turns for miles, creating one of the most unique hiking trails in the world.
There are several different ways you can hike the Narrows. Most people hike from the bottom-up, an out-and-back journey that takes you several miles upriver through some of the most scenic sections of the canyon.
For the ultimate experience, you can hike from the top-down, a 16-mile adventure that can be done as an epic day hike or an overnight backpacking trip.
We did this as a day hike from the top-down on October 29, 2018. Fall colors were at their peak, turning this photogenic journey into something even more spectacular.
In this article, journey through the Zion Narrows in photos, starting at Chamberlain's Ranch and ending at the Riverside Walk.
Spoiler alert! This article is filled with photos of the Zion Narrows, so if you're the type of person who would like to keep the hike a "surprise," stop reading here. This article takes you mile by mile through the Zion Narrows in photos.
Stats on the Zion Narrows (from the Top-Down)
Distance: 16 miles (from the top-down)
Difficulty: Strenuous
Length of Time: It takes 10 to 13 hours to do this hike. 12 hours is the average amount of time for most hikers (allowing for rest stops and photography).
When to go: The best time to go is summer and fall. In the spring, the Narrows are generally closed from mid-March through mid-May when flow rates are high from snowmelt. You can do this during the winter months with proper gear.
Before You Go: In order to hike the Narrows from the top-down, you must have a permit.
Please practice the seven principles of Leave No Trace: plan ahead, stay on the trail, pack out what you bring to the hiking trail, properly dispose of waste, leave areas as you found them, minimize campfire impacts, be considerate of other hikers, and do not approach or feed wildlife.
The Zion Narrows in Photos
Here is a map of the top-down hike. I photographed the Zion Narrows with a Canon 5D Mark IV camera and 24-70 mm f/2.8 lens. The camera tags the photos with GPS coordinates. In Lightroom, I chose selected photos from the hike and generated the map below using their coordinates. Each orange square represents a photo in this article. I added important landmarks along the way.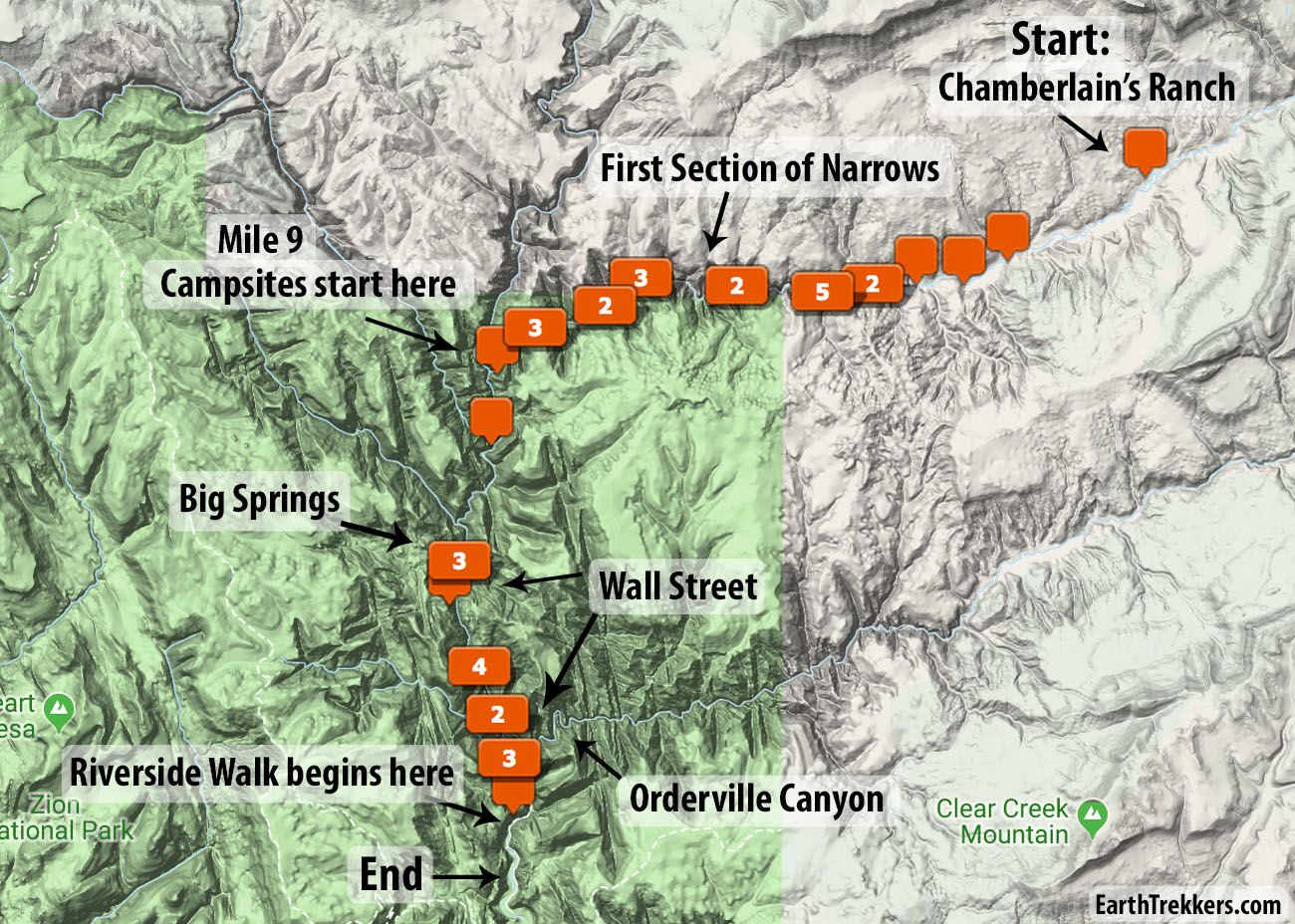 Chamberlain's Ranch
The journey begins at Chamberlain's Ranch. This is private property located outside of Zion National Park. Our day started at 6:15 am, with a shuttle ride from Springdale to Chamberlain's Ranch. It took an hour and forty-five minutes to get to the ranch and our hike started at 8:15 in the morning.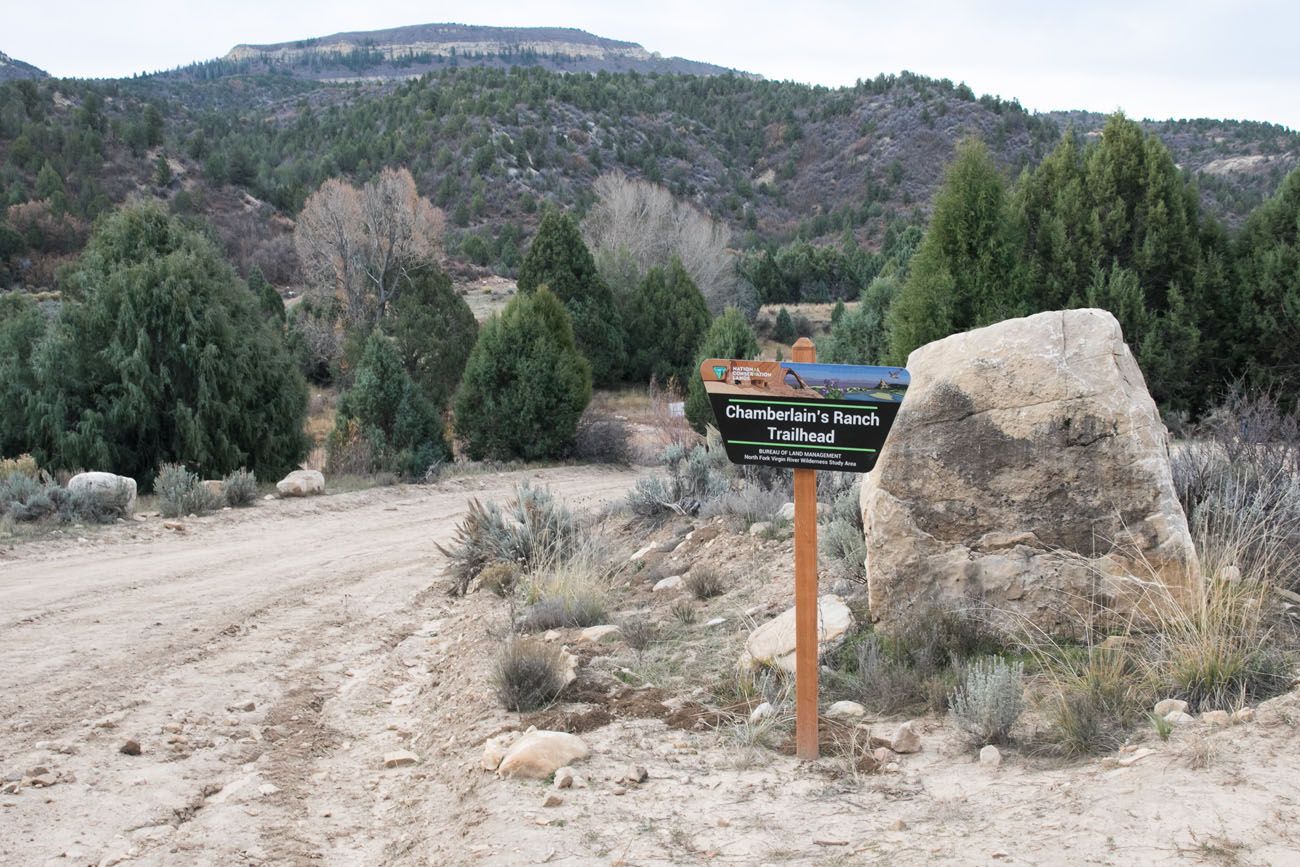 The first three miles of the hike are quick and easy. You simply walk downhill on a gravel road.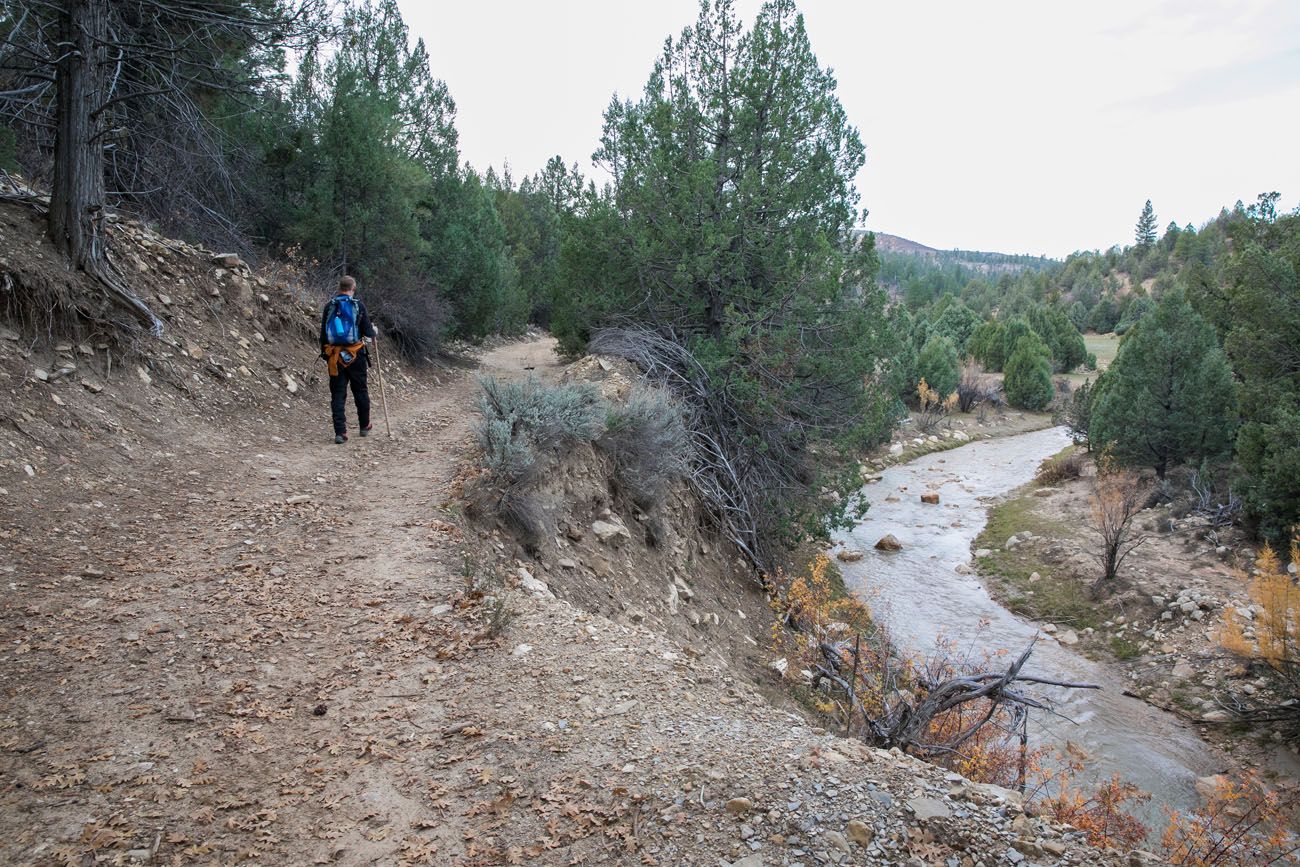 Top Half of the Hike
At mile 3, just past Bulloch's Cabin, the real hiking begins. The road ends, you walk down a short, steep riverbank, and enter the north fork of the Virgin River for the first time.
One of the coolest reasons to hike the narrows from the top-down is to watch as the canyon walls steadily grow higher and higher around you. At first, the walls are only 15 to 20 feet tall. Later in the hike, the walls tower hundreds of feet above you and even close in on you in some spots. It's an awesome experience.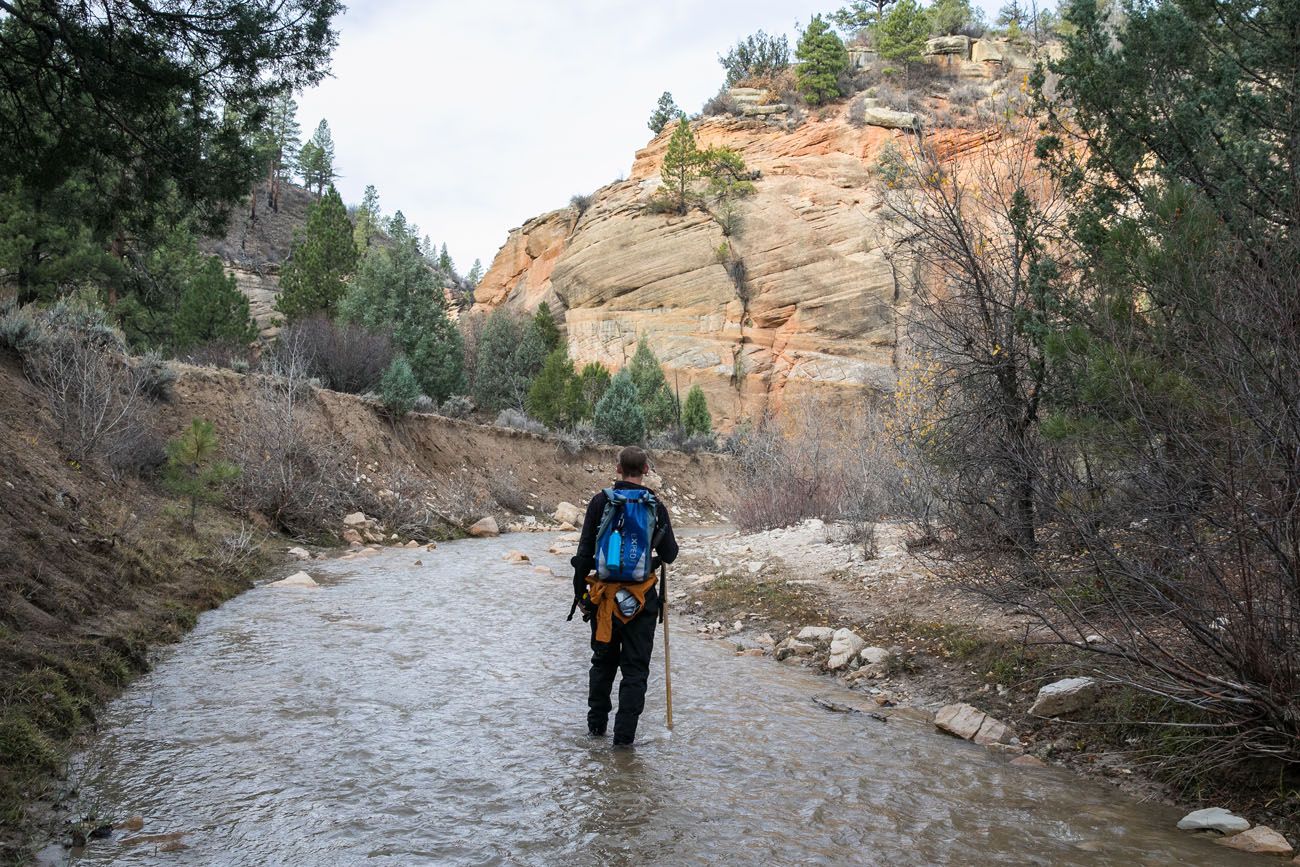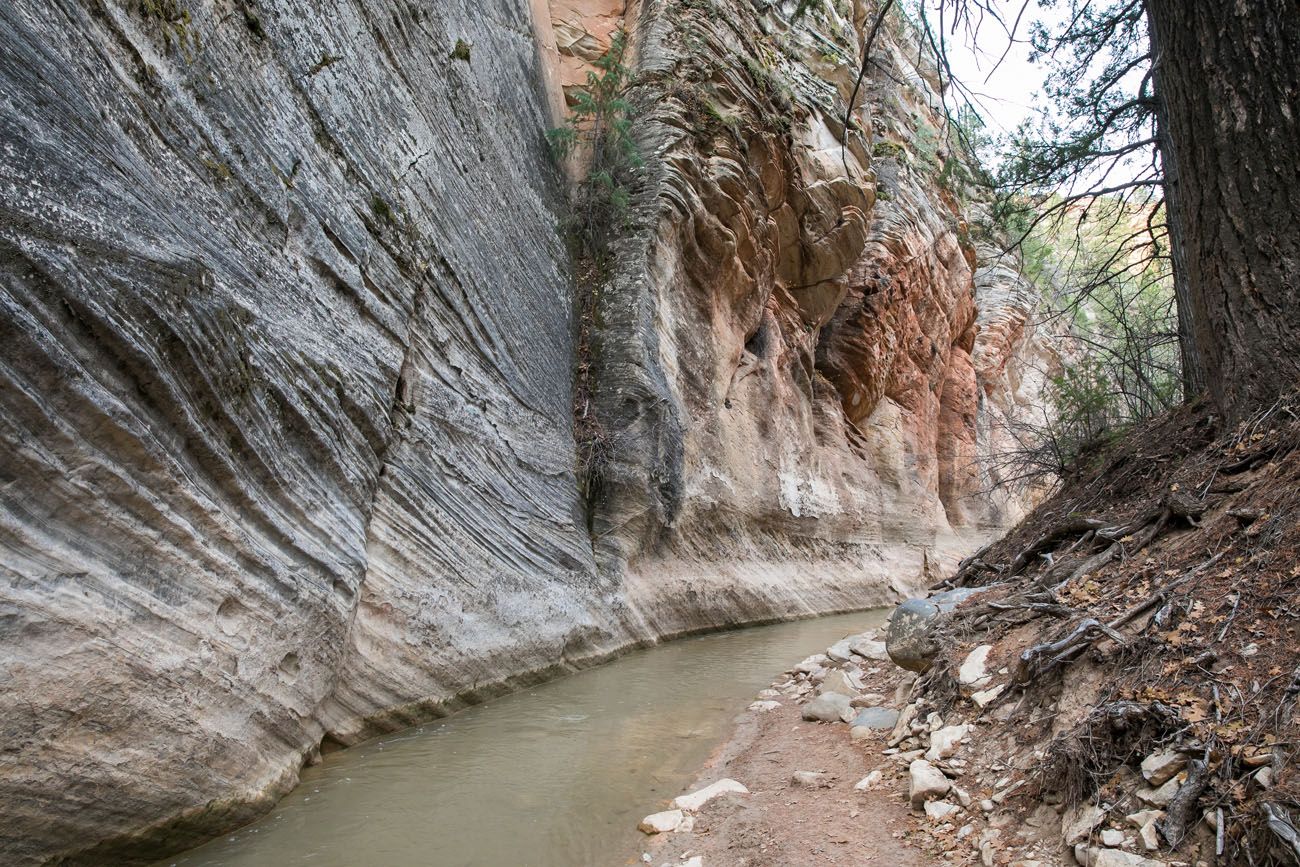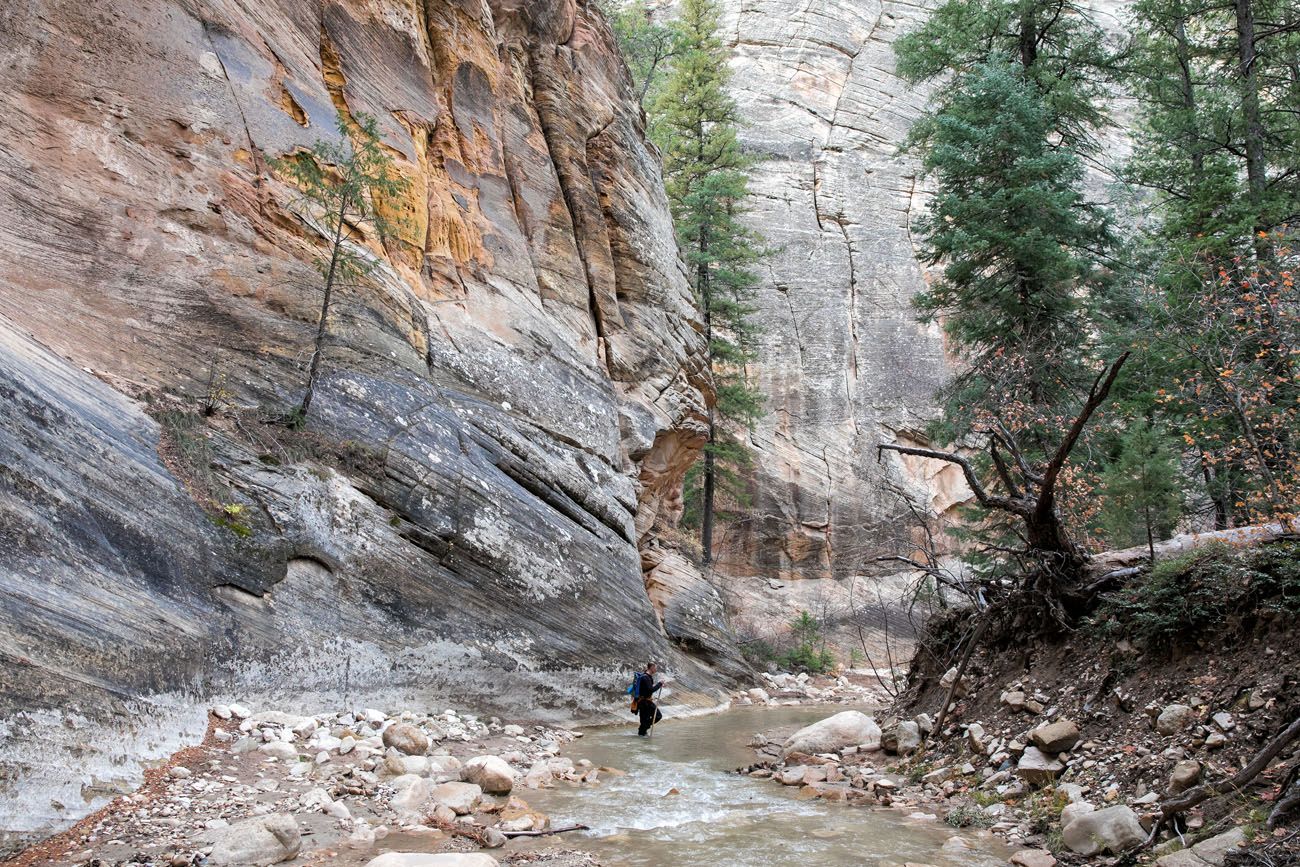 It doesn't take long for the walls to really gain some height. At about 4.5 miles into the hike, the walls begin to close in on you in spots, and this is where it first feels like you are hiking through a slot canyon.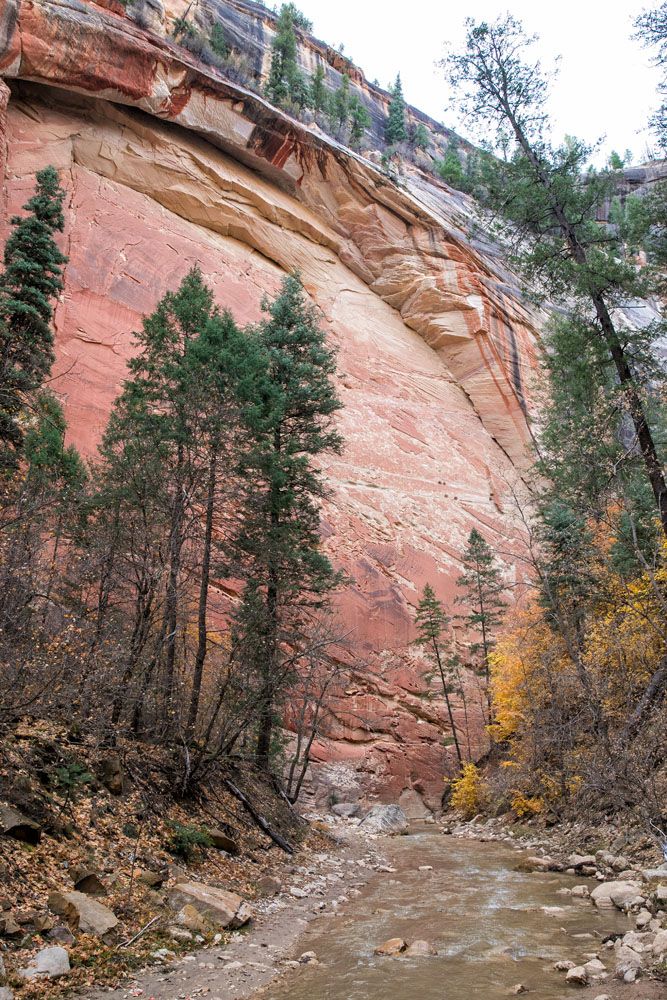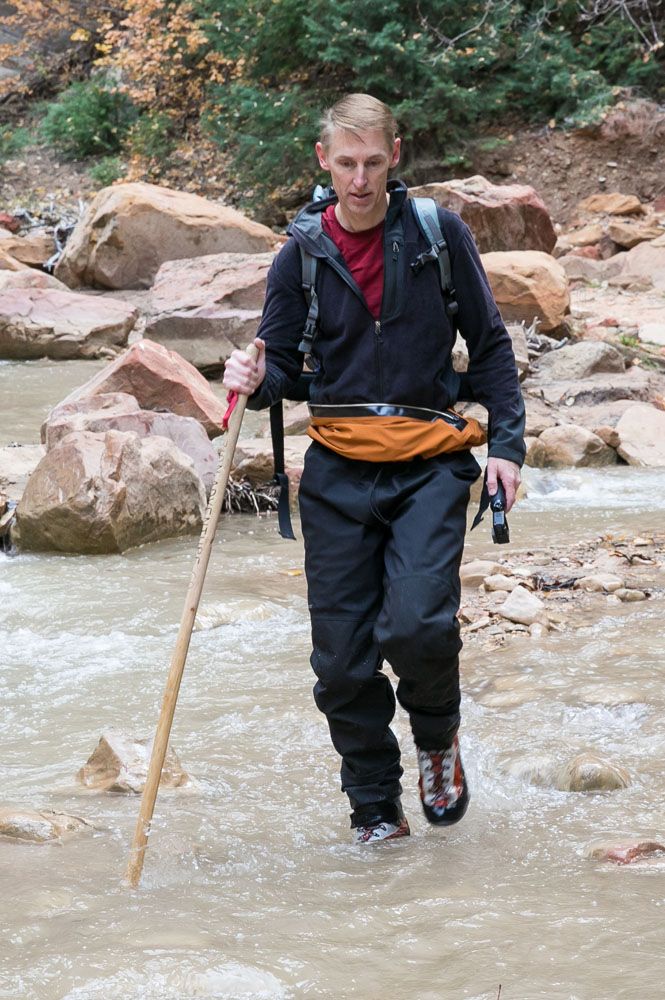 To hike in autumn, special gear is needed to stay warm and dry. We wore full body dry suits (with the arms tied around our waist for most of the hike), neoprene socks, special boots, and a hiking stick. When we did this, the water temperature was 50° Fahrenheit.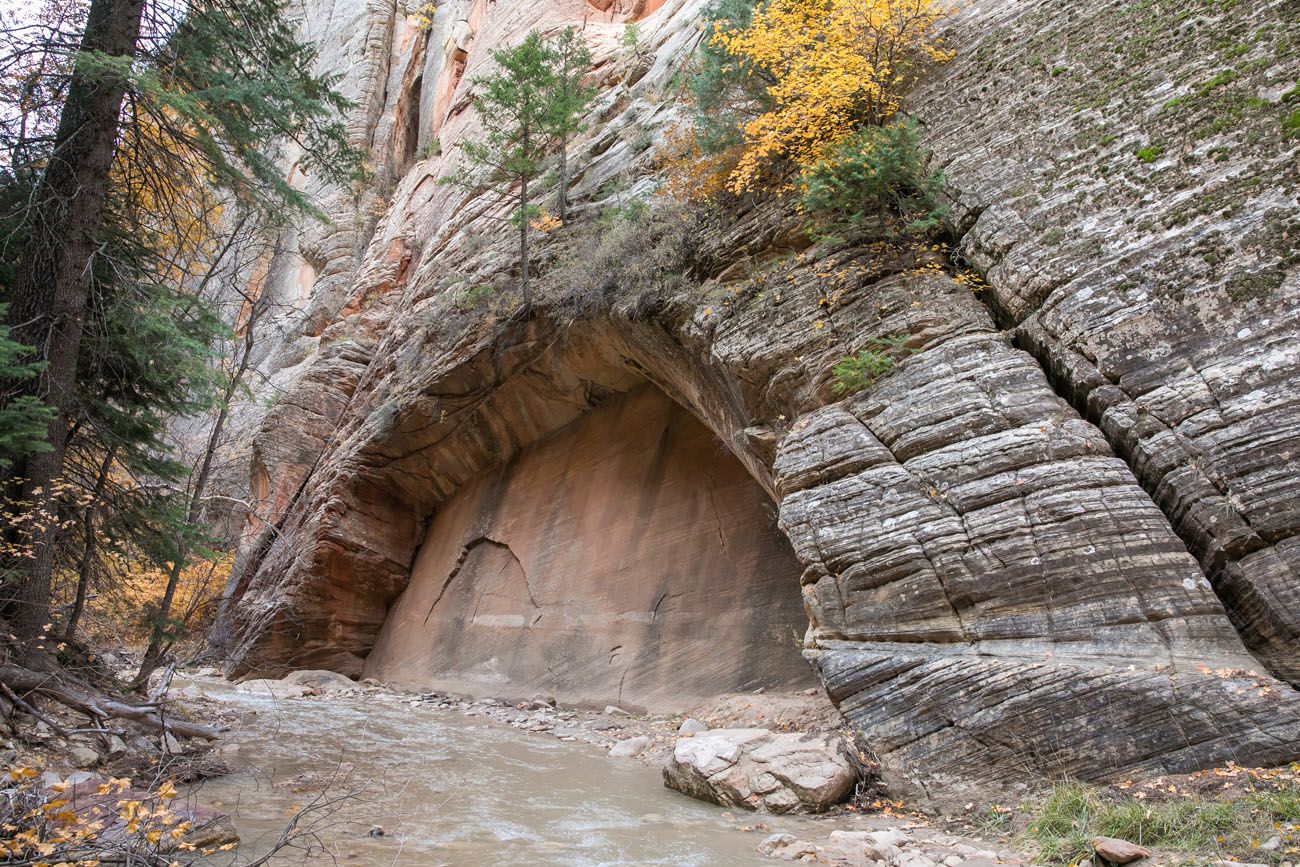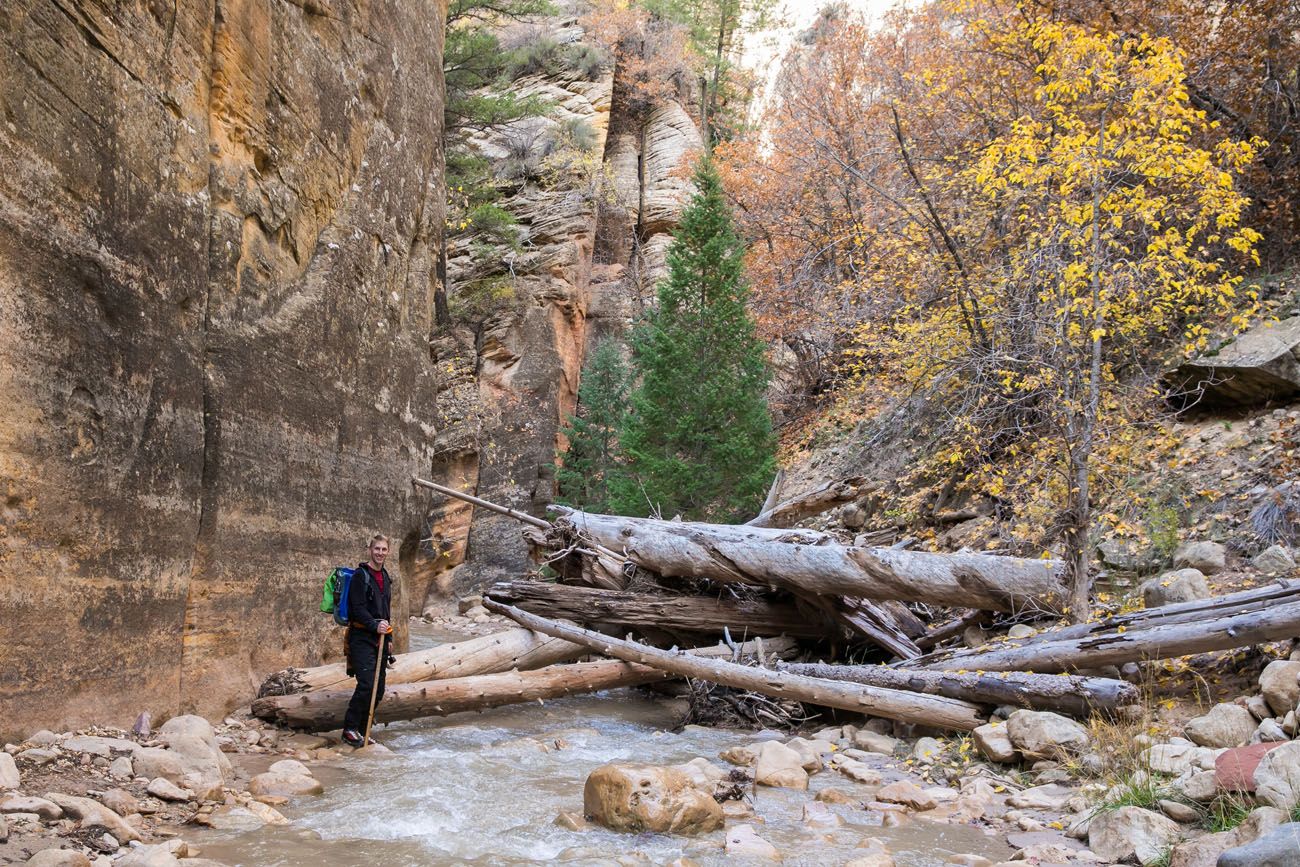 Just before mile 6, there is a short section of tall canyon walls. This is a nice little taste of what is to come later in the hike.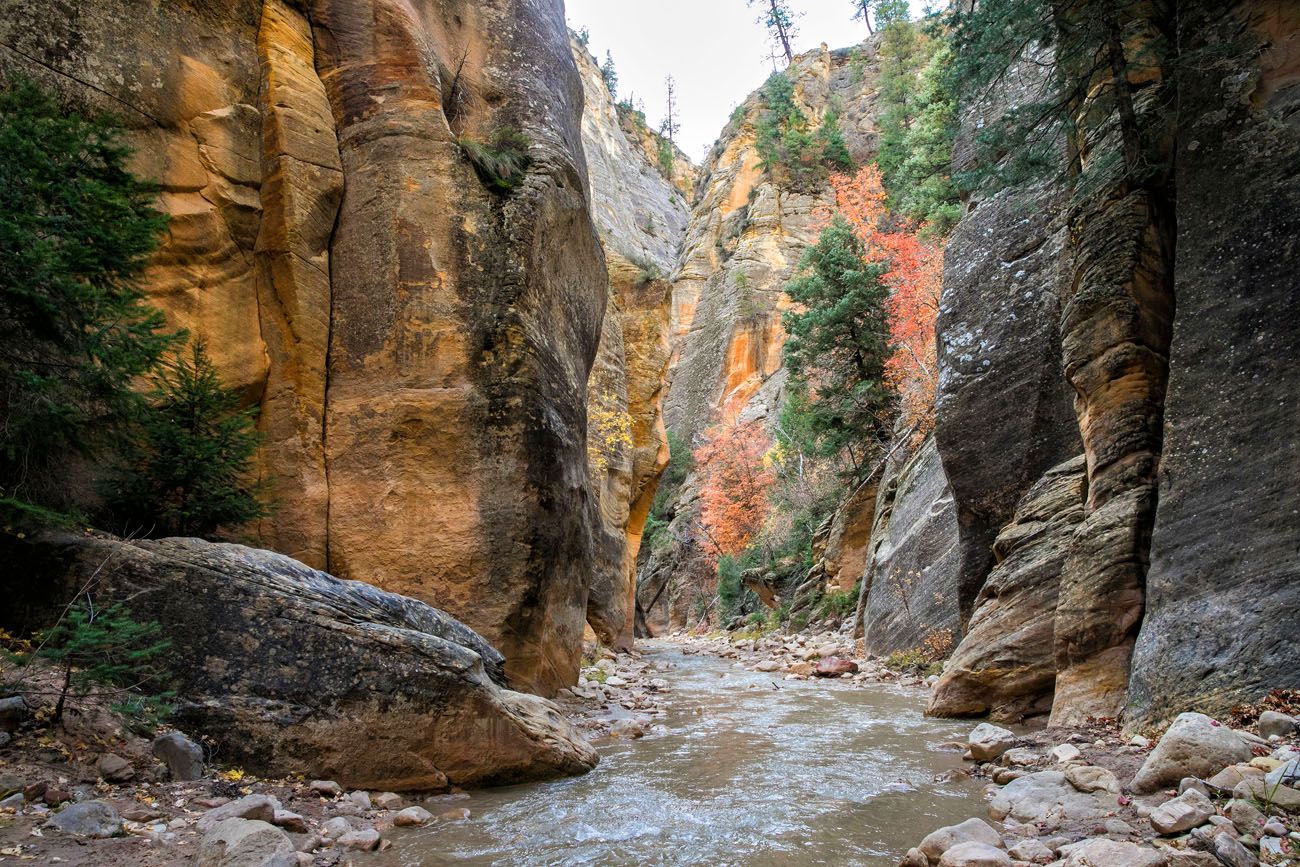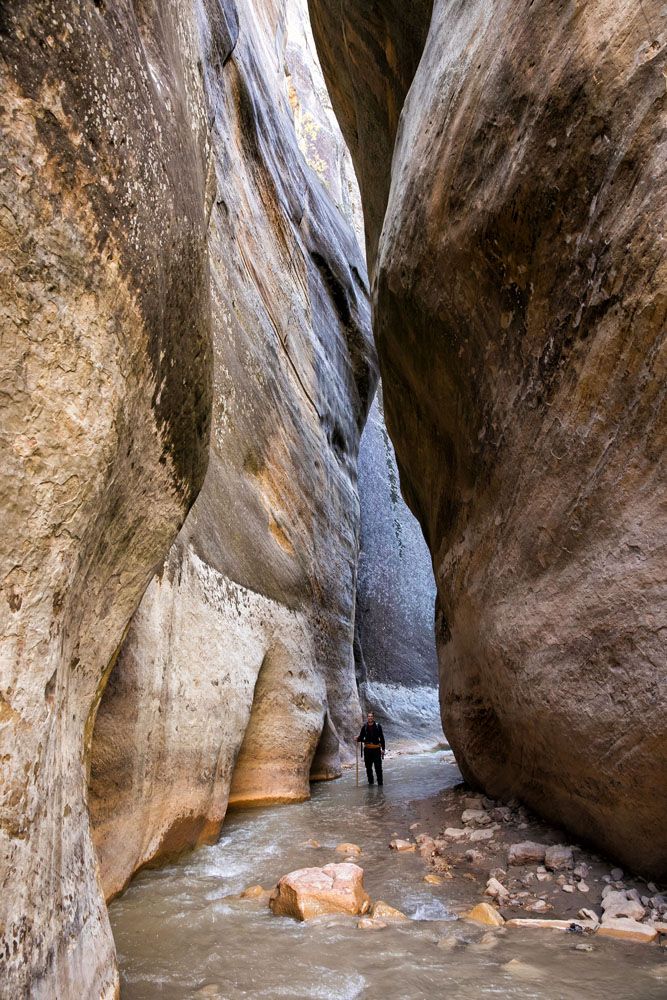 At mile 8.5, there is a small waterfall that you can bypass by hiking a trail around the south side of an enormous boulder.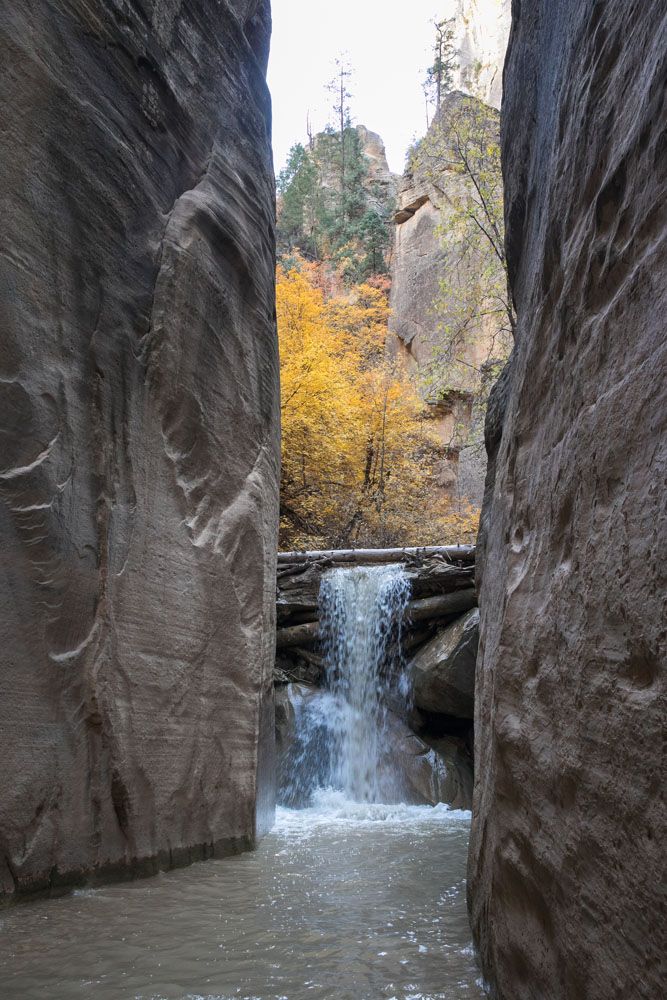 Just past these falls is a spectacular section of narrows. This was our favorite part of the hike. These walls are so tall and the canyon is so narrow, we were in awe of what we were seeing. By this point, Tim and I had been hiking on our own for several hours, and to experience this alone, without any other hikers, was magical.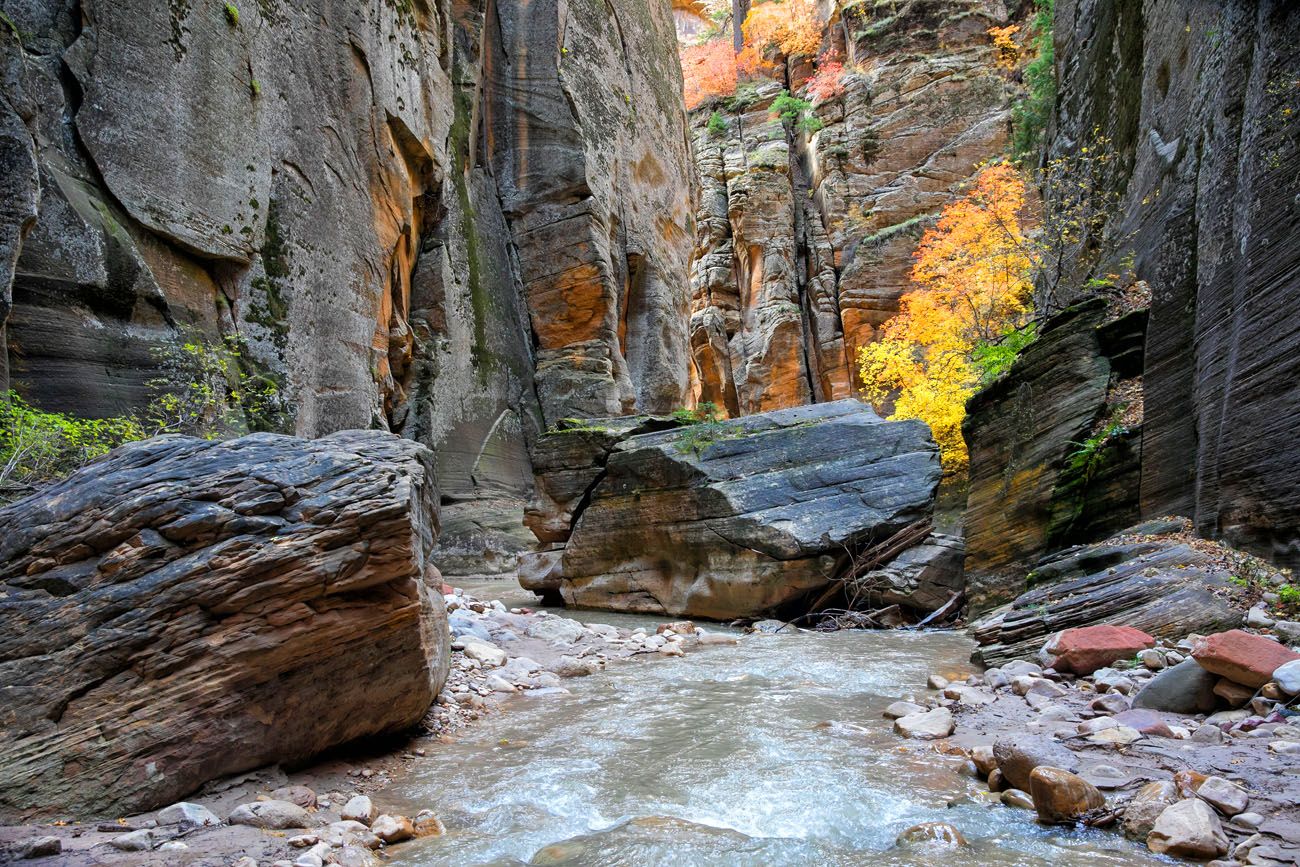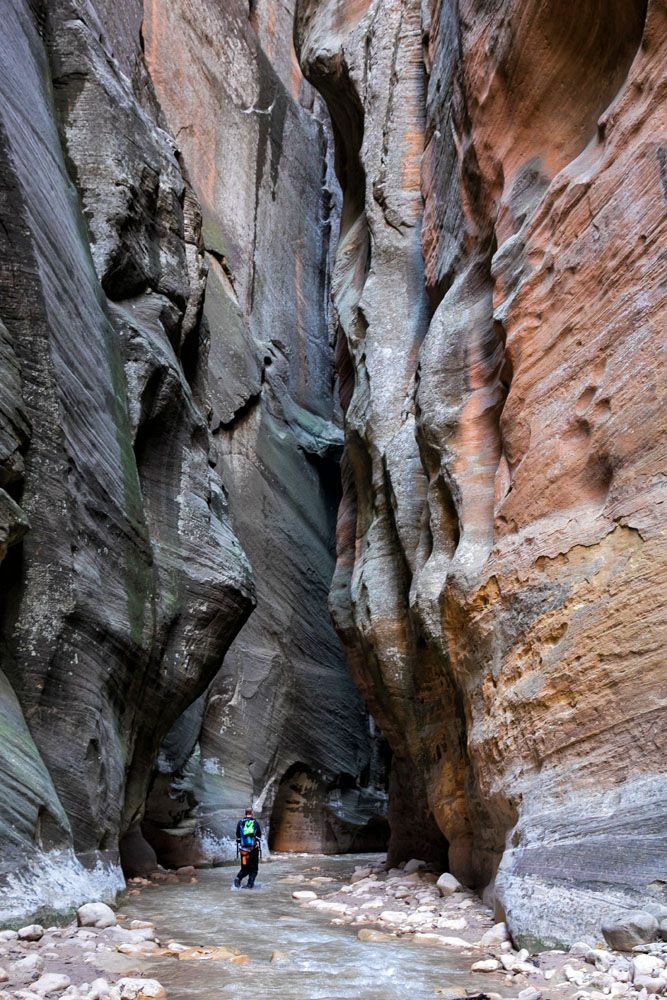 Zion Narrows Campsites
At mile 9, Deep Creek joins the north fork of the Virgin River. The Virgin River now heads south towards the heart of Zion National Park. For two miles, you hike past the campsites used by backpackers and the joining of Kolob Creek and Goose Creek.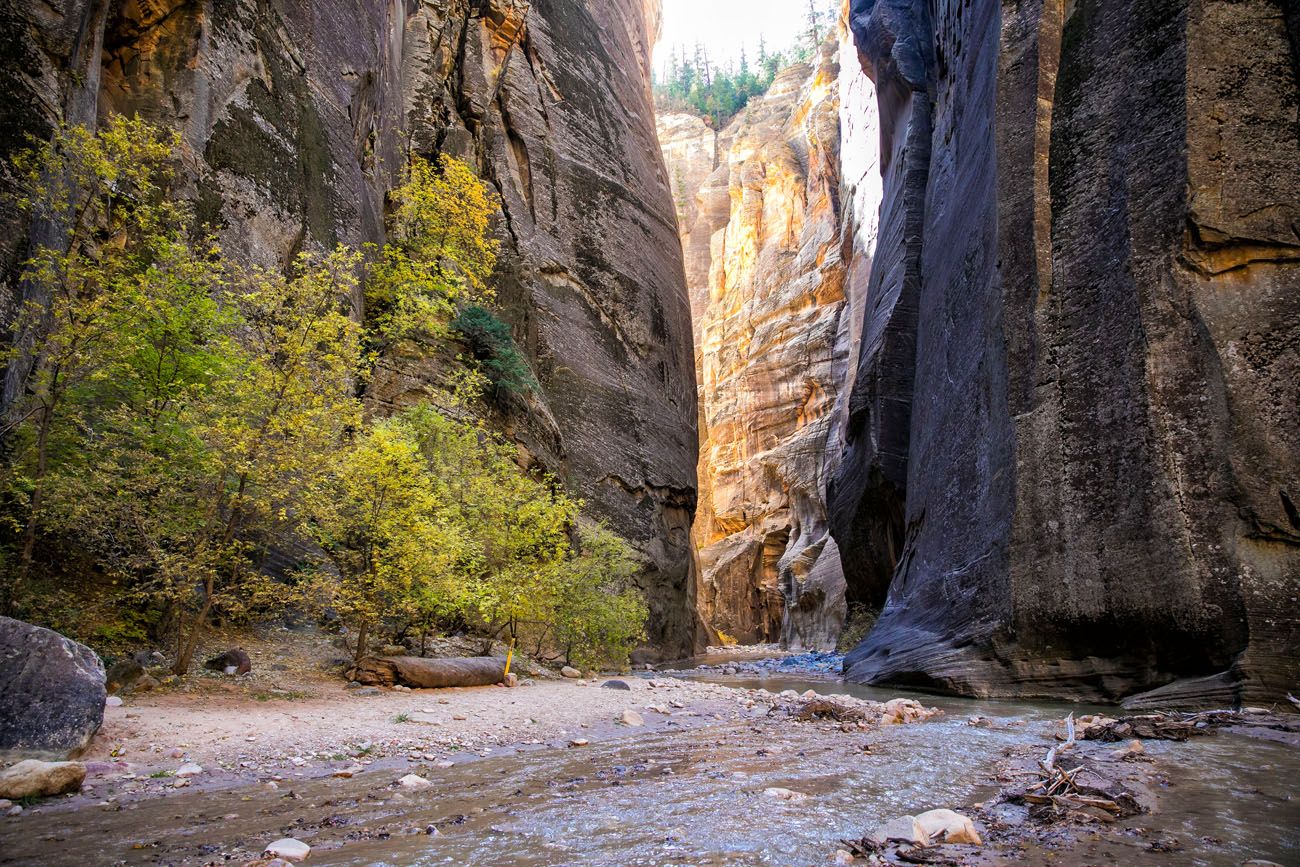 The confluence where Deep Creek joins the North Fork of the Virgin River. On the left hand side of this photo is campsite #1. If you look closely, you can see a small, yellow sign marking the campsite.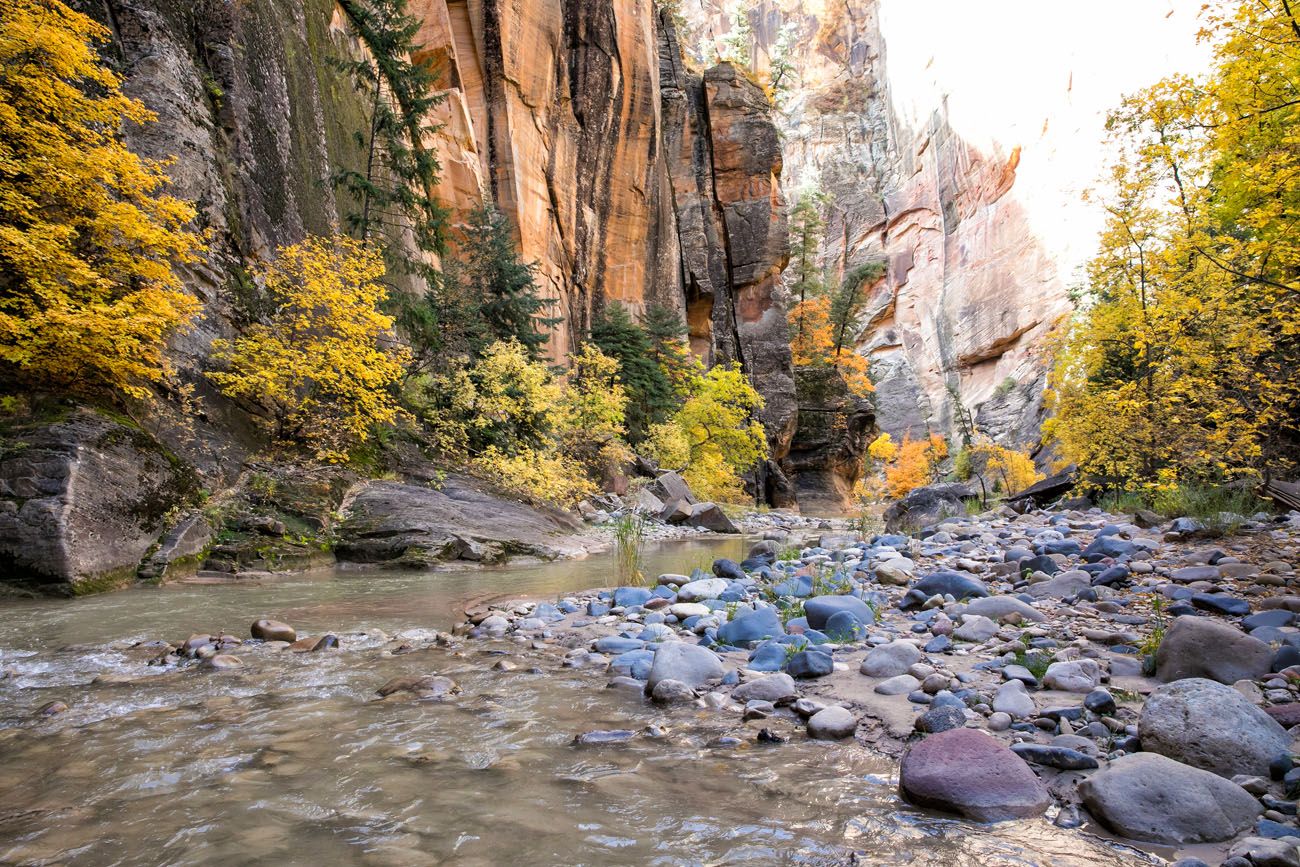 Wall Street
At mile 11, you will see Big Springs. This is really just a cluster of small waterfalls, but it's an important landmark. When hiking from the top-down, this marks the point where "Wall Street" begins, one of the most spectacular sections of the hike. For those hiking from the bottom-up, this is the farthest north you can hike. Beyond this point you must have a permit.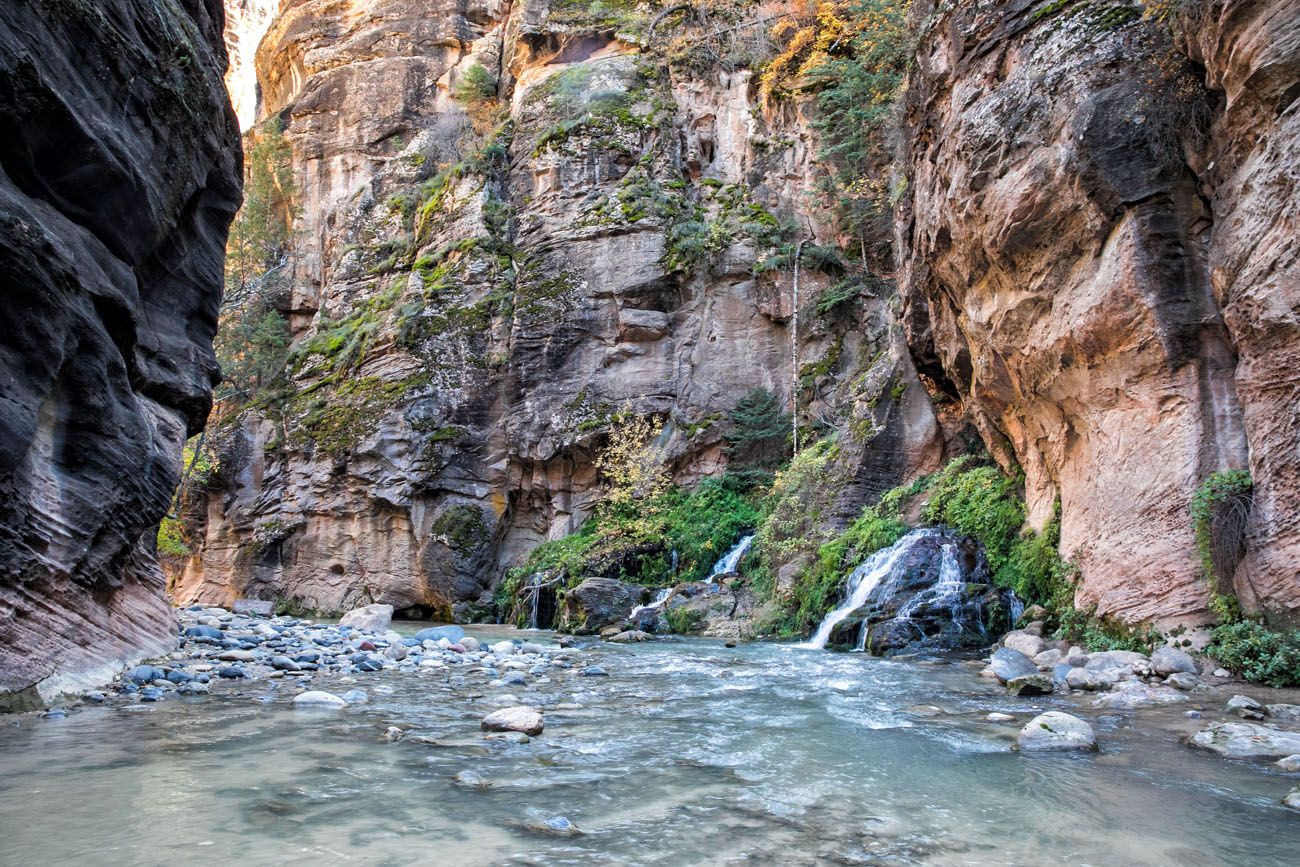 For two miles, the canyon walls tower overhead. Even though it was a brilliantly sunny day, it was quite dark here, since the canyon walls are so tall and so narrow in spots.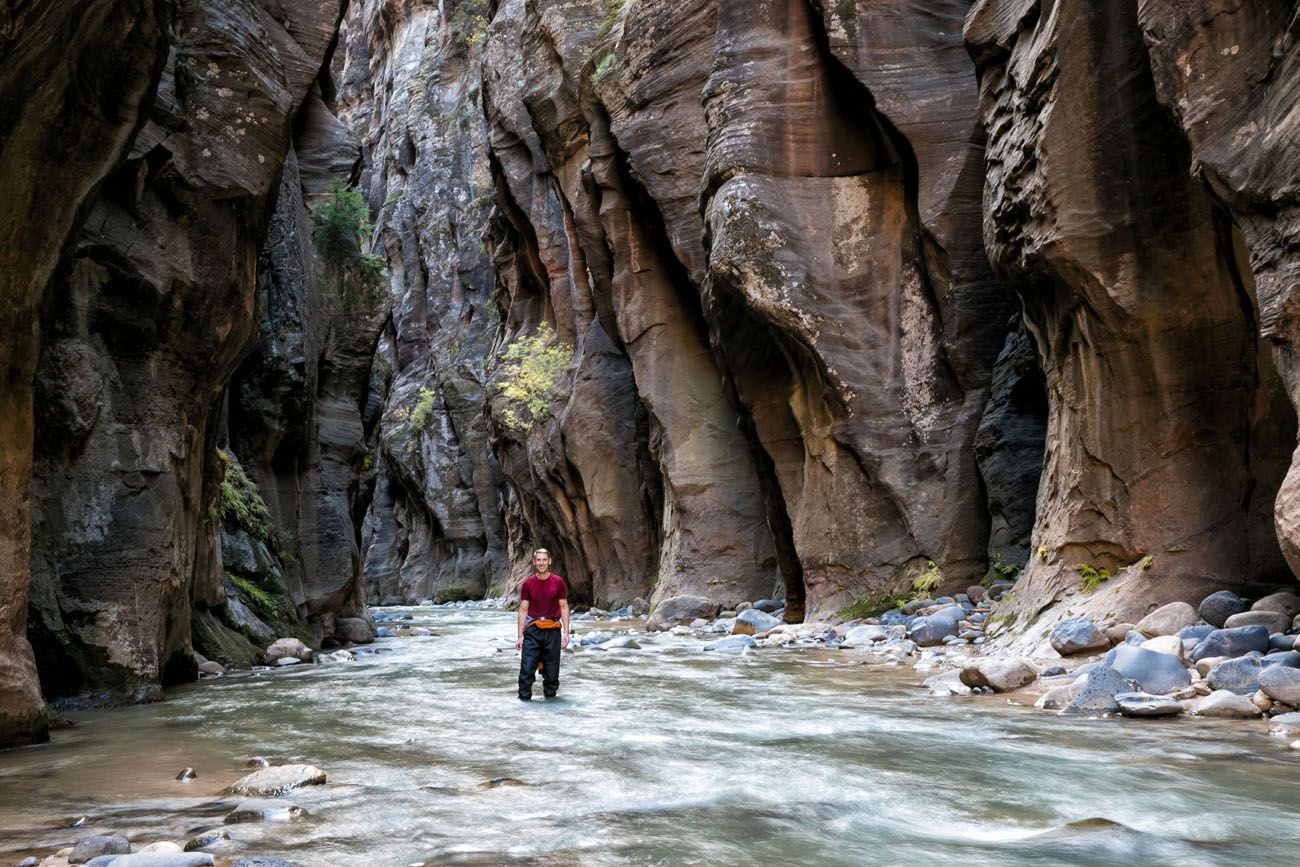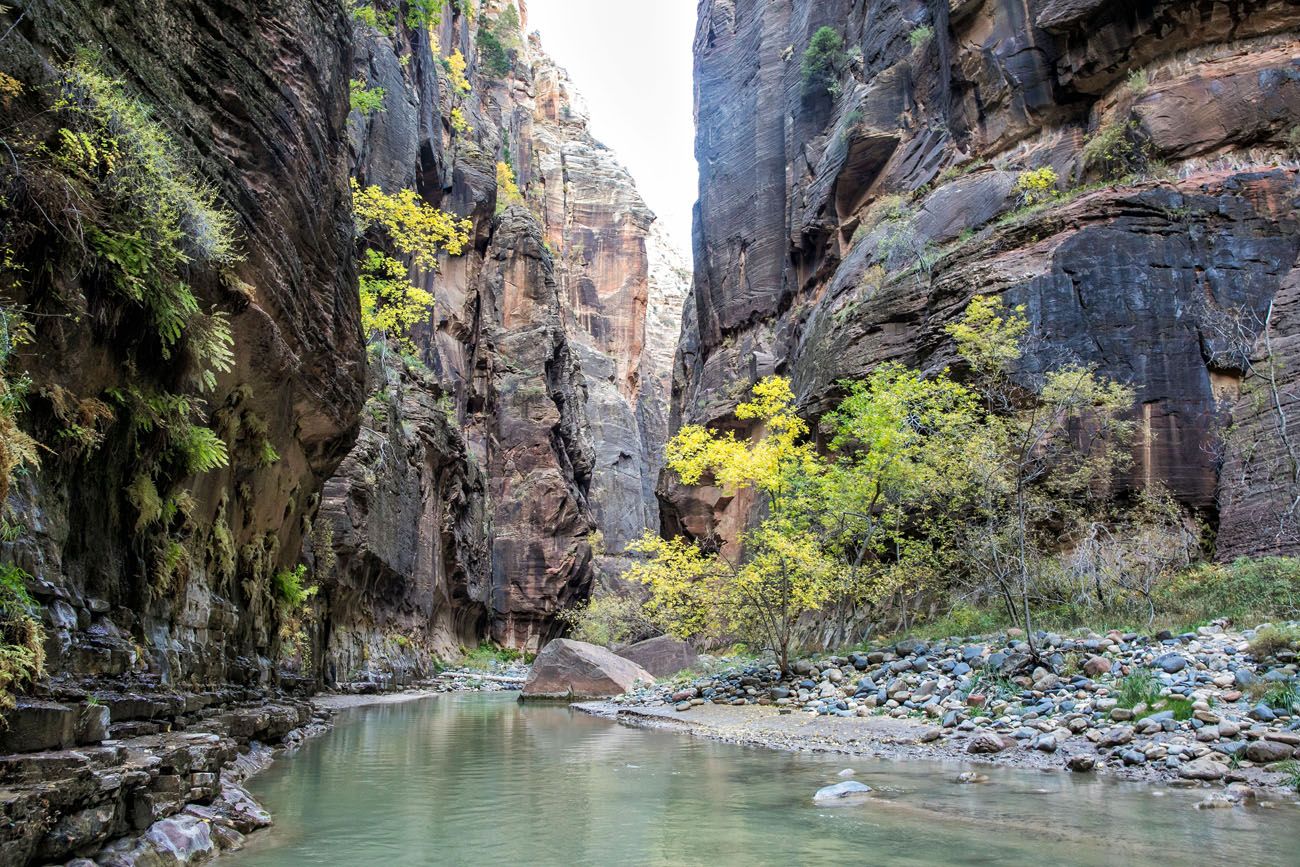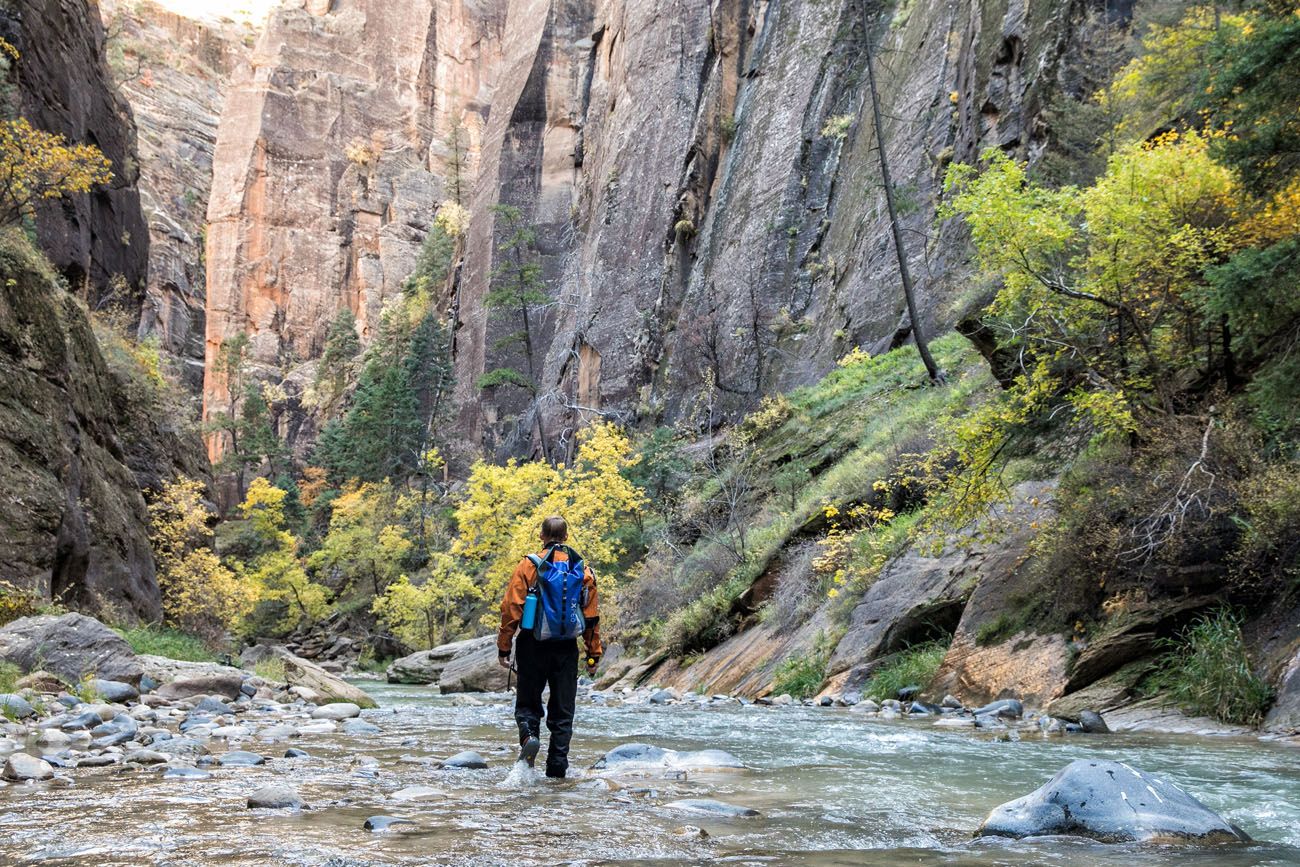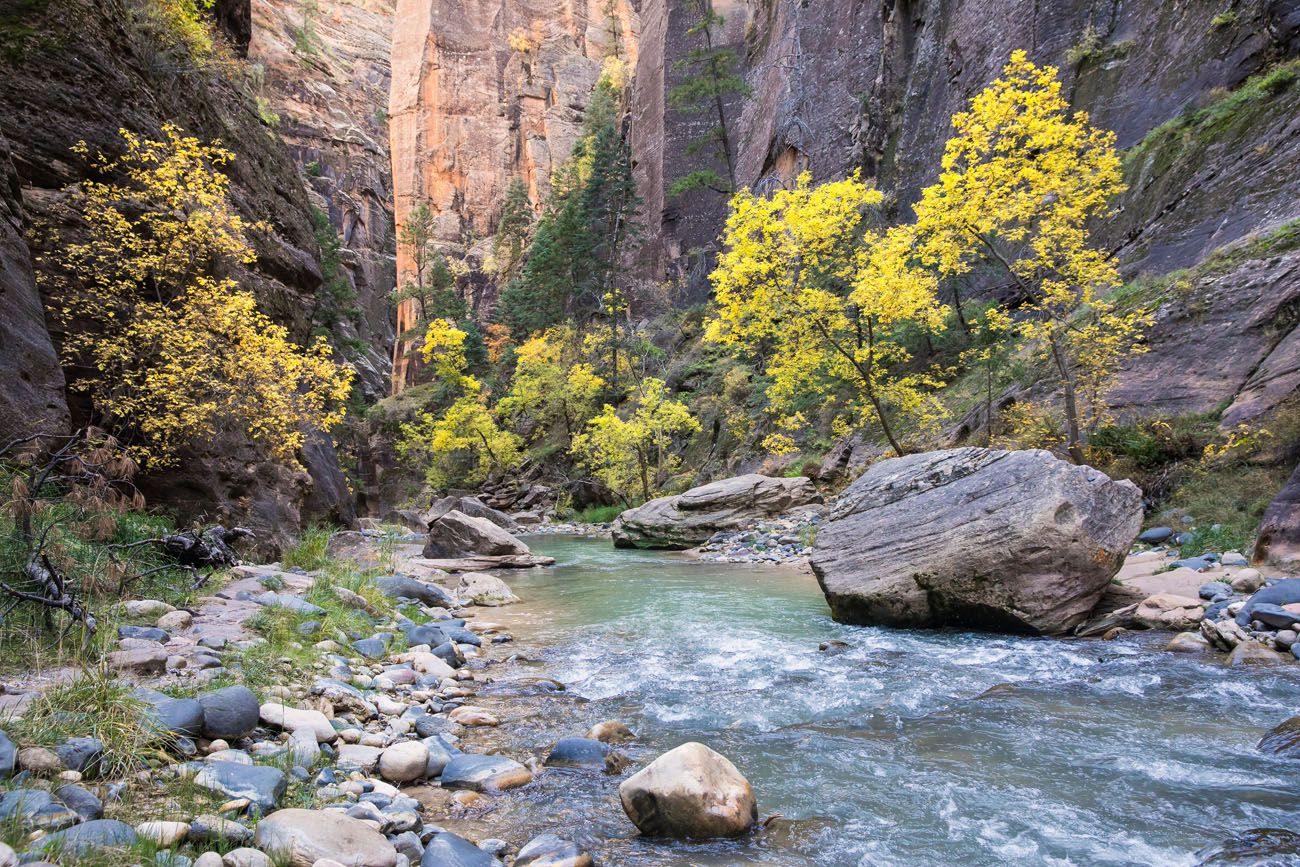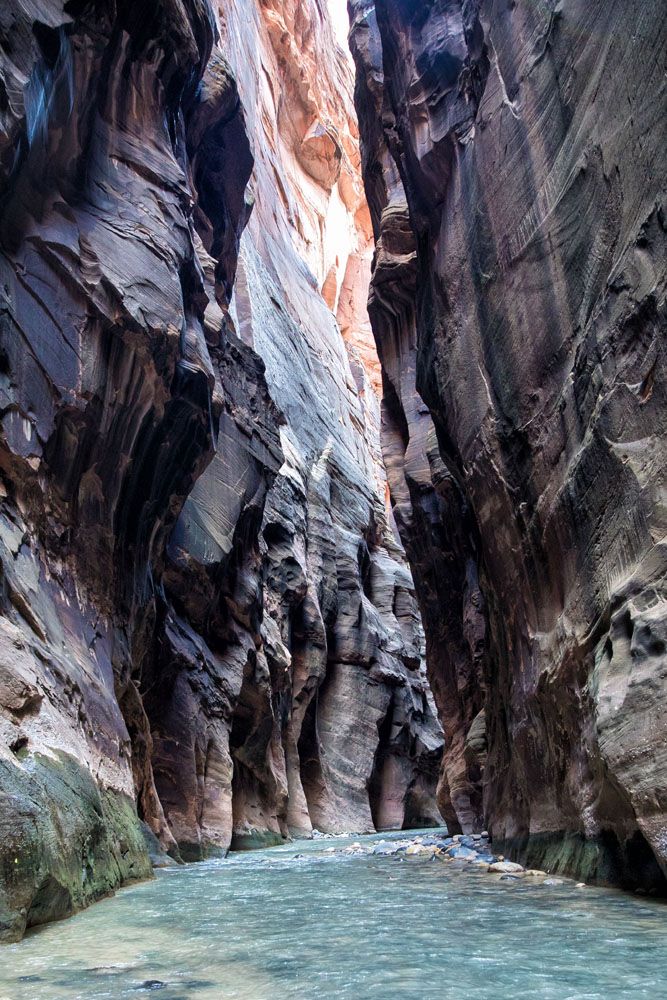 The water flow felt stronger here and it can be chest deep (or deeper!) in some spots. Tim and I wore full body dry suits, which was a good thing, because in three places we actually swam part of the river. Yes, we were in over our heads (even Tim at 6′ 3″). I wish I had photos of this, but cameras and water do not mix well and I was not willing to take the risk.
It was in Wall Street where we saw people for the first time since Chamberlain's Ranch.

The Final Stretch of the Narrows
Wall Street ends at mile 13.5. This is where Orderville Canyon joins the Virgin River. You can explore this canyon for about a mile if you have the time and energy. We skipped it, since we had limited daylight with it being late in the season.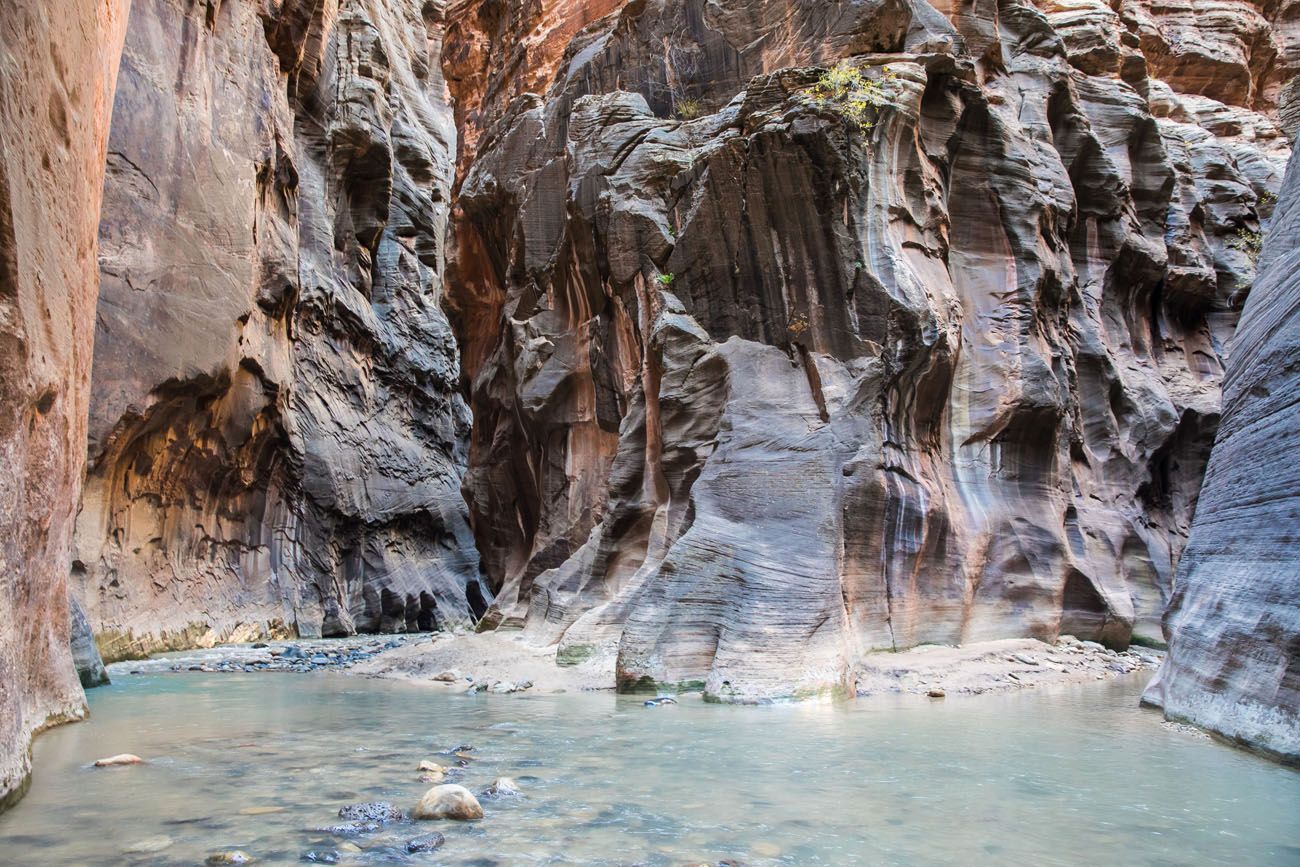 From Orderville Canyon, it is a gorgeous, relatively easy hike past boulders, forests, and more narrow canyons, until you get to the Riverside Walk at mile 15.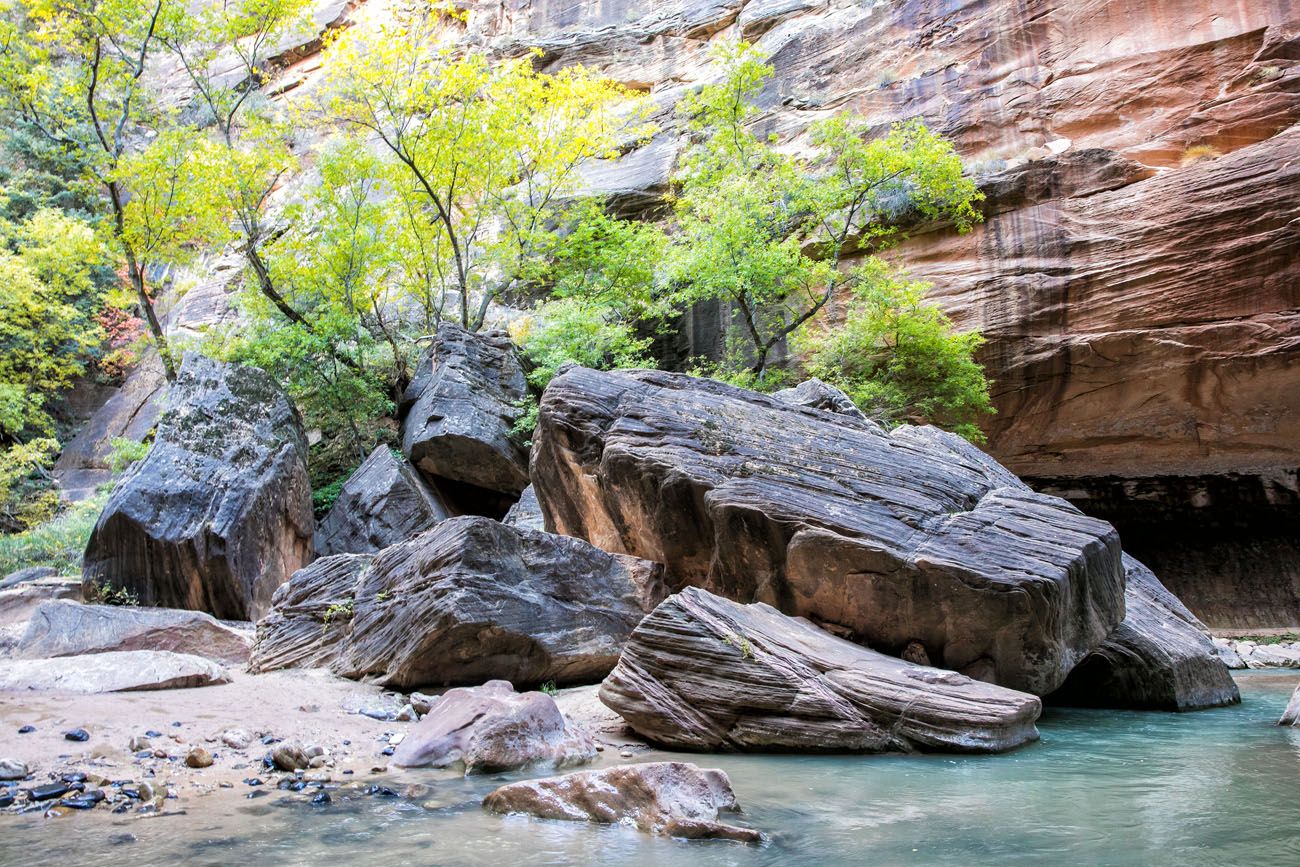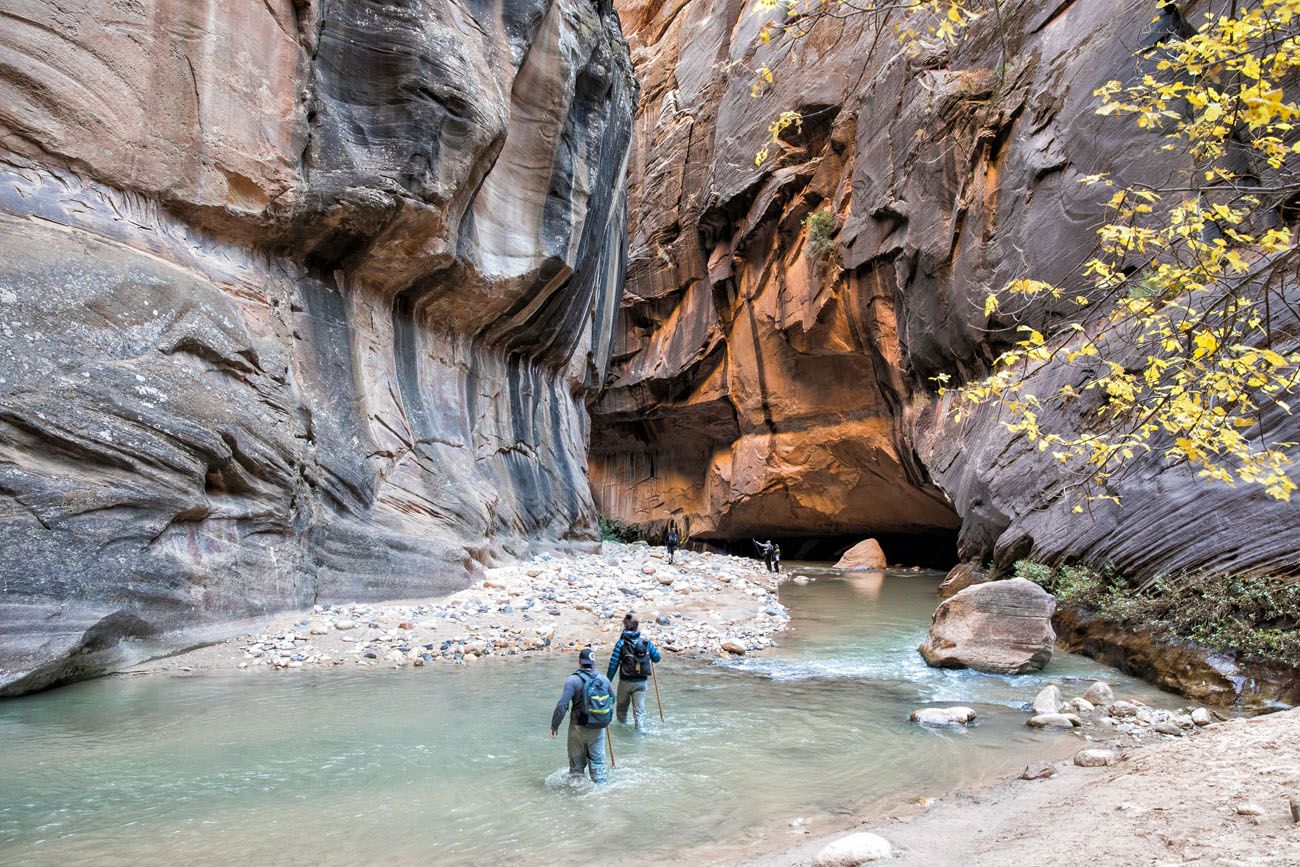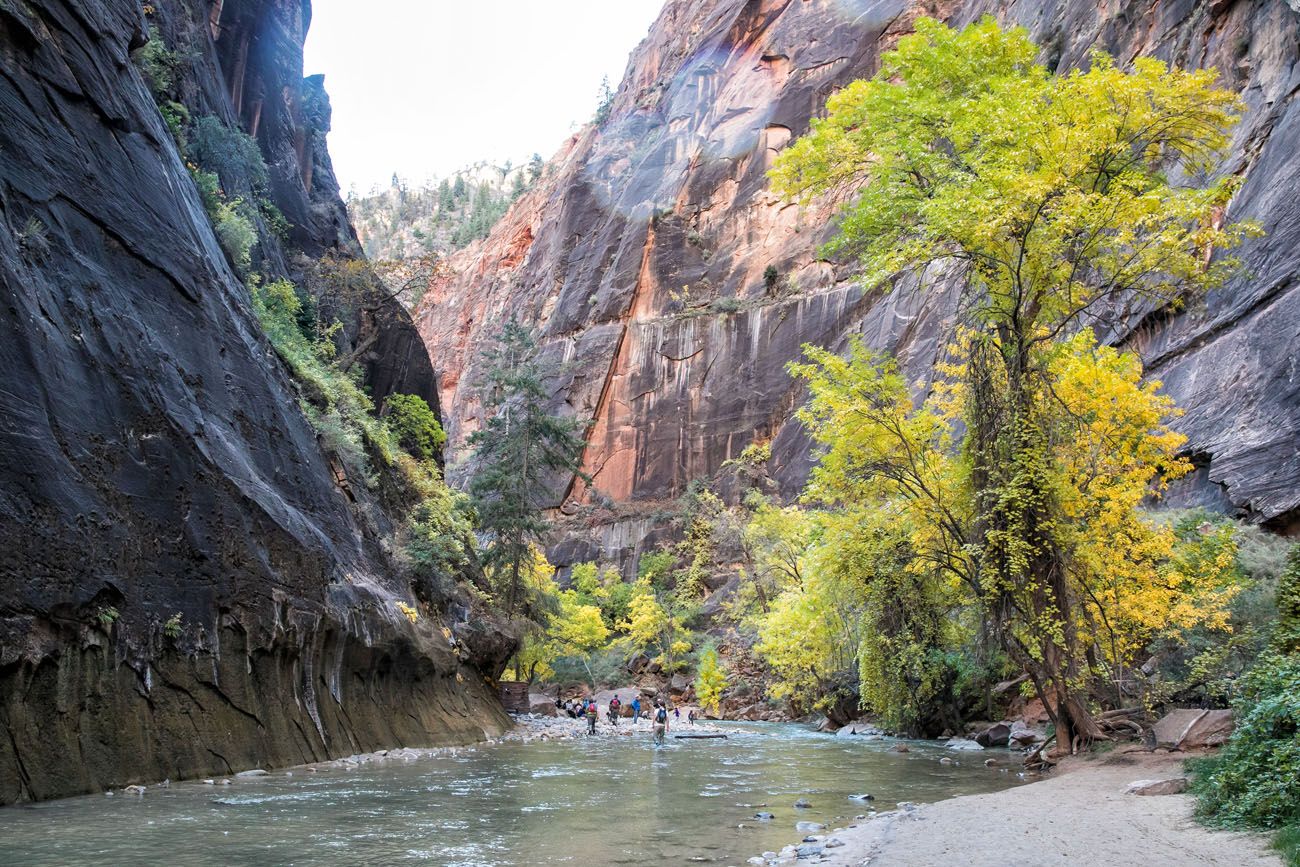 Approaching the end of the Narrows. The small crowd of people is on the riverbank near the end of the Riverside Walk trail.
At this point, you are back on dry ground and it's an easy one mile walk on a paved trail to reach the Temple of Sinawava.
Hiking the Narrows was one of our favorite hiking experiences, ever! For almost 10 miles, Tim and I were completely on our own without another person in sight. Hiking through the canyons, navigating obstacles along the way, and at times swimming through the river when it was up over our heads, felt like a real adventure.
Start Planning Your Adventure
Ready to start planning your adventure? Here are two more articles about the Zion Narrows.
Zion Narrows: Hiking the Top-Down Route in One Day
Zion Narrows Top-Down vs. Bottom-Up. Which One Should You Choose?
---
Does this look like something you would like to do? Comment below if you have any questions.
More Information about Zion & Utah
ZION NATIONAL PARK: Check out our Zion National Park Travel Guide for important travel planning tips, sample itineraries, advice on when to go, where to stay, and more.
HIKES IN ZION: Observation Point, Angels Landing, Canyon Overlook, and the West Rim Trail are some of the top hiking trails in Zion. For the full list, read our Best Hikes in Zion guide.
ZION TRAVEL INFORMATION: Before you go, here are 5 important things to know about Zion National Park.
AMERICAN SOUTHWEST ITINERARY: If you have 10 days, learn how to road trip through the American Southwest, visiting several national parks, state parks, and scenic spots in Arizona, Utah, and Nevada.
BRYCE CANYON: Learn how to plan your visit in our Bryce Canyon Travel Guide. We also have information on how to spend One Day in Bryce Canyon and how to hike the Queen's Garden and Navajo Loop Trails.
GRAND STAIRCASE-ESCALANTE: In Grand Staircase-Escalante, drive Cottonwood Canyon Road, hike Willis Creek, and hike through Peek-A-Boo and Spooky Gulches.
MORE GREAT HIKES IN THE NATIONAL PARKS: From hikes to the tallest peaks to beautiful coast trails, read our Guide to the Best Day Hikes in the US National Parks. If you prefer to keep your hikes short and sweet, read our guide to the Best Short Hikes in the National Parks.
More Epic Adventures from Around the World: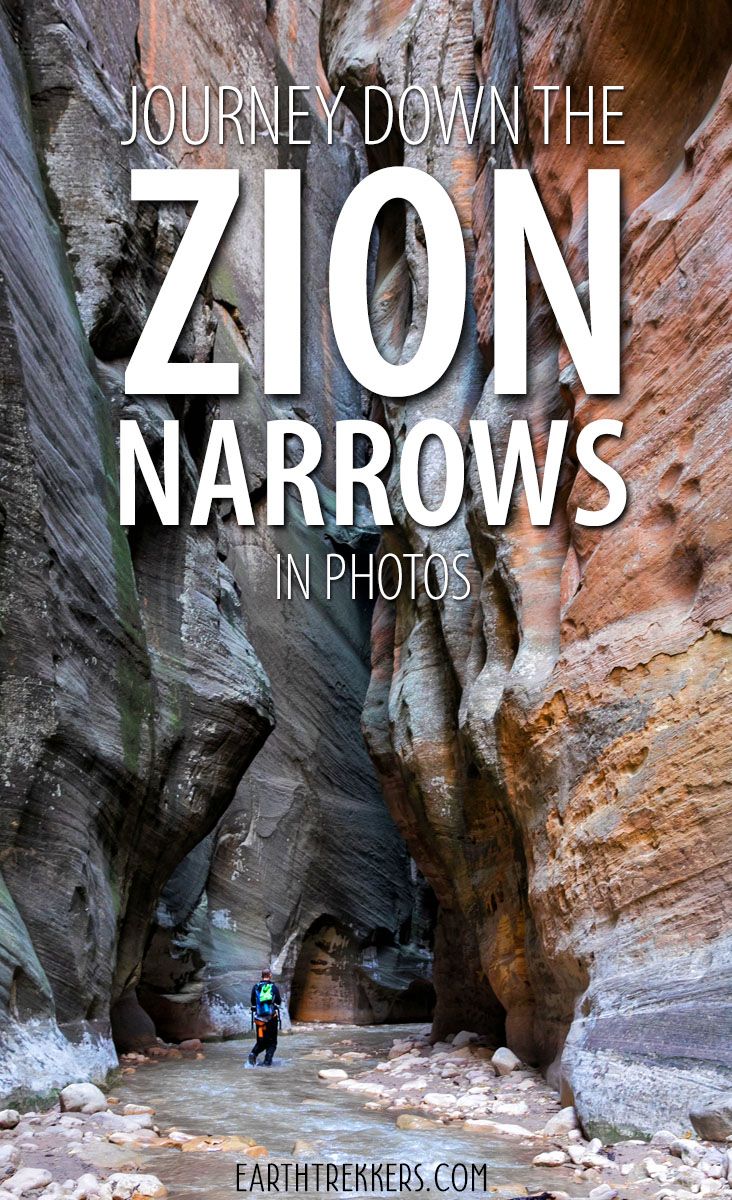 Note: This post contains affiliate links. When you make a purchase using one of these affiliate links, we get paid a small commission at no extra cost to you.
All rights reserved © Earth Trekkers. Republishing this article and/or any of its contents (text, photography, etc.), in whole or in part, is strictly prohibited.