Zebra Slot Canyon is a very short slot canyon, named for its striped canyon walls. It's a gorgeous spot, maybe not quite as pretty as Antelope Canyon in Arizona, but since you can explore this on your own without a guide or tour group, it's more fun.
Hiking Zebra Slot Canyon can be a little tricky. Finding the entrance to the slot canyon can be difficult unless you have good directions (keep reading!) and navigating the slot canyon can be challenging. I failed, which I am a little embarrassed to admit, but find out what I did wrong so you can have a better experience.
Zebra Slot Hiking Stats
Location: Grand Staircase-Escalante National Monument
Distance: 5.2 miles (out and back)
Elevation gain: 300 feet (it's a slightly uphill walk on the return hike)
Length of time: 3 to 4 hours
Difficulty: The trail to the slot canyon is easy; the slot canyon is challenging
When to go: Anytime of year, although expect very high temperatures in the summer
Special Note: There is usually standing water in the slot canyon. This can be ankle to chest deep, depending on recent rainfall. Expect to get wet!

Elevation profile
Please practice the seven principles of Leave No Trace: plan ahead, stay on the trail, pack out what you bring to the hiking trail, properly dispose of waste, leave areas as you found them, minimize campfire impacts, be considerate of other hikers, and do not approach or feed wildlife.
Getting to the Trailhead
The trailhead is located on Hole-in-the-Rock Road in Grand Staircase-Escalante National Monument.
In the town of Escalante, you can visit the BLM Visitor Center to get information on the hike and water levels inside of the canyon. They will give you brief instructions on how to hike to Zebra Slot Canyon, although we have more detailed instructions (with photos) below.
From Escalante, turn onto Hole-in-the-Rock Road and reset your odometer. Drive 7.8 miles down Hole-in-the-Rock Road to the third cattleguard. The car park will be on the right hand side of the road just past the third cattleguard.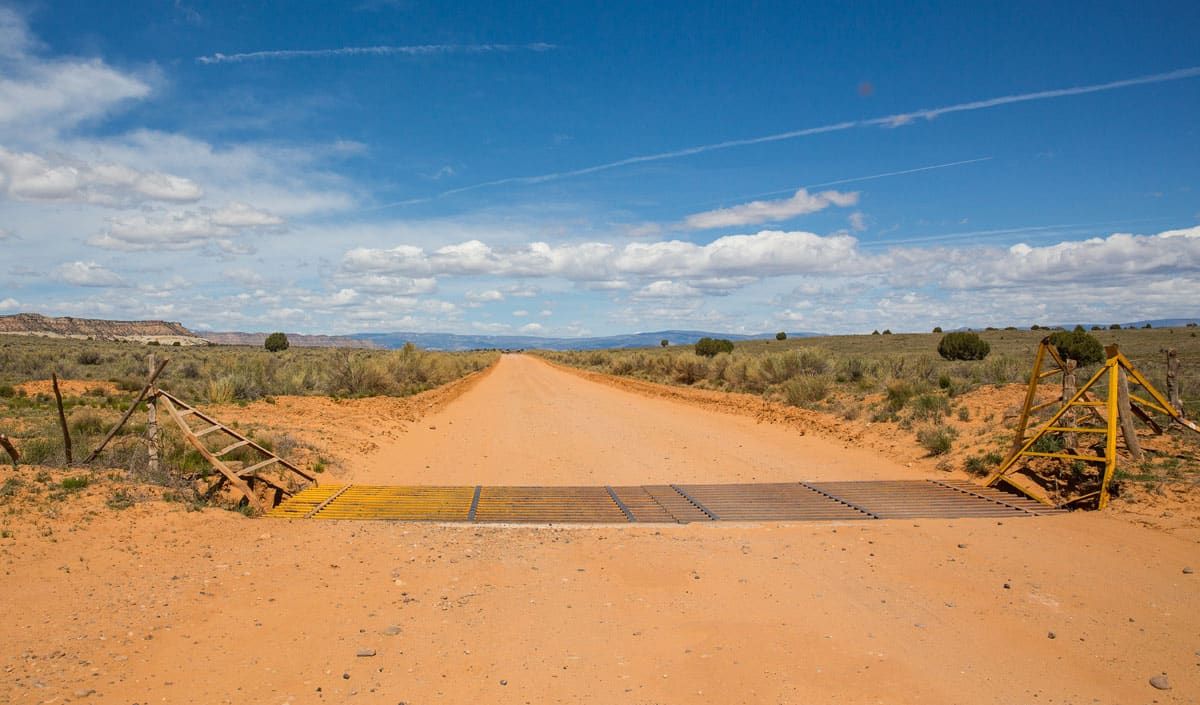 Hole-in-the-Rock Road is a well-packed dirt and gravel road. You can drive this is a car, although an SUV is preferable and a 4×4 is ideal. We drove a Toyota Forerunner with 4×4. If it has been raining, Hole-in-the-Rock Road can be impassable, even with a 4×4.
The trailhead is directly across the road from the car park.
Hiking to Zebra Slot Canyon
Step-By-Step Trail Guide
At first, the trail is very easy to follow. It heads east, slowly descending down as you approach Harris Wash. The trail meanders back and forth across sandy drainage and it was completely dry while we were here (we did this hike in May).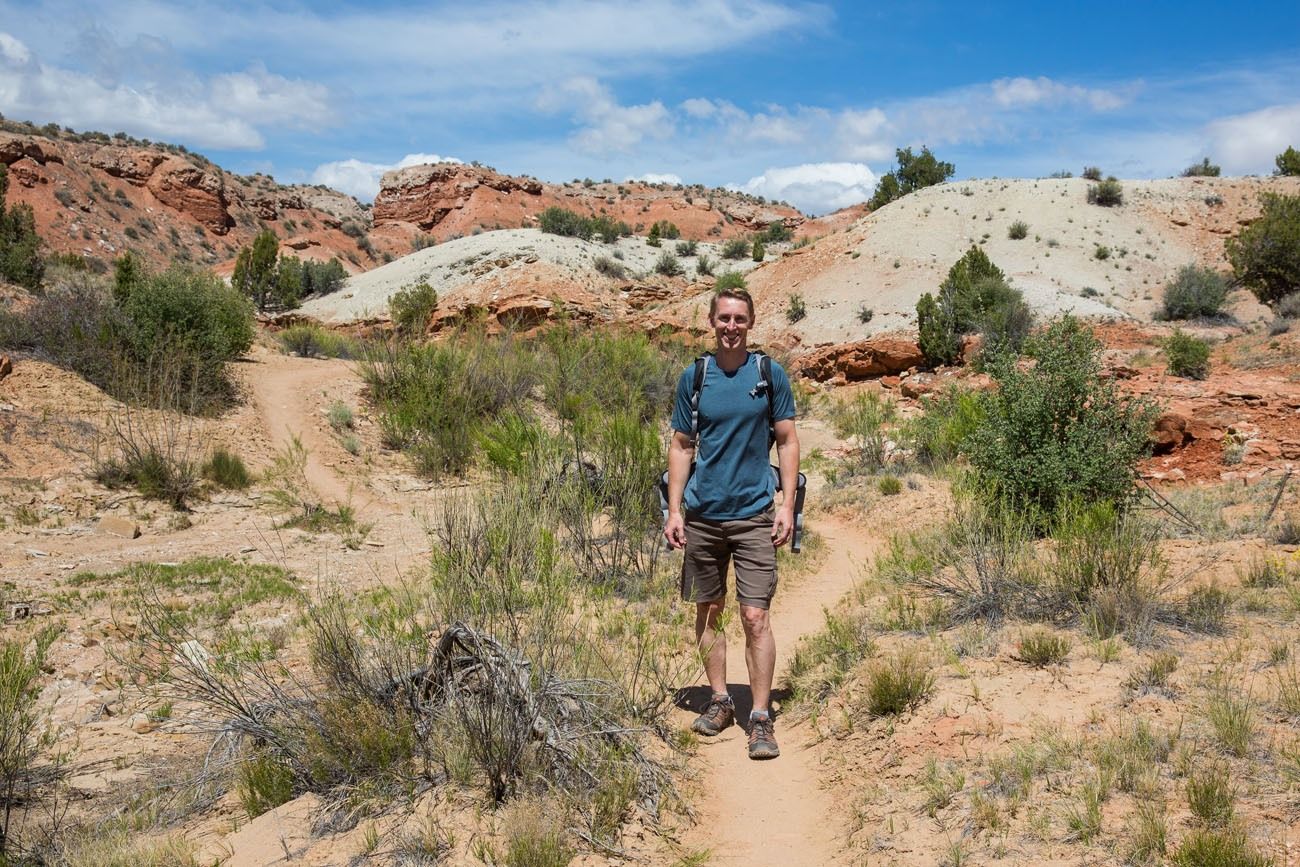 The best part of the trail is when it takes you through a wide canyon, with huge striped, red rock formations that look just a tiny bit like The Wave in Arizona. Walk through the swinging, wooden gate (just push on it and it opens up) and continue down to Harris Wash.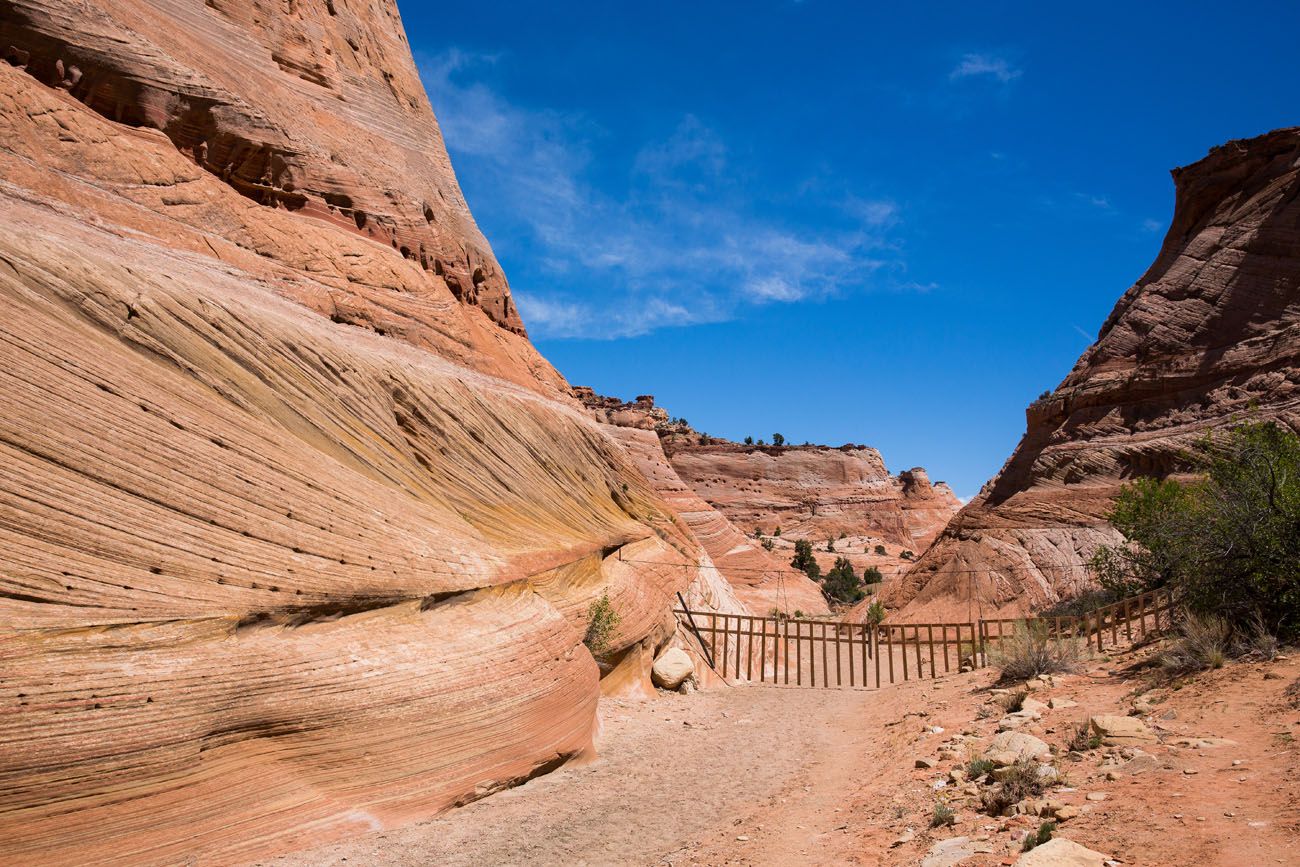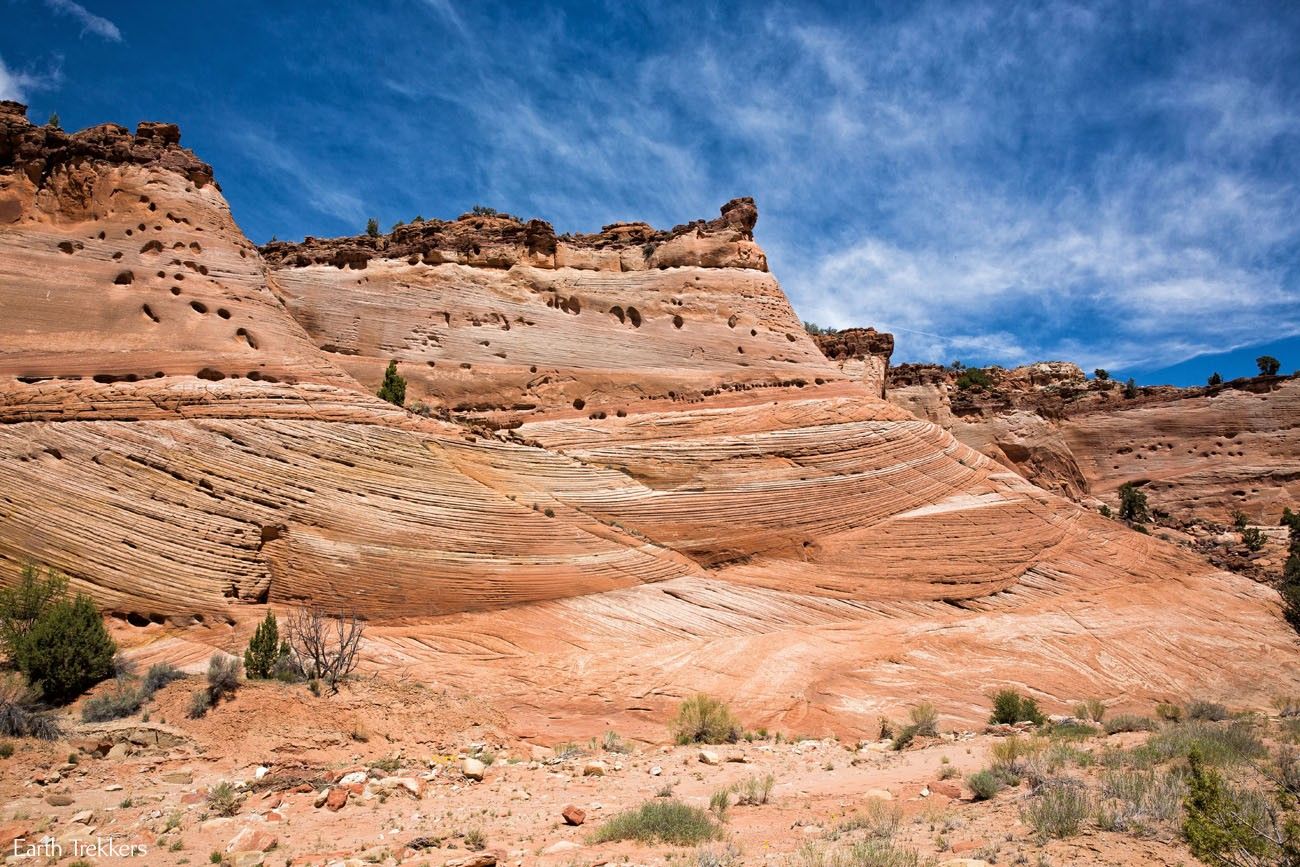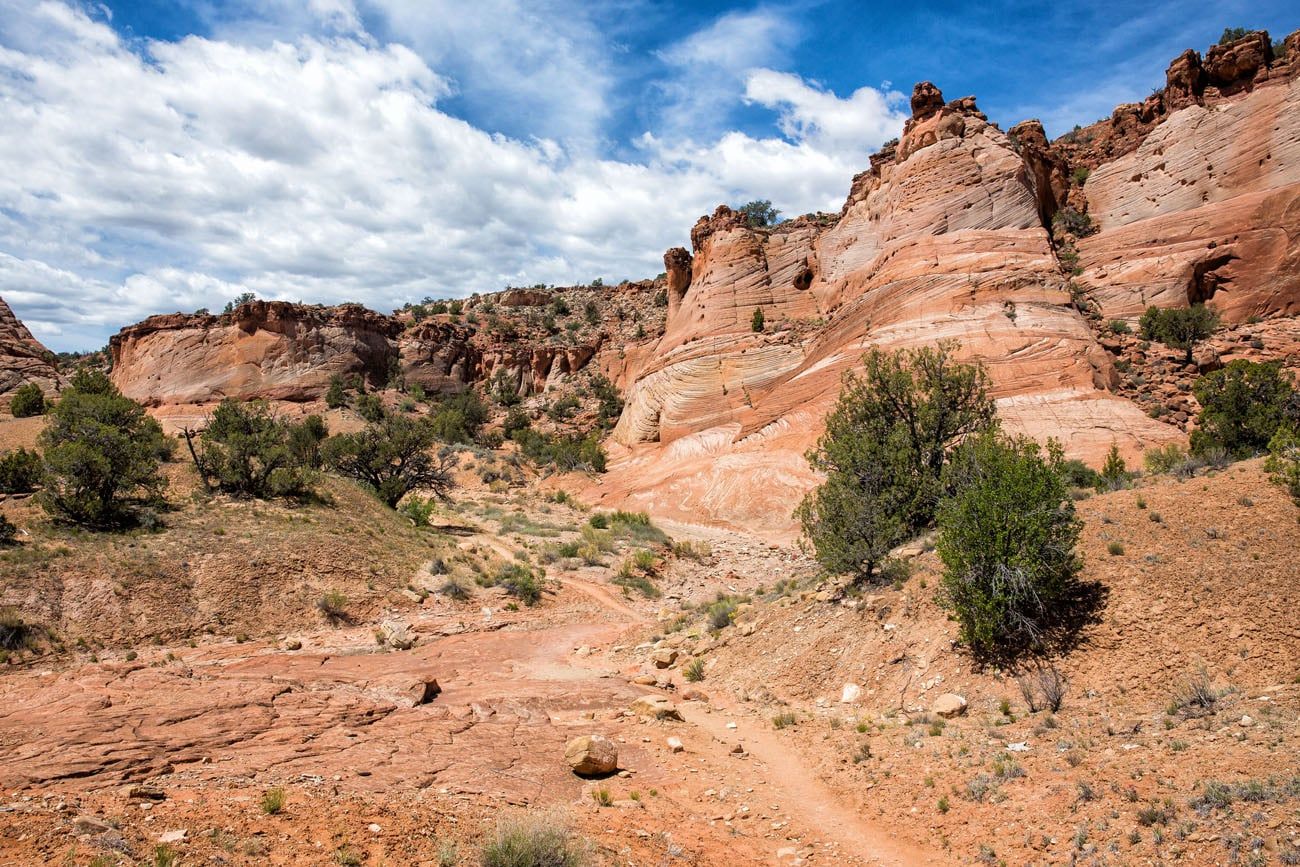 Once you get to Harris Wash, which is a wide, sandy river basin, staying on the trail gets to be more difficult. We did lose the trail here. Why? Other people have mistakenly stumbled off of the real trail, making numerous false trails that wind along the rocky walls. We followed in their footsteps (as did other people we talked to the same day), spending lots of extra time and walking to find the mouth of Zebra Slot Canyon. We want to keep you from doing the same thing.
In the photo below, note where Zebra Canyon and Harris Wash are located.
The hiking trail approaches Harris Wash and then turns left to follow along the west bank of the Wash (we made the mistake of immediately crossing the Wash and then following the false trails on the other side of the Wash. Don't do this!). Follow the trail along the left side of the Wash for as long as possible.
There will come a point where you will have to walk in Harris Wash, but you do not need to cross to other side. Walk in the Wash (for roughly 150 meters) until you see the trail on the west bank again. Follow the trail to the mouth of Zebra Slot Canyon. The trail can be seen on the satellite view on Google Maps.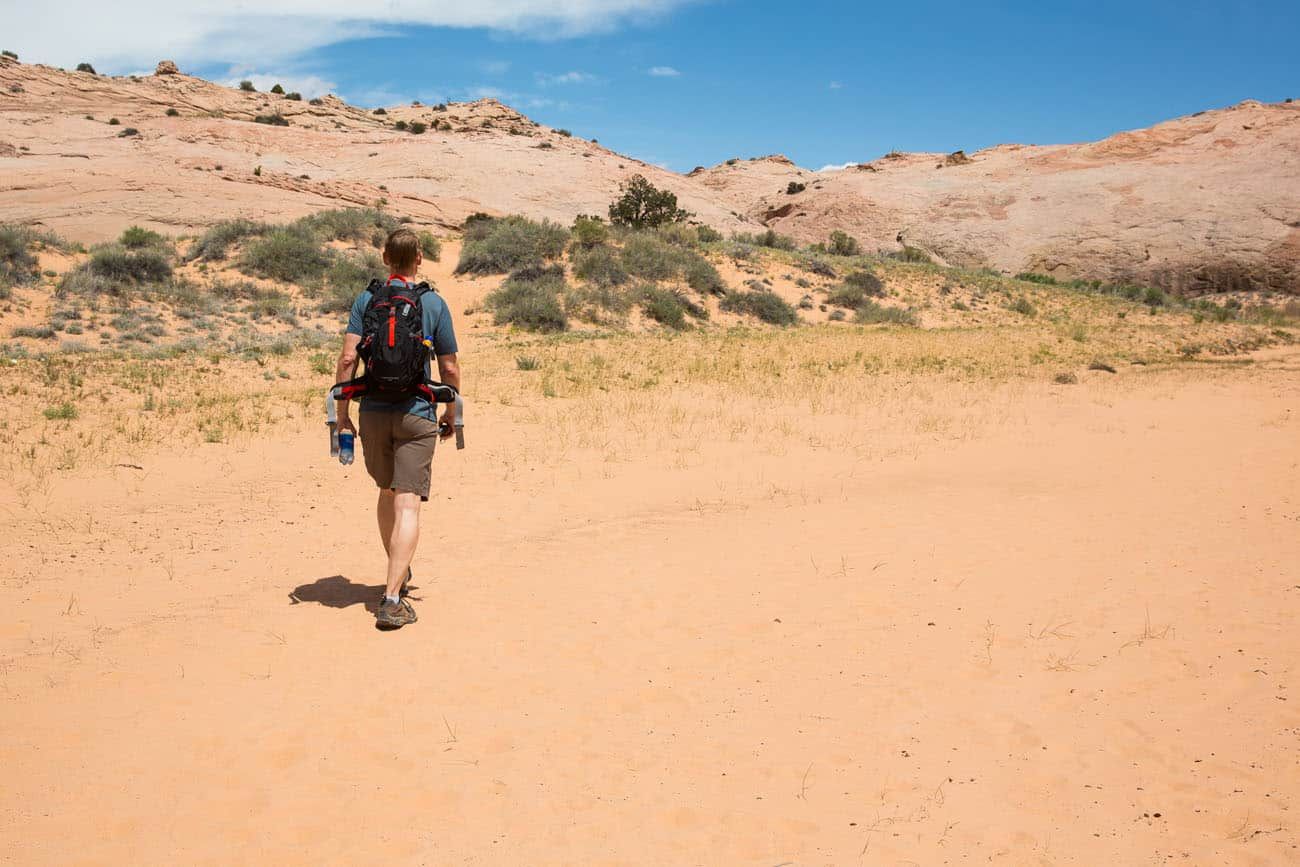 This is what the mouth of Zebra Slot Canyon looks like.
Inside Zebra Slot Canyon
Now that you are here, only about 100 meters of hiking remains, as you slide through the slot canyon.
Almost immediately, we encountered our first pool of standing water. Since this was our first day of five days of hiking, we wanted to keep our feet dry.
Tim and I walked back to the entrance of the slot canyon and removed our shoes. There were other people who had just hiked zebra slot canyon. They were sitting here, putting their shoes back on, so going shoeless seemed like a good idea. However, this was our big mistake. Things would have been much easier (and safer) for us if we carried our shoes with us. Another option is to consider bringing and wearing water shoes for this part of the hike.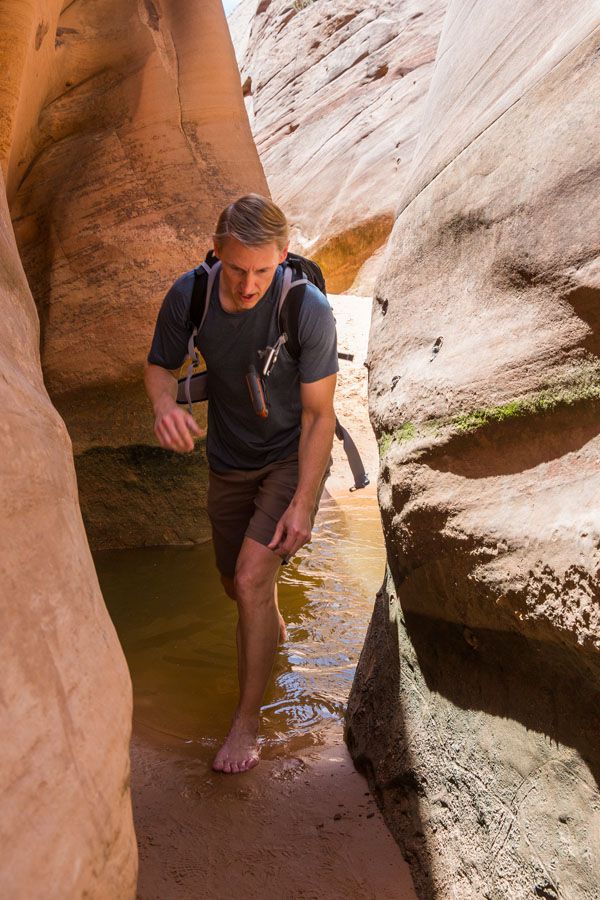 It may be hot outside, but that water is cold!! And other people have reported waist to chest deep water in some sections, with it being so cold that they had to turn around. In our experience, the water was only shin deep so this was not too bad for us.
The canyon gets very narrow very quickly, only 10 inches wide in some sections. Zebra Slot Canyon is narrower than Spooky Gulch, another slot canyon famous for its extremely narrow, claustrophobic canyon walls. To squeeze through, both of us had to hold our backpacks over our heads.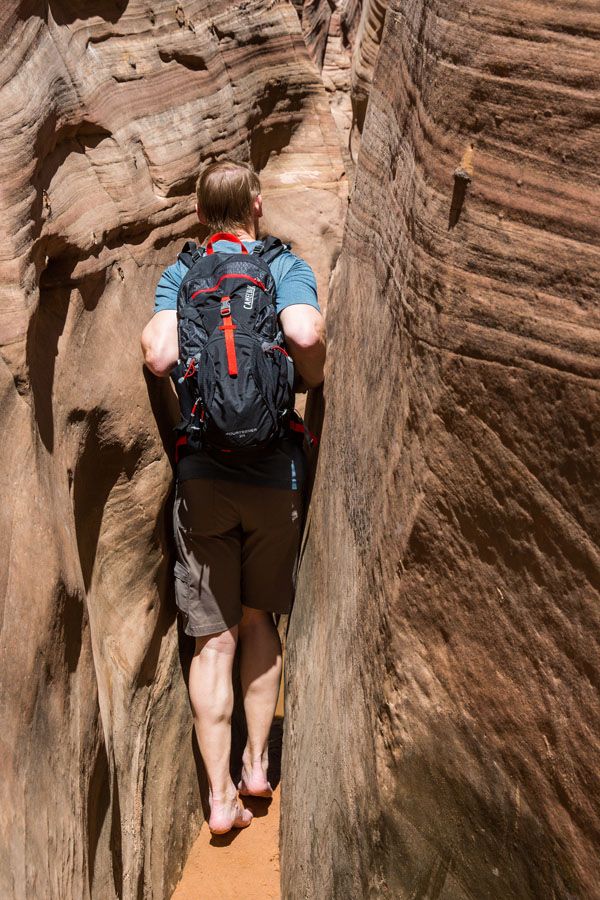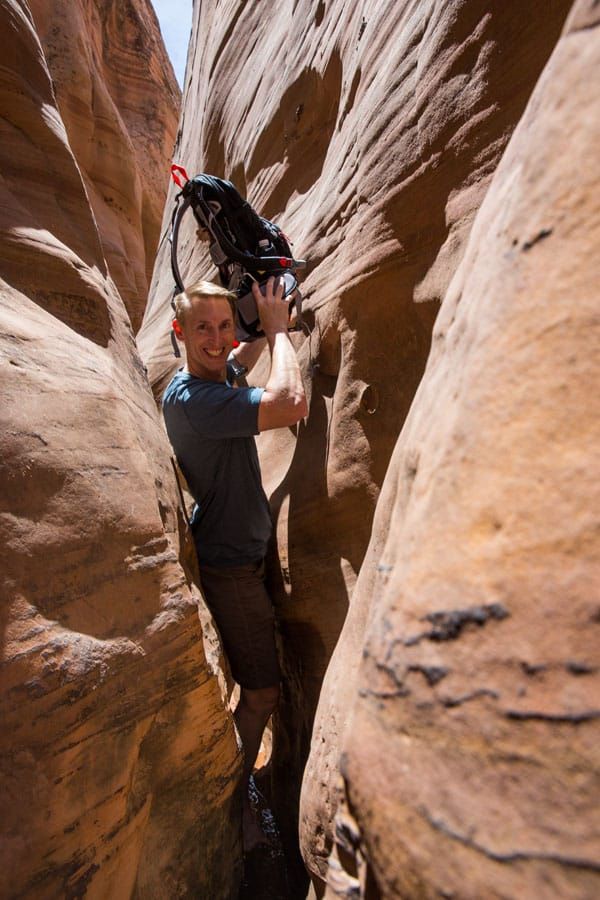 There is a very short section of scrambling through these walls that we thought was challenging. There was one boulder wedged in the canyon walls that we had to climb over. On the other side, the canyon deepened and narrowed to a point. Bare feet made this section unnecessarily difficult. Our sandy feet kept sliding on the walls as we tried to scoot over the boulder and down into the deeper section. In my head, I kept imagining that I'd slip off the boulder, getting wedged in the canyon like the guy in 127 hours. Not willing to take the chance on getting stuck or injured, I bailed out here. Tim, the braver of the two of us, kept going.
Important: This is the most challenging section of the slot canyon. For several feet of the slot canyon, you may have to wedge yourself against the walls of the canyon and slide yourself sideways through the canyon. In this short section, the bottom of the canyon narrows to a point with nowhere to put your feet. I have heard reports from other hikers that they turned around at this point without getting to see the zebra striped walls of the canyon.
Just past this very narrow section is where he got to see the stunning Zebra Slot Canyon walls. I am glad one of us got to see it (and snap these photos!!).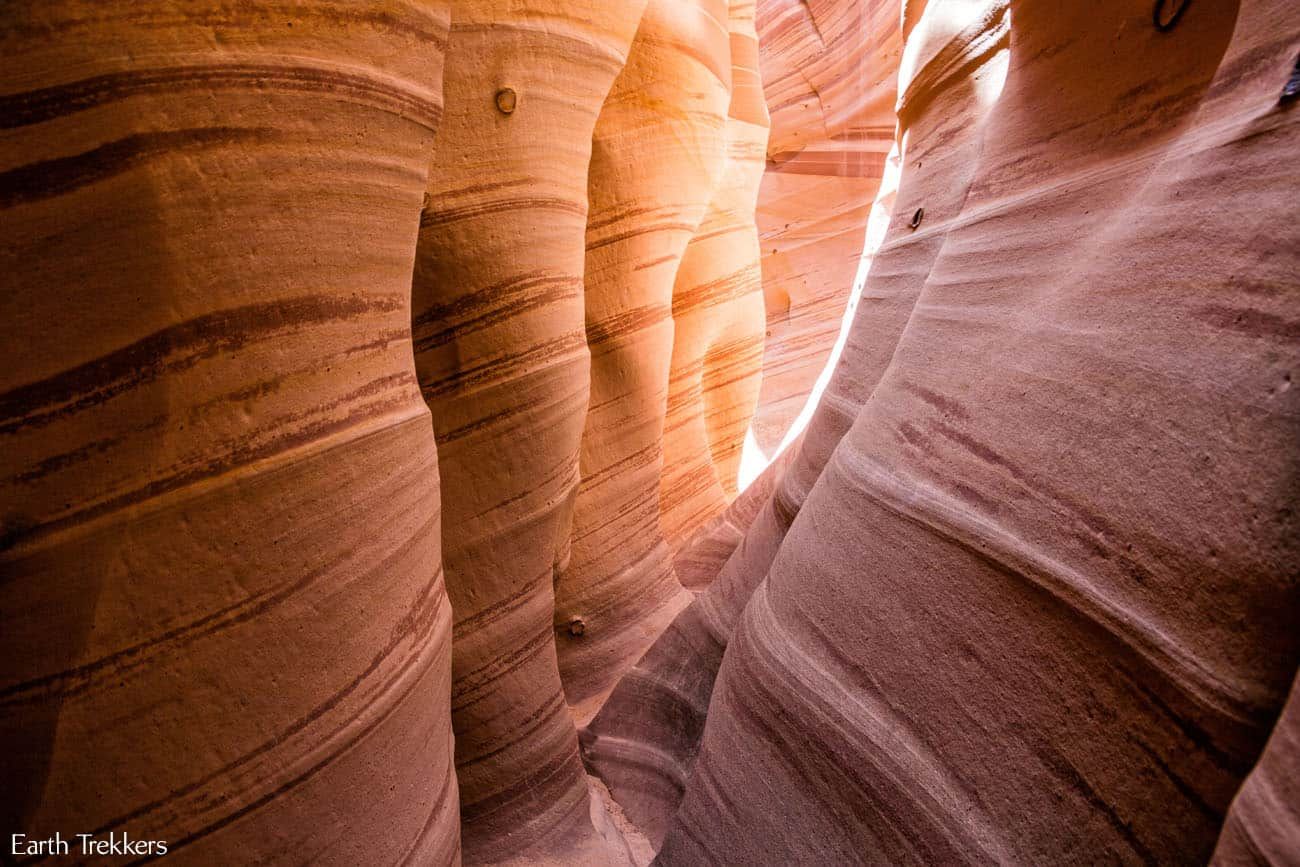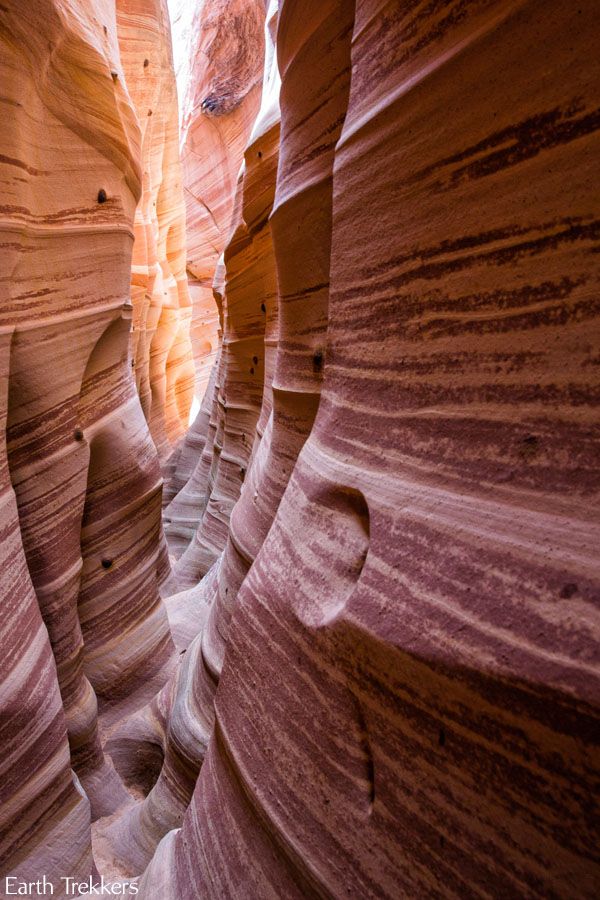 You can continue past the Zebra Slot Canyon and climb up the dry fall to where the canyon opens up again. Tim met up with other hikers who just did this and they told him it was not worth the effort. Tim turned around here and then we made our way out of the slot canyon.
Once you are finished at Zebra Slot Canyon, you have the option to add on Tunnel Slot, a less spectacular slot canyon but it may be worth it if you feel like exploring the area more. Tunnel Slot is located down Harris Wash about 20 minutes away from Zebra. If you have plans to do this, get information at the BLM Visitor Center in Escalante before you get here. We chose to skip Tunnel Slot and continue down Hole-in-the-Rock Road to Peek-A-Boo and Spooky Gulches.
To get back to your car, return the same way.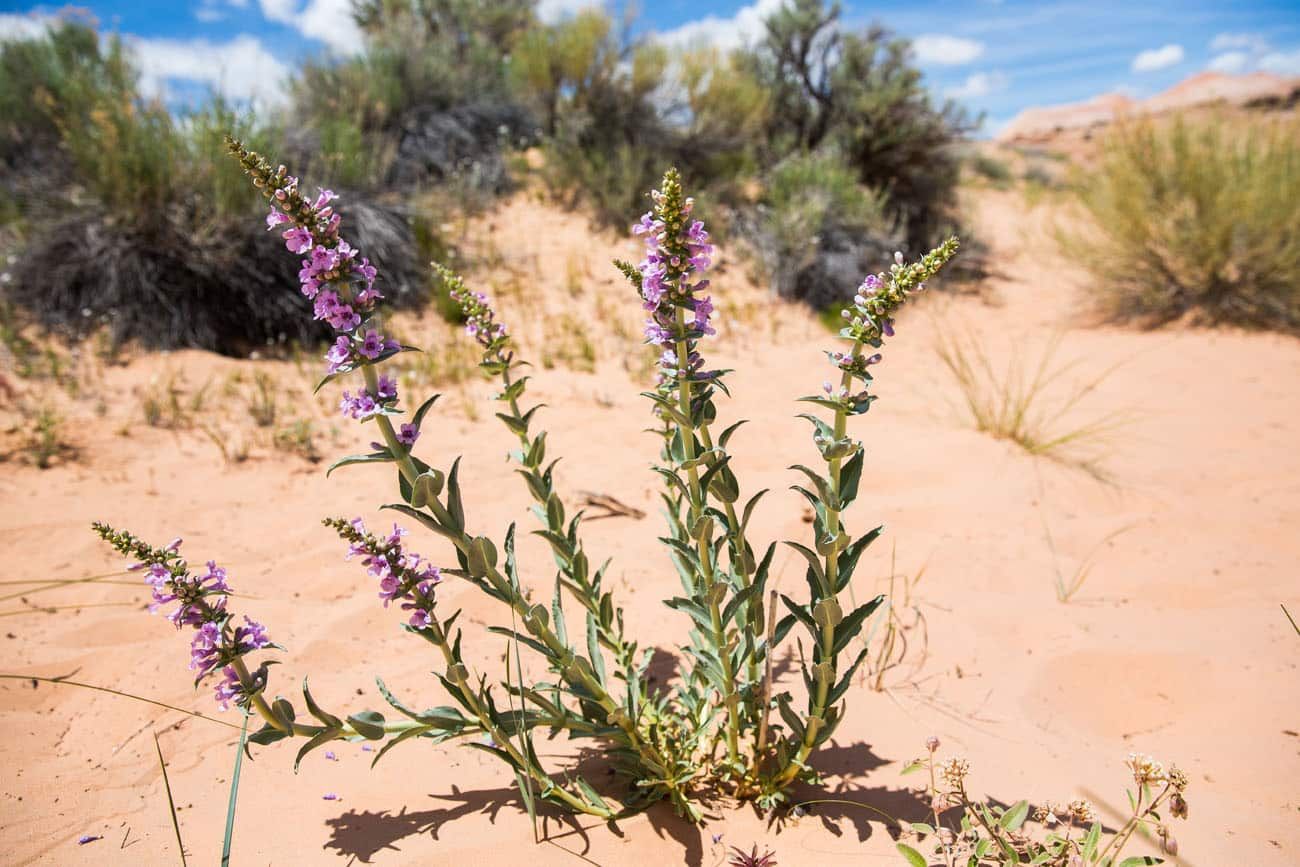 What We Would Have Done Differently
We would have carried our shoes with us. This was our biggest mistake!! Carry your shoes through the pools of water (there may be more than one…we crossed through two pools of water) and then put them back on for the dry sections. If I had brought my shoes along, I would have been fine getting through the entire canyon. Another option is to bring water shoes and wear them while hiking through the pools of water.
What to Bring With You
Lots of water. BLM recommends 1 gallon of water per person, any season of the year.
Sunscreen. There are no areas of shade on the trail. Even inside the slot canyon you can be exposed to the sun.
Hiking shoes. Wear hiking shoes or a pair of sturdy walking shoes. The trail is flat and sandy, but having shoes with good soles will help you climb through Zebra Slot Canyon.
If you are new to hiking or are curious about what you should bring on a hike, check out our Hiking Gear Guide. Find out what we carry in our day packs and what we wear on the trails.
Have you hiked Zebra Slot Canyon? Do you have any advice for our readers? Comment below!
More Information for Your Trip to Utah
LITTLE WILD HORSE CANYON: Little Wild Horse Canyon is a narrow slot canyon that is a blast to hike. It can be visited while driving between Moab and Capitol Reef National Park. Goblin Valley State Park sits nearby so these can be combined in the same visit.
CAPITOL REEF ITINERARY: If you only have one day, learn how to make the most of it in our One Day in Capitol Reef guide. In our Capitol Reef Itinerary, we cover how to plan your time whether you have a few days or longer.
HIKES IN ZION: Observation Point, Angels Landing, Canyon Overlook, and the West Rim Trail are some of the top hiking trails in Zion. For the full list, read our Best Hikes in Zion guide.
UTAH ITINERARY: In our Utah National Parks Road Trip Guide, we cover multiple ways to road trip through the national parks in Utah.
VISIT THE US NATIONAL PARKS: Looking for your next big adventure? Read our article about the 15 Best National Parks, where we narrow down the long list into 15 must-see parks.
UNITED STATES: We have TONS of information about places to visit in the United States in our USA Travel Guide. In our Guide to the US National Parks, get the full list of national parks with important travel planning information, such as things to do in the parks and sample itineraries.
Planning a trip to Utah? We have TONS more information about Utah in our Utah Travel Guide.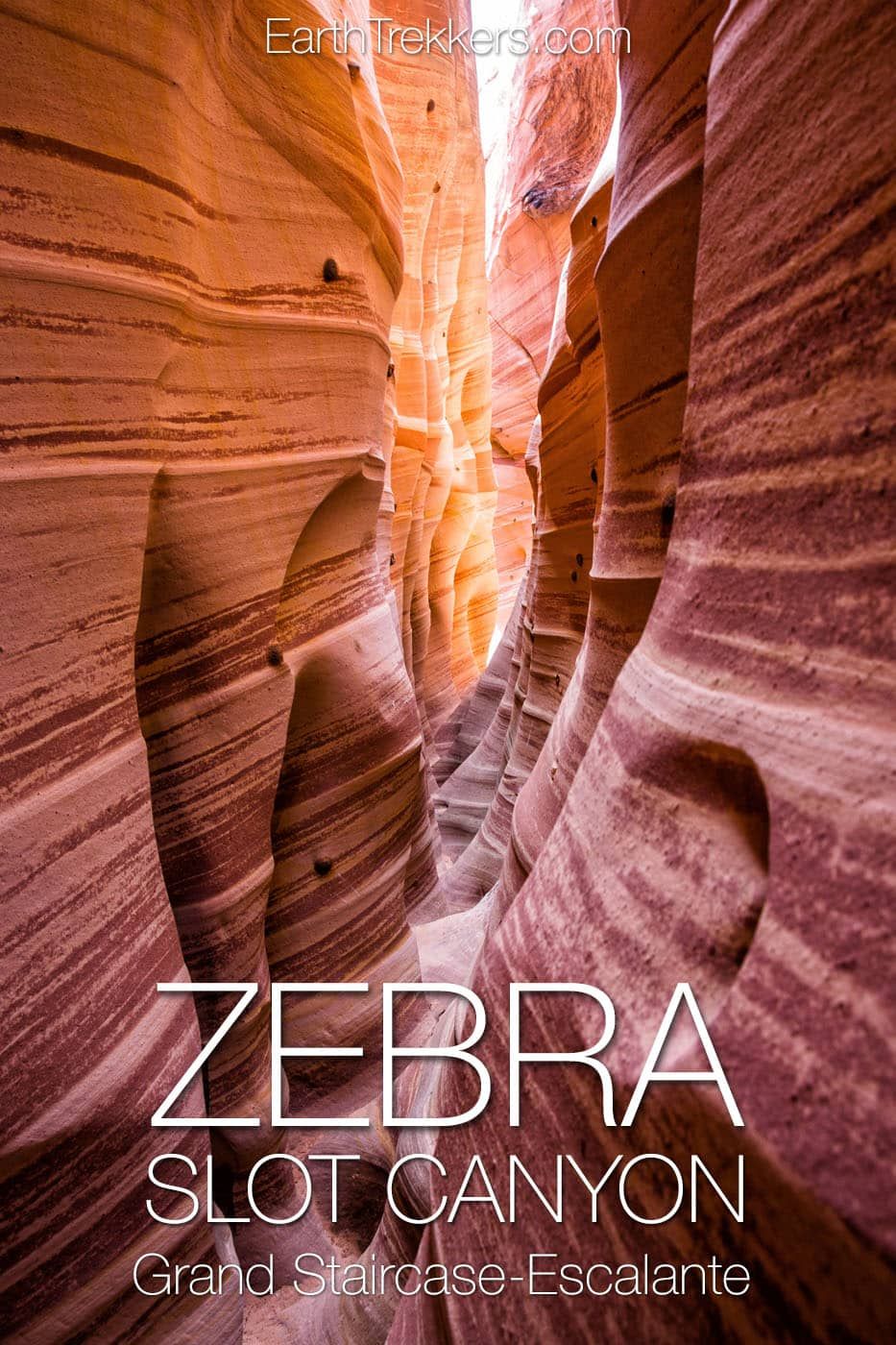 All rights reserved © Earth Trekkers. Republishing this article and/or any of its contents (text, photography, etc.), in whole or in part, is strictly prohibited.