Tim and I spent one day trekking in the Amazon rainforest, first on the ground, and later in the treetops. Our first trek started with a 5 am wake up call and then a twenty minute boat ride upriver on the Madre de Dios River. We would be hiking through the Tambopata Reserve to Lake Sandoval. We were told the excursion would involve a one hour hike through the rainforest and a one hour canoe trip around the lake, and then a return trip back to the lodge.
Our one hour hike turned into a two and half hour slog along an extremely muddy trail through the rainforest. Occasionally, Wilson would make a detour off of the path and we would be trekking through trees and bush to spot a macaw or howler monkey. It was fun at first but I was always wondering if we would accidentally walk through the web of some crazy looking spider or have a close encounter with a poisonous snake.
Those two scenarios never happened but Tim was stung by a crazy looking bug. A very small bug with tiny legs stung Tim through his shirt on his right flank. Tim said it felt like five bees were stinging him at once and then for awhile afterwards he kept feeling electric shocks in the same area. He was worried that he was injected with poison but since he felt fine for the rest of the day we knew he would be OK. After that sting I know Tim did not love the idea of hiking off of the trail for the rest of the morning.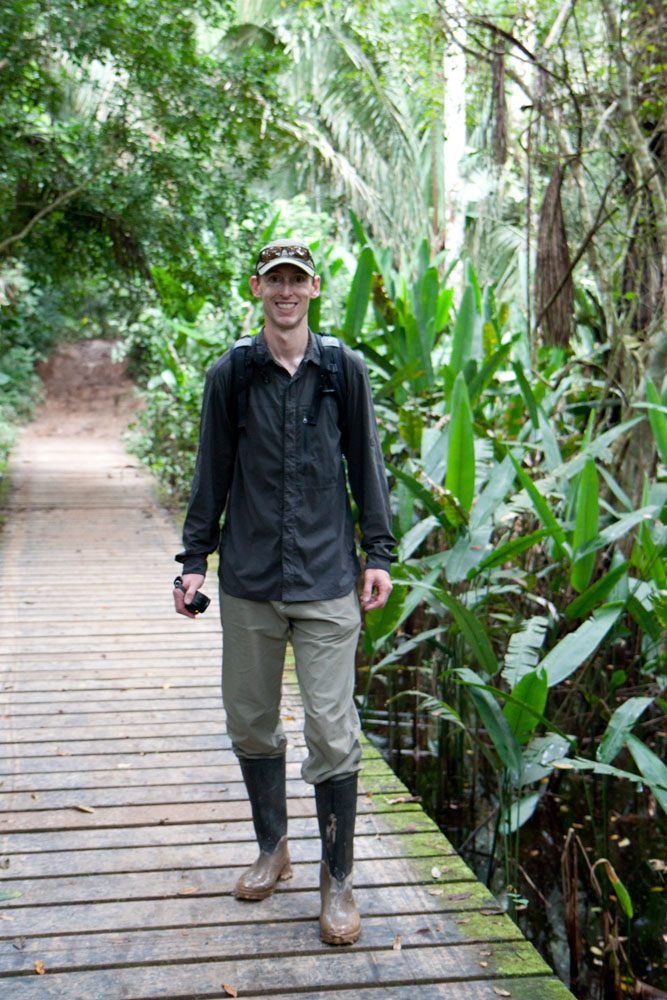 While hiking to the lake we did get to see a howler monkey, capuchin monkeys, spider monkeys, a tarantula, leaf cutter ants, various birds, and many insects. The monkeys were awesome. They kept jumping from tree to tree above our heads and whistling to one another. Seeing the monkeys would be the highlight of the excursion.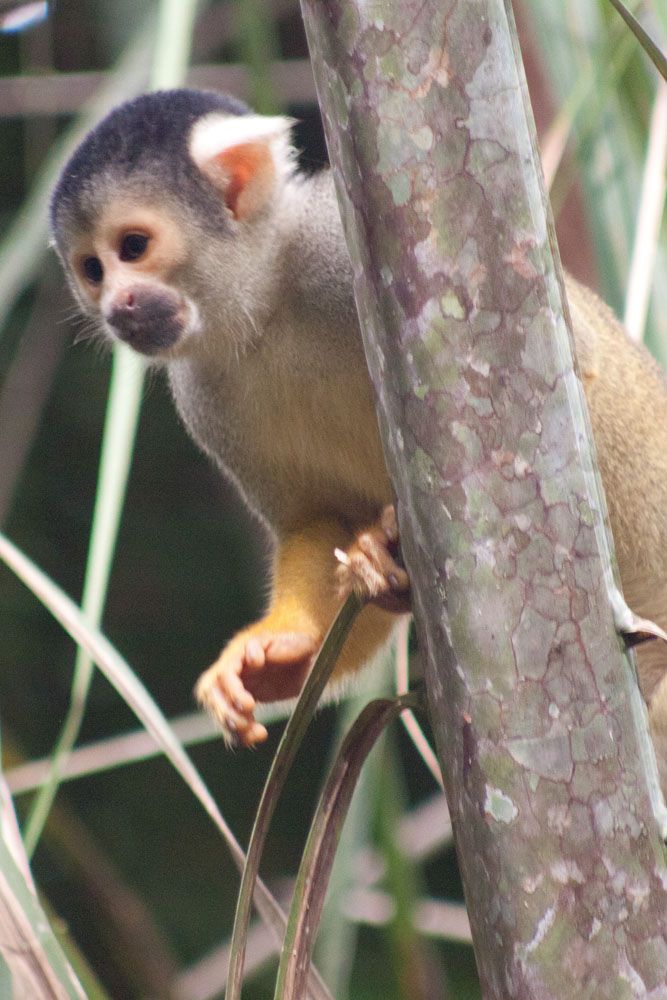 It felt like a never-ending walk to Lake Sandoval but eventually we made it. Wilson paddled us around the lake for about an hour looking for more wildlife. It was nice being out on the lake and there was a breeze which was refreshing. Unfortunately, Tim and I had reached the point where we were just done with this excursion.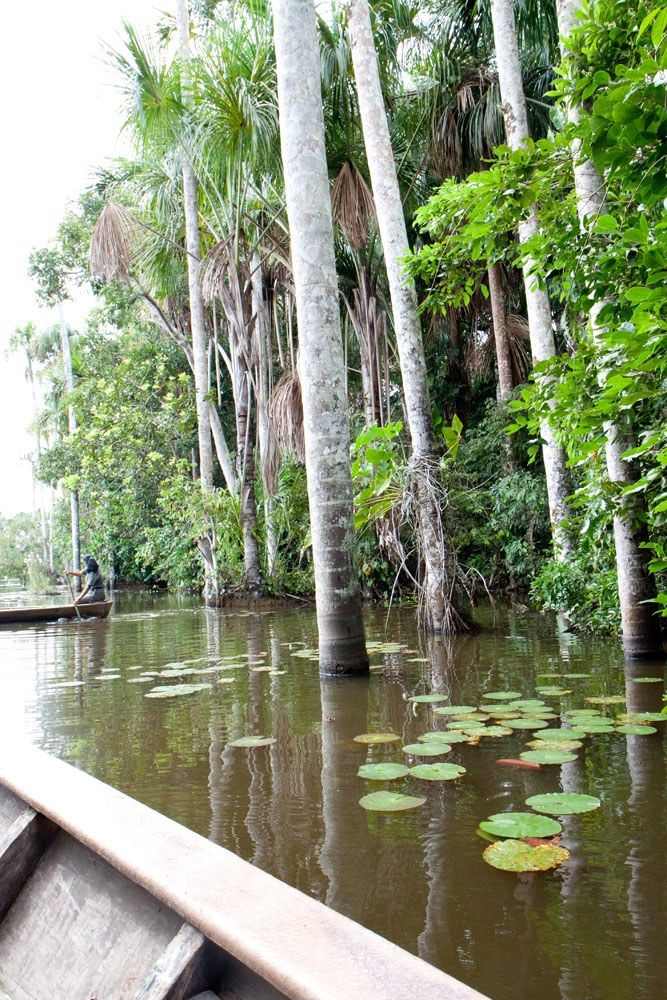 The hike back out to the river went much quicker. We did not take any more detours into the forest to spot more wildlife. We were all done at this point, even Wilson. By now it was 11:30 and we had been walking in the heat for five and a half hours with one bottle of water each. Eventually we finished slogging through the mud in our wellington boots, took the twenty minute boat ride back to Inkaterra, and then took one of the best showers in our whole life.
After a wonderful lunch and a little chill time in our cabana we were back out with Wilson on another excursion. We spent part of the afternoon walking along the tree top canopy bridges. This was really cool because now we were walking up in the treetops and could look out over the rainforest. Even though Tim and I did not see any wildlife this was still our favorite excursion.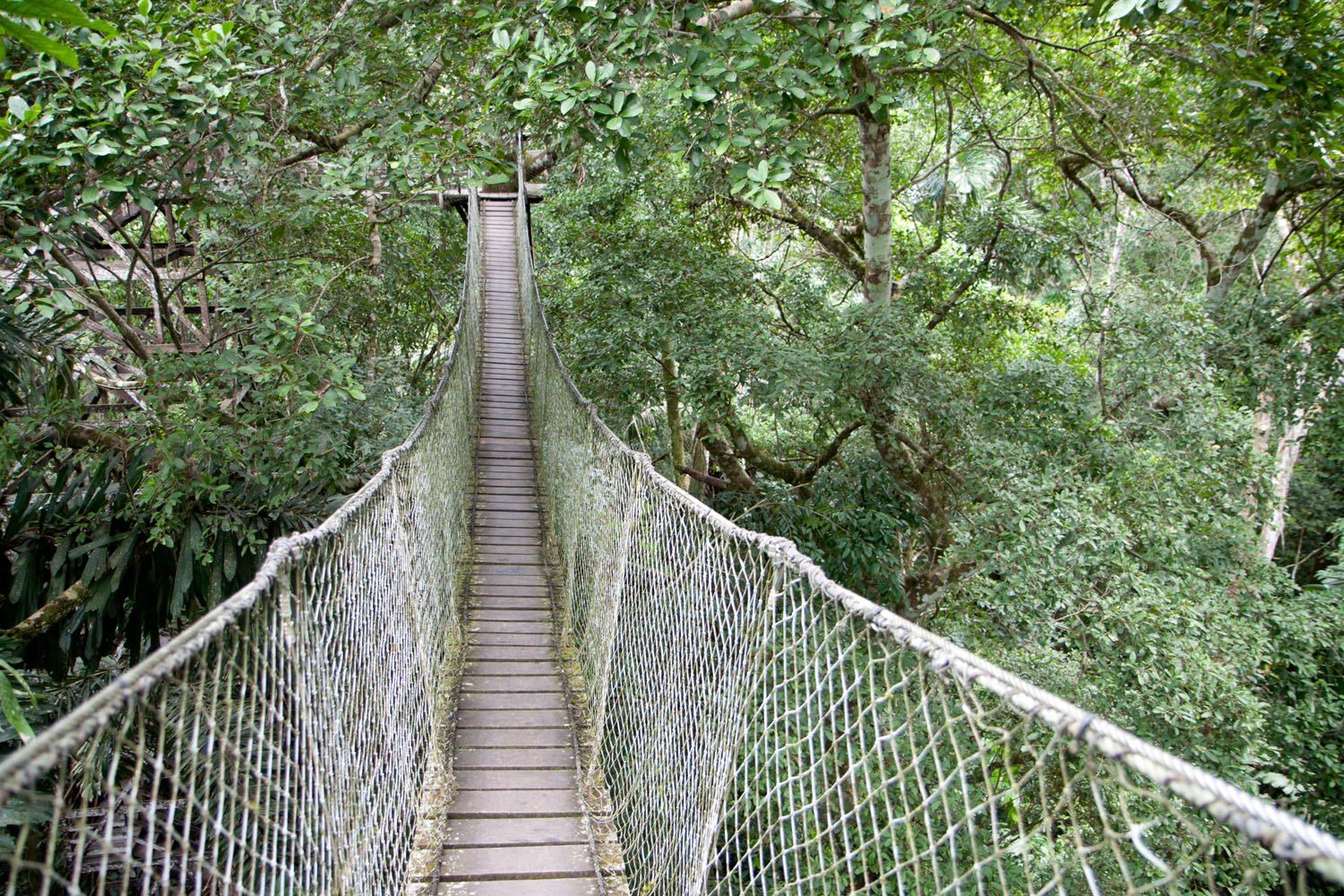 At 6:00 the sun sets and at 6:30 we met up with Wilson for the third time of the day. Now Tim and I were going to walk through the rainforest at night. With flashlights in hand we walked around the property of the Inkaterra spotting mostly insects. Wilson did show us a couple of tarantulas, one was in the palm tree right next to our cabana. But we never saw any snakes. It would have been the coolest thing ever to see an anaconda!
Tomorrow we fly back home to the US (it would take us 36 hours, one boat ride, and five flights to get from the Inkaterra in the Amazon to our house in Maryland). Looking back on our three days in the Amazon, it was something Tim and I are both very glad we did. However, at the time, we were always hot, always slathering on the bug spray, and missing our kids. I am very glad to have had this experience, but there are many other places I want to go in the world before returning to the Amazon.
---
Are you planning a trip to Peru? Read all of our articles about Peru in our Peru Travel Guide.
You May Also Like: