Dare I say that one of my favorite experiences in Dubrovnik was eating? There are so many mouthwatering restaurants to try, and unless you are planning to be in Dubrovnik for at least a few weeks, you'll never get to sample all of them. So, how do you decide which Dubrovnik restaurants to try?
With two days in Dubrovnik, we dined at five restaurants, one wine bar, and one ice cream shop. Our visit was in 2017, and since this time, one restaurant was relocated to Zagreb, Croatia. In this article, I list the six restaurants where we ate, followed by a list of recommended restaurants that we would love to try on a return visit to Croatia.
Where to Eat in Dubrovnik
Panorama Restaurant
For the restaurant with the best view of Dubrovnik, put Panorama Restaurant on your list.
Panorama Restaurant sits high on hills behind Dubrovnik. To get here, take the scenic ride on the Dubrovnik Cable Car.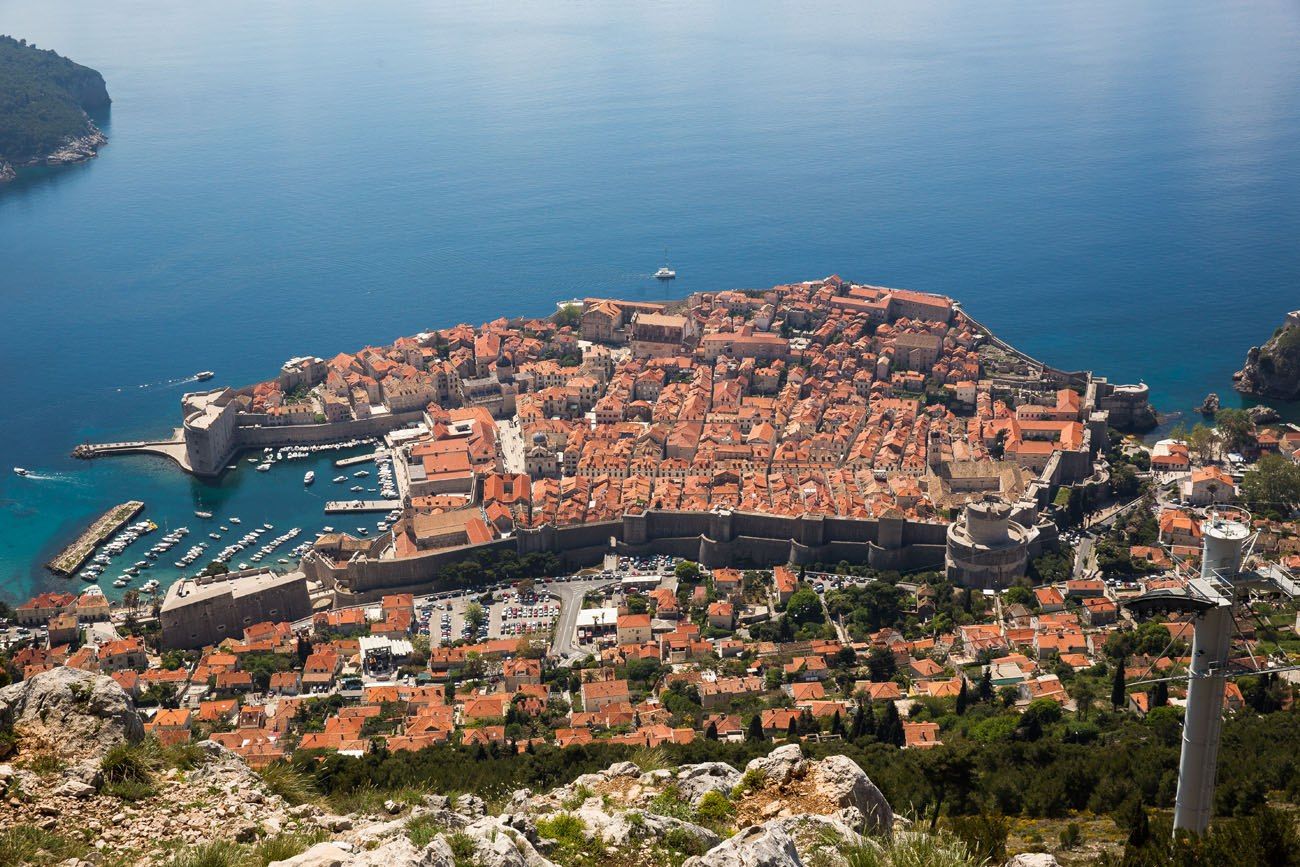 The Panorama Restaurant serves Mediterranean cuisine, featuring fresh seafood and steak. The food and the service are fantastic, making for an all around terrific dining experience.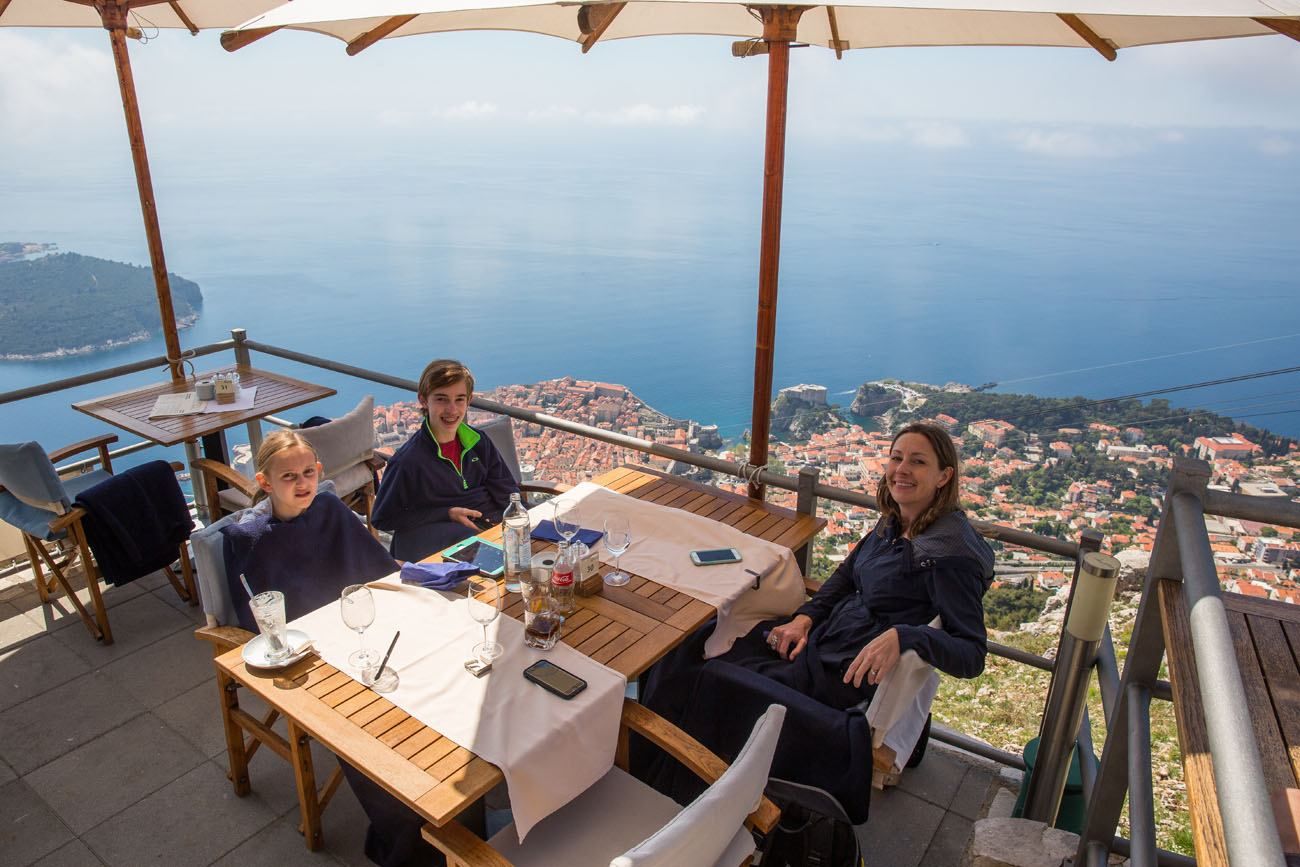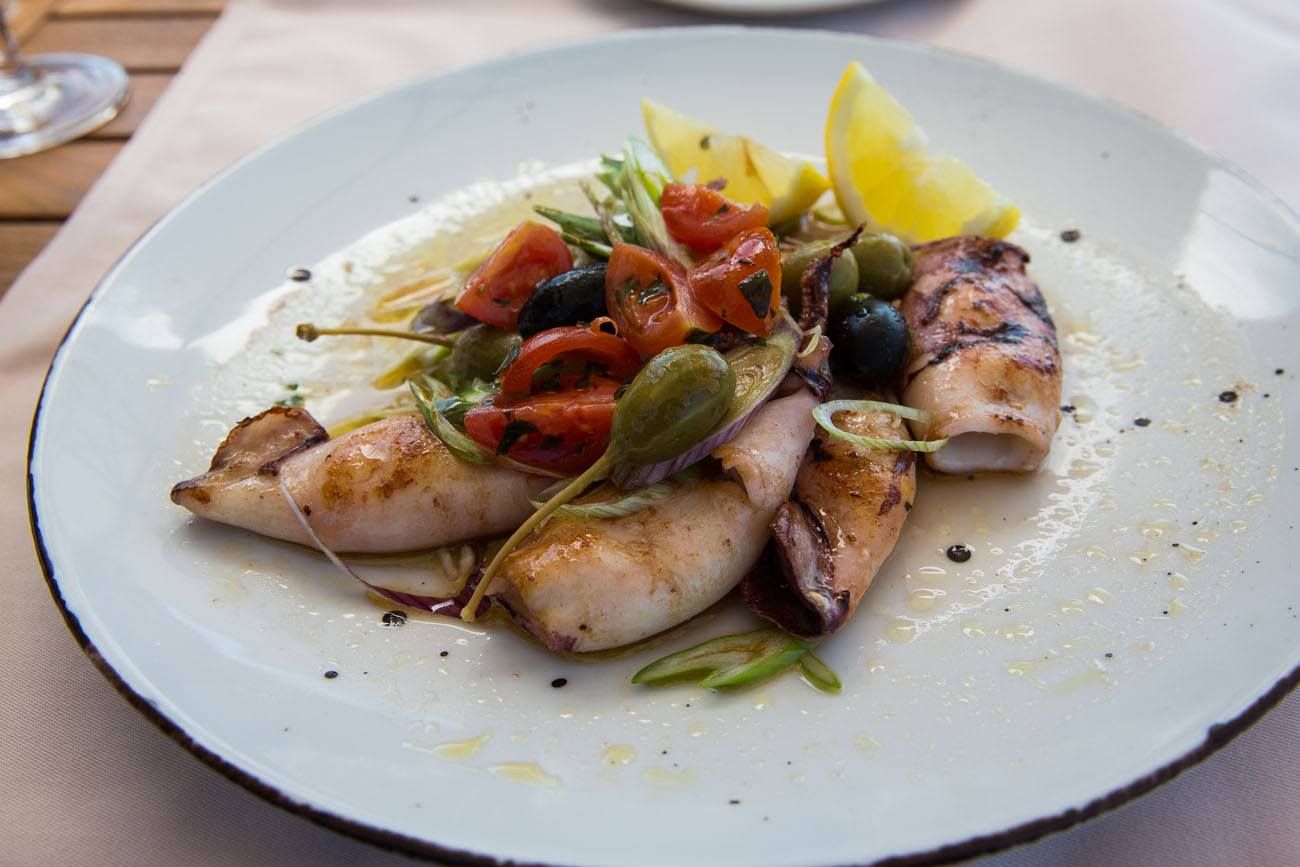 The best tables are up against the railing where you will have unobstructed views of Dubrovnik. In the busier summer months, call at least several days in advance for a reservation. For the ultimate experience, book your dinner at sunset and enjoy the awesome view over the city.
Location: Upper cable car station
Website: nautikarestaurants.com/panorama-restaurant-bar/
Taj Mahal
The Taj Mahal serves authentic Bosnian food, not Indian food like its name implies. If you want to try the best Bosnian food in town, this is the place to go.
If you're not sure what to order, try the Cevapi, which is a very popular Bosnian meal of grilled minced meat served in flatbread and eaten with onions and sour cream.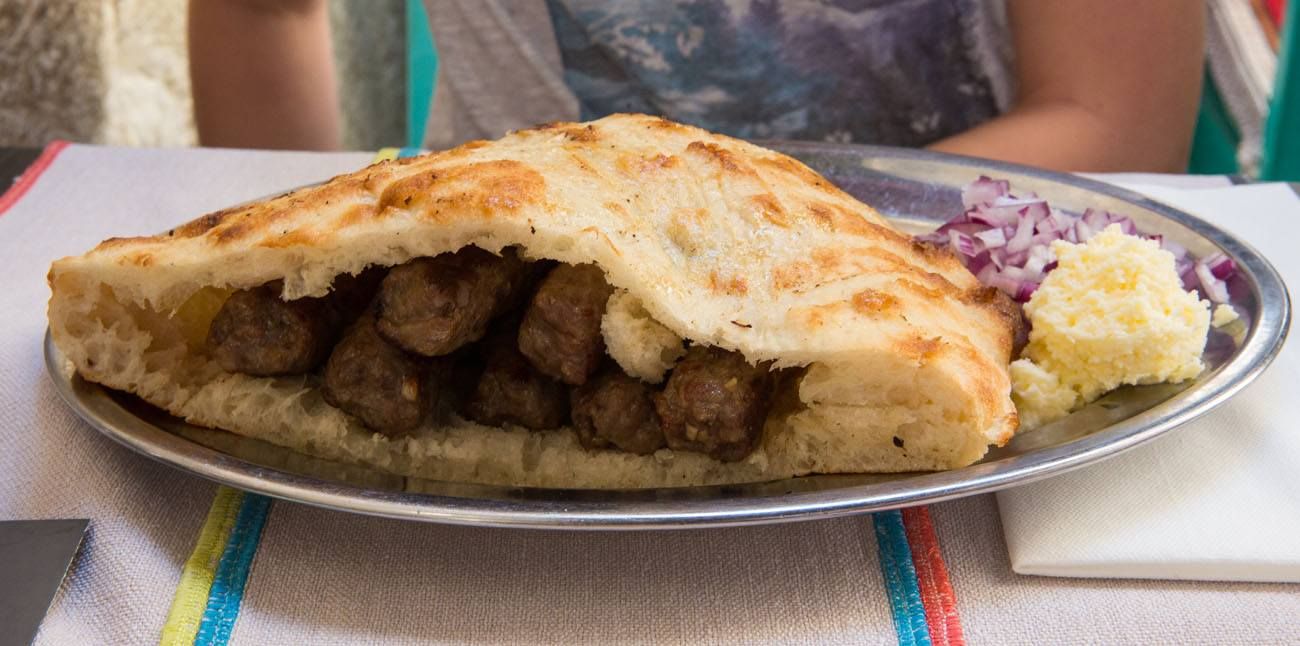 I ate the specialty of the house, the "Taj Mahal," which was our favorite dish. Turkey, veal, mushrooms, and cheese are rolled in dough and served hot.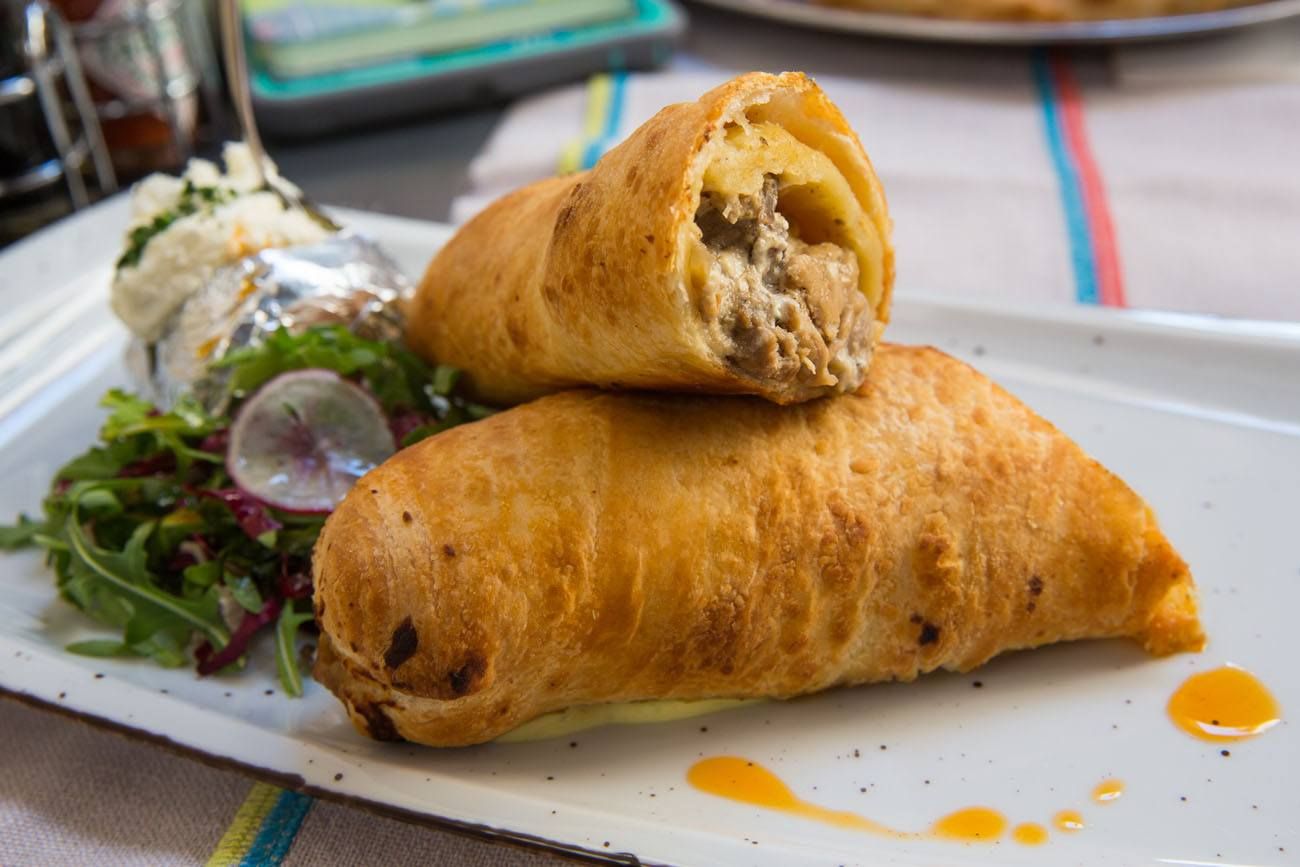 There are lots of choices on the menu and meat is the main ingredient in most of these dishes. If you are vegetarian, keep reading.
This is a very popular restaurant so consider making your reservations in advance, especially during the summer months.
Location: Nikole Gucetica 2, Old Town
Nishta
Nishta is a vegan restaurant located in the Old Town. We usually do not dine at vegetarian restaurants but we heard good things about this place so we wanted to give it a try.
Tim ate falafel, Tyler and Kara each ate Tempehritos (Mexican), and I ordered the Indiastic, which features several specialties from India. The food was good but not great.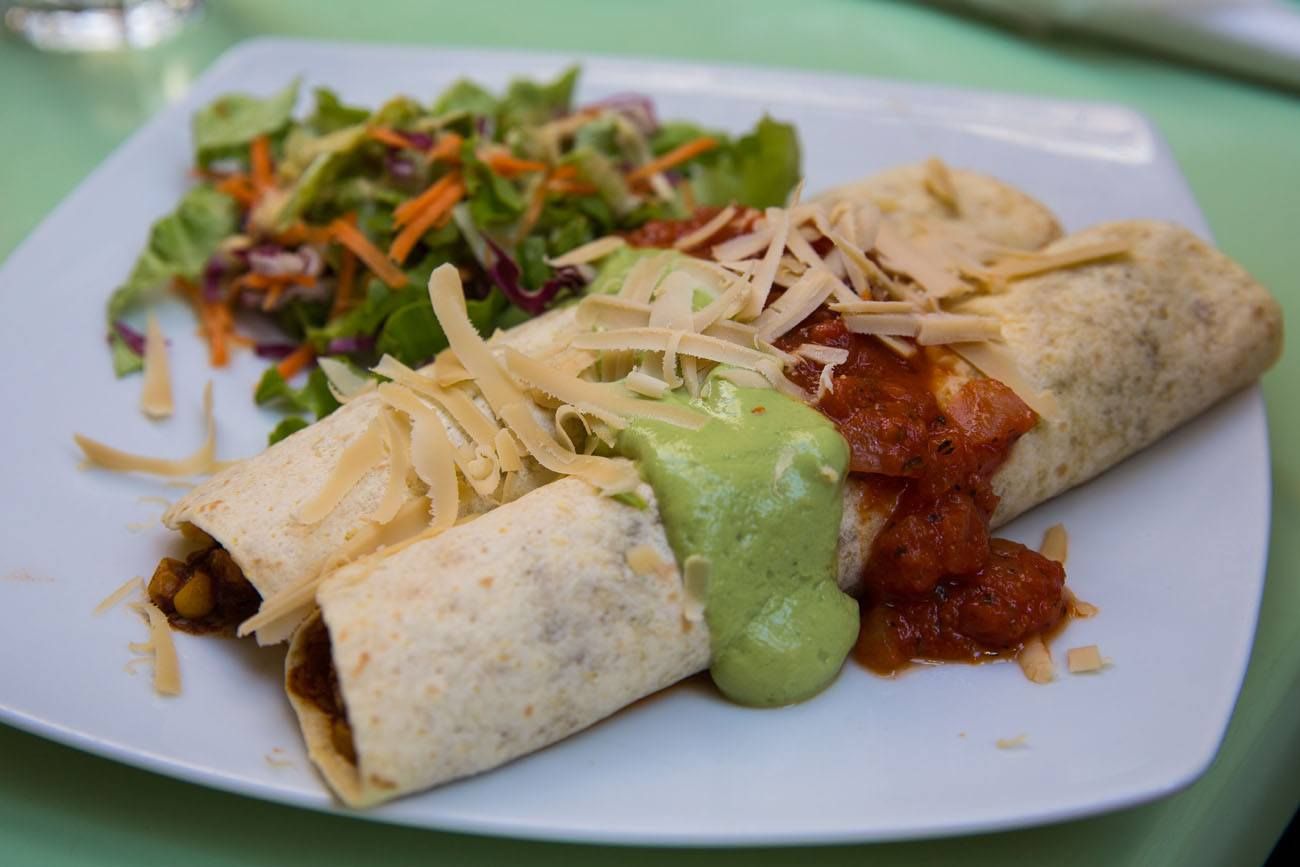 If you are vegetarian and want a highly rated restaurant to try, consider Nishta. Otherwise, you may want to give this one a pass. This is the only restaurant on this list that we would not return to again on a repeat trip to Dubrovnik.
Location: Prijeko bb, Old Town
Pizzeria Mirakul
This is another very popular Dubrovnik restaurant. Every time we walked by, even during the quieter month of April, almost every table was filled. The pizza is delicious, and with fast service and cheap prices, Pizzeria Mirakul makes a great lunch or snack spot while you are touring the Old Town.
Where: Nikole Gucetica 6, Old Town
Website: pizzeriamirakul.hr
Gossip Ice Cream Shop
When you are walking down the Stradun on a hot, sunny day, why not pop into Gossip ice cream shop for a cool treat?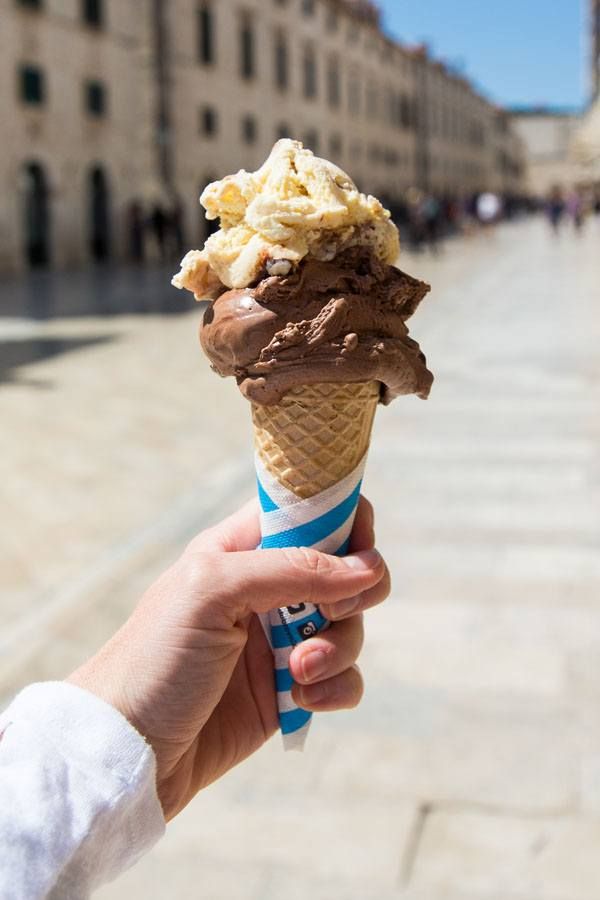 D'Vino Wine Bar
Did you know that Croatia produces awesome wine? To sample Croatian and Montenegrin wine, don't miss D'Vino Wine Bar. Take a wine flight and try the meat and cheese platters…delicious!! This was one of our favorite experiences and we visited D'Vino on two of our three nights here.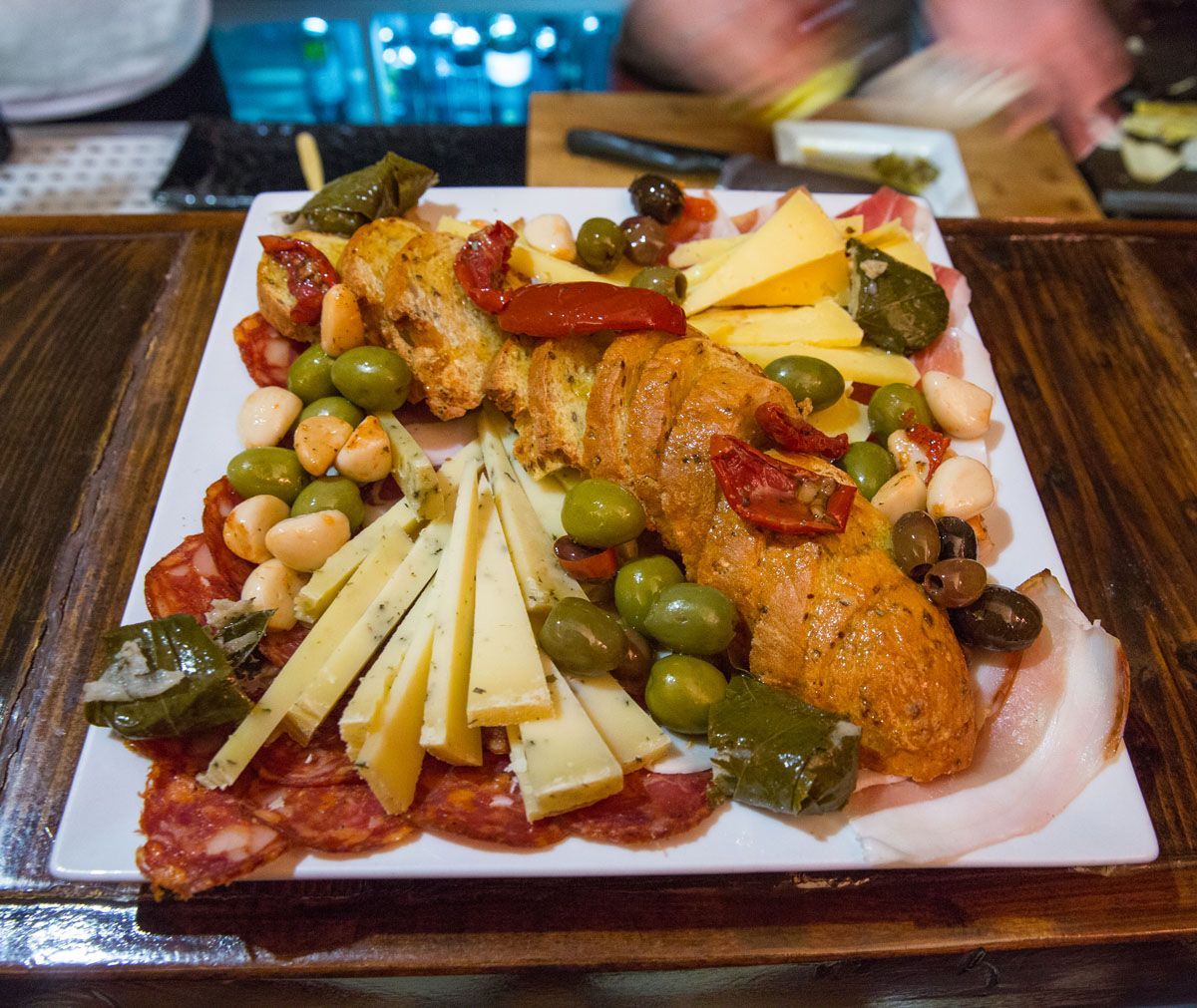 Call ahead for a reservation, especially during the busier summer months. This is a small place with only a handful of tables.
Location: Palmoticeva 4a, Old Town
Website: dvino.net
More Recommendations in Dubrovnik
We have not tried these restaurants, but they either came recommended to us by other travelers or they get impeccable reviews. And they are all places we would like to try on a return visit to Dubrovnik.
Gradska Kavana Arsenal. Located in the Arsenal building, this restaurant offers wonderful views of the harbor. Mediterranean and seafood dishes are on the menu. Prior visitors love the food and rave about the view.
TuttoBene Pizzeria & Fast Food. If you want good food without spending a lot of money, put TuttoBene on your list. They serve pizza, burgers, and chicken wings. The restaurant is located in the heart of the old town.
Nautika Restaurant. This is one of several Michelin starred restaurants in Dubrovnik. With outdoor seating overlooking the harbor and Lovrijenac Fortress, it is hard to beat this location. Locals and travelers alike rave about the food. If you want prime seating near the terrace wall, make your reservation early in the evening.
Azur Dubrovnik. Azur is a restaurant we wanted to try but we could only eat so much food during our visit. This Asian-Mediterranean restaurant has indoor and outdoor seating. It's a great pick if you want a change from fish or seafood.
If You Happen to Be Visiting Zagreb…
Takenoko was one of our favorite dining experiences in all of Croatia. Not only was the food wonderful but the setting was spectacular. Unfortunately, Takenoko in Dubrovnik closed since our visit but they do have a restaurant in Zagreb.
Takenoko is a Japanese fusion restaurant and well known in Croatia. Our dinner was delicious and the sushi here rivals what we ate while in Japan.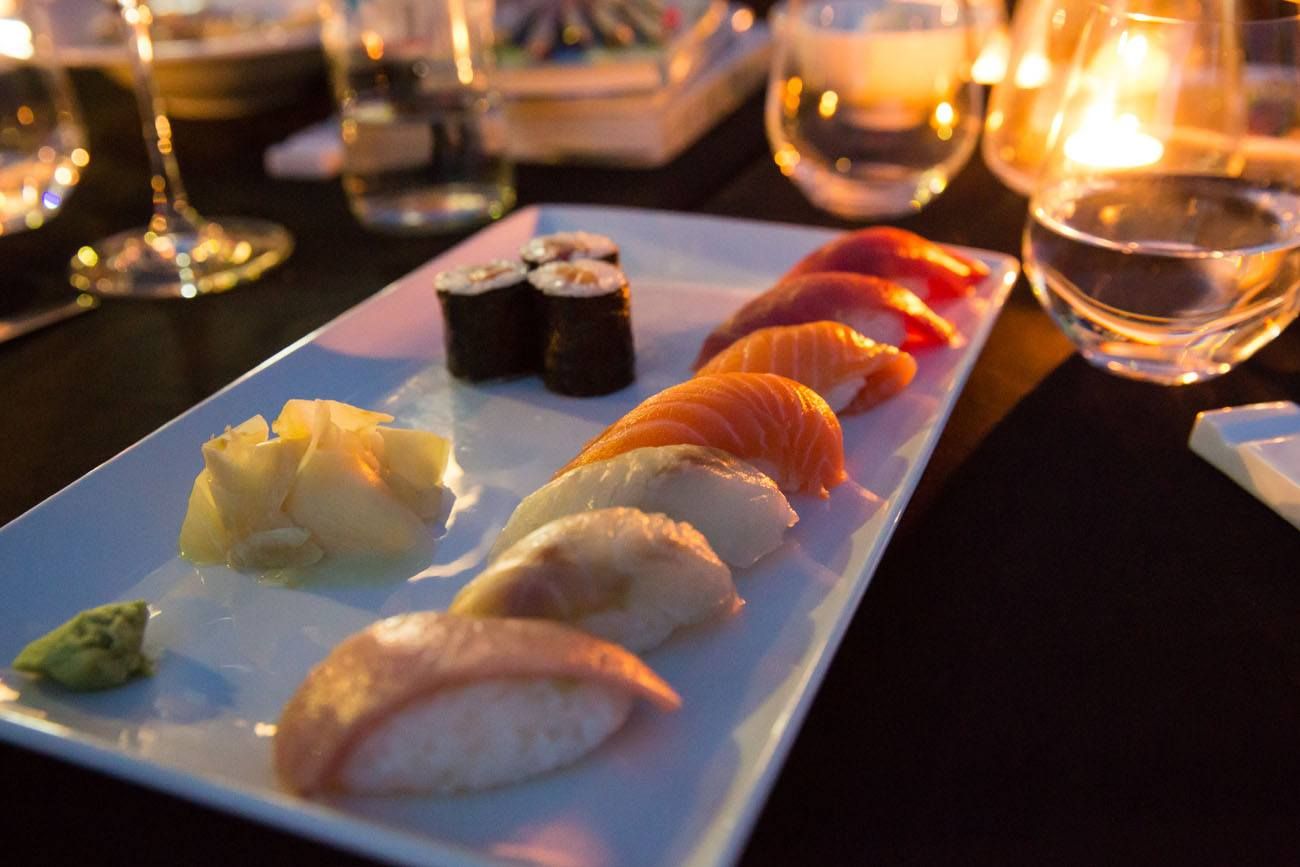 Takenoko is located just outside of Ploce Gate. If you eat on the terrace you will have a wonderful view of the Dubrovnik harbor.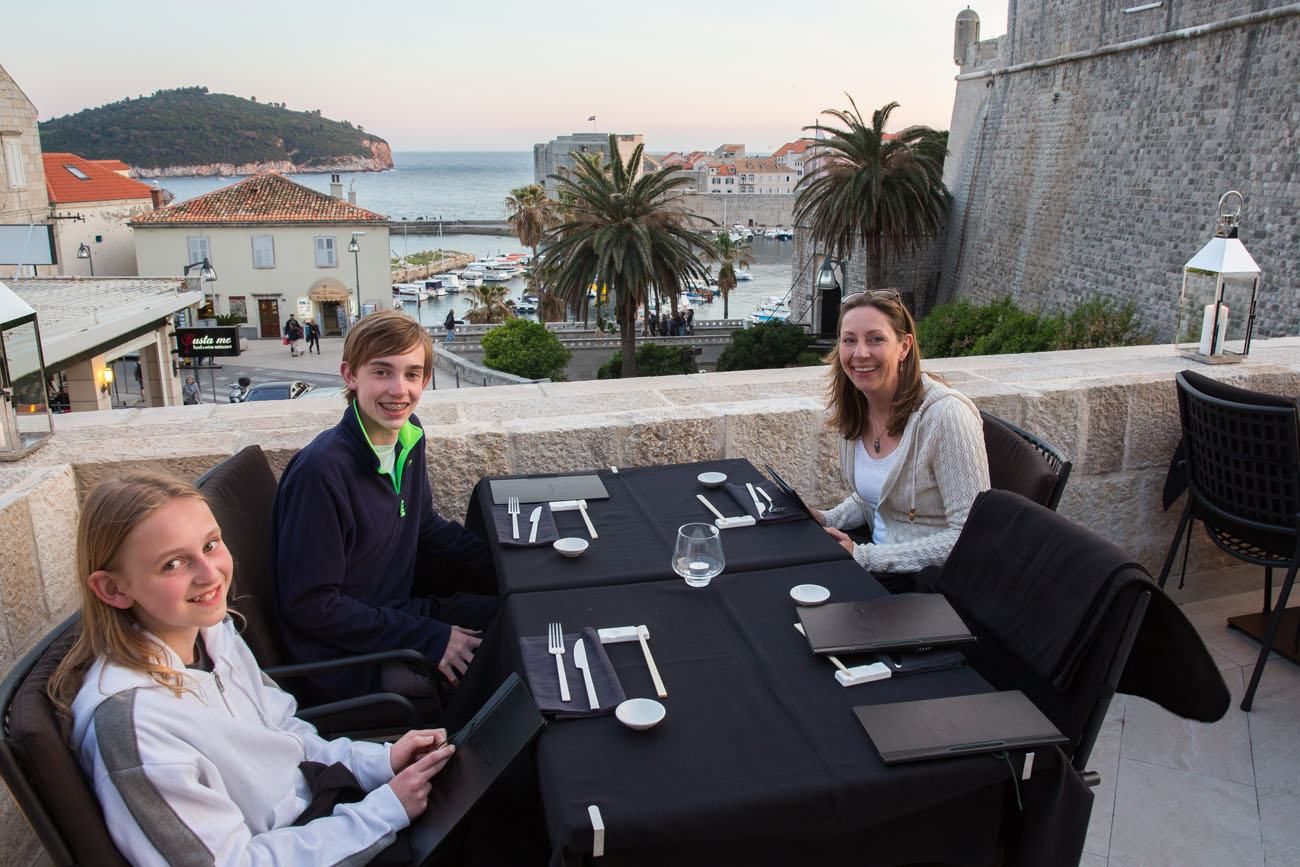 Website: takenoko.hr
---
This concludes our food tour of Dubrovnik. Have a great time exploring the city!
More Information about Croatia
DUBROVNIK: For a list of the top experiences in Dubrovnik, read our article Best Things to Do in Dubrovnik. We also have an article about how to walk the Dubrovnik Walls.
PLACES TO GO IN CROATIA: Along the Dalmatian Coast, the towns of Split and Trogir are wonderful coastal towns to add to your Croatia itinerary. We also have information about how to visit the island of Brac, how to explore the amazing Plitvice Lakes, and how to visit the Istrian Peninsula.
BALKAN PENINSULA ITINERARY: Learn how to combine Croatia, Montenegro, and Bosnia & Herzegovina into one epic road trip in our 11 Day Balkan Peninsula Itinerary.
TRAVEL INSPIRATION: Here are 15 fairytale destinations to visit around the world. And if you are considering a trip to Europe, check out our article 30 Beautiful Places to Visit in Europe.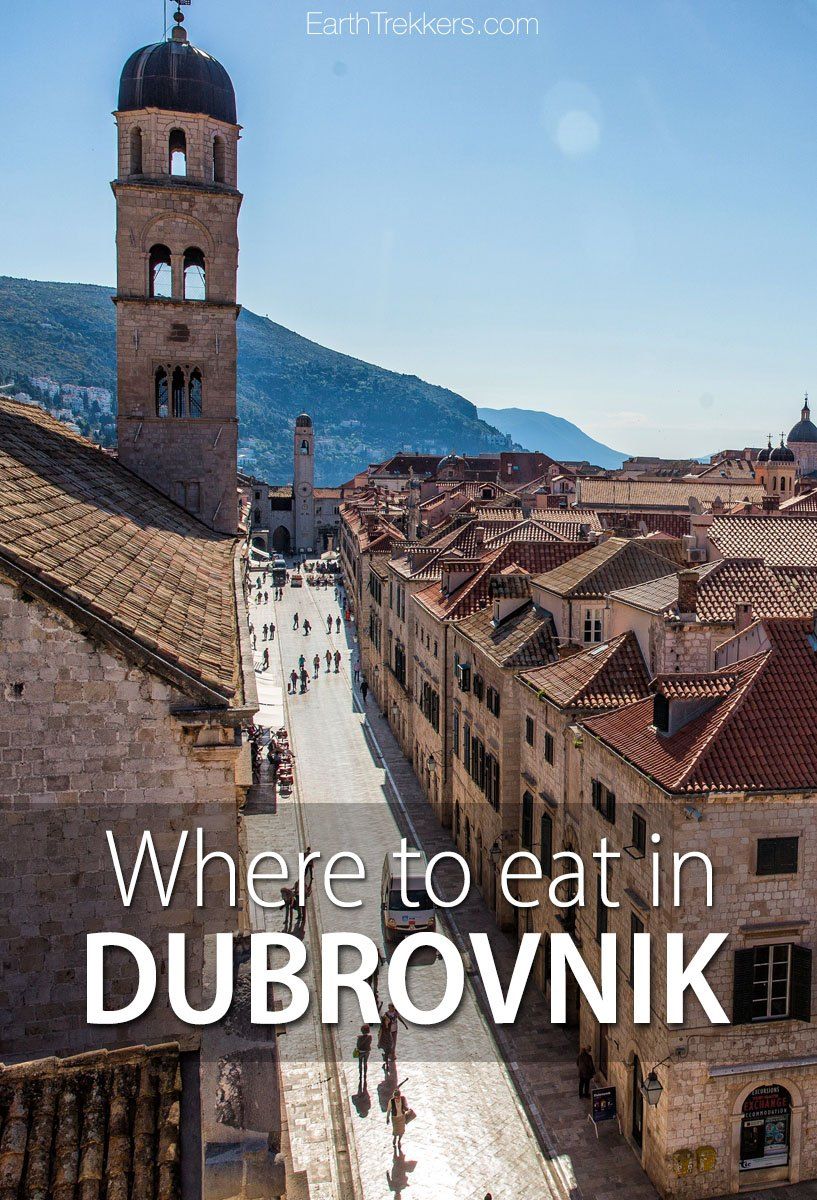 All rights reserved © Earth Trekkers. Republishing this article and/or any of its contents (text, photography, etc.), in whole or in part, is strictly prohibited.