Montalcino is one of our favorite hill towns in Tuscany. Perched on a hilltop, overlooking the Sangiovese vineyards and stunning landscape of Val d'Orcia, a visit to this small town is a must for wine lovers. Climb the fortress walls for views of the town, stroll the city streets, and go wine tasting for Brunello di Montacino wine…these are just a few of the wonderful things you can do in Montalcino.
Overview of Montalcino
Montalcino is a small hilltop town located in Val d'Orcia. Surrounding this town are vineyards growing Sangiovese grapes, which become Brunello di Montalcino and Rosso di Montalcino wine.
Like many hilltop towns in Tuscany, the fortress and layout of the town dates back to medieval times. At one end of Montalcino sits the fortress, and climbing the tower and walking on the walls is one of the best things to do while here.
Montalcino is located on the Via Francigena, a pilgrimage route from England to Rome.
Best Things to Do in Montalcino
1. Go Wine Tasting
Without a doubt, wine tasting is one of the best things to do in Montalcino.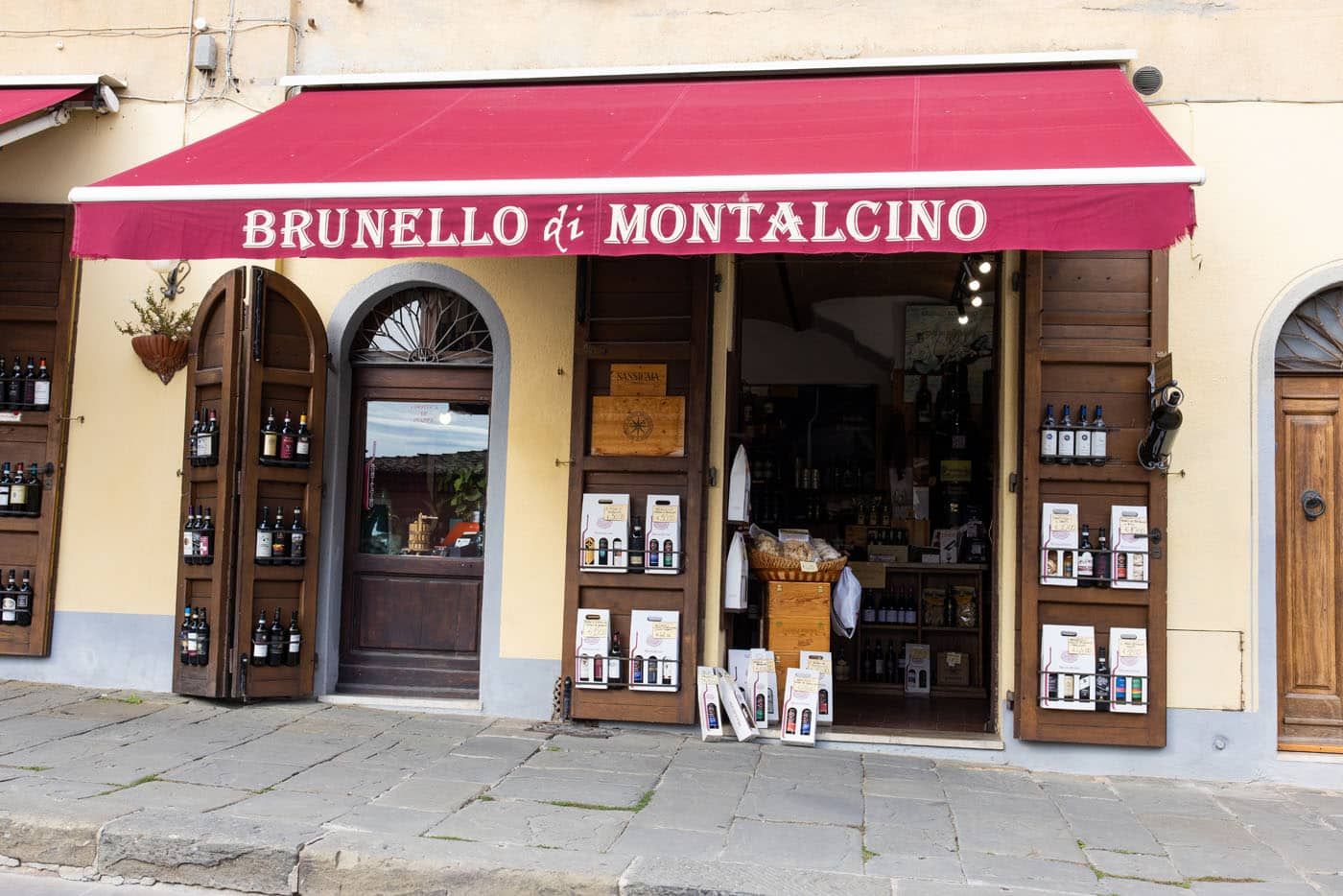 There are numerous wine shops, or enotecas, that offer wine tasting with the option to purchase your favorites. You can buy a bottle of two and take them with you, or order a larger quantity and have them shipped home. Shipping costs depend on the store and how much wine you purchase.
The wine that you will see in the enotecas are usually Brunello di Montalcino and Rosso di Montalcino.
Brunello di Montalcino is made from 100% Sangiovese grapes. The wine must spend two years in a wooden barrel and at least four months in a bottle. The wine cannot be released onto the market until January 1st of the fifth year after harvesting.
Rosso di Montalcino is also 100% Sangiovese but it does not have strict rules for aging and when it can be released. This is a younger, fruitier wine than Brunello.
There are numerous wine shops in Montalcino. We visited Enoteca di Piazza Wine Room of Fedolfi Andrea Sas, which is located on Via Giacomo Matteotti. You can sit out front and drink a glass of wine or order a snack. Inside the wine shop, you can taste over 100 different Brunello di Montalcino wines.
You are given a card, similar to a credit card. This gets inserted into the wine dispensary machine. Each wine has a price for a tasting and a purchase price. You can taste as many wines as you like, and once finished, hand in your card and you will be charged for the wines you sampled.
Our favorite thing about doing a tasting here was the very small balcony they had on the back of their shop. Tim and I could taste the wines while looking out over the countryside.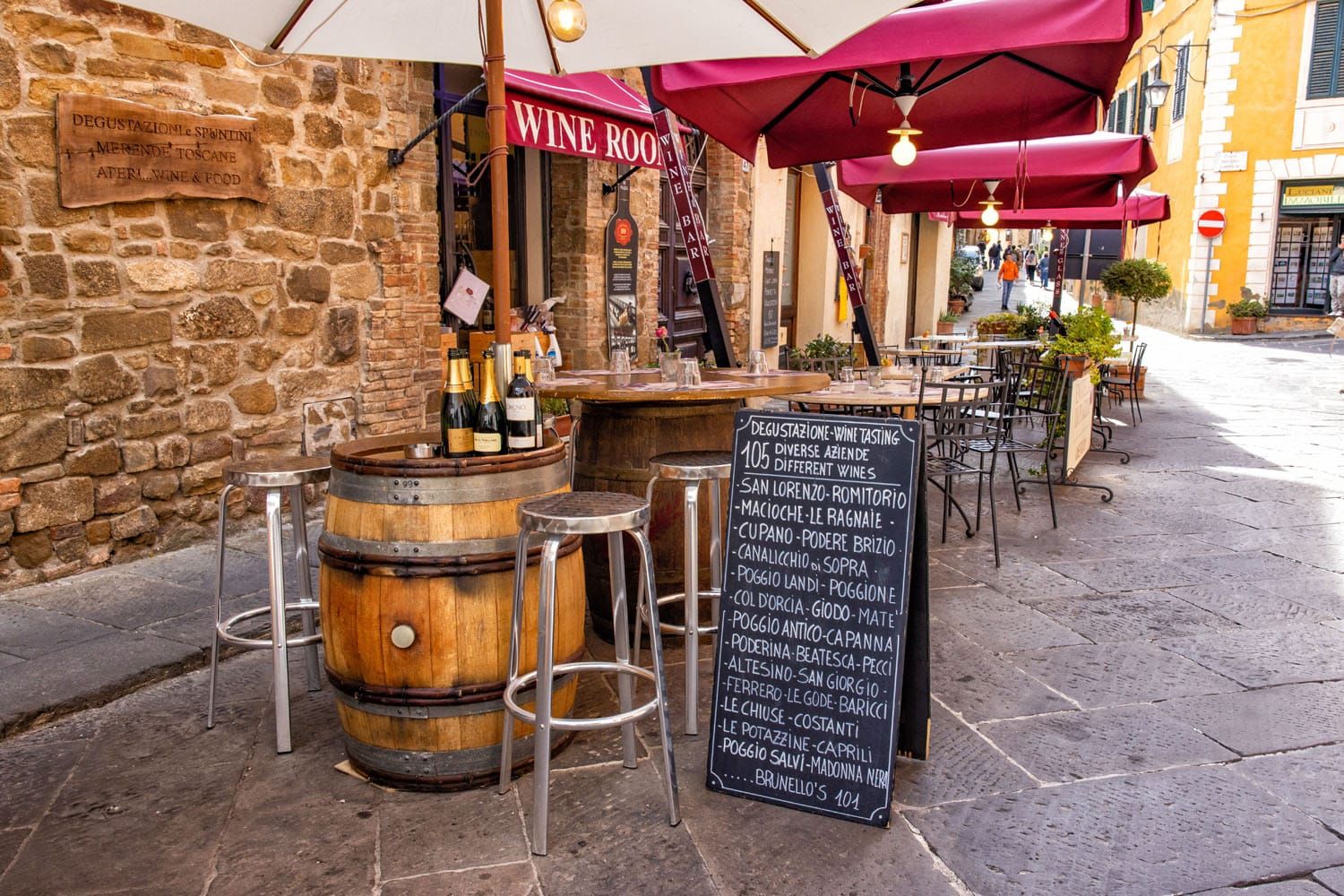 Enoteca di Piazza Wine Room | Best things to do in Montalcino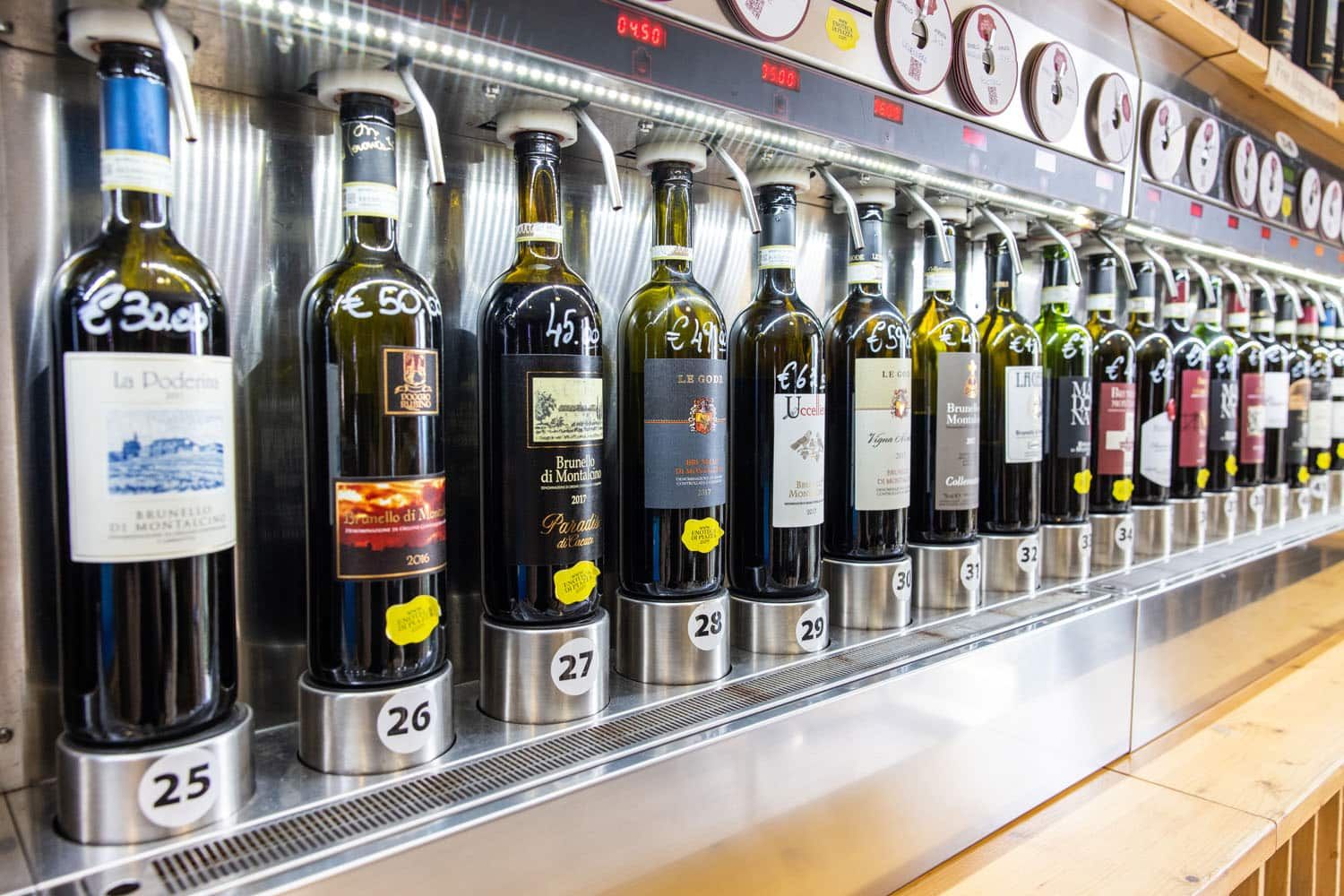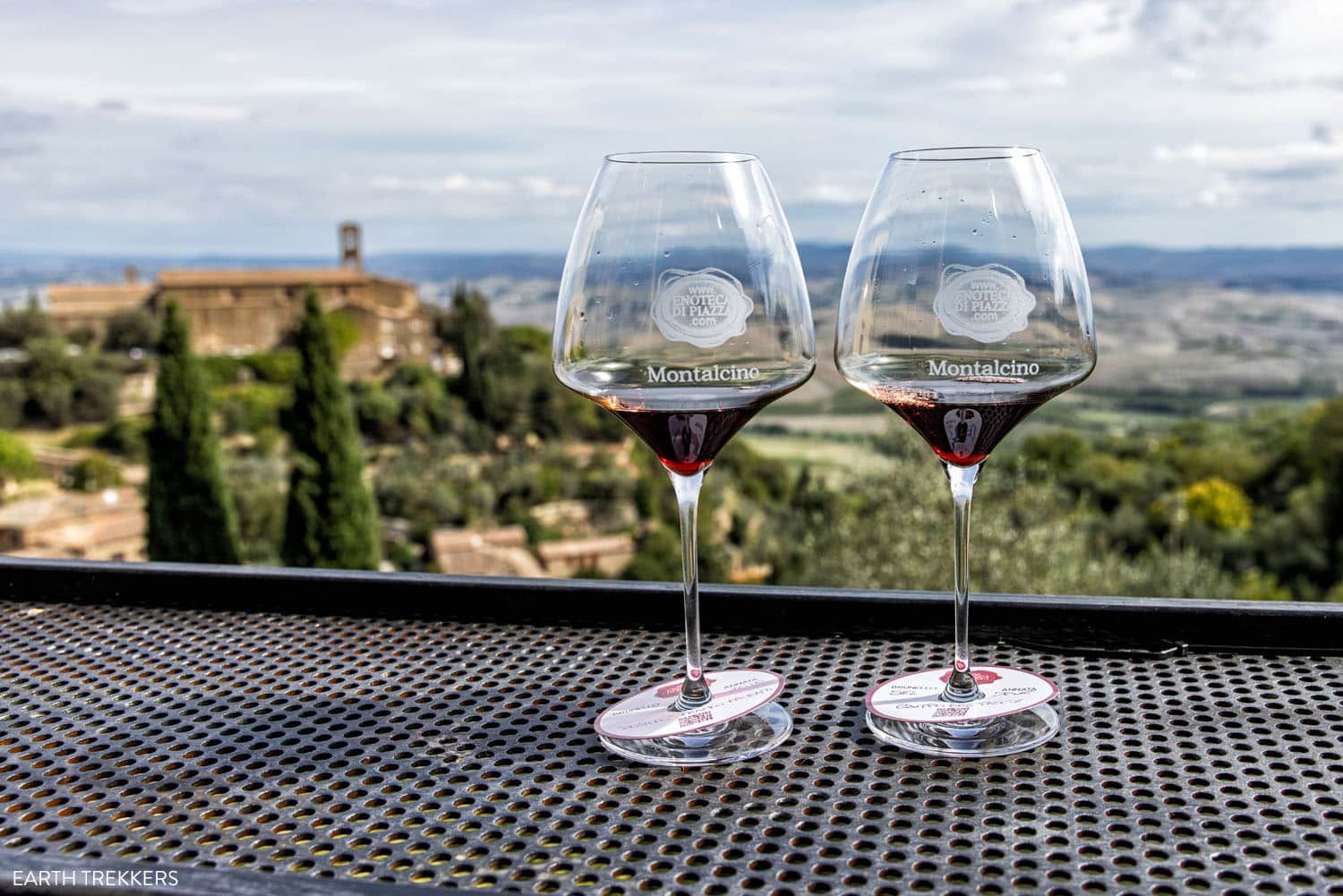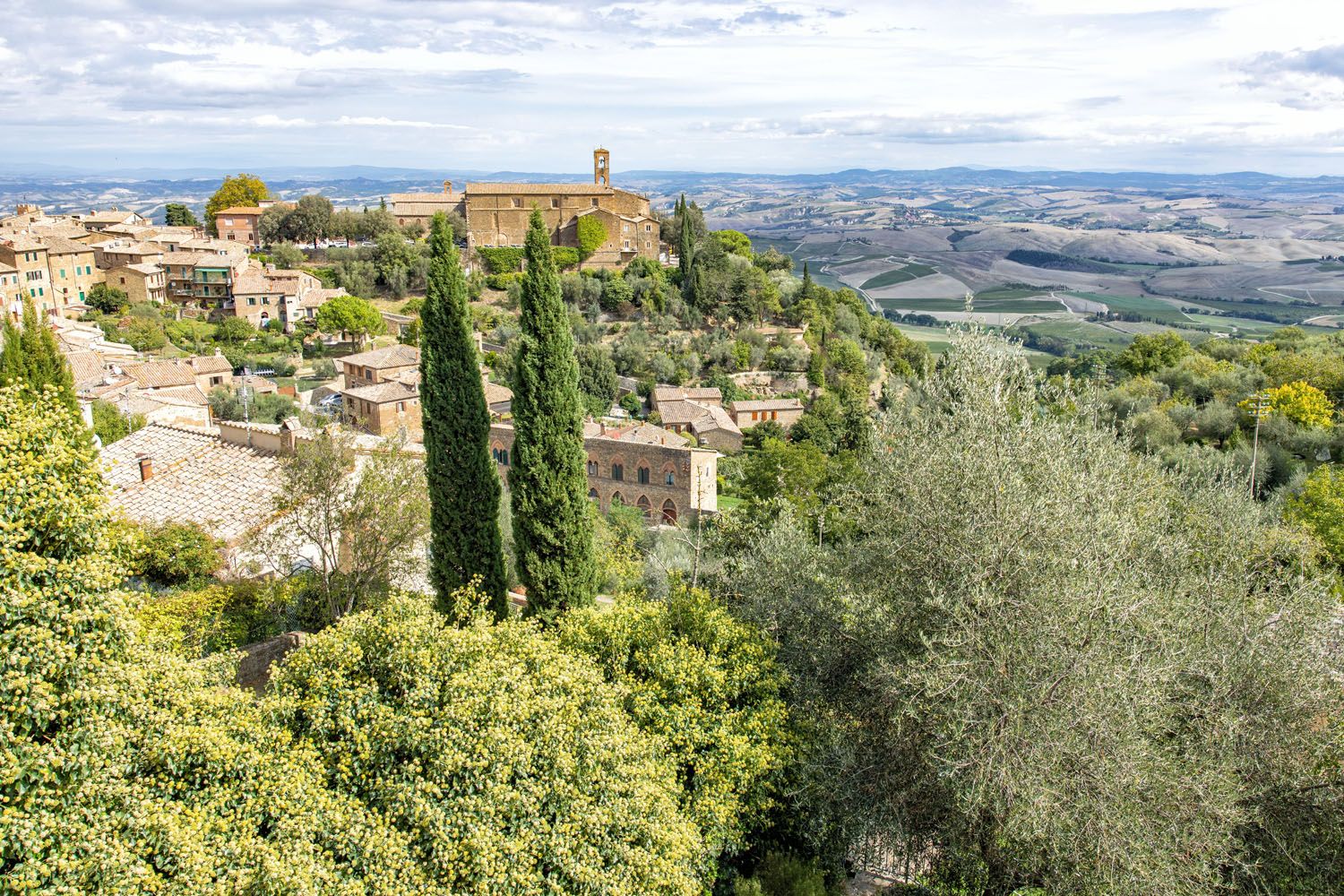 View from the Enoteca di Piazza Wine Room | Best things to do in Montalcino
Other wine shops that get good reviews include Enoteca Bacchus, Enoteca Grotta del Brunello, and Enoteca San Giorgio.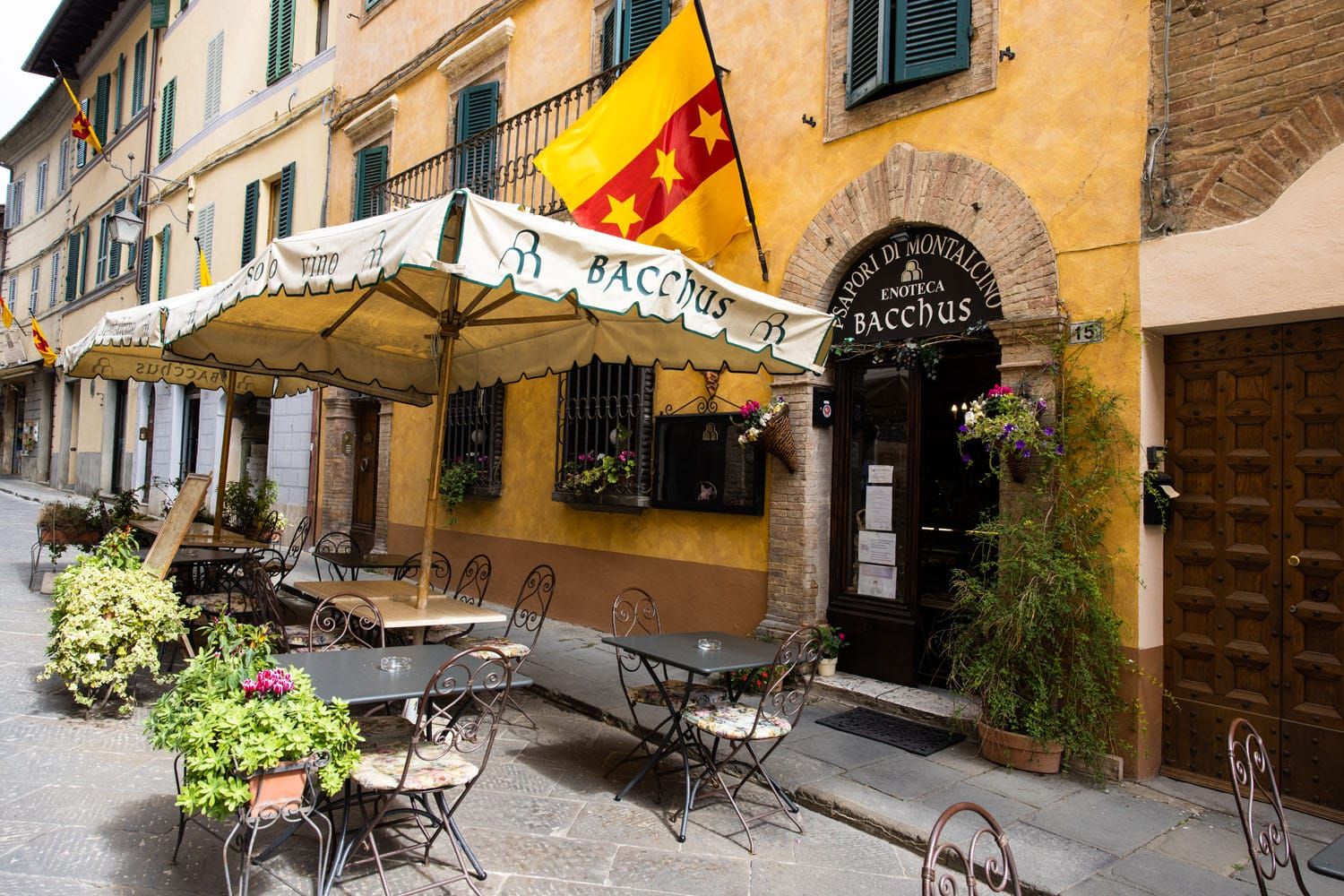 Enoteca Bacchus | Best things to do in Montalcino
2. Climb the Fortress Walls
Sitting on the south side of town, just a few steps from the city center, is Fortezza di Montalcino. This fortress was constructed in 1361 by the Sienese.
The fortress sits at the highest point in Montalcino. If you climb the steps to the top of the tower, you are rewarded with beautiful 360° views of Montalcino and Val d'Orcia. You can also walk the walls for different views of the town.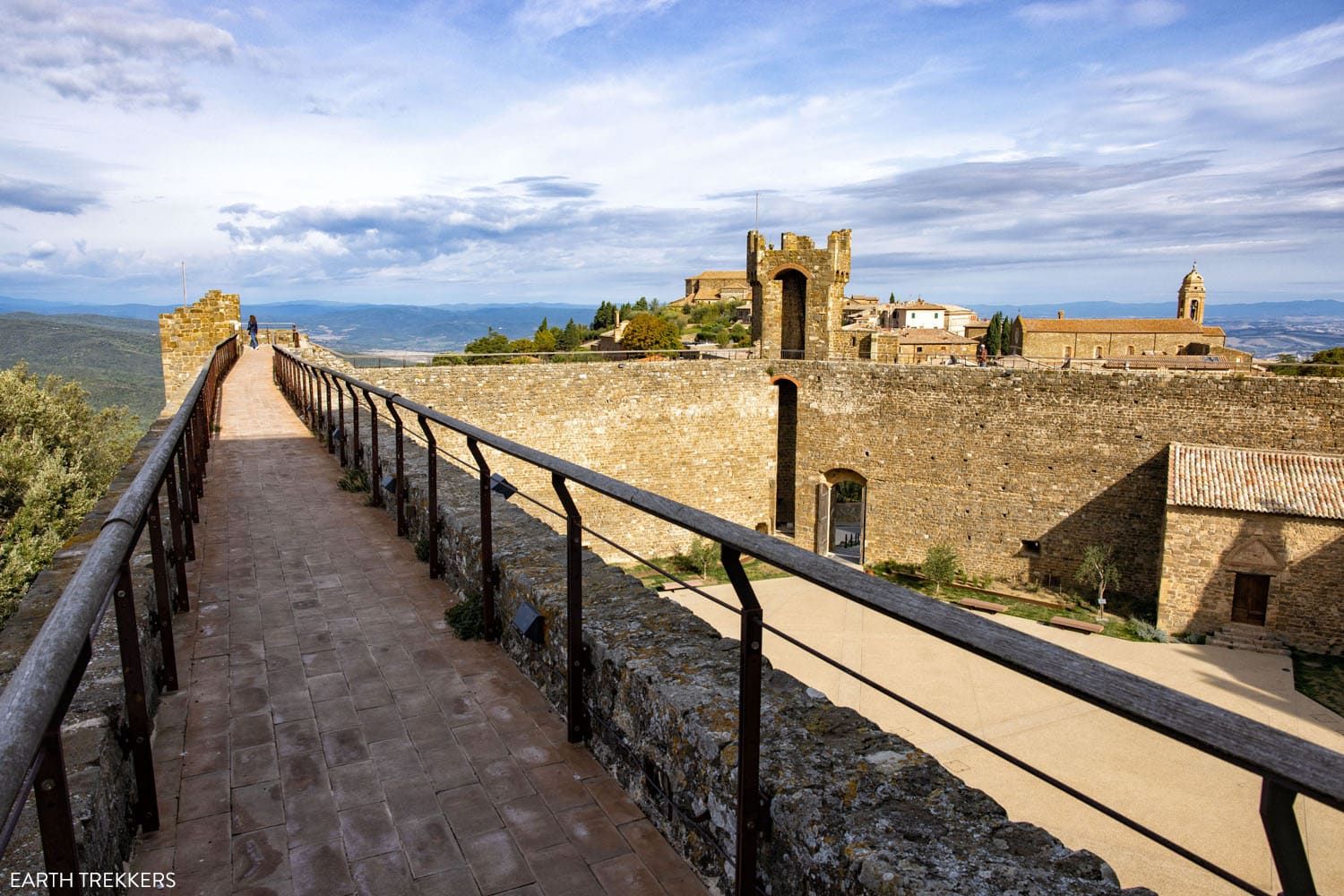 Fortezza di Montalcino | Best things to do in Montalcino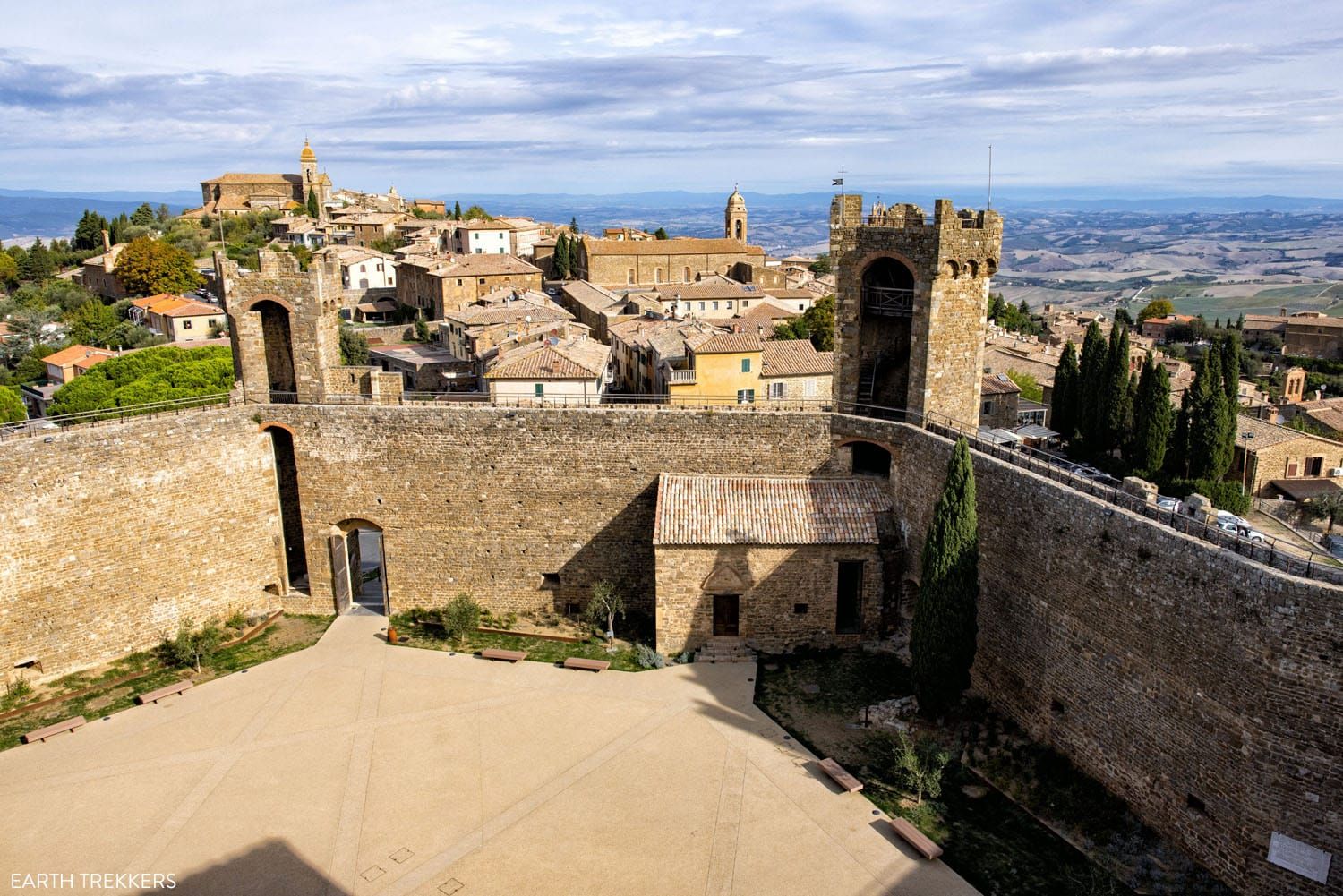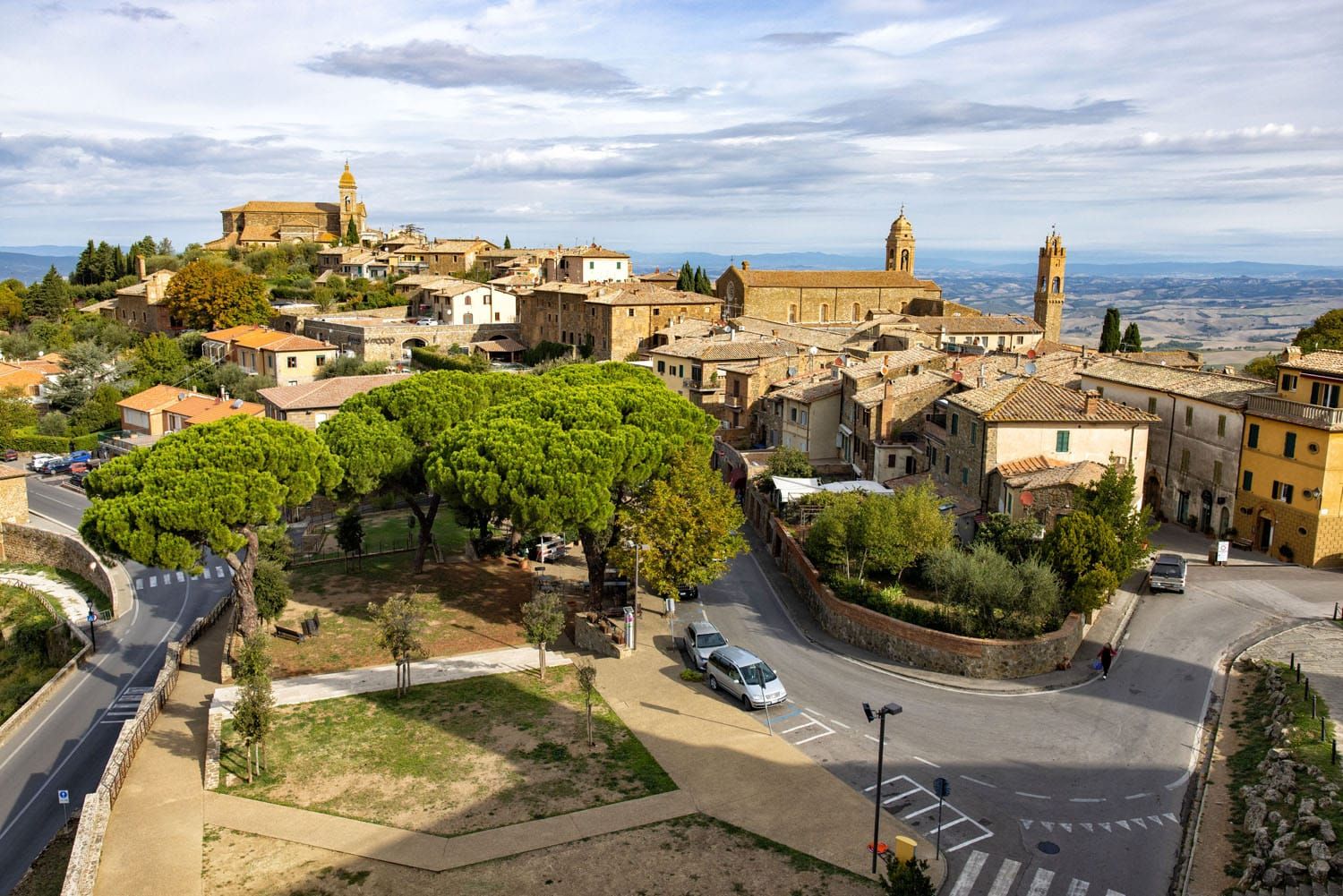 View of Montalcino from the fortress | Best things to do in Montalcino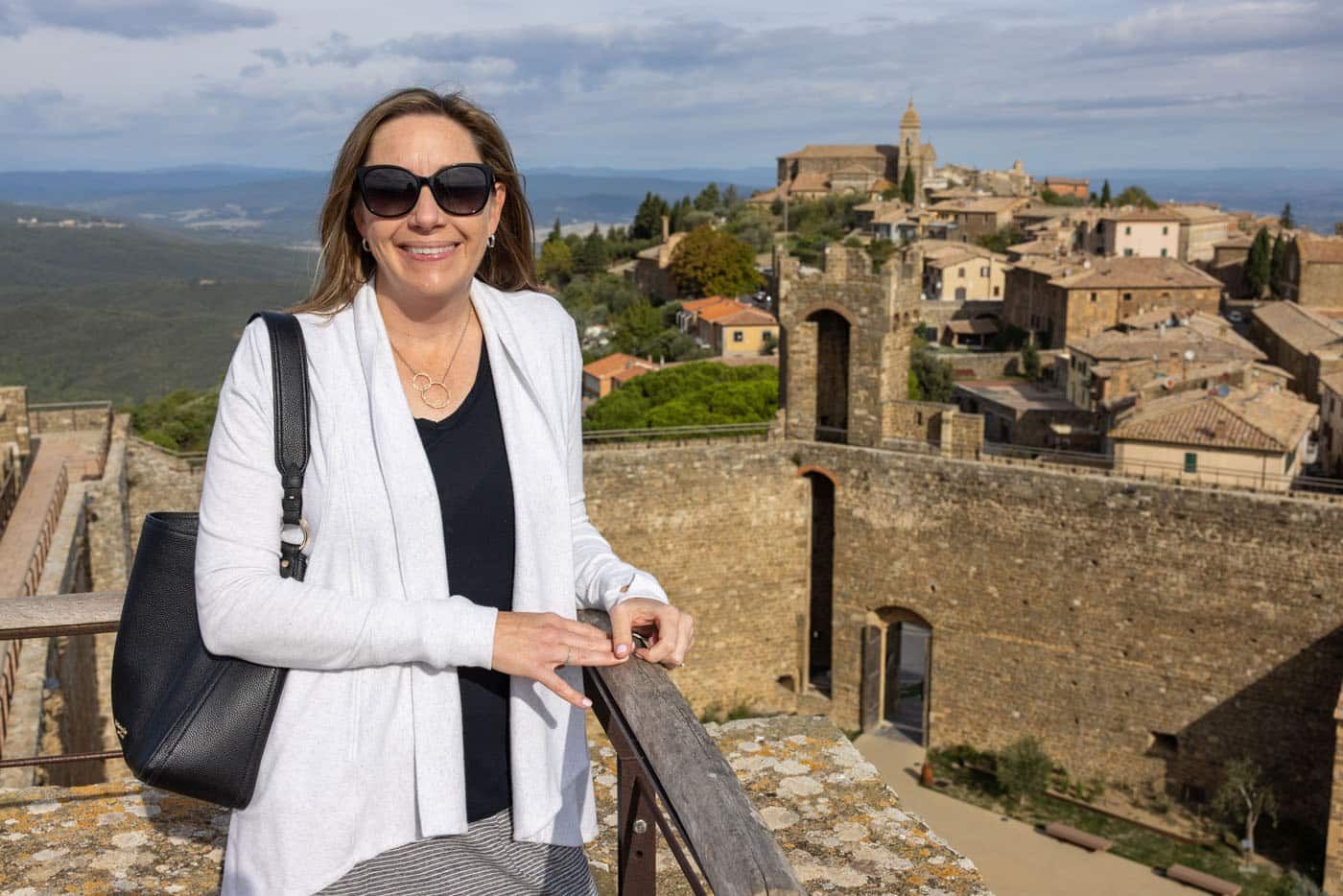 The fortress courtyard is free to visit. To climb the steps to the walls and tower, enter the Enoteca la Fortezza di Montalcino, which is a wine shop located inside of the fortress. In 2022, we paid 4€ per person to climb the walls and the steps are located inside of this shop.
Once finished walking the walls, you have the option to go wine tasting at the enoteca before exploring more of Montalcino.
3. Stroll through the City Center
The main street of Montalcino is lined with restaurants, boutique shops, and, of course, wine shops. This street changes names several times, but it runs from the southern entrance into the city (called Via Soccorso Salani at this point), past Piazza del Popolo, to the north end of town.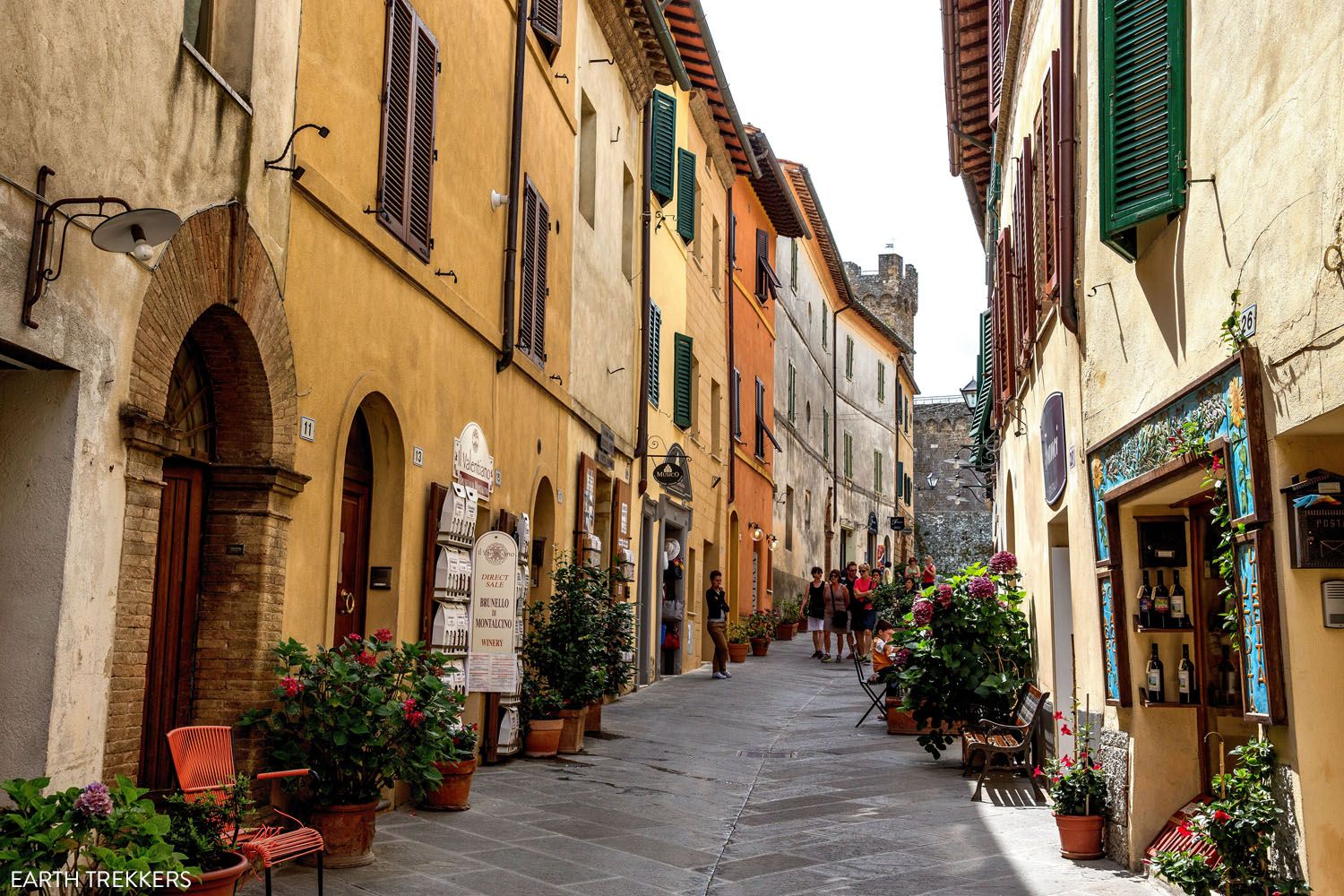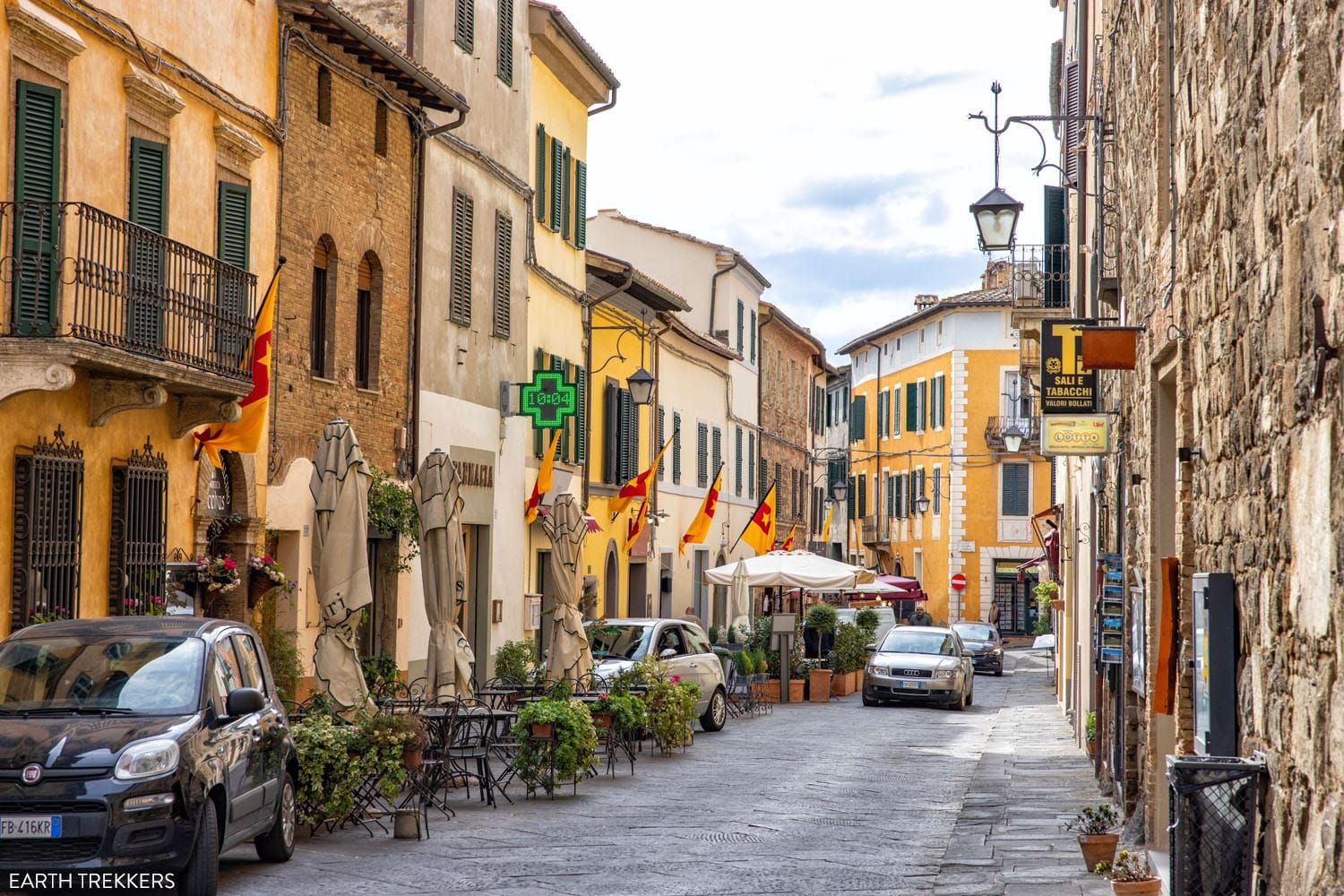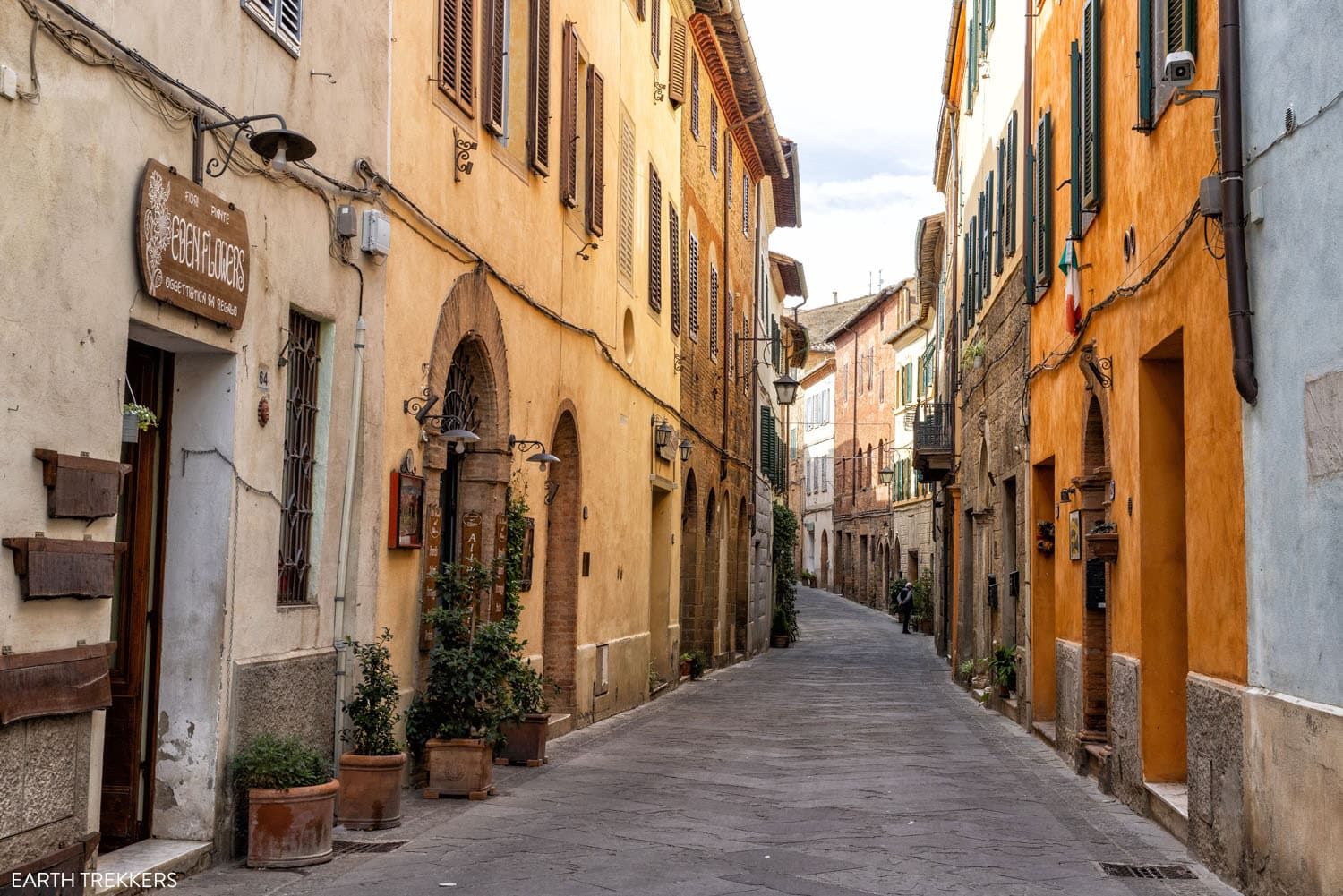 Via Giuseppe Mazzini
4. Take a Detour to the Side Streets
The side streets are also fun to explore, a little quieter, and depending on how far you wander from the city center, filled with views of the surrounding countryside. If you take a walk on Via delle Scuole, you can look out over the rooftops to Val d'Orcia and see the bell towers that rise up from the city center.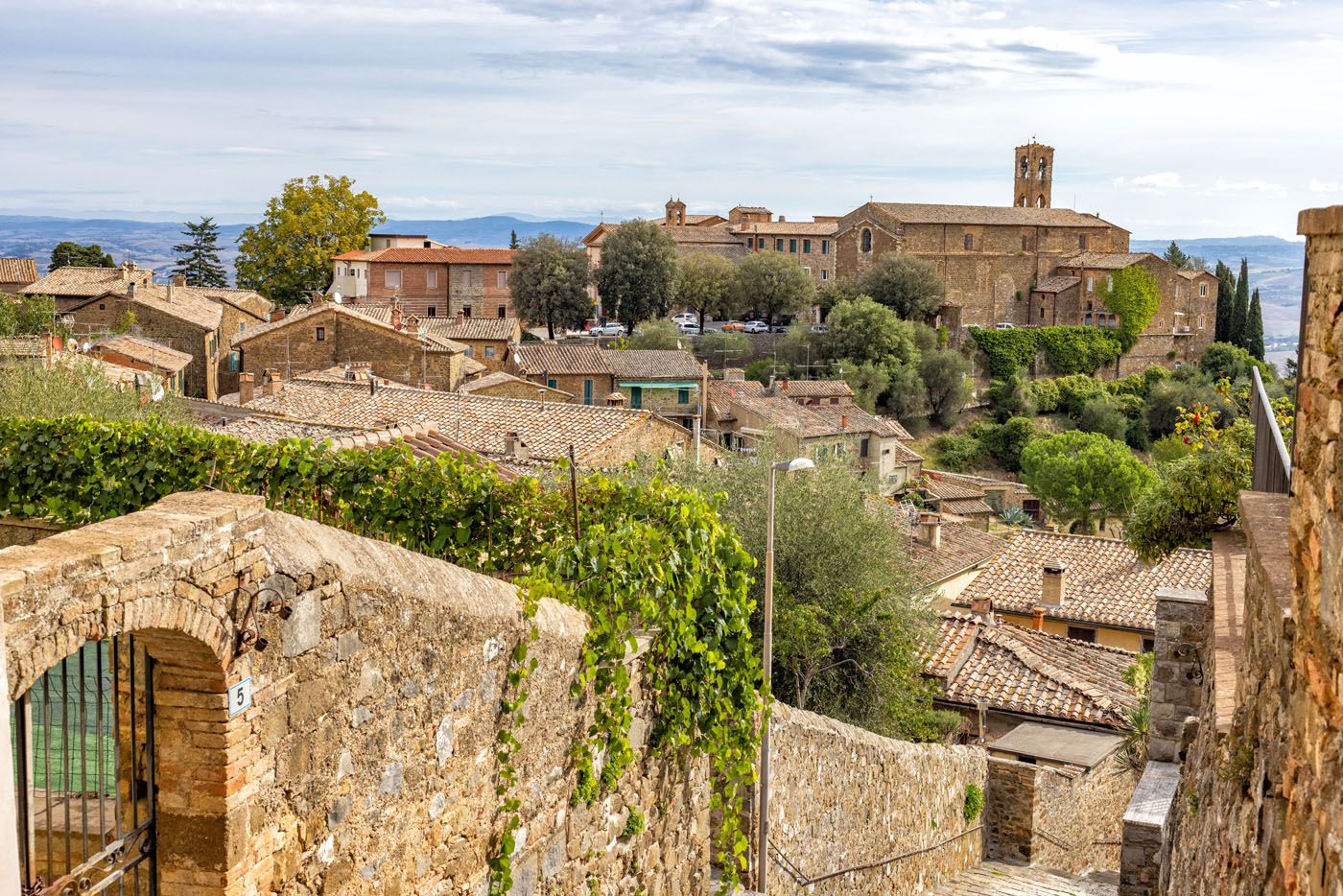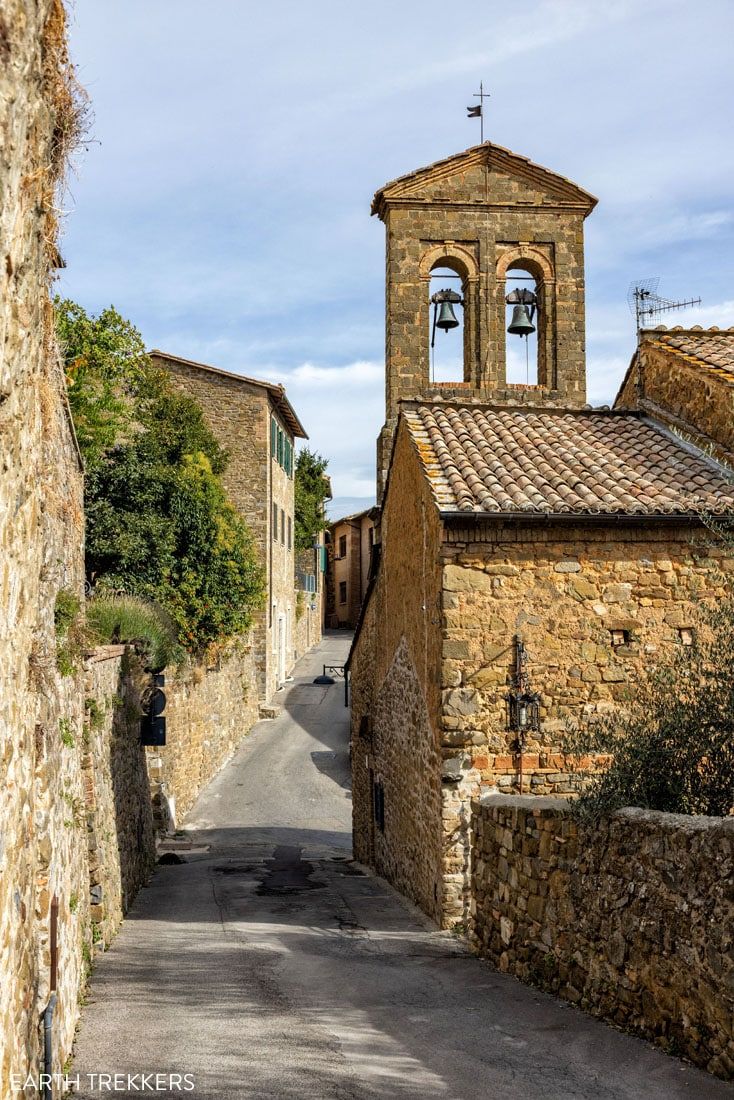 Via delle Scuole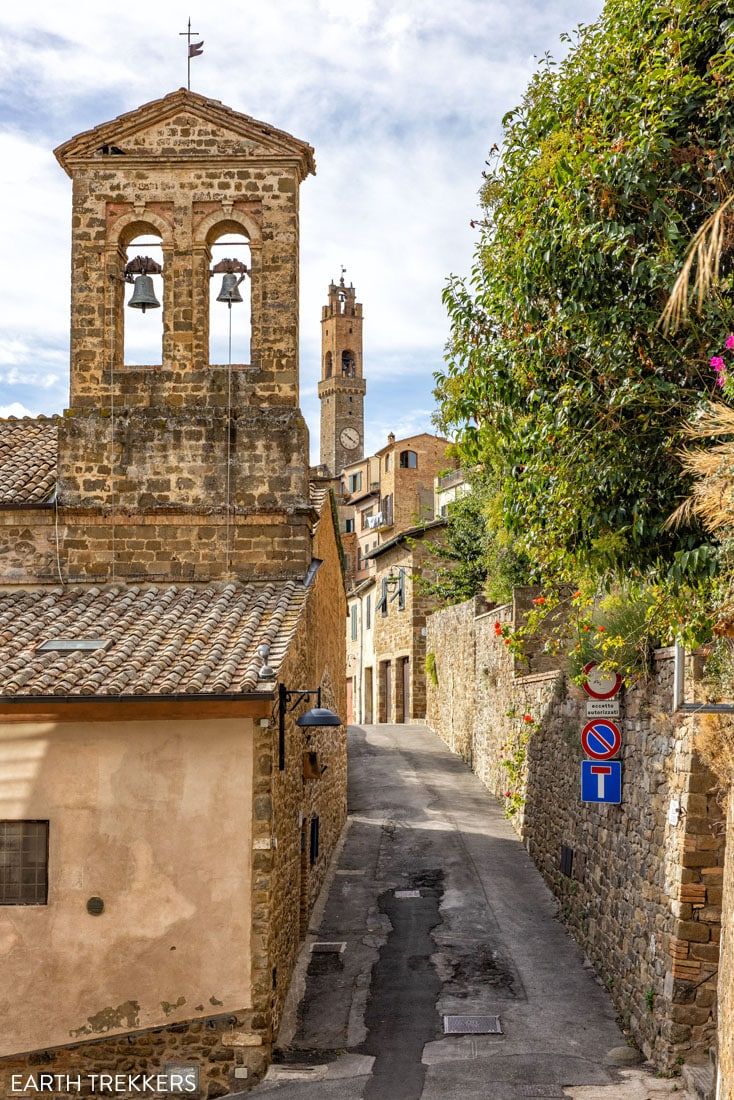 Via delle Scuole
5. Piazza del Popolo
Located in the city center, this is the main square of Montalcino. Sitting on this square are shops and restaurants and Palazzo dei Priori. The palace dates back to the 14th century and has a medieval clock tower.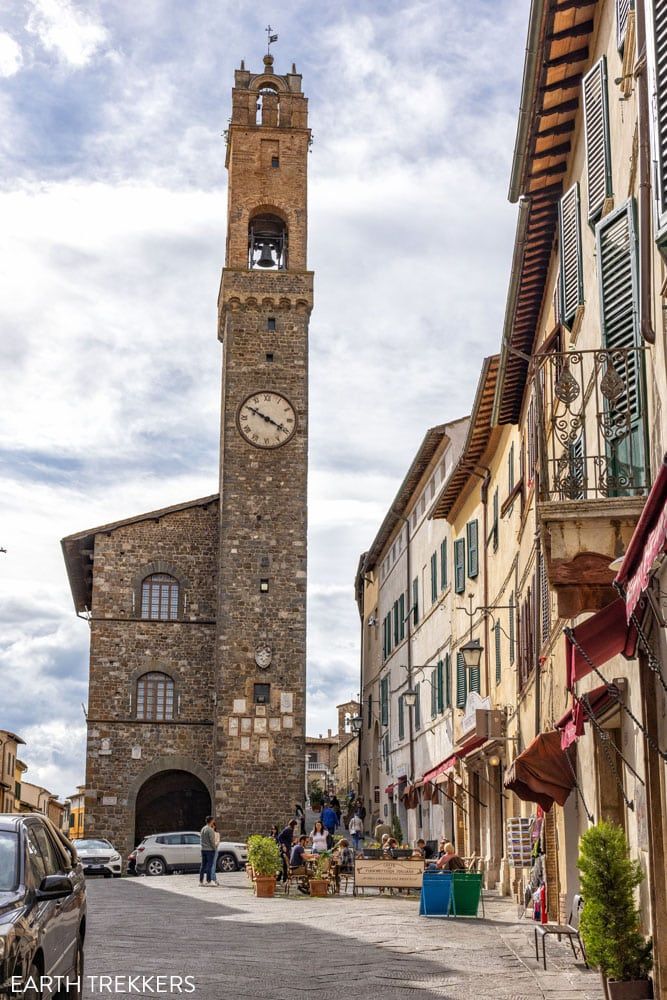 Piazza del Popolo | Best things to do in Montalcino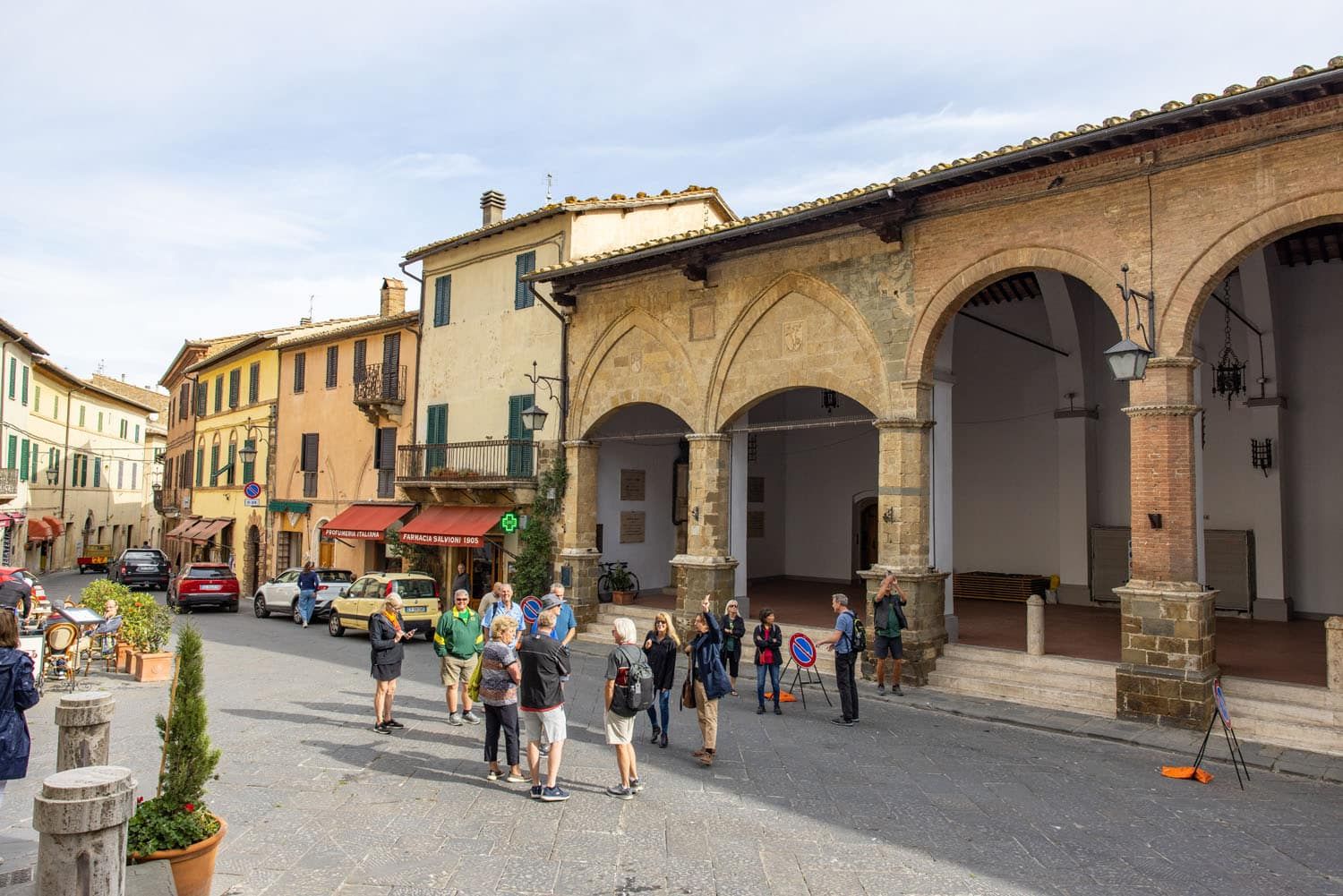 Piazza del Popolo | Best things to do in Montalcino
With More Time
On the north end of town, there is a park (Il Giardino Delle Favole) and a few churches (Chiesa della Madonna del Soccorso and the Cathedral of the Holy Savior) you can visit. They aren't must-see places in Montalcino and for most visitors, wine tasting, walking through the city center, and climbing the fortress walls are the best things to do in Montalcino.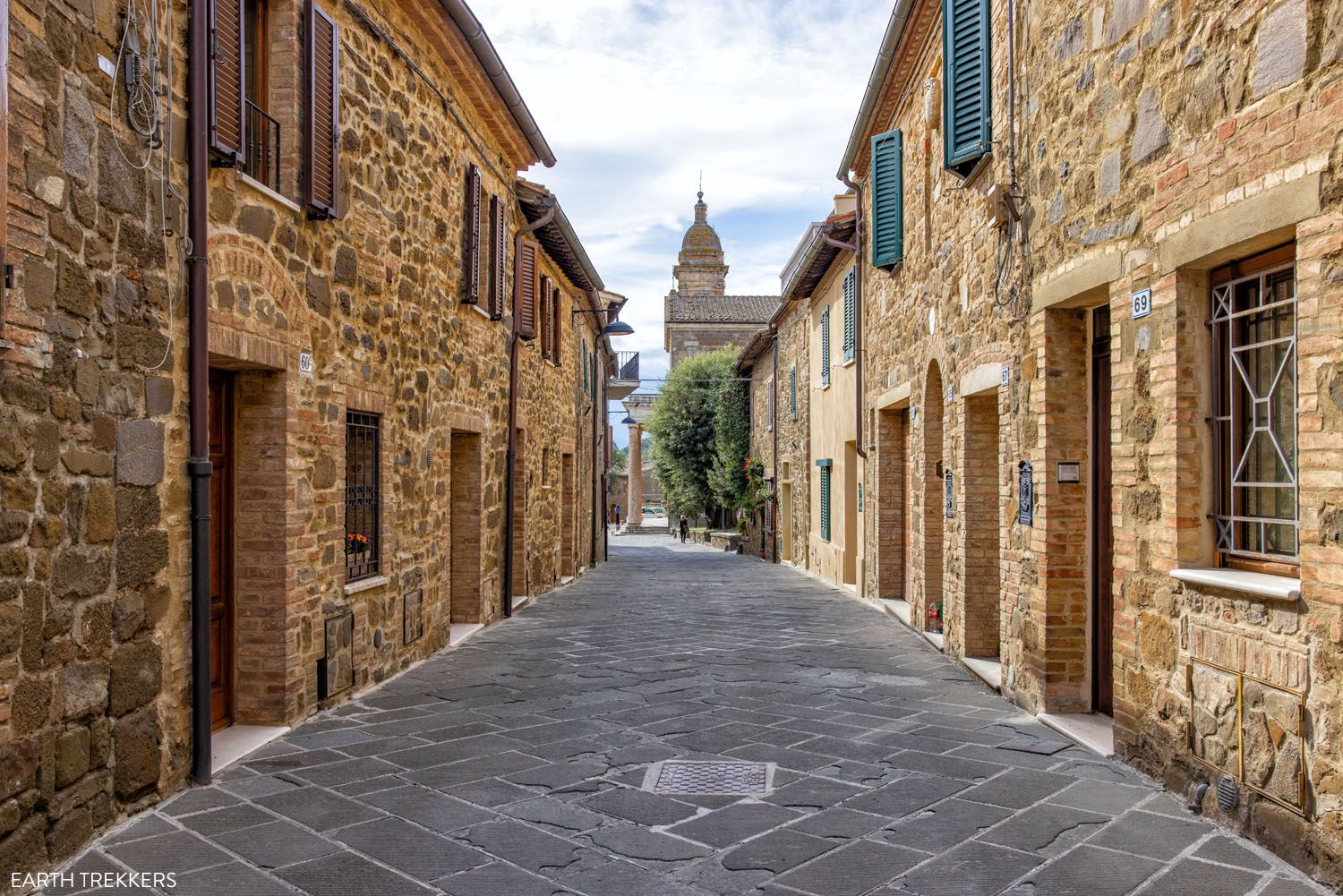 Via Spagni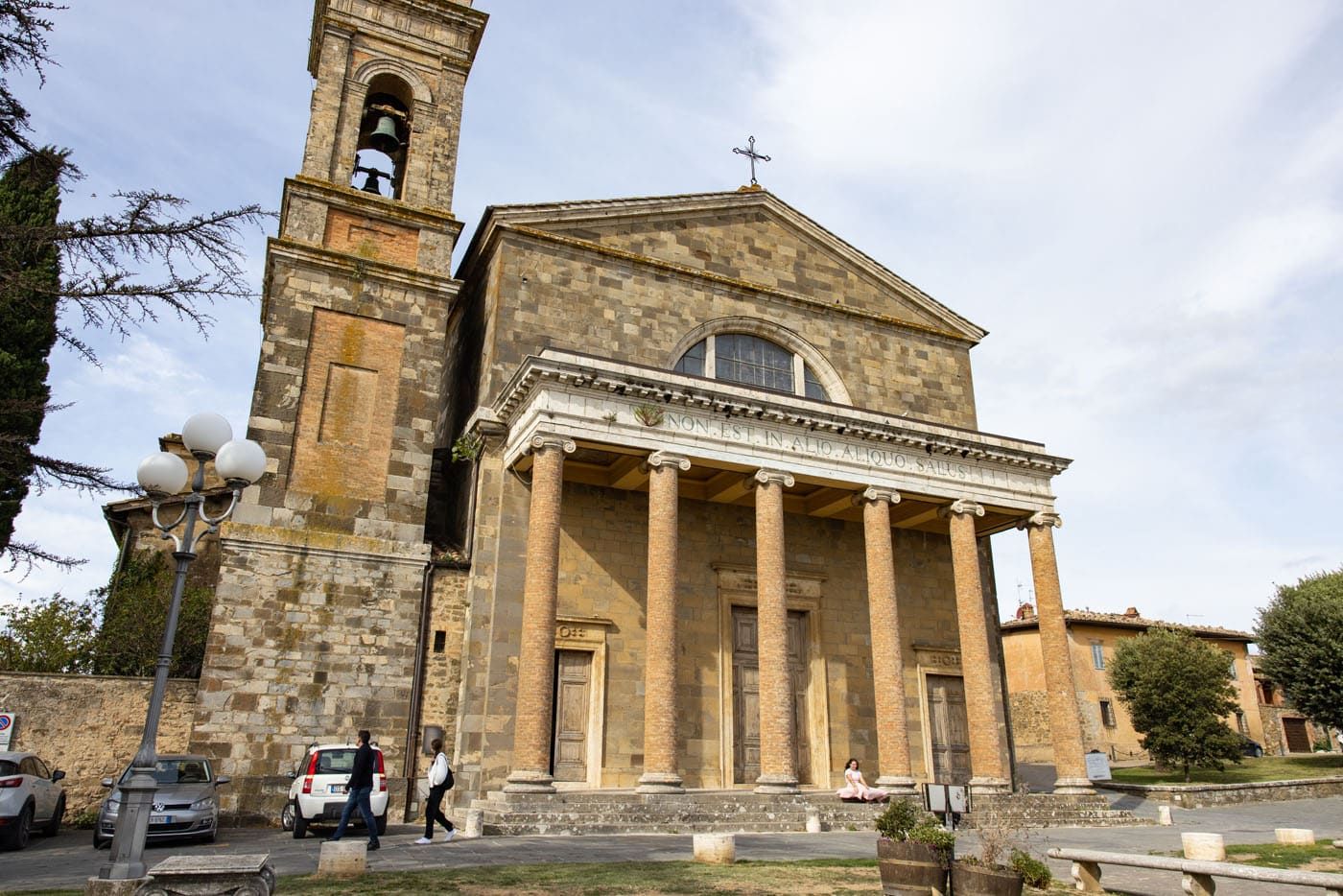 Cathedral of the Holy Savior | Best things to do in Montalcino
Best of Montalcino: On a Map
How to Use This Map: Click the icons on the map to get more information about each point of interest. Click the star next to the title of the map to add this map to your Google Maps account. To view it on your phone or computer, open Google Maps, click the menu button, go to "Your Places," click Maps, and you will see this map on your list.
How Much Time Do You Need in Montalcino?
You can visit Fortezza di Montalcino, stroll the city streets, and go wine tasting in two hours. Add more time if you want to sit down to lunch or dinner, or visit several different wine shops in town.
Helpful Tips for Visiting Montalcino
To check the weather forecast, we used Meteo Italy and the forecast was relatively accurate. There is also an app that you can download onto your phone.
If you plan to have dinner in Montacino, make your reservation in advance. In our experience in Italy, you will need to have a reservation for dinner at the highly rated restaurants.
Where to Eat in Montalcino
Ristorante Boccon DiVino is a Michelin starred restaurant with views of the Tuscan countryside. Il Moro, Re di Macchia, and Wine Bar Grotta del Brunello all get great reviews.
Outside of town, Castello Banfi La Taverna gets rave reviews. Make your reservation far in advance for this one.
How to Get to Montalcino
Public Transportation
There are no train stations in Montalcino. If you are traveling by public transportation, you can get here by bus, but you will have to transfer several times and it can take quite a bit of time to get here (at least 1 hour but usually a lot more than this) depending on your starting point.
By Car
The best way to get to Montalcino is by rental car.
Here are driving distances and times from nearby destinations:
Montepulciano: 36 km, 45 minutes

Pienza:

23 km, 30 minutes

San Quirico d'Orcia:

17 km, 25 minutes

Siena:

42 km, 50 minutes

Florence:

120 km, 2 hours
Parking in Montalcino
There are numerous parking lots in Montalcino, outside of the historic city center.
Parcheggio Porta Cerbaia is a large parking lot located down the hill from the south entrance into Montalcino. We parked here on our first visit to Montalcino.
If you get here early in the day, park in the lot next to the fortress (Parking Piazzale Fortezza). It's just a few steps from the fortress and the city center and you won't have a hill to climb to get into the city. But it fills up early, so midday and the afternoon, you may not be able to get a spot here.
There are several other parking lots around Montalcino. On Google Maps, look for the "P" symbol with the word Parcheggio. It is worth marking these on your Google maps, just in case you can't get a parking space at your first choice.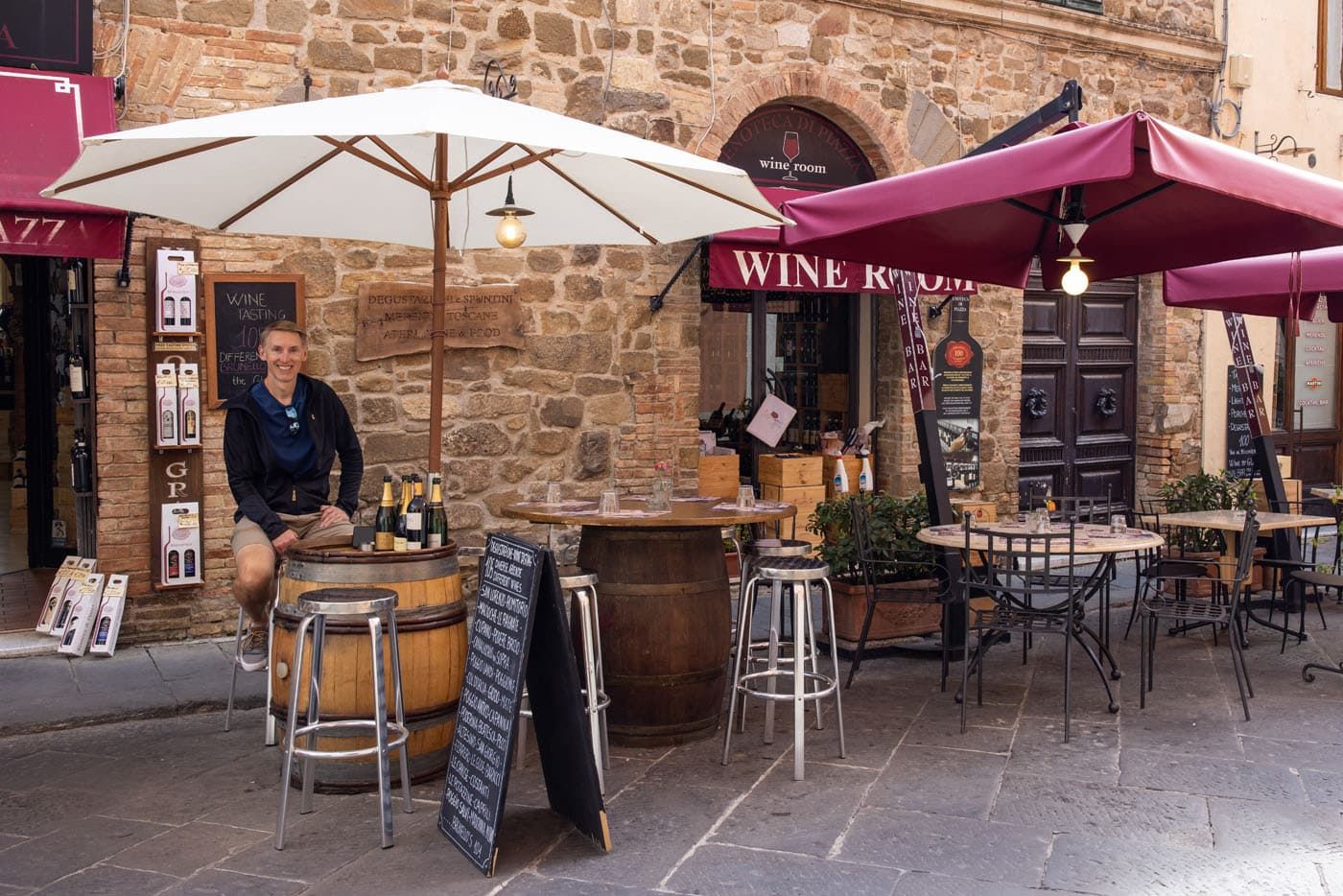 Tours of Montalcino
If you don't plan on renting a car while in Tuscany, you can visit Montalcino on a tour. This takes care of your transportation to and from Montalcino, which can save you a lot of time, since Montalcino is not easily reachable by public transportation. Here are several tours of Montalcino that start from nearby towns.
Things to Do Near Montalcino
There are several Tuscan hill towns and viewpoints that can be added onto your visit to Montalcino. In one day, it is possible to visit Pienza, Montepulciano, and Montalcino, if you move fast and don't mind visiting just the highlights of each town. If you want a more leisurely experience (and not feel like you are in a race), pick two of these towns.
Montepulciano is a 45-minute drive from Montalcino. In Montepulciano, climb the tower for panoramic view of Val d'Orcia, go wine tasting, tour the underground wine cellars, and stroll the picturesque streets.
Pienza is a very small town, even smaller than Montalcino. Trying pecorino cheese and strolling the city walls are top experiences here, so a visit here cany be very quick. Pienza is a 30-minute drive from Montalcino.
San Quirico d'Orcia is a lesser known but beautiful town in Val d'Orcia. A visit here is more about strolling the main street that runs through town, having lunch or dinner, and visiting a place that has a less touristy vibe than the towns mentioned above. It's just 20 minutes from Montalcino.
There is also a long list of vineyards to visit right outside of Montalcino. Banfi, Biondi-Santi, and Casanova di Neri are vineyards to visit.
Also outside of Montalcino is Abbazia di Sant'Antimo, an abbey surrounded by botanical gardens and cypress trees.
Where We Stayed
We spent three nights at Villa le Prata, which is a short drive from Montalcino and a great home base for exploring Val d'Orcia. At Villa le Prata, we got the experience of staying in a Tuscan villa, which was extra special since the end of September is harvest season. At the villa, we had dinner each night, plus sunset wine tastings and tours of the vineyard.
Staying in a villa is a wonderful experience to have while in Tuscany. There are many villas located in the area, but we chose Villa le Prata since it gets rave reviews, and we have to agree. Staying here was one of our highlights of our time in Tuscany.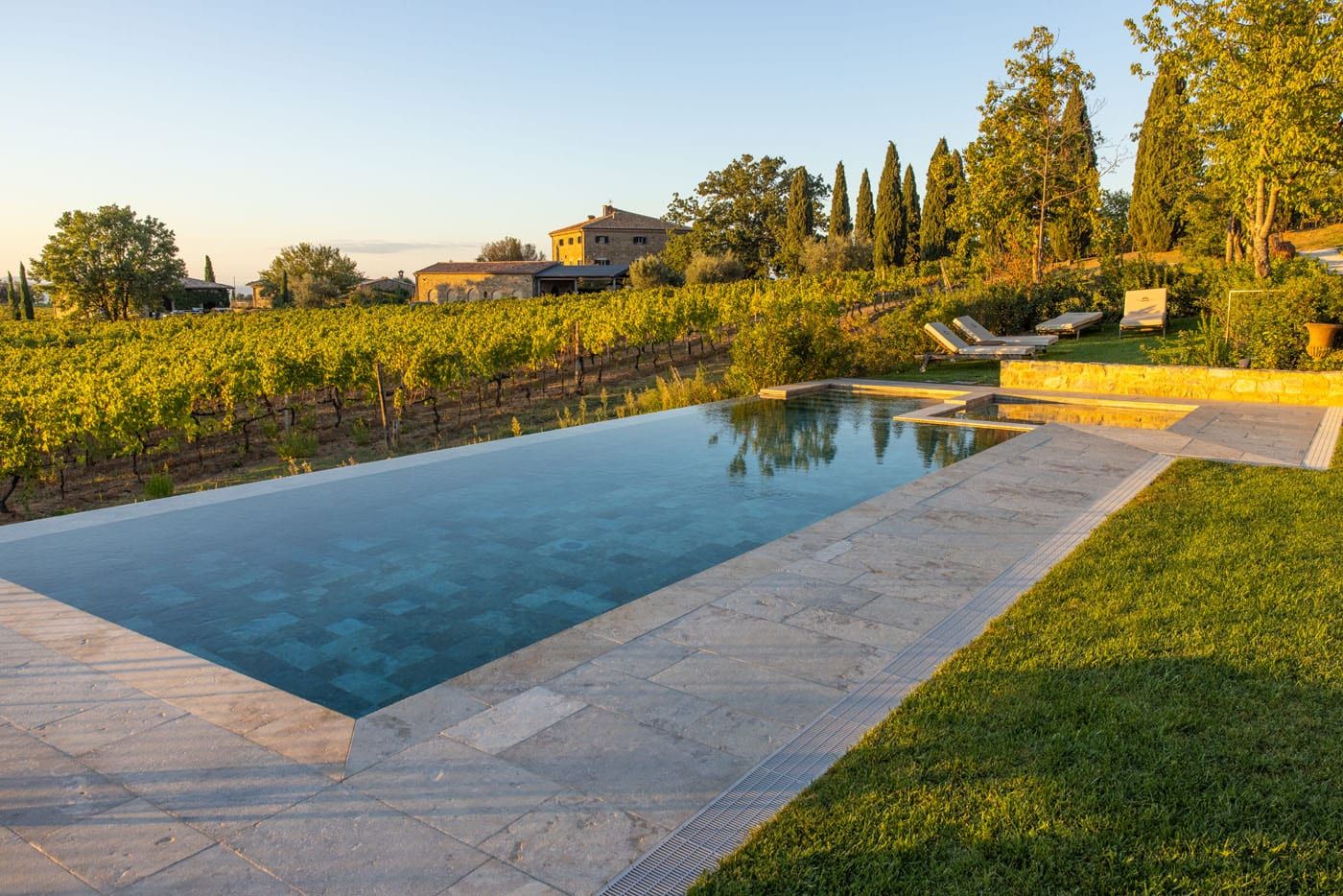 Villa le Prata
Frequently Asked Questions
Is Montalcino worth visiting?
This small town, with its scenic streets and fortress, is easy and fun to visit. It's also a great place to go wine tasting for Brunello di Montalcino and Rosso di Montalcino wines. If you aren't big into wine tasting, a visit to Montalcino may not be worth it (visit San Gimignano, Siena, or Volterra instead). But if you love wine, Montalcino is one of the best places in Tuscany to try and shop for a variety of Brunello di Montalcino wines.
Which is better, Montalcino or Montepulciano?
Montalcino and Montepulciano are similar in that wine tasting is the #1 thing to do. Montalcino is smaller and less touristy, so if you want to tour a town with fewer crowds, we recommend Montalcino. Montepulciano is a larger town with a longer to do list. Both times we were here, it was also more crowded than Montalcino. We really like both towns, but of the two, Montalcino is our favorite.
Which is better, Montalcino or Pienza?
If you want to explore a small town, try pecorino cheese, and have views out over Val d'Orcia, put Pienza on your Tuscany to-do list. Montalcino is a great place to taste Brunello di Montalcino wine but it's also a lot of fun to walk the fortress walls for great views of the town and explore the city streets. Of the two towns, Montalcino is our favorite.
How much time do you need in Montalcino?
If you plan to climb the fortress walls, stroll the streets, and go wine tasting, plan on spending 2 to 3 hours in Montalcino. If you plan to sit down to lunch or dinner, add on another 1 to 2 hours.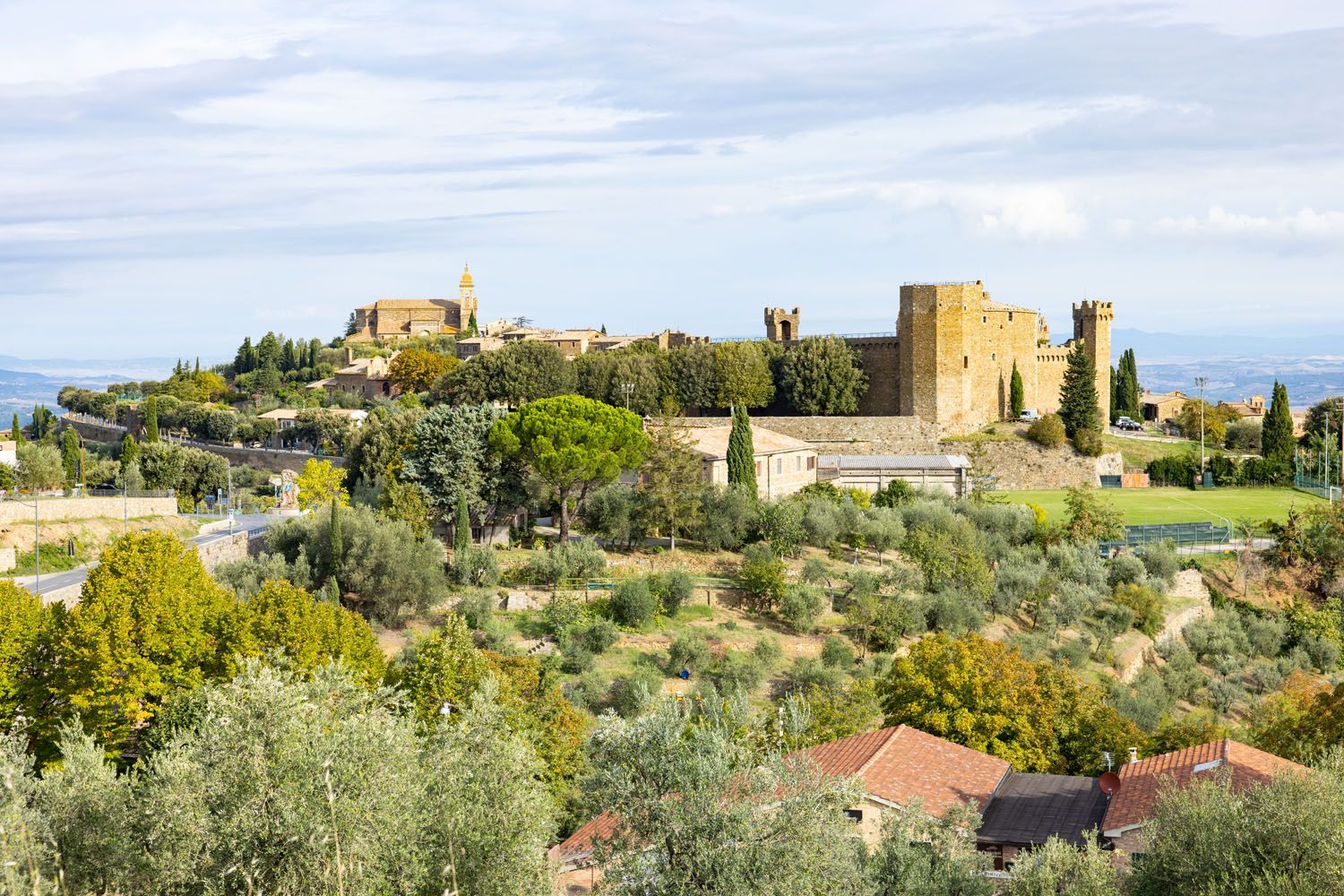 Montalcino
More Information about Tuscany
TUSCAN HILL TOWNS: Check out our detailed guides to Siena, Montepulciano, Pienza, San Quirico d'Orcia, San Gimignano, Monteriggioni, Lucca, Volterra, Arezzo, and Cortona.
TUSCANY: Get started with our guide to the Best Things to Do in Tuscany. Learn how to plan your visit with our Tuscany Itinerary, which has sample itineraries, whether you have 3 days, 5 days, or an entire week in Tuscany.
SIENA: Plan your visit to Siena with our articles Best Things to Do in Siena, One Perfect Day in Siena and How to Visit the Siena Cathedral.
FLORENCE: If you are planning your first visit to Florence, don't miss our guide to the 10 Best Things to Do in Florence, how to spend one day in Florence, and how to spend 2 days in Florence. We also have a guide about how to visit the Florence Cathedral and related sites, the best rooftop bars in Florence and the best viewpoints in Florence. Here are 15 day trips to take from Florence, with practical information on how to plan your day.
---
If you have any questions about the best things to do in Montalcino or how to visit Montalcino, let us know in the comment section below.
More Information for Your Trip to Italy
PHOTOGRAPHING ITALY: For some of the best views in Italy, here are 20 gorgeous views and exactly where to photograph them.
PUGLIA: Alberobello is one of the most popular towns to visit in Puglia. Here's a list of the best things to do in Alberobello. We also have a guide to the best things to do on the Gargano Peninsula.
NORTHERN ITALY: If you plan to visit the Dolomites, read our article Best Hikes in the Dolomites. Verona is a beautiful city to add to your Italy itinerary and we also have a detailed guides on Lake Garda on how to day trip to Lake Como and Bellagio.
ROME: For a list of the top experiences in Rome, read our article Best Things to Do in Rome. Learn how to put these together in our 2 Day Rome Itinerary, where to eat in our Rome Restaurant Guide, how to visit the Colosseum, and where to stay in our Rome Hotel Guide. And don't miss our guide to the Best Rooftop Bars in Rome.
We have TONS more information about Italy in our Italy Travel Guide, including Rome, Florence, Venice, Tuscany, the Dolomites, the Amalfi Coast, the Cinque Terre, and Puglia.
Note: This post contains affiliate links. When you make a purchase using one of these affiliate links, we get paid a small commission at no extra cost to you.
All rights reserved © Earth Trekkers. Republishing this article and/or any of its contents (text, photography, etc.), in whole or in part, is strictly prohibited.