Monteriggioni is a small, walled town in Tuscany, Italy. A visit here is quick, with a stroll through town and a walk on the walls topping the list of things to do in Monteriggioni. It's well worth adding onto your visit to Tuscany, especially if you have plans to drive through nearby towns such as Siena, Volterra, and San Gimignano.
Background Information on Monteriggioni
Monteriggioni was built as a castle in the 13th century. Its original purpose was as a defensive fortress and to watch over the land towards Florence, the rival of Siena. Over several hundred years, the castle was attacked by Florentines.
The town is surrounded by medieval walls that are topped with 15 towers. There are two doorways through these walls. Porta Franca (also called Porta Romea) faces Siena and Porta San Giovanni faces Florence.
Monteriggioni is located along the Via Francigena, a pilgrimage route from Canterbury to Rome. It is a 3,200 km route that dates back to 990 AD, when Sigeric, the archbishop of Canterbury, traveled from Canterbury to Rome. He documented all 79 stages of his journey, which then became the origins of this walking route.
Monterrigioni has made appearances in several movies, including The English Patient and The Gladiator.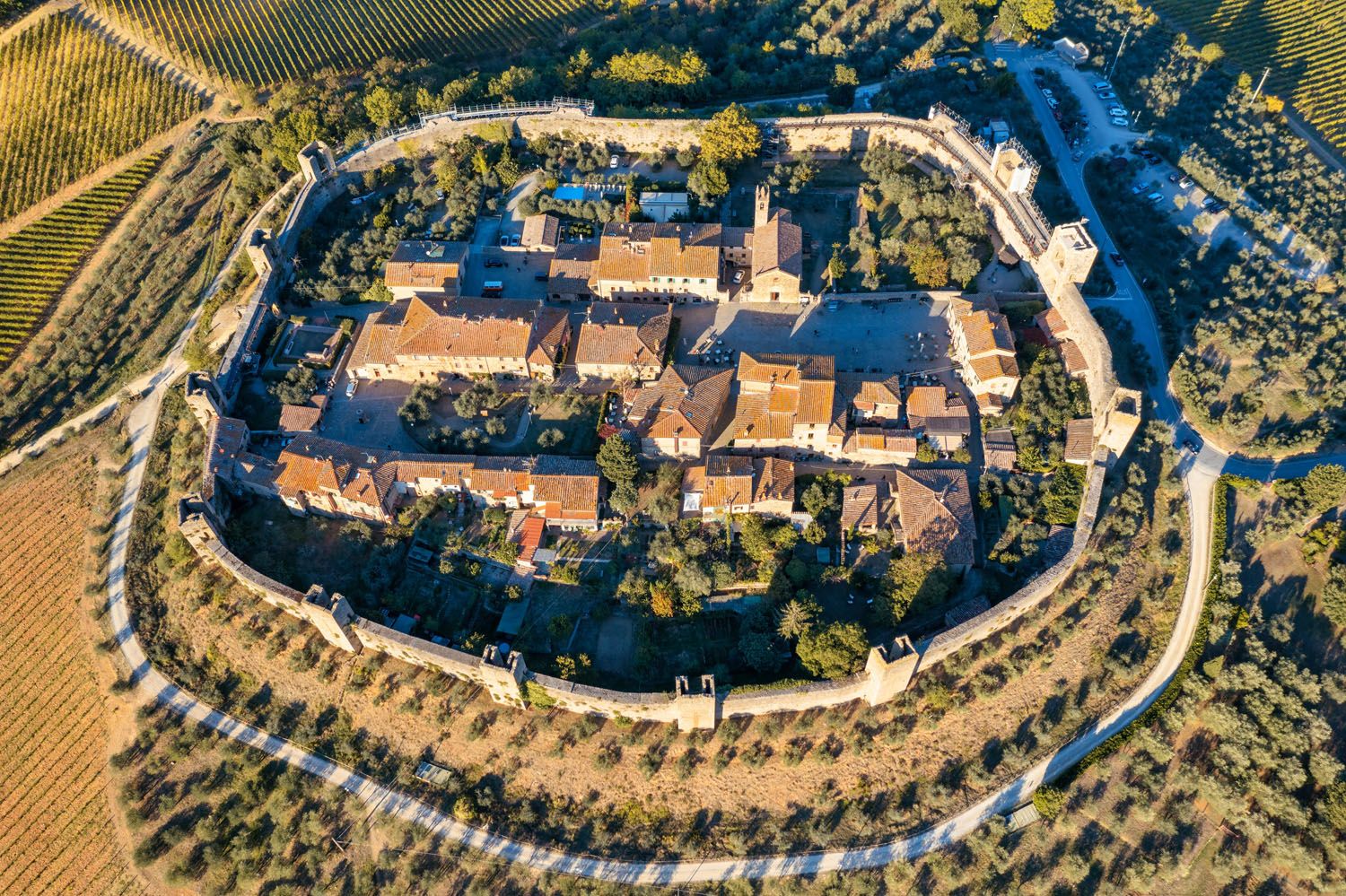 Aerial view of Monteriggioni | DaLiu/shutterstock.com
Things to Do in Monteriggioni
Walk on the Medieval Walls
The best thing to do in Monteriggioni is to walk on the medieval walls. From here, you get a bird's eye view over the town and the Chianti region.
There are two small sections of wall that you can walk (you cannot walk the entire loop around Monteriggioni, unfortunately). The longer section sits next to the main entrance into town, next to Porta Franca. A metal staircase takes you up to a metal walkway that runs along the interior of the walls.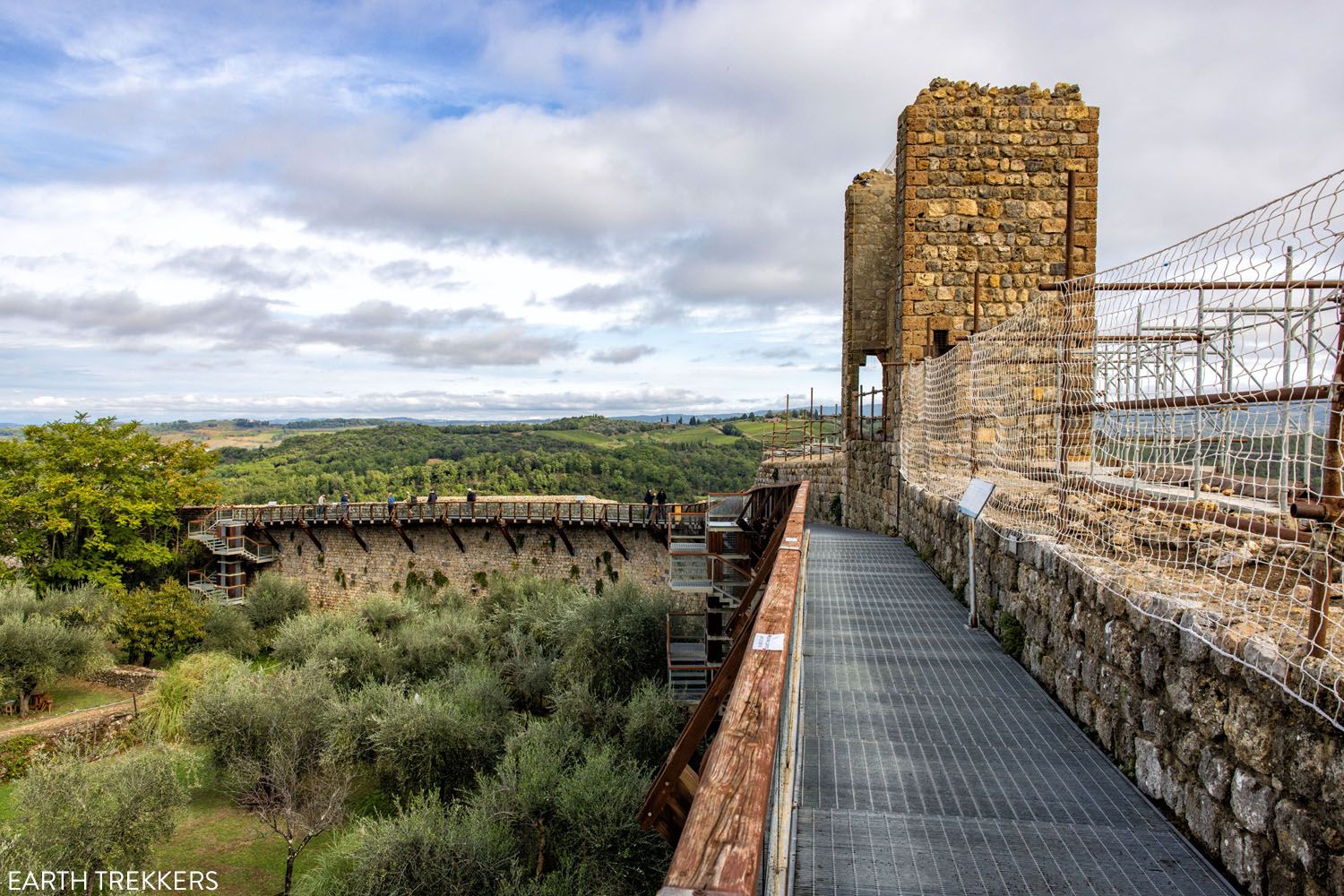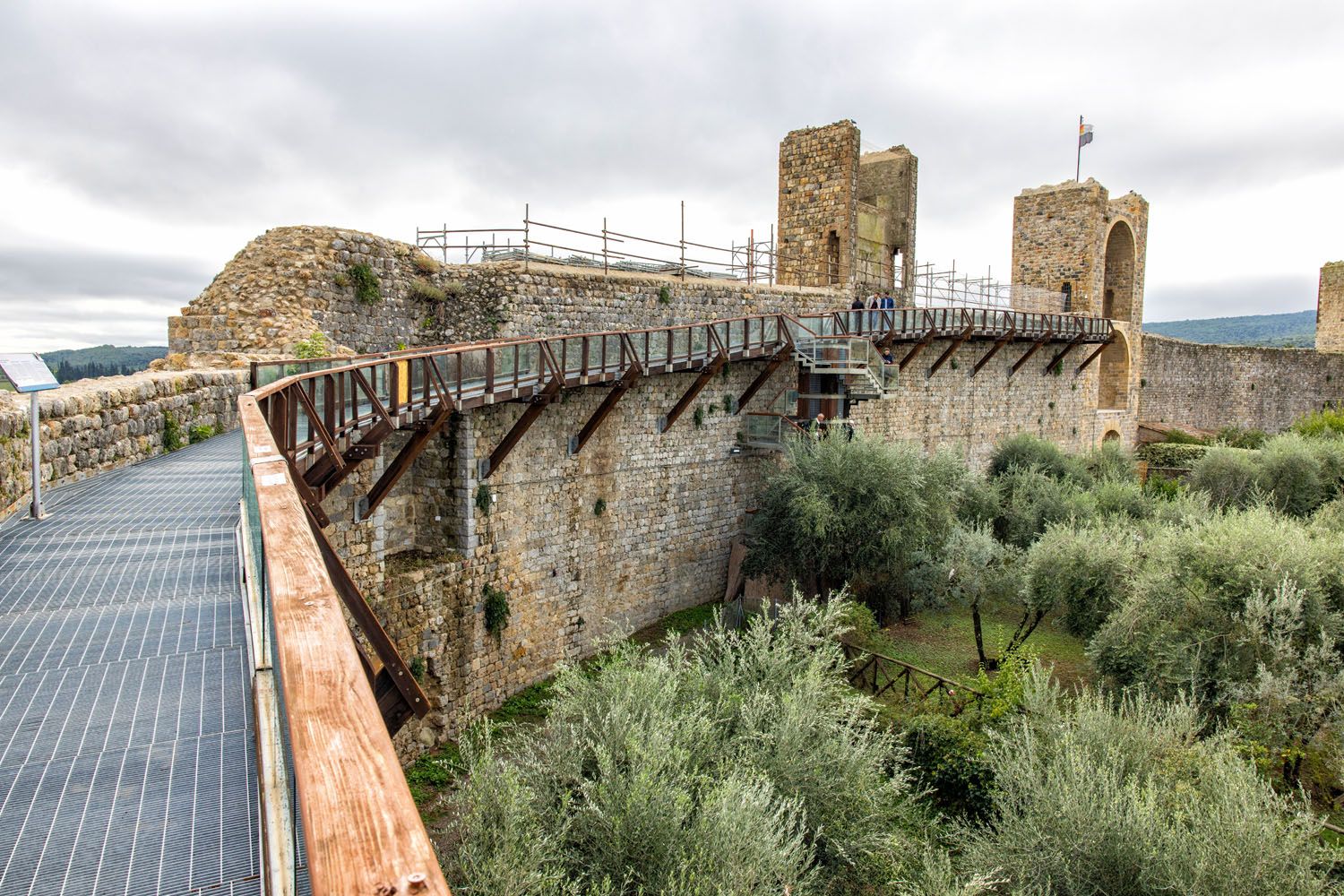 Walking the walls near Porta Franca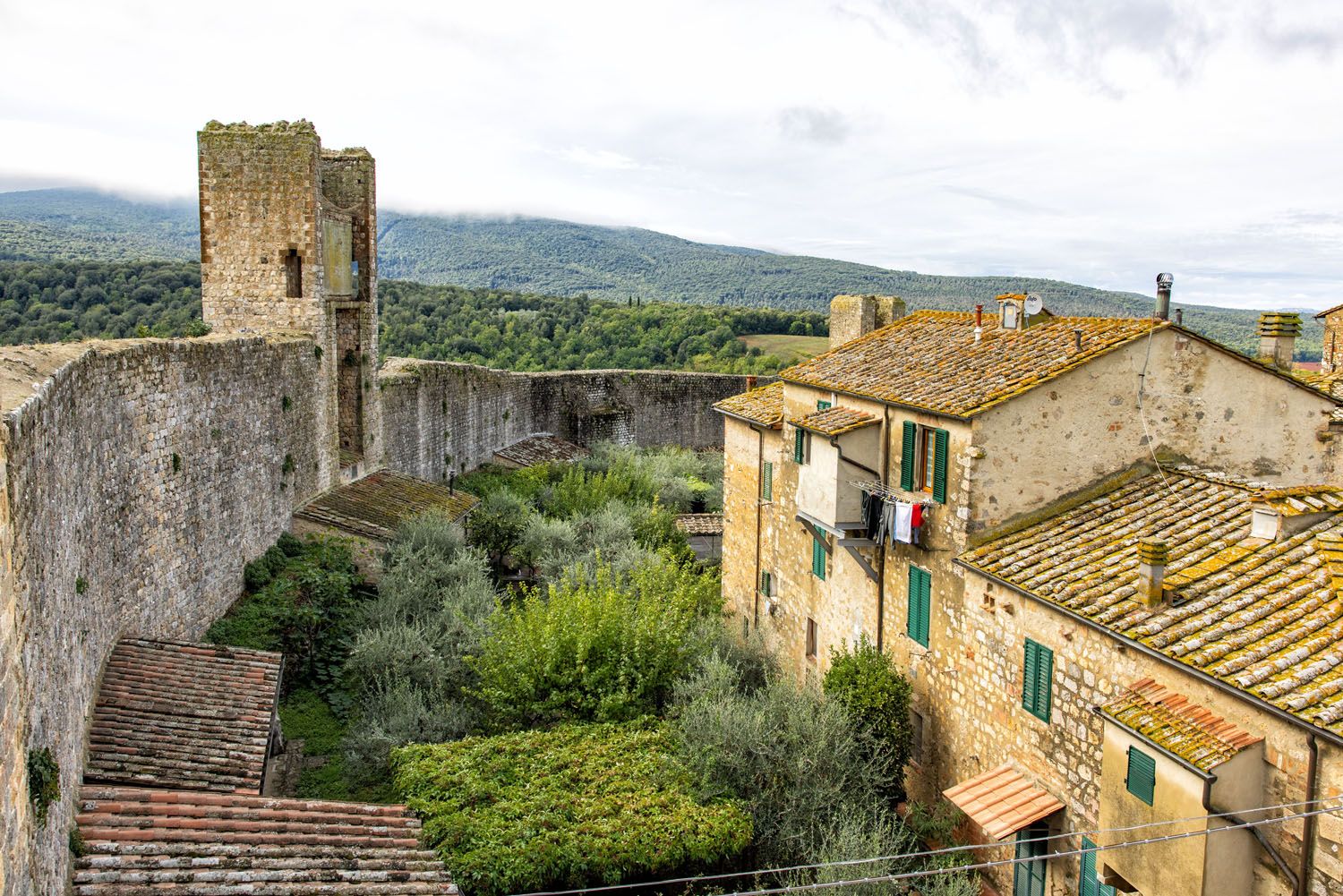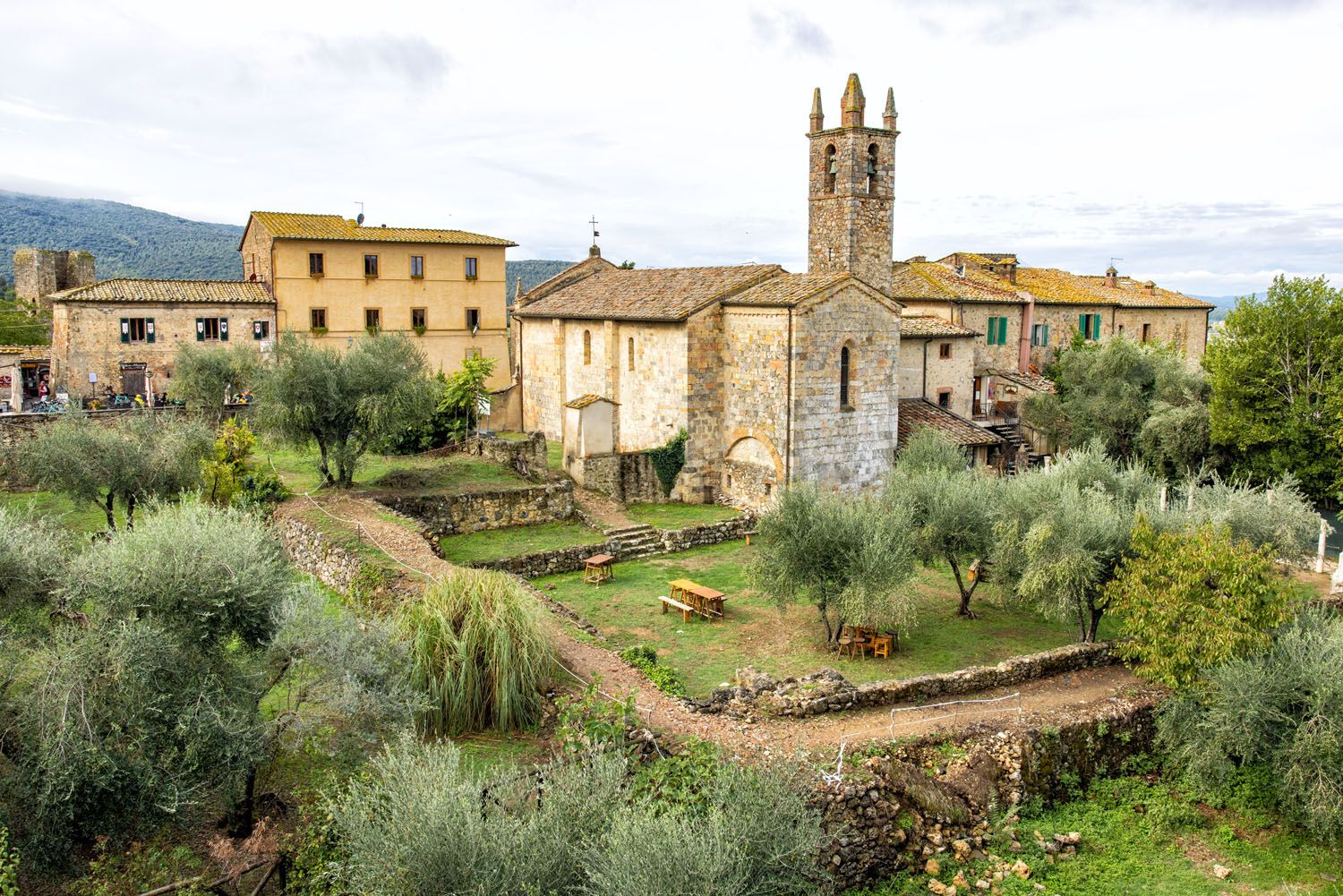 The view of Monteriggioni from the walls
There is a shorter section at the opposite end of town, near Porta San Giovanni. Climb the metal staircase to the very short walkway, which is another metal walkway on the interior of the walls.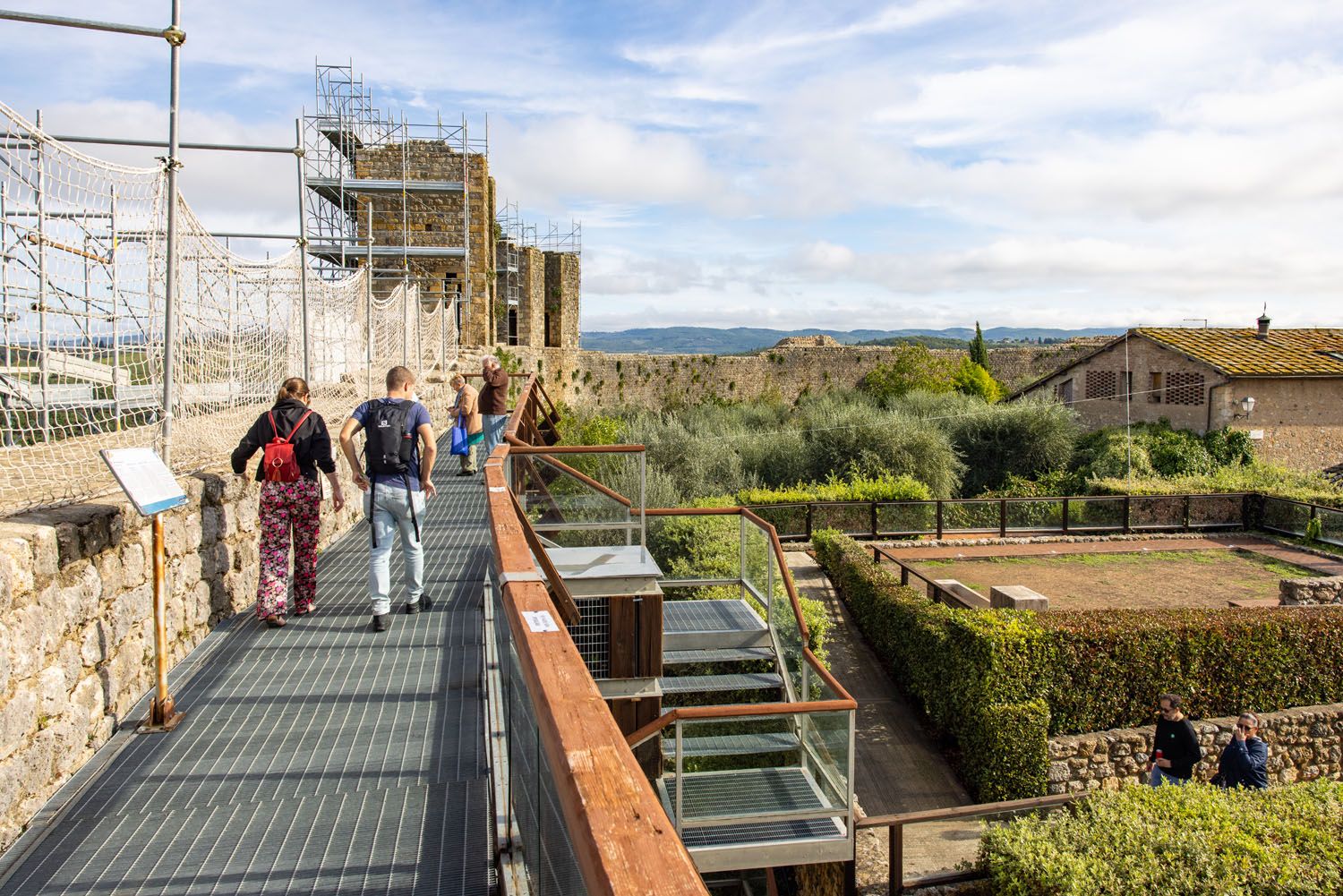 Walking the walls near Porta San Giovanni
Your ticket includes both sections of the walls and gets you into the museum.
Stroll along Via I Maggio
Via I Maggio is the main street that runs through the center of Monteriggioni. To get from one end to the other, it only takes about 5 minutes, which illustrates just how small this town is.
Along the way, you will pass some shops, Chiesa di Santa Maria Assunta, and the museum.
Piazza Roma
Piazza Roma is the main square in the center of town. Several restaurants sit along the square, along with Chiesa di Santa Maria Assunta.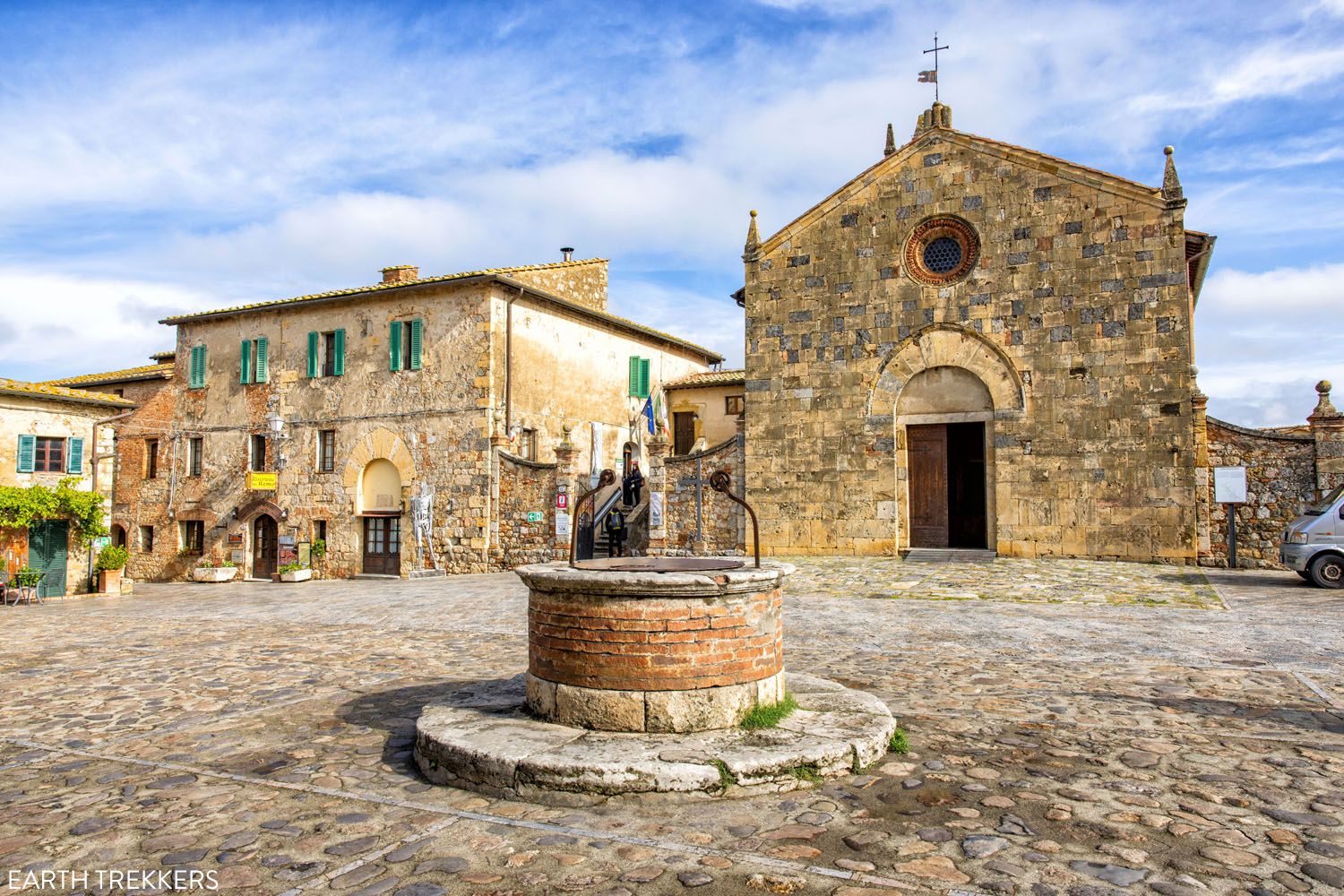 Piazza Roma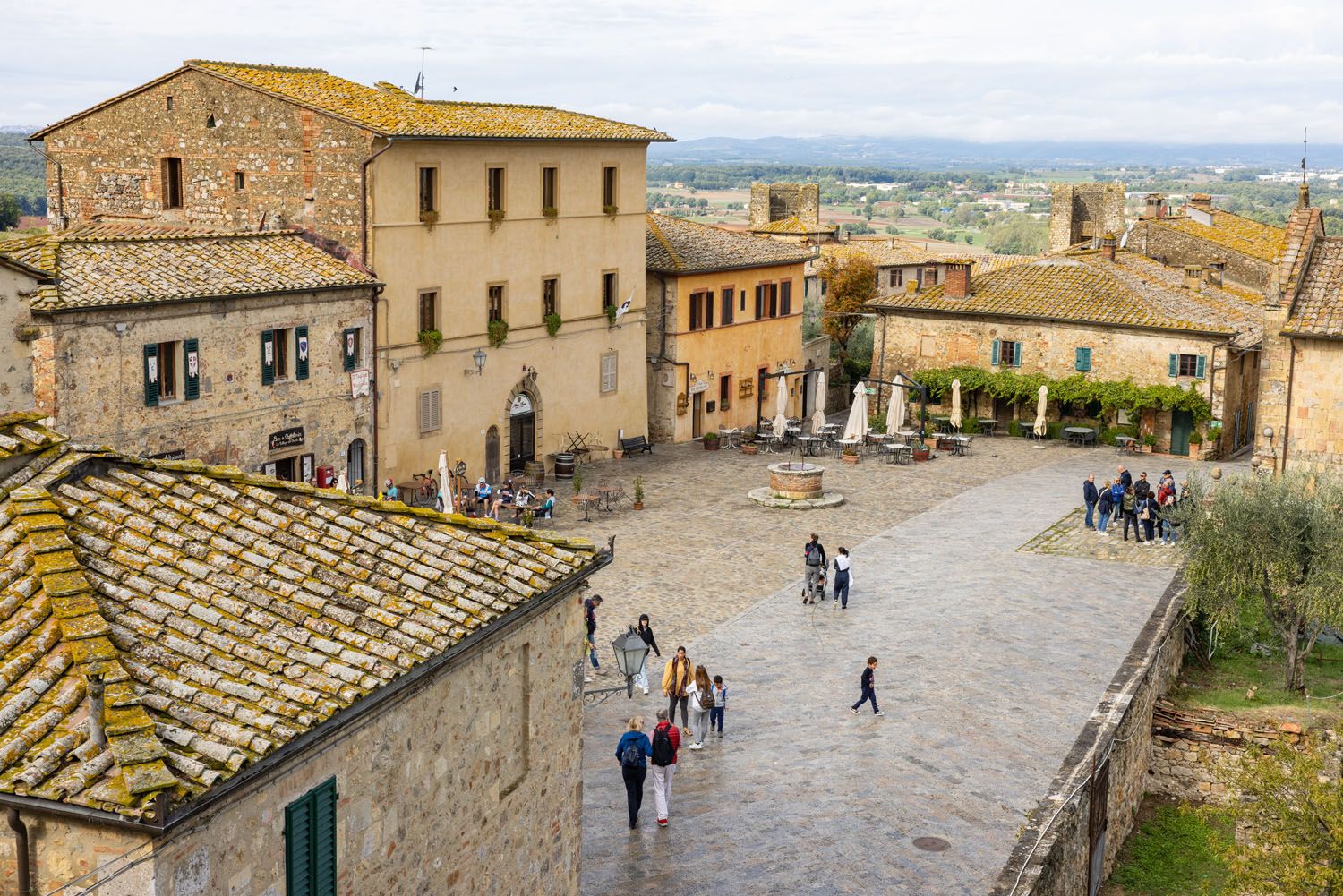 View of Piazza Roma from the walls
Chiesa di Santa Maria Assunta
This church was built in 1213, the same year that Monteriggioni was founded. The bell tower was more recently constructed, in the 18th century. Inside the church you can see a painting of the Madonna by Lippo Vanni and a bell and wooden crucifix donated to the church in 1298 by the Republic of Siena.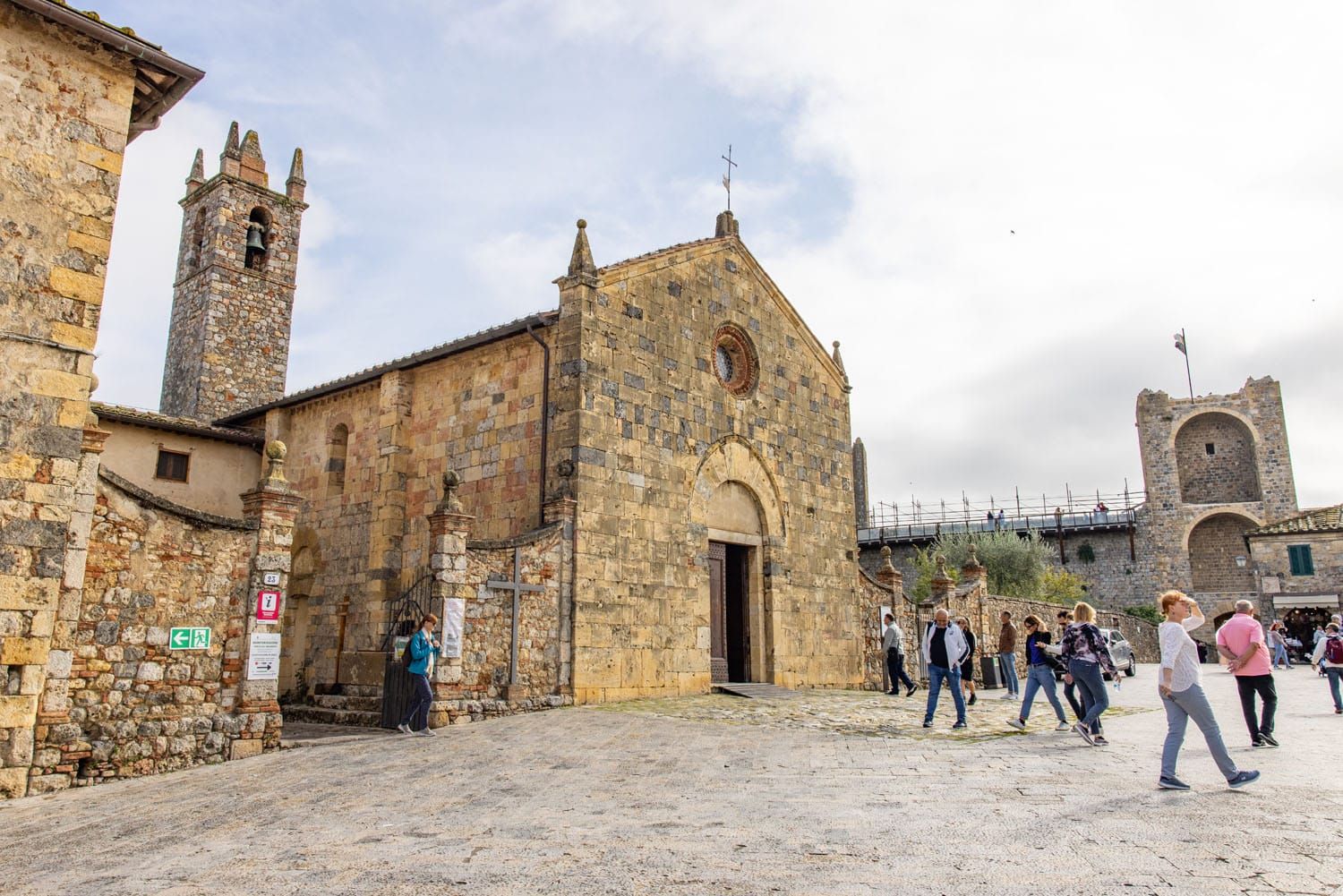 Chiesa di Santa Maria Assunta
Visit the Medieval Museum "Monteriggioni in Arms"
This small museum provides information about the history of Monteriggioni and the sieges on the castle. It takes between 15 and 30 minutes to walk through the museum and a visit here is included on your ticket to walk the walls. The museum is located next to the Tourist Information office, next to Chiesa di Santa Maria Assunta.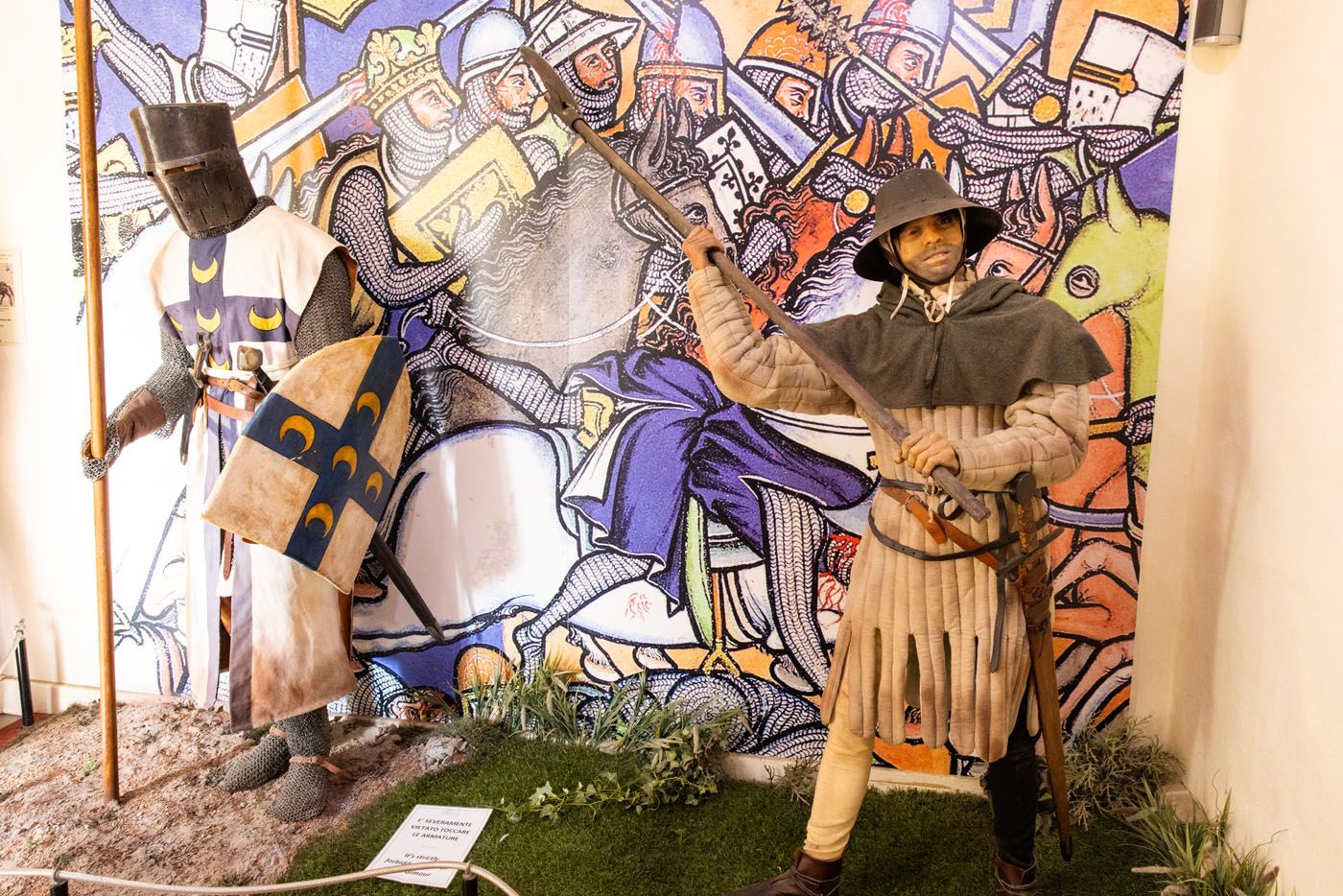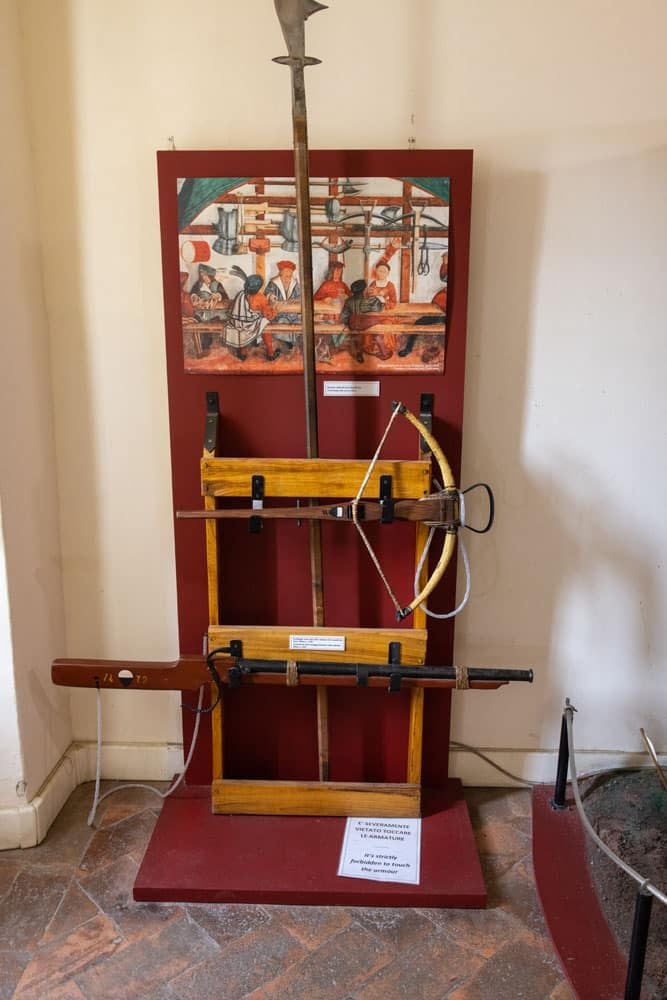 Explore the Side Streets
Make a loop through town, walking along the main street from one gate to the other, and then come back to your starting point on Via Gramsci or Via Matteotti. These two streets run parallel to the main street and offer different views of Monteriggioni.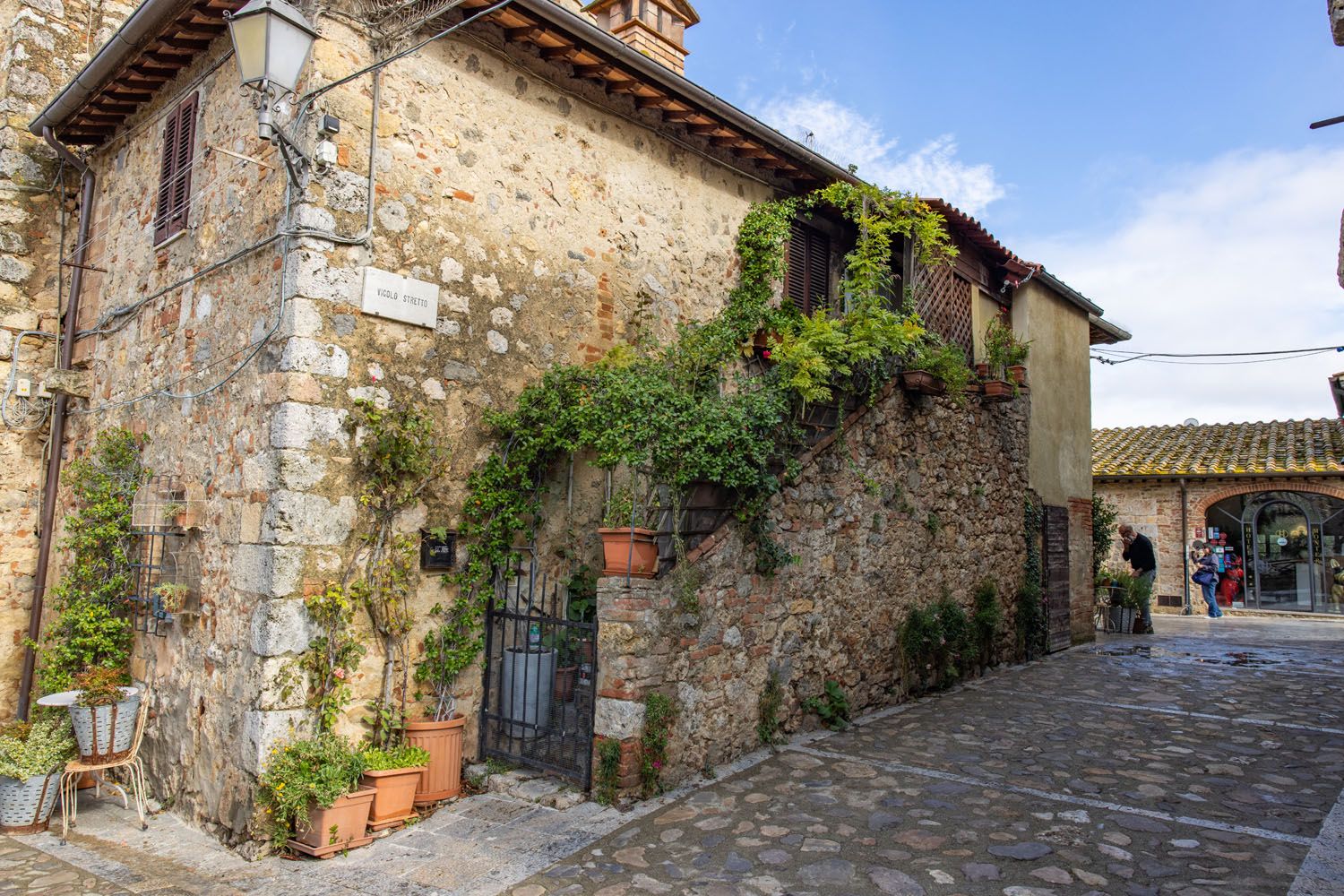 Where to Eat in Monteriggioni
Antico Travaglio is located on Piazza Roma and it gets rave reviews by guests, some saying it was their most memorable meal in Tuscany. Ristorante da Remo and Il Ceppo also get very good reviews. Futura Osteria is a Michelin-starred restaurant that is open for lunch and dinner.
How Much Time Do You Need in Monteriggioni?
The town is tiny so a visit here is very quick.
If you simply want to walk the walls, take a stroll through town, and visit the museum, an hour is all you need. With more time, you can sit down to lunch or dinner.
How to Get to Monteriggioni
There is no train station in town but there are buses that run frequently from Siena. Here is a link to the timetable (select "GLI Orari Autobus da Siena a Monteriggioni).
The best way to get to Monteriggioni is by car, since you can travel on your own schedule. Here are the driving distances and times from nearby destinations:
Siena:

21 km, 20 minutes

San Gimignano:

28 km, 40 minutes

Volterra:

40 km, 50 minutes
Florence: 65 km, 1 hour
There are several parking lots that sit outside of Monteriggioni, near Porta Franca. The closest lot sits just outside of the gate, at the top of the hill. If you can't get a parking space here, drive back down the road a short distance and there are two more lots. There is a small fee to park in all of these lots.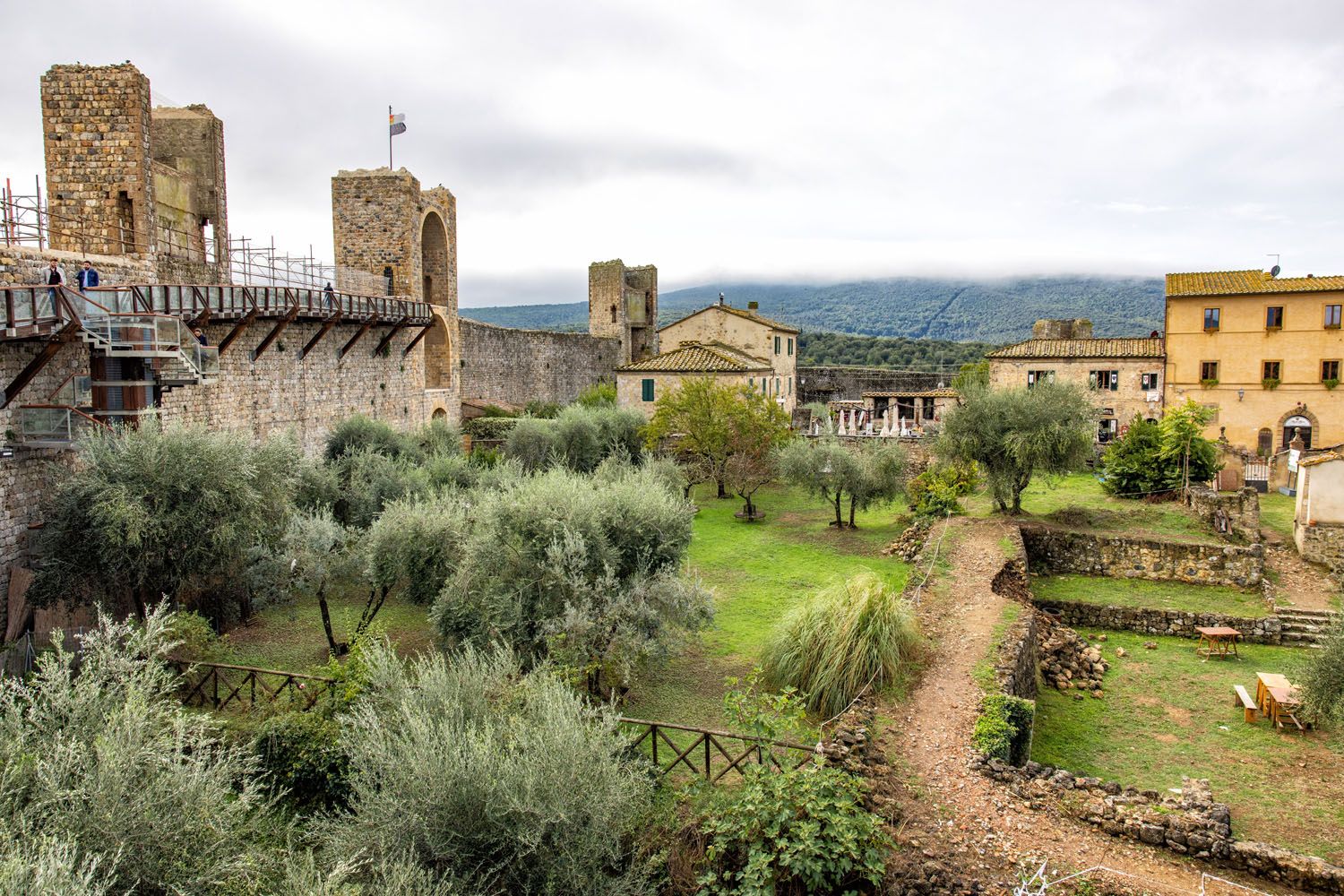 More Information for Your Trip to Tuscany
FLORENCE: For a list of things to do, take a look at our Florence Bucket List and learn how to plan your time with our 2 Day Florence Itinerary. We also have information about how to visit the Florence Cathedral, about the best rooftop bars in Florence, the best viewpoints in Florence, and where to stay in Florence.
FLORENCE ITINERARIES: Learn how to plan your time with our articles on how to spend One Day in Florence and Two Days in Florence.
TUSCAN HILL TOWNS: Check out our detailed guides to Siena, Montepulciano, Pienza, Montalcino, San Gimignano, Lucca, Volterra, Arezzo, and Cortona. For a full list of things to do, read our article Best Things to Do in Tuscany.
SIENA: Plan your visit to Siena with our articles Best Things to Do in Siena, One Perfect Day in Siena and How to Visit the Siena Cathedral.
---
If you have any questions about the best things to do in Monteriggioni, let us know in the comment section below.
More Information for Your Trip to Italy
ITALY ITINERARY: If you have two weeks in Italy, check out our 14 day Italy itinerary, which covers the highlights (Rome, Florence, Venice, the Amalfi Coast, and the Cinque Terre).
UMBRIA: In our article Best Things to Do in Assisi, we cover the top experiences to have, plus where to eat and where to stay. In our One Day in Assisi Itinerary, we have a detailed walking tour of the historic city center. And don't miss our guide to the Best Things to Do in Orvieto.
PHOTOGRAPHING ITALY: For some of the best views in Italy, here are 20 gorgeous views and exactly where to photograph them.
LAKE GARDA: Get started with our article Best Things to Do in Lake Garda. Learn how to plan your time with our Lake Garda Itinerary. We also have information about things to do in Sirmione and Riva del Garda.
MATERA: Matera is one of the most beautiful places to visit in Italy. Here is a list of the best things to do in Matera and the best viewpoints of Matera.
We have TONS more information about Italy in our Italy Travel Guide, including Rome, Florence, Venice, Tuscany, the Dolomites, the Amalfi Coast, the Cinque Terre, Basilicata, and Puglia.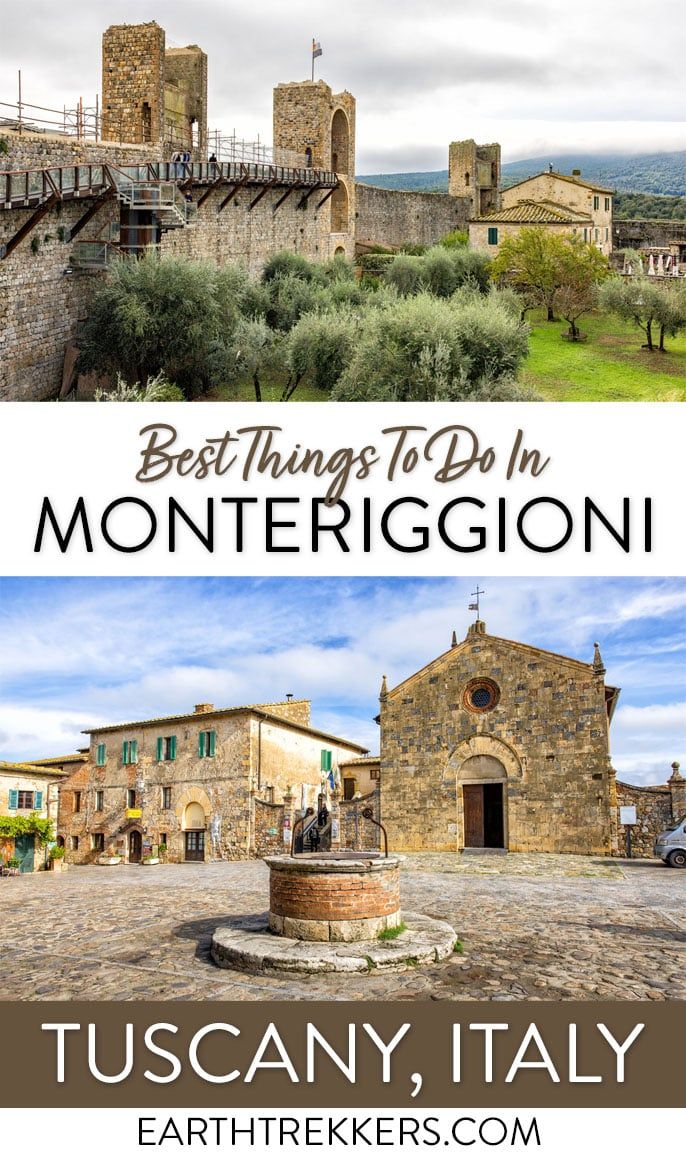 All rights reserved © Earth Trekkers. Republishing this article and/or any of its contents (text, photography, etc.), in whole or in part, is strictly prohibited.