Cycling across the Golden Gate Bridge was one of our favorite experiences in San Francisco. We are always on the search for adventure, and by joining the holiday crowds on a July 4th weekend, this was a bit on the crazy side. Throw in some fog, some wind, and just enough hills to keep things interesting, and you've got yourself a mini-adventure in San Francisco.
About the Golden Gate Bridge
The Golden Gate Bridge is one of San Francisco's most recognizable landmarks. Built in 1937, it was the longest suspension bridge in the world until 1964 (when the Verrazano-Narrows Bridge was built in New York City).
There are two sidewalks for use by pedestrians and bicyclists to cross the bridge. The western sidewalk is usually reserved for bicycles and the eastern sidewalk is reserved for pedestrians. However, this can change depending on the time of day and on weekends and holidays. For the schedule, click here.
Renting Bikes in San Francisco
There are several bike rental shops in San Francisco. We chose Blazing Saddles because their shop was conveniently located on the route to the Golden Gate Bridge.
With Blazing Saddles, you can rent bikes for your own self-guided tour or join one of their tours through the city. We rented our bikes at their shop located on 757 Beach Street, just one block from Ghirardelli Square. This was an excellent location, since we could get right on the bike paths and avoid riding on the city streets.
Bike Rental Options in San Francisco
Blazing Saddles. They have several locations throughout San Francisco. The shop at 757 Beach Street was the one we used and we loved its convenient location. Click here to visit their website.
Golden Gate Bridge Bike Rentals. Located at 2157 Lombard Street. This shop is located slightly closer to the bridge than Blazing Saddles, however, you will have to cycle on the city streets for several blocks to get to the Golden Gate Promenade. Click here to visit their website.
Planning Your Route
You can either bike back and forth across the bridge or make it a one-way journey out to Sausalito, returning by ferry.
Distance across the Golden Gate Bridge: 1.7 miles (one way)
Ghirardelli Square to Sausalito: 8.5 miles (one way)
Ghirardelli Square to the Golden Gate Bridge Viewpoint: 6 miles one way, 12 miles round trip
One of the more popular routes is to cycle from downtown San Francisco, cross the Golden Gate Bridge, and continue on to Sausalito. From Sausalito, return back to San Francisco on the ferry. This journey can take 2 to 3 hours, not including the time you spend in Sausalito.
Our Experience
San Francisco in July
We visited San Francisco in the beginning of July. This is a very, very busy time to be in the city. It was a holiday weekend so there were tons of tourists everywhere, including us. That made biking across the Golden Gate Bridge that much more crowded.
Also, San Francisco can be surprisingly chilly in July. During our visit, a layer of fog and clouds hovered around the Golden Gate Bridge. It would be bright and sunny and almost warm by Fisherman's Wharf, but chilly, windy, and overcast near the bridge.
Cycling to the Golden Gate Bridge
We rented bikes at Blazing Saddles and started on our way. We chose to cycle out the Marin Headlands and return back across the Golden Gate Bridge.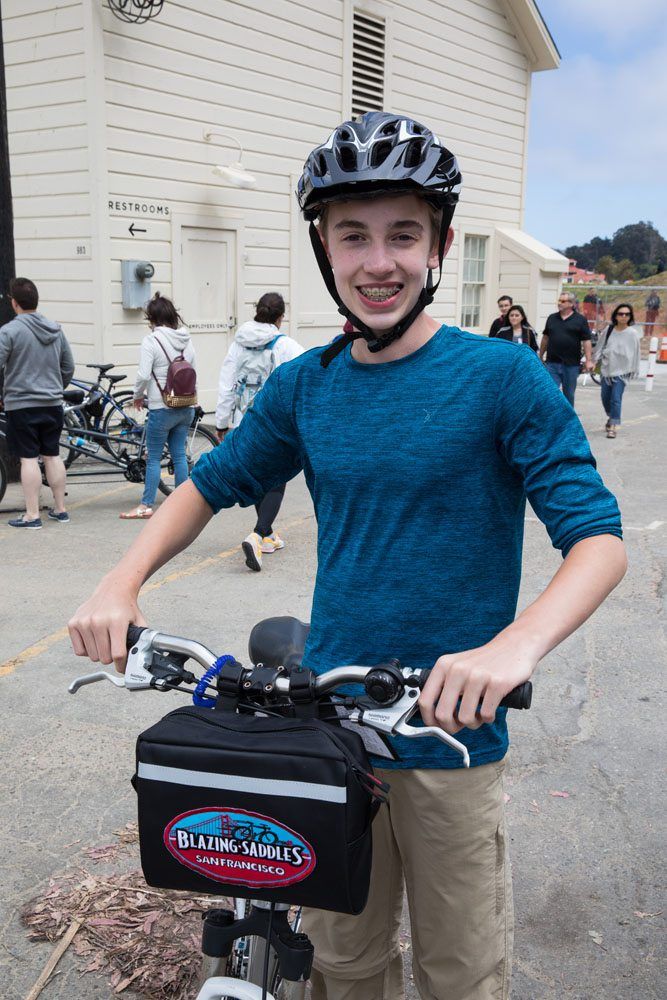 At Fort Mason we came to our first of just a few hills on the entire route. This is a good test of your stamina, since the climb to get onto the Golden Gate Bridge is longer and steeper than the hill at Fort Mason.
Then it's easy cycling for a while. There is a bike path that runs along the Golden Gate Promenade. It is completely flat and the entire way you have a great view of the bridge. On the day we did this ride, there was a headwind that slowed us down a little bit and made things slightly more difficult (but it gave us a nice push on our return into the city).
The nice, flat bike path ends at Fort Point. From here, you make a left turn for a challenging uphill climb to get onto the bridge. This part of the path was the most crowded of the day. There were literally hundreds of other bikers here, taking breaks and enjoying the views of the Golden Gate Bridge. We stopped as well. What a view!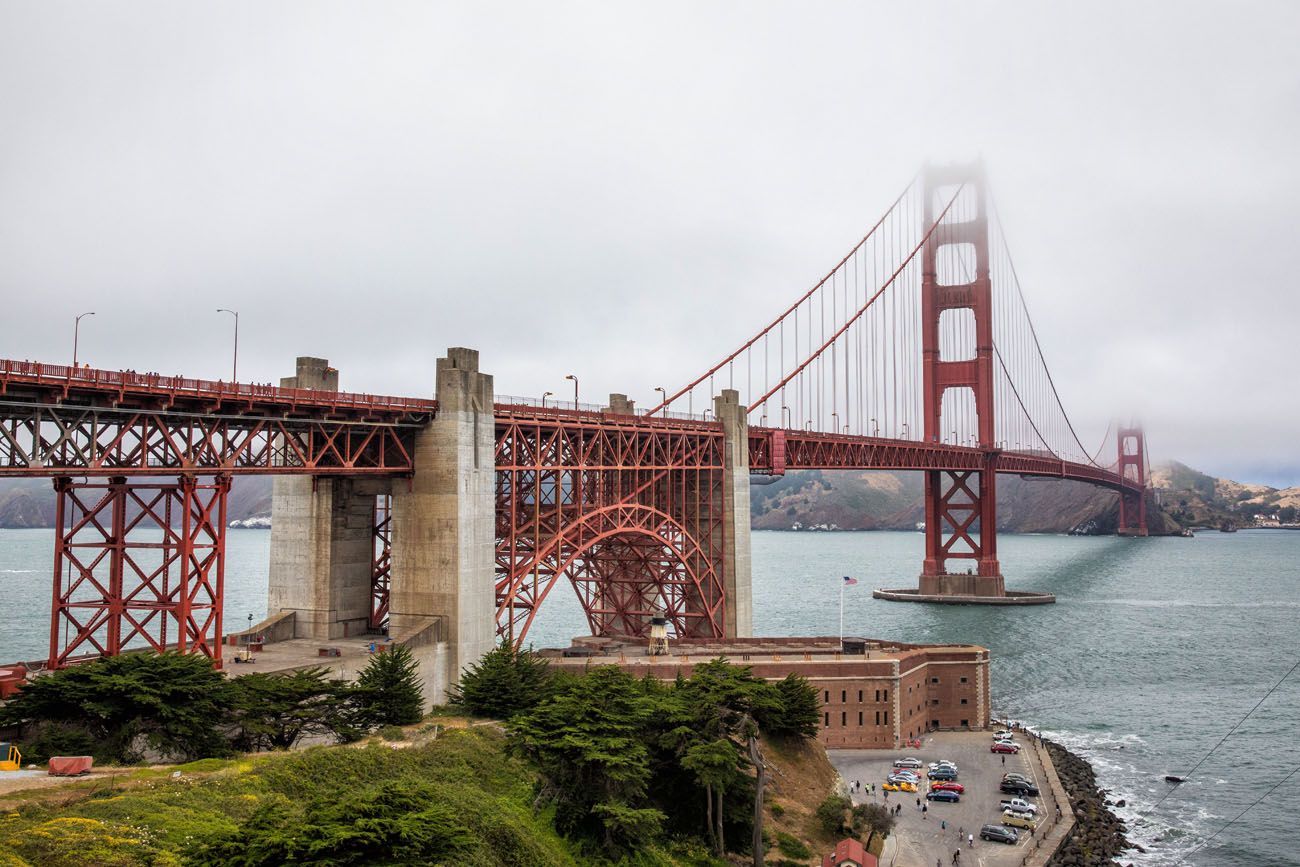 Crossing the Bridge
This part is really cool. It's time to cycle across the Golden Gate Bridge!
We got lucky. The Golden Gate Bridge sidewalks were relatively empty, given the number of people we saw just before entering the bridge.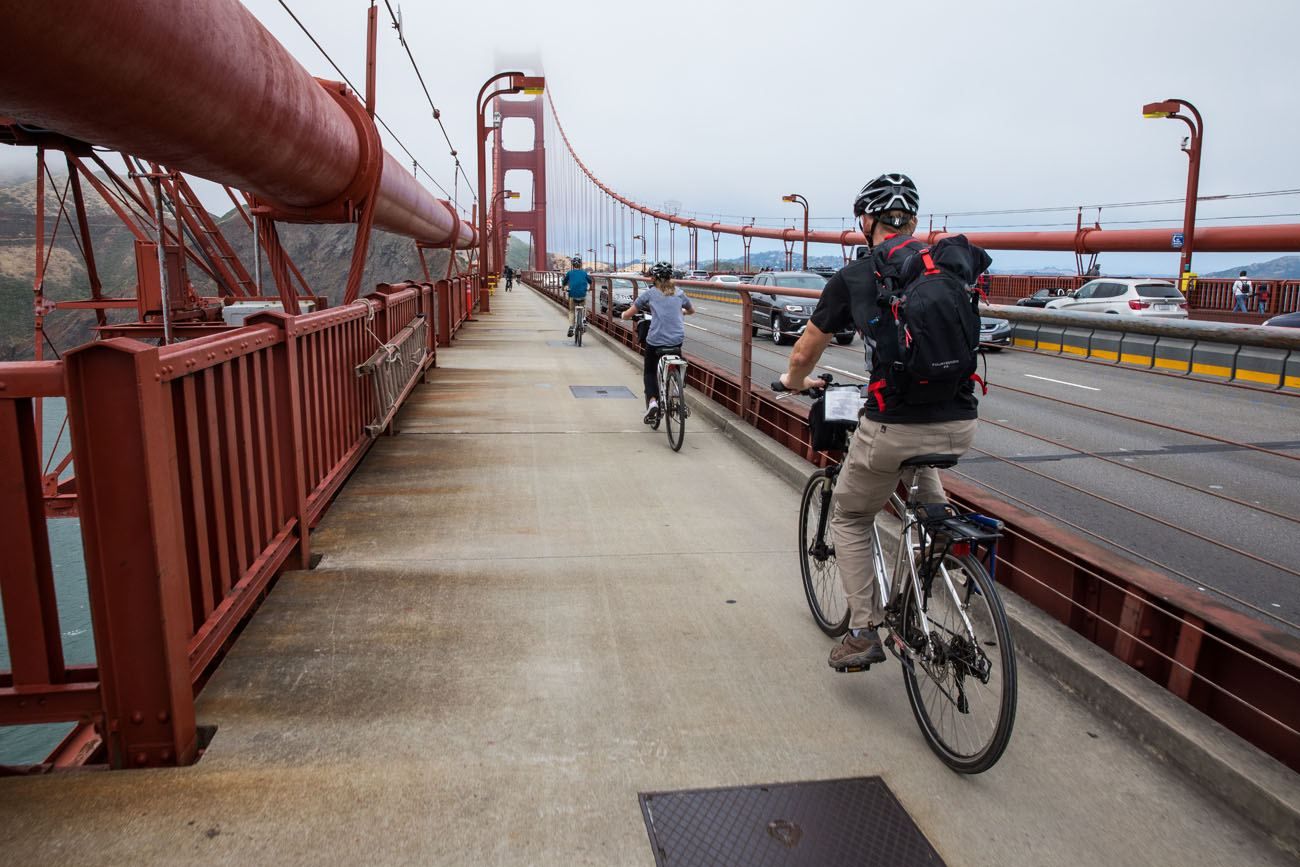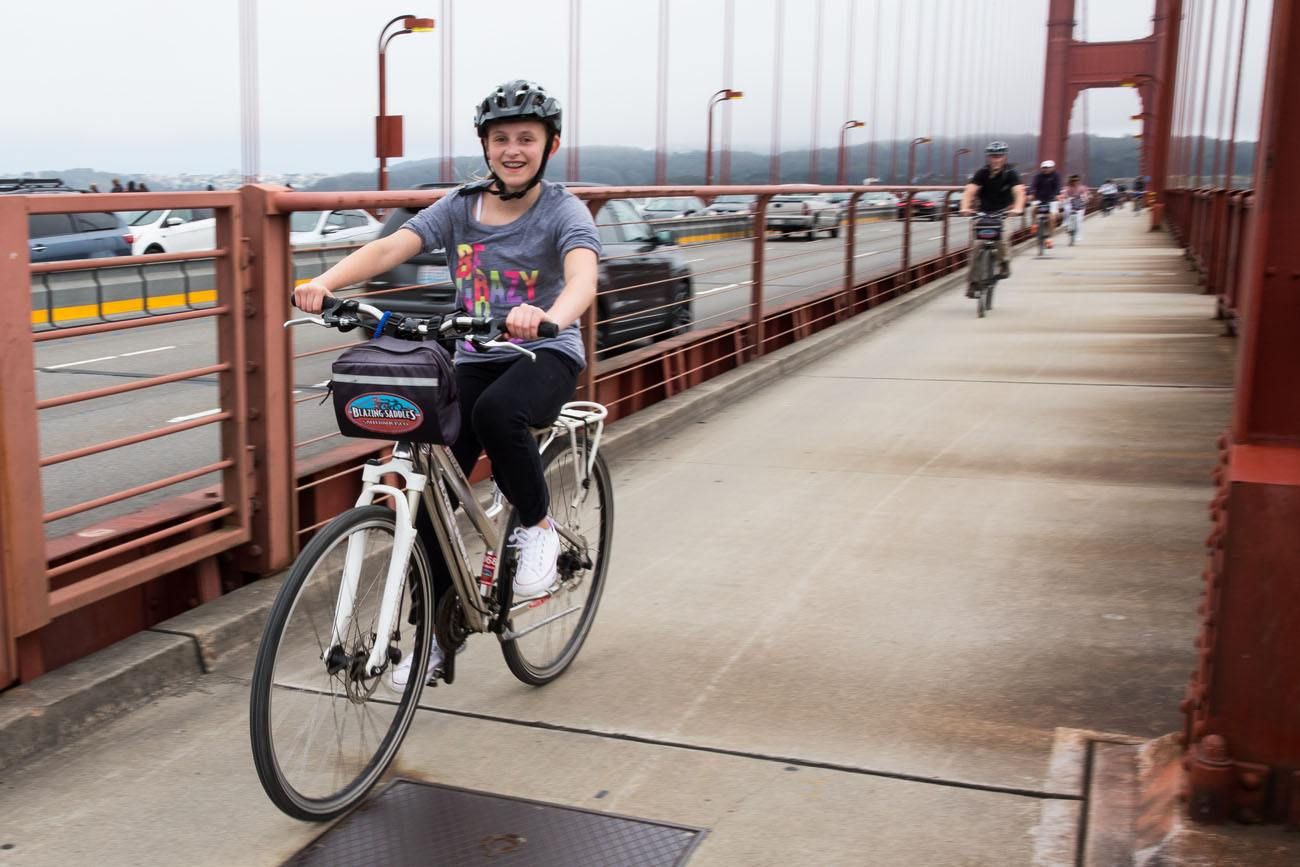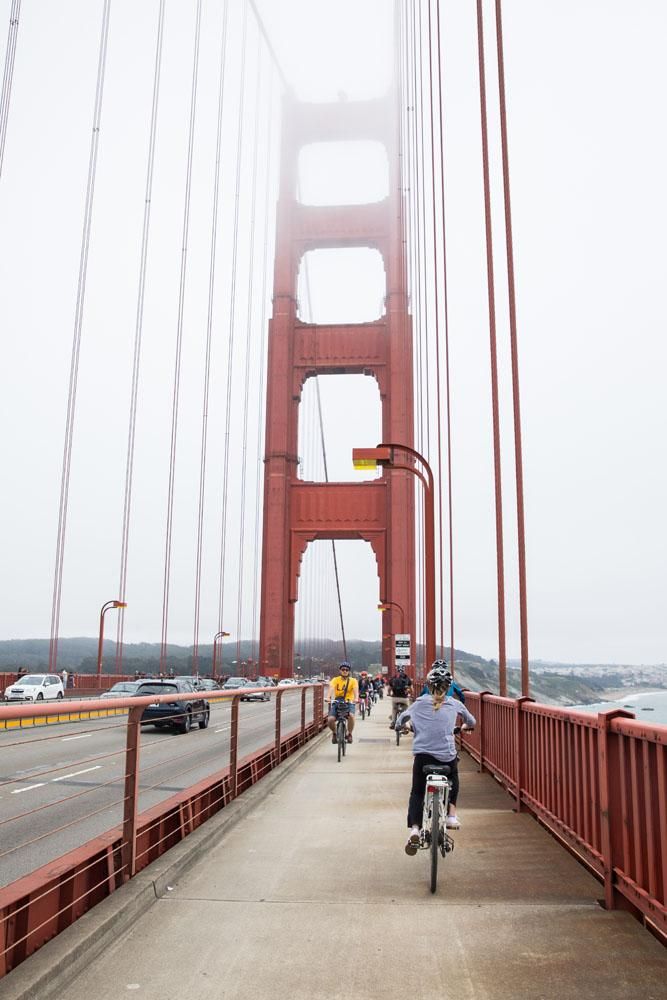 The western sidewalk is reserved for cyclists (most of the time). It is two-way bicycle traffic here. Make sure you ride single file if you are in a group and stay to the right. Before passing slower cyclists in front of you, look over your left shoulder to make sure someone isn't already trying to pass you. Don't pull out in front of another cyclist and cause an accident.
Marin Headlands
Once we crossed the bridge and entered Marin County, we turned left onto Conzelman Road for an awesome viewpoint of San Francisco. It's a hefty uphill climb but worth it for the view. These photos were taken at the Battery Spencer viewpoint.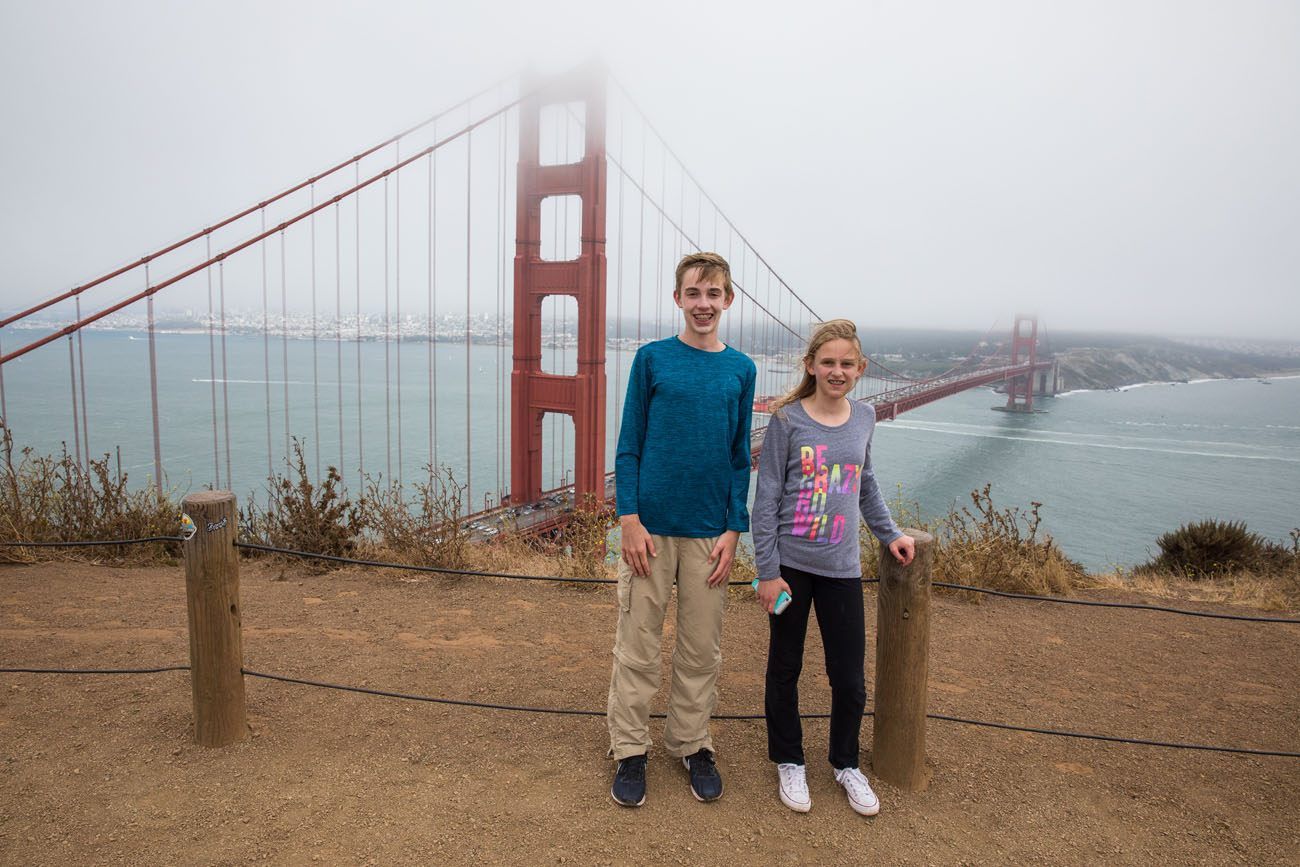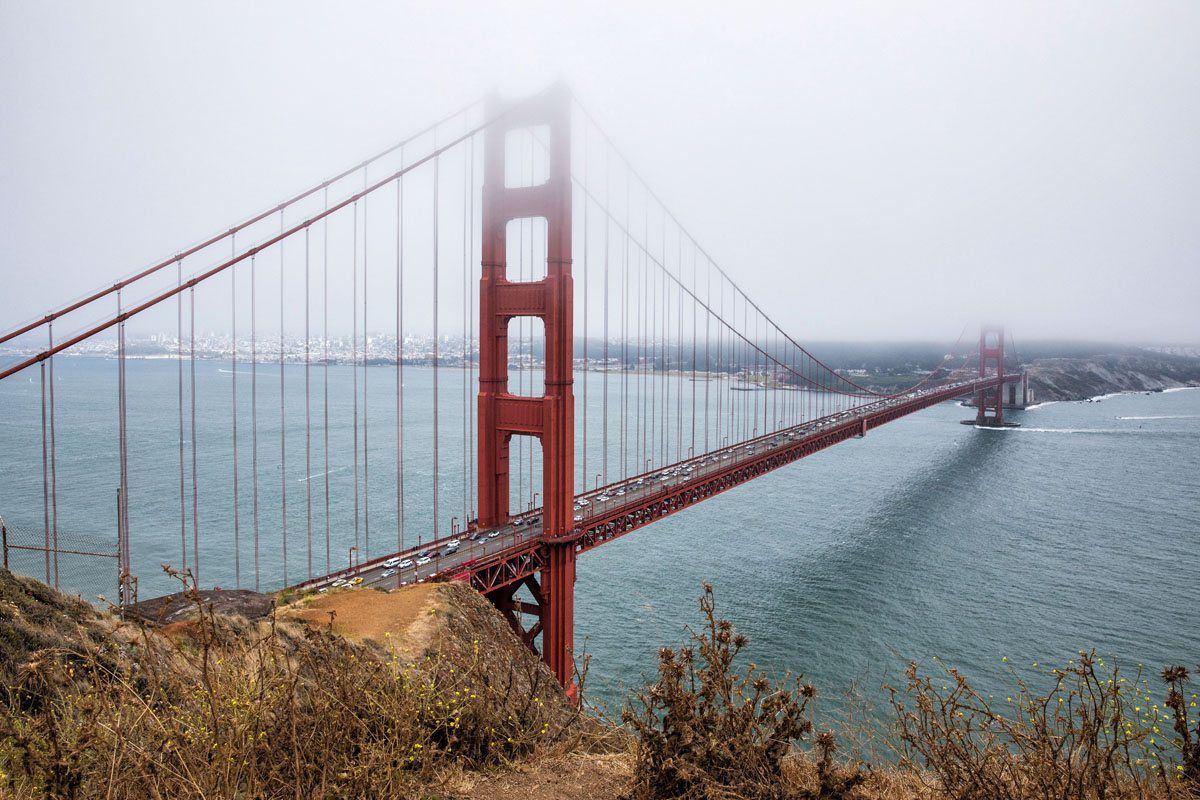 From here, we retraced our route back to Blazing Saddles. It was easier going back, with less climbing and a nice tailwind to push us back to the city.
Can You Do This with Kids?
We saw people of all ages, including kids as young as 8, cycling across the bridge. If your kids have a lot of experience riding a bike, know how to ride single file and stay to the right, and can handle a few challenging climbs, then they should be able to do this ride.
If you are concerned about cycling with younger children, you can rent a tandem bike or take one of the tours offered by Blazing Saddles that includes kids.
There are a few hills along the way but other than that it is a relatively easy ride. The hardest, and sometimes the most dangerous part of this ride was just passing and being passed by other cyclists.
A Few More Helpful Tips
If you are renting a bike, it is worth paying a little extra for a better, lighter bike. With Blazing Saddles, the cost is just $1 more per hour to upgrade your bike from their base model. And if you really want to cycle in style, they also rent road bikes, in which you could cruise up those hills much easier than on a hybrid. These road bikes have a bigger price tag and they are only rented on a per day basis (starting at $48 for 24 hours).
If you want to bike across the bridge but don't feel like pedaling, you can rent an electric bike. Just know ahead of time that you must pedal the electric bike across the Golden Gate Bridge. It cannot be used under power while on the sidewalks. But having that motor will come in handy getting you up the hills!
Cycling across the Golden Gate Bridge on a Tour
If you prefer to do this with a guide, here are several highly-rated tours:
---
Is this something you want to do? If you have any questions or advice for our readers, comment below!
More Information for Your Trip to California
SAN FRANCISCO: For more information about San Francisco, read our article Best Things to Do in San Francisco.
SAN DIEGO: Planning a visit to San Diego? Learn about the top experiences in the city in our article Best Things to Do in San Diego. San Diego also makes a great location to work remotely.
YOSEMITE NATIONAL PARK: Check out our article Best Things to Do in Yosemite for important travel information, sample itineraries, and how to plan your visit. In our Half Dome Hiking Guide, learn what it takes to hike this challenging trail. We also have detailed guides about how to hike Upper Yosemite Falls and the Mist and Muir Trails.
KINGS CANYON & SEQUOIA: Learn how to spend one day in Kings Canyon and Sequoia National Parks.
TRAVEL INSPIRATION: Here are 30 great travel books and a list of the best travel movies to feed your wanderlust.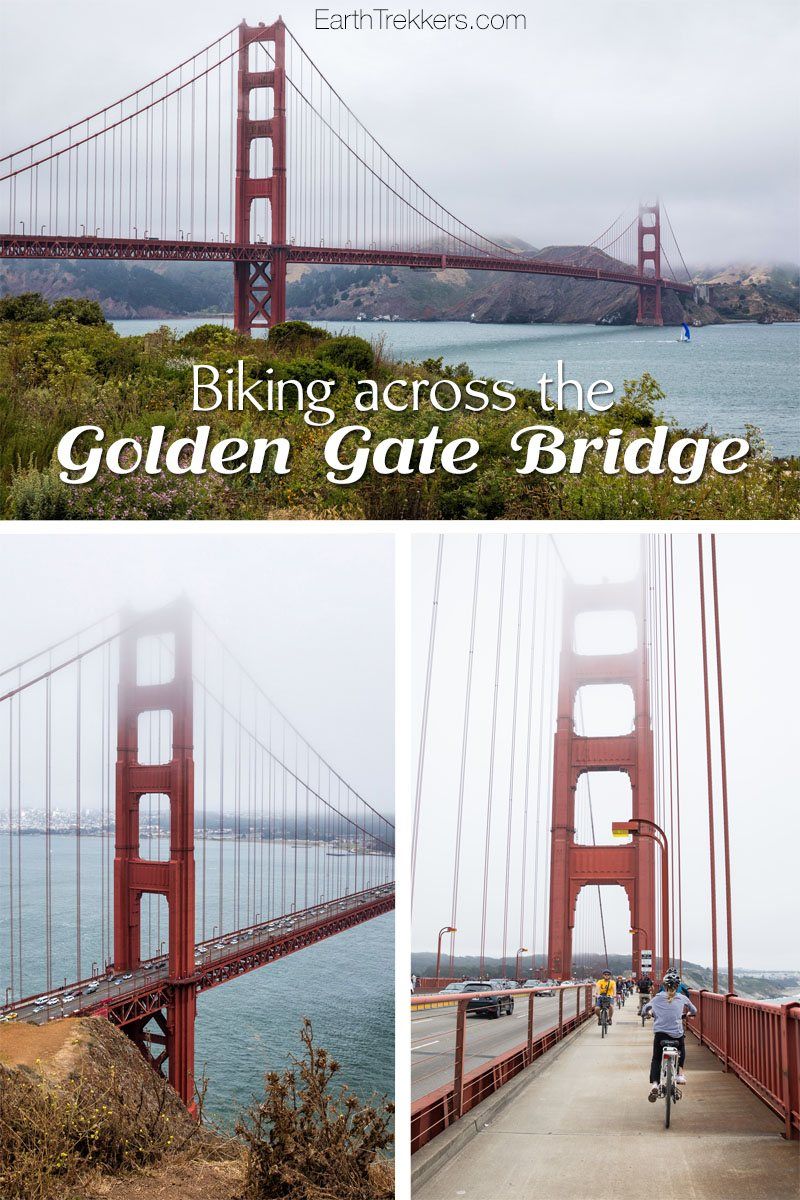 Note: This post contains affiliate links. When you make a purchase using one of these affiliate links, we get paid a small commission at no extra cost to you.
All rights reserved © Earth Trekkers. Republishing this article and/or any of its contents (text, photography, etc.), in whole or in part, is strictly prohibited.