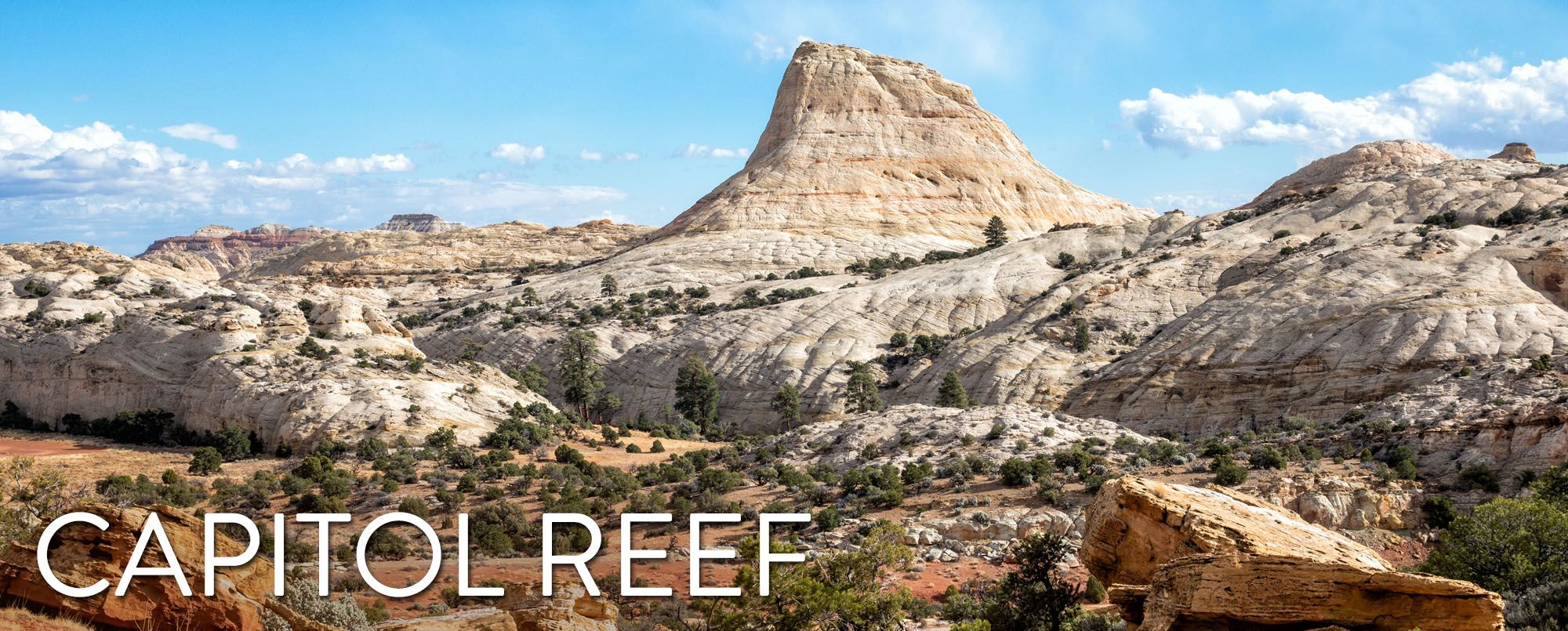 With beautiful scenic drives, thrilling hikes, historical sites, backcountry roads, slot canyons, and unique desert landscapes, Capitol Reef is an unexpectedly amazing national park to visit.
The views and the hiking trails easily contend with the other national parks in Utah's Mighty 5. Not only does Capitol Reef rival Zion when it comes to hiking, but you will also have far fewer crowds to deal with and it is much easier to get around.
If you love the idea of leaving the crowds behind and exploring a vast, remote area, you have several options. Cathedral Valley, with its sandstone monoliths and sweeping desert vistas, is a beautiful, unique way to spend one day in Capitol Reef. Or you can Loop the Fold, another remote driving day along the waterpocket fold.
There are also slot canyons to explore, low-traffic hiking trails in remote areas of the park, and some of the most dramatic landscapes in Utah, which you can see right from your car.
In this guide, we hope to inspire you to spend a day or two (or more!) in Capitol Reef. Let's get started.
Founded: December 18, 1971
Annual Visitors: 1.2 million in 2022
Size: 240,000 acres
Location: Utah
Entrance Fee: $20 per vehicle, valid for 7 days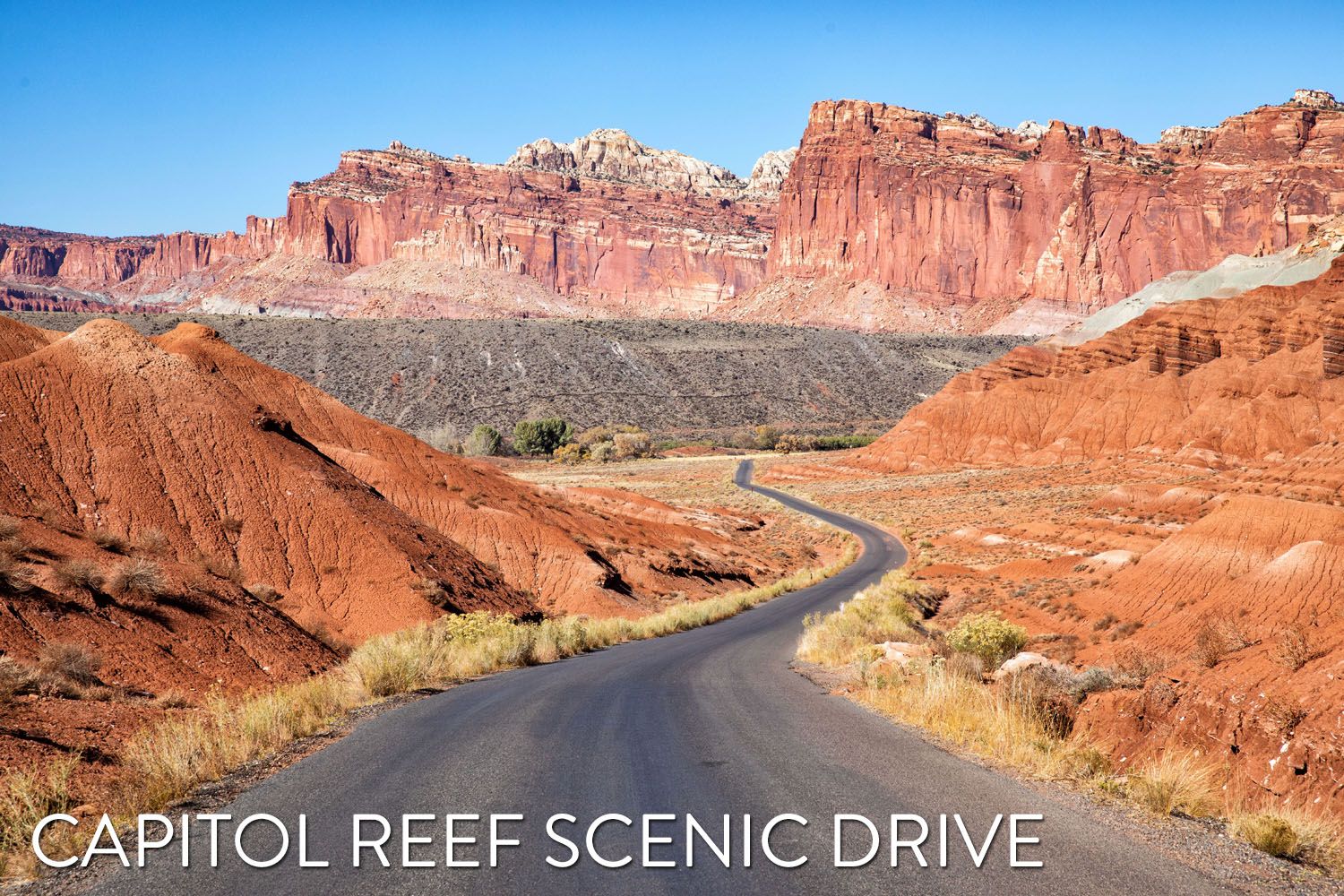 Top Experiences in Capitol Reef
Scenic Drive on Highway 24. Highway 24 is the main road that runs through the park. It twists and turns along the Fremont River, past massive domes of Navajo Sandstone, through a valley of orchards and historical sites, and then through the orange and red rocks on the western side of the park. There is no fee to drive on Highway 24, so you can tour a small part of Capitol Reef National Park for free.
Panorama Point, Sunset Point and Goosenecks Overlook. These three viewpoints are located close together on Highway 24. Panorama Point and Sunset Point are great spots to look out across the rocky, rugged landscape, especially at sunset, when the setting sun casts the entire area in an orange glow.
See the Petroglyphs. You can see rock art figures (petroglyphs) created by ancient Native Americans on the drive along Highway 24. It's a very short walk to a viewpoint where you can see these figures carved onto the rock wall.
Go Hiking. One of the best things to do in Capitol Reef National Park is to go hiking. In the center of the park, near Fruita, there are 15 day hikes you can do. There are also numerous other hikes in the more remote areas of the park, including Cathedral Valley and along Notom-Bullfrog Road. Later in this guide, we have a list of the top hikes in Capitol Reef.
Capitol Reef Scenic Drive. Driving Capitol Reef Scenic Drive is one of the best things to do in Capitol Reef. From this road, you get to travel through the heart of the park and see some of the most stunning scenery in the park, without stepping out of your car.
Explore Historic Fruita. In the late 1800's, pioneers began settling in the area. The settlers planted orchards and grew sorghum for molasses and syrup. Now, most of the original buildings are gone, but you can still see the one-room schoolhouse, the Gifford House and barn, and the orchards, which are still maintained by the national park service.
Pie at the Gifford Homestead. The Gifford Homestead, one of the last remaining buildings in historic Fruita, sells handmade items made by local craftsmen, such as dolls, soap, quilts, jams and jellies, and books. But the big draw is the pie. Stop in for a slice of locally baked fruit pie and ice cream.
See the Pioneer Register. When Mormon settlers passed through this area in the late 18th century and early 19th century, they scrawled their names on the canyon walls. This collection of names is called the Pioneer Register. To get here, drive Capitol Gorge Road, a 2.3-mile gravel road that is another one of the park's beautiful scenic drives.
Cathedral Valley. Cathedral Valley is the rugged, remote northern district of Capitol Reef National Park. Few people travel out this way, to see this valley and its sandstone monoliths, colorful Bentonite hills, and vast desert scenery. But that's part of its appeal. If you like the idea of leaving the crowds behind and exploring the backcountry, the Cathedral Valley Loop is an awesome drive to put on your to-do list.
Loop the Fold. This is another incredibly scenic drive in Capitol Reef National Park. This remote drive loops around the waterpocket fold in the southern part of the park. Highlights include Burr Trail Road, slot canyons to hike, and Strike Valley Overlook.
Did You Know?
Capitol Reef National Park preserves the Waterpocket Fold, a 100-mile long wrinkle in the Earth's crust. This wrinkle, also called a monocline, was formed between 50 and 70 million years ago, when movement along a fault line caused upward shifting of the west side relative to the east side. The layers on the west side of the fault were lifted up 7,000 feet higher than the layers on the east.
Since this upheaval, water has been slowly eroding away the sedimentary rock layers, forming "waterpockets." This erosion is revealing fossils, massive domes, canyons, arches, and monoliths.
The park gets its name from the white domes of Navajo sandstone that resemble the United States Capitol building. Early settlers found the long ridges of the waterpocket fold impassable, similar to reefs in the ocean. Put these two together and you get Capitol Reef National Park.
Learn More about Capitol Reef
Top 10 Hikes in Capitol Reef
Hickman Bridge. This is one of the best short hikes to do in Capitol Reef. Walk along the Fremont River and then hike up to a spectacular viewpoint where you can look out over Highway 24. The trail ends at Hickman Bridge, a large, natural arch that is tucked away near the back of the canyon.
Chimney Rock Trail. This short but strenuous hike is located on Highway 24. The views of Fruita and the waterpocket fold are spectacular from this trail.
Cassidy Arch. The hike to Cassidy Arch is one of the most thrilling trails in Capitol Reef National Park. Easily accessible from Scenic Drive, this short hike features stunning scenery, views over the Grand Wash, and the chance to stand on Cassidy Arch.
Grand Wash. The Grand Wash is a very wide canyon, similar to the Narrows in Zion, only without the Virgin River. If you like the idea of hiking something similar to the Narrows, and keeping your feet dry, this is a very nice hike to do.
Cohab Canyon. The main reason to do this hike is for aerial views over Fruita. This trail starts in historic Fruita and then rapidly climbs up into the sandstone cliffs. Once on top of the mesa, the trail splits to two different viewpoints, the north overlook and the south overlook.
Rim Overlook. The main reason for doing this hike is for jaw-dropping views of Fruita and Capitol Reef National Park. It is a truly incredible view as you get to look out over Scenic Drive and the waterpocket fold.
Navajo Knobs. This is one of the longest, toughest hikes on this list but it is an awesome experience. This trail takes you up to Rim Overlook and then continues even higher. From the Navajo Knobs you have 360° views, arguably one of the best viewpoints in Capitol Reef National Park.
Cathedrals Trail. This easy hike offers very nice views of the monoliths of Cathedral Valley. The best part of this hike, in my opinion, is the first half, as you walk alongside this chain of sandstone formations. The trail ends on top of hill where you have panoramic views of Cathedral Valley.
Surprise Canyon. This hike is located on Notom-Bullfrog Road, in a remote region of Capitol Reef National Park. The trail enters the waterpocket fold and it is here that you get to walk through a wide slot canyon.
Headquarters Canyon. This is our favorite slot canyon hike in the park. Like Surprise Canyon, this trail heads directly into the Waterpocket Fold. It's easy to hike and one of the highlights of Looping the Fold.
How Many Days Should You Spend in Capitol Reef?
Ideally, plan on spending a few days in the park. With the scenic drives and hiking trails, you could easily spend five days here and never run out of things to do.
With half of a day in Capitol Reef, you can visit the sights along Highway 24 (Panorama and Sunset Points, Goosenecks Overlook, the petroglyphs, and hike Hickman Bridge) and spend some time in Fruita. This works great if you are driving through Capitol Reef on a road trip through Utah.
With one day in Capitol Reef, visit the sights along Highway 24, visit Fruita, drive Scenic Drive and Capitol Gorge Road, and add on one more hike (Cassidy Arch, Grand Wash, and Cohab Canyon are all great picks).
With two days in Capitol Reef, follow the suggestions above for day 1, and on day 2, you can hike a longer trail, visit Cathedral Valley, or Loop the Fold.
Each additional day you add will give you more time for scenic drives and hike more trails. If you want to visit Cathedral Valley, Loop the Fold, visit the heart of Capitol Reef, and hike a few of the longer trails, I recommend spending a minimum of four days in Capitol Reef.
For more details on how to spend your time, plus daily itineraries, read our Capitol Reef Itinerary.
Best Time to Visit Capitol Reef
The spring and fall months are the best times to visit Capitol Reef National Park. Weather conditions are pleasant and you can avoid the larger crowds that arrive in the summer.
During the summer months, expect soaring temperatures and large crowds (although Capitol Reef does not get the legendary crowds like Bryce Canyon, Arches, and Zion).
During the winter months, the park is less crowded, but temperatures get below freezing and snow is likely. Snow can close the roads and make hiking more difficult.
Capitol Reef National Park appears in our Best US National Parks Month-By-Month series as a great park to visit in March, April,  November, and December.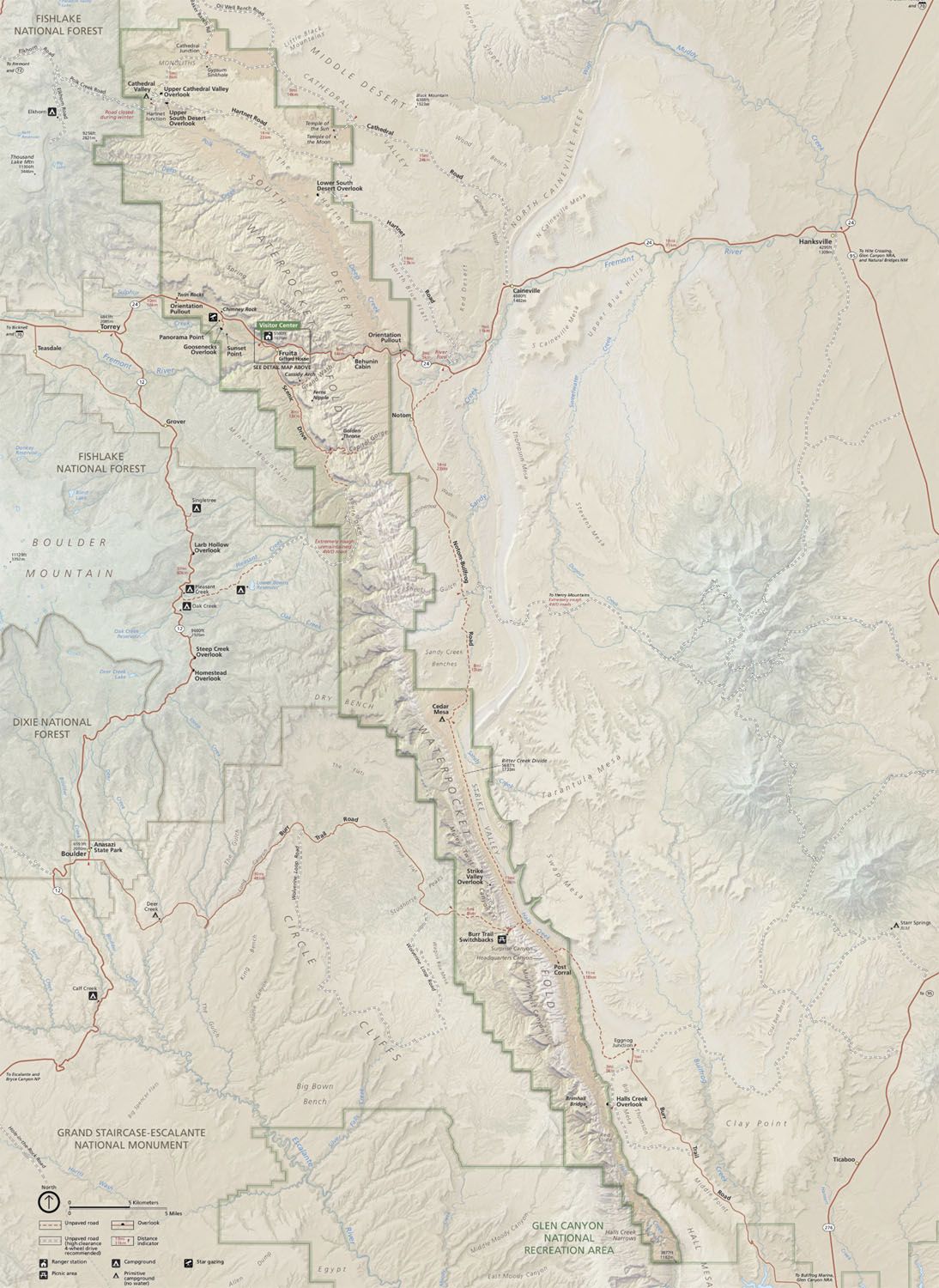 In our US National Parks List, get information on all of the US national parks, including interesting facts, the most and least visited national parks, and a FREE printable national parks checklist with map.
Note: This page contains affiliate links. When you make a purchase using one of these affiliate links, we get paid a small commission at no extra cost to you.
Visit More of the US National Parks