Goblin Valley is an easy to visit state park that is located in southeastern Utah. With its hoodoos, toadstools, "goblins," and short but sweet hiking trails, this park is pure fun to visit.
Kids, and kids at heart, will LOVE this park!! The main section of hoodoos and goblins is free to explore…there is no need to stick to a designated hiking trail. Which means that kids are free to explore, play hide and seek, and discover the nooks and crannies of this magical place.
There are also a few hiking trails and viewpoints to visit. Goblin Valley State Park is very compact, so a few hours are all you need, but if you are having a good time, you could stay all day.
In this post, I cover things to do in Goblin Valley State Park with tips on how to plan your visit if you have limited time.
About Our Experience
We visited Goblin Valley State Park in mid-November on the drive from Capitol Reef to Moab. When we arrived, snow clouds were rapidly moving in. We were lucky to have a few minutes of sunshine, to get a few bright and sunny photos of the hoodoos, but it didn't last long.
As you will see from our photos, we spent a lot of our time exploring Goblin Valley during a snow shower. Maybe it was our early timing, or maybe it was the snow, but crowds were very light during our visit.
We had a blast exploring the park. Our visit only lasted a few hours since we also had Little Wild Horse Canyon on our to-do list for the day.
How to Visit Goblin Valley State Park
How to Get to Goblin Valley State Park
Goblin Valley State Park is located in the San Rafael Swell. It is located on Utah State Route 24 north of Hanksville.
Here are driving distances and times from nearby destinations:
Hanksville: 32 miles, 35 minutes
Moab: 100 miles, 1 hour 30 minutes
Capitol Reef: 80 miles, 1 hour 30 minutes
Salt Lake City: 225 miles, 3 hours 30 minutes
When you get to the park, you will pay your entrance fee at the pay booth. Beyond the pay booth, the road forks. Take the road to the left, to drive past the Three Sisters and to park in the main parking lot. From the parking lot, it is an easy walk down in the main valley and you will have access to many of the hiking trails.
From the pay booth, if you turn right, you go to the campground and the trailhead for the Curtis Bench Trail.
Practical Information
Entrance Fee: $20 per vehicle
Hours of Operation: 6 am to 10 pm daily
Drones: Drones can be used by permit only. You can obtain a permit at the visitor center for $10.
Get updated pricing and hours on the official website.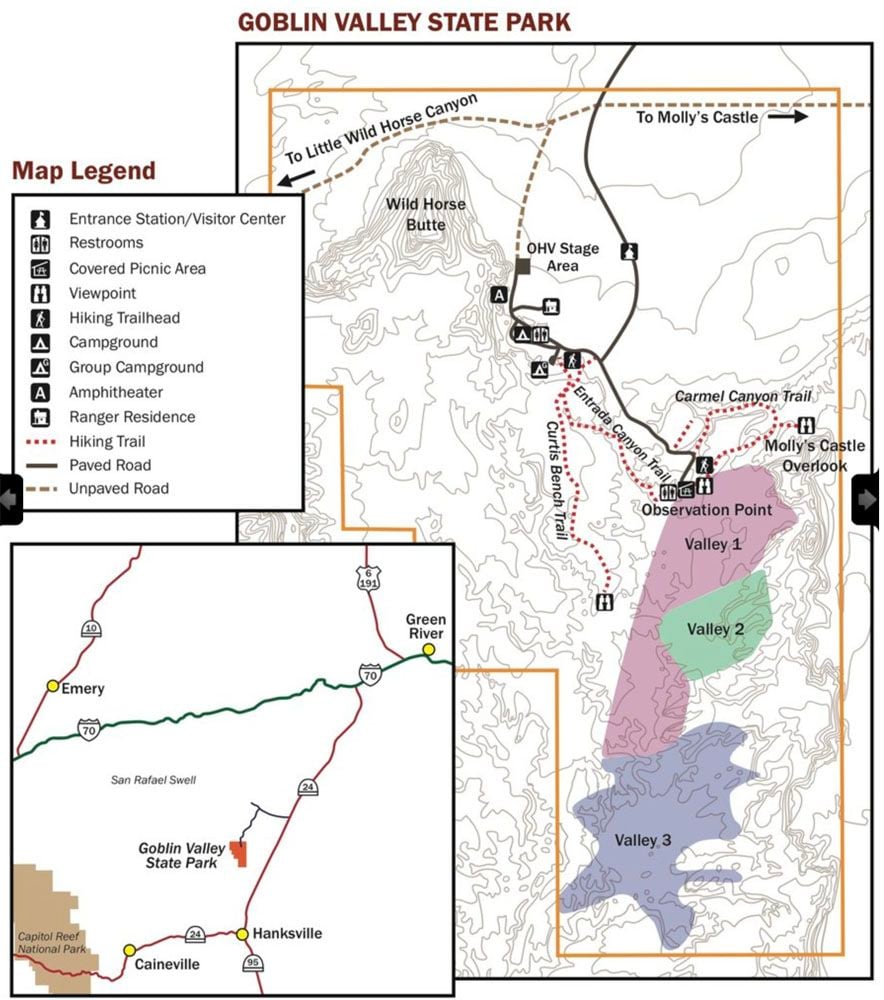 While in Goblin Valley State Park, please practice the seven principles of Leave No Trace: plan ahead, stay on the trails, pack out what you bring to the hiking trails, properly dispose of waste, leave areas as you found them, minimize campfire impacts, be considerate of other hikers, and do not approach or feed wildlife.
Things to Do in Goblin Valley State Park
Observation Point
This is your first view of the park. At the end of the parking lot, right before you walk down the stairs into the valley, you get this view: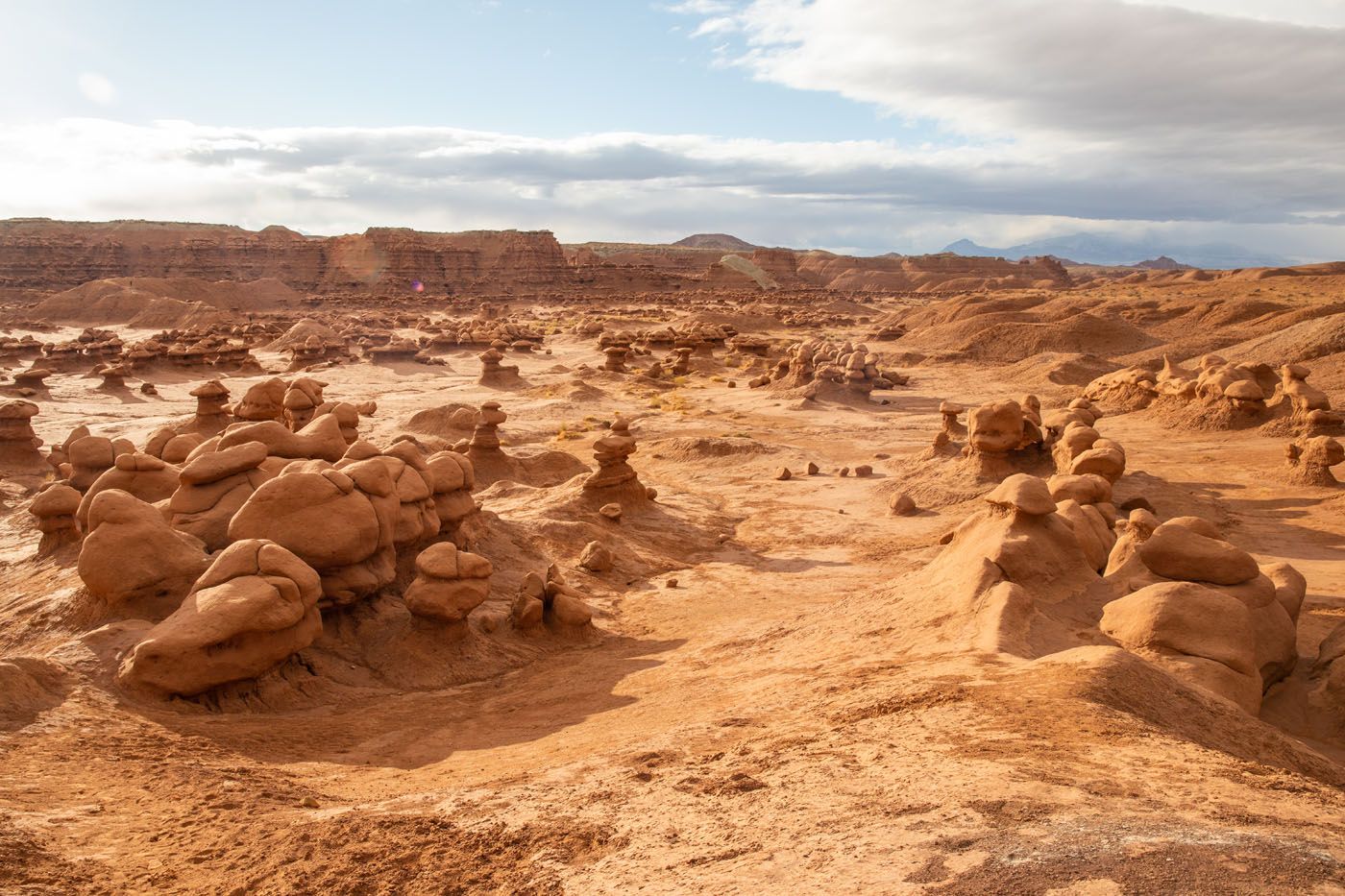 Explore the Three Valleys
The main section of the park, aptly named Goblin Valley, is a large, relatively open area that is littered with these crazy looking rock formations. This is the spot to wander past the hoodoos and goblins. Once you are down in the valley, it looks like you are walking on a different planet.
There are no designated trails here so you are free to wander wherever you like.
There are three valleys to explore, named Valley 1, Valley 2, and Valley 3 (you can see these on the map above).
Valley 1 is located closest to the parking lot. The hoodoos are smaller and more spaced out here. There are a few hills that you can hike up for aerial views over this part of the park.
Valley 2 sits next to Valley 1 and these kind of merge in together. Hidden in the back of Valley 2 is the location of Gobin's Lair.
Farthest from the parking lot is Valley 3. Before our visit, everyone told us that this is best spot to explore the hoodoos, and I agree. There are lots of nooks and crannies to explore here and you can hike up onto the hills for great views.
It is hard to know where you are, in relation to the valleys. You can see them on the map but they are not labeled in the park. My advice is that if you want to get to Valley 3, keep walking away from the parking lot to the bottom of the park. There will be a giant, natural wall, so you can't walk too far. But the hoodoos, goblins and rock formations get noticeably denser here and this part of the park is delight to explore.
To get back to the parking lot, you can retrace your steps through the valleys or walk up the flat and fast sandy wash on the west side of the valleys. From most of the valley, the parking lot is visible, so it's almost impossible to get lost here.
It can take between 1 and 3 hours to explore the valleys, depending on how much fun you are having.
Here is Goblin Valley in photos.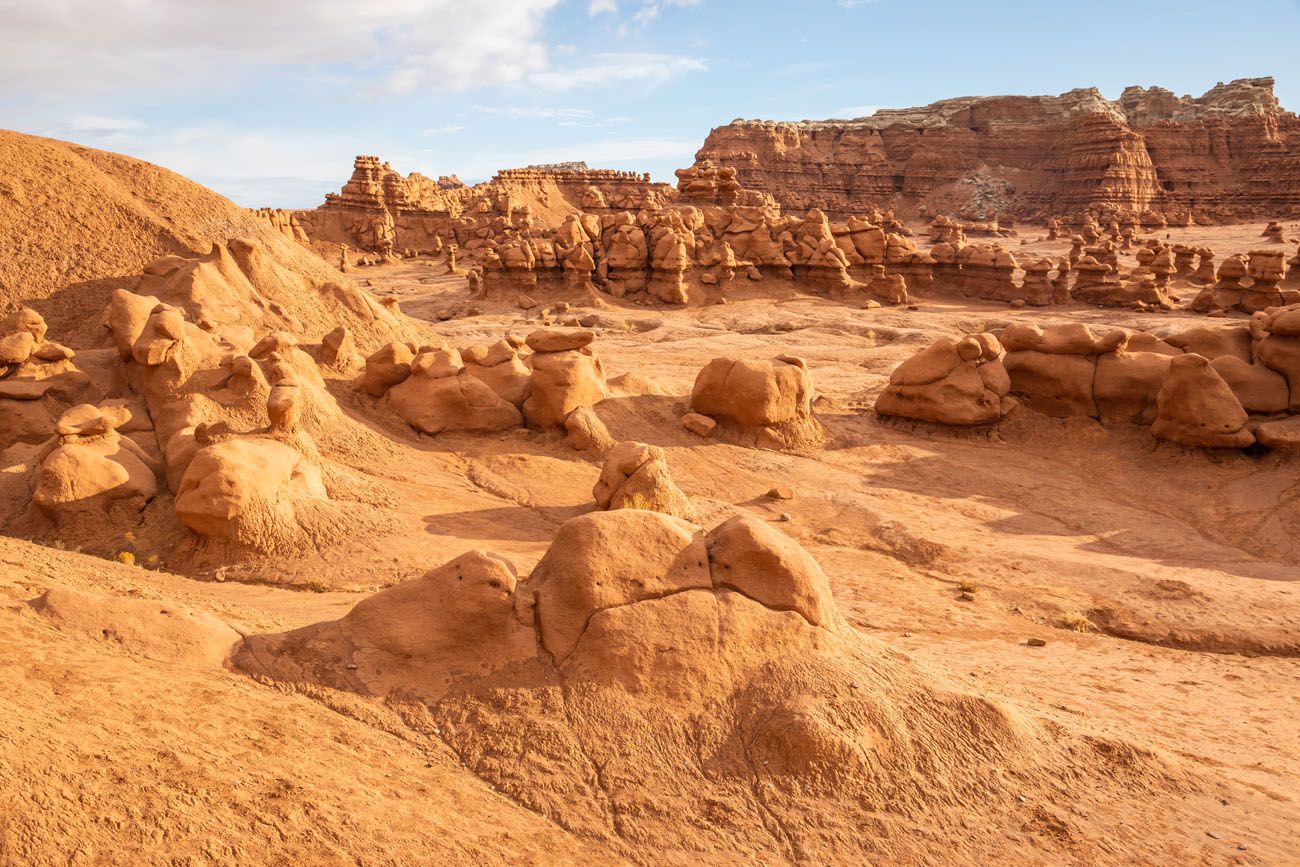 Valley 1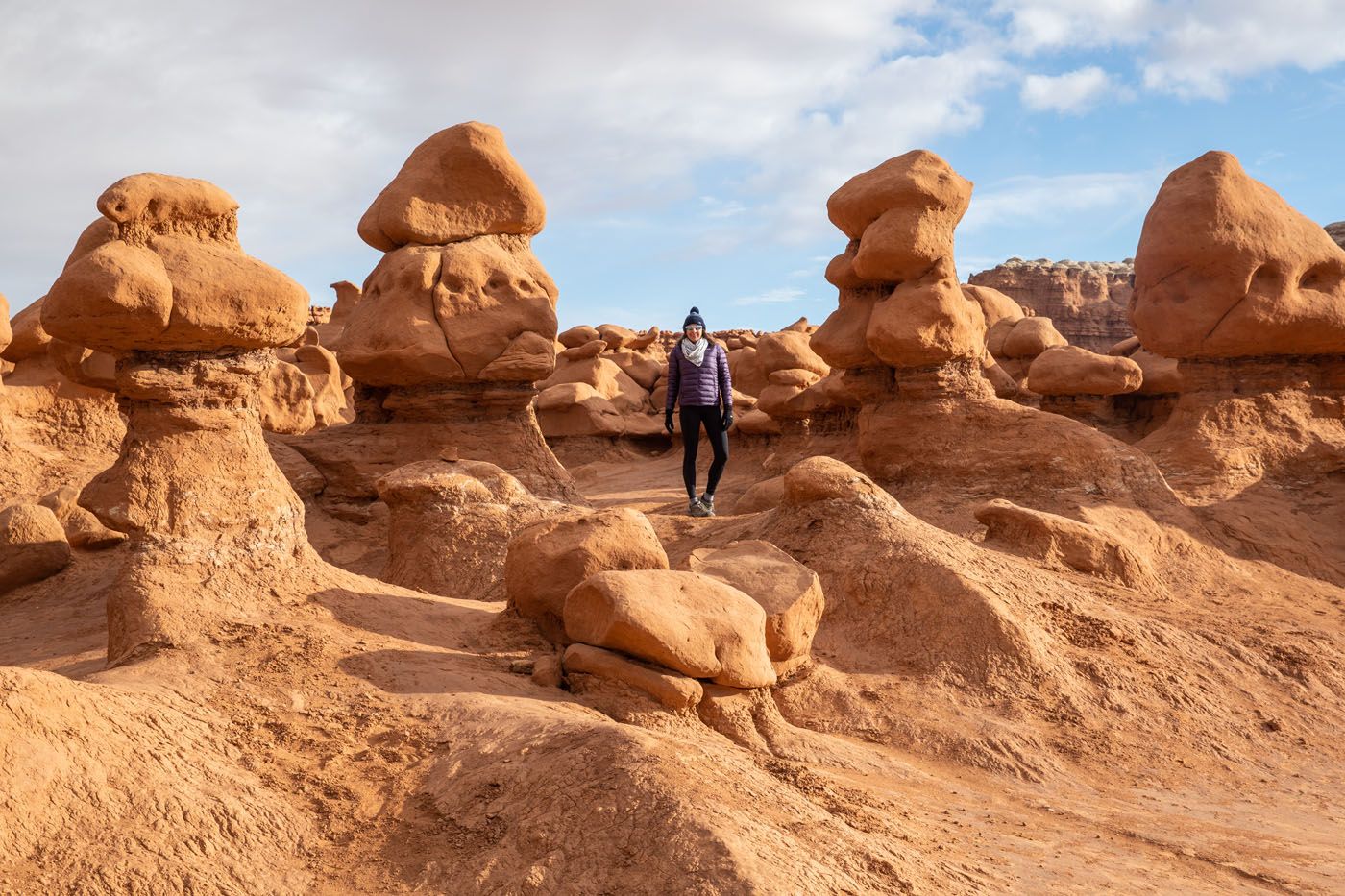 There are hills you can climb for aerial views like this one.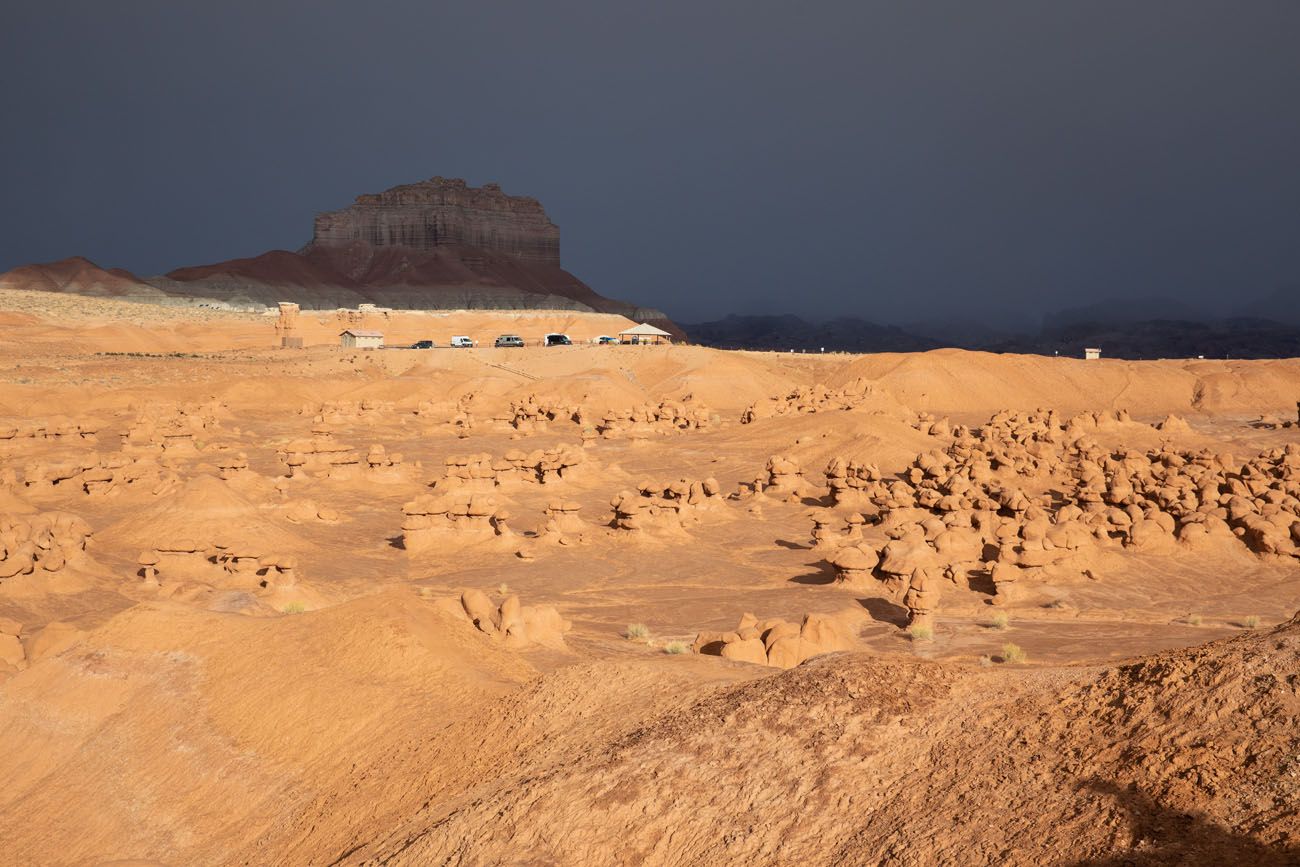 View of the parking lot from the top of one of the hills. The dark sky is the approaching snowstorm.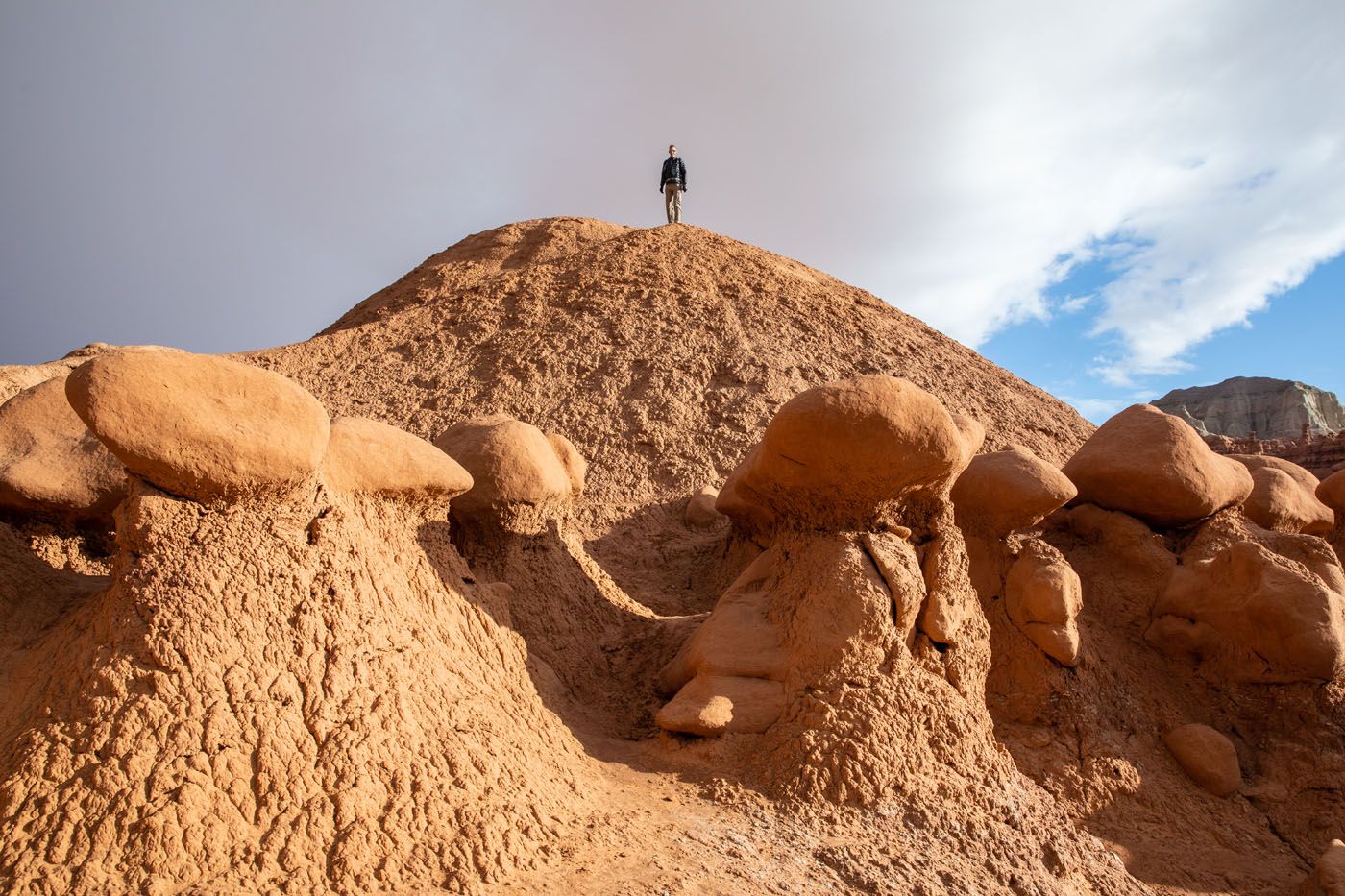 Tim on top of the hill.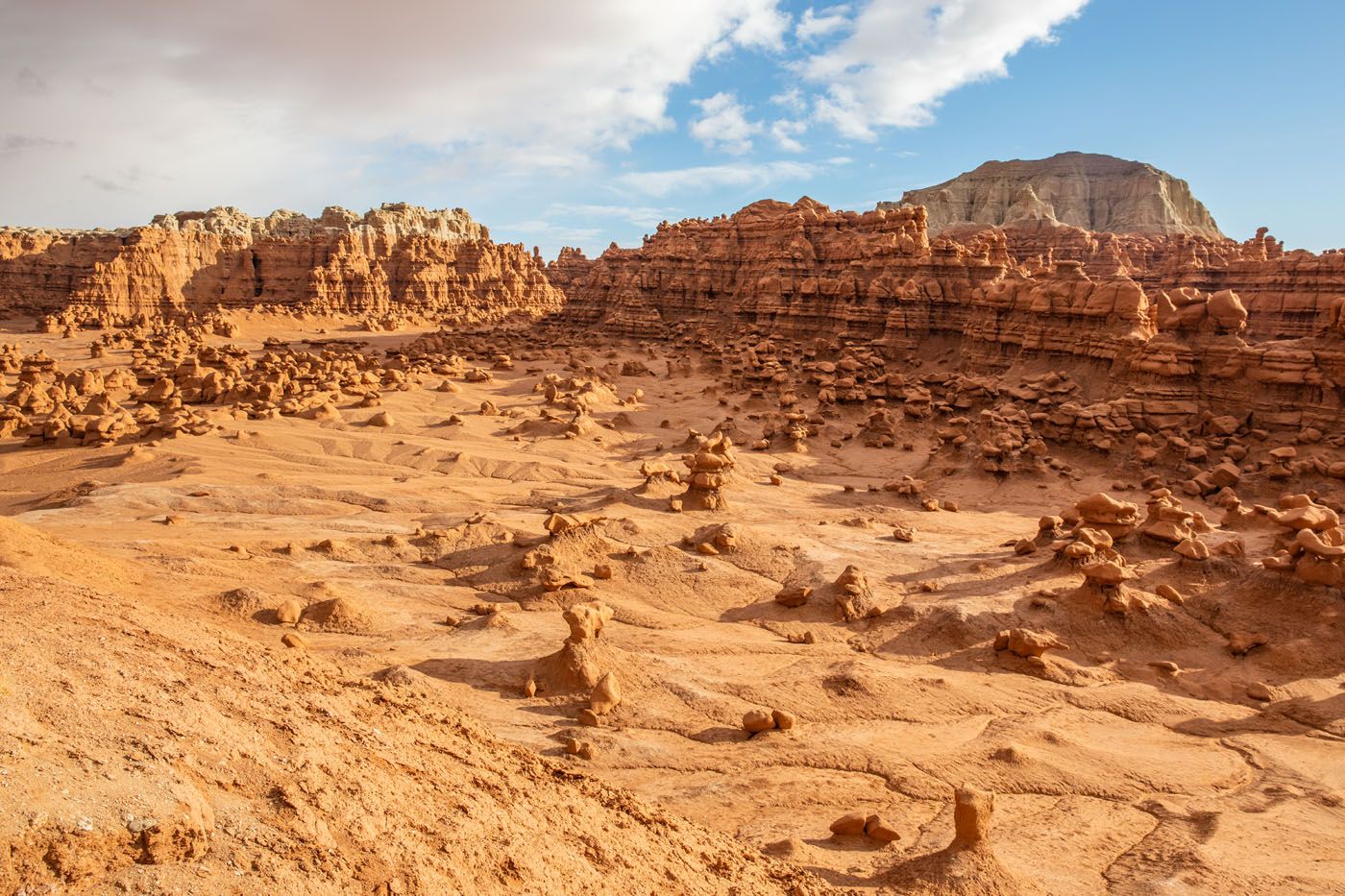 Valley 2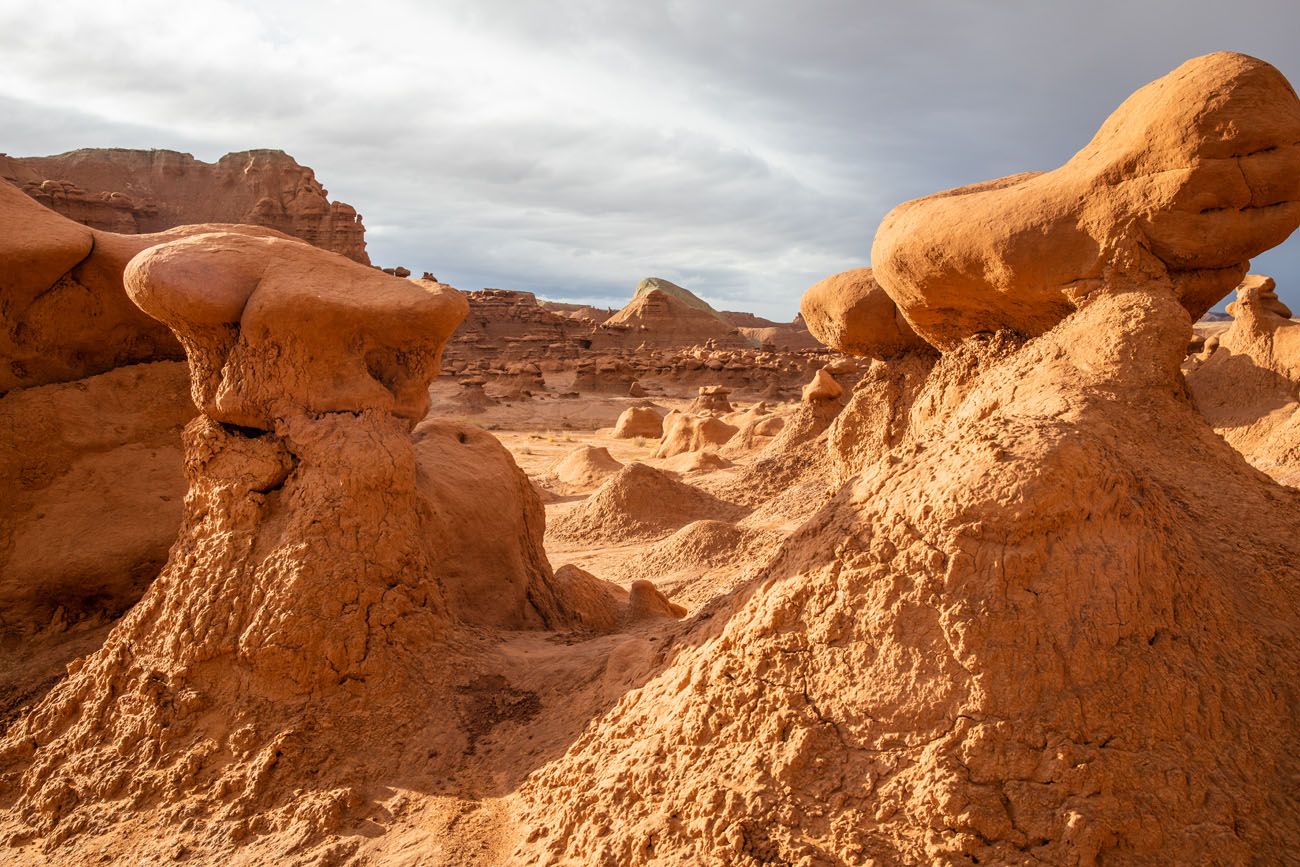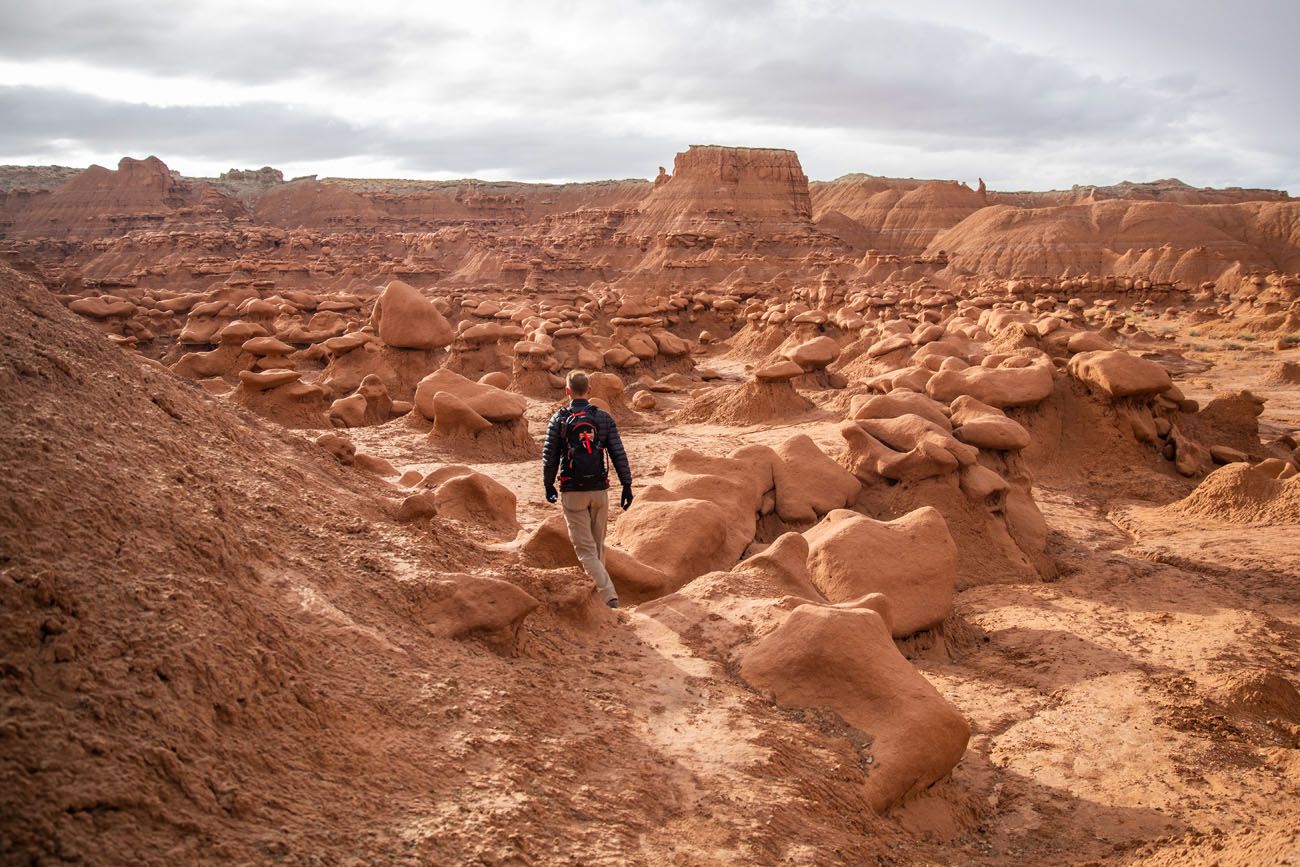 Entering Valley 3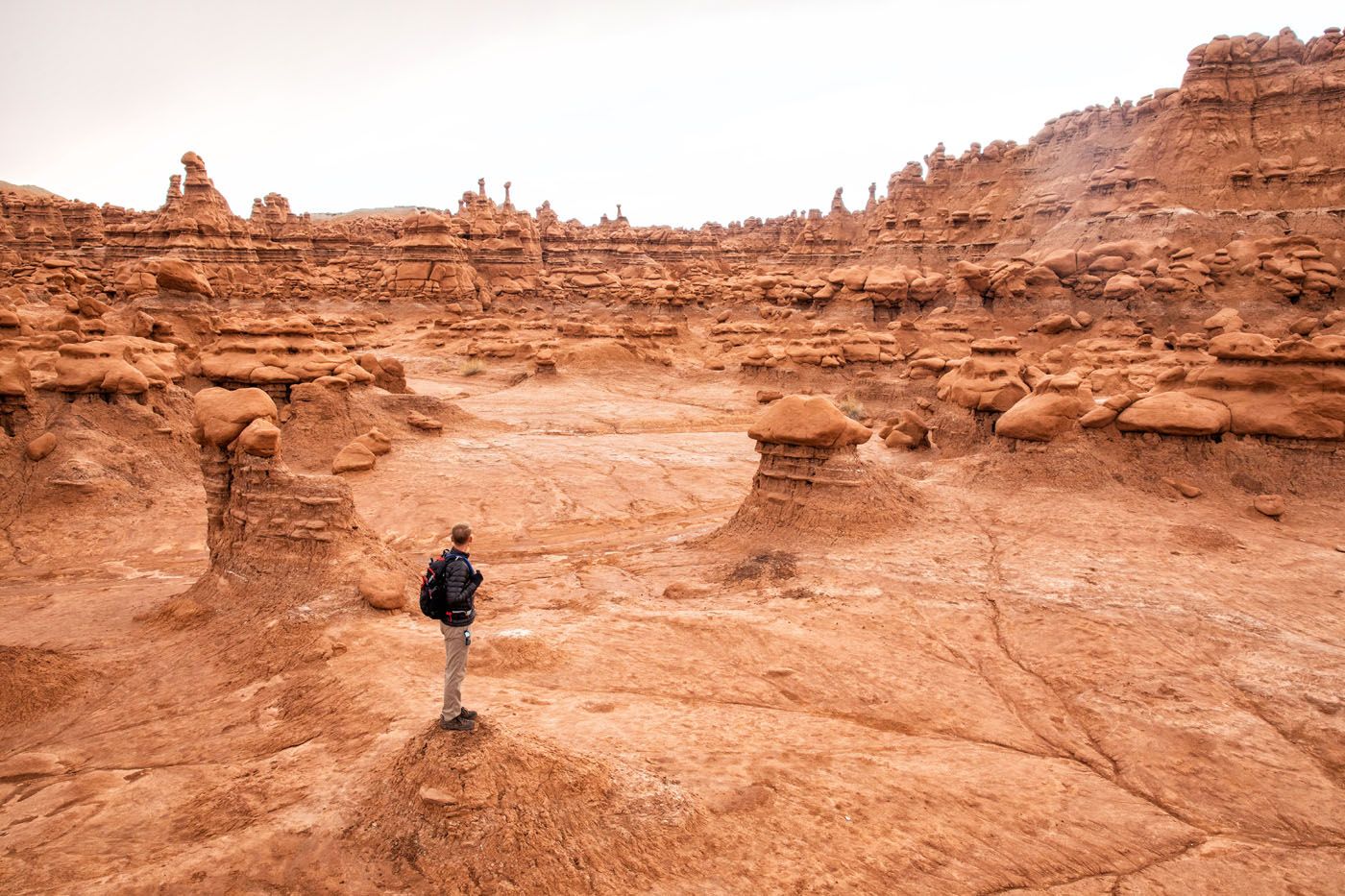 Valley 3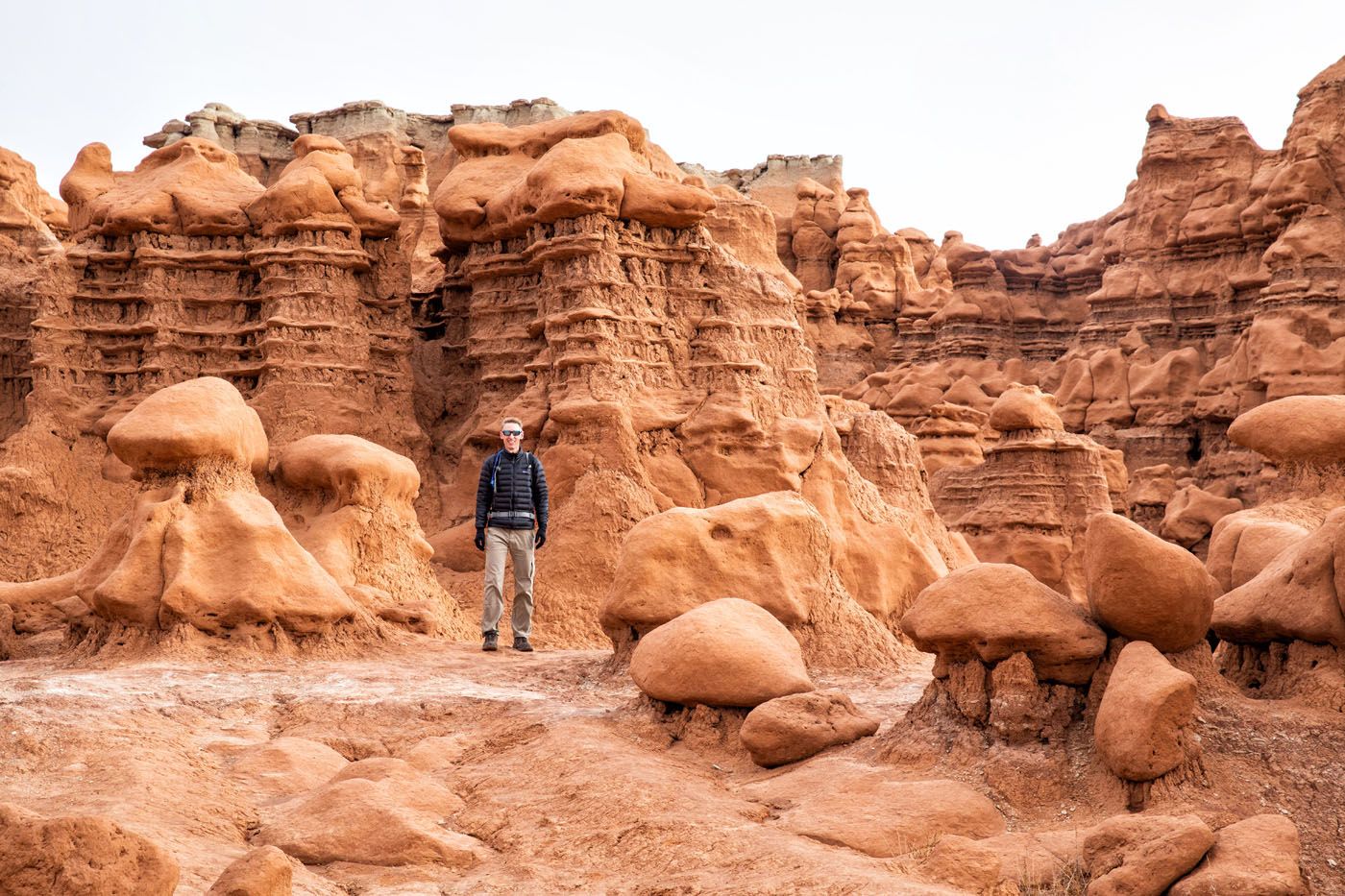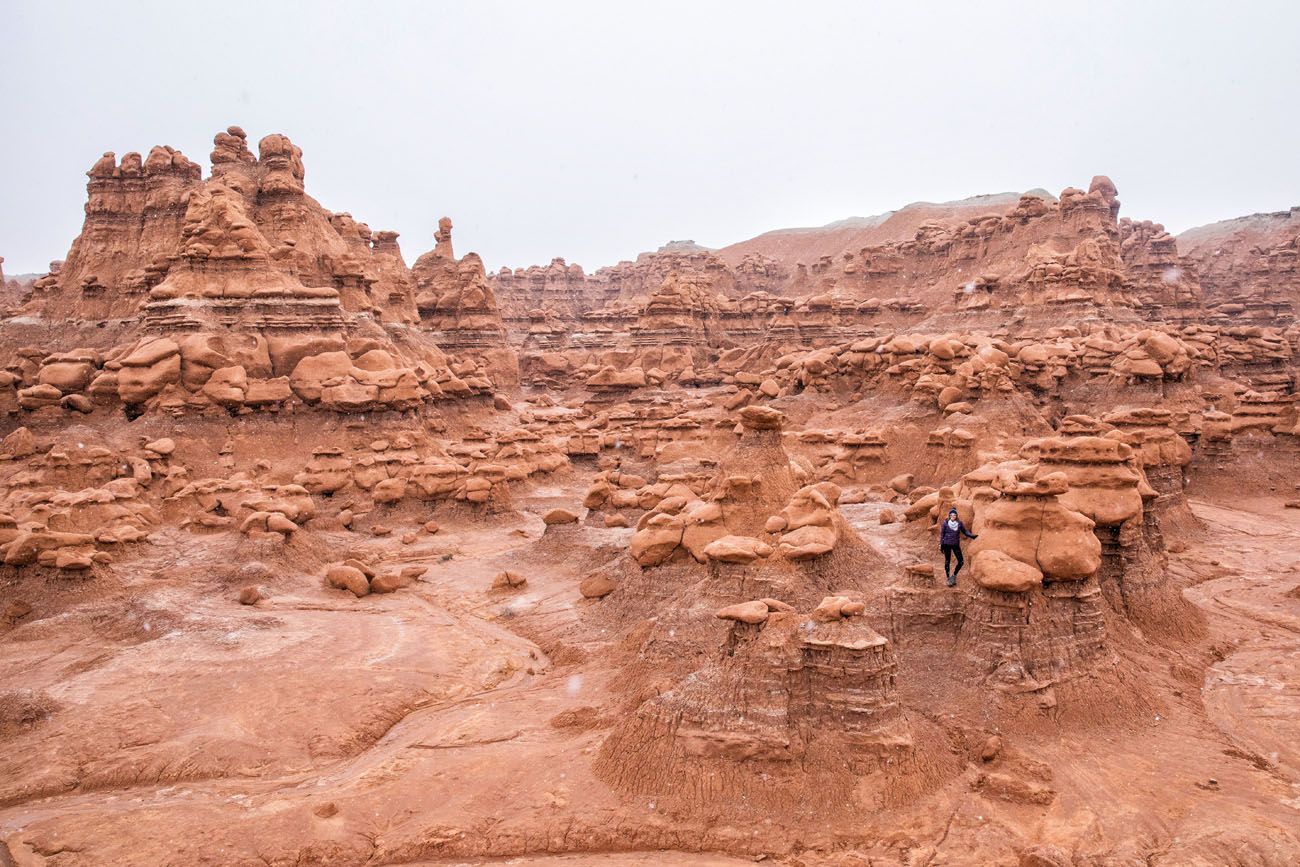 Valley 3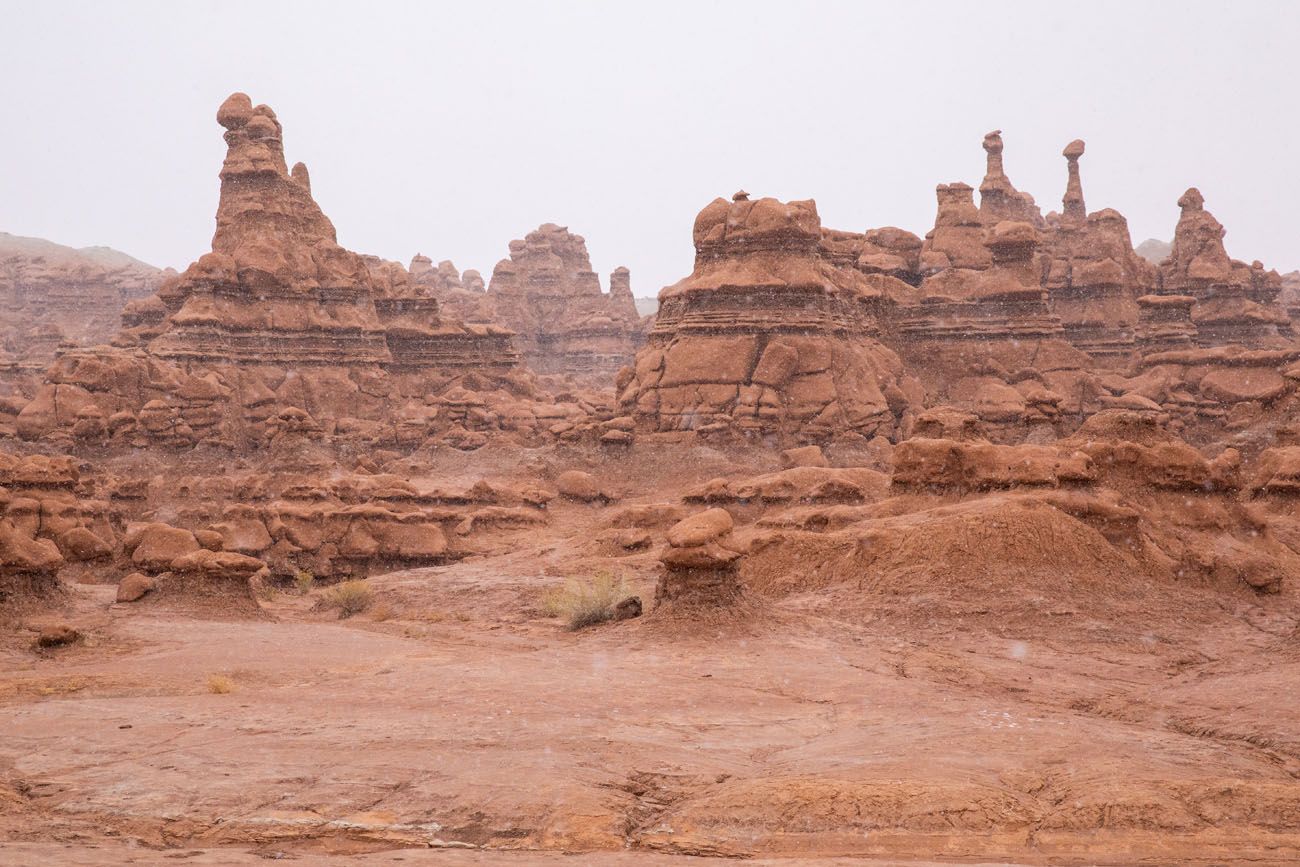 This was our view at the end of our visit…the snow really began to pick up.
Hike one (or More) of the Hiking Trails
There are five hiking trails in Goblin Valley State Park. Note: We did not hike any of these trails, preferring to save our time and energy for Little Wild Horse Canyon, which we did next.
The Three Sisters. 1 mile, easy. The Three Sisters is a rock formation of three hoodoos. You will see this on the drive through the park so I don't think it's worth doing the hike unless you want a closer view.
Entrada Canyon. 1.5 miles one way, moderate. This hike starts at the campground and ends with a viewpoint over the park.
Curtis Bench Trail. 1.5 miles one way, easy. This trail goes along a ridge, offering views of the park and out to the Henry Mountains.
Carmel Canyon Loop. 1.5 miles, moderate. This hike offers views of the Three Sisters on the way to the Goblin's Lair. You will hike through a short slot canyon and do a little bit of rock scrambling along the way.
Goblin's Lair. 1.5 miles one way, strenuous. Goblin's Lair is a dimly lit slot canyon. The trail starts at the parking lot and follows the Carmel Canyon Loop before splitting off to enter the canyon.
Rappel into Goblin's Lair
For the ultimate adventure in Goblin Valley State Park, you can rappel into Goblin's Lair. Those with experience and gear can pay $2 per person to get a permit at the visitor center. You can also take a guided canyoneering tour with Get in the Wild Adventures.
View the Night Sky
Goblin Valley is a Dark Sky Park, making this an awesome place to view the night sky.
Go Mountain Biking
Called the Wild Horse Mountain Biking Trail System, there is a network of mountain biking trails that sit to the west of Goblin Valley. These trails are relatively short but if you add them all up, they amount to 7 miles of mountain biking trails.
Play Disc Golf
Next to the campground is an 18 hole disc golf course. The course is free and you can rent discs at the visitor center for $1 each.
How Much Time Do You Need in Goblin Valley State Park?
A few hours are really all that you need here, to wander through the hoodoos, take your photos, and hike one of the trails.
Here are a few different ways to spend your time:
Goblin Valley in two hours: With two hours, I recommend exploring the three valleys, since this is the easiest and fastest way to see the goblins and hoodoos.
Goblin Valley in half a day: Spend a few hours exploring the valleys and hike the Carmel Canyon Loop to Goblin's Lair.
Goblin Valley in one day: Spend a few hours exploring the valleys. Rappel into Goblin's Lair. Hike the Curtis Bench Trail or Entrada Canyon.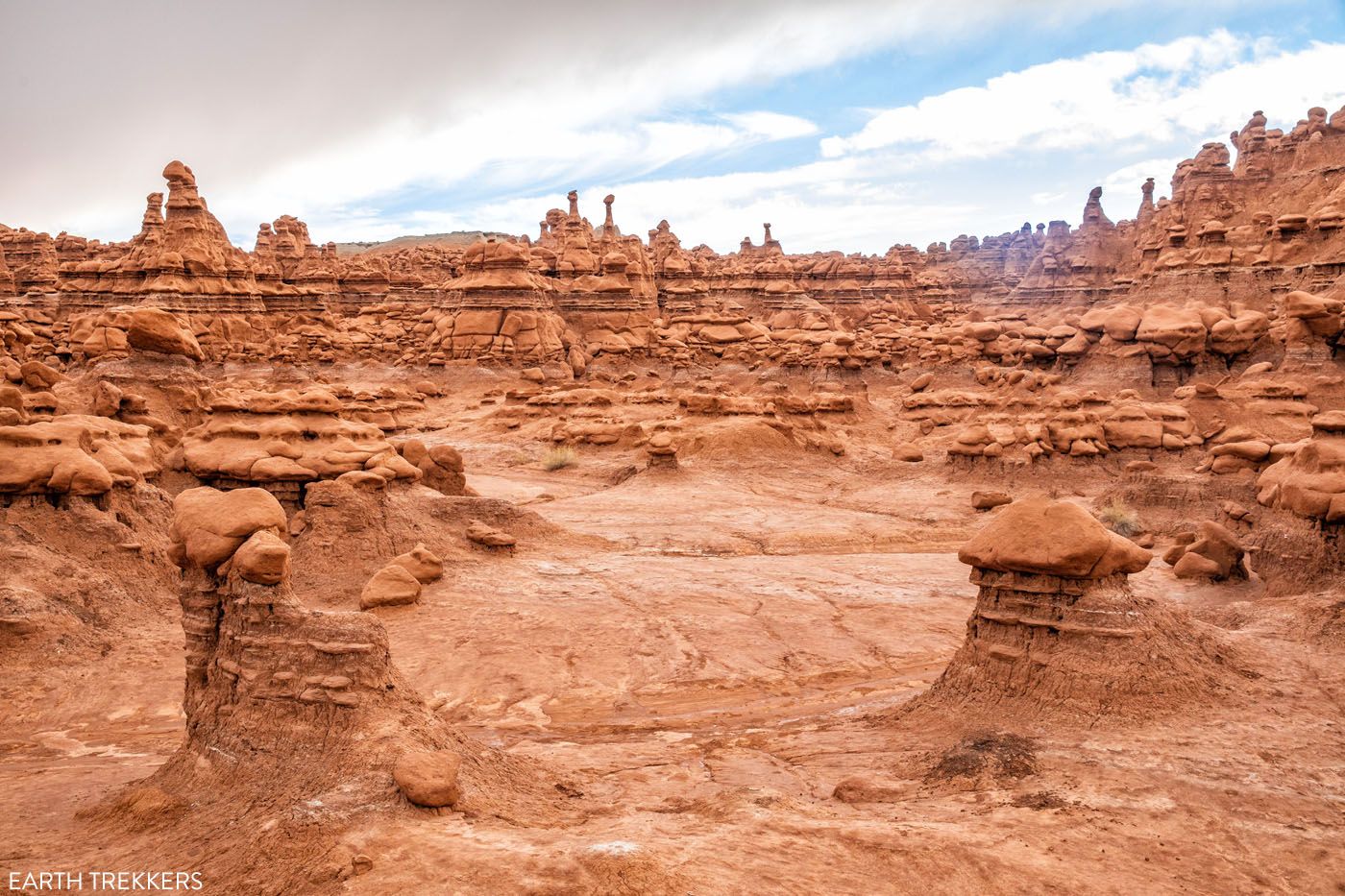 Goblin Valley + Little Wild Horse Canyon
Just down the road from Goblin Valley is one of the most thrilling slot canyons in the area. Little Wild Horse Canyon features tight passageways, curving, scalloped walls, and short sections of easy rock scrambling.
This hike is typically done as a loop, combining Little Wild Horse Canyon with Bell Canyon. If done as a loop, the hike is 8 miles round trip and can take anywhere from 3 to 6 hours, depending on how fast you hike.
You can shorten this hike, by hiking Little Wild Horse Canyon out-and-back. If you do this, it becomes a 4.5-mile hike that takes 2 to 4 hours.
What We Did: We drove from Capitol Reef to Goblin Valley. Tim and I spent two hours exploring the valleys. We wanted to hike to Goblin's Lair, but with our plan to also hike Little Wild Horse Canyon, we skipped it. We hiked the full Little Wild Horse Canyon + Bell Canyon Loop and then drove to Moab.
If you want to visit both Goblin Valley and Little Wild Horse Canyon, you can do them in either order. Just note that whatever you do second, you could have issues with parking. Both places are extremely popular in the spring and fall months. We were here in November, so visitation was low and we had no issues getting a space at Little Wild Horse Canyon.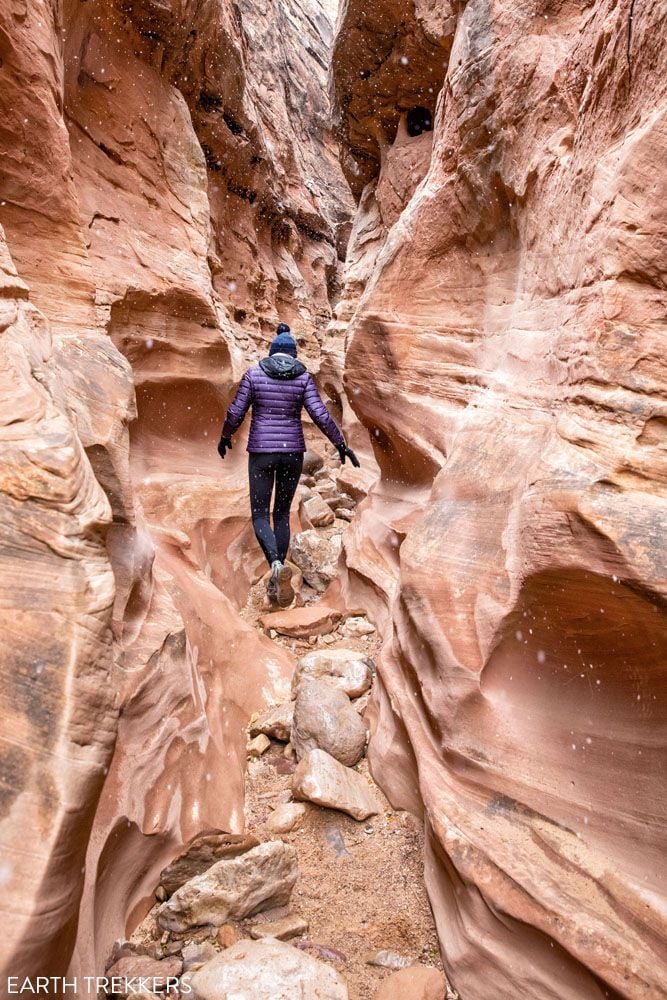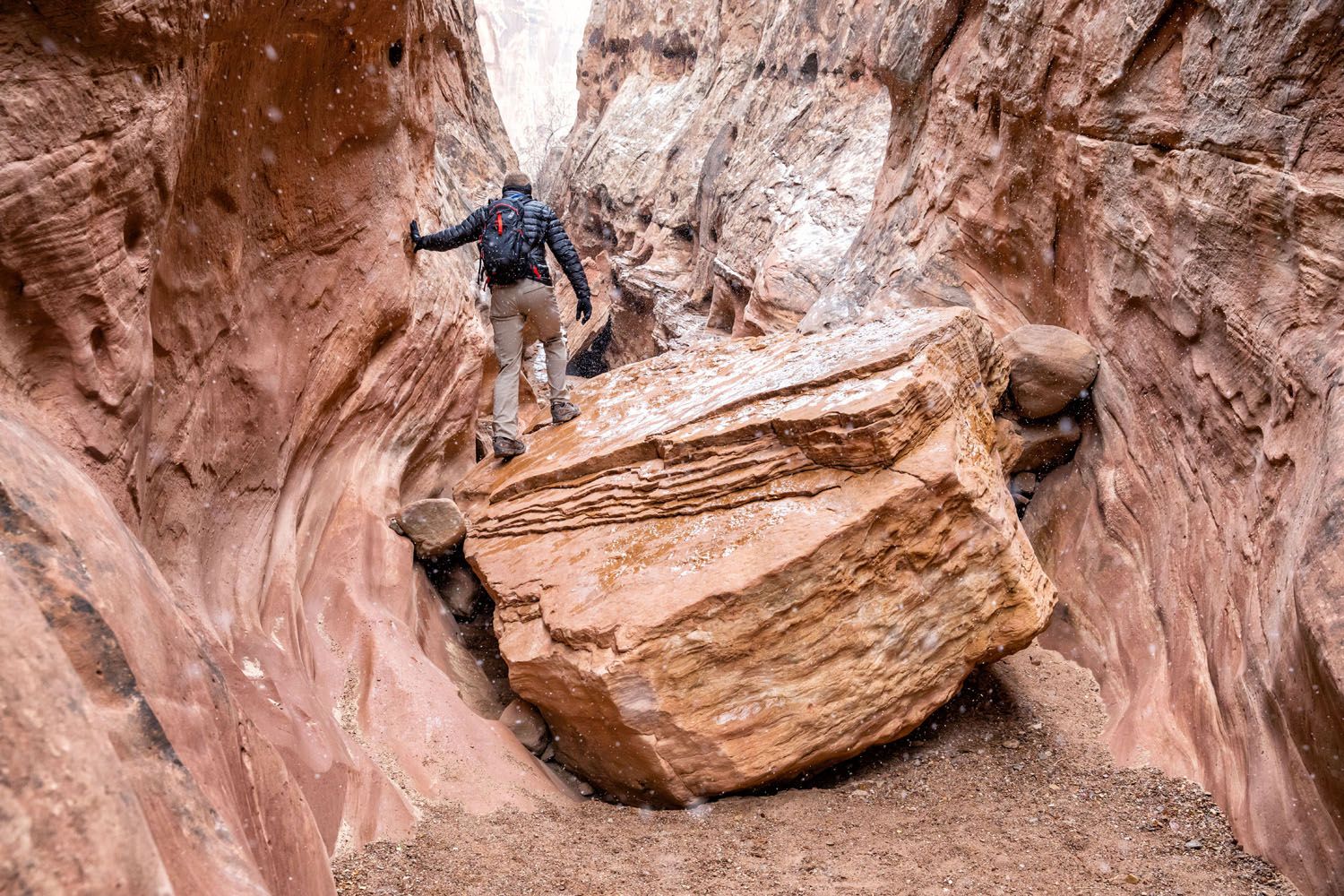 Tips to Have the Best Experience
Expect big crowds on the weekends from March through June. The state park website has a warning that you could have delays of several hours to enter the park during this time due to high levels of visitation and limited parking. To avoid these crowds, plan to get here very early in the day or plan your visit mid-week.
Pack a picnic lunch and lots of water. There are no restaurants in the park. The closest place you can get food is in Hanksville, which is 30 minutes away, and even here your choices will be limited. So, plan to bring enough food and water to get you through the day.
Expect hot conditions during the summer months. The best time to visit the park is in the spring and fall, when the weather is mild. Winter is a nice time to visit, but snow is a possibility.
Where Are You Going Next?
If your visit to Goblin Valley is part of a bigger road trip through Utah, here are some more articles that might interest you.
UTAH'S MIGHTY 5: Utah's Mighty 5 is a collection of five national parks in Utah. Learn more about the parks and how to plan your visit in our Guide to Utah's Mighty 5.
ZION NATIONAL PARK: Check out our Zion National Park Travel Guide for important travel planning tips, sample itineraries, advice on when to go, where to stay, and more.
BEST OF ARCHES: While in Arches National Park, top experiences include the Devils Garden Trail and a visit to Delicate Arch. Get the full list in our Best Things to Do in Arches guide.
BEST OF CANYONLANDS: Top experiences in Canyonlands includes visiting the Island in the Sky district, driving the White Rim Road, hiking in the Needles district, and hiking the Syncline Loop. For the full list, check out our Canyonlands Travel Guide.
BRYCE CANYON: Learn how to plan your visit in our Bryce Canyon Travel Guide. We also have information on how to spend One Day in Bryce Canyon and how to hike the Queen's Garden and Navajo Loop Trails.
CAPITOL REEF: If you are just passing through the park on a road trip through the area, learn about the best things to do in Capitol Reef with limited time.
---
If you have any questions about how to visit Goblin Valley State Park, or if you want to share your experience, let us know in the comment section below.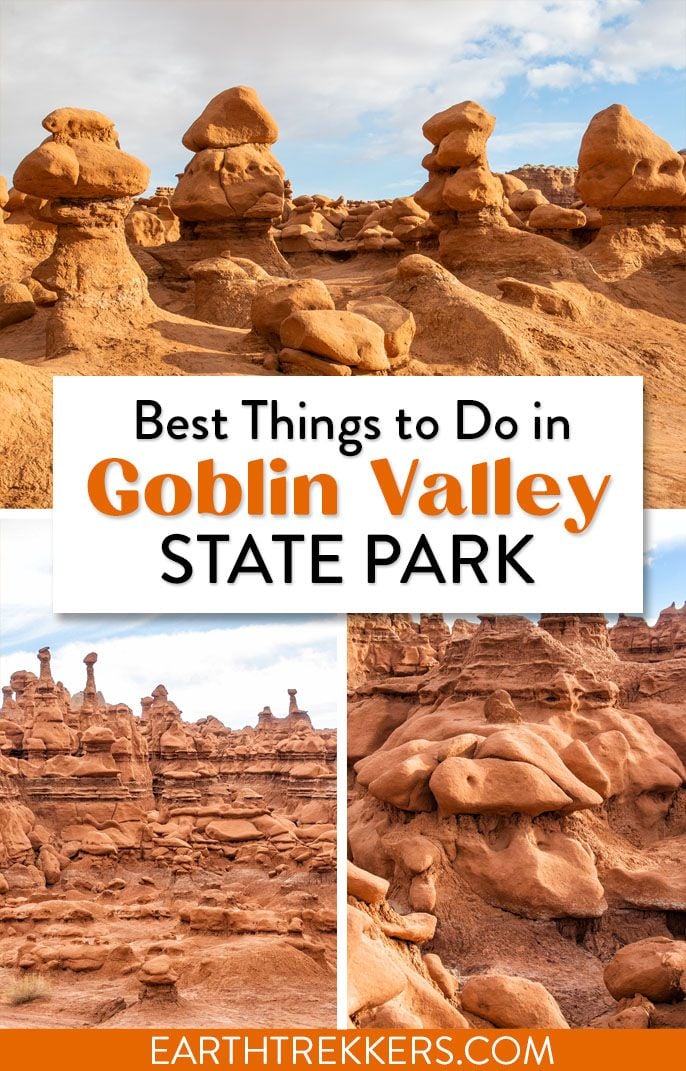 All rights reserved © Earth Trekkers. Republishing this article and/or any of its contents (text, photography, etc.), in whole or in part, is strictly prohibited.