Capitol Reef, often an overlooked national park, is full of many wonderful surprises. With an amazing scenic drive, hiking trails that rival those in Zion, rugged, remote areas to explore by 4×4, short, easy slot canyons, historical landmarks, and even delicious pie, this national park is absolutely amazing. In this post, learn about the best things to do in Capitol Reef National Park with tips on how to plan your time.
About Our Experiences in Capitol Reef National Park
So far, we have visited Capitol Reef twice.
We didn't "get it" on our first visit here. Our first visit was at the end of December 2018, during a government shutdown. Like most people, we zipped through the park in just a half a day. And yes, we liked Capitol Reef, but we had barely scratched the surface of what there is to do here. It was just enough time to know that we needed a return visit, and at least three more days, to go deeper into the park.
On our most recent visit, in November 2020, we spent four wonderful days in Capitol Reef. And the longer we were here, the more we wondered why this park is so overlooked. The scenic drives, the hiking trails, and the history of the Fruita district are amazing. But there is so much more to this park.
If you love the idea of leaving the crowds behind and exploring a vast, remote area, you have several options. Cathedral Valley, with its sandstone monoliths and sweeping desert vistas, is a beautiful, unique way to spend a day in Capitol Reef. Or, you can Loop the Fold, another remote driving day along the waterpocket fold.
There are also slot canyons to explore, quiet, low-traffic hiking trails in remote areas of the park, and some of the most dramatic landscapes in Utah, which you can see right from your car.
I can't wait to share with the you the beauty, the history, and the amazing geology of this national park. And I am looking forward to a return visit sometime soon. Maybe we will see you here!
While in Capitol Reef National Park, please practice the seven principles of Leave No Trace: plan ahead, stay on the trails, pack out what you bring to the hiking trails, properly dispose of waste, leave areas as you found them, minimize campfire impacts, be considerate of other hikers, and do not approach or feed wildlife.
Interesting Facts about Capitol Reef
Capitol Reef National Park preserves the Waterpocket Fold, a 100-mile long wrinkle in the Earth's crust. This wrinkle, also called a monocline, was formed between 50 and 70 million years ago, when movement along a fault line caused upward shifting of the west side relative to the east side. The layers on the west side of the fault were lifted up 7,000 feet higher than the layers on the east.
Since this upheaval, water has been slowly eroding away the sedimentary rock layers, forming "waterpockets." This erosion is revealing fossils, massive domes, canyons, arches, and monoliths.
The park gets its name from the white domes of Navajo sandstone that resemble the United States Capitol building. Early settlers found the long ridges of the waterpocket fold impassable, similar to reefs in the ocean. Put these two together and you get Capitol Reef National Park.
Capitol Reef is very long and skinny, running in a north-south direction. The park is 60 miles long north to south but only 6 miles wide (average) east to west.
Most visitors spend their time along Highway 24, the main road that cuts through the park. To get to the more remote northern and southern sections of the park, you can drive on gravel roads, and some of these require a 4WD.
Capitol Reef officially became a national park on December 18, 1971. In 2022, it received 1.2 million visitors, making it the 21st most visited US National Park this year. It is one of five national parks in Utah (collectively called Utah's Mighty 5). Capitol Reef was the fourth most visited national park in Utah's Mighty 5 (Zion took first place and Canyonlands took 5th place).
Best Things to Do in Capitol Reef National Park
1. Highway 24
Highway 24 is the main road that runs through the park. This road runs east – west for 16 miles inside the park boundaries, following alongside the Fremont River.
Highway 24 is a very scenic stretch of road. In the east, the road twists and turns along the Fremont River, past massive domes and cliffs of white Navajo sandstone. As you approach Fruita, the views open up, as you drive through a valley filled with orchards and historic buildings along the Fremont River. As you continue to head west towards Torrey, you will drive past immense red sandstone mountains, cliffs and rock formations.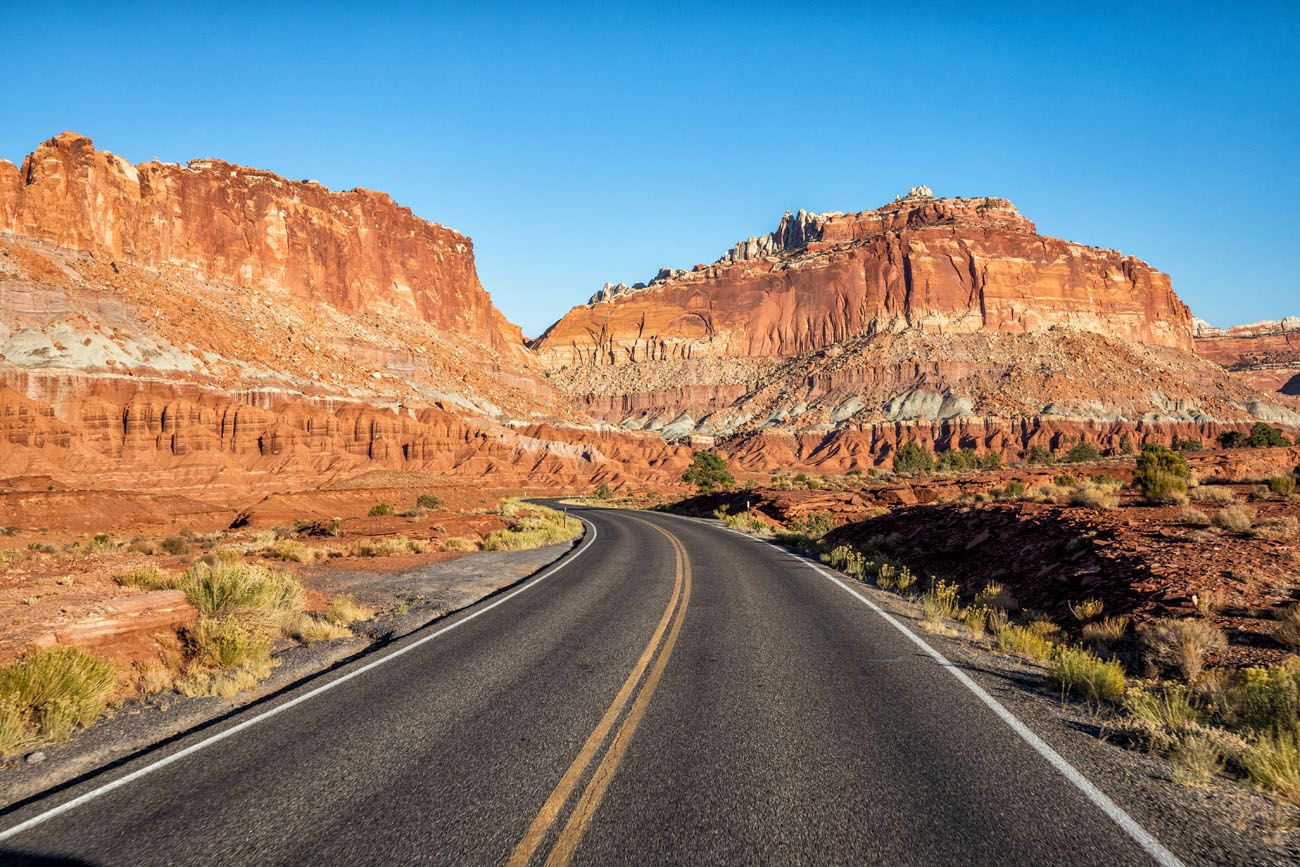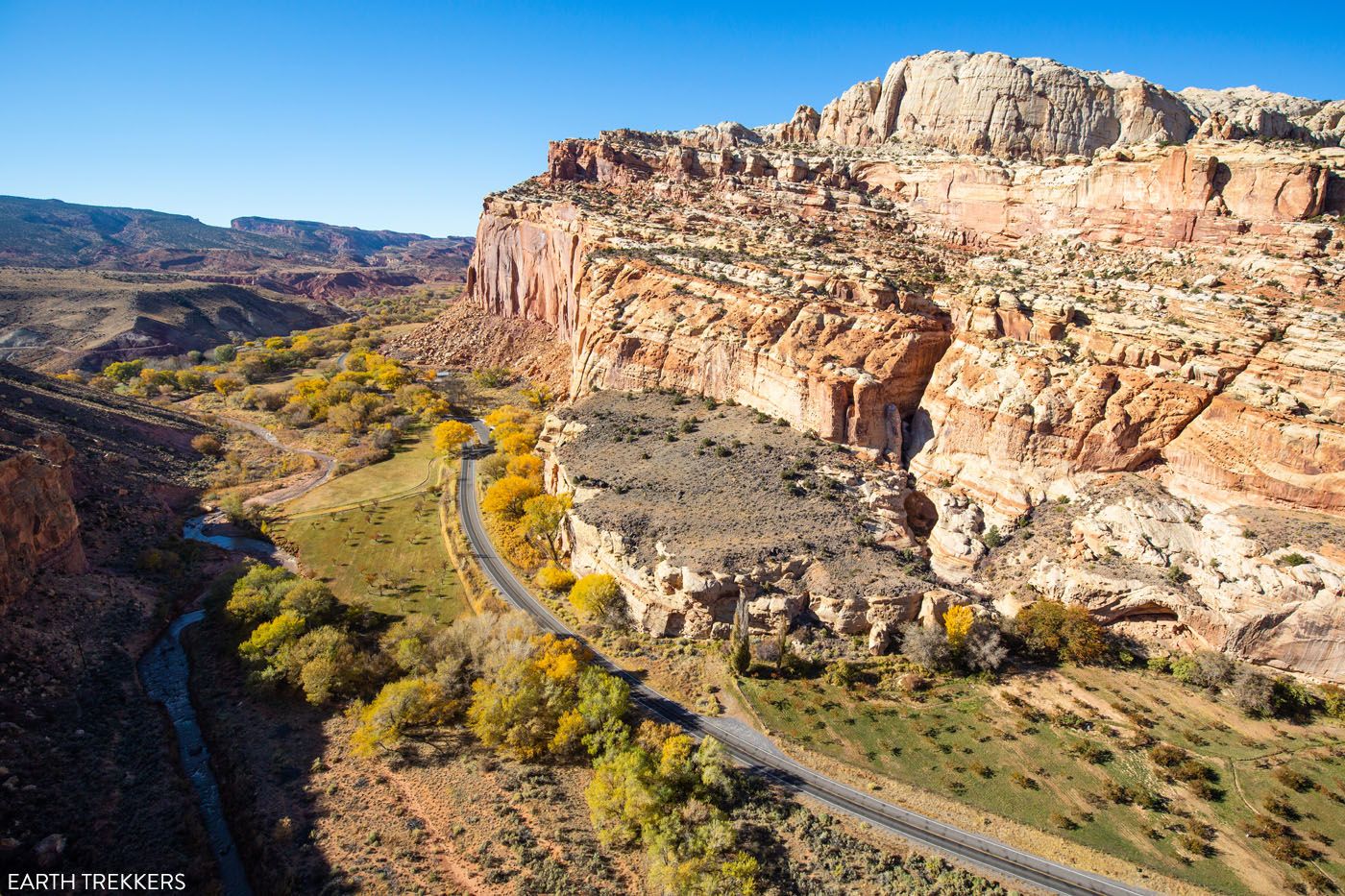 Overlooking Highway 24 and Fruita from the Cohab Canyon Trail
There is no fee to drive on Highway 24, so you can tour this part of Capitol Reef without paying a park entrance fee. This "no fee zone" includes several of the other best things to do in Capitol Reef, including Sunset and Panorama points, the petroglyphs, and a few hiking trails.
2. Panorama Point
Panorama Point offers beautiful views over Highway 24 as it winds its way through the park. This viewpoint is located just off Highway 24 and it is a quick and easy way to get a spectacular view of Capitol Reef Park.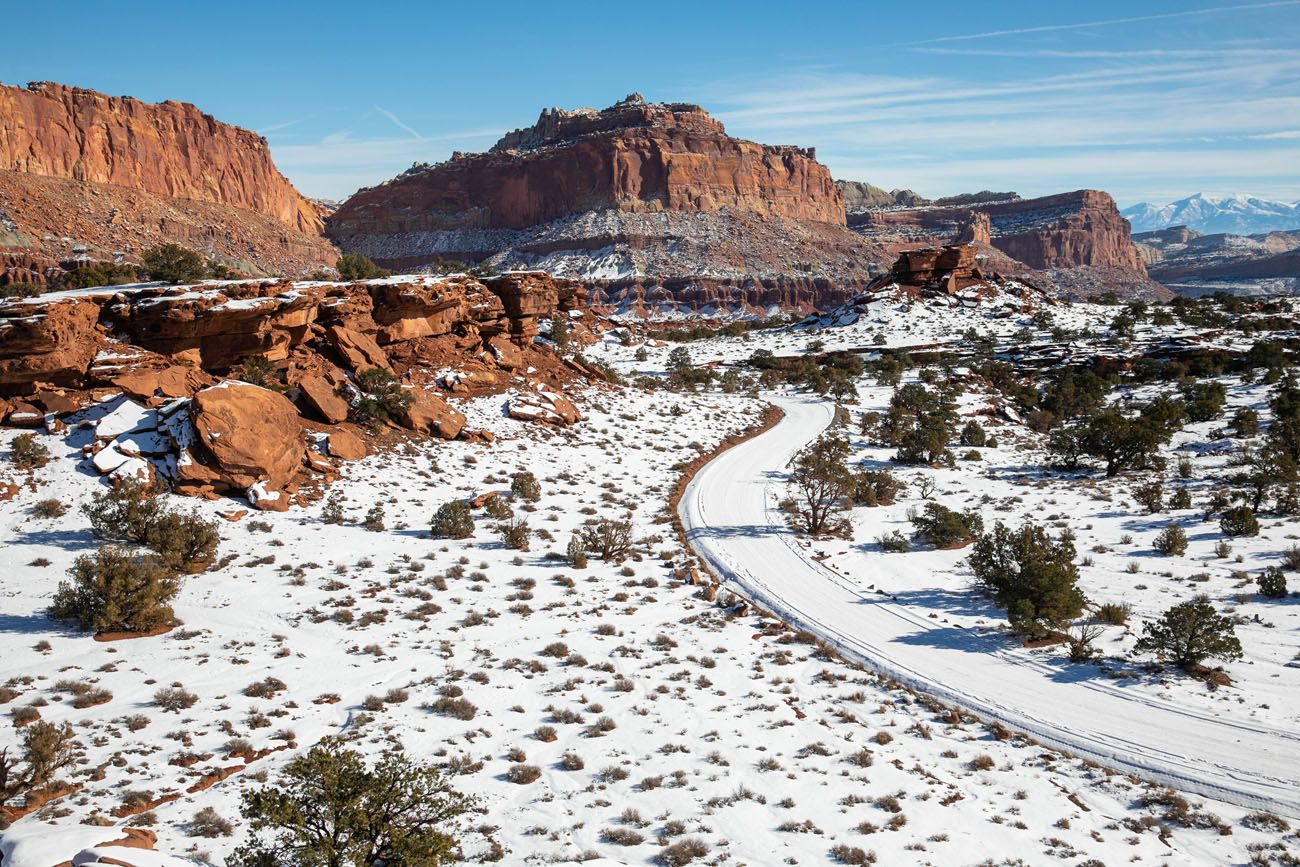 Getting Here: On Highway 24, there will be a sign marking Panorama Point and Sunset Point. Turn here and it's a very short drive on a gravel road to the parking lot for Panorama Point. If you continue down this road, you will get to Sunset Point and the Goosenecks Overlook.
3. Sunset Point
Continue down the gravel access road until it ends at a small parking area. From the parking lot, two different trails lead to two different viewpoints (Sunset Point and Goosenecks Overlook).
To get to Sunset Point, it is a 0.8 mile round-trip easy hike to a gorgeous overlook. Sunset Point gets its name because it is one of the best spots in Capitol Reef to watch the sunset.
4. Goosenecks Overlook
Walk back to the parking lot and then it is just a short uphill walk (0.2 miles round trip) to a viewpoint over the Goosenecks. This is where the Sulphur Creek carved out a canyon, its curving path resembling that of a gooseneck.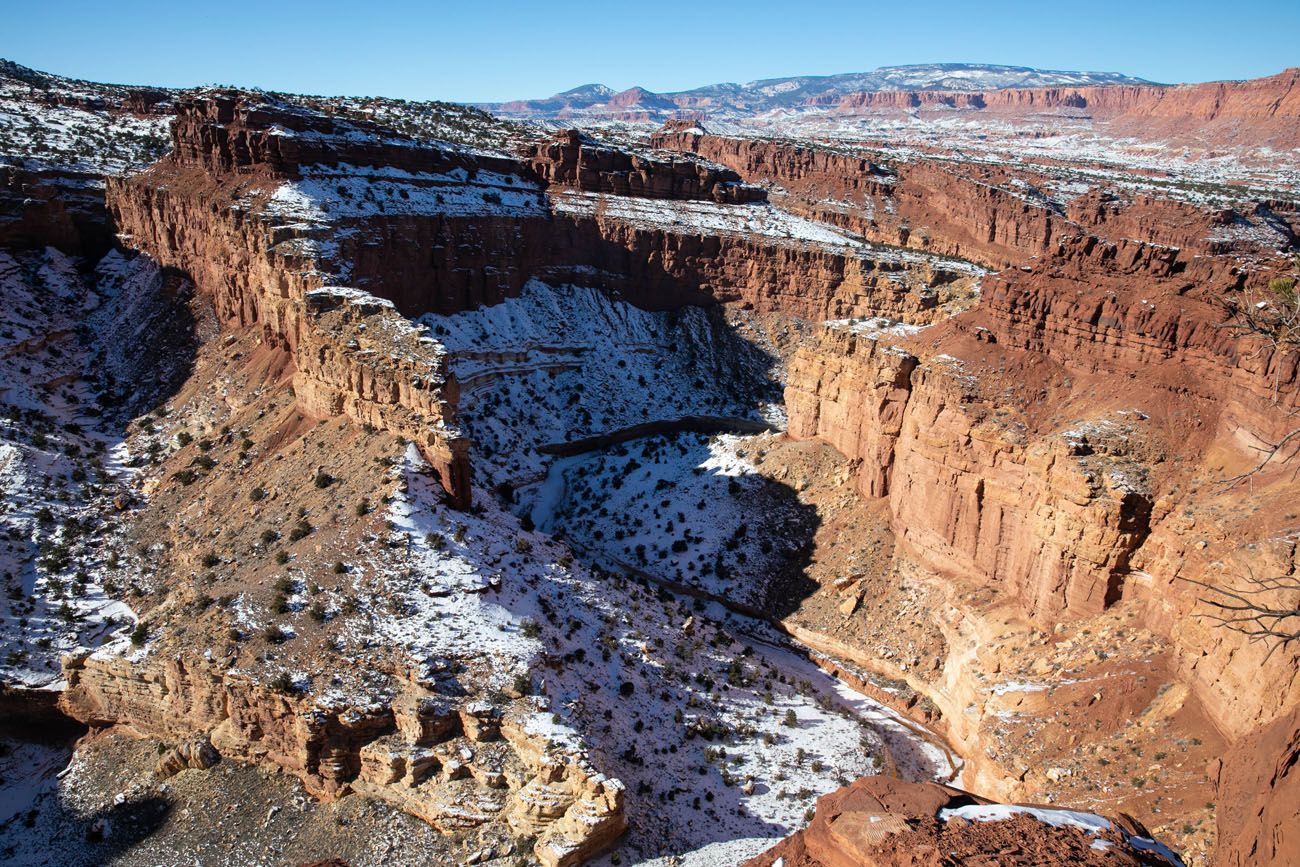 Time: Plan on spending 45 minutes to one hour here, visiting both Sunset Point and Goosenecks Overlook.
5. See the Petroglyphs
You can see rock art figures (petroglyphs) created by ancient Native Americans on the drive along Highway 24. Park in the small parking lot on Highway 24, which is located between the Hickman Bridge trailhead and Fruita. It's a very short walk to a viewpoint where you can see these figures carved onto the rock wall.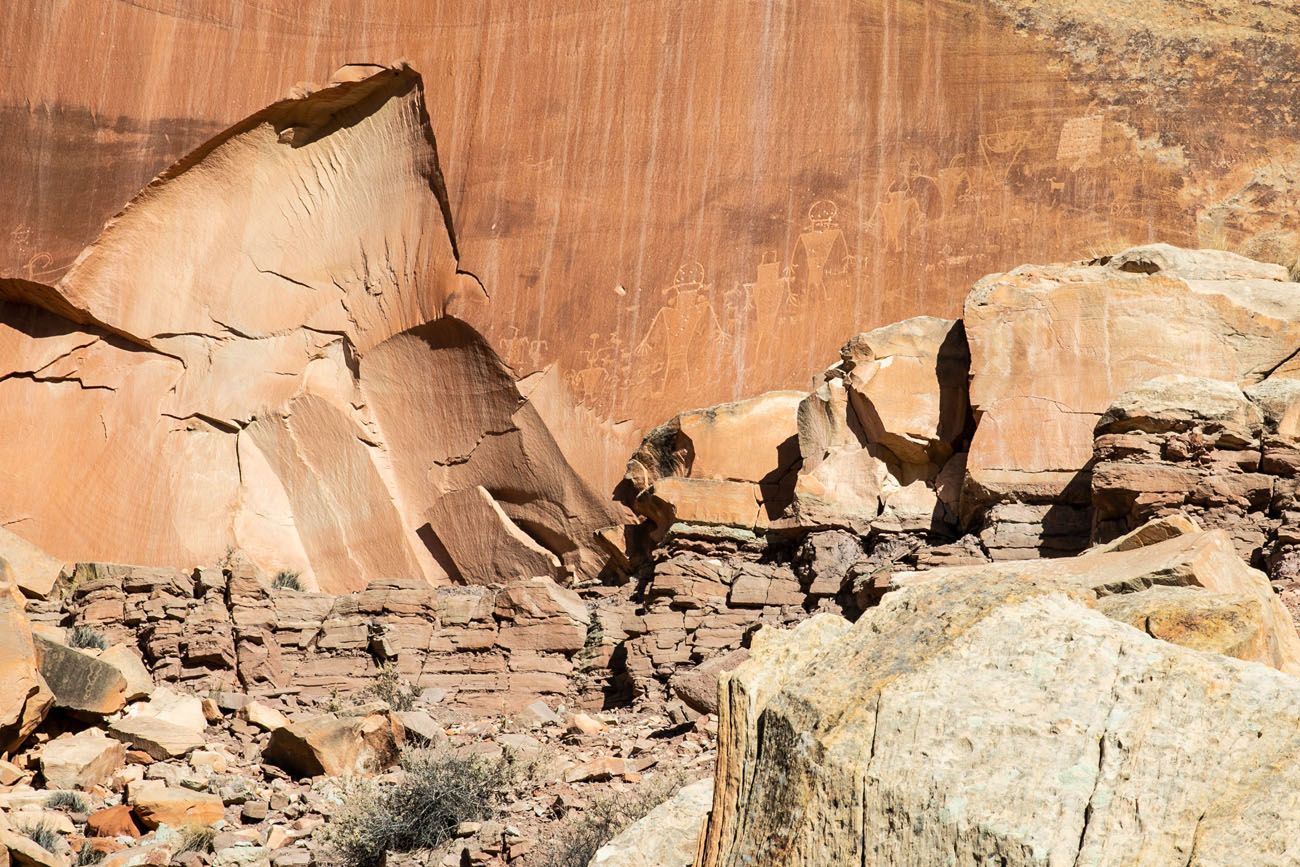 6. Explore Historic Fruita
The historic Fruita district is the heart of Capitol Reef National Park. This is where you will find the visitor center, the start of several great hikes, campgrounds, and historic buildings.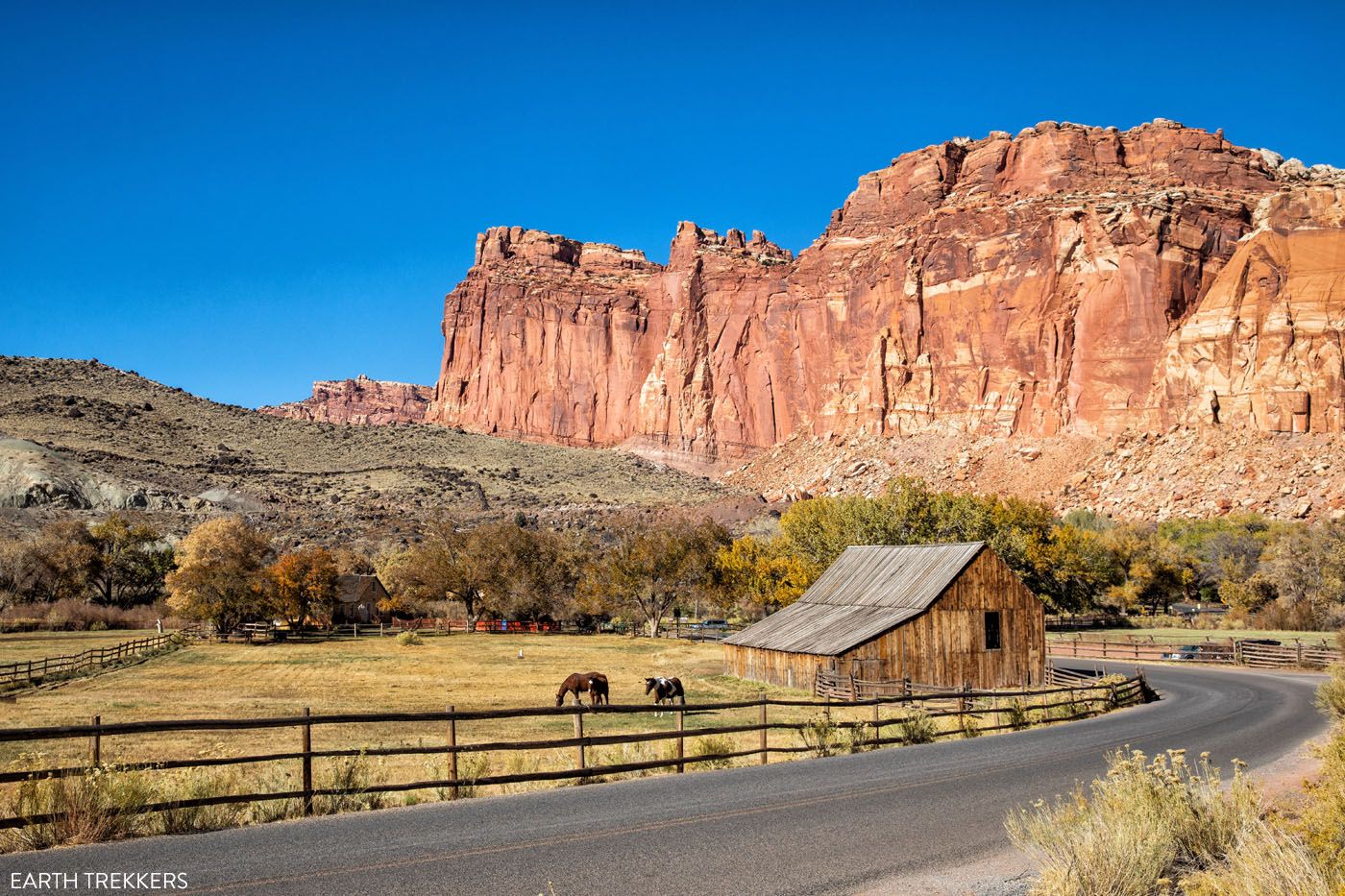 In the late 1800's, pioneers began settling in the area. The first landholder was Nels Johnson, followed by other members of the Latter Day Saints. The settlers planted orchards and grew sorghum for molasses and syrup.
Now, most of the original buildings are gone, but you can still see the one-room schoolhouse, the Gifford House and barn, and the orchards, which are still maintained by the national park service.
7. Have Pie at the Gifford Homestead
The Gifford Homestead, one of the last remaining buildings in historic Fruita, sells handmade items made by local craftsmen, such as dolls, soap, quilts, jams and jellies, and books. But the big draw is the pie. Stop in for a slice of locally baked fruit pie and ice cream.
The Gifford Homestead is open from 9 am to 4:30 pm daily from March 14 (Pi Day) to November 25. Get updated hours before you go.
Planning a visit to the US national parks? Visit our Guide to the National Parks to learn more about the parks, with important travel planning tips, sample itineraries, advice on when to go, where to stay, and more.
8. Go Hiking
One of the best things to do in Capitol Reef National Park is to go hiking. The scenic drives are amazing but there's no better way to explore the canyons and get a bird's eye view over the park than from the hiking trails.
In the center of the park, near Fruita, there are 15 day hikes you can do. There are also numerous other hikes in the more remote areas of the park, including Cathedral Valley and along Notom-Bullfrog Road.
To help narrow down the long list of day hikes, here are some of our favorites. All hiking distances are round-trip. For the full list, read our article 16 Epic Day Hikes in Capitol Reef National Park.
Cassidy Arch. 3.4 miles, moderate. This is one of the most thrilling trails in Capitol Reef National Park. This short hike features stunning scenery, views over the Grand Wash, and the chance to stand on Cassidy Arch.
Cassidy Arch
Hickman Bridge. 1.8 miles, moderate. This is one of the best short hikes to do in Capitol Reef. Walk along the Fremont River and then hike up to a spectacular viewpoint where you can look out over Highway 24. The trail ends at Hickman Bridge, a large, natural arch that is tucked away near the back of the canyon.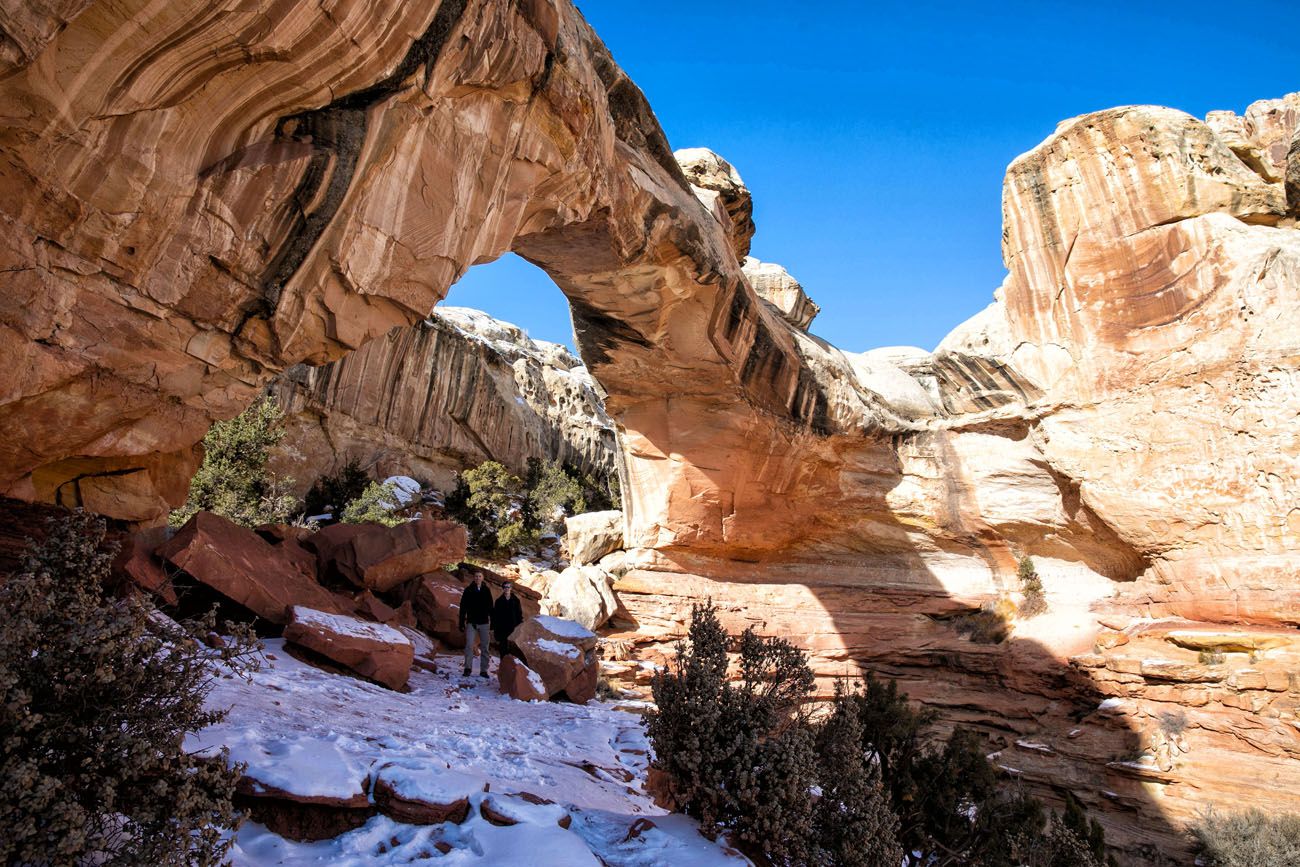 Hickman Bridge
Grand Wash. 4.8 miles, easy. Hike through a wide canyon, similar to the Zion Narrows, but without having to walk through a river. This is a long hike if you walk the entire length of the canyon, but you can turn around when you are ready. The best part of the hike, where the canyon is the narrowest (called The Narrows), is about one mile from the start, so this hike could be as short as 2.5 miles.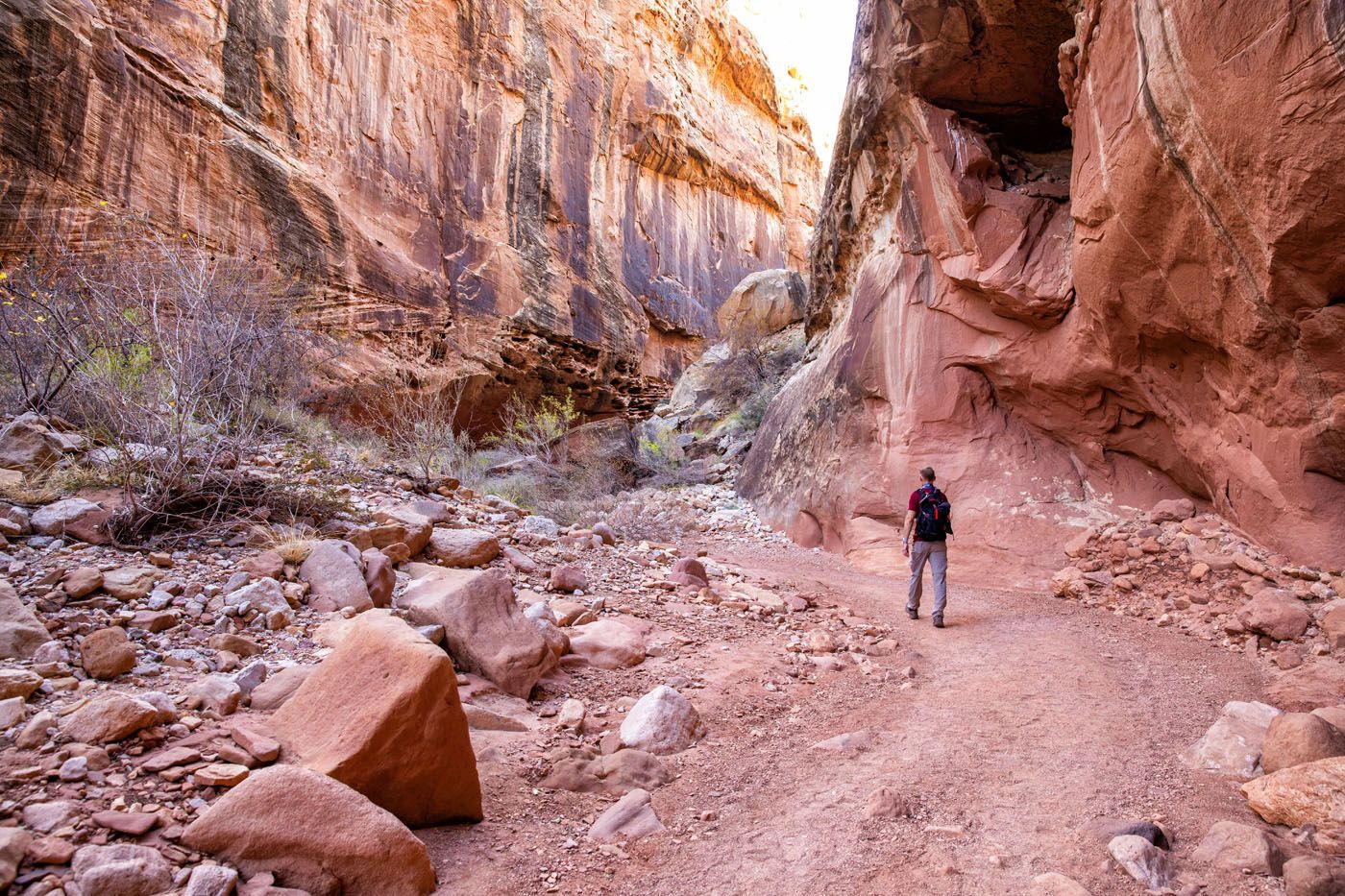 Grand Wash
Cohab Canyon. 3.4 miles, strenuous. This short but strenuous hike offers stunning views over Fruita and along Highway 24. This hike is one of the easiest ways to get an aerial view over Fruita.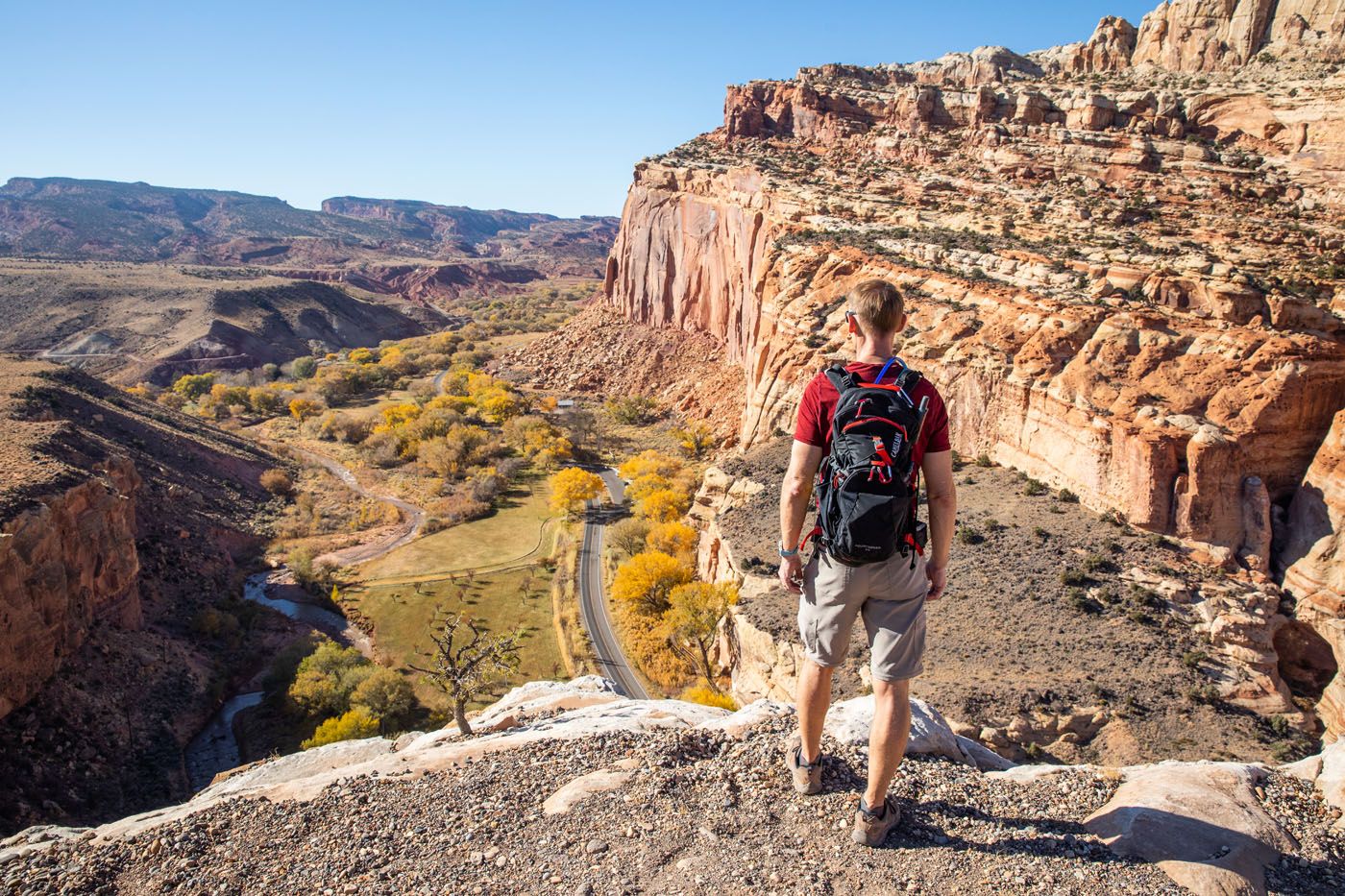 Chimney Rock Trail. 3.6 miles, moderate. After a short and strenuous climb, this trail stays relatively flat, as it makes a loop along the sandstone mountains. The views of Fruita and the waterpocket fold are spectacular.
Rim Overlook. 4.6 miles, strenuous. It's a tough hike to get to Rim Overlook but what a view! This viewpoint sits on the edge of cliff, high above Fruita. From here, you get one of the best views along the waterpocket fold.
Rim Overlook
Navajo Knobs. 9.5 miles, strenuous. This is our favorite hike in the park. First, you'll hike to the Rim Overlook. The trail continues to the Navajo Knobs, where you have 360° views, arguably one of the best viewpoints in Capitol Reef National Park.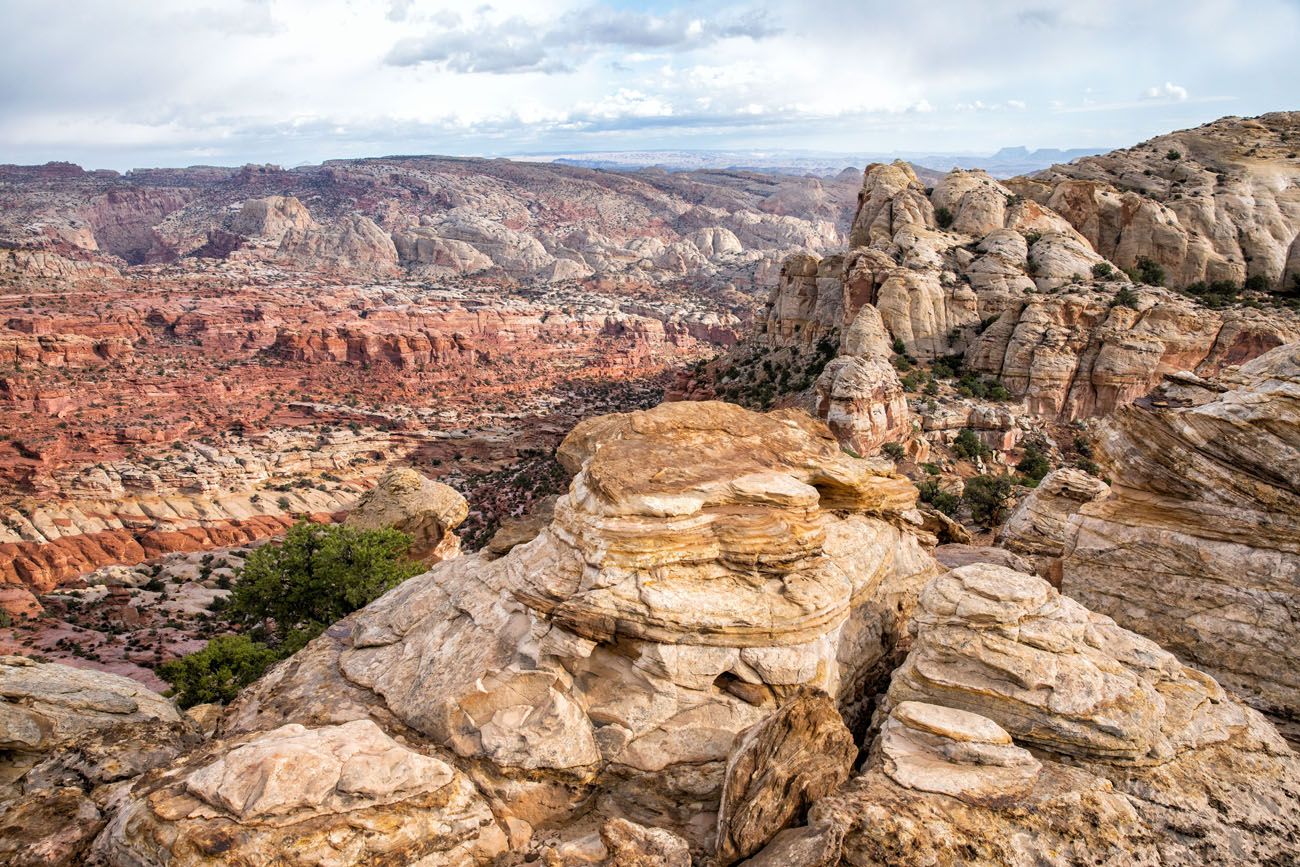 View from Navajo Knobs
Cathedrals Trail. 2.5 miles, easy. This easy hike offers very nice views of the monoliths of Cathedral Valley. The best part of this hike, in my opinion, is the first half, as you walk alongside this chain of sandstone formations. The trail ends on top of hill where you have panoramic views of Cathedral Valley.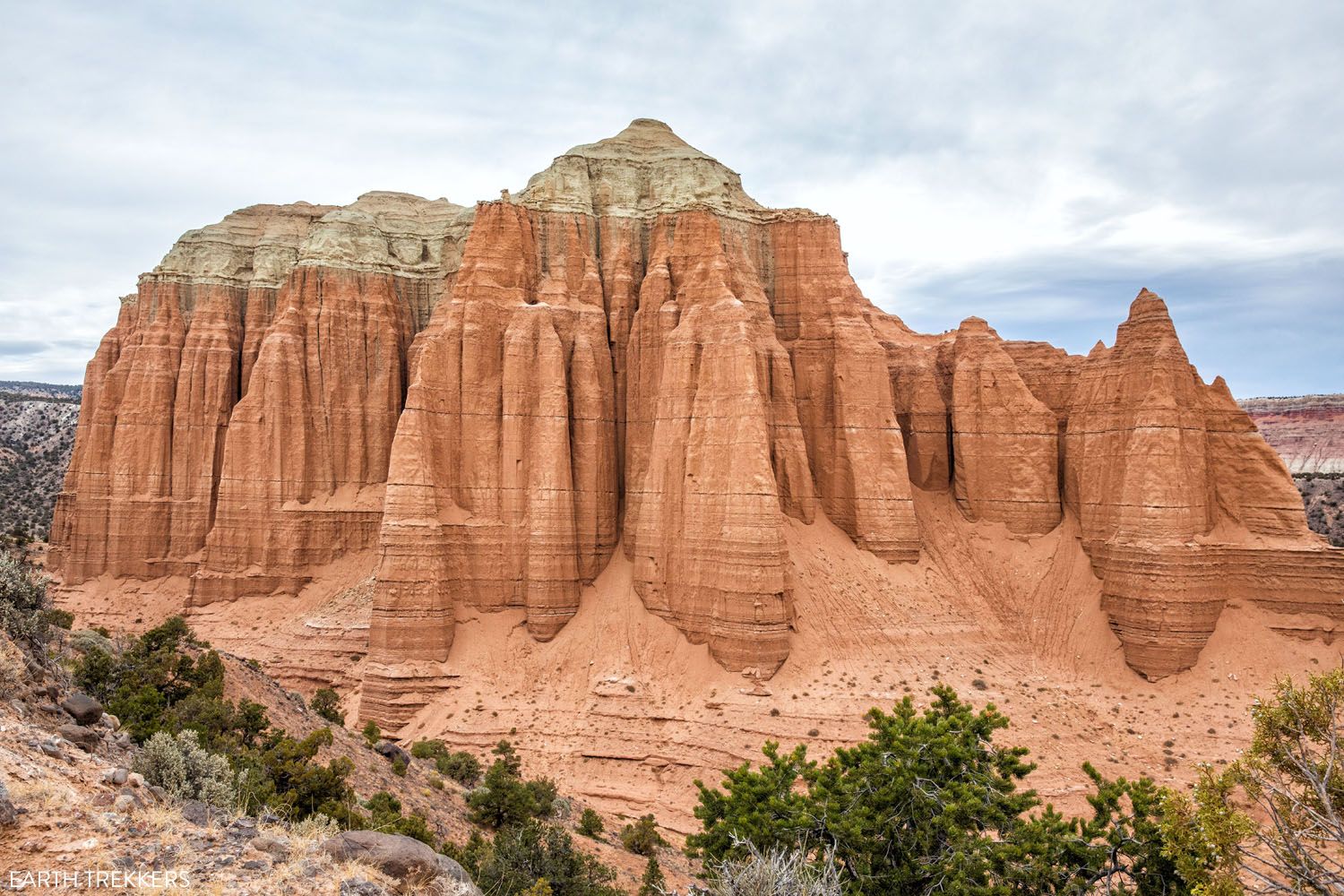 Headquarters Canyon. 2.6 miles, easy. This slot canyon hike is short and sweet. It is located in a remote region of Capitol Reef, along Notom-Bullfrog Road, so there's a chance you could have it all to yourself.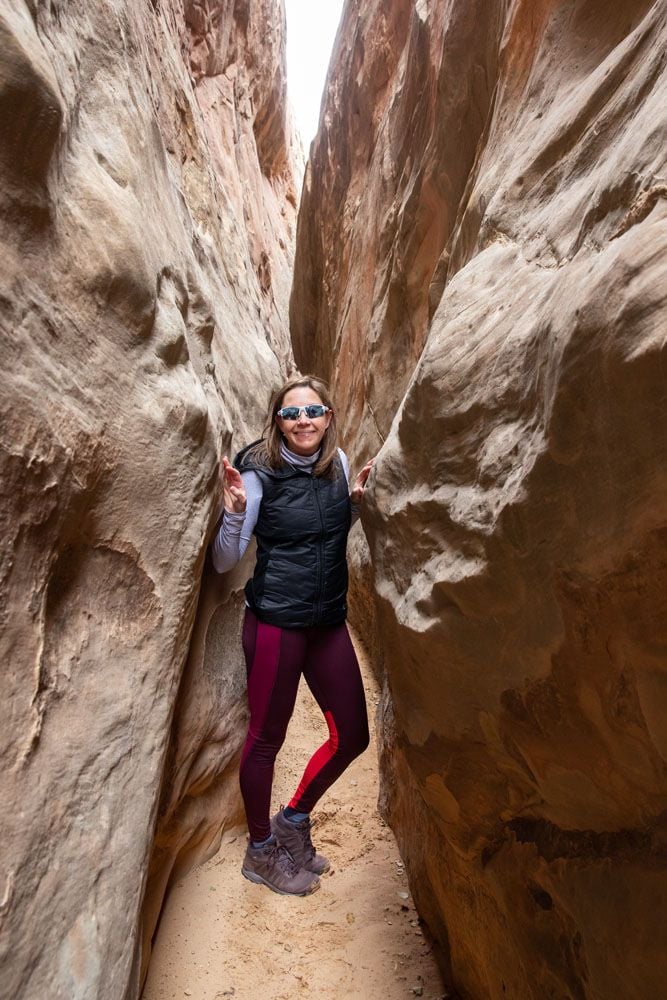 Headquarters Canyon
Burro Wash, Cottonwood Wash and Sheets Gulch. These three slot canyons are located relatively close to one another on Notom-Bullfrog Road. They range from 7 to 14 miles round-trip and are moderate to strenuous. There could be pools of water in the canyons. If you are looking for a challenging slot canyon, these are hikes to consider.
Sulphur Creek. This 5.8-mile one-way hike is typically done point-to-point, which requires a having a second vehicle as a shuttle. This is not a maintained trail, so route-finding skills and prior hiking experience are necessary. However, this is a great hike to consider, if you want to hike through a deep canyon and in a river, similar to the Narrows in Zion.
There are also several great backcountry routes in Capitol Reef. Some of these are long day hikes or overnight backpacking trips. Upper Muley Twist Canyon, Lower Muley Twist Canyon, and Halls Creek Narrows fall into this category.

9. Capitol Reef Scenic Drive
One of the best things to do in the park is to drive the Capitol Reef Scenic Drive. This paved road is 7.9 miles long (one way) and takes you past some of the most stunning scenery in the park.
Scenic Drive starts in Fruita and ends at Capitol Gorge Road.
One of my favorite views along the drive is this one (below). There is a small turn-out at an unmarked viewpoint. The GPS coordinates are 38°16'1.878″ N 111°14'42.659″ W.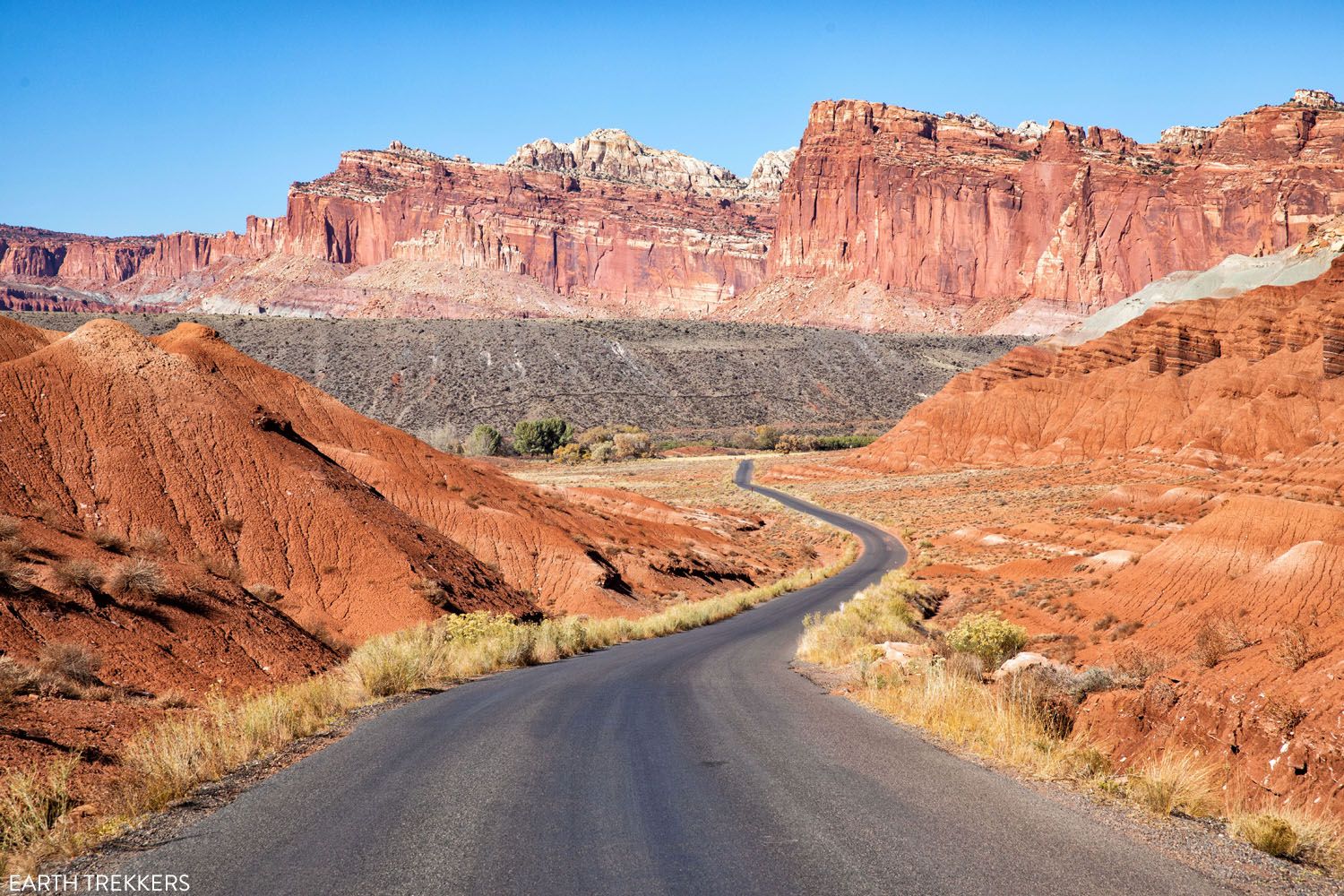 To drive the Scenic Drive, you will have to pay a $20 fee. You will pay this at a self-pay station just past the Fruita Campground. The pass is valid for 7 days.
10. Capitol Gorge Road
This short, scenic drive begins where Scenic Drive ends. Capitol Gorge Road is a 2.3 mile gravel road that is suitable for standard vehicles under 27 feet length.
At the end of Scenic Drive, the road will fork. Go left to drive Capitol Gorge Road. If you turn right, you will drive Pleasant Creek Road, a rougher gravel road that leads to Pleasant Creek, South Draw, and Boulder Mountain.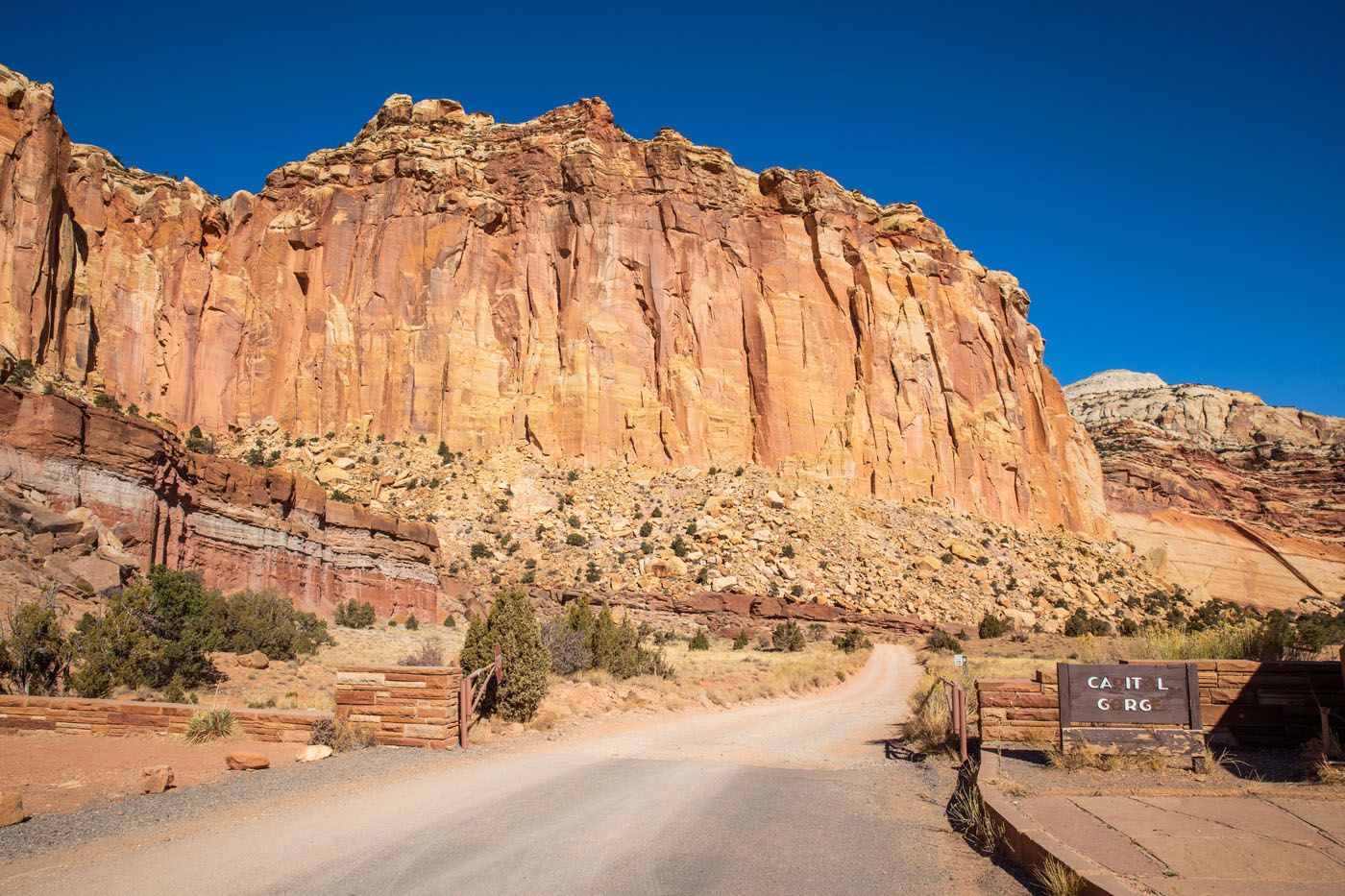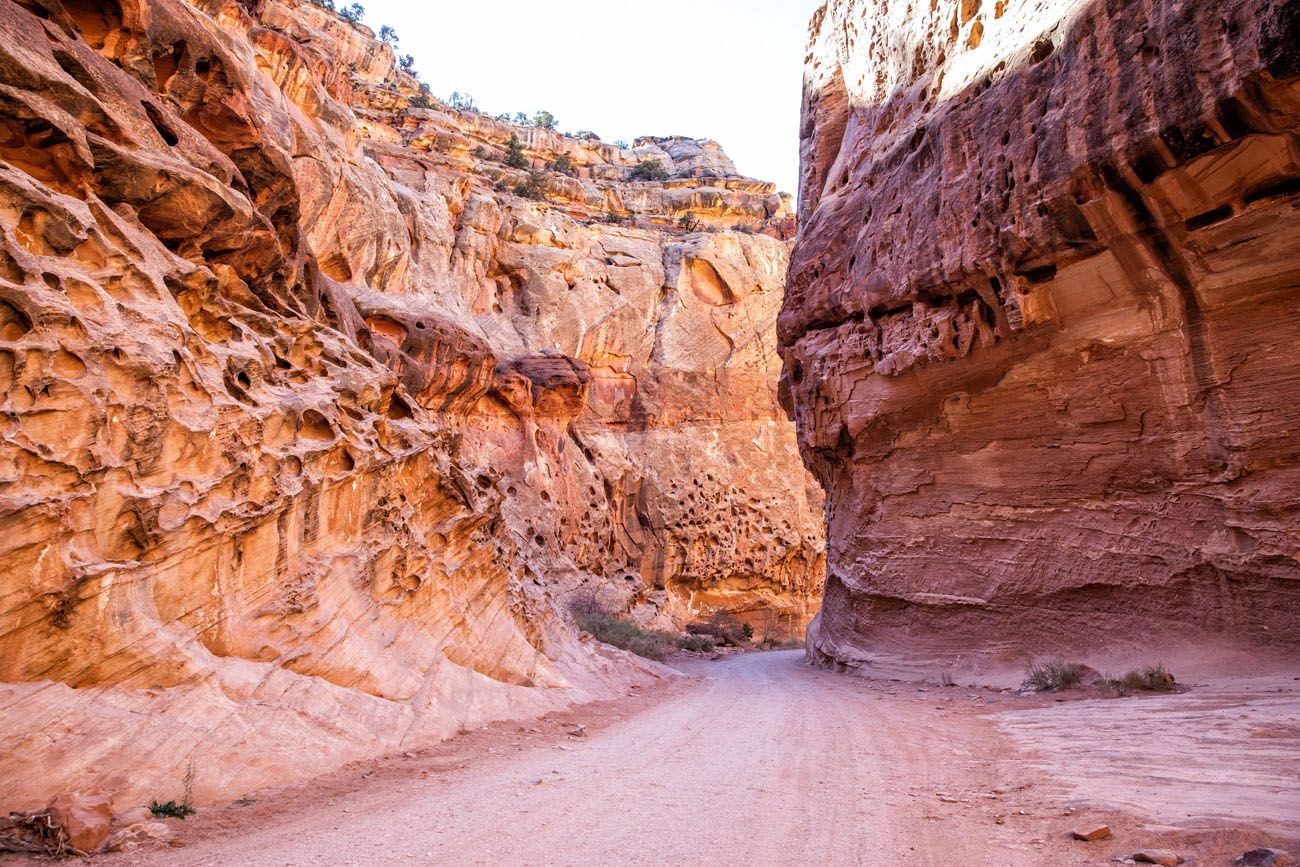 Capitol Gorge Road is a very pretty scenic drive. This road twists and turns through a canyon and you have wonderful views the entire way. Capitol Gorge Road ends at Capitol Gorge, one of the hiking trails in the park.
11. Pioneer Register
When Mormon settlers passed through this area in the late 18th century and early 19th century, they scrawled their names on the canyon walls. This collection of names is called the Pioneer Register. Basically, it is historic graffiti. In this same canyon, you can also see American Indian petroglyphs.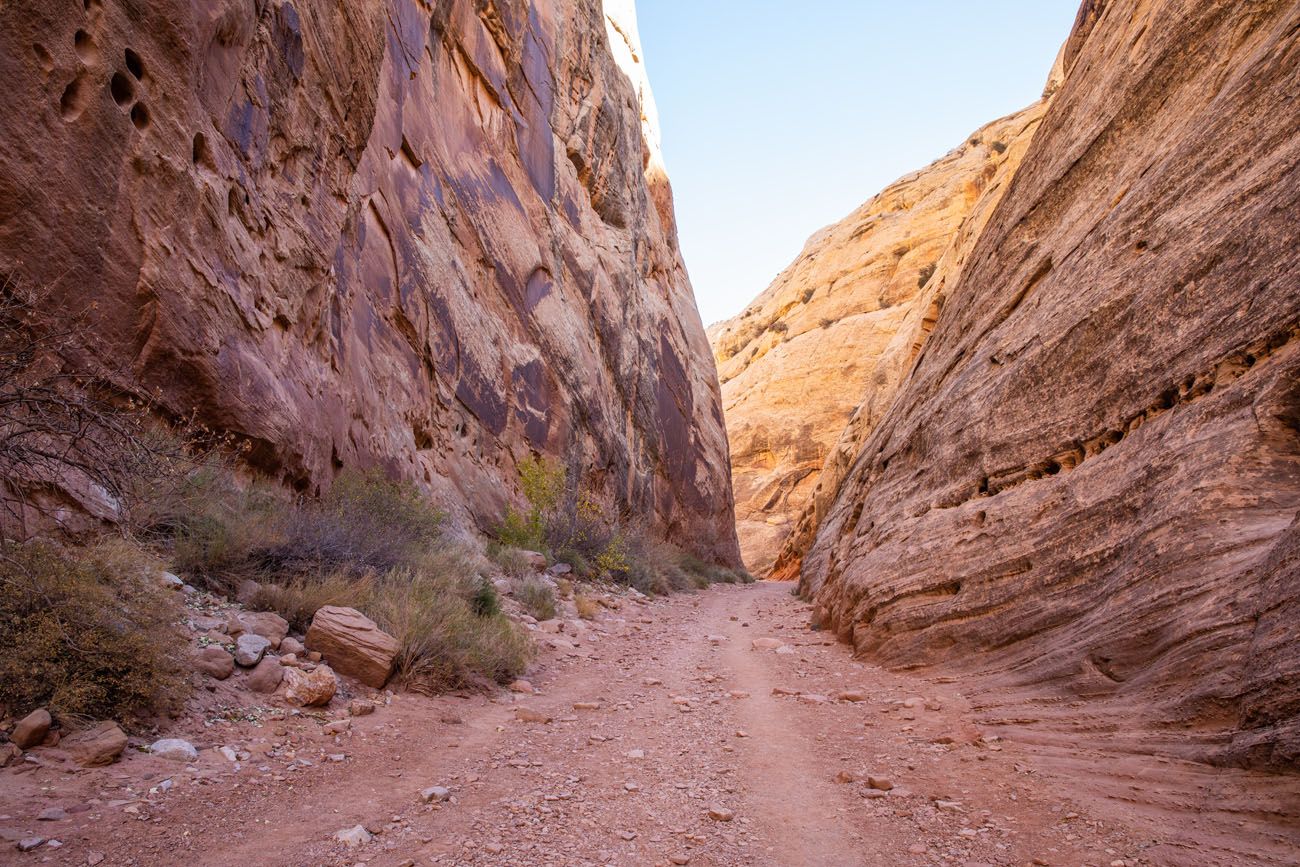 Capitol Gorge Trail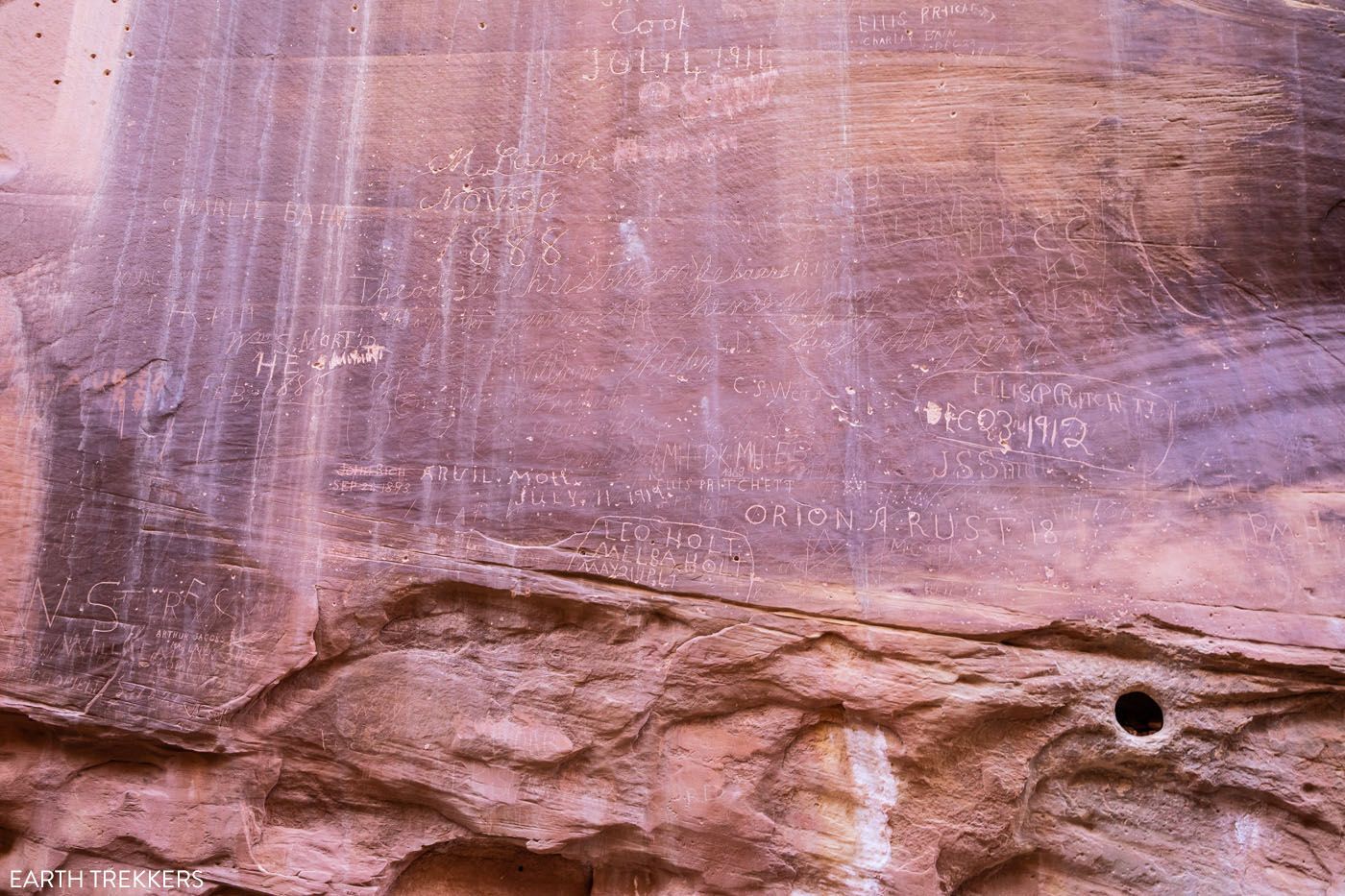 Pioneer Register
Note: Do not write your name or leave any marks on the canyon walls. This area is under surveillance by the national park service and the fine is huge if you get caught writing on the walls.
To get here, you will hike the Capitol Gorge Trail. This trail, which enters a wide canyon, was the only road through the waterpocket fold until Highway 24 was constructed. It is a 1.5-mile round trip walk to the Pioneer Register, although the trail continues through the canyon to The Tanks.
12. Cathedral Valley
Cathedral Valley is the rugged, remote northern district of Capitol Reef National Park. Few people travel out this way, to see this valley and its sandstone monoliths, colorful Bentonite hills, and vast desert scenery. But that's part of its appeal. If you like the idea of leaving the crowds behind and exploring the backcountry, the Cathedral Valley Loop is an awesome drive to put on your to-do list.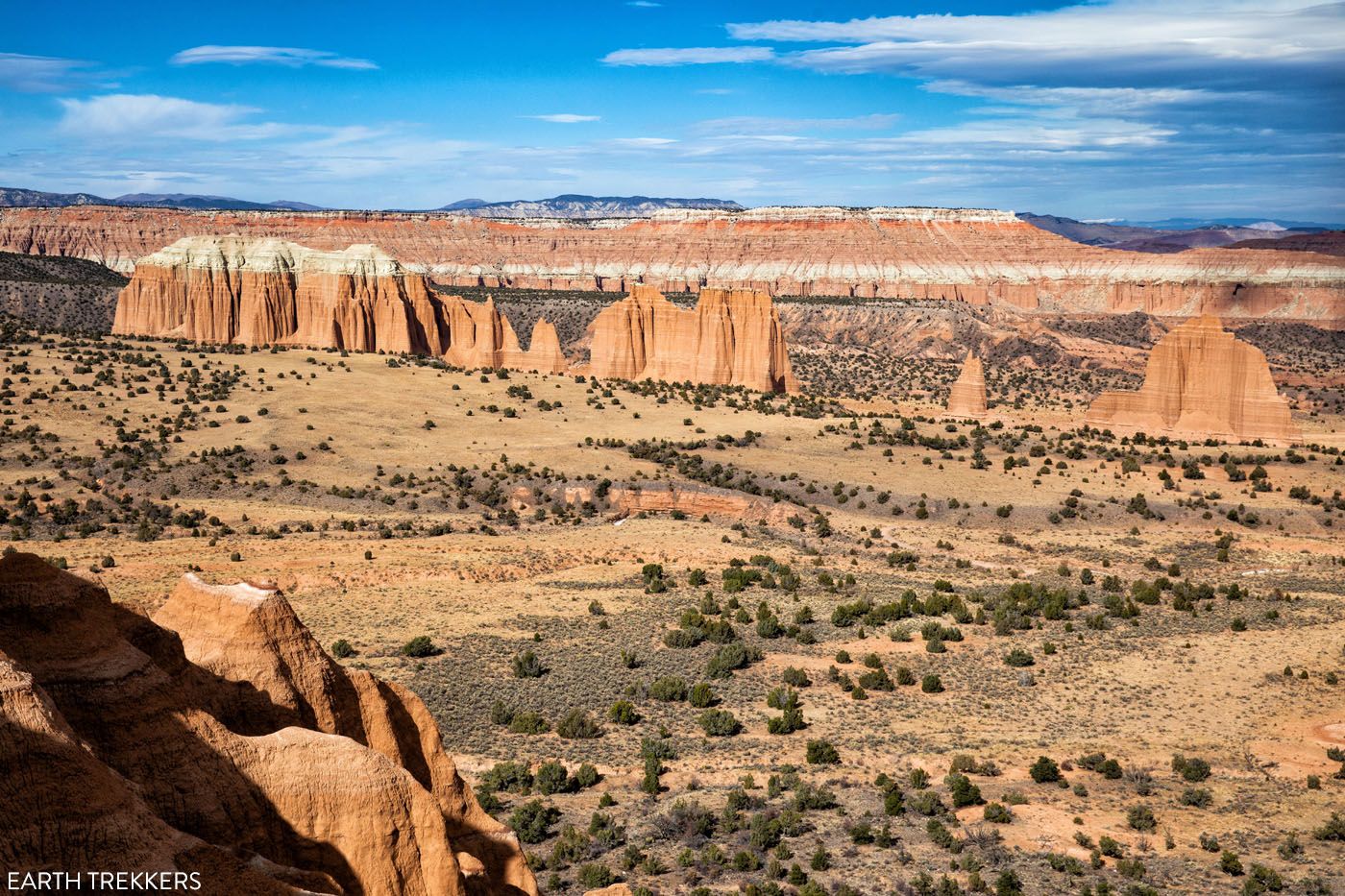 Temples of the Sun and Moon
The Cathedral Valley Loop is a 58-mile scenic drive that is located north of the historic Fruita district. There are no paved roads on this loop, so you must have a high clearance vehicle, and having a 4×4 is strongly recommended.
It takes 4 hours to drive the entire loop, but with short detours, overlooks, and adding on one or two short hikes, the Cathedral Valley Loop takes a full day.
13. Loop the Fold
This is another incredibly scenic drive in Capitol Reef National Park. This remote drive loops around the waterpocket fold in the southern part of the park. Like Cathedral Valley, Looping the Fold takes roughly one full day.
On this loop, you will drive down Notom-Bullfrog Road. It starts off as a paved road but eventually turns to gravel, however, it is usually suitable for standard cars (after rainstorms, a 4WD may be necessary). Along Notom-Bullfrog Road, you have the option to hike many slot canyons. Headquarters Canyon and Surprise Canyon are two very easy slots to add onto this drive.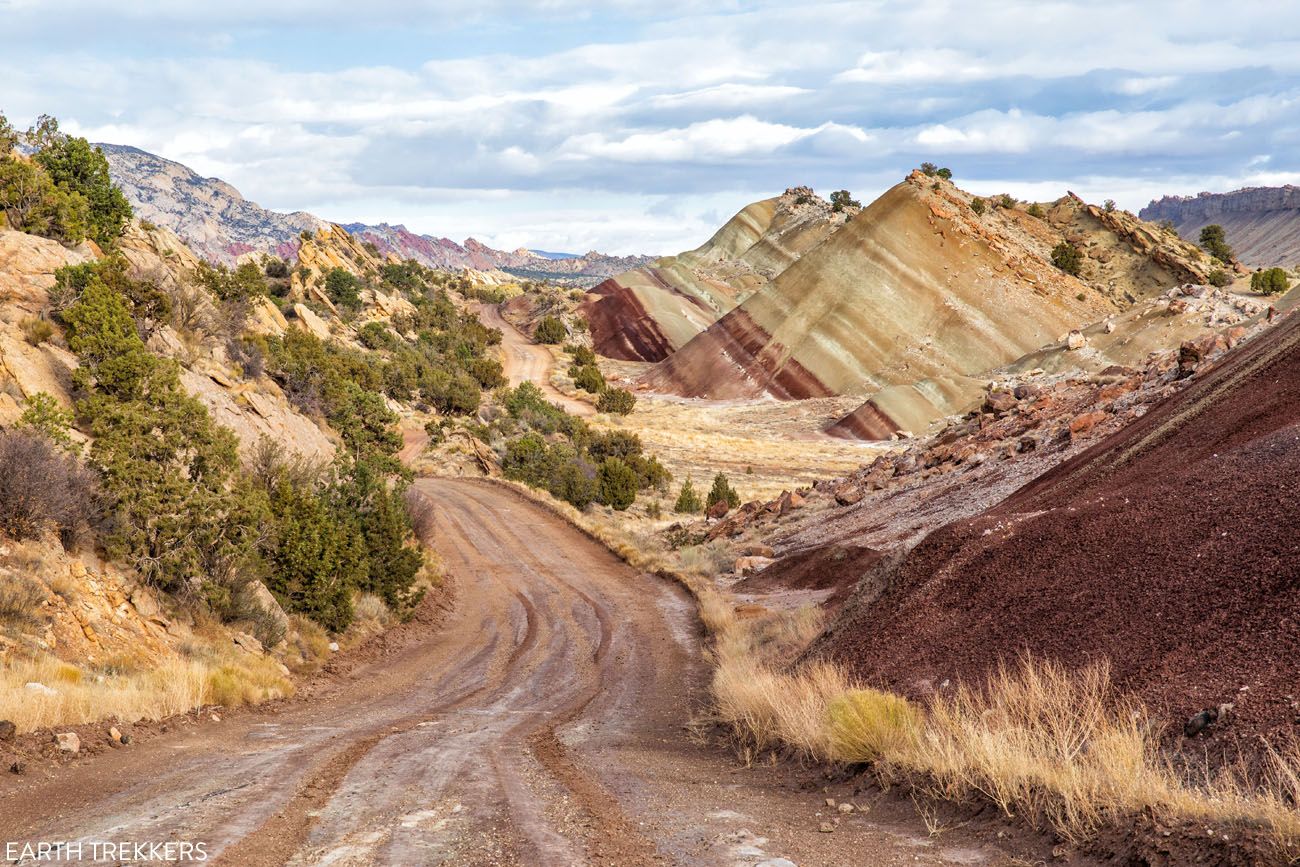 Notom-Bullfrog Road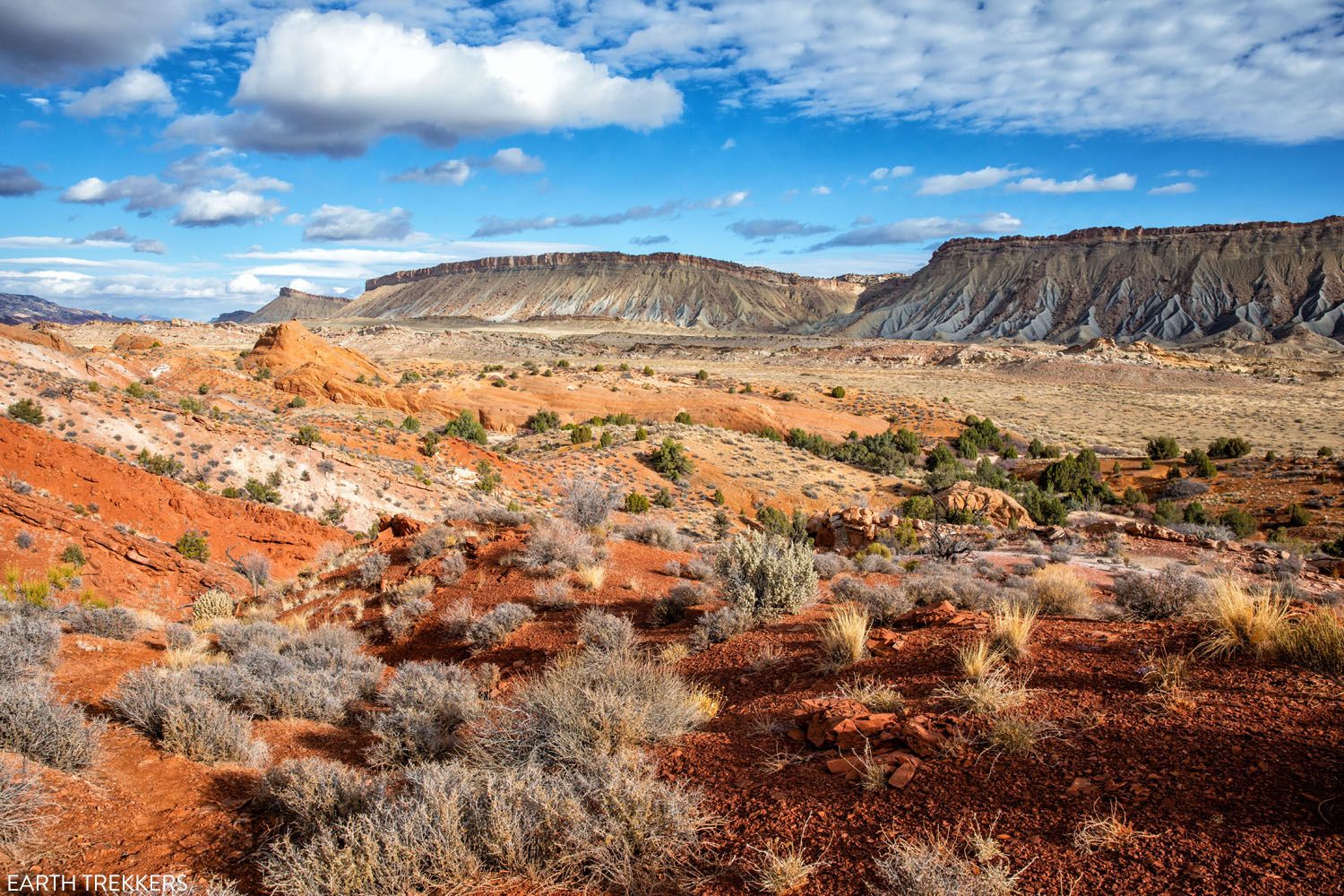 Strike Valley
The loop continues on Burr Trail Road. You'll climb up the legendary Burr Trail switchbacks, and the higher you go, the better the views. Hike out to Strike Valley Overlook, where you get panoramic views of Strike Valley and Notom-Bullfrog Road (more information below).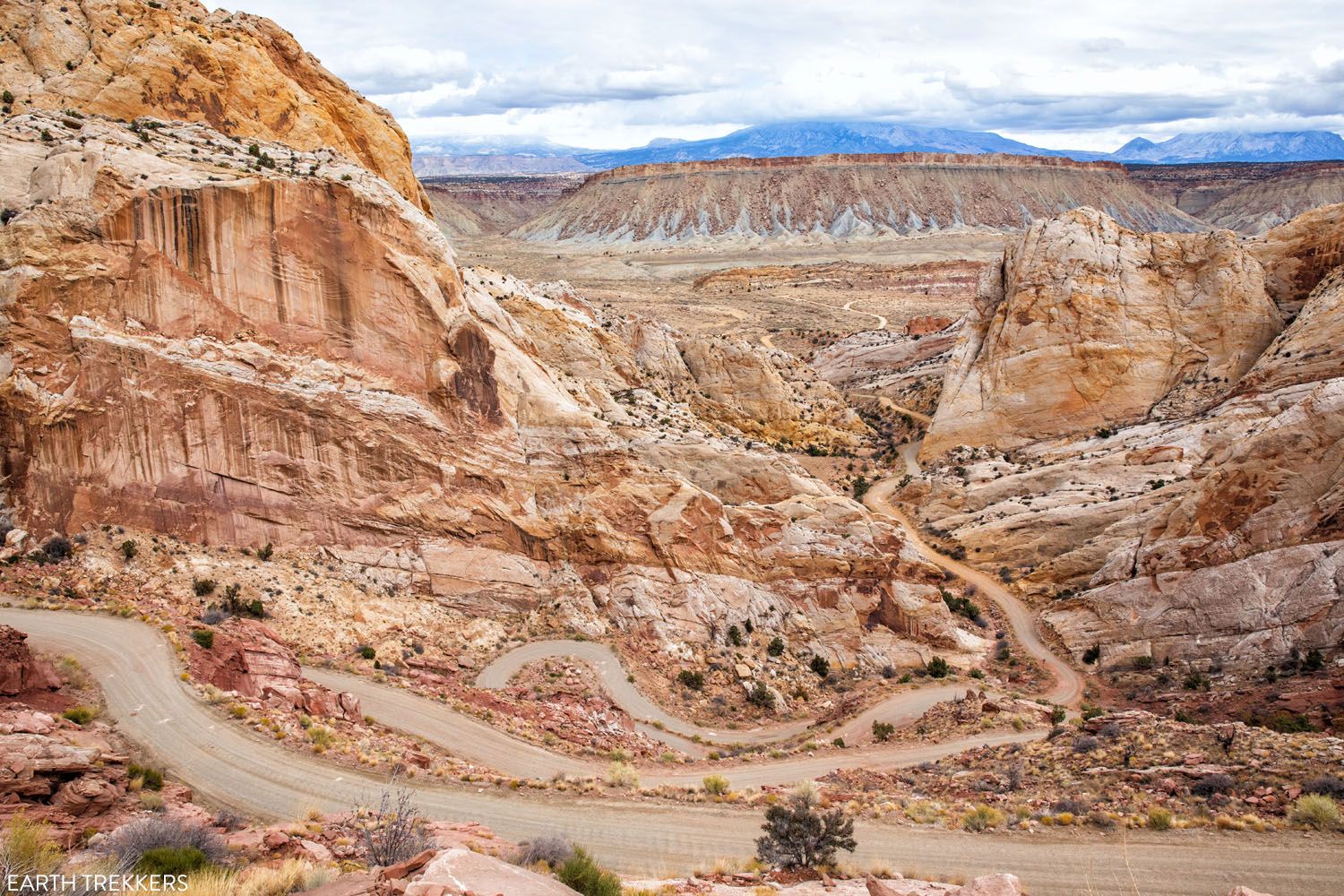 Just beyond the overlook, the road becomes paved and you enter Grand Staircase-Escalante National Monument. The drive twists and turns through canyons before arriving in Boulder. Take Utah Highway 12 north to return to Torrey and Capitol Reef National Park. Along the way, you will drive up and over Boulder Mountain, which offers more incredible views along the way.
This is another incredible experience to have in Capitol Reef National Park. Since it is so remote, crowd levels are extremely low. We had the slot canyons all to ourselves and saw just a few cars on the entire drive. If you like the idea of going off-the-beaten-path, I highly recommend Looping the Fold.
14. Strike Valley Overlook
This is one of the most unique viewpoints in Capitol Reef National Park.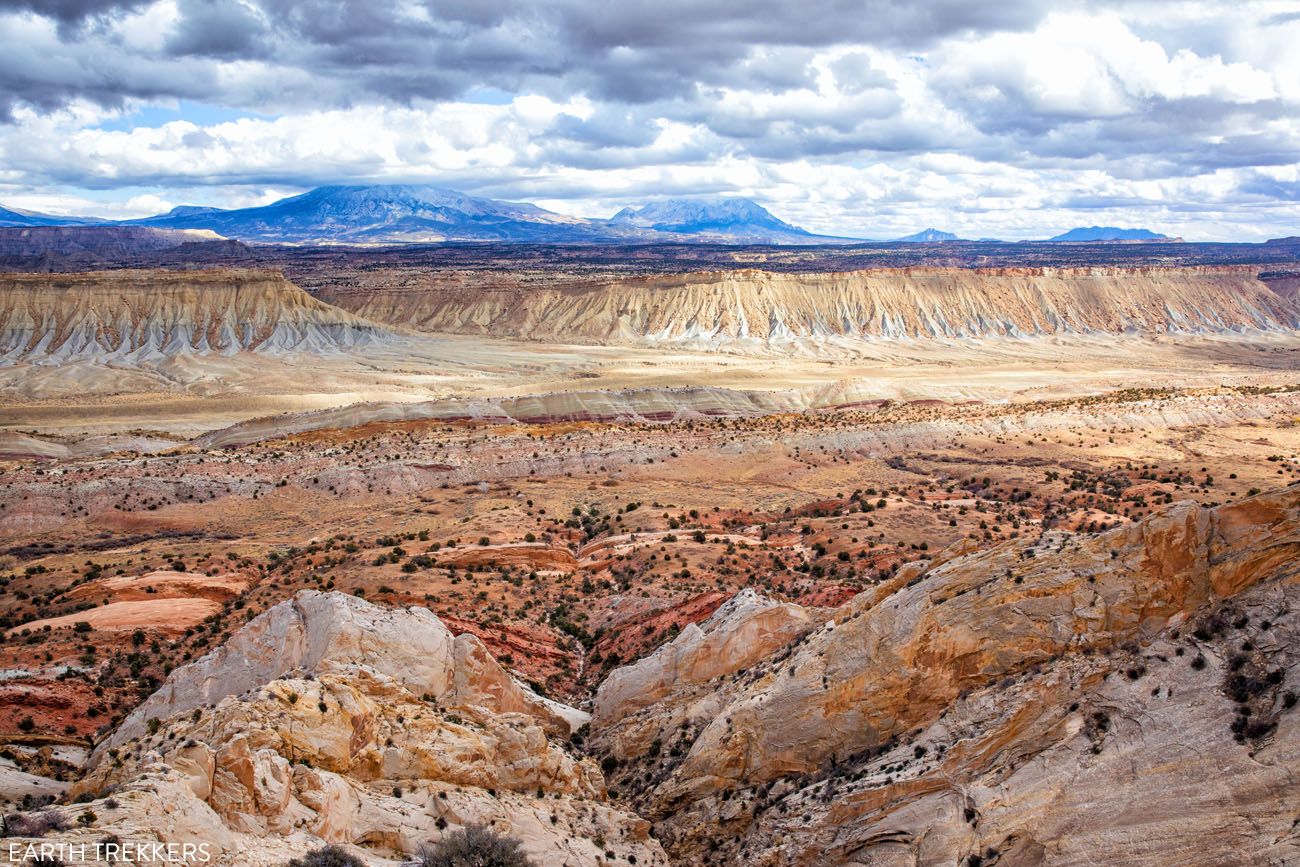 From this viewpoint, you are looking out over one of the edges of the waterpocket fold. Nearly 150 million years of geologic history can be seen from here. It's a beautiful, colorful spot, as you look out over Navajo and Entrada sandstone, Mancos Shale, Carmel Formation, and numerous other layers of sedimentary rock.
This is a remote viewpoint and getting here can be a little tricky. If you have plans to Loop the Fold, you will drive right past this viewpoint. You can also get here by driving Burr Trail Road from Highway 12.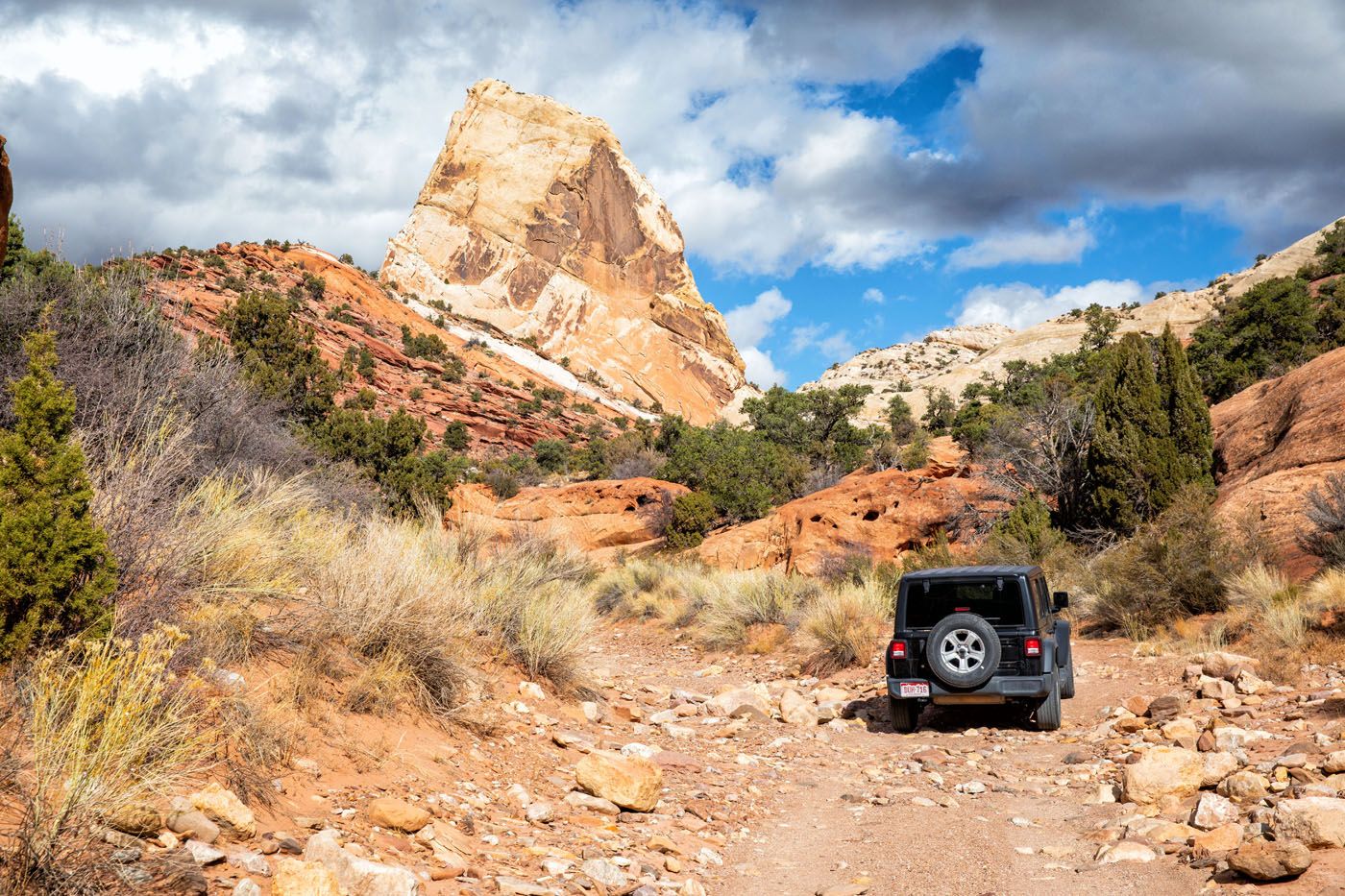 From Burr Trail Road, a 3-mile access road leads to the trailhead. Standard vehicles will only be able to make it a quarter of a mile down this road, then you will have to park and walk the rest of the way. High clearance vehicles should be able to make it to the parking area but sometimes 4WD is necessary (we had to put our Jeep Wrangler into 4WD to get through one particularly rough spot).
From the parking area, it is a 0.9 mile round-trip walk to the viewpoint. The Upper Muley Twist Canyon hike also starts here.

Map of Things to do in Capitol Reef National Park
Here is a map of the best things to do in Capitol Reef National Park.
How to Use This Map: Click the tab in the top left hand corner of the map to view the layers (things to do, hiking trails, and where to stay). You can click the check marks to hide or show layers. If you click the icons on the map, you can get more information about each point of interest.

If you click the star next to the title of the map, this map will be added to your Google Maps account. To view it on your phone or computer, open Google Maps, click the menu button, go to "Your Places," click Maps, and you will see this map on your list.
How Much Time Do You Need in Capitol Reef National Park?
Ideally, plan on spending a few days in the park. With the scenic drives and hiking trails, you could easily spend five days here and never run out of things to do.
With half of a day, you can visit the sights along Highway 24 (Panorama and Sunset Points, Goosenecks Overlook, the petroglyphs, and hike Hickman Bridge) and spend some time in Fruita. This works great if you are driving through Capitol Reef on a road trip through Utah.
With one day in Capitol Reef, visit the sights along Highway 24 (Panorama and Sunset Points, Goosenecks Overlook, the petroglyphs, and hike Hickman Bridge), visit Fruita, drive Scenic Drive and Capitol Gorge Road, and add on one more hike (Cassidy Arch, Grand Wash, and Cohab Canyon are all great picks).
With two days in Capitol Reef, follow the suggestions above for day 1, and on day 2, you can hike a longer trail, visit Cathedral Valley, or Loop the Fold.
Each additional day you add will give you more time for scenic drives and hike more trails. If you want to visit Cathedral Valley, Loop the Fold, visit the heart of Capitol Reef, and hike a few of the longer trails, I recommend spending a minimum of four days in Capitol Reef.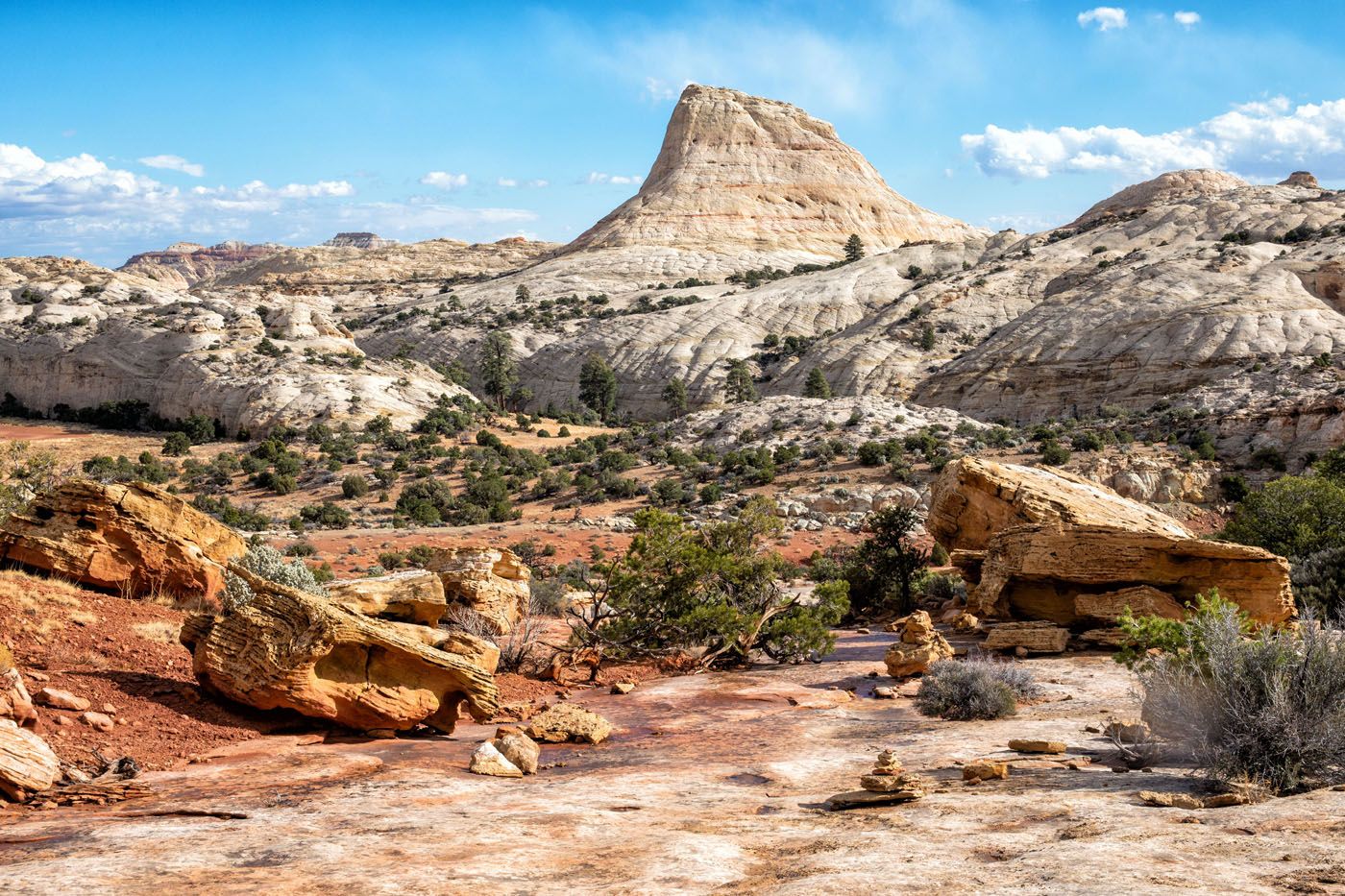 Hiking the Navajo Knobs Trail
Best Time to Visit Capitol Reef National Park
The spring and fall months are the best times to visit Capitol Reef National Park. Weather conditions are pleasant and you can avoid the larger crowds that arrive in the summer.
During the summer months, expect soaring temperatures and large crowds (although Capitol Reef does not get the legendary crowds like Bryce Canyon, Arches, and Zion).
During the winter months, the park is less crowded, but temperatures get below freezing and snow is likely. Snow can close the roads and make hiking more difficult.
Our most recent visit was in early November. The weather was all over the place, since a cold front moved in during our visit, bringing with it colder than average temperatures for this time of year. The weather ranged from 65°, sunny days to 30° days with snow. However, crowds were extremely low, so I think that November is a great time to visit Capitol Reef National Park.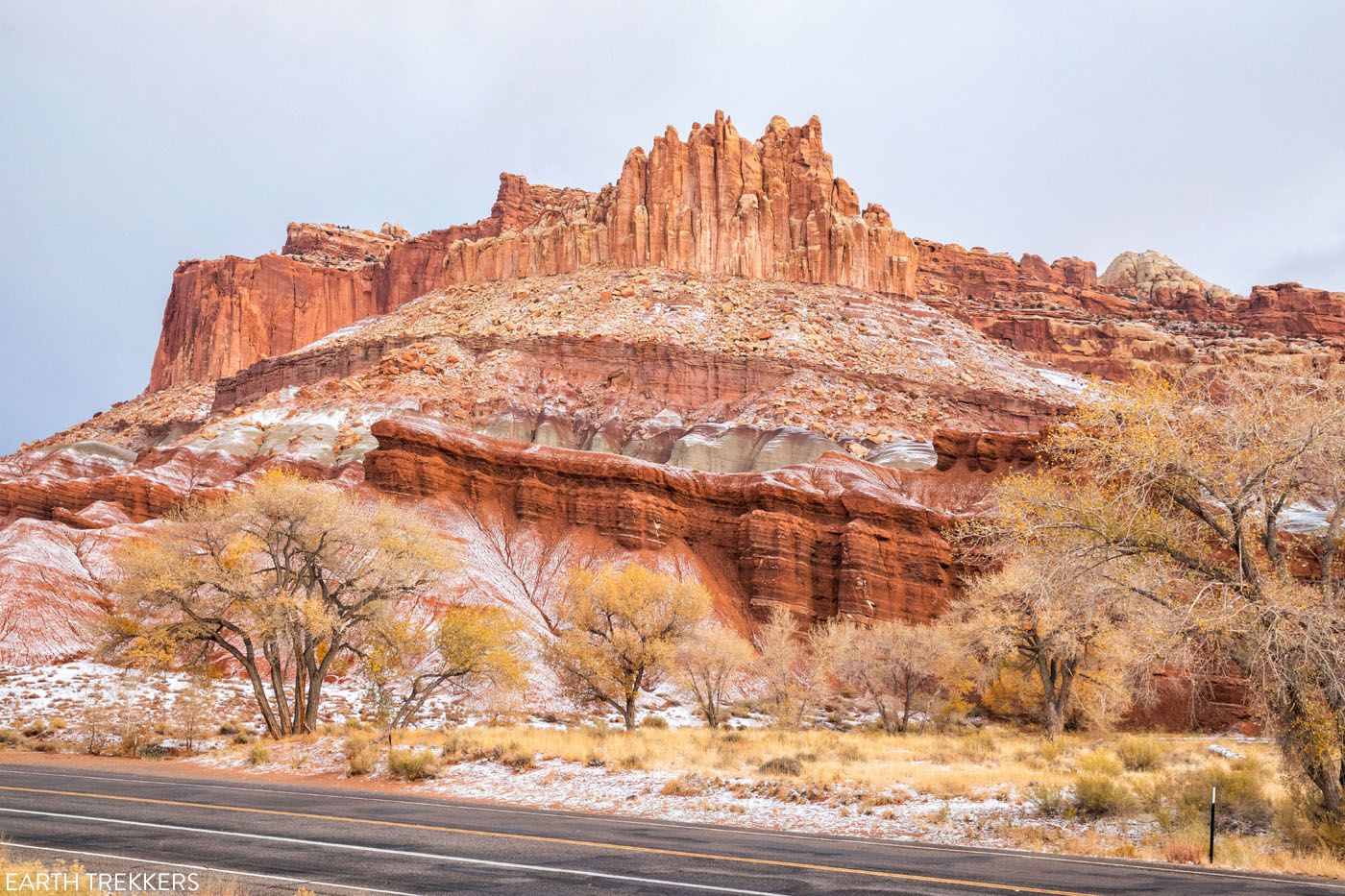 Capitol Reef in November after a very light dusting of snow.
How to Get to Capitol Reef
Most people visit Capitol Reef National Park on a road trip through Utah and the American southwest.
Here are the driving distances and times for nearby destinations in Utah:
Moab:

144 miles, 2.5 hours

Bryce Canyon National Park:

120 miles, 1.25 hours

Zion National Park:

182 miles, 3.25 hours

Goblin Valley State Park:

68 miles, 1.5 hours

Salt Lake City:

225 miles, 3.5 hours

Escalante:

75 miles, 1.75 hours
The closest major airport is Salt Lake City International Airport, which is 230 miles from Capitol Reef National Park. It takes about three and a half hours to drive this distance. There are also several closer regional airports. Grand Junction Regional Airport and St. George Regional Airport are a little closer than Salt Lake City but flight options will be limited. SkyWest has daily flights into Canyonlands Regional Airport in Moab, Utah.
Practical Information
Park Hours: Capitol Reef is open 24 hours a day, 365 days per year.
Park Fee: $20 per vehicle, valid for 7 days. You will pay this fee to enter Scenic Drive. You do not need to pay this fee if you only visit the sights along Highway 24 or if you drive the Cathedral Valley loop or Loop the Fold.
Get updates on trail closures and park conditions on the National Park Service website.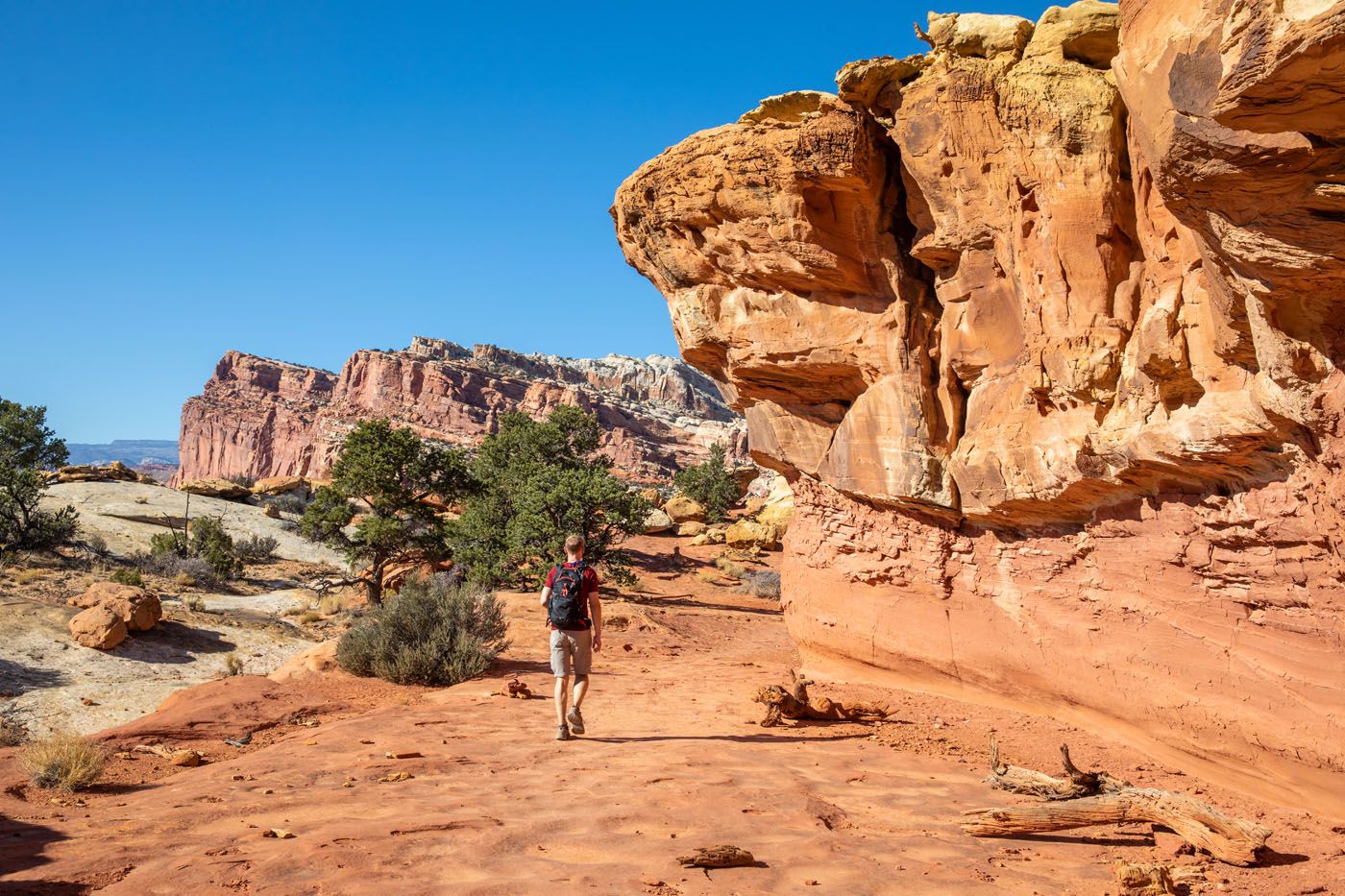 Hiking the Cohab Canyon Trail
Where to Stay
Capitol Reef Resort. Located in Torrey, very close to the west entrance of Capitol Reef, this property offers a wide variety of rooms. You can sleep in a standard hotel room or even sleep in a teepee or a Conestoga Wagon. We spent five nights here and had a great experience. The rooms were clean and quiet. The convenient onsite restaurant, The Pioneer Kitchen, serves decent food and staff are very friendly.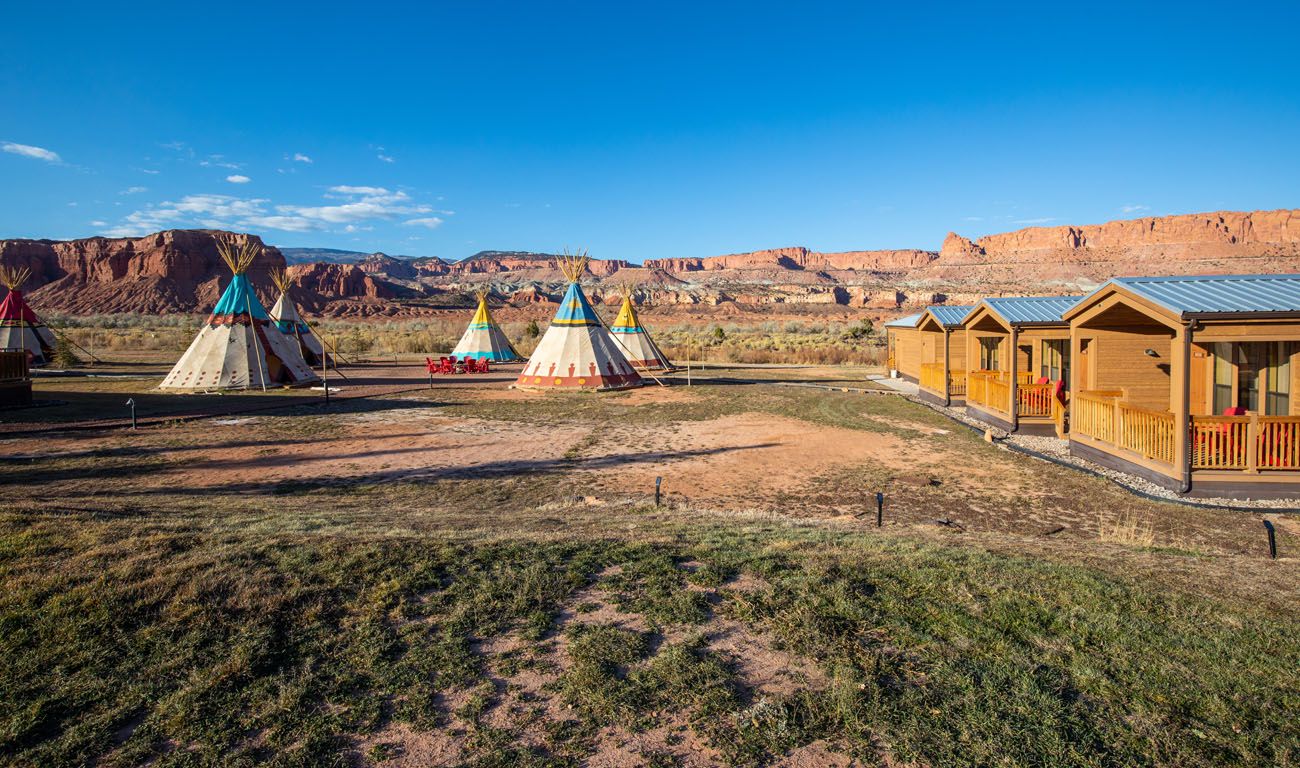 Capitol Reef Resort
Skyview Hotel. On our next visit to Capitol Reef National Park, this is where we would stay. This 3-star hotel offers standard hotel rooms with amazing views as well as different style tents. Check out the premium tent with skylight…this is one of most unique and highly rated properties in Torrey.
SkyRidge Inn. Located in Torrey, this beautiful property offers standard hotel rooms as well as deluxe suites and even a 3 bedroom villa that is perfect for families or small groups.
Cougar Ridge Lodge. This property gets exceptional reviews. Stay in a two-bedroom villa that can accommodate up to seven people, perfect if you are traveling as a family. Each villa has its own patio with stunning views of the surrounding mountains.
Canyon Country Lodge. This highly rated property offers large rooms that can accommodate up to four people. This lodge is located in Escalante, so this property works well if you are looking for a place to stay on the drive between Capitol Reef and Bryce Canyon or Grand Staircase-Escalante.
More Information for Your Trip to Capitol Reef & Utah
CAPITOL REEF: Check out our Capitol Reef National Park Travel Guide for important travel planning tips, sample itineraries, advice on when to go, where to stay, and more.
CAPITOL REEF ITINERARY: If you only have one day, learn how to make the most of it in our One Day in Capitol Reef guide. In our Capitol Reef Itinerary, we cover how to plan your time whether you have a few days or longer.
CAPITOL REEF: If you are just passing through the park on a road trip through the area, learn about the best things to do in Capitol Reef with limited time.
UTAH ITINERARY: If you need ideas on how to plan your road trip through Utah, check out our 7 to 10 day Mighty 5 Itinerary, our Arches, Canyonlands, and Capitol Reef Road Trip, and our 14-day American Southwest Itinerary.
UTAH'S MIGHTY 5: Utah's Mighty 5 is a collection of five national parks in Utah. Learn more about the parks and how to plan your visit in our Guide to Utah's Mighty 5.
GRAND STAIRCASE-ESCALANTE: In Grand Staircase-Escalante, hike Peek-A-Boo and Spooky Gulches, explore Devils Garden, and hike through Zebra Slot Canyon.
UNITED STATES: We have TONS of information about places to visit in the United States in our USA Travel Guide. In our Guide to the US National Parks, get the full list of national parks with important travel planning information, such as things to do in the parks and sample itineraries.
---
If you have any questions about things to do in Capitol Reef National Park or how to plan your visit, let us know in the comment section below.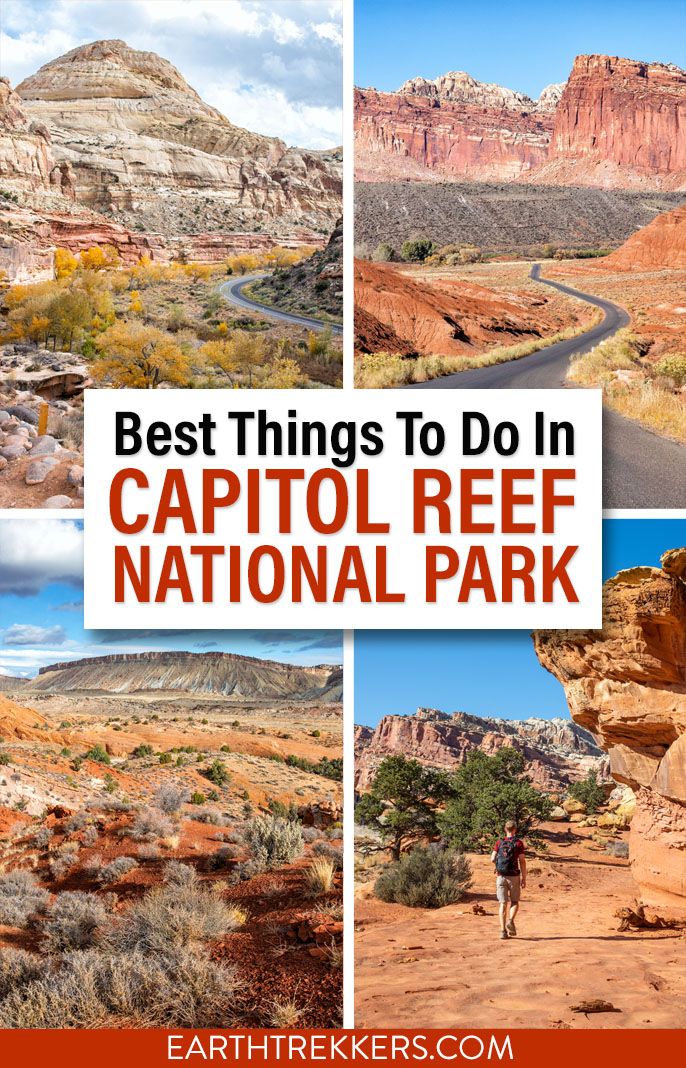 Note: This post contains affiliate links. When you make a purchase using one of these affiliate links, we get paid a small commission at no extra cost to you.
All rights reserved © Earth Trekkers. Republishing this article and/or any of its contents (text, photography, etc.), in whole or in part, is strictly prohibited.