The Isle of Skye is one of Scotland's hottest destinations. Why? With stunning scenery, scenic drives, hikes for all ages and ability levels, quaint towns, and awesome seafood, it's easy to see why this is a hot spot for travelers. In our Isle of Skye Guide, we've got you covered. We're here to help you plan the perfect vacation to the Isle of Skye.
Best Time to Visit the Isle of Skye
The weather is the best between May and September. However, the summer months, in particular July and August, are peak season. B&B's will be sold out months in advance for these months, car parks will be overflowing, and restaurants book up early. June is a good month to go because the Isle of Skye is usually not packed with visitors yet.
April and May are the driest months. If you don't mind it being chilly, these are great months to go to the Isle of Skye as well.
You can visit the Isle of Skye during the winter. Yes, it may be cold, but you could have some of the best sites all to yourself.
Weather on the Isle of Skye
The Isle of Skye gets a lot of rain. The wettest months are September through January (October is the rainiest month). March through June it is relatively dry. The warmest months are May through September, with average highs in the mid 50's to low 60's (7-13°C), cooler at night.
How Long Should You Spend on the Isle of Skye?
Ideally, two days or more is necessary to visit the Isle of Skye.
With only one day, you have just enough time to visit the highlights. Two days gives you enough time to see the best sights, and with three days or more, you have plenty of time to explore all of the island.
In our Isle of Skye Itinerary, we give suggestions on how to spend 1, 2 and 3 days on the Isle of Skye.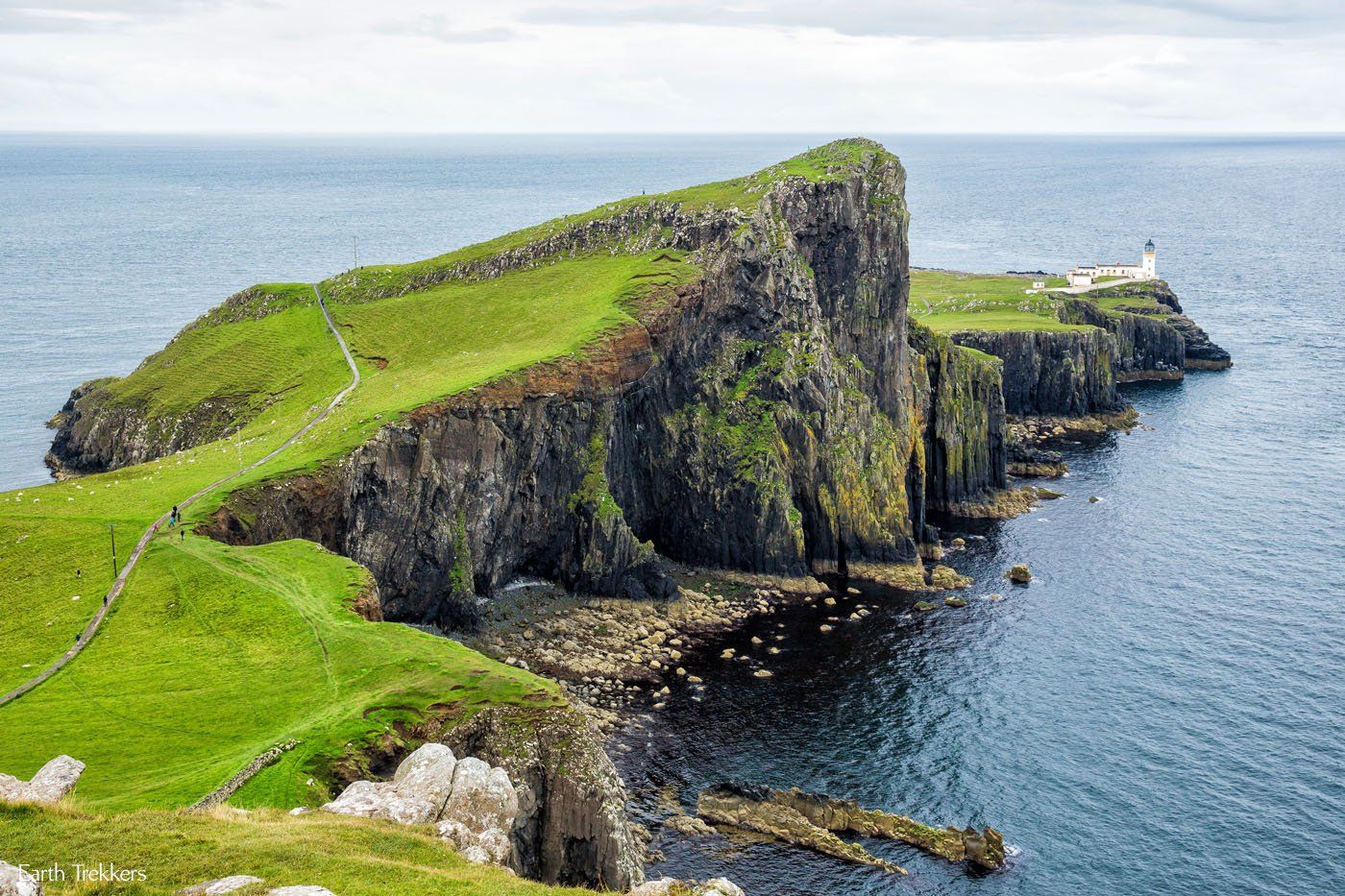 Neist Point
Map of the Isle of Skye
How to Use This Map: Click the tab in the top left hand corner of the map to view the layers (points of interest and the driving routes). You can click the check marks to hide or show layers. If you click the icons on the map, you can get more information about each point of interest.

If you click the star next to the title of the map, this map will be added to your Google Maps account. To view it on your phone or computer, open Google Maps, click the menu button, go to "Your Places," click Maps, and you will see this map on your list.
Best Things to do on the Isle of Skye
Here's a list of the must-see places on the Isle of Skye
Old Man of Storr
Quiraing
Fairy Glen
Rubha nam Brathairean (Brother's Point)
Neist Point
Fairy Pools
Talisker Distillery
Dunvegan Castle
Kilt Rock and Mealt Falls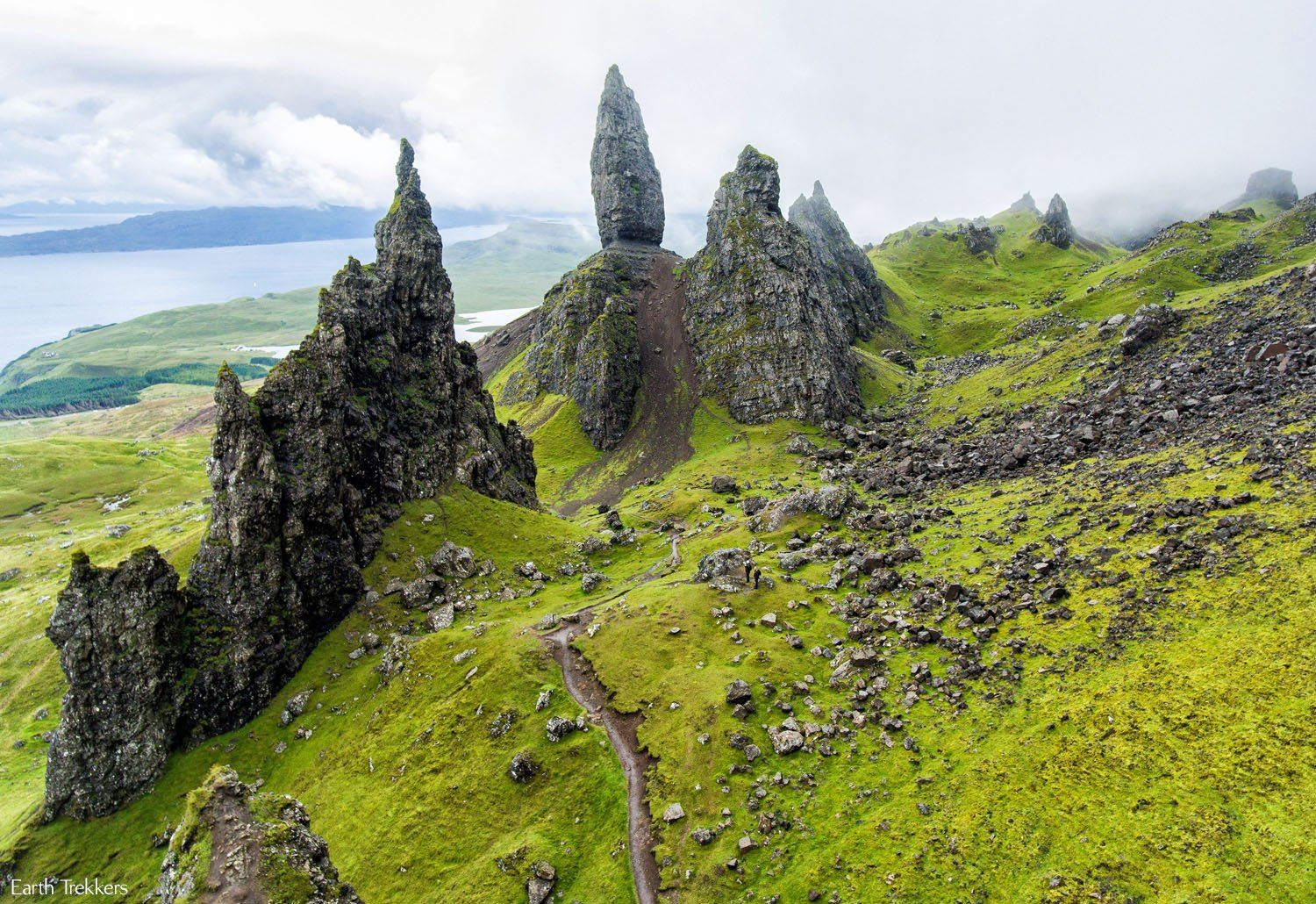 Old Man of Storr
Isle of Skye with Kids
The Isle of Skye is a great family destination. Search for fairies at the Fairy Glen or Fairy Pools, visit Dunvegan Castle, climb up to the eerie Old Man of Storr, and hike out to Brother's Point. Even your kids will be wowed by the scenery here.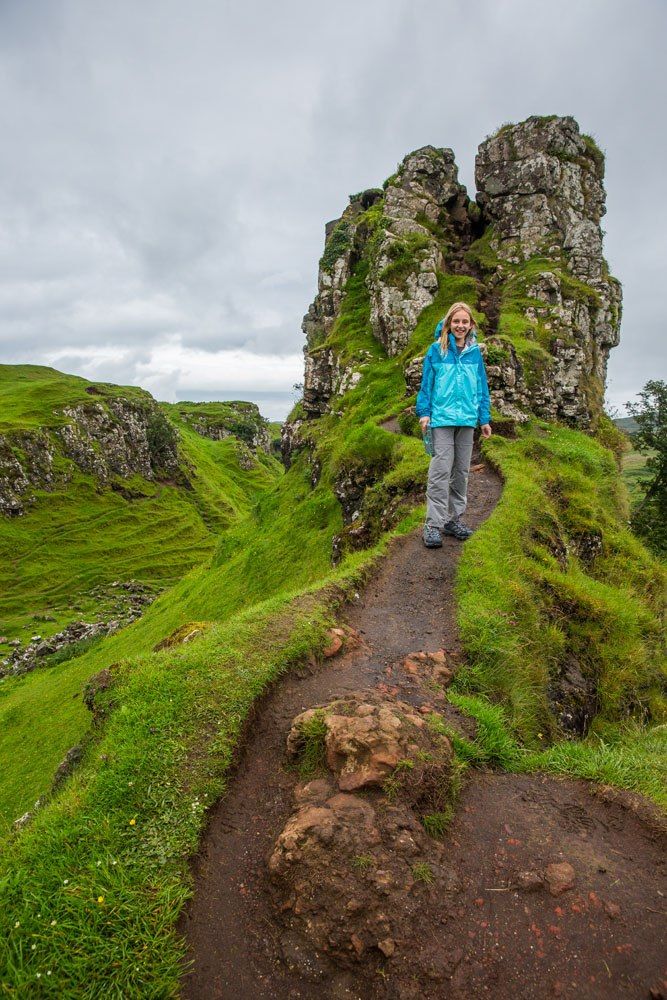 Kara at the Fairy Glen
Best Hikes on the Isle of Skye
There are hiking trails for people of all ages and ability levels. Here is a list of some of the best trails on the island.
Fairy Pools. This short hike is really more of a walk. A relatively flat trail follows along the river, with views of the Fairy Pools. Good for all ages and fitness levels. Allow one to two hours for a visit here.
Fairy Glen. Another very easy hike. Just 1 mile in length, allow one hour for a leisurely walk through this very unique and quiet corner of the Isle of Skye.
Old Man of Storr. A little more strenuous but your reward is a view of one of the Isle of Skye's most iconic spots. The entire hike is just under 3 miles. It's a climb up to the Old Man of Storr with awesome views out over the island.
Rubha nam Brathairean (Brother's Point). For a relatively easy hike to one of the Isle of Skye's little known spots, this was a highlight for us. The entire hike is just over 2 miles, a walk along the coastline with awesome views of the Brother's Point peninsula and out to Kilt Rock.
Quiraing. Another Isle of Skye icon. This is a more challenging hike, 4.5 miles in length, along the cliffs of the Quiraing. Perfect for older, adventurous kids.
Bla Bheinn. For a hike offering 360° views of the Cuillins, this is a good one! 5 miles in length, allow about 6 hours for the hike.
Sgurr Alasdair. This is the highest peak on the Isle of Skye. This is a very challenging hike, 6 miles in length. Allow 5 to 6 hours.
The Trotternish Ridge. This is a 2 day hike covering 23 miles on the Isle of Skye. The starting and ending points are Portree and Flodigarry.
The Skye Trail. For experienced hikers only. This hike takes 7 days and is 128 km in length, traversing a huge portion of the Isle of Skye.
Walk Highlands is an excellent website with details for hiking trails not just on the Isle of Skye but throughout Scotland. Visit their website here.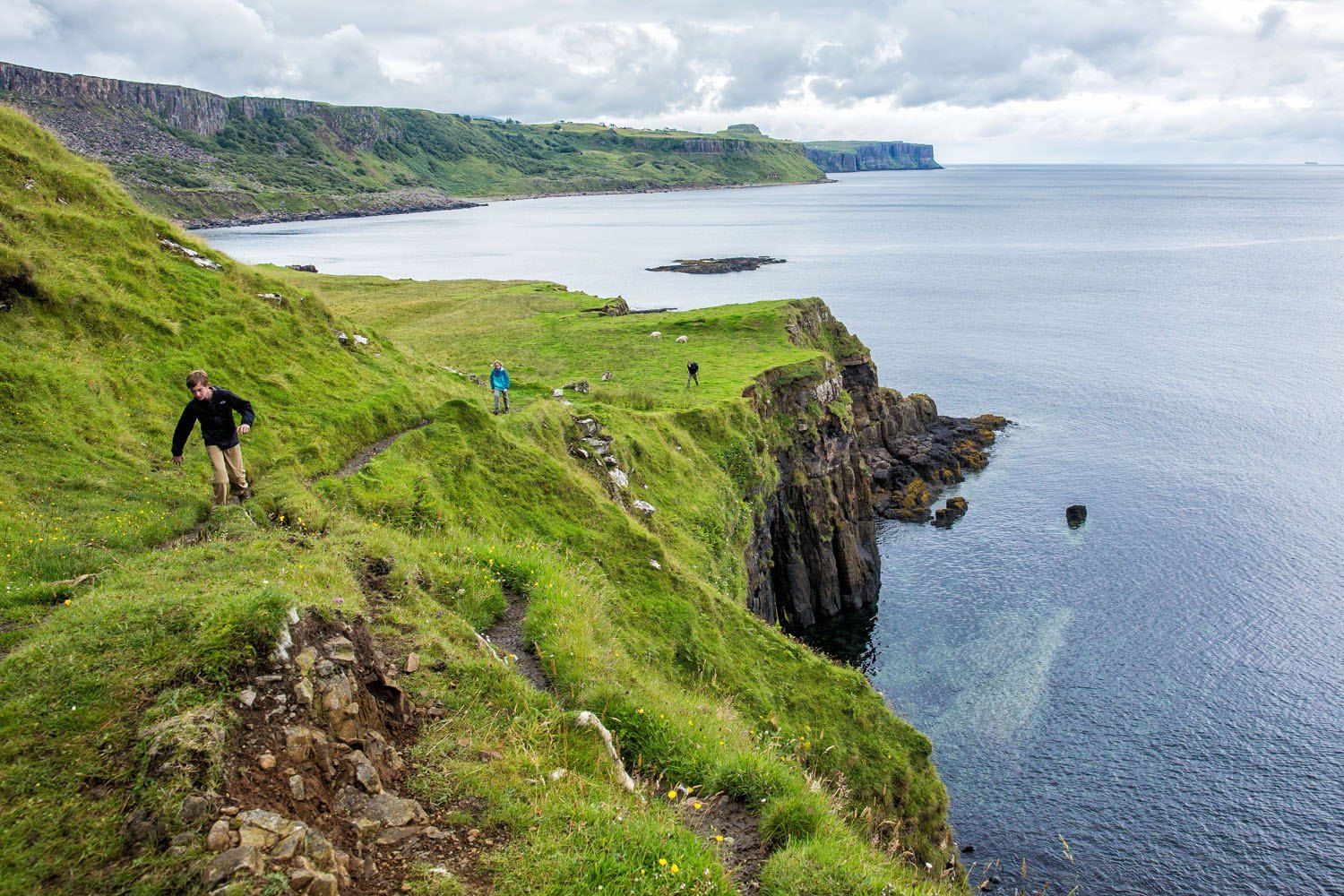 Hiking to Brothers Point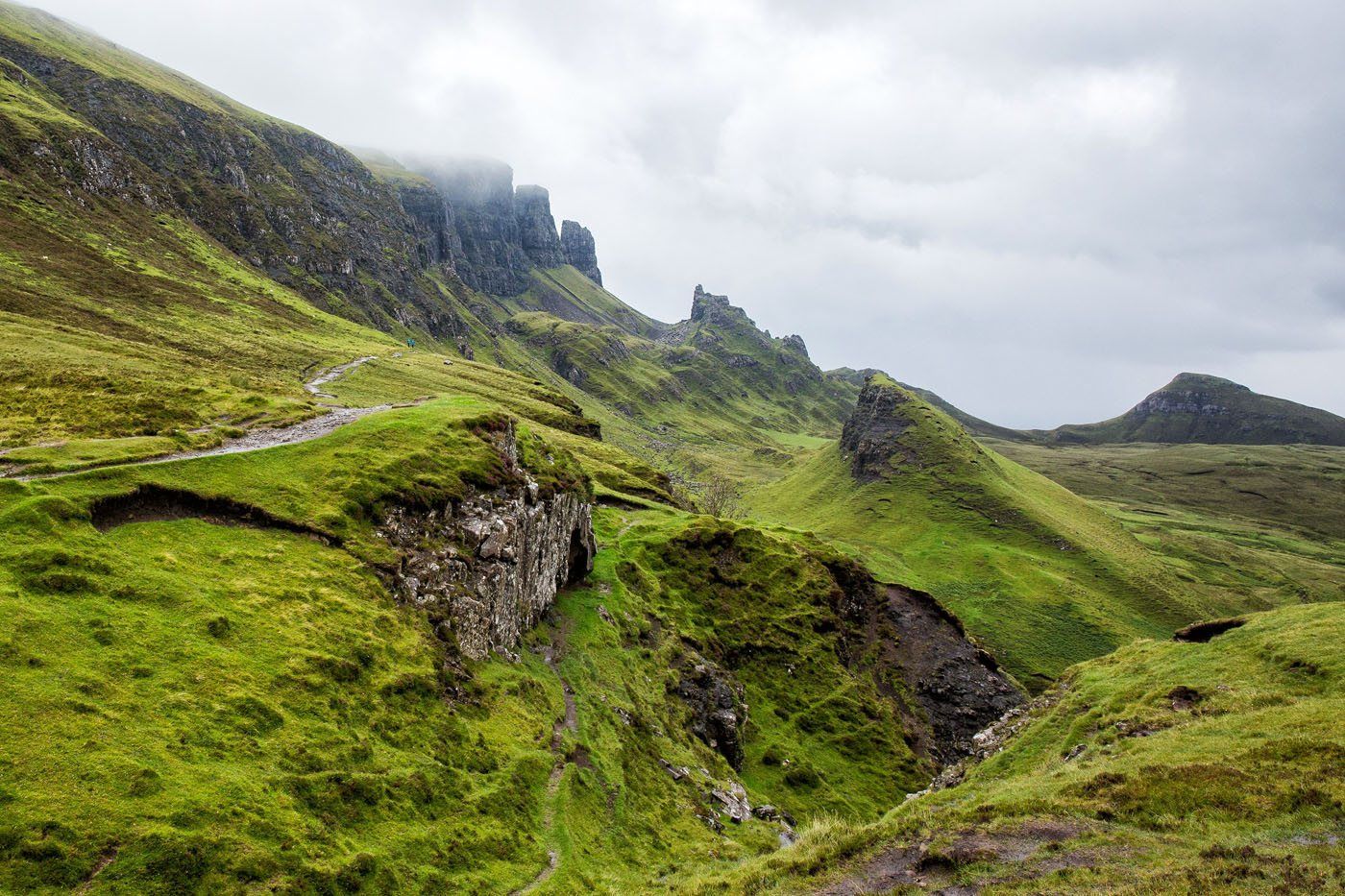 Quiraing
How to Get to the Isle of Skye
The only way to get to the Isle of Skye is by car, bus, or by tour. The closest airports are in Glasgow, Inverness, and Edinburgh. Most people rent a car for a self-driving tour of Scotland and the Isle of Skye.
For full details about getting to the Isle of Skye, read our article about Driving to the Isle of Skye, which provides multiple driving routes between Edinburgh, Glasgow, and the Isle of Skye.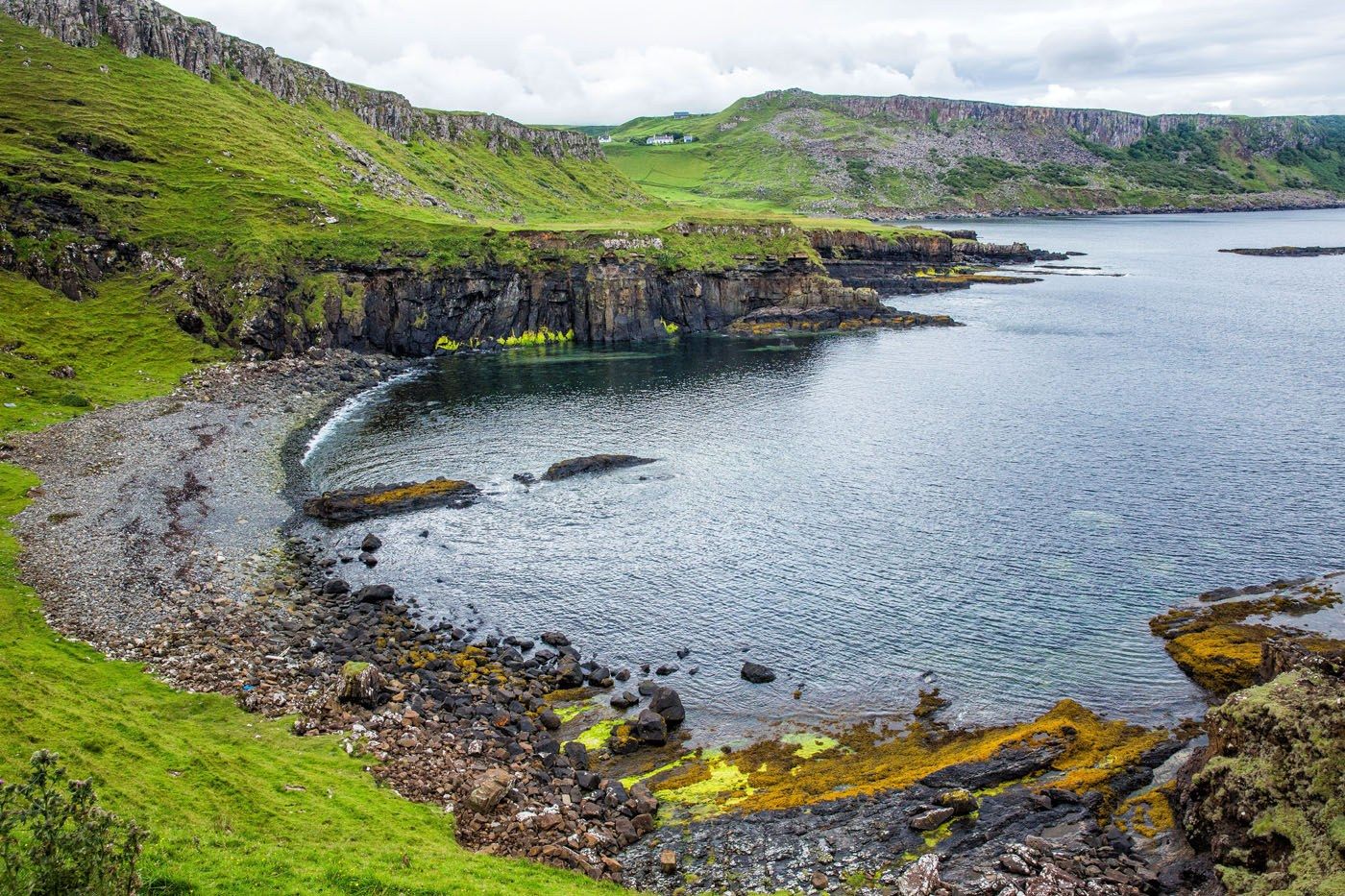 Isle of Skye Coast, seen from Brothers Point
Where to Stay on the Isle of Skye
Portree is the Isle of Skye's largest town with a great mix of hotels and B&B establishments. Here are some recommended places in and around Portree.
Cuillin Hills Hotel. This high-end hotel is located just outside of Portree. It gets rave reviews, has an onsite restaurant, and offers views that look out over the bay. Rooms can accommodate two people.
Tor View. This bed and breakfast is located just a short drive north of Portree. Since you are not located in town, you get some wonderful views of the Isle of Skye from this property. In fact, many prior guests rave about the views from this hotel, but all around, it gets high marks.
Skeabost View Pods. Want to stay in your own chalet? Four "pods," one-bedroom studio chalets, sit side by side in the countryside 5 miles northwest of Portree. These have a small kitchenette and private bathroom. Each patio comes with a small fire pit and supply of firewood.
When to Make Your Reservation
This is very important!! Learn from our "mistake." We booked our accommodations at the end of May for a visit to the Isle of Skye at the very end of July. Two months before our trip, accommodations on all of the Isle of Skye were 95% booked. I emailed every single one of the 100+ B&B's on the island, as well as hotels and hostels. We got lucky, with one B&B that still had vacancies.
So, if you will be traveling to the Isle of Skye during the summer months, book your accommodations at least 3 months in advance. Six months would be even better.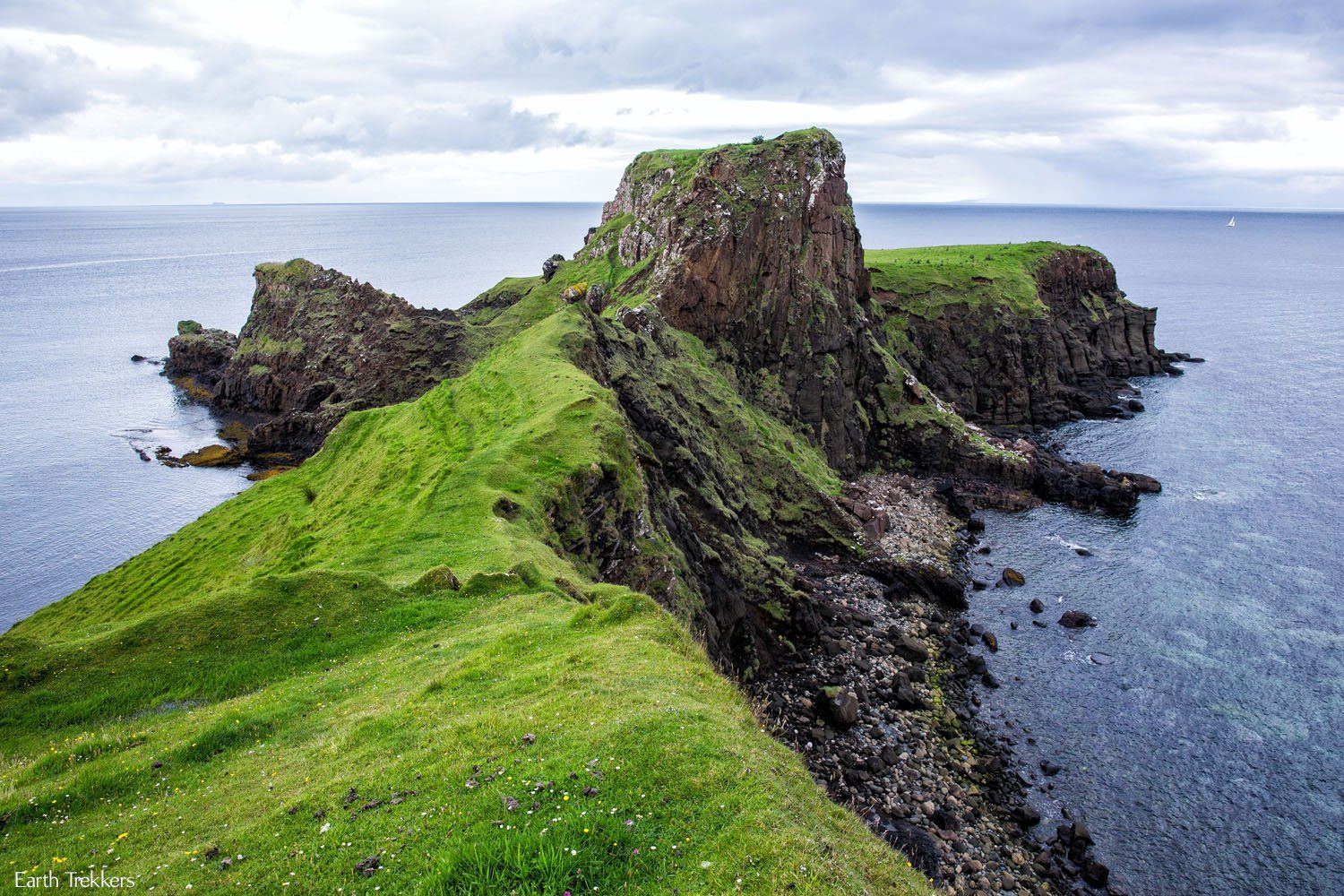 Rubha nam Brathairean (Brothers Point)
Where to Eat on the Isle of Skye
Here are some of our favorite restaurants.
The Granary. Located in Portree, this place was so good that we ate here twice. They serve mostly seafood dishes, have a great wine list, and a convenient location in Portree. We could walk here from the Quiraing Guest House. Reservations are necessary, especially during the summer months.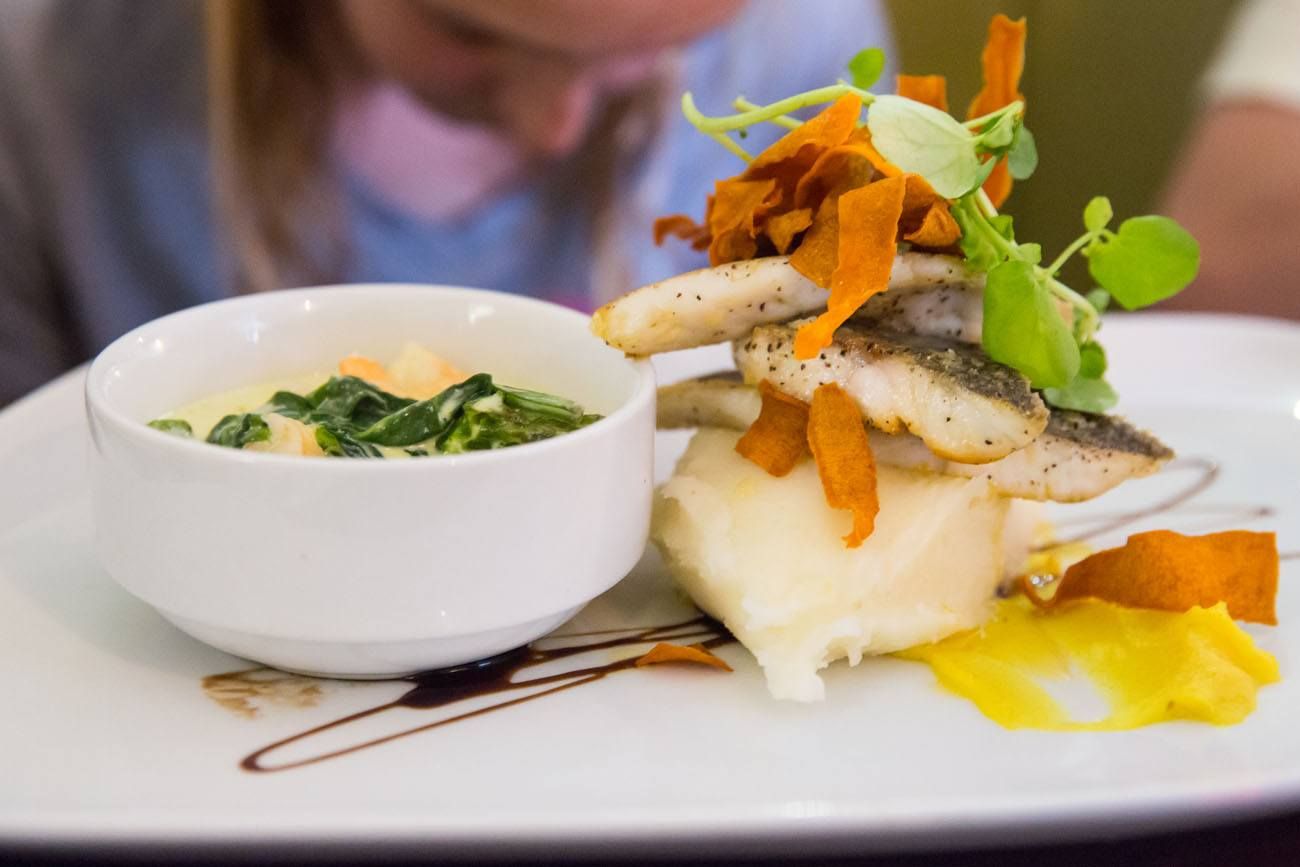 Dinner at The Granary
The Isles Inn Pub & Hotel. This lively pub serves good Scottish food. We liked this place because we could get a table without a reservation, one of the few in Portree.
The Old Inn. Located in Carbost (near the Talisker Distillery), this cozy pub serves excellent food, coffee, and hot chocolate. Even in the summer, it was nice to come here to warm up and dry off after our wet, rainy visit to the Fairy Pools.
The Three Chimneys Restaurant. Ok, we didn't eat here. But we wanted to! This place gets excellent reviews and can only be visited with a reservation. If you are planning to watch the sunset at Neist Point, this is a great restaurant to visit afterwards. Three Chimneys is located in Colbost, between Neist Point and Dunvegan. They also are a 5-star accommodation.
PRO TRAVEL TIP: You need to make a reservation for most restaurants during peak season. Many places are completely booked between 6 and 9 pm.
Isle of Skye Travel Tips
Driving on the Isle of Skye. In the most remote areas, you will drive on single track roads. These one-lane roads are only wide enough for one car. There are frequent passing zones, areas of the road that have been widened for two cars to pass. At times, this may require that you put your car in reverse, backing into one of these spots, to let oncoming traffic pass.
Cellular Service. Don't expect great reception on the Isle of Skye. During our visit in 2016, 3G was available in Portree and Broadford. Outside of these areas, there was little to no cellular signal. Therefore, it is a huge advantage to rent a car with a built-in navigation service. This helped get us from point to point when our cellphones were useless. We used O2 but another popular carrier is Vodafone. Update in 2022: According to this article, there may now be 4G in the Isle of Skye.
Midges. What's a midge? A midge is tiny, mosquito-like insect. They bite, just like a mosquito does. Midges tend to swarm your face, getting in your hair and even down into your clothing. They are annoying but not harmful. Lather on the bug repellent, look silly and wear mosquito netting around your head, or be prepared to shoo them away from your face. Midges are worse near streams and lakes. They are out in full force from May to September.
If it is raining. We spent three days on the Isle of Skye and it rained everyday. When it rains, it usually does not last long. Wait out the rain in your car and when it stops, go on your hike and check out the view. The rain tends to wash the other visitors away, giving you some tranquility, as long as you are patient enough to wait out the passing shower. Just make sure you have a good rain jacket, waterproof shoes, and an umbrella.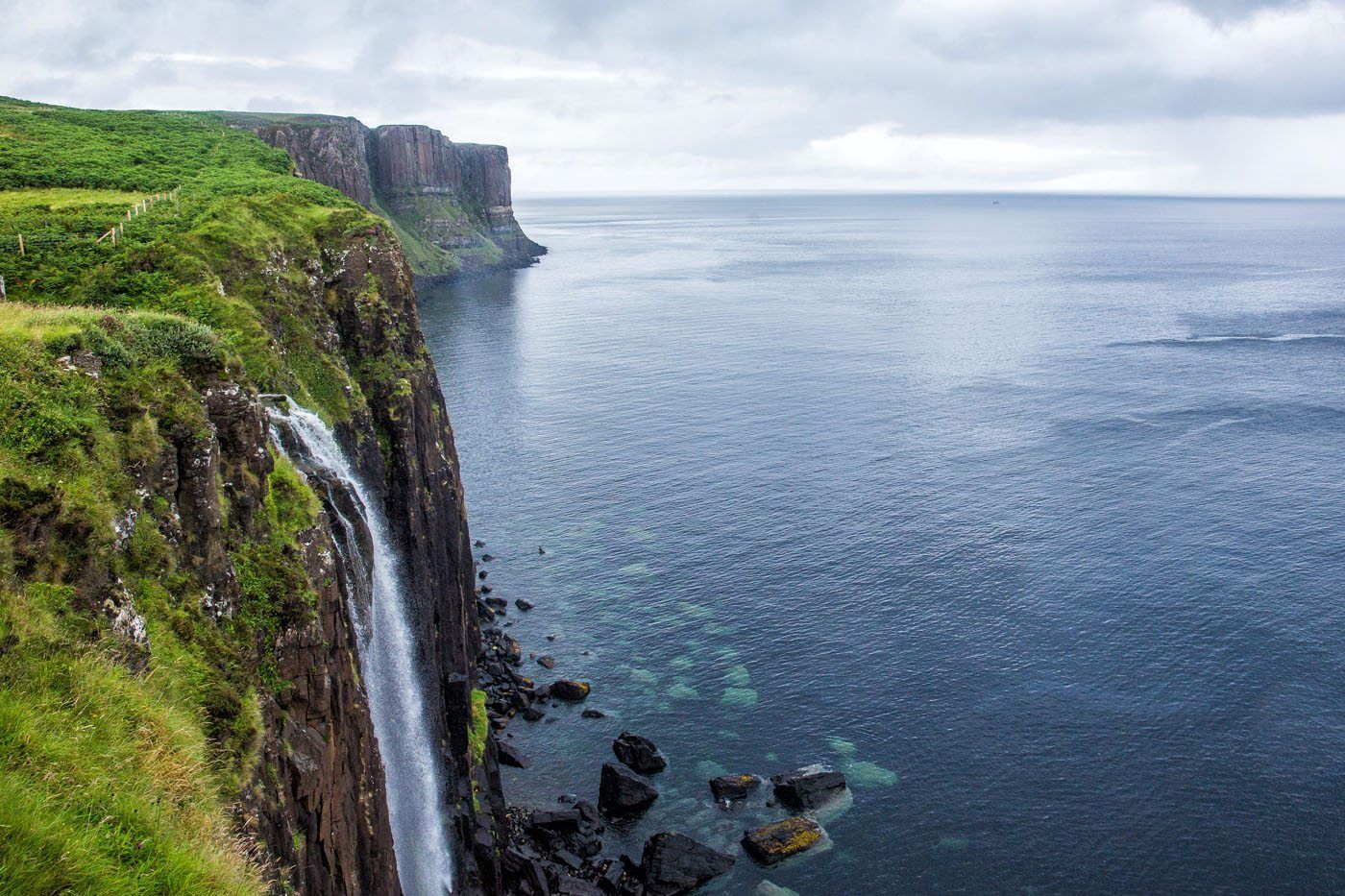 Mealt Falls and Kilt Rock
---
Do you have any questions about this Isle of Skye guide? Let us know in the comments below.
More Information about Scotland
PLACES TO VISIT IN THE ISLE OF SKYE: For an overview of must-have experiences on the Isle of Skye, read our article Best Things to Do on the Isle of Skye. We also have detailed guides on the Old Man of Storr, the Fairy Pools, the Fairy Glen, Brother's Point, and the Quiraing.
SCOTLAND WITH KIDS: If you have plans to visit Scotland with kids, don't miss our article Best Things to Do in Edinburgh with Kids. Kids will also love exploring the Isle of Skye, hiking to Arthur's Seat in Edinburgh, and exploring the Fairy Glen and the Old Man of Storr on the Isle of Skye.
DRIVING IN SCOTLAND: If your visit to Scotland includes a visit to the Isle of Skye, there are two different routes to get from Edinburgh to the Isle of Skye.
SCOTLAND ITINERARY: With 10 days in Scotland, visit the highlights, including Edinburgh, Glasgow, the Isle of Skye, and Glencoe.
EUROPE TRAVEL INSPIRATION: For more great ideas on where to go in Europe, check out our article 30 Beautiful Places to Visit in Europe. You can also get more travel ideas in our 10 Days in Europe itinerary guide, which has 10 great itineraries for your next trip to Europe.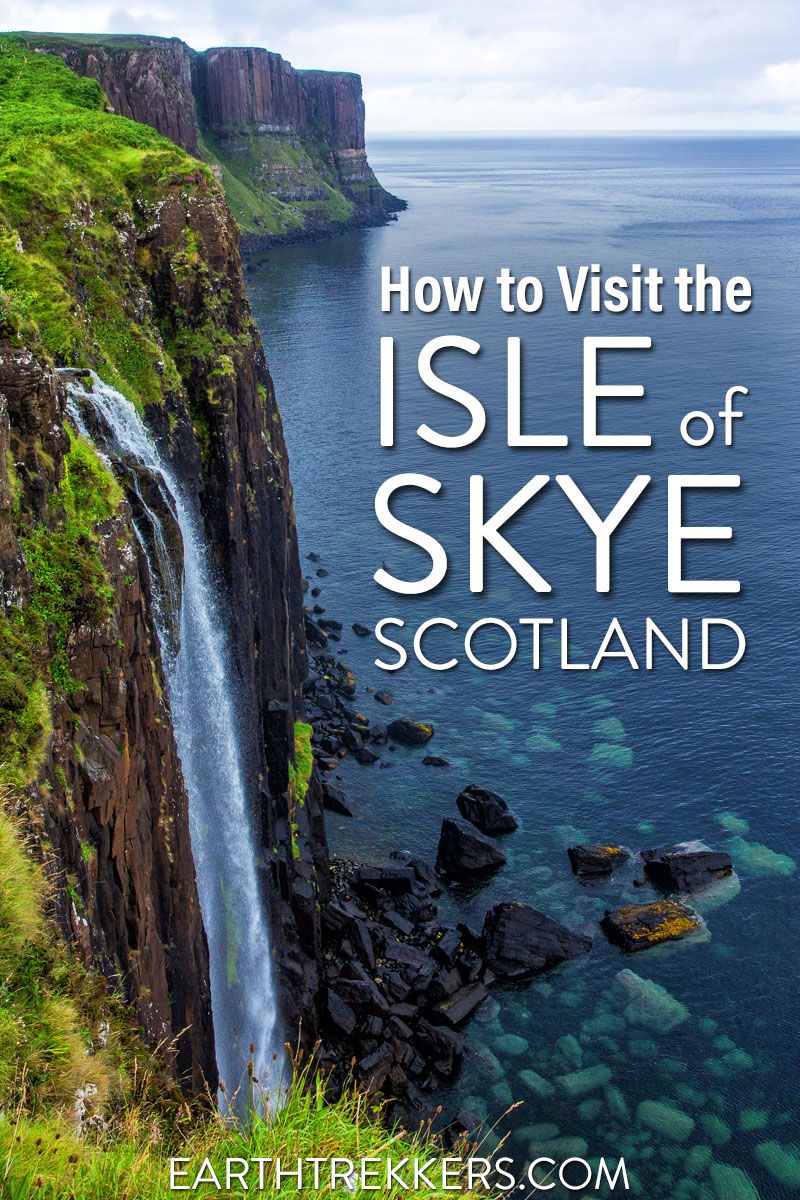 Note: This post contains affiliate links. When you make a purchase using one of these affiliate links, we get paid a small commission at no extra cost to you.
All rights reserved © Earth Trekkers. Republishing this article and/or any of its contents (text, photography, etc.), in whole or in part, is strictly prohibited.