Glasgow is often an overlooked destination in Scotland. Most people tour Edinburgh and then head to the Highlands, for good reason, as both of these places are amazing. But Glasgow is worth a visit. It's a great Scottish city and all you need is 24 hours to see the best of it.
Whereas Edinburgh is perfect for tourists, with its castle, medieval architecture, and historical background, Glasgow is a city centered around the people who live and work here. Sure, Glasgow has historical sites and museums, but there is more of a local vibe here than in Edinburgh.
Glasgow does share some similarities with Edinburgh, such as the medieval, gothic architecture that makes Edinburgh such a joy to explore. But Glasgow also bears some resemblance to cities in the US. To us, in some parts of Glasgow, it felt like we were walking through Baltimore or Pittsburgh.
In fact, Glasgow is frequently used as the filming location for some US movies and TV shows. George Square doubled as Philadelphia for the movie World War Z starring Brad Pitt and the city center was used in the filming of the movie Fast & Furious 6.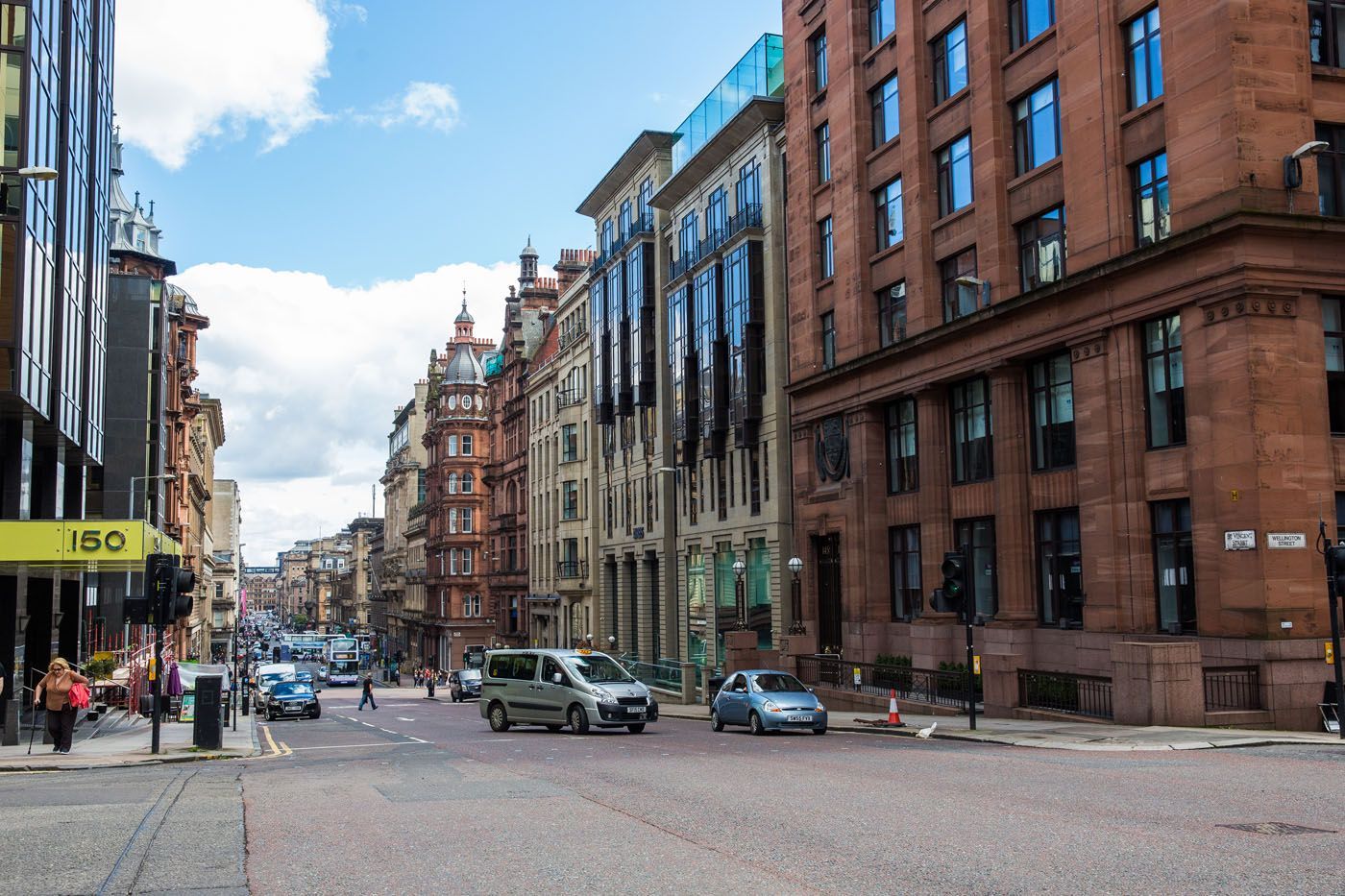 How We Spent 24 Hours in Glasgow
There are tons of options to fill your time while in Glasgow. Museums to visit, parks to explore, and art galleries to tour.
We did none of that.
While in Glasgow, the four of us needed a break from sightseeing. We had no desire to visit museums, even if they were great museums. Instead, we took Tyler and Kara one hour north for some pure fun at Loch Lomond and then spent the afternoon pub hopping in Glasgow. We even met up with friends we made while on our around the world trip.
We arrived in Glasgow on a Friday night, after a long but amazing day driving down from the Highlands of Scotland. After checking into our hotel, the Premier Inn City Centre Glasgow, we ate dinner at Sarti and then crashed for the night.
TreeZone Aerial Adventure Course, Loch Lomond
Loch Lomond is just 45 minutes northwest of Glasgow by car. It's a popular spot for residents of Glasgow to visit on the weekends. On Saturday morning, we made the exodus out of the city to TreeZone on Loch Lomond. This was Tyler and Kara's chance to climb, zipline, and tightrope walk their way through an obstacle course in the trees. For them, it was pure fun and a great start to the day.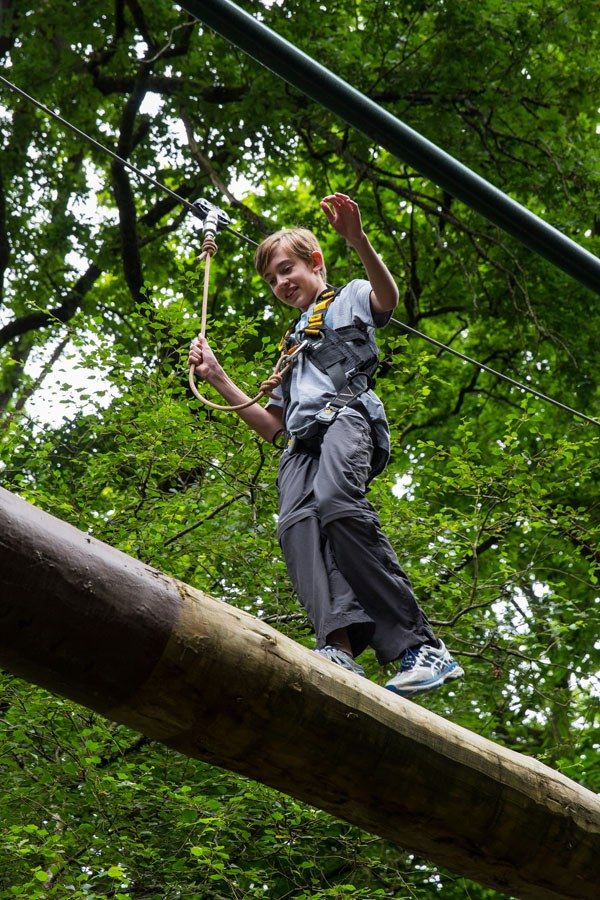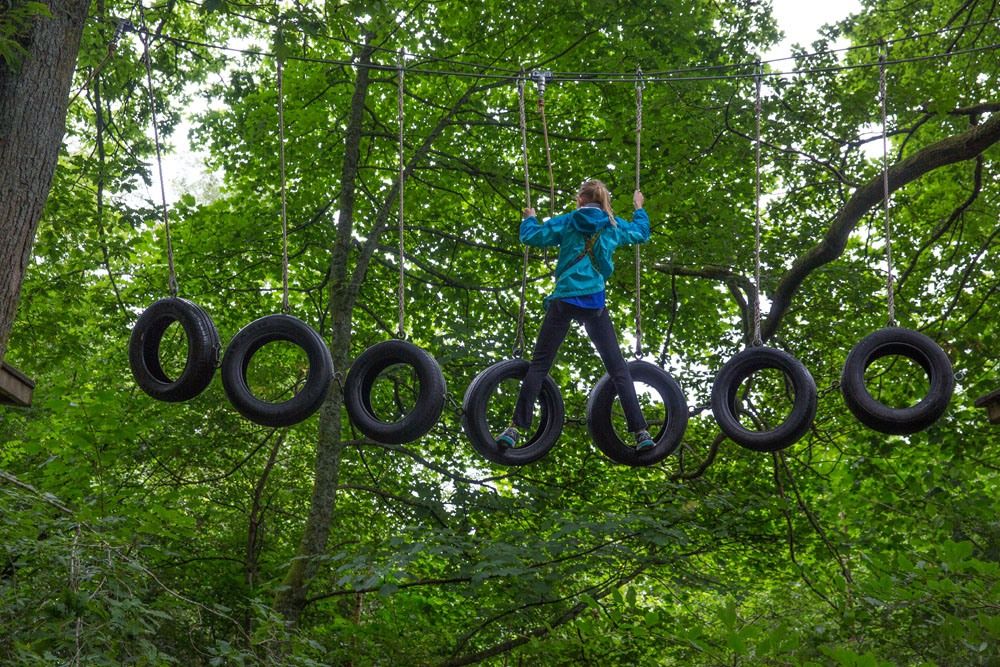 TreeZone is located in Balloch, on the southern shore of Loch Lomond. It is open seven days a week all year long from 10 am to 5 pm. The minimum age to participate is 7 years old. For ticket prices and detailed information about the obstacle course, visit the TreeZone website.
Pub Hopping in Glasgow
After our visit to TreeZone, we ate lunch in Glasgow and took an alternative approach to touring the city: pub hopping. Yes, we did it with kids. Sure, pub hopping can be fun for adults, but is it fun for kids, and even a good idea?
Pubs in Scotland and Ireland allow children. As long as we purchased pub food for the kids, they were allowed to hang out with us in the pubs. It is not at all uncommon to see entire families, children included, at pubs during the daylight hours.
Earlier during our trip, we purchased the game Stramash from a bookstore in Edinburgh. At each pub in Glasgow, Tim and I would enjoy a pint of beer while the four of us played Stramash. It was a great way to keep Tyler and Kara entertained and a conversation starter with the people around us. Many people were fascinated by this game.
We spent the afternoon visiting three pubs before meeting friends, Jonny and Anya, for dinner.
The Pot Still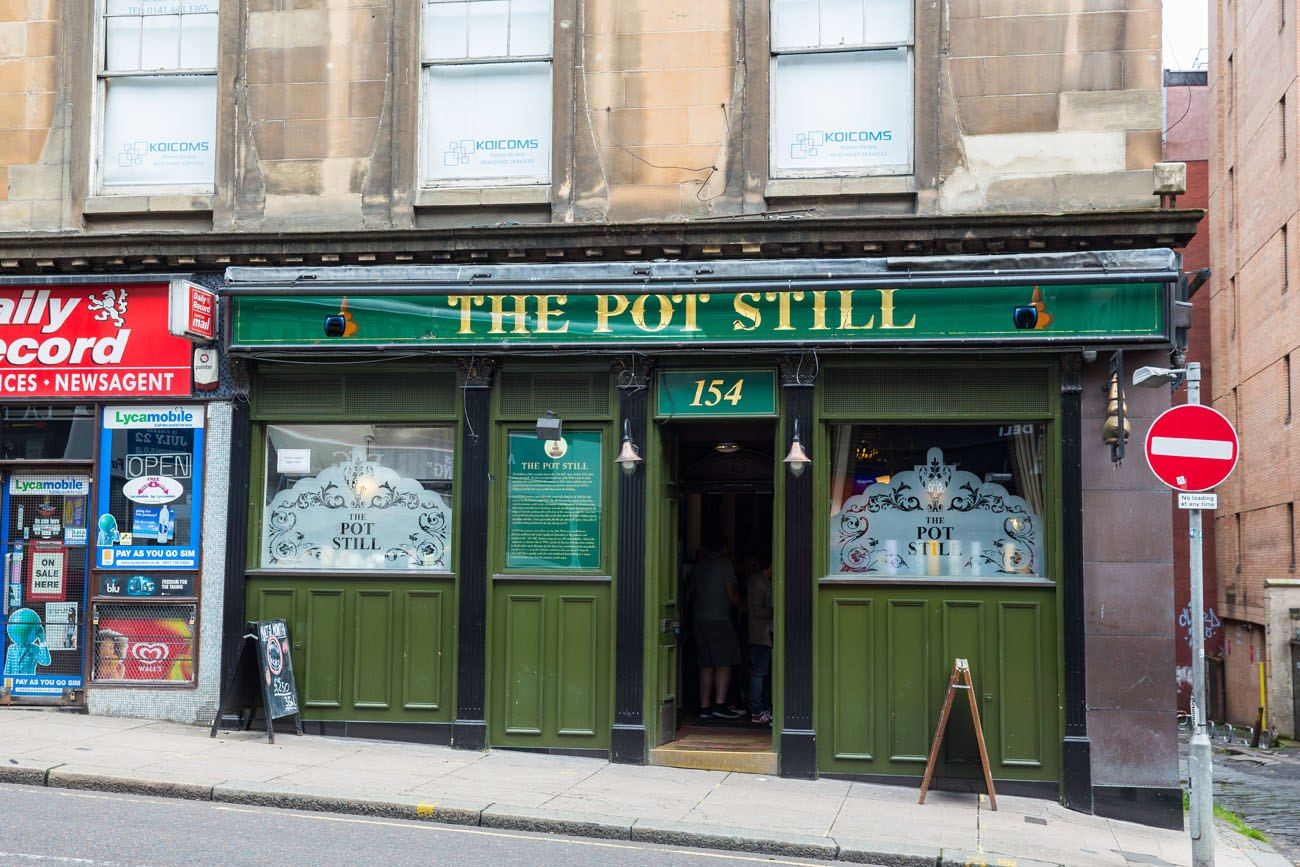 Our first pub was also our favorite of the day. When we arrived at 1 pm, the place was packed. A football game was about to start and many people were here, having a drink before going to the stadium.
Want a pub with a huge whisky selection? This is your place. They carry over 600 bottles of whisky, some of it from distilleries around the world.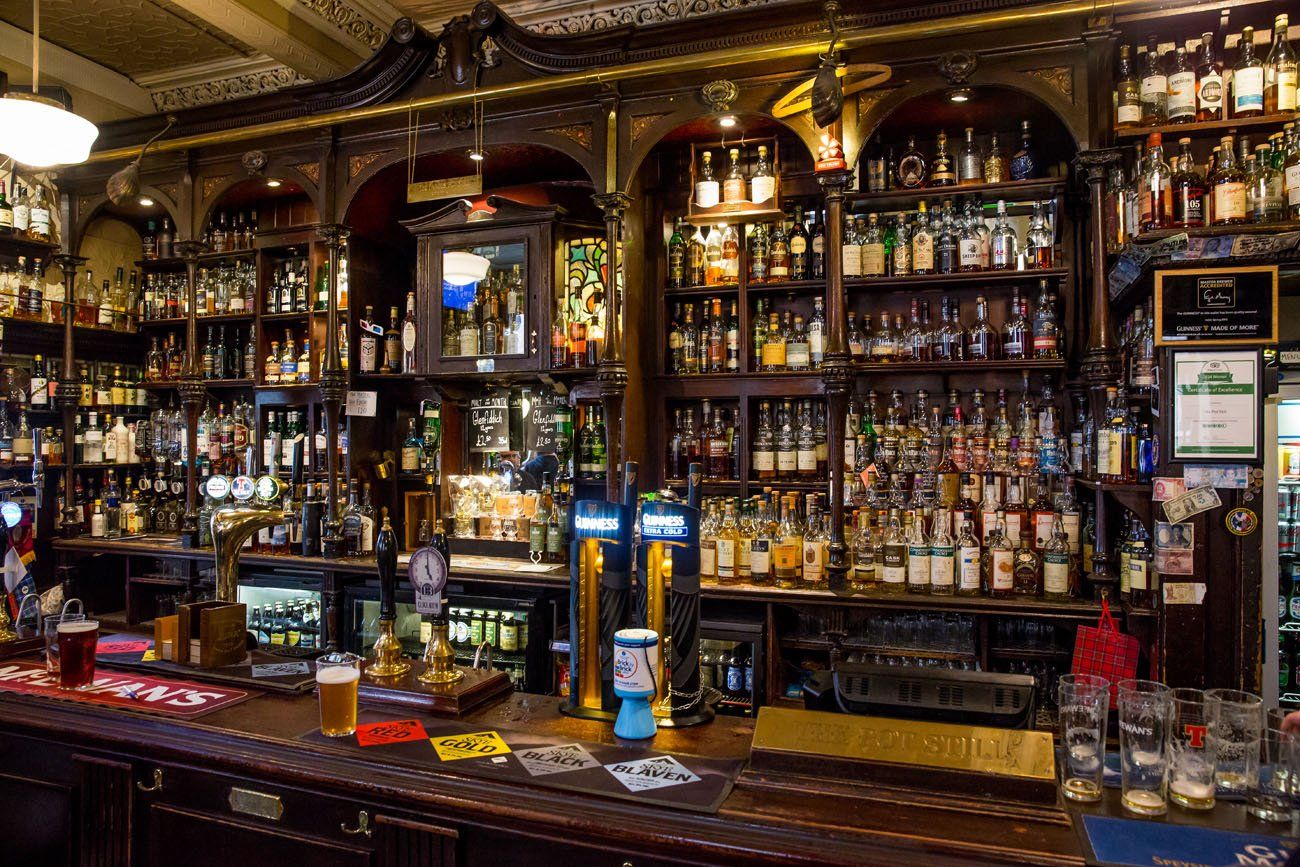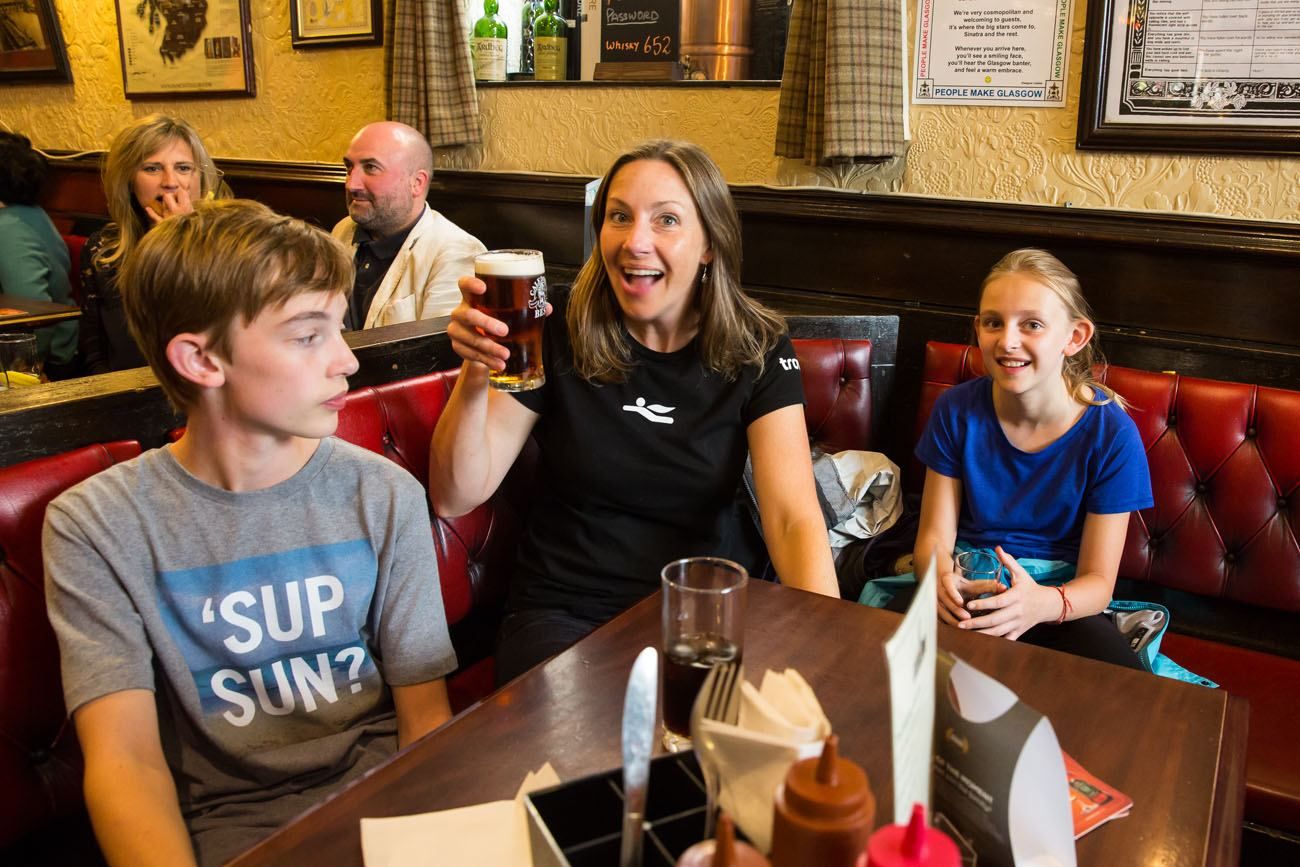 Walking Down Buchanan Street
On the way to our next pub, we walked down the very popular Buchanan Street, a pedestrian shopping street in Glasgow.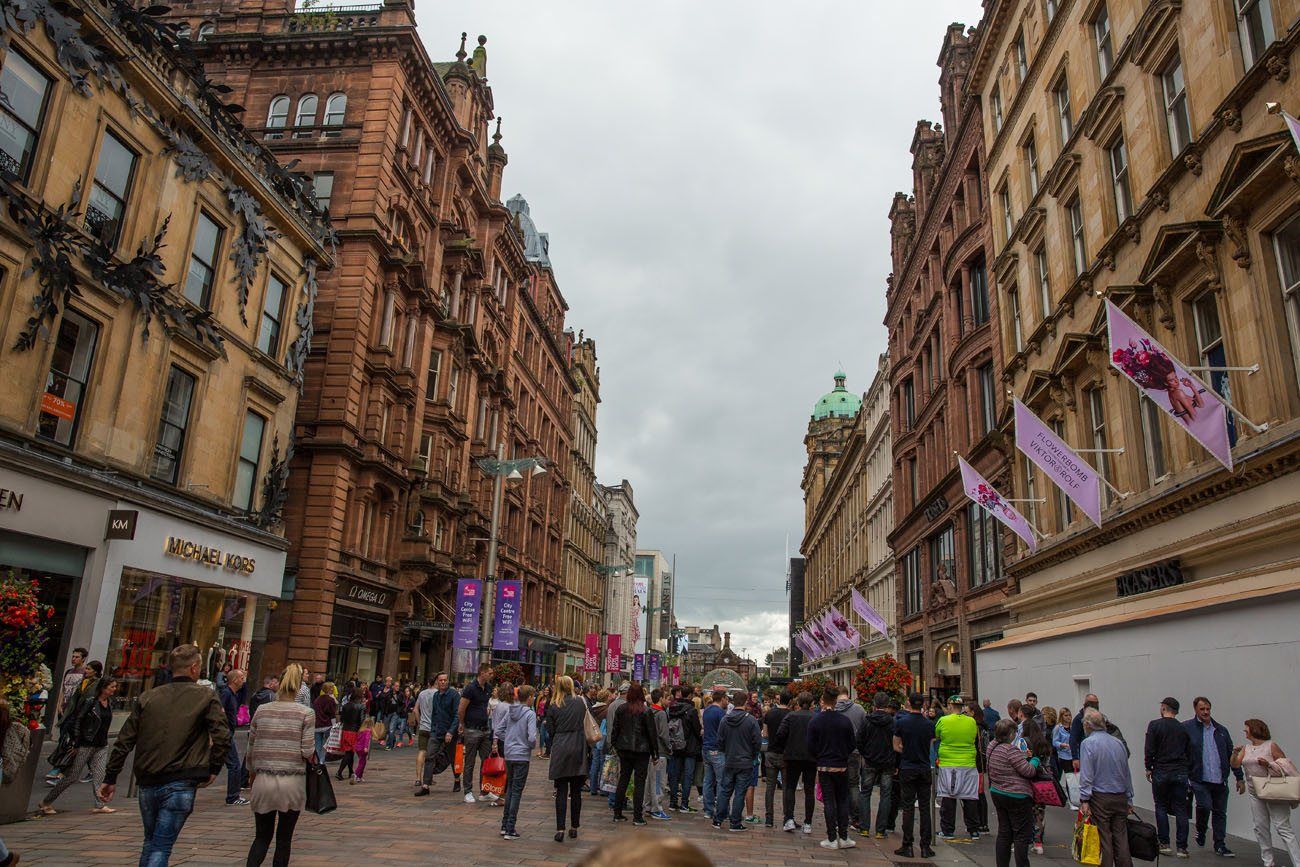 Sloans Bar and Restaurant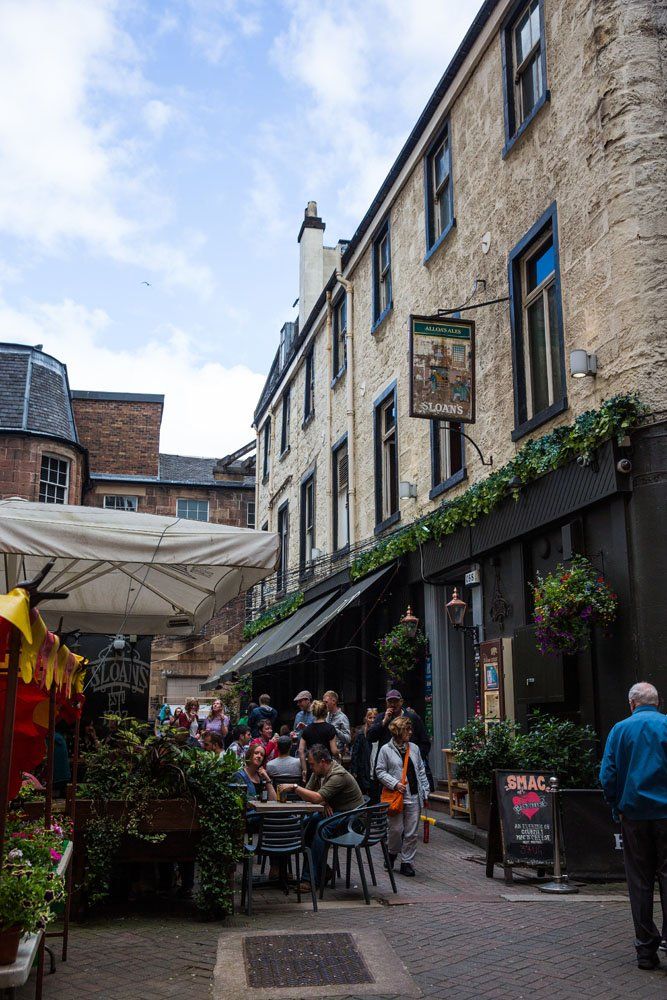 Advertised as Glasgow's oldest bar and restaurant, we could not miss this place. Sloans is located in the city centre of Glasgow, near Buchanan Street. When we arrived around 2:30 the place was filled with patrons. After waiting a few minutes, we snagged a vacant table, ordered our pints of beer, and began playing our second game of Stramash for the day.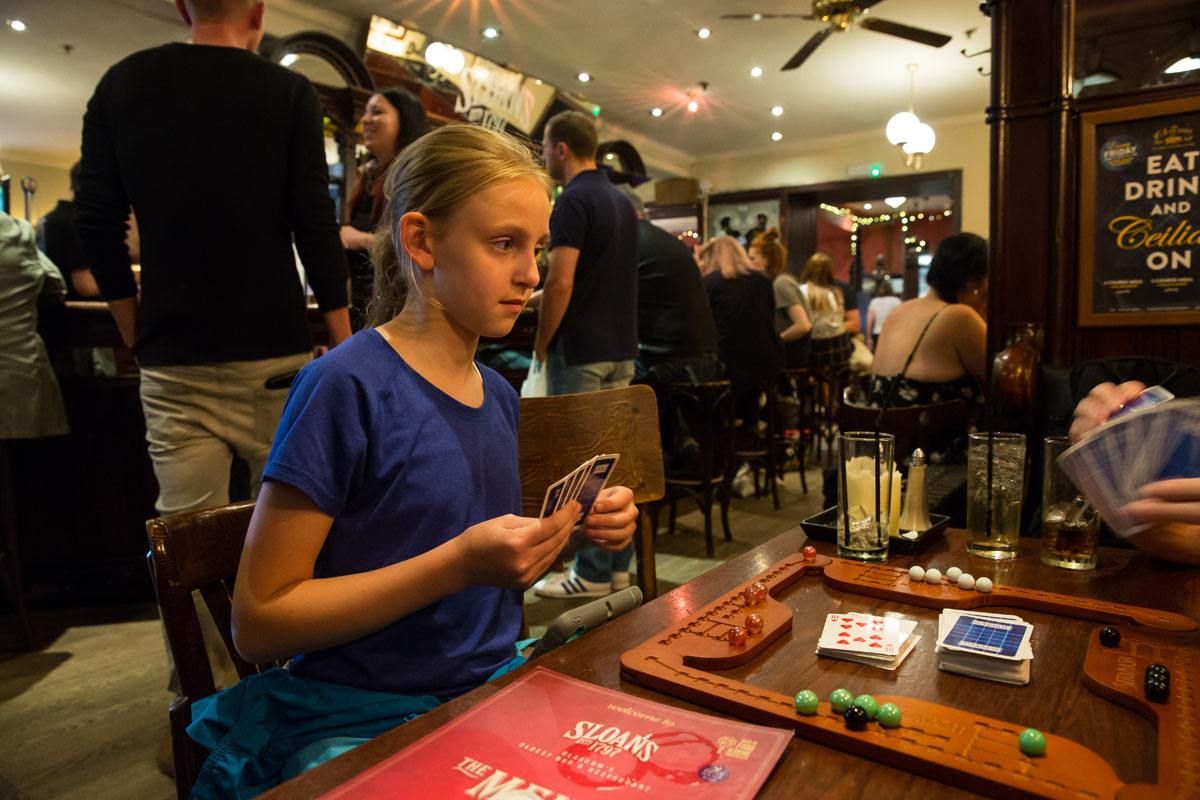 Sloans is a large establishment. Dine on the first floor pub and restaurant, find a seat outside on the patio, enjoy a dram of whisky in their private snug bar, or have dinner at the first floor restaurant. There is even a second floor ballroom for private events. Most likely, if you are in Glasgow you will be taking a stroll down Buchanan Street, so why not pop into Sloans for a drink or a meal?
Maggie May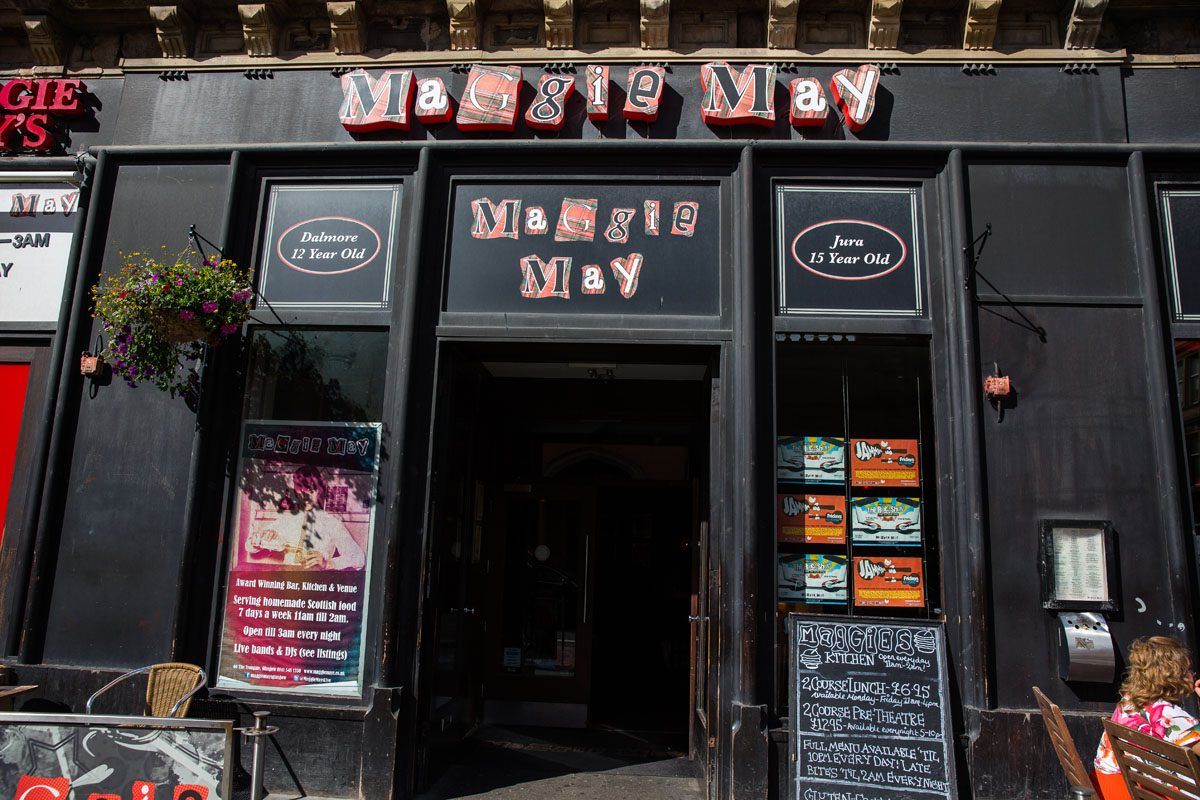 Maggie May is a place that did not live up to our expectations. I read a lot of great things about this bar. We found Maggie May to be very loud and uninspiring. Tim and I had to shout to hear one another, even at the early hour of 4 pm. The food was mediocre and we were generally not impressed. If we had to do it over again, we'd skip Maggie May and try another place.
Meeting Up with Friends
Almost two years ago we met Jonny and Anya in Cambodia. While in Kampot, we met for dinner, quickly became friends, and have kept in touch through Facebook during the past two years. Tim and I were thrilled to meet up with them for dinner while visiting Glasgow.
Dinner at Café Gandolfi
Jonny recommended Café Gandolfi. This restaurant serves food with ingredients that are locally sourced. They have a surprisingly creative, international menu, with options like New York pastrami, spanakopita, scallops of the day, puttanesca, and of course Haggis, neeps, and tatties. Everything we ate was delicious.
If you plan on dining here, book a reservation at least several days in advance.
Where: 64 Albion Street, just down the street from Blackfriars
Hours: daily from 8 am – 11:30 pm
Visit their website here.
George Square
After dinner, Jonny and Anya took us on a quick walking tour as we made our way back to our hotel.
Here is George Square at sunset.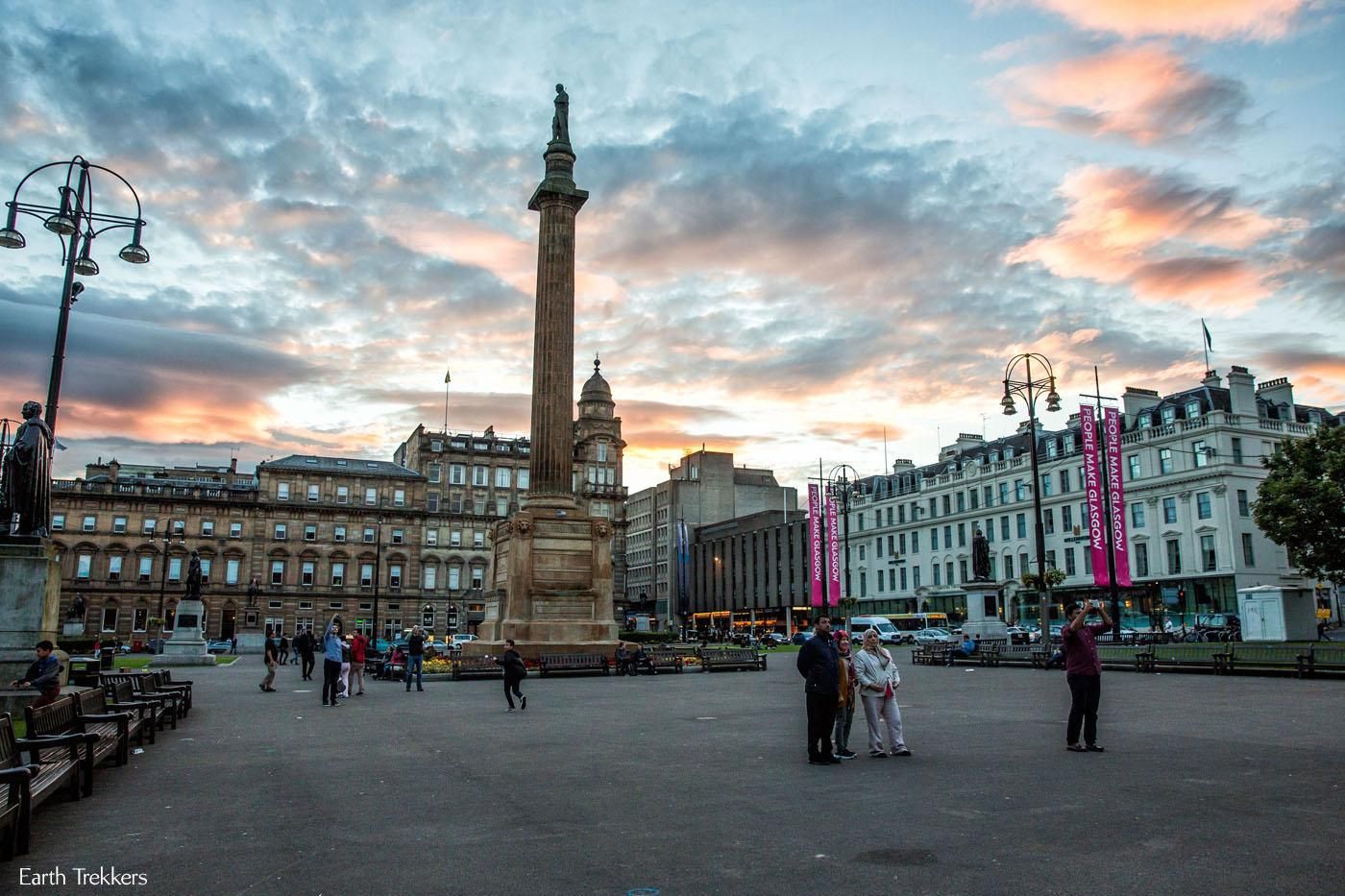 The Story of the Cone-ification of the Duke of Wellington
The people of Scotland have a thing about placing traffic cones on the heads of statues. We saw it in Edinburgh and we saw it in Glasgow.
The most famous statue with a cone on its head is the Duke of Wellington in Glasgow. The city council removes the cone and overnight another one is put back in its place.
Sound like a fun game? Not to the city council. In 2013, the city council released a report that £10,000 is spent per year to remove the cones from the statues in the city. When they announced that £65,000 was going to be spent to raise the plinth so that pranksters could no longer "conify" the statue, the city was in an uproar. A petition was signed by 10,000 people opposing the renovation project, so the plinth was never raised.
Our tour through Glasgow ended at the Duke of Wellington statue, and wouldn't you know it, he was proudly overlooking George Square with a bright orange traffic cone on his head.
In front of our hotel, we bid farewell to Jonny and Anya. We can't wait to see where we meet up with them again…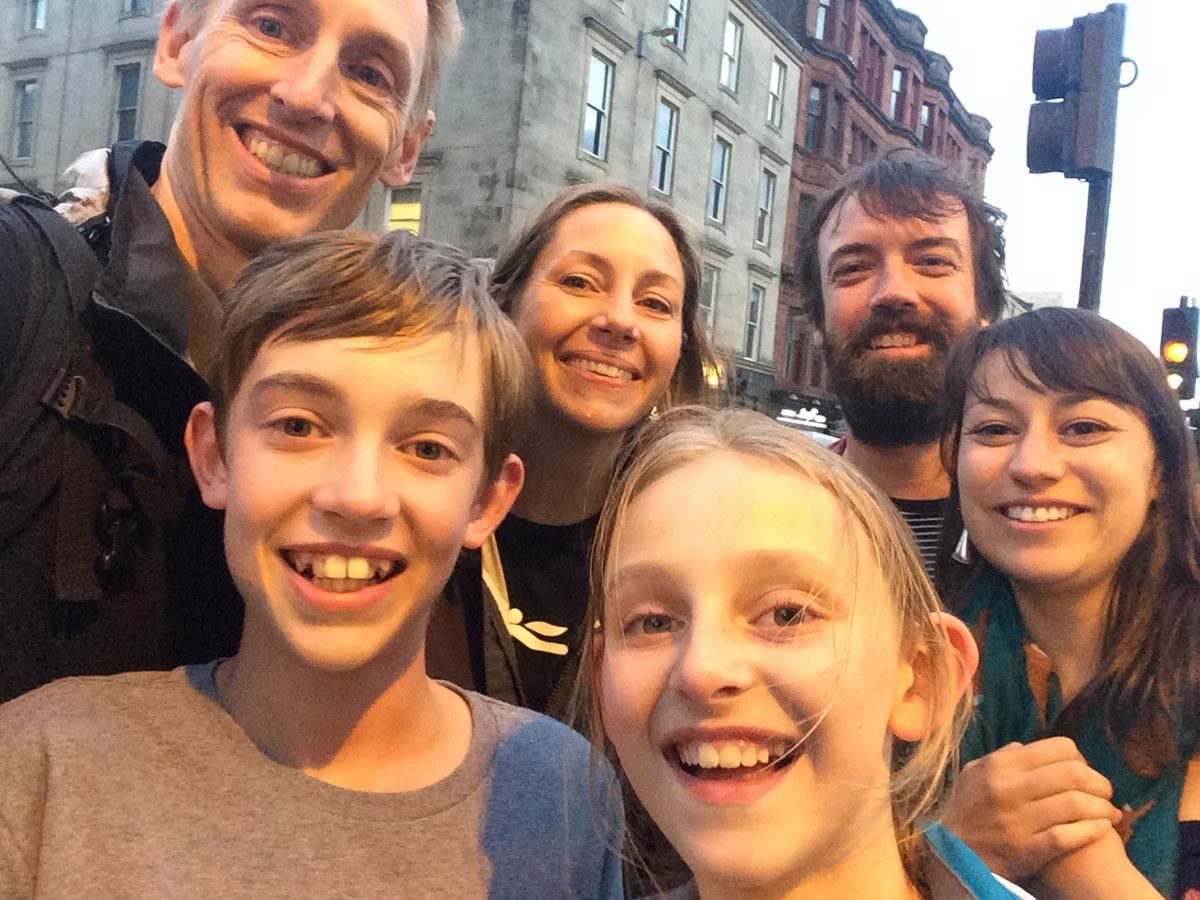 More Information about Scotland
EDINBURGH: Learn about the best things to do and how to plan your time in our 2 Day Edinburgh Itinerary. We also have detailed guides on how to hike to Arthur's Seat, how to visit Edinburgh Castle, best things to do with kids in Edinburgh, and where to get the best views of Edinburgh.
ISLE OF SKYE: We cover how to visit the Isle of Skye in our Isle of Skye Travel Guide. We also have articles about the best things to do on the Isle of Skye and travel itineraries for 1, 2, and 3 days on the Isle of Skye.
SCOTLAND ITINERARY: With 10 days in Scotland, visit the highlights, including Edinburgh, Glasgow, the Isle of Skye, and Glencoe.
All rights reserved © Earth Trekkers. Republishing this article and/or any of its contents (text, photography, etc.), in whole or in part, is strictly prohibited.